Last Updated on March 9, 2021 by Lori
Old Forge Camping Resort located in the Adirondack Mountains of New York needs to be on your list of RV campgrounds to visit! The campground is open year-round with RV sites, tent sites, camping cabins, and Adirondack cottage rentals.
The campground is just a half-mile away from the town of Old Forge and next to the Enchanted Forest Water Safari and Calypso's Cove making it a great choice for your vacation to the Adirondacks.
RV Camping In New York – Old Forge Camping Resort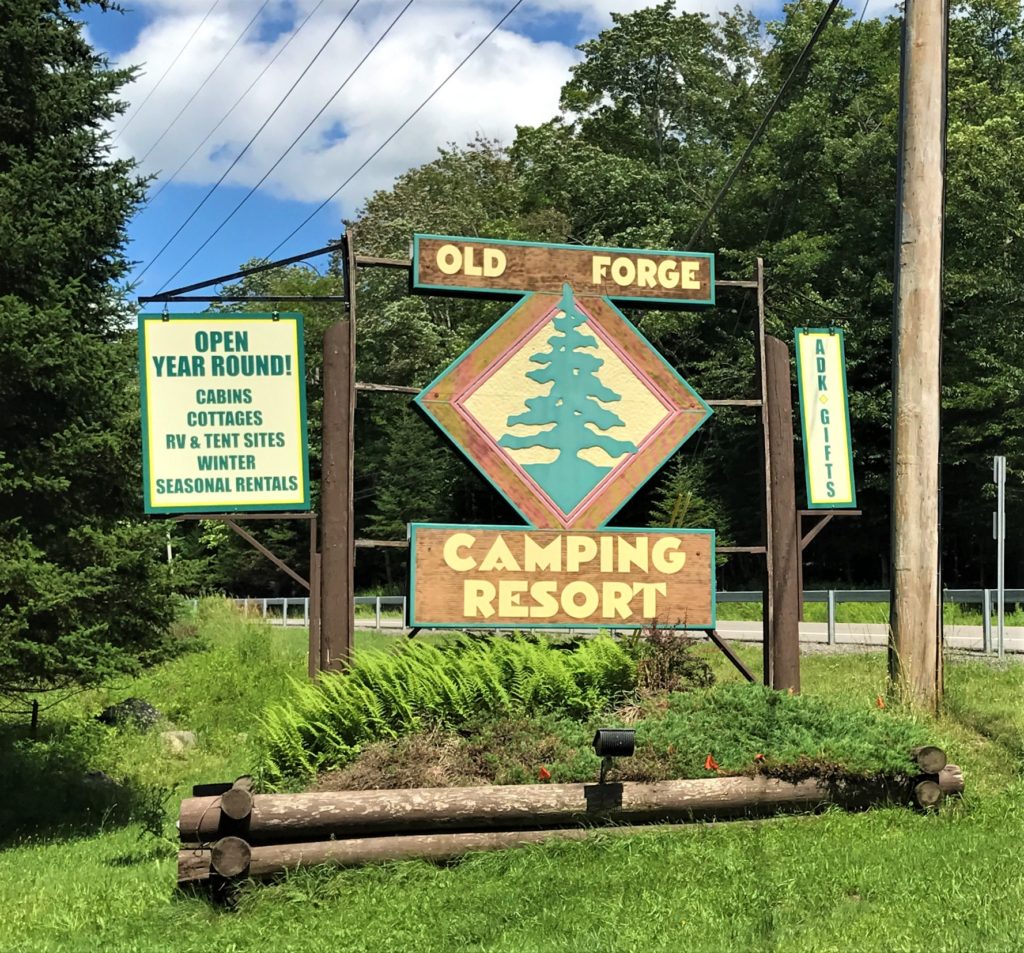 Whether you're looking for a quiet getaway or a family get-together, we found Old Forge Camping Resort to have "something for everyone!"
We enjoyed the large wooded RV sites, taking a walk to Lake Serene (located in the campground), and the campground's convenient location to many area attractions!
This is one campground you should definitely consider when planning your vacation to Old Forge, New York!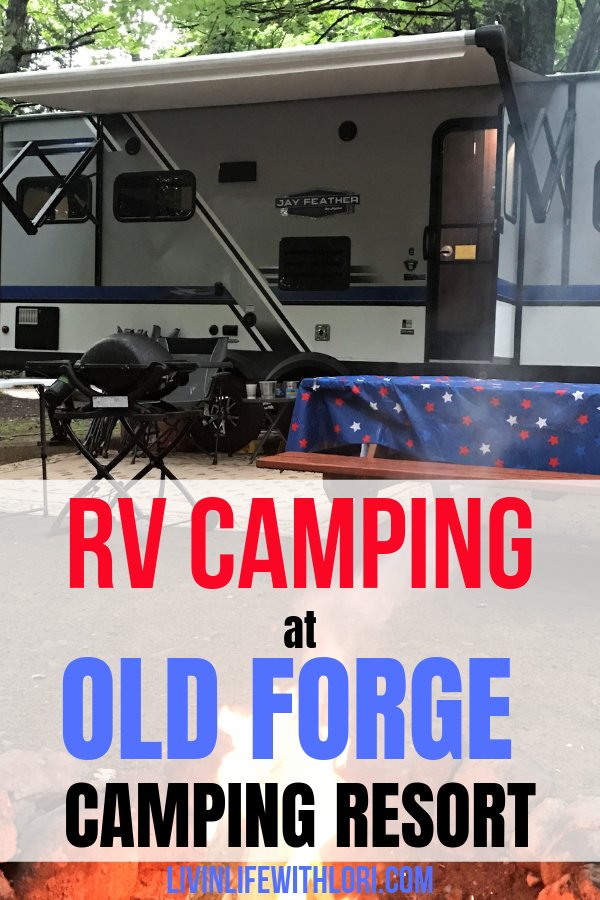 This post contains affiliate links which means if you click a link and make a purchase, I will earn a commission at no additional cost to you. Please read our Disclosure Policy for more information.
As we pulled our travel trailer into the campground, we could see this was a very busy campground. While it seemed as if there were people everywhere, the staff kept things running smoothly throughout the day.
We were happy to see there was ample RV parking for check-in and the area was large enough to hold quite a few RVs if you arrived before the 2 p.m. check-in time.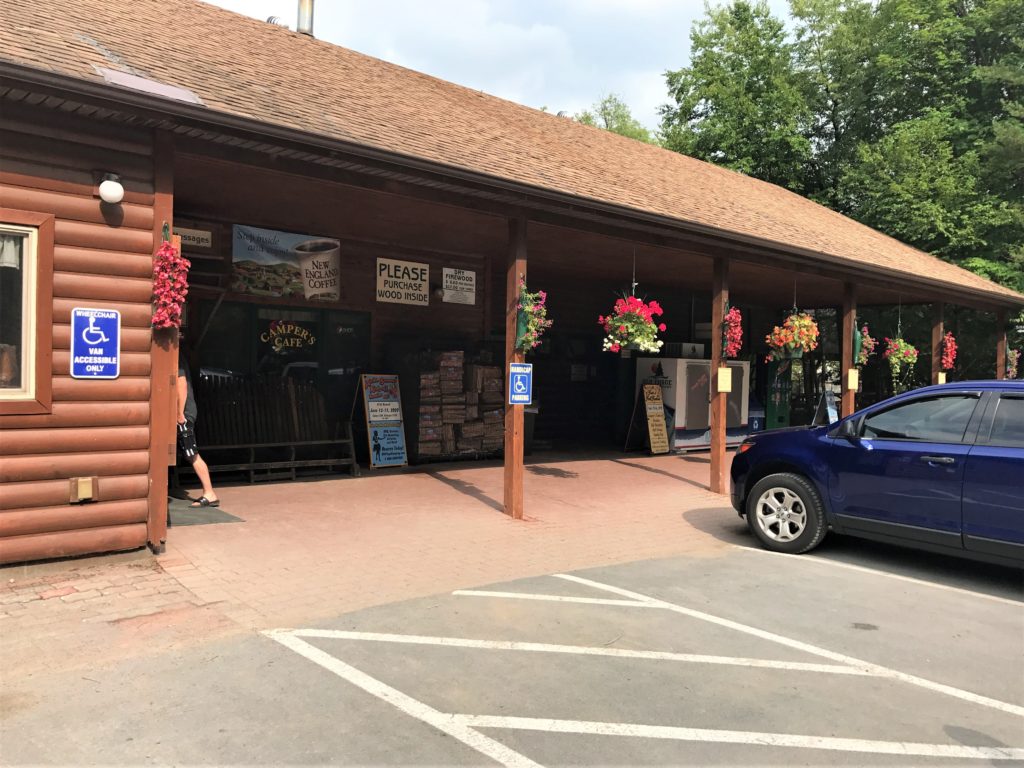 Walking into the Main Lodge, we found plenty of staff members available to help with the check-in process.
The campground also offers Express Check-in where you can check-in online, provide your vehicle plate number and pre-pay your balance due.
If you take advantage of Express check-in, there is a separate check-in area that will expedite your check-in process.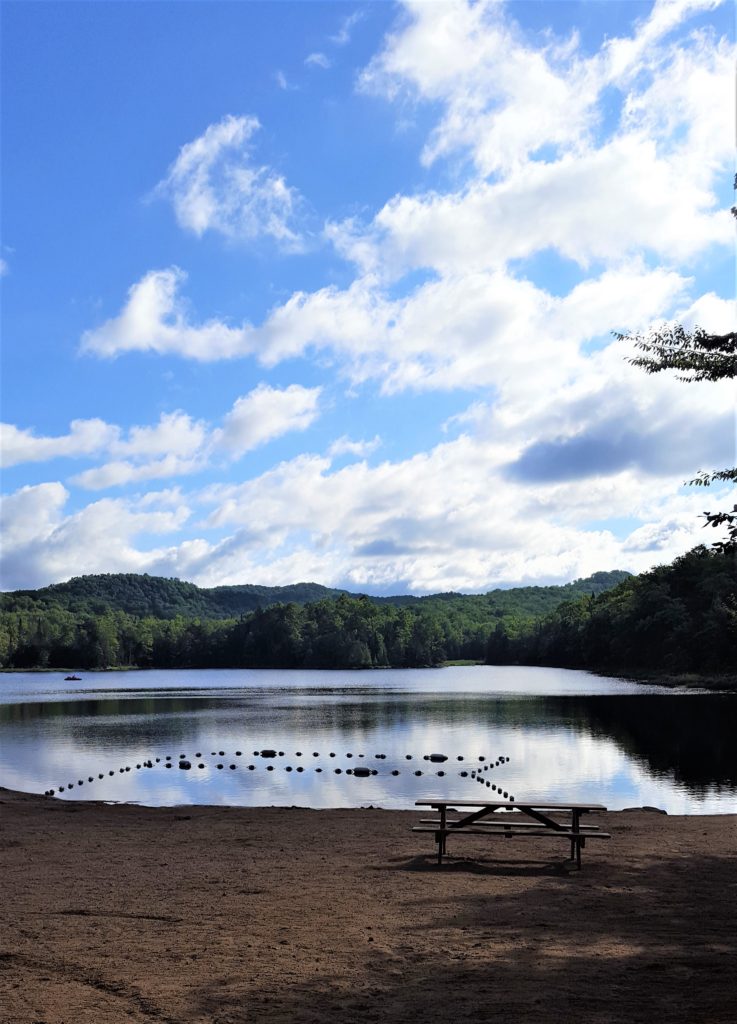 The Main Lodge is also where you will find the large camp store! We found many cute "camping" items that, of course, we had to buy!
The camp store also has everything you might need (or forgot to bring) for your trip such as fire starters, S'more sticks, and fixings, things for your RV, grocery items, snacks, drinks, ice, clothing, mugs, etc.
The Main Lodge houses the Campers Cafe which serves breakfast, snack items, and sweet treats, the arcade room for the kids (or big kids!), and you can rent a TV/DVD player for your stay. Family-oriented movies are shown nightly and on rainy days in the Events Pavillion next to the Main Lodge.
There are two (2) playgrounds for the kids as well as a basketball court, volleyball net, and horseshoe pit. Basketballs, volleyballs, and horseshoes are available at the Main Lodge, free of charge, with a small deposit.
RV Camping In Upstate New York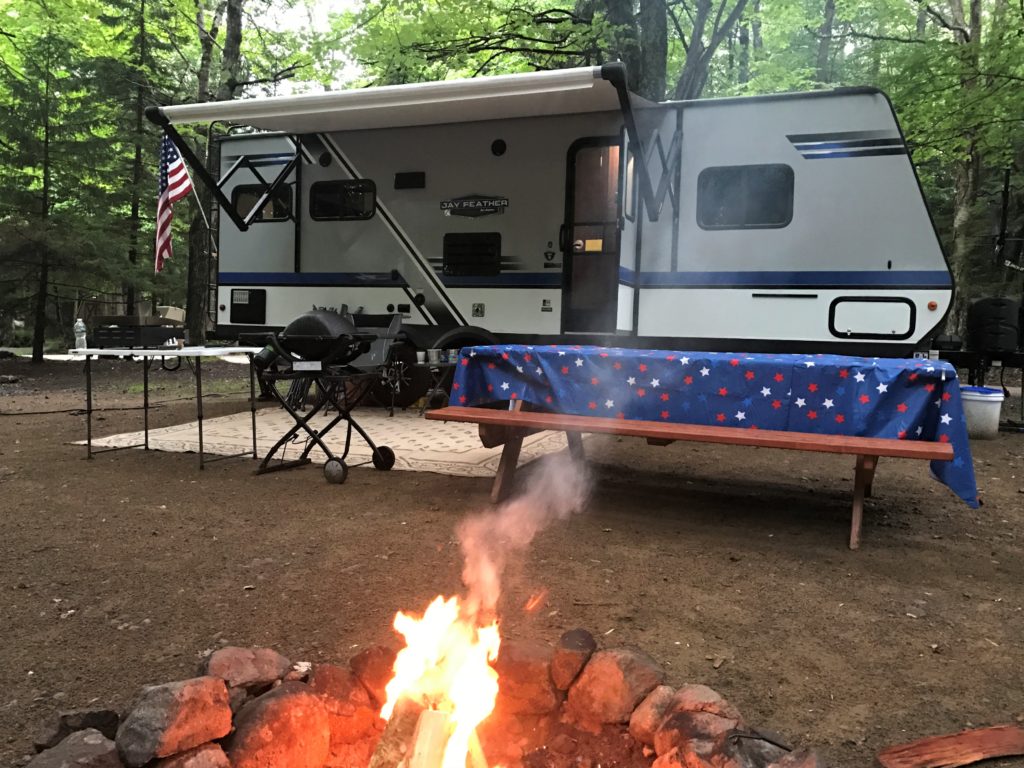 Unlike other campgrounds, Old Forge Camping Resort does not escort you to your site. As we pulled away from the Main Lodge, we were a little hesitant about which roadway to take to our campsite.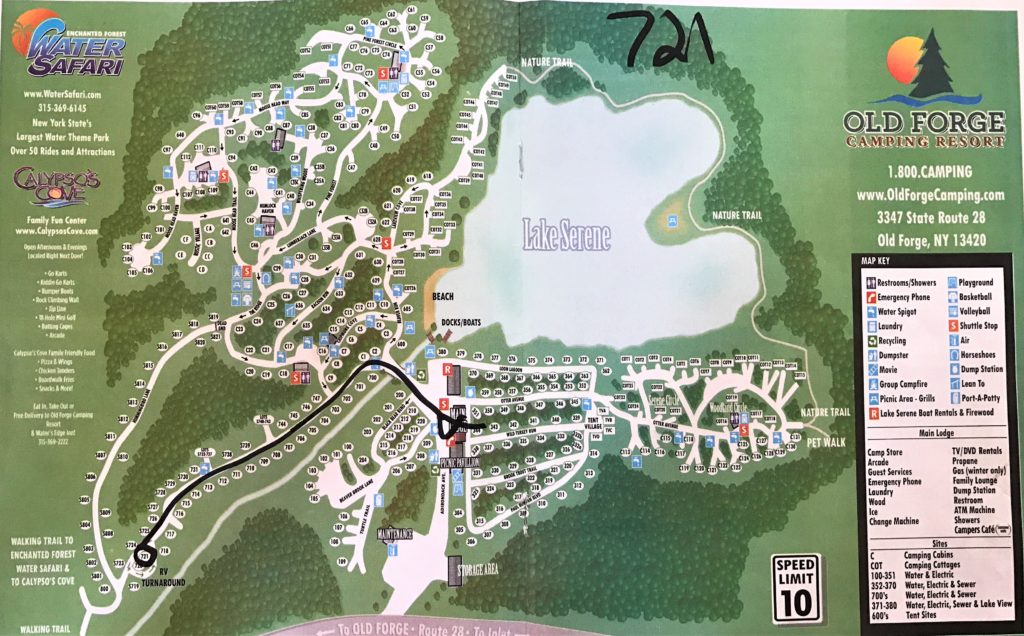 After looking again at the map they provided at check-in, we got our bearings and headed to our site – 721.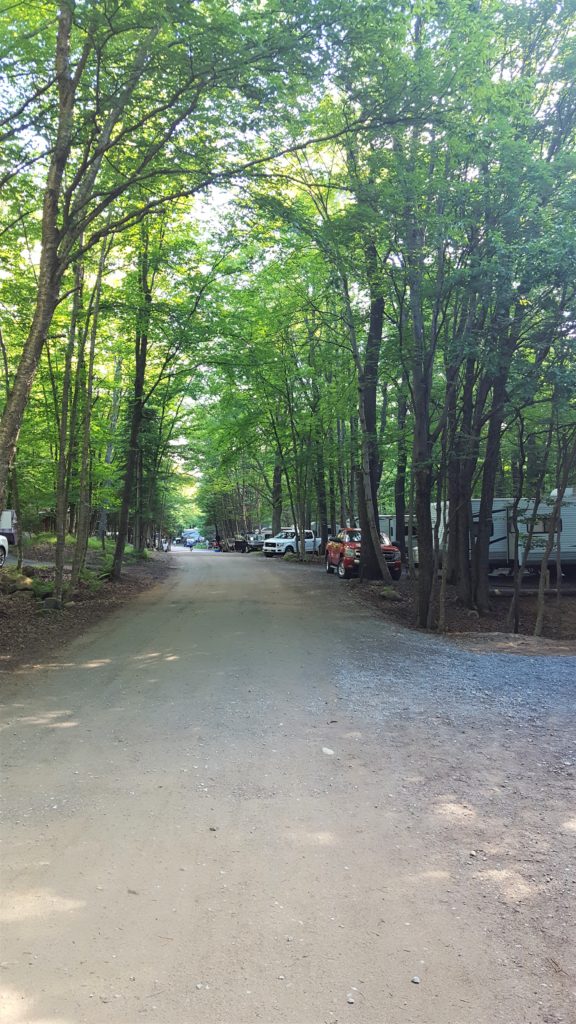 The speed limit in the campground was 10 mph. This was surprising to us as there were many children riding bicycles and walking along the roadway.
We arrived on a Saturday and the campground was completely full. Not only were the RV sites full, but we could tell the cottages were full as well.
Related Reading: If you love the Adirondacks, you will enjoy reading about our trip to the High Peaks Region (near Lake Placid, NY)!
Best Places To Visit In The Adirondacks- A 4-Day Itinerary
We arrived at our site and were pleasantly surprised by how large our site was. We were located at the end of the campground near the pathway to Enchanted Forest Water Safari and Calypso's Cove.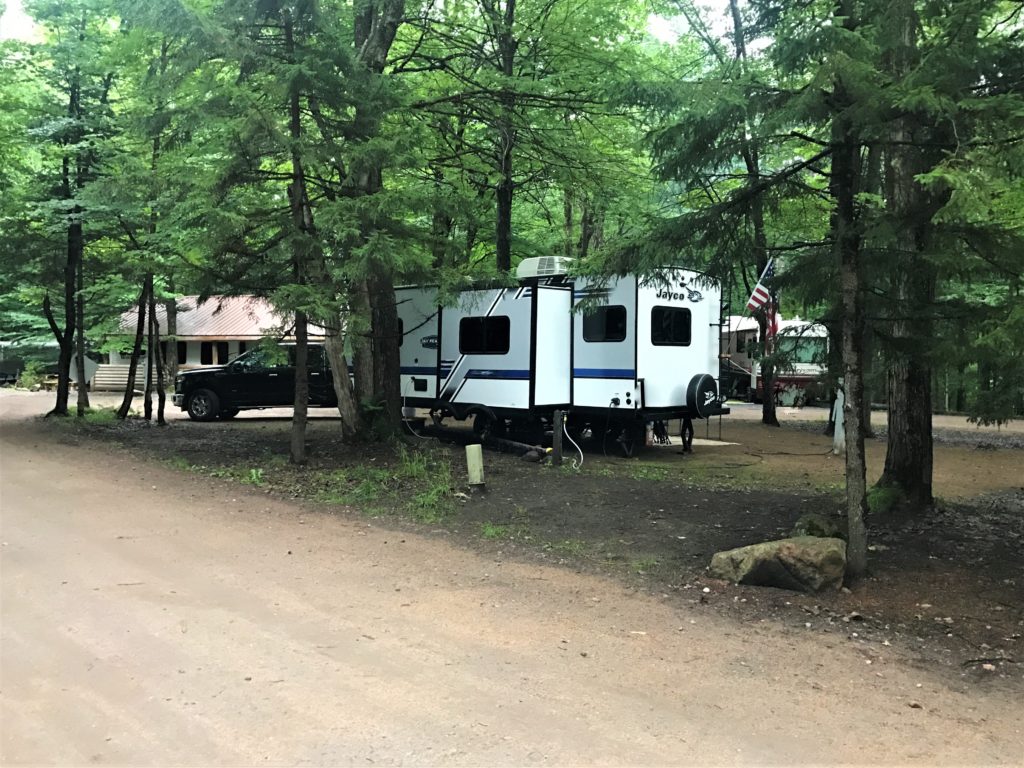 We easily backed into our site and we were ready to set-up. The site was fairly level (which after walking around the campground we found most sites looked level), however, our site did not have much gravel. The site was mostly sand mixed with a little gravel which made a hard ground.
As we walked around, we saw that many other RV sites did have gravel.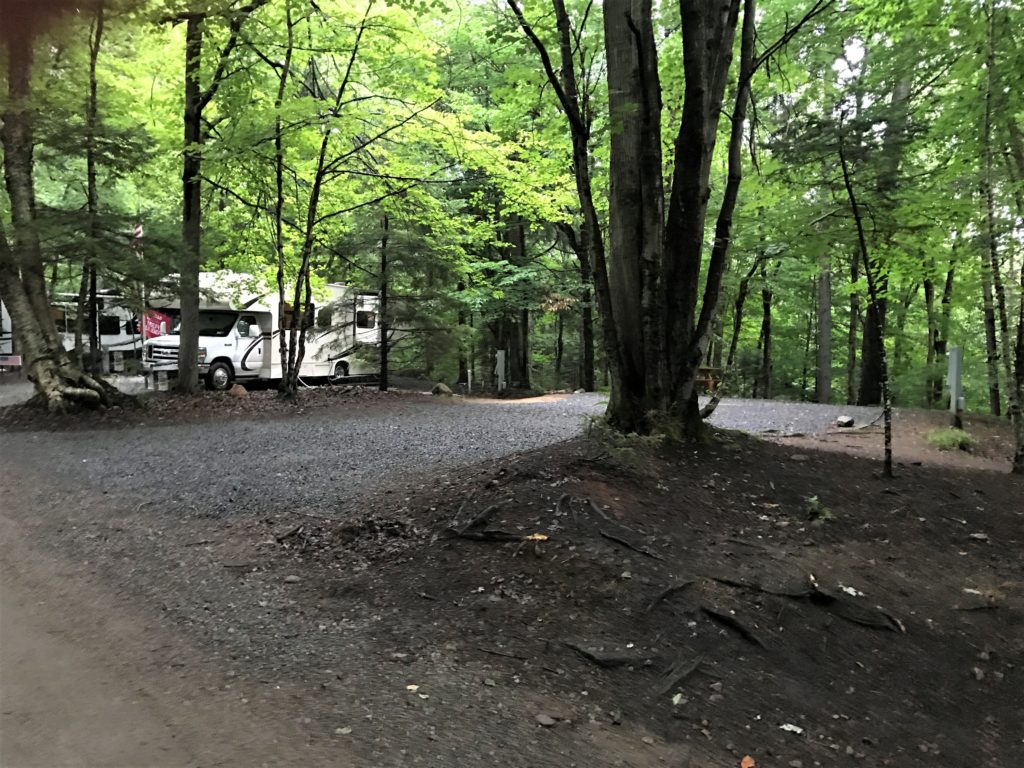 We made sure to take off our shoes (or wipe them furiously on the mat) before going into the RV!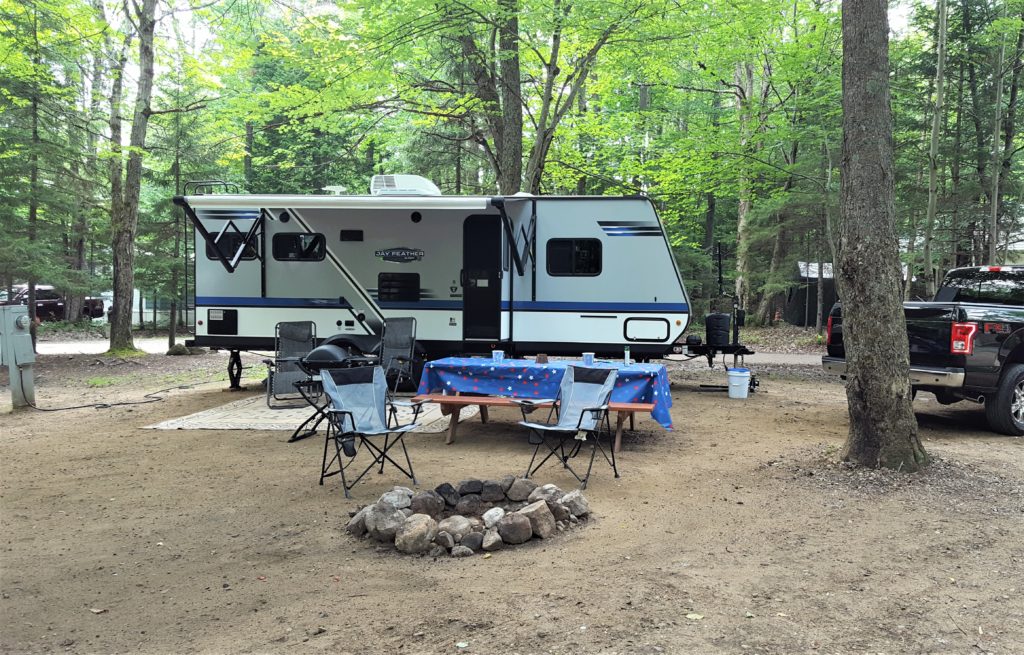 Old Forge Campground Policies:
Here are a few of the campground policies you should know –
RV Sites include Water, Electric & Sewer. Some sites are Water, Electric, Sewer & Lake View

Check-in time: after 2 p.m. Check-out time: by 11 a.m.

6 campers maximum per site

Maximum of 2 vehicles per site

Allowed maximum length of a reservation is 14 nights

Quiet hours are from 10:00 pm to 8:00 am

Pets are welcome. Must be kept on a leash, picked up after and not left alone on site.

Due to the electric supply, air conditioners and heaters are not permitted in the campground

Tents set up on any site other than designated tent sites must be secured with plastic stakes only

Bike riding is not permitted after dark and helmets are required for children ages 14 and under at all times.

You can make a reservation up to one year in advance
Wildlife at Old Forge Camping Resort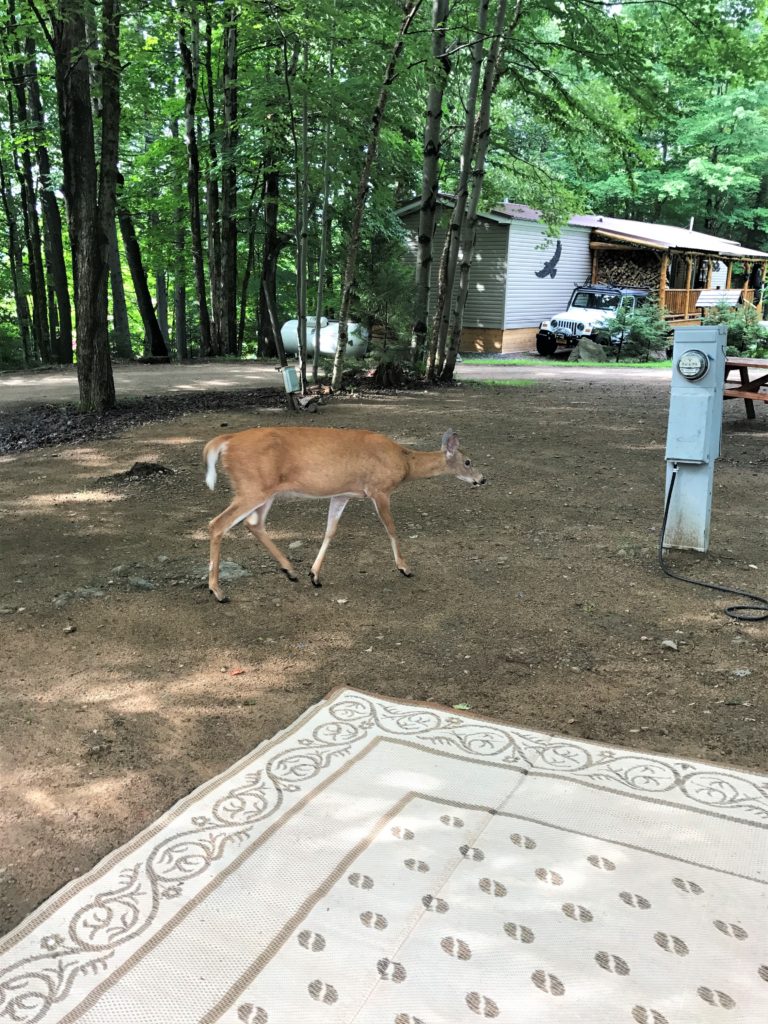 We were surprised at the number of deer we saw walking around the campground! As I walked out of the RV one morning, there she was, standing on our mat, staring right at me!
By the time I got my phone out of my pocket, she had moved on. One evening, we saw three deer wandering around. They were not bothered by the children riding their bikes next to them, the cars driving by or the people stopping to watch.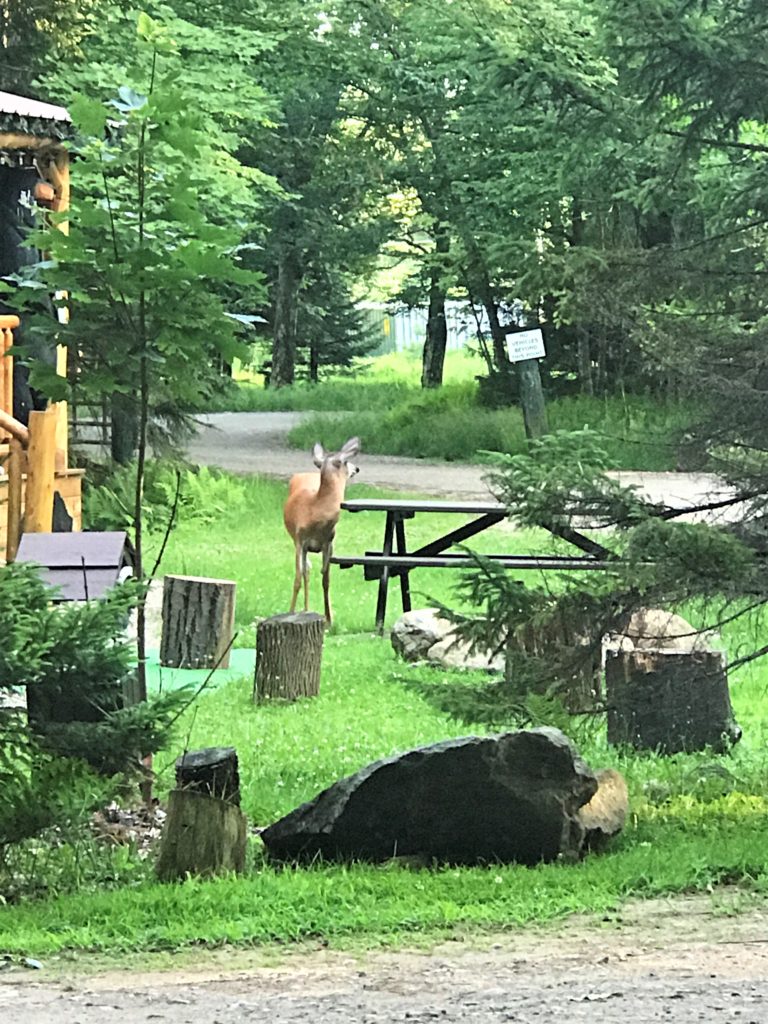 Bears were a big concern at the campground. We spoke to a family RVing next to us who had previously stayed at Old Forge Camping Resort as tenters.
They told us their story about leaving food in their car and waking up to their food strewn all over their campsite! The bear had opened their unlocked car door and feasted on their food.
We also heard that there is a gully in the campground where you can see all the coolers thrown into the gully by the bears!

Old Forge Camping Resort provides this Notification of Bear Warning and Guidelines from the NY State Department of Environmental Conservation at check-in.
It's a great reminder of what you need to do and what NOT to do while camping:
Do not leave coolers or food out at any time (even during the day). Store them inside, in the trunk of your car or in the passenger area of your truck.

Keep windows shut and food and coolers out of sight. Be sure to lock all vehicle doors and campsite doors.

Do not leave coolers or food in your tent, screen houses, or pop up trailers.

Clean up after all meals immediately. Keep grills, pots, pans, cooking utensils, and washbasins clean when not in use.

Do not put grease, garbage, plastic, diapers, cans, bottles or other refuse into the fireplace

Keep your campsite as clean as possible. Take all garbage and recyclables to the dumpster immediately after use.

Do not leave garbage, cans, bottles or other refuse on your site unattended or overnight.
Related Reading: Here's how you can Easily Set Up Your RV Campsite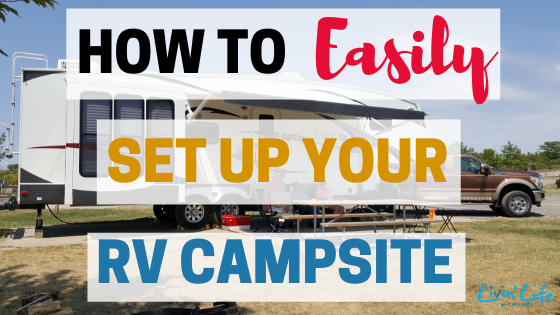 Adirondack Cottages and Camping Cabins at Old Forge Camping Resort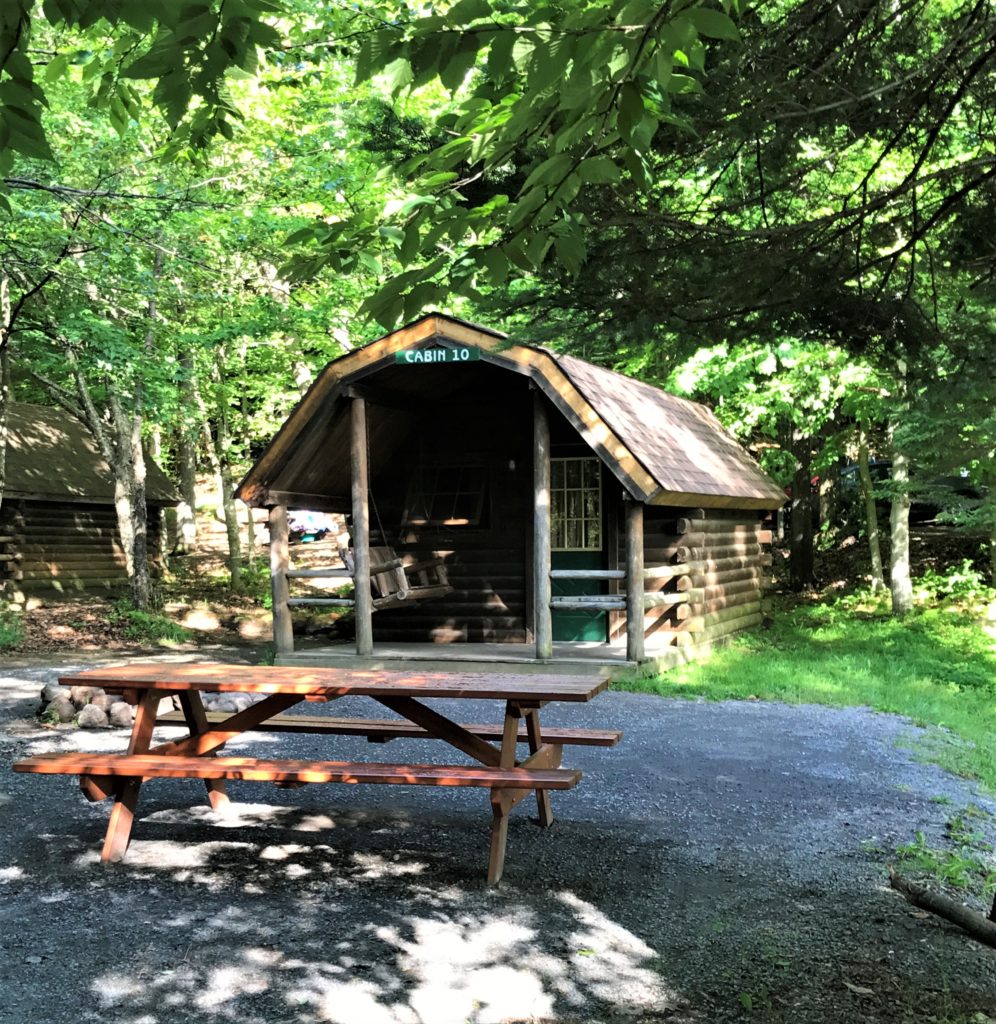 The Camping Cabins looked so cute and we saw many families sitting on the front porch swing (see photo above!)
The one-room cabins sleep four guests with a double bed and a set of single bunks. Each cabin has an overhead light, two electrical outlets, heater, and a small bench and utility table. Outside the cabin is a porch swing, picnic table, and fire circle.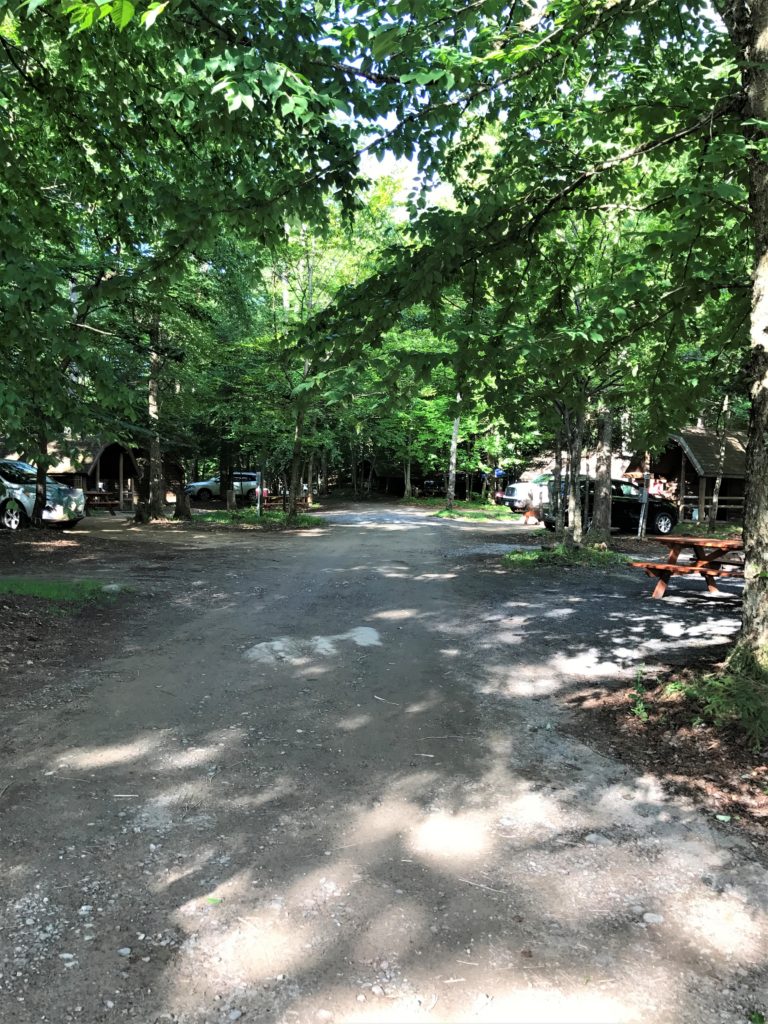 The Adirondack Cottages have two rooms and sleep up to six guests. The first room has a double bed with a single bunk over it and a kitchenette which includes a microwave, propane stovetop, small refrigerator, sink, dining table and six chairs, and a heater.
The second room also has a double bed with a single bunk over it with an attached bathroom and shower. The cottages also have a charcoal grill outside, picnic table and fire circle.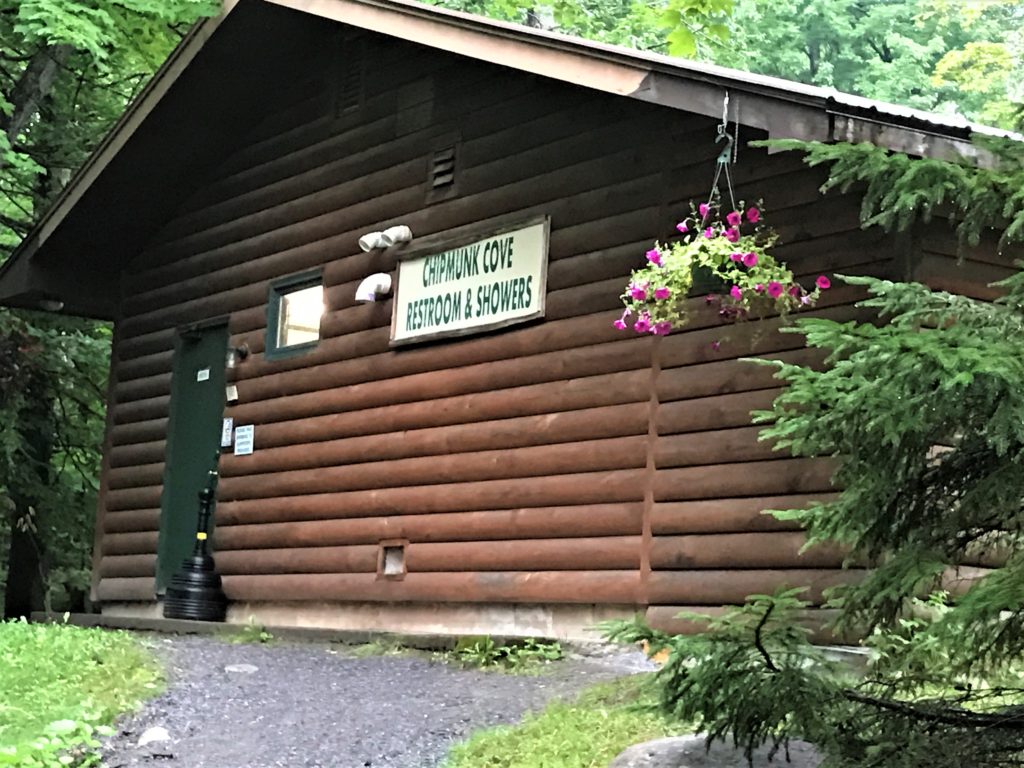 There are seven different locations in the campground that have heated restrooms and shower facilities with camping kitchens outside for cooking (during the summer months).
Lake Serene at Old Forge Camping Resort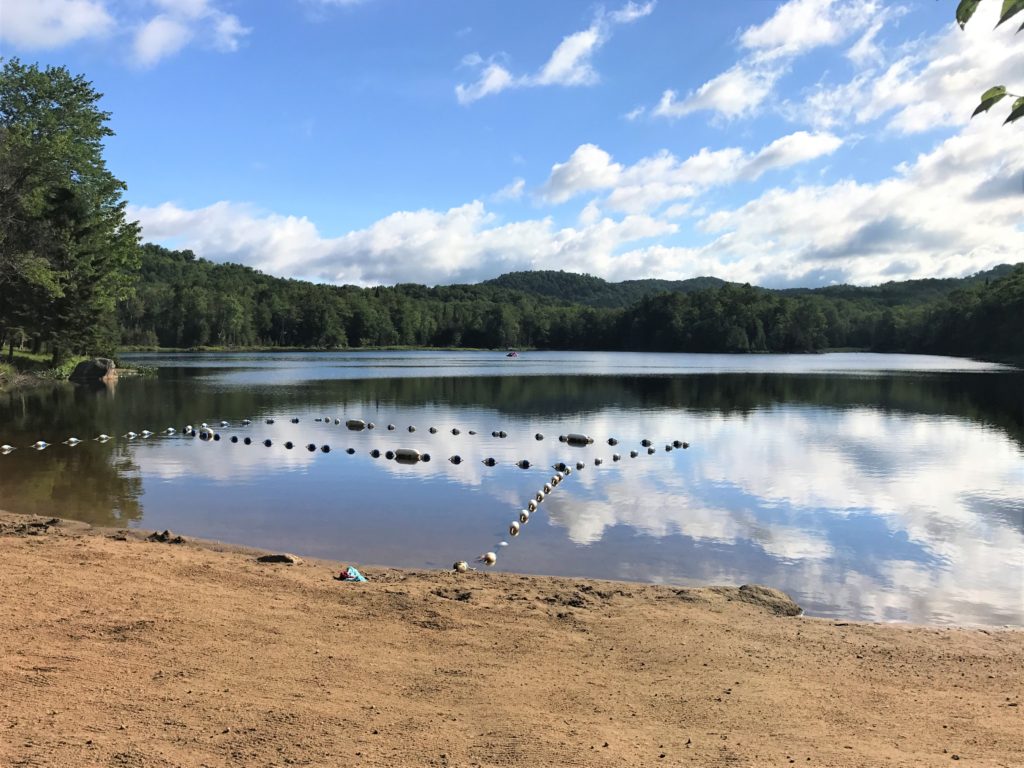 Lake Serene is located in the Old Forge Campground. It is a great spot for swimming and the campground offers canoe and paddleboat rentals as well.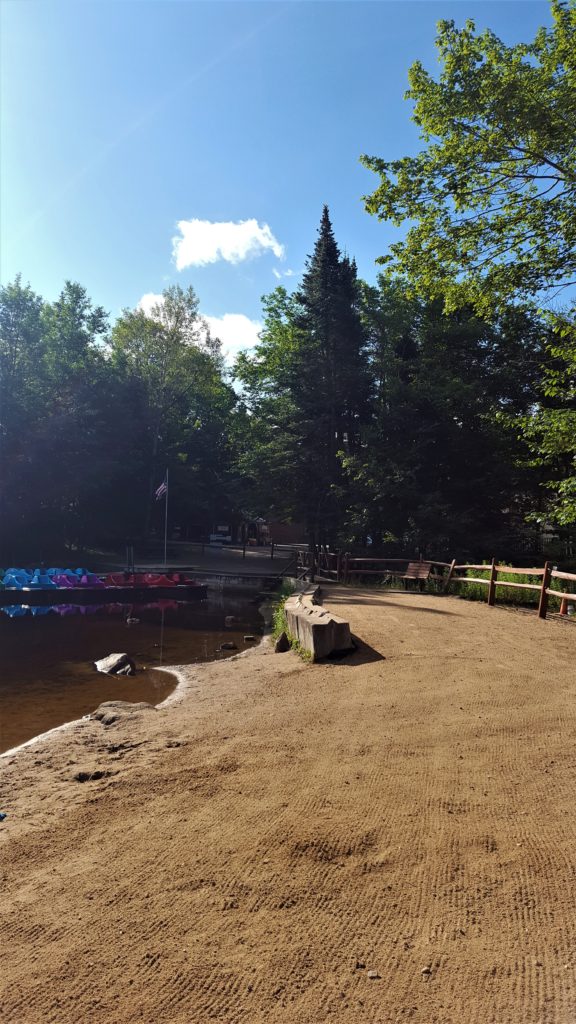 We found Old Forge Camping Resort to be in the perfect location for our trip too!
The campground is next to Enchanted Forest Water Safari and Calypso's Cove and offers a FREE shuttle service from various locations throughout the campground.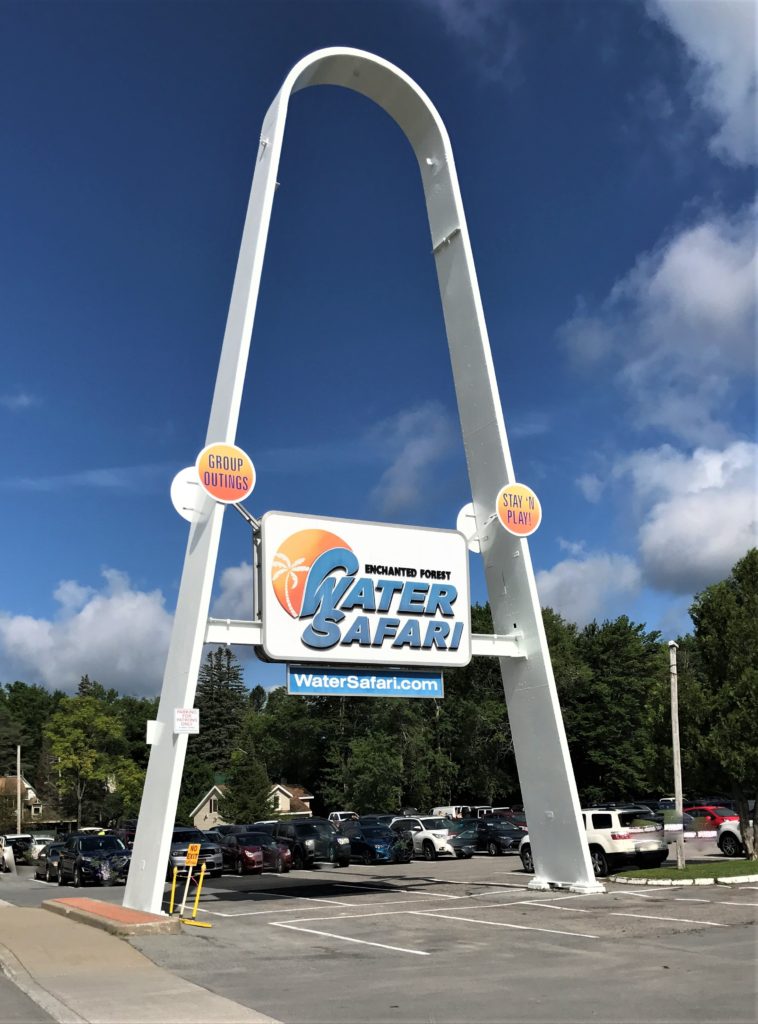 Or, if you prefer, you can take a short walk from the campground into town or Calypso's Cove!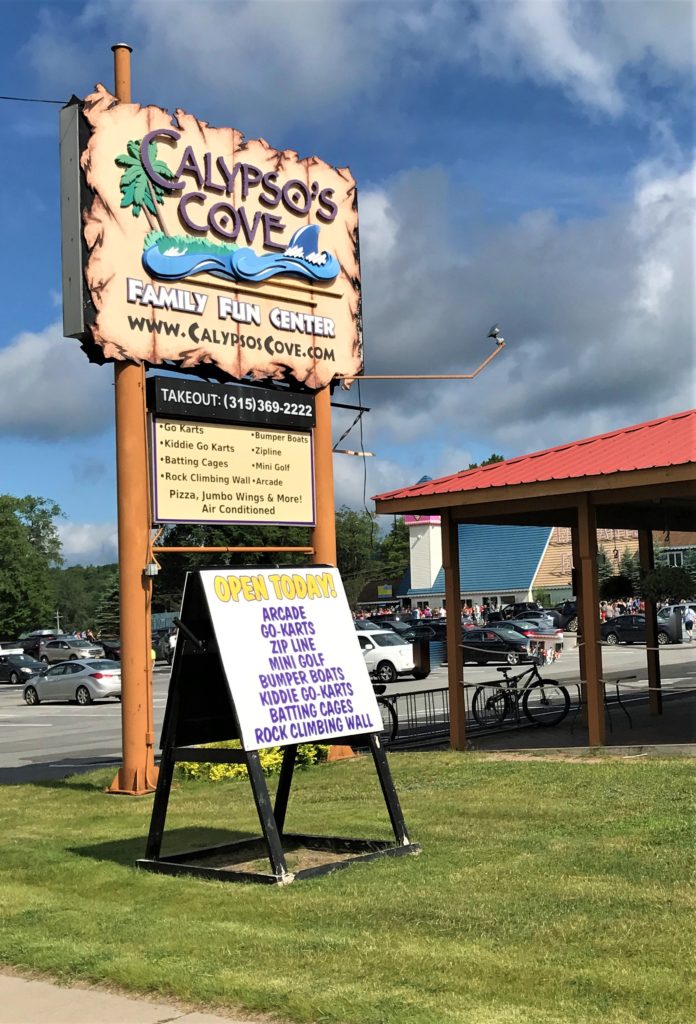 Things we liked about Old Forge Camping Resort:
The location to the town and many area attractions (kayaking on Moose River, McCauley Mountain, hiking trails)

The campground had large wooded RV sites

The campground was clean

WiFi and cell service worked well

Campers adhered to quiet hours

The Main Lodge and Camp Store had everything you might need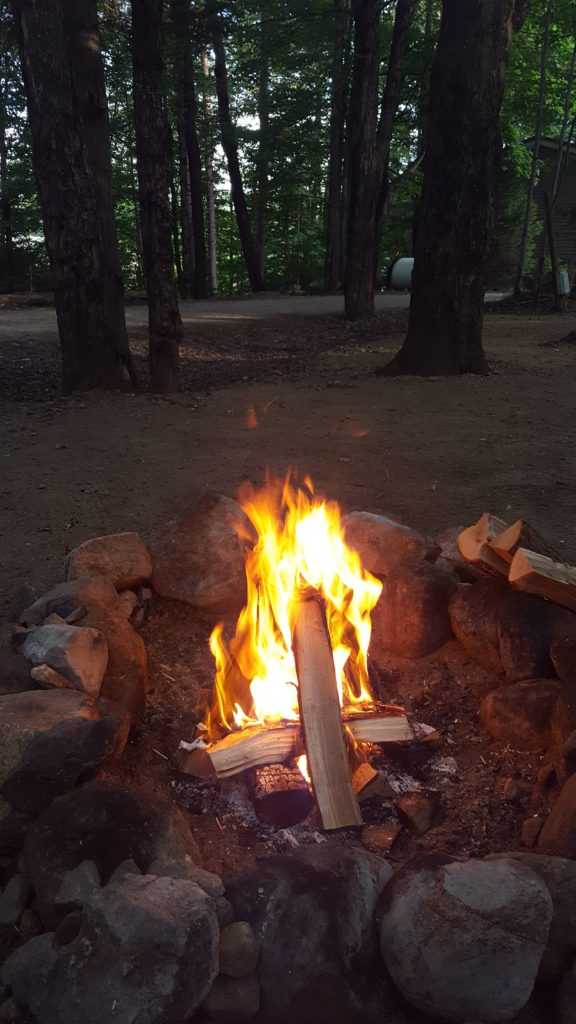 Things we didn't care for at Old Forge Camping Resort
Our site did not have gravel (but this didn't keep us from having a great time!!)

You could not use your AC in the RV. At check-in and in the campground policies under RV Sites it stated: "Due to our electric supply, air conditioners and electric heaters are not permitted."
It was especially hot during our stay – even in the evening hours. I'm sure others went ahead and used their AC but we did not. This was one of the reasons we did not take Buddy, our Golden Retriever with us on this trip!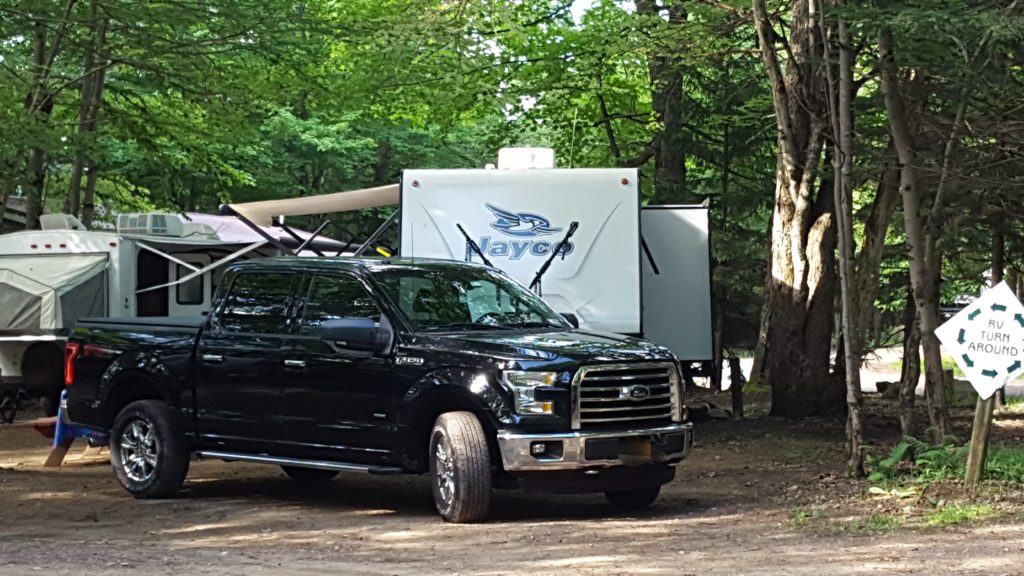 The Town of Old Forge, New York
We loved the town of Old Forge. It was a busy quaint town with lots of restaurants, shops, ice cream shops, and things for kids to do!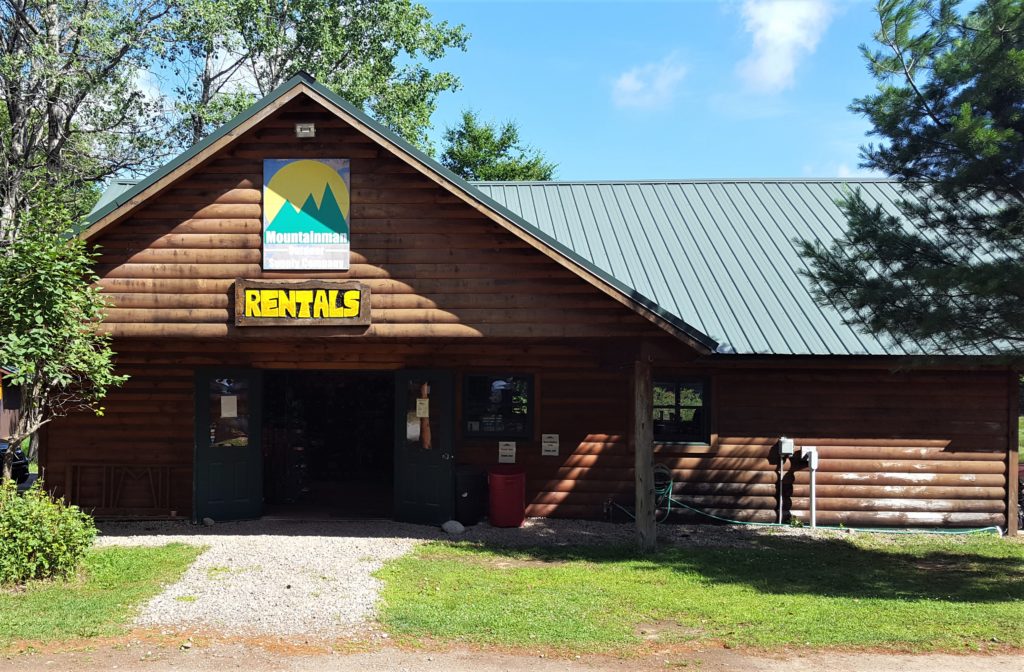 We decided to go kayaking down the Moose River and loved the three (3) hour trip!
I have never been kayaking before so I didn't really know what to expect! Depending on the trip you choose, the company will drop you off and pick you up downriver to take you back to town.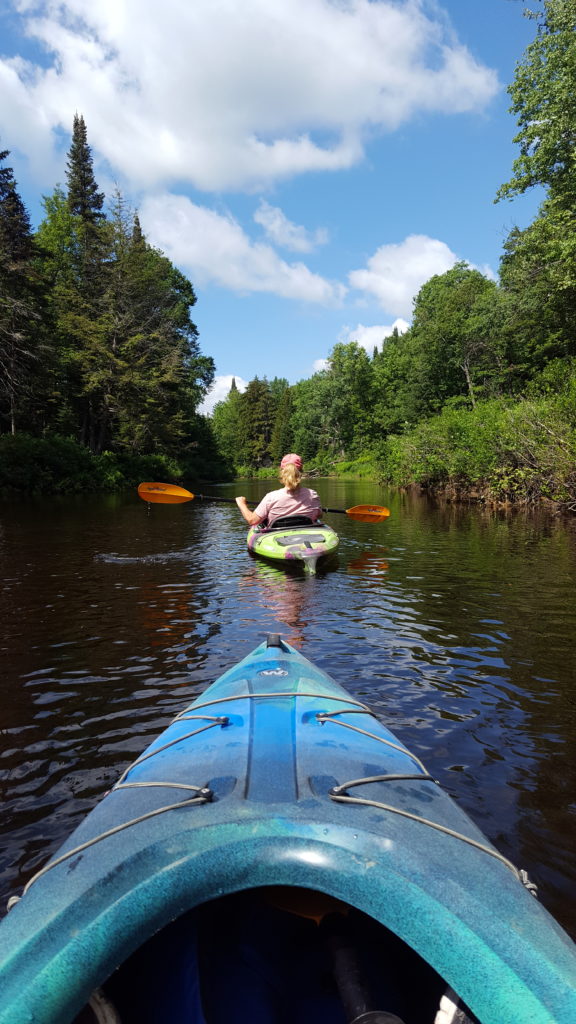 I will be writing more about my kayaking experience soon!
More RV Camping Articles You Will Love!
* RV Camping At Adirondack Camping Village – Lake George, NY
* Houghton Letchworth KOA The Best Camping Near Letchworth State Park
* Camping In Massachusettes At Mt. Greylock Campsite Park
* The Best RV Tools You Will Need In Your RV ToolKit
* 10 Best Reasons Why You Will Love RV Life
* What Is The Average Cost Per Night At An RV Campground
* 9 Important Things To Know Before Booking A Campground
* How To Choose The Best Camping Chairs
KEEP ALL YOUR CAMPGROUND RESERVATIONS ORGANIZED!
Free Campground Reservation Log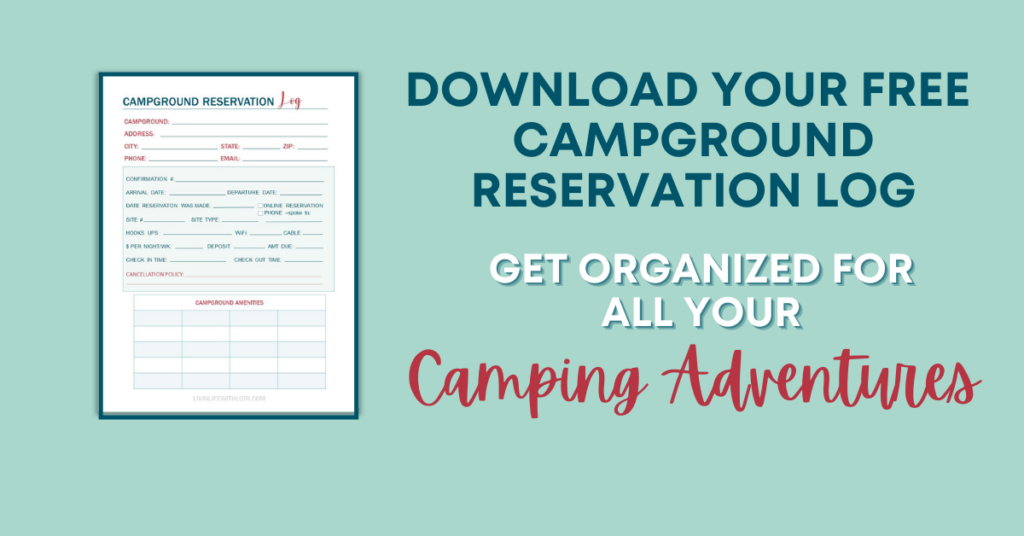 Yes! I Want It!
FREE RV CAMPGROUND RESERVATION LOG
Please Join My Email List!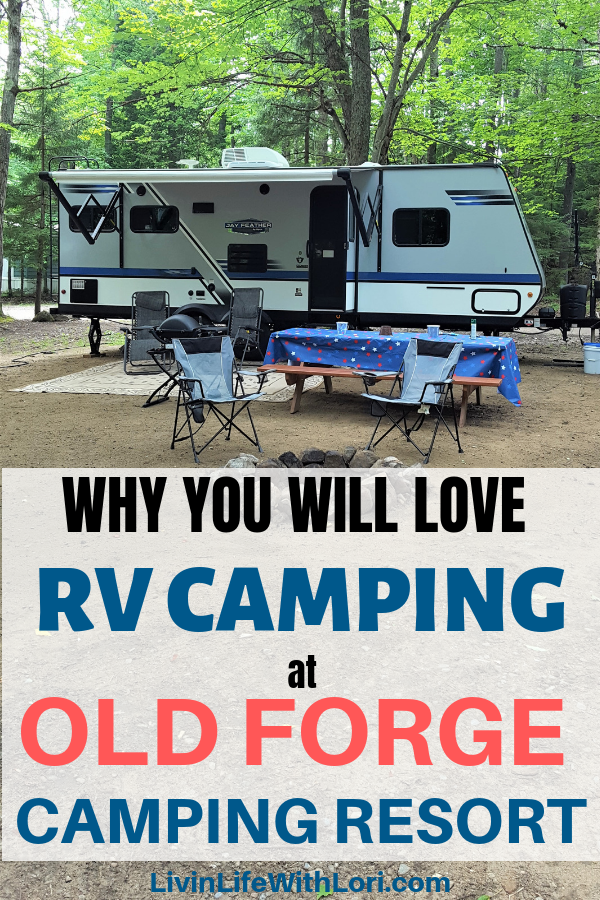 Have you been to Old Forge Camping Resort? I would LOVE to hear where you like to stay in the Adirondacks!
Send me an email!
Happy Camping & Safe Travels!
The opinions in this article are my own opinions based on my family's experience.