Last Updated on February 17, 2022 by Lori
Acadia National Park is one of the most popular National Parks in the United States. Located on Mount Desert Island in Maine, Acadia National Park is a definite must-see if you're planning a road trip on the East Coast. Don't miss these 9 amazing things to do in Acadia National Park on your next vacation!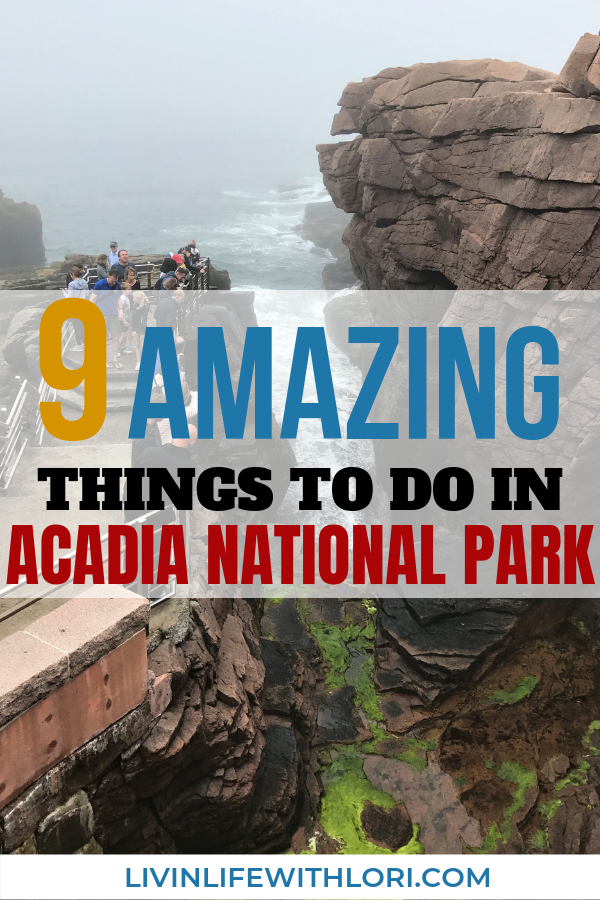 This post contains affiliate links which means if you click on a link and make a purchase, I will earn a commission at no additional cost to you. Please read our Disclosure Policy for additional information.
Best Places To Visit In Acadia National Park
Did you know that Acadia National Park ranks as one of the Top 10 Most Visited Parks in the United States?
With 48,000 acres and 60 miles of rugged coastline – No wonder it's called the Crown Jewel of the North Atlantic Coast!
We visited Acadia National Park years ago on our honeymoon and were anxious to see how much we remembered and how much had changed.
We were not disappointed in the spectacular views, enjoyed several beautiful hikes, and we quickly learned that Acadia National park is one of the most dog-friendly places too!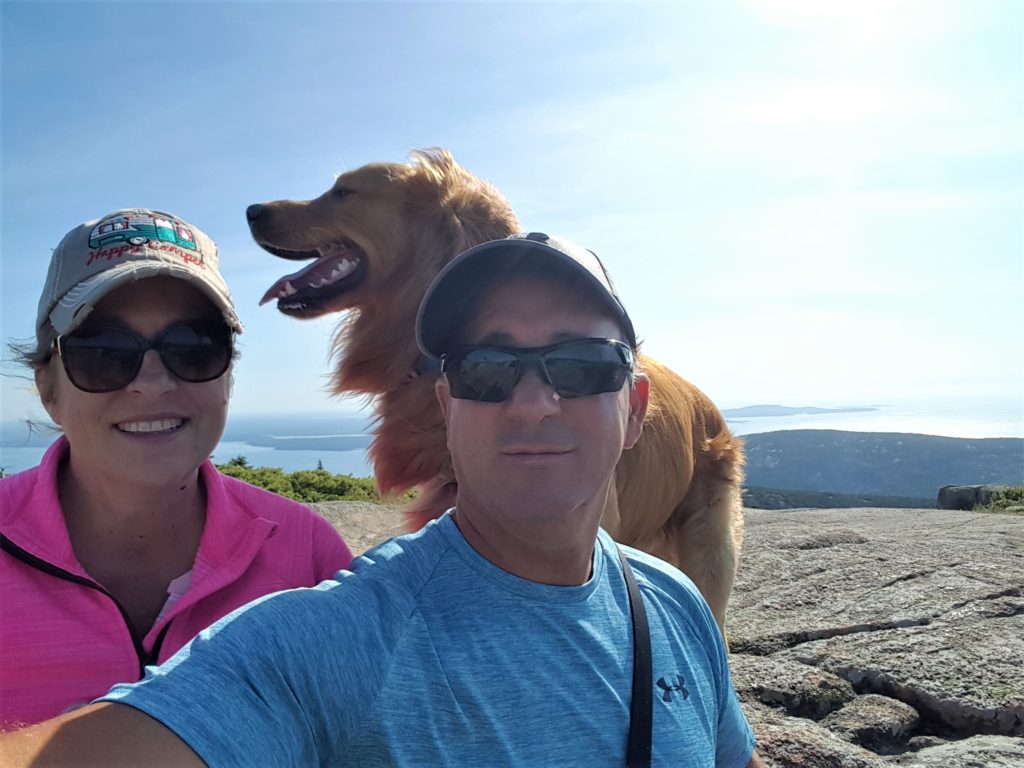 Where Is Acadia National Park Located?
Acadia National Park is located in Maine near the town of Bar Harbor on Mount Desert Island.
To give you a better idea of its location, the park is about 500 miles from New York City, 275 miles from Boston, 160 miles from Portland, Maine and 50 miles from Bangor, Maine.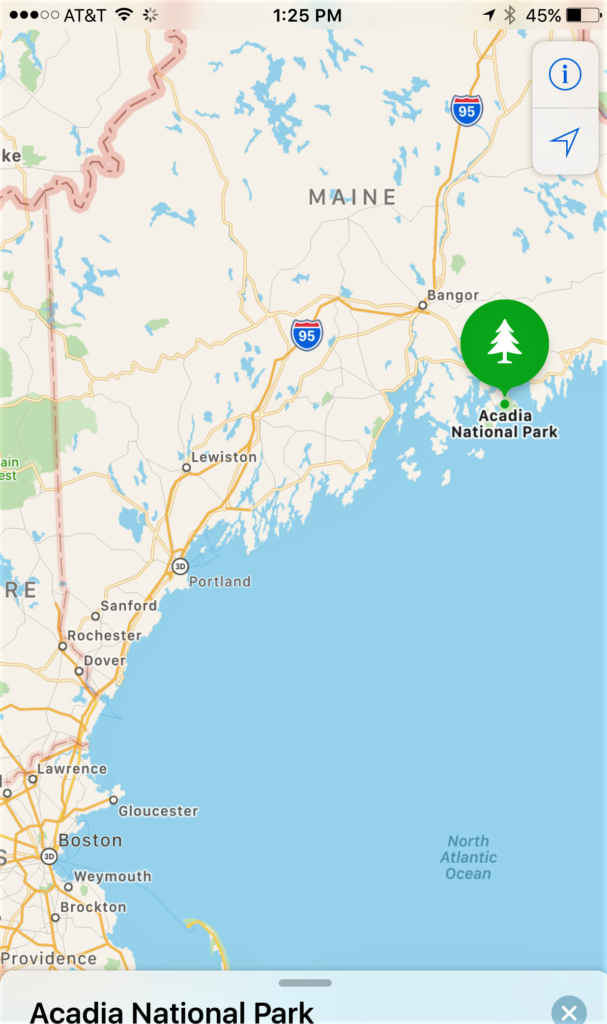 Acadia National Park is listed as one of the Top 10 Most Visited Parks in the United States with 3.5 million visitors per year.
Best Time To Visit Acadia National Park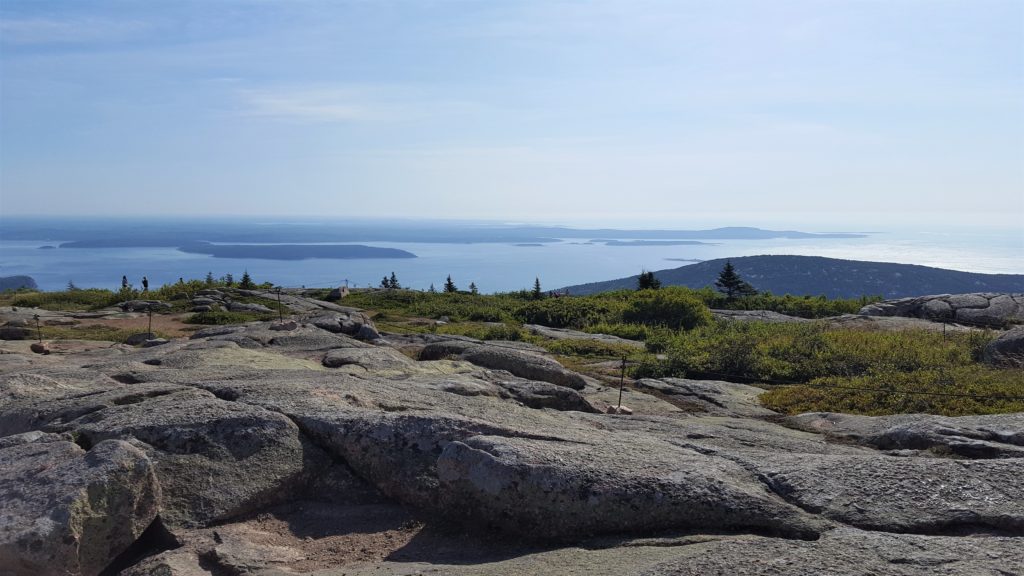 It really depends on what you like to do! The average stay is 3-4 days and we found this timeline to be true in order to see everything we wanted to see and do in and near the park.
March-May This is the park's off-season. Many park facilities are operating on a limited schedule. Temperatures are cold and chilly with many days being foggy and rainy and you won't be able to see much of the beautiful coastline.
But the crowds will be much lighter during this time.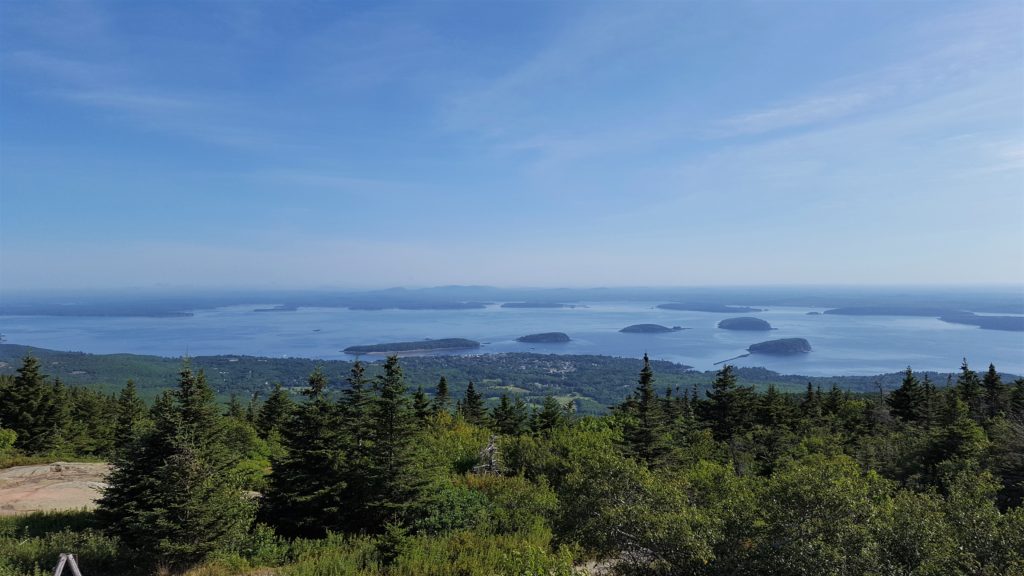 Acadia National Park Summer
June – August This is the high season when there are the most visitors to the park. If you plan your day and get to the park early, you will be able to get a parking spot to see the most popular attractions.
TIP: We found that getting to the Park between 8 – 10 am gave us the best chance of getting a parking spot for both Cadillac Mountain and Jordan Pond.
The weather can be in the upper 70s but temperatures dropped in the evening so be sure to bring your jacket with you!
September – October The crowds are much lighter but the temperatures drop to the 40s and 50s. You can begin to see the fall foliage in late September to early October. Beginning mid to late October, some businesses in Bar Harbor and surrounding areas begin to close for the winter,
November – February Many businesses close for the winter; hiking trails and most of Park Loop Road is closed in winter. There are, however, two sections that remain open: Ocean Drive and Jordan Pond Road plus forty-five miles of carriage roads are open for cross country skiing.
Unique Things About Acadia National Park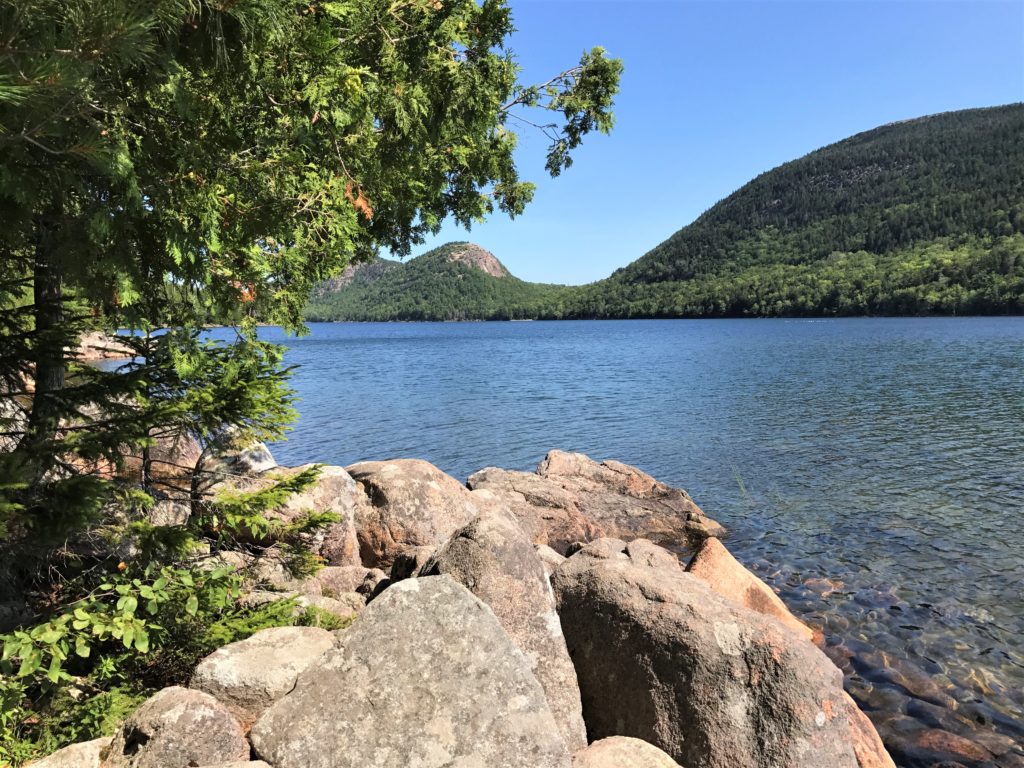 There are so many things to do in Acadia National Park that you can easily spend more than 3-4 days!
Here are just a few of the Acadia National Park Must See attractions.
Start at Acadia National Park Visitor Center –

The Hulls Cove Visitor Center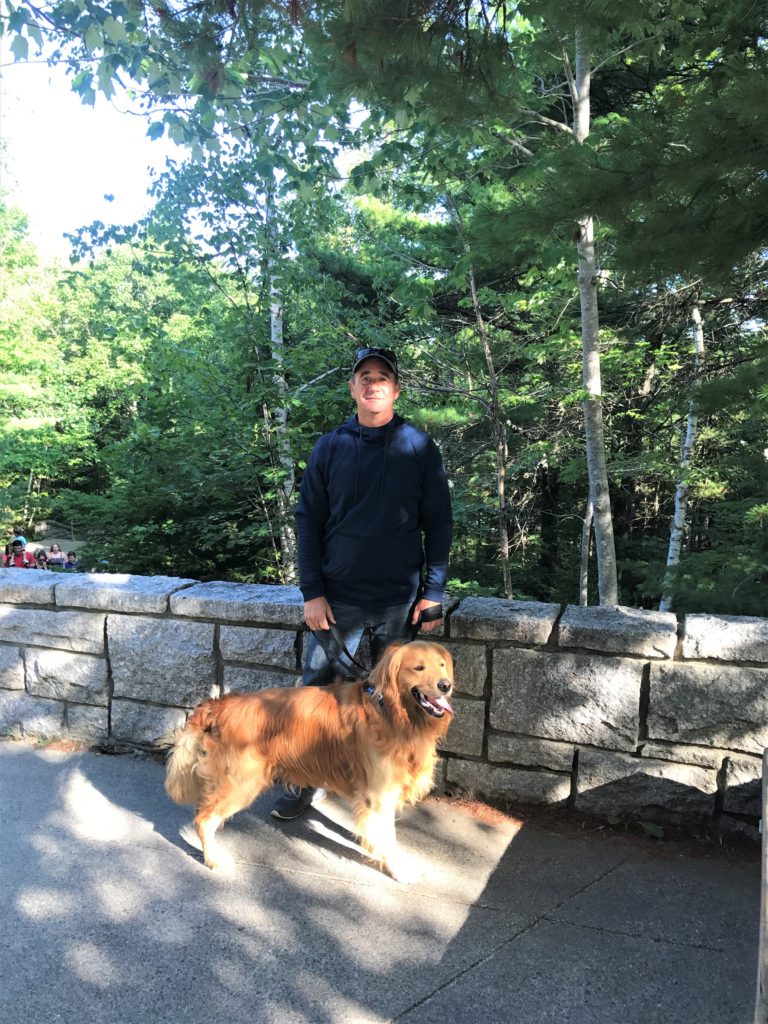 Just a fair warning! There are 52 steps leading up to the Visitor's Center!
Buddy, of course, loved going up and down the 52 steps! As you can see, it was chilly that morning and it was August!
I suggest beginning your trip here at the Visitor's Center. You can purchase your park pass, get your Acadia National Park Map, and Park Rangers will answer all your questions relating to hiking, swimming, biking and how to get where in the park.
There are also nice restrooms and you can visit the Acadia National Park store.
Map of Acadia National Park
We arrived at the Visitor Center when they opened at 8:00 a.m. (July & August) to get our car pass and map of the park.
Having a map of the park is important so that you don't miss anything in the park! It shows you all the stops along Park Loop Road, where to turn for Cadillac Mountain, and Jordan Pond.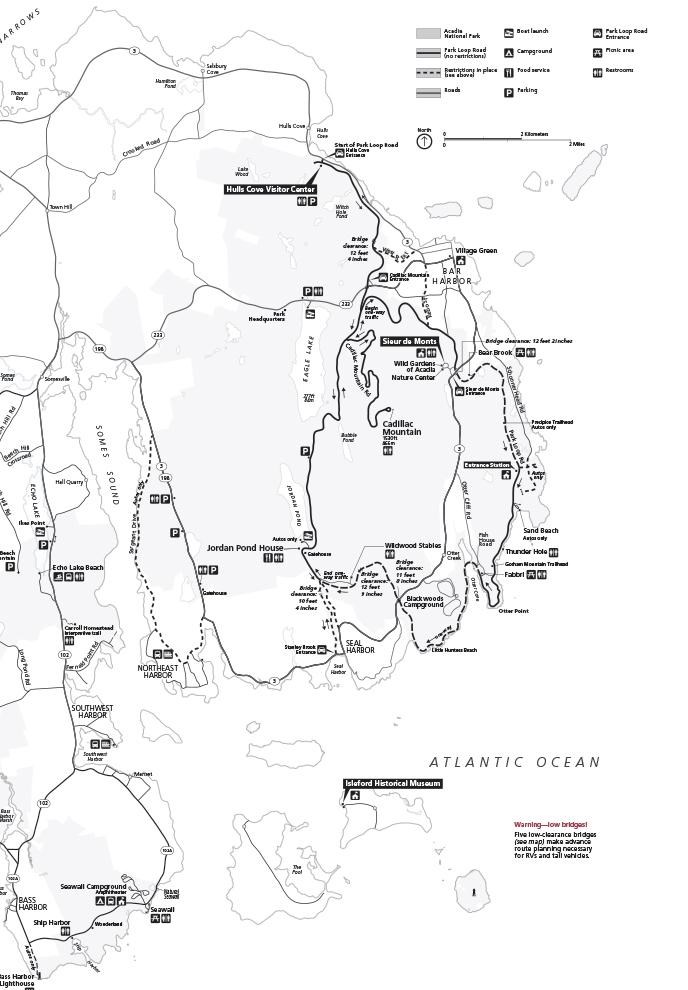 TIP: The National Park Service website has a link to check the busiest times for certain attractions in Acadia National Park.
By checking the website we knew the busiest times for Cadillac Mountain were between 4-6 a.m. (sunrise), so we wanted to get there as soon as we had purchased our car pass after the visitor center opened at 8 am.
We easily got a parking space at Cadillac Mountain around 8:30 am.
Here's the link so you can check the busiest times at Acadia National Park
Top Things To Do In Acadia National Park
Get Up Early To See Cadillac Mountain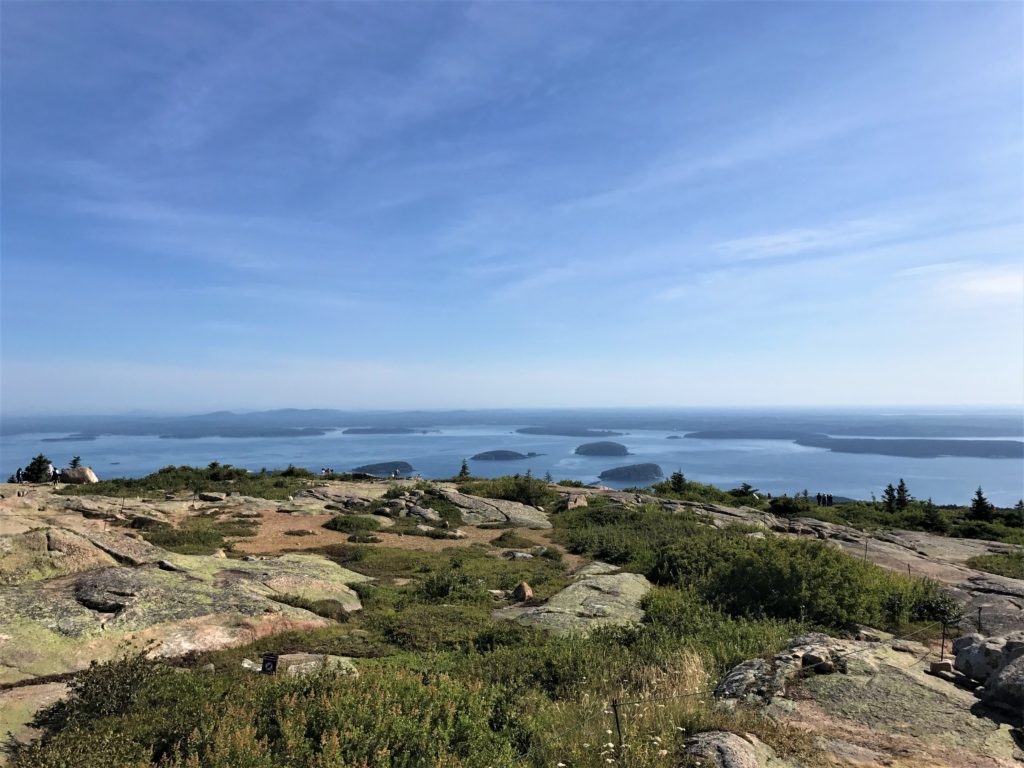 We decided to start our day at Cadillac Mountain. This is the highest point along the North Atlantic Seaboard – 1,530 ft. and the first place you can view the sunrise in the United States from October 7 – March 6.
As you can see, the view is amazing!
Acadia National Park is open 24 hours and many people drive to the top of Cadillac mountain to view the sunrise and sunset – which are the busiest times and parking is very congested.
If you do want to see the sunrise, be sure to get there early! (That's why the website said one of the busiest times was 4 a.m.!)
TIP – If you're not planning to see the sunrise, plan to arrive between 6 am – 10 am or after 8 pm when the traffic is the lightest.
Hike the 3.30 Mile Loop Around Jordan Pond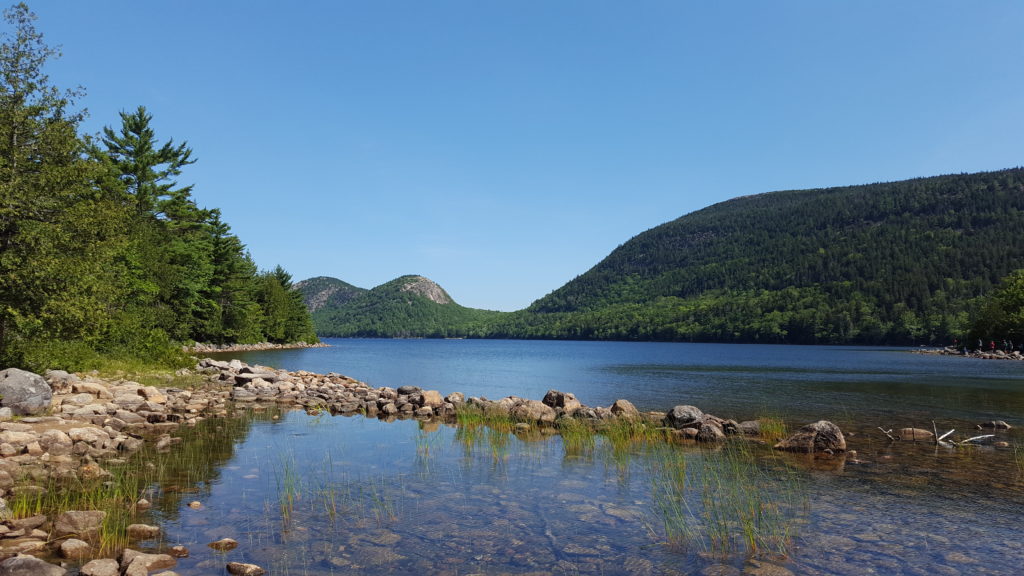 What a treat when we stopped at Jordan Pond House! While we didn't eat at the restaurant, we heard many who did and loved the blueberry popovers.
Be sure to make reservations! We saw many people standing in line to make reservations for the Jordan Pond House Restaurant which is known for its popovers.
After visiting the gift shop, we walked down to Jordan Pond. We didn't stop to put on our hiking boots, but afterward, we wished we had.
This is a 3.3-mile loop around the pond. It's not simply a gravel pathway either!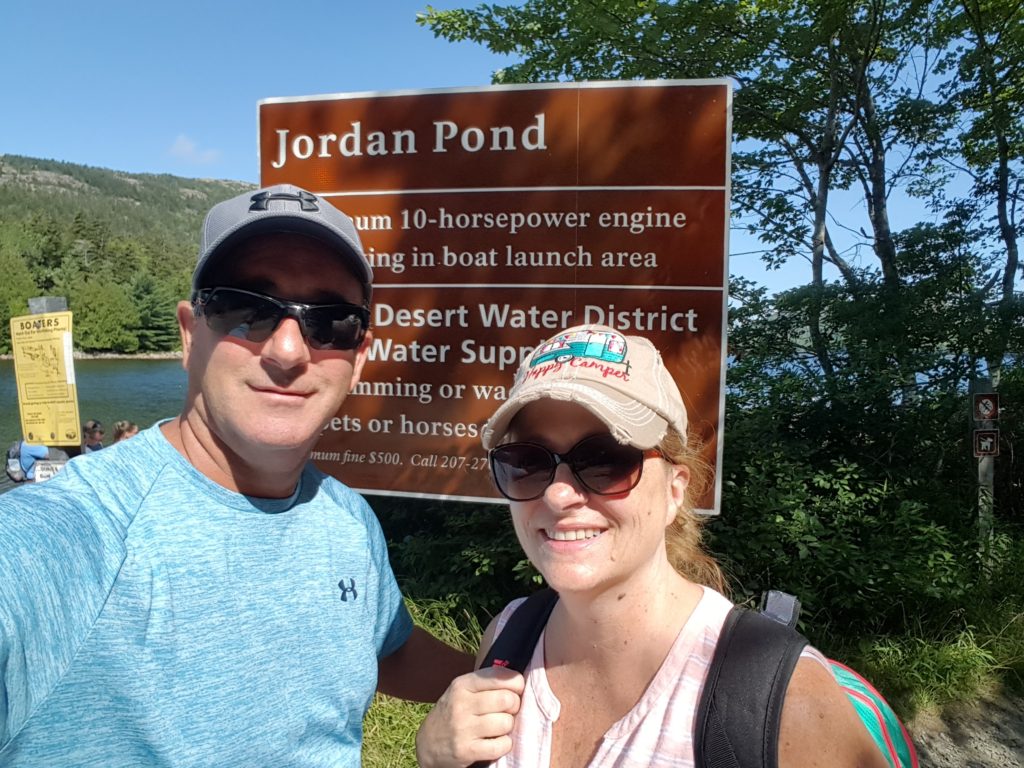 Buddy loved the walk which included climbing over rocks, along board planks, through the trees (due to volunteers working on the boardwalk), and then along the path.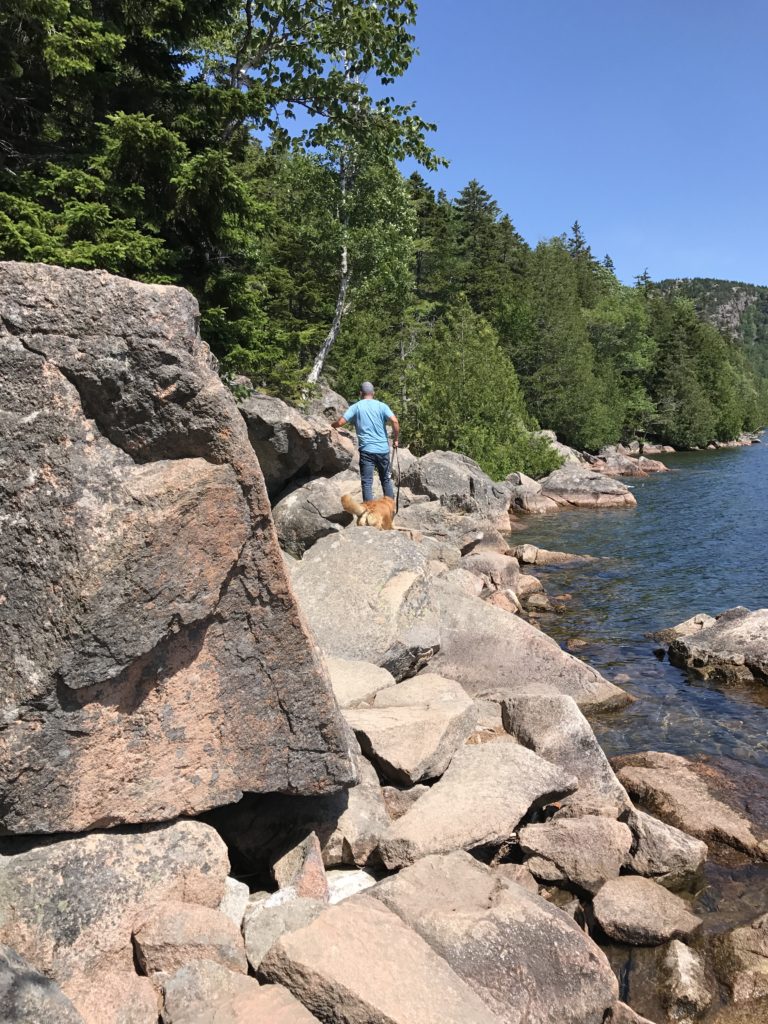 Here's Buddy taking the lead along board planks. This boardwalk protects the natural growth along the pathway.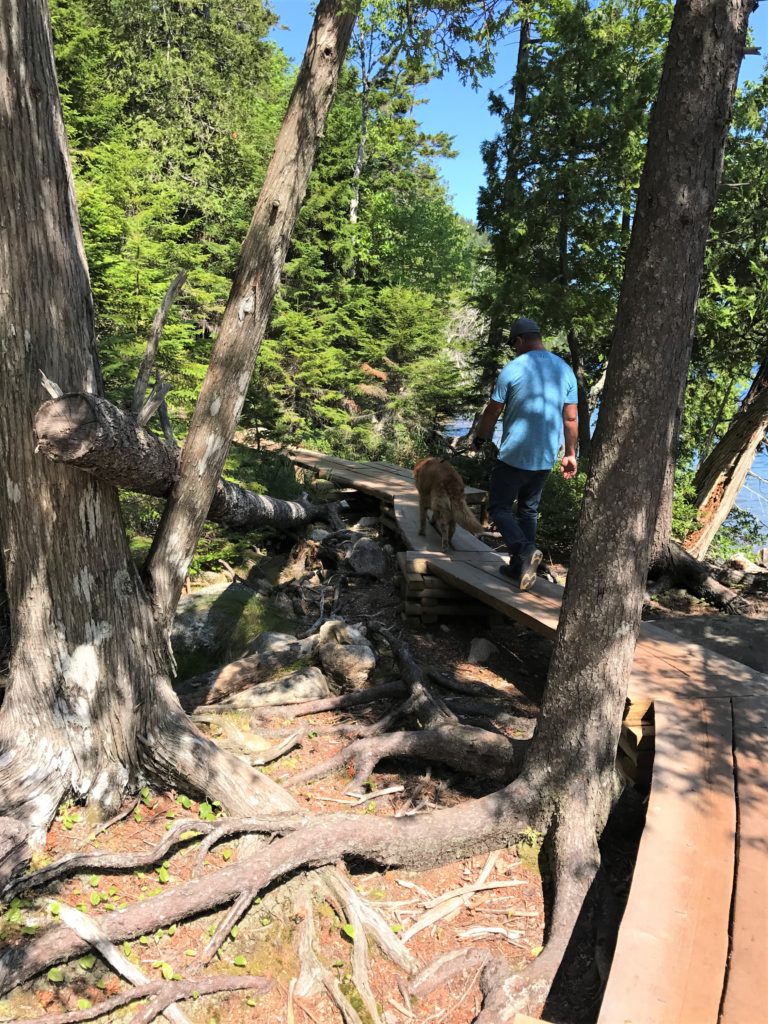 There was a detour from the boardwalk through the trees due to volunteers working on the boardwalk.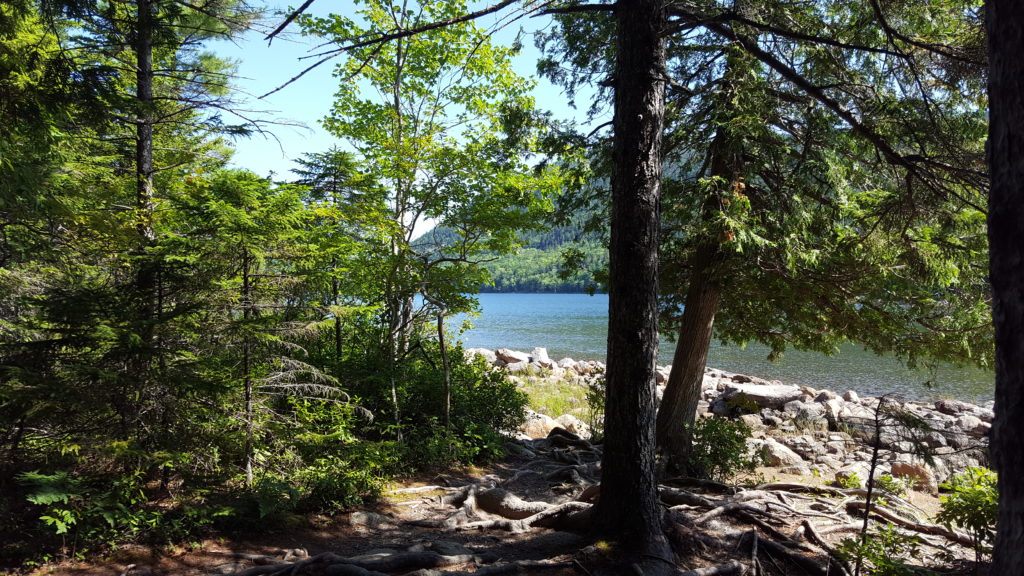 The hike was awesome! It is listed as an "Option For Young Hikers" on the NPS list of Hikes at Acadia National Park.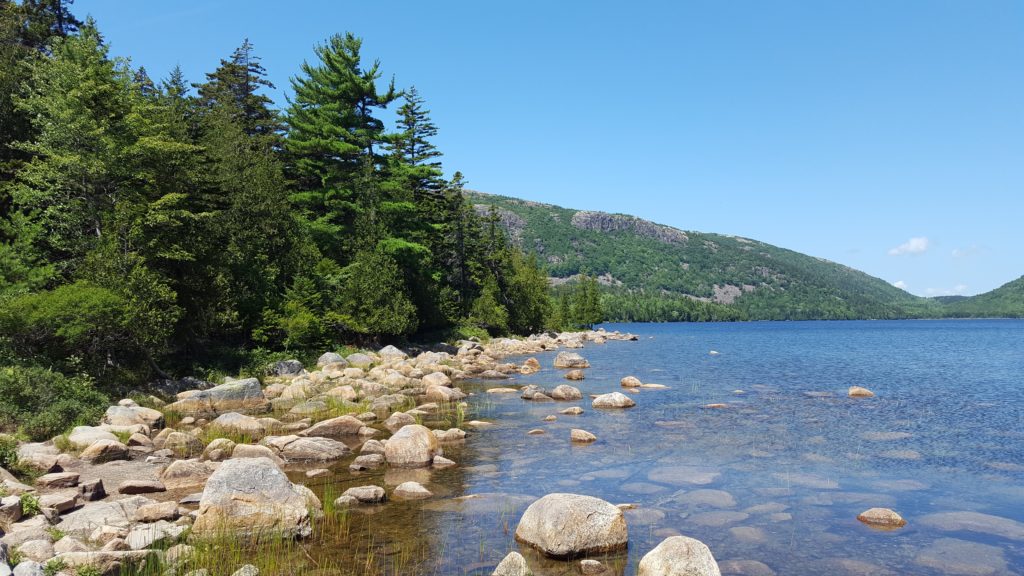 Because Jordan Pond is for drinking water, no swimming or dogs are allowed in the water.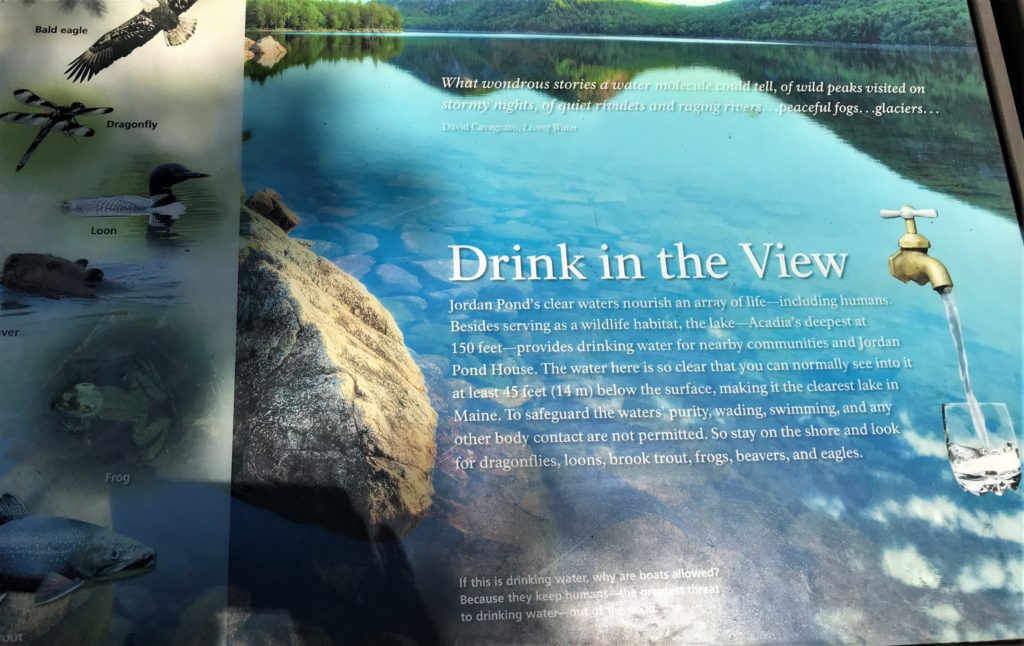 You can see just how clean and clear the water is at Jordan Pond!
The views of Bubble Rock were amazing.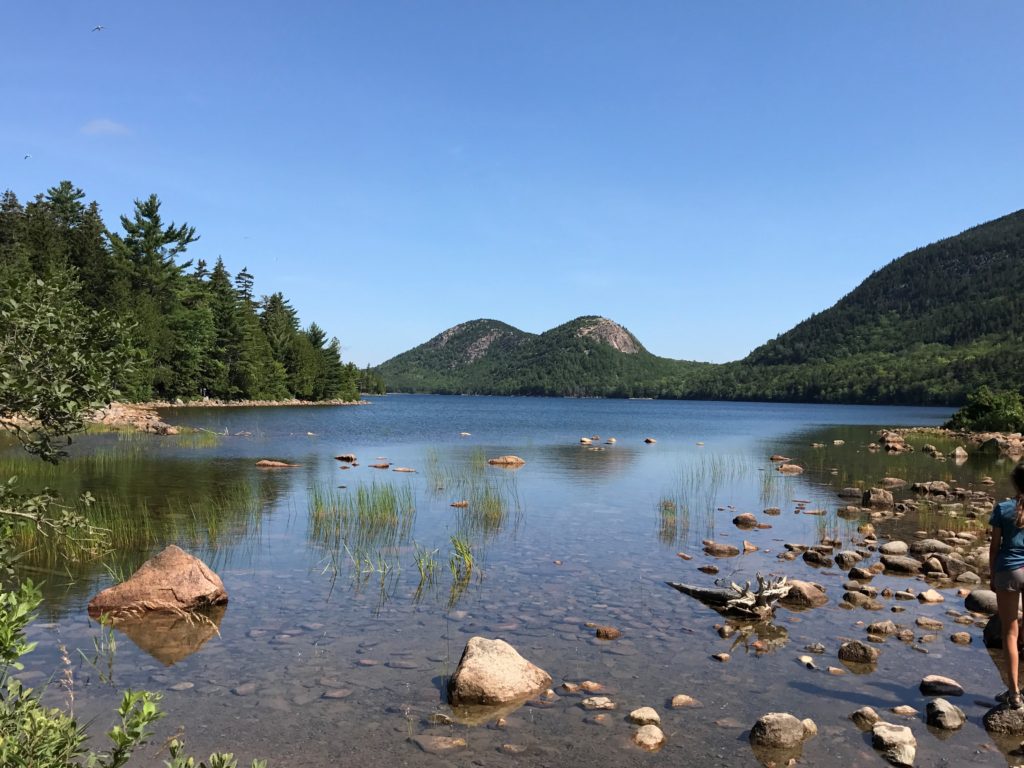 There is a trail that leads from the Jordan Pond Loop to the top of Bubble Rock but by that time we still had another half of the lake to walk around so we headed back to where we started the hike.
Thoughts About Jordan Pond Hike
I highly recommend this hike! Be sure to get to the parking lot BEFORE 10 a.m. if you want to be sure to get a parking spot. When we returned to our truck, there were lines leading out into the road of people waiting to park.
Remember to bring sturdy shoes and snacks for the hike!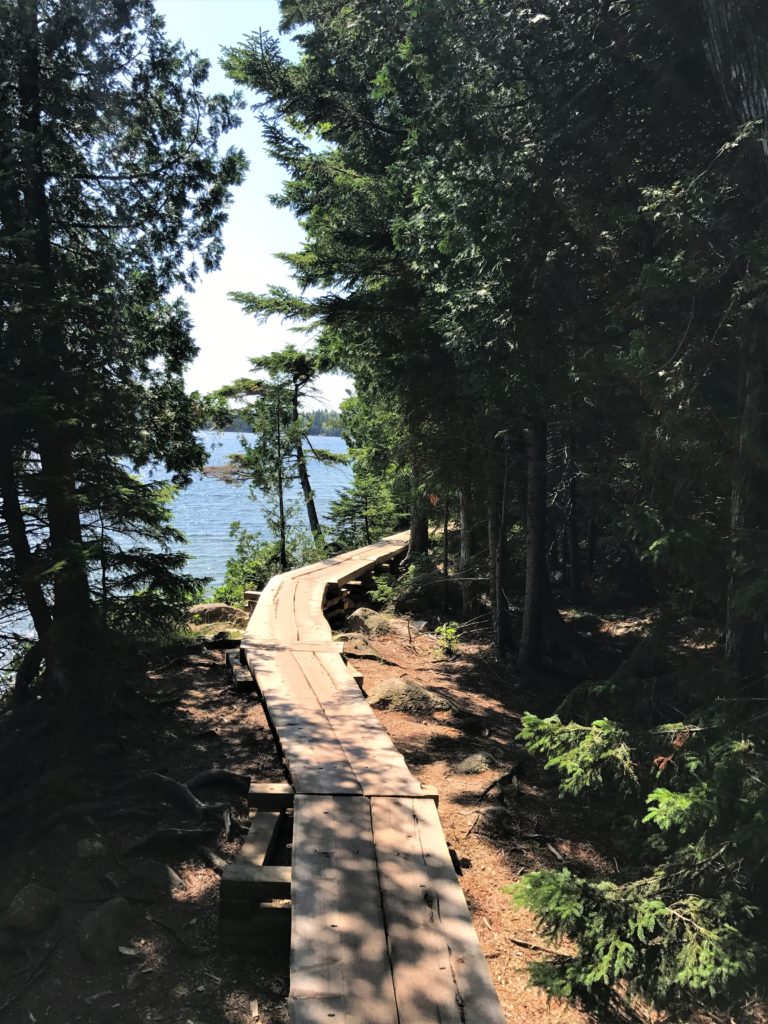 Take A Drive Along Park Loop Road Acadia National Park
Plan at least half a day to drive the Park Loop Road. This scenic 27-mile road is one-way allowing cars to park in the right lane at some of the stops along the way.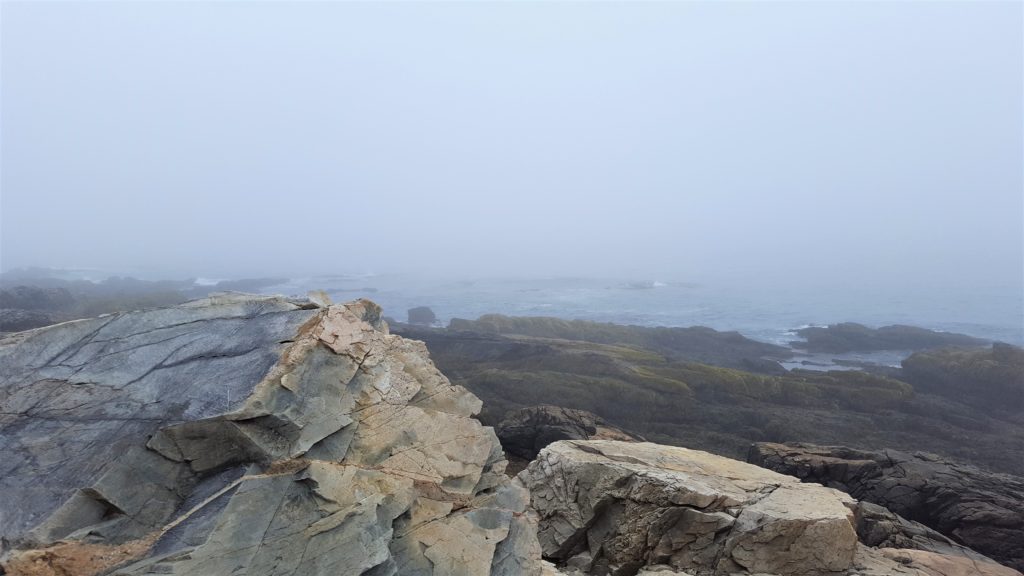 This road will take you to Sand Beach, Thunder Hole, Otter Cliffs, Jordan Pond, and Cadillac Mountain.
There were many places to pull over and have a picnic too! So plan to take a break and don't rush along this 27-mile road or you will definitely miss something!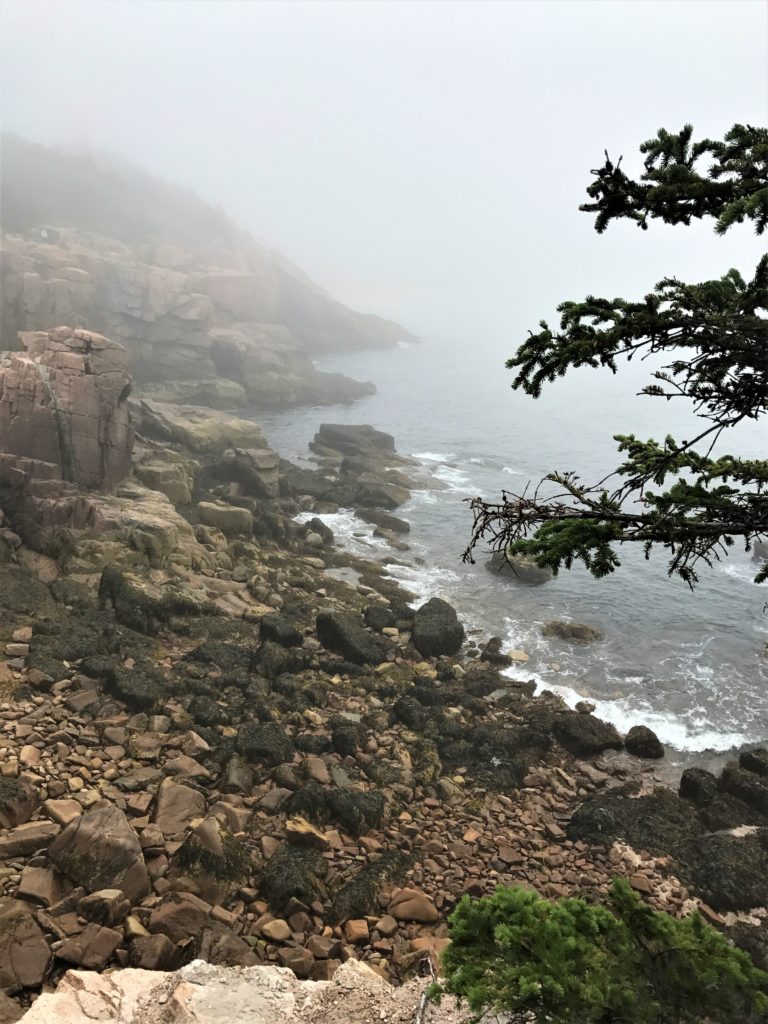 Make A Stop At Sand Beach – Acadia National Park
Sand Beach is located off Park Loop Road and is made up of sand and shell fragments left from the surf washing up onto the shore.
No dogs are allowed on Sand Beach
Walk Along Acadia National Park's Ocean Path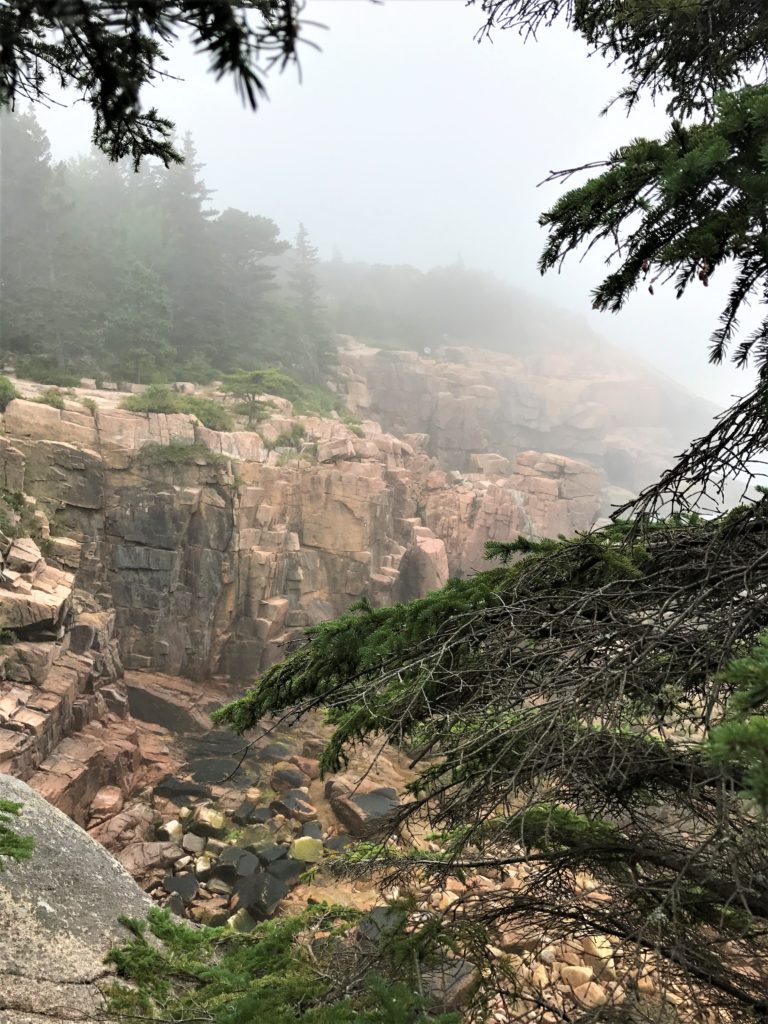 After parking along the road by Sand Beach, we saw everyone walking along a path next to the roadway.
We decided to follow along! We were so glad we did because it led us to many views we might never have gotten to see.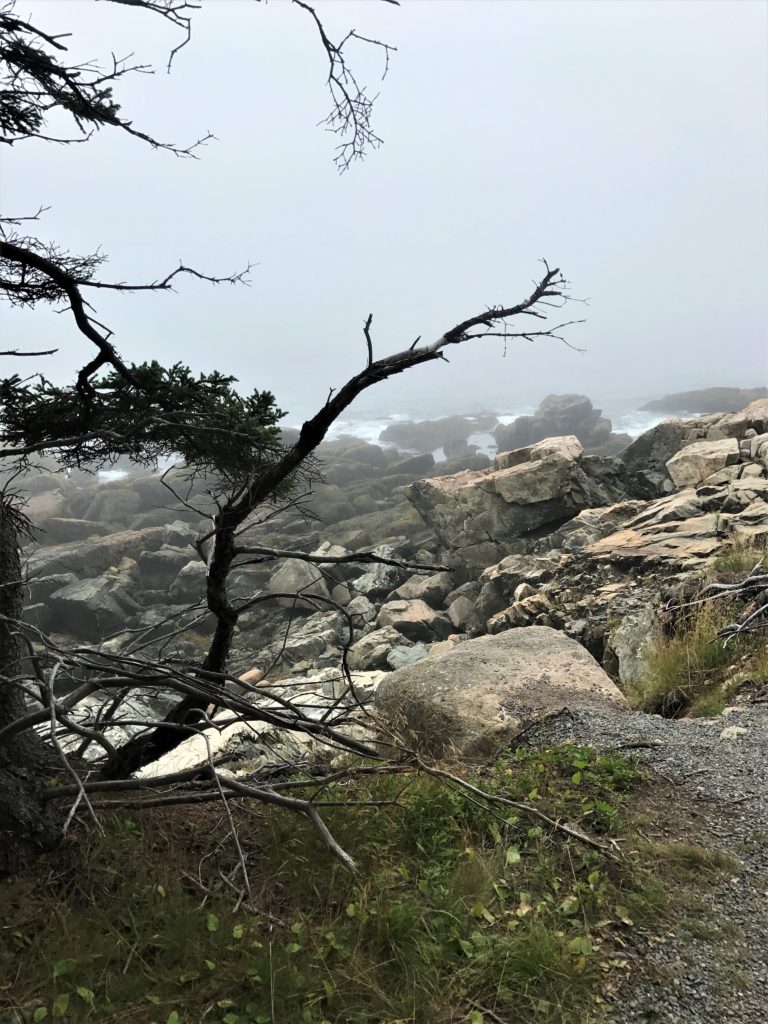 This two-mile walk (one way), called Ocean Path, begins in the upper parking lot of Sand Beach and ends just past Otter Cliffs.
There are many paths off the main path down onto the rocks so that you can see the views.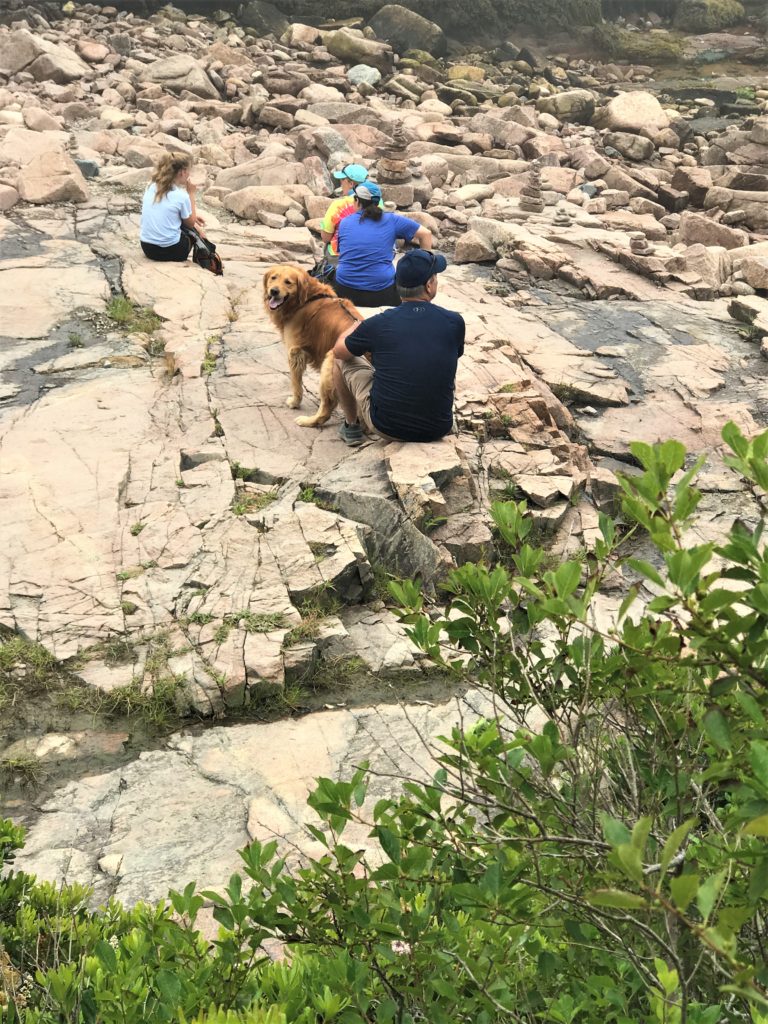 Of course, Buddy was always watching for me to make sure I made it down the rocky path!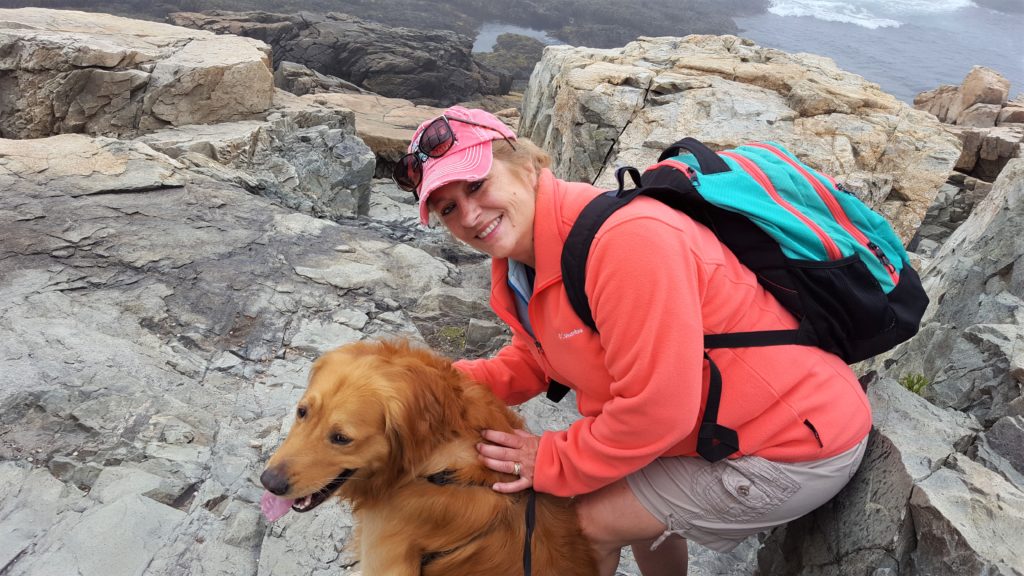 Hear The Sounds Of Thunder At Thunder Hole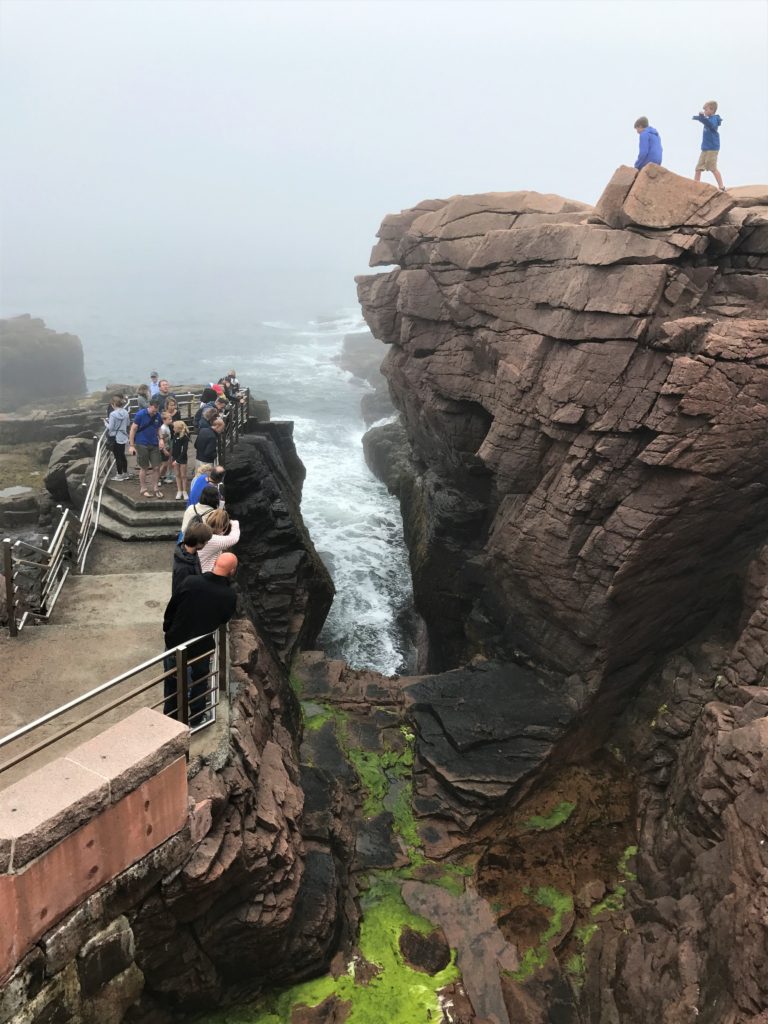 A Must-See along Park Loop Road is Thunder Hole.
There is a parking lot across from Thunder Hole (with restrooms) so that you can easily park and walk across the road in the crosswalk to see (and hear) this natural beauty!
Waves have carved this inlet into the rocks with an even deeper cavern at the bottom so that when the water crashes into the rock it creates pressure.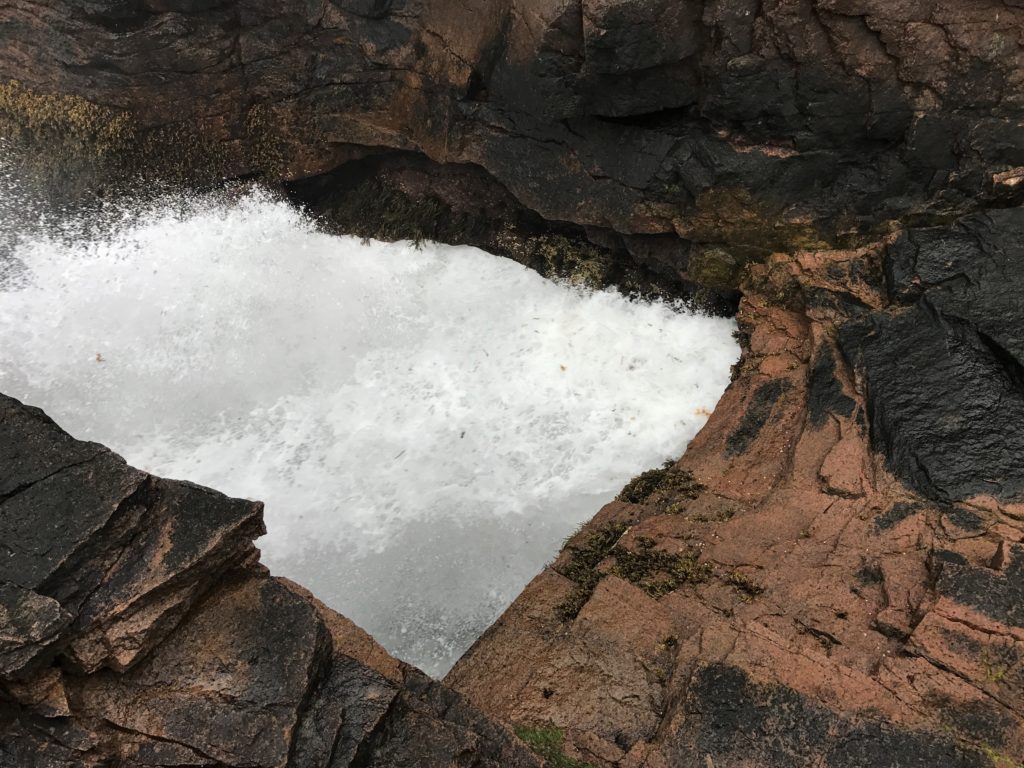 When the pressure is released is sounds like "Thunder".
We were lucky the day we visited because the waves even heard the sound from the road!
We continued walking along Ocean Path to Otter Cliff.
Make A Stop To See Otter Cliff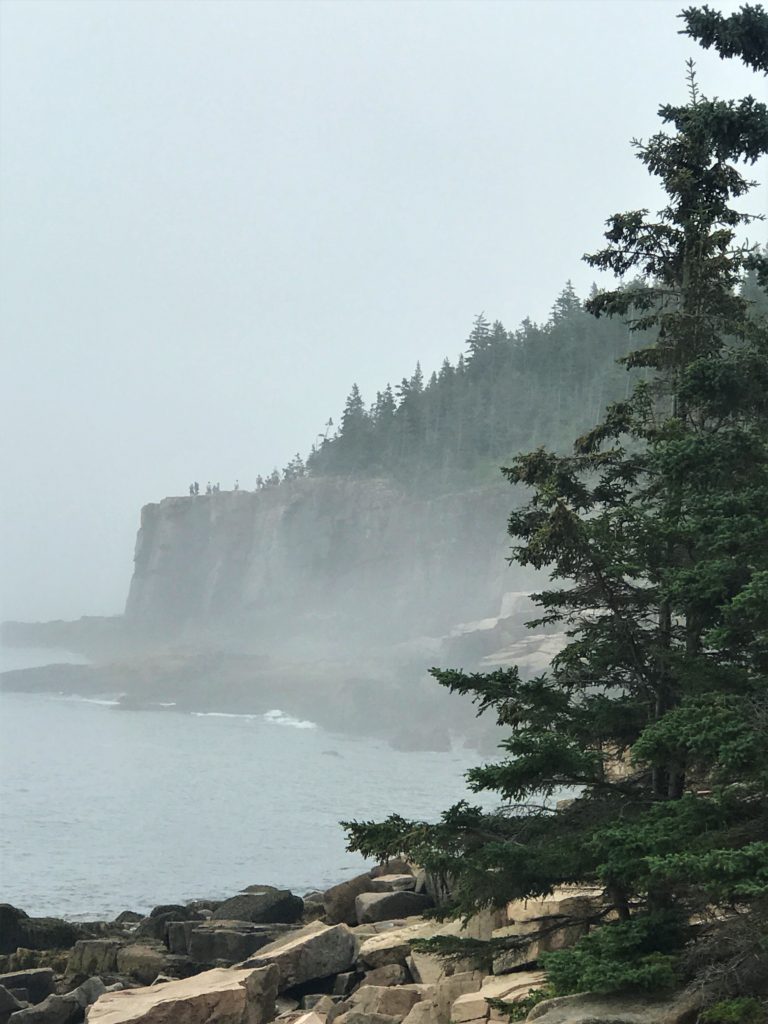 It was foggy the day we saw Otter Cliff but the view made for beautiful photos!
This is one of the most recognized views of Acadia Park as the 110 ft cliffs jut out into the ocean.
We did not climb out onto the cliffs but if you do…please use caution as the rocks are slippery!
Acadia National Park Carriage Roads
If you love biking, be sure to bring your bikes to Acadia to ride along 45 miles of historic gravel roads on the Carriage Roads!
These roads do not allow motor vehicles and are for the use of hikers, bikers, horse riders, and horse-drawn carriages.
Fishing At Eagle Lake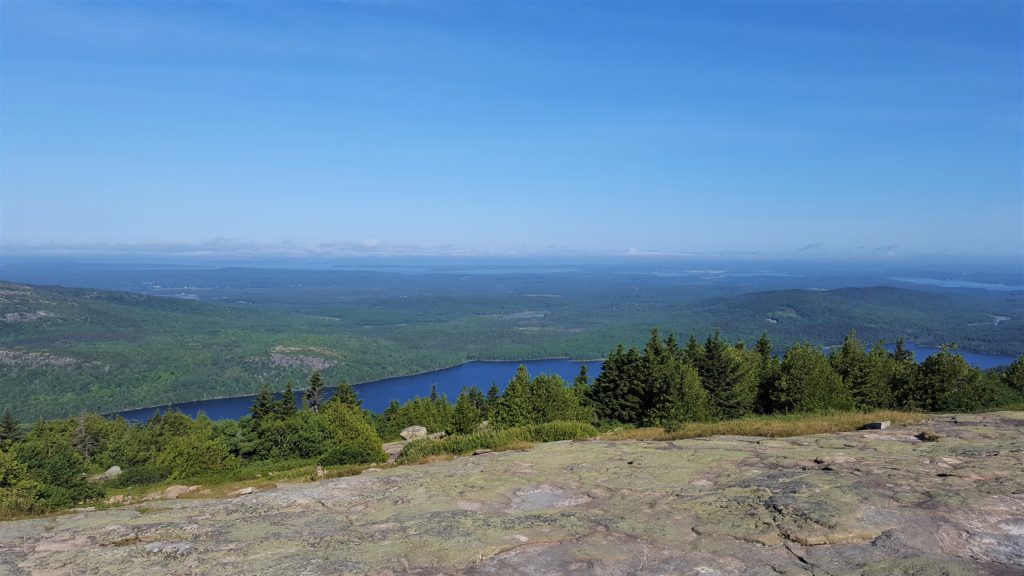 If you love to fish, Eagle Lake is the largest freshwater lake in Acadia National Park.
The State of Main requires fishing licenses for residents 16 years or older and non-residents 12 years or older.
You can purchase a fishing license at many area retailers as well as online. You will find landlocked salmon, brook trout, and lake trout at Eagle Lake.
Camping in Acadia National Park
While there is no lodging in Acadia National Park, there are many campgrounds nearby. The NPS has a great list of campgrounds near Acadia National Park where you can find accommodations.
We wanted to stay at a full-hookup campground on our visit to Acadia National Park which meant that we would be staying outside the park area.
We enjoyed our stay at Smugglers Den Campground in Southwest Harbor, Maine.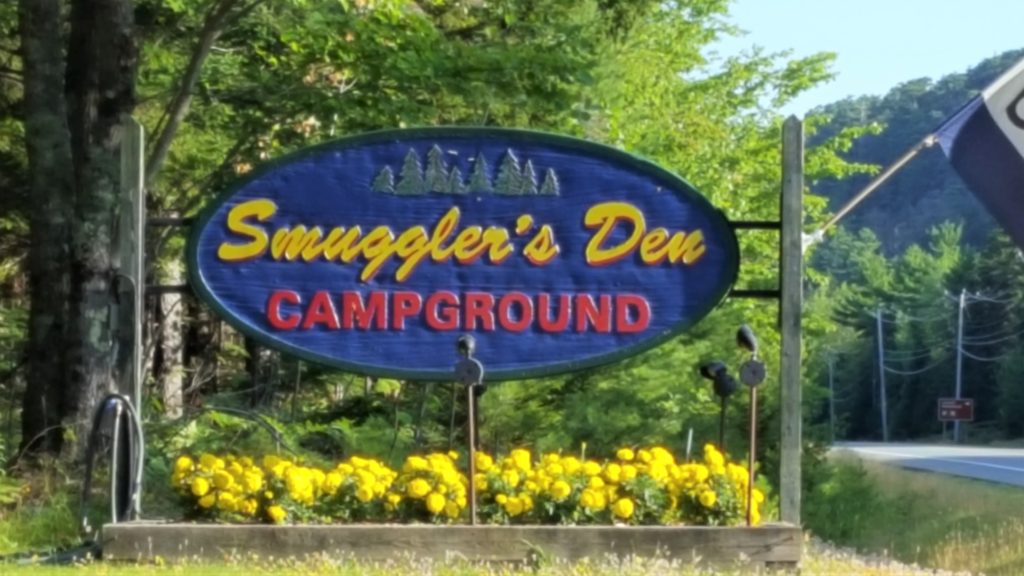 Smugglers Den Campground is about 15-20 minutes from one of the entrances to the park.
It also has a trail leading to Echo Beach, a swimming pool, a large playground, and a play area for the kids.
Plus, the Island Hopper Bus picks up and drops off at the campground!
Here's a photo of our campsite at Smugglers Den Campground.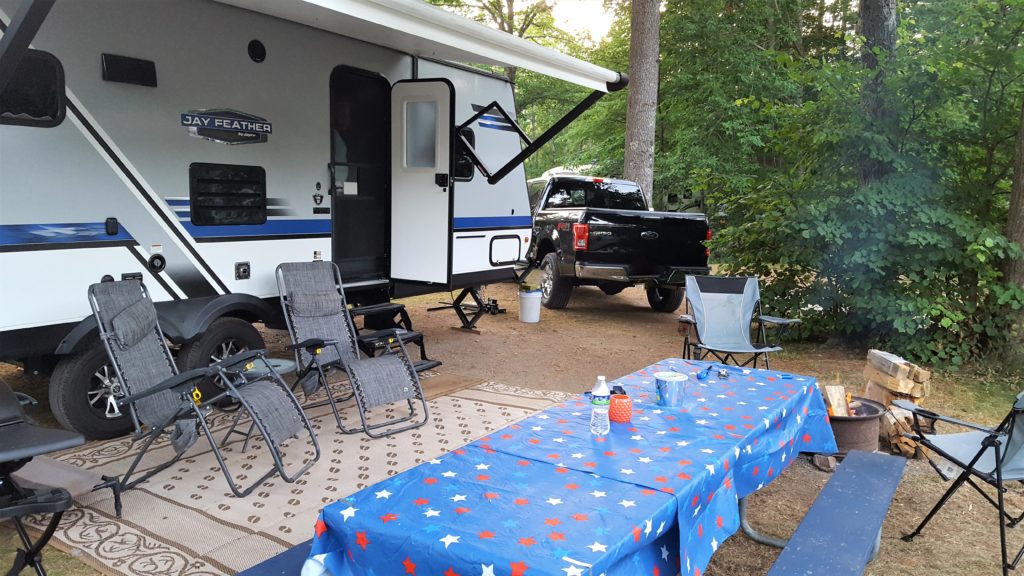 We watched many campers use the Island Explorer Bus, which is a FREE Shuttle that takes you to various areas of Acadia National Park and will drop you off and pick you up!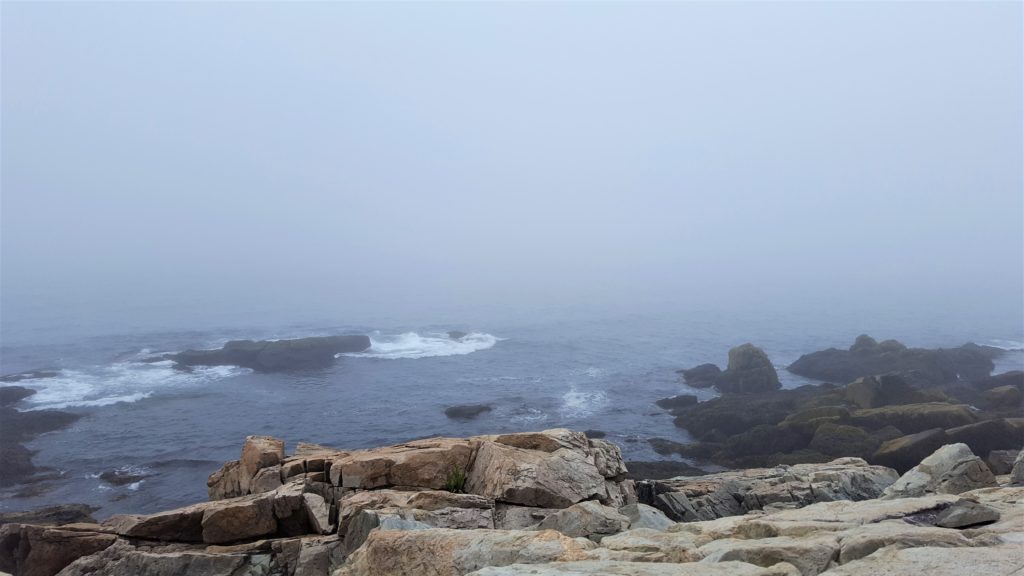 Acadia National Park is truly one of the wonders of nature and should be on your Bucket List of Places to Visit!
Have you been to Acadia National Park? Let me know what was your favorite part to visit!
Please join my email list!