Last Updated on February 15, 2023 by Lori
Don't let a little rain in the forecast put a damper on your camping trip! Sometimes the best camping trips are when you camp in rainy weather! Here are some tips for camping in the rain so you and your family can still have a great time at the campground!
This post contains affiliate links which means if you click on a link and make a purchase, I will earn a commission at no additional cost to you. Please see our Disclosure Policy for more information.
Tips For Camping In The Rain
We all know that Mother Nature can be unpredictable! We've certainly had our share of camping in bad weather, including strong winds, thunder and lightning, a tornado, and one time we found ourselves camping through the rain from a Category 4 hurricane!
Sometimes, however, we look forward to spending time in our Jayco travel trailer for an entire day, just listening to the heavy rain outside and enjoying the rainy camping day!
Now, I wouldn't say that I love camping in the rain, but we never let it get in the way of having a fun camping trip!
We love to sit in our camp chairs under the RV awning and listen to the rain falling if it's light rain.
We might even pull the camping stove under the RV awning so we can still cook and listen to music or play trivia games while waiting for the wet weather to pass.
By planning ahead and having the right gear, you can make any rainy day into a fun day at the campground!
Here are some of our top rain day tips that you can use to keep everyone happy during a rainy camping trip!
Top Tips For Camping In Rain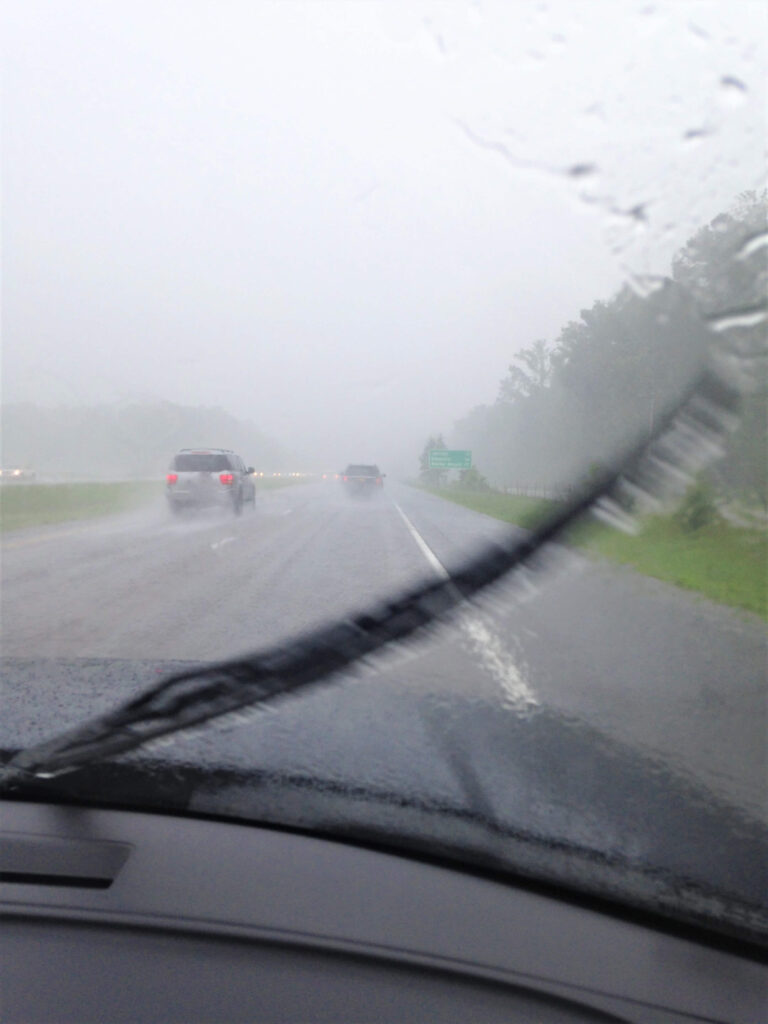 Check the Weather Forecast
While this seems like a given, how many times are you so excited to start your camping trip that you forget? Not to mention how often inclement weather wasn't even in the forecast!
We like to use The Weather Channel app that gives a two-week forecast leading up to our trip.
But don't stop monitoring the forecast once you get to the campground! You'll need to keep watch for wind gusts to know when to pull in your RV awning or secure your camping gear.
2. When you get to the campground, look for a place to shelter in case of a storm.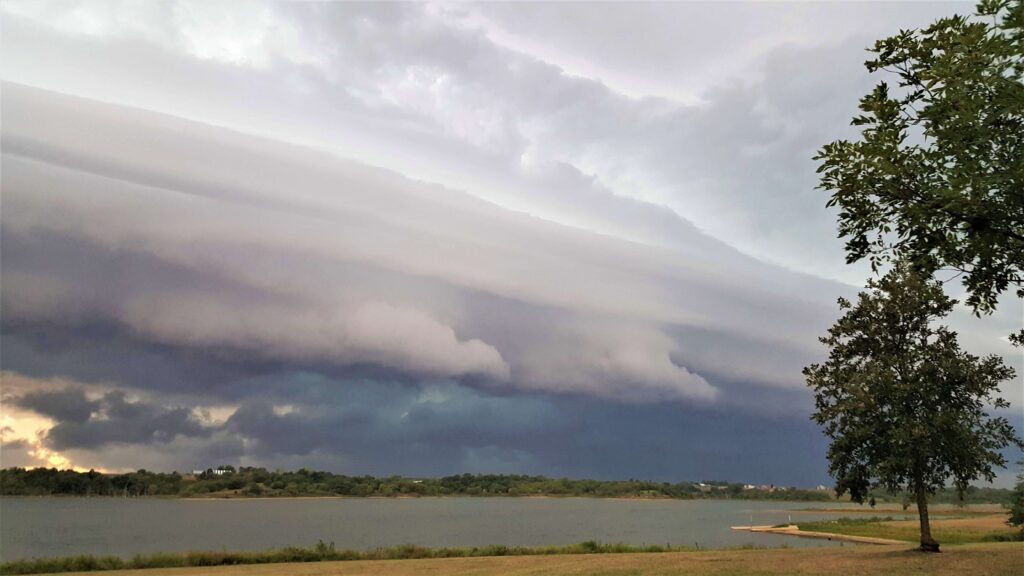 This is one of the first things we do when pulling into a campground. We look for a safe place to go in case of a storm.
Our first go-to place is the bathhouse. Many times these are built with cement blocks and make a good shelter.
Nothing is scarier than sitting in a trailer rocking in the wind.
We were camping with my parents in their fifth-wheel travel trailer when the storm blew up and over the lake.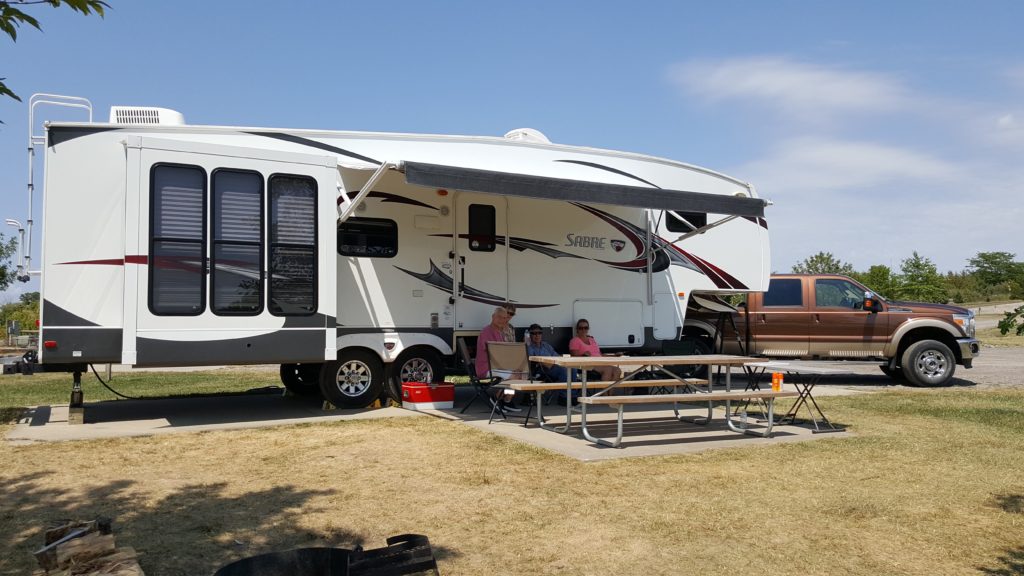 We were surprised when the fifth-wheel trailer started rocking, and we didn't know whether to stay in the trailer or head to the bathhouse.
We saw that our camping neighbors had taken the kids to the bathhouse and by the time we decided to head there, the storm had passed.
There had been no rain or storm warnings out for that day. My parents who have been camping for over 40 years have never had a trailer rock in the wind like that!
Just be aware that storms pop up like that all the time and you need to have a plan of what to do and where you are going to go!
3. There's Nothing Fun About Getting Wet When Camping
Always pack rain gear whether rain is in the forecast or not. How often has there been no mention of rain, wind, or even sleet, and a storm blows in from nowhere?
If you're tent camping or backpacking, wear waterproof clothing and dress in base layers to help keep in your body heat. Then add an outer layer to stay dry. Pack an extra layer of clothes in your pack.
Find a place where you can hang wet clothes out to dry or put them in plastic bags or a garbage bag until you can find a dry place to hang them up.
Always pack a Waterproof jacket. We keep our rain jackets in the truck. This way, if it starts to rain, we can get to them quickly to put them on.
We love these rain jackets because they are lightweight and easy to roll up to fit into our backpacks when hiking.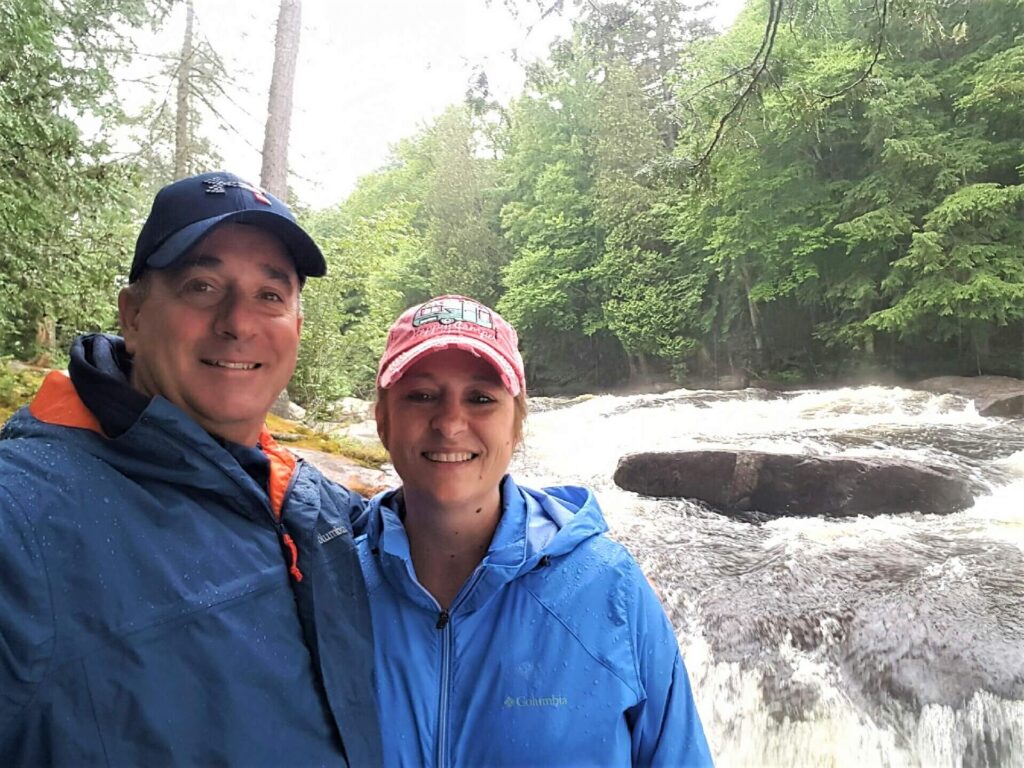 Rain pants are also a great idea to have. It's not fun packing up in the rain, and rain pants will help keep you dry after leaving the campground.
Invest in some waterproof shoes or boots. There's nothing worse than having wet socks while camping. We love these waterproof hiking boots. They are lightweight, easy to clean, and last forever!
4. Bring A Tarp
A tarp is one of the most useful Camping Must-Haves! We use a tarp to cover the firewood to keep it dry. There's nothing more important than having dry firewood to keep the fire going for warmth and cooking.
You can also use a tarp to block the wind. If you have a pop-up canopy, connect the tarp to the canopy to keep the rain and wind off the cooking or sitting area.
Add a tarp or rain fly over your waterproof tent as added protection from the wind and rain.
5. Keep An Eye On Rising Waters When Camping Near A River
One of our favorite campgrounds in New York sits along the banks of the Esopus River. The campsites sit parallel along the banks of the river.
The banks are high away from the river, but we know that more than once the river has risen up and over its banks and flowed into the campsites.
On rainy days, you can bet that we continuously keep an eye on the river and are prepared to move out if the water rises. It's also good to know that the campground owner is very on top of things and has in the past come knocking on camper's doors if the river is rising!
But, boy are the views worth sitting by that river!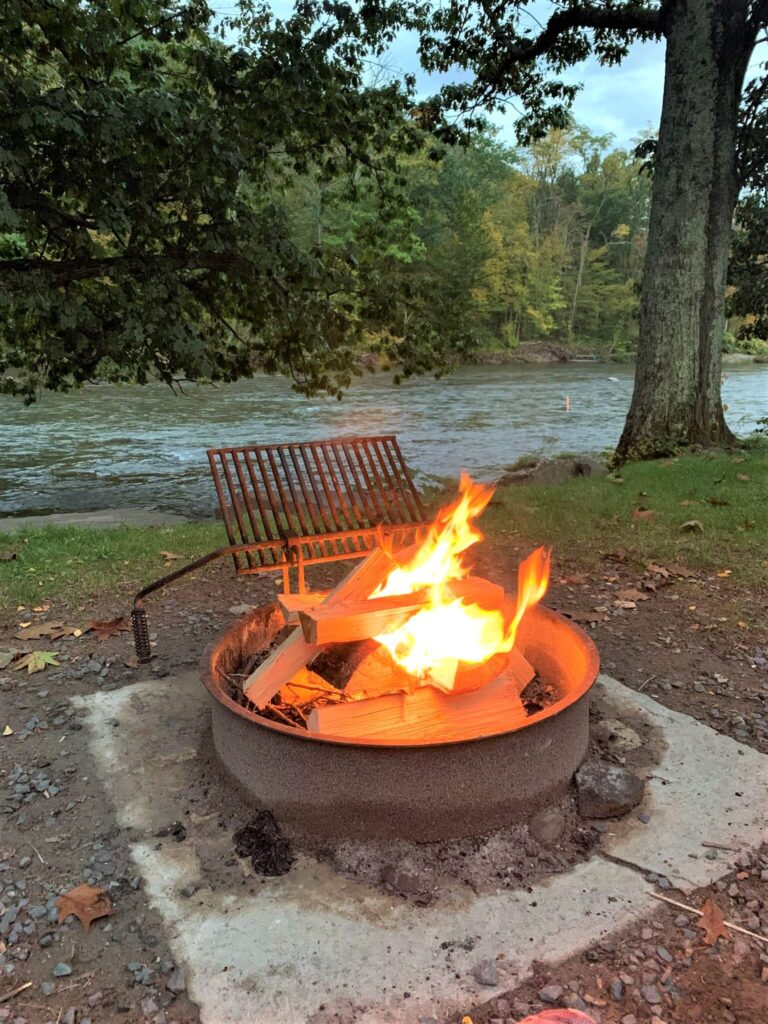 If you're tent camping, a good rule of thumb is to look for higher ground to set up your tent and make sure your tent and the tent's rain cover are adequately secured.
6. Keep Camping Gear in Waterproof Containers
Be sure to keep all your important papers, cell phone, wallet, and any medications. Trash bags can keep wet things away from your dry clothes.
Place a container outside your tent or RV for muddy shoes and boots. There's nothing worse than trying to sweep sand and mud out of the RV or tent!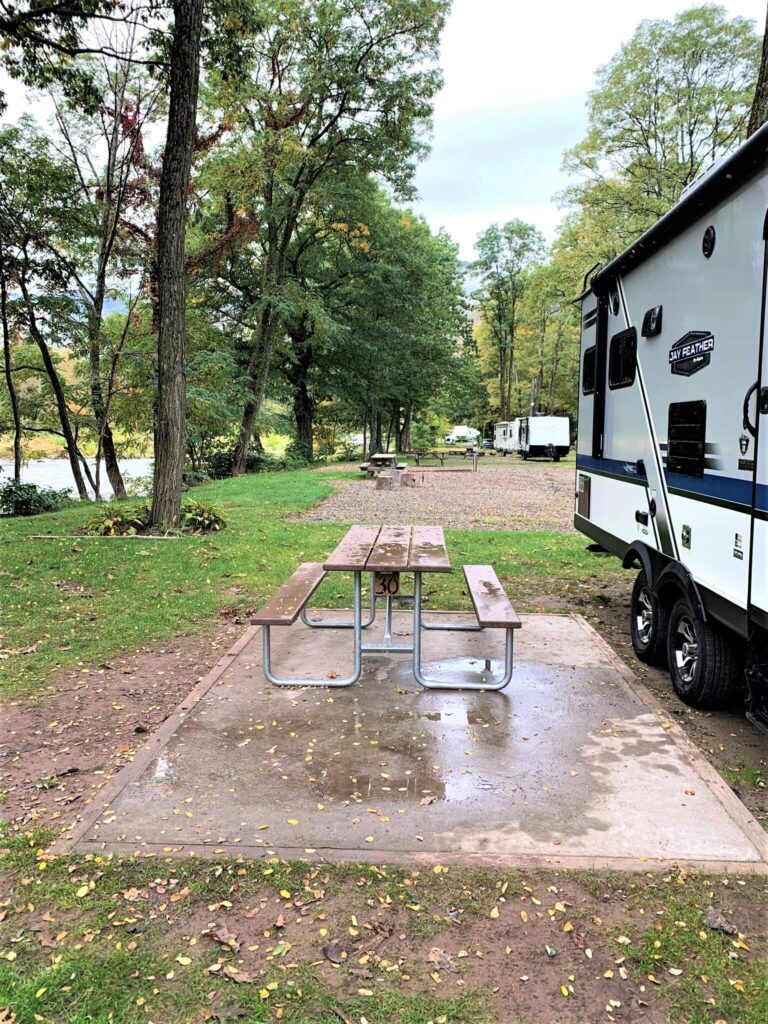 7. Put Camping Gear Away That You're Not Using
If you know it's going to rain, put away things you aren't using before the rain comes.
We always have 2-3 extra camping chairs out around the campfire, so when camping neighbors come by, we can ask them to sit down. If we know it's going to rain, we pack up the chairs because who likes to sit in a wet chair?
Most of the time, we pull out both our camping grills to cook on. If we know it's going to rain, we put both of them away, or we fold down the Weber Grill that's on a cart and store it under the trailer. Then if the rain stops, we can pull it out to cook on.
If it's windy, we will put our pop-up trash can away in the back of the truck so it doesn't blow away.
8. Get An Emergency Weather Radio
You want to make sure that the one you choose will automatically connect to the NOAA weather alerts. Weather Radios can be solar-powered, battery-powered and some use rechargeable batteries.
This weather radio has three ways to charge it, plus it will charge external devices.
9. Try To Keep The Fire Burning (when possible)
Keeping the fire burning will keep you warm and dry especially if you're tent camping. If you have a pop-up canopy you can place it near (not over!) the fire and can still sit by the fire in the rain.
10. Plan For Rainy-Day Camping Activities For Adults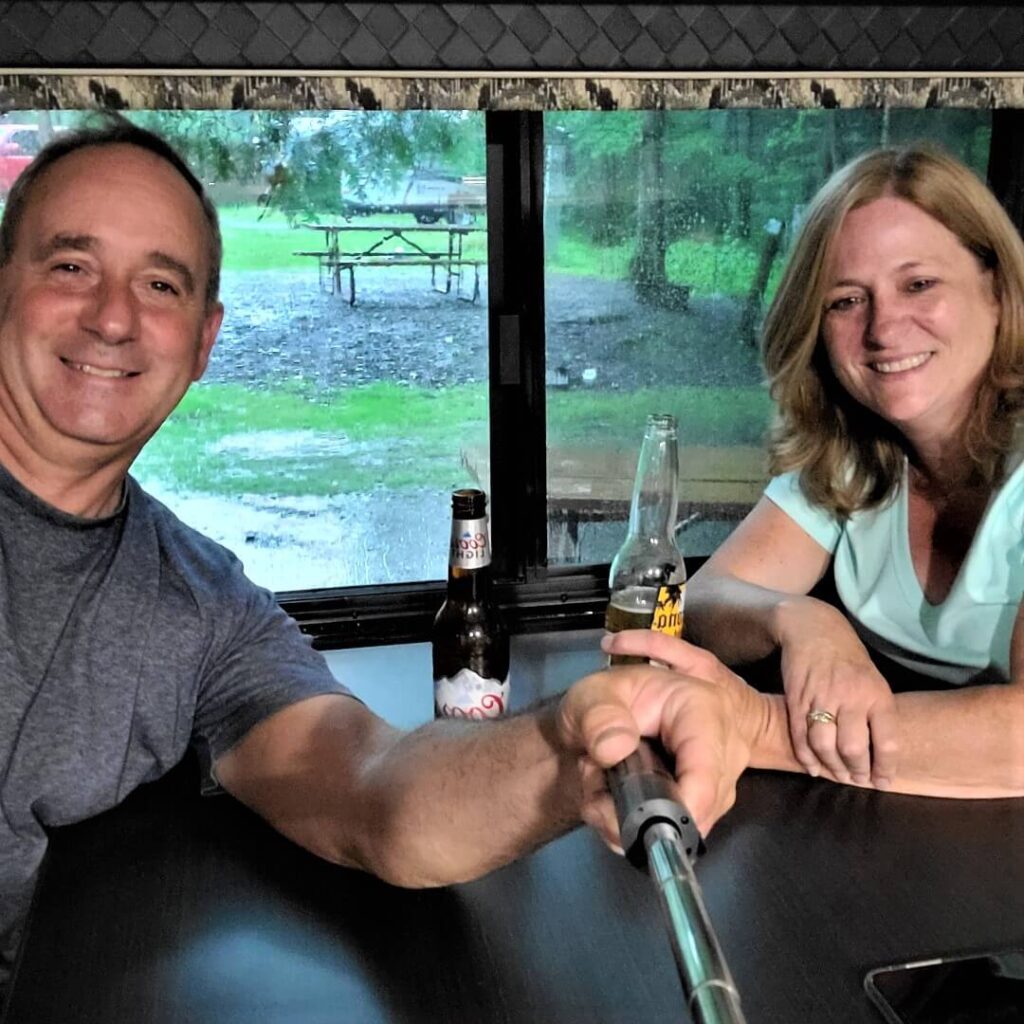 When the weather interferes with Wi-Fi or cell service, and you can't stream movies, what can you do?
We always keep DVDs in our trailer along with card games, board games, checkers and Uno!
Have crayons and coloring books ready for the kids and even some crafts to keep them busy. Adults can love doing these things too!
And there's nothing like a good book to read while listening to the rain outside!
11. Plan No Cook Camping Meals
I always pack cans of soup, chili, chicken, tuna, etc. so we don't have to rely on cooking our camping food on the grill or over the fire. Remember to pack a skillet or saucepan to use your RV stove!
Here are more RV Kitchen And Pantry Must-Haves!
12. Your Campsite May Be Slippery In The Rain
How many times have you stepped off your RV stairs onto your camping rug and your foot was below water?
If you kept your awning out, rain can dump water on you at any time so be careful!
Remember that your RV stairs can be slippery when wet! Plus if your campsite is on grass, dirt, or sand, most likely the rain will have washed mud and sand onto your camp rug.
It makes a mess.
This campsite was all sand and made a mess after rains from the hurricane passed.
Use a broom to sweep off as much water, dirt, and sand before rolling up the mat.
If it is just raining, and there is no wind, we might leave out the RV awning to sit under.
My husband will take a broom and slide it underneath the awning to get excess water and any twigs that might have fallen.
Have Fun While Camping In The Rain
Whether you're RV camping or tent camping in the rain, the best tip to make the most out of your camping trip is to plan ahead.
There are many camping in the rain activities to do so you can still have fun on your camping adventure!