Last Updated on September 15, 2021 by Lori
Like most new RV owners, when we first started RVing, we were worried that if we made any mistakes pulling into our campsite or setting up the camper trailer, everyone at the campground would know!
We've all been New RVers at one time and rest assured, you will feel more comfortable and confident each time you head to the RV campground.
Here are 5 Easy RV Tips for beginners so that you will not make the same mistakes that we did! These are simple tips for new RVers aimed at making your life easier at the campground!
This post contains affiliate links for your convenience which means that if you click on a link and make a purchase, I will earn a commission at no additional cost to you. Please see our Disclosure Policy for more information.
Easy RV Tips For Newbies
If you haven't already noticed, when you pull into a campground…it seems like everyone who has already set up their campsite is sitting there and watching "the new guy" pulling in!
Yes, it's true.
Don't be intimidated – that's just what we RVers do.
BUT – we're really not watching to see if you make a mistake. Most likely, your site is probably right in our line of vision as we sit by our campfire.
So, of course, we're going to watch you backing into your site, unhitching, leveling, connecting your hoses, etc.
The fact is, RVers are helpful and love to talk about their RVs! Most likely the people watching you are saying things like:
"Wow – isn't that a nice rig!"
"Oooo I LOVE the color of that trailer!"
"Look – they have 5 slide-outs!"
"Our next trailer is going to be like that one!"
Or, "Boy, they really know what they're doing!"
See, there's really nothing to be nervous about!
Through the years, we have learned a few RV Tips and Tricks that may be helpful to new RVers, so I thought I would share a few in hopes that you will remember them if they ever happen to you!
RV Camping Tips For Beginners
Here's a photo of one of the toughest RV sites we've ever had to back into. See the tree?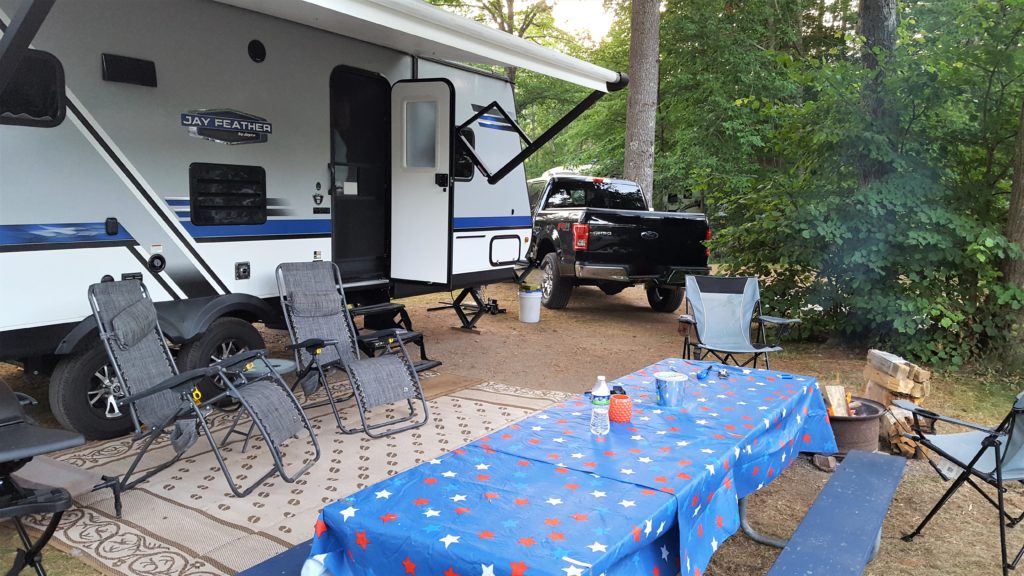 Imagine having to back into the site from the wrong direction with a camper trailer all set up on the other side of the campsite!
This particular campground was one of those that gave you a map and pointed to your assigned campsite. Unlike other campgrounds, they didn't tell you the best direction to drive to your site in order to easily back into it.
There was no escort to your site, which can be extremely helpful because they know the best route to your site.
Nope, this was one of those campgrounds that said, "You're Site 125" and circled it on the campground map.
We had been driving about six (6) hours to our destination.
We were tired.
We saw that the site was a quick right turn from the office, so we pulled ahead to the site thinking we could just back right in.
We were wrong.
Talk about everyone jumping out of their camping chairs to come to watch! We even had some people trying to direct us to the wrong side of the pole on the campsite!
RV Beginner Mistakes
Luckily, my husband had gotten out of the truck, knew where the electric pole was, knew what side of the pole he needed to be on, and after a few tries, backed us right in.
THAT was quite an experience, to say the least!
Had we taken the time to look at the campground map, we would have seen that there was an upper loop that we should have taken (or been directed to) so that we could have backed in from the other direction which would have made it a breeze.
Beginner RV Tips and Tricks!
1. Don't get distracted.
After checking in at the campground, take a minute to look at the campground map. Locate your campsite, and check to see which is the best way to pull in or back into the site.
Before pulling into the site, get out and look around
Look for trees that might be close to the site
Will your slide clear the tree?
Will the slide clear the pole?
Look for overhead branches that might hit your RV
Check for picnic tables that may have been moved
Check to see that you will be close enough to the sewer so that your hose reaches
Look at the site itself. Does it look level?

Y

ou may have to adjust where you park in order to miss that "big dip" the last camper made in the dirt (just speaking from experience!)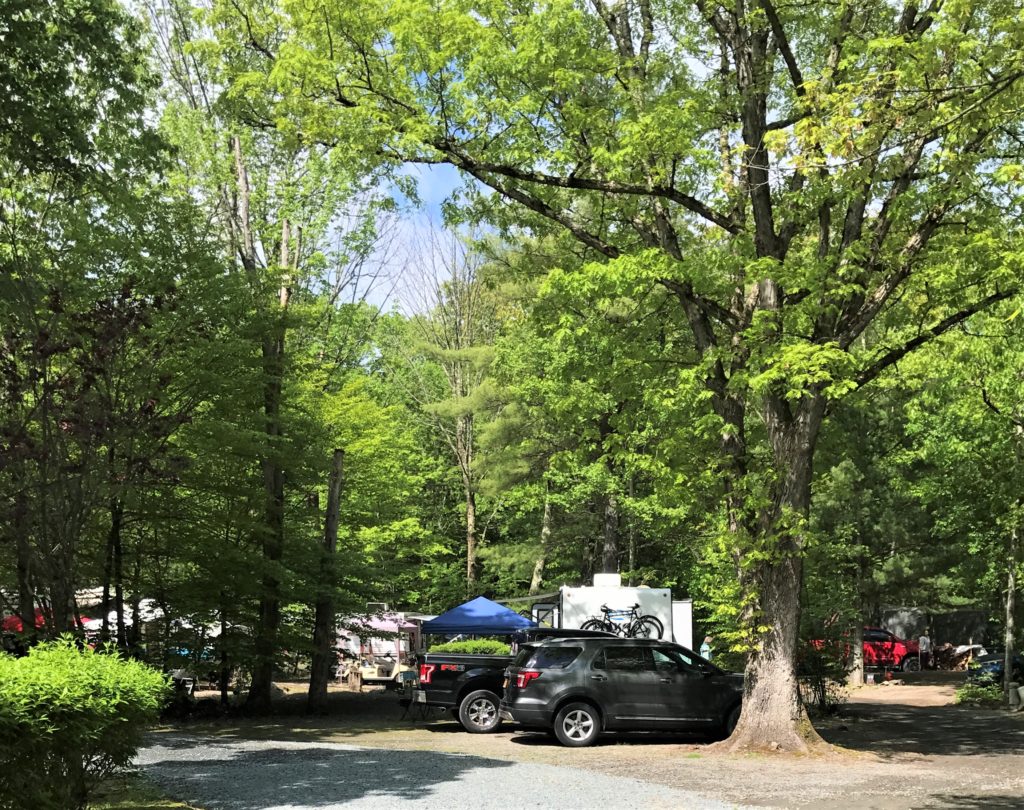 These are just some of the first things we do when we get to our campsite.
Just take your time and DON'T RUSH. Remember – No One is really watching to see if you make a mistake!
2. Before you plug into shore power, turn off the breaker. Then – Remember to Turn The Breaker Back ON!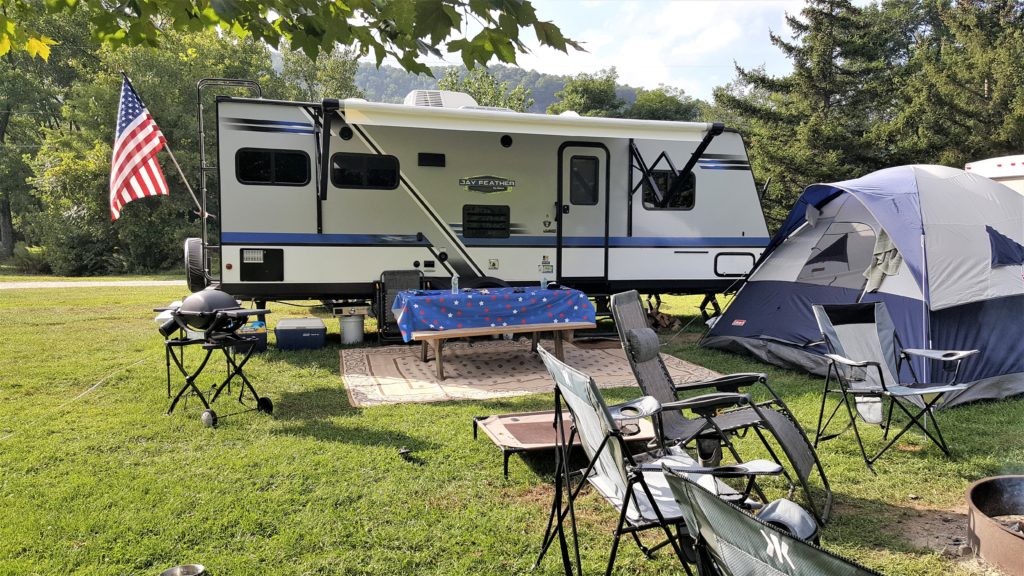 You may think you have power in your RV because the lights are working and the slide-out works; but, actually you are running off your battery.
When we started RVing, we were so happy when we were able to back into a tight spot (not just the one I talked about above – there have been many!), got the trailer leveled, chocked and unhitched without any problems.
After we get all that done, we know that it is almost time to relax!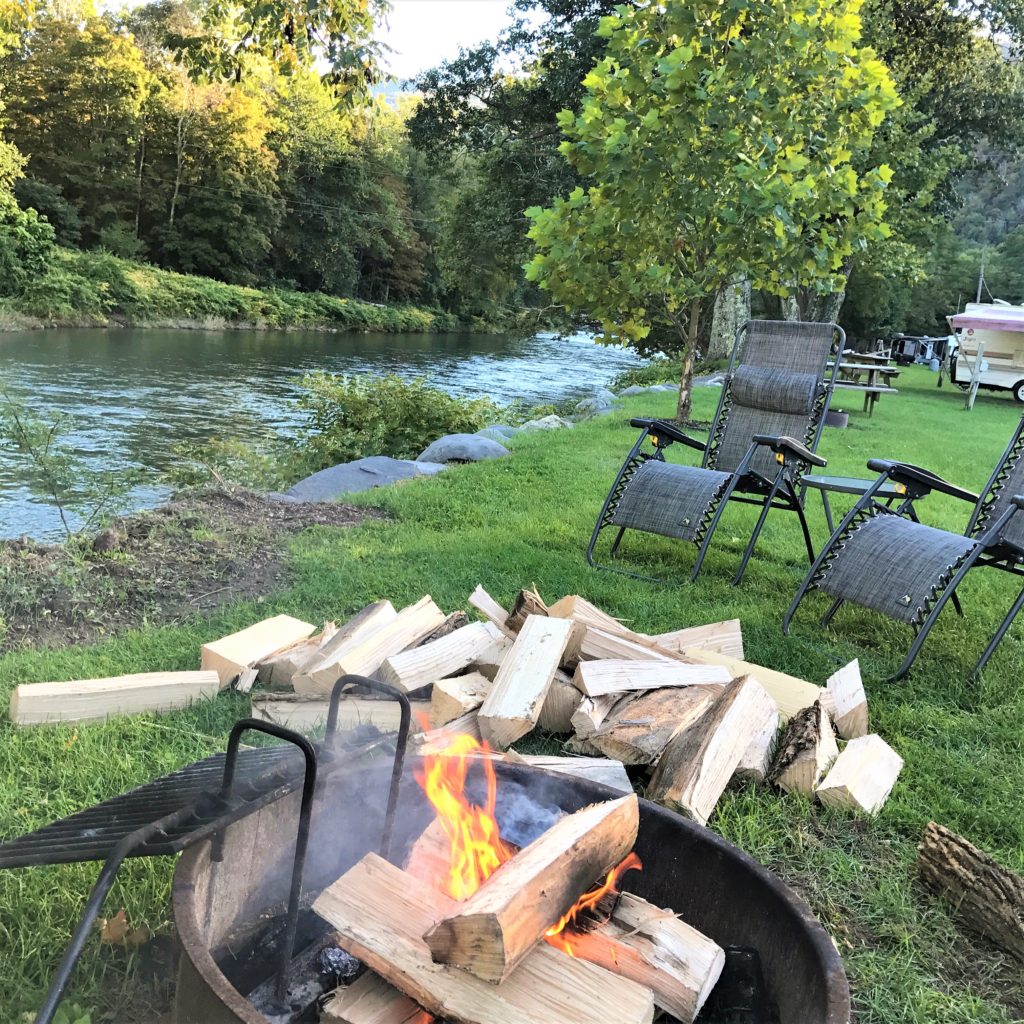 On one camping trip, I went inside, turned on the lights, hit the button to put the slide out and started to open the refrigerator to make sandwiches.
Tom had already started taking things out of the back of the truck to set up the campsite.
As I was walking to the refrigerator, I noticed the light blinking. I thought to myself, "That's odd, I don't ever remember the light blinking on the fridge!"
I called Tom to come to look. He looked stumped at first.
Then he remembered, "I don't think I ever went back to turn the breaker back on!"
Sure enough, after backing in, leveling, chocking, and unhitching, he hadn't returned to the pole to turn the breaker back on.
Eventually, he would have realized it — and most likely wouldn't even have said anything to me – so I would have never known!
2. Turn On Your Refrigerator
After we get the trailer leveled, chocked and unhitched, the first thing I do is to turn on the refrigerator.
We travel with our refrigerator off. If we want sandwiches during the trip, I pack a lunch in our travel cooler (which, of course, is separate from our campground cooler!)
If we are camping for 3-4 days, I pack the freezer with our meat so I don't have to spend time trying to find a grocery store.
I wrap our burgers separately in tin foil so I only need to take out as many as we need for that meal. If our kids are camping with us, I know to take two (2) burgers out for my son!
By pre-planning the meals, preparing meals at home and freezing them in ziplock bags or wrapping them in tinfoil makes it easy when you are camping!
But the LAST thing I want to do is to forget to turn ON the Refrigerator!
Need Campground Meal Ideas?
Here are 6 Easy Meals You Can Make At The Campground!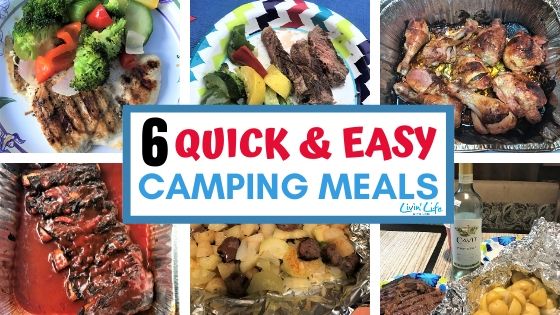 3. Check the panels on your shower to make sure they haven't popped out or become loose.
After a day of traveling on bumpy interstates, things can shift and get jarred around.
Tom happened to be in the bathroom and noticed that one of the shower panels had popped out!
Had we gone to take a shower, water would have been all over everywhere!
RV Tip – When you enter your trailer, do a quick walk-thru to make sure nothing has shifted in the overhead cabinets that will fall when you open them and everything seems in place.
We arrived at one campground with one of the kitchen cabinet doors off its hinge! The pin was on the floor and the cabinet door hanging off one hinge.
Here's a photo of our Jayco kitchen. We have the doors that open upward. I was happy things didn't fall out of the cabinets!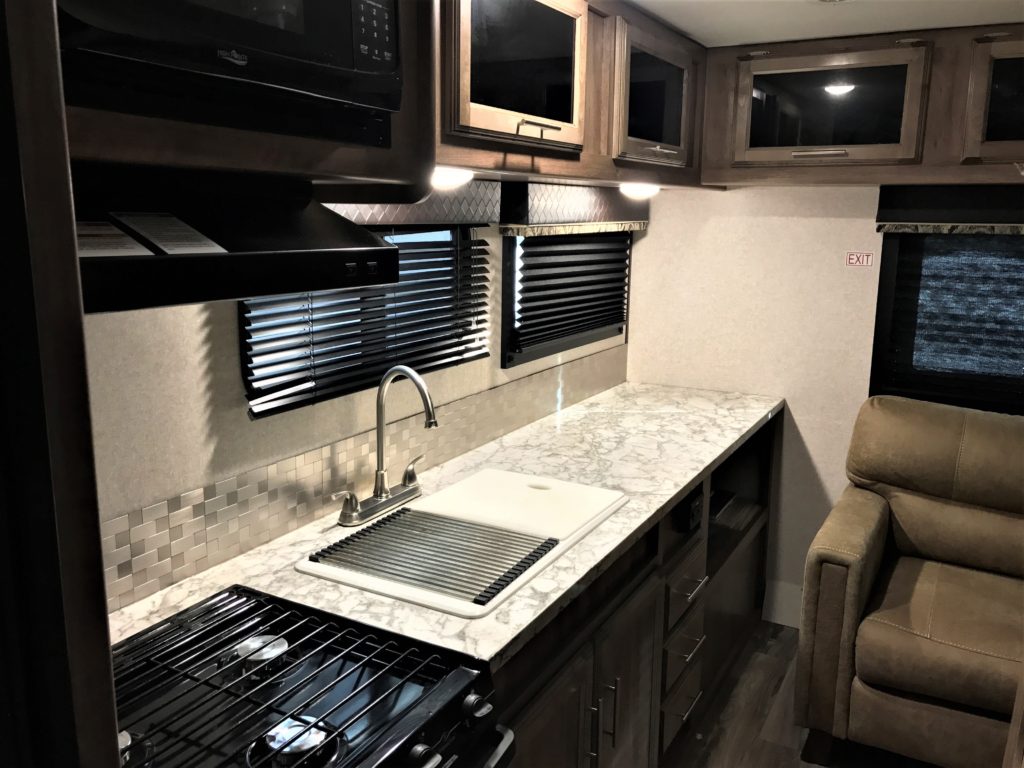 4. Make sure ALL the units in the RV are working – whether you use them daily or not
We travel with the gas OFF in our trailer. When we are at a campground with W/E (Water and Electric), we use the electric for our hot water heater.
However, my husband starts the water heater with gas first.
Although the hot water heater will work off the electric, my husband likes to make sure everything is working in the trailer, so after filling the water tank with water, he fires up the hot water heater with the gas.
Sometimes it takes a little time to get the gas into the lines. If you haven't used the gas since the last time you went camping, there might be air in the lines.
RV Tip –

One trick we use is to light the gas stove to help draw the gas into the lines. We leave the burners on a few minutes to draw gas into the lines, then turn off the burners on the stove. Then we start the hot water heater (don't forget to run water into the heater first!)
We heat the water with the gas running for a little while, then we turn off the gas and switch the hot water heater to electric.
RV Tip- If you need to take back-to-back showers, you can operate both gas and electric to heat the water just a little longer!
When our kids travel with us, this works perfectly!
If you don't Boondock, fill your fresh water tank and run the water pump every once in a while to make sure the pump is working.
When we first got the travel trailer, my husband used to go out and fill the fresh water tank at home and periodically run the water pump to make sure everything was working.
Around year three (3) he stopped doing that.
Do you know what happened?
When he went to winterize the trailer, the valve inside the water pump got stuck. He had to remove the pump from the trailer, take it inside to his shop to take it apart.
He got the valve "unstuck", put the pump back together and put it back into the trailer. Then he had to finish winterizing.
He was not a Happy Camper!
The thing is, you don't usually utilize your water pump when you camp at full hookup campgrounds, so it wasn't ever used that entire camping season.
A Good Rule Of Thumb if you camp at a campground with full-hookups:
Use your appliances in the trailer to make sure they are working properly
Go ahead and start your hot water heater off the gas, then switch to electric to save your gas in the tanks
Start your refrigerator with gas to make sure that connection is working, then switch to electric
You never know if there will be a power failure at the campground and you will need to run your appliances off of gas!
5. Check The Weather – And Plan For It!
One of the worst things to have to do is to set up or break down your campsite in the rain.
We've all had to do it and you will too at some point.
It's not fun.
If the weather didn't call for rain, then there isn't anything you can do except remember to immediately take everything out when you get home or you will have a moldy mess!
I strongly suggest investing in some rain gear.
These are the rain jackets we have and are perfect for camping because they dry so quickly!
Rain pants are great to have too because you can quickly take them off and not have to drive with wet pants on!
Having an NOAA Weather Emergency Radio at the campground or even at home is great to have. This hand-cranked portable radio has an LED flashlight and USB charger.
Conclusion
I hope these beginning RV Tips will help every New RVer feel more comfortable and confident at the campground!
More RV Tips & RV Travel Articles
* 15 Tips & Must Haves For New RVers
* How To Choose The Best Campground
* How Much Does It Cost To Rent An RV?
* 13 Basic Rules of Camping Etiquette
* The Best RV Tools You Need In Your RV Tool Kit
* Guide To The Best RV Mattress And Mattress Toppers
* 15 RV Camping Extras To Make You A Happy Camper
I
Looking For Help With RV Set-Up & Departure?
I've put together this 30 Page
RV Checklists Bundle Just For RVers!


Learn More About the RV Camping Checklists Bundle