Last Updated on October 28, 2021 by Lori
Planning quick and easy RV meals at the campground can be easier than you think! With a little bit of camping meal planning, you can whip up easy and delicious meals in no time.
These Quick and Easy RV Meals are perfect for busy families and are my family's favorite! Try them the next time you plan your RV camping trip so you'll have more time by the campfire!
Easy RV Camping Meals For Busy Families
When it's time to pack the RV for a camping trip, I'll be honest – I sometimes have a hard time figuring out just how much food to take with us.
For many camping trips, it's just my husband and me and I seem to continue cooking for a family rather than just cooking for two people.
When my son comes camping with us, I have to plan for an army! He is a 6'5 teenager who loves to eat!
Sometimes, we've even had family members just show up at the campground not having any idea they were even planning to come!
Did that ever happen to you? Then you know what I'm talking about!
This post contains affiliate links. That means that if you click on my link and buy something, I will earn a small commission from the advertiser at no additional cost to you. Please read my Disclosure Policy for more information.
RV Meal Planning Made Easy
So, how DO you know how much food to actually take along?
Whether you're cooking for an entire family or want an RV meal for two people, planning your meals is the same – it's just the quantity of food you need to figure out!
You might enjoy reading my post – How To Easily Plan & Organize a Stress Free RV Camping Trip
Plan Your RV Camping Meals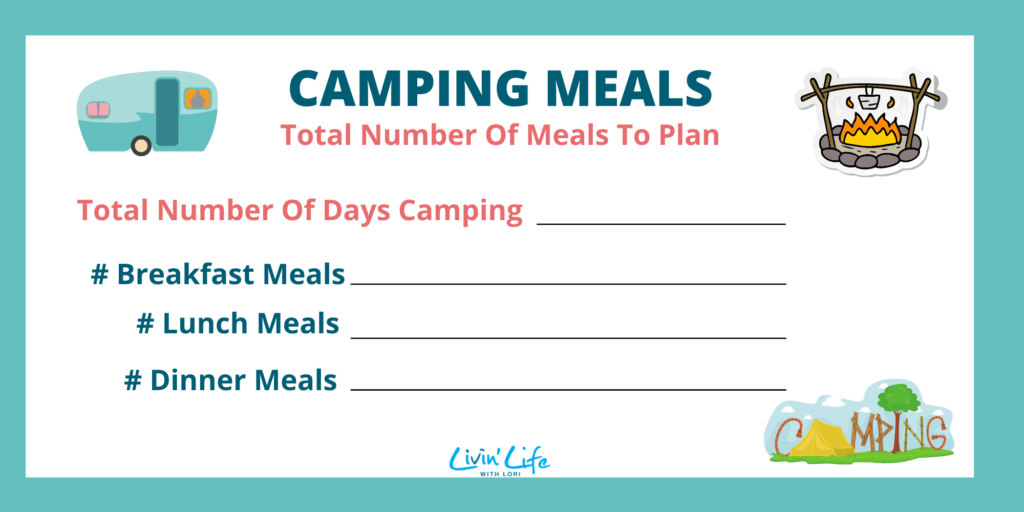 Number of days you will be away
First, look at the number of days you plan to be away. Then determine how many of each meal you need to plan for:
# Breakfast Meals: _______
# Lunch Meals: __________
# Dinner Meals: __________
Tip – I always bring along deli meat that will last a few days. I love Roast Beef, but I only bring it if we plan to eat it that day.
I opt for Ham, Turkey, Pastrami, and Bologna. I choose these especially because they can also be fried up for breakfast!
Other times we eat the leftovers from dinner the previous evening.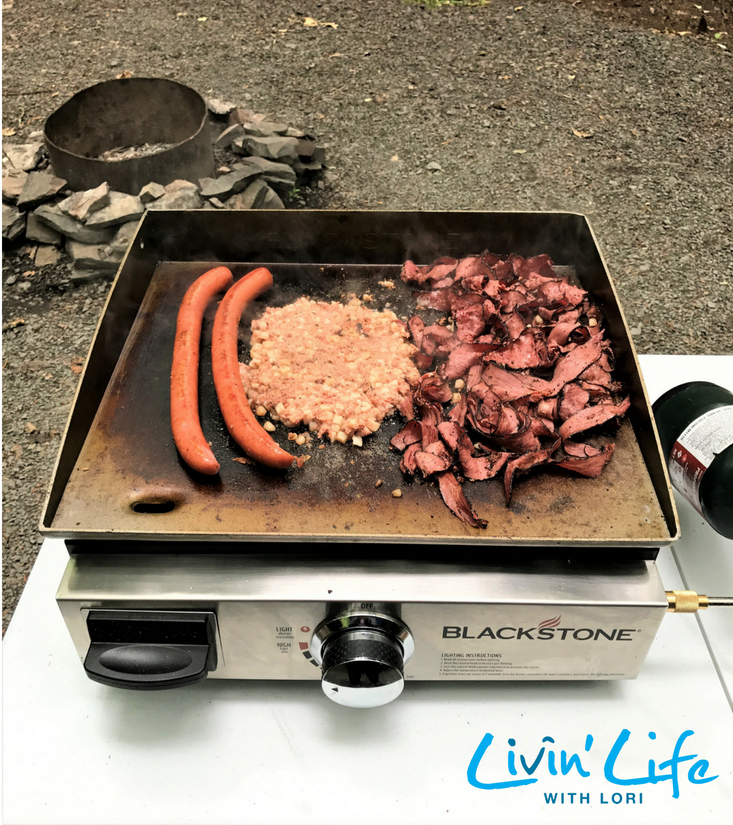 We love our Blackstone Griddle. We have the 17″ grill and cook breakfast, lunch and dinner!
I originally wanted the Blackstone Griddle to cook breakfast outside but found it is great for ALL meals!
You can read my review of the Blackstone Griddle Here
Easy RV Menu Ideas
Today, I want to share with you 6 Quick & Easy RV Camping Meals you can make that take almost no prep time!
These are my "go-to" meals that I cook the most when we go camping.
I find that shopping for the meat is easy and I can freeze the steak and chicken breasts in the RV freezer to take out on the day I plan to cook it!
You will notice that we have veggies a lot. Almost every meal in fact.
I prep the vegetables at home and then put them in a ziplock bag for the trip.
That way I don't have to worry about trying to wash them in the trailer with the bottled water.
Easy Meals For Campers
Easy Camping Meal #1
BBQ Spare Ribs with Veggies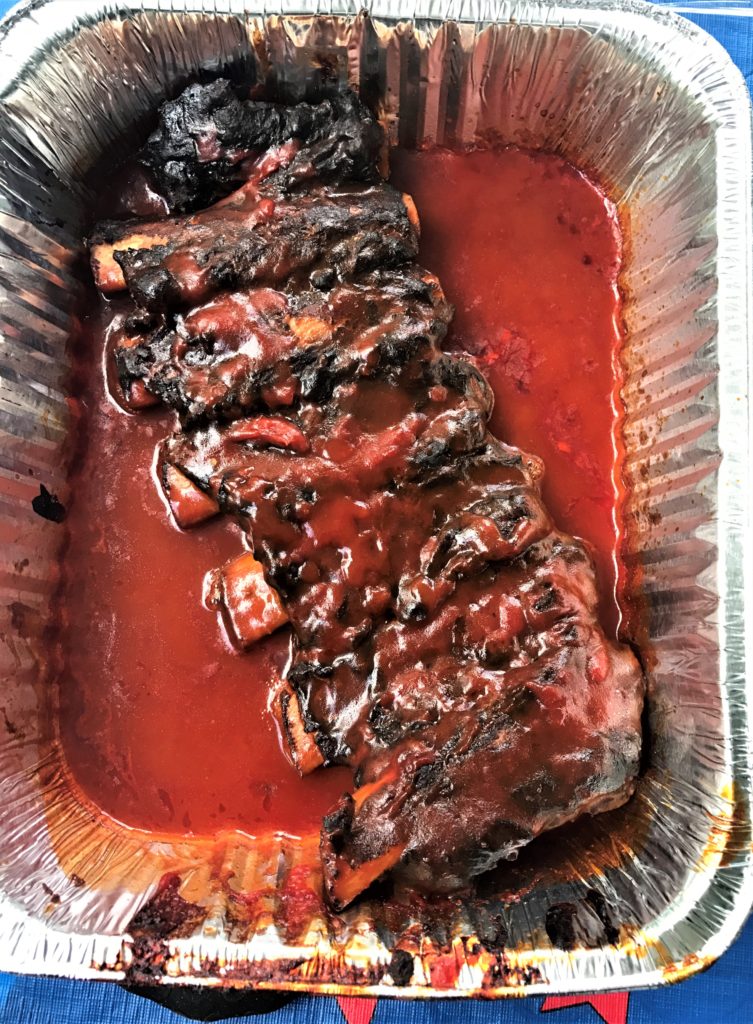 I buy the 67th ST BBQ Ribs with Sweet Baby Ray's sauce in the grocery store and my family loves them!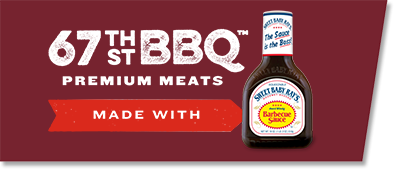 The Ribs come in a packet with the sauce already in the package so all you have to do is take them, put them in a pan and cook!
There are 2 types of ribs you can buy: The Baby Back Ribs or the St. Louis Style Spare Ribs.
We have tried both types – it's just a matter of which style you prefer. I place them in a foil pan (sometimes I add extra sauce), cover, and cook on our WeberQ.
Cook approximately 10 minutes and turn. Then remove tin foil and cook for an additional 10 minutes.
I do not remove them from the pan, but you could put them directly on the grill if you like them crispier.
I find that they cook just fine in the foil pan. Sometimes I fix the Spare Ribs with Corn on the Cob or a Veggie Packet.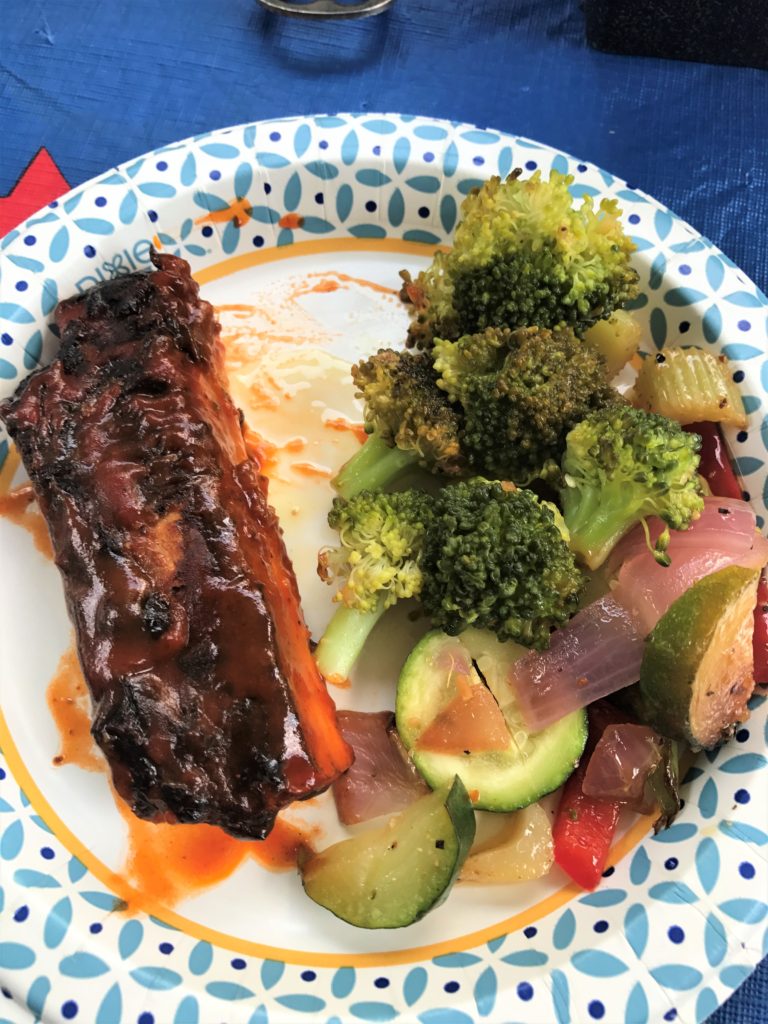 Easy Camping Meal #2
Steak with Potatoes/or Veggies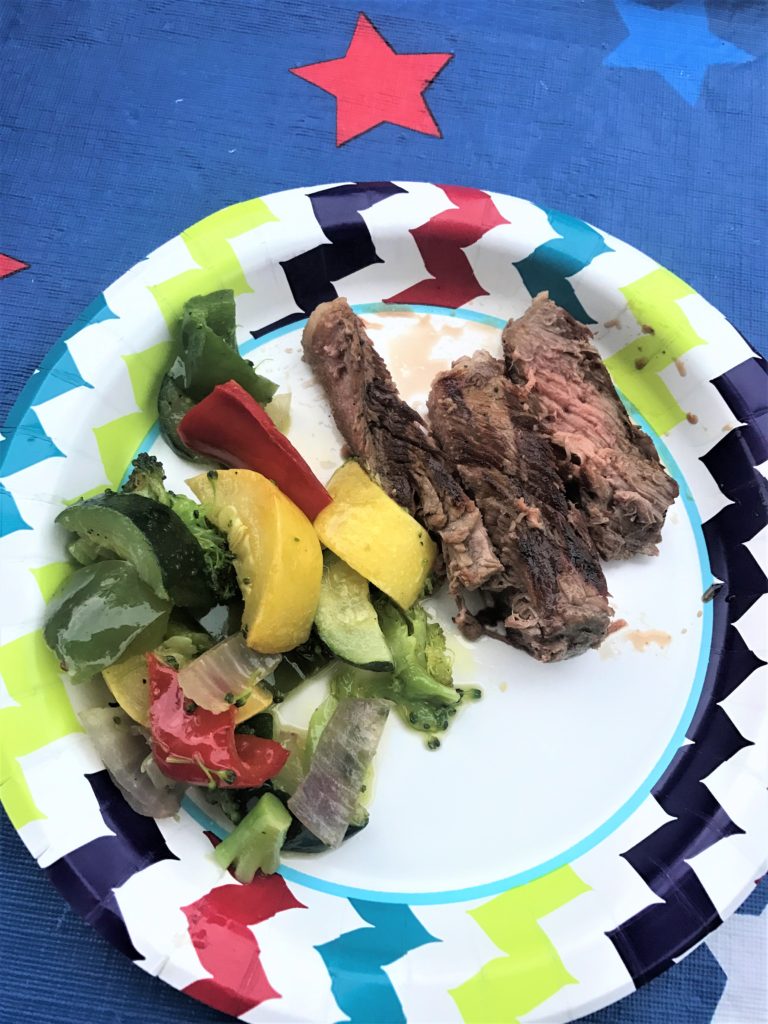 We love to cook steak when we are camping!
I wrap each steak individually in foil and put it in the RV freezer.
This way I only take out the number of steaks that I need to serve that night.
So if I have unexpected company or one of the kids decides to go camping with us at the last minute – I have plenty.
As you can see, we love different types of steaks.
It just depends on what's on sale that week!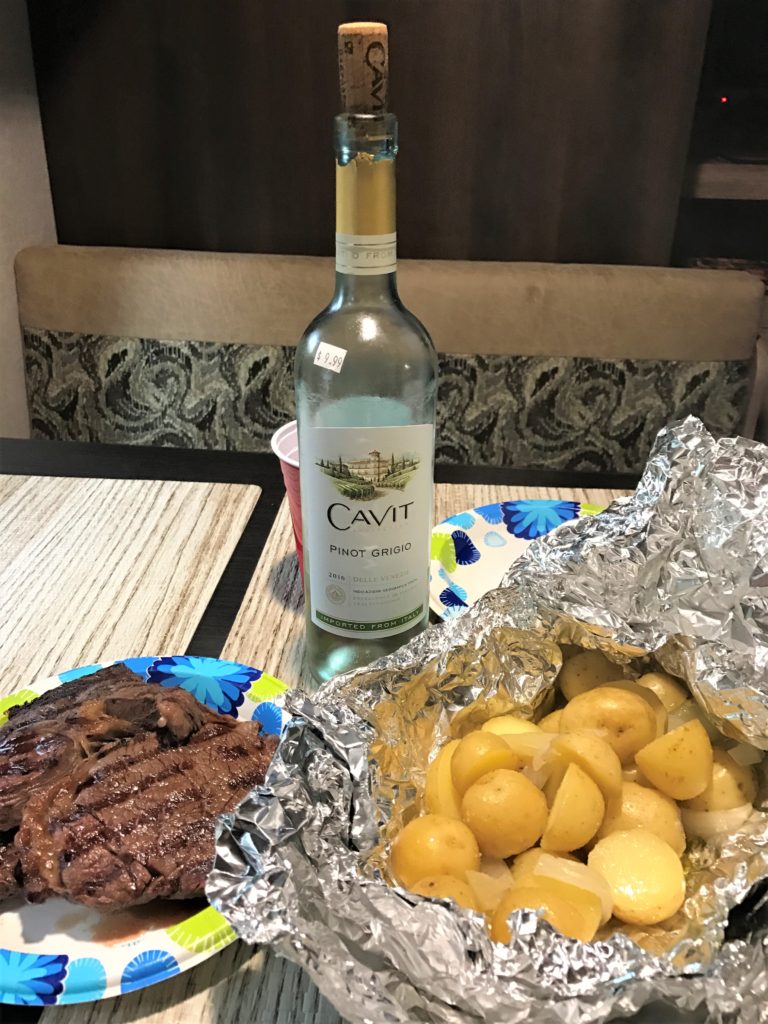 We cook our steaks and just about everything else on the WeberQ and they come out perfect.
As you can see, we also have the portable grilling cart for the WeberQ.
It works out great so that we don't have to use space on the table and can use the table for meal prep.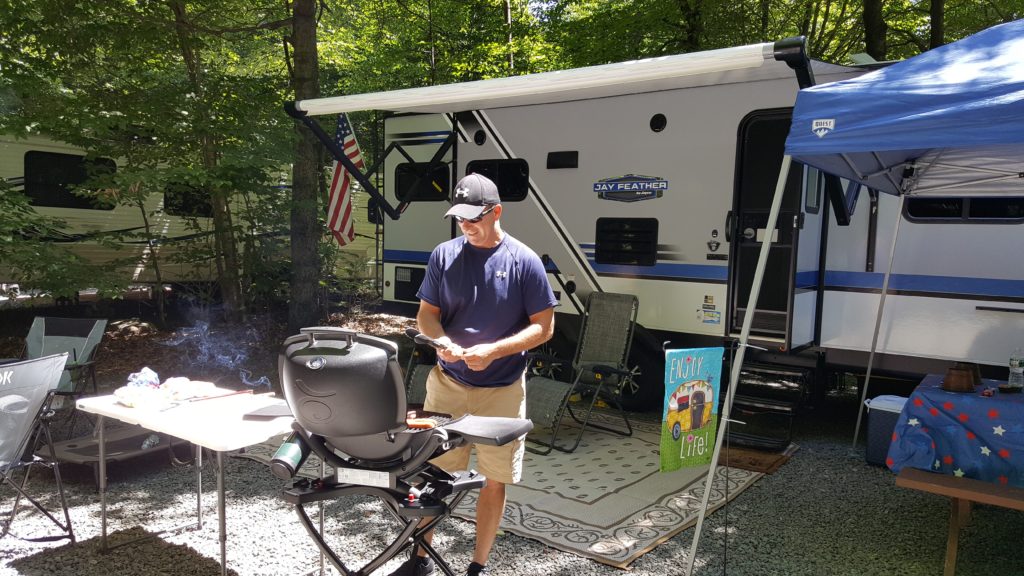 Side Ideas: Potatoes in foil/Veggies/Corn on the Cob/Rice

Easy RV Camping Meal #3
BBQ Legs/wings/thighs
I know the photo may not look pretty…but believe me…it's delicious! AND so easy to Make! Plus this meal is really inexpensive to make for large families!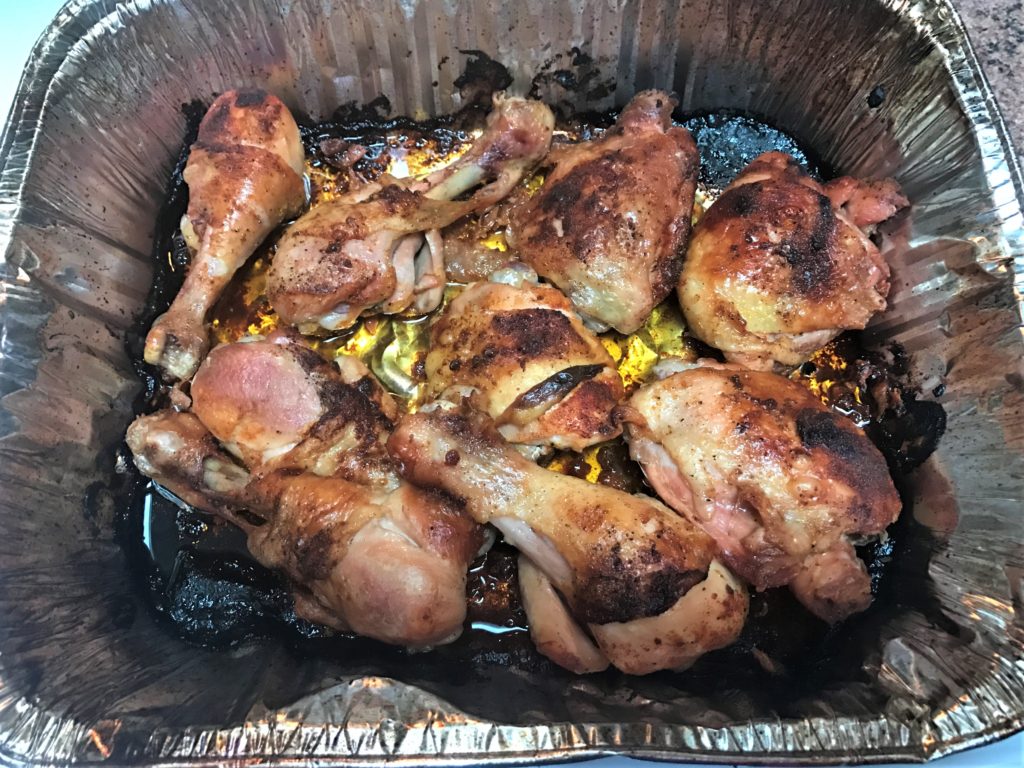 I drizzle olive oil over the chicken. Sprinkle Paprika, onion salt and sometimes I also add garlic salt (depending on who is camping that weekend!)
Cover with foil to cook. We do not turn the chicken while it cooks in the pan.
I do not freeze this type of chicken.
When I plan to grill chicken on the bone it is one of the first meals to be served.
From time to time I will just find a grocery store in the area to buy the chicken.
Easy Camping Meal #4
Salmon & Veggies In Foil Packets
What You'll Need:
3 Tablespoons of Dijon Mustard & 2 Tsp Chopped Garlic Mix Together and spread over Salmon pieces.
Place salmon into foil tent and cook on grill until flaky
Veggie Packets: You can use any vegetables but for this camping trip I used:
1 cup chopped zucchini
1 cup mushrooms
1 cup yellow squash
1 cup cauliflower
1 Tsp Salt
1 Tsp Pepper
Drizzle olive oil over veggies.
Place into foil tent & cook until tender
Easy Camping RV Meal #5
Sausage/potatoes & vegetables
I almost didn't get a picture of this dinner!
They ate it so fast I had to stop them before they tore into this meal!
I made four (4) large packets and they devoured them before I even got to the table!
I used both Sweet Sausage and Hot Sausages but you can use either you prefer.
Cut the sausage into 1-inch pieces. Slice & dice your potatoes & vegetables
For this recipe, I used New Potatoes, Zucchini, Yellow Squash & Mushrooms.
Drizzle olive oil over all Salt & Pepper Place all in a foil packet and cook until tender
RV Meal #6
Chicken Breast & Veggies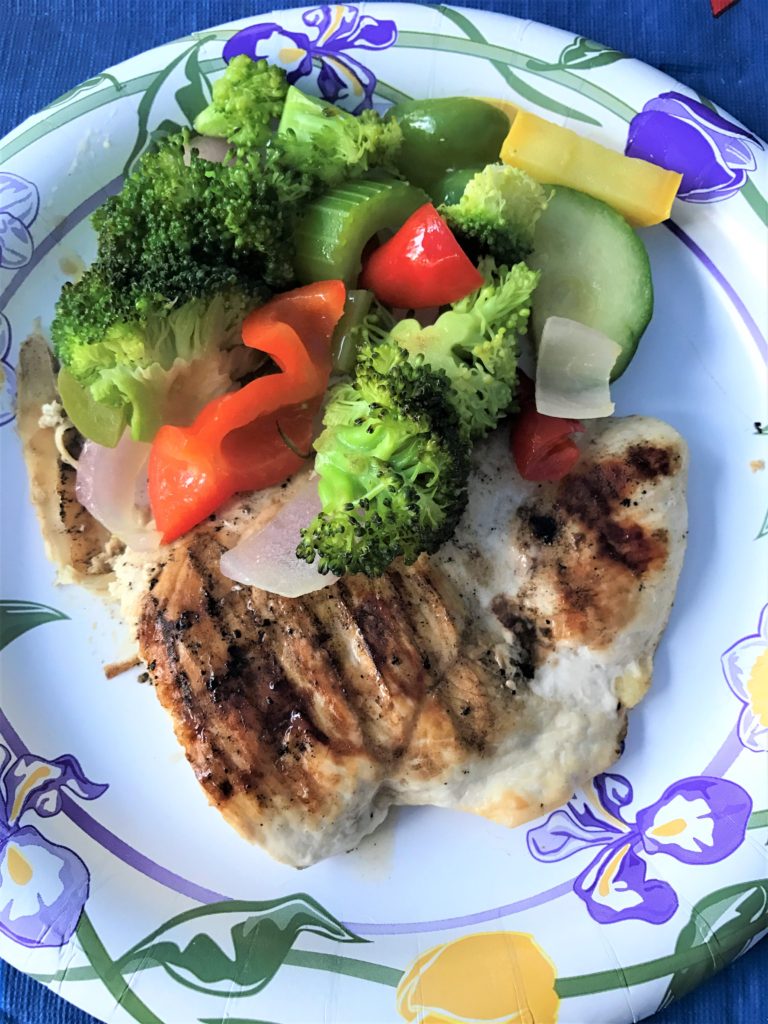 For this recipe, I marinate the chicken in Italian dressing for a few hours in the refrigerator.
When you're ready to grill, sprinkle Mrs. Dash's Lemon Pepper over the chicken.
Cook 10 minutes on each side.
Serve with your favorite side dish.
EASY CAMPING MEALS FOR THE CAMPGROUND
There you have it!
Our family's favorite 6 Quick and Easy Meals To Make When You Are RV Camping
These recipes are so easy to make… You will be back & sitting by the fire in no time!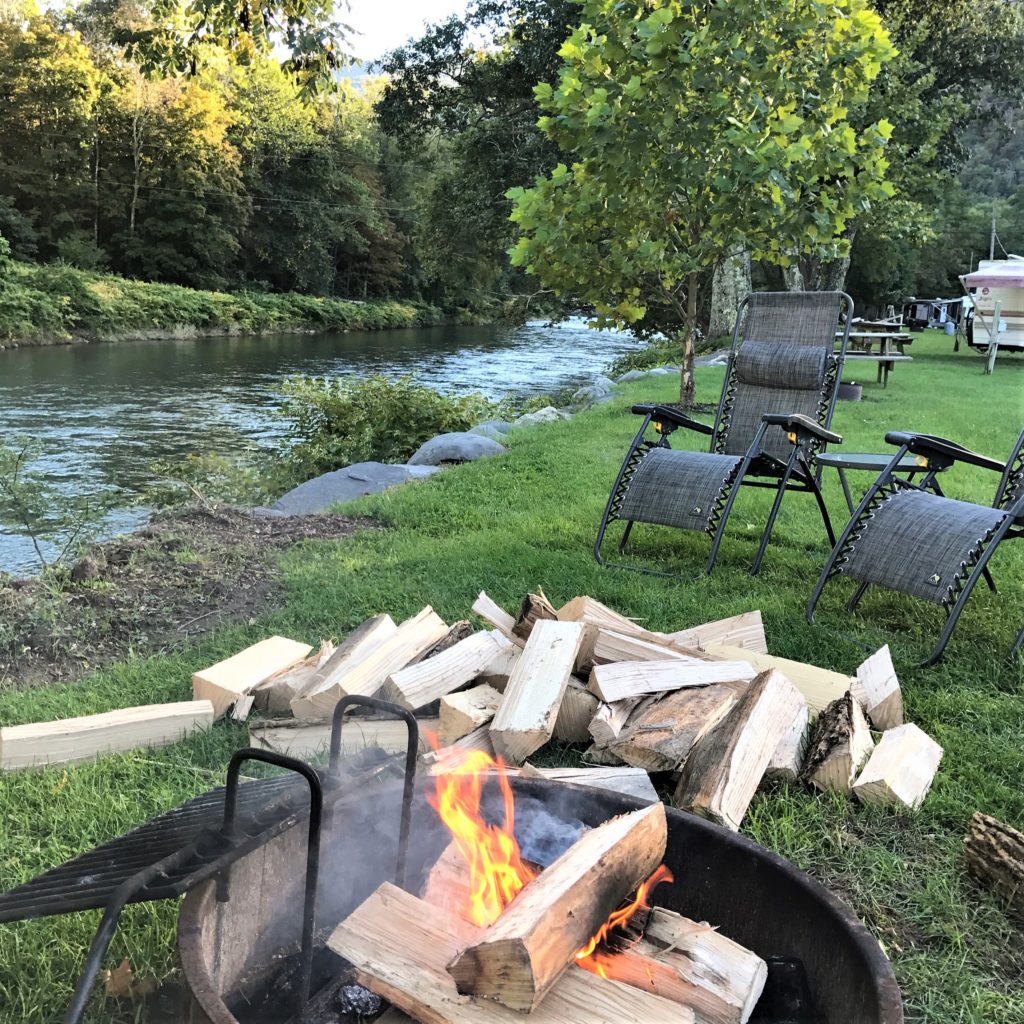 Let me know some of YOUR favorite camping meals!
STUCK FOR MORE CAMPING MEAL IDEAS?
Try The Camping Meal Planner!
Over 70+ Camping Meal Ideas, Daily& Weekly Meal Planner, Meal Prep Planner, Calendars & More!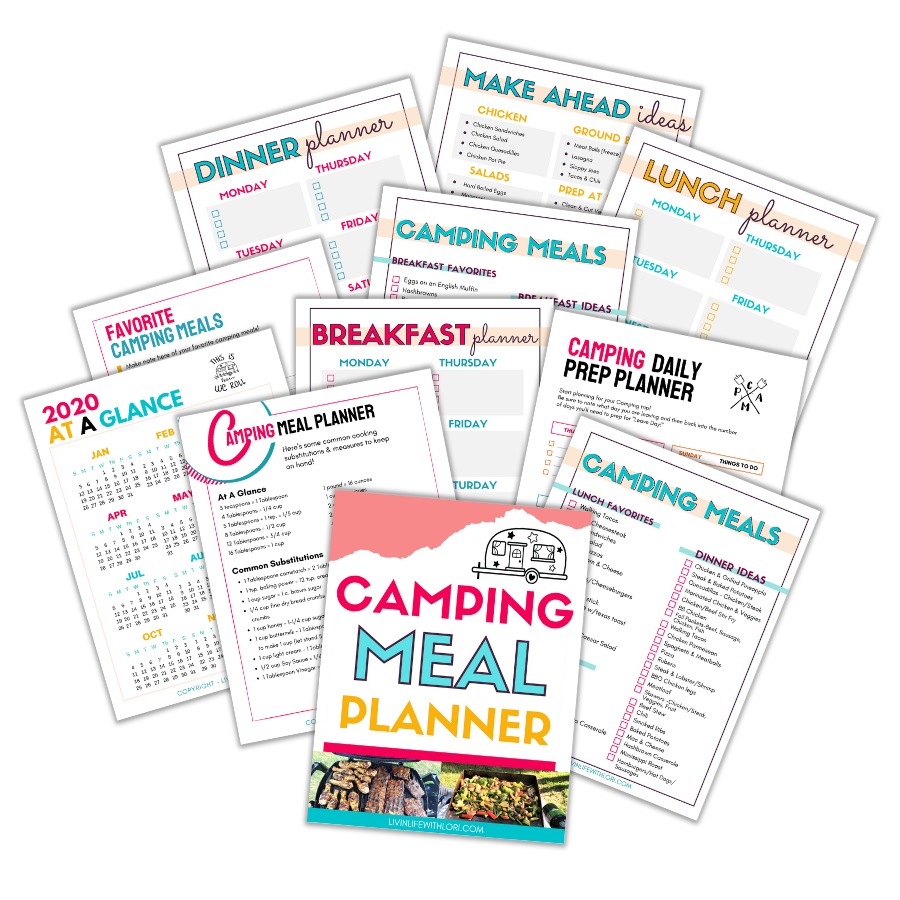 Learn more about the
Don't forget to sign up for my Newsletter!
Please Pin For Later!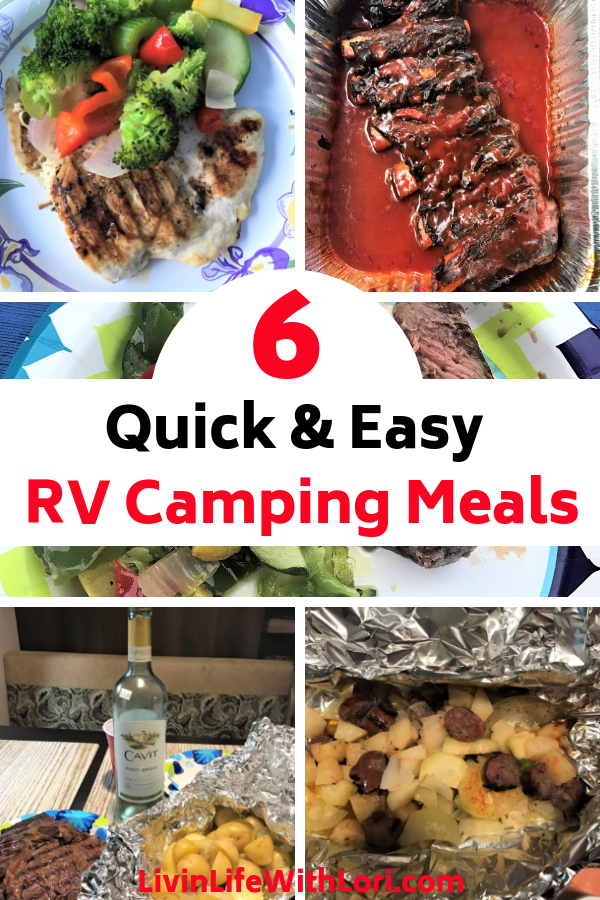 Have you seen the RV Camping Checklists Bundle?
If you're looking for help organizing your RV Camping Trips,
I've put together all my checklists into one Easy To Use Bundle!



Learn More About The RV Camping Checklist Bundle HERE