Last Updated on February 10, 2021 by Lori
What should you look for before buying your new RV? How do you choose the BEST RV that will be right for you and your family? There are so many things to consider when choosing the perfect RV.
Whether you're looking to buy a Class A, Class C, 5th Wheel or a travel trailer, you want to be sure that your decision is the Right RV for you. Here's a checklist of things to consider when buying an RV and how to choose the Best RV for you and your family.
This post contains affiliate links for your convenience which means that if you click a link and make a purchase, I will earn a commission at no additional cost to you. Please read my Disclosure Policy for more information.
Is The RV Life Right For You?
I have to be honest…figuring out the floor plan, style, features etc. was definitely something my husband paid more attention to than I did!
He was the one watching YouTube videos about different RVs, brands and their features; reading reviews about their strengths and weaknesses; and, various styles of RVs to consider.
The RV industry is growing at an incredible rate and many families are now traveling the country full-time in their RV.
While full-time travel is not for everyone, traveling on weekends to places you've always wanted to visit or being a seasonal RVer is just as awesome!!
Why did we decide to buy an RV?
Well, for one, my husband has always wanted an RV.
We would be driving down the highway and see an RV he would say to me, "Doesn't that look like fun?"
Then, when he turned 50 years old, he said to me, "Lor…let's get an RV!" I kinda chuckled and said, "OK!"
Related Reading: If you want to read more about our story of buying our travel trailer, please read my article What Do You Do When Your Husband Turns 50.
Here's a photo of our very first camping trip!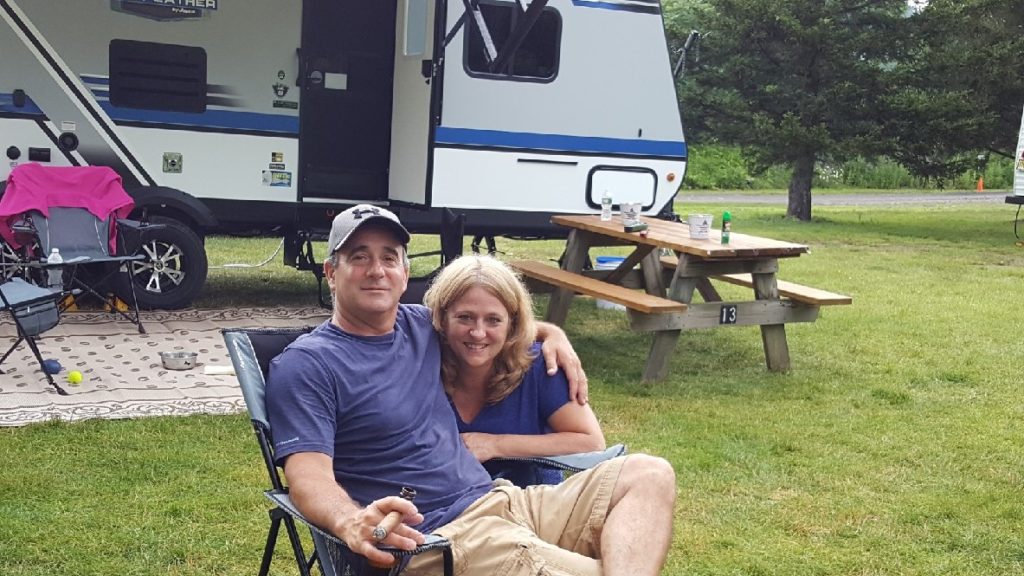 Things To Consider Before Buying An RV
Look online at different models of RVs before you head to the RV dealer.
Since this was my husband's project when we went to look at RV's I just went along for the ride noting things I found that I liked and those things that I didn't care for as we walked through.
Know how you will be using your RV. Will you be full-time RVers?

You will need a lot of storage. Will you be a seasonal RVer? You will need to look for a campground that has all the amenities you love.
We knew we weren't ready to be full-time RVers, which was a big factor when we were shopping for our RV. We wanted an RV that was easy to pull behind our truck and would easily fit into most National Park sites.
We weren't even going to be seasonal RVers yet either which if we were, I'm almost certain we would have chosen a larger trailer to purchase.
If you buy a motorhome (Class A, Class B or Class C), will you be towing a vehicle behind?
For us, we wanted to be able to unhook and drive to the area attractions. In our travels, we have also seen families where one person is driving the motorhome and the other is following behind in a vehicle. This way, they have a car/truck to drive rather than driving their motorhome to all the attractions.
Another option is to rent a car when you get to your location.
Create a "short list" of Must-Haves in an RV.
After looking at many trailers, we came up with a shortlist of must-haves that helped us narrow down our choices even more.
Here are a few examples of items to think about:
* Do you want a slide-out?
* Do you want bunk beds?
* Can you get to the refrigerator and bathroom if the slide-out is in? (Being able to get to the refrigerator and bathroom when we took a break on the road became very important to us on the road – and we were so happy we could!)
* Outside shower. (Having an outside shower is so handy to wash off your hands!)
* Ladder to the roof.
* Pass-thru from the bathroom to the bedroom
* A lot of counter space
Questions To Ask Before Purchasing Your RV
How many times during the year do you plan to use the RV?
Will you be full-time RVers traveling across the country?
Will you be seasonal RVers? This means you will park your RV for the season and travel back and forth to the campground.
Will you be taking long weekends or week-long trips with your RV?
How long do you want to own the RV? (Something to consider especially if you plan to stay in a lot of state parks or on the beach. They have length limits)
How far do you want to travel in your RV?

Are you planning local camping trips or trips across the country?
How many family members and pets will be traveling in the RV

?
We suddenly realized that most of the time there would only two of us traveling along with our Golden Retriever, Buddy. We decided that we would not need as much room as a larger family might need.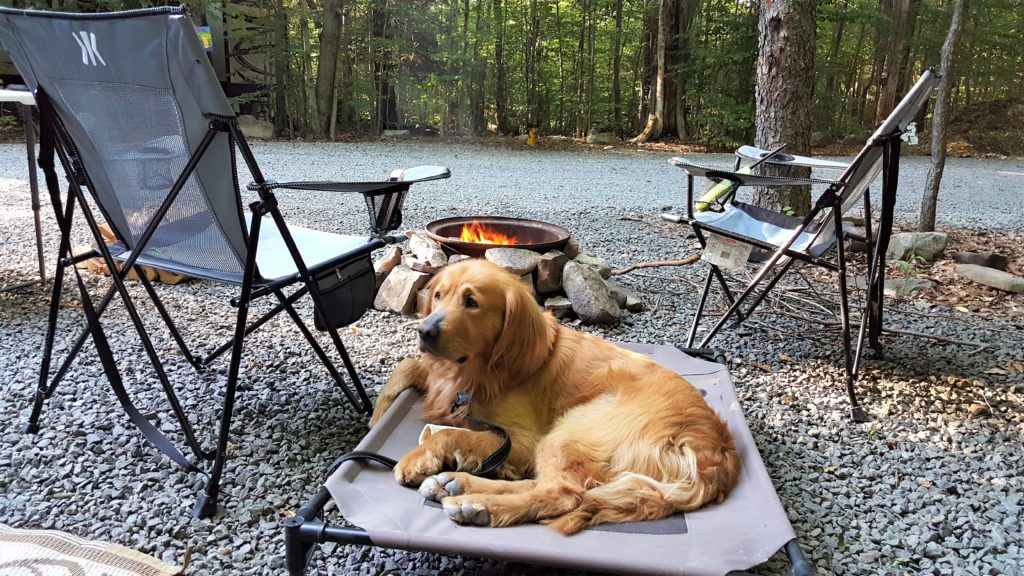 Looking back, our decision on a smaller travel trailer was a good decision for us and one we hadn't even thought of when we were shopping for an RV.
Recently, we realized how much of our time is spent outside the trailer (unless, of course, it's raining and even then — we can be found sitting under our awning or canopy!).
For instance… We begin our day with coffee by the fire…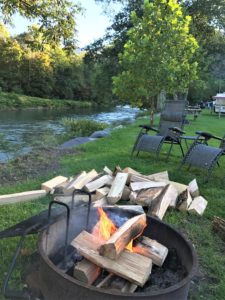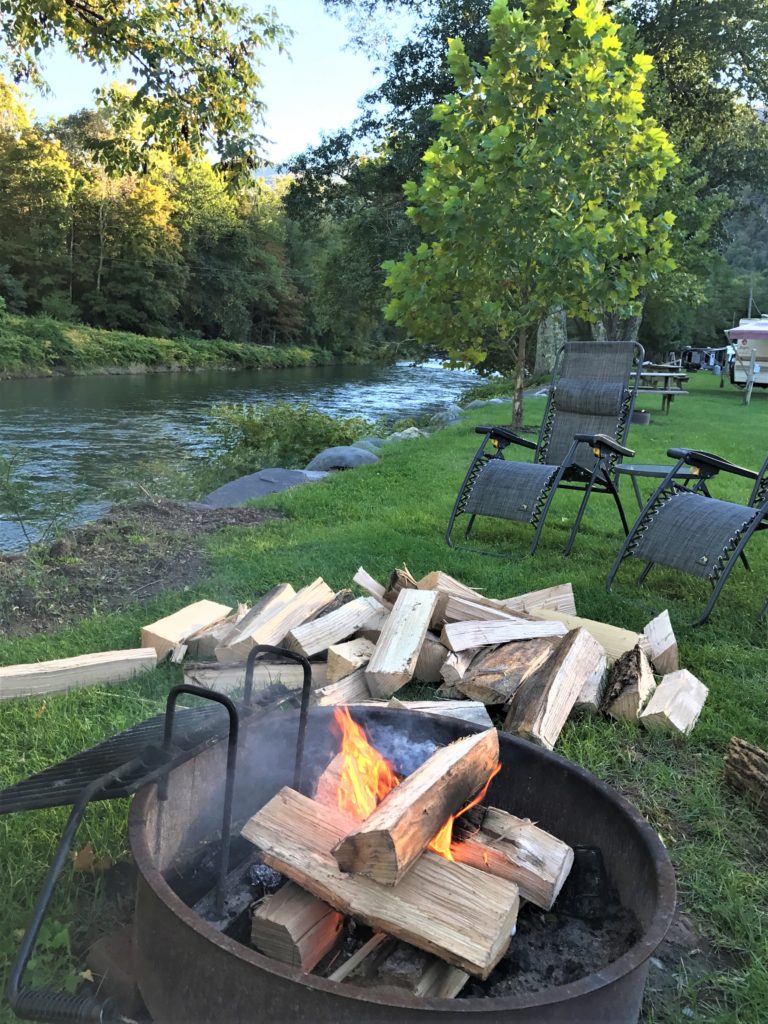 Then we cook breakfast on our Blackstone Griddle OR we eat an English Muffin & Yogurt by the fire (or something else we feel like that day!)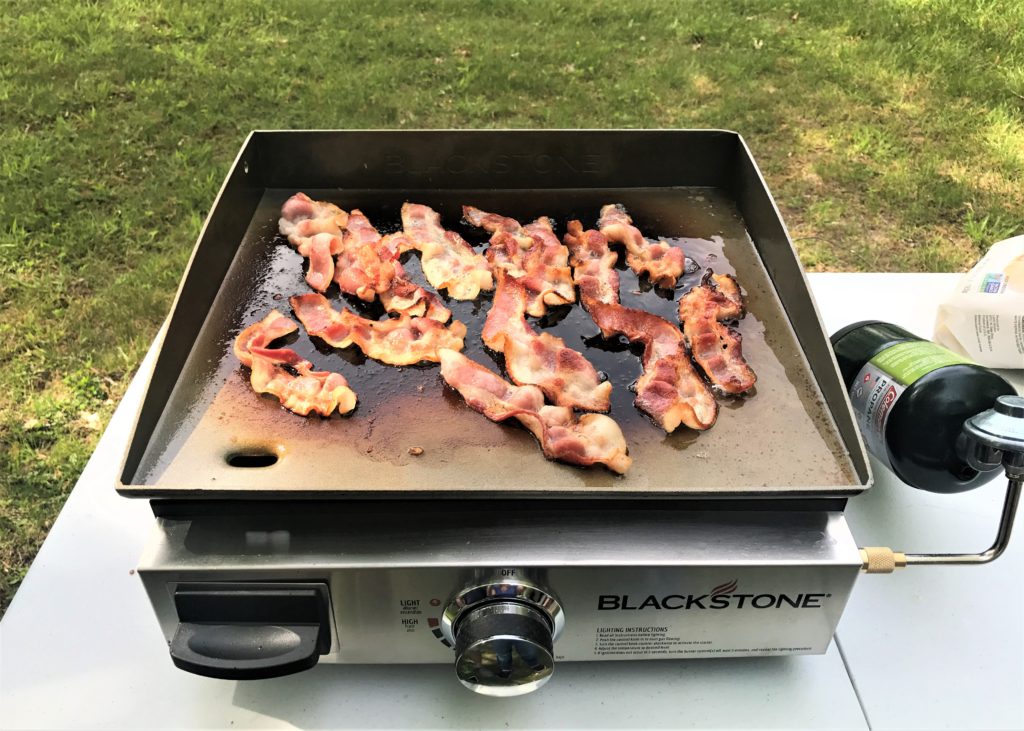 Then we go for a ride, go to an attraction, go for a hike – whatever we have planned.
Sometimes we take a sandwich in the cooler to eat if we're gone through lunch. If we are back at the campsite, we eat lunch at the picnic table.
Then it's dinner time or supper for those of you in other parts of the country. (I do try to be aware of saying "dinner" and "supper" because I grew up in Kansas and when I say "dinner" I mix my mom up ALL the time!)
We usually cook on our WeberQ and eat outside.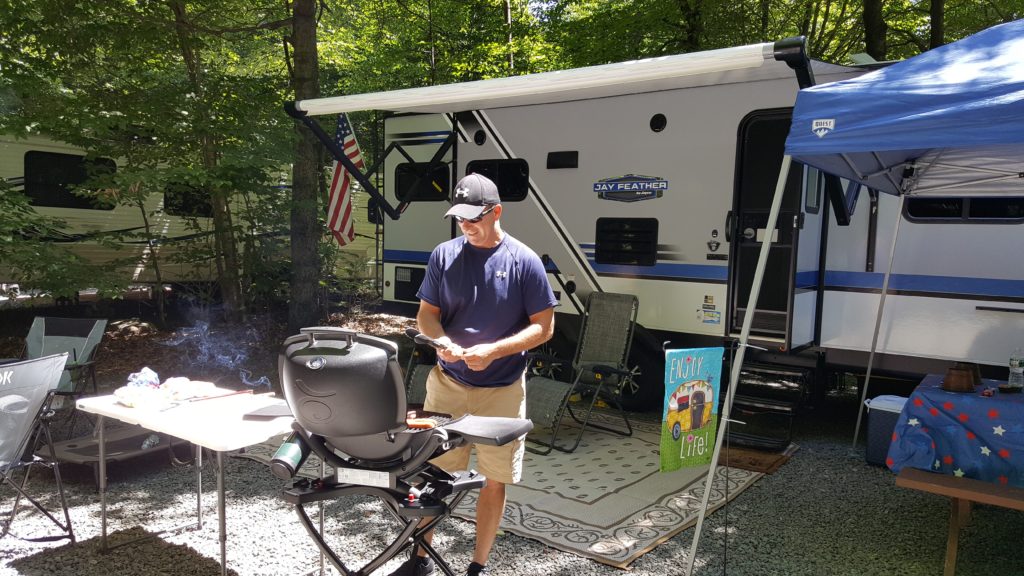 Then we sit by the fire until bedtime. Can You See Where I'm going with this?…
Even WE didn't realize just how little time we spend actually INSIDE the trailer!
NOW…don't get me wrong…I know MANY people who are NOT like us!
Campers also like to RELAX inside the trailer!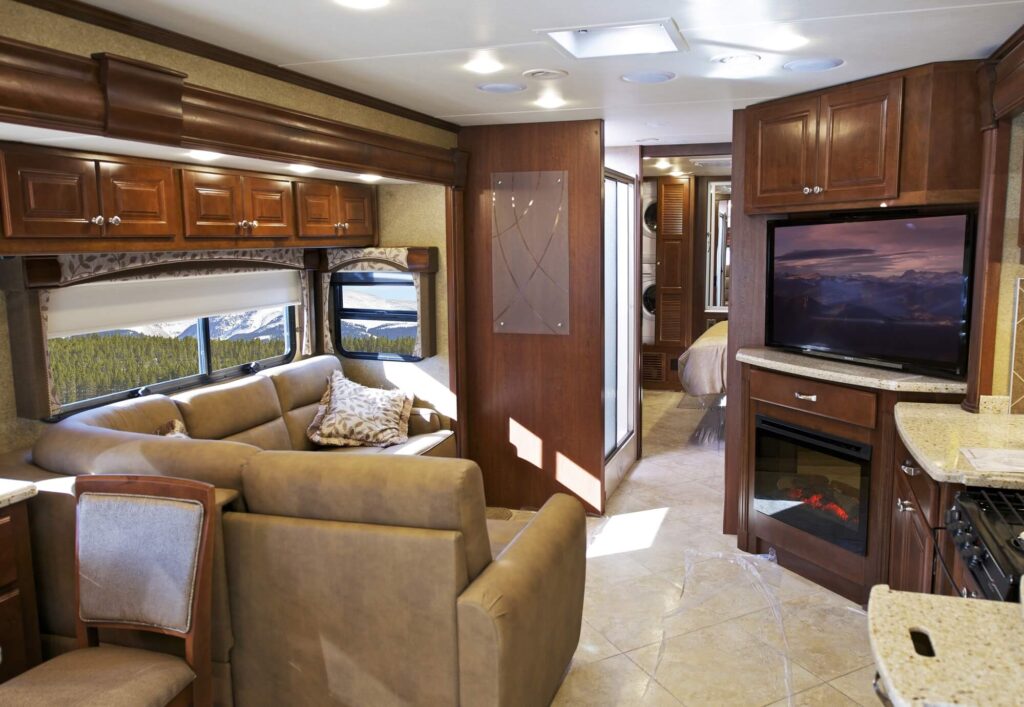 Maybe you have a satellite dish that gets 800 channels so you can go inside to watch the races, or the football or baseball game.
In fact, yesterday we drove through a prospective campground and one of the campers told us he had his dish set up with 800 channels so he could watch what he wanted outside while his wife can watch what she wanted inside!
I'm just saying for us…WE didn't realize how little time we spend in the trailer and I'll bet some of you may not have thought about that either!
Just something to think about when you start shopping!

Consider What Size RV or Travel Trailer You Want To Purchase
Another thing to think about is that some campgrounds have very narrow campsites and in some campgrounds, it may be hard to maneuver big rigs around the campground.
Also, if you don't pull a car behind a larger RV, how will you go to the store?
Or see the sites?
Each time you want to leave the campground you will have to unhook your RV to drive to the attraction you have planned that day.
If you do choose a "Big Rig" there are campgrounds that cater to the larger sized RVs.
We recently stayed at North Pole Resorts & Campgrounds in Wilmington, New York and they actually posted a sign along the highway "Big Rig Friendly".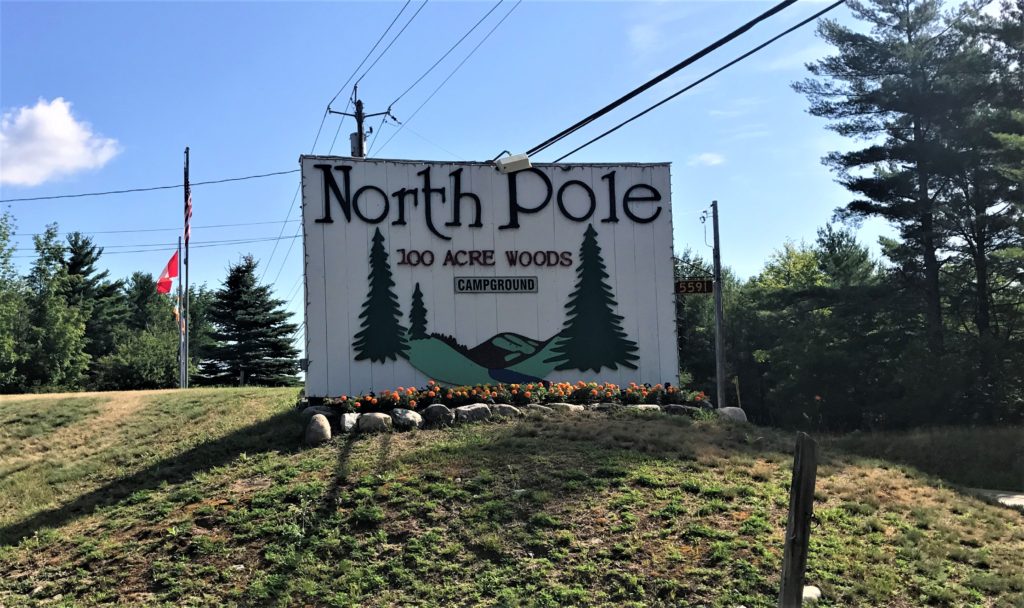 Related Reading: You can read more about North Pole Resorts & Campgrounds in my article Why We Loved Camping at North Pole Resorts & Campgrounds.
Consider The Package That Comes With Your New RV or Travel Trailer
We are very lucky that when we chose our 23 ft. Jayco Jayflight, we had MANY features that came with our package – some we didn't even appreciate until AFTER we had been camping for a while.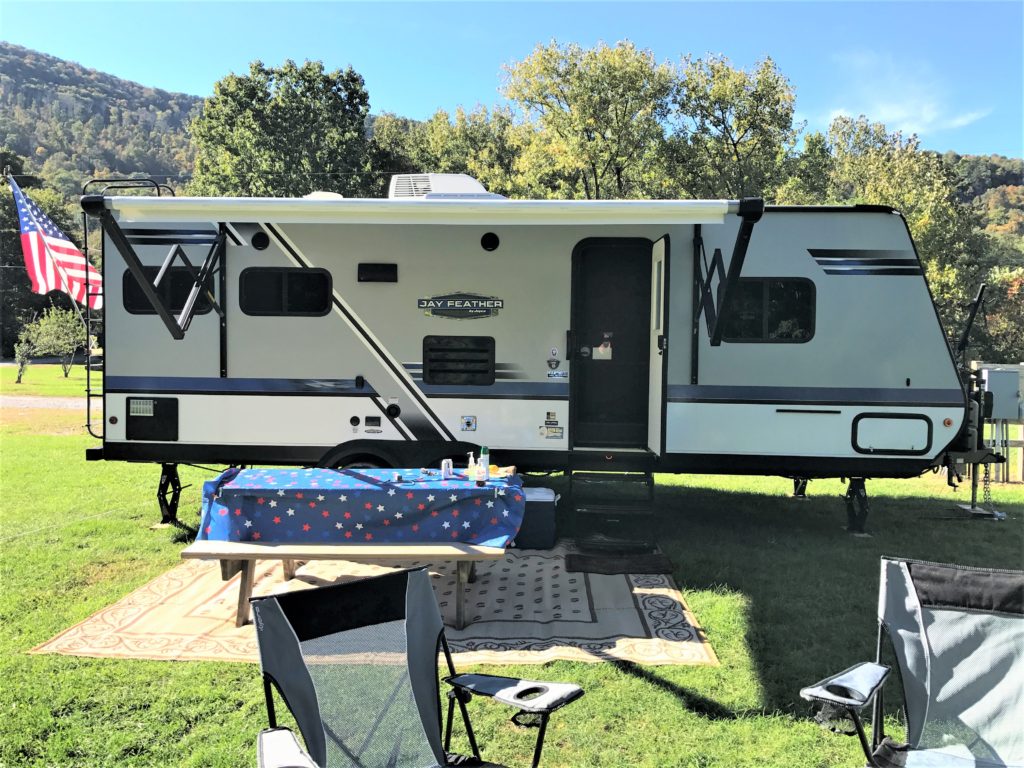 Our travel trailer came with an outdoor shower/hose. We constantly use this hose to wash our hands outside – saving our grey water tank.
Our Trailer also came with an amazing bicycle rack.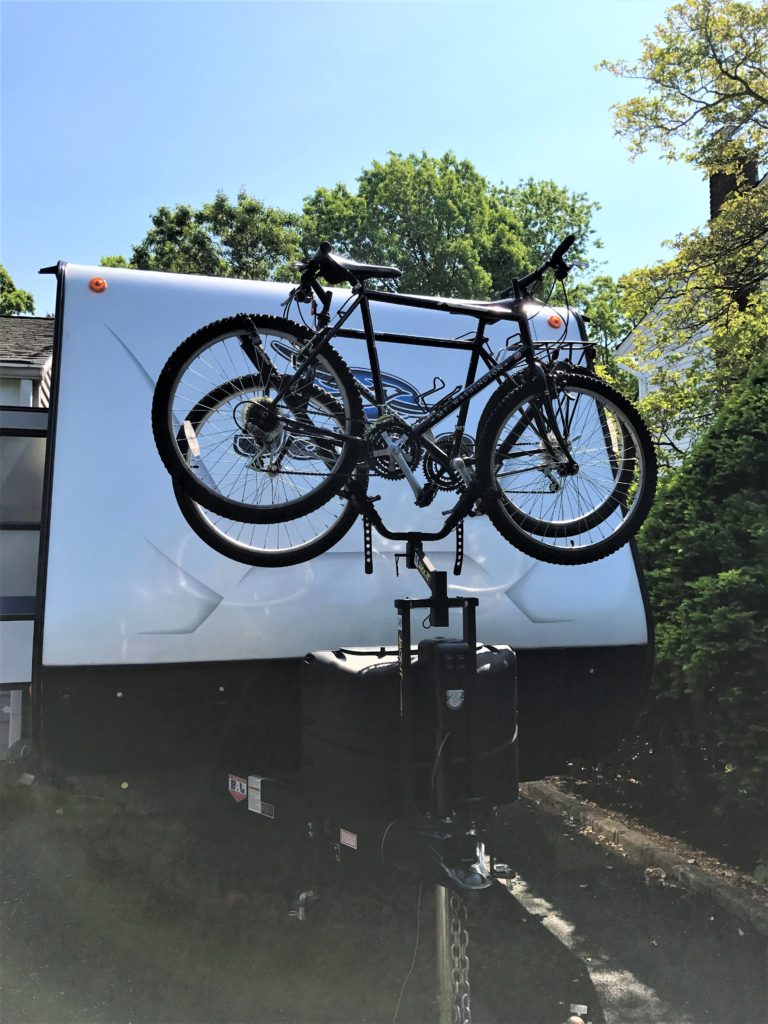 We have other campers stop us to ask what kind of bicycle rack we have and where did we get it?
Lucky for us…it came with the trailer.
If you're looking for an awesome bike rack, you can find this Jack-It Bike Rack HERE
Also, in addition to the TV in the trailer, we also have TV hookups in the bedroom and an outdoor TV hookup so we bring an extra TV to watch the game outdoors!
The RV Kitchen Layout When Buying An RV
Another feature that I am thankful for – and really WANT to brag about but don't– is my counter space. I have SO MUCH counter space for a small trailer.
And I use EVERY BIT of it!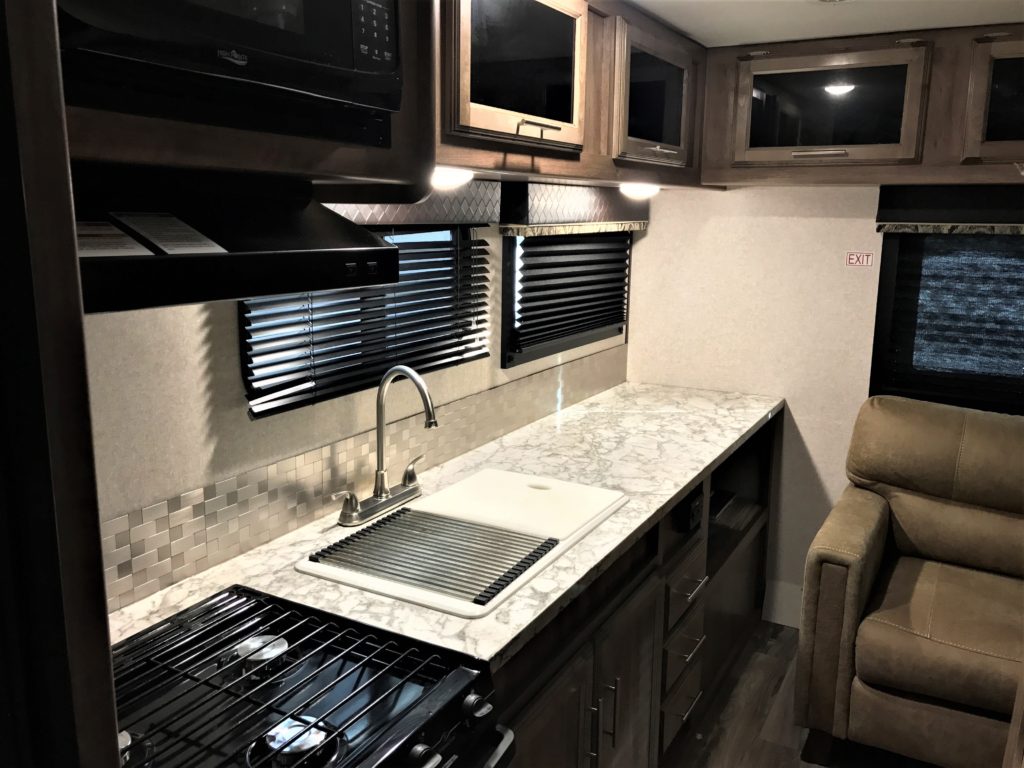 If you follow my blog, you will see photos of our trailer everywhere!
We just had a camping neighbor tell us that when we pulled into one of our favorite campgrounds for the third time this past season, he remembered us by the color of our trailer!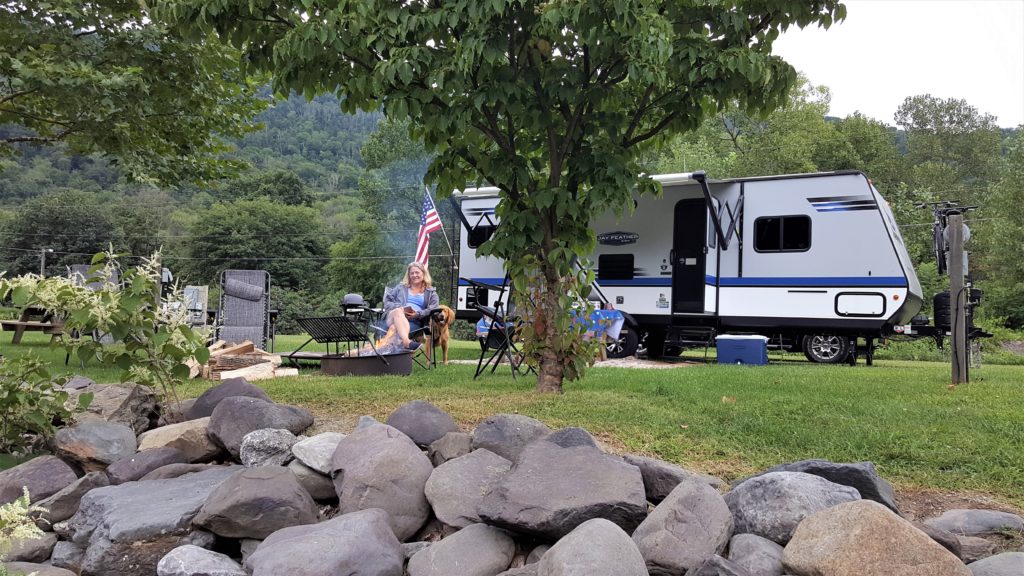 Color is just another thing to consider!
What Should You Think About When Buying Your New RV
Below, I've put together some questions for you to think about as you shop for your new RV.
This list is by no means ALL the things to consider – but it'll give you a great start as to what to look for as you begin walking through all the different RVs there are to choose from!
Do you want a Class A, Class C, 5th Wheel, Travel Trailer or Toy Hauler?
If you want a Class A or Class C – do you want diesel or gas?
If you purchase a Class A or Class C, do you want to tow a vehicle behind you?
If you purchase a 5th wheel or travel trailer – do you have a vehicle that can pull the size of trailer you want or will you need to purchase a new vehicle?
Do you want a lightweight trailer that you can pull it with an SUV?
Are you looking for a Toy Hauler?

Number of people you need to be able to sleep in the RV
Believe it or not, my 23' Jayco sleeps six while my parent's 5th wheel only sleeps four.
Depending on the number of people you need to sleep in your trailer may be a factor in the style & features you choose.
Some RV Features To Consider When Purchasing an RV:
Do you want a bunkhouse for the kids? Or do you mind pulling out the couch and setting up the dining table into beds each night?
Our kids are young adults so we knew we didn't need a bunkhouse. And, since they don't come camping with us all the time, we just pull out the couch and make the dining table into beds.
If you don't want to set up the dining table each night and make it into beds, do you want a table with chairs instead? Or do you like the "booth-style" dining table?
I really like the booth-style dining. I also like the storage space we have under the booth seating. My parents have the dining table with chairs which they prefer. They use the storage under the seats of the chairs too.
Is the booth-style dining table large enough for your family? Is there enough seating?
Do you want a separate bedroom or do you mind pulling out a Murphy bed
We actually considered the Murphy bed at one point but ultimately decided that we preferred a separate bedroom.
Our Jayco trailer comes with a Queen bed that has a curtain you draw to close off the room. We also have a sliding door from the bedroom leading into the bathroom! Perfect for during the night.
If you want a separate bedroom – Do you want a King or Queen bed? Is there enough room to walk around the bed?
Do You Want a Slide Out?
This was a MUST for us. Even though we aren't full-time or seasonal RVers the amount of space that we gain by having just one (1) slide-out makes all the difference in our trailer.
This was one thing that we knew we definitely wanted in our travel trailer.
Do you want two (2) doors leading to the outside of the trailer?
How many bathrooms do you want?
Do you want a tub for the shower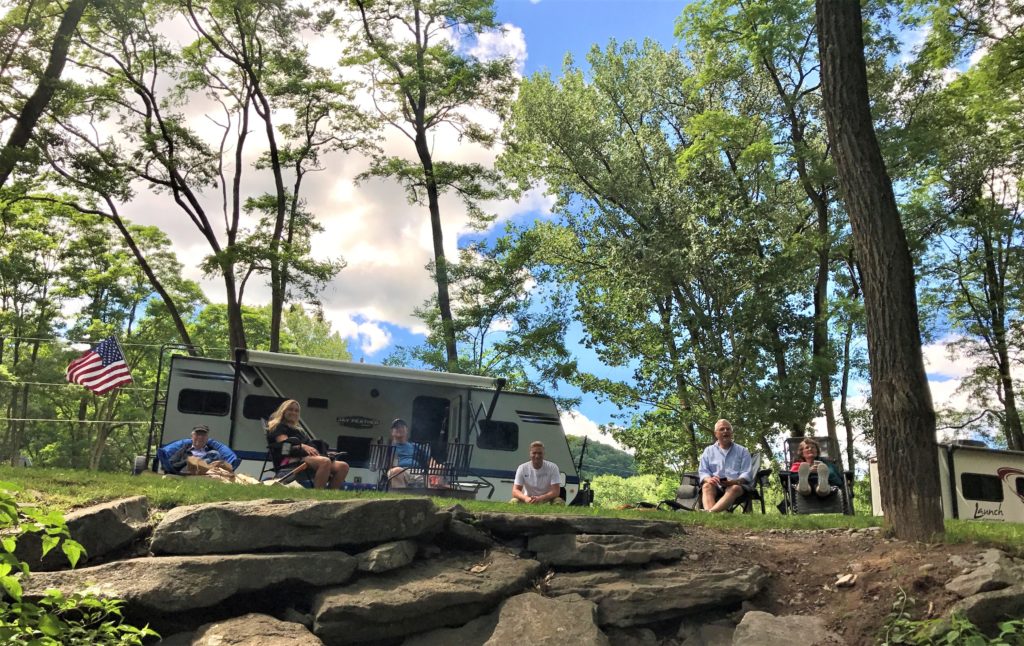 Other Things To Consider When Buying Your First RV
Full-sized refrigerator or will a smaller refrigerator work for you

A lot of counter space

Dishwasher

Washer & Dryer

TV for the bedroom

Outdoor kitchen

Hookup outside the trailer for a TV?

Outdoor shower/hose to wash your hands outside or the kids off when they come from the beach

What kinds of storage space are you looking for? There are so many storage ideas you can use!
Finally – does the color matter to you?
WOW! That is a LOT to think about!
I put together this Checklist for you to begin thinking about your "Must-Haves"
in your New RV!

There are so many choices of types of RV, features, styles, and amenities to choose from – it can get a little overwhelming!
As I mentioned above, these are NOT all the things to consider when buying your RV, but it will give you a GREAT start to begin determining the BEST RV to buy for you & your Family!
Use my checklist to begin thinking about what you want in an RV; how you will be using your RV; and, the MOST important thing…
HAVE FUN!!
Be sure to Join My Mailing List to keep up to date on all that's happening on Livin' Life With Lori! Sign Up Below!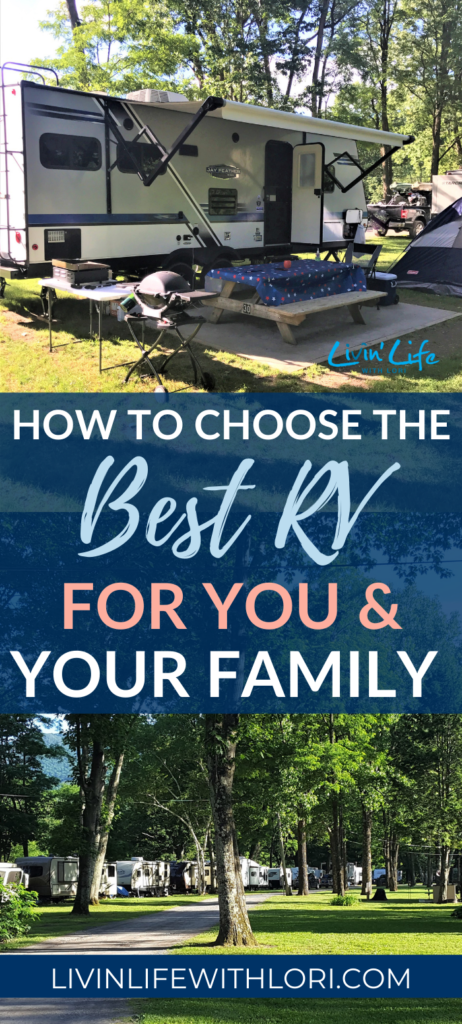 Looking for Help Organizing your RV Camping Trips? I've put together all my RV Camping Checklists Into One Bundle!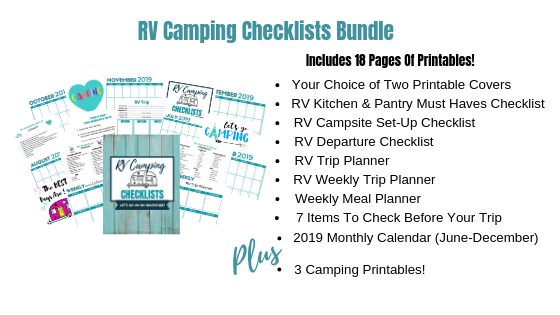 LEARN MORE ABOUT THE RV CAMPING CHECKLISTS BUNDLE HERE