Last Updated on July 24, 2020 by Lori
Looking for an RV campground near Kennebunkport, Maine? We stayed at Red Apple Campground and found it to be a perfect location for campgrounds near Kennebunkport, Maine. Red Apple Campground is not only clean and quiet, but we enjoyed lobster delivered right to our campsite!
This post may contain affiliate links which means if you click on a link and make a purchase, I will earn a commission at no additional cost to you. Please read our Disclosure Policy for more information.
RV

Campgrounds

Near Kennebunkport, Maine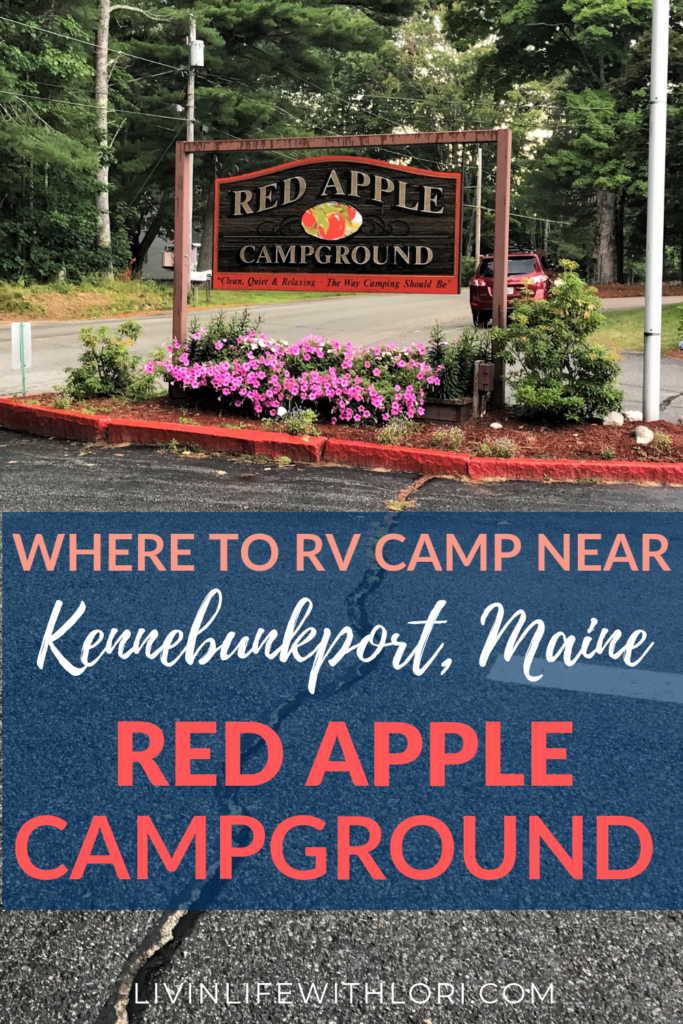 We were looking for a stop-over campground to pull our travel trailer into as we made our way from Long Island, New York to Bar Harbor, Maine.
We wanted to travel approximately halfway from home to Bar Harbor and decided to find a campground in Kennebunkport, Maine.
We have never been to Kennebunkport and were excited to eat Lobster and see the famous town along the coast of Maine.
As we were researching campgrounds in Maine, one campground that caught our eye was Red Apple Campground.
The campground's motto was:
Red Apple Campground
"Clean, Quiet & Relaxing – The Way Camping Should Be"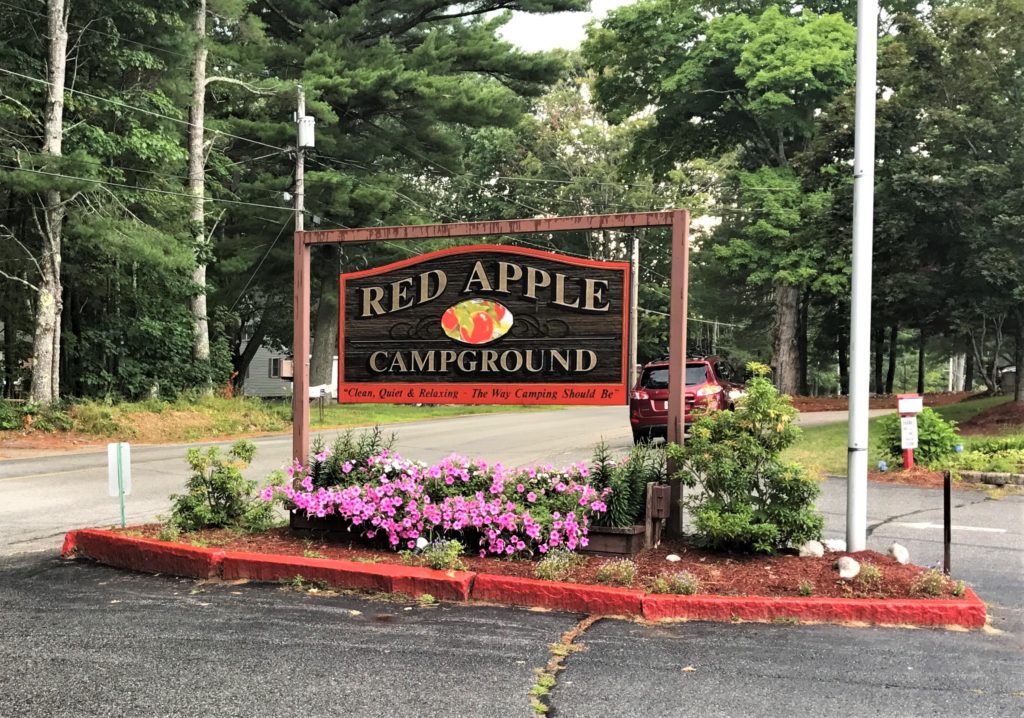 Hmmm, that definitely sounds like our kind of campground! So we made reservations in February for our August trip.
We decided to stay one night on our way to Bar Harbor and 4 days later, return to Red Apple Campground on our way back to Long Island.
Related Reading: Are you thinking of visiting Acadia National Park? Read about our trip and the 9 Amazing Things To See in Acadia National Park
Here's a photo of the Red Apple Campground welcoming committee on the porch of their office!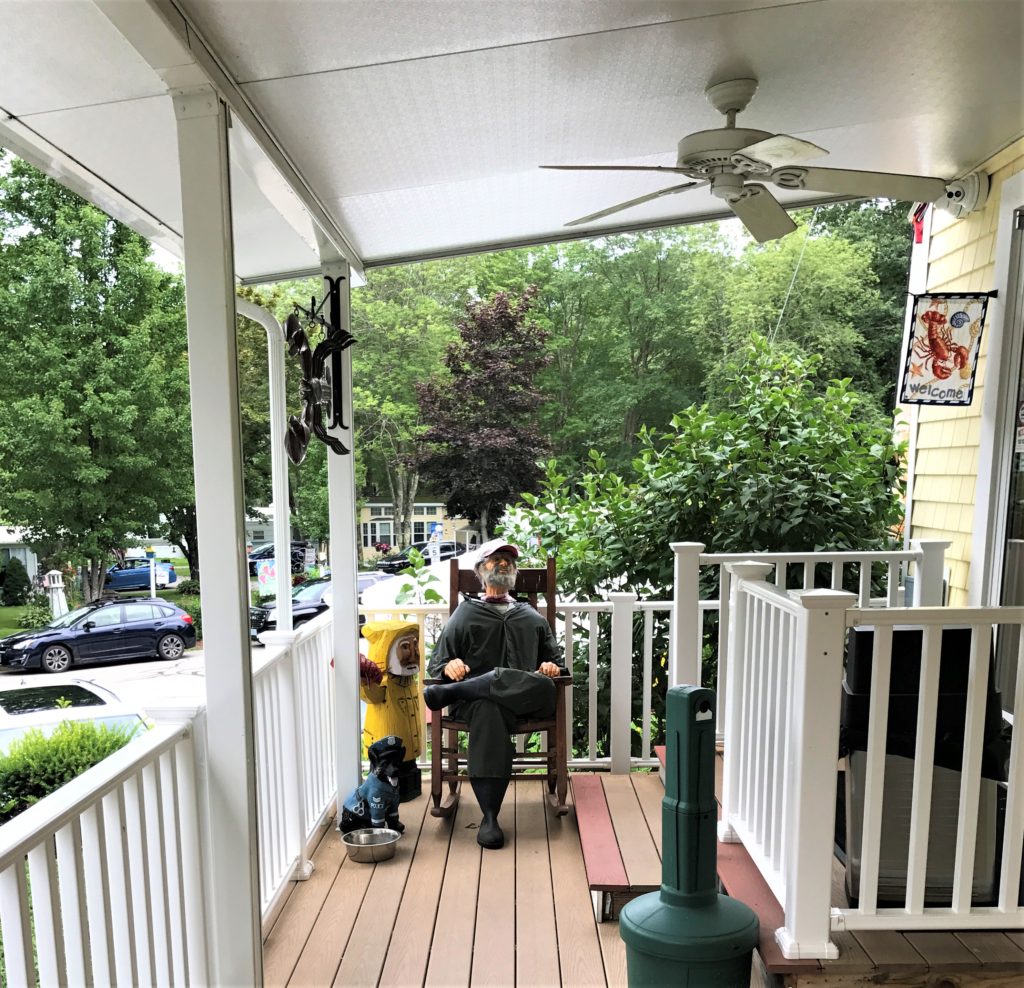 One of the first things to note about the campground – they do NOT accept credit cards. So, last February we mailed our deposit checks to their address in Florida – no big deal.
We liked that we got a confirmation e-mail about everything.
We received an e-mail for our reservation when they received the deposit, and another email – "This is a Reminder of Your Upcoming Stay!" about a week before our trip.
Do You have an RV Trip Planned?
Get your FREE RV Departure Checklist PLUS Bonus RV Trip Planner?
Download load it HERE.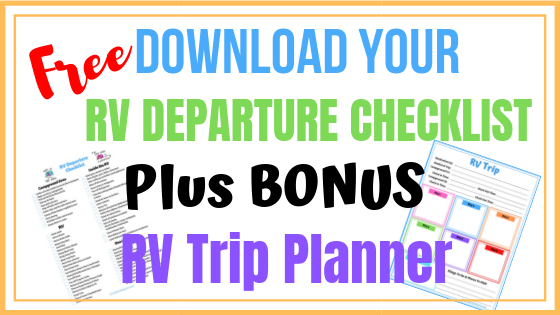 Red Apple Campground Amenities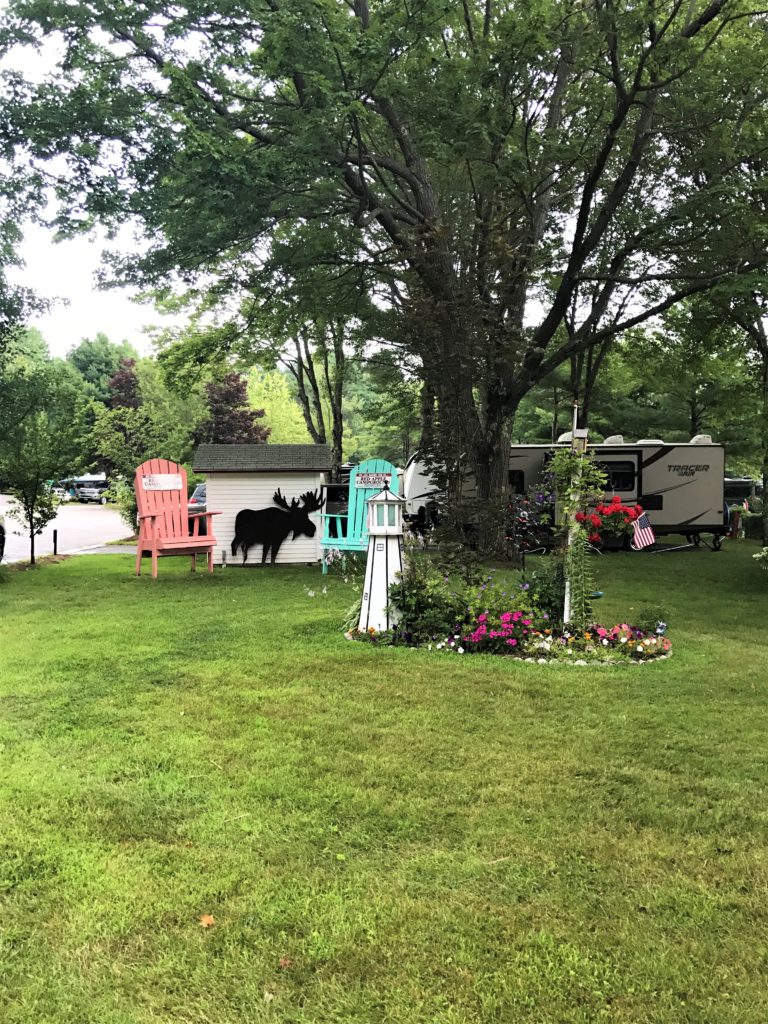 The campground is family owned and operated and is located on 15 landscaped acres (you can see the photo above how pretty the landscaping is) with paved roadways and many sites with paved pads.
Paved Back-in and Pull-through Sites
50/30/20 or 30/20 amps at all sites including tent sites
Majority of RV sites have sewer & cable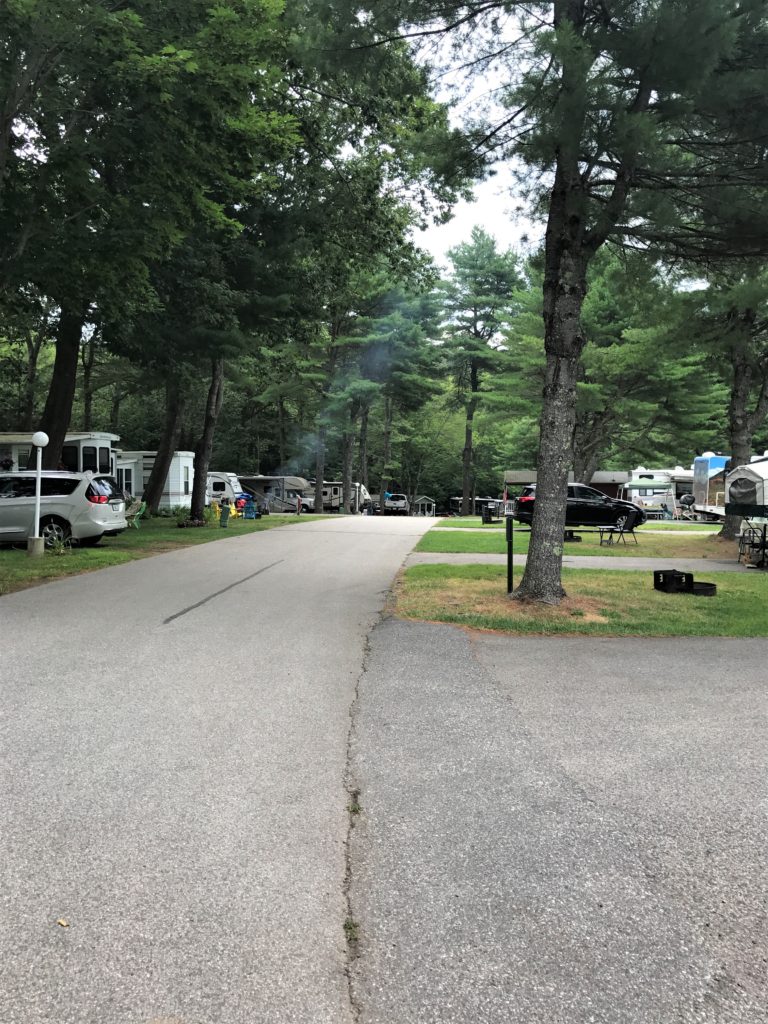 Other Campground Amenities
Newly remodeled building with heated and air-conditioned bathrooms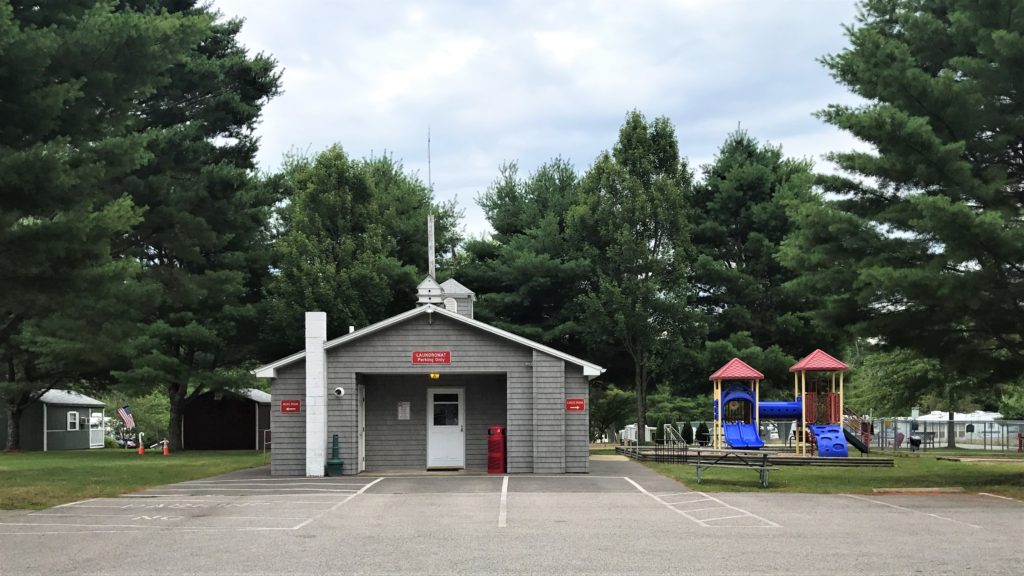 Laundromat with all-new front-loading machines and gas dryers
Recreation hall with flat-screen TV's, pool table, Foose ball table, games, puzzles and plenty of room for group activities
A recreation area with playground, horseshoe pits, basketball hoop, volleyball, bocce ball, sun deck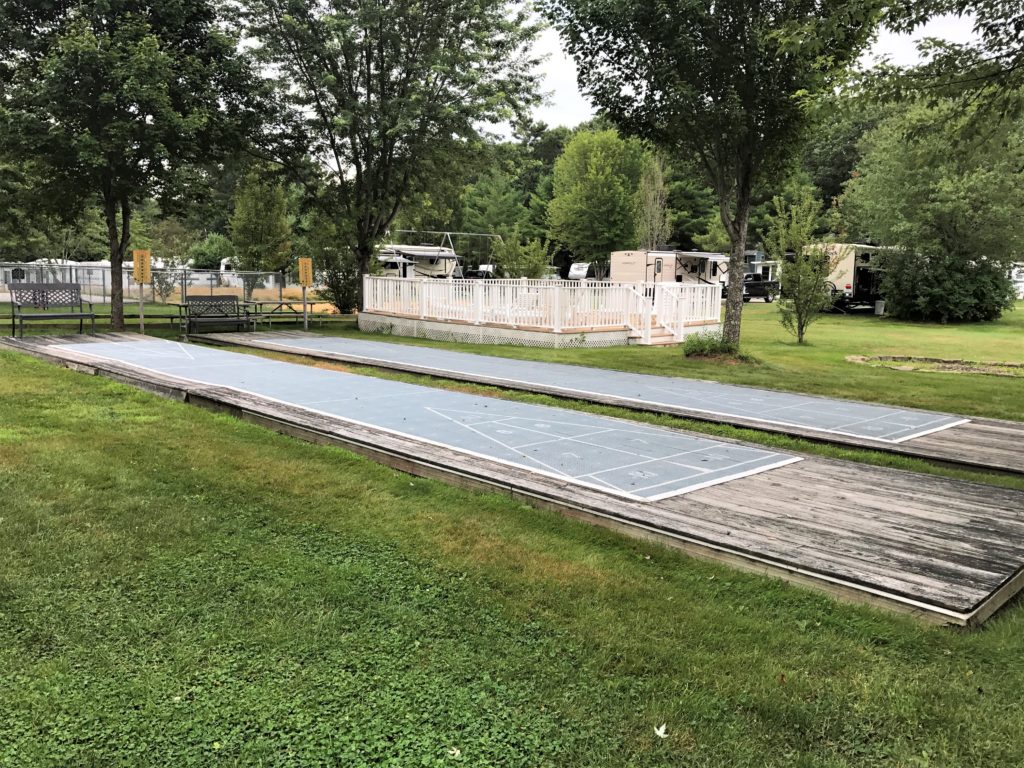 Pet-Friendly Campground
Looking for a Pet-Friendly Campground in Maine? Red Apple is Pet Friendly with its own dog park too!
The paved roadways were a welcome change from many campgrounds that have gravel roadways to take the dog for a walk.
The Campground also had a nice dog run with an agility course for the dogs. Many RVers had dogs at the campground and although we didn't use the dog run, we saw others who did.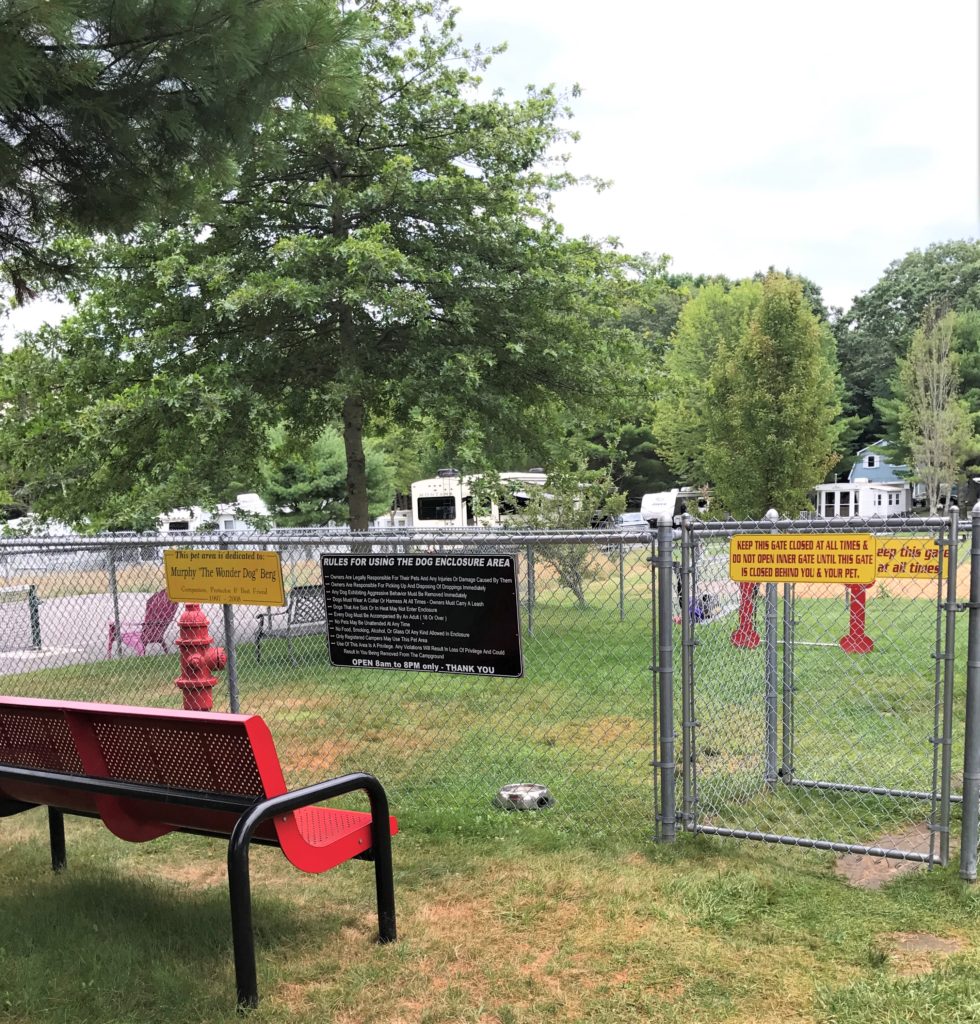 Best RV Parks In Maine
One thing the Red Apple Campground offered which I thought was so unique was that you go to the office by 10:00 a.m. and order your Lobster to be delivered to your campsite in this cute vintage truck (weather permitting) by 5:00 p.m.!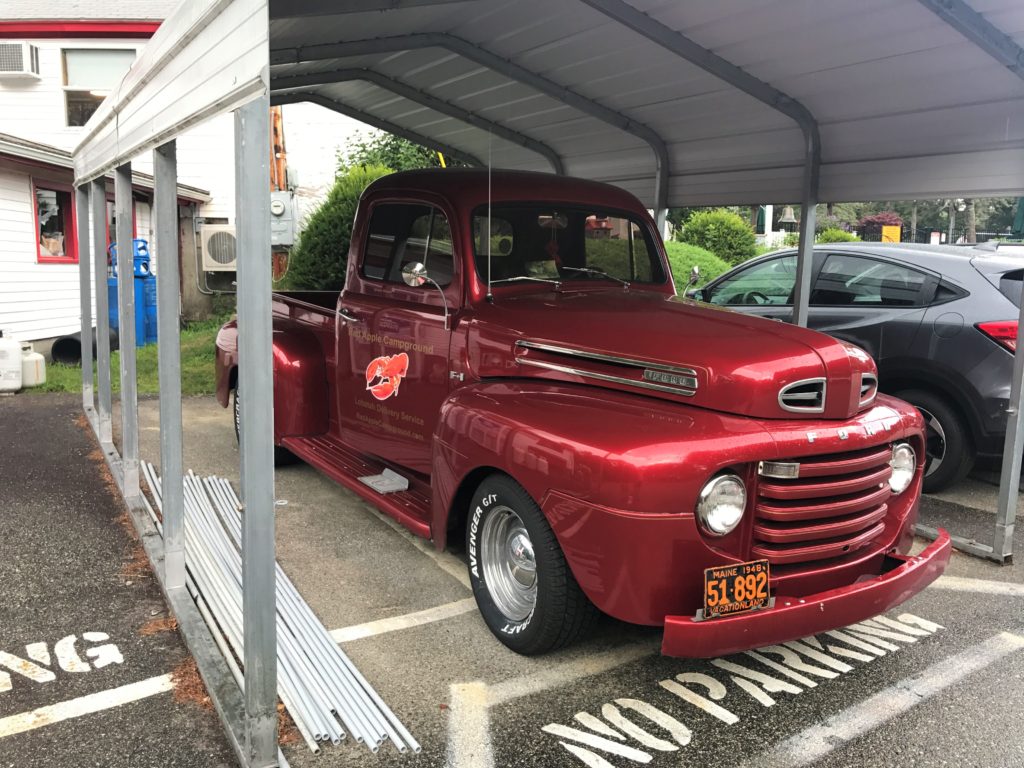 And that's just what we did!
We headed to the office at 9:30 to put in our order. We were then asked, "What type of shell do you want?"
Huh?
Did you know there are two (2) types of Lobster you can order? New Shell or a Hard Shell Lobster. We learned that the locals prefer the New Shell Lobster because it is sweeter.
So, we ordered the New Shell Lobster.
Later, when we visited a local seafood restaurant on the marina, they had a sign explaining the difference: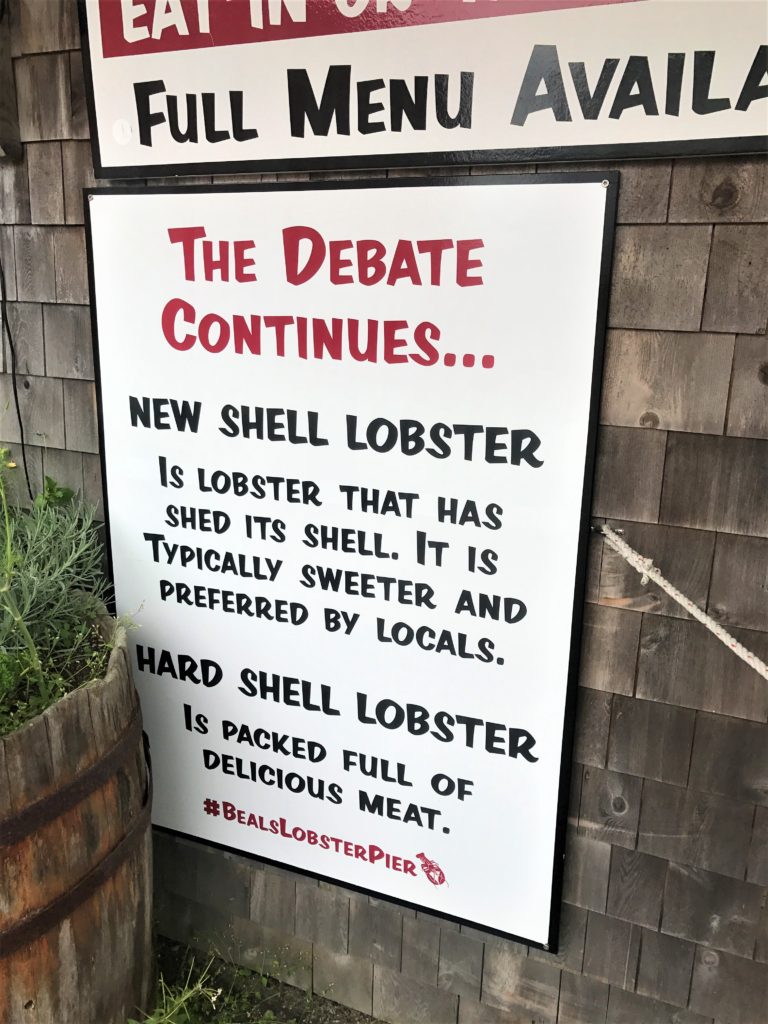 Things To See in Kennebunkport, Maine
Kennebunkport Harbor
After ordering our Lobster at the campground office, we headed to Kennebunkport, Maine.
The views were amazing! Buddy, our Golden Retriever loved watching the boats in the harbor.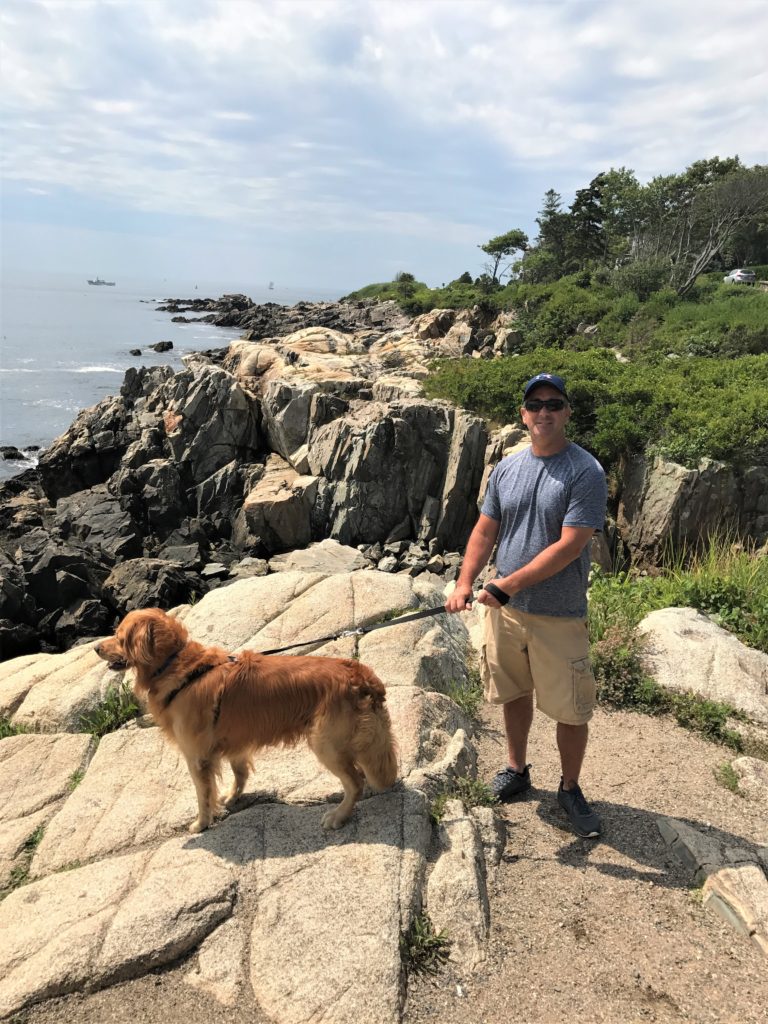 The Bush Compound
Kennebunkport is known for the summer retreat of the Bush Family. The Bush Compound served as the "Summer White House" for President George H.W. Bush (41st President).
The views from The Bush Compound located on Walker's Point must be spectacular – because the views OF their home certainly are!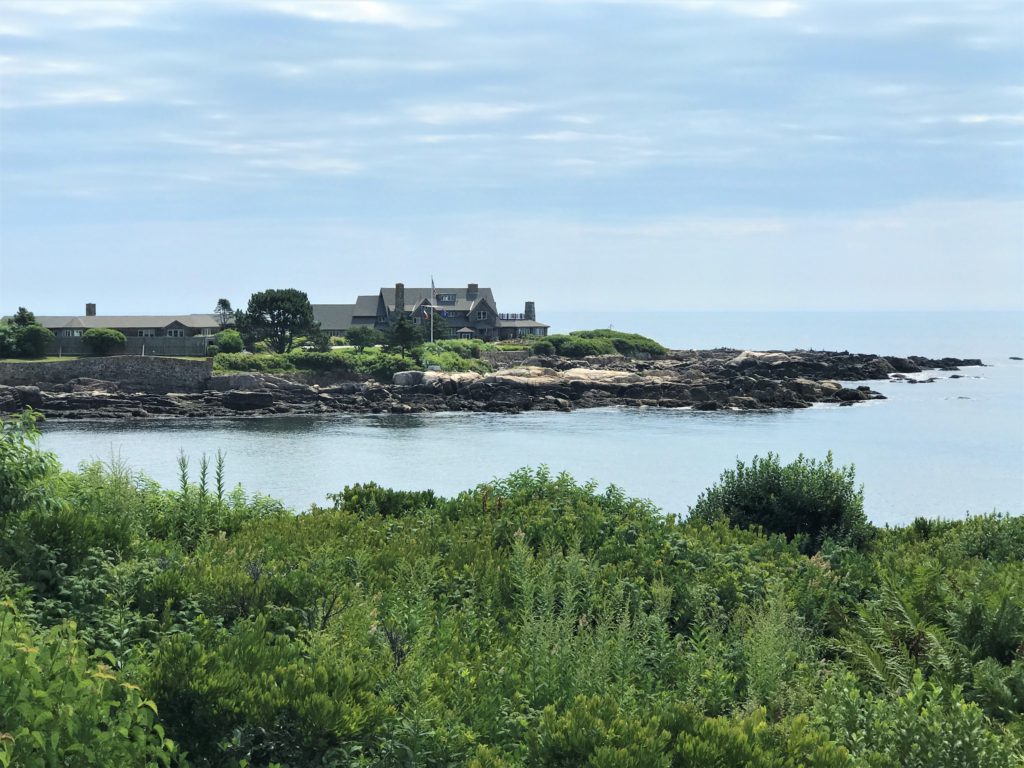 At one of the pull-off areas, there is a tribute to President George H.W. Bush.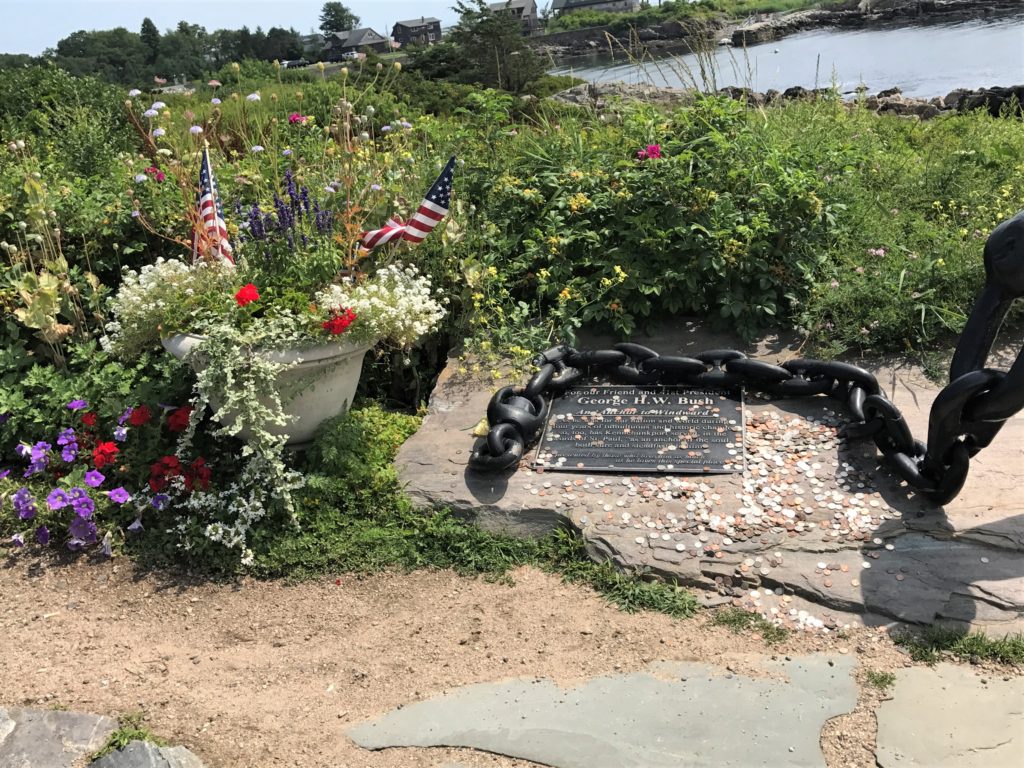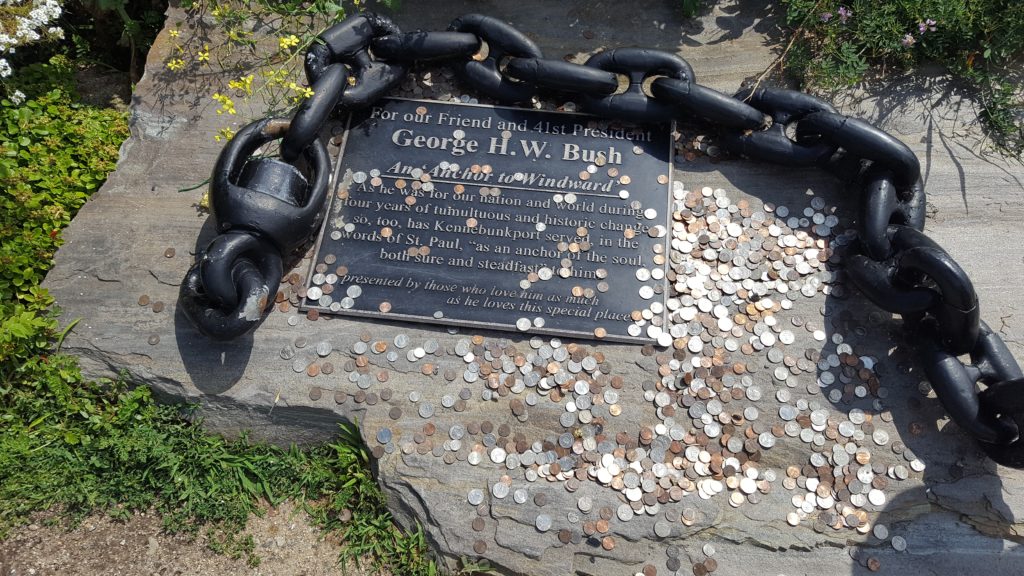 After exploring Kennebunkport, we went back to our campsite, put out our red checkered table cloth and waited for our lobster.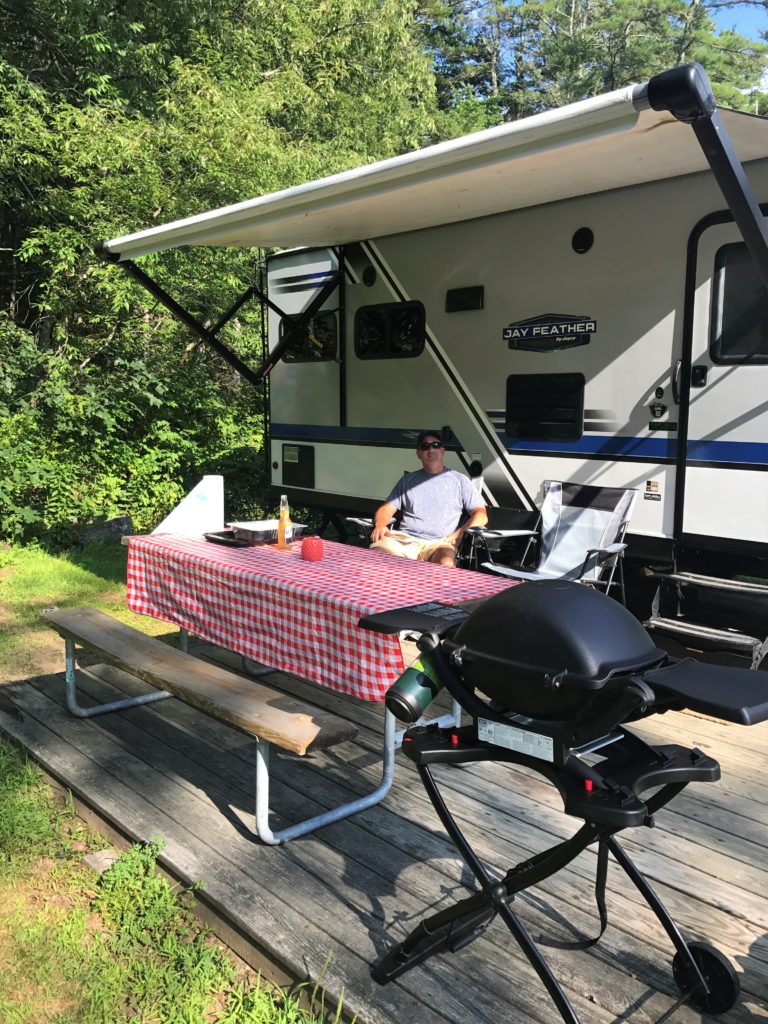 At exactly 5:15 p.m., we saw the red truck coming down the road.
Here Comes Our Lobster!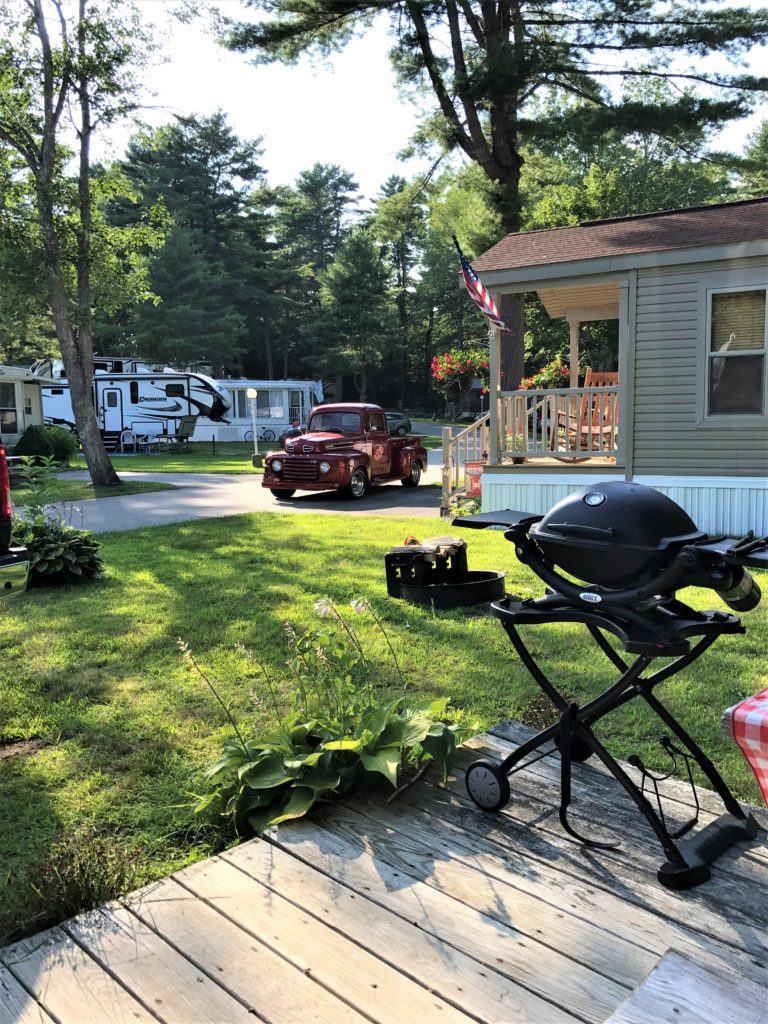 And, as you do in Maine…we had a Lobster Feast!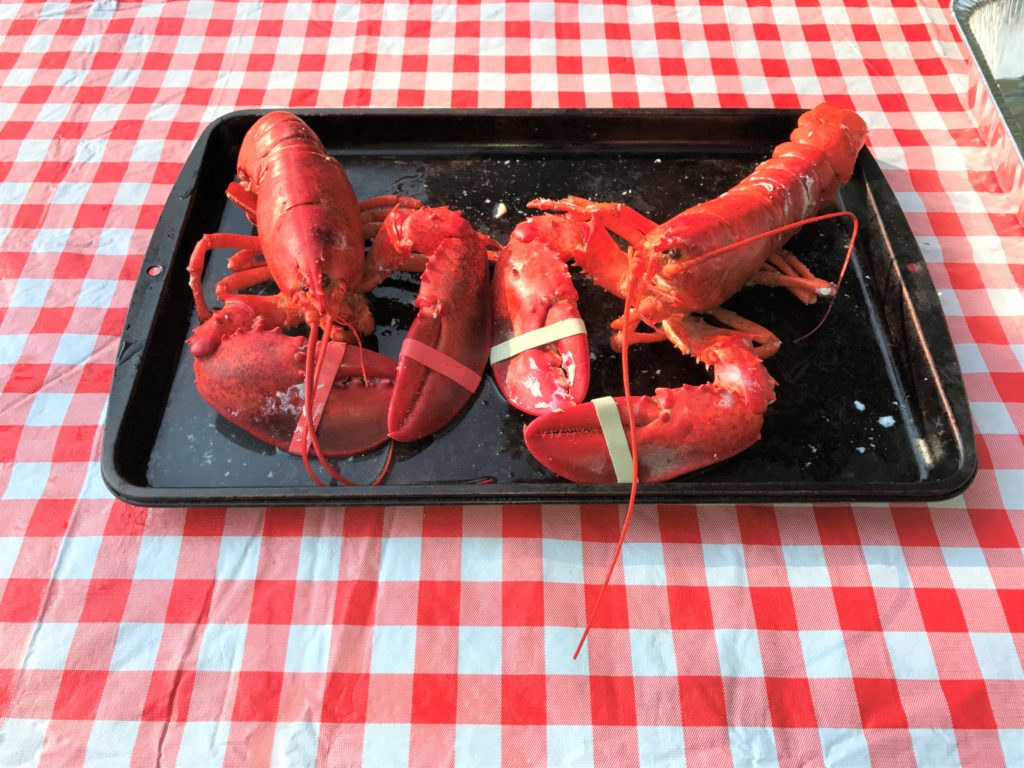 We didn't even care that I had made grilled veggies to go along with our Lobster.
No need for crackers with these lobsters! Just poke the New Shell lobster with your finger and pull out that delicious meat!
RV Sites At Red Apple Campground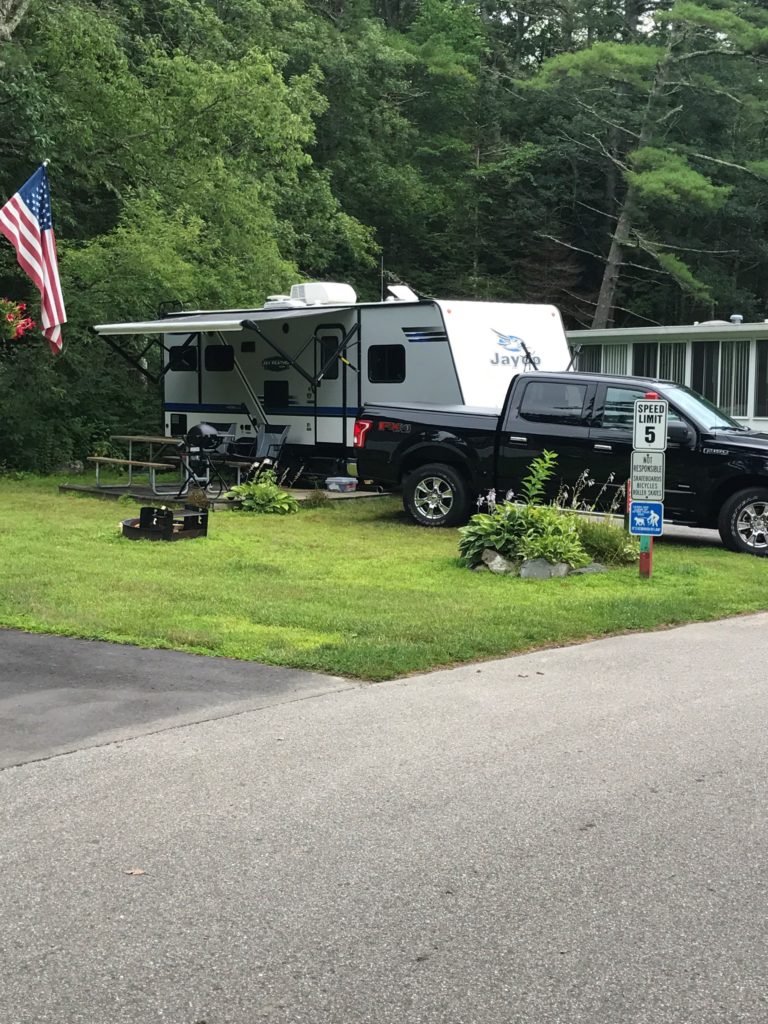 This is our site – A33 which had a nice wooden deck. It was a little tricky backing into this site – but our 23 ft Jayco fit just fine.
Behind this site was a creek that we could hear running as we sat outside.
We spoke to many seasonal RVers who have been with the campground a long time. We also spoke to other campers who come to Red Apple Campground for a week at a time – every year.
Camping in Kennebunkport Maine
We had decided to stop at Red Apple Campground on our return trip home as well!
This photo is of our site when we returned four (4) days later.
This RV site – B9 was near the playground which made it nice for the kids to just run to the playground.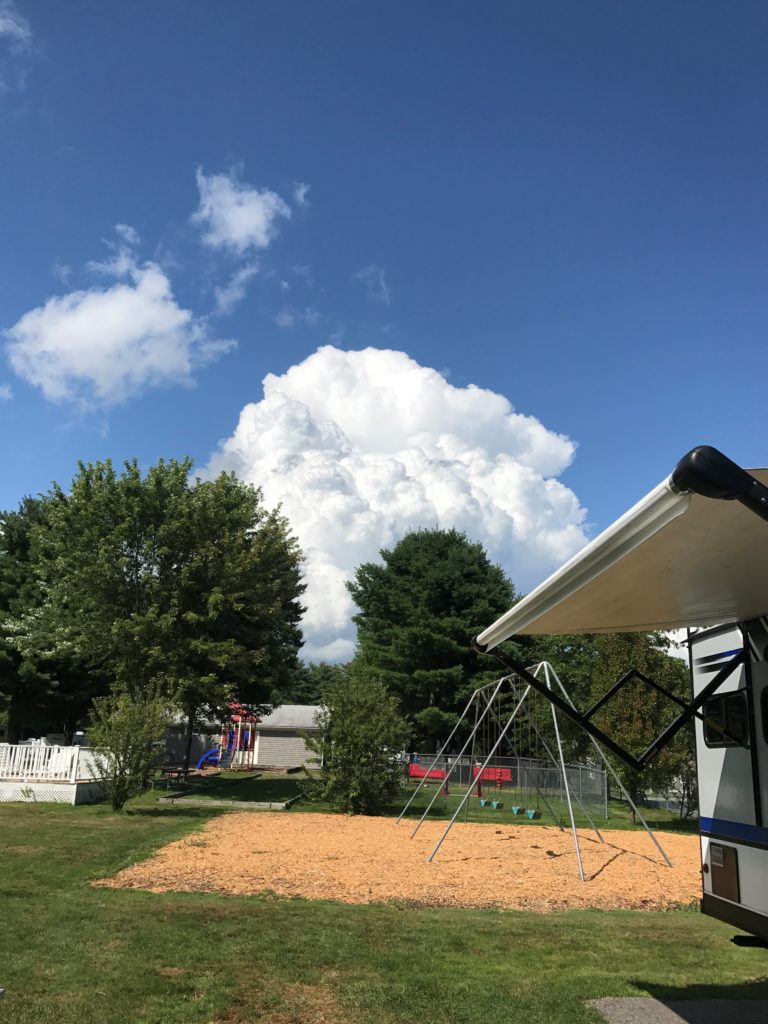 This site was an easy back-in site. As you can see, those are thunderclouds forming so we didn't sit outside for long! We quickly pulled in the awning and listened to the thunder and lightning from inside the trailer!
Red Apple Campground Map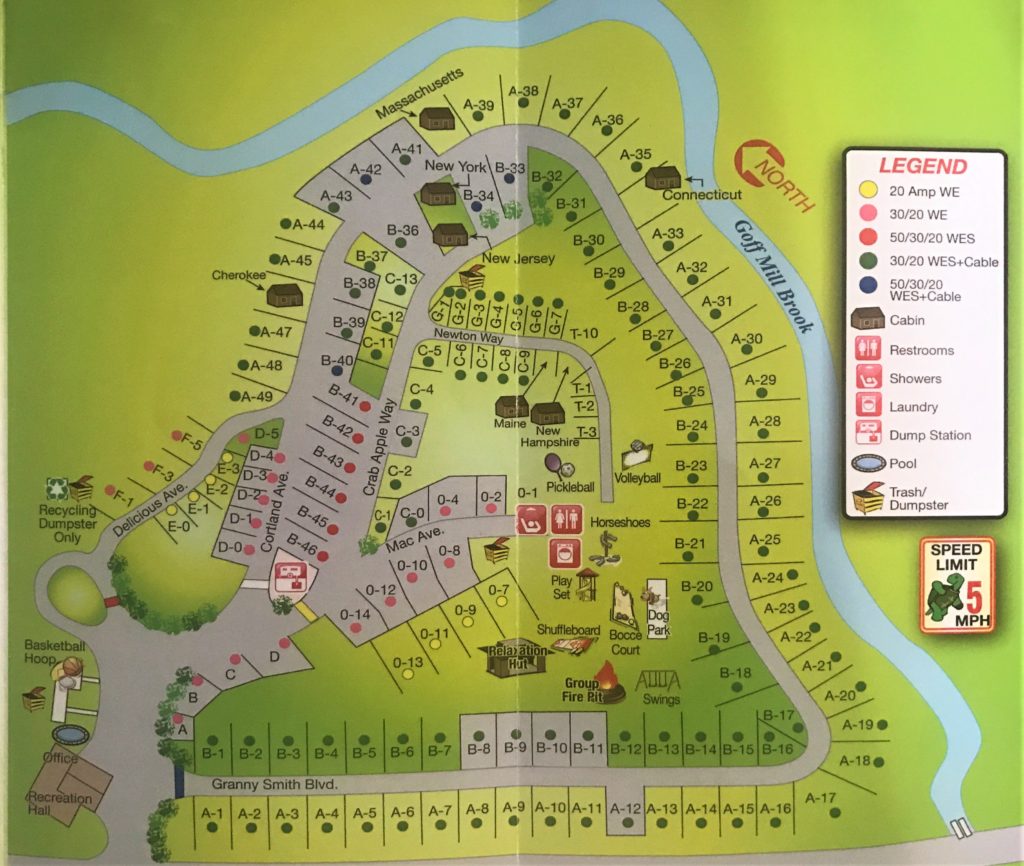 Red Apple campground certainly lived up to its motto!
It was one of the cleanest and quietest campgrounds we have camped in so far in our RV Adventures!
Just remember – they do not accept credit cards for payment but all you have to do is mail them a check when you reserve in advance.
We didn't find that a problem when planning our trip!
We found the owners to be pleasant and very helpful when we had questions about our reservation or asked about things to see in the area.
If you are looking for a campground in Kennebunkport, Maine, take a look at camping at Red Apple Campground!
I know you will enjoy your stay as much as we did!
Join My Email List!
Do you find yourself Always "Making a List?"
Me too! That's why I created these Cute RV Camping Notes Printables!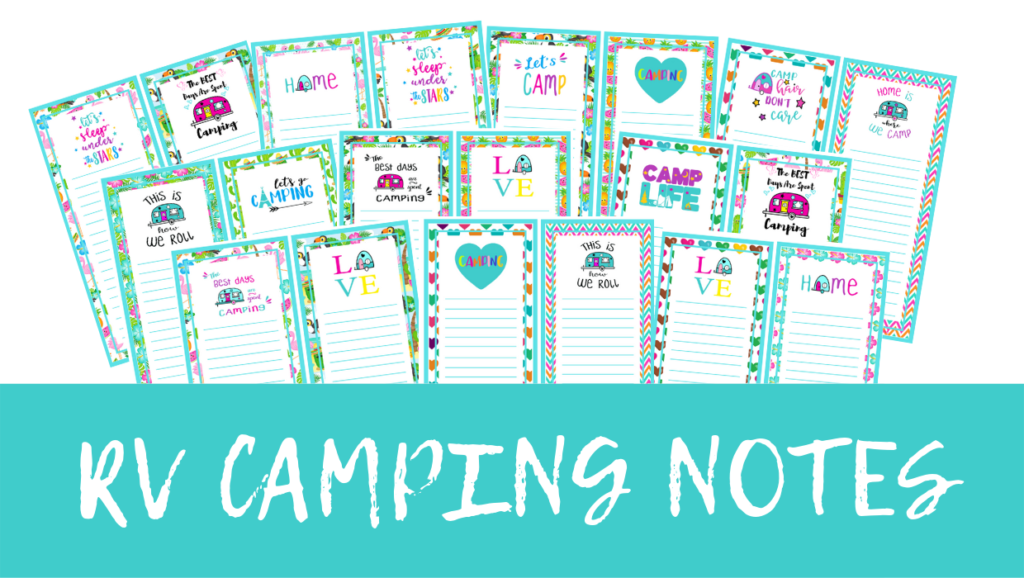 Learn More About the RV Camping Notes Printables HERE