Last Updated on March 10, 2021 by Lori
Skyway Camping Resort is a beautiful campground in the Catskill Mountains of New York with lots of amenities for families!
The campground offers large wooded sites with plenty of room for big rigs, tent sites, laundry facilities, and dogs are welcomed with a treat at check-in! We were not only impressed by the cleanliness of the campground and facilities but also every staff member was friendly and helpful!
Here's our review of Skyway Camping Resort where we stayed during a very busy Memorial Holiday Weekend.
Family Camping In The Catskill Mountains
Finding a beautiful campground in the Catskill Mountains is not hard – you just have to decide where you want to camp!
Skyway Camping Resort is one of those campgrounds where you will find lots of fun activities for the kids, but adults have many choices of activities as well!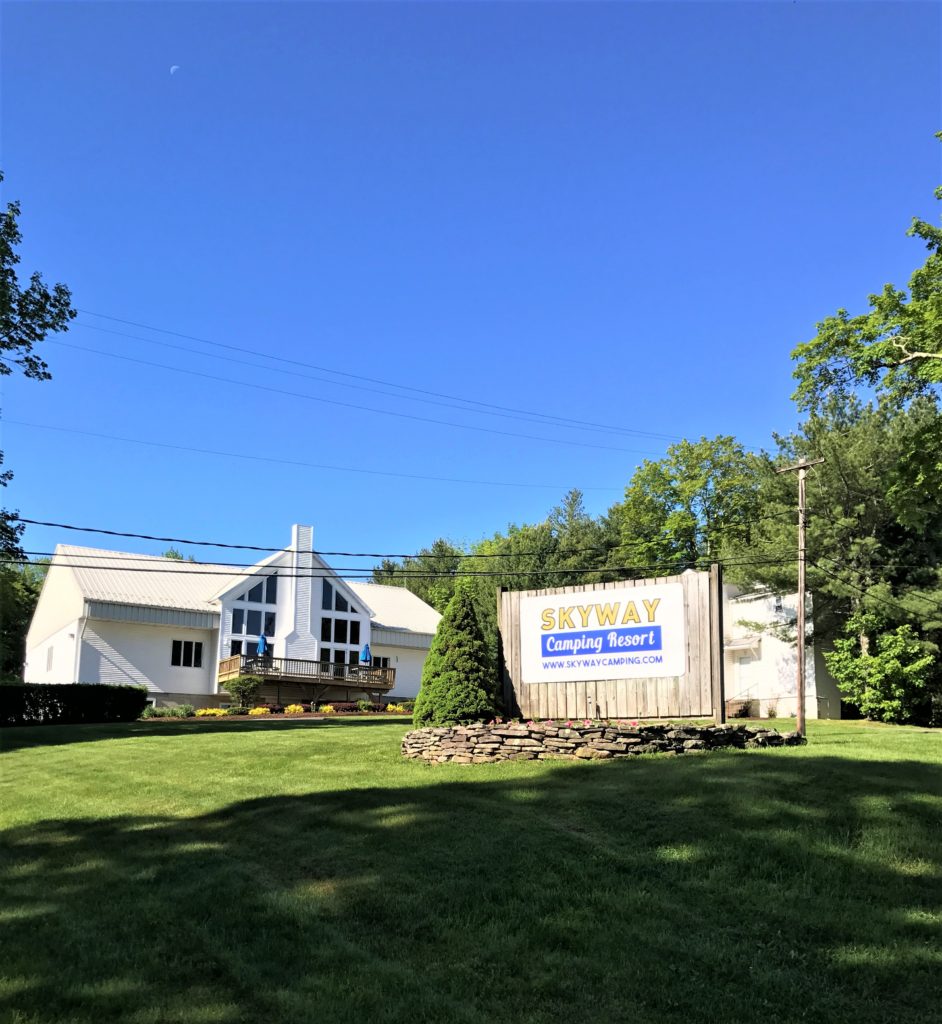 We don't often choose a campground with "Resort" in its name, but for Memorial Weekend, we wanted to find a campground that was within 2.5 – 3 hours from Long Island.
We also LOVE to camp in The Catskill Mountains of New York but decided to try a different area of the Catskills from our usual camping spots (Phoenicia, Saugerties).
PLUS we were looking for a full-hookup for the weekend since we would have two of our young adult kids with us!
Skyway Camping Resort – Campground Map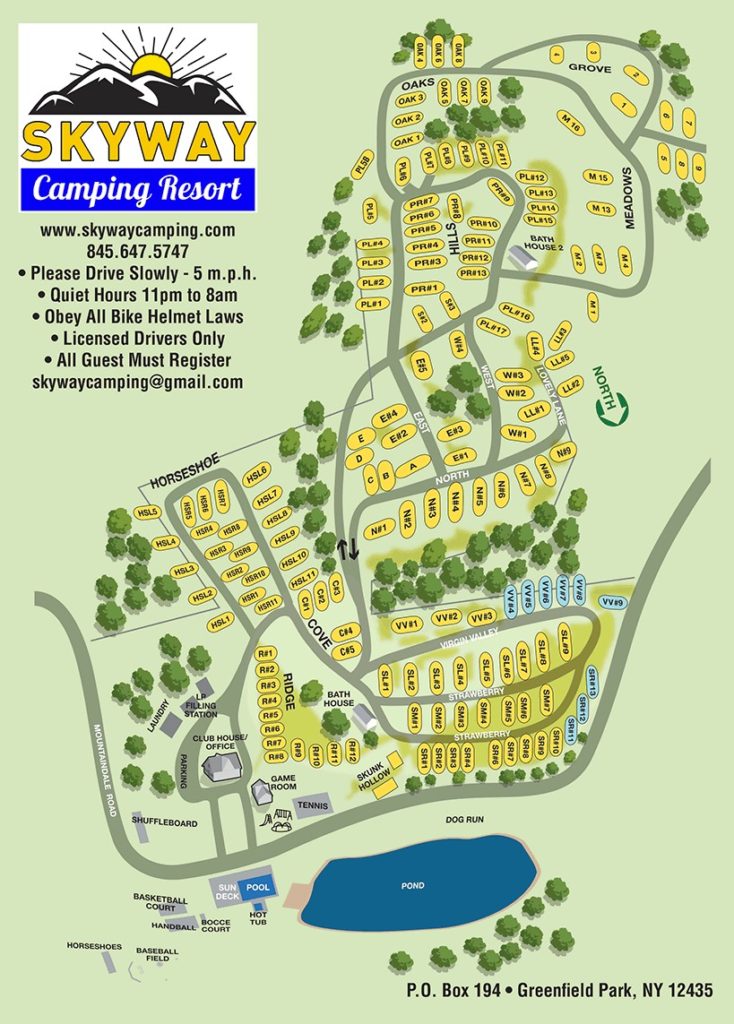 There were several campgrounds to choose from but when we saw the photos of Skyway Camping Resort, we really liked the site layouts and the campground has 145 full hookup sites – so we decided we would give it a try!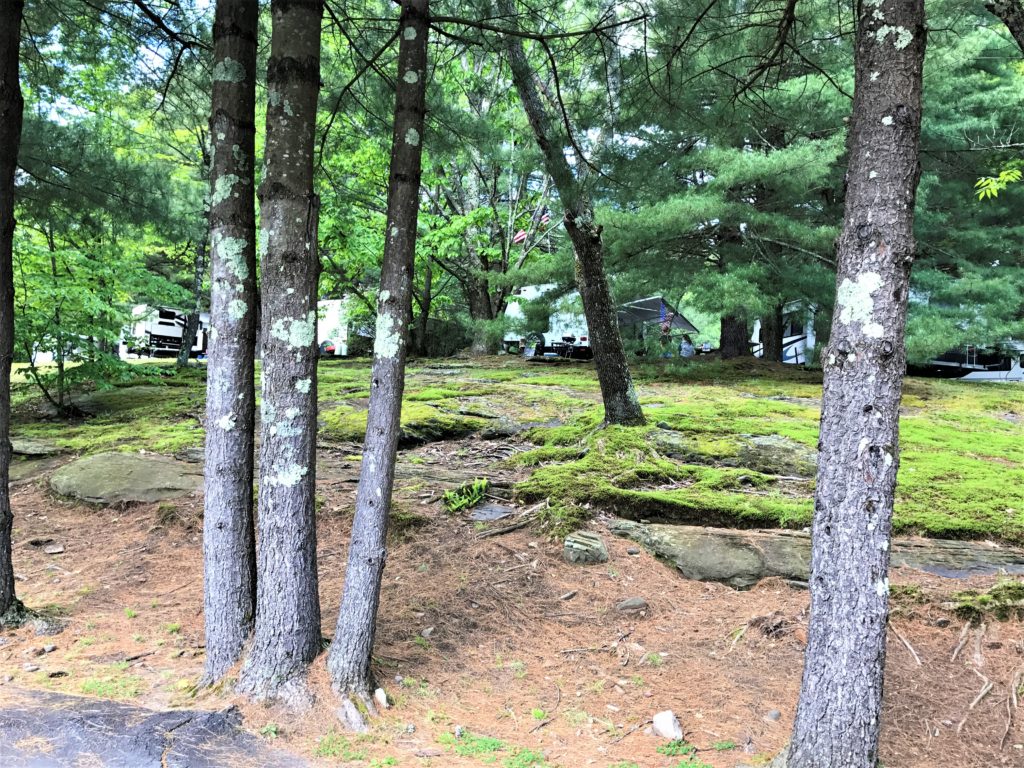 We loved the wooded sites and thought the placement of the fire pit was nicely situated on each site so that while you were sitting around your campfire, your neighbors' fire pit was on the other side of their site so you weren't staring at them all night long!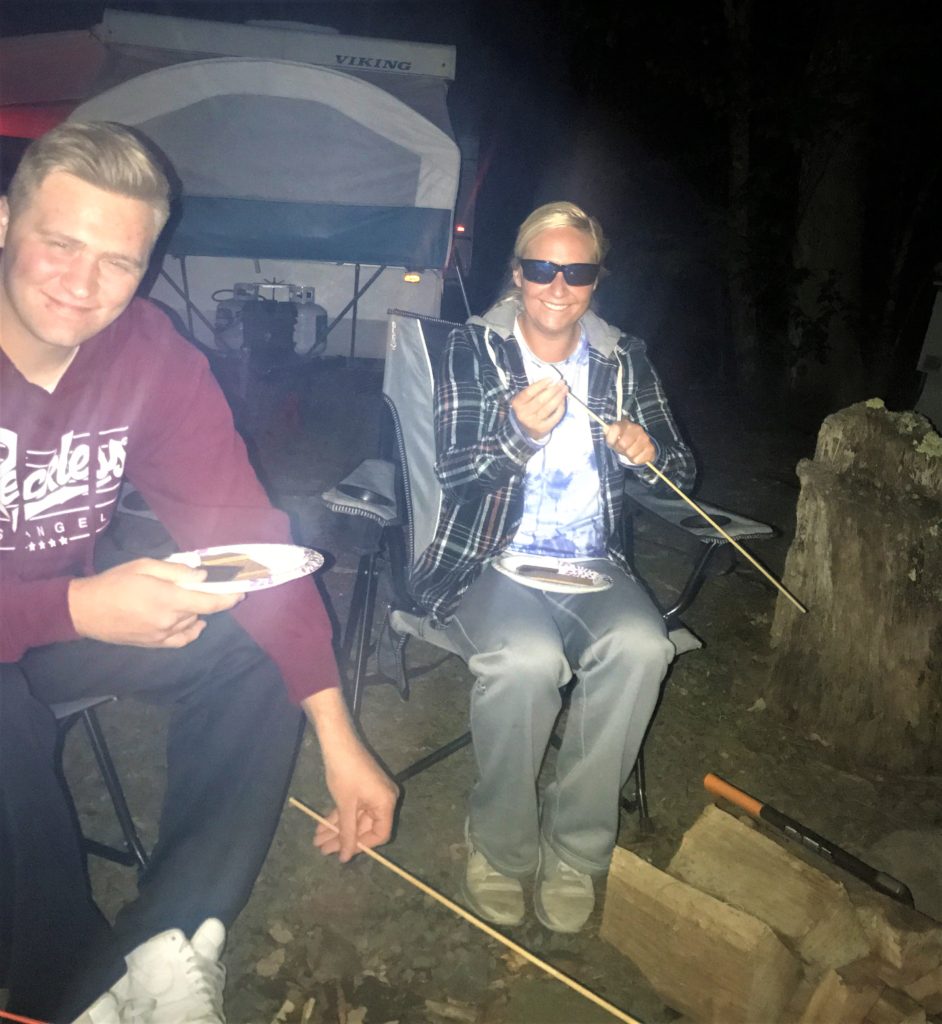 Of course, my kids love making S'mores and popcorn with our Whirley Pop Popcorn Maker!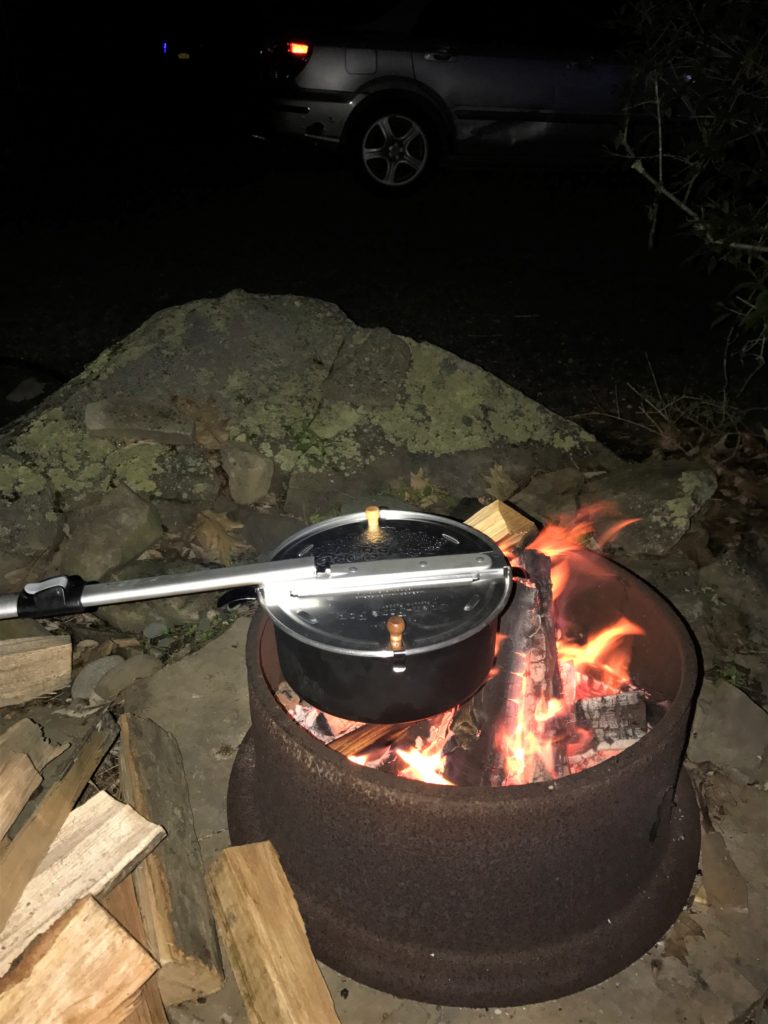 We LOVE this campfire popcorn maker which we've had for over three years now! The set comes with the popcorn, oil and seasonings too!

Check out the Whirley Pop Open Fire Popcorn Popper HERE
Things We Liked About Skyway Camping Resort:
Skyway Camping Resort is immaculate. They received a 10/10 rating from Good Sam.
As you drive into the campground you just know this campground is well-maintained.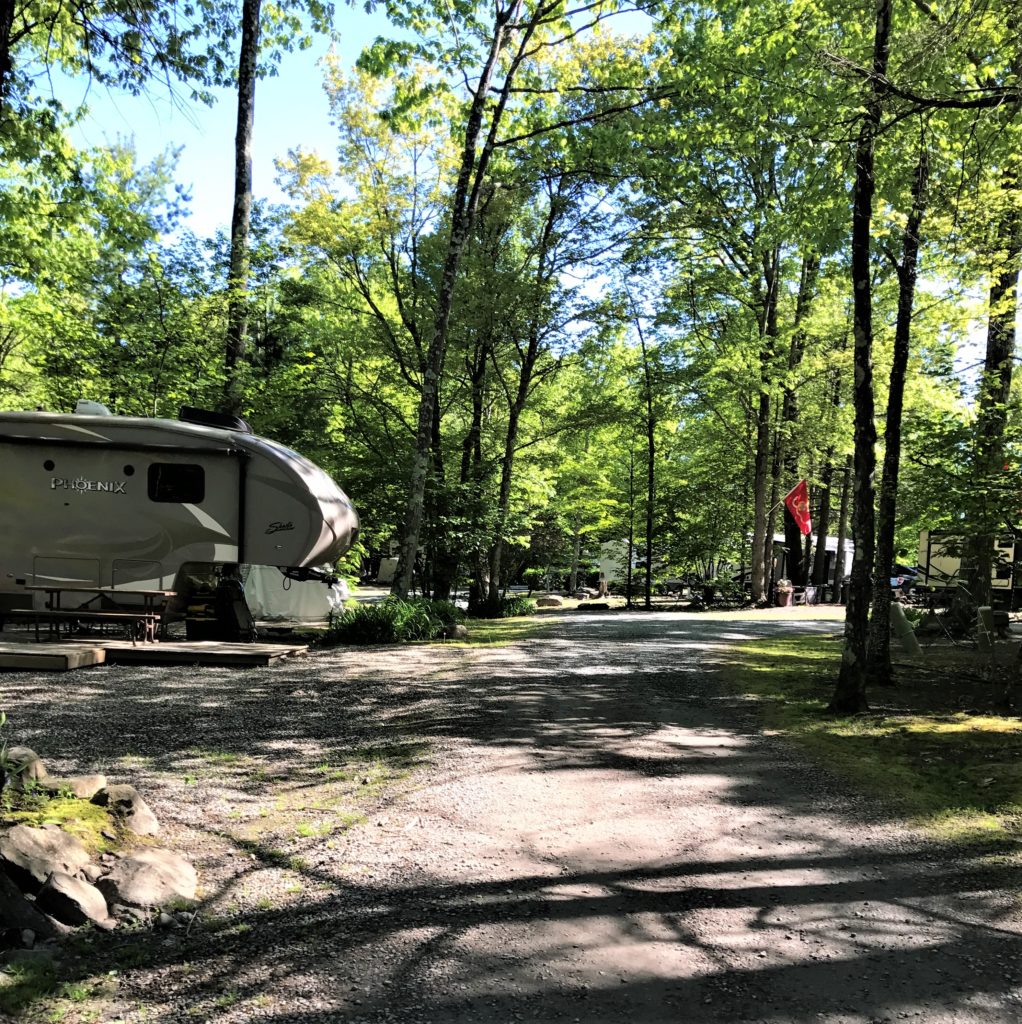 The bathroom and showers are spotless. The bathroom facilities are cleaned multiple times a day.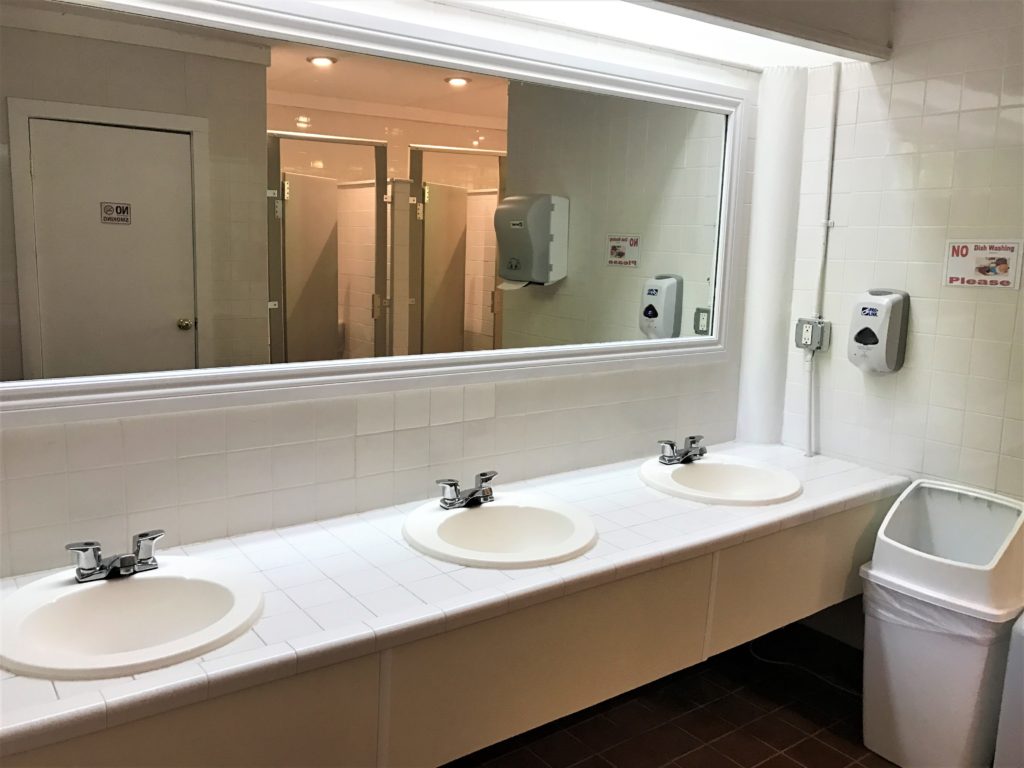 Kudos to the Workampers who do a great job at this campground!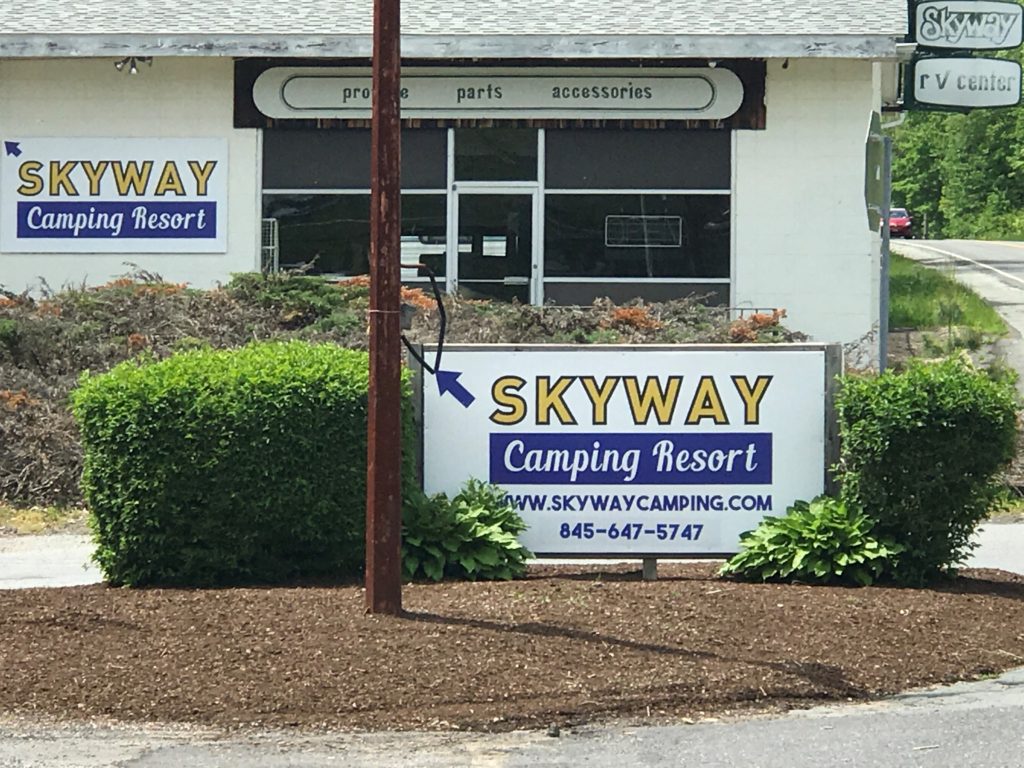 Campground Sites – The sites are stone sites with little grass. We found the sites to be pretty level and had no trouble leveling the trailer in the stones.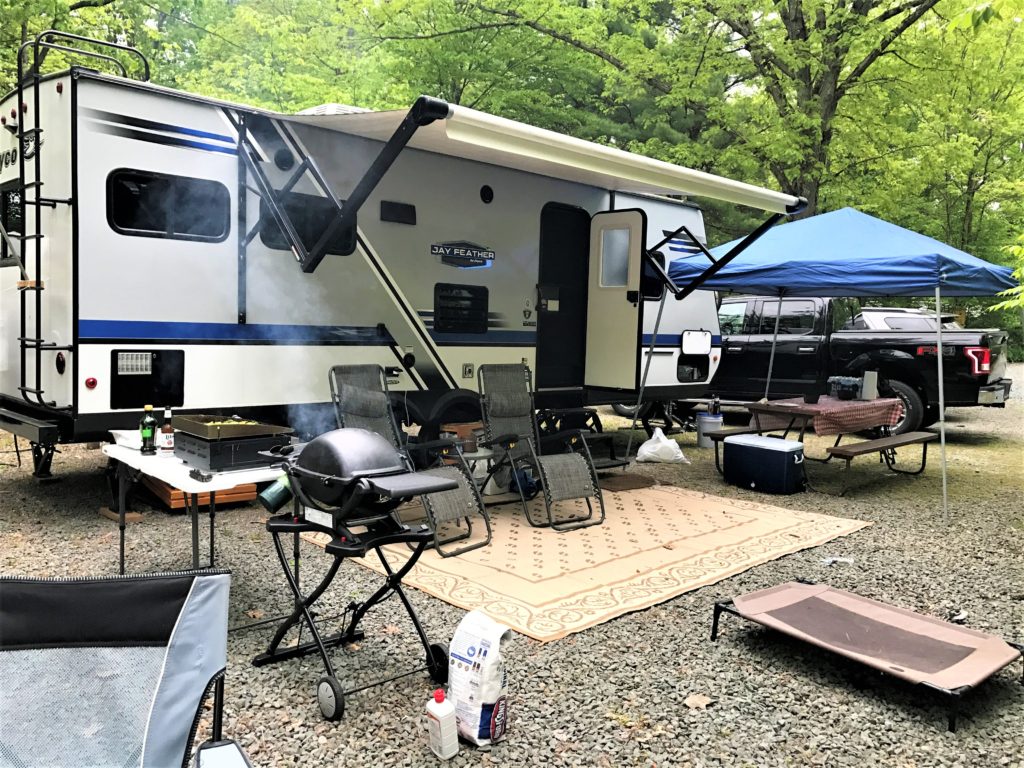 Our camping mat worked well in the stones too! There was only one afternoon when it rained and the stones drained well as did our mat.
Related Reading: If you're new to RVing, here's my list of 20 Must Haves For New RVers where I list all of the Must Have items you need before you head to the campground!
Campground Amenities You Will Love:
Wi-Fi – There IS Wi-Fi and they even have Wi-Fi extenders throughout the campground; however, I found the Wi-Fi to be spotty and if I had to do any remote work while camping, I would have had to use a personal hotspot. I was able to get my ATT&T cell signal with no problem, but I was using my data the entire time.
Cable TV – The signal for Cable TV was good. We only watched TV at bedtime or one afternoon that it was raining but there were a lot of channels to watch.
Activities For The Kids – There were MANY kids in the campground and they were kept occupied from morning to evening!
Here's a list of just some of the kid's activities:
Hayride for kids in the evening

Movie Night

Bingo Night – the room was full!

Ceramics

Playground

Olympic Sized Pool

Basketball courts

Tennis courts

A field (with backstop) for baseball, softball, kickball

Game room

Paddle boats on their own lake

Fishing – just to name a few!
Skyway Camping Resort's Pool and Hot Tub!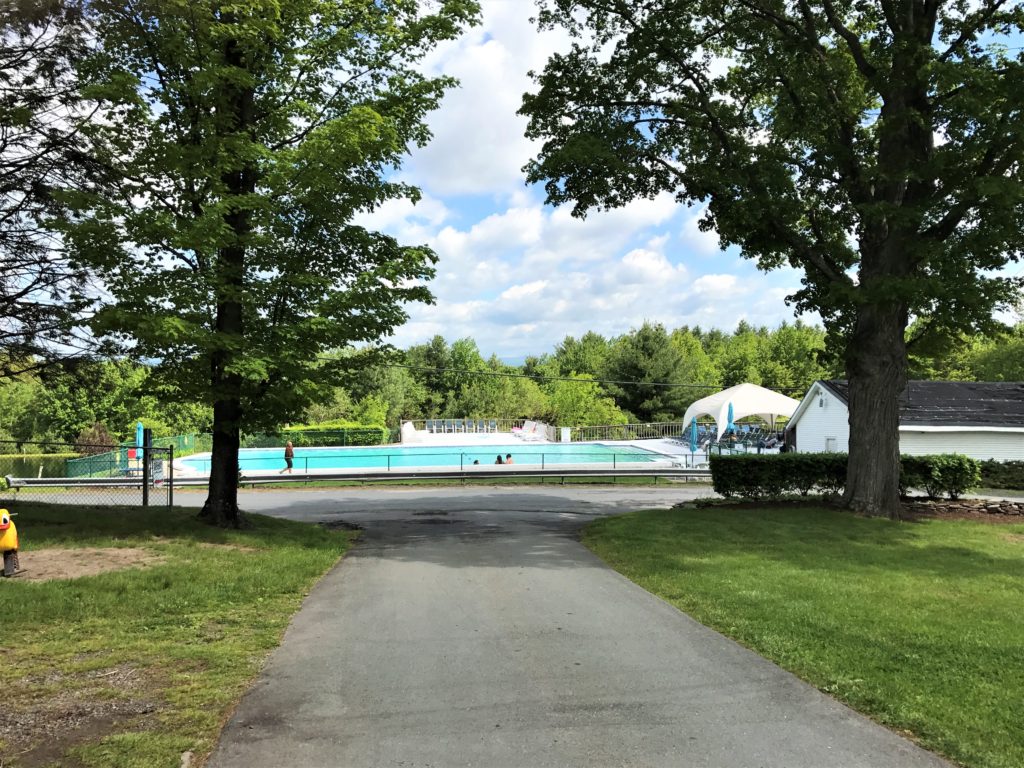 Kids love playing on the playground – all day long! (This photo was taken in the early morning – but I promise kids were there all day!)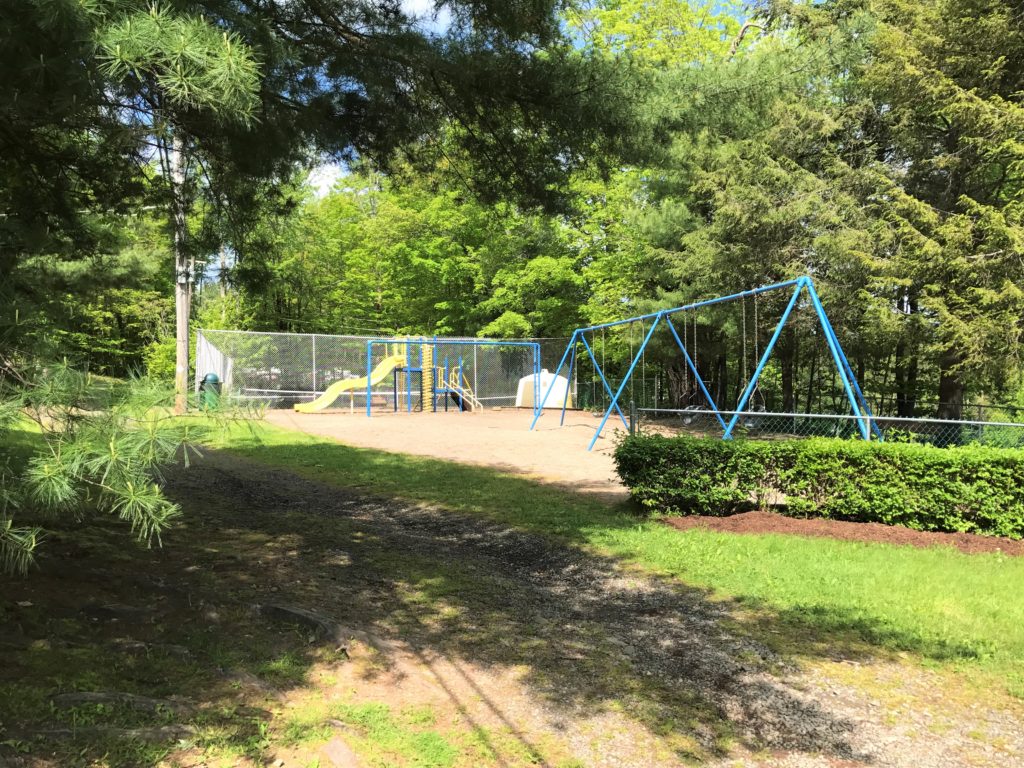 The lake was great for paddle boats, kayaks, rowboats, fishing or just sitting by the water on benches all around Lakeside (Again – this was taken in the early morning!)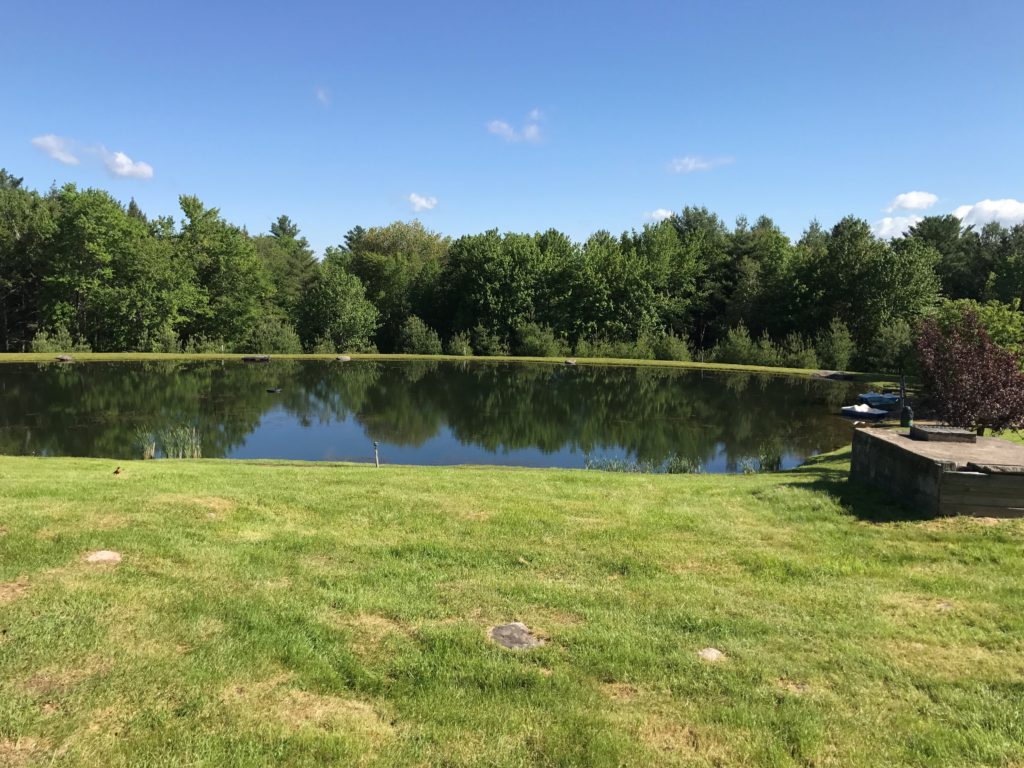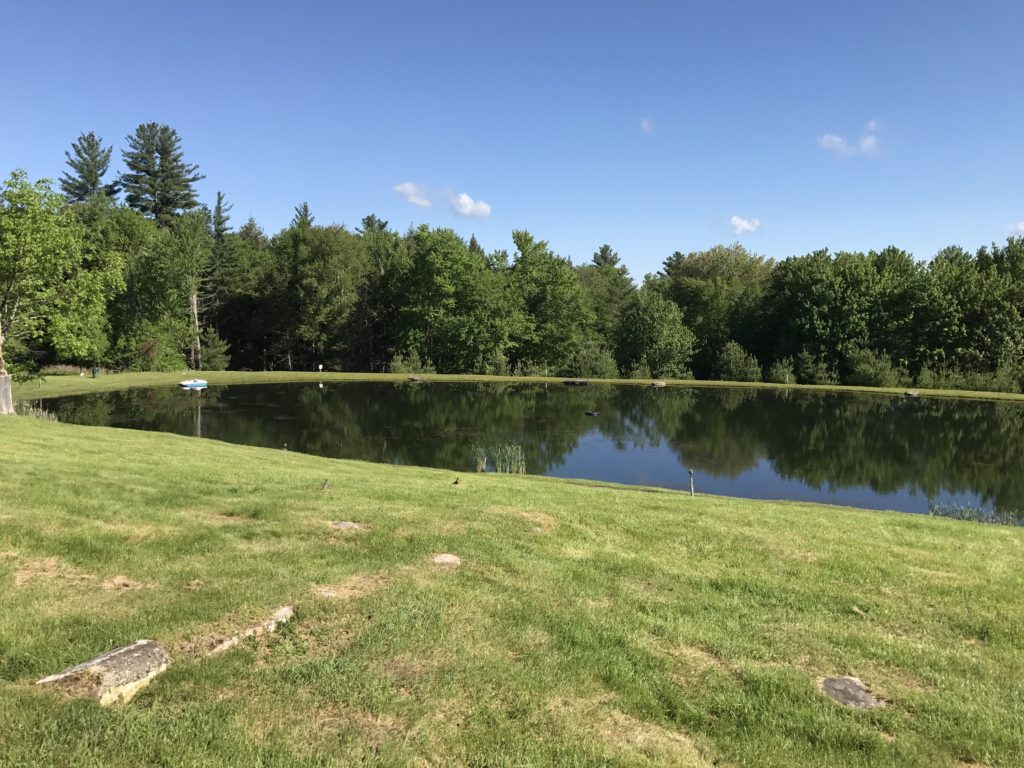 Kids also loved the game room which had a pool table, ping pong table, air hockey – or just to hang out!


Skyway Camping Resort received a GOLD Rating as one of the Best Parks in America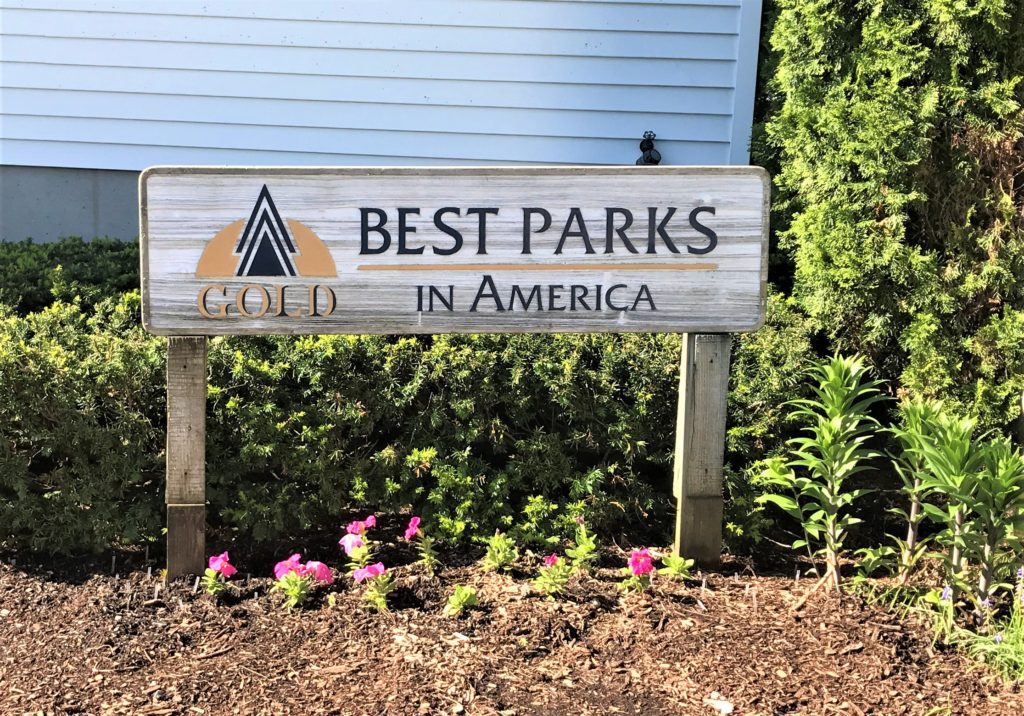 Skyway Camping Resort – Campground Sites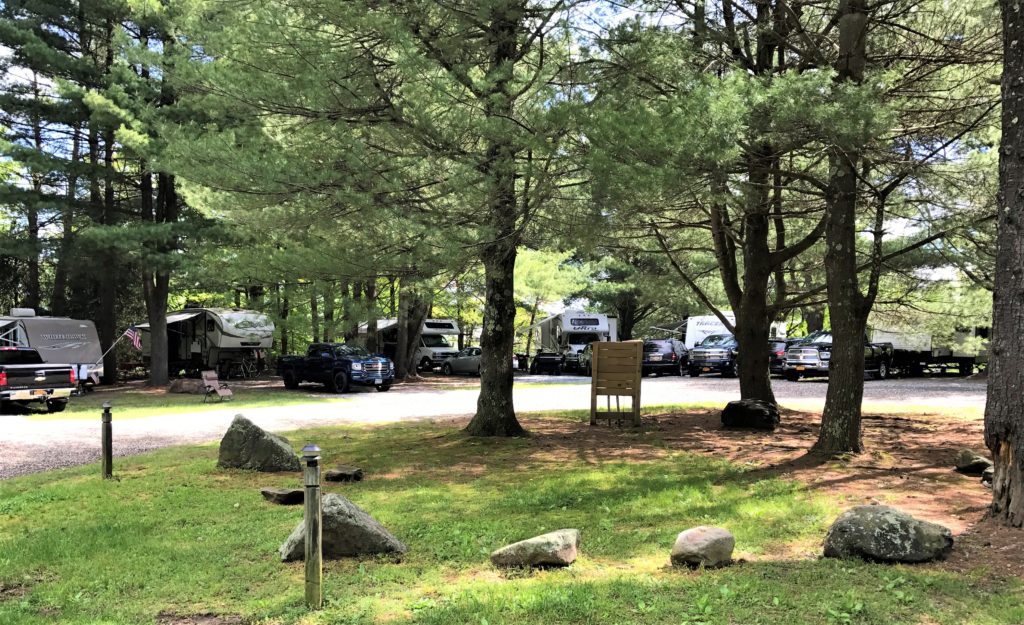 The campground sites were large with ample space in between the RVs (in our area). There were parts of the campground where some of the sites were closer together, but you still aren't on top of each other.
Here's a look at our site – W-1.
We were on a corner lot so it was a little busy people-wise (and golf cart-wise!)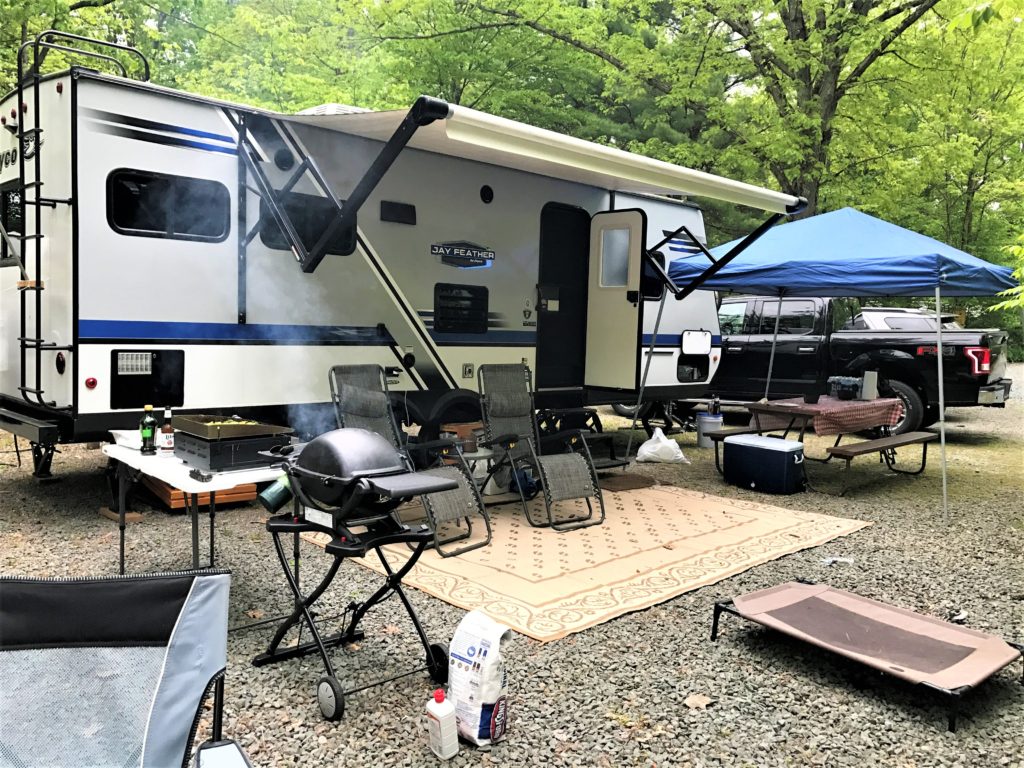 As you can see, we had our Blackstone Griddle and WeberQ grilling away!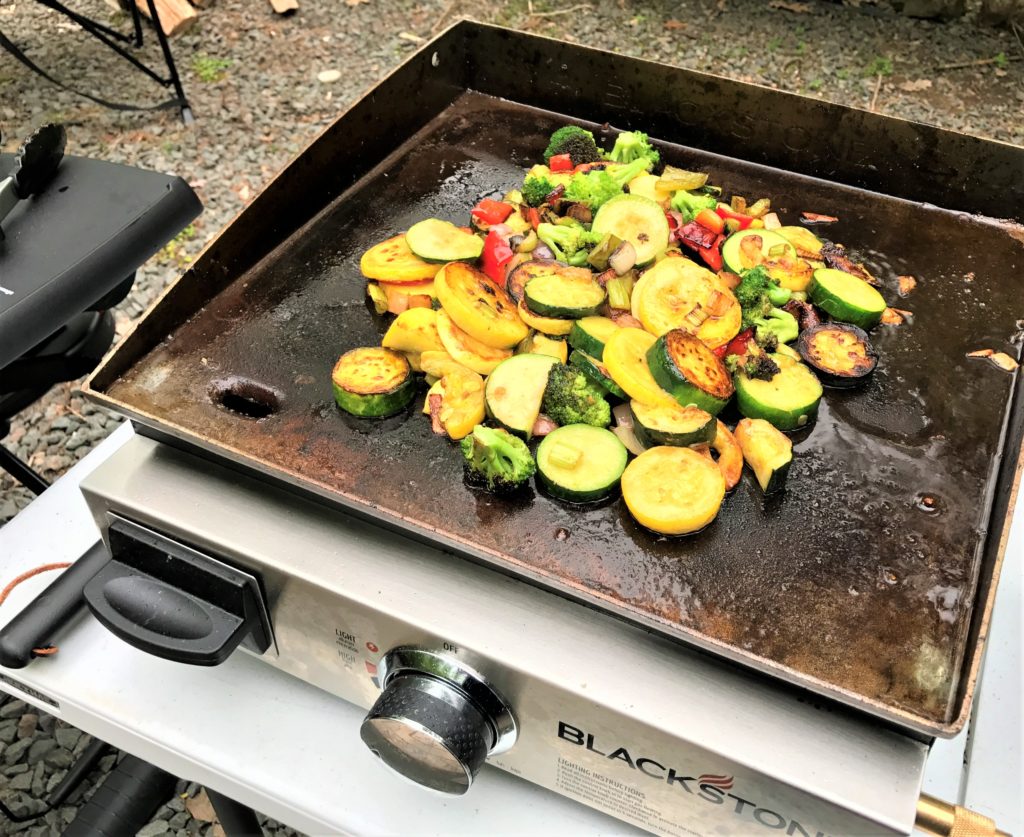 These Grilled Veggies were delicious! Just a little olive oil and they cook away!
What we love about the Blackstone Griddle is that you can drain the oil into the hole (bottom left) and then soak with a paper towel to throw away!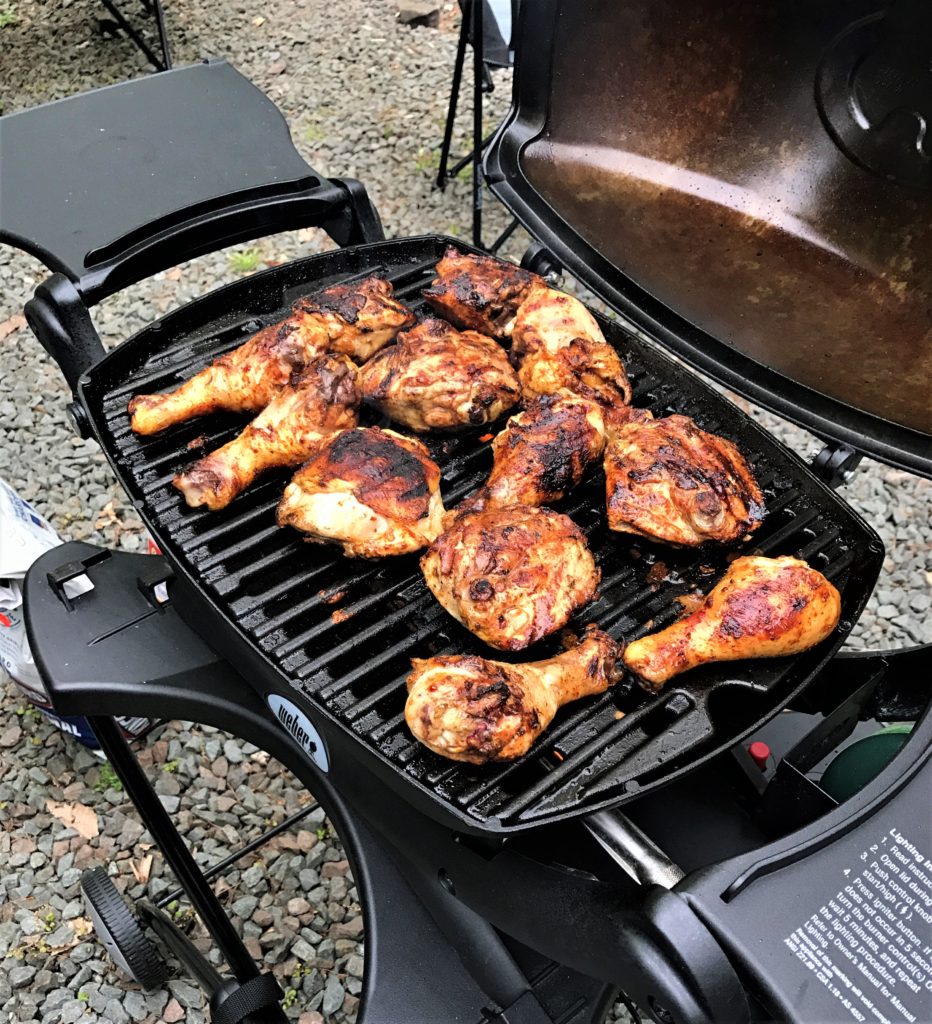 This Grilled Chicken came out so delicious on our WeberQ! A little salt, pepper, paprika and drizzled with olive oil!
We also have the Portable Cart for the grill. It makes grilling so easy and frees up our portable camping table for prepping!
Here's my post on 6 Quick & Easy Meals To Make When You Are RV Camping!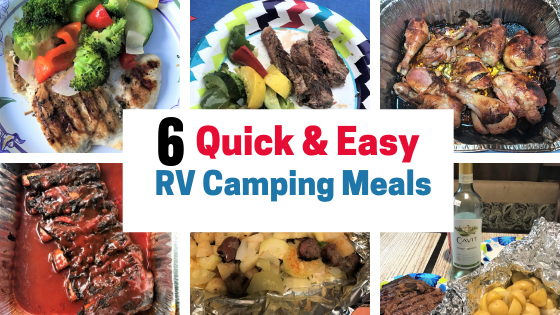 More About Skyway Camping Resort:
Most of the sites have lots of trees so the sun doesn't beat down on you or your trailer.
Try to arrive before it's dark because there is a steep hill (that kids LOVE to ride their bicycles down!) with a turn and at night can be a little tricky. There is no problem though – all the big rigs make it – I just want you to know beforehand!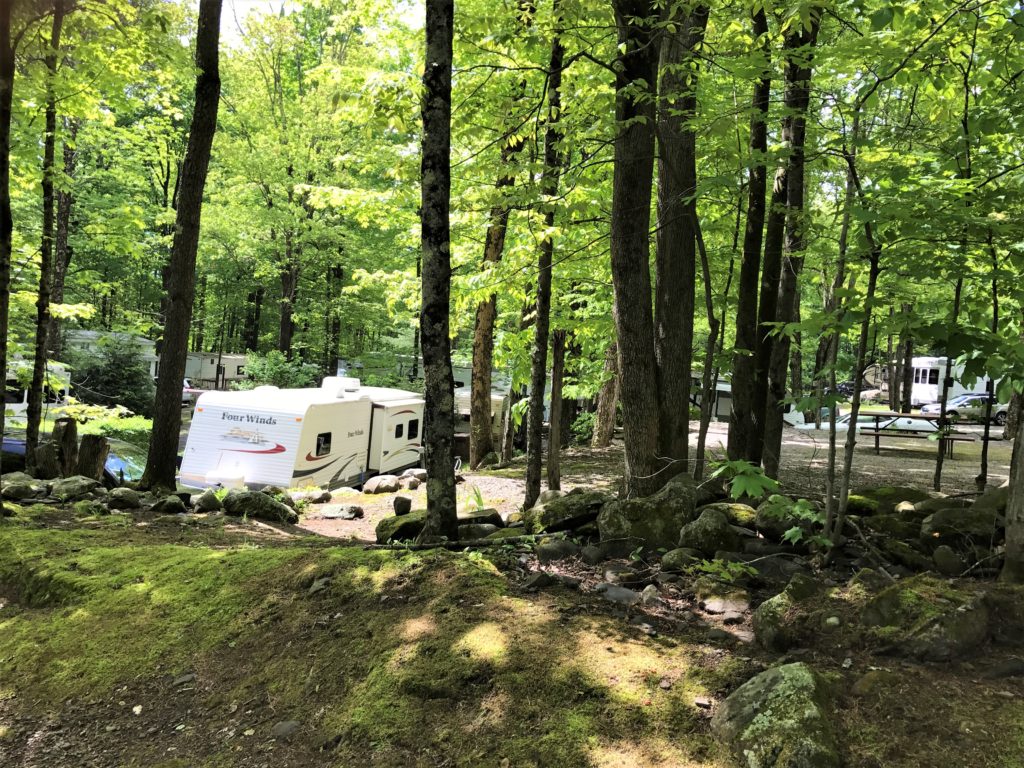 Dogs are welcome and it seemed like every campsite had one. There is a dog run by the pool area, but we didn't take our Golden there to try it out.
Lots of Planned Activities For Families or Adults. The large Clubhouse is perfect for rainy day activities or, in fact, any activities!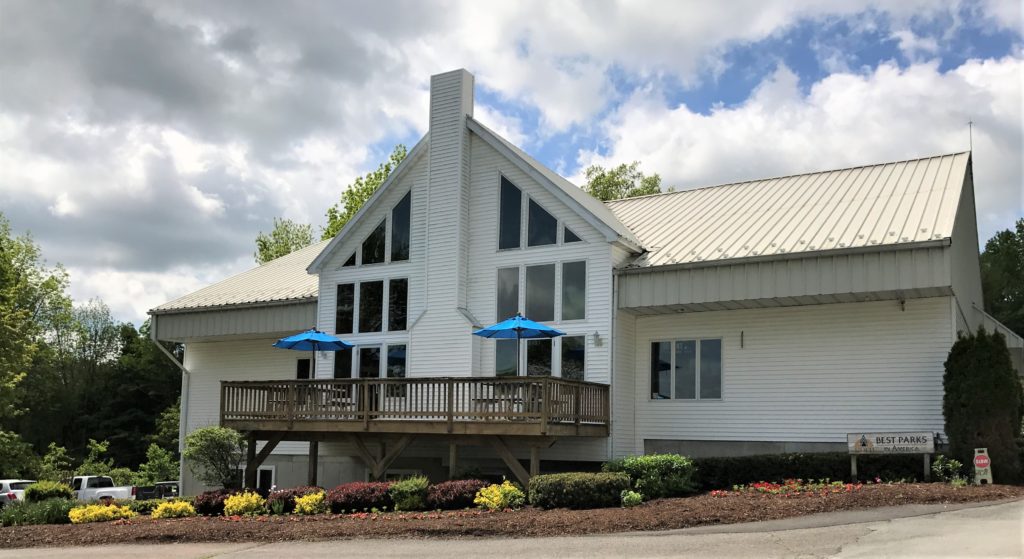 There are two large decks on the Clubhouse- one in front and one in the back where you can sit and relax. Inside is a large camp store where you can purchase wood, ice, snacks, ice cream and anything else you might need during your stay.
Also inside the clubhouse is Toddler Romper Room and a Fitness Workout Room
Planned activities, while we were there, included BINGO and Ceramics. There is complimentary coffee every morning and on Sundays, there were Bagels for purchase.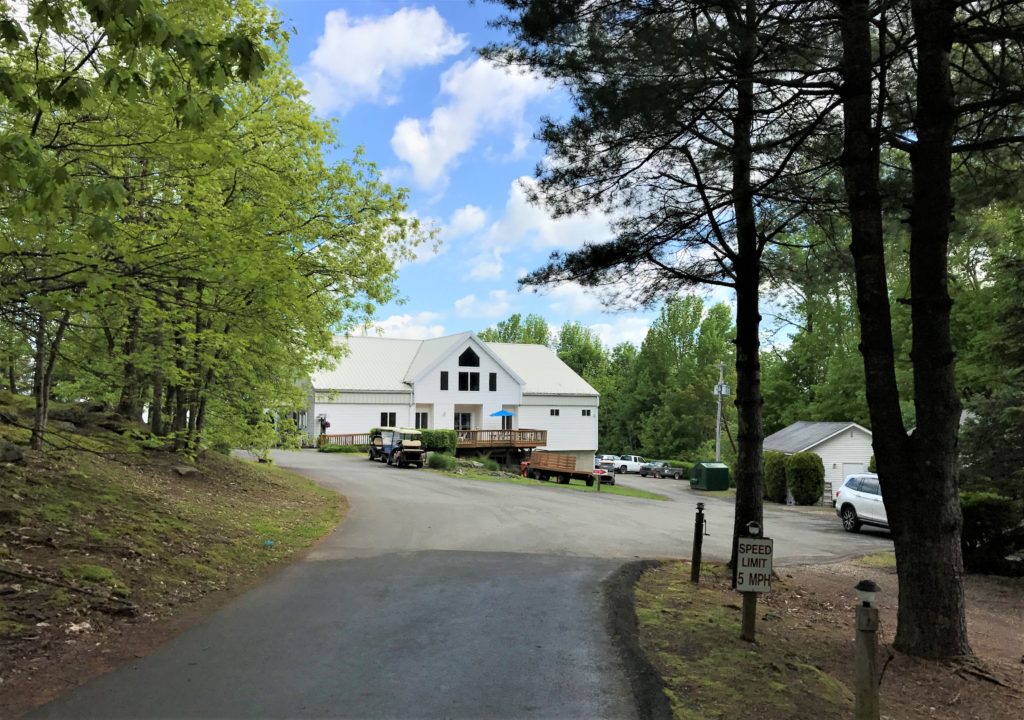 Download Your FREE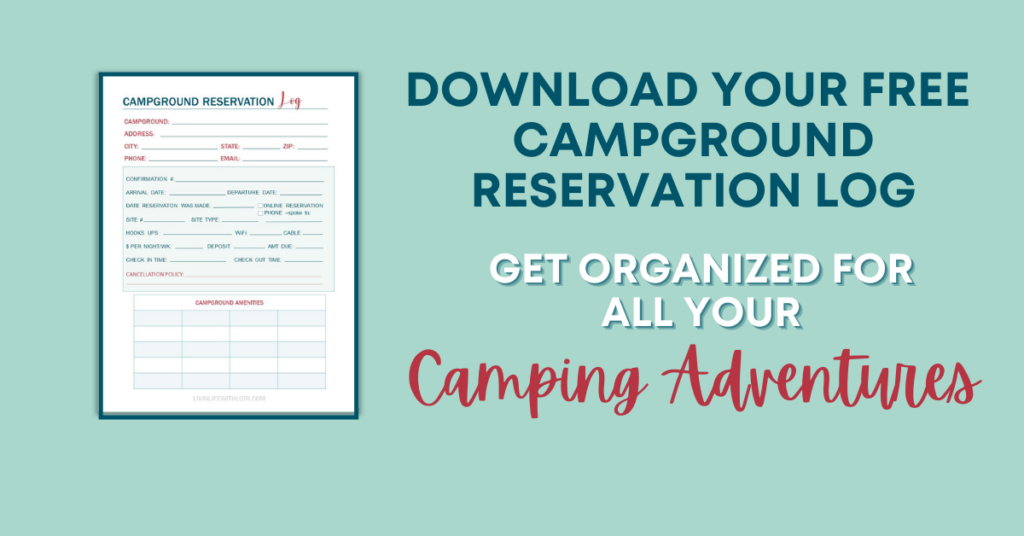 Yes, I Want It! Download Here
Additional Thoughts About Skyway Camping Resort:
If you're looking for a campground with lots of activities for the kids and families, a campground that is clean and well taken care of, has large sites, full-hookup, friendly campers & staff, WiFi, and Cable TV – then Skyway Camping Resort is the place for you!
If you're looking for a quiet and peaceful campground with no noise, dogs never bark, and you never hear kids playing or having fun riding their bikes; or, you're looking for a view of the mountains or river…then this campground might not be the place for you.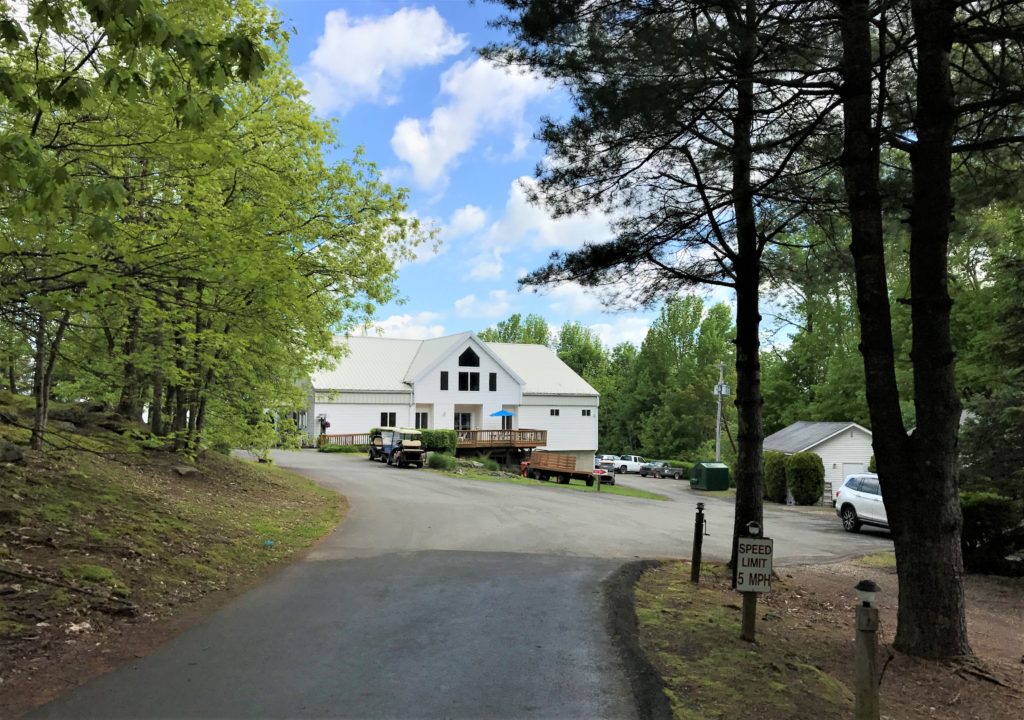 The area around Skyway Camping Resort is remote. The small town you pass through is not a quaint touristy town you might find closer to the ski resorts.
We traveled to two nearby state parks (30- 45-minutes from the campground) to do some hiking, but other than that, there isn't much tourism in the area.
There are many friendly seasonal campers at the campground whom we spoke with that have been camping here for years! They love it…their kids love it…
No wonder the campground is highly rated – and deserves its high ratings!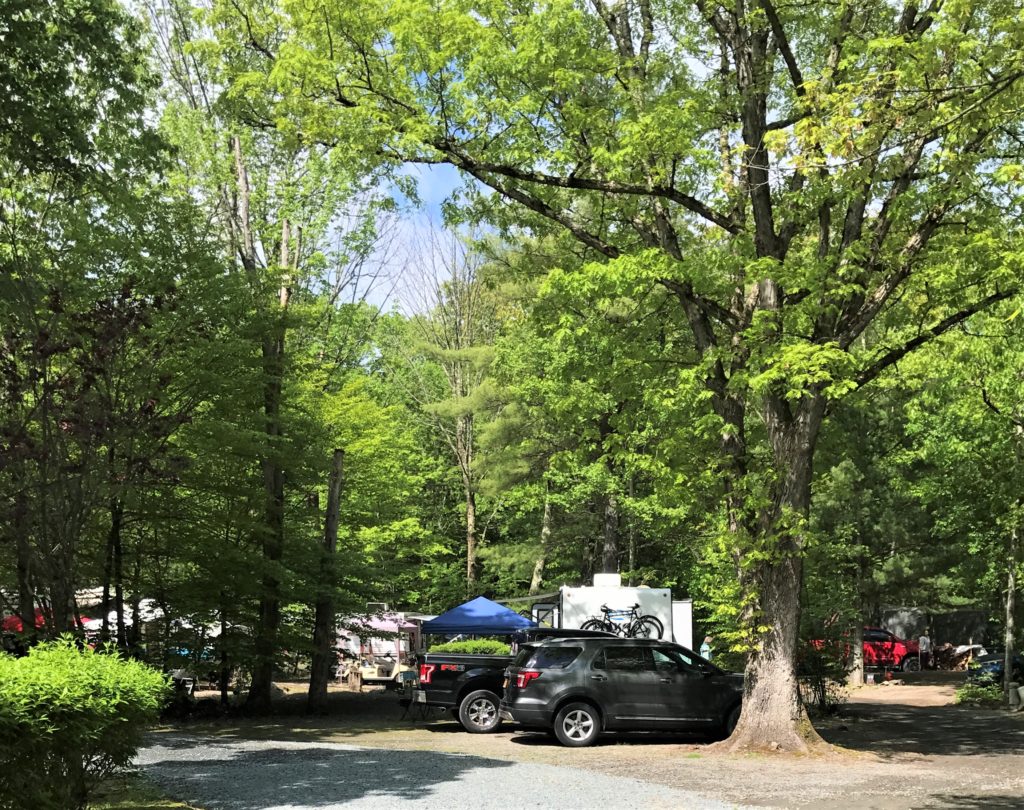 We Liked our stay at Skyway Camping Resort and are happy we found it for a fun camping weekend!
Learn How We Have A Stress-Free RV Departure From the Campground!
Check out my Blog Post Here and then Download Your FREE RV Departure Checklist PLUS Bonus RV Trip Planner!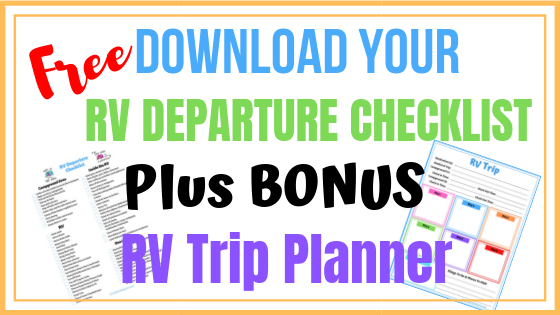 Skyway Camping Resort
Located at 99 Mountaindale Rd, Greenfield Park, NY
To make a reservation and for more information, visit their website: https://skywaycamping.com/
Here Are More Posts About RV Travel:
* Hiking The Overlook Mountain Trail Woodstock, NY
* How To Plan A One Day Trip To Niagara Falls, New York
* Letchworth State Park – Best Things To Do When You Visit
* 13 Fun Things To Do On a Catskill Weekend Getaway
* Hiking Waterfalls And Fun At Minekill State Park
* How To Plan An Awesome Trip To Howe Caverns
* 9 Amazing Things To Do In Acadia National Park You Don't Want To Miss
* 18 Amazing Things To See In The White Mountains
I Would Love For You To Join My Email List!