Last Updated on October 26, 2021 by Lori
If you're planning a trip to Washington, D.C., don't miss exploring the quaint town of Old Town, Alexandria, Virginia!
There are so many things to see and do while you're in Washington, D.C. that adding on to your itinerary might seem impossible! But, if you can spend at least an afternoon in "Old Town," I promise, you will love it!
Things To Do In Alexandria
What do I love about this quaint downtown area of Old Town Alexandria? I think what I love most about Alexandria is the fact that there's something for everyone!
Whether it's walking down King Street having fun in the Old Town Alexandria shops, or just trying to decide which restaurant or coffee bar you want to try next!
Old Alexandria has that "feeling" of fun, excitement, and just about everything you're looking for!
5 Best Reasons You'll Love Old Town Alexandria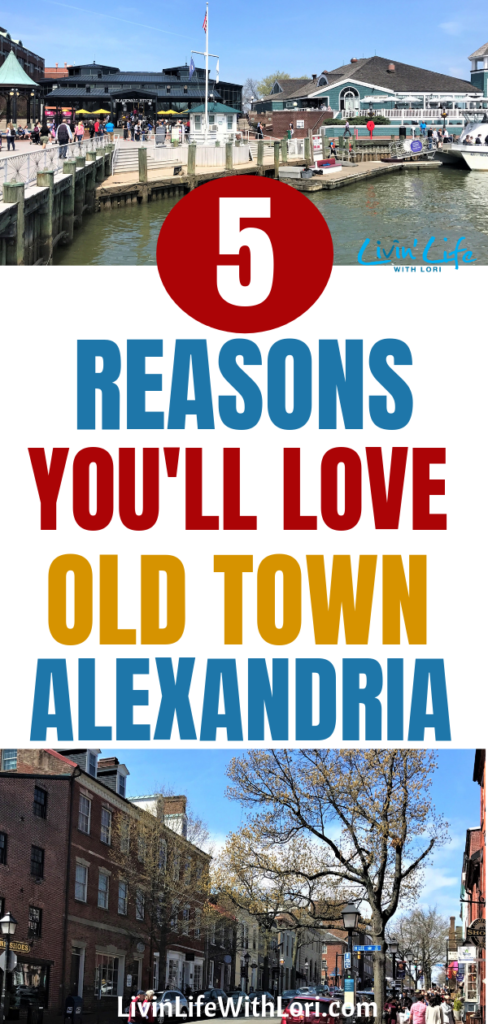 We really found and fell in love with Old Town six years ago while simply looking for a place to stop for a cup of coffee.
What we found was a "home away from home" so to speak as a year later, my daughter moved to Alexandria when she landed her job in Washington, D.C.
We've visited Old Alexandria in all seasons (I highly recommend taking a drive to Old Town during the Holiday season!) and I can honestly say we've loved visiting any time of year!

This post contains some affiliate links for your convenience. Please Read my Disclosure Policy for more information.
Alexandria, VA – Top 5 Small City In U.S.
Old Alexandria has been named A Top 5 Small City in the U.S. by Condé Nast Traveler and One Of The Most Dog-Friendly Vacation Destinations by Expedia (2019)
As we walked down King Street, we saw people not only strolling along the street with their dogs but sitting in the outdoor restaurant seating areas with their dogs. (While dogs are welcome in the outdoor patio areas of the restaurants, they must remain on the sidewalk side of the tables.)
You can even take your dog on a Canine Cruise on the Potomac Riverboat! (Dogs ride free of course!)
Alexandria, VA Is Rich In History, Shopping, And Entertainment
Old Town is full of history, shopping, entertainment, restaurants, and pubs to choose from in that sometimes it's hard to decide what to see or do first!
From guided and self-guided walking tours down cobblestone streets, live music in many restaurants and pubs during the evenings to amazing views as you sit by the waterfront just watching the boats (and people!)…
I know you will LOVE the fun things to do in Old Town Alexandria as much as we do!
What To Do in Old Town Alexandria
One of the first things I recommend doing is to stop at the Torpedo Factory to pick up a Visitor Guide To Alexandria.
The Torpedo Factory was a fully operational munitions plant during WWII. Today, it is home to 82 artists' studios, seven galleries, the Alexandria Archaeology Museum, and The Art League School.
You can visit The Torpedo Factory free of charge to meet some of the 165 artists and watch them work.
Tip: While picking up your Visitor Guide inside the Torpedo Factory you can use the restrooms before you begin your day in Alexandria!
Map of Old Town Alexandria
Inside the Visitor Guide, you will find the map of Old Town Alexandria, coupons, things to do, and lists of Old Town's 200+ shops and restaurants.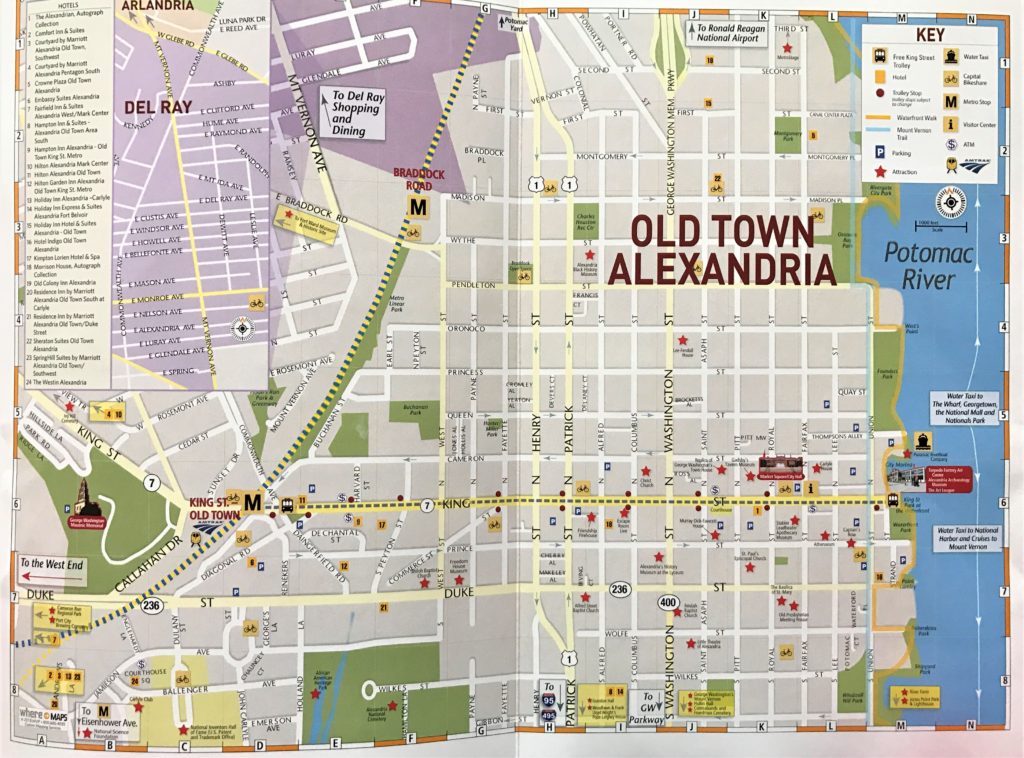 You will need this map because, without it, you might miss all there is to see!
I will warn you – King Street is a mile long. We've never walked the entire length of the street because, well, it is far from one end to the other!
Thankfully, there is a Free King Street Trolley!
King Street Trolley – Old Town Alexandria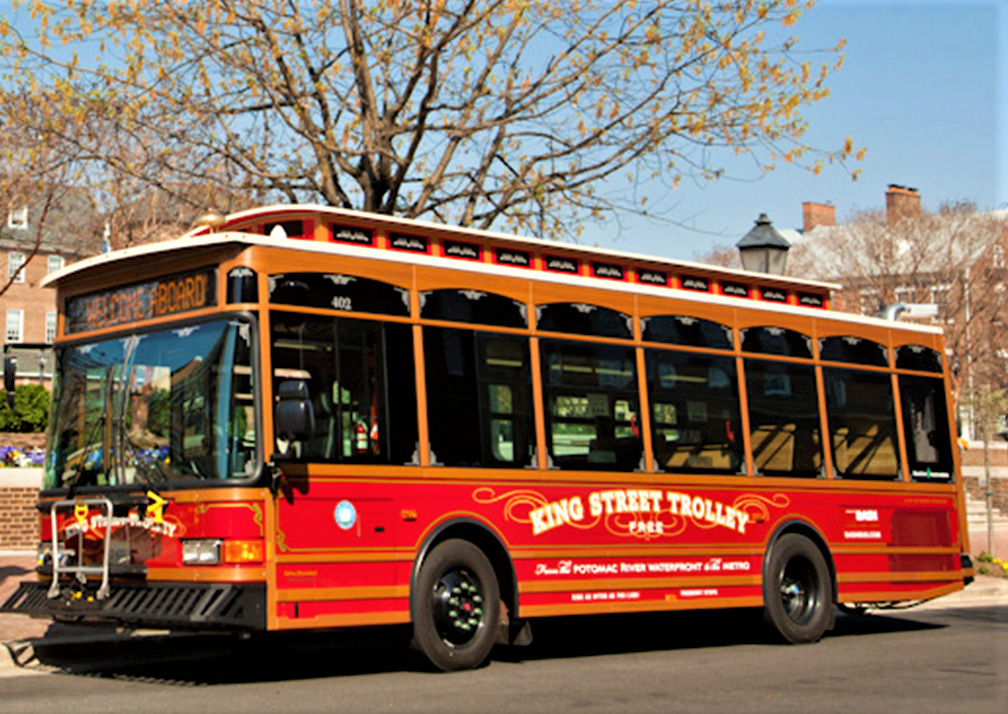 The trolley runs every 10 to 15 minutes between N. Union Street and the King St-Old Town Metrorail Station and includes 20 stops for hopping on and off.
The trolley operates daily and during certain times of the year, I've seen the trolley very crowded. But – you just wait for the next one to come along!
Old Town Alexandria Waterfront
After picking up your Visitor Guide, one thing that we love to do is to sit by the waterfront while we decide where we want to eat, or what we want to see!
This is a great place to check out the Visitor Guide to plan your day!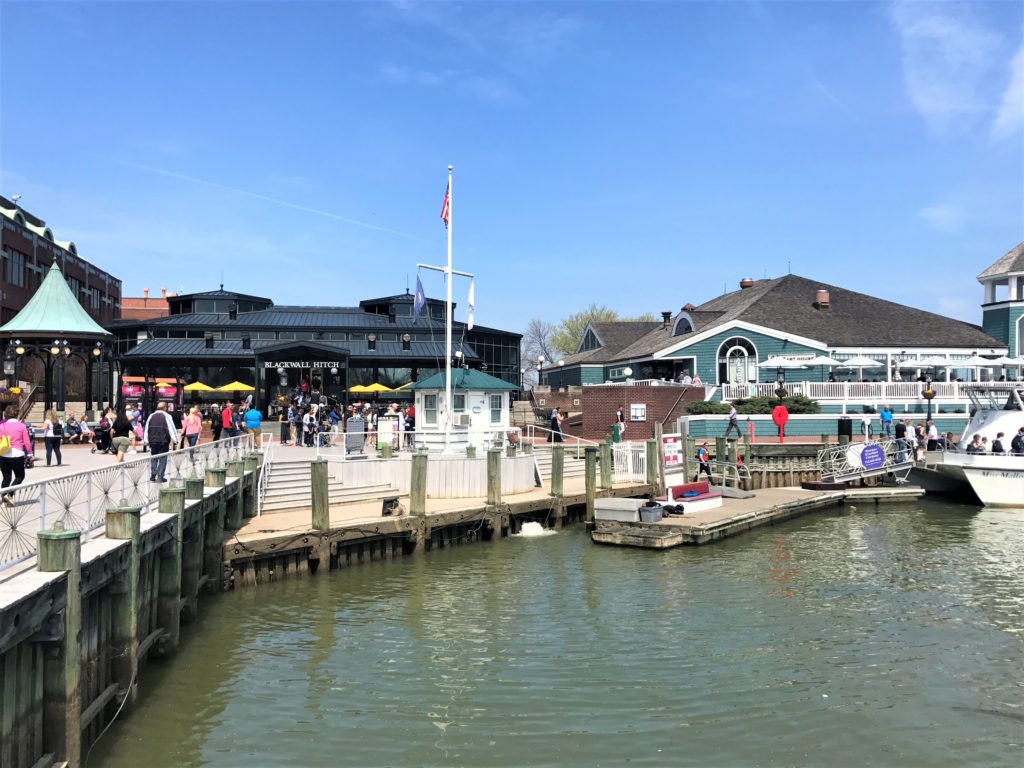 Take A Water Cruise
While you're sitting at the waterfront planning your day, you might consider taking a Potomac Riverboat Cruise!
You can purchase your tickets right at the waterfront for the Monuments Cruise, or purchase tickets for the Water Taxi which will take you to National Harbor, the Wharf or even the National's Baseball game!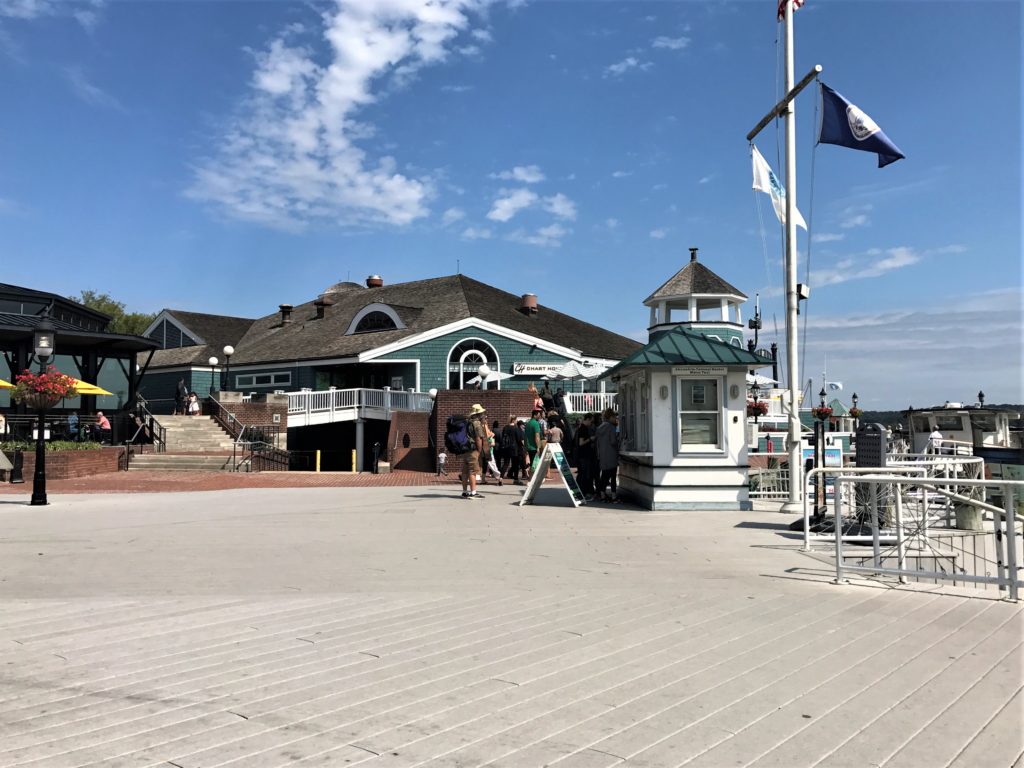 Monuments Cruise From Old Town Alexandria, Virginia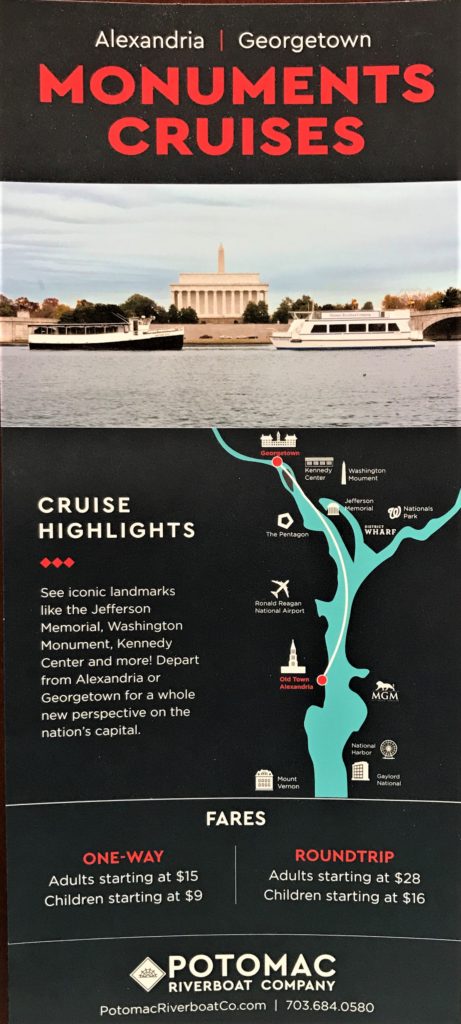 One of our favorite things was to take a Monuments Cruise from Alexandria to Georgetown.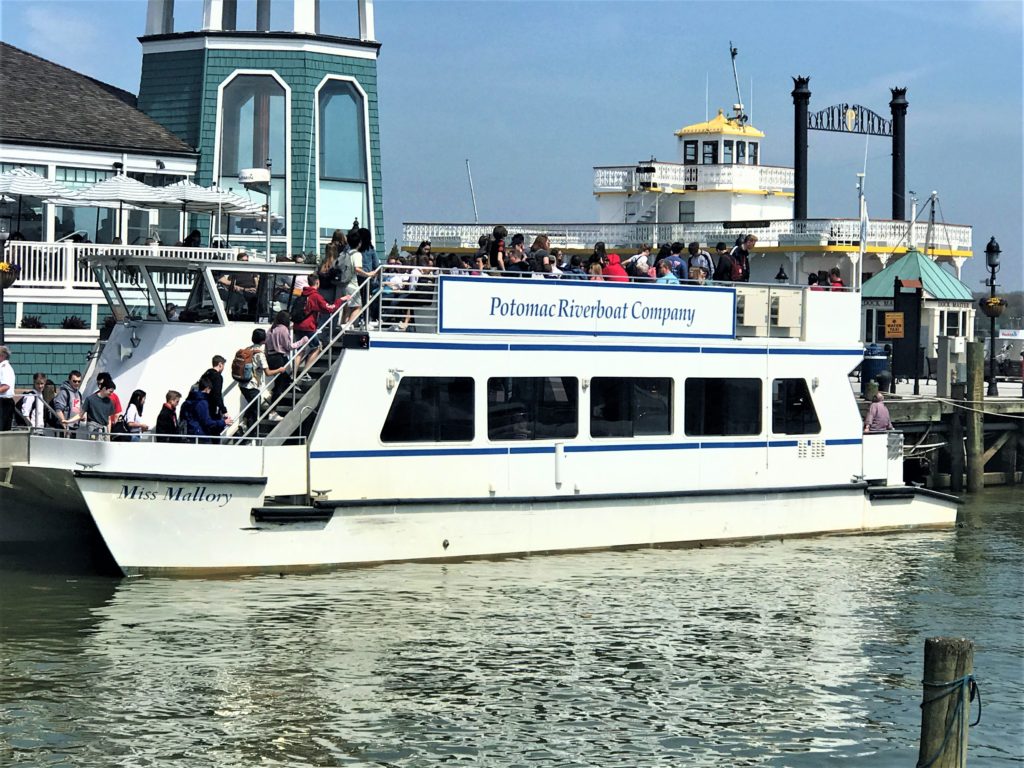 The Monuments Cruise will take you down the Potomac to Georgetown and then back. You can purchase a Roundtrip ticket or a one-way ticket.
We really enjoyed seeing all the monuments from the waterside!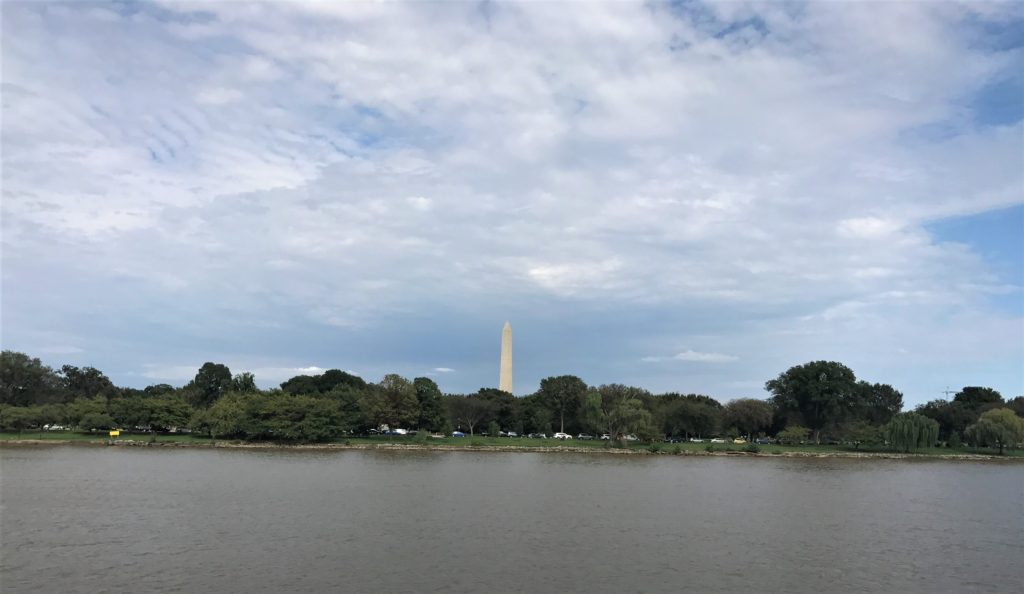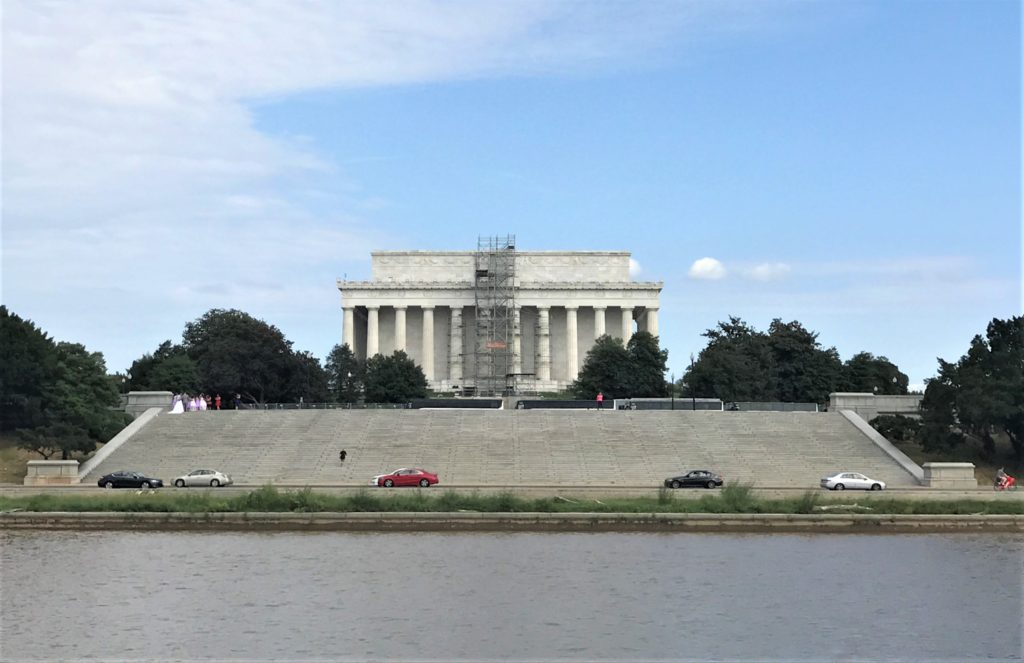 Related Reading: Have you been to see the beautiful Cherry Blossoms in Washington DC? Find out how we found a less crowded area to See Amazing Views Of The Cherry Blossoms in Washington DC
You Will Love All The FOOD in Old Town Alexandria
There are So Many delicious restaurants & pubs to choose from in Old Town! This is another reason we LOVE coming to Old Town – just to EAT!
Old Town Alexandria Restaurants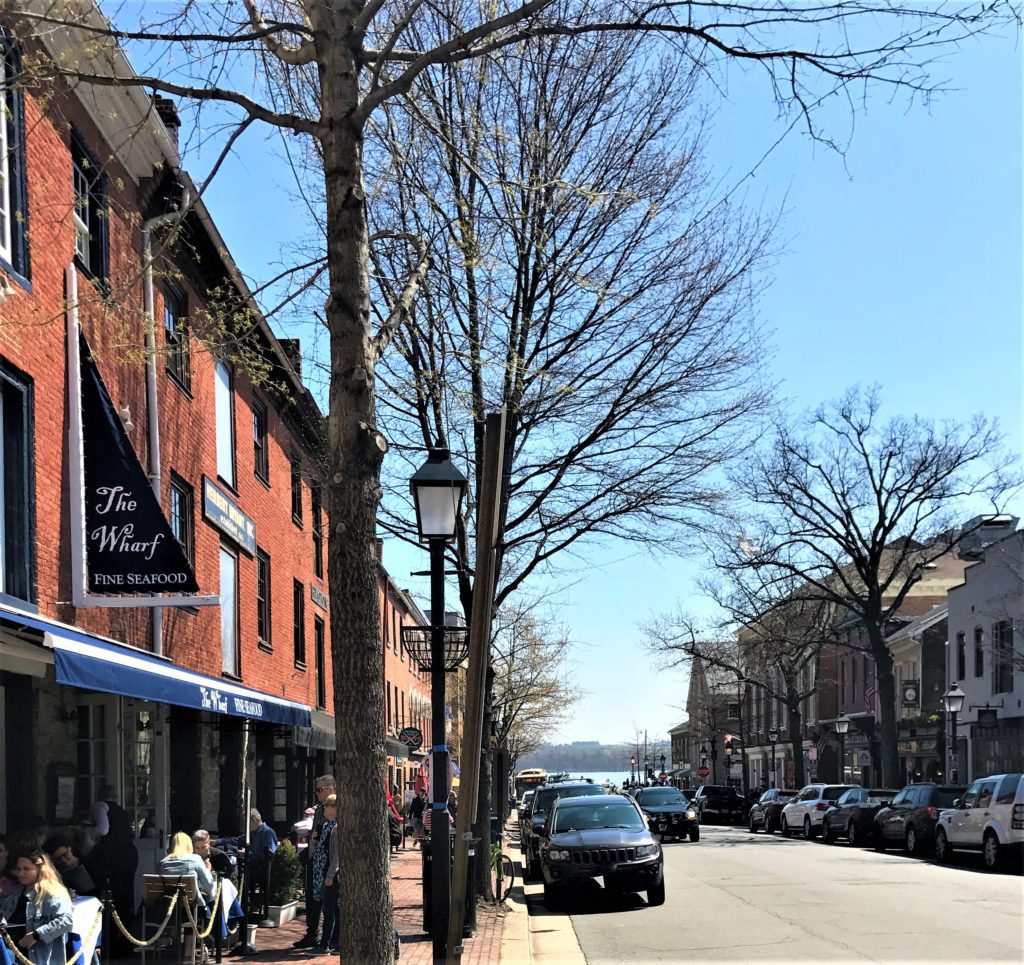 One of the things that my daughter loves about Old Town is just how many restaurants, pubs and every imaginable cuisine there is for you to try!
One of my favorites, of course, is Pop's Ice Cream Shop! (Does that count as a restaurant?)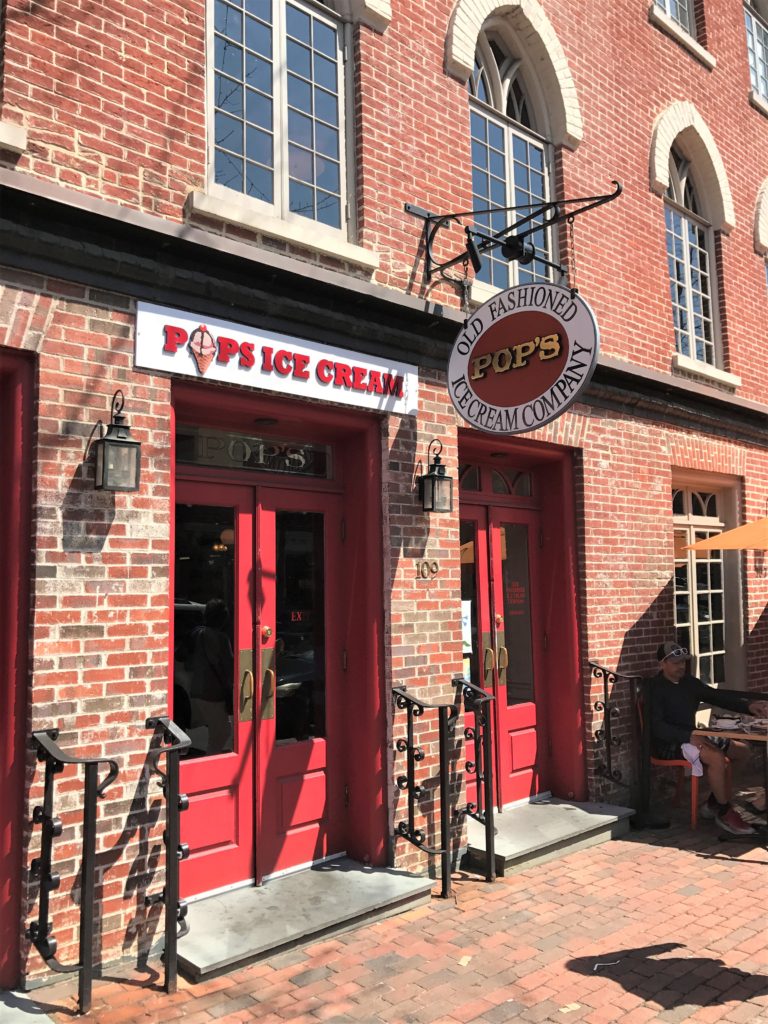 On some summer days, you will find the line Out The Door at Pop's Ice Cream Shop – But it is Ohhh Sooo Good!! AND Worth the Wait!
We have eaten at The Fish Market Restaurant and Bar several times and loved it!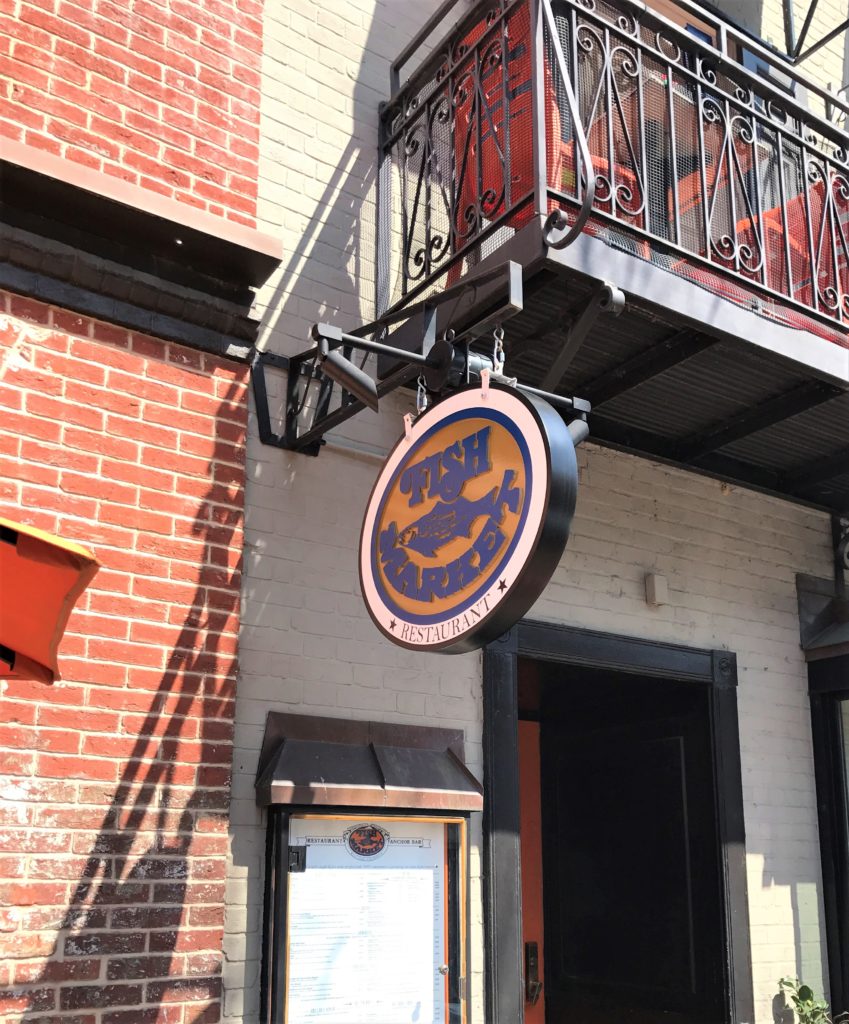 As you enter the door, the Fish Market is on one side and the main restaurant on the other side. In fact, there are five dining rooms to choose from each with a different atmosphere.
In addition to the main restaurant, there is seating on the patio, balcony, The Anchor Bar at the Fish Market, and The Captain's Private Dining Room facility for private parties.
We started with Oysters on the Half Shell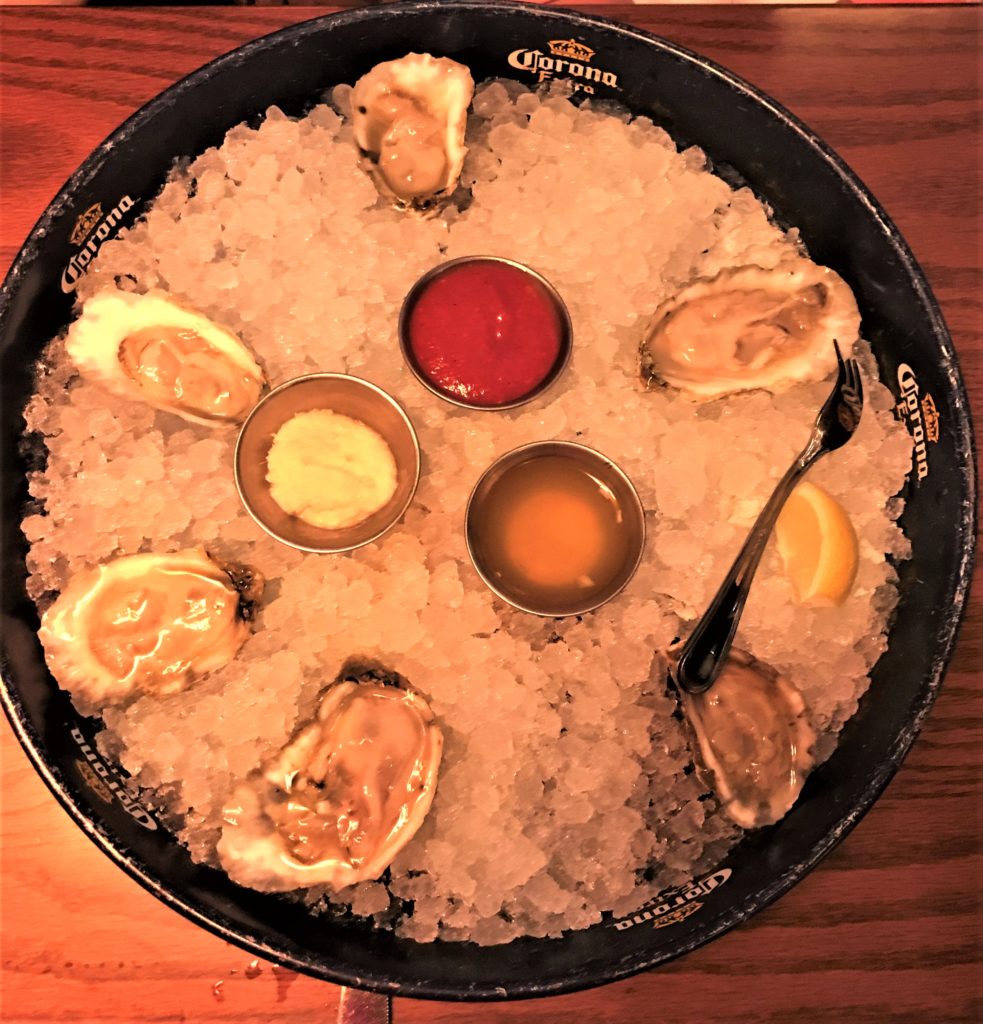 For lunch we chose:
The Filet O'Fish Market Sandwich with Old Bay Chips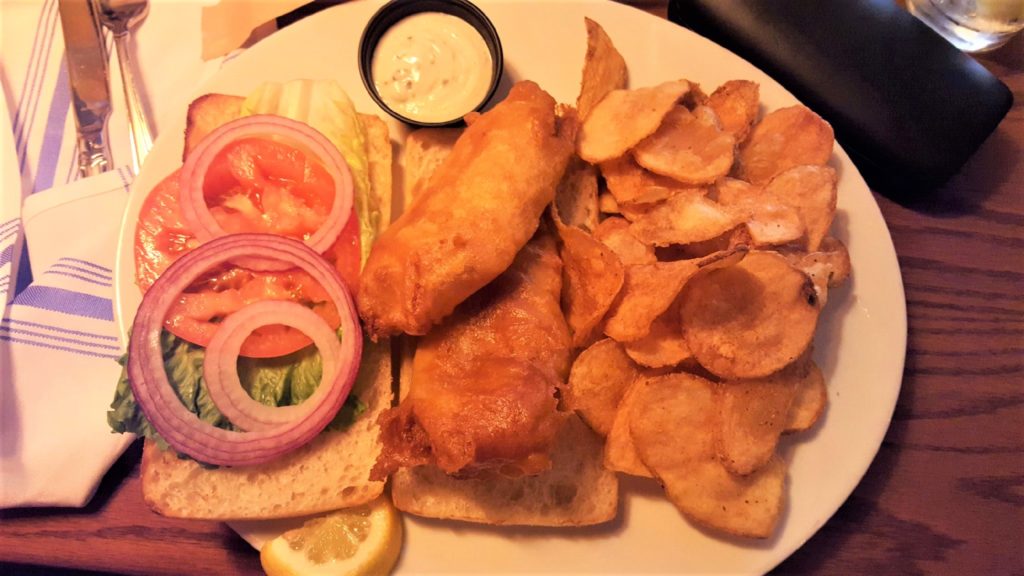 The Shrimp Basket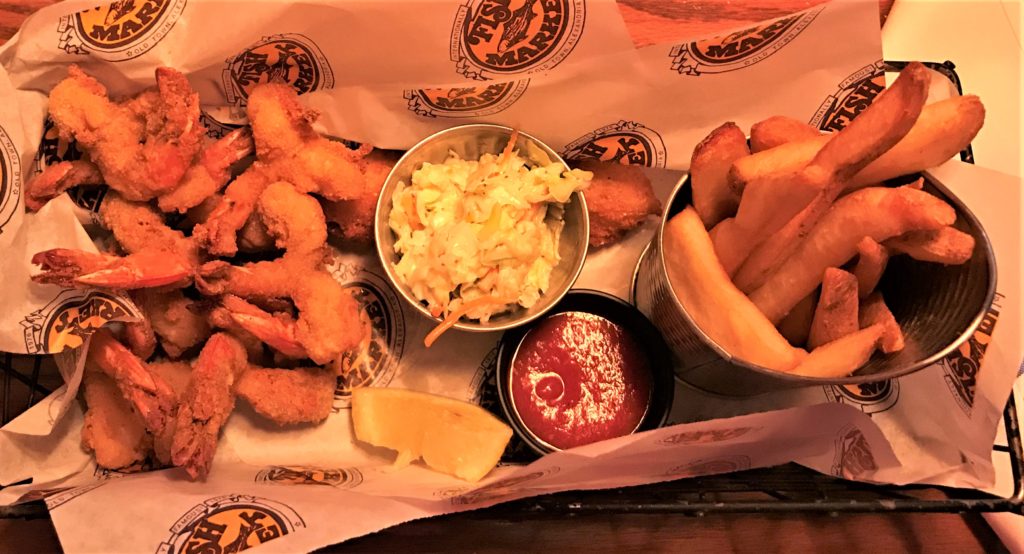 Salmon BLT Sandwich on a Ciabatta Roll – with those delicious Old Bay Chips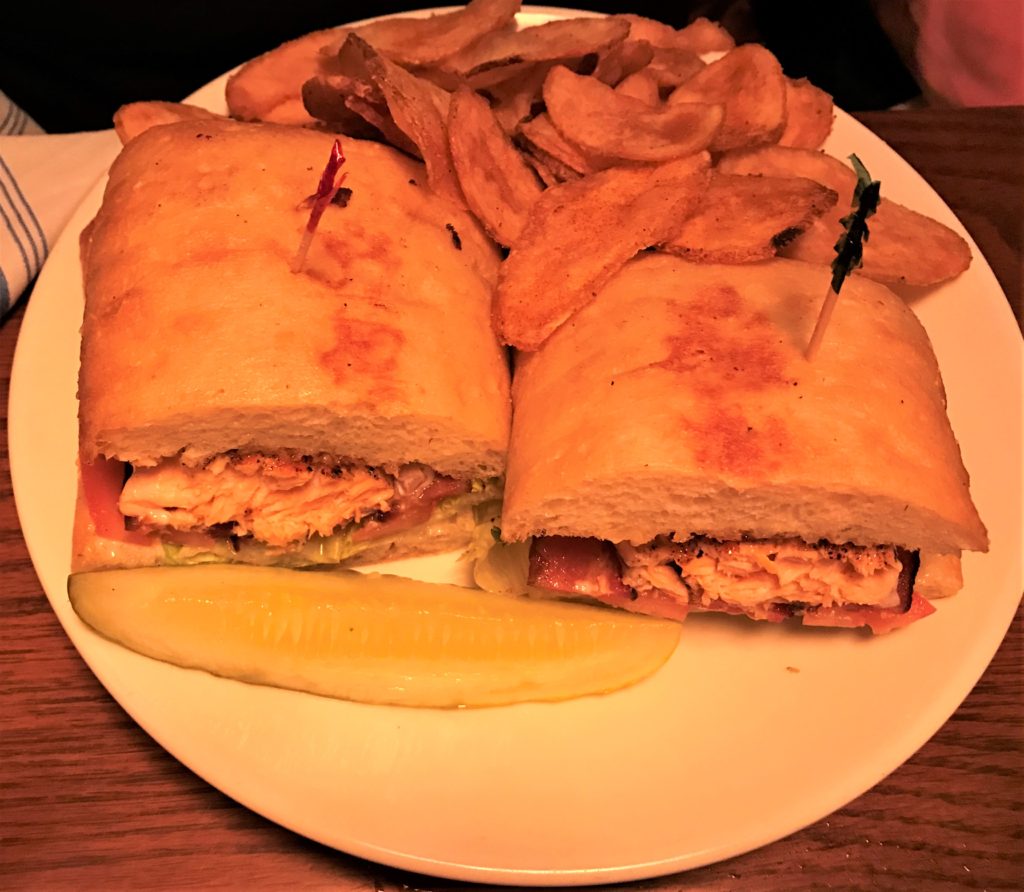 Jumbo Lump Crabcake Sandwich with Old Bay Chips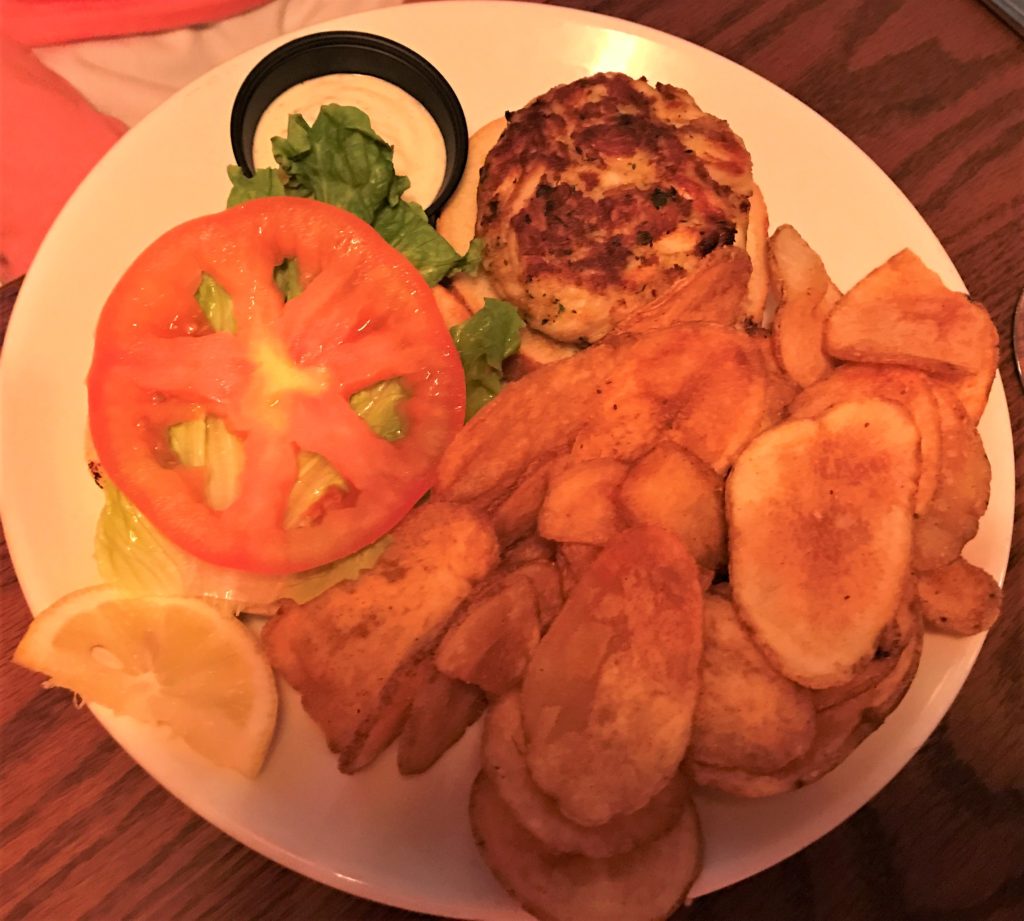 Lunch was Delicious! The service was very attentive too!
Old Alexandria Waterfront Dining
If you're looking for Waterside dining, I highly recommend Vola's Dockside Grill and High-Tide Lounge.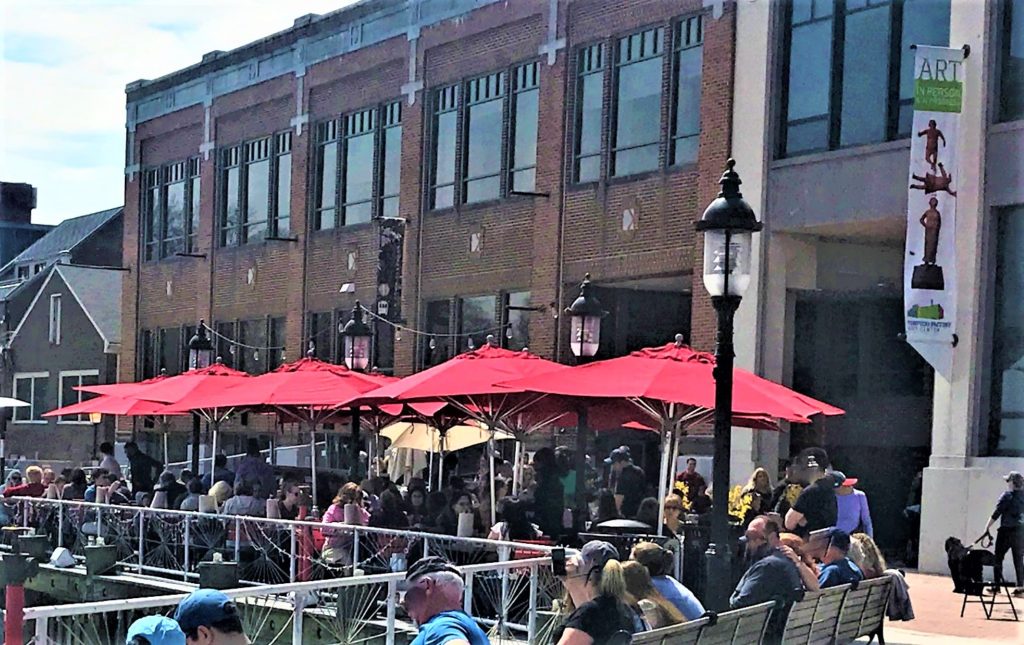 This is a casual seafood restaurant with one of the largest outdoor waterfront patio areas in Old Town. We had lunch one day at Vola's and couldn't have been happier with the choices!
We chose to sit by the window with a view of the water.
One of our very favorite restaurants is Joe Theissman's Restaurant
The steaks are delicious, the salmon is delicious and I especially love the wedge salad!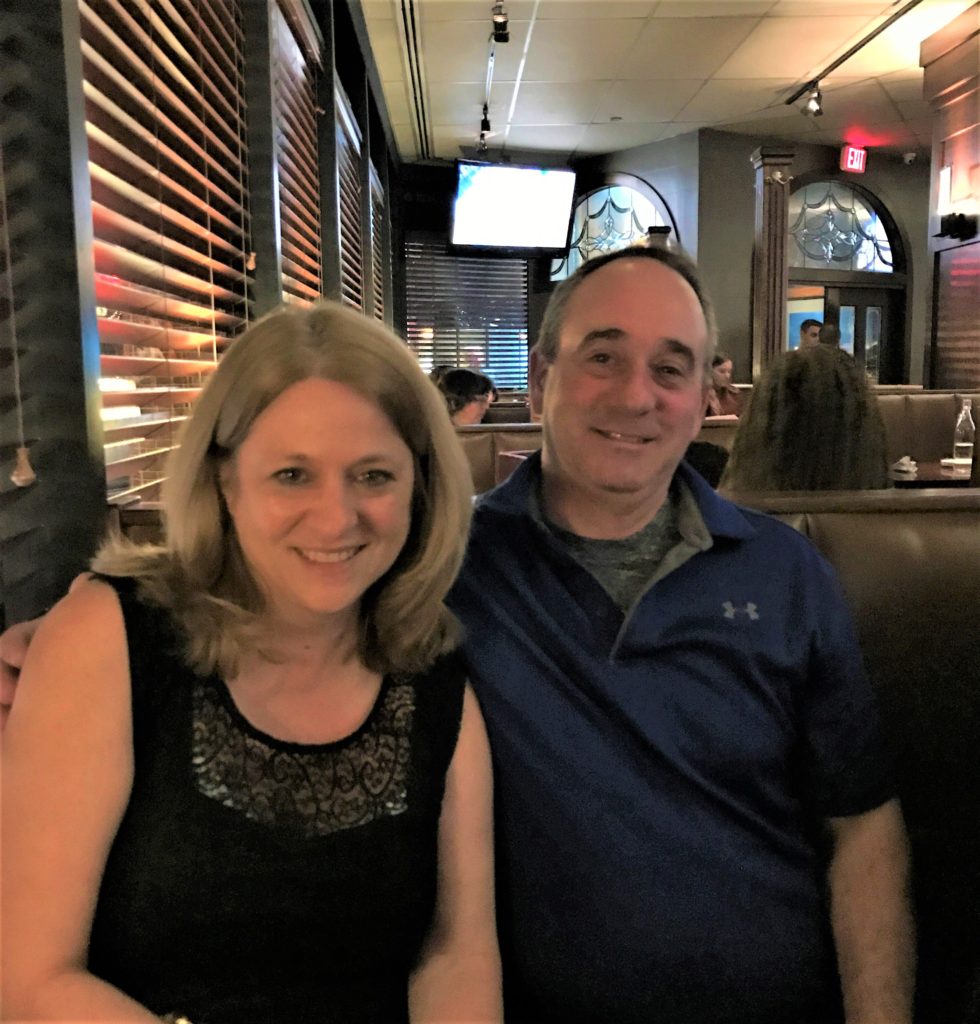 You should be aware that Joe Theissman's IS also a sports bar (you'll really know it's a sports bar when you dine during March Madness- which is when this photo was taken!
Everything we have tried at Joe Theissman's Restaurant has been delicious!
Tip: If you park in the parking garage, the restaurant will validate your parking on certain days and times!
Other Favorite Restaurants in Alexandria:
We have eaten at many other restaurants in Old Town which are also amazing!
Since my daughter lives there and considers herself a "Local" now, I asked her to tell me a few of her favorite restaurants – and I had to put a limit on her list because it was so long!
Chart House Restaurant

Hank's Oyster Bar

Gadsby's Tavern Restaurant

Virtue Feed & Grain

Chadwick's

Blackwall Hitch

Southside 815
There are too many great restaurants, pubs, places with live music, bars…I can't list them all!
You'll Love These Alexandria VA Attractions
If you can stay for more than a day, here are a few sightseeing Alexandria attractions you won't want to miss!
George Washington Masonic National Memorial
The George Washington Masonic National Memorial is listed as a National Historic Landmark.
The Memorial is open seven days a week from 9:00 a.m. to 5:00 p.m. (closed on major holidays). Five tours run daily at 9:30 a.m., 11:00 a.m., 1:00 p.m., 2:30 p.m. & 4:00 p.m.
The guided tour is one hour in length and includes five or more areas of the Memorial, including several exhibit rooms and the Observation Deck.
Admission to the Memorial is $18. Photo ID required. Children aged 12 and under are admitted to the Memorial for free but must be accompanied by an adult.
The Memorial is beautiful at night. This is a photo I took during a recent visit.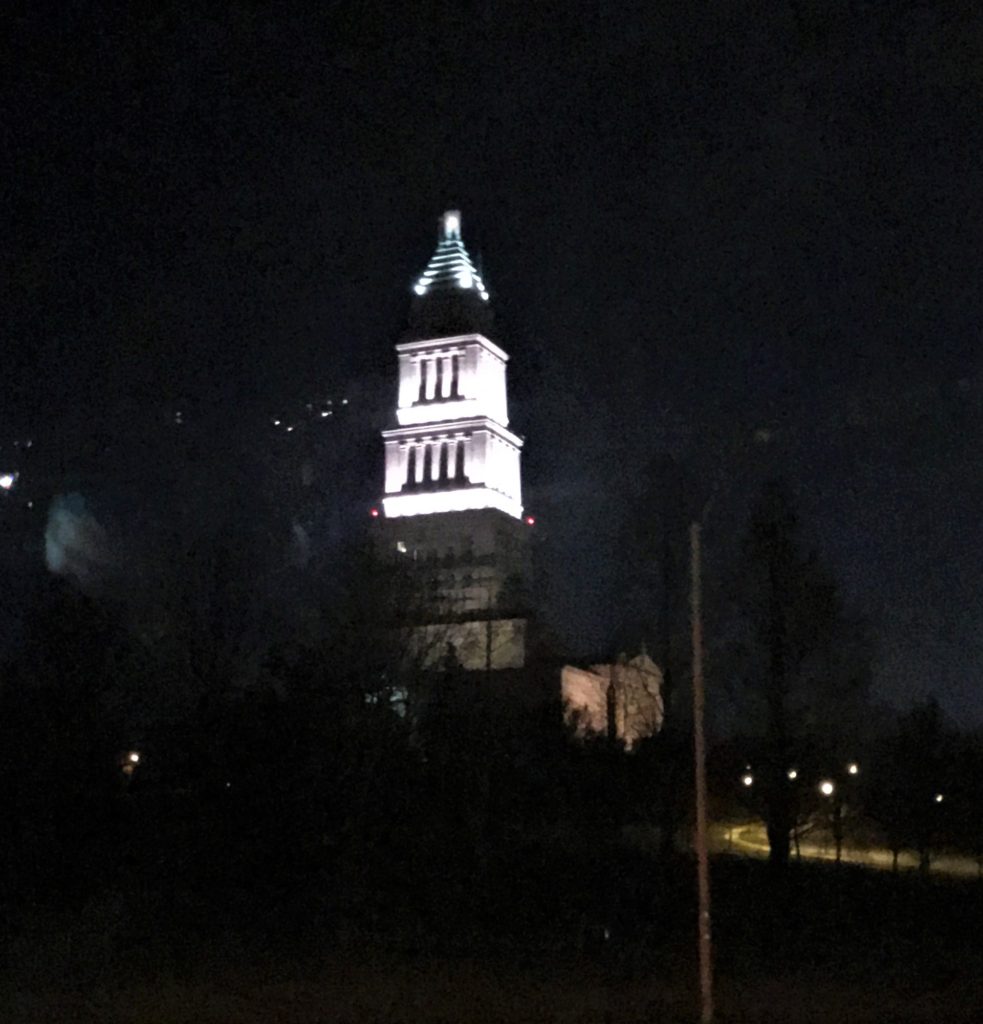 Photo By L. Andrews
The Capital Wheel at National Harbor
We loved taking a ride on The Capital Wheel at National Harbor!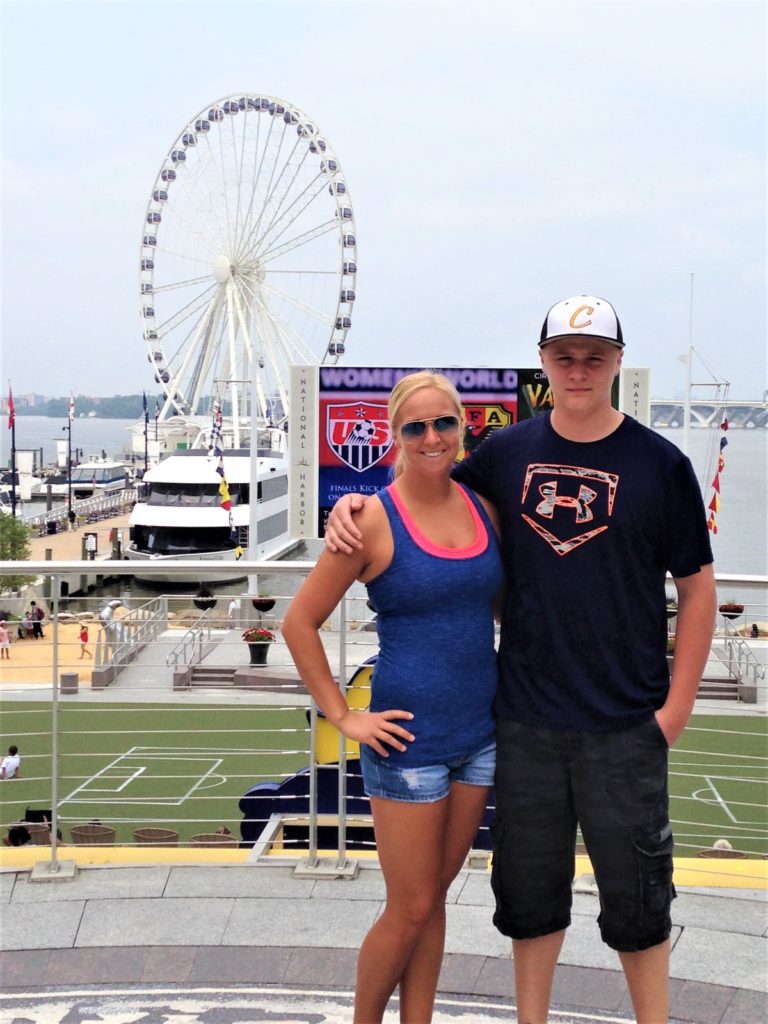 Just across the Potomac River from Alexandria, Virginia is the National Harbor. We had a great lunch at National Harbor then took a ride on the Capital Wheel!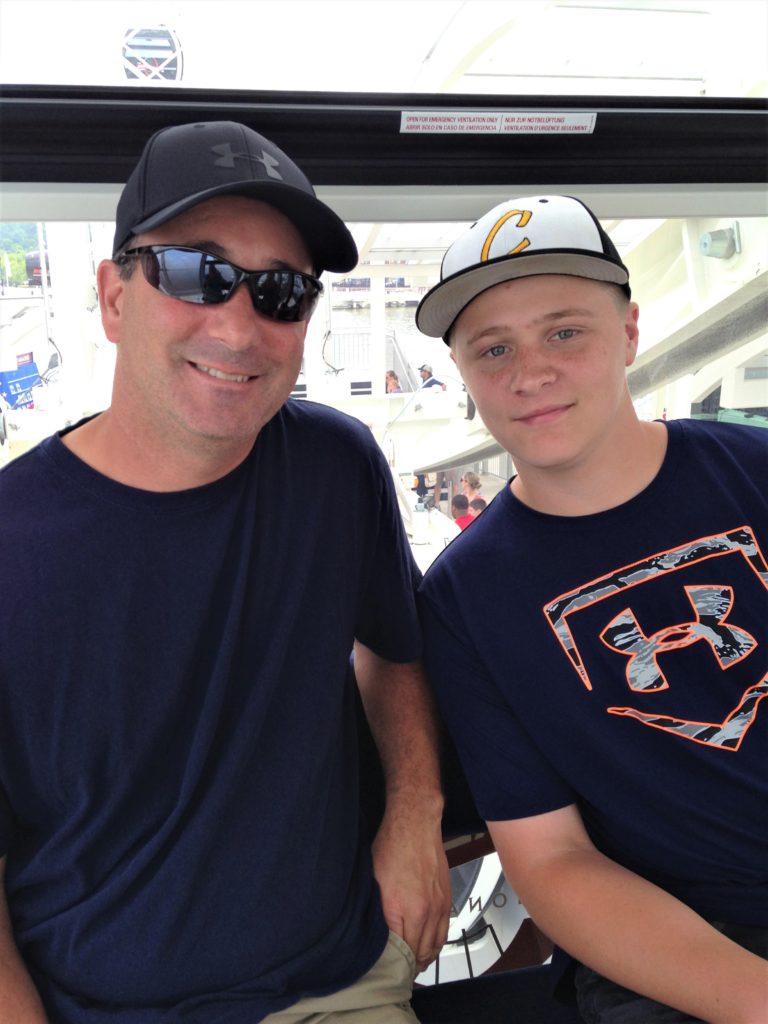 From Old Alexandrea's Waterfront, you can take the Water Taxi from Old Town to the National Harbor!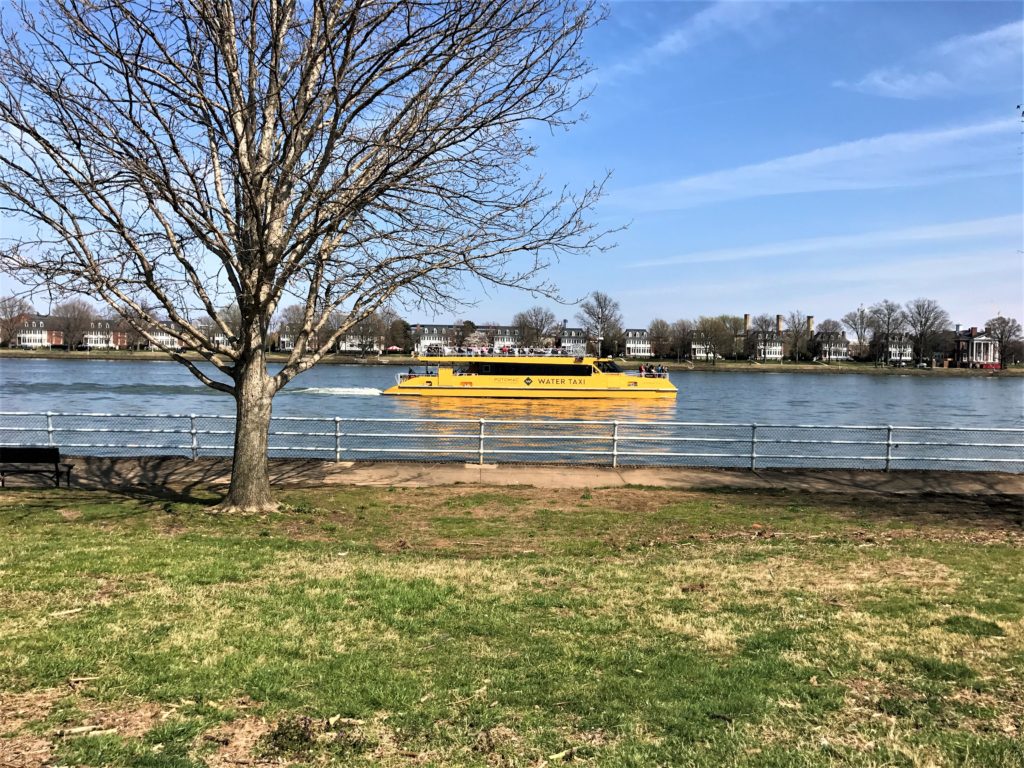 Alexandria's Ghost & Graveyard Tour
Costumed lantern-carrying guides on this tour to learn about Alexandria's early history, unsolved mysteries, and ghost stories.
Visit Alexandria Colonial Tours for tickets, dates, and times.
Where To Stay in Old Town Alexandria
Since now I've convinced you to stay the night, here are some great ideas for your hotel stay. There are many hotels to choose from not only in Old Town but the surrounding area as well!
Read these reviews and SAVE on your hotel stay below!
Save up to 30% on TripAdvisor Hotels
for your stay in Old Town or Washington D.C. area!
Why You Should Visit Old Town Alexandria
I hope I have enticed you to take a trip to Old Town, Alexandria, Virginia!
From all the shopping, food, drinks, and Old Town's Waterfront, you will love the rich history of the area. Take time to walk down its quaint streets and enjoy all that this historic town has to offer!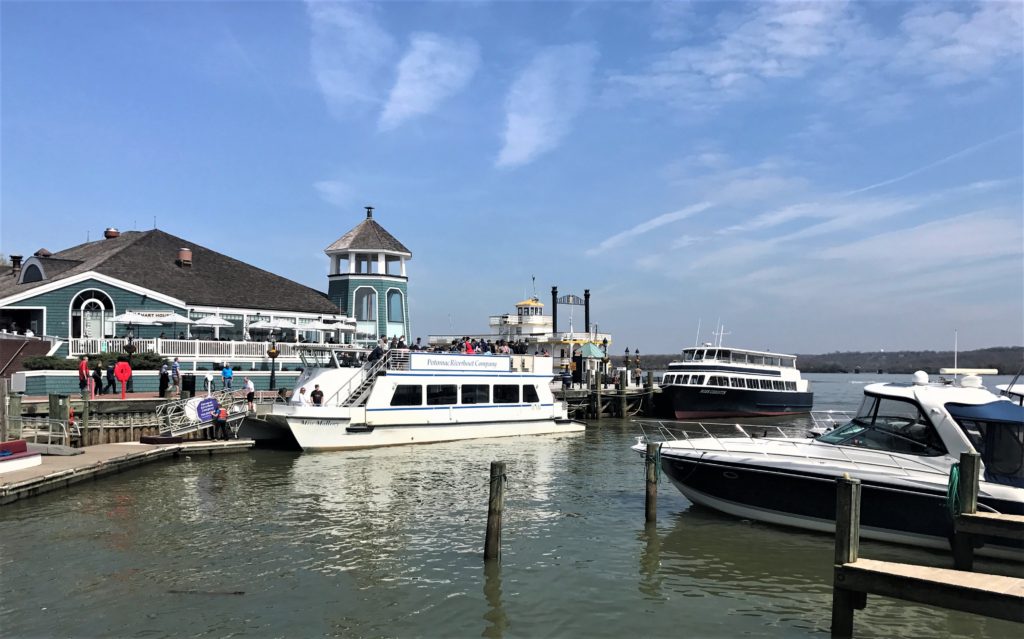 Here are more travel destinations you will enjoy!
* Top Fun Things To Do In Northern Virginia
* Where To See Amazing View Of Cherry Blossoms In Washington DC
* How To Plan A One Day Trip To Niagara Falls, NY
* Best Things To Do at Letchworth State Park, NY
* 13 Fun Things To Do On A Weekend Getaway To The Catskills
* 9 Amazing Things You Don't Want To Miss In Acadia National Park
* 18+ Amazing Things To See In The White Mountains
* Best Places To Visit In The Adirondacks 4-Day Itinerary
I would love for you to join my Email List!
Happy Travels!