Last Updated on October 27, 2021 by Lori
If you are traveling in or through the Midwest, Loess Bluffs National Wildlife Refuge is just one of those out-of-the-way places you must find time to fit into your schedule – or you will miss some of nature's most amazing sights to see!
I recently had the opportunity to visit this Missouri Wildlife Refuge, located in Mound City, Missouri, and was in awe of all the wildlife we saw – during the wintertime!
If you want to see bald eagles that are so close that you could just sit and watch them all day – then you must add Loess Bluffs to your itinerary!
History of Loess Bluffs (Squaw Creek)
President Franklin D. Roosevelt established the refuge in August 1935 as a feeding and breeding ground for migratory birds and other wildlife. The refuge includes 7,440 acres of grasslands, wetlands, and forest.
Loess Bluffs was named one of America's Top 500 Globally Important Bird Areas by the National Audubon Society in 2001.

Squaw Creek National Wildlife Refuge Name Change
When I was growing up in Kansas, we had always known this Missouri bird sanctuary as Squaw Creek.
The name was changed on January 11, 2017, to Loess Bluffs National Wildlife Refuge.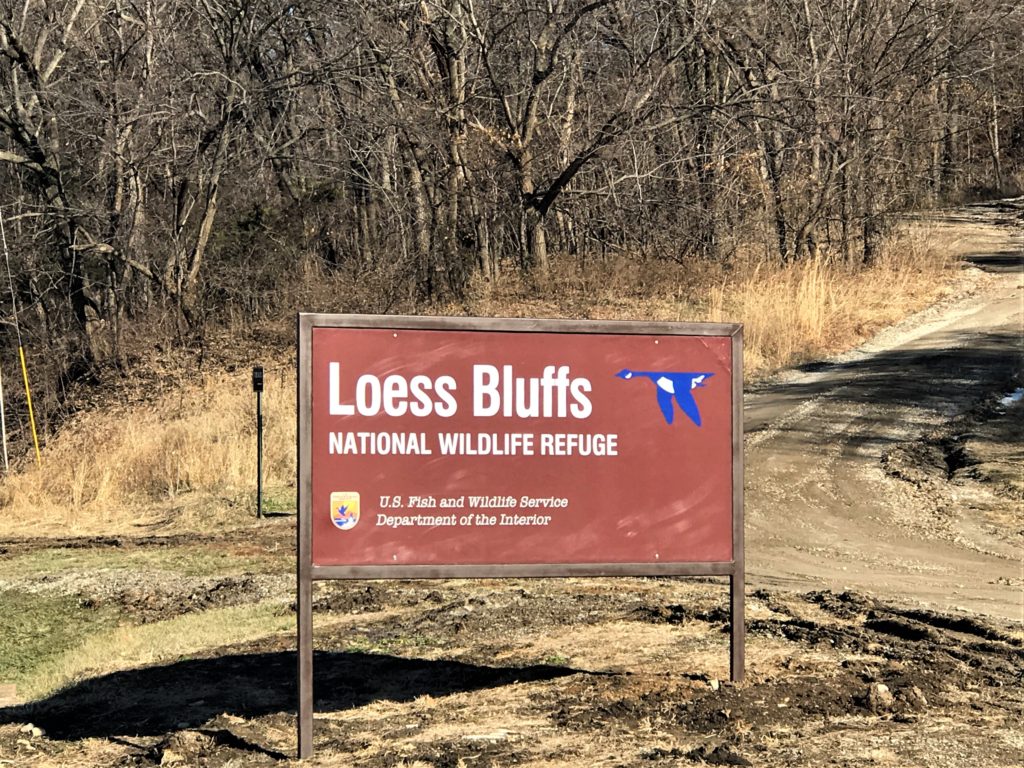 Missouri Bald Eagle
One of the first things we saw as we began the Auto Road Tour was truly awesome!
I don't think I have ever been that close to one of our Nation's most majestic birds – the Bald Eagle.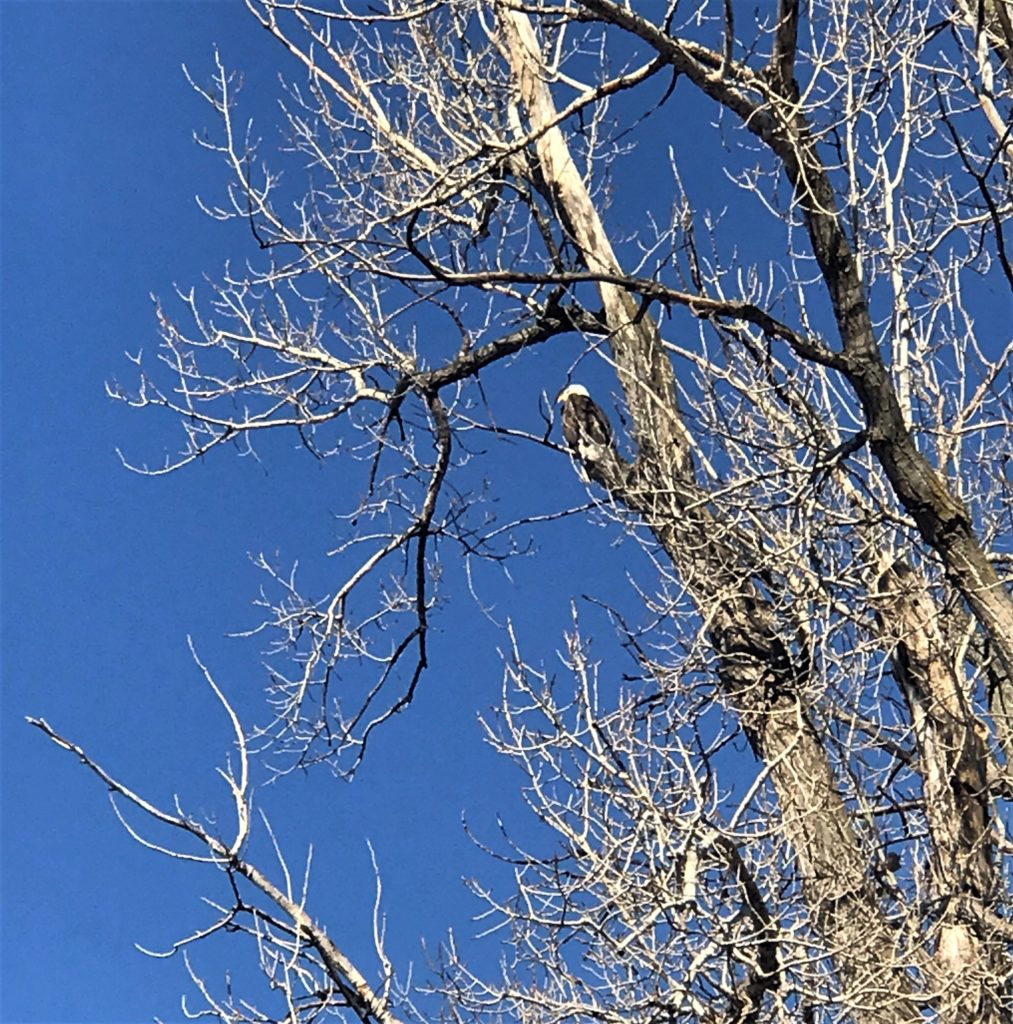 Bald eagles migrate into Loess Bluffs Refuge in the late fall and early winter.
According to the U.S. Fish and Wildlife Service, as many as 300 immature and adult bald eagles, and an occasional golden eagle may be seen here around the first week of December.
We just happened to be visiting at the end of the first week of December! What a treat to see these magnificent birds!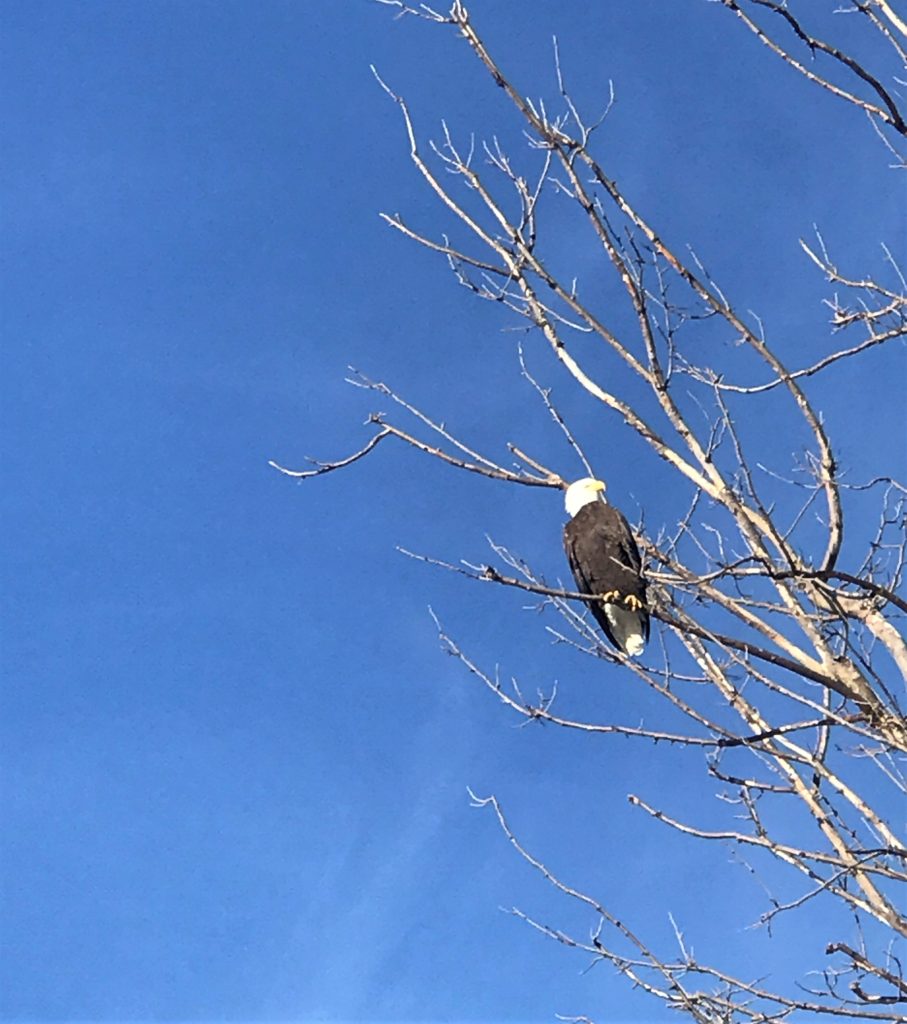 What You Will See At Loess Bluff National Wildlife Refuge
"Loess" (pronounced "luss") are rich agricultural soils found along major rivers in Germany (where the word Loess originated), China, Russia, and along the Missouri, lower Mississippi, and Platte Rivers.
This 7,440 acre National Wildlife Refuge has some of the most awesome wildlife you will see in the Midwest. It provides a habitat for migratory birds and is made up of
3,810 acres of wetlands
2,175 acres of grasslands
1,200 acres of forests
Loess Bluffs National Wildlife Refuge Map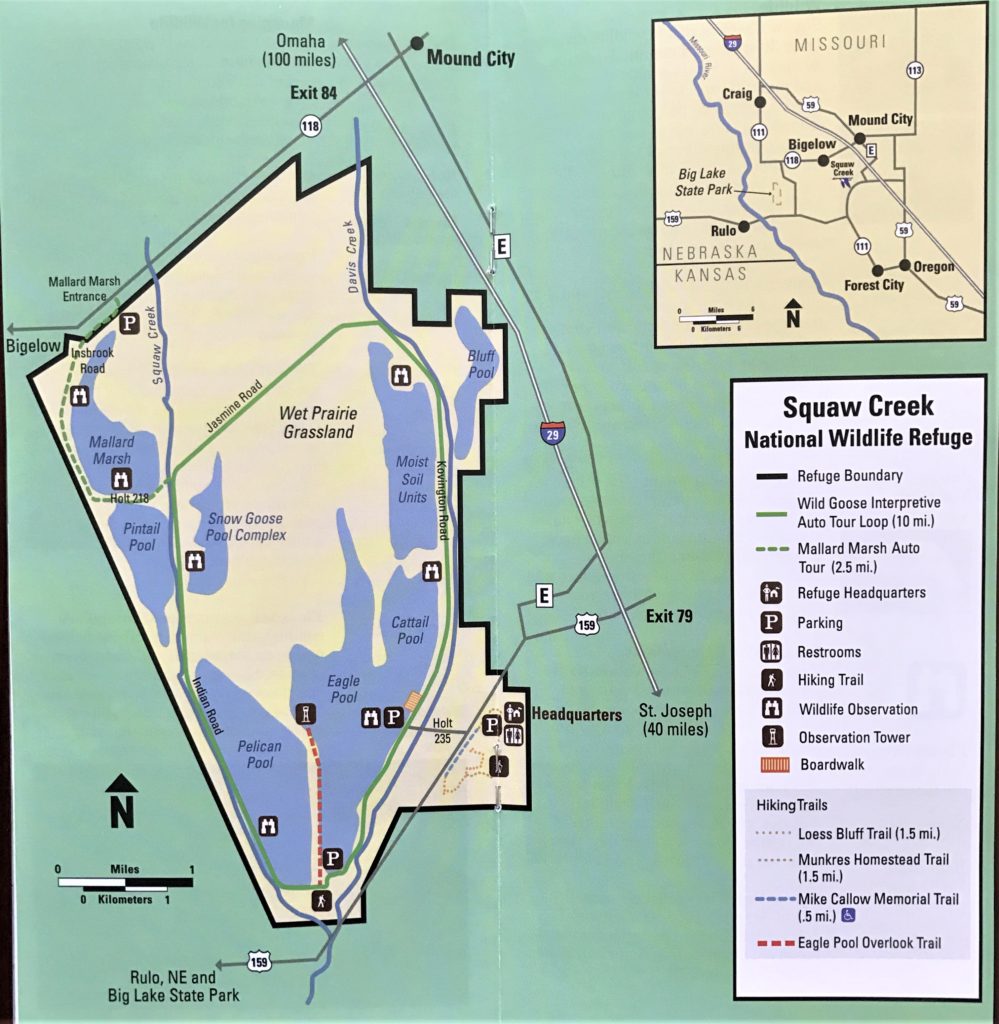 As you enter the Auto Road Tour, you will see the 1,400 acre Eagle Pool.
I wanted to walk out along the Eagle Pool Overlook Trail (1.5 miles out-and-back) to the Observation Tower, but it was a sunny cold December day so I've put it on my "Must Do" list for next time.
As we continued on the Auto Tour, we saw these dome-shaped muskrat houses are seen all over the wetlands.
I'll be honest – I wasn't sure exactly what these mounds were!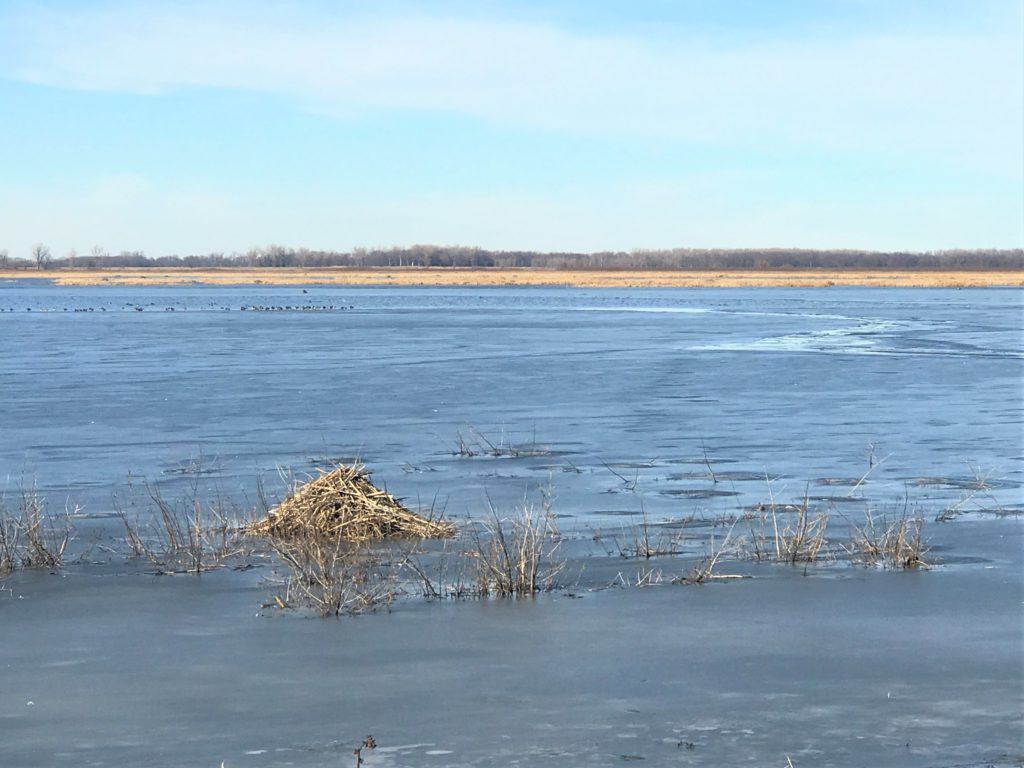 Fun Fact! The refuge is a major stop for thousands of monarch butterflies in August and September! They fuel up and rest at the refuge before completing their 3,000-mile journey back to Mexico for the winter.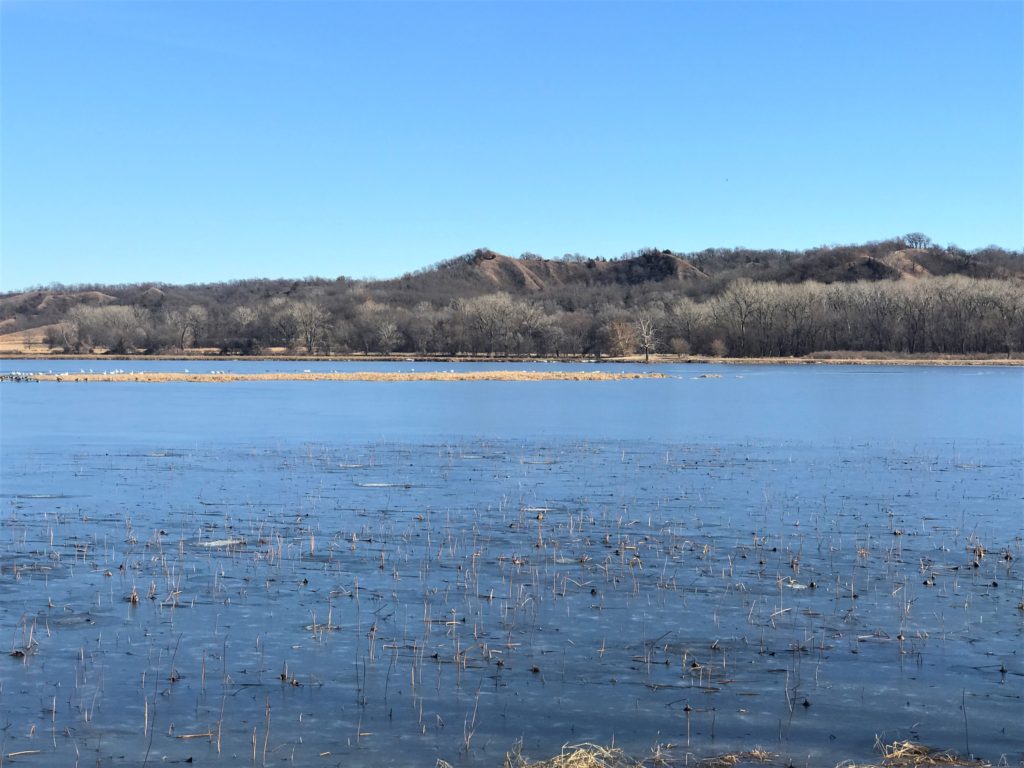 Loess Bluffs Bird Count
Squaw Creek's wetlands have attracted as many as 1.4 million snow geese and over 200,000 ducks during spring and fall migrations.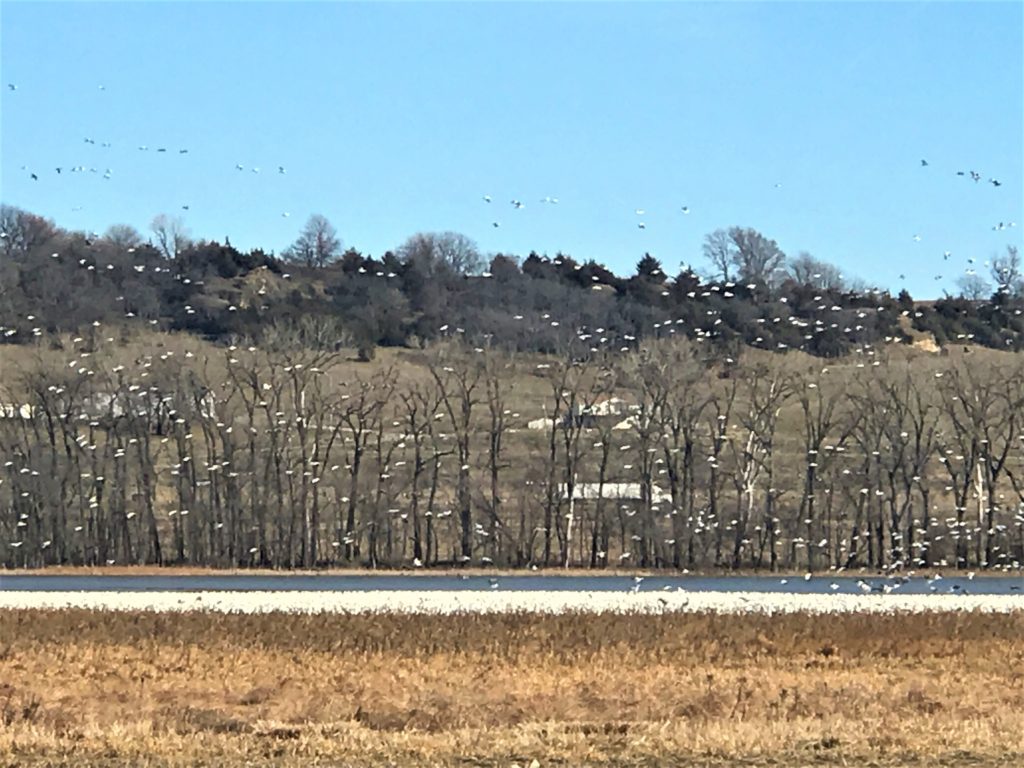 The Auto Tour is a ten-mile one-way auto tour loop that gives you a view from all sides of the Wetlands and marshlands.
We really enjoyed the Auto Tour which is open daily, year-round, during daylight hours.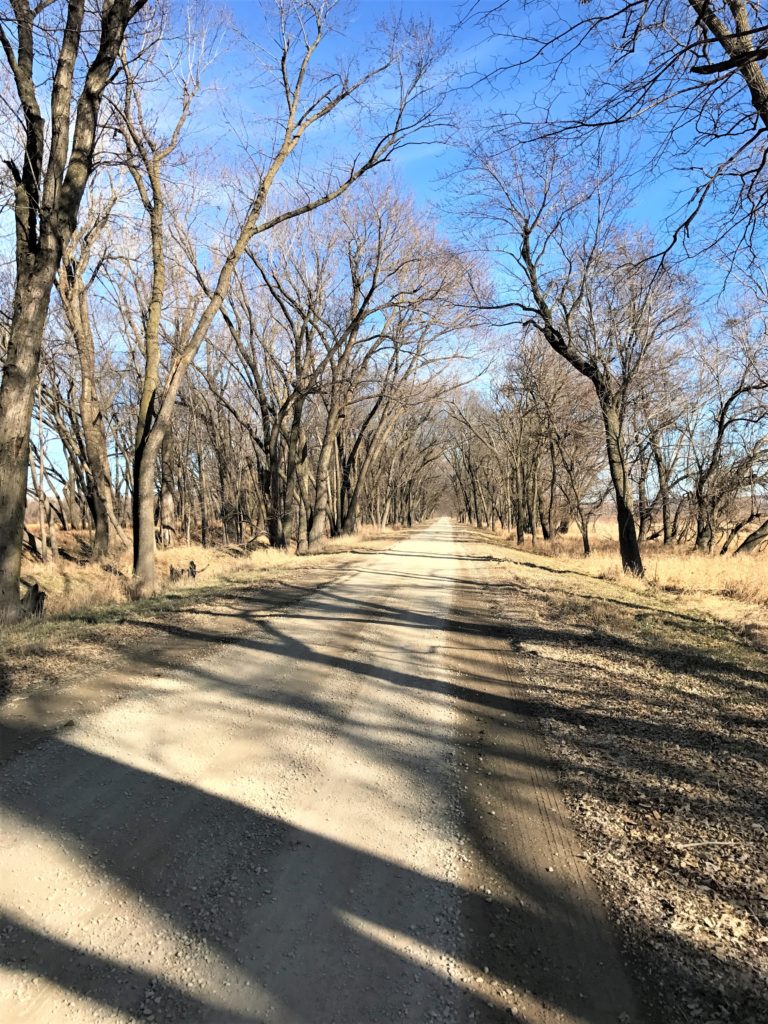 Best Time To Visit Loess Bluffs National Wildlife Refuge
Seasons of Wildlife You will be able to see wildlife at any time of year; however, there are certain times of the year where specific wildlife can be seen.
January – February

– Pheasants, hawks, coyotes, and deer
February – April – You will see the northward migration of waterfowl during this time of year. You may see waterfowl in brightly-colored plumage.
March-May – You will see the Redbud trees in bloom. Also, hikers hiking in the Loess Hills will see many wildflowers, butterflies and passerine birds.
April – May – This is the peak of warbler and shorebird migration.
June – Deer Fawns and pheasant broods may be seen along the auto tour route.
July – August – American lotus is in bloom
August – September – Shorebirds are on mudflats around refuge impoundments. White pelicans and cormorants are found in open pools.
October – November – Fall waterfowl migration is at its peak. You may see up to 400,000 snow geese and more than 200,000 ducks. Muskrat houses can be seen in pools.
November – January – One of the largest concentrations of bald eagles in the lower 48 states may be seen here. More than 300 birds are possible during the peak migration.
Hiking Trails At Loess Bluffs National Wildlife Refuge
There are several hiking trails including the 1.5-mile Loess Bluff Trail and the 1.5-mile Munkres Homestead Trail. The trails are on wood-chip surfaces.
The trails start at the visitor station leading to the top of the Loess Hills – and include 200 stone steps to the top!
These steps are visible from the roadway and look so intriguing!
However, we were not prepared for hiking that day – so I've added it to my list of "Return Visits" to reach the top someday!
Things To Know About Loess Bluffs National Wildlife Refuge
Is Loess Bluffs Open?
**Please note: at this time the Loess Bluffs Visitors Center is Closed following guidance from the CDC. However, the refuge remains open daily from 30 minutes before sunrise to 30 minutes after sunset. This includes the Wild Goose Auto Tour loop and refuge hiking trails.
Is There A Charge To Visit The The Refuge?
There is no charge to visit the refuge.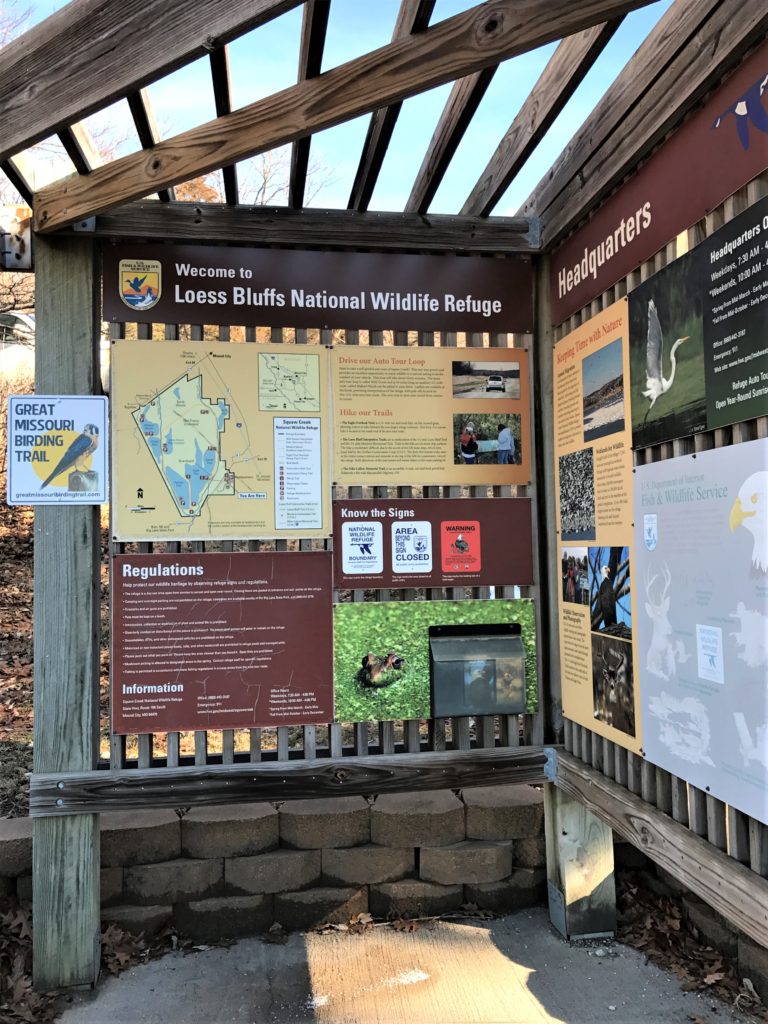 I highly recommend starting your visit at the Visitor's Center!
(Please note: Due to CDC Guidelines, at this time the Loess Bluff's Visitors Center is not open)
We didn't see the Visitor's Center and turned into the refuge and began the Auto Road Tour with any information.
After completing the 10 mile Auto Road Tour, we drove across to the Visitor's Center where there were clean bathrooms and lots of information I wish we had before we drove through the Wildlife Refuge!
We were met at the Visitor's Center by Mr. Nelson and Linda who took their time to answer all of my questions about Loess Bluffs!
I have to say that Mr. Nelson was very patient and knowledgeable as I asked him a million questions about not only the history of Loess Bluffs but the history of the entire area.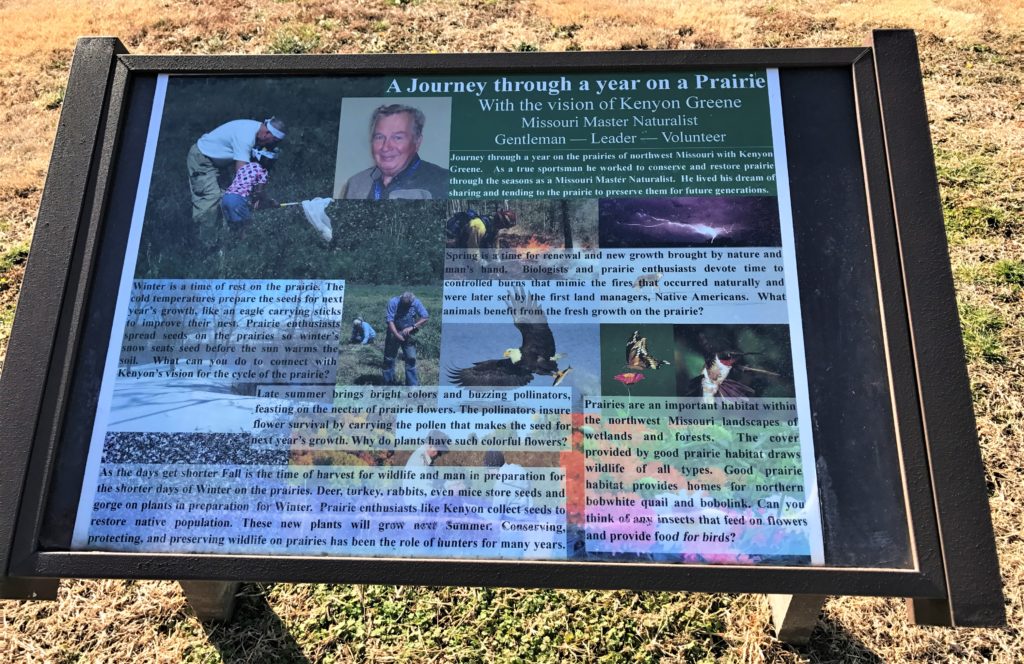 Where is Loess Bluffs Located?
Loess Bluffs National Wildlife Refuge is located in northwest Missouri in Mound City, MO.
For reference, it is located approximately 40 miles from St. Joseph, MO, and 100 miles from Kansas City, MO, and 100 miles from Omaha, NE.
Address:
Loess Bluffs National Wildlife Refuge 25542 US-159 Forest City, MO 64451 660-442-3187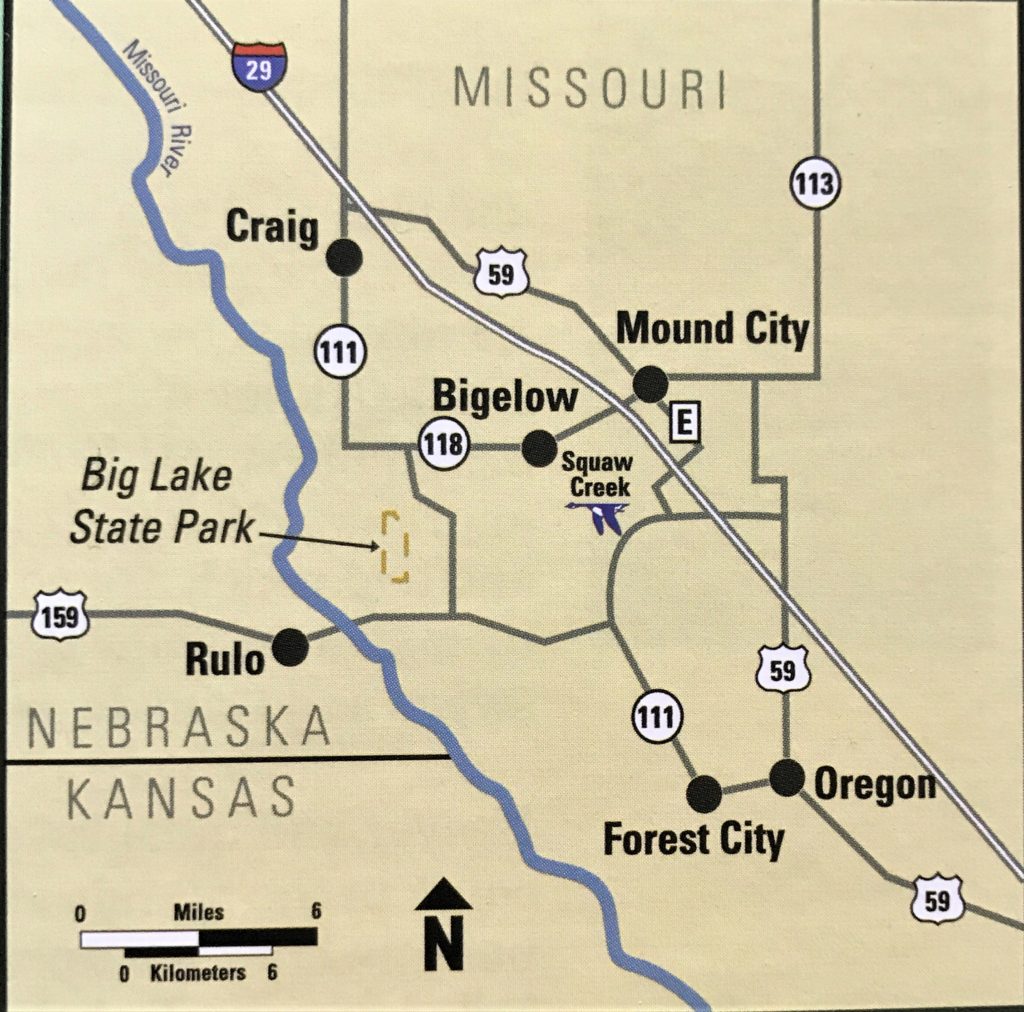 Hours
**Please note: the Visitors Center is not open at this time following guidance from the CDC. (see note above)
The Visitors Center is open Monday – Friday, 7:30 a.m. to 4:00 p.m.
From mid-October through early December and mid-March through early May, the Visitor Center is open on Saturday and Sunday from 10:00 a.m. to 4:00 p.m.
The refuge is open 30 minutes prior to sunrise until 30 minutes after sunset daily.
For more information, please go to their website – Loess Bluffs National Wildlife Refuge
RV Camping Near Loess Bluffs National Wildlife Refuge
If you're looking for an awesome place to RV Camp nearby, Mozingo Lake Campgrounds is just 40 miles from Loess Bluffs National Wildlife Refuge!
Related Reading: You might enjoy reading: Mozingo Lake Campground One Of The Best Kept Secrets In Northwest Missouri
Have you been to Loess Bluffs National Wildlife Refuge?
Let me know what Wildlife you saw and what time of year it was to share with other readers!
I would love for you to join my email list!
Don't Forget To Share!