Last Updated on January 27, 2023 by Lori
Sight and Sound Theatres takes stories from the Bible and brings them to life in an on-stage musical theater production. The wrap-around stage, sets, incredible singers and dancers, and live animals make Sight and Sound Theatres a show you'll want to bring your entire family to over and over again!
This post contains affiliate links which means if you click on a link and make a purchase, I will earn a commission at no additional cost to you. Please see our Disclosure Policy for more information.
History of Sight and Sound Theatres
From the age of five, Glenn Eshelman learned that he loved drawing. When he got older, he began painting the beautiful landscapes of Lancaster County, PA. Soon after, he bought a camera to take photos of the landscapes he was painting.
One day at church, a congregation member asked Shirley, Glenn's wife, if he could give a slideshow of his photos, so he got a turntable and put his slideshow to music as he narrated the scenes. The audience loved it!
In the mid-70s, Glenn and Shirley took their slideshow on the road. Then, in 1976, they found a permanent home for their show, and Living Waters Theatre opened.
The Eshelmans started adding more live theatrical elements involving the entire family and in 1987 produced their first live Biblical story. That became so popular that they began looking for a larger plot of land to build a larger theater.
The Entertainment Centre opened in 1991 just across the cornfield from where they had been. However, a devastating fire destroyed the theater in 1997.
After some thought, Glenn and Shirley knew that they needed to rebuild to continue their mission.
That's when a new 2,000 state-of-the-art theater was built, which then became Sight and Sound Theatres in Lancaster, PA.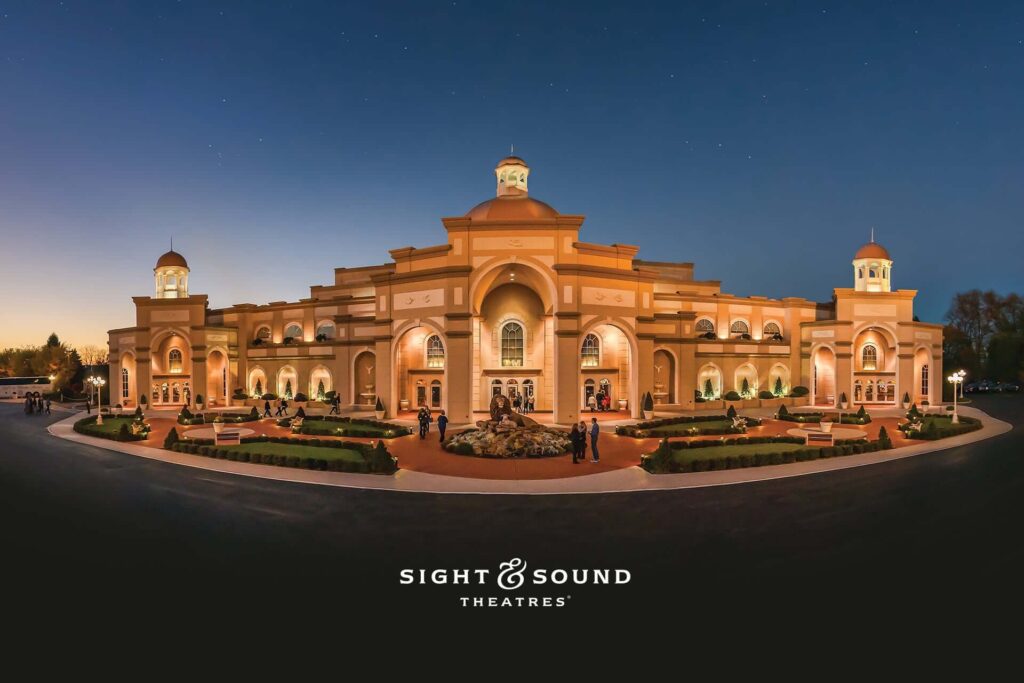 How Did Sight And Sound Theatres Get Its Name?
Katie Miller, Corporate Communications Manager and Granddaughter of Glenn and Shirley Eshelman, explains that the name for Sight and Sound Theatres comes from the book of Matthew, where it says, "In seeing they don't see, and in hearing they don't hear."
Miller goes on to say how Sight and Sound Theatres productions are all about seeing and hearing and using stories to bring messages about Hope and Grace.
Sight and Sound Theatres Locations
By the early 2000s, Sight and Sound Theatre in Lancaster was selling out. Audiences loved the 300-foot panoramic stage, enormous sets that stand four stories high, and live animals that play an integral part in the production.
The shows created were what one Eshelman family member describes as "where story meets spectacle."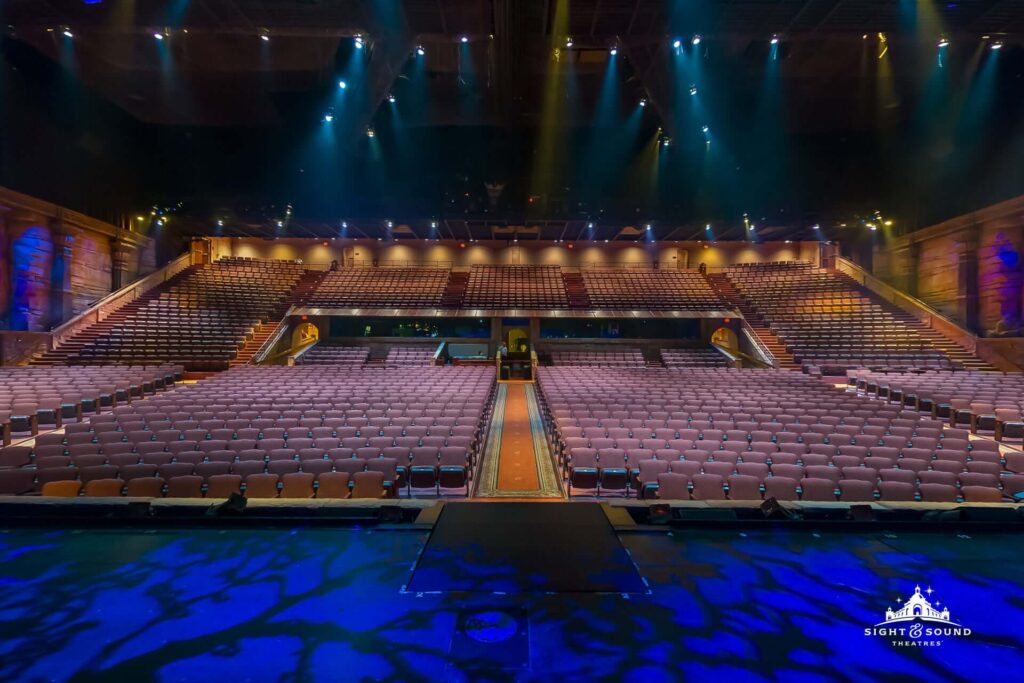 Powerful stories from the Bible were being seen by thousands of people who loved the creative sets and their favorite stories from the scriptures that came alive.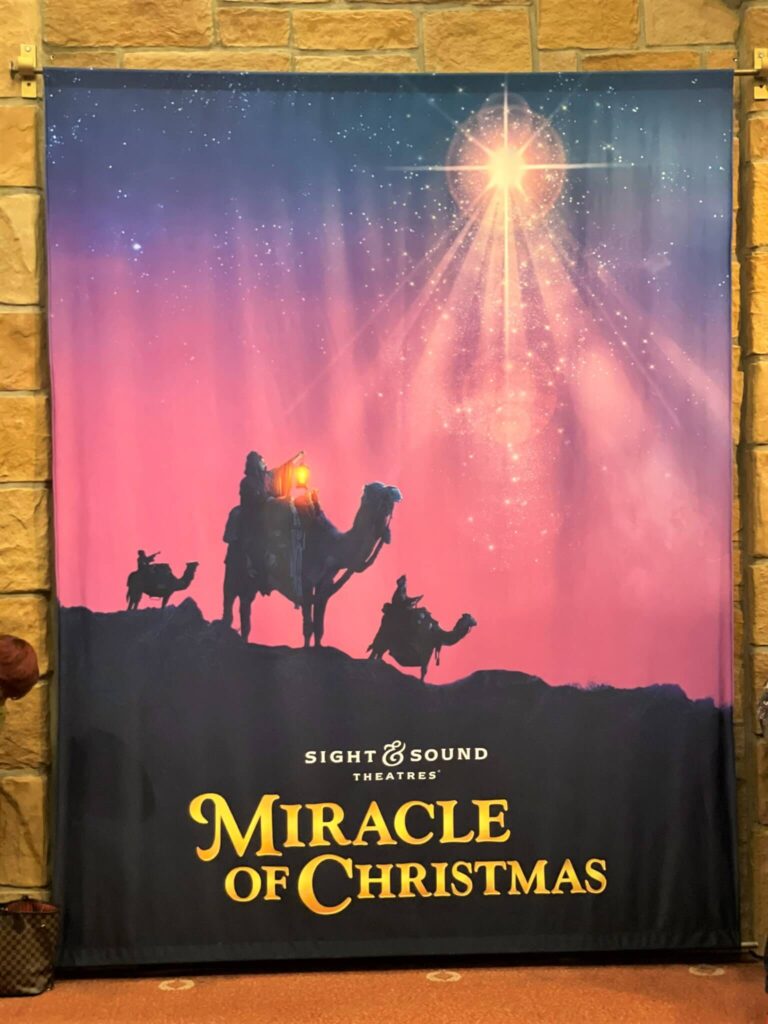 Sight and Sound Theater Past Performances – Lancaster, PA
Noah – The Musical 1998-2001, 2004, 2013
The Miracle of Christmas 1998-2013, 2015, 2017, 2019
Daniel 2002-2003, 2008
Ruth 2005-2006
In The Beginning 2007-2009
Behold the Lamb 1999-2001, 2004-2006, 2009
Joseph 2010-2011, 2015
Jonah 2012, 2017
Moses 2014-2015, 2023
Samson 2016
Jesus 2018-2019
Queen Esther 2020-2021
David 2022
As audiences grew at the Sight and Sound Theatres in Lancaster, the family began to consider adding a second location. And in 2008, an identical theater in Branson, Missouri opened.
Looking for things to do in Branson? Here are the Best Things To Do In Branson The Whole Family Will Love!
Sight and Sound Theater Branson, MO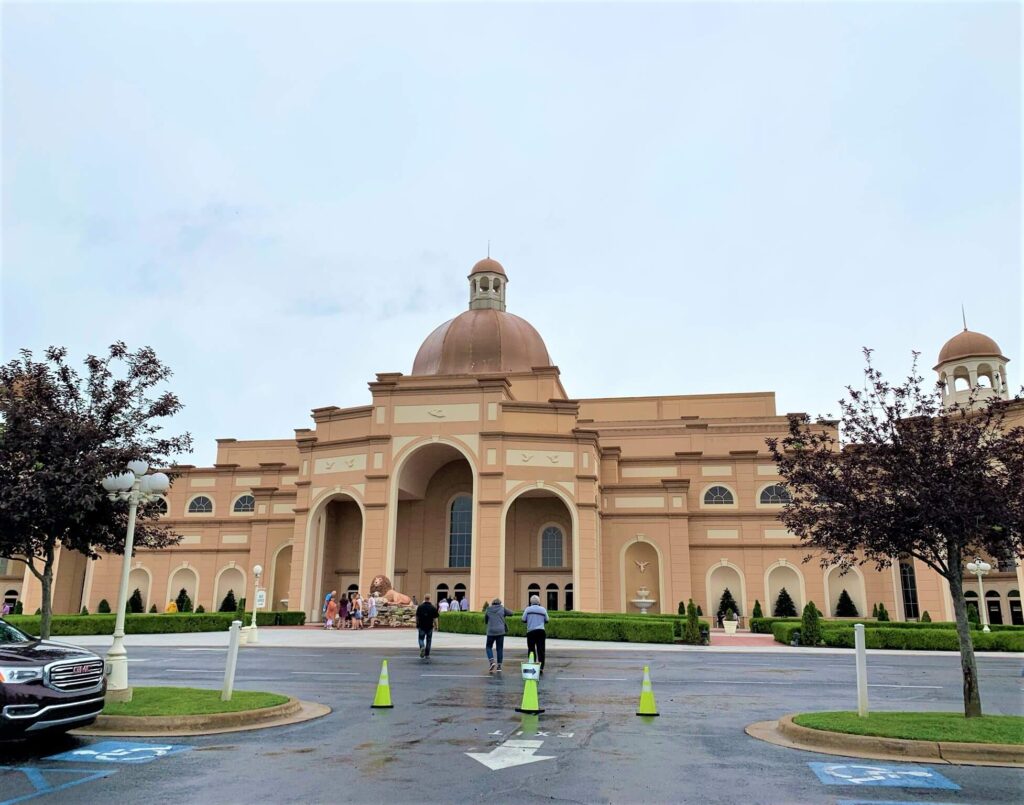 My parents have seen ALL the productions at Sight and Sound Theatres in Branson, Missouri. So when we were planning a family road trip to Branson, one of the top things they wanted to do was to see the production of Jesus at Sight and Sound Theatre.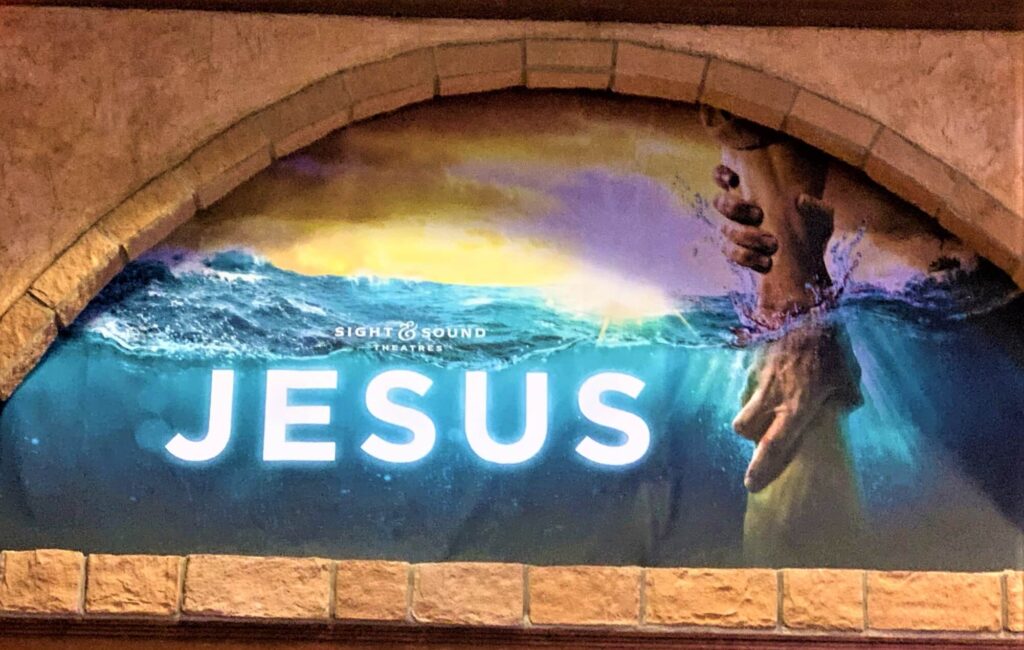 Pro-Tip: Purchase your Sight and Sound Theatres tickets early! Tickets almost always sell out! However, if you decide to see a show at the last minute, go to the Box Office where tickets may have been turned in or canceled. You might get lucky and snag a ticket or two!
Sight and Sound Theater Branson Past Shows
Noah 2008-2011, 2020
Miracle of Christmas 2008-2011, 2013, 2017, 2019, 2022
Joseph 2012-2013
Jonah 2014-2015
Moses 2016-2017
Samson 2018-2019
Jesus 2021-2022
Sight and Sound Branson 2023 Schedule
Queen Esther 2023
The $60+ million-dollar Sight and Sound Theater in Branson is massive. Set on the highest hill in Branson, the 339,000-square-foot Sight and Sound Theatre is the largest building in Branson.
The theater is so impressive, Williams Construction was awarded the American Buildings Company 2007 Excellence in Design Building of the Year.
Visiting Sight and Sound Theatre Branson, MO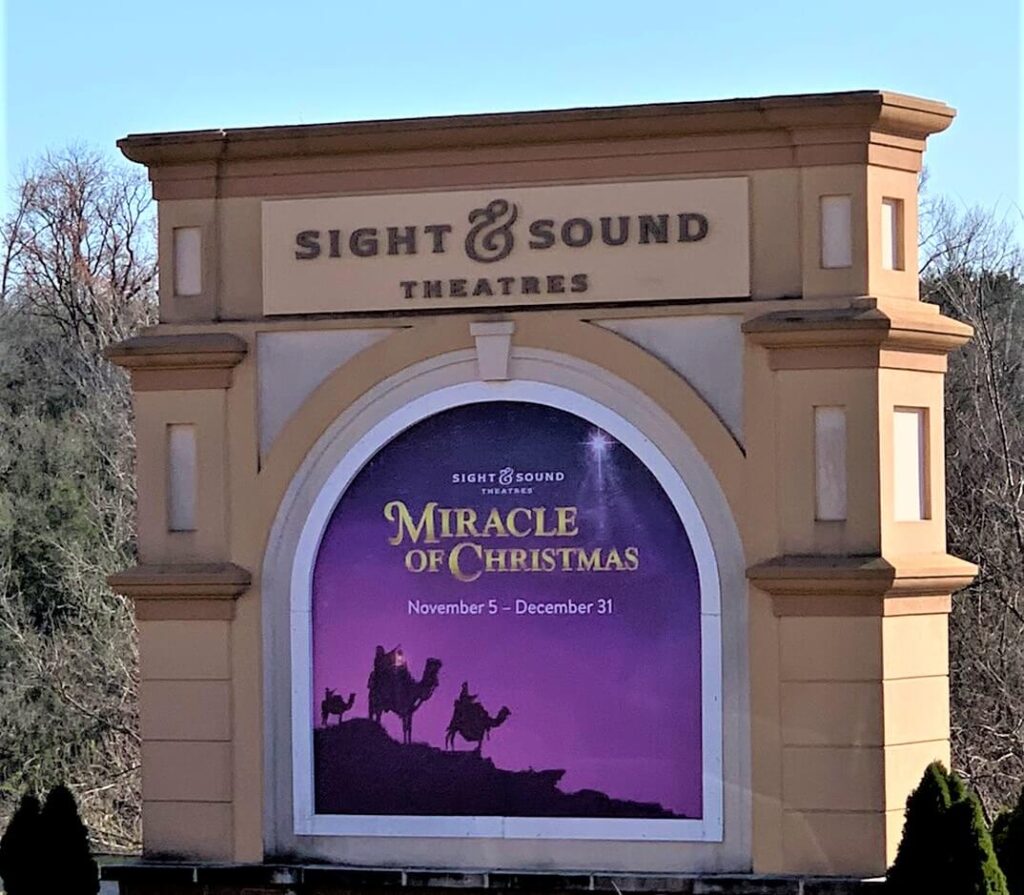 We planned to visit Branson in early June and purchased our tickets for the show Jesus in February. Even booking that far in advance, more than half of the 2,000 seats had been sold!
The theater sits on almost 50 acres in Branson, so parking was not a problem. As you drive up the long driveway and the theater comes into view, it is indeed impressive!
In front of the theater stands a statue and waterfall of a Lion and Lamb. The perfect spot to take a photo!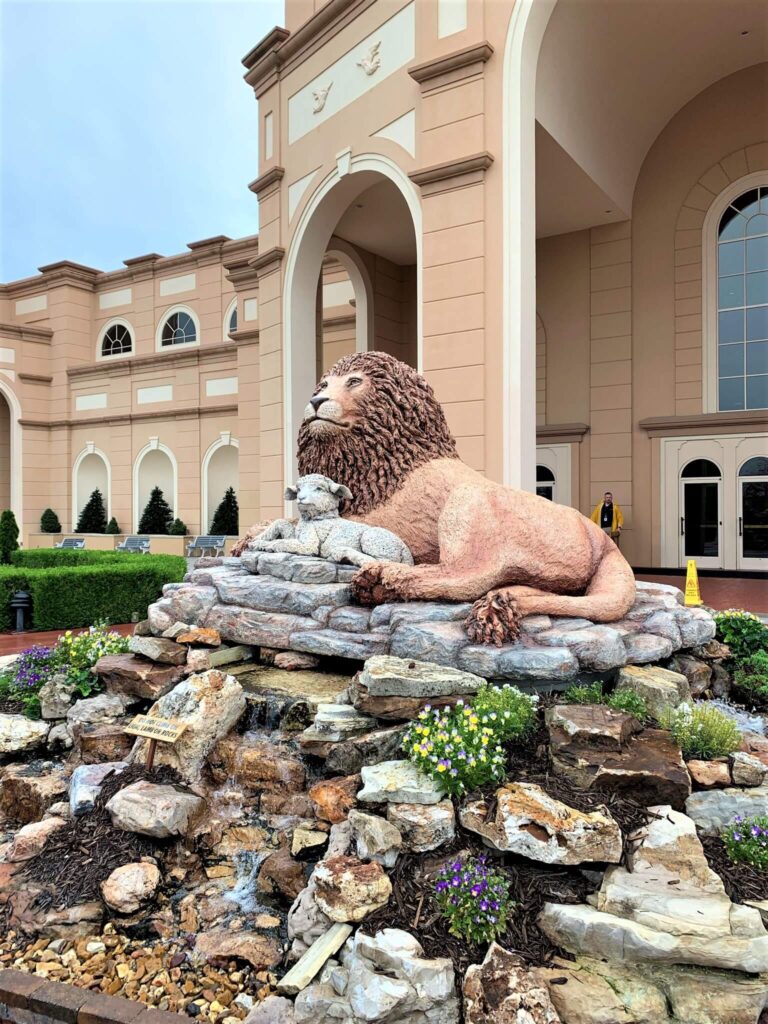 Inside the lobby are shops selling memorabilia and concession stands serving sandwiches, snacks, and beverages. One thing I can highly recommend is the delicious roasted almonds!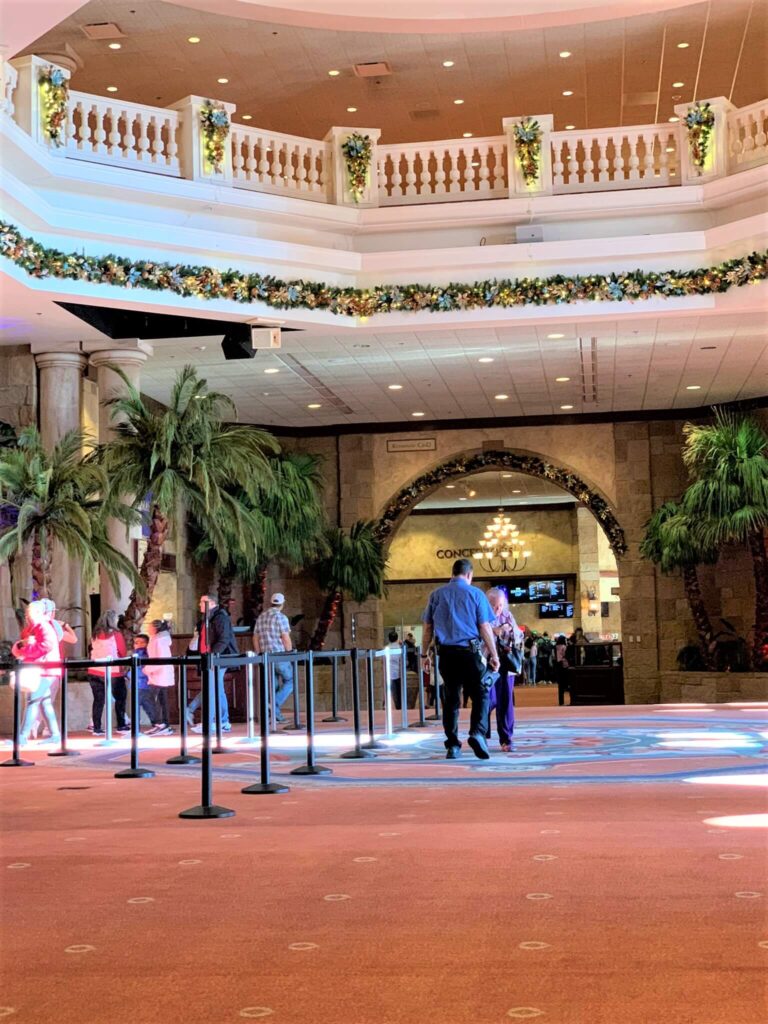 Once the show begins, there is no photography or filming. They do enforce this policy as I saw an usher come down the aisle a few times to tell people to stop taking videos.
Sight and Sound shows are 2.5 hours long and include a 15-minute intermission.
It takes 42 months to produce a new show from concept to opening day. Most new shows premiere in Lancaster, then they are packed and shipped to Branson.
It takes six months and roughly 50 tractor-trailers to move a show from one location to the other.
Both sites have their own animal care facilities where the animals live, train, and enjoy the outdoors. Animals you might see used in the productions include:
Horses
Dogs
Cats
Sheep
Llamas
Camels
Cattle
Donkeys
Pigs
Goats
Skunks
Macaws
Rabbits
Alpacas
At the Branson theater, live animals are housed and trained in two basements of the building, and cast and crew members use underground passageways to bring the animals into the theater from various entrances.
Thoughts About Sight And Sound Theatres Branson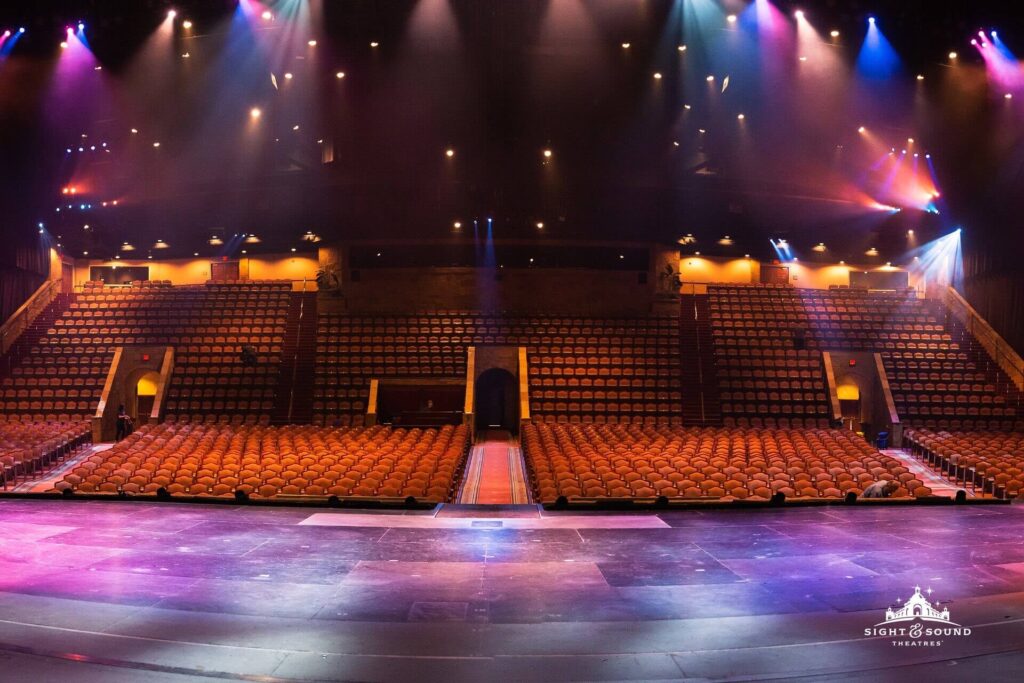 Not only is the entire building impressive, but we were also amazed at how the sets moved on stage, especially how they depicted boats moving in the water during the production of Jesus.
Also impressive were the high-resolution LED screens lit by two million watts and the sounds produced by more than 70 surround sound speakers.
And while you're enjoying the show – don't forget to look up!
A stage fly loft allows performers to soar 110 feet in the air flying from the back of the theater to the main stage and back. A catwalk system over the main stage uses more than 200 trusses allowing actors to enter and exit high above the stage.
We enjoyed the production of Jesus so much that we returned to Branson to see the Sight and Sound Christmas show – The Miracle of Christmas.
During Christmas, the Lion and Lamb statues are covered by an enormous Christmas tree! It makes a great backdrop for your Christmas card photo!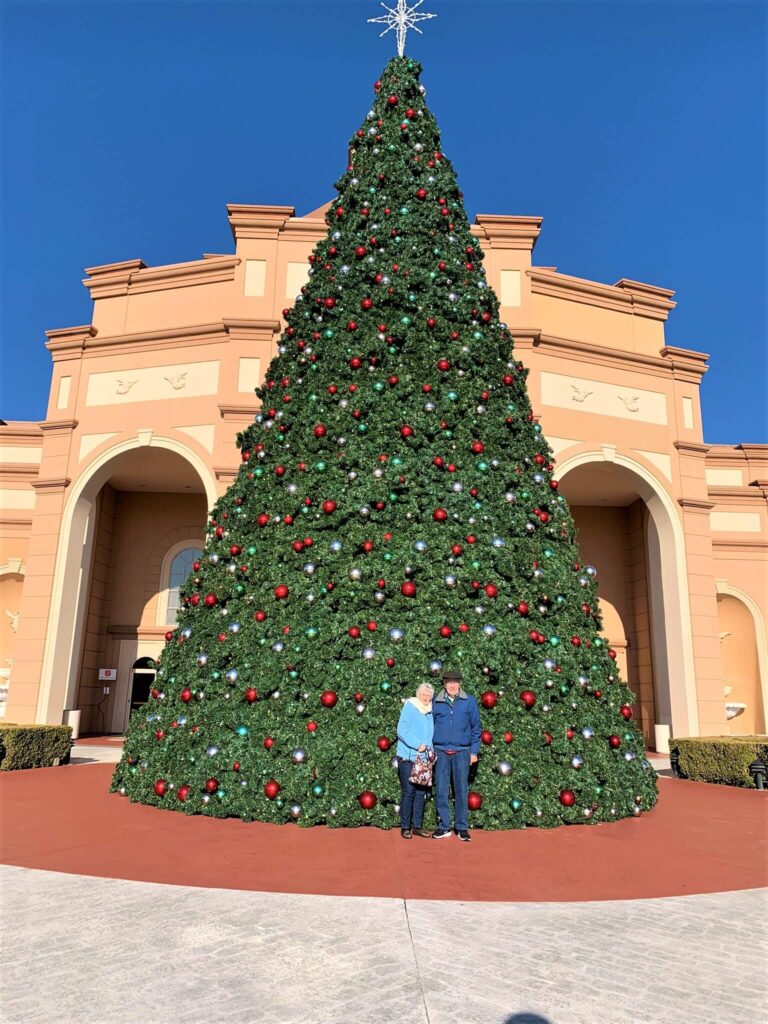 Plus the Christmas tree is beautiful at night as well!
Important Information To Know About Sight And Sound Theatres
Sight & Sound Theatres – Lancaster, Pennsylvania
Address: 300 Hartman Bridge Road, Ronks, PA 17572
(800) 377-1277 (M-F 8:30 am – 6:00 pm ET)
Sight & Sound Theatres Tickets – Lancaster, PA
Adults: M-TH shows $74; Friday $84; Sat. $89
Child (ages 3-12): M-Sat $39
Sight and Sound Theatres Ticket prices are subject to change.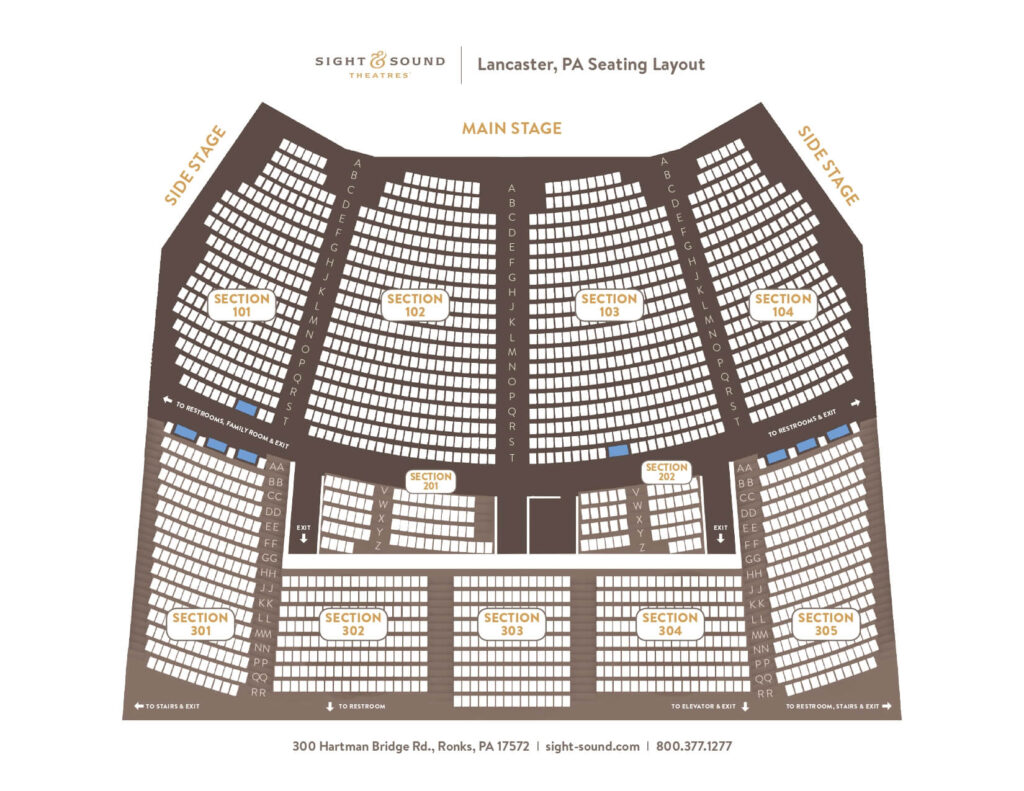 Sight and Sound Theatres Show Times – Lancaster, PA
Shows are from March – October.
No shows on Sundays or Mondays.
The number of shows varies from 1-3 shows per day, with times ranging from the morning, afternoon, and evening.
Check the Sight and Sound Theatres website for dates and times and to purchase your tickets.
Sight & Sound Theatres – Branson, Missouri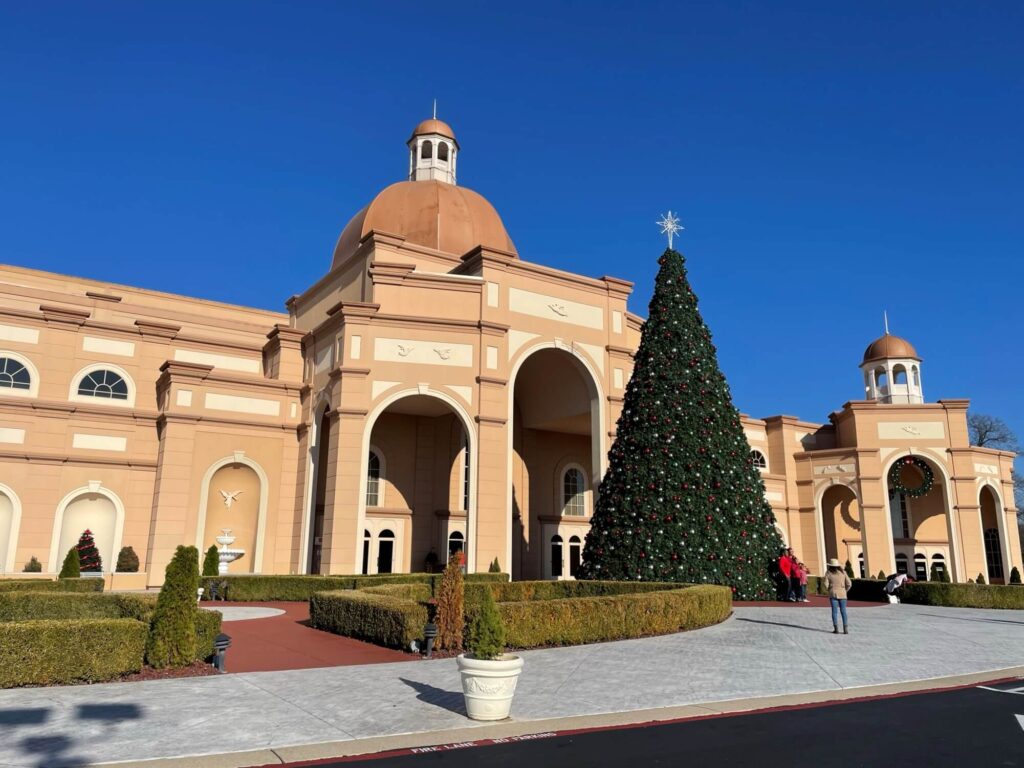 Address: 1001 Shepard of the Hills Expressway, Branson, MO 65616
(800) 377-1277 (M-F 7:30 am – 5:00 pm CT)
Sight & Sound Theatres Tickets – Branson
Adults: M-F shows $59; Sat. $64
Child (ages 3-12) M-Sat $29
Sight and Sound Theatres Ticket prices are subject to change.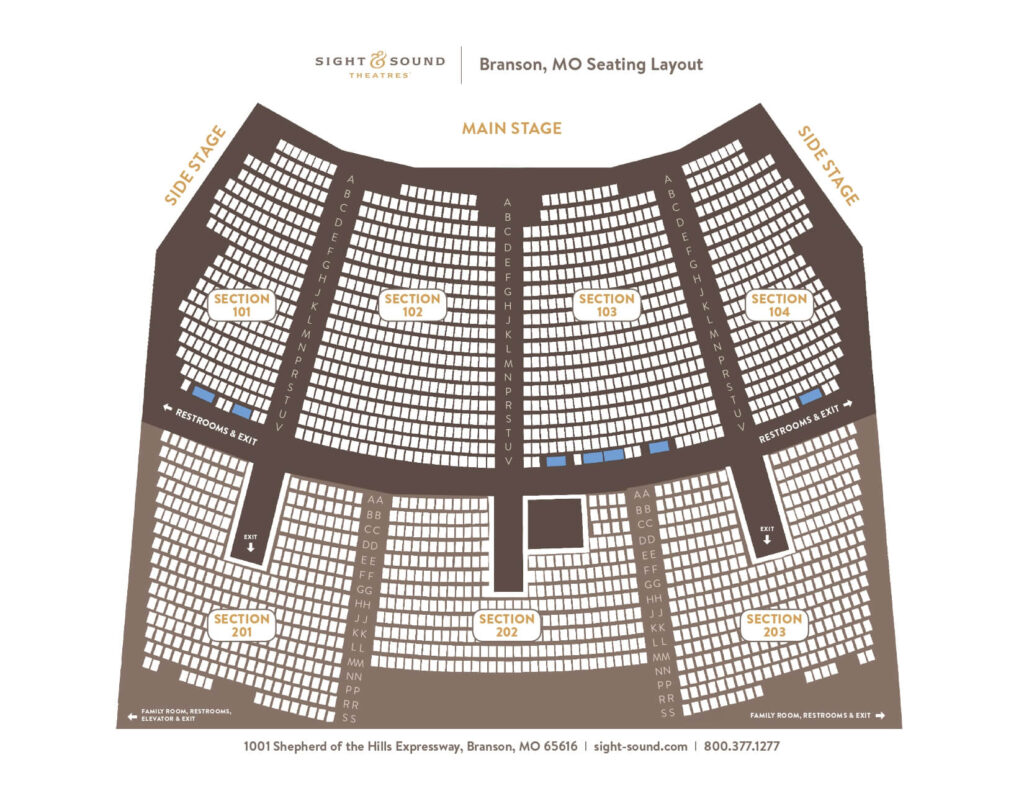 Sight and Sound Theatres Show Times – Branson, MO
Shows are from March – October.
No shows on Sundays or Mondays and some holiday breaks.
The number of shows varies from 1-3 shows per day, with times ranging from the morning, afternoon, and evening.

Check the Sight and Sound Theatres website for dates and times and to purchase your tickets.
Dress Code: There is no dress code.
Refund Policy: All sales are final within 30 days of the show date. There are no refunds or exchanges on tickets within 30 days of the show date. Certain offers may be final sale at the time of purchase.
Sight And Sound Theatres Conclusion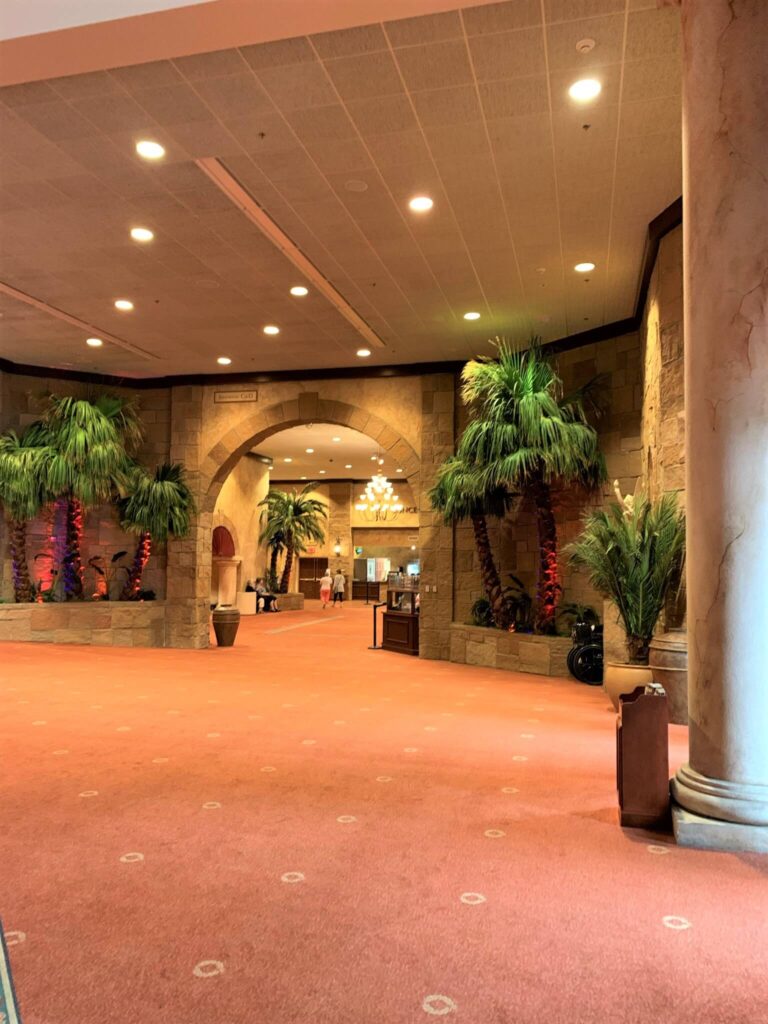 Sight & Sound Theatres shows are amazing! You won't be disappointed in seeing any of the shows at either location. There is something special about seeing Bible stories come to life on stage that you won't see or experience anywhere else!
More Posts On Things To Do In Branson
Take A Dinner Cruise On The Showboat Branson Belle
Top of the Rock Branson Golf Cart Cave Tour
19+ Top Things To Do In Branson