Last Updated on July 10, 2021 by Lori
I have been a fan of the Pioneer Woman, Ree Drummond for years. I've watched her cooking show on the Food Network® since her children were very young. I own many of her cookbooks, and have made many of the Pioneer Women's recipes, especially her Pot Pie recipe which is one of my family's favorites! Plus, I love the segments of the show where the kids and her husband, Ladd, are working their ranch.
When my parents asked me to fly from New York to Kansas and help them drive to Texas to visit my brother, I knew we would be traveling through Oklahoma…which meant, that we would be driving right by the turnoff to Pawhuska, Oklahoma, the home of the Pioneer Woman's Ranch, Mercantile and Lodge!
My mind began to race…could I convince my parents to take a detour to visit the Pioneer Woman Mercantile? I immediately began looking up the hours to the Mercantile and saw that there were FREE tours of Drummond Family Lodge, their guest house and production location for Ree's Food Network show on the exact days that we were traveling back to Kansas. Did I have a chance they would say "YES"?
To my surprise, my mom brought it up first. Many of her friends had taken the drive from their hometown in Kansas to see the Pioneer Woman's Mercantile. Some had even stayed in the cottages – but none had mentioned they had been to the Drummond Family Guest Lodge for a tour. We HAD to go!
Best Things See At The Pioneer Woman Mercantile and Lodge
What can you see and do at the Mercantile and Lodge? Well, for one, you can eat one of the best meals you've ever had at the restaurant, shop all of the Pioneer Women items and if you snag tickets to the Lodge, you can sit on the large porch overlooking the Oklahoma "frontier" as Rhee says, and take in the views for miles!
Here are 7 Tips to help you plan a fun trip to the Pioneer Woman Mercantile and how to get tickets to drive out to see the Lodge so you can enjoy this awesome place!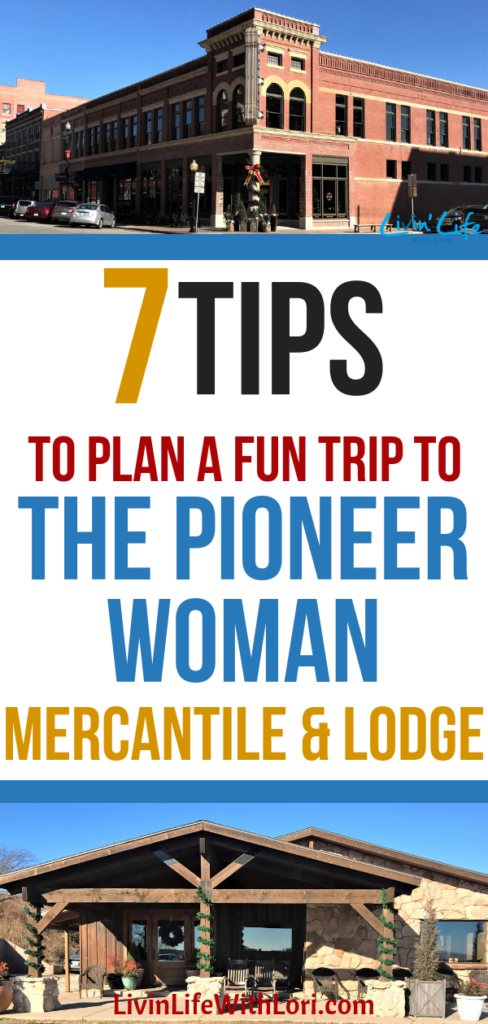 This post contains some affiliate links for your convenience which means that if you click on a link and make a purchase I will earn a commission at no additional cost to you. Please read my Disclosure Policy for more information.
Where Is The Pioneer Woman Mercantile Located
The Pioneer Woman Mercantile is located in Pawhuska, Oklahoma. If traveling from Tulsa, Oklahoma, it is about 71 miles (or 1 1/2 hours) traveling through Bartlesville.
Since we were traveling from Dallas, we took US 35 to Hwy 60. It was a beautiful day as we drove the 57 miles east on Highway 60 towards the small town of Pawhuska, Oklahoma.
I couldn't wait to see the Mercantile and hoped the line to eat in the Mercantile Restaurant wouldn't be too long. I had read and heard many stories about how long the lines could be – even running down the street to get into the Mercantile!
As we drove through town, I was so happy to see that there was no line coming out the door.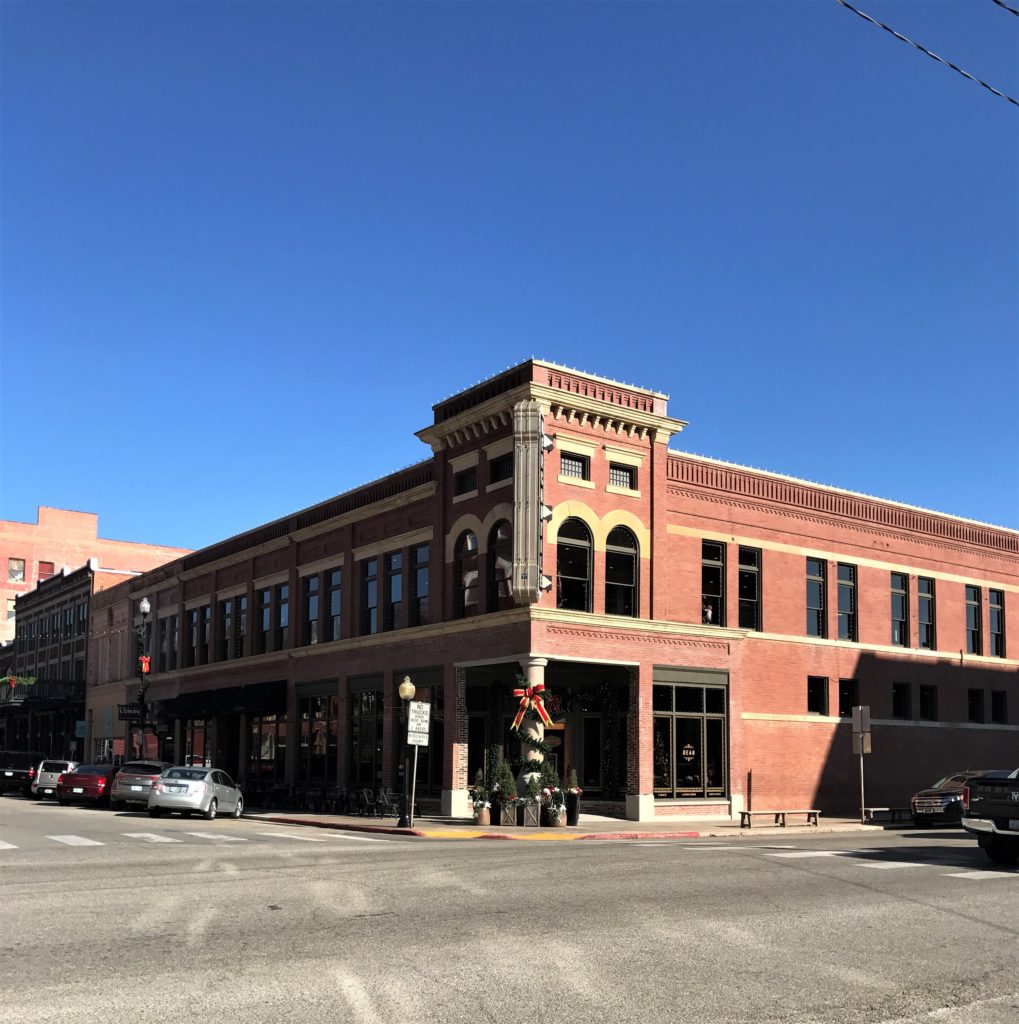 Best Tips For Your Trip To The Pioneer Woman Mercantile
Tip #1. There is Free Municipal Parking in Pawhaska, OK
You couldn't miss the Mercantile building on the corner of Main Street. I saw that there was free Municipal parking so I turned down the side street to the parking lot.
There were plenty of spaces available on this Monday morning in December. We had left Dallas at 6 a.m. hoping that we would miss the breakfast crowd and be in time for the early lunch crowd and not have to wait in line 2.5+ hours outside that I had read about online.
We were in luck! No lines that we could see outside the building!
Tip #2. Pioneer Woman Mercantile Hours
The Pioneer Woman Mercantile is open daily 7 am to 7 pm and on Friday and Saturday's until 8 pm. They are closed on Sundays so be sure to remember this when planning your trip!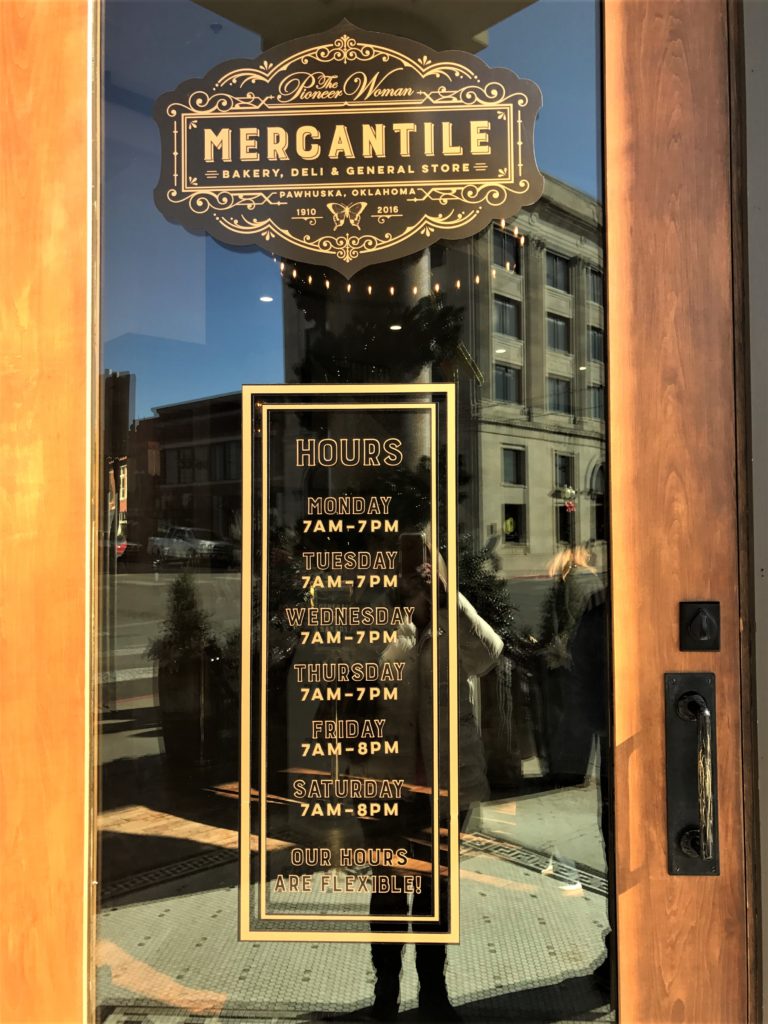 As I entered the Mercantile…I couldn't believe my eyes!
There he was…As Ree calls him…her Marlborough Man!! Ladd, Ree Drummond's husband, was in the Mercantile and had stopped for photos with some of the guests!
I said to my mom, "There he is!"
To which she replied, "Who is he?"
I took off to be next in line for a photo. Luckily, my mom followed and took our picture!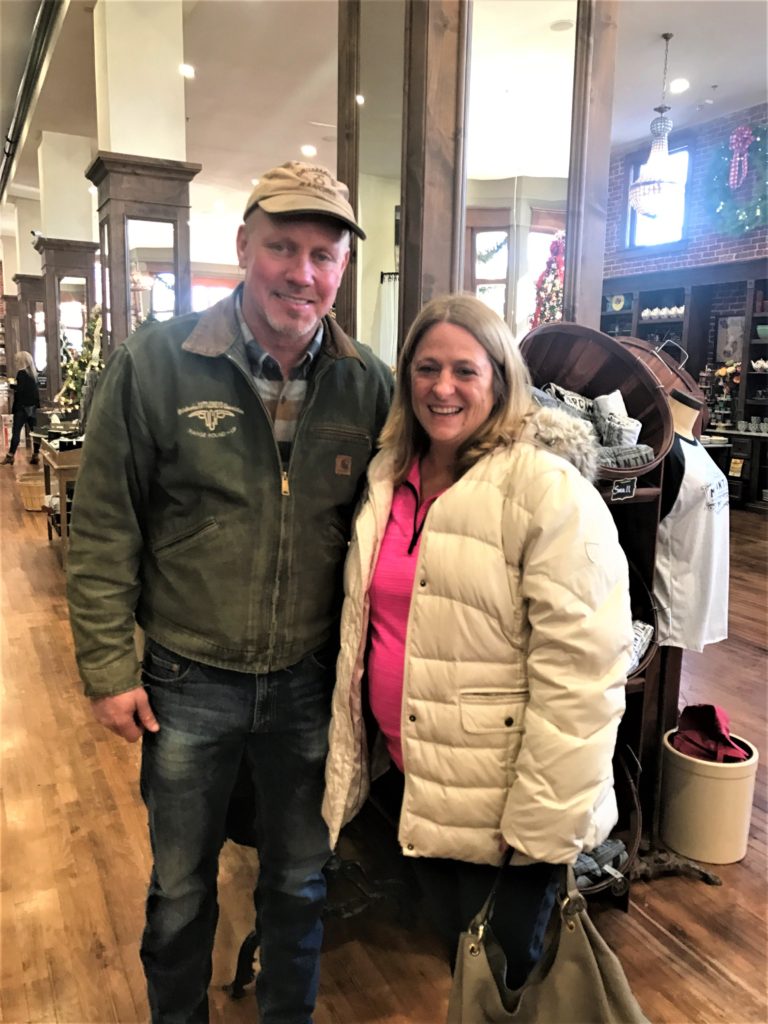 This made my day!
After my picture with Ladd, we had a chance to look around. But first, I wanted to be sure to get our name in for a table at the restaurant. I could see the people sitting and eating in the restaurant, but where was the entrance?
Pioneer Woman Mercantile Restaurant
Tip #3. Entrance To The Restaurant
The restaurant has its own separate outside entrance. You can walk through the eating area in the Mercantile to get to the front of the restaurant, but we opted to walk outside and down the sidewalk the short distance to the restaurant entrance.
As we walked in, we were hoping the wait wouldn't be too long. I have heard that the line to get a table in the restaurant can be around the block!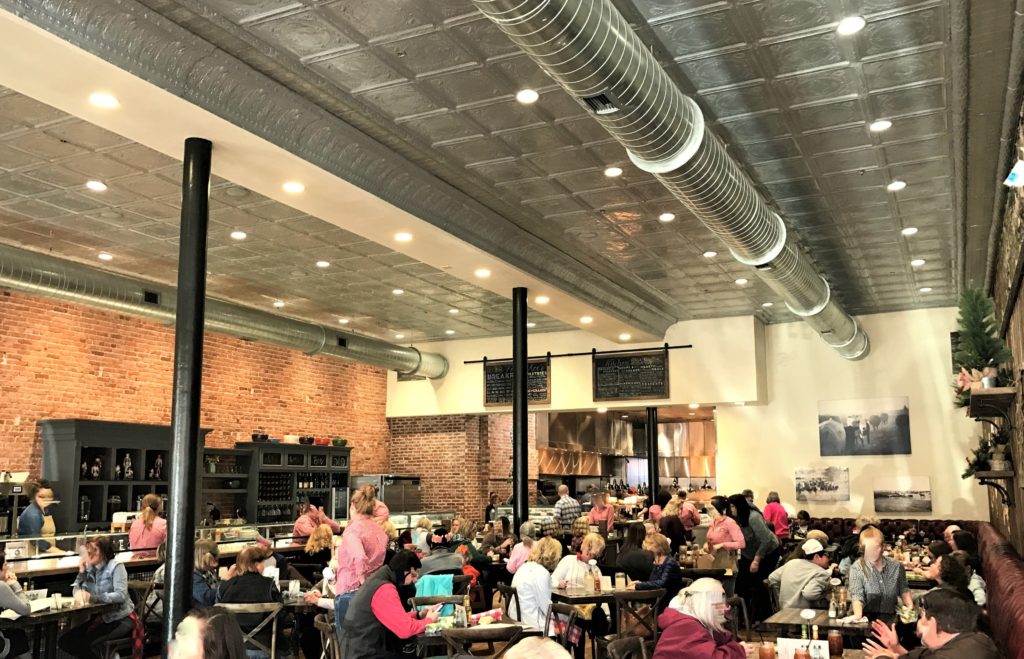 The man said it would only be a half hour and asked for my cell phone number.
Tip #4. Have your cell phone handy!
You immediately receive a text message telling you the time you checked in to the restaurant and the approximate time your table will be ready.
Then, when your table is ready, they send you a text message.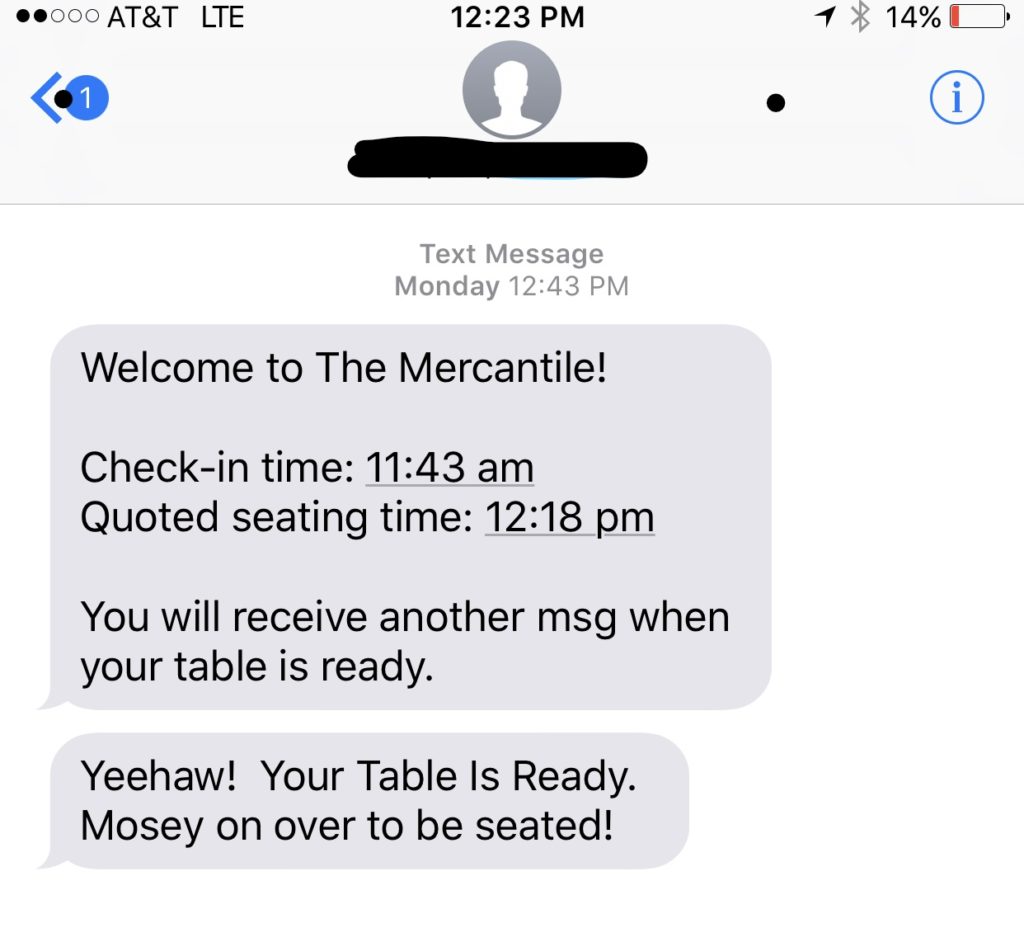 This is a great marketing strategy because of course, you will then go back into the Mercantile to shop!
Not 15 minutes later, I received a text that our table was ready.
When my mom sat down, she noticed a woman sitting next to us with a delicious-looking drink! She told the waitress, "I want one of those!"
CowGirl Coffee at the Pioneer Woman Mercantile Restaurant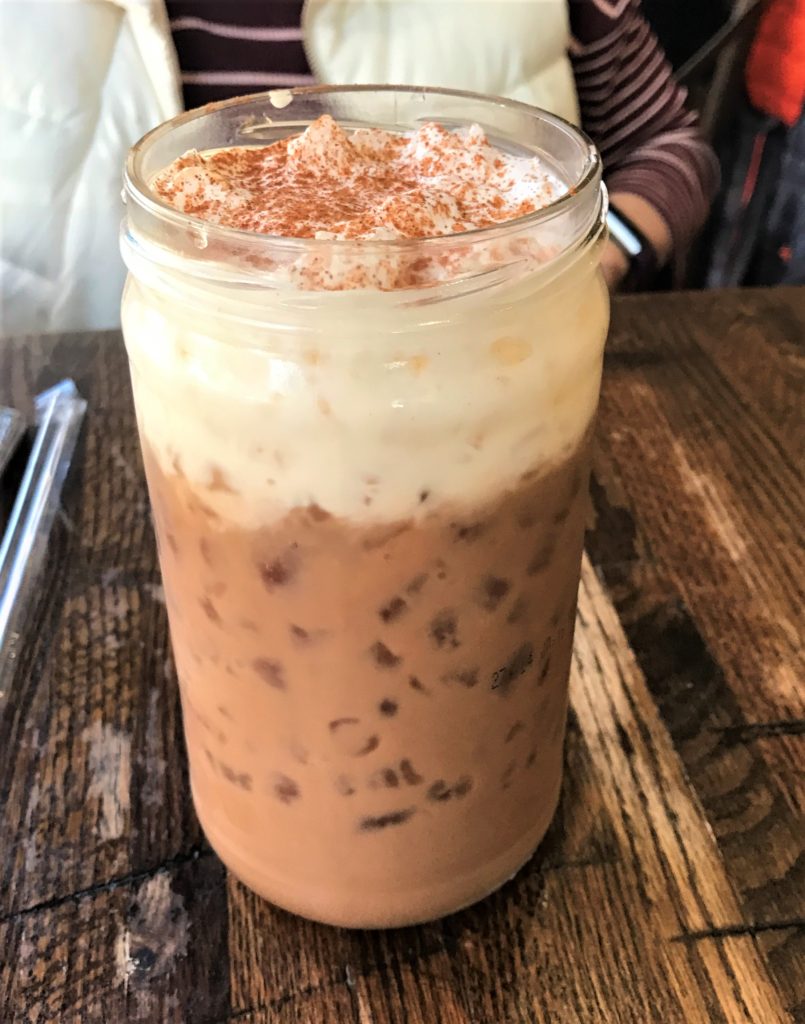 The Cowgirl Coffee was topped with whipped cream, Cinnamon and Cayenne Pepper!
The waitress told my mom exactly how to drink it: Don't put the straw in first…sip it to get all the whipped cream and coffee together…then put the straw in.
While the CowGirl Coffee was delicious, on the first sip, my mom got a taste of the Cayenne Pepper and boy did she cough!
But she said after that initial shock of the spiciness and sweetness – it was So Good!
My dad chose the Turkey Bacon Club sandwich with fries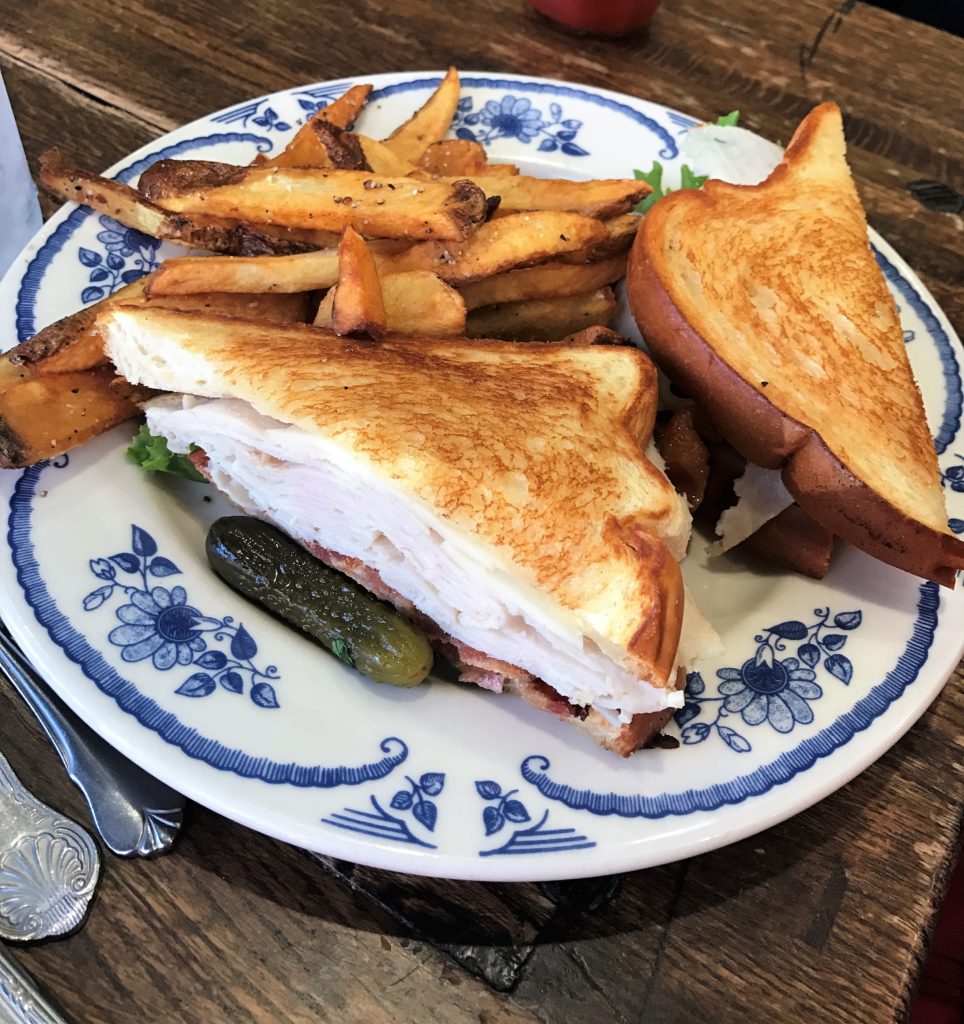 My mom had the Homemade Chicken Noodle Soup
I chose the Ranch Hand Sandwich with fries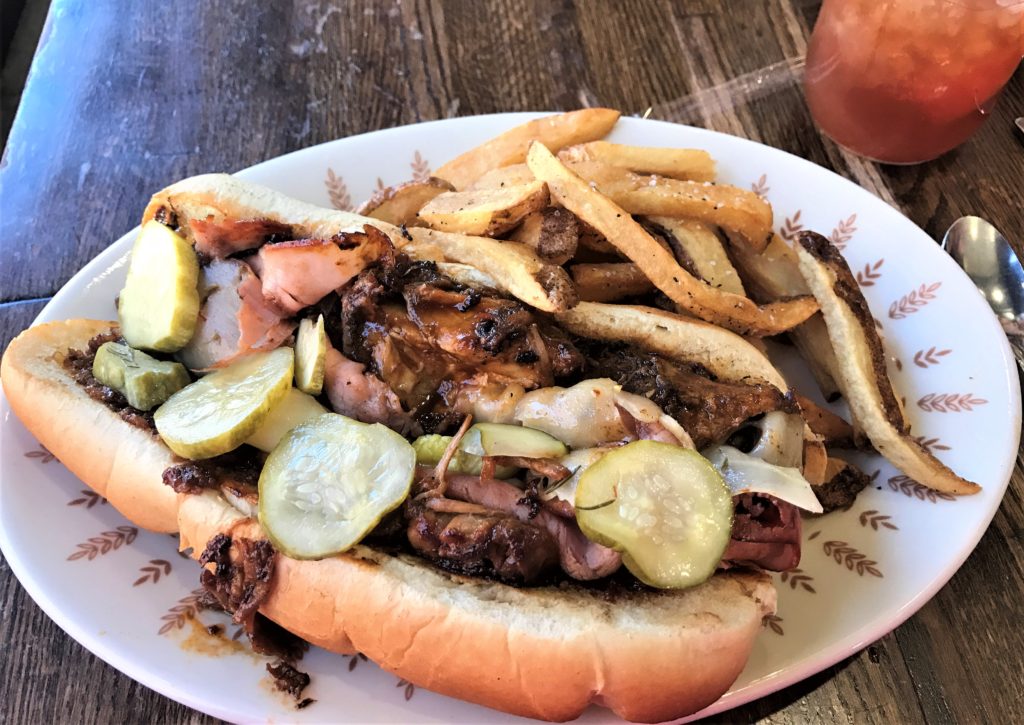 Everything was very delicious!
Tip #5. There are two floors of the Mercantile
The first floor is the store, restaurant, and deli which has a grab-and-go menu. The second floor has a large sitting area to relax with your coffee & bakery goods!
After we ate, we headed upstairs to check out the Coffee Shop & Bakery. The day we were there, they were selling Cookies To Decorate for the kids. There were plenty of tables to sit down to have a cup of coffee or bakery good.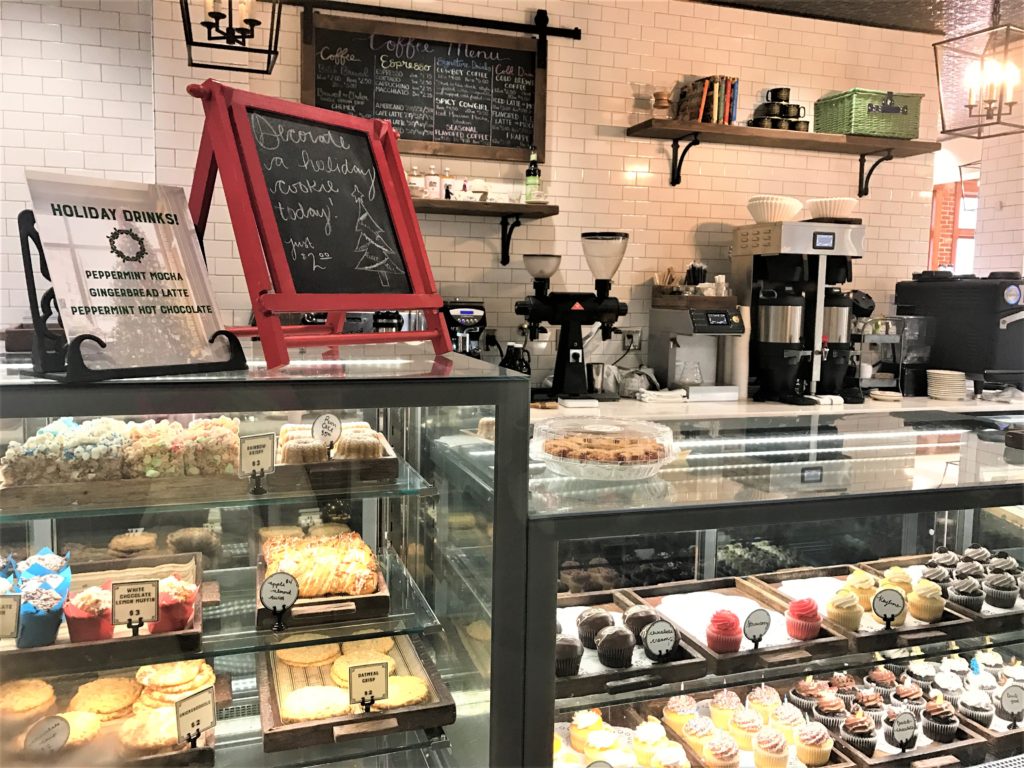 There is even a candy selection area where they make their own homemade candy.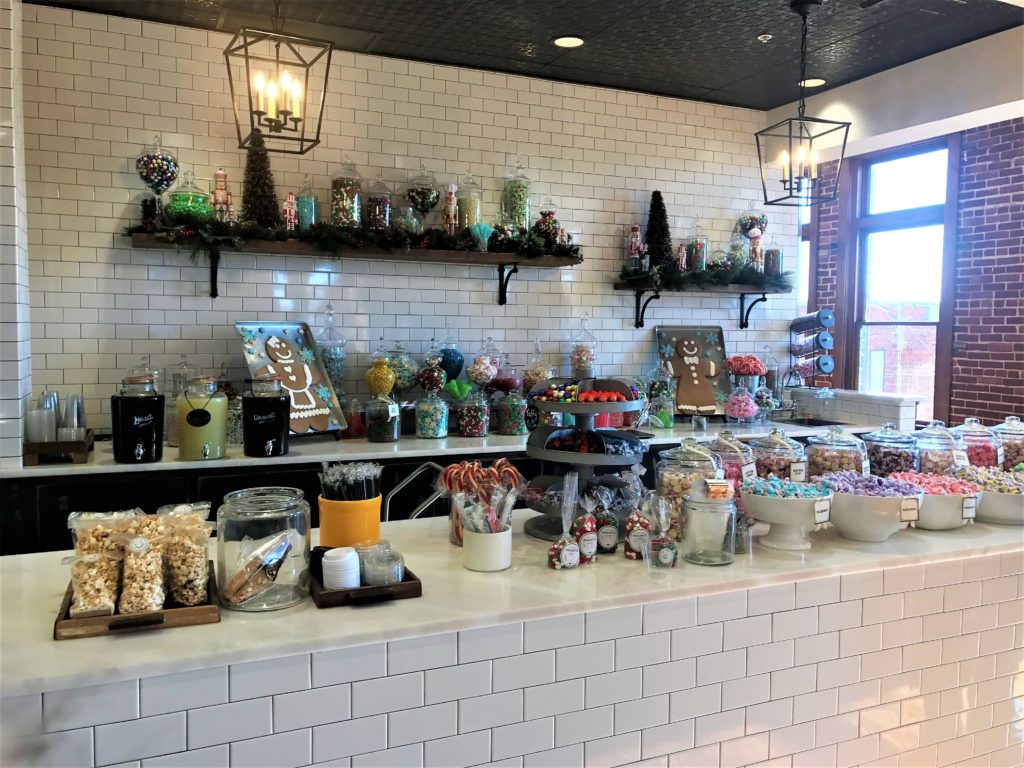 The Mercantile was all decorated for Christmas! I loved looking at everything!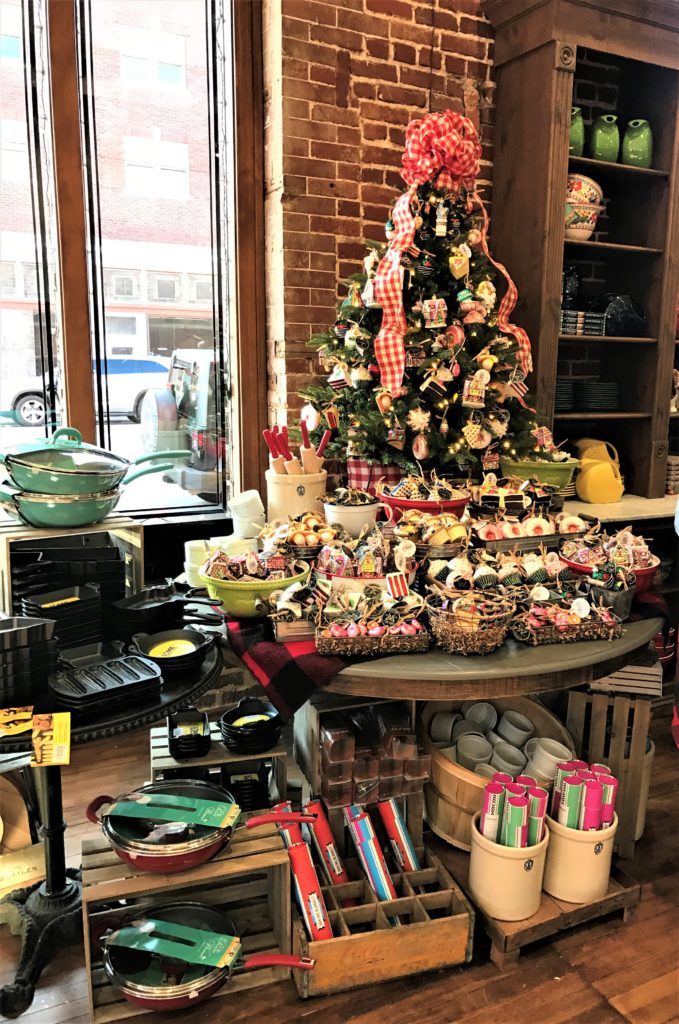 The store had everything from Christmas ornaments to the Pioneer Women Cookware, the Pioneer Women dishes, and Pioneer Women pots & pans.
One of my favorite things that I own from the Pioneer Woman is her cookbook – The Pioneer Woman Cooks. It's one of my favorite cookbooks that I refer to often for her recipes!
For Christmas, my daughter surprised me with this 20 Piece Gadget Set! I was so excited! I absolutely love everything this set comes with! I think my favorite item is the travel mug!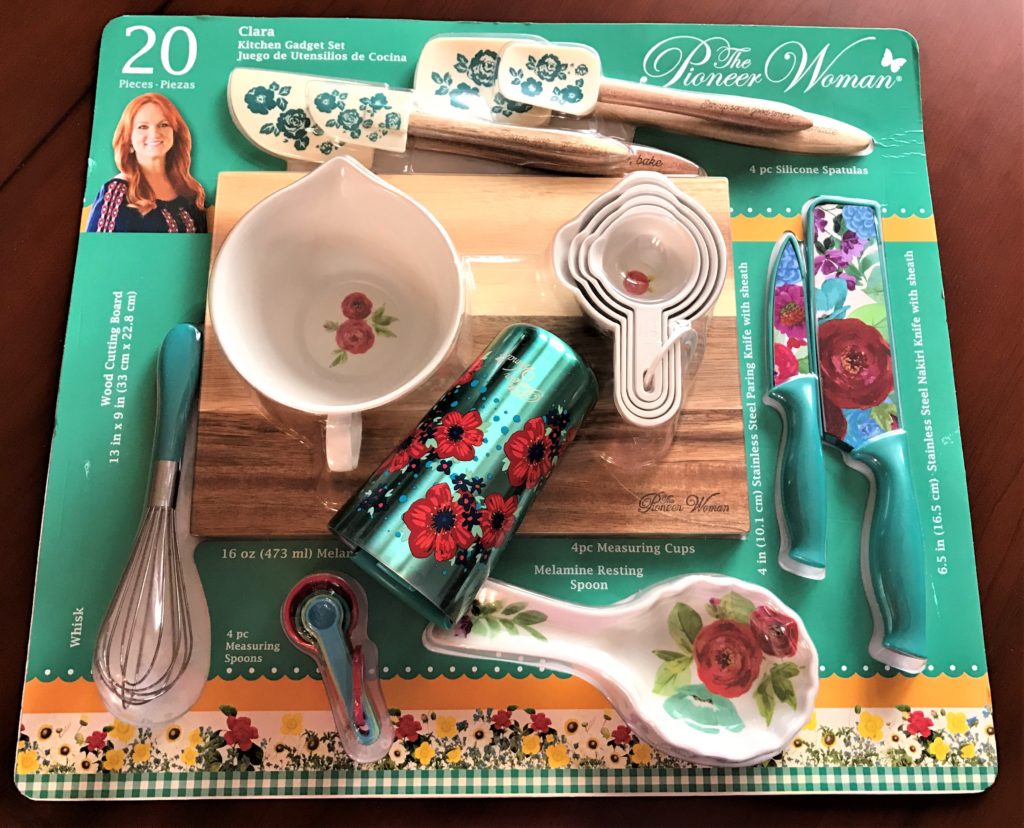 Since our trip to the Mercantile, I have added even more Pioneer Woman pieces to my collection such as the mini-utensil holder, sugar, creamer, salt & pepper shakers, and these"mini pie plates" that are perfect for ice cream – not to little and not too much!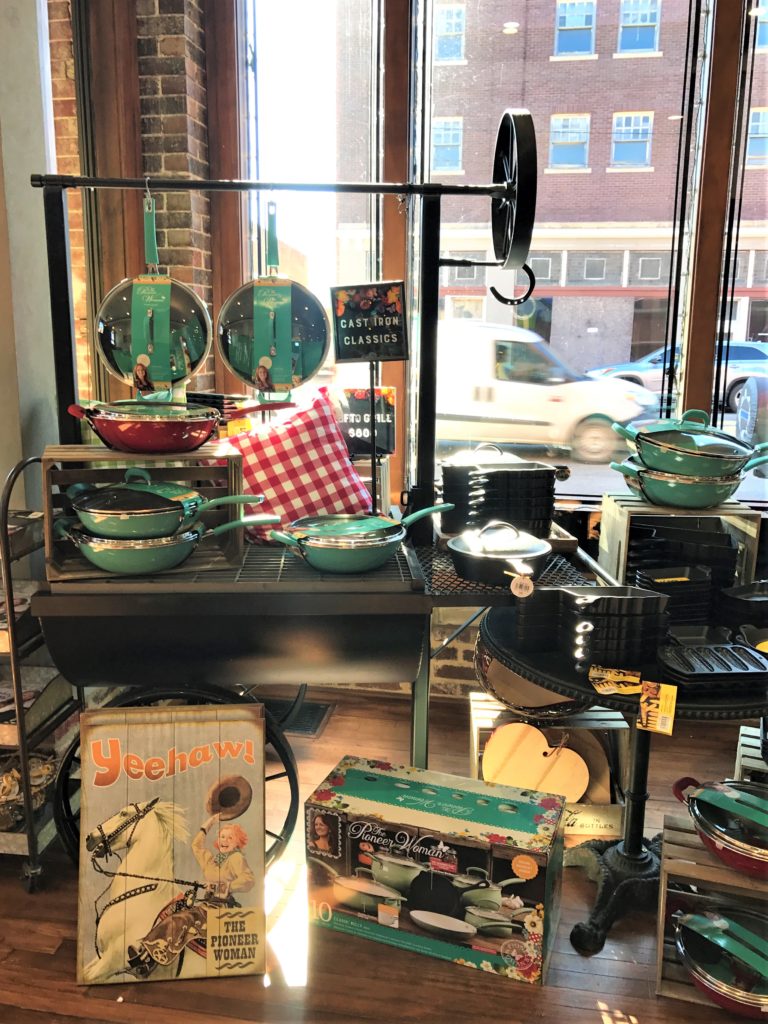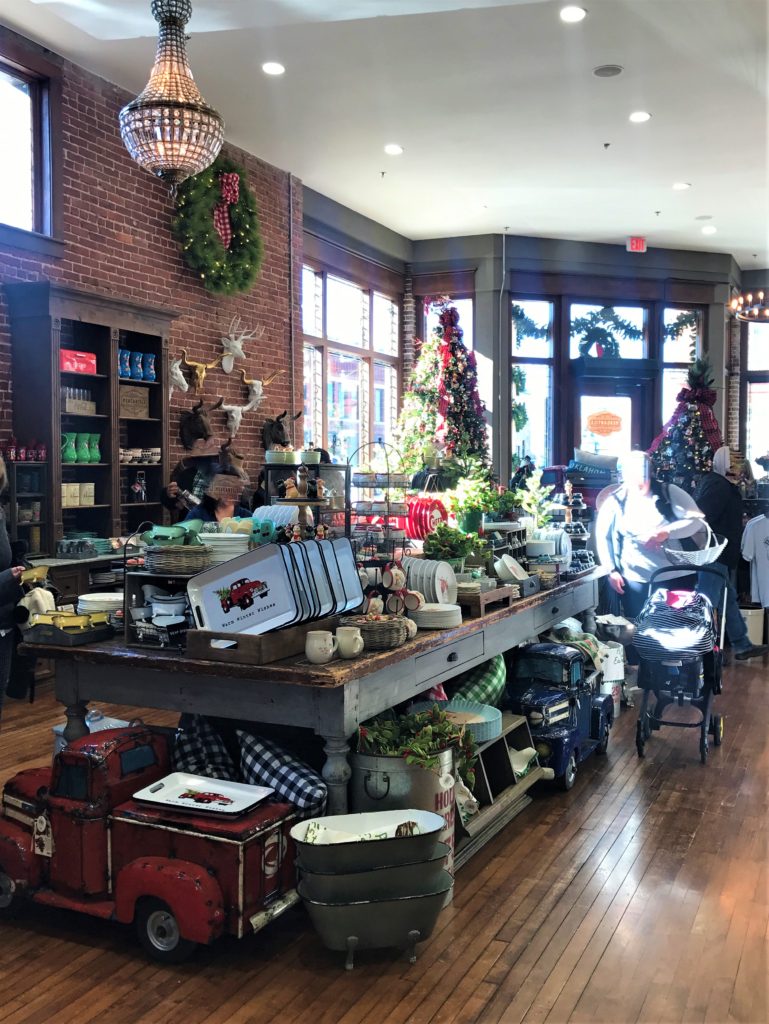 The Mercantile had a lot to see. Honestly, you could spend hours there – it was a lot to take in.
They conveniently had cute wire baskets to you could easily shop. There was a gift wrapping station too!
I loved how everything was laid out. I read that when the Mercantile is closed on Sundays, Ree goes inside to plan and layout the displays of Pioneer Woman Merchandise while it's nice and quiet.
Everywhere you looked – there was something cute to admire.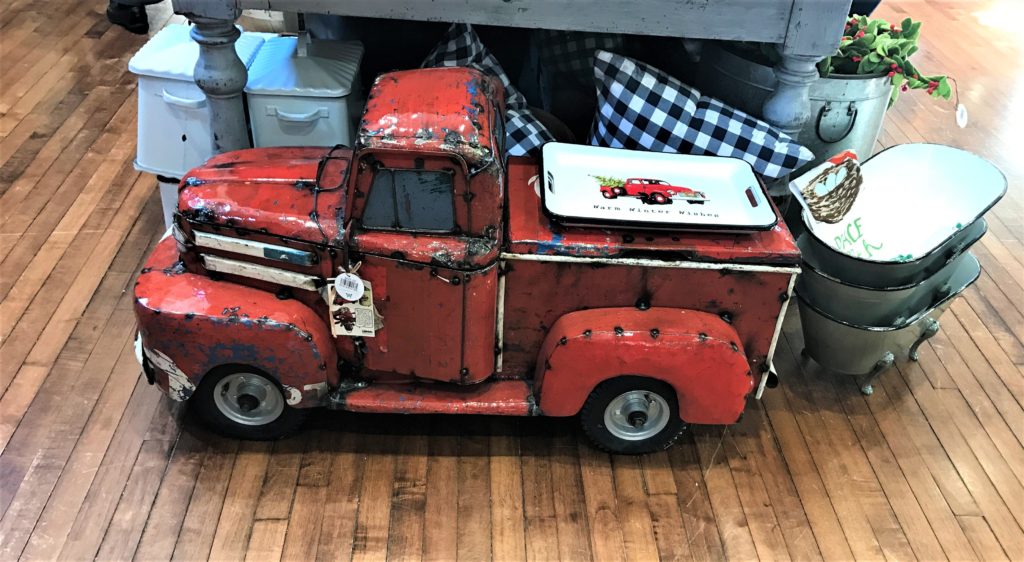 Pioneer Woman Lodge Tour
Tip #6. Did you know that you could visit and take a free tour of the Pioneer Woman's Lodge where she films her Food Network show?
When we were planning our trip, we initially thought we would visit on our drive down to Dallas, but when I saw that tours of the Lodge were being offered on the days we were planning to travel back to Kansas, we quickly changed our plans and we are so glad that we did!
It was a beautiful day to drive to the Pioneer Woman's Lodge.
Lodge Tickets are given to you at the Mercantile. Directions to the Lodge are not published on the website but are on the sheet of paper given to you as your ticket. There is one (1) ticket per carload.
We asked our waitress in the Mercantile Restaurant where we could get our tickets to visit the Lodge. She quickly said, "I'll be happy to get that for you!" and came back with our ticket and directions.
The Lodge is approximately a 1/2 hour drive from Pawhuska. On the way to the Lodge, you will see the entrance to the Drummond Ranch. I have seen this shot many times on her show – but it's not how you get to the Lodge.
I told my dad to slow down so I could snap this photo!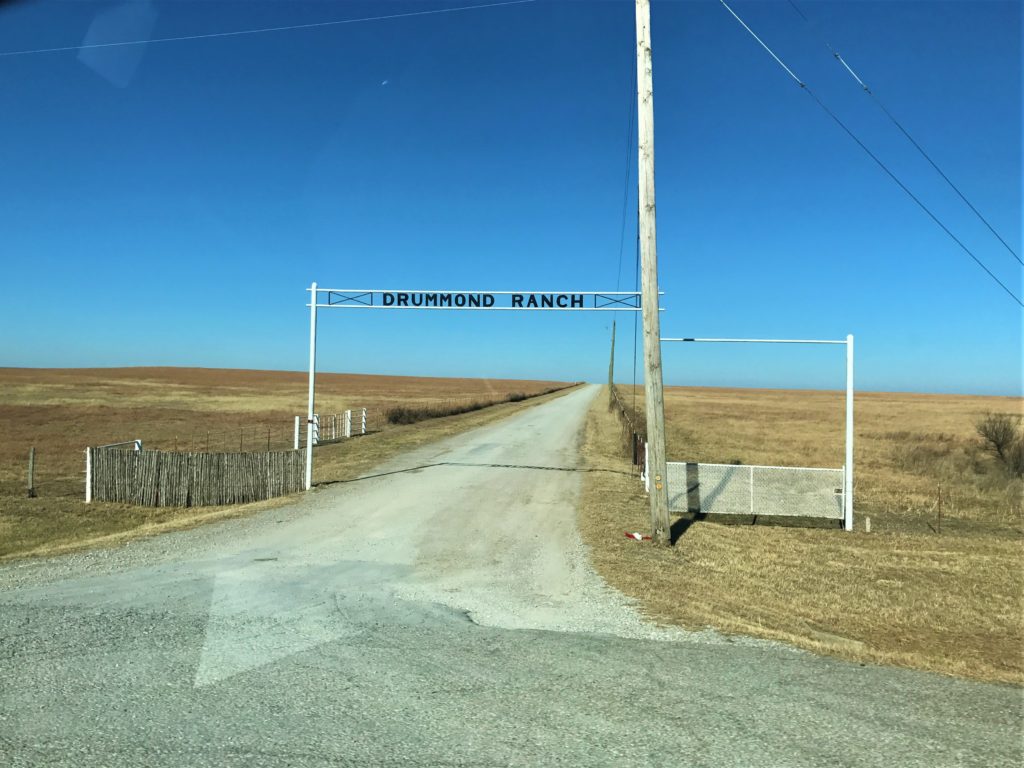 Once you leave the highway to get to the Lodge, you will be driving on gravel roads and you will also be crossing a cattle crossing! If you've never driven on a gravel road, you might be a little intimidated.
Just a word of advice…be sure to stay on your side of the road! Especially when you're coming over a hill!
It's a good thing my dad has been driving on gravel roads his whole life because we had to make room for a few cars driving down the middle of the road!
Even though I have watched the Pioneer Woman's television show many times and have seen them drive "up to the Lodge," I was surprised by the sharp turn you need to make before driving up to the Lodge.
I had in my mind that it was a long driveway (or lane as we called it growing up) to the house; however, after you make the turn it's a short driveway leading to the Lodge entrance.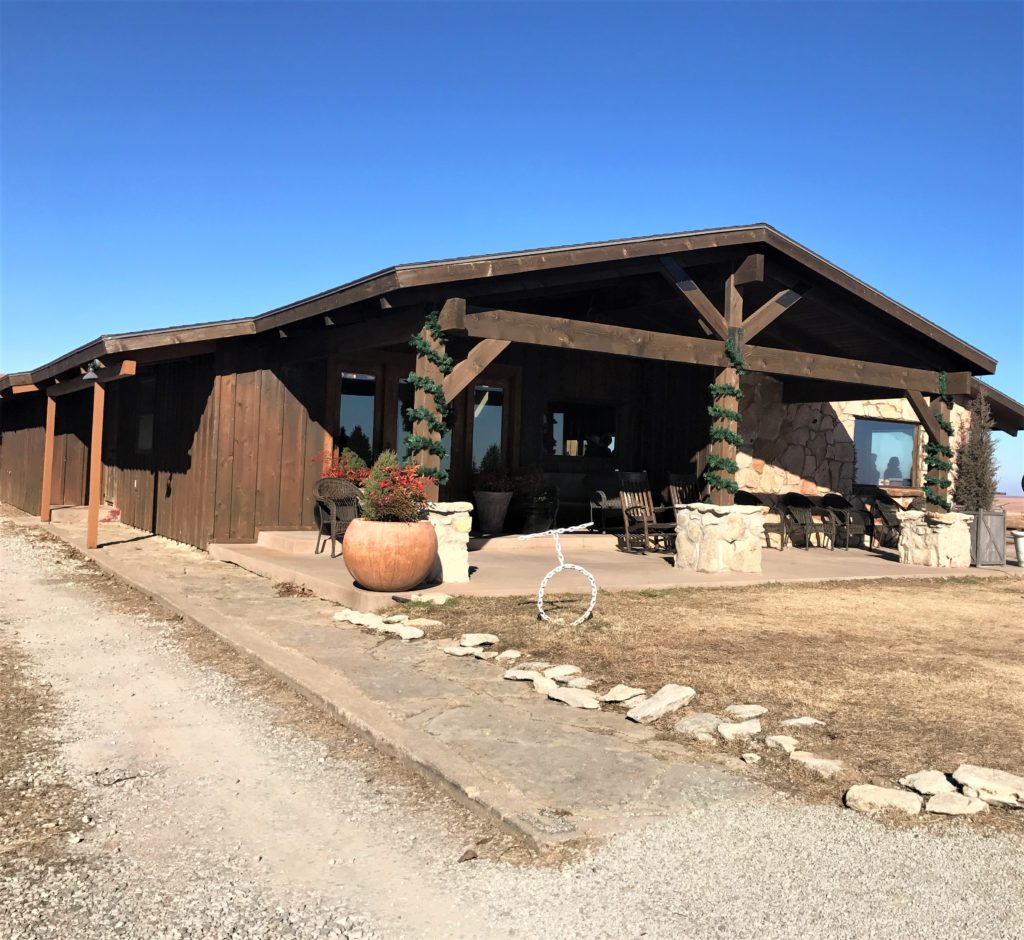 The views were incredible. This is the view from the deck of the Lodge.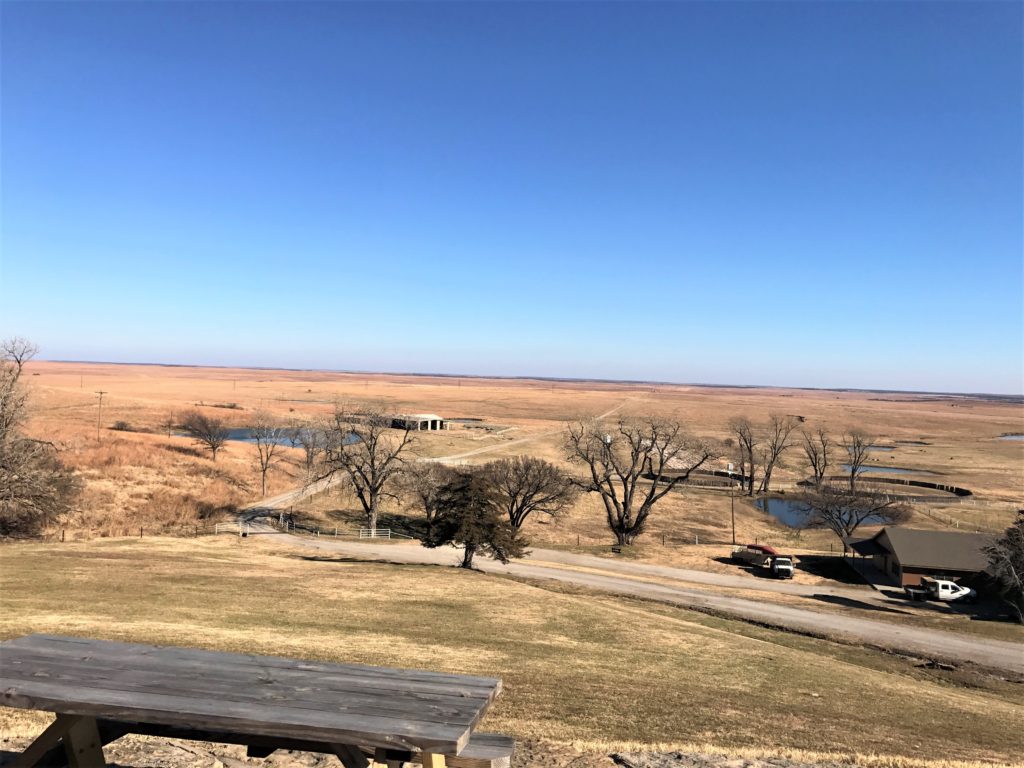 There were many places that you could just sit and enjoy the view. There were chairs on the front porch as well as the deck area.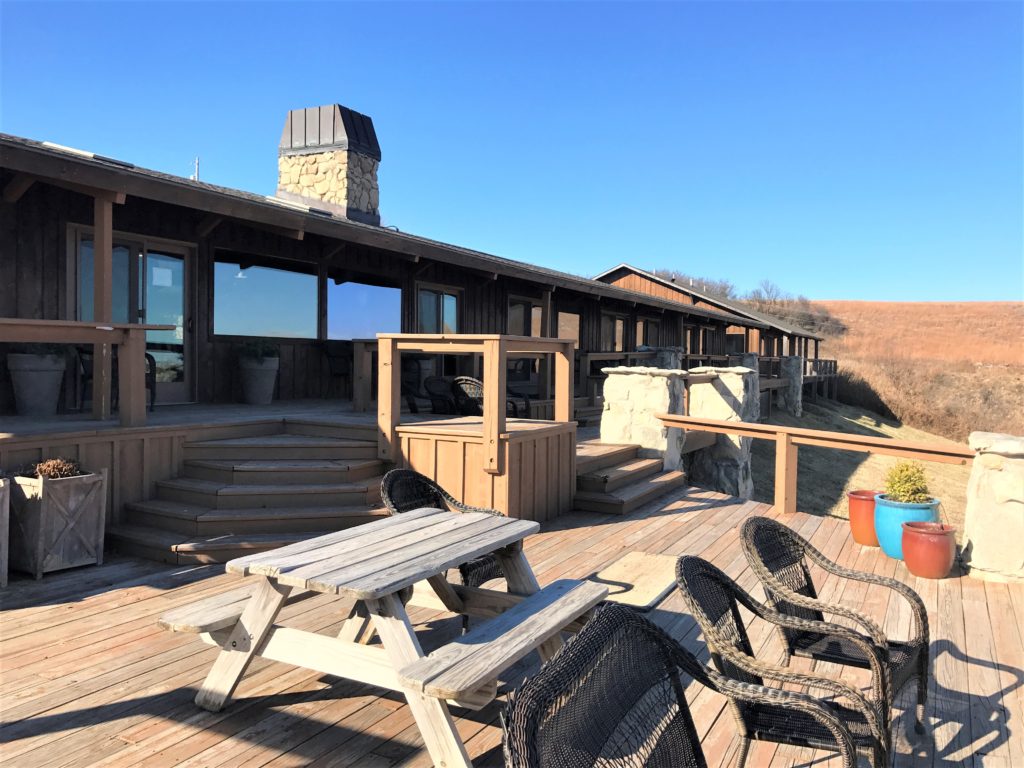 I was surprised by how long the Lodge was. The deck ran all the way to the back of the Lodge so each guest bedroom had its own outside entrance to the deck with chairs to sit.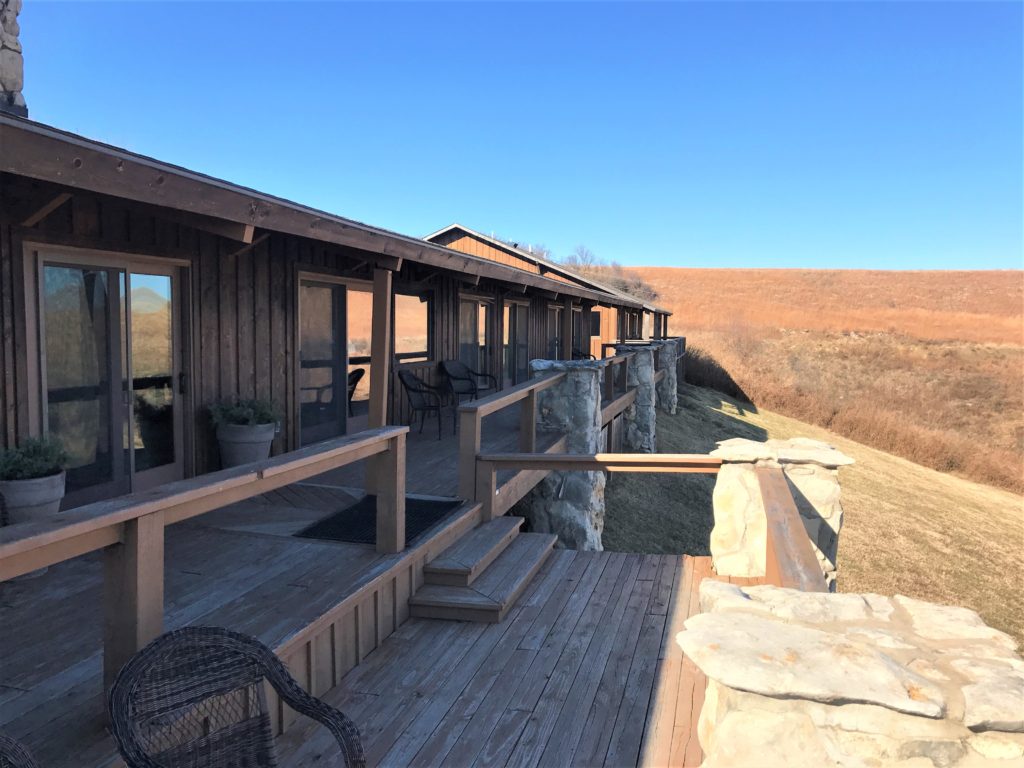 We visited the Pioneer Woman in early December so inside the Lodge was all decorated for Christmas.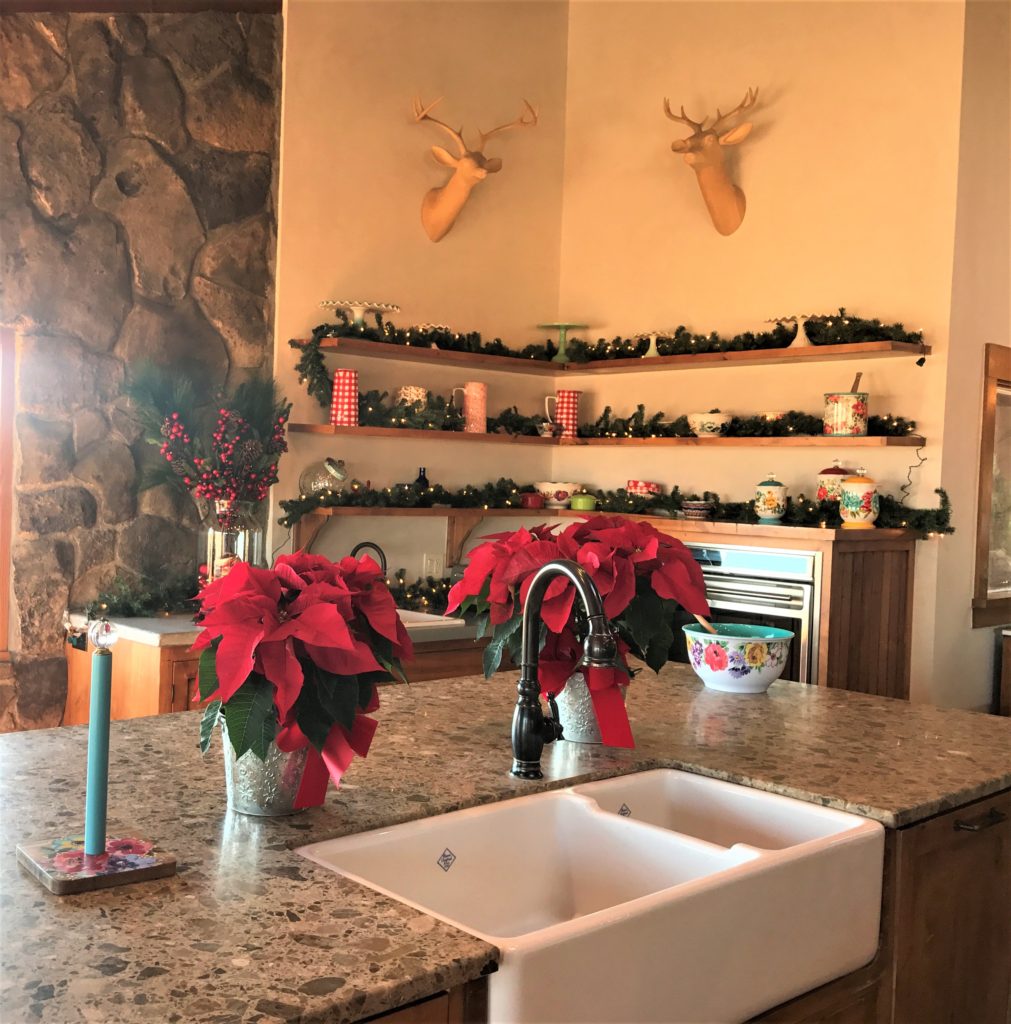 Tip #7. Be Your Own Food Network Chef and open up all the drawers

!
Of course, while we stood behind the counter pretending we were on our own Food Network show we opened up one of the drawers and I couldn't help but laugh…I knew the joke, but others standing there did not…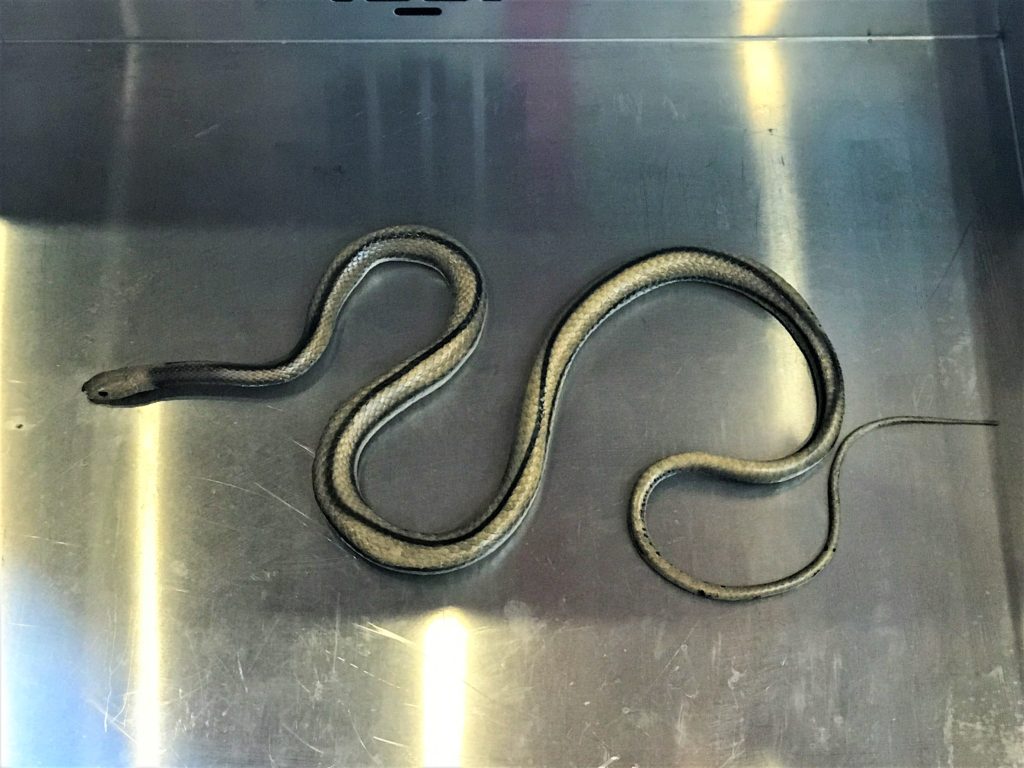 Ree and Ladd have had this running joke between them where one of them will hide the snake on the other one to surprise them when they least expect it!
Some of the other drawers contained her makeup and makeup brushes!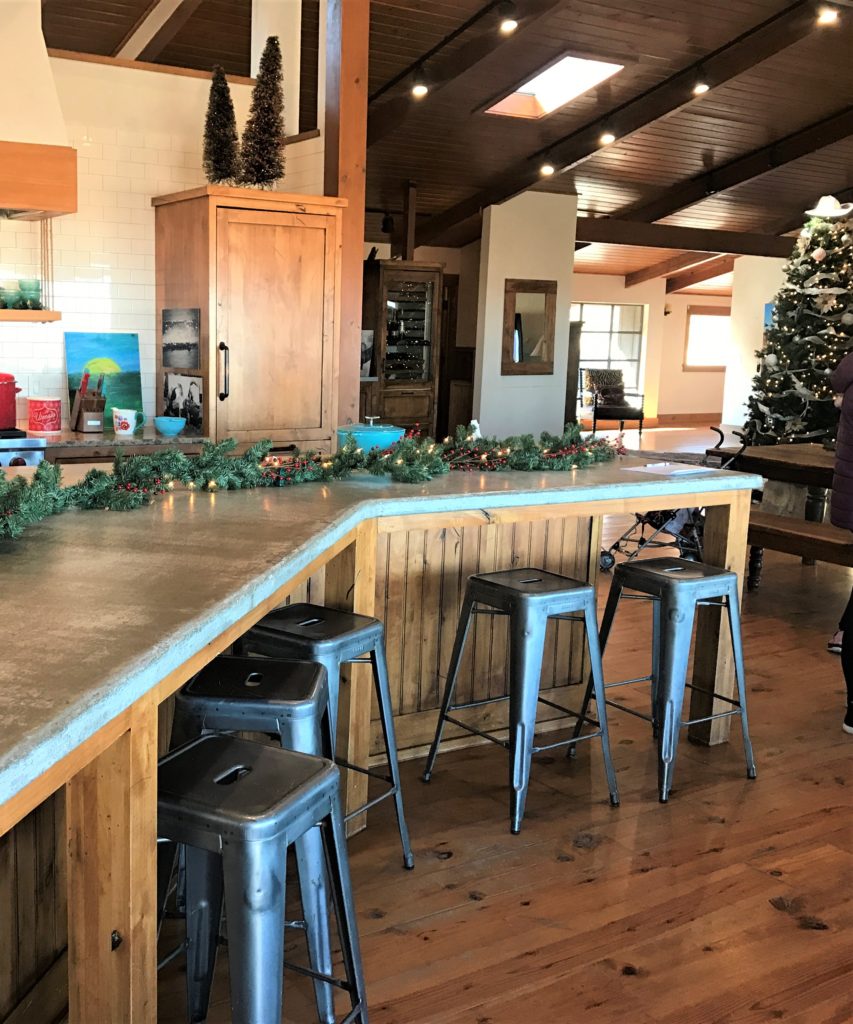 I really loved this pantry!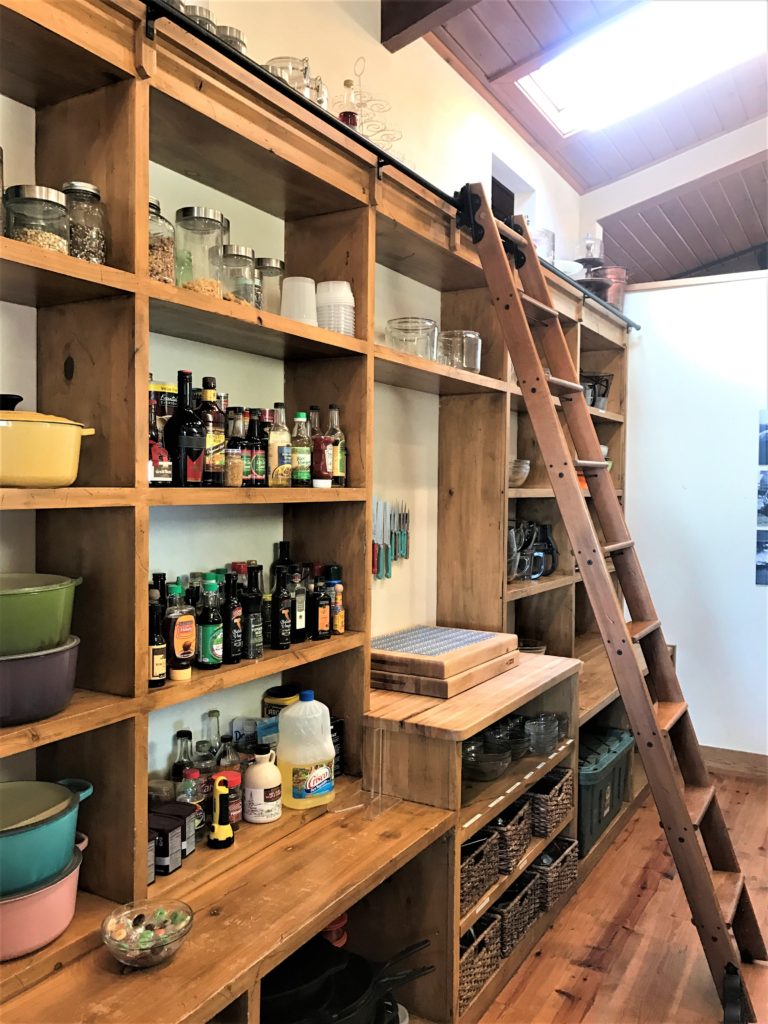 You'll notice not only is her cookware placed throughout the Lodge but her photos that you often see on the show are shown throughout the Lodge too.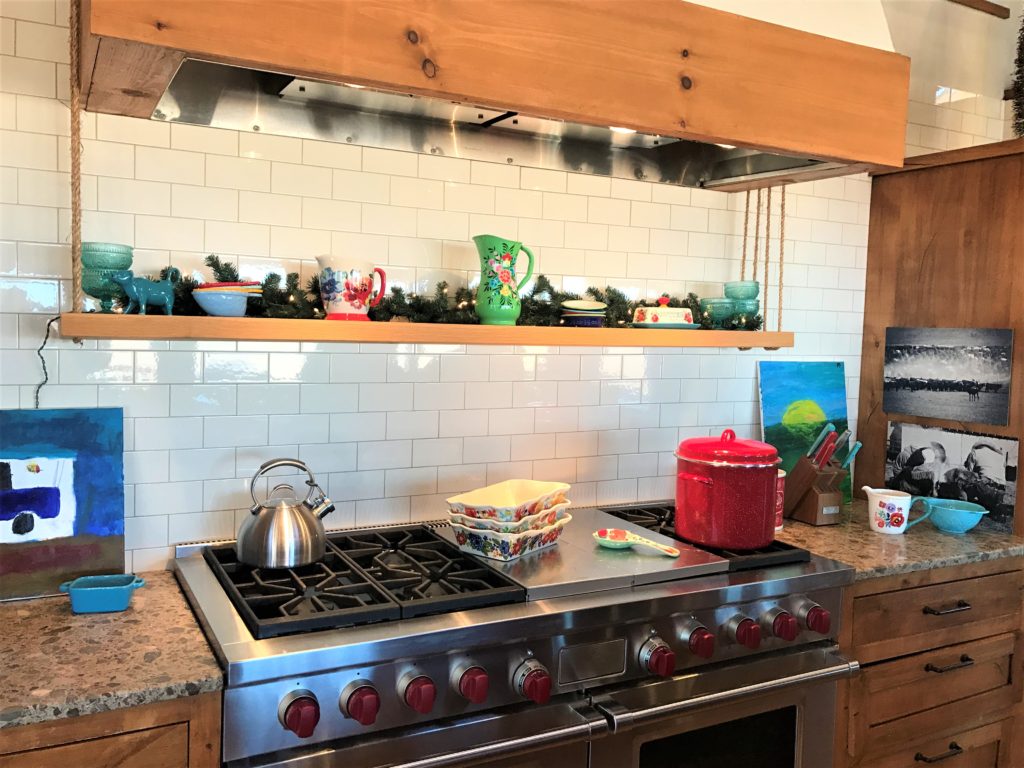 Ree takes amazing photos and you can see many of them on her blog too.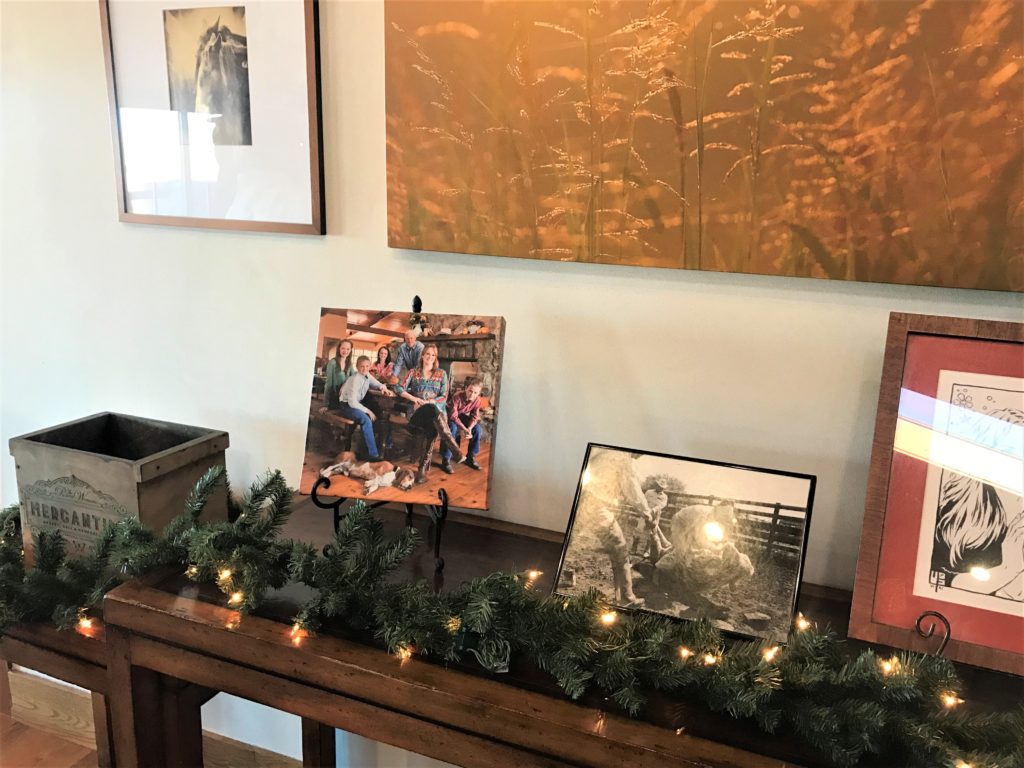 The bedrooms were all tastefully decorated and each had its own bathroom.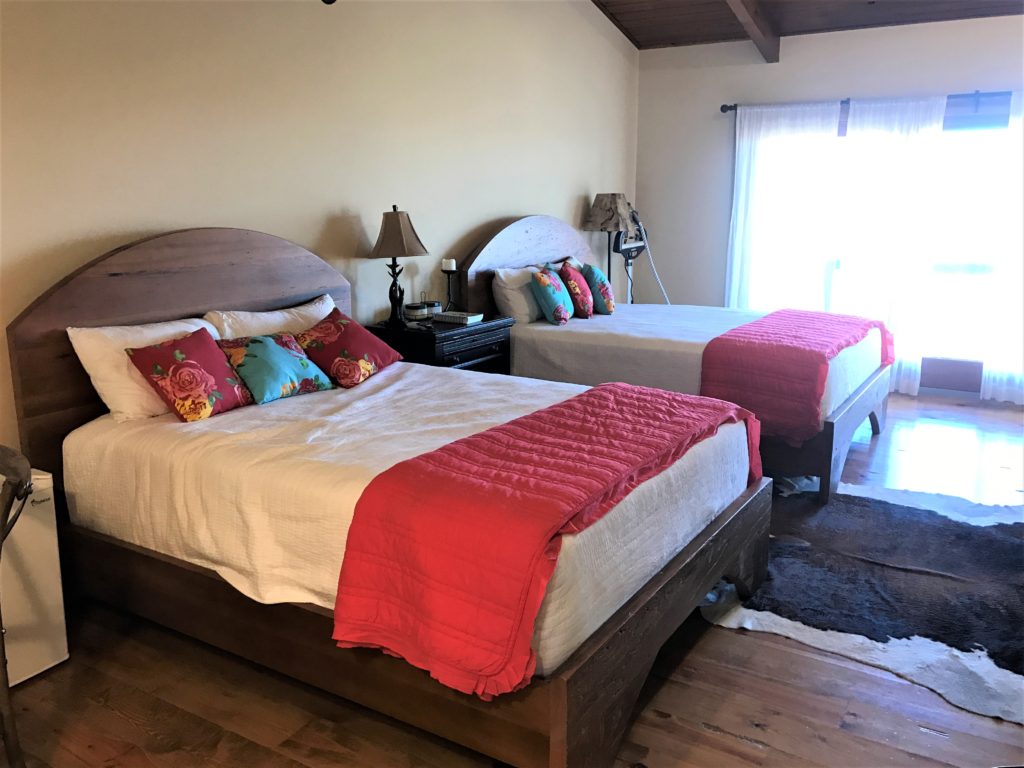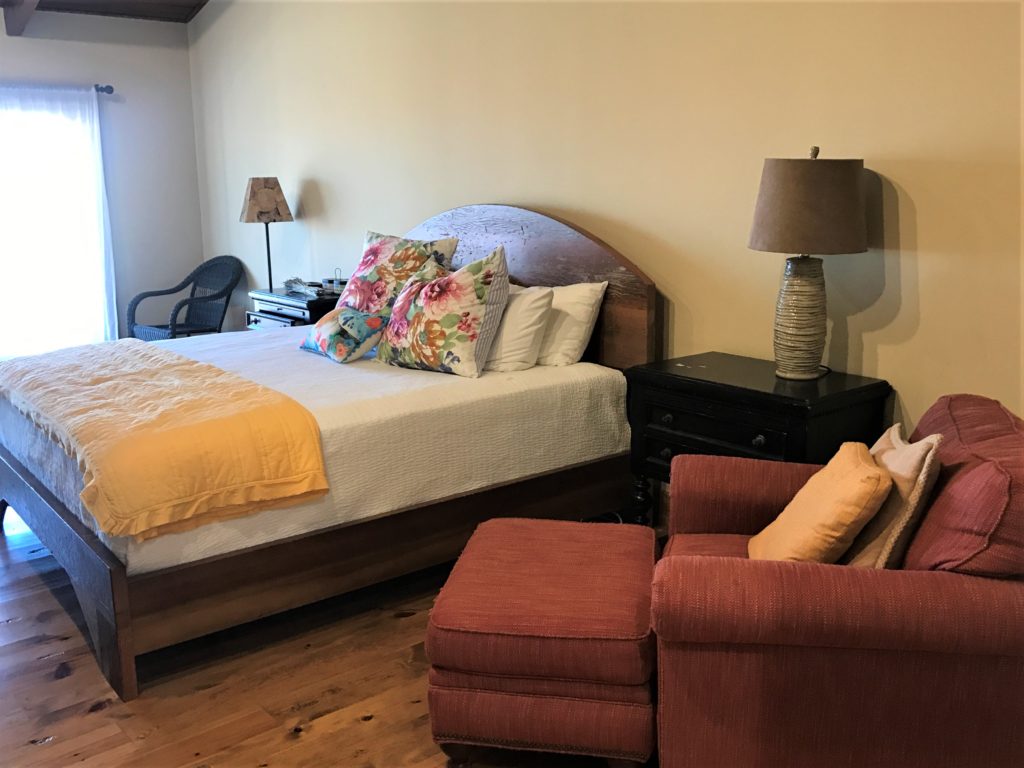 Here are a few more photos of the Lodge that you might be familiar with…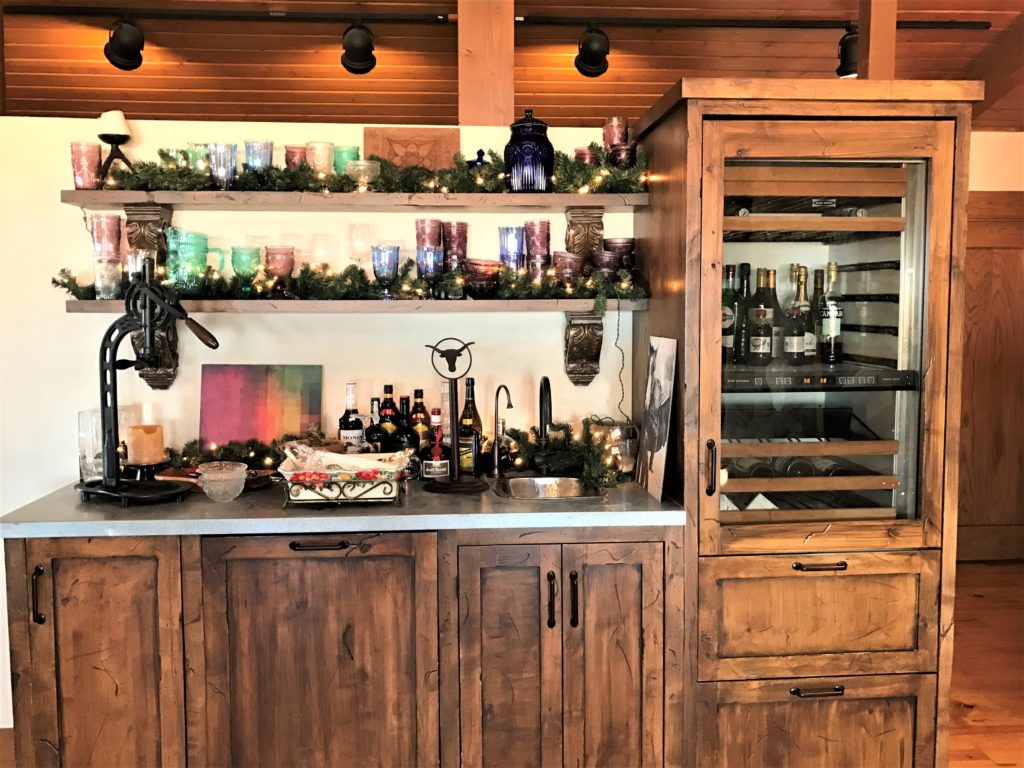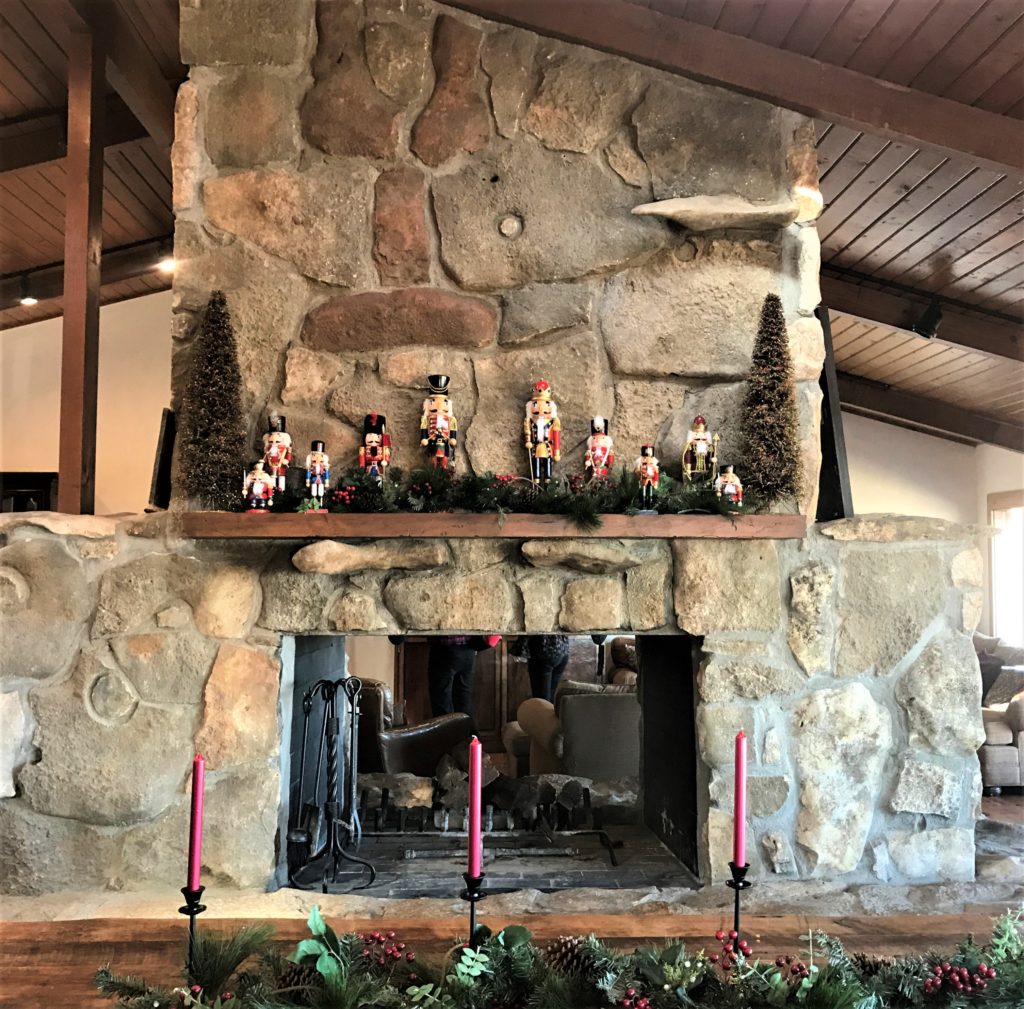 In the back of the Lodge is a prep area with large tables, refrigerators, and a storage area.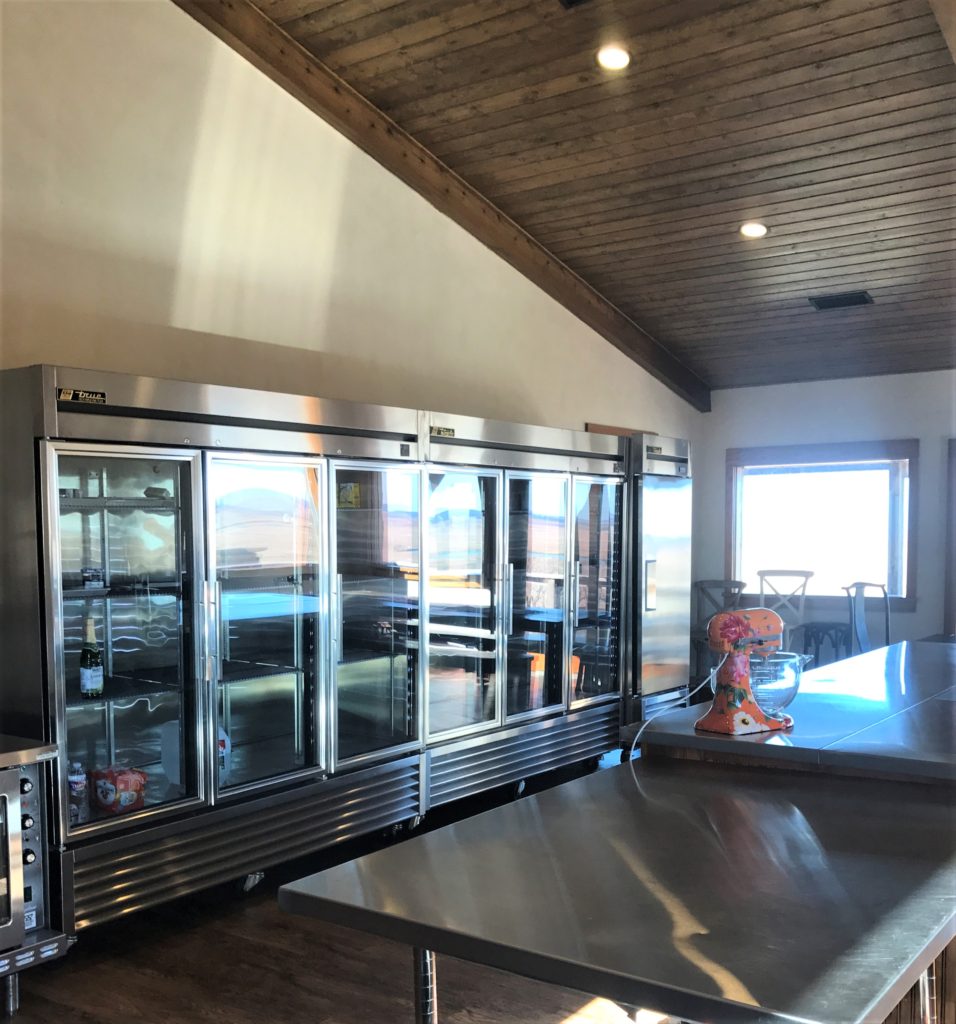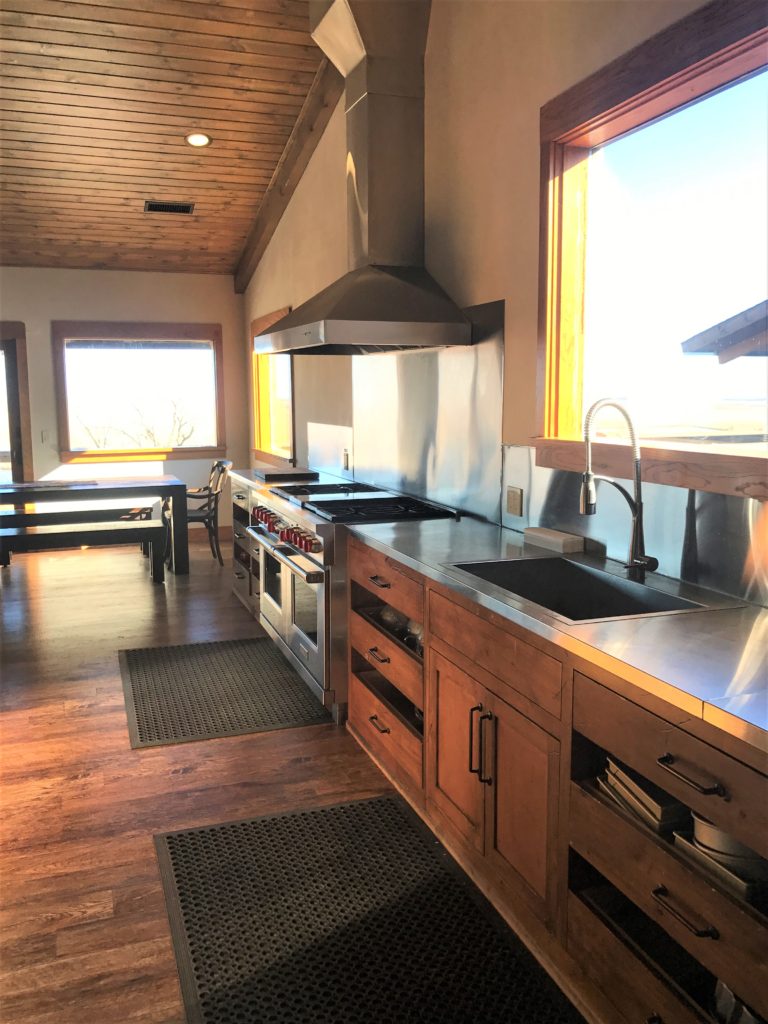 I was really surprised how large the Lodge actually was.
There was a man named Bill, who was at the Lodge to answer any of your questions too!
It was a nice way to end our trip to the Pioneer Woman Mercantile & Lodge and I hope you have the opportunity to visit soon!
I have heard that Mondays and Wednesdays are good days to visit. Also, we visited in early December and the weather was beautiful – and there were no lines!!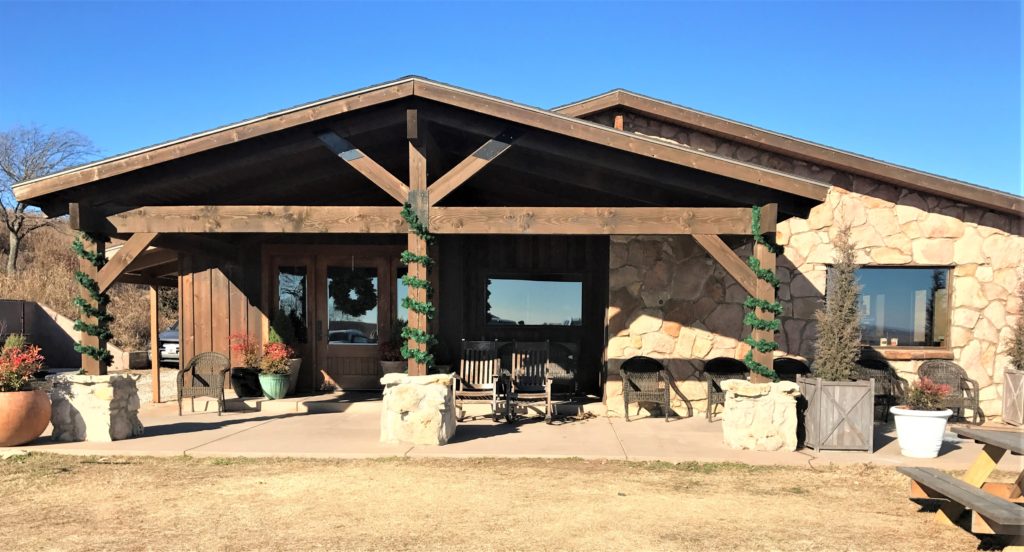 Pioneer Woman Mercantile & Restaurant
532 Kihekah Ave, Pawhuska, OK 74056
Hours: Monday – Thursday 7 am – 7 pm; Friday & Saturday 7 am – 8 pm Closed Sundays
Website: The Mercantile
The Pioneer Woman Lodge Tours
The Lodge is open 9 am – 5 pm on Tour Dates
You can check out the dates here: Lodge Tour Dates
Where To Stay In Pawhuska, Oklahoma
If you're looking to stay in Pawhuska, Ree and Ladd have opened up The Boarding House. An eight (8) room "cowboy luxury" hotel.
I have read that Ree designed four (4) of the rooms and Ladd designed four (4) of the rooms.
The Boarding House is booked almost a year in advance, so plan your trip early if you want to stay at The Boarding House!
Here's a link where you can find the description of each room: The Pioneer Woman Boarding House
The Frontier Hotel
This is a brand new hotel that opened just across the street from the Mercantile.
Here's their website for more information: The Frontier Hotel
There are also numerous Bed & Breakfast and cottages that have opened up in Pawhuska where you could stay.
The Pioneer Woman's website has an entire list of Where To Stay in Pawhuska for more information.
Let me know if you have visited the Pioneer Woman Mercantile & Lodge and if you spotted any of the Drummonds! They are the nicest people – just as they seem on television!
I would LOVE for you to join my email list!
Pin It For Later!