Last Updated on March 18, 2022 by Lori
The Adirondacks is one of the most scenic places you will find in all of New York. Our road trip to the High Peaks Region was one of our favorite places to visit! So where are the best places to visit in the Adirondacks?
This 4-Day Itinerary takes you through all the best things to do in the Adirondacks. There's so much to see in the Adirondacks that I KNOW you will enjoy your vacation there as much as we did!
Where Are The Adirondack Mountains Located?
The Adirondack Mountains are located a few hours north of New York City and consist of six (6) million acres of forest preserve of which 2.6 million acres are owned by New York State and 3.4 million acres are privately owned.
Our visit to the High Peaks Region of the Adirondacks was during the summer; but, the area is HUGE for skiing, snowboarding, and hiking as well!
While some of the attractions begin to close in the fall, there is still plenty to do is you love the snow!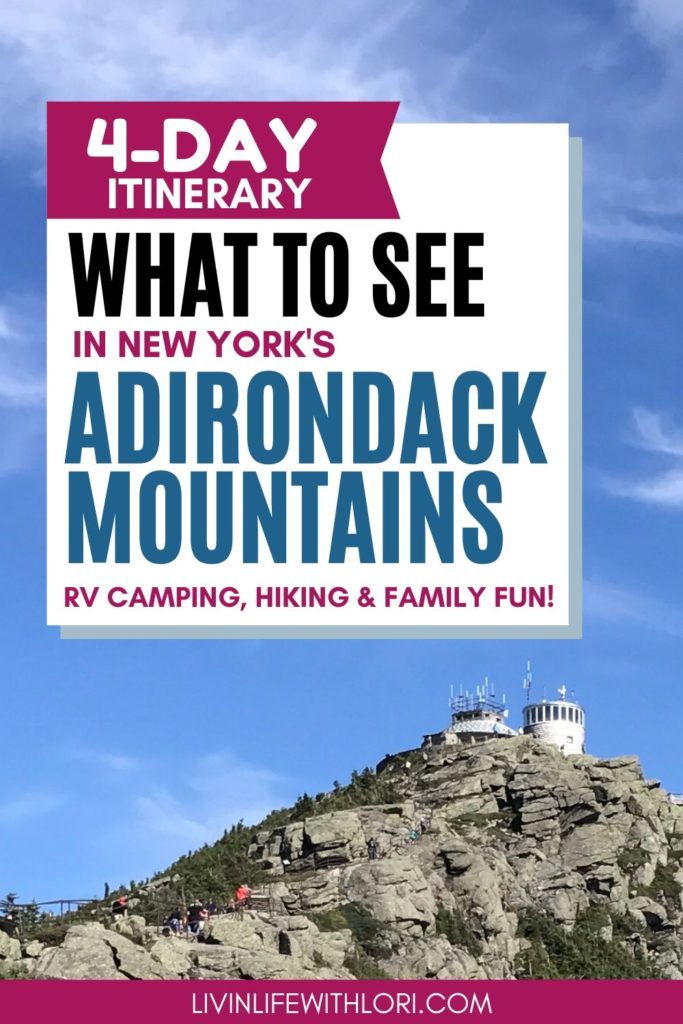 This post contains some affiliate links for your convenience which means if you click on a link and make a purchase, I will earn a small commission at no additional cost to you. Read my Disclosure Policy for more information.
Camping In The Adirondacks
Day 1: Arrival – Lake Placid/Wilmington, New York
We traveled to the Adirondacks pulling our RV travel trailer. We love to camp and found there to be quite a few highly rated campgrounds to choose from around Lake Placid.
We ultimately chose North Pole Resorts & Campground in Wilmington, NY because of its close proximity to all the attractions we wanted to visit the most!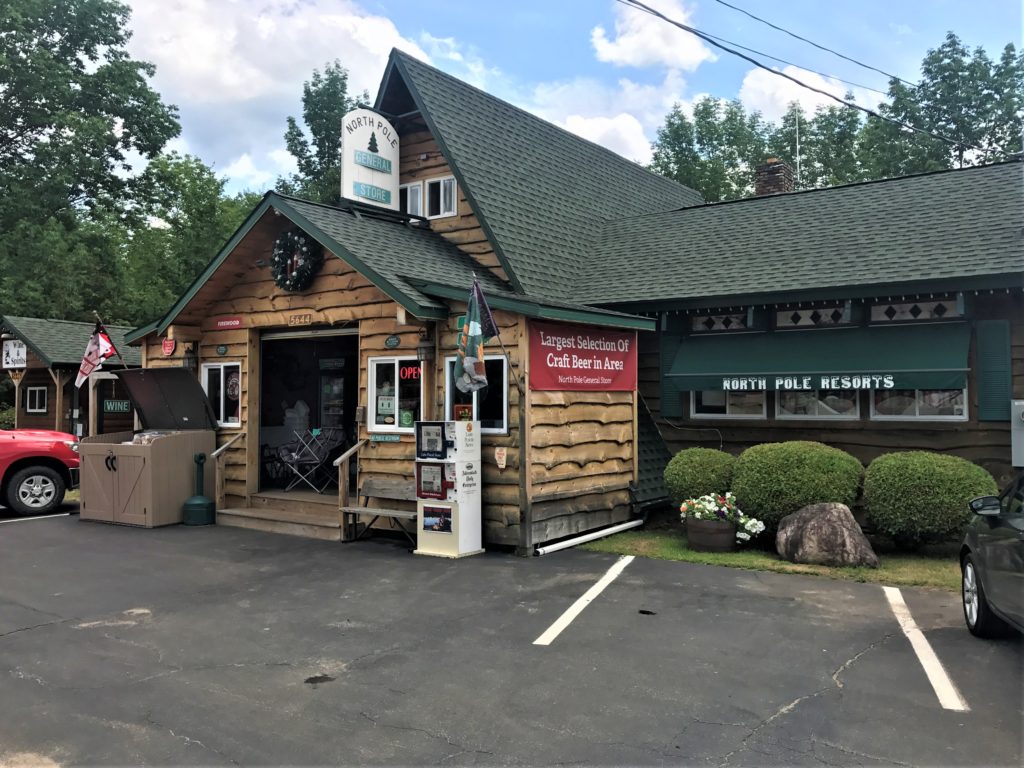 This campground is not only for RVers, but they have the cutest cabins, cottages, the Lodge, and a Log Cabin for accommodations.
We stayed at the 100 Acre Woods Section which is across the street from the main resort. The 100 Acres Woods Section allows for Big Rigs and more private "woodsy" sites.
We loved it!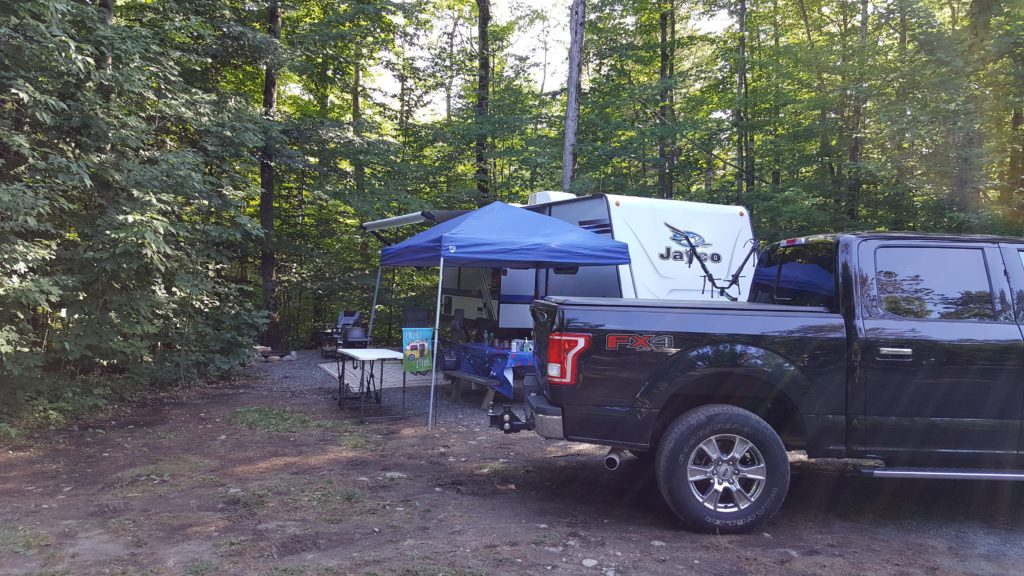 There are lots for the kids to do at the Resort!
We saw many families playing mini-golf during our stay.
There are also two outdoor pools, two playgrounds, arcade games, mini-golf, boat rentals, fishing area, gemstone & fossil mining, and access to trails for hiking and biking.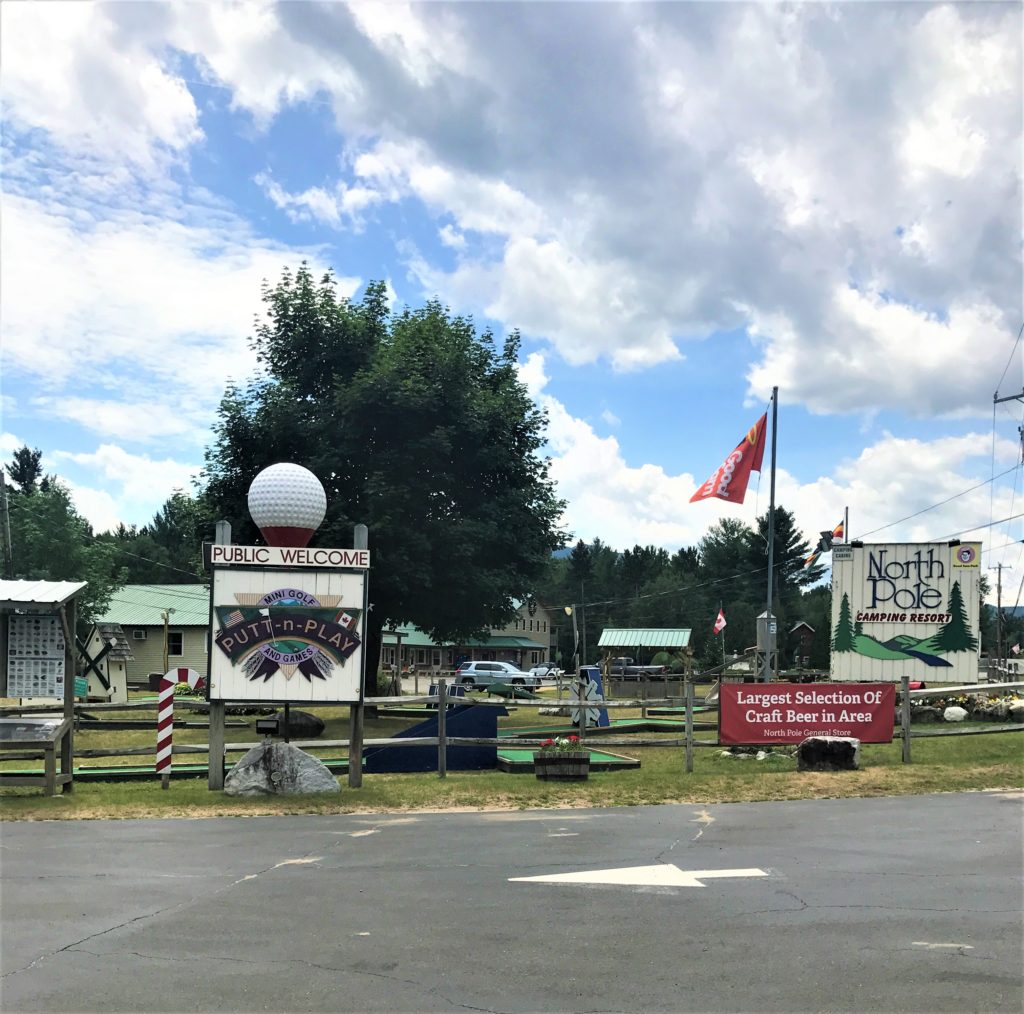 We found North Pole Resorts & Campgrounds to be centrally located to all attractions in the area.
The location was perfect to come back to the campground/resort to rest before heading out to our next experience in the afternoon!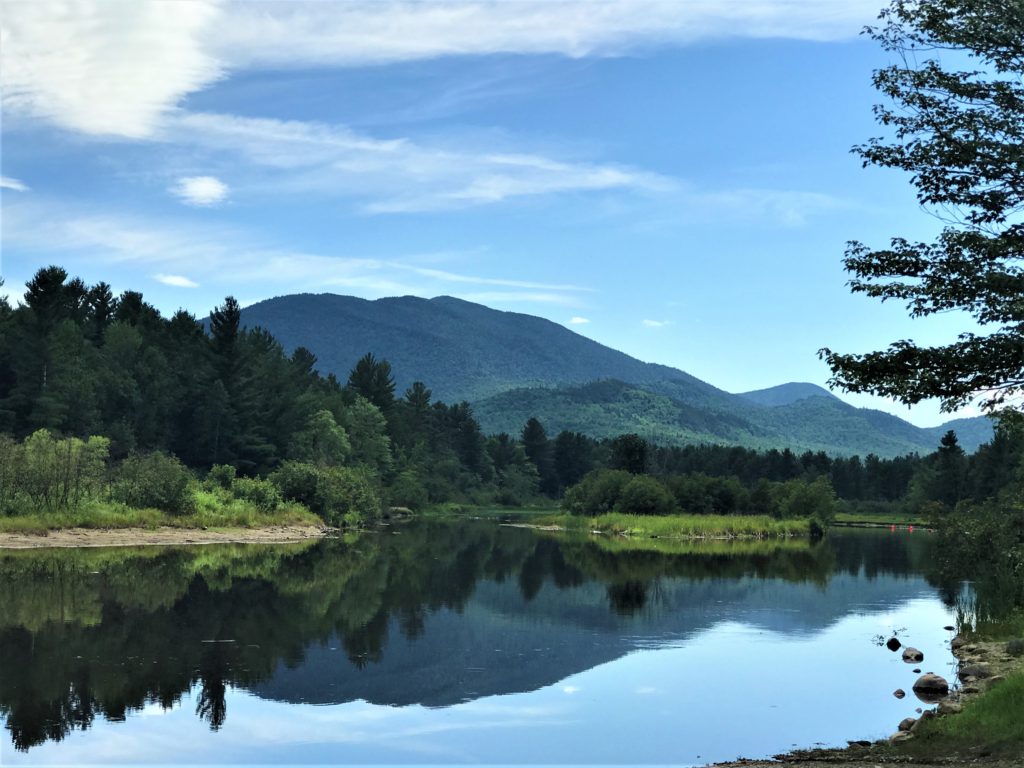 Related Reading: You can read my review of North Pole Resorts & Campgrounds HERE.
Check-in time is 12 noon and we arrived shortly thereafter. After setting up our campsite, there was plenty of time to head over to Whiteface Mountain.
Most Scenic Places in the Adirondacks
Whiteface Mountain
I think our favorite place in the Adirondacks is sitting on the top of Whiteface Mountain and looking at the spectacular view.
As we pulled up to the Toll House at the beginning of Veterans Memorial Drive, the sign said that the views that afternoon were 50 miles! The sign was correct!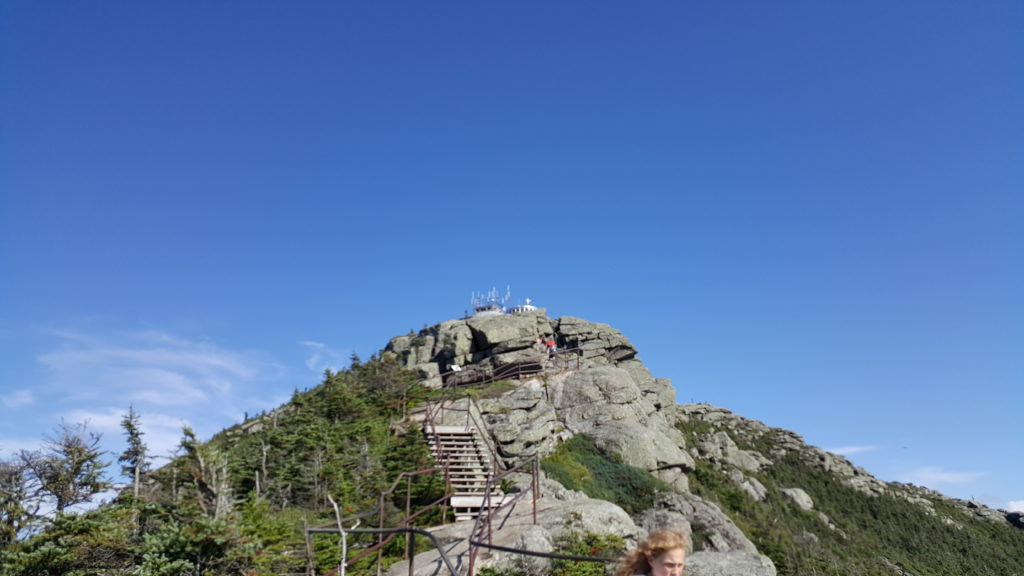 There is a fee to drive to the top of Whiteface Mountain for vehicle and driver. There is an added fee for each additional passenger and under 6 years old is free.
From there, you can hike to the summit free of charge.
I have to warn you…the hike is not an easy one; and, thank goodness I had read prior reviews before our visit not to wear flip-flops.
In fact, it was recommended to wear hiking boots – which I did.
Related Reading: You can read my entire post on How To See The Best Views of the Adirondacks HERE.
After visiting Whiteface Mountain, we headed back to the campground to rest, make dinner (supper) and sit by the fire.
Best Attractions In The Adirondack Mountains
Day 2: High Falls Gorge
The second day, we headed out the short four (4) mile distance from North Pole Resorts to High Falls Gorge.
You should allow about a half-day to experience High Falls Gorge.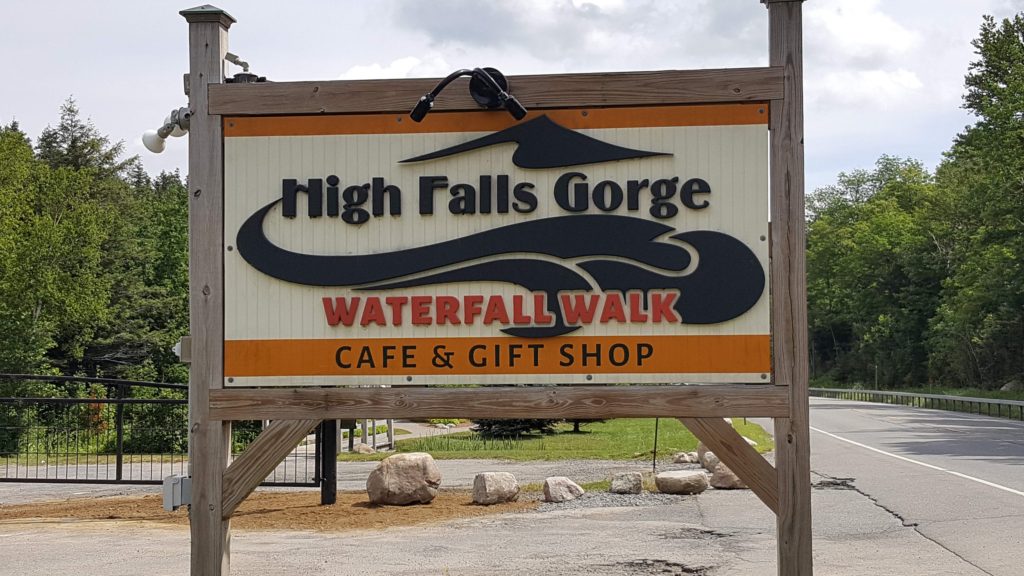 We not only wanted to take the Waterfall Walk (where you will see 4 beautiful waterfalls), but we wore our hiking boots so that we could take the one (1) mile Nature Walk.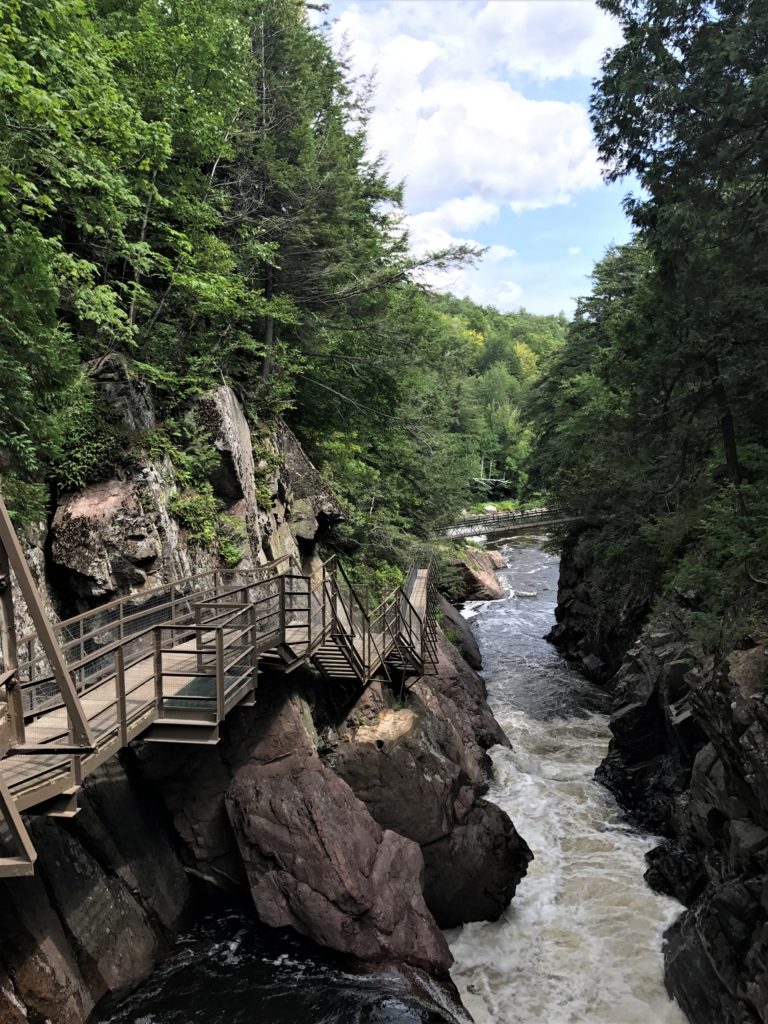 I would recommend bringing along a bottle of water, snacks and that you wear sturdy walking shoes/hiking boots if you plan to take the Nature Walk.
The walk isn't flat and you will be walking along a dirt path up hills, over rocks, and through the sticks – but it is well worth it!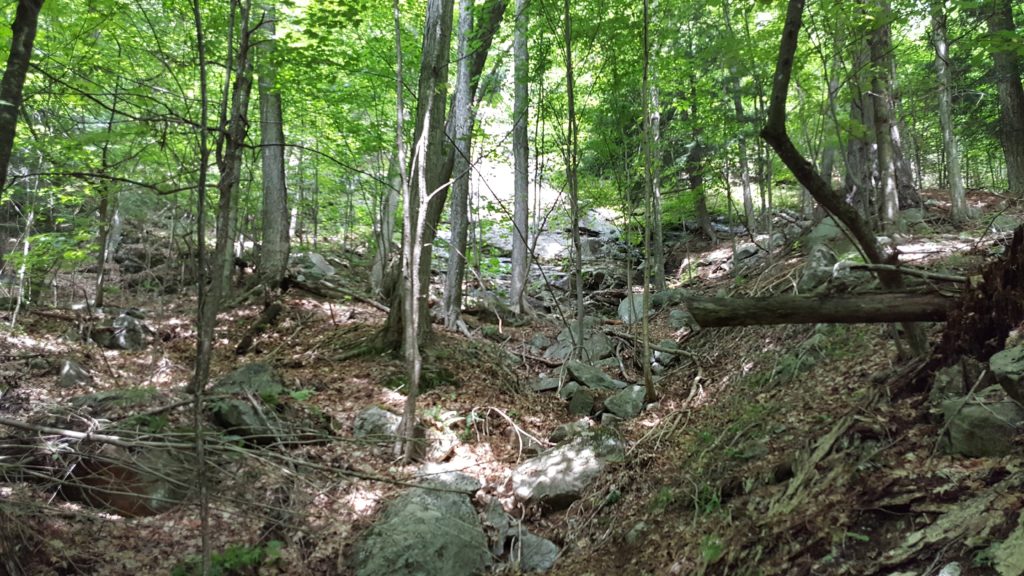 Related Reading: You can read our adventure to High Falls Gorge HERE.
After our hike through High Falls Gorge, we went back to the campground for lunch. However, you can eat right at High Falls Gorge at the River View Café.
They also have a selection of regional craft beers and New York State Wines.
Other Restaurants in the Adirondack Area: Next time we are in the area, we saw a cute restaurant where the parking lot was always full (a good sign for a restaurant!) called the Hungry Trout Restaurant. The restaurant is located on Rt. 86 not far from where we were staying.
Whitebrook Dairy Bar in Wilmington, NY is a Not To Miss place for ice cream! I think we went 3 out of the 4 days we were there!
Another very busy restaurant was the A & W Restaurant! Their outdoor seating area was always packed!
If you're looking for more of a pub type of menu – try R.F. McDougall's Pub
Day 2 – Afternoon – There are 3 options for the afternoon – choose your favorite!
Option #1 Jay Covered Bridge – Jay, New York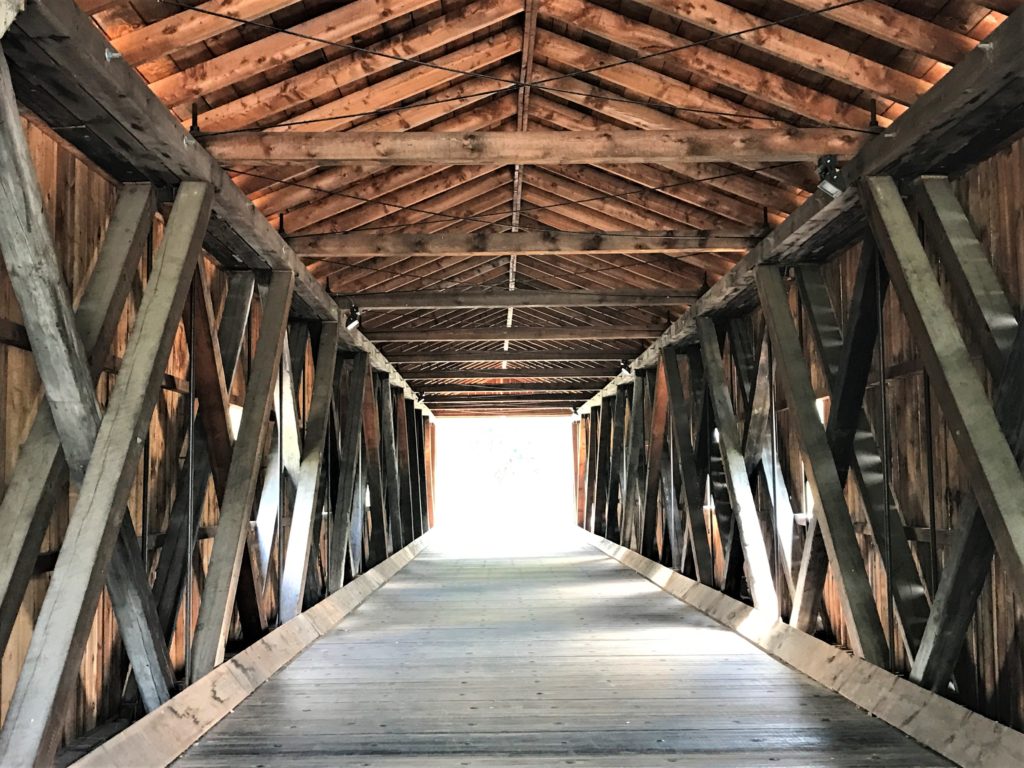 We took a drive along Route 22 to Jay Covered Bridge in Jay, New York.
This bridge held a special place for my husband as his aunt's family lived in the tiny cottage right next to the bridge and he used to visit them when he was young.
He remembered playing on the bridge and walking down to the Ausable River to play on the rocks.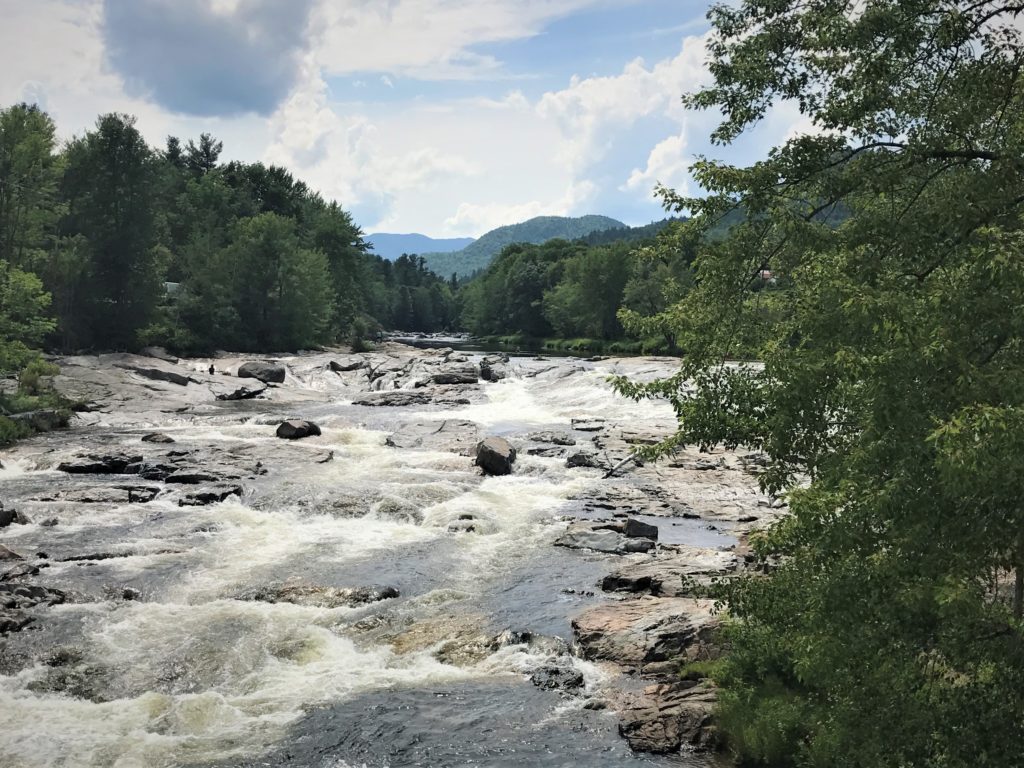 The bridge was constructed in 1857 and spans 175 feet across the Ausable River.
The bridge was completely restored in 2006 and is now part of Douglas Memorial Park.
The park includes the covered bridge, pavilion area, picnic areas, benches, tennis court, basketball court, walking path, swimming area, historical information area, and fishing access. This park is a tobacco-free space.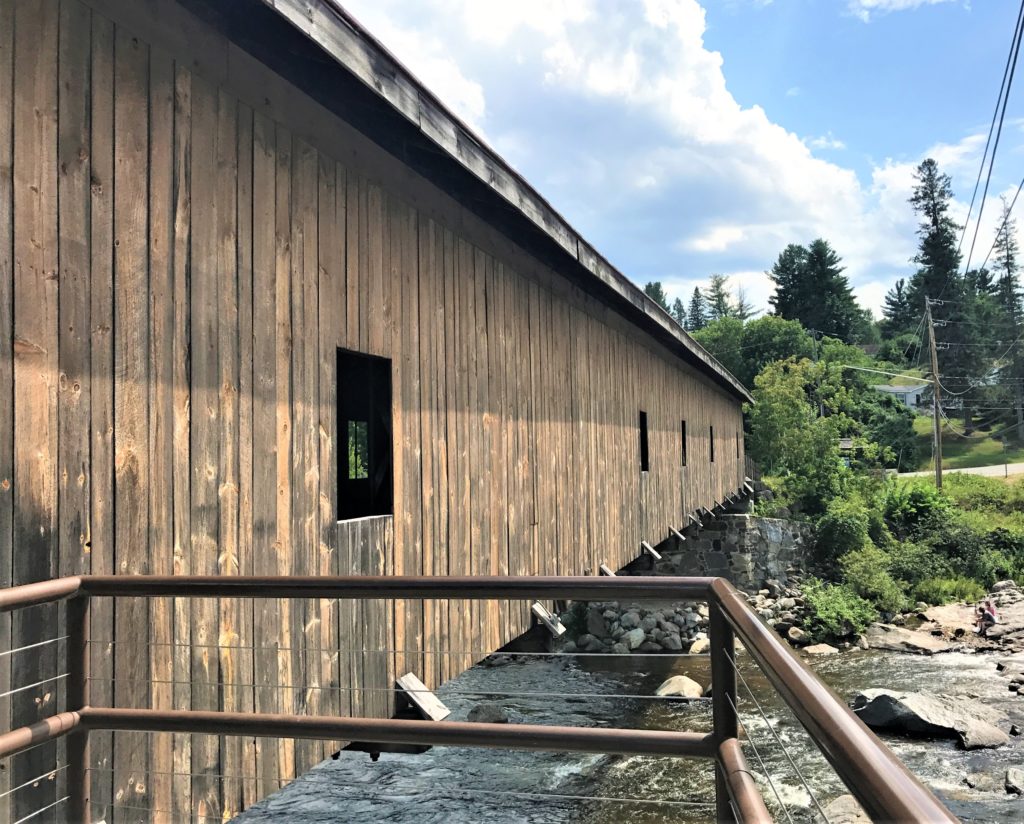 There was a small (3 space) parking area on one side of the bridge and a path that leads down (behind my husband's Aunt's old house) to the Ausable River.
This is also known as Jay Rapids and has several swimming holes.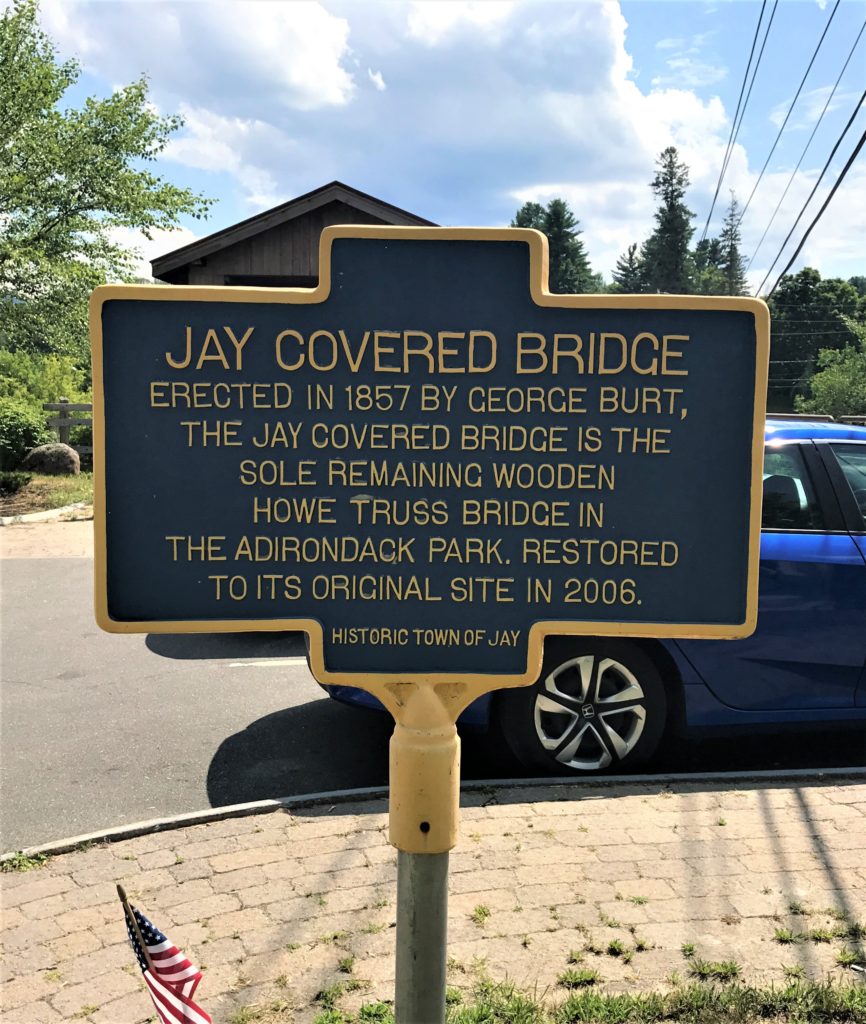 After spending time pulling over to take photos of the beautiful scenery, we headed back to the campground to make dinner. After dinner, we went to Whitebrook Dairy Bar for ice cream!
Day 2 – Option #2 – Cloudsplitter/Gondola Ride – Whiteface Ski Center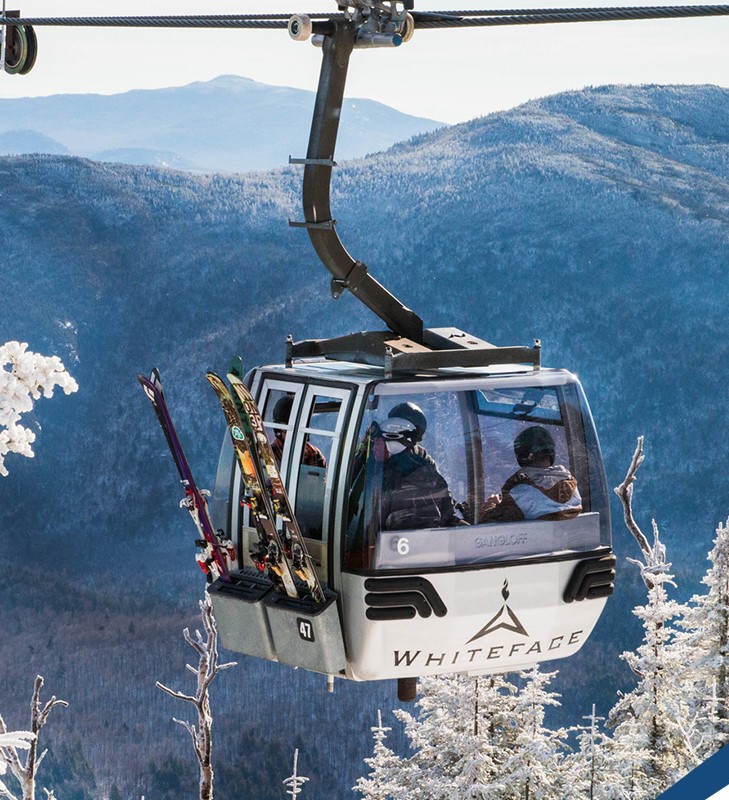 This is one activity that was on our Wish List – but we ran out of time!
You can take the eight-passenger Cloudsplitter Gondola from the Main Base Lodge to the top of Little Whiteface where you will find an observation deck and picnic area.
The Cloudsplitter Gondola is FREE with your Olympic Sites Passport (see list below); you can also purchase your tickets in advance online and save $3 or in person at the ticket window located in the Main Base Lodge at the mountain.
Day 2 – Option #3 – North Pole, NY – Home of Santa's Workshop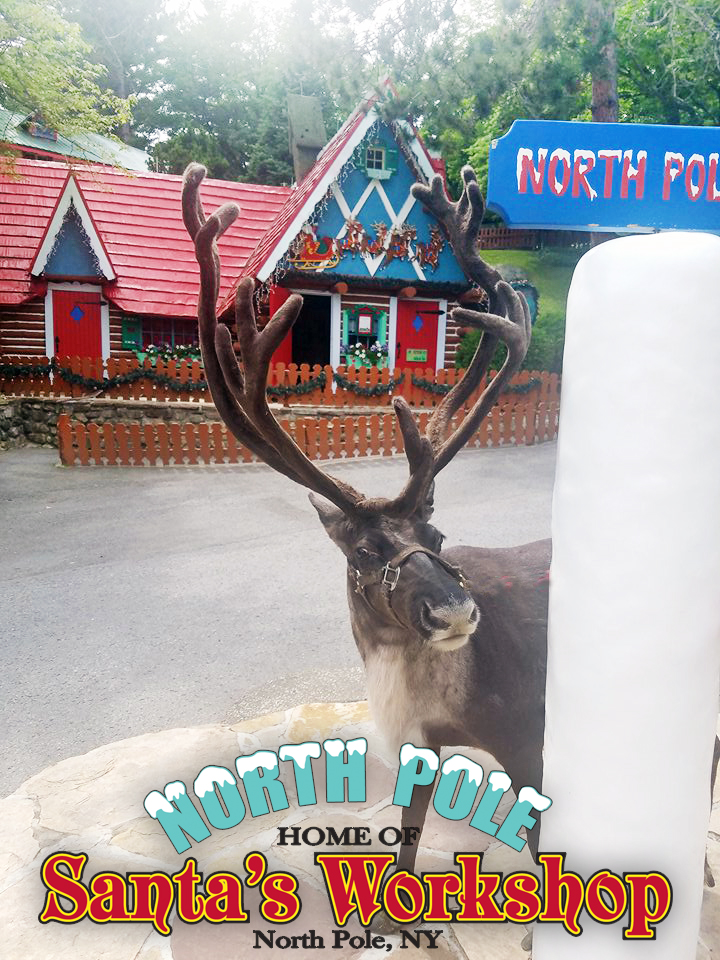 Our kids are young adults, so we didn't go to Santa's Workshop but this historic family theme park has been in operation for over 70 years!
Santa's Village is one of America's original theme parks and is home to busy elves, live reindeer and of course – Santa! It's located in Wilmington, NY at the foot of Whiteface Mountain.
There are shows, rides (most rides are for younger guests) and the Village.
North Pole NY – Home of Santa's Workshop is open Tuesdays – Saturdays during the summer, and certain Fall and Winter weekend hours.
The park is also open for Village of the Lights during December.
Day 3 – Ausable Chasm – Grand Canyon of the Adirondacks!
The next morning, we headed out early for the 35-minute drive to Ausable Chasm located in Ausable Chasm, NY (12 miles south of Plattsburgh)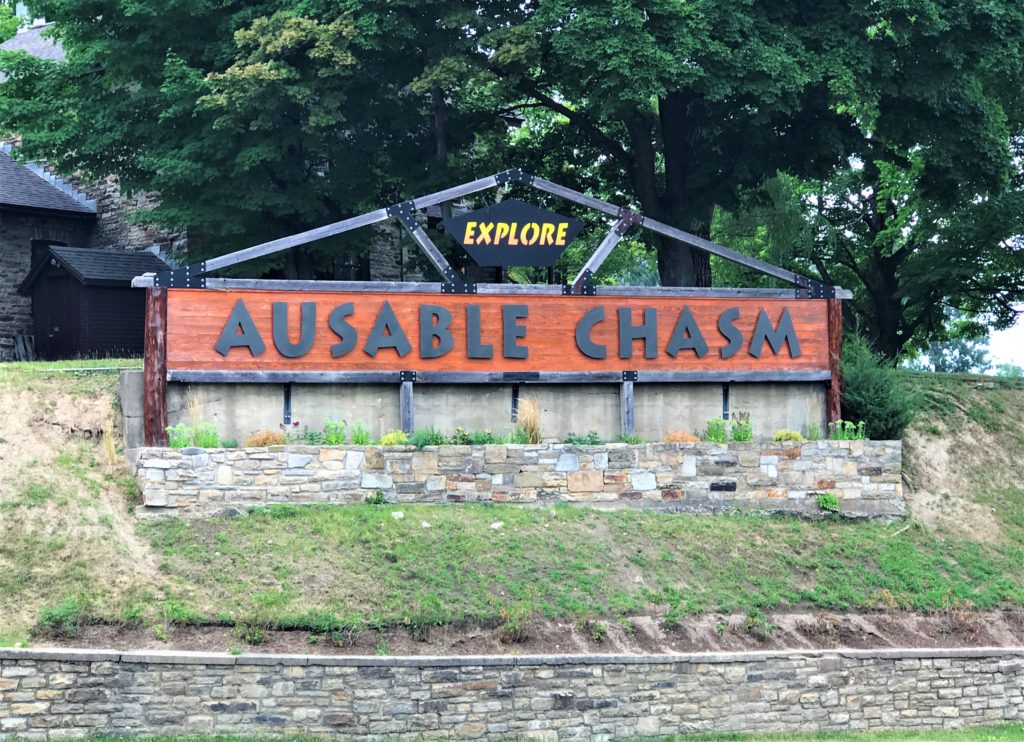 Note: When planning your trip, you can stay at Ausable Chasm in one of their 8 cabins or at the campground which has tent sites as well as full hook-up sites!
The campground is pet-friendly and you receive a discount on admission to Ausable Chasm. I really didn't know what to expect at Ausable Chasm.
My husband had been there when he was younger but didn't remember anything other than a boat ride.
What a treat we had at the end of the tour when we did indeed go on a boat ride through the chasm!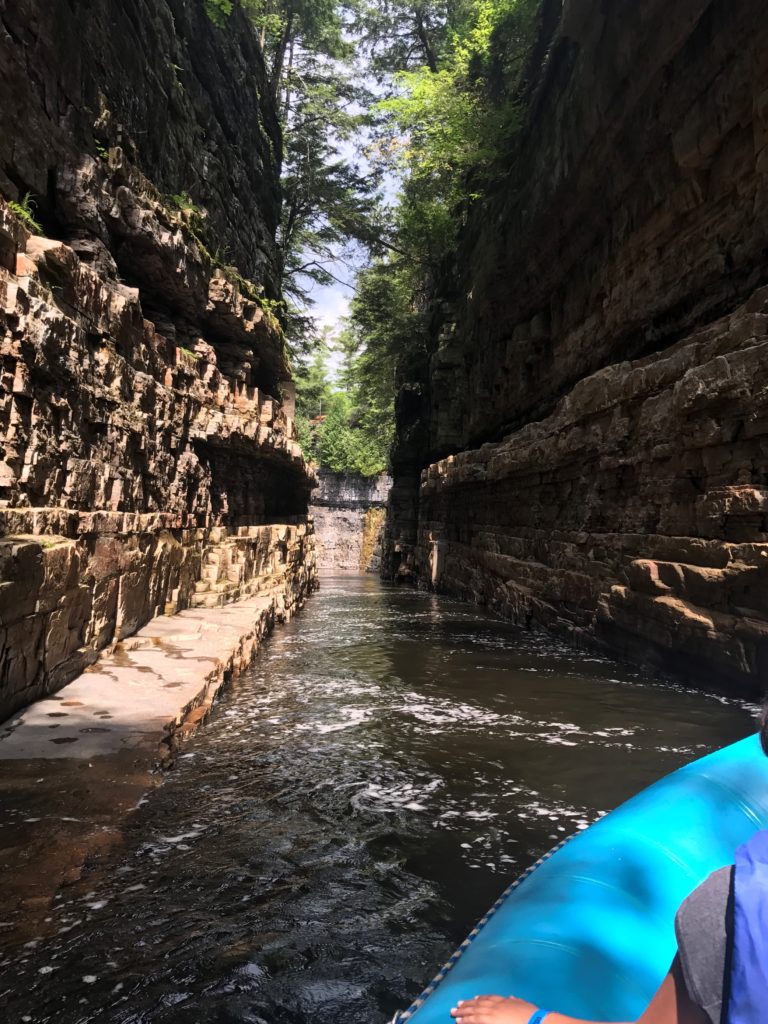 We chose to take the two-part Classic Tour where you hike through the upper chasm then take a scenic float (by boat) through the lower chasm.
During the summer, instead of taking the boat, you can opt to float down the river by tube!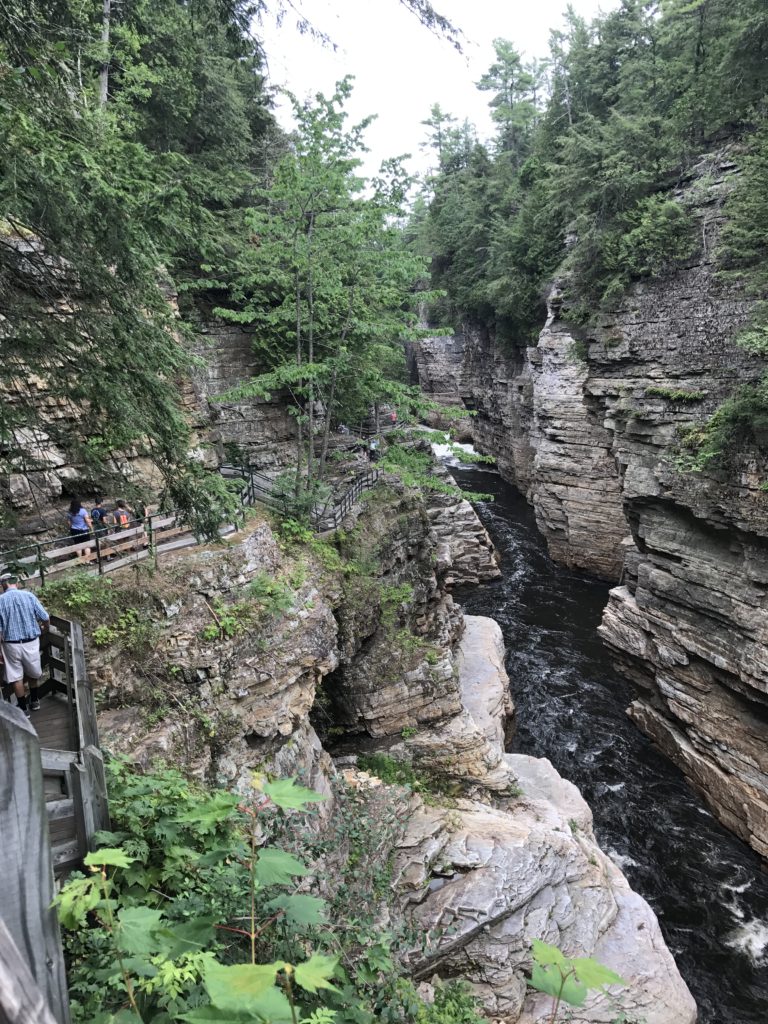 If you and your family are more adventuresome, you can opt for the Adventure Trail where you will experience rock climbing, cliff walks, and cable bridges!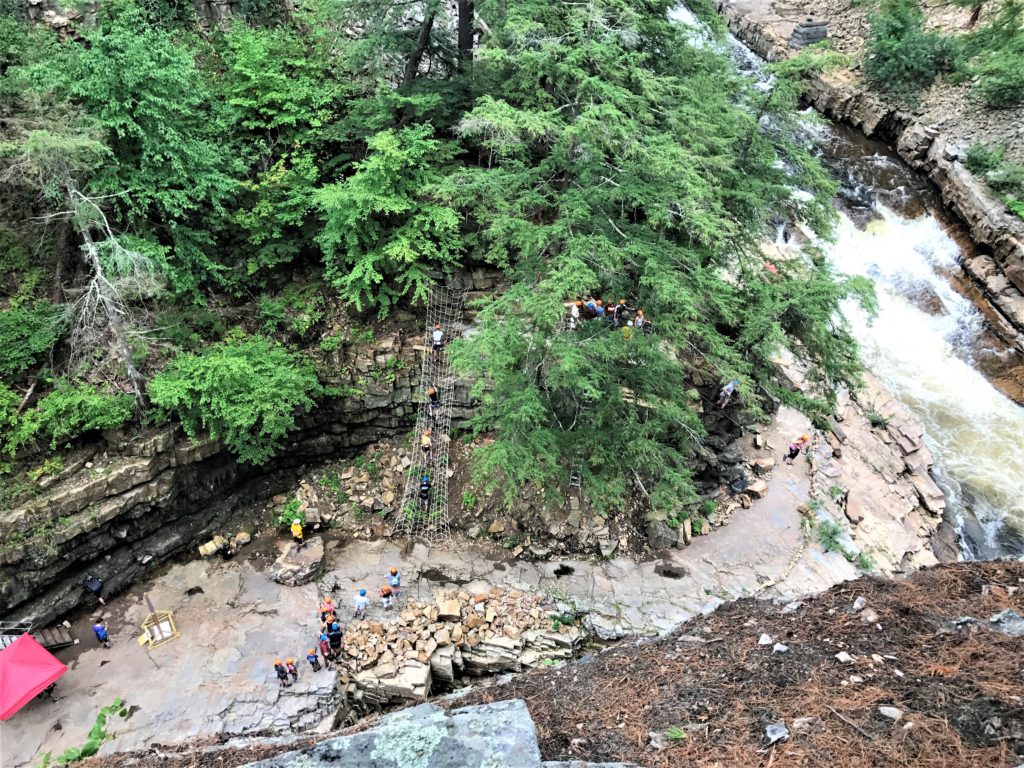 Related Reading: You can read all about our adventure to Ausable Chasm HERE.
You should allow for an entire day at Ausable Chasm – then return to your hotel, motel, lodge or campground to relax, take a swim or play some mini-golf! Oh! And don't forget the ice cream!
Day 4 – Explore Lake Placid
We couldn't leave the Adirondacks without a trip into Lake Placid.
Depending on what you and your family like to do, you could literally spend the entire day here! Most people know Lake Placid for the 1980 Olympics.
Needless to say, one of the most popular attractions are the Olympic sites such as the Olympic Training Center, Jumping Complex and Ice Skating Oval.
Be sure to stop by for your Olympic Sites Passport which will give you access to every one of the Lake Placid Olympic Sites!
The Olympic Sites Passport includes one-time admission to the following activities/venues:
Scenic Cloudsplitter Gondola Ride (winter/summer/fall)

Whiteface Veterans' Memorial Highway (summer/fall)

One round of Disc Golf at Whiteface (summer)

Lake Placid Olympic Museum (year-round)

Skating on the Olympic Speed Skating Oval (winter)

Olympic Sports Complex Tour (year-round)

Olympic Jumping Complex Tour (year-round)

Event and festival admission (see website for complete list)
You can find more information HERE
Mirror Lake – Lake Placid
We had heard so much about Mirror Lake – and its beauty did not disappoint!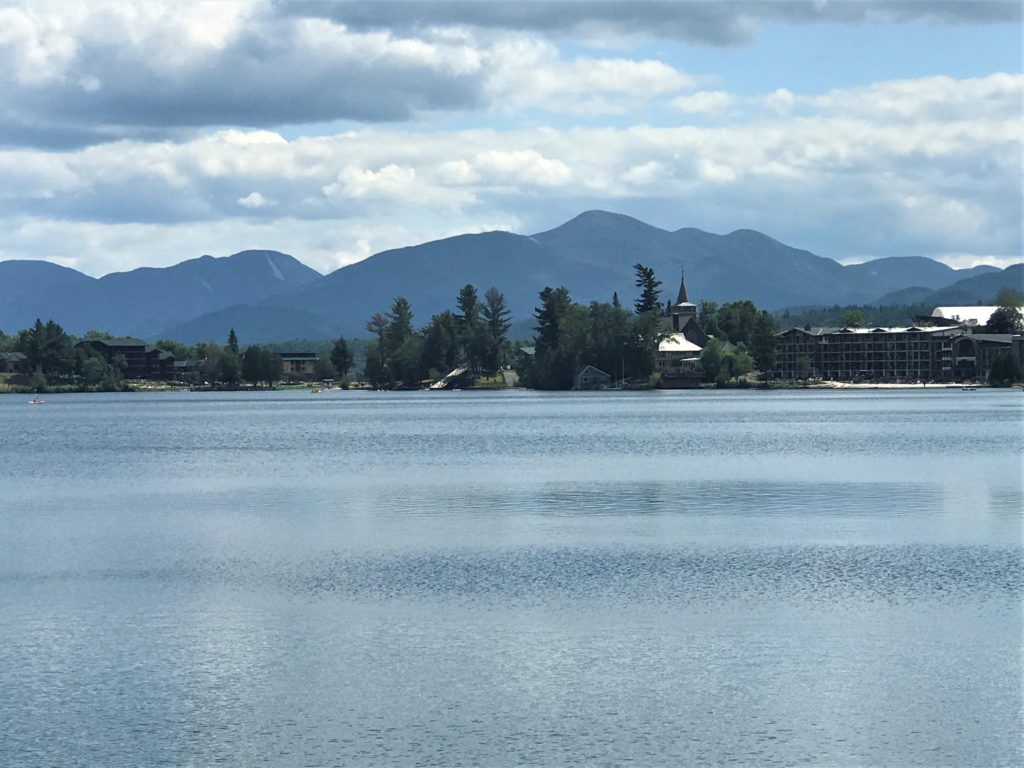 Mirror Lake is a great spot for flatwater paddling, canoes, SUPs, paddle boats and other motor-less forms of boats.
Electric motors are allowed, but rarely seen on the lake.
There are several options for renting (non-motor) boats directly on the shores of the Mirror Lake and downtown Lake Placid.
There is also a public area with a loading zone to pull up and unload your boat into the lake. In addition, there is a 2.7-mile walk around the lake that is a favorite of the locals as well as visitors.
The walk takes approximately one (1) hour to complete. It was very hot when we visited Lake Placid so we chose to drive around the lake, but we saw many people walking around the lake (which takes you into beautiful neighborhoods) so it is definitely popular!
Restaurants in Lake Placid
Just walk down Main Street and you will find every type of food you might be craving! We chose a restaurant called Generations – a Bar/Pub where we could eat outside on the patio. My burger was huge and delicious!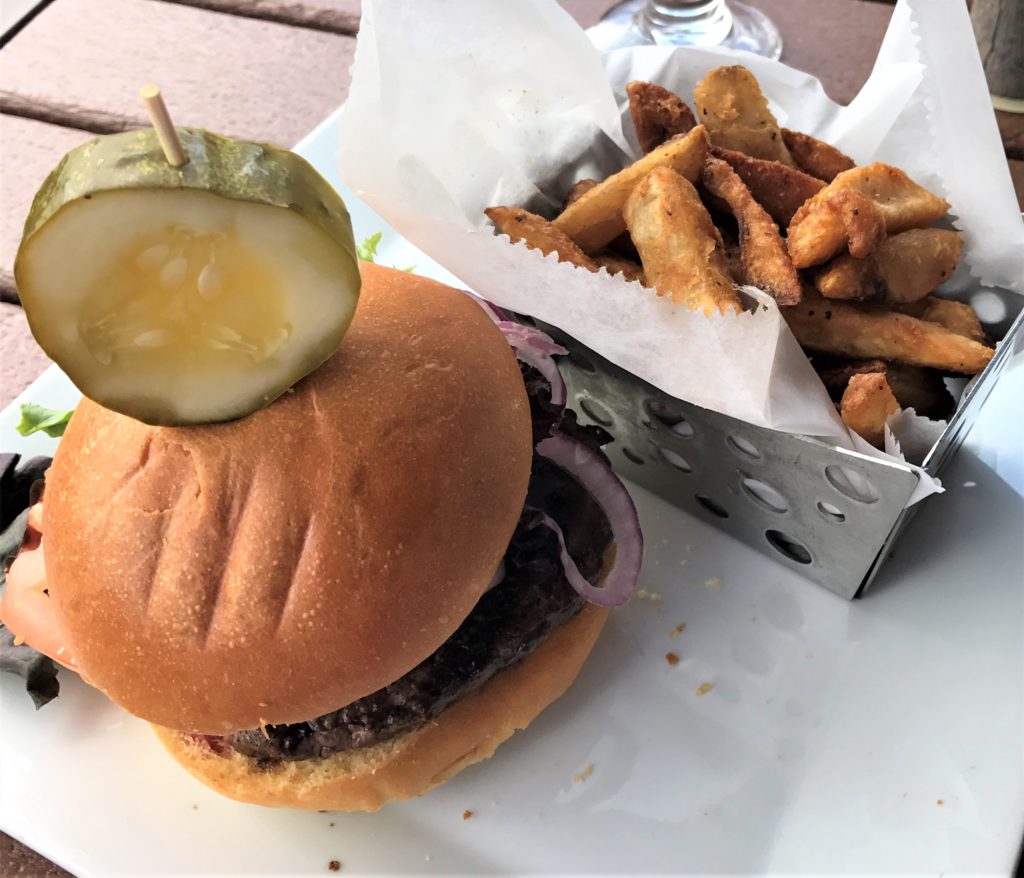 A Little Further Away… One attraction I really wanted to experience – but we just didn't have time was The Wild Center and its new Wild Walk – an elevated trail across the Adirondack treetops!
The Wild Center is located at Tupper Lake which is approximately one (1) hour from Whiteface Mountain (Wilmington, NY).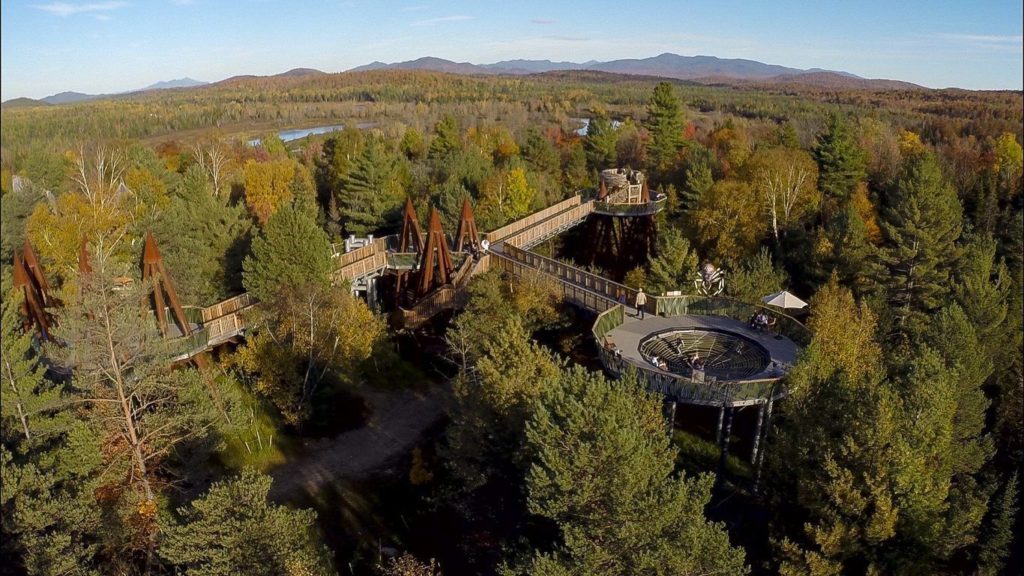 The Wild Walk is similar to the High Line in New York City – taking you above the city to see the sites!
According to The Wild Walk website, "Wild Walk takes visitors up a trail of bridges to the treetops of the Adirondack forest.
It's designed to transform the way we see into the natural world by offering up the perspective of the rest of nature."
This looks amazing and I have added it to our Must-See when we re-visit the area!
Experience the Adirondacks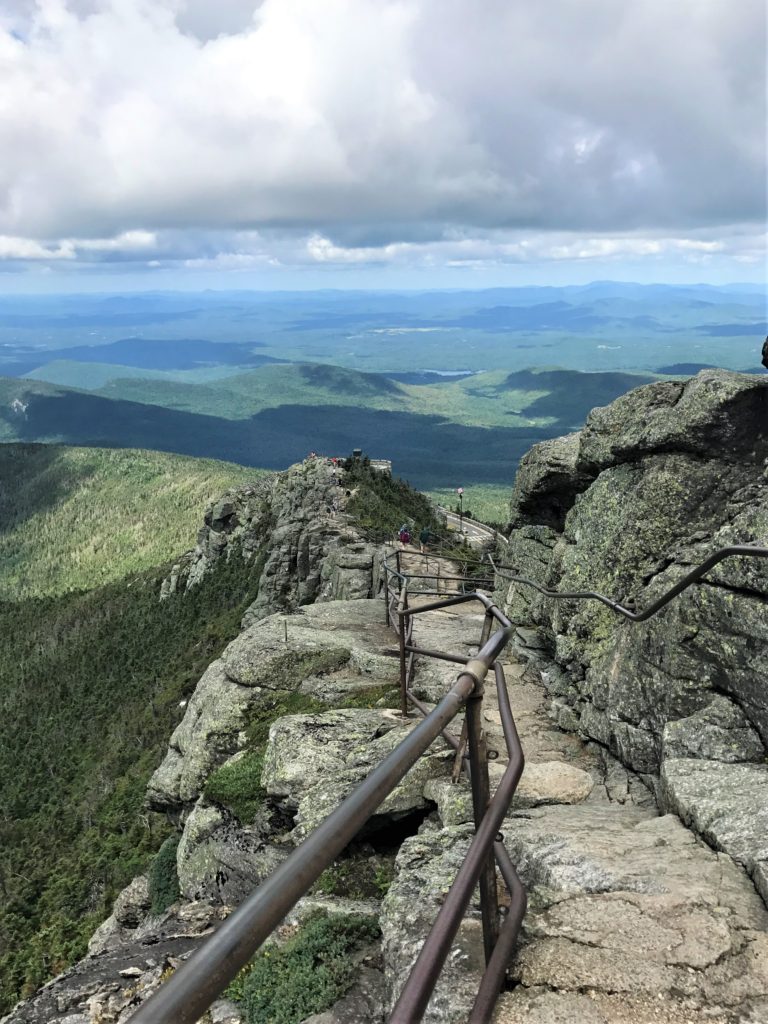 I know you and your family will LOVE the Adirondacks.
Whether you visit for the weekend or spend the entire week, you will find amazing things to see and experience in The Whiteface Mountain area of the Adirondacks.
If you're like us, you will be planning a "Re-Visit" to the area very soon!
Let me know if you've been to the High Peaks Region of the Adirondacks and if so – what was your favorite attraction?
I would love for you to join my mailing list!
More Travel Posts You May Enjoy:
* How To Plan A One Day Trip To Niagara Falls New York
* The Best Things To See In Letchworth State Park
* 9 Amazing Things To See In Acadia National Park
* Top Things To Do On A Weekend Getaway To The Catskills
* 18+ Amazing Things To See In The White Mountains
* Amazing Adventures At Lost River Gorge & Boulder Caves
* 7 Tips To Know For A Fun Trip To The Pioneer Woman Mercantile & Lodge
* Hiking The Overlook Mountain Trail Woodstock NY
* Best Things To See While Driving Up Mount Greylock Scenic Byway