Last Updated on August 30, 2022 by Lori
What are the best things to do in one day when stopping at the cruise port of Juneau, Alaska?
Best known for its incredible wildlife, fishing, glaciers, mountains, and bears, there is so much to see in Juneau that you'll want to try to see it all!
Here are three fun things that we loved on our Alaska cruise when we stopped at the Juneau, Alaska cruise port.
This post contains affiliate links which means if you click on a link and make a purchase, I will earn a commission at no additional cost to you. Please see our Disclosure Policy for more information.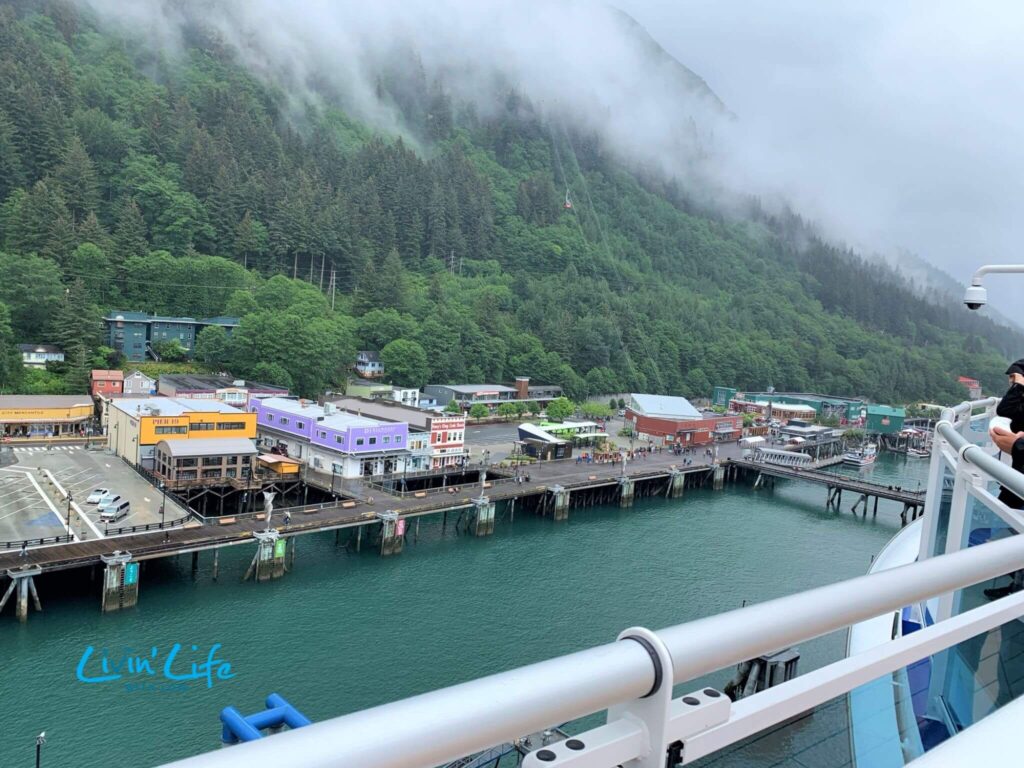 History of Juneau
Founded as a gold mining town in 1880, Juneau gets its name after gold prospector, Joe Juneau. Previously, Juneau was named Rockwell then Harrisonburg after Joe Juneau's co-prospector Richard Harris.
An interesting fact about Juneau: Juneau has no roads connecting it to the rest of Alaska. The only way to visit is by plane, ferry, or cruise ship. There are only two (2) U.S. Capitals that are not accessible via roadway – Juneau and Honolulu, Hawaii.
What You Will See When You Get Off The Cruise Ship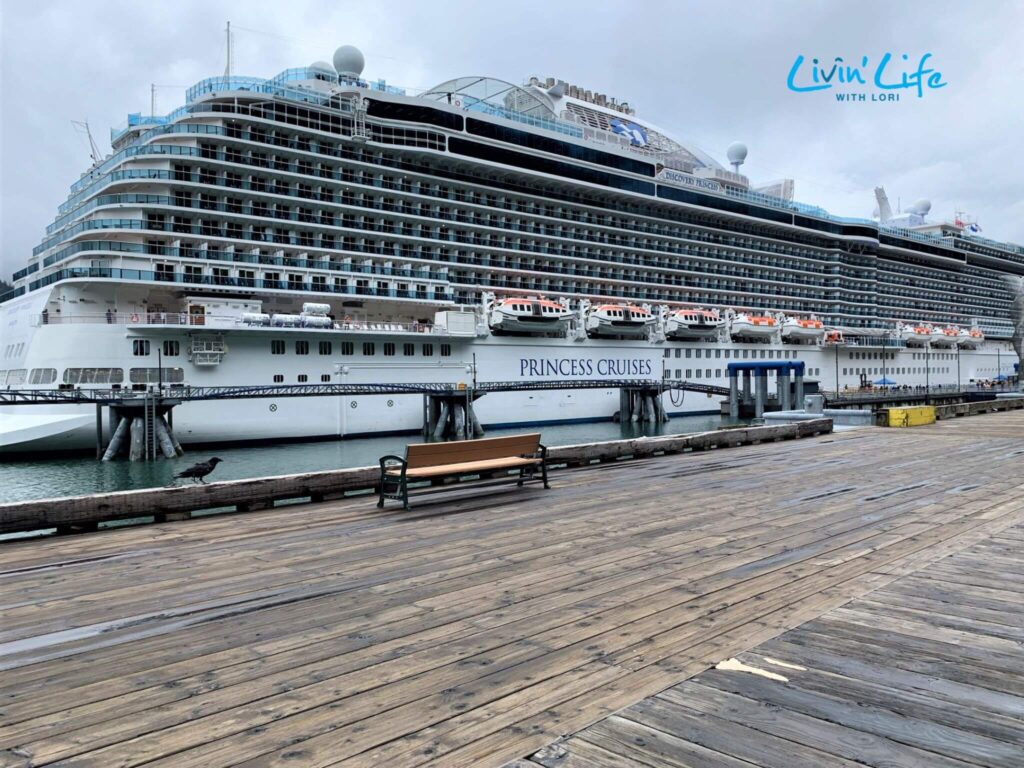 As you step off the dock in Juneau, you will find a nice boardwalk along the docks with plenty of booths to book your shore excursions! So, don't worry if you haven't booked through your cruise line – you will find something fun to do!
When we were planning our Alaska cruise, deciding which excursion to take when docked in Juneau was overwhelming!
Here are a few ideas of things to do when visiting the cruise port of Juneau, Alaska:
Take a tour of an Underground Mine
Go Sea Kayaking
Take the Mount Roberts Tram
Visit a Dog Sled Summer Camp
Go Whale Watching
Visit Mendenhall Glacier
Hike to Nugget Falls
Take A Sea Plane to see the glaciers
Go Salmon Fishing
Take A Helicopter Ride To Mendenhall Glacier, then take a guided walk on the glacier.
We ultimately decided to take the Mt. Roberts Tram, see Mendenhall Glacier, and hike to Nugget Falls.
While we were waiting for our excursion, we decided to do some shopping since we hadn't purchased our Alaska memorabilia yet. There were plenty of shops to purchase t-shirts and hats in the dock area. We also noticed that the prices were comparable to other ports we visited.
Mt. Roberts Tramway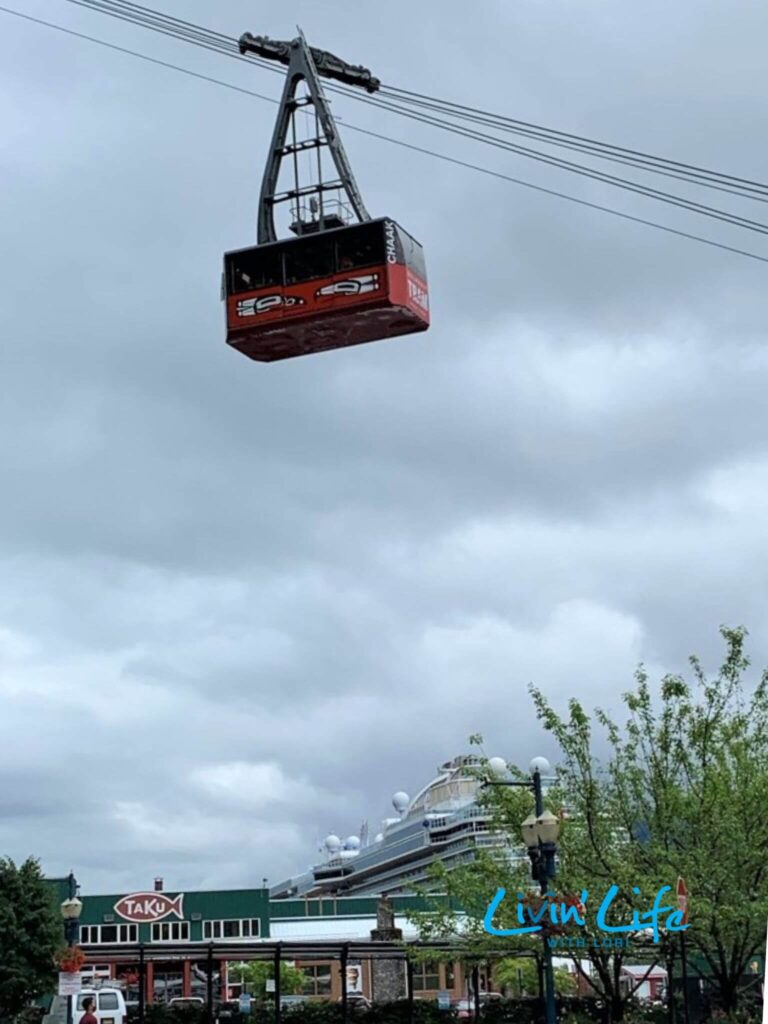 On our list of Things To Do in Juneau was taking the Mount Roberts Tramway. However, when we went to book the excursion through our Discovery Princess cruise, it was sold out. We decided to wait until we got to Juneau to see if we could purchase tickets that day.
Thinking of taking an Alaska Cruise? Check out our 15 Tips You'll Love For A Discovery Princess Cruise To Alaska
As it turns out, the tram is just a short walk from the cruise docks, and you can purchase tickets that day. Tickets are good to ride the tram the entire day.
The Gold Belt Tram (formerly known as the Mount Roberts Tram) takes you up 1,800 feet from the cruise docks through a rainforest to the top of Mount Roberts.
The Juneau Tram is one of the most vertical trams in the world! At the top, you can see views of the Chilkat Mountains, Stephens Passage, and Douglas island.
My mom and dad had photos from their Alaskan cruise taken from the top of Mount Roberts and it looked beautiful! I couldn't wait to go!
The day we arrived in port, it was so cloudy and rainy, you couldn't see a thing!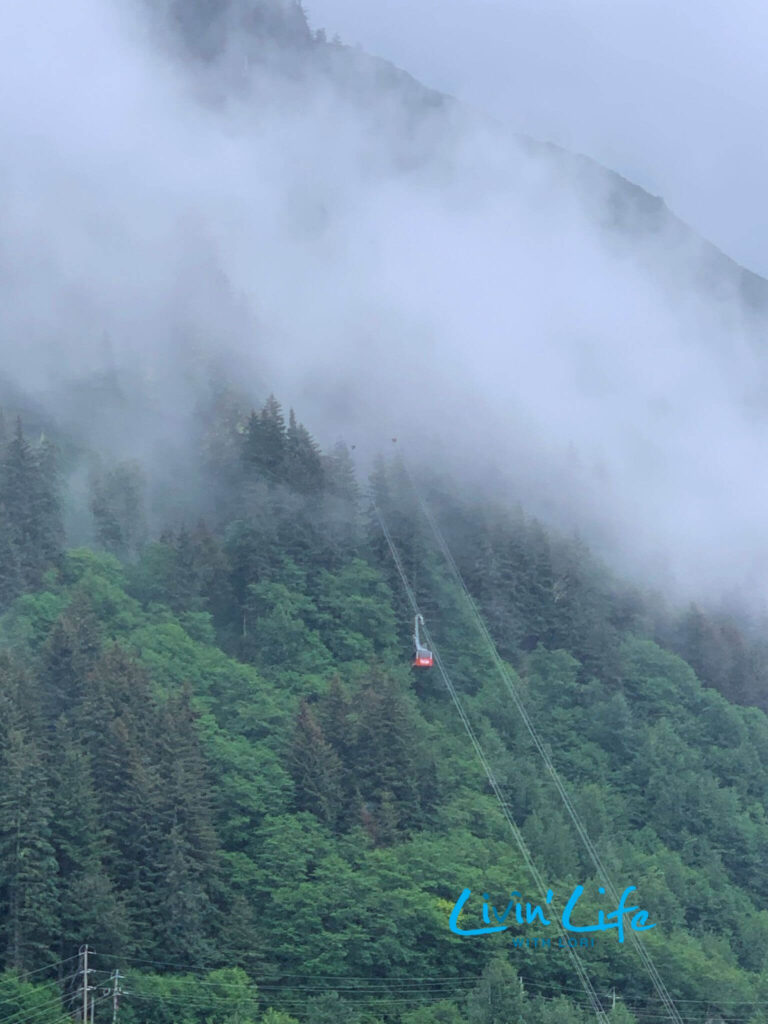 We decided to wait to see what the weather was like when we returned from our excursion to Mendenhall Glacier.
Mendenhall Glacier & Hike To Nugget Falls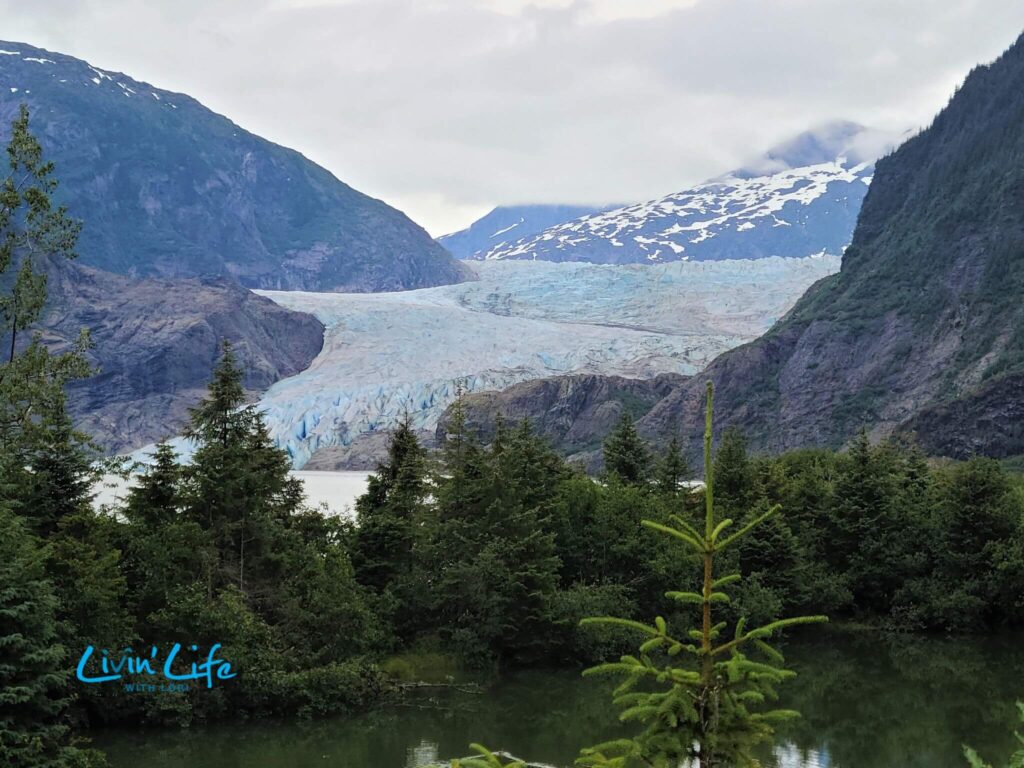 Mendenhall Glacier was also on my bucket list of things to do in Juneau. It was one of the rivers of ice formed during the Little Ice Ages some 3,000 years ago and is one of 38 large glaciers that flow from the Juneau Icefield.
On our way to Mendenhall Glacier, the bus driver told us we had a great day to see the glacier as glacial ice shows its true blue color on an overcast day.
The blue color is more intense on cloudy days because more blue passes through the clouds than any other color.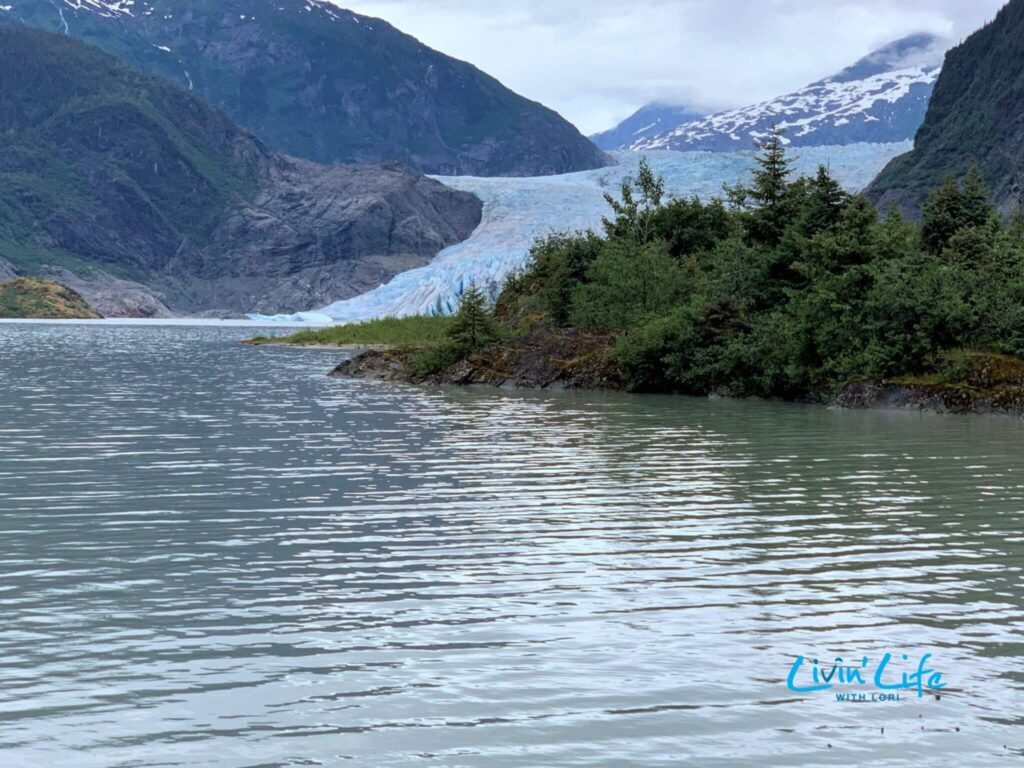 We were also lucky to see a cinnamon bear casually walking near the roadway. Cinnamon bears are part of the black bear family but are cinnamon in color. I had never seen one before and unfortunately, I didn't get a picture!
Juneau is also known for its many Bald Eagles. They were amazing to see perched on poles and in trees. I can honestly say I've never seen so many Bald Eagles in one place before!
Where Did Mendenhall Glacier Get Its Name?
Mendenhall Glacier was originally named after the Auke Indians, a village group of the Tlingits.
John Muir, a famous naturalist in the late 1800s visited this area of Alaska and wrote in his journal about his visit to the Auk Glacier.
In 1892, its name was changed to honor Thomas Corwin Mendenhall, Superintendent of the U.S. Coast Guard and Geodetic Survey, who helped determine the boundary between Canada and Alaska.
Things To Do At Mendenhall Glacier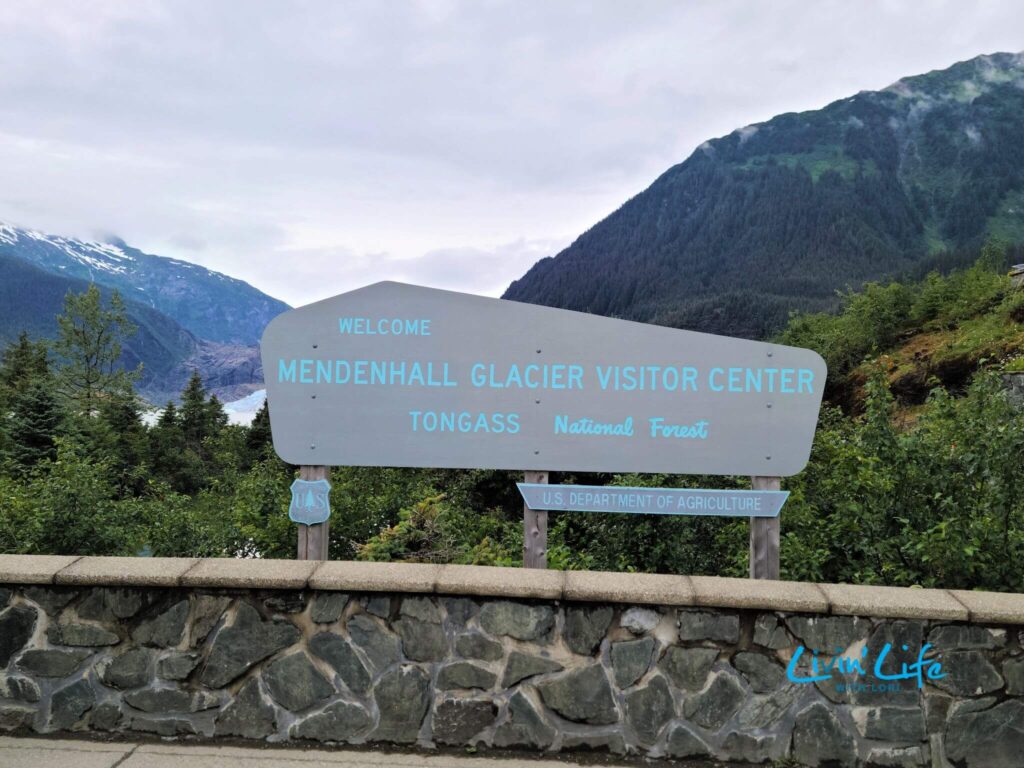 Mendenhall Glacier Visitor's Center has amazing views of the entire 13-mile river of ice as well as Mendenhall Lake with blue icebergs floating in the water.
There is a $5 entrance fee to enter the Visitor's Center, Pavillion, Photo Point, and Steep Creek Trails. You do not need a pass to hike Nugget Falls Trail – which was on our list of Things To Do.
We purchased this excursion through our cruise line which included the entrance fee.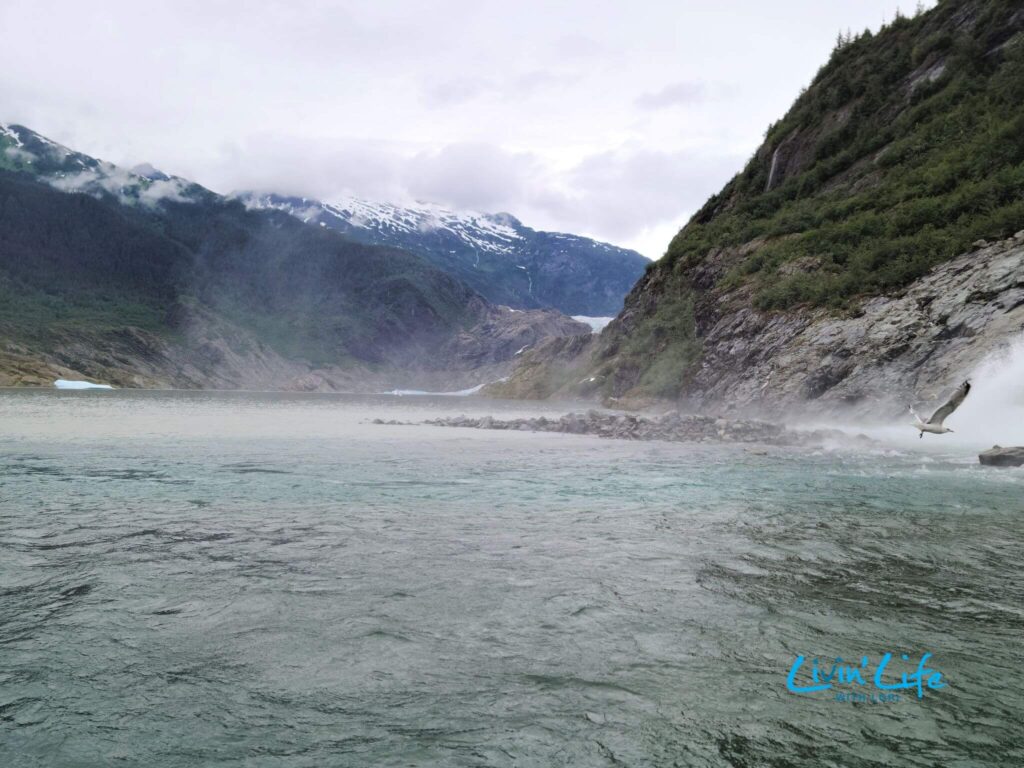 Short Walks & Hikes At Mendenhall Glacier: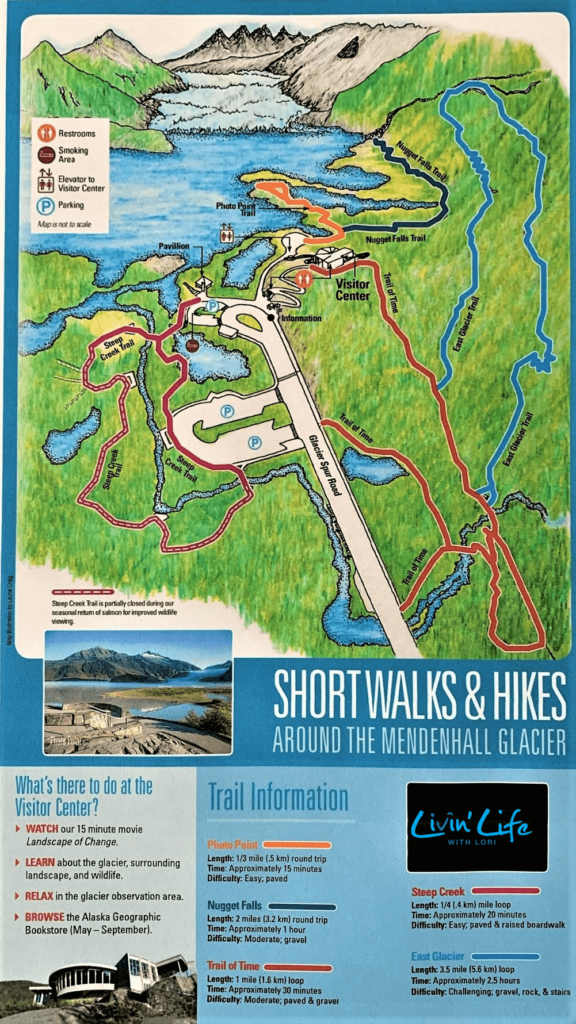 Photo Point Trail – 1/3 mile round trip easy trail on a paved pathway. Takes approximately 15 minutes to complete. Here you can see beautiful views of both Mendenhall Glacier and Nugget Falls.
Nugget Falls Trail – 2.0-mile round trip modern hike on a gravel trail. Takes approximately 45 minutes to 1 hour to complete.
Trail of Time – 1-mile loop trail. Considered a moderate hike on paved and gravel trails. Takes approximately 30 minutes to complete.
Steep Creek – 1/4 mile loop trail. Easy hike on a paved trail and raised boardwalk. Takes approximately 20 minutes to complete.
East Glacier – 3.5-mile loop trail. Challenging hike on gravel, rock, and stairs. Takes approximately 2.5 hours to complete.
Once we arrived at Mendenhall Glacier and took photos from the viewing area, we decided to head to Nugget Falls.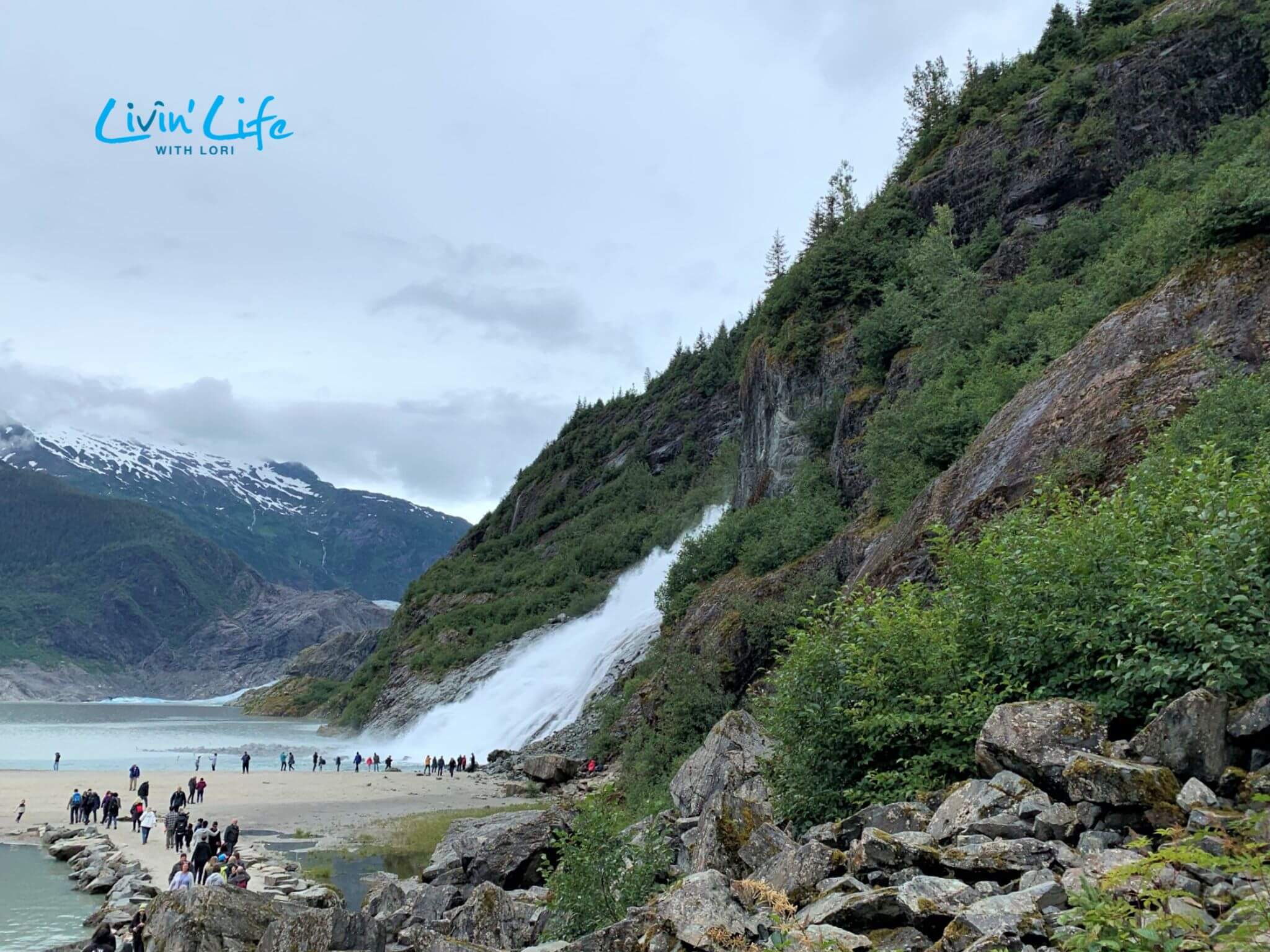 The trail to Nugget Falls is very popular. Areas of the trail seemed crowded but it was easy to walk at your own pace. Dogs are also welcome on this trail.
While some people wore sneakers and sandals, we wore our hiking boots and felt more secure walking along the pathway and down to the falls area.
The waterfall was beautiful. We loved seeing the water rushing down 377 feet into Mendenhall Lake!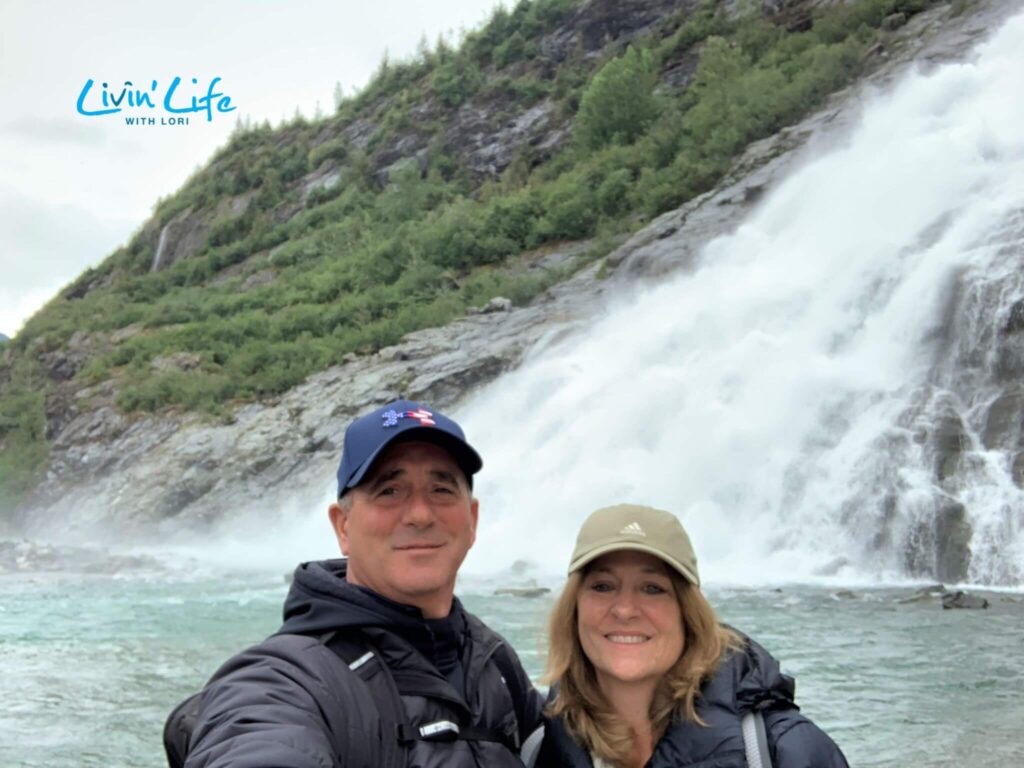 We also saw the small blue icebergs in the lake that had "calved" off the glacier.
On the way back to the Visitor's Center, we turned onto Photo Point Trail. Here you could see BOTH Mendenhall Glacier and Nugget Falls.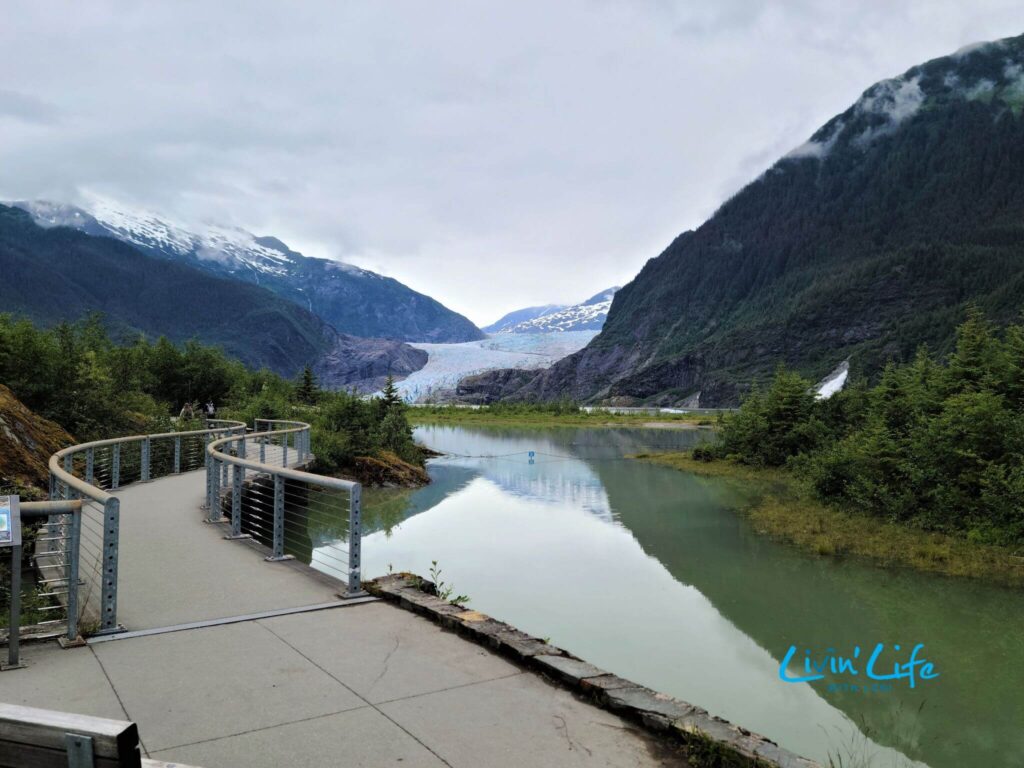 How To Get To Mendenhall Glacier
Mendenhall Glacier is approximately 13 miles from Downtown Juneau and the cruise docks.
We signed up for this Juneau excursion on our Discovery Princess Cruise, so all we had to do was to wait for our assigned time to get on the bus right at the docks.
If you didn't sign up for an excursion, there is a city bus that will drop you off 1.5 miles from the Visitor's Center as well as several shuttle buses you can take from the dock area. You can find additional information on how to get to Mendenhall Glacier on the Tongass National Forest website.
Where To Eat In Juneau, Alaska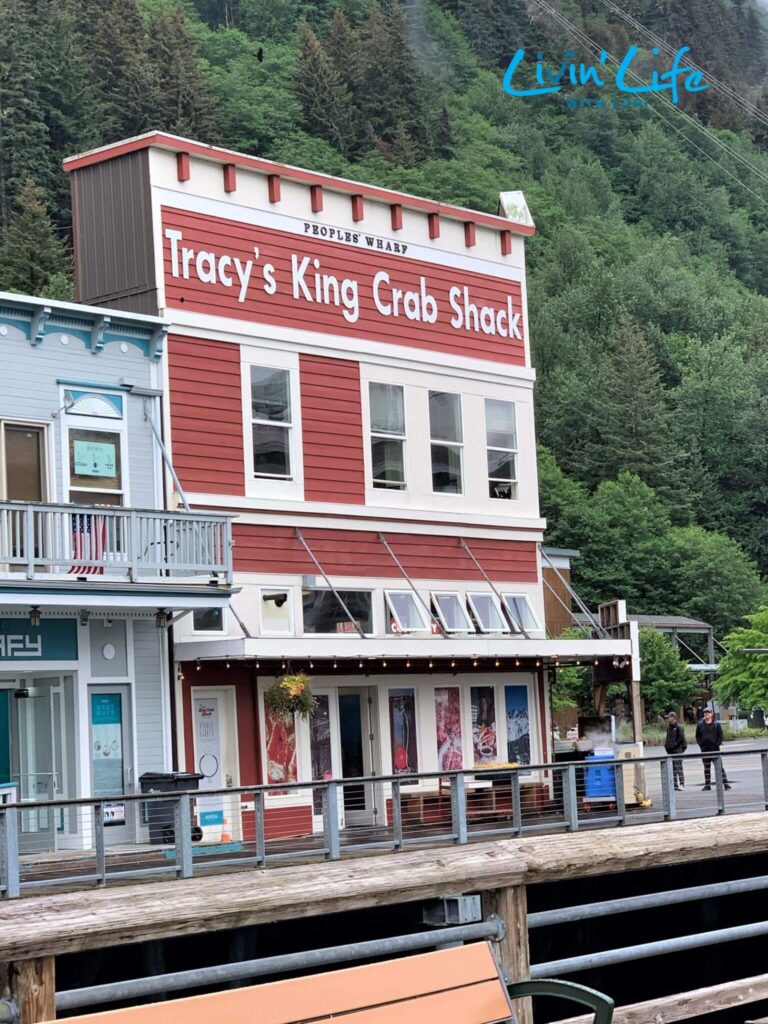 After returning to the dock area from Mendenhall Glacier, we saw that it was still overcast on Mount Roberts, so we decided not to spend the money to take the tram to the top. I was disappointed, but after hearing from some fellow cruise passengers who did, this was a wise decision. There were no views once you reached the summit.
Instead, we saw that the line wasn't too long at the ever-popular Tracy's King Crab Shack, so we decided to give it a try!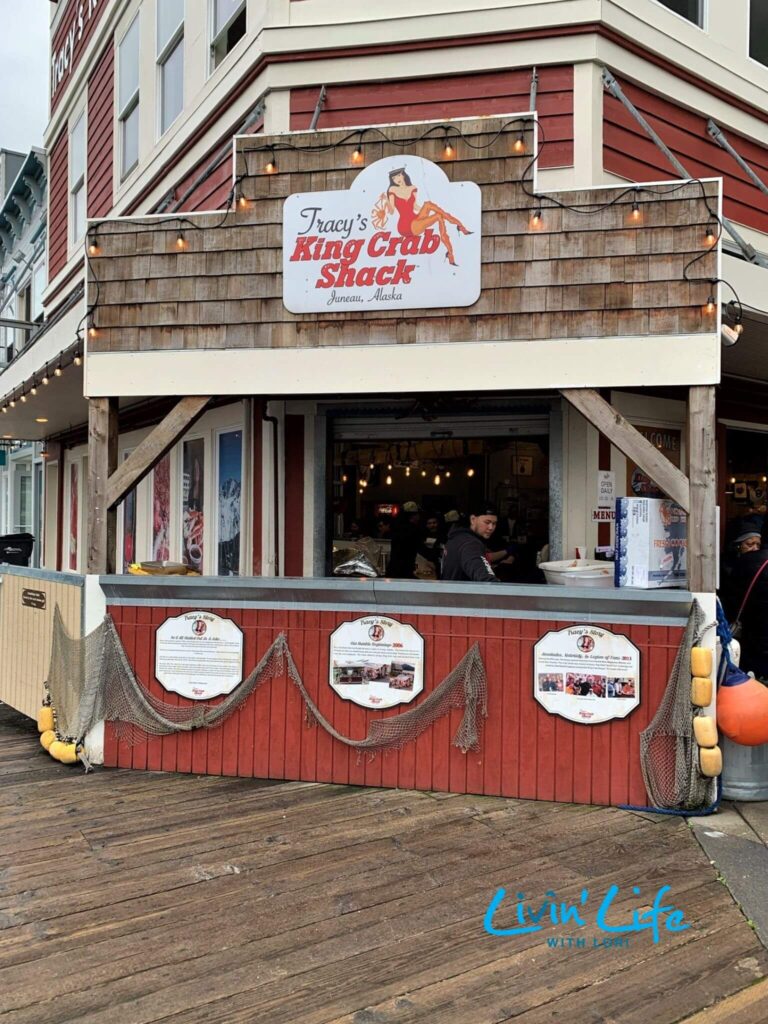 Boy, were we glad that we did!
There are no reservations – it's first come, first served. We grabbed menus to look at while standing in line and ultimately decided on the Crab Shack Combo:
8 oz Bisque
4 Mini Crab Cakes
Your Choice of Crab: Red King Crab (what we chose), Snow/Tanner Crab, Dungeness Crab
The entire restaurant has that "fun" vibe! When we ordered, the person asked us where we were from. We said, "Long Island." She told us to listen for them to call out Long Island when our food was ready!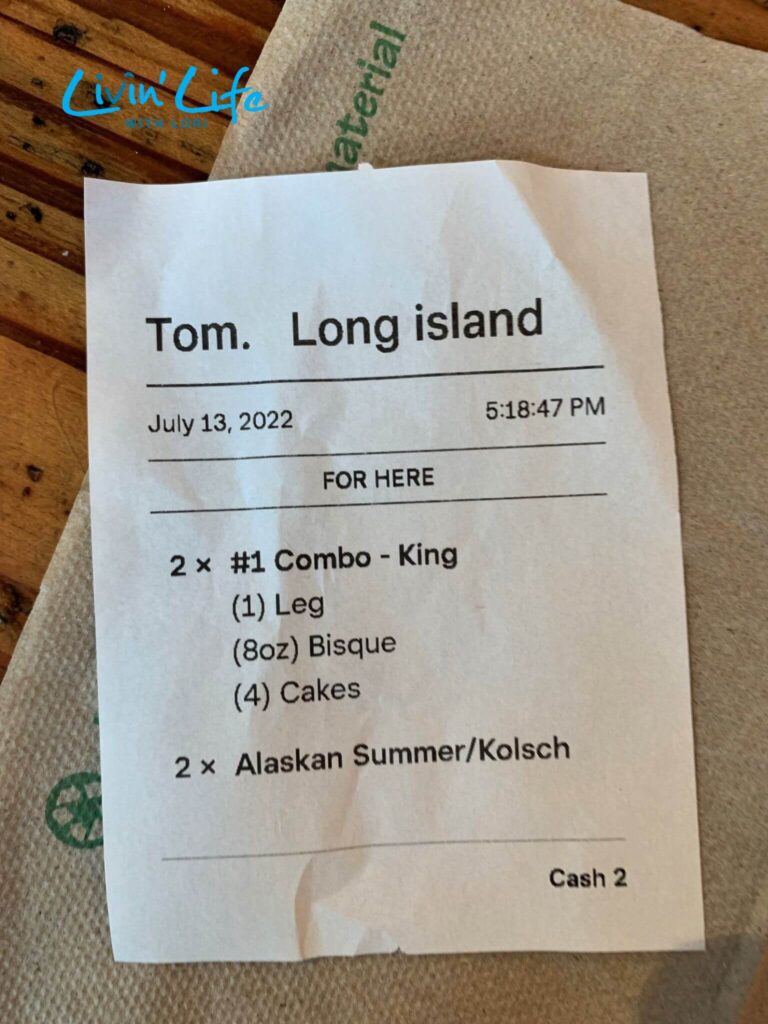 We also had to try some Alaskan Beer. All week we had heard about how delicious Alaska Beer was because it's made with Alaska water, so we had to taste it!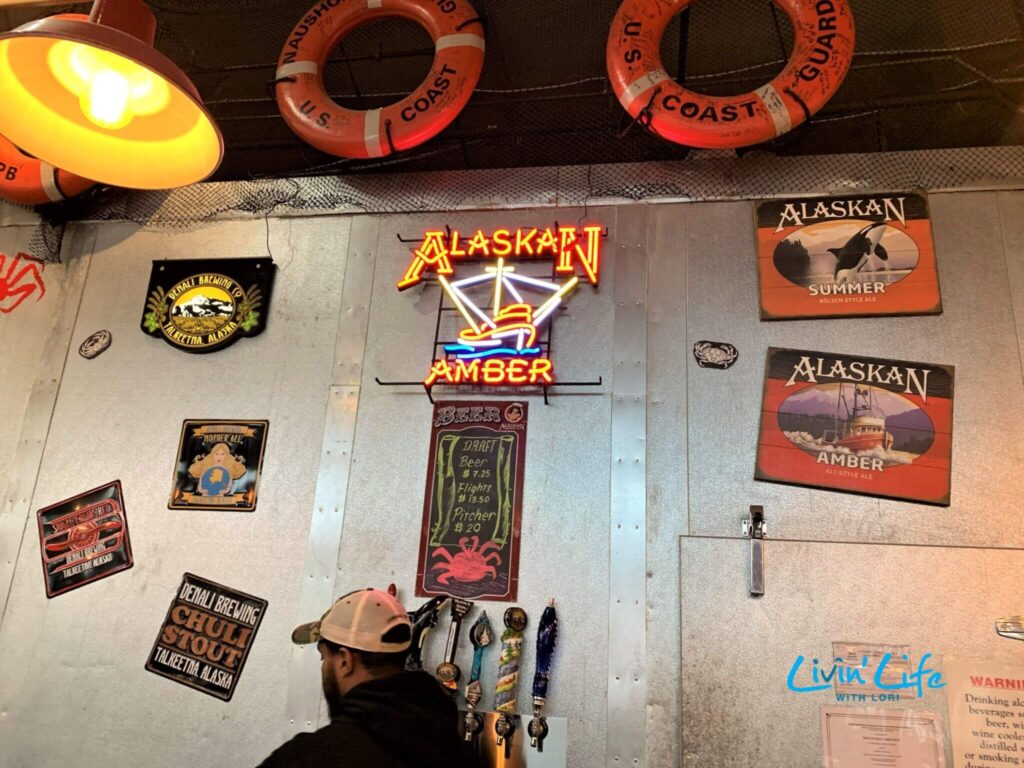 We tried the Alaskan Summer Beer, and they were right! It was tasty!
Soon we heard "Long Island!" We raised our hands, and our food was delivered!
The crab legs were huge – and delicious!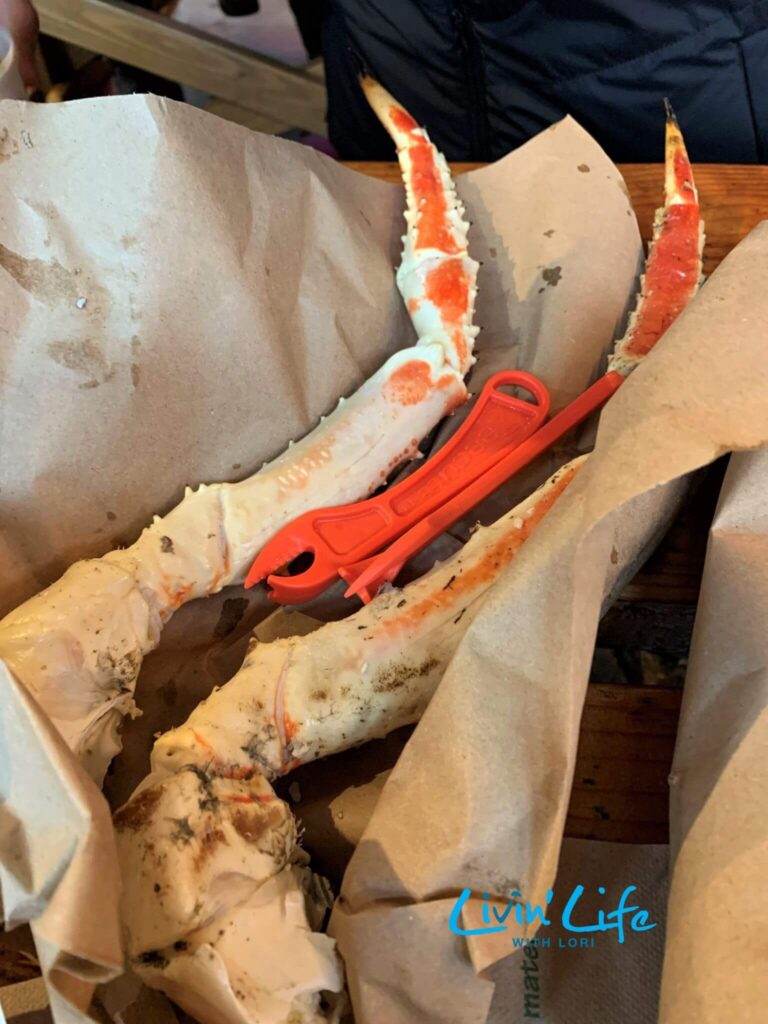 Then, it was time to get back on our Discovery Princess ship. Juneau turned out to be one of our favorite places to visit.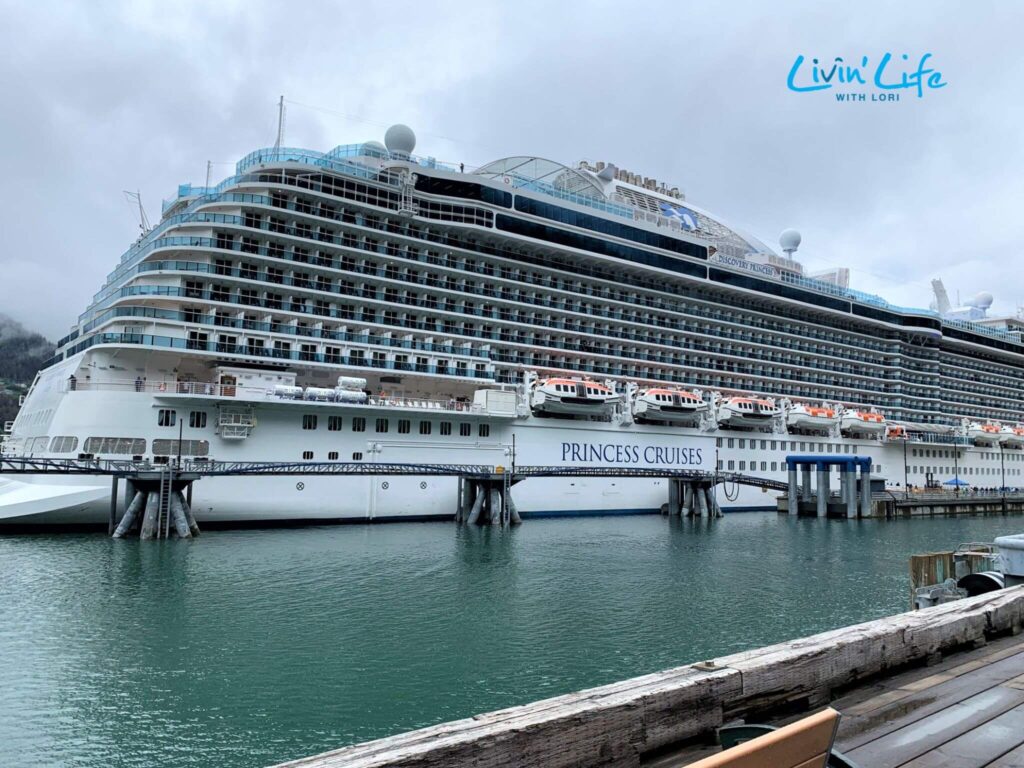 We were happy that we took the excursion to Mendenhall Glacier and hiked to Nugget Falls. We loved eating at Tracy's King Crab Shack, but wished the weather had been better to take the Mount Roberts Tram to the top of the mountain.
More Travel Posts You Might Enjoy Reading
15 Cruise Tips For Sailing On The Discovery Princess To Alaska
Top Things You'll Love To Do In Ketchikan Alaska
19+ Things To Do In Branson Missouri For The Whole Family
Take The Top Of The Rock Branson Cave Tour