Last Updated on October 10, 2022 by Lori
Is taking your family on an Alaska cruise on your bucket list? Our Discovery Princess Alaska cruise was one of the best vacations ever!
There are so many Alaska cruise ships and cruisetours to choose from you are sure to find the perfect Alaska itinerary your family will love!
Here are some cruise tips we learned on our Princess Discovery Alaska cruise that helped us have smooth embarkation and debarkation days, and general tips for making your Alaska cruise a vacation you and your family will remember for a lifetime!
This post contains affiliate links which means if you click on a link and make a purchase, I will earn a commission at no additional cost to you. Please see our Disclosure Policy for more information.
Why Choose A Princess Alaskan Cruise?
Princess Cruise lines have been sailing the Alaskan waters for over 50 years! Seven Princess ships offer cruises and cruisetours ranging from seven to 12 days departing from Vancouver B.C., Anchorage (Whittier), Seattle, San Franciso, and Los Angeles.
Princess Cruises also operate five wilderness lodges near national Parks combining a seven-day cruise with a multi-night land tour and rail service – sometimes referred to as a Land, Sea & Rail tour.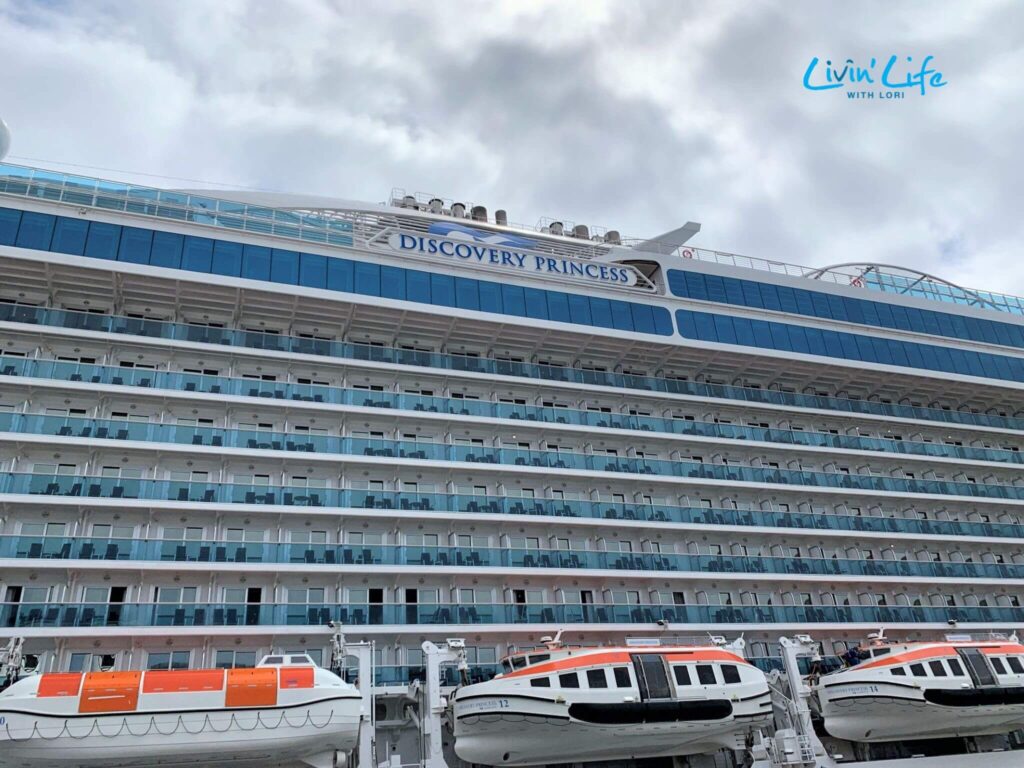 With all the choices Princess cruise lines offer, at first we were a little overwhelmed by which of the Princess Alaska ships to choose from. However, with a little bit of research, we soon found the best Alaska cruise itinerary that included all the places we wanted to see.
Best Time To Go On A Cruise To Alaska
You might be wondering when is the best time to book an Alaskan cruise. Alaskan cruise ships sail to Alaska from May to September.
While on our Discovery Princess cruise, Captain Tim told us there really isn't a "bad time" to visit Alaska. However, July and August are considered the best time to cruise to Alaska as you will have warm sunny days, long days, and see lots of wildlife.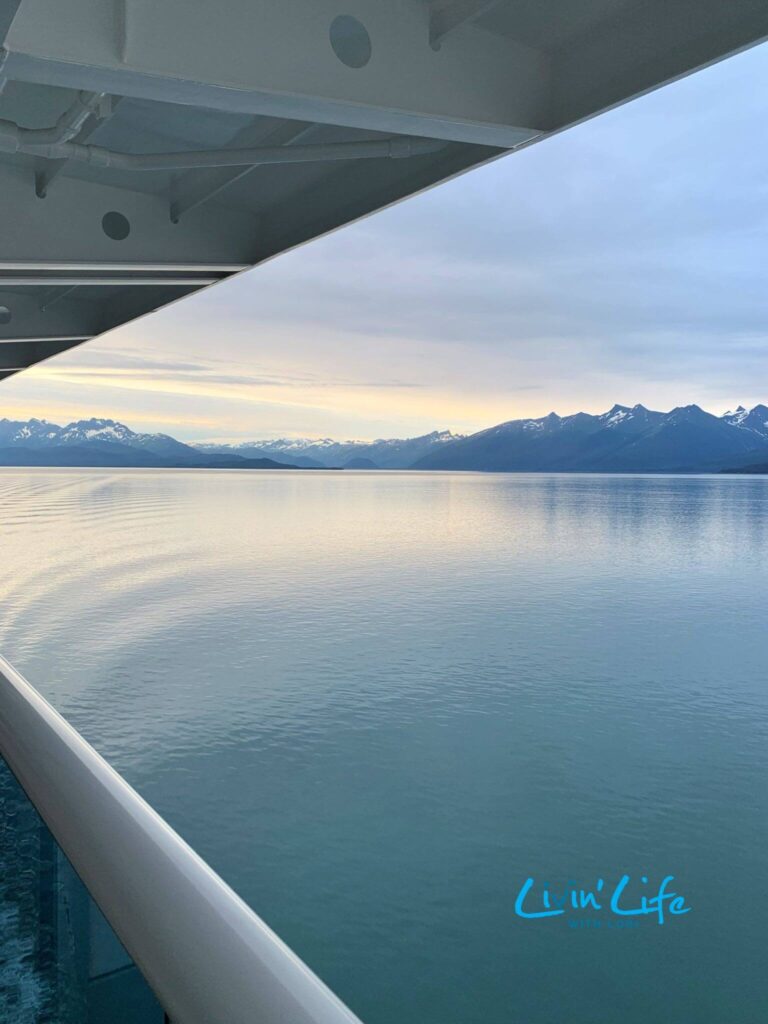 Decide Which Ports of Call You Want To Visit
Before booking your Alaskan cruise, decide which ports of call you want to visit.
On a Princess cruise to Alaska, you can choose to take an Inside passage to Alaska, a Voyage of the Glaciers, or a Land & Sea Cruisetour.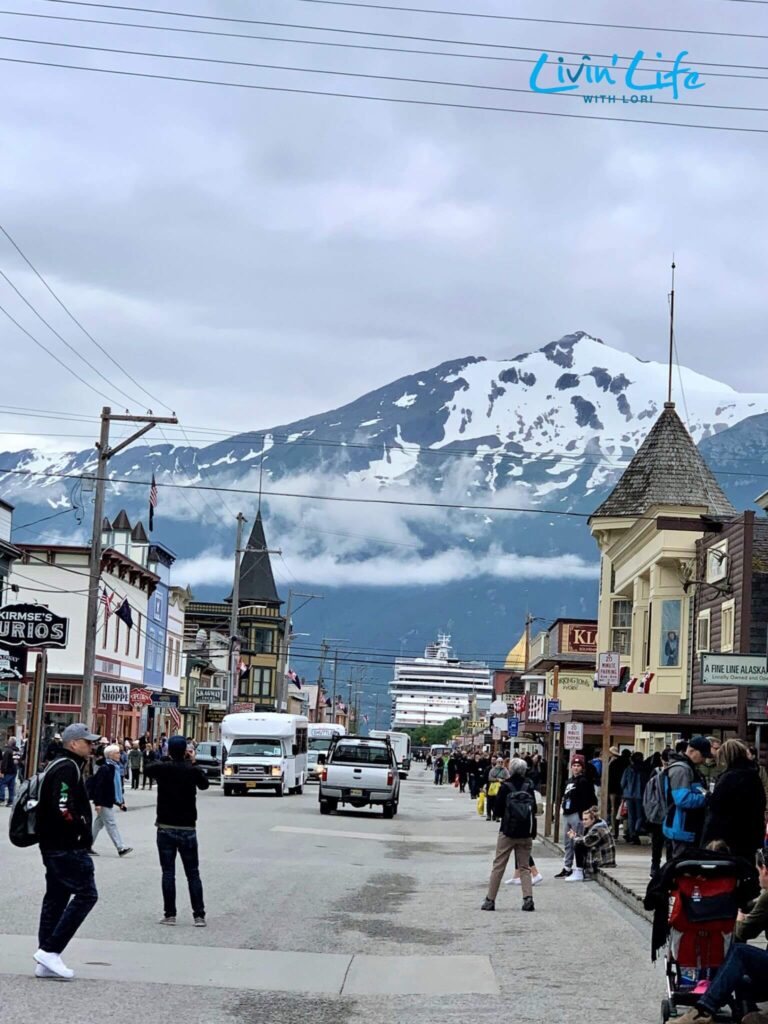 Alaska Cruise Ports of Call
College Fjord
Endicott Arm & Dawes Glacier
Glacier Bay National Park
Hubbard Glacier
Icy Strait Point
Sitka
Victoria (British Columbia)
Once you decide which ports you want to visit will determine what port you will sail from. If you decide to take an Alaska Inside Passage Round-Trip tour as we did, you can choose to leave from San Franciso, CA, or Seattle, WA.
Discovery Princess 7-Day Cruise To Alaska Round-Trip From Seattle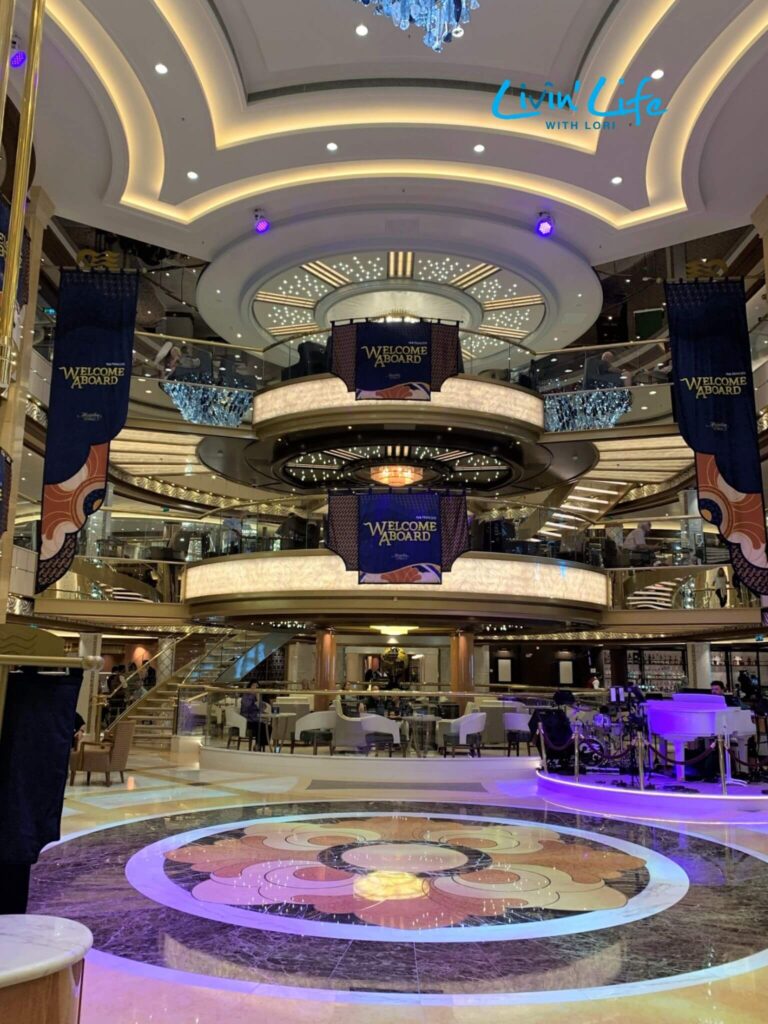 We chose to take the newest Princess cruise ship to Alaska – The Discovery Princess. Why did we choose this ship from all the other princess cruise ships?
For one, the Discovery Princess itinerary was perfect for what we wanted to see, and we loved that it was the Princess's newest ship in its fleet.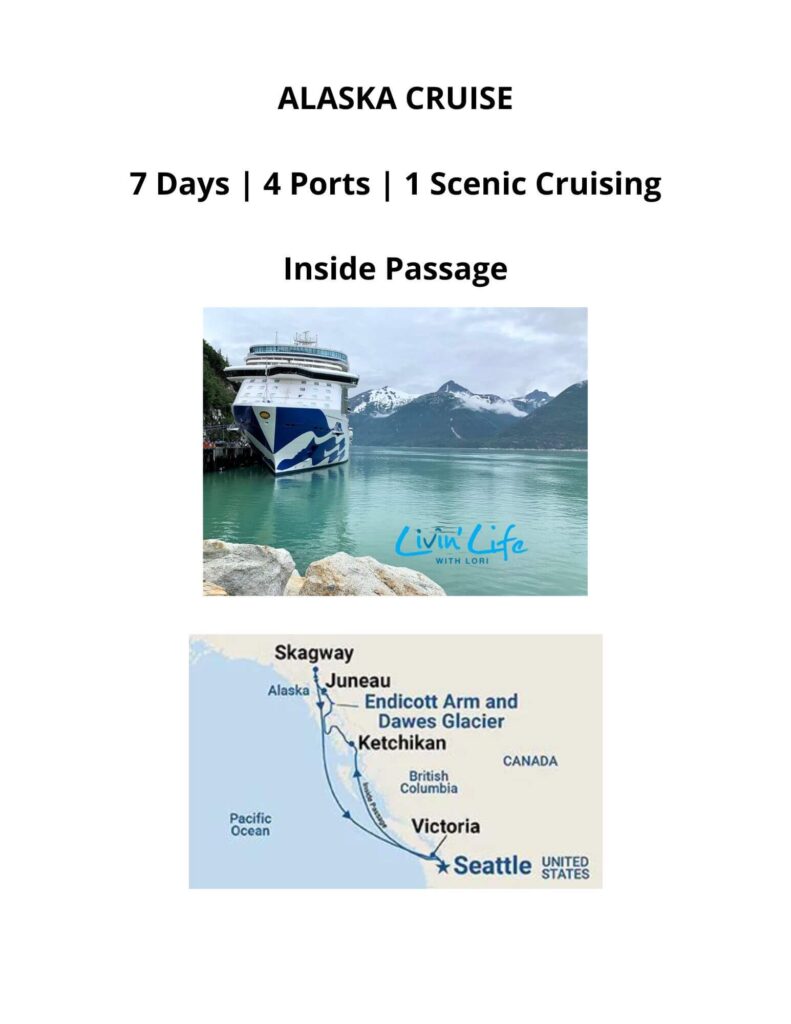 We also chose to upgrade to a Discovery Princess balcony cabin on the Lido deck which I highly recommend! This particular cabin had an unobstructed view so we had perfect views of the beautiful glaciers right from our cabin!
Looking at the Discovery Princess deck plan, you'll notice that this deck also has a pool, several places to eat, bars, ice cream, and the buffet. It was so easy to run for a cup of coffee in the early mornings and not have to take the stairs or elevator!
While more experienced cruises will direct you to choose a room in the mid-aft section of the ship (less chance of feeling seasick, better views, etc.) we did not feel sick and loved that all we had to do was to look out of our window to see the beautiful mountains and glaciers!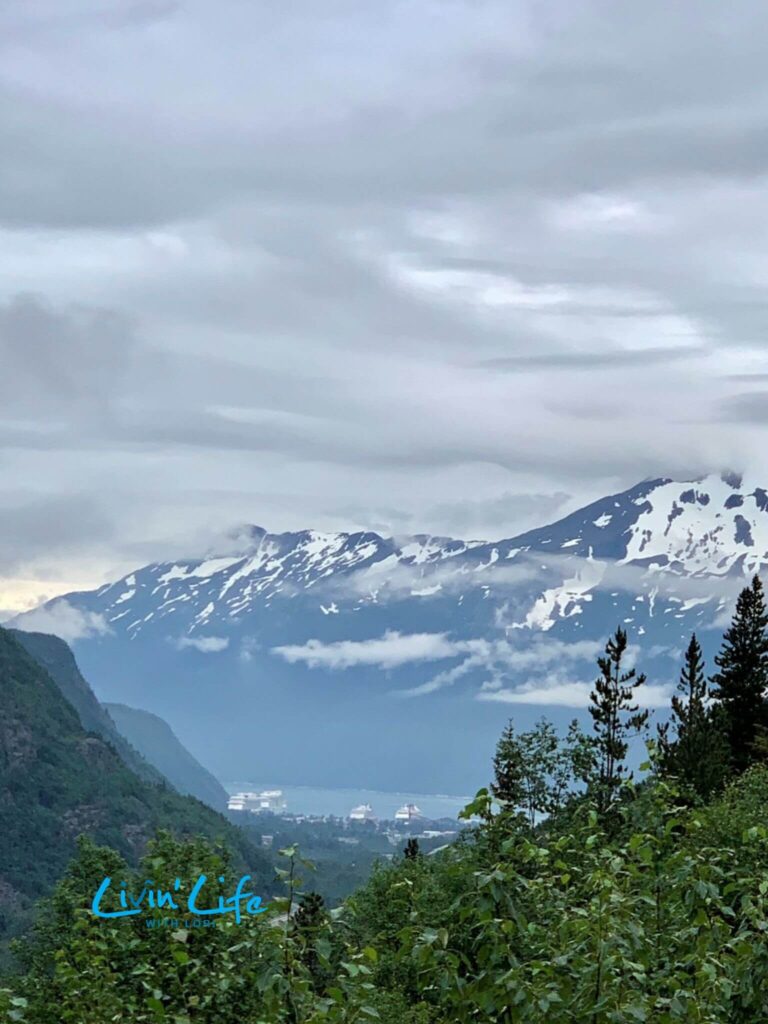 Once we chose our ship, it was time to explore our ports! The Inside Passage Alaska cruise would sail round-trip from Seattle, Washington, and visit the ports of:
Endicott Arm/Dawes Glacier
Ketchikan
Juneau
Skagway
Victoria, B.C.
Choose Your Shore Excursions Early
Once you've chosen your Alaska itinerary and cruise ship, one of the first things you need to do is to choose and book your Princess Alaska excursions. Don't wait until you get on the ship, as popular shore excursions sell out quickly!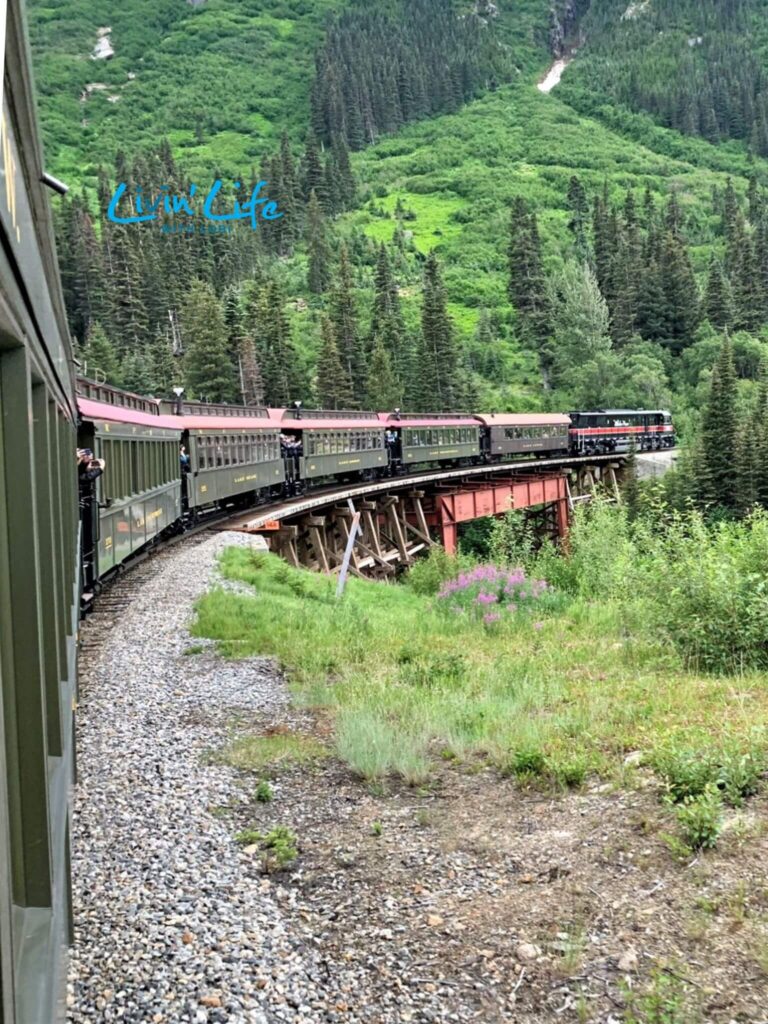 Shore excursions range in price from $45 – $300+. We loved our shore excursions; however, there were so many things to see at each port that it's no wonder people cruise to Alaska over and over again!
If this is a once-in-a-lifetime vacation – be sure to set aside funds to take that helicopter ride to land on a glacier or get on one of the smaller excursion boats that will take you up close to the glaciers.
Download The Princess Medallion App Onto Your Smartphone
Discovery Princess is considered one of the Princess Medallionclass® of ships that use an app to make it easy to book your dining reservations, get directions to where you want to go on the ship, and view your bill onboard.
***Note: I highly recommend checking to receive the Princess Patter in paper form. You can do this on the app under "preferences". The Princess Patter is delivered to your room by your steward each night and contains all the activities, times for dining, and whether you need to change your clocks!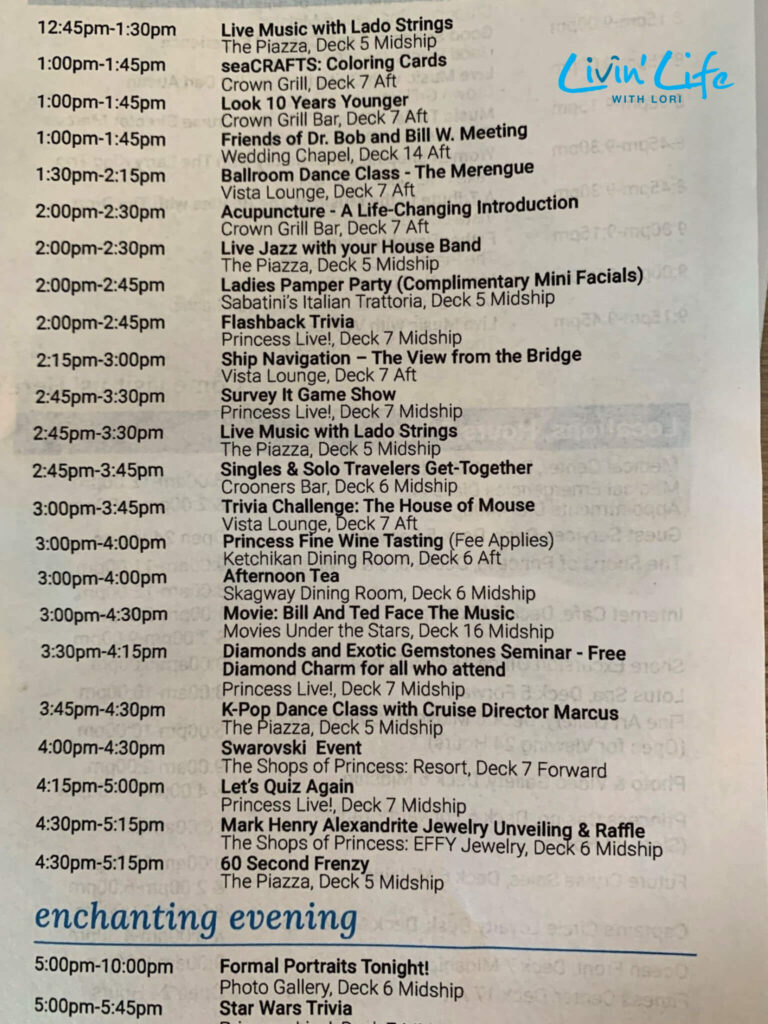 You will receive a Princess Medallion to wear while on the ship that will unlock your stateroom door, servers to know which food and beverage plan you have to charge food and drink to your room, and to get on and off ship (plus much more!)
Book Your Dining Before You Get On The Ship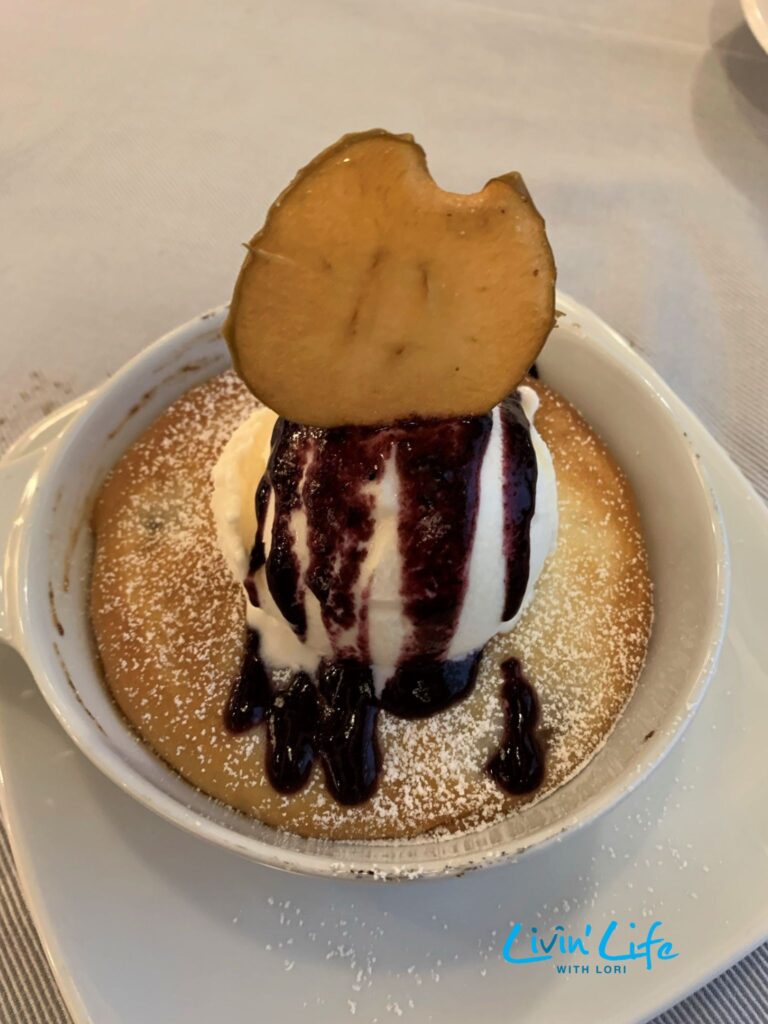 There are three Main Dining Rooms (MDR) on the Discovery Princess ship that serve the exact same menu each night:
Princess now has what's called – Dine My Way where you can choose the time you want to eat dinner (5:00 – 9:00 p.m.) and whether you want a private table for your party or don't mind sharing a table.
Having a dining reservation will ensure you have a table at the time you prefer to eat. That being said, while we had reservations for the Ketchikan Dining Room at 7 p.m. each evening, we found that time didn't really work for us all the time.
You can change your reservation time in the Medallion app; or, you can just wait in the "no reservation" line at any dining room.
We found that we enjoyed the Juneau Dining Room. It was less crowded at the time we wanted to eat and we would only have to wait a few minutes to be seated.
If you have a large group however and want to sit together, I highly suggest making a reservation for each night so that you can sit together and won't have to wait.
World Fresh Marketplace
The World Fresh Marketplace is the buffet dining area. There are many choices of things to eat here! Plus, there is an entire rea just for desserts!
You don't need a reservation to eat at the buffet, and there are plenty of tables available. It's a great place to get coffee in the morning too. The World Marketplace is open at 5 a.m. for breakfast and remains open for lunch and dinner.
Other Breakfast Choices
If you are looking for a more sit-down dining room experience for breakfast, you don't need to make a reservation for the Skagway Dining Room. They serve breakfast from 7-9 a.m. and you can order daily specials as well as eggs any way you like.
The International Cafe is open 24 hours and serves specialty coffee and quick bites.
Reserve Your Speciality Dining Before You Get On The Ship
While there are many free dining options to try, Discovery Princess has a number of Speciality Dining rooms that I also recommend you try.
Specialty Restaurants have an additional fee to dine there – but, in my opinion, is definitely worth the extra charge.
Crown Grill
This steakhouse is one of the most popular restaurants on the ship – so make your reservation early! They serve aged and hand-cut, cooked-to-order steaks and seafood.
This was one of the first Speciality dining reservations I made after booking the cruise. The food was amazing!
Cover Charge – $29 per person charge.
Sabatini's Italian Trattoria

Sabatini's serves handmade pasta with authentic sauces with flavors of the Mediterranean.
We were able to book Sabatini's while on ship – but they only had a reservation on the last day of the cruise. Since we weren't going off the ship that day, was the only way we could dine here. We were so glad we did!
Cover Charge – $25 per person charge.
Bistro Sur La Mer
French Bistro-style dining serving authentic French dishes
Cover Charge – $29 per person
The Salty Dog Gastro Pub
A fun place serving Stout Beef Short Ribs, Lobster mac & Cheese, and the famous Salty Dog Burger!
Cover Charge – $18 per person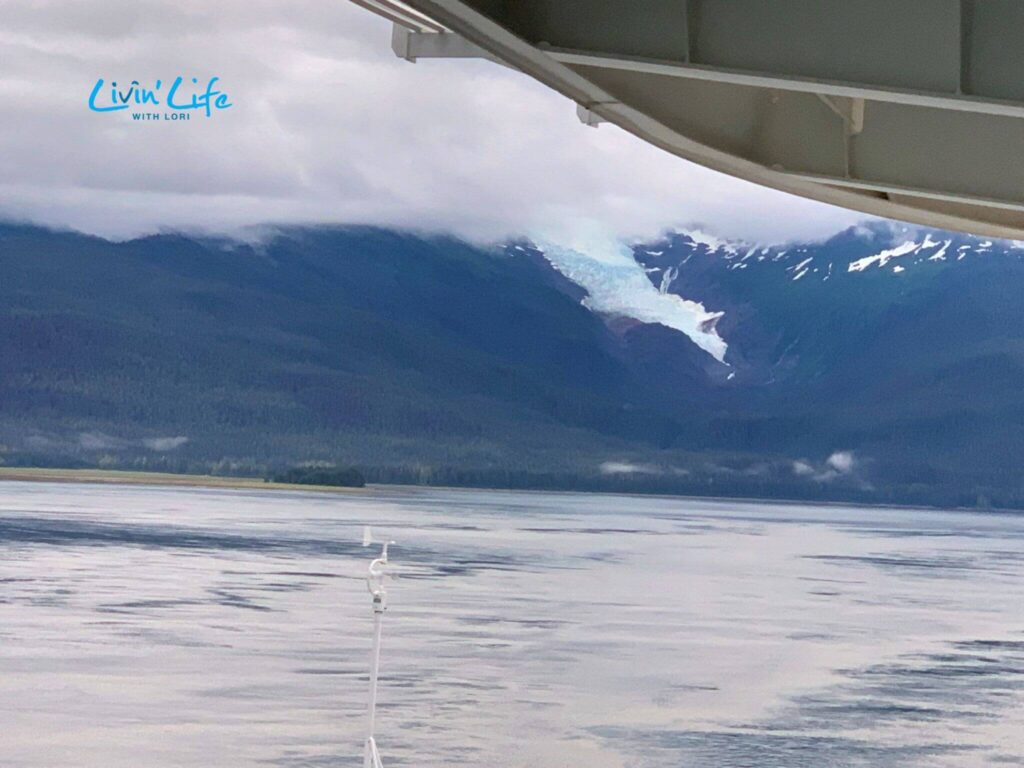 Simple Tips To Help You Get The Most Out Of Your Princess Cruise To Alaska
Arrive 1-2 days before the cruise.
You don't want to be stressed if your flight is delayed, or worse, canceled that you might miss your cruise if you're flying on the day of the cruise. Arrive at least one day early, relax and get some rest.
You Don't Have To Book The Princess Transfer From The Hotel To The Pier.
Before choosing your hotel, check to see if the Seattle Express Shuttle makes a stop at your hotel.
We booked a round-trip shuttle on Seattle Express Shuttle from our hotel to the Pier and from the Pier to the airport when we arrived back in Seattle.
The Seattle Express Shuttle made it so easy! I pre-booked both shuttles (there is a discount for a round-trip ticket), received an email with my confirmation number, then received a follow-up email a few days before my trip. On the day of the cruise, the driver came into the lobby of the hotel to get us – calling us by name.
After getting off the ship, we didn't have to stand in the long line for the Princess Transfer to the airport (which I heard was 2 hours). We met the Seattle Express Shuttle in Lane R, told them our name, and got on the shuttle. We arrived at the airport by 9:30 a.m.
When You Arrive At The Seattle Pier, find a Porter For Your Ship To Take Your Bags
This was one cruise tip I'm glad I learned before going on our cruise! Remember that there are other cruise lines docked at Pier 91. Be sure to ask if they are collecting bags for your particular cruise. The porters don't work for Princess, so be sure to tip them.
***NOTE: By using a porter, you can skip the very long line of people who are carrying their bags with them and need to put their bags through security. Those with carry-on bags can walk up the stairs to wait to be checking-in by Customs. You will then go through security with your carry-on bags, and then walk onto the ship!
Be sure to have your Passports, Vaccination Card and complete the ArriveCan App BEFORE you arrive for check-in.
The ArriveCan App needs to be completed because the ship stops in Canada. The ArriveCan app can be downloaded to your smartphone and needs to be completed no later than 72 hours before embarkation. It can also be completed by computer from the Princess website if you don't have a smartphone. You will need to upload your passport information, vaccination card, and answer a few health questions.
You can upload all the information for everyone in your party, so every person doesn't have to download the app.
Take a screenshot of the confirmation code in case the internet isn't working and you are unable to pull up the app. I showed a screenshot of the QR code which shows completing the information for both my husband and me, and it was fine.
Bring Along A Pen & Highlighter.
Your steward will leave forms in your stateroom that you will need to complete during your cruise. If you forget to bring a pen, you can just go to Guest Services and they will give you one.
I wish I had brought along a highlighter to mark the activities I wanted to see on the Princess Patter. So, I am adding a Highlighter to the list of things to bring.
Turn On The BridgeCam On The TV In Your Stateroom To hear The Captain
During the first couple of cruise days, I kept opening the stateroom door to hear the Captain's announcements as they are not broadcast into the staterooms. One day, we were watching the BridgeCam on tv and heard everything that was being broadcast in the hallway. From then on, no more opening the door to hear what was being said!
Don't Miss The Naturalist Narrating Over The BridgeCam When Entering Endicott Arm Fjord At 4:30 a.m.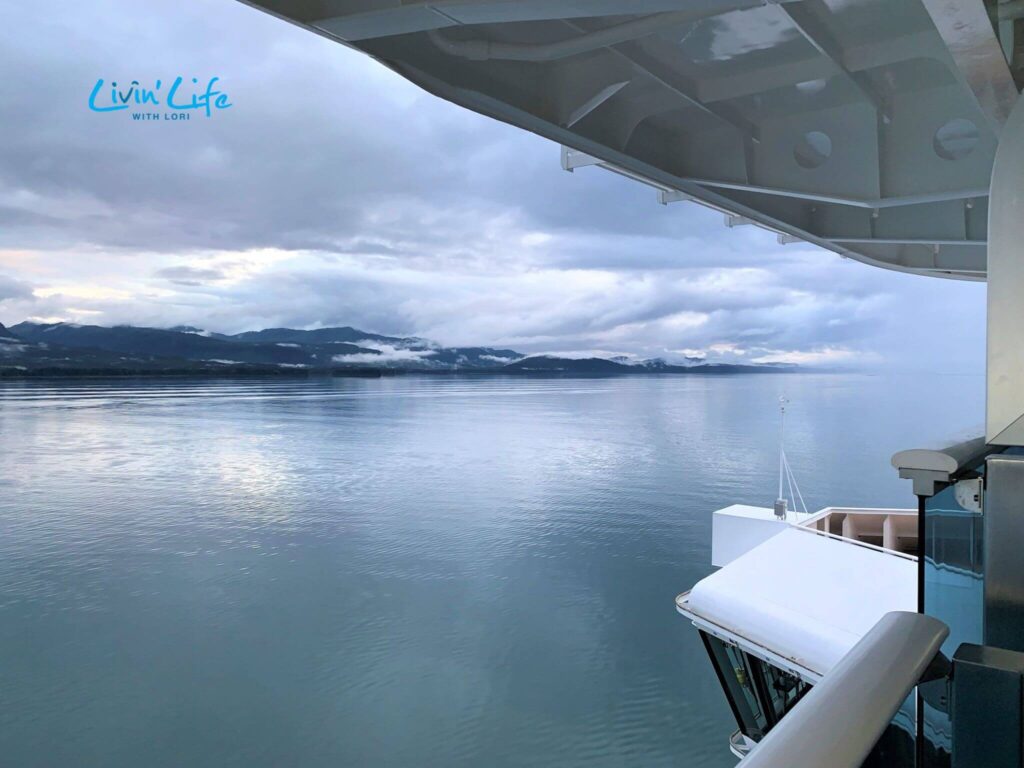 I was so happy I had heard an announcement that the naturalist would be narrative over the BridgeCam TV as we entered Endicott Arm or I would have missed so much!
Michael, the Naturalist on board the Discovery Princess came on at 4:30 am as we were just entering Endicott Arm. He spoke about the history of Dum Sum Glacier we were seeing, told us when the Eagles were flying by, to look for the waterfalls that were coming us and on which side of the ship to look!
Don't miss his narration!
Don't Feel You Have To Book An Excursion At Every Port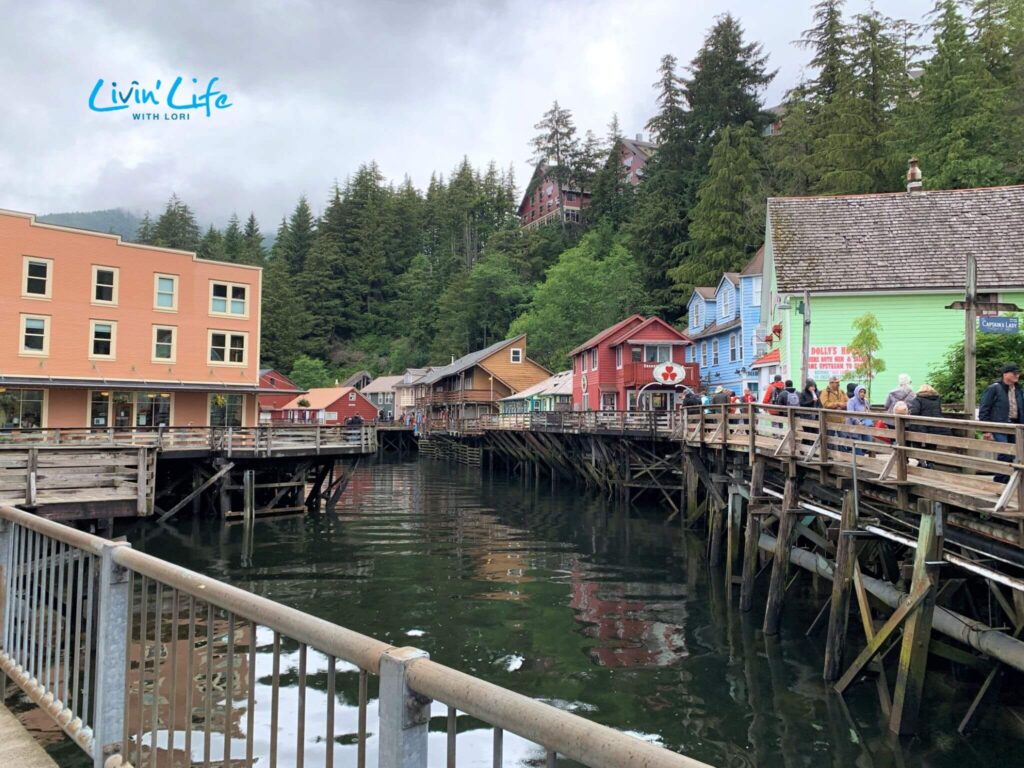 The ports on your Alaskan cruise have so many things to see, places to eat, and historic areas that you don't need to book a shore excursion – if you don't want to. Many people just stayed on the ship to enjoy the pool and hot tub!
We chose not to take an excursion in Ketchikan, Alaska, and instead took the time to walk around the town. It was only a short walk to historic Creek Street with lots of shops along the way to purchase Alaska memorabilia and restaurants to taste the local cuisine.
Make Sure To Have Small Bills For Tips
Another good tip that I learned and used was to make sure we had $1 and $5 bills for tips. Tips are very much appreciated by tour guides, ordering room service on the ship, and for anyone else that you think may have gone above and beyond in service.
You Don't Need To Pack As Many Clothes As You Think You Do!
One of the first questions I had as a new cruiser was – How many suitcases can I take?
While there isn't a specific number of suitcases allowed, you really don't need to overpack!
Keep in mind some airlines charge a per-bag fee. We each had one 28″ suitcase and carried backpacks as our carry-ons. This worked perfectly for us.
I also recommend these Luggage tag holders that are customized for each cruise line. Just print out your luggage tag from your Princess cruise personalizer, fold and insert it into the bag tag made specifically for Princess cruises (or any cruise line you are sailing on).
Plus, I added these cute Luggage Name & Address card holders so I could easily identify my luggage.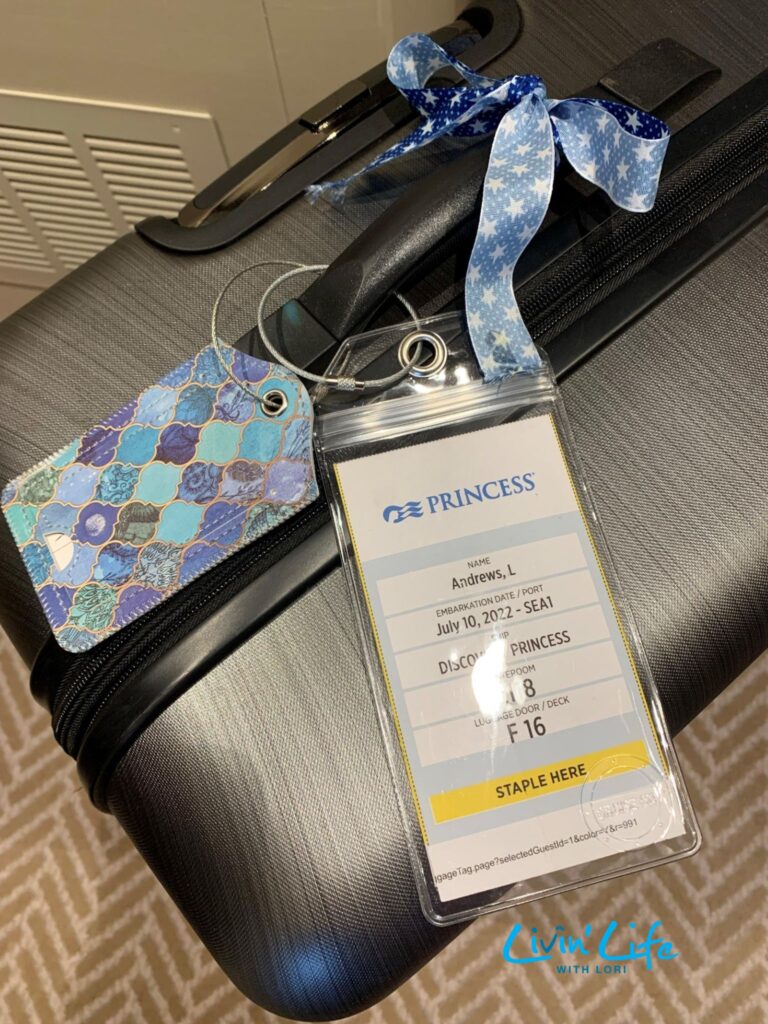 Things we brought and used on our seven-day Alaska cruise:
My suggestion is to pack layers. One day it might be sunny and the next day you'll need a warm coat!
Lightweight fleeces, a puffer vest, warm insulated coat, baseball hat, winter hat, long-sleeve shirts, nice dress shirts and pants, sports jacket or suit and dress for formal nights, rain jacket, waterproof hiking boots, binoculars, and a lightweight day pack which was awesome to take on excursions!
Kids and adults used the pool and hot tubs whether it was sunny or cold and cloudy. So, be sure to pack your bathing suit too!
Use The Port Valet To Take Your Luggage To The Seattle Airport
The Port Valet is FREE in Seattle and will take your luggage from the ship and directly to the airport. You won't see your bags until you get to the baggage carousel at your destination.
Using the Port Valet service was the BEST thing ever!
Your steward will leave the Port Valet information in your room on Tuesday evening. The application must be returned by Wednesday noon to be accepted. If, for some reason, your steward did not leave the information, go to Guest Services.
***Note: Only certain airlines participate in the Port Valet service: Alaska, American, Delta, Horizon, JetBlue, Southwest & United. Your flight must be between certain hours to use the Port Valet Service.
If approved, your steward will place your boarding passes, and special luggage tags in your stateroom. Then, on the last night of the cruise, place the luggage tags on your bags and set them outside your stateroom before you leave for dinner. The ship's crew will take your bags, and the next time you see them will be at the baggage terminal at your destination.
When you get to the Sea-Tac airport, just head to the security line with your carry-ons and your boarding passes. It was so nice not to have to lug our bags onto the shuttle and then wait in line at the airport to check our bags. All we had to do was to walk to the security line, and when we got to New York, our bags were there!
If your airline charges a fee for bags, you will see that charge on your princess account.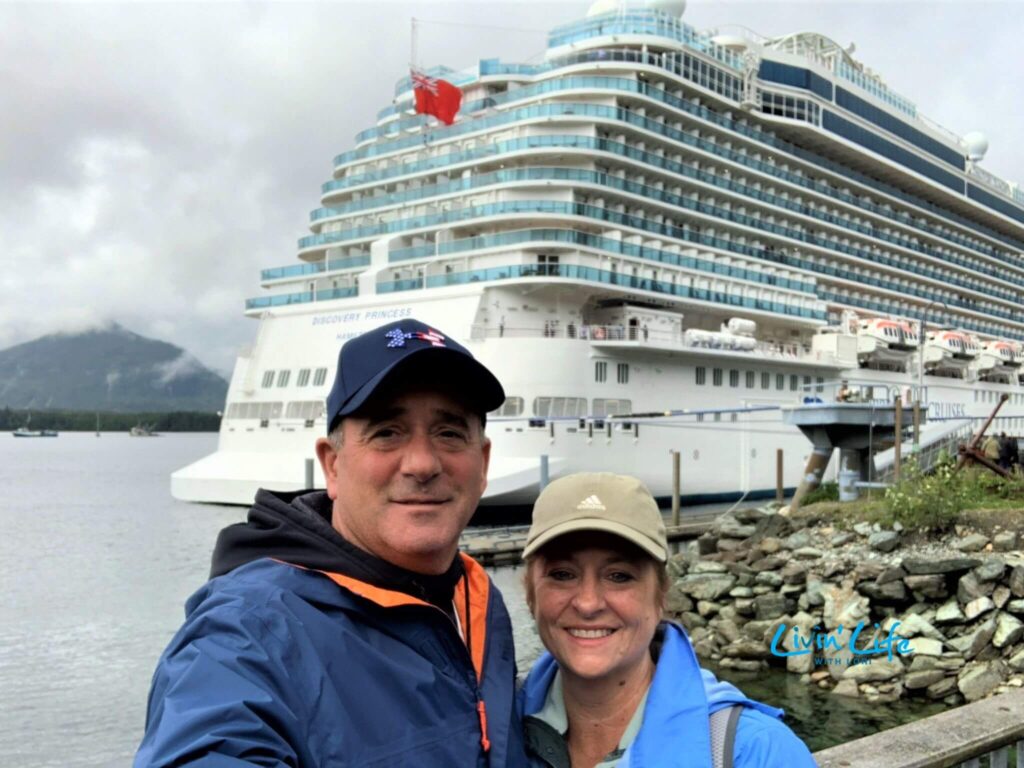 Final Thoughts About Our Princess Discovery Cruise To Alaska
Whether you take a Princess cruise or another cruise line to Alaska, it will be an experience you'll never forget. Our cruise to Alaska had been on our Wish List of places to visit for a long time, so we decided to take this trip of a lifetime to celebrate my 60th birthday! The cruise to Alaska was all we thought it would be – and I'm sure you will love it too!
Other Travel Articles You Might Enjoy
Top Things To Do In Branson Missouri
11 Best Things To Do In The Great Smoky Mountains
How To Plan A One Day Trip To Niagara Falls New York
9 Things You Don't Want To Miss In Acadia National Park
18+ Amazing Things To See In The White Mountains of New Hampshire