Last Updated on January 17, 2023 by Lori
Thinking about a vacation to Branson, Missouri? You won't be disappointed! Whether you love the water, live music shows or the beautiful views of the Ozark Mountains, Branson, MO has it all!
There are so many fun things to do in Branson that it's easy to plan a vacation that everyone will love. Here are the top things to do in Branson, MO that you don't want to miss!
This post contains affiliate links which means if you click on a link and make a purchase, I will earn a commission at no additional cost to you. Please see our Disclosure Policy for more information.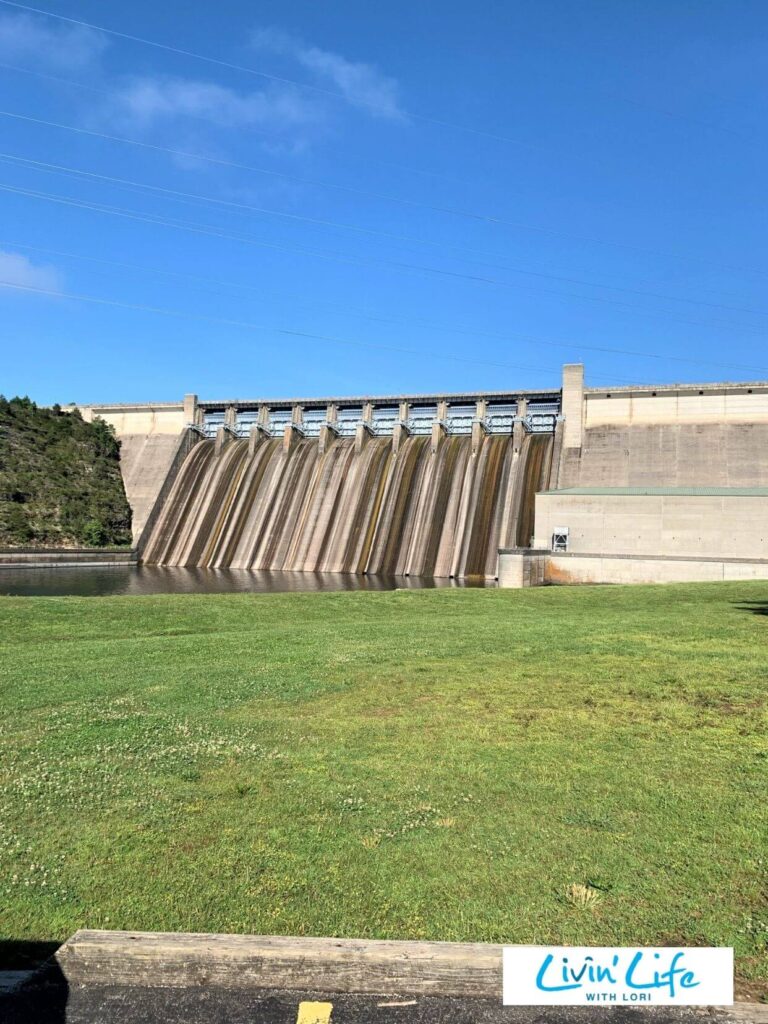 Best Places To Visit In Branson Mo
Our family has been to Branson many times over the years, but on this trip, we traveled with my parents. With that in mind, and looking at all there is to do in and around Branson, I knew I needed to find attractions in Branson that all ages would love.
Finding the best Branson attractions that would interest adults and kids was easy to do as Branson is known as the Live Entertainment Capital of the World!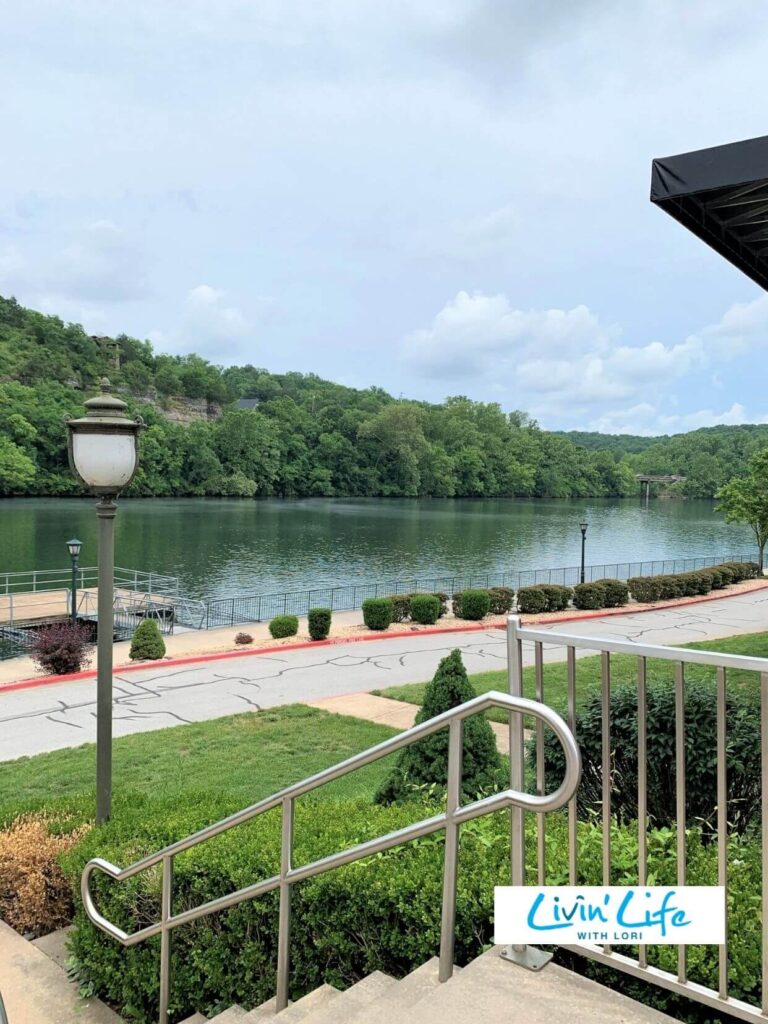 Top Branson Attractions
Top of the Rock Ozarks Heritage Preserve
150 Top of the Rock Rd., Ridgedale, MO 65739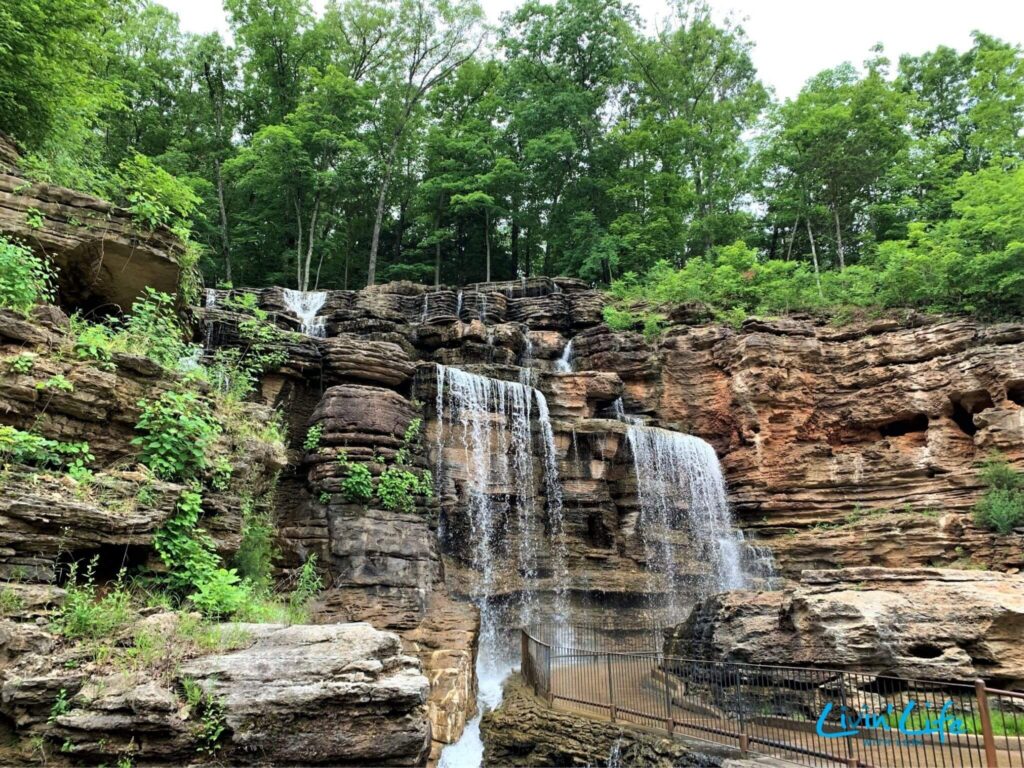 Have you ever been on a cave tour driving a golf cart? Top of the Rock is a hidden gem in Branson. Plus, it's fun for all ages!
You will drive a golf cart along a two-and-a-half-mile path through Lost Canyon Cave & Nature Trail, where you will see waterfalls, covered bridges, views of the Ozark Mountains, and drive through the Bat Bar cave.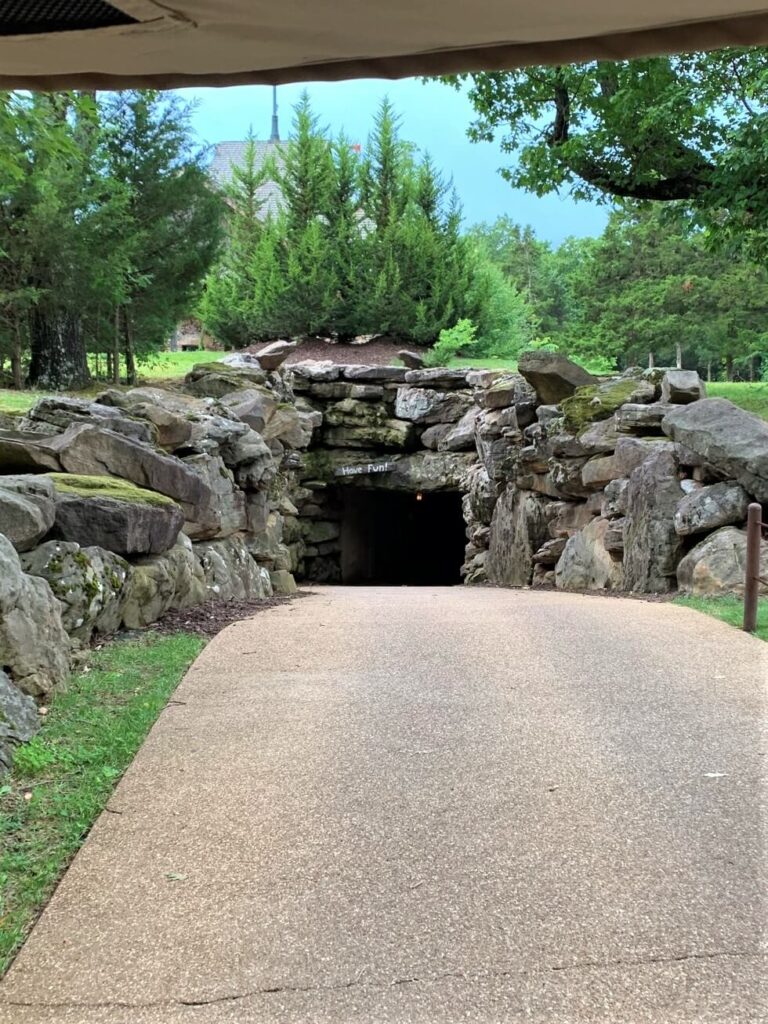 It was the highlight of our recent Branson trip. My parents loved the electric cart ride and pulling up to the Bat Bar for a drink (it was early so we opted for bottled water and diet coke!)
Read more about our experience at The Top of the Rock Branson Cave Tour.
Silver Dollar City
399 Silver Dollar City Parkway, Branson, MO 65616
No trip to Branson would be complete without a visit to Silver Dollar City! It is the number one attraction in Branson, Missouri.
Considered one of the Top Theme Parks in the Country, Silver Dollar City is so unique because it is an 1880s-styled theme park with over 40 rides and attractions, live shows, and craftsmen demonstrating some of America's heritage crafts.
The theme park sits atop one of Missouri's deepest caves – Marvel Cave. (Note: Admission to Marvel Cave is included in your ticket to Silver Dollar City.)
Branson Shows And Attractions
Sight and Sound Theater
1001 Shepherd of the Hills Expressway, Branson, MO 65616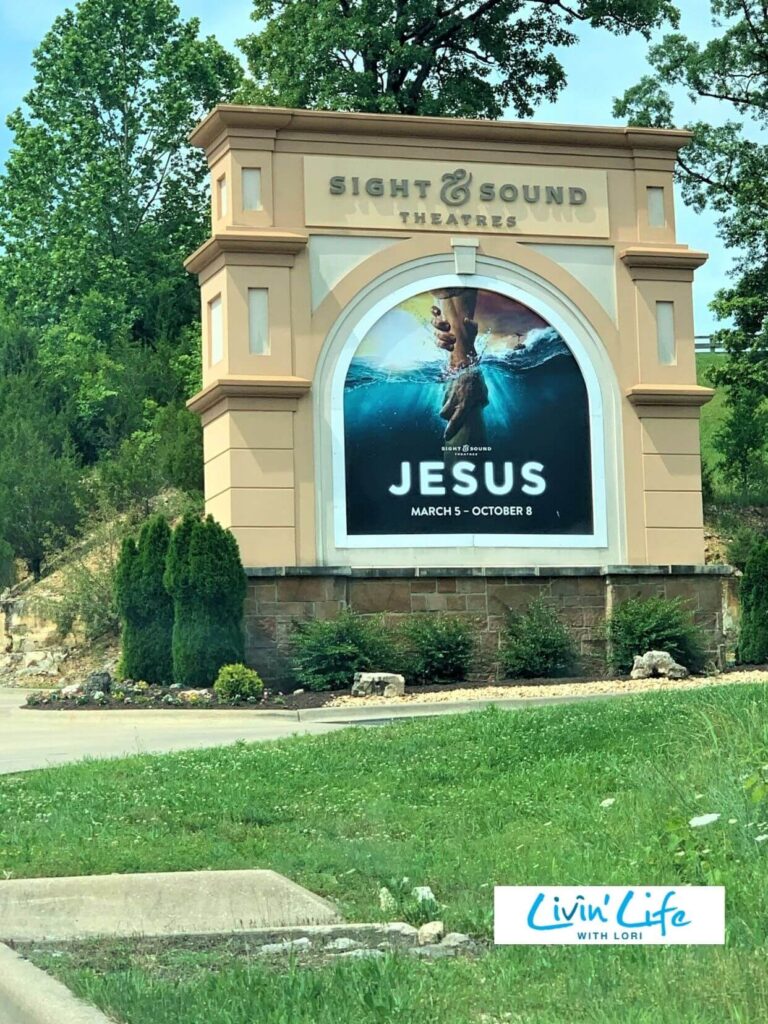 This live music production will leave you in awe of its music, story, and live animals walking up and down the aisles.
We saw the production of Jesus at Sight and Sound Theater and loved everything about it.
We were amazed at the entire show, cast, and production. Sight and Sound Theater changes its shows every two years. The show begins at Sight and Sound Lancaster, PA, and then is moved via six semi-trucks to its second location in Branson, Missouri.
This is one show attraction you can't miss when visiting Branson, MO!
Showboat Branson Belle
4800 Historic State Pkwy 165, Branson, MO 65616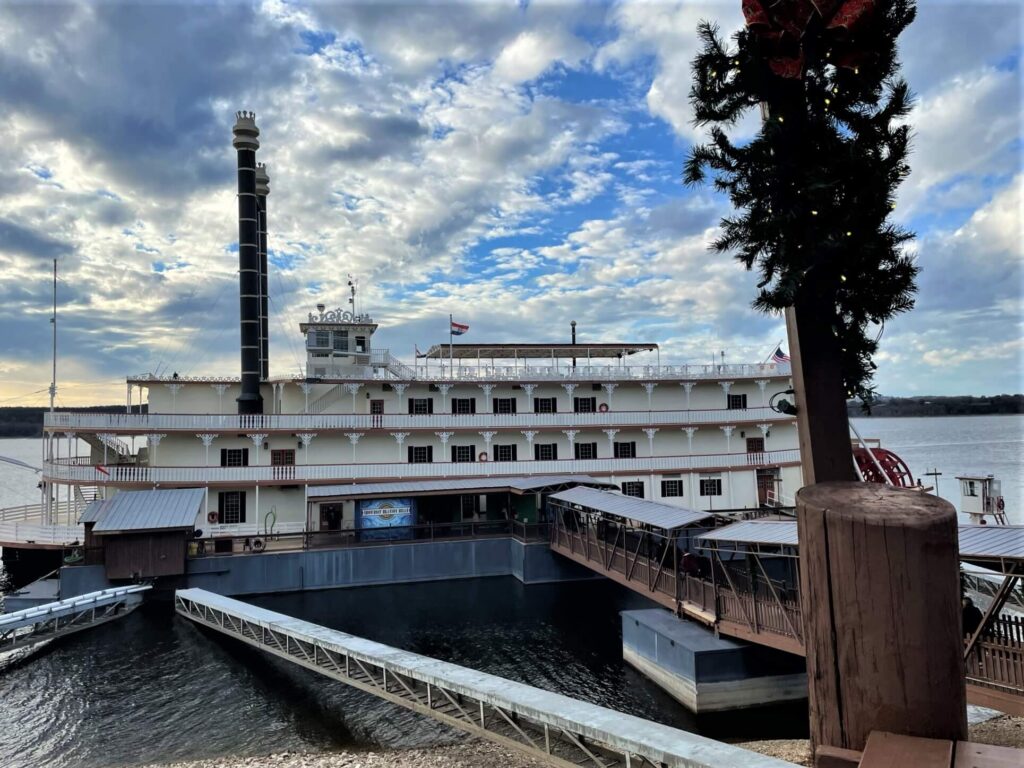 If you love cruising, you will love to cruise on Table Rock Lake aboard the Branson Belle. Enjoy a three-course meal and live entertainment during the two-hour cruise.
There are two types of tickets: General Banquet-style seating and The Captain's Club Tickets where you can choose from several entrees and desserts.
We chose to purchase the Captain's Club Tickets which give you premium boarding and seating. too. The meal was delicious!
Here's more about what you will experience on the Branson Belle!
Dolly Parton's Stampede
1525 West 76 Country Boulevard, Branson, MO 65616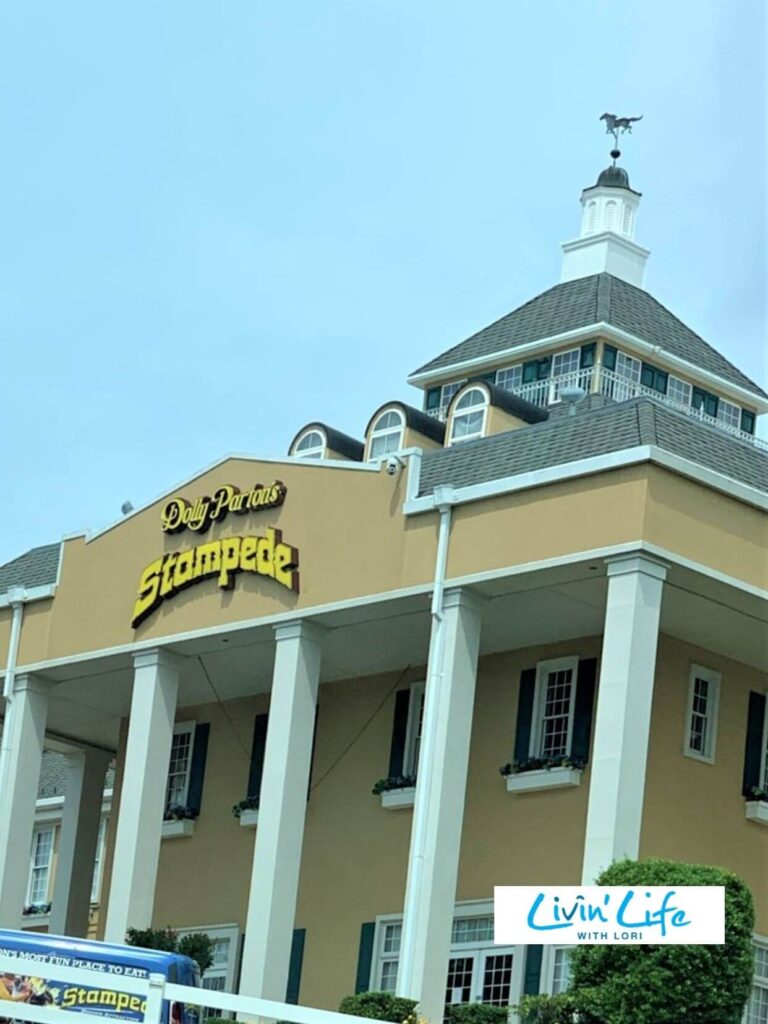 The Dolly Parton Stampede is a fun dinner attraction serving a four-course feast and features 32 horses and trick riders doing stunts in a 35,000 sq. ft. arena.
This has been one of Branson's favorite attractions and is fun for every age! We enjoyed the show on a previous Branson trip and our kids loved it!
Visiting Branson during Christmas? Here are the Best Things To Do In Branson At Christmas.
Fun Things To Do In Branson, MO
Shepherd of the Hill Fish Hatchery
483 Hatchery Rd., Branson, MO 65616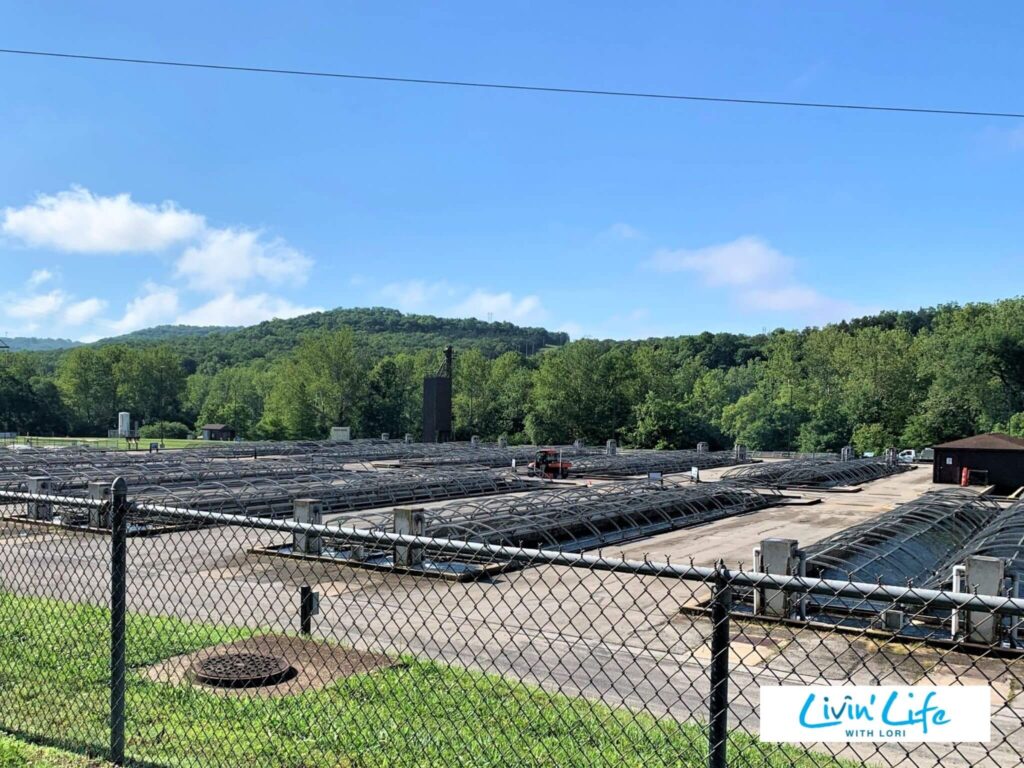 Located six miles southwest of Branson, just below Table Rock Dam, is the Shepherd of the Hills Fish Hatchery
The Hatchery produces between 350,000 and 400,000 pounds of rainbow and brown trout. it is open Tuesday – Saturday, 9 – 5.
You can feed the fish in the hatchery too! Just bring your own quarters to purchase feed in the vending machine.
Dick's 5 & 10
103 W. Main Street, Branson, MO 65616
Dick's 5 & 10 is in the Historic Downtown Branson area. If you're looking for a fun place to shop – this is it!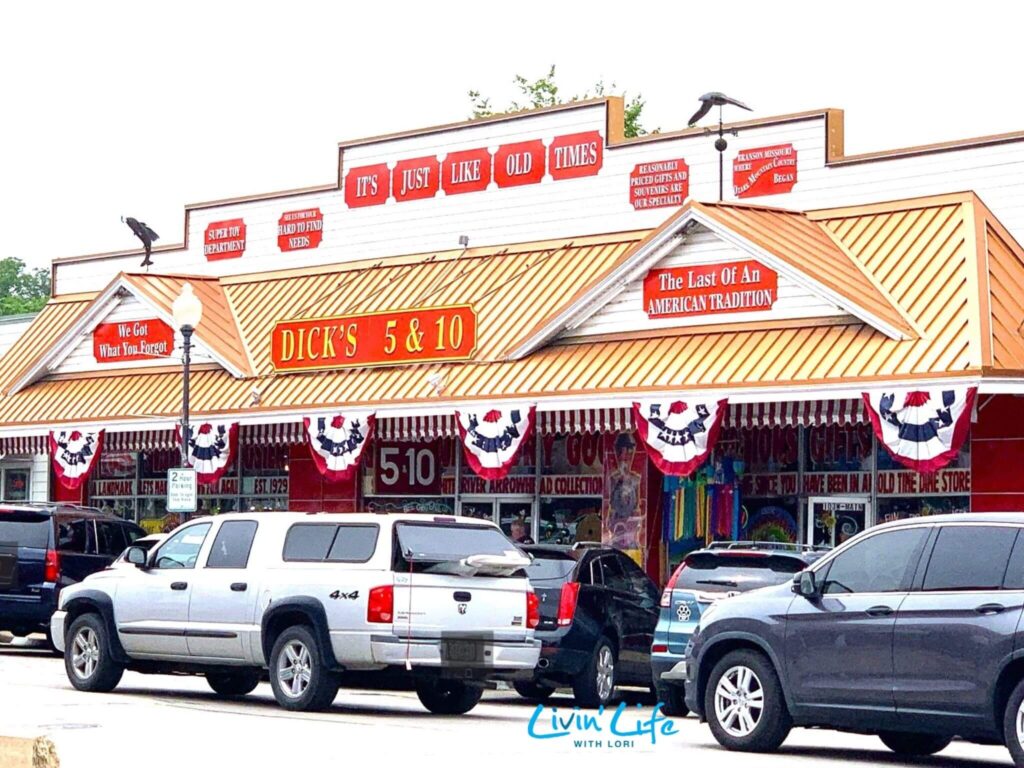 Dick Hartley founded Dick's 5 & 10 in 1961 as a small 1,500 sq. ft. store and wanted to be the best-stocked store around. Today, Dick's is a 10,000 sq. ft. store with over 250,000 items, and is a must-see when visiting Branson!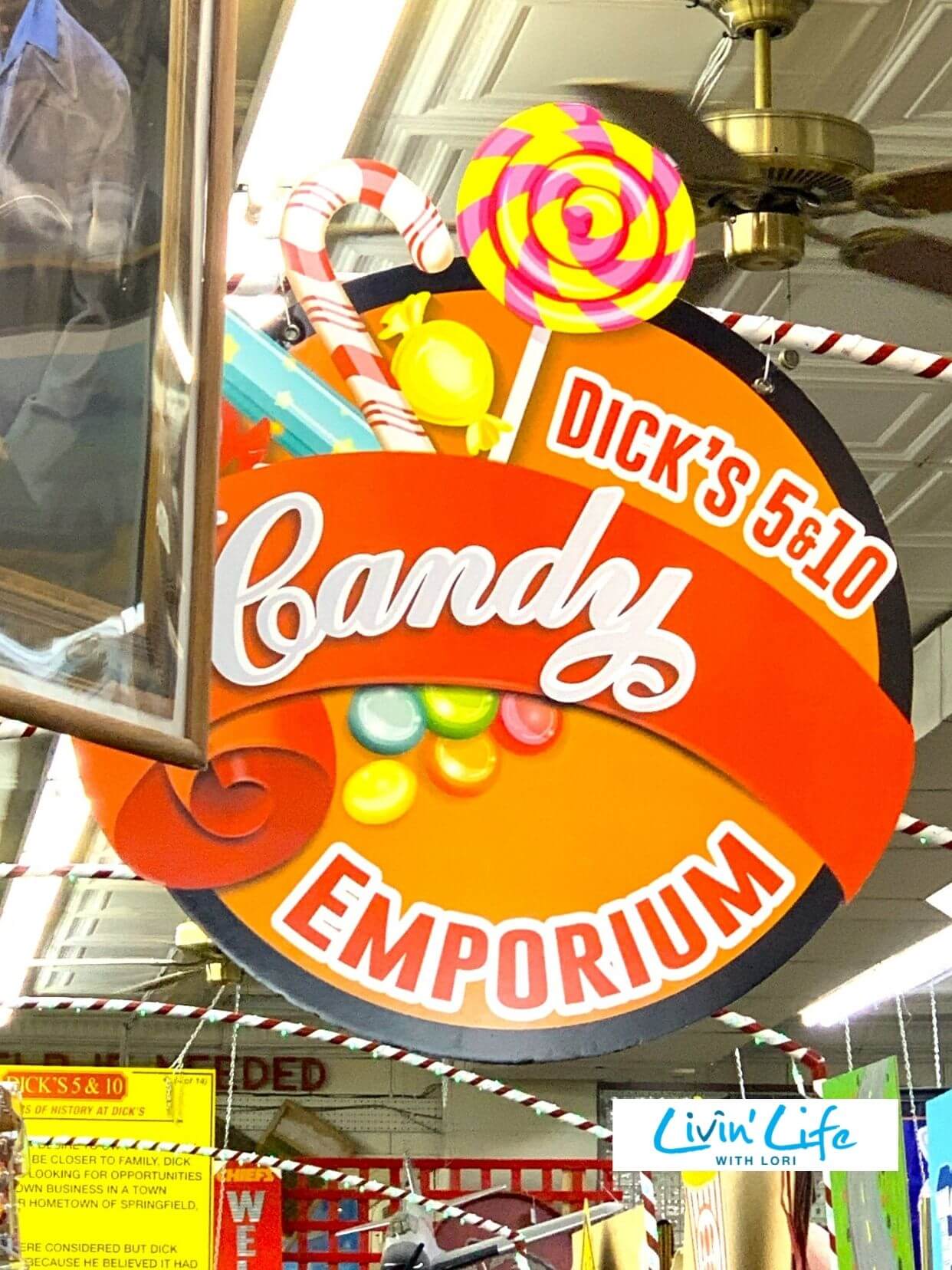 I was amazed at the candy aisle alone! I think I picked up every piece of saltwater taffy for my husband. it was so much fun looking at the names of the Salt Water Taffy: Pickle, Root Beer Float, Raspberry lemonade, Red Velvet Cake, and S'more, just to name a few.
We also enjoyed looking at the model train display and the airplanes hanging from the ceiling (which I noticed were not for sale).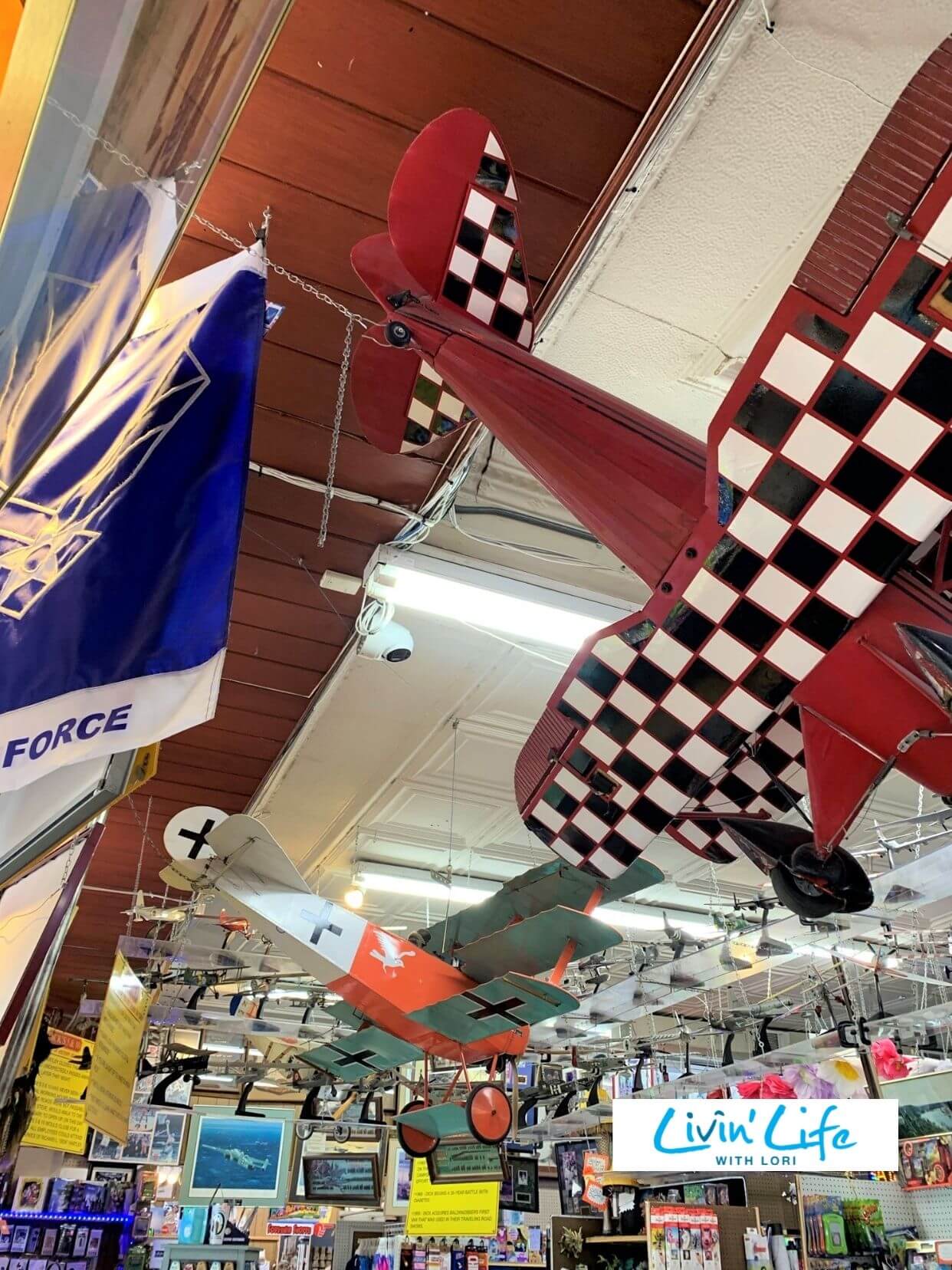 Dick's is also a great place to pick up your Branson souvenirs. They had awesome Branson tie-dye t-shirts, mugs, and hats.,
We also loved browsing the nostalgia section! Shrinky dinks, paper dolls, view masters, and Slinkys were just some toys we loved to reminisce about.
Historic Downtown Branson has over 40 shops, cafes, and restaurants to explore.
There is street parking which we were able to grab a spot several times and a public parking lot where we parked to eat lunch at the Farmhouse Restaurant – which is another Branson Landmark you really need to try!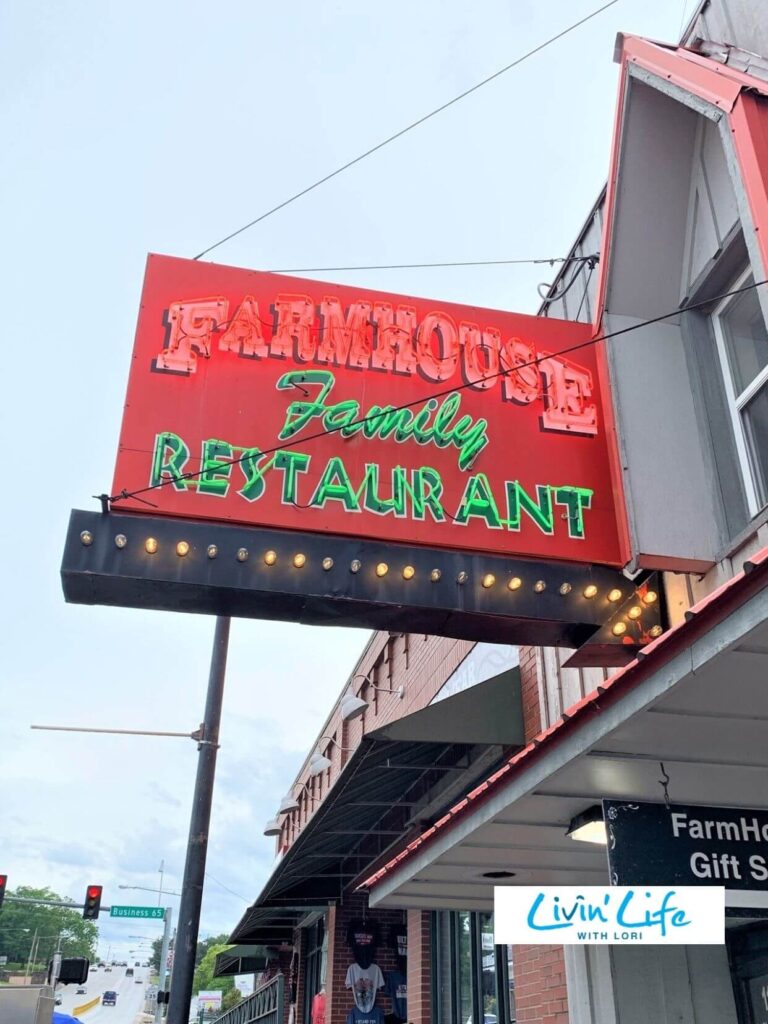 From the Historic Downtown area, you can purchase tickets to ride on the Branson Scenic Railway or hop on the FREE Downtown Trolley that will take you to and from the Historic Downtown Branson area to Branson Landing.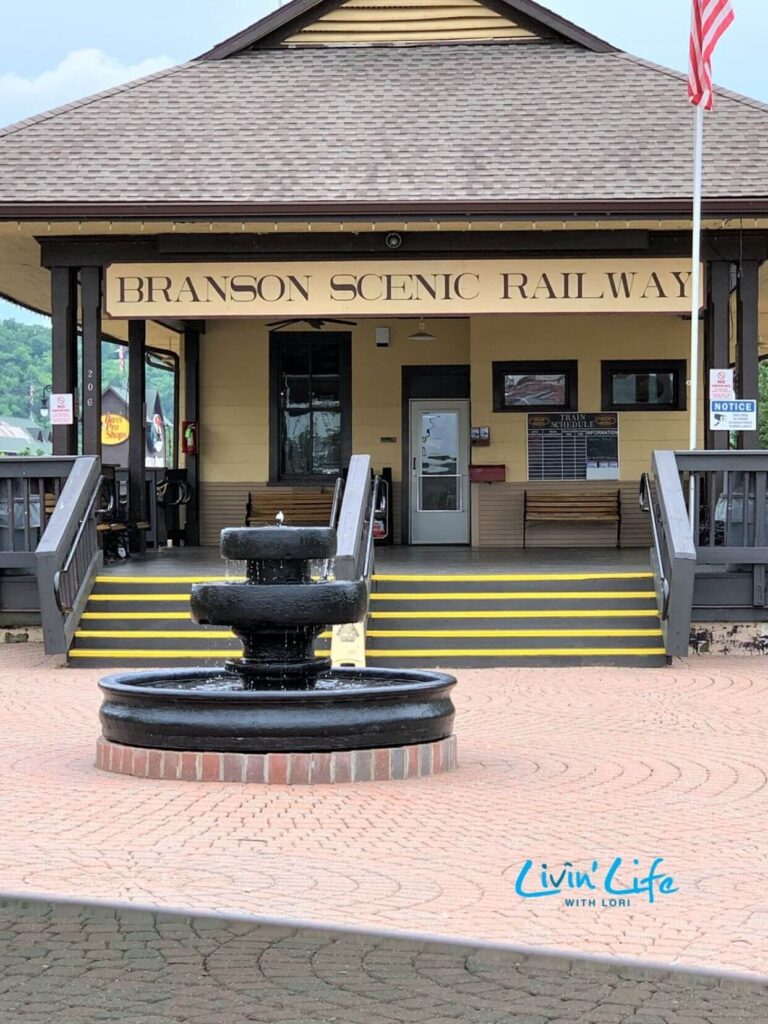 Things To Do At Branson Landing
100 Branson Landing Blvd., Branson, MO 65616
Branson Landing has over 100 specialty shops and restaurants. It also has a 1.5 mile boardwalk Lake Taneycomo.
One of our first stops was at Cabelas. We love browsing through this huge store for camping and outdoor equipment. From there it was a short walk to visit the Branson Landing Fountains.
Branson Fountains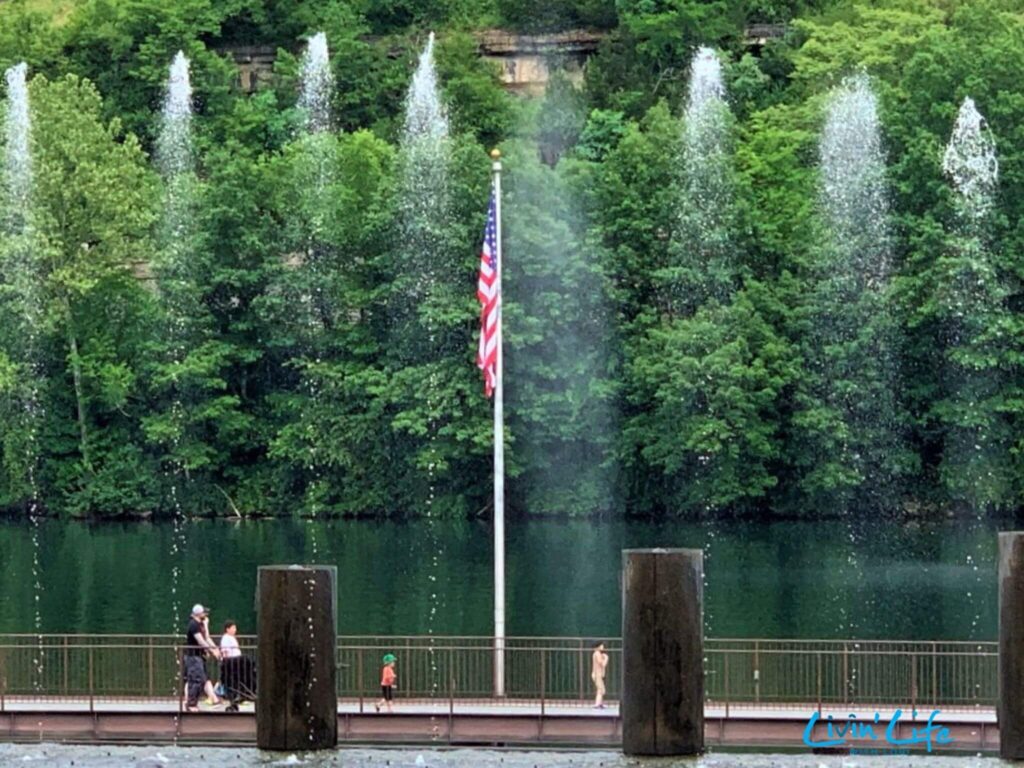 Don't miss the Branson Fountain Display. They are beautiful during the day, as when we saw them, but at night, it is spectacular!
The $7.5 million fountain display features water shooting up 120 feet and fire cannons that are all choreographed to light and music.
You can find the daily showtimes of the fountain displays on the Branson Landing website.
On our way to the fountains, we found Guy Fieri's Kitchen & Bar, Land Shark Bar & Grill, and watched people having fun at Parakeet Pete's Waterfront Ziplining!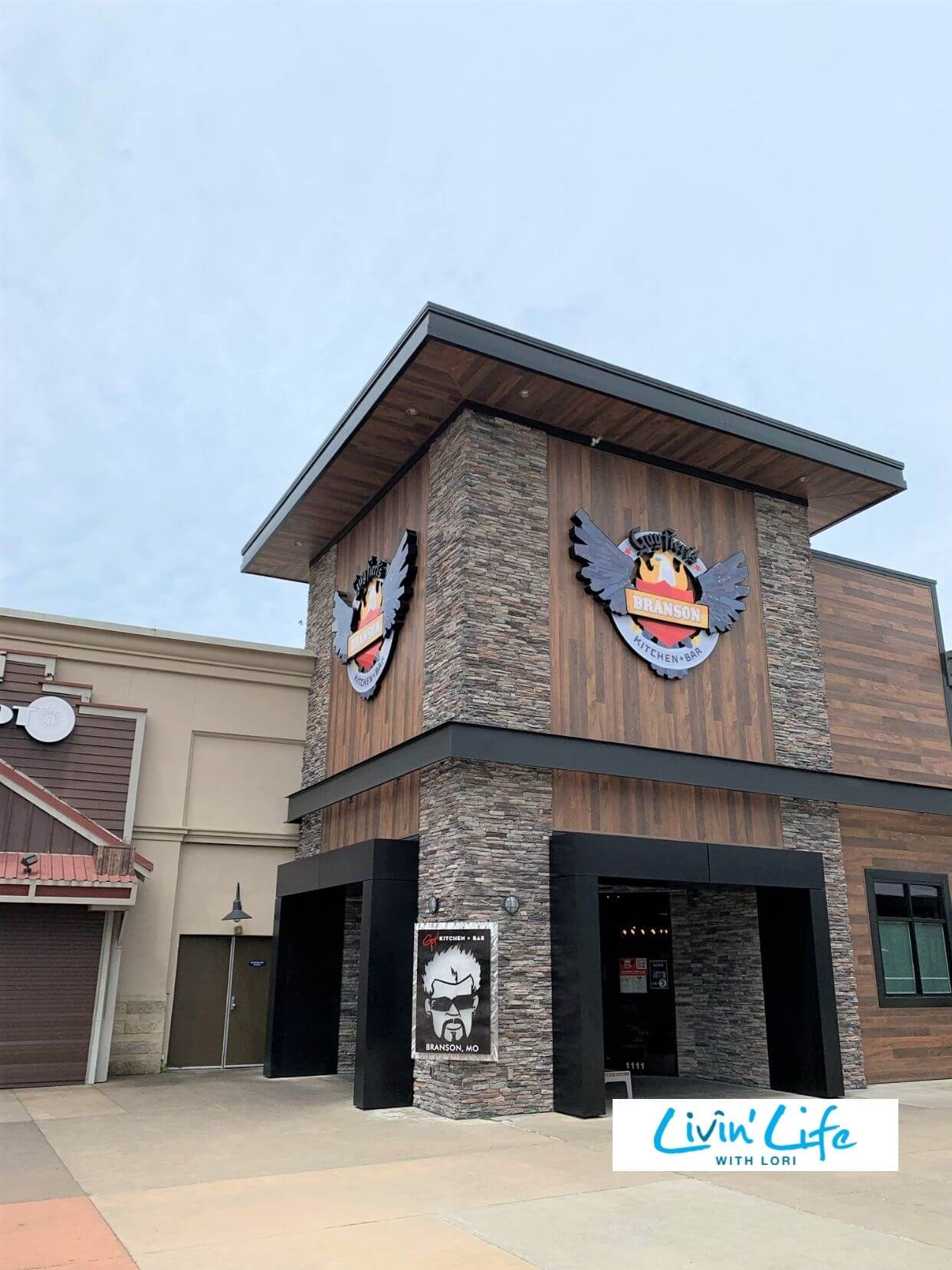 Pets are allowed in the Branson Landing outdoor area (be sure to pick up after your dog!) and there are baggie stations located throughout the Branson landing area.
Kids will also love to ride the kiddie train at Branson Landing. There is a cash fee to ride the train, but we saw kids having a great time on the train.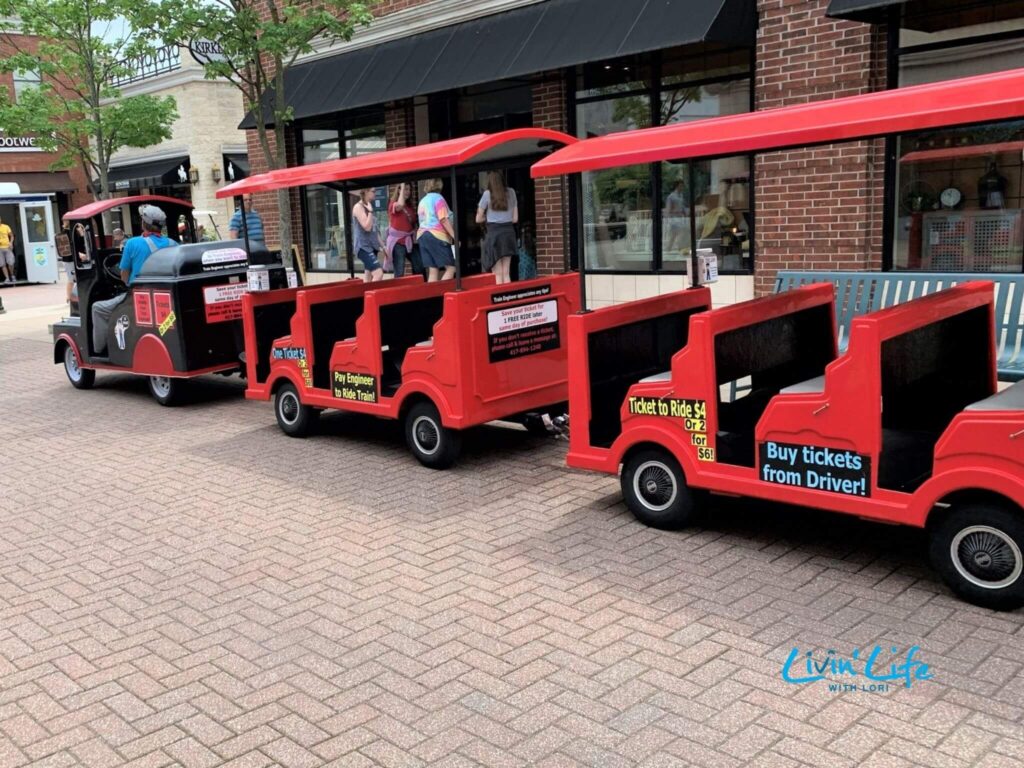 Branson Entertainment District
The Branson Entertainment District has so many things to do for all ages, that you may have a hard time choosing what to do next! Located along Branson's Hwy 76, you'll find something fun to do for days!
The Track Family Fun Park has thrill rides, laser tag, go-karts, bumper boats, mini-golf, and a lot more!
Branson Ferris Wheel – The Branson Ferris Wheel has 40 gondolas and seats 240 passengers. There are also 16,000 LED lights to light it up at night!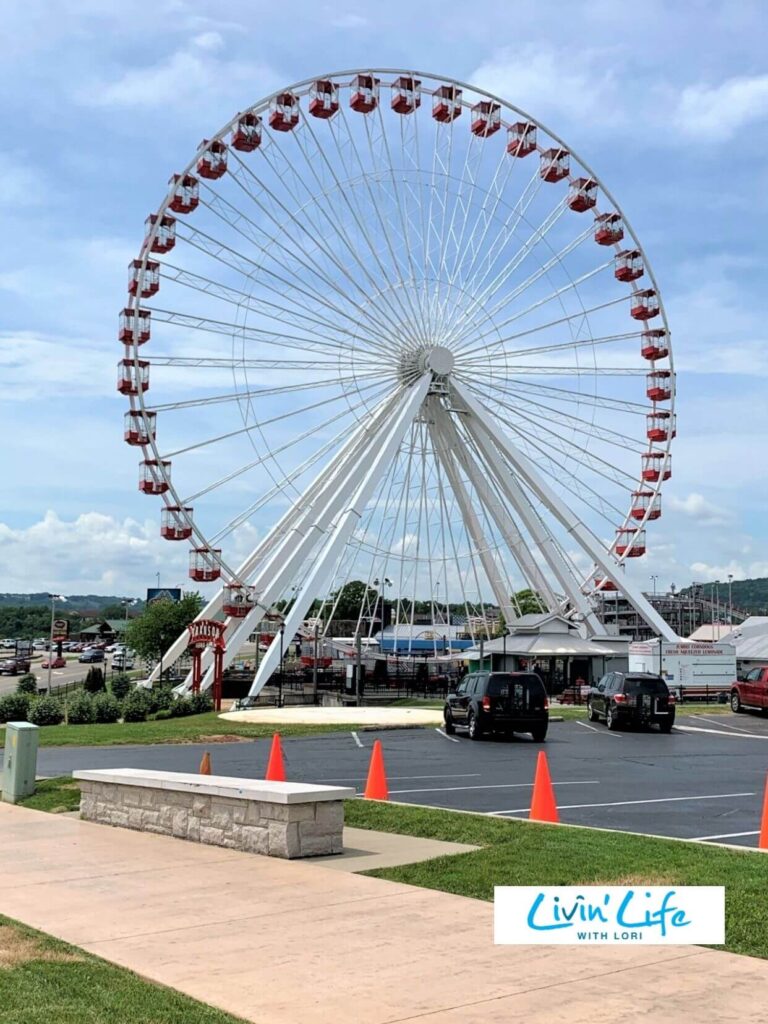 WonderWorks – WonderWorks is a 48,000 sq. ft. amusement park for the mind. it combines education with entertainment with 100 hands-on exhibits.
Aquarium at the Boardwalk – One of the newest things to do in Branson is the Aquarium at the Boardwalk. Walk through a tunnel with sharks and striped fish swimming all around you!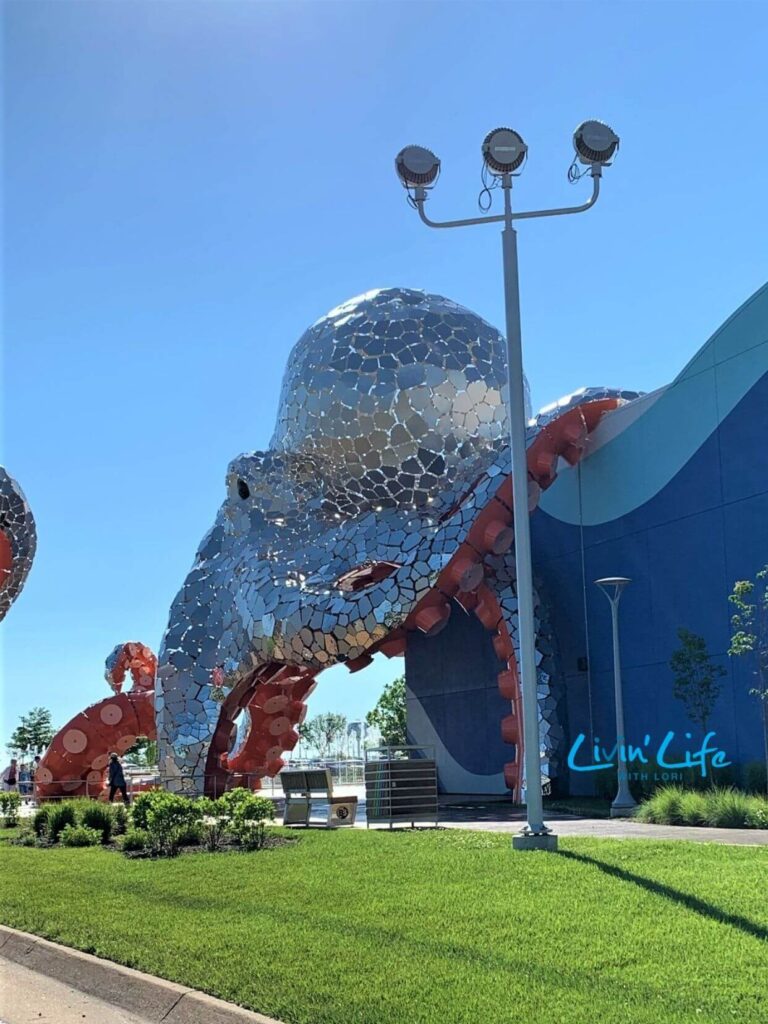 Titanic Museum – Experience what it was like to walk the hallways, parlors, cabins, and Grand Staircase of the Titanic.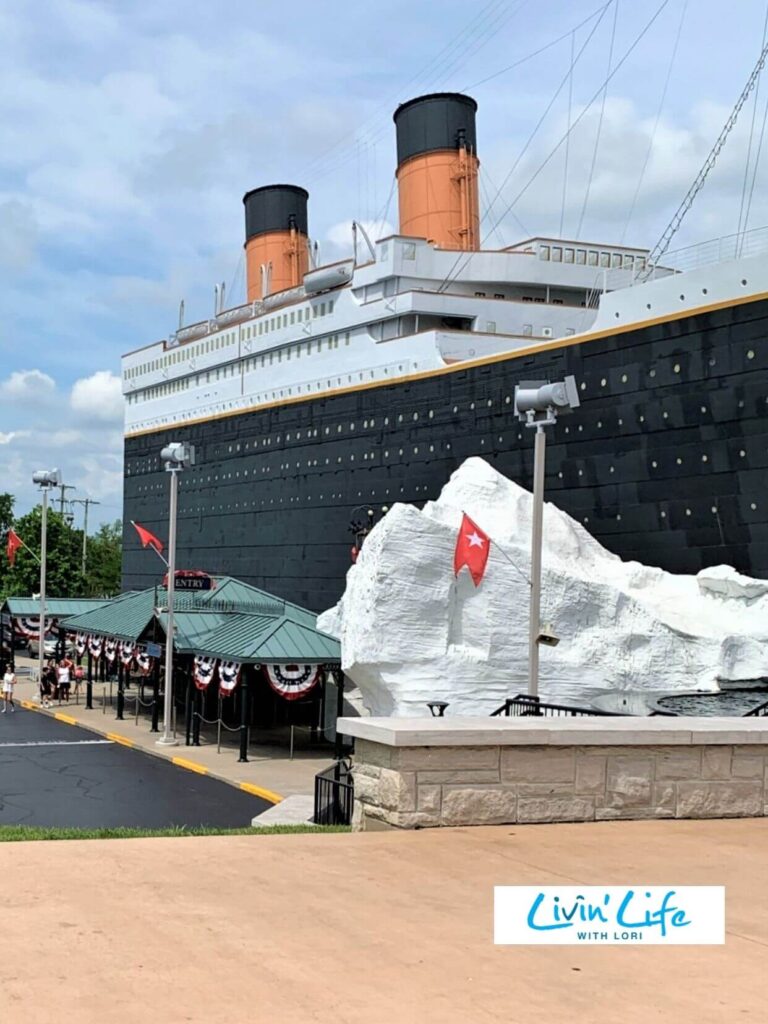 Hollywood Wax Museum – Pose or take selfies with your favorite pop culture icons using costumes and props. One of the best vacation things to do in Branson for over 23 years!
Beyond The Lens Branson! – Two unique Branson attractions in one place. Enjoy over 150 interactive exhibits plus Flyride – a virtual flying experience taking you above popular landmarks.
FlyRide is an experience that ALL ages will love! My parents who are in their 80s really enjoyed the flight over the Landmarks. You feel as if you are flying right over the ocean, through the canyons and we were even spritzed with water!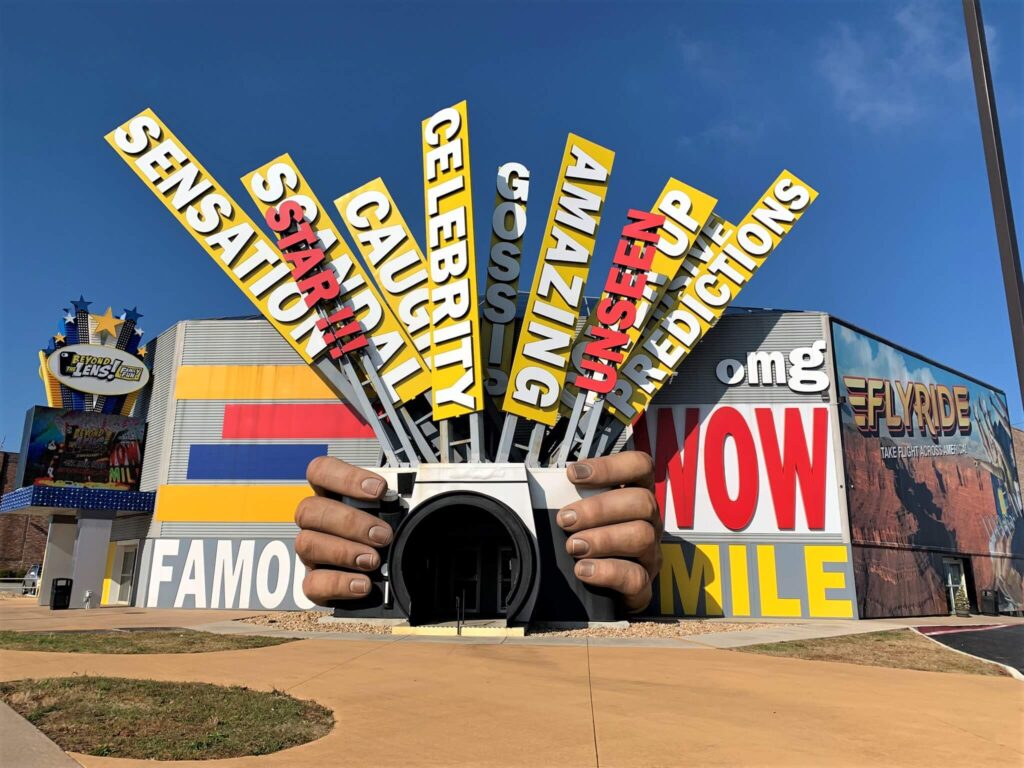 Butterfly Palace & Rainforest Adventure – Visit the Butterfly Aviary, where you will see 1,000 live butterflies imported from the rainforest.
Inspiration Tower At Shepherd of the Hills
6021 W 76 Country Blvd, Branson, MO 65616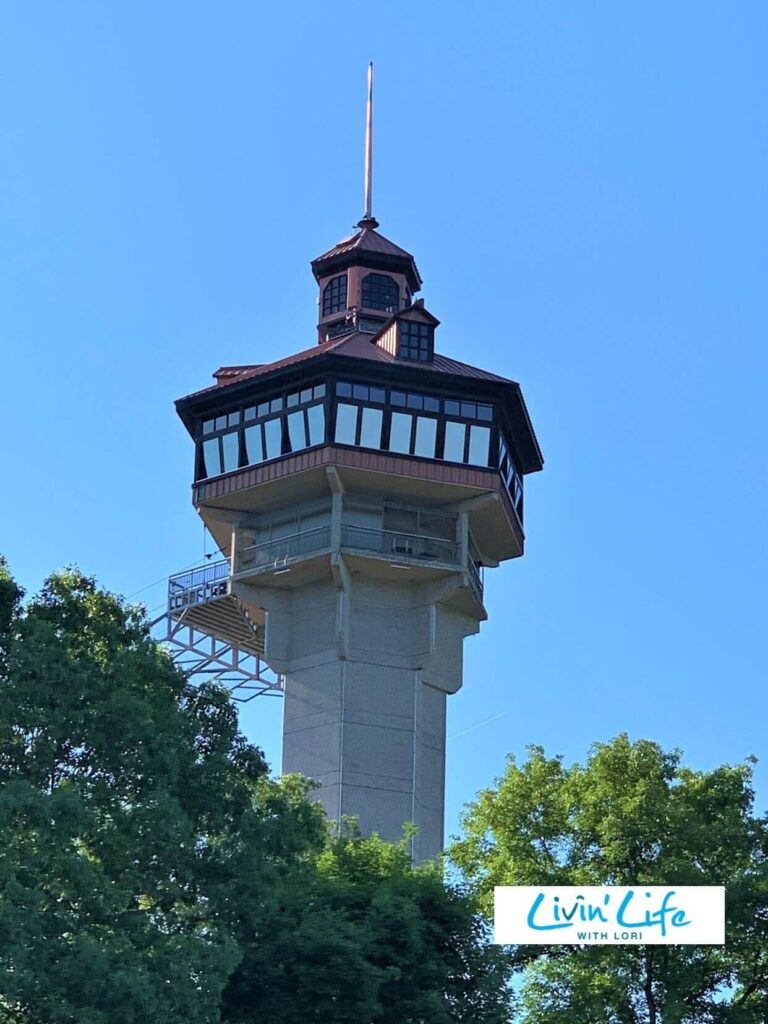 You can see this 230 ft tall Branson Landmark in the distance from just about everywhere in Branson! Located on Inspiration Point – the highest point in Southwest Missouri, take the glass elevator to the enclosed observation deck to see panoramic views, which at times can be over 90 miles.
Reservations are not required; the tower is open until dark during the summer months.
Note: The tower is also the launching point for the Vigilante Extreme ZipRider. The parking lot for the ZipRider and Inspiration Tower has a separate entrance and is just down the road from the main entrance to The Shepherd of the Hills.
It was a little confusing where to turn into the parking lot, and we had to turn around – so I just wanted you to know!
Think you'll get bored in Branson? I'm sure you won't! Take the whole family for a 3-4 day or even a week-long vacation to the Ozarks and Branson, Missouri!
More Travel Posts You Will Love
Best Things To Do In Branson At Christmas
Why Your Whole Family Will Love The Showboat Branson Belle
10 Easy Tips To Help You Plan A Family Road Trip
25 Road Trip Essentials You Need To Pack On A Family Road Trip
13+ Best Things To Do In Luray Virginia
Grandfather Mountain North Carolina – An Awesome Adventure For All Ages
How To Plan A One Day Trip To Niagara Falls New York
11 Best Things To Do In The Great Smoky Mountains
Planning A Road Trip?
The Ultimate Road Trip Planner Makes It Easy!

Learn More About The Ultimate Road Trip Planner