Last Updated on October 5, 2021 by Lori
Grandfather Mountain in Linville, North Carolina, is a must-see on your next vacation to the Blue Ridge Mountains! Walk across a mile-high suspension bridge, see animals in their natural habitat and stop to have a picnic with beautiful 360-degree views of the mountains are just a few of the best things to do at Grandfather Mountain!
This post contains affiliate links which means if you click on a link and make a purchase, I will earn a commission at no additional cost to you. Please see our Disclosure Policy for more information.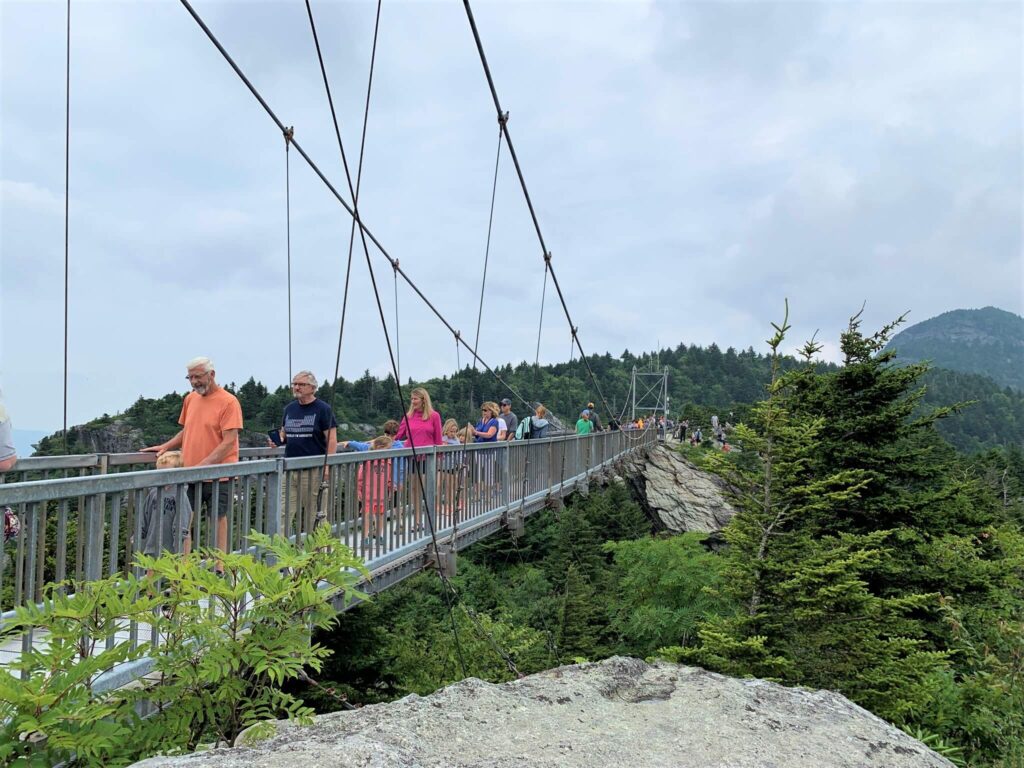 Is Grandfather Mountain Part Of The Great Smoky Mountains?
Grandfather Mountain, at 5,946 feet, is the highest peak on the eastern escarpment of the Blue Ridge Mountains. It is part of a not-for-profit attraction and a Noth Carolina State Park near Linville, North Carolina.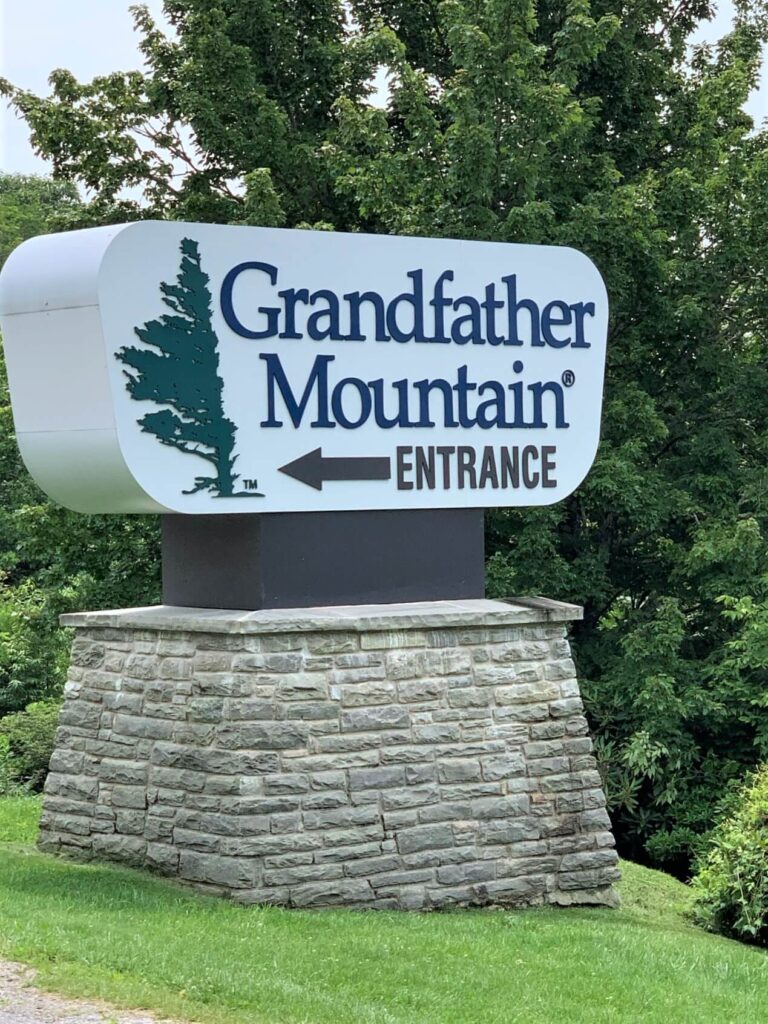 Where Is The Entrance To Grandfather Mountain Located?
The entrance is located on U.S. 221, two miles north of Linville and one mile south of the Blue Ridge Parkway at Milepost 305.
The address to the entrance of Grandfather Mountain is 2050 Blowing Rock Highway, Linville, NC 28646
To give you some reference, Grandfather mountain is 19 miles from Boone, NC; 70 miles from Asheville, NC; 50 miles from Johnson City, TN; and, 103 miles from Winston-Salem, NC.
When Is The Best Time To Visit Grandfather Mountain?
Grandfather Mountain is open every day of the year, weather permitting with the exception of Thanksgiving Day and Christmas Day.
The park is open from 9-6, spring/fall; 8-7, summer; 9-5 winter.
We were camping near Johnson City, TN when we visited Grandfather Mountain.
We arrived a little after 11 am on a weekday during the summer and the mountain was somewhat crowded – but manageable.
All along the road leading to the entrance, we saw signs reading "Must purchase tickets online" and "Limited weekday tickets available at the gate."
We hadn't even thought about purchasing tickets beforehand and after driving 103 miles to Grandfather Mountain from our campground, just decided to take our chances that we would get tickets.
Since it was during the week, we were in luck! We had no problem purchasing our entrance tickets. However, if you are planning a visit to Grandfather Mountain on a weekend – I highly recommend purchasing online tickets in advance!
Pro Tip – Pre-Plan your visit and be sure to purchase your tickets to Grandfather Mountain Online!
Best Things To Do At Grandfather Mountain
What is there to do at Grandfather Mountain?
Here are some of the things you should plan to do when your visit:
Mile-High Swinging Bridge
11 Hiking Trails – From easy walks in the woods to strenuous hikes
Wildlife Habitats – Large enclosures were built around the animals' native habitat. See the animals such as Otters, Eagles, Black Bears, Cougars & Elk where they actually live!
Nature Museum
Forrest Gump Curve – Where Forrest Gump (Tom Hanks) was filmed running this curve in the movie!
Interpretive Talks
Jr. Ranger Program
Be sure to plan at least a half-day and bring a picnic lunch to eat at one of the many lovely picnic areas!
The Mile-High Swinging Bridge
At the top of the two-mile drive to the summit of Grandfather Mountain is a must-see attraction – The Mile-High Swinging Bridge.
The Swinging Bridge is fun for ALL ages!
Since this is a popular attraction at Grandfather Mountain, I recommend arriving before 11 am or after 3 pm.
We only had to wait a few minutes just below the summit. The employees handled the traffic well and as cars left the summit and parking became available, they allowed the next few cars to drive to the top.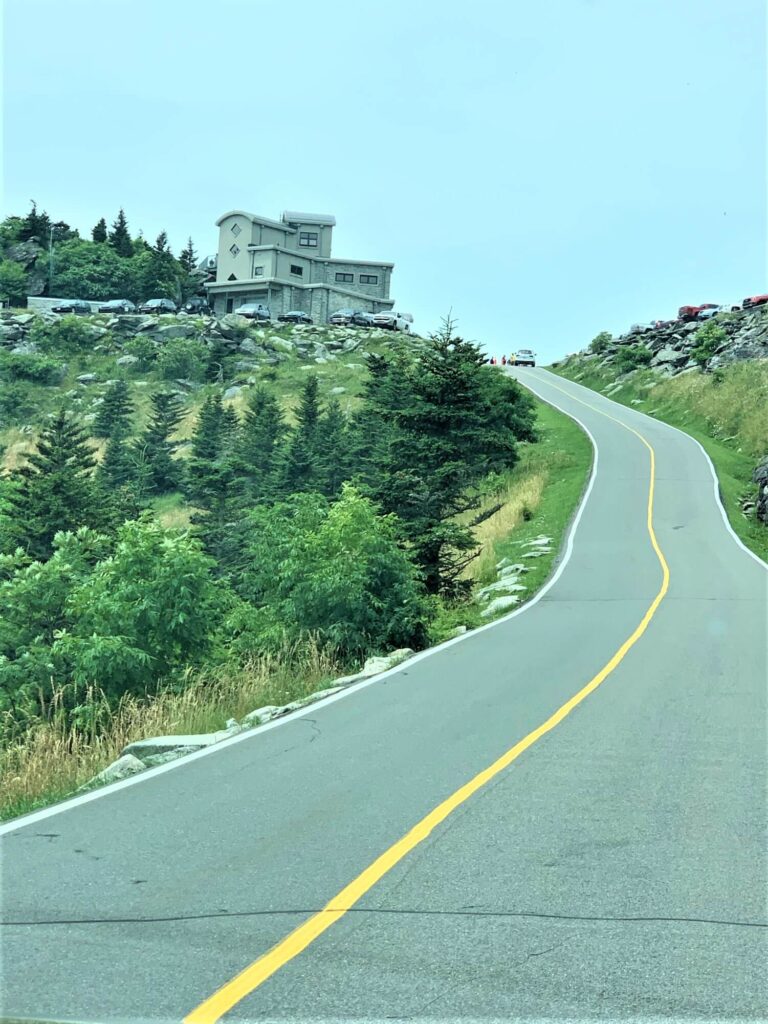 To reach the Swinging Bridge, you can take the 50 steps up to the entrance of the bridge; or, there is an elevator to take you to the top.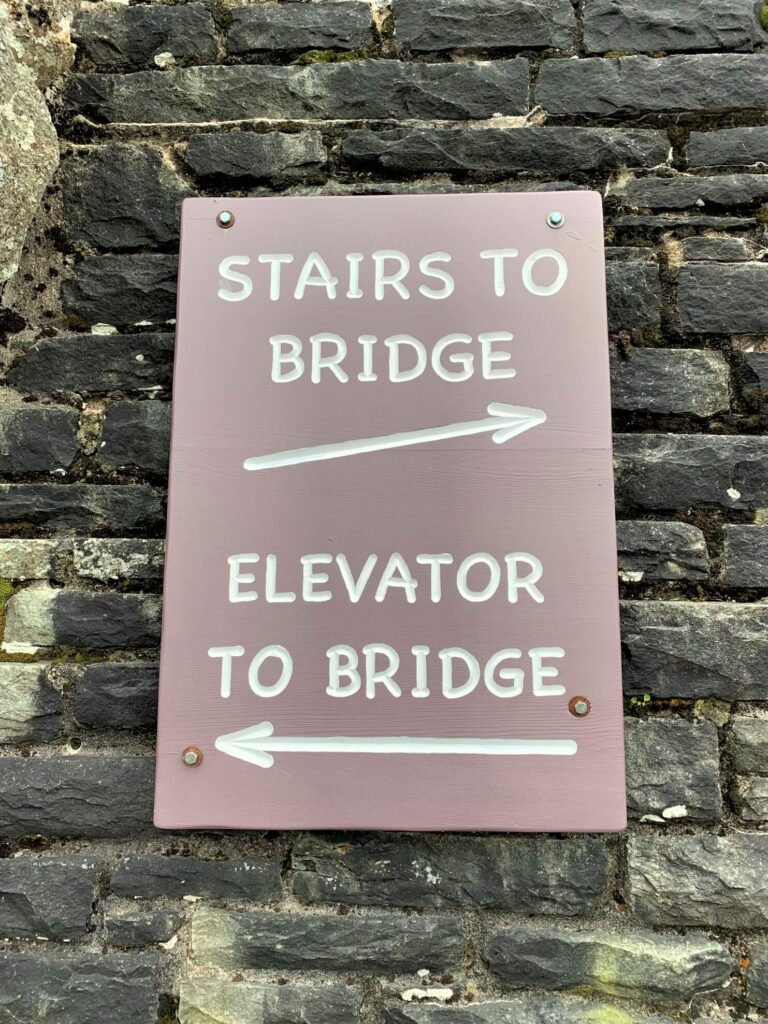 History Of The Mile High Swinging Bridge
The 228-foot suspension bridge spans an 80-foot chasm at more than one mile in elevation.
It was built in 1952 at a cost of $15,000. It was then rebuilt in 1999 at a cost of $300,000. When the bridge was rebuilt, it was constructed of galvanized steel, so it won't need to be re-painted.
Are Dog Allowed On Grandfather Mountain?
Pets are allowed on Grandfather Mountain on a leash. Dogs are not allowed in any of the buildings. Dogs are allowed to walk over the Mile High Swinging Bridge too!
Our Golden Retriever, Buddy travels with us on our camping trips. We weren't sure if he would be allowed to walk over the bridge but knew he could walk around the grounds.
One of my bucket list items on this trip was to walk over the bridge, so our plan was to have my husband take Buddy and wait for me.
Buddy saw the 50 stairs to the top, and away he went!
The bridge was really crowded at the time, so I decided to go ahead and walk across the bridge.
I was just starting back across the bridge when I see my husband with Buddy!
The Volunteer said dogs were allowed on the bridge so when the crowds eased a bit, away they went across the bridge to find me!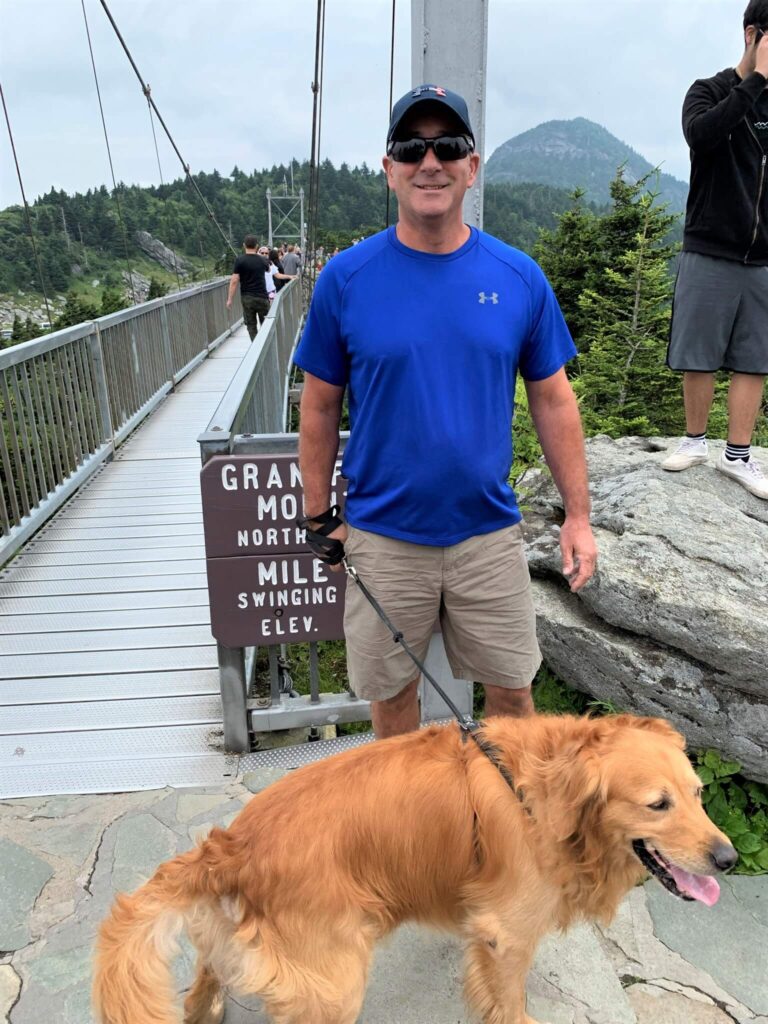 Buddy didn't miss a beat going back down the 50 stairs!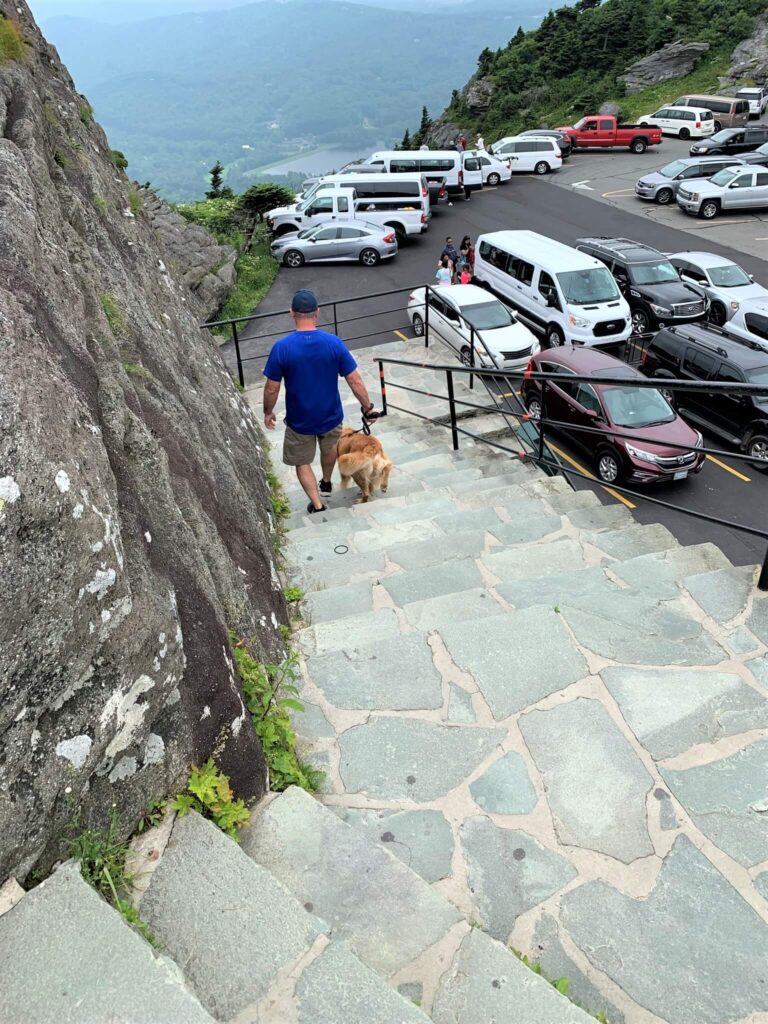 How Much Does It Cost To Go To Grandfather Mountain?
Tickets to Grandfather Mountain are:
$22 Adults (13-59)
$20 Seniors (60+)
$9 Child (4-12)
Under 4 FREE
Pro-Tip – Ask For The AAA Discount (if you are a member)
Tickets include everything at Grandfather Mountain – Nature Museum, Animal Habitat, and Swinging Bridge.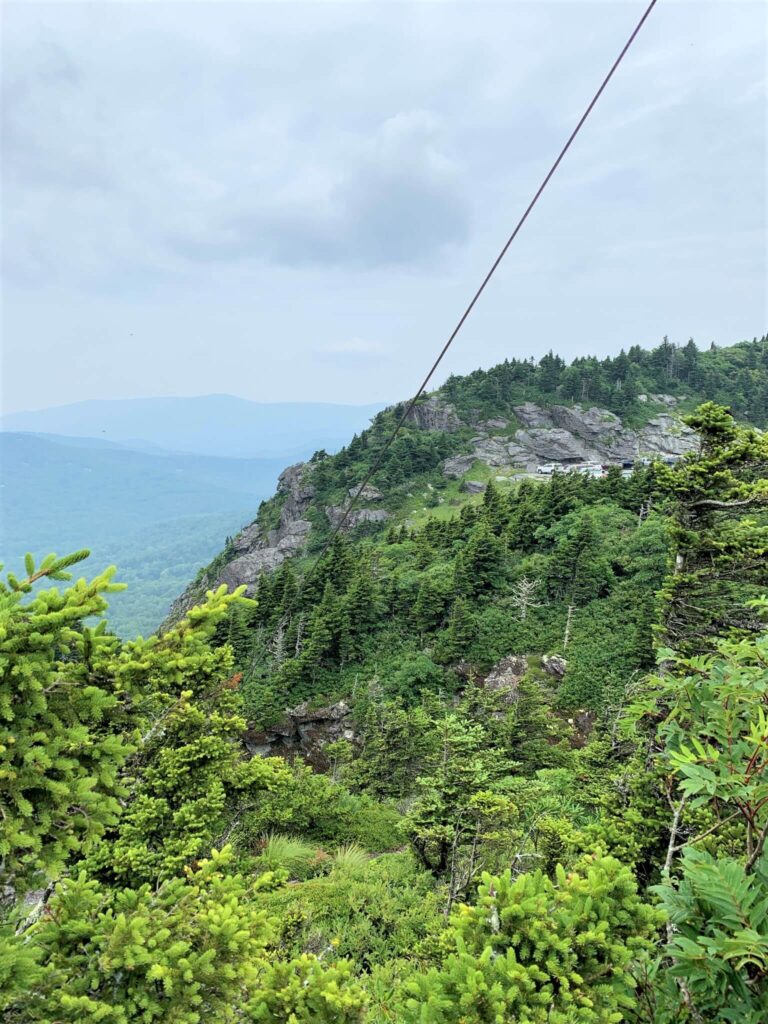 Tips For Visiting Grandfather Mountain
Arrive before 11 am or after 3 pm during the summer season for less crowds
Bring a picnic lunch! There are so many areas with picnic tables to stop and enjoy the views.
Bring a jacket. The weather at the top can be 8-10 degrees cooler at the top.
Motorhomes or RVs longer than 28 feet are not allowed on Grandfather Mountain. There are no travel trailers (trailers with pull vehicles) allowed.
There are nice restrooms at the summit along with a 140 seat restaurant and a gift shop!
Why You Should Visit Grandfather Mountain
Grandfather Mountain was one of the highlights of our trip to North Carolina! We loved driving the two-mile windy road to the summit, seeing the beautiful 360 views at the top, and most of all loved walking across the Swinging Bridge!
I high recommend Grandfather Mountain on your next vacation to North Carolina!
More RV Travel Destinations You Will Like