Last Updated on August 28, 2021 by Lori
If you love a campground with beautiful mountain views and spacious camping sites, then you will love camping at Outlanders River Camp in Luray, Virginia.
This post contains affiliate links which means if you click on a link and make a purchase, I will earn a commission at no additional cost to you. Please see our Disclosure Policy for more information.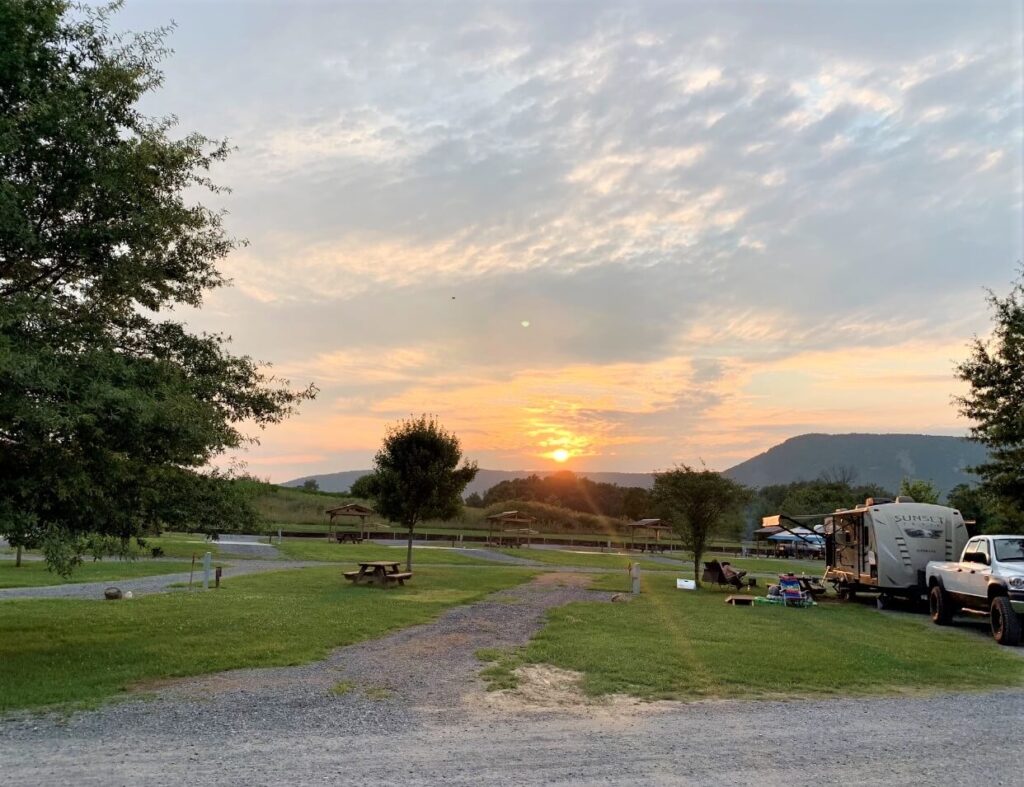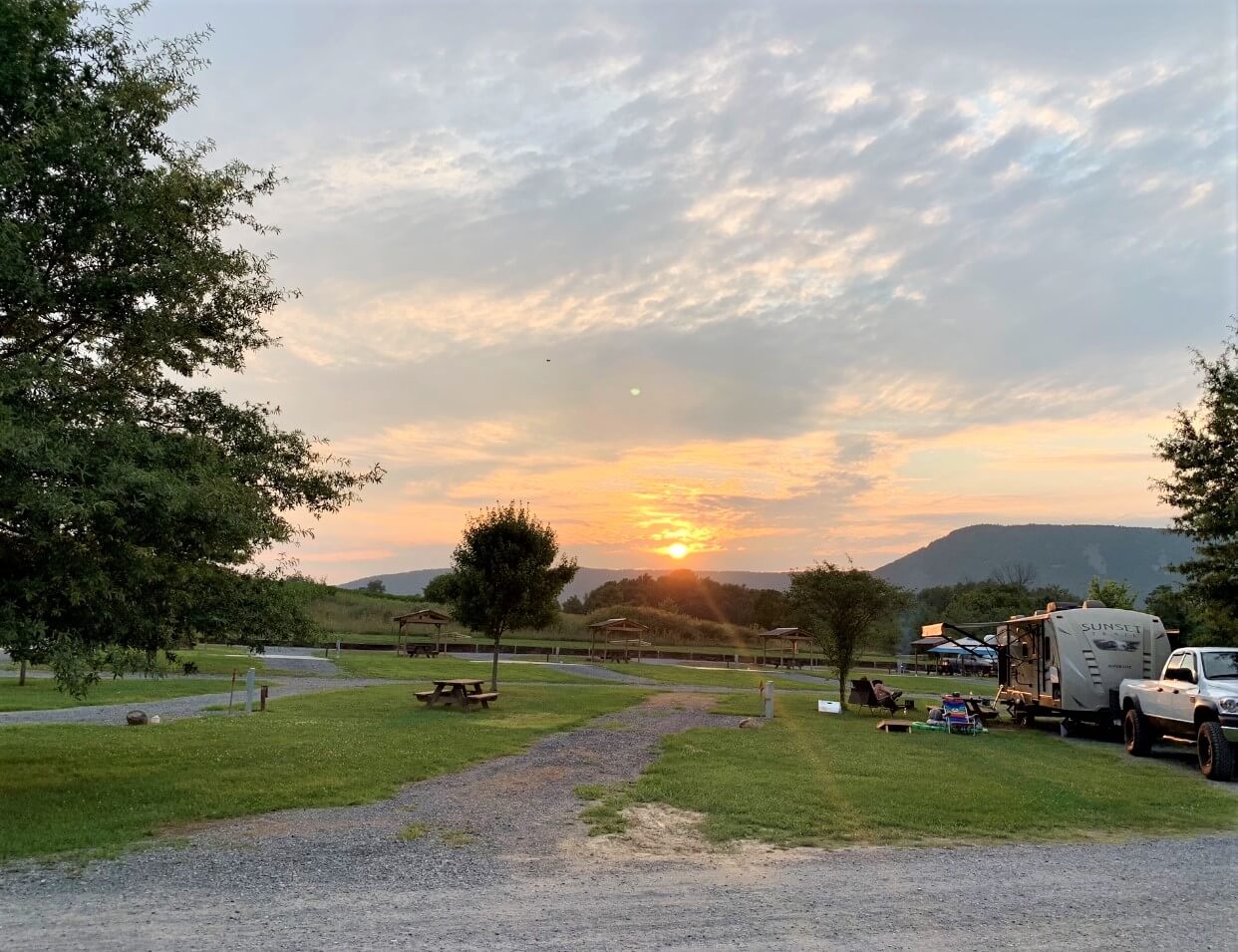 Where Is Outlanders River Camp Located?
If you're looking for camping in Luray, VA, Outlanders River Camp should be on your list of campgrounds!
The Luray, Virginia campground is situated along the Shenandoah River and is just 14.3 miles from the Shenandoah National Park Thornton Gap Entrance.
This 100-acre Shenandoah Valley campground is open Year-Round and offers RV sites, tent sites, and camping cabins all with views of the mountains or the Shenandoah River.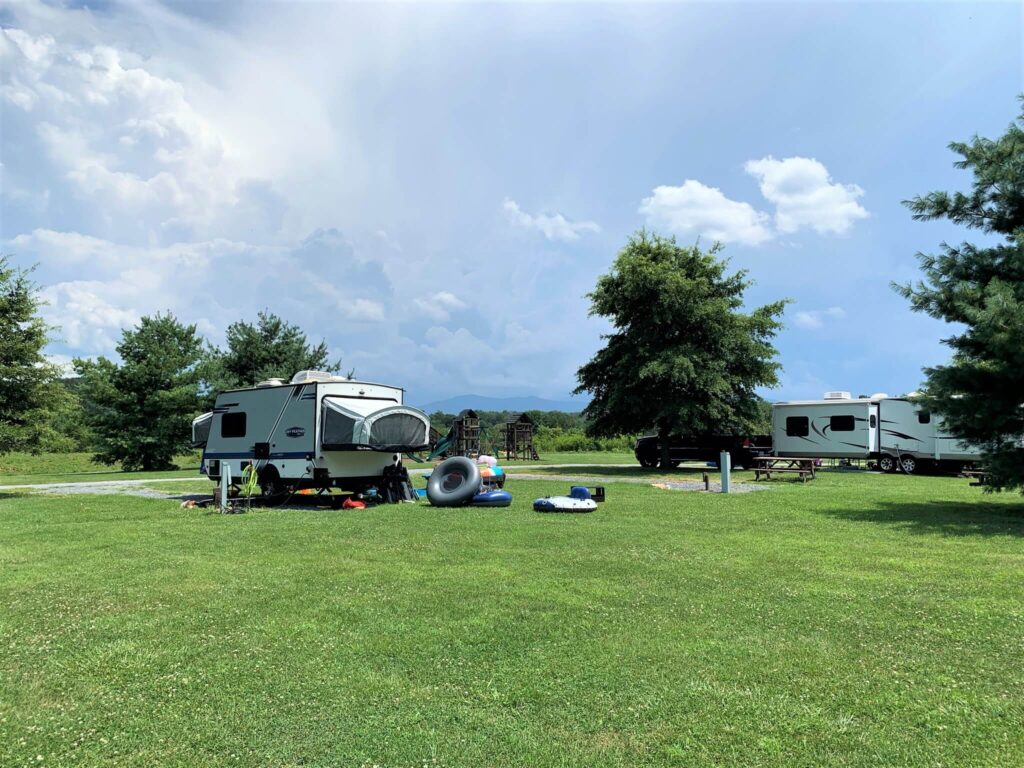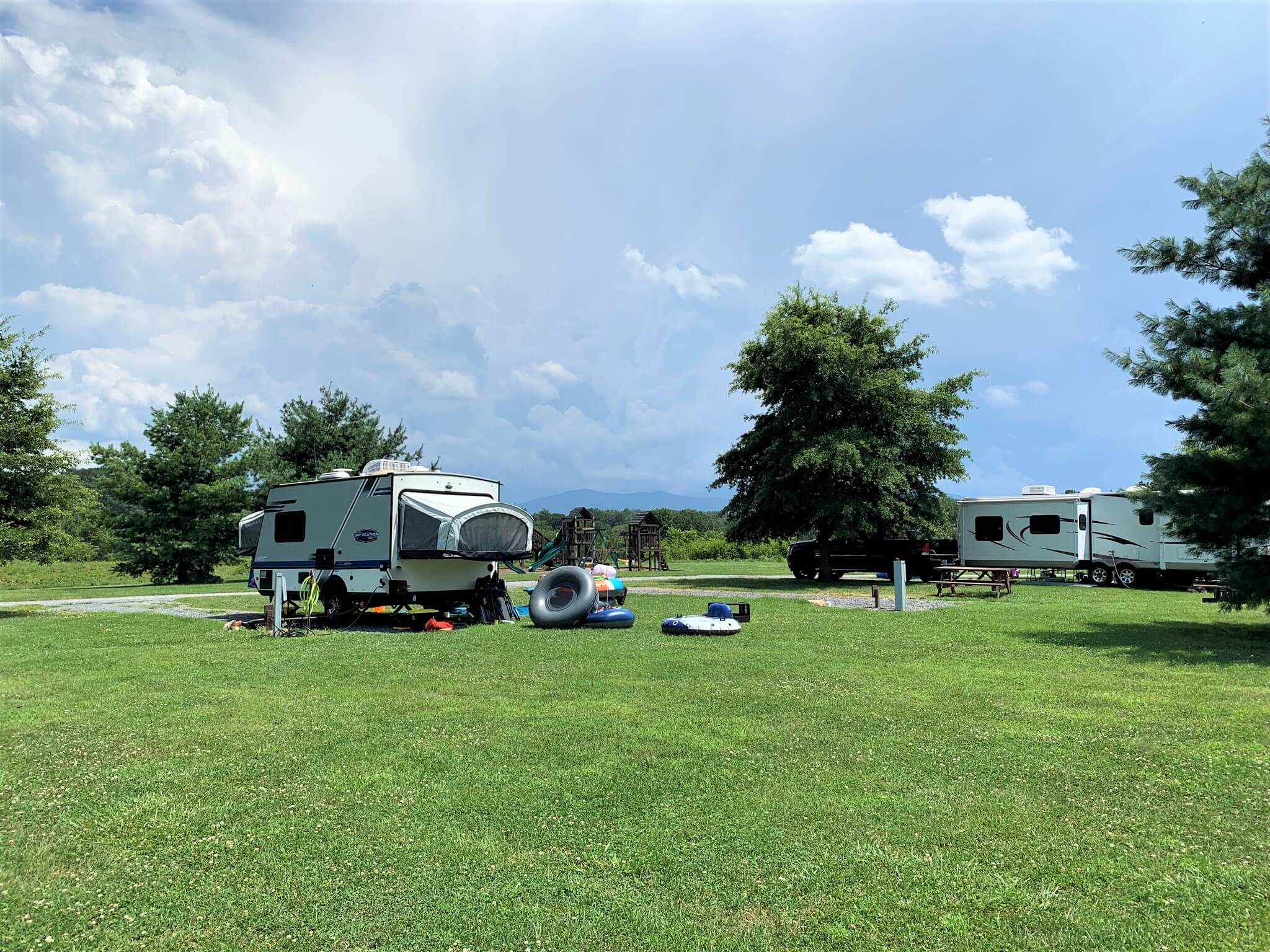 About Outlanders River Camp
Outlanders River Camp (ORC) was built in 2007 on a 100-acre nature retreat with 3/4 miles of Shenandoah riverfront.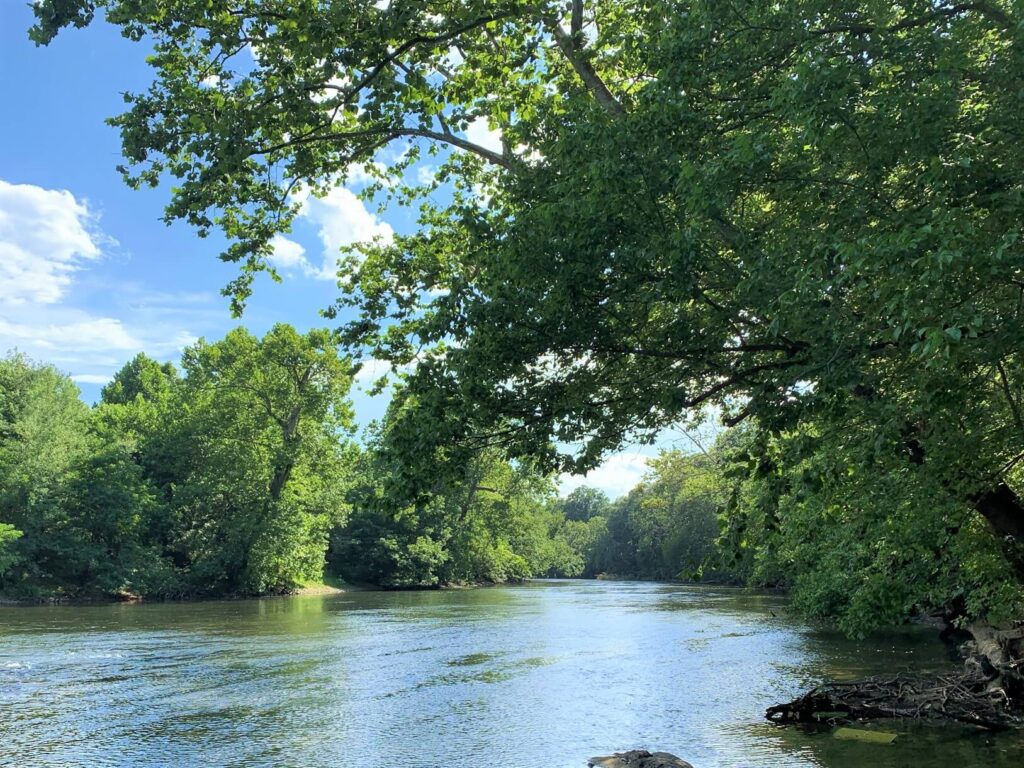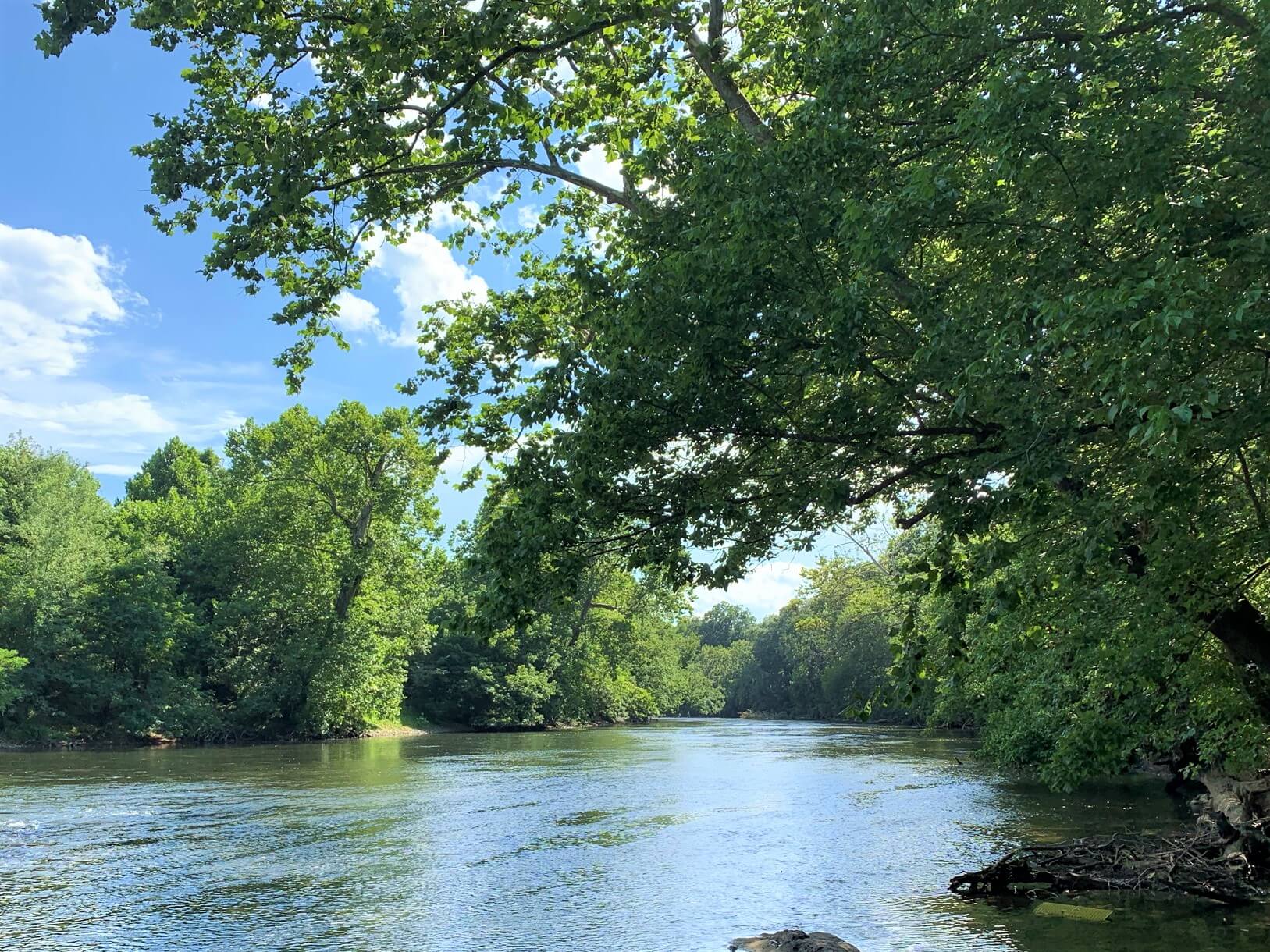 I can honestly say that this campground is one of the prettiest campgrounds we have camped in!
One can tell that the planners meticulously laid out the campground and thought of everything a camper might enjoy!
Luray Campgrounds
When we were looking for a stop-over campground on our way from New York to The Great Smoky Mountains, we decided to focus on campgrounds near Luray, VA.
After reading all the Outlanders River Camp reviews, we booked a back-in site.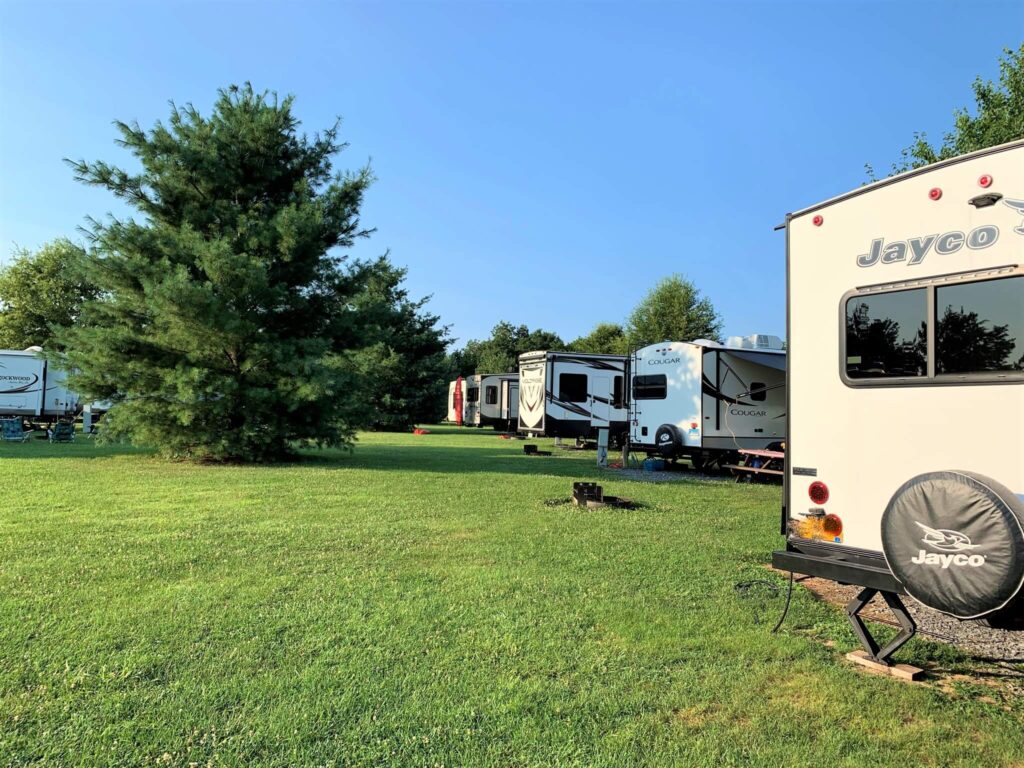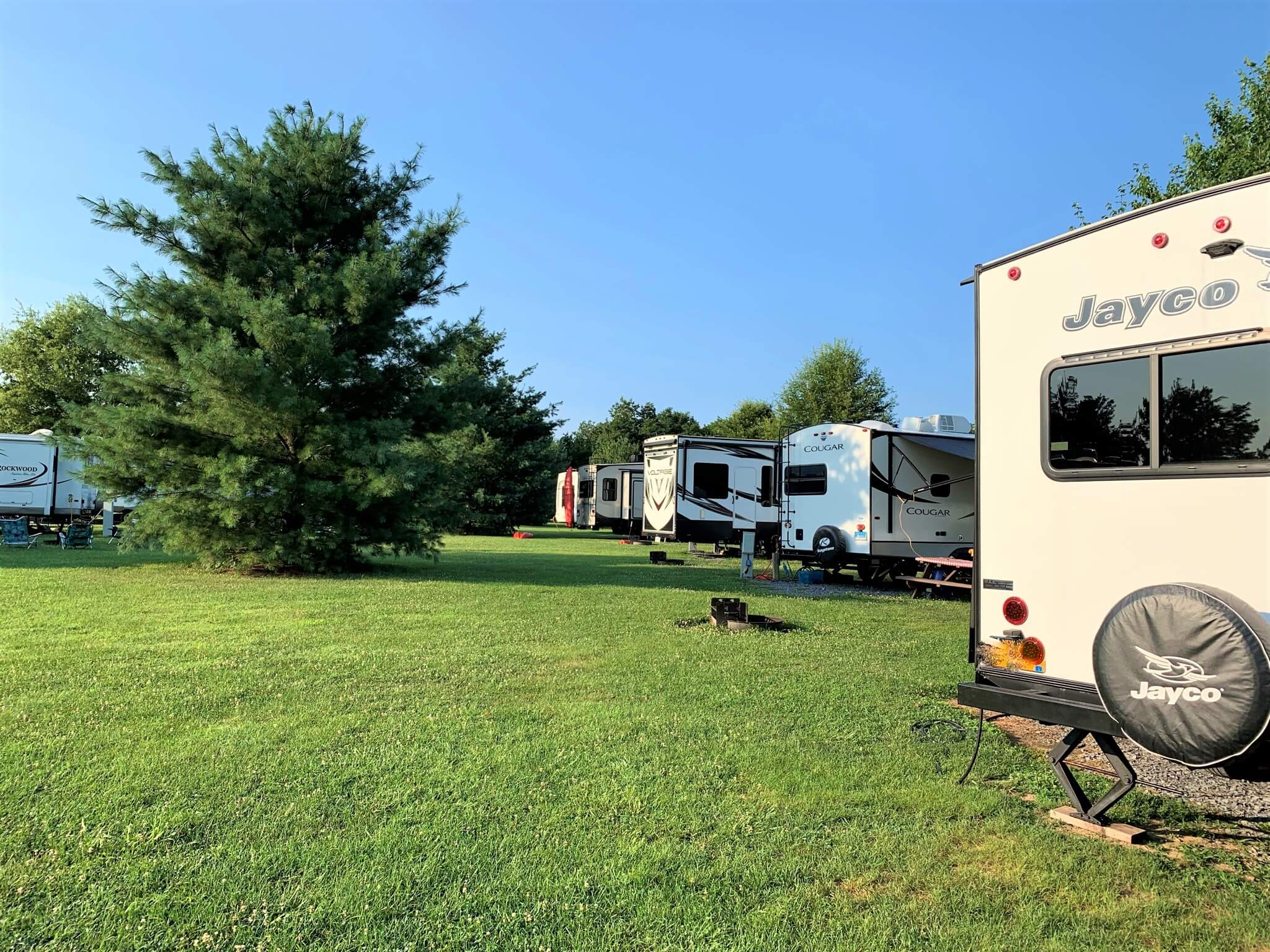 My daughter and her boyfriend decided to join us and booked a Shenandoah riverfront camping site.
Outlanders River Camp Luray VA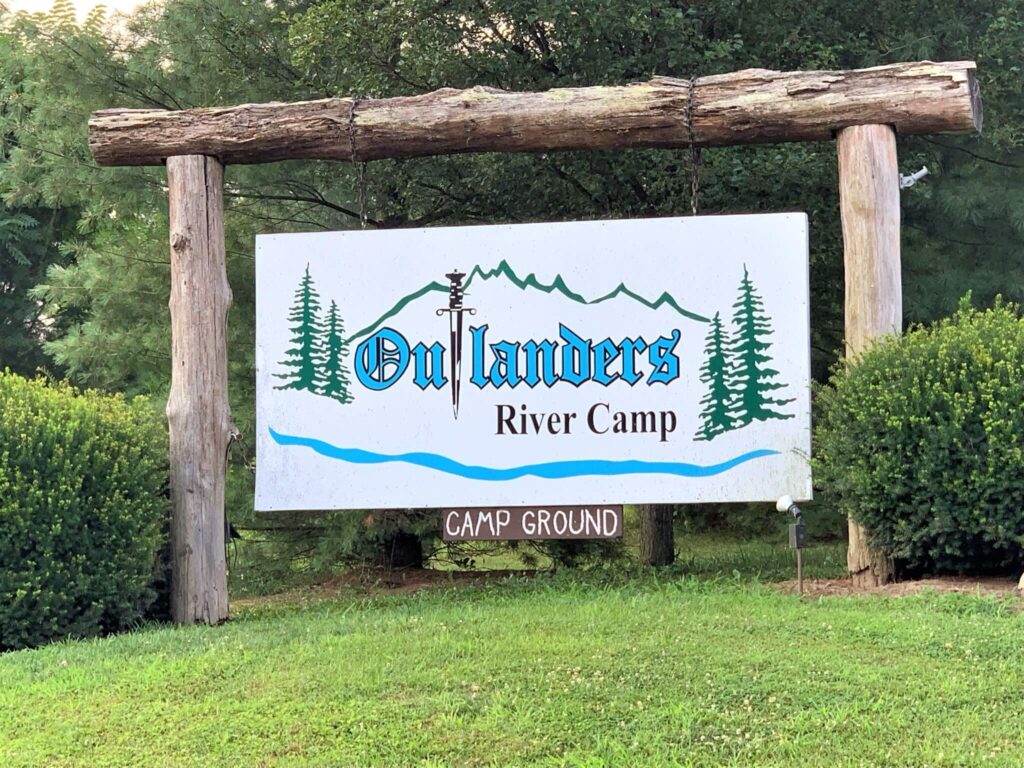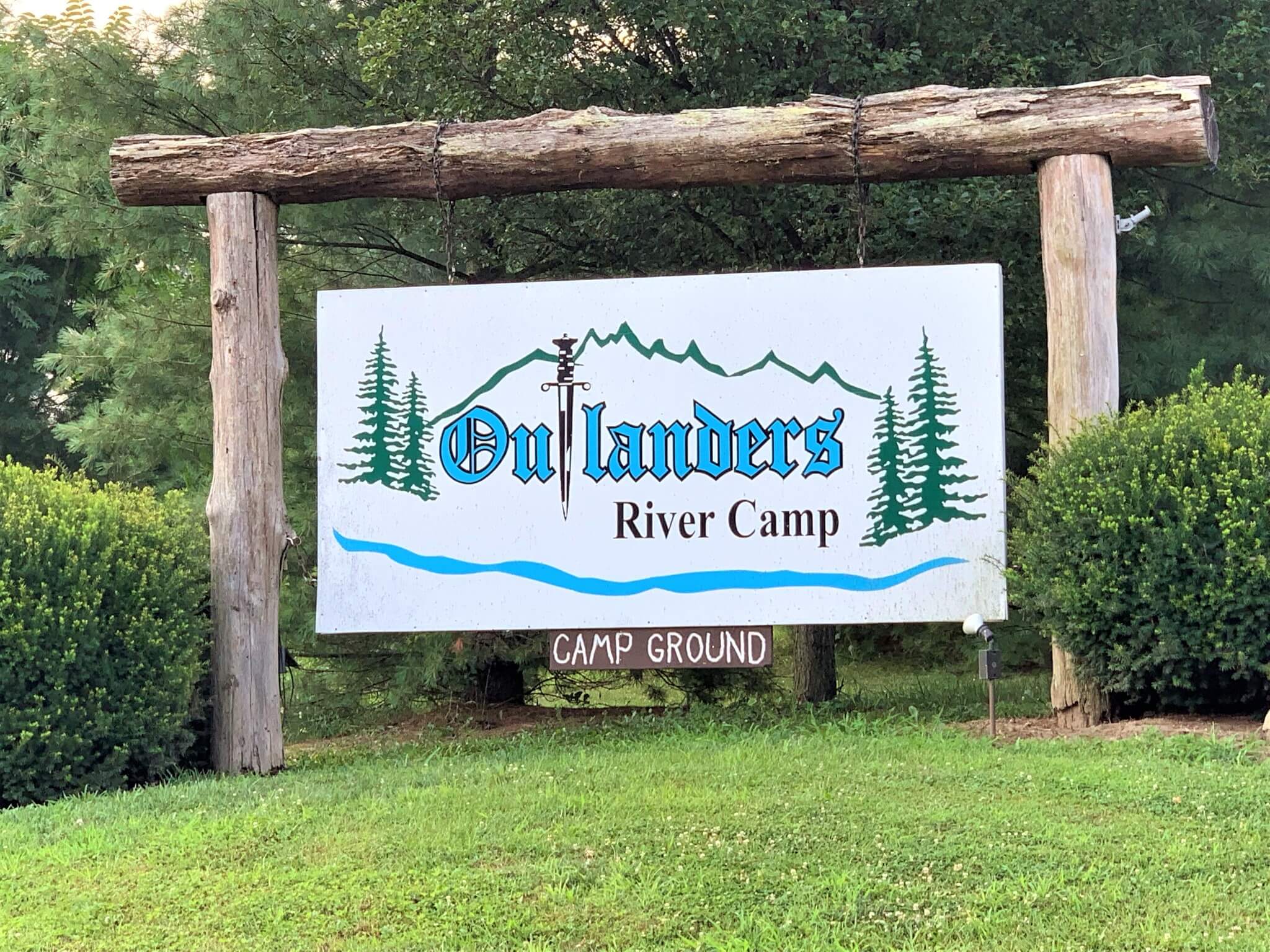 Our confirmation showed we were booked in a back-in RV site in the field area. From looking at the campground photos, I was a bit worried when I didn't see any trees in this area, and we would be baking in the hot July weather!
Our plans were to leave Long Island, NY bright and early to make it across the bridges when there would be less traffic.
We knew it could end up being a 6-7 hour trip depending on traffic, so we called the campground to see if they had early check-in if we arrived before the 2:00 p.m. check-in time.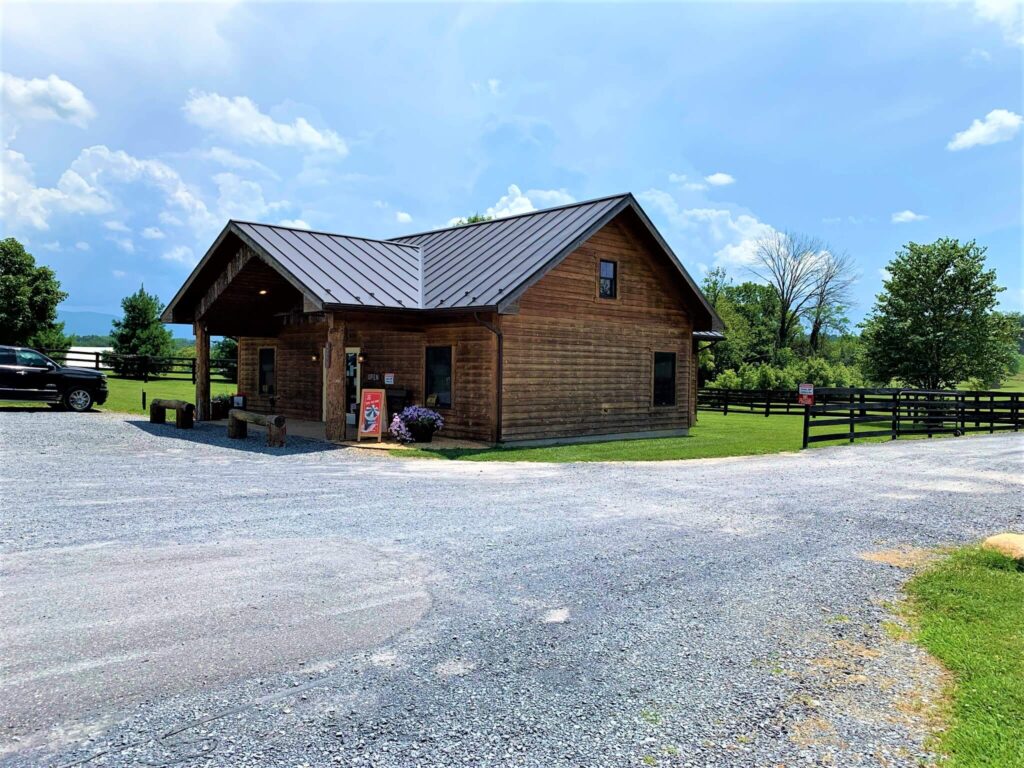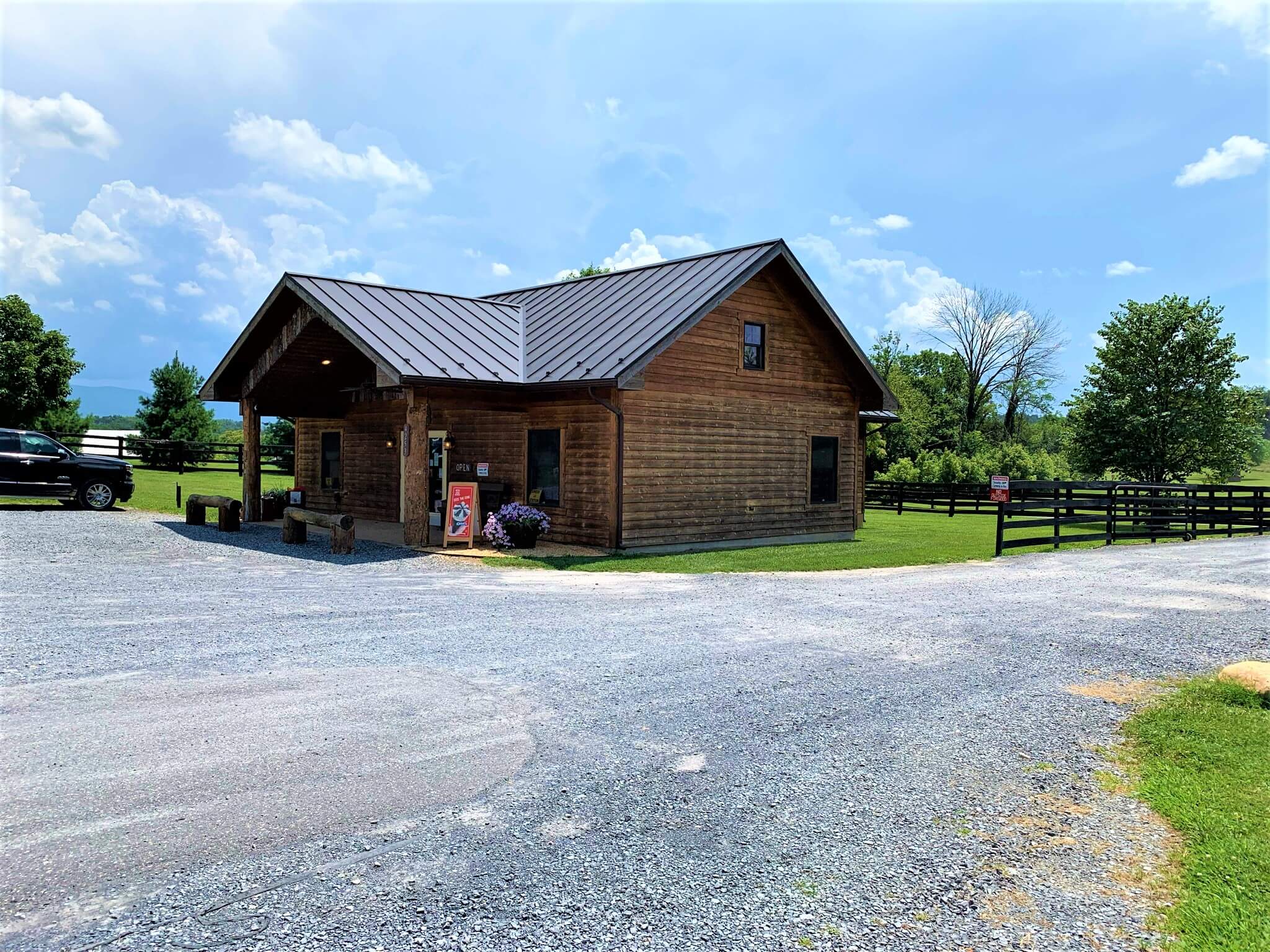 We have been to campgrounds where there is a small fee to check-in early, campgrounds where there is absolutely NO early check-in; and campgrounds, where they will let you in as early as 10 am with no fee if the site has been cleaned.
The office explained that there was no early check-in at Outlanders River Camp which we totally understood. We decided that if we were that early, we could just pull over in a parking lot until it was time to check in.
As it turned out, it took us a little over seven (7) hours, and we arrived 20 minutes before check-in.
We went ahead and drove on to the campground and hopefully find a place to park until check-in.
Well, there was plenty of room to park your RV or travel trailer at the main gate!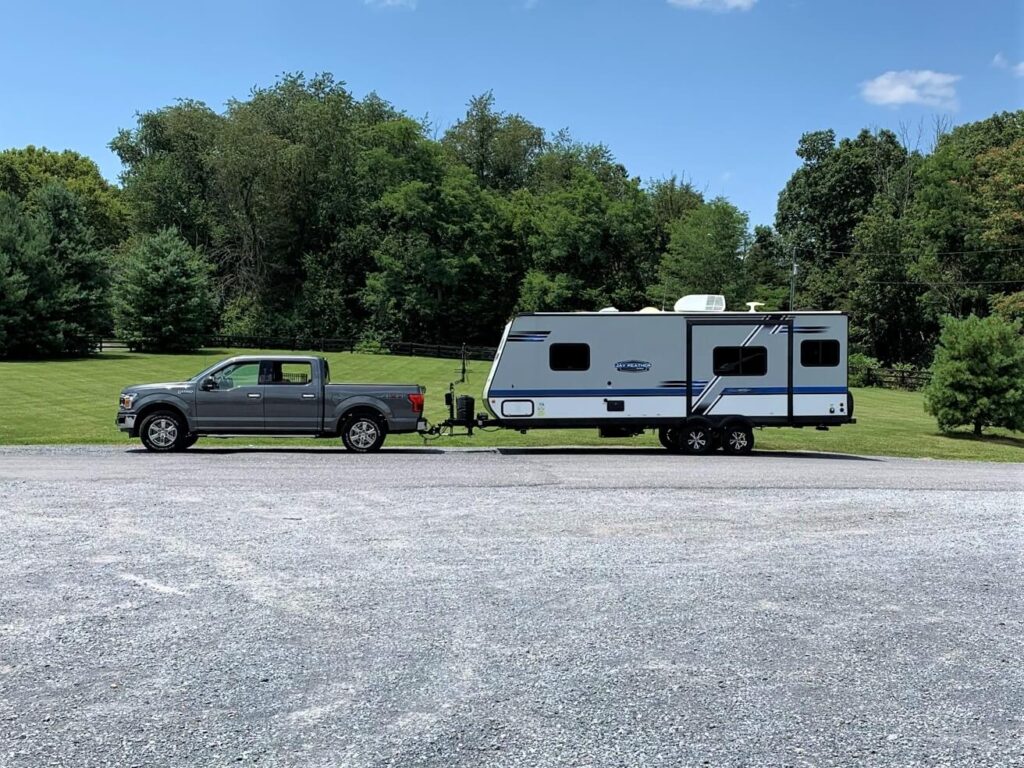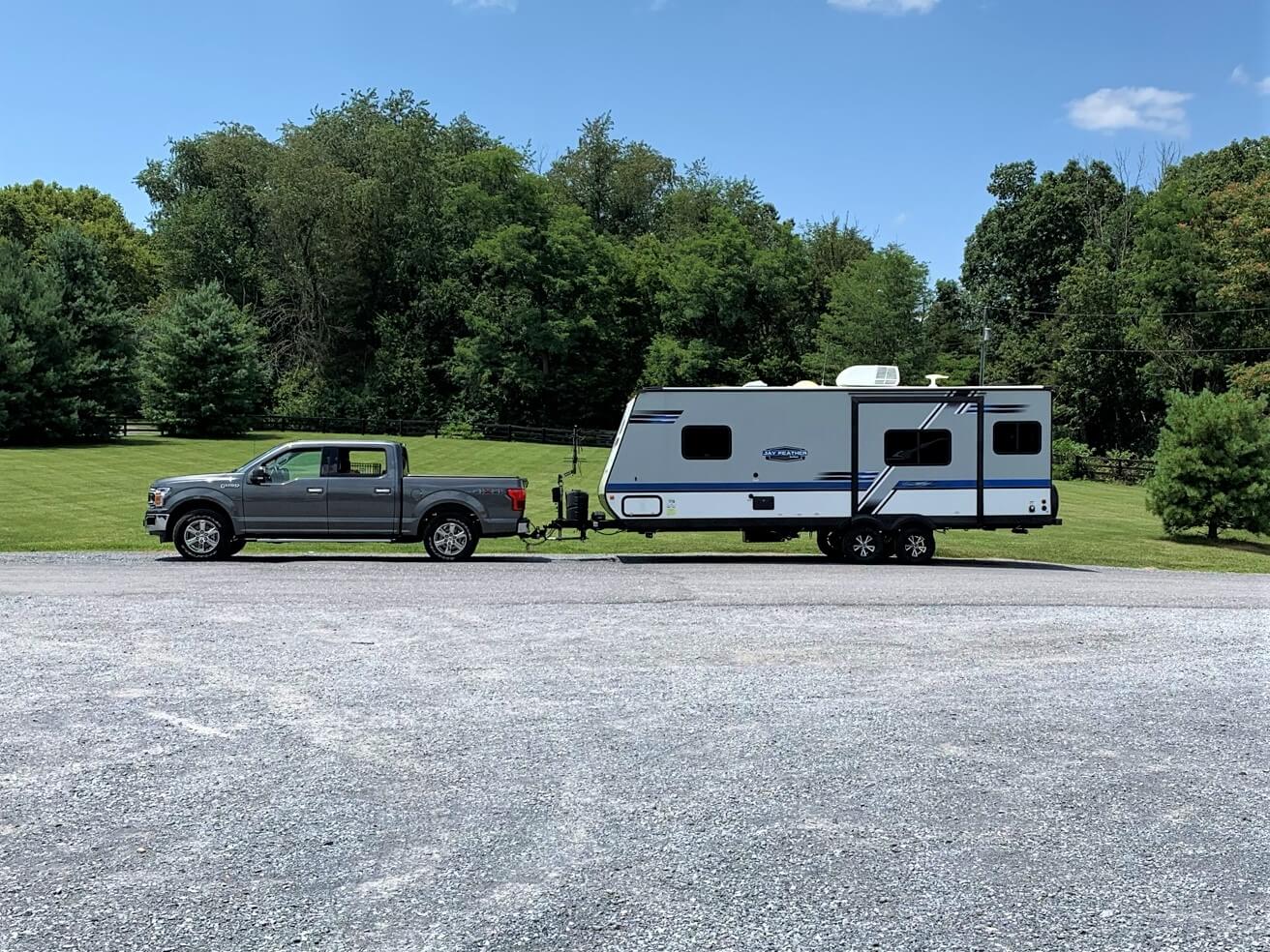 We decided to let the campground know we had arrived so the staff could let us know when the site was ready.
As luck would have it, our site was ready!
The owners were very pleasant making us feel right at home.
After getting our site number, a campground map, and a parking pass, and away we went to explore the campground!
Outlanders River Camp Map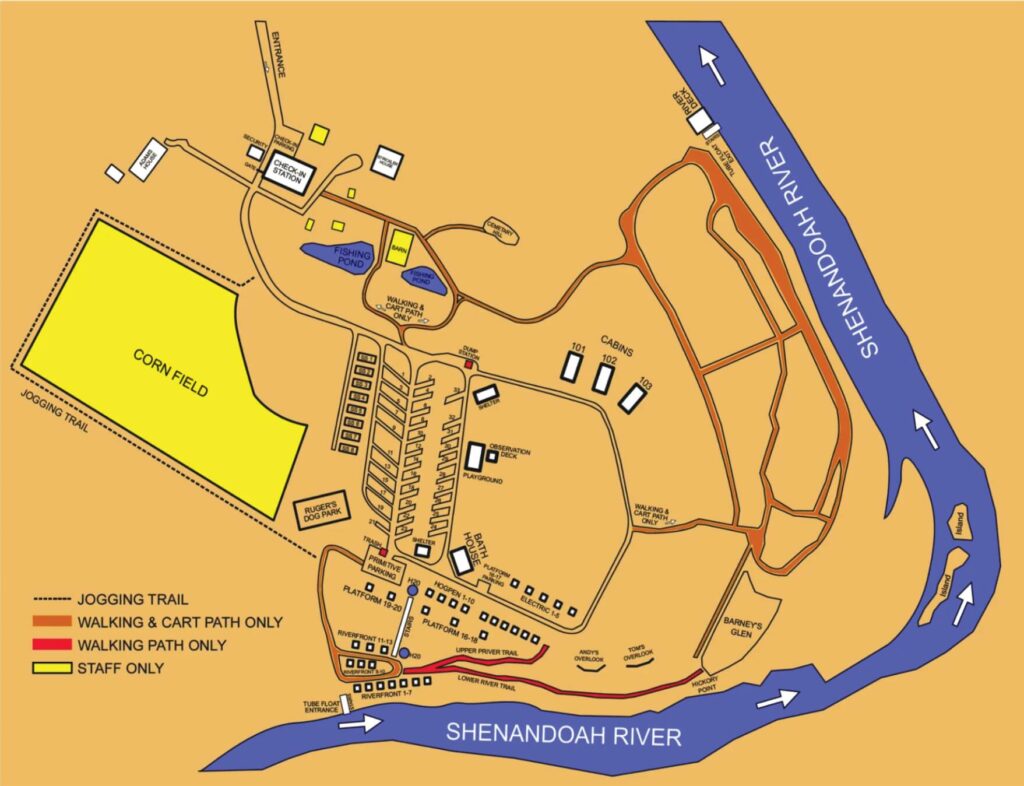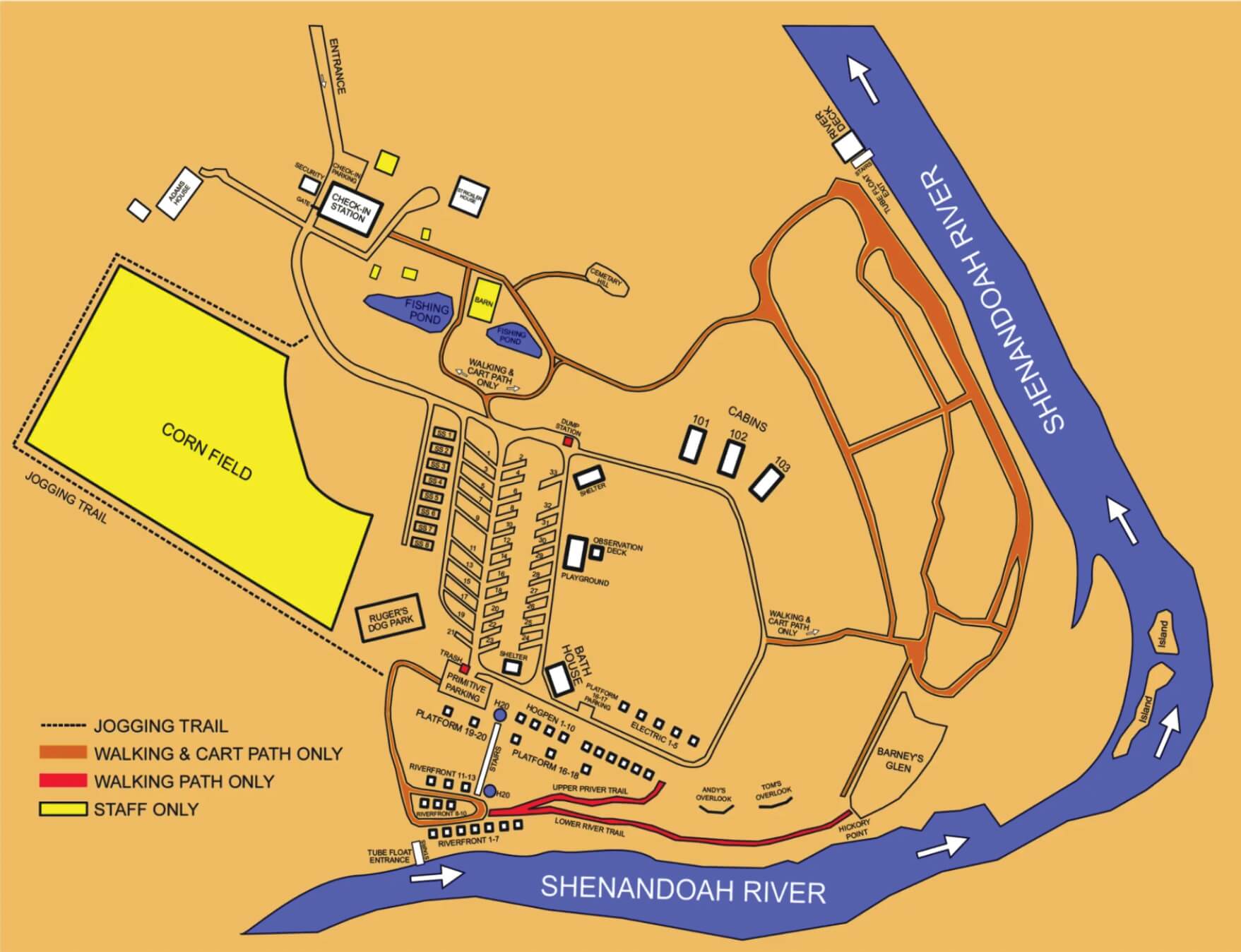 As we pulled through the gates, we were surprised to be passing a cornfield! Then we saw the fishing pond with a fountain and some of the most beautiful views of the Blue Ridge and Massanutten Mountain Ranges.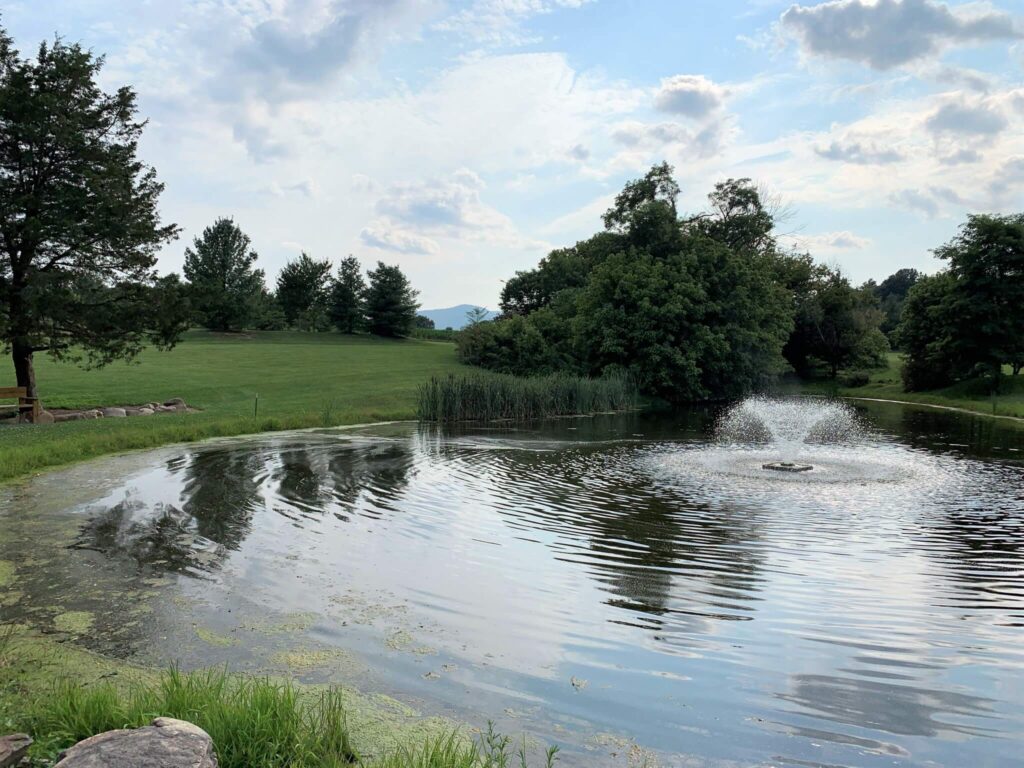 As we pulled to our site #10, I was happy to see that many RV sites in this area had mature trees, which added much-welcomed shade!
The sites are gravel for the RV and grassy for the picnic table and fire ring.
Our site was not level, but using our extra Lynx Levelers did the trick! (If you missed my campground review of Keen Lake, you'll know that I rolled downhill all trip because we needed more levelers!)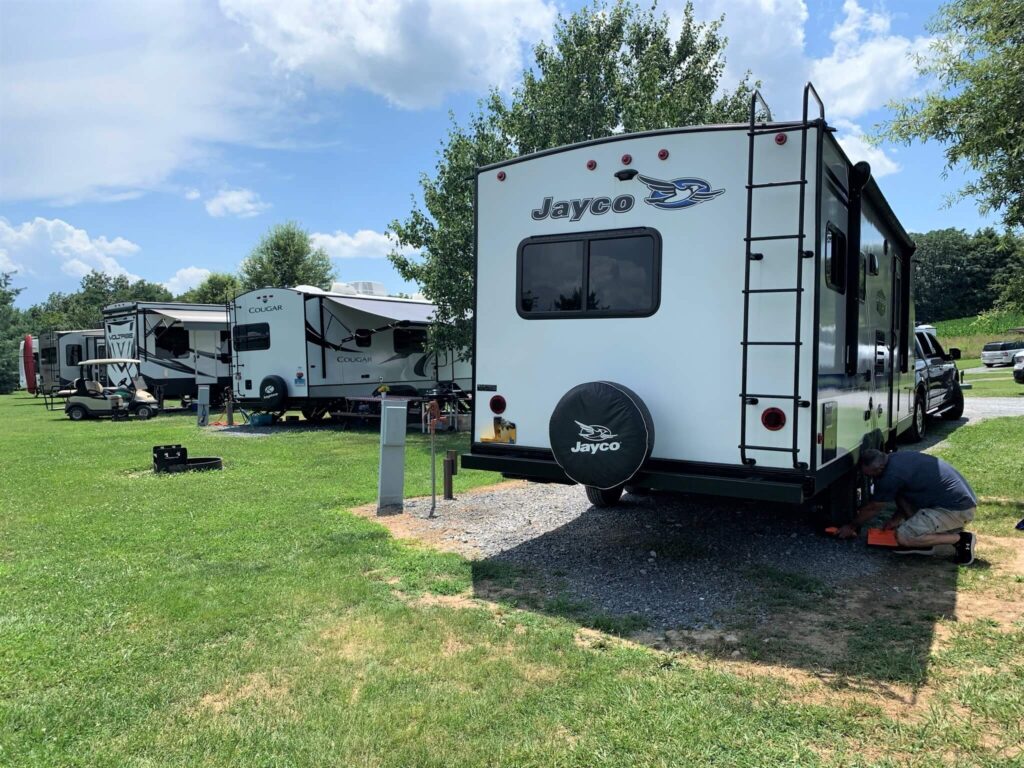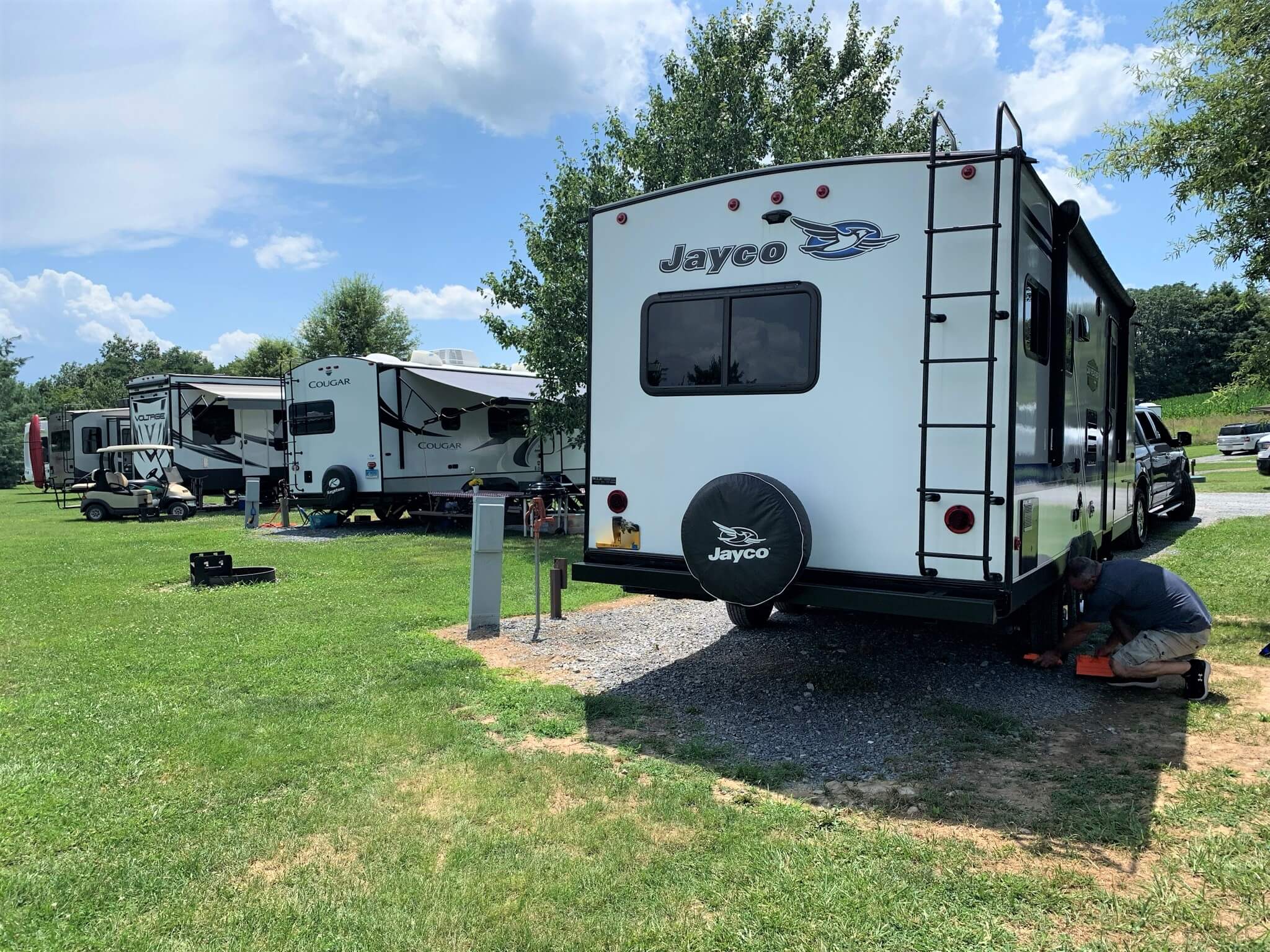 The other thing I was so happy I purchased for the trip was a battery-operated fan.
I had asked my Aunt and Uncle who often camp in the south what the number one thing they would recommend for hot weather camping and they both said – a FAN to keep the flies away!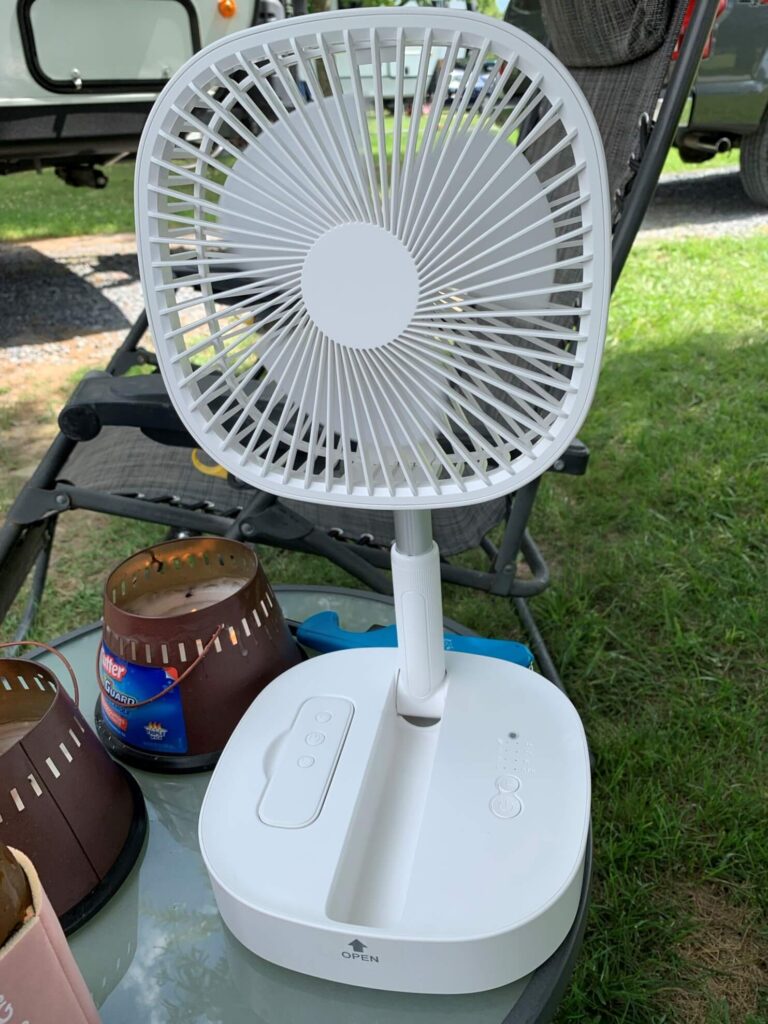 This fan was perfect! I set it on the picnic table when we were eating, or by our side tables when lounging in our zero gravity chairs and the fan not only kept me cool – but kept those pesky flies away!
Walking around the campsite, we quickly noticed the back-in sites in this area are positioned diagonally, with each site set at a different distance allowing each camper to enjoy a large grassy area behind their RV.
Perfect for family camping games and for corn hole tournaments!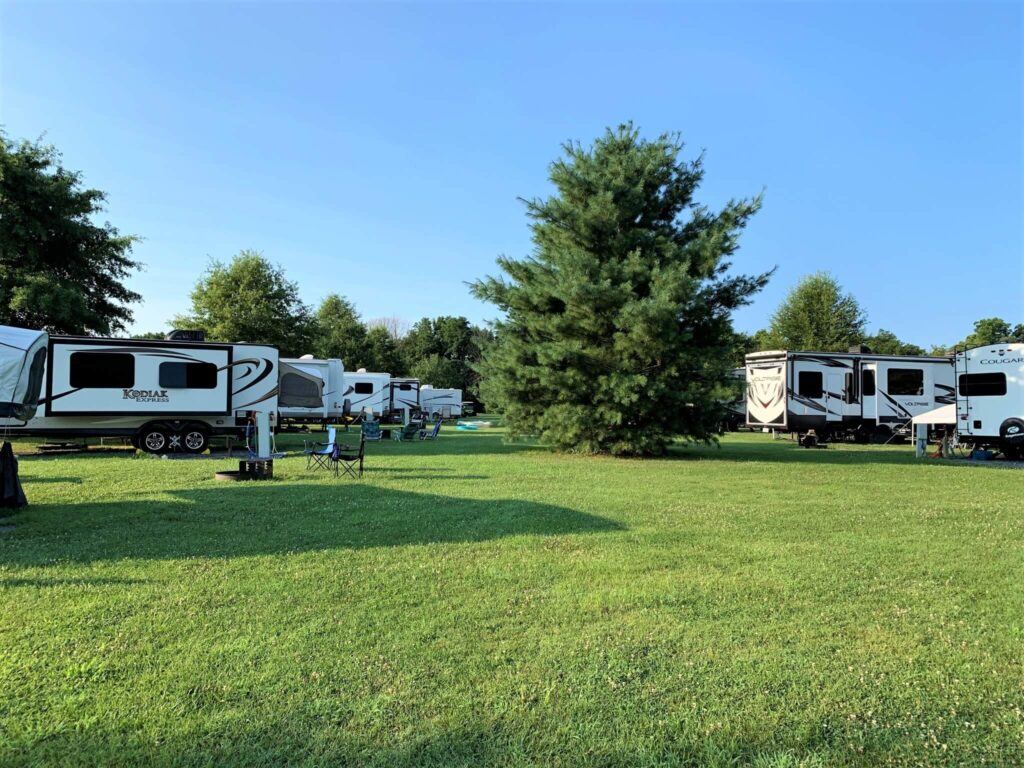 Camping At Outlanders River Camp
Outlanders River Camp offers full hookup RV sites (back-in, pull-through, and premium sites), tent camping, and camping cabins.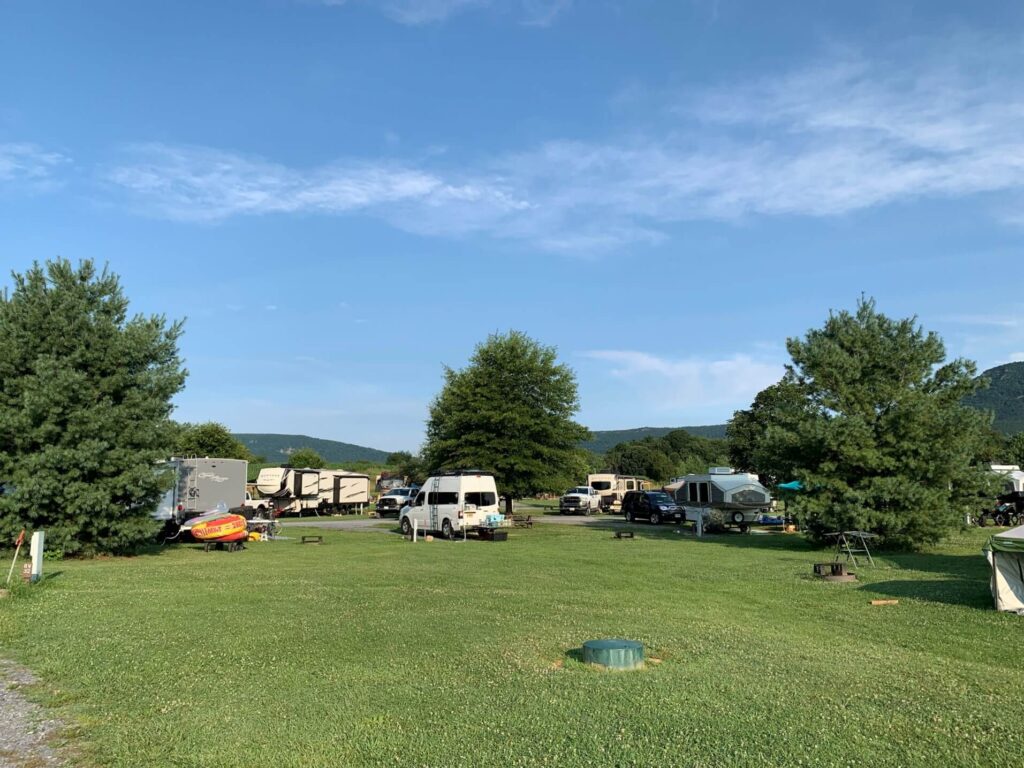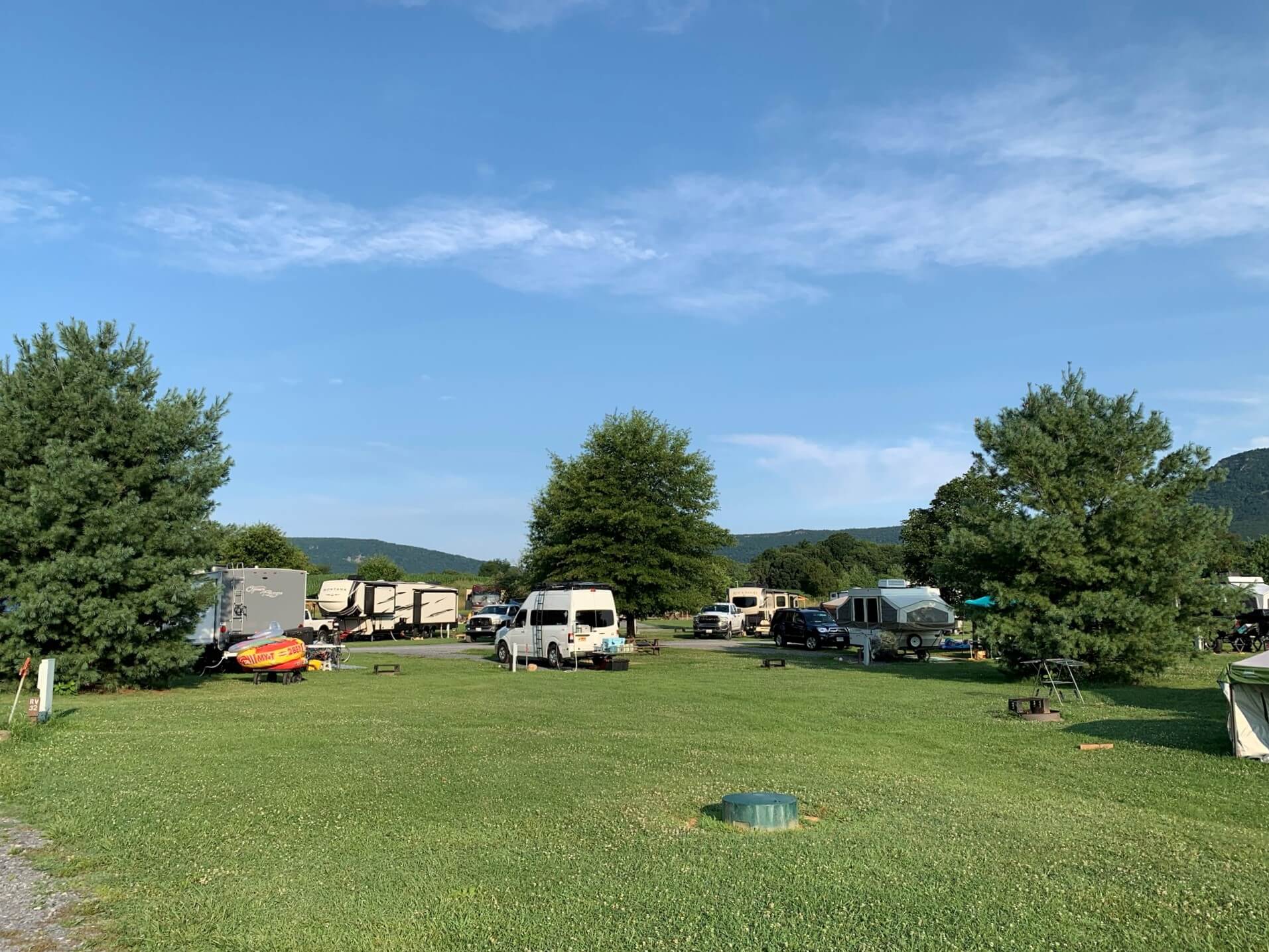 RV Sites:
Back-in RV Sites – Full-Hookup, 30/50 amp, picnic table, fire ring
Pull-through RV Sites – Full Hookup, 30/50 amp, picnic table, fire ring
Super Sites – 60′ x 85′, Full Hookup, 30/50 amp, RV parks on concrete, concrete patio, covered picnic table, fire pit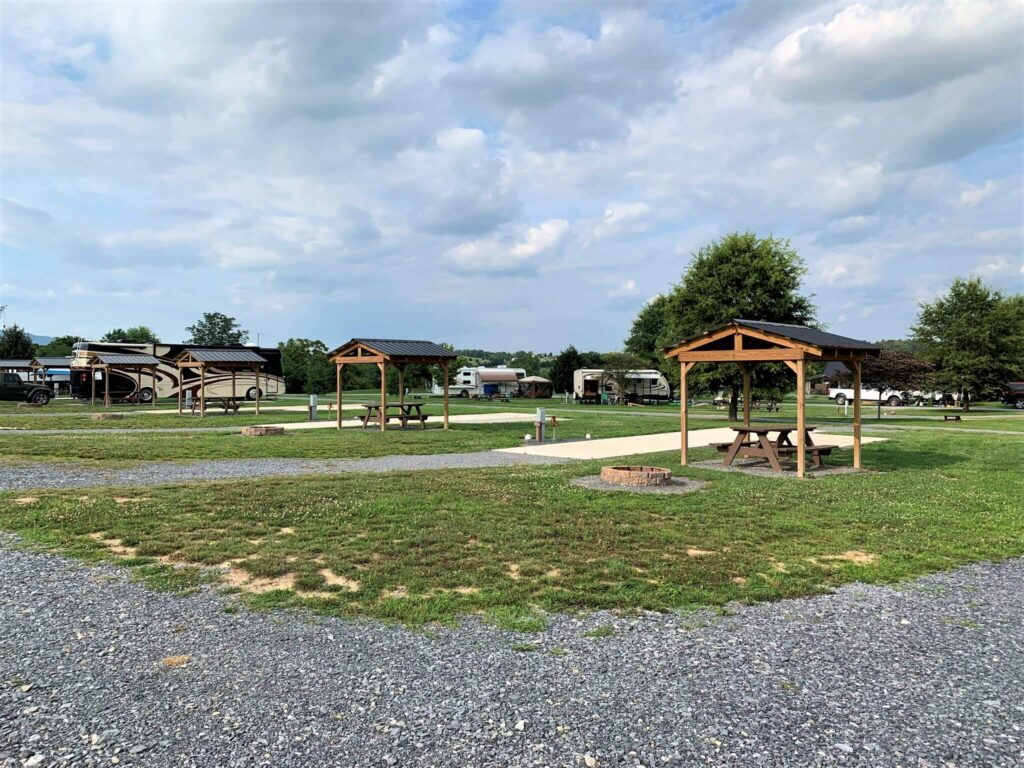 Tent Camping:
Riverfront, wooded, and platform campsites – Walk-in primitive tent sites, no pets allowed
Pull-up Sites – Accessible by vehicle, no electric, pets allowed
Electric Sites – Accessible by vehicle, electric, pets allowed
Camping Cabins at Outlanders River Camp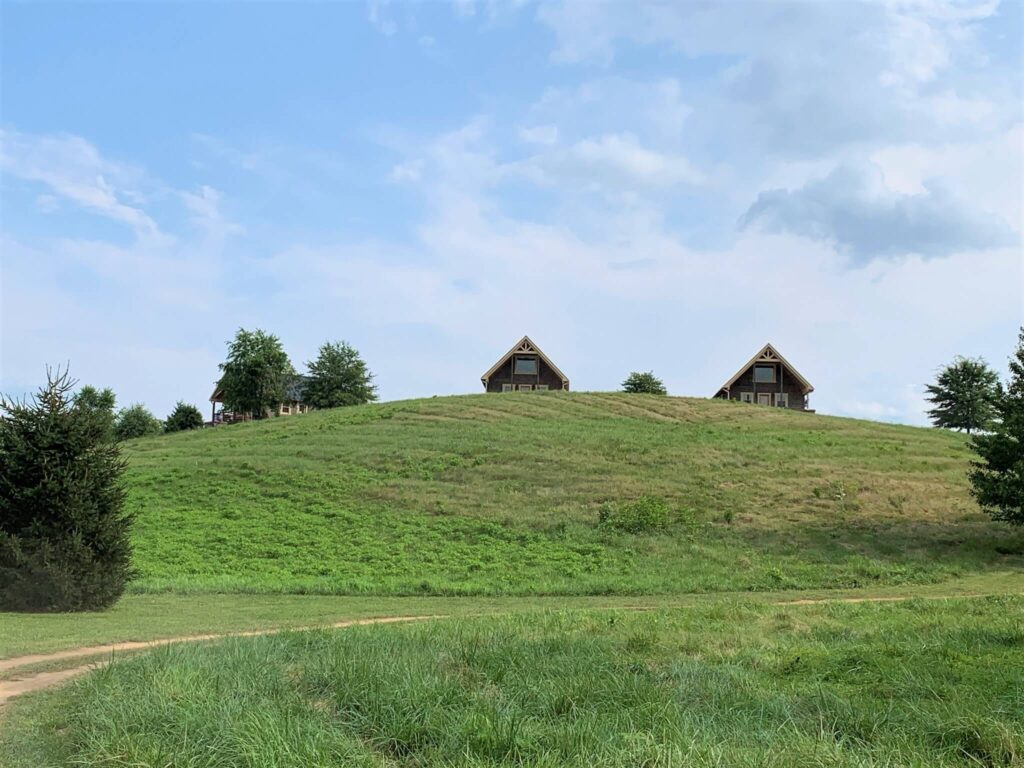 There are three camping cabins (Deer Cabin, Owl Cabin, and Oar Cabin) with beautiful mountain and Shenandoah River views with access to all the property amenities.
Check-in – 3:00 pm
Cabins sleep 6-8 guests
No pets or smoking in the cabins.
Must bring own linens, washcloths, towels, toilet paper, soaps, shampoo, paper towels, and coffee.
Cabin Amenities
Fully equipped kitchen with stove, oven, microwave, fridge, toaster, and coffee maker
Dining Room
Large bathroom with extra-large shower and vanity
Indoor fireplace
Outdoor fire ring
Charcoal grill
Outdoor hot tub
8′ x 24′ covered porch with picnic table
Heating and Air Conditioning
Ceiling fans in all sleeping areas
2 bedrooms with queen beds
Queen sleeper sofa (No sleeper sofa in Deer Cabin)
Loft with 4 twin beds (No Loft in Owl Cabin)
RV in open living room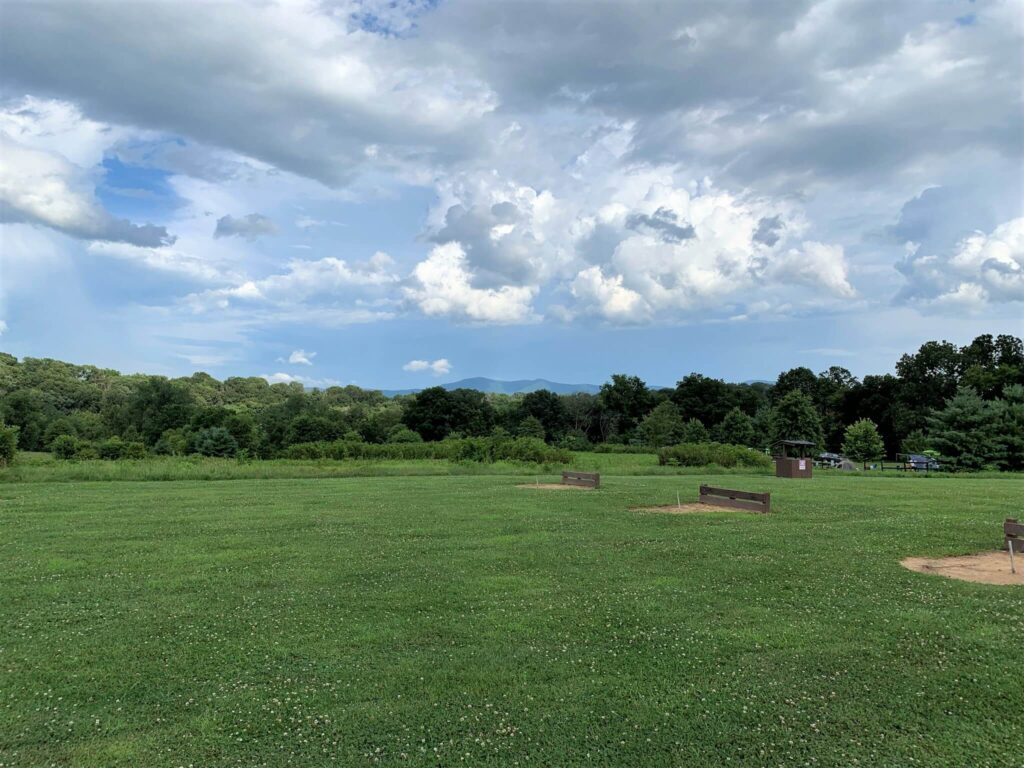 What We Liked About Outlanders River Camp
We liked that it was just a short distance to walk to the beautiful and peaceful Shenandoah River where you could fish (with a permit), swim, and tube downriver.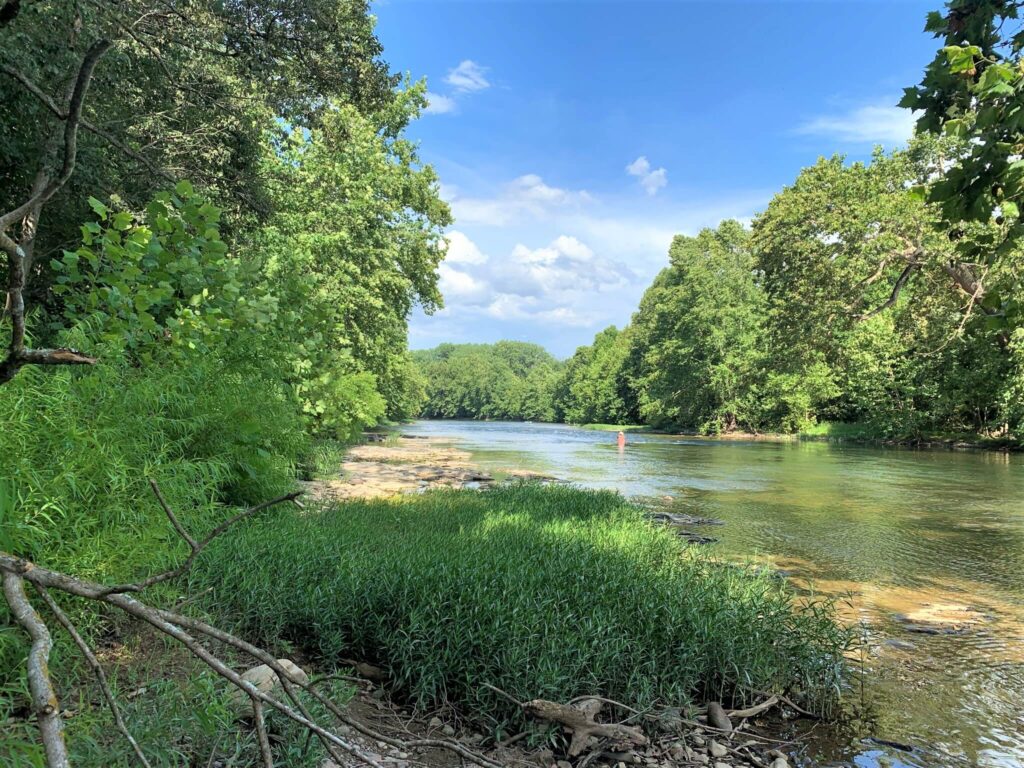 Pro Tip – Rent a golf cart (or many campers brought their own). The campground is HUGE and to take the kids to the Camp Store for ice cream is a long walk if you don't drive!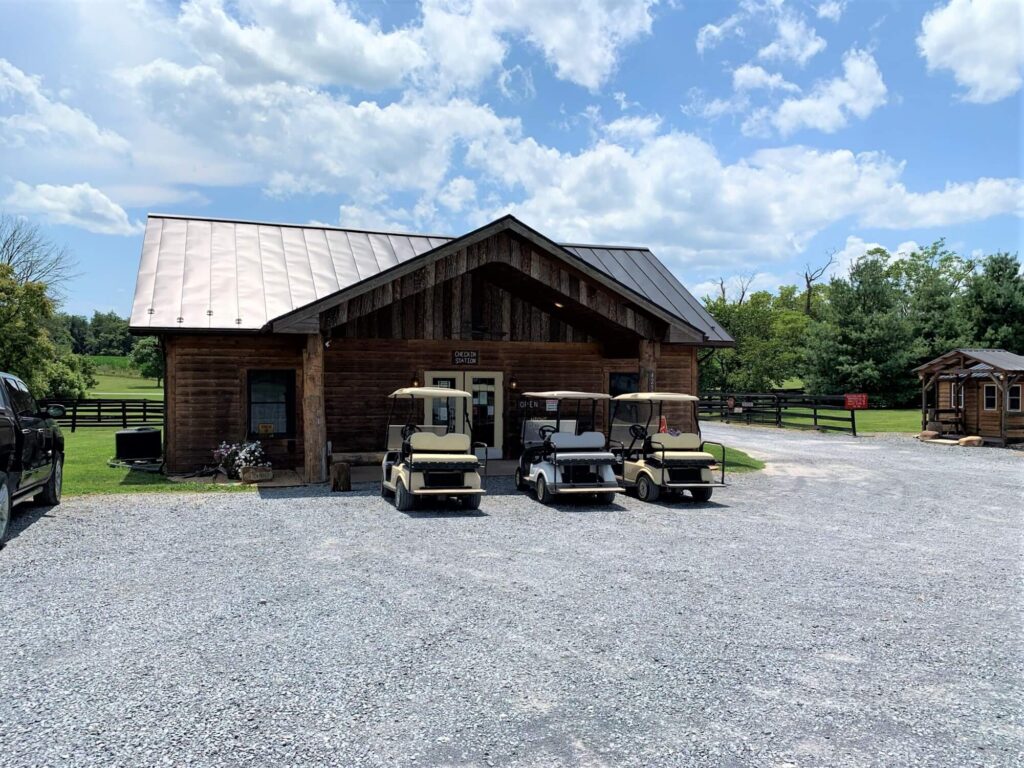 While the area to begin tubing downriver is near the RV sites, the endpoint is quite a distance from the starting point!
Many people dropped off the tubers, then had someone drive the golf cart to the endpoint where they picked them up to drive them back to the starting point!
My daughter and her boyfriend rented a golf cart and then took us on a tour of the campground. It was so much fun! We would have never seen everything the campground has to offer as it is much too far to walk everywhere.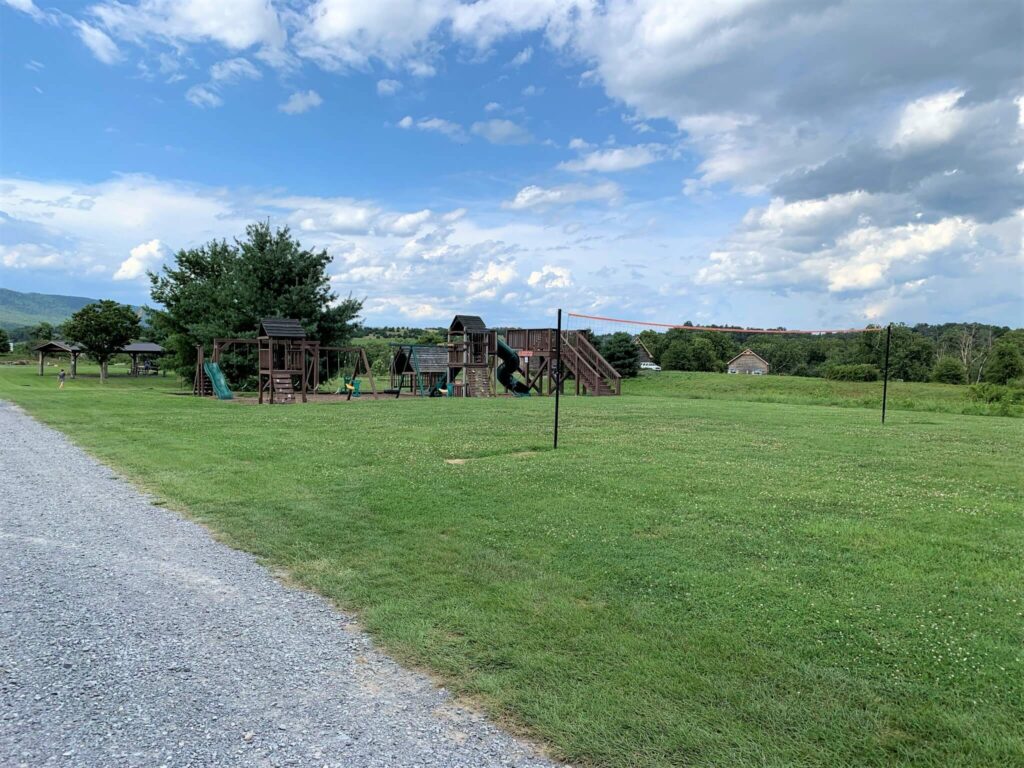 Outlanders River Camp Amenities
Camp Store
Full Hook-up sites (30/50 amp)
Big Rig Friendly
Pet Friendly
Free Showers
Playground
Volley Ball Courts
Horse Shoes
Golf Cart Rental
Fishing
Tubing
Swimming in the Shenandoah River
Jogging Trail
Beautiful Views
30 Minutes from Skyline Drive and the Shenandoah National Park
Cons About Outlanders River Camp
There is no WiFi – but our cell phones worked fine!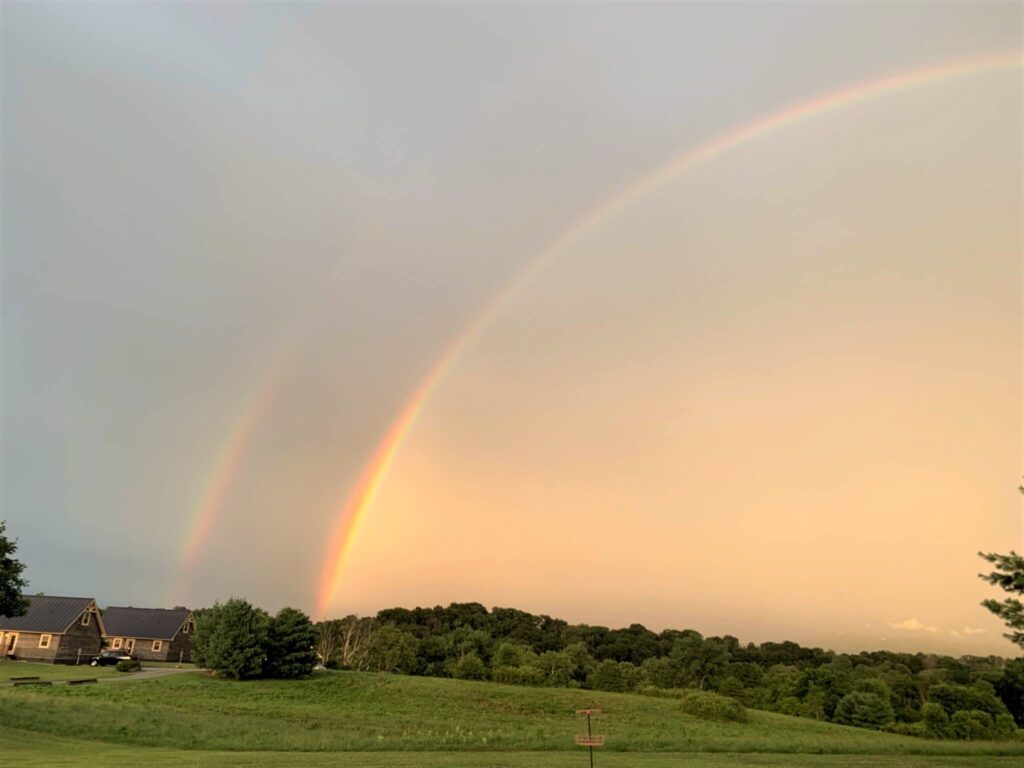 Thoughts About Outlanders River Camp
Outlanders River Camp in Luray, VA is one of the most beautiful campgrounds we have ever camped in.
The sites are spacious and clean with beautiful views so you can't help but relax while sitting by the campfire.
The campground is just a short distance to Skyline Drive and the Shenandoah National Park.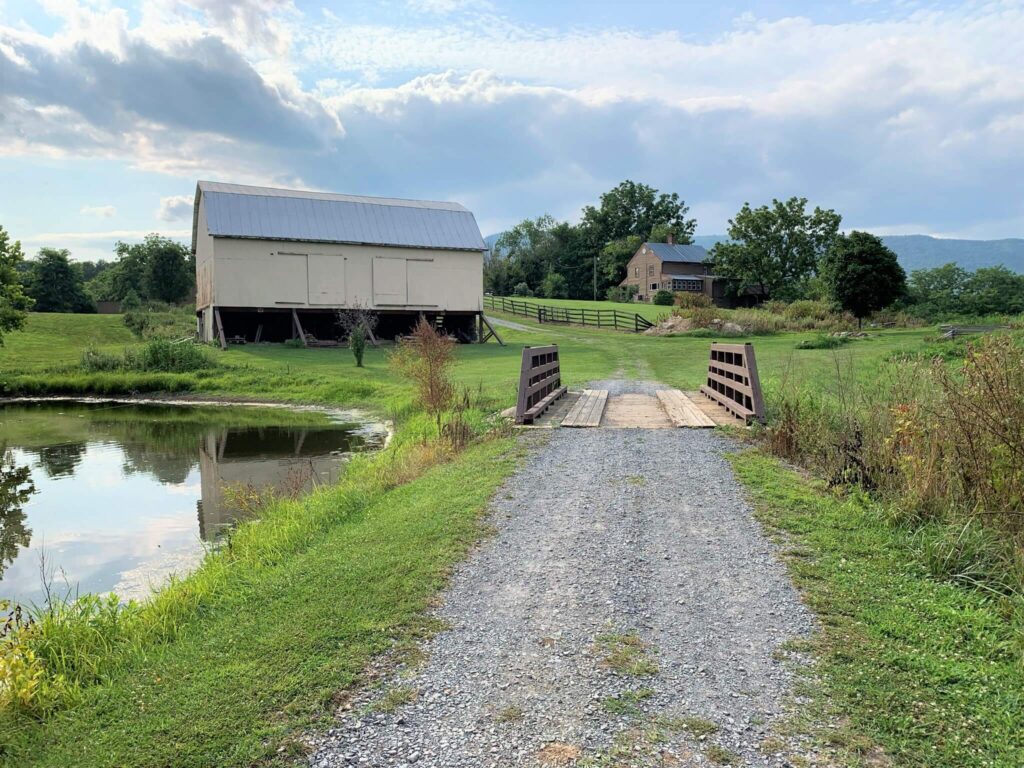 While it didn't have a swimming pool, it had the natural beauty of the Shenandoah River to fish, swim, kayak, or take a leisurely float tubing downriver.
Kids loved the state-of-the-art playground which was in clear view of most RV sites so that many parents could see their kids from their campsite.
There was plenty of space to take Buddy, our Golden Retriever for walks and play off-leash at the Doggie Park.
The planners of the campground even thought of a jogging trail around the property (and cornfield) that is well-maintained and kept mowed.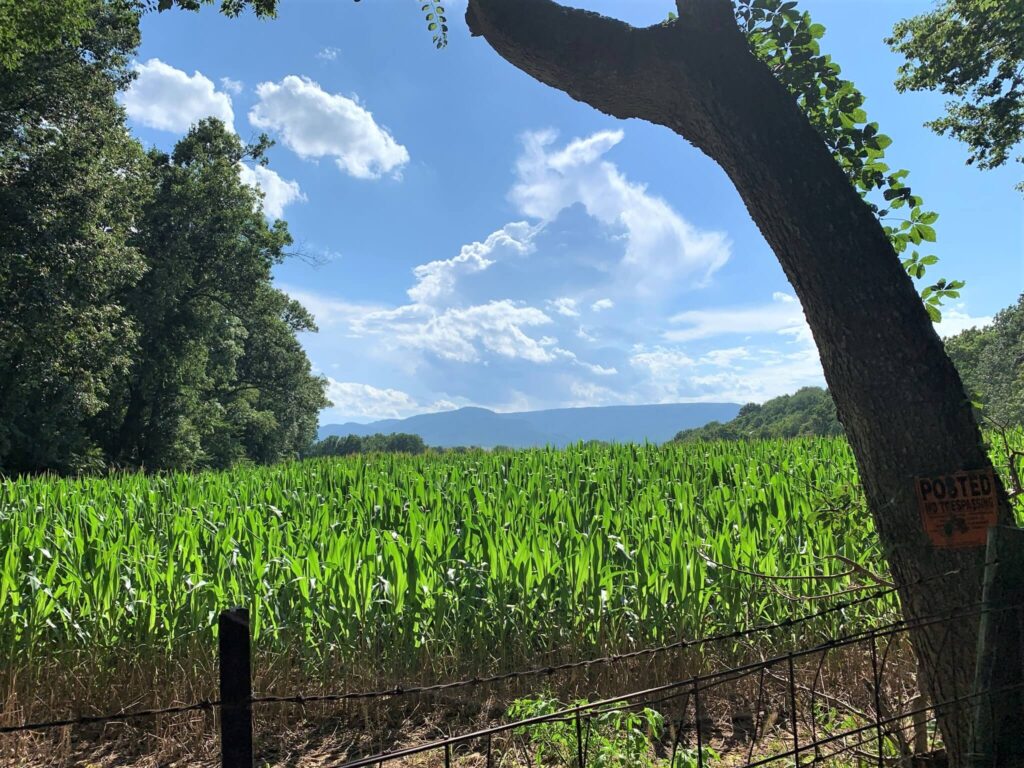 Whether you love RV camping, tent camping, or cabin camping, you will LOVE camping at Outlanders River Camp in Luray, Virginia!
Outlanders River Camp
4253 US-211, Luray, VA 22835
540-743-5540
https://www.outlandersrivercamp.com/
Best Things To Do Near Luray, VA
Shenandoah National Park
Skyline Drive
Luray Caverns
Garden Maze at Luray Caverns
The Car & Carriage Caravan Museum
Luray Singing Tower
Cooters
River Hill Distillery
Castle Vinyard
Luray Zoo – A Rescue Zoo
Wisteria Farm & Vineyard
Triple Crown BBQ
Hawksbill Brewing Company
The Stonyman Mountain Hike
Luray Valley Museum & Shenandoah Heritage Village
More RV Travel Destinations & Campgrounds You Will Love
Stuck For Camping Meal & Side Ideas?
Save Time And Download your FREE Idea List!