Last Updated on March 9, 2021 by Lori
We were searching for an RV campground in the Lake George area when we found Adirondack Camping Village! The campground is just three minutes from Lake George Village and close to many area attractions.
Family-owned for over 47 years, this Lake George family campground has RV sites, tent sites, and camping cabins all on private wooded sites along with many campground amenities your family will be sure to enjoy!
This post contains affiliate links which means if you click on a link and make a purchase, I will earn a commission at no additional cost to you. Please see our Disclosure Policy for more information.
Best Lake George Campgrounds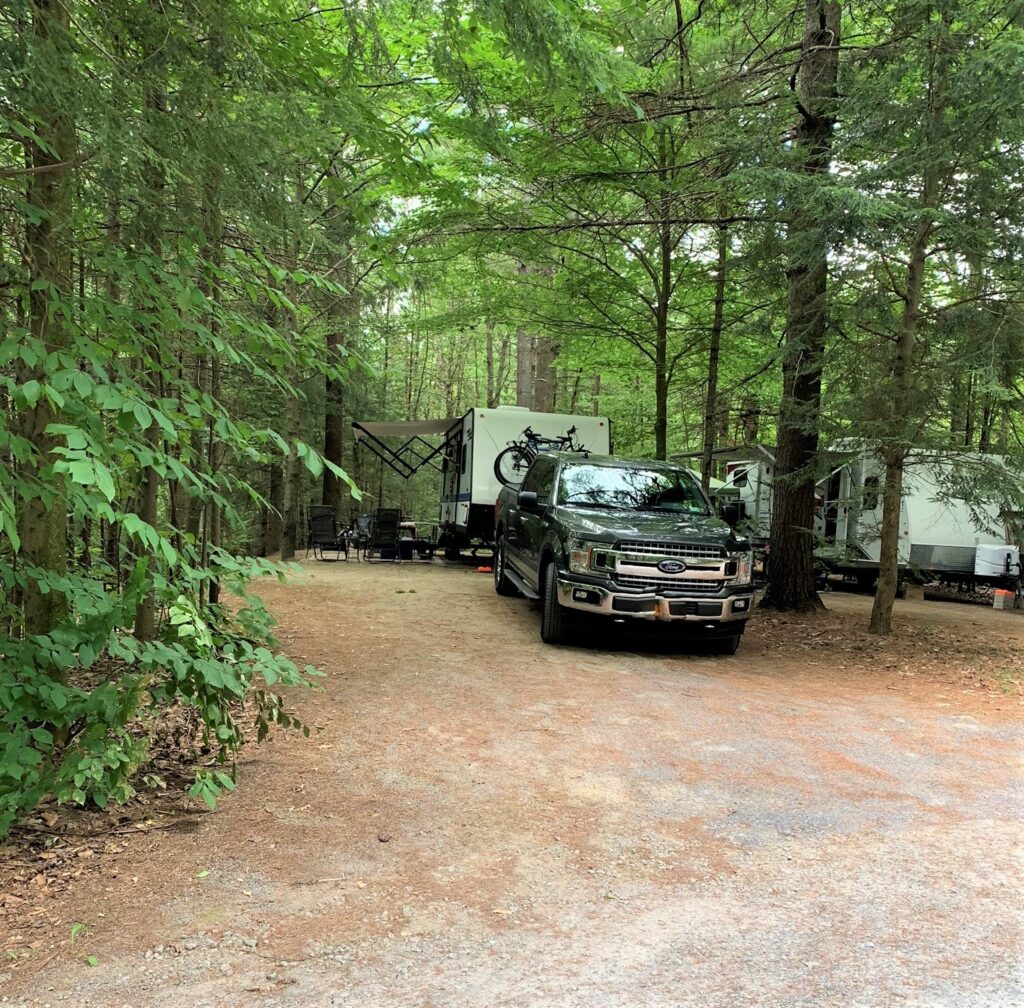 Whether you love camping in a tent, camping cabin, or RV, Adirondack Camping Village has all the amenities families are looking for in a campground.
The campground is also Big Rig friendly accommodating rigs up to 42 ft.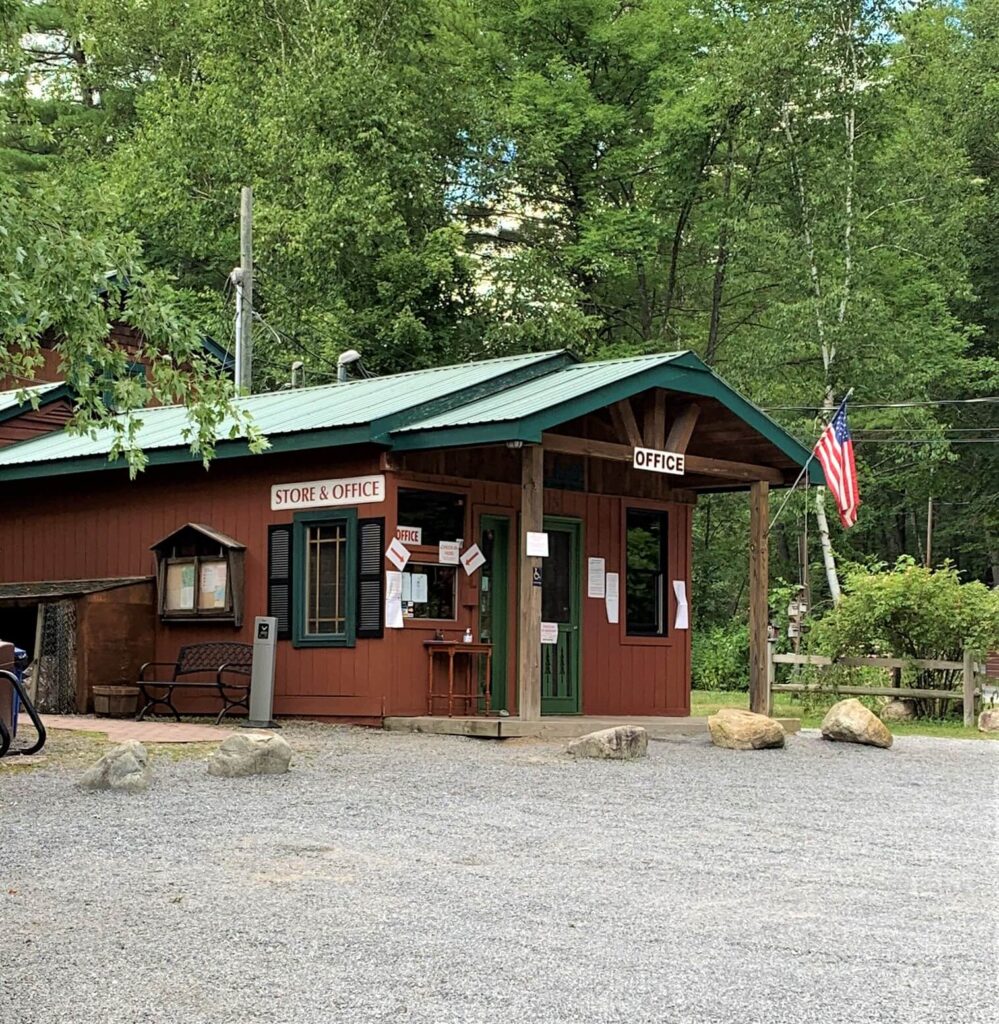 The campground is pet friendly; however, keep in mind that pets are not allowed in the camping cabins.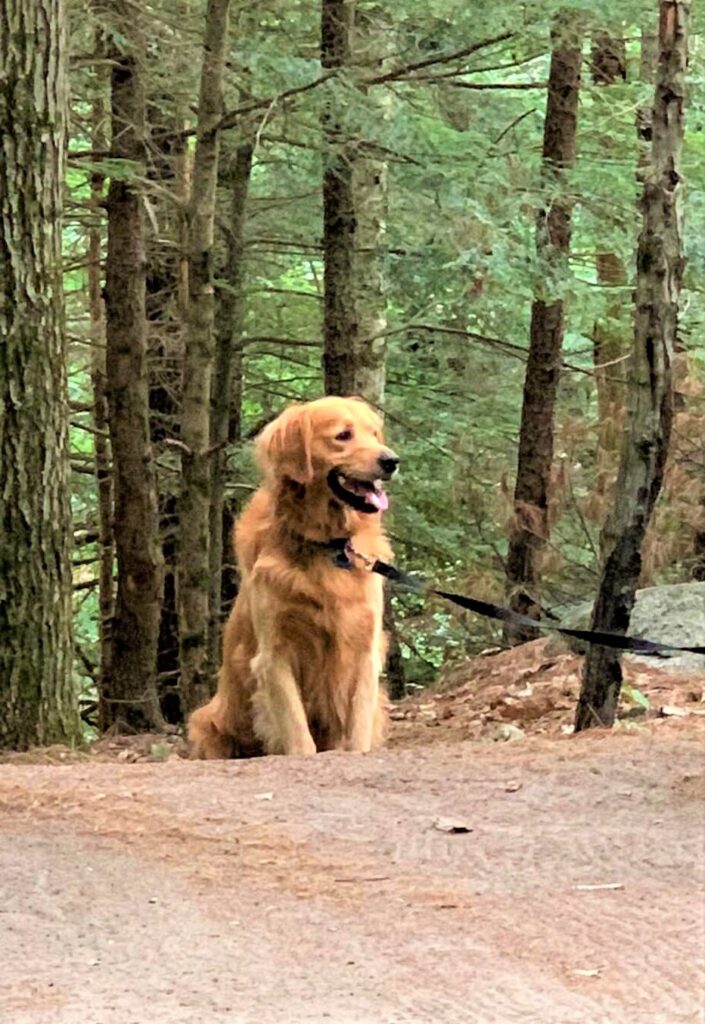 Adirondack Camping Village Amenities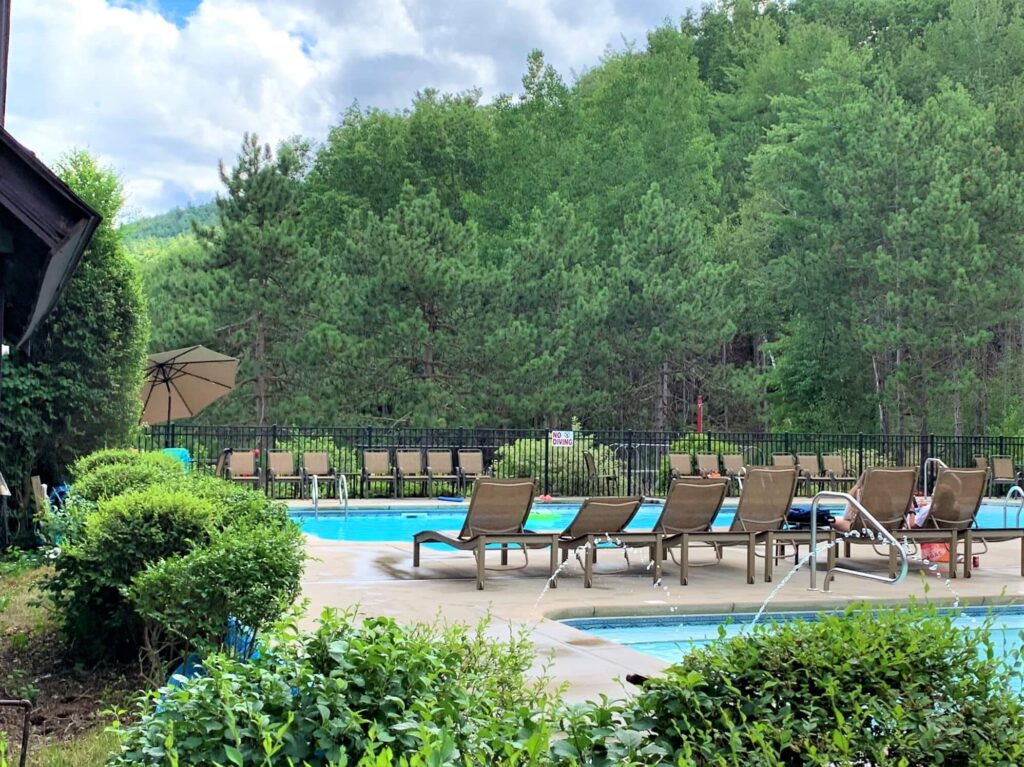 There are two heated swimming pools behind the main office with beautiful views of the Adirondack Mountains.
The campground buildings throughout the campground are all constructed in the same rustic Adirondack theme.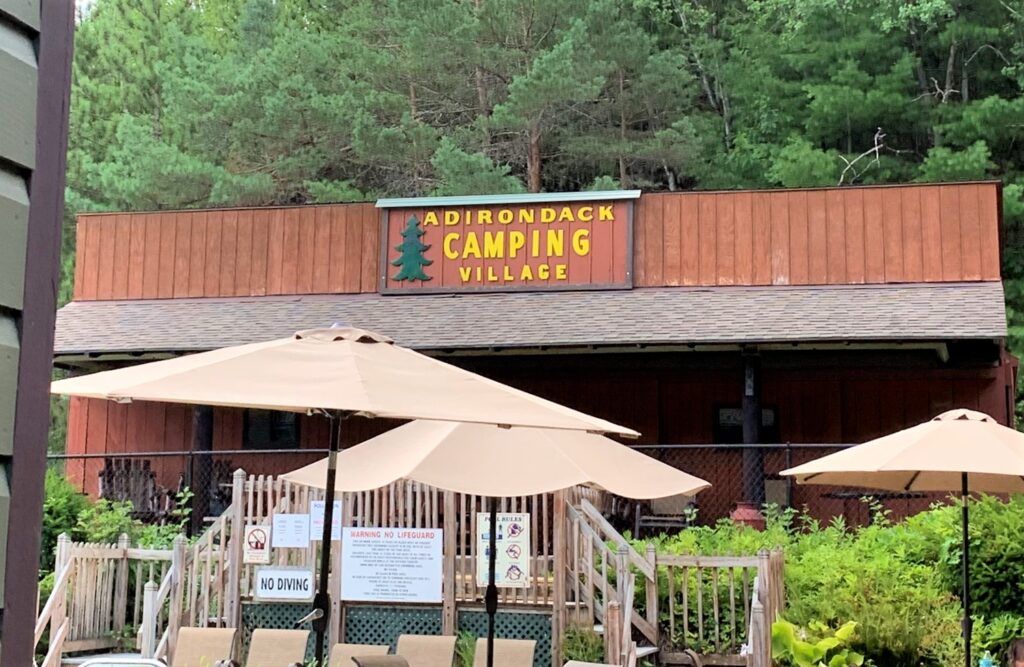 Other Campground Outdoor Amenities Include:
* Basketball Court
* Sand Volleyball
* Badminton
* Shuffle Board
*Game Room
* Outdoor Movies
* Hayrides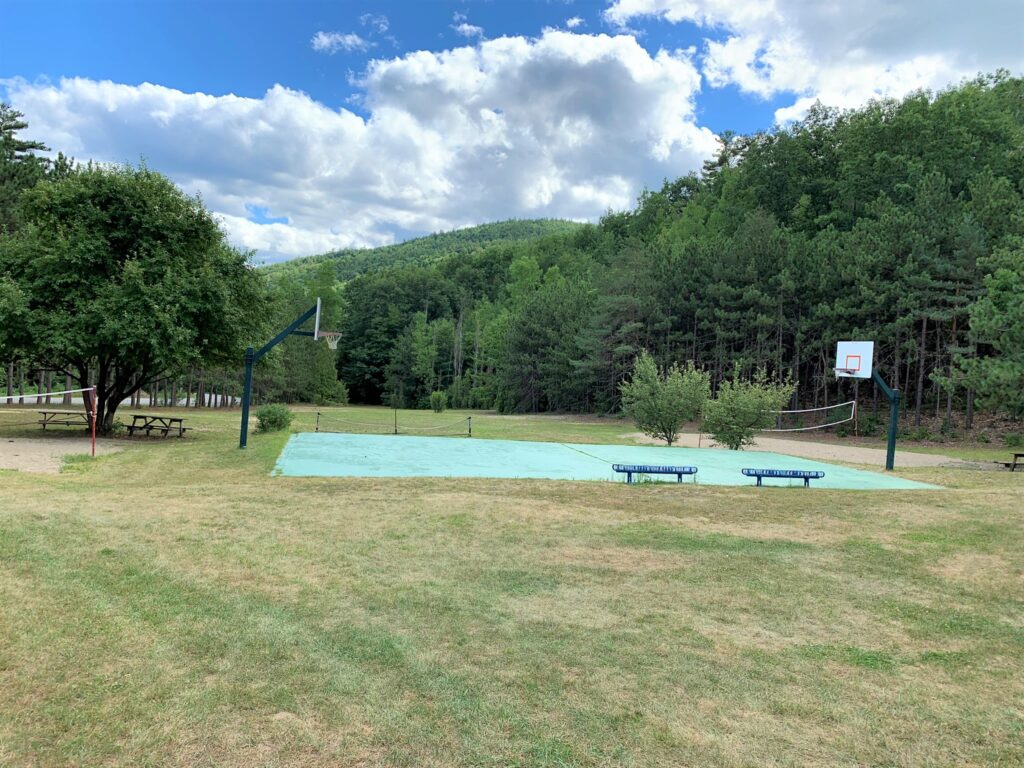 Adirondack Camping Village Resort MAP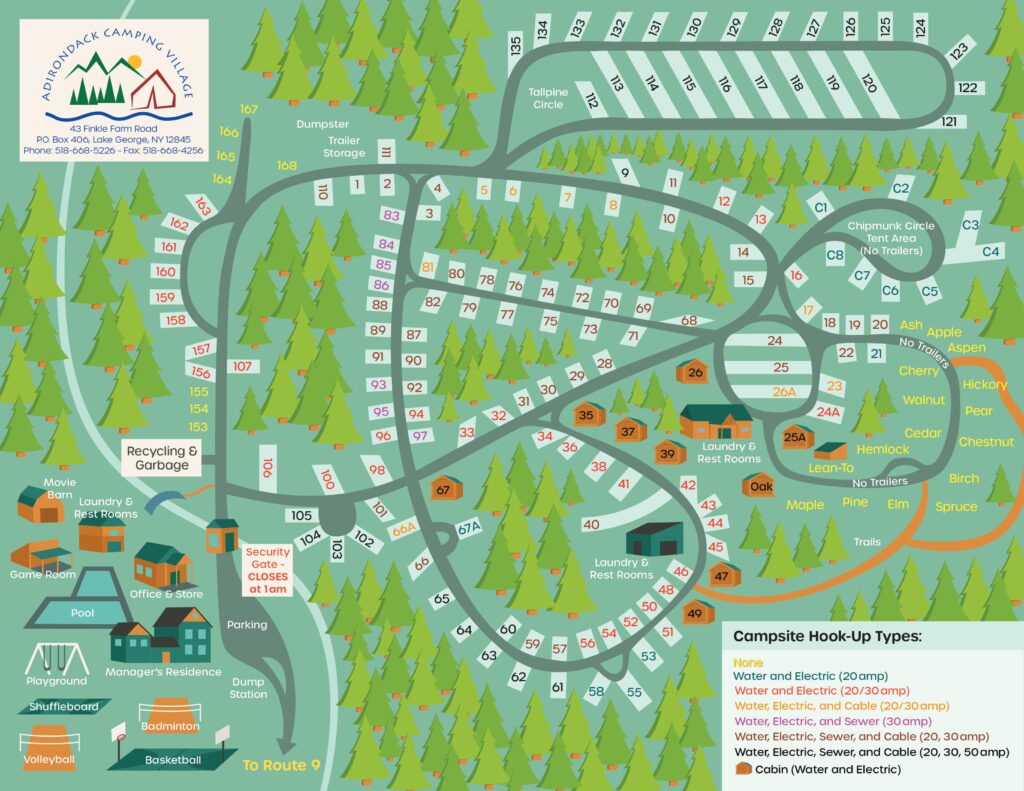 RV Campsites include:
* Wooded sites
* Pull through or Back In sites
* Full Hookup (water, electric, sewer)
* 50/30 amp
* Cable
* WiFi
* Fire Ring
* Picnic Table
Our campsite was "Site # 129" – a back-in site.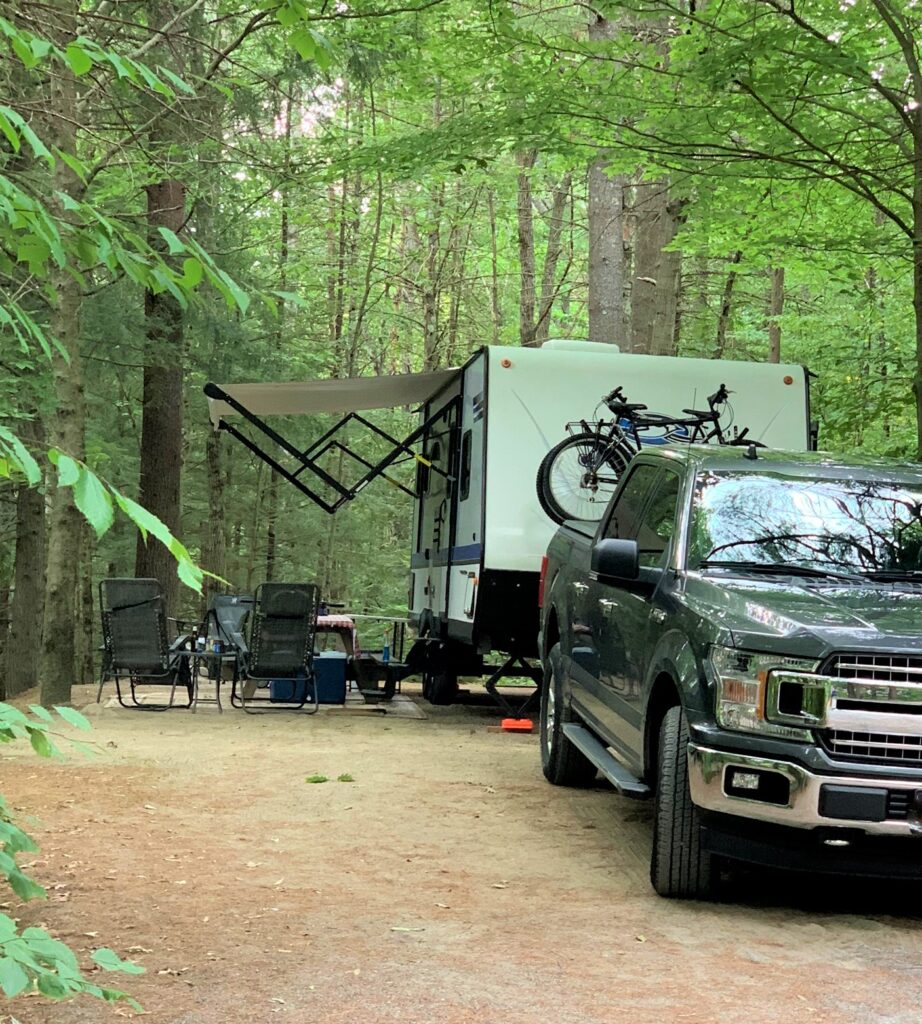 We loved the wooded sites.
As we walked through the campground, we noticed that some sites are larger than others and some have more distance between camping neighbors.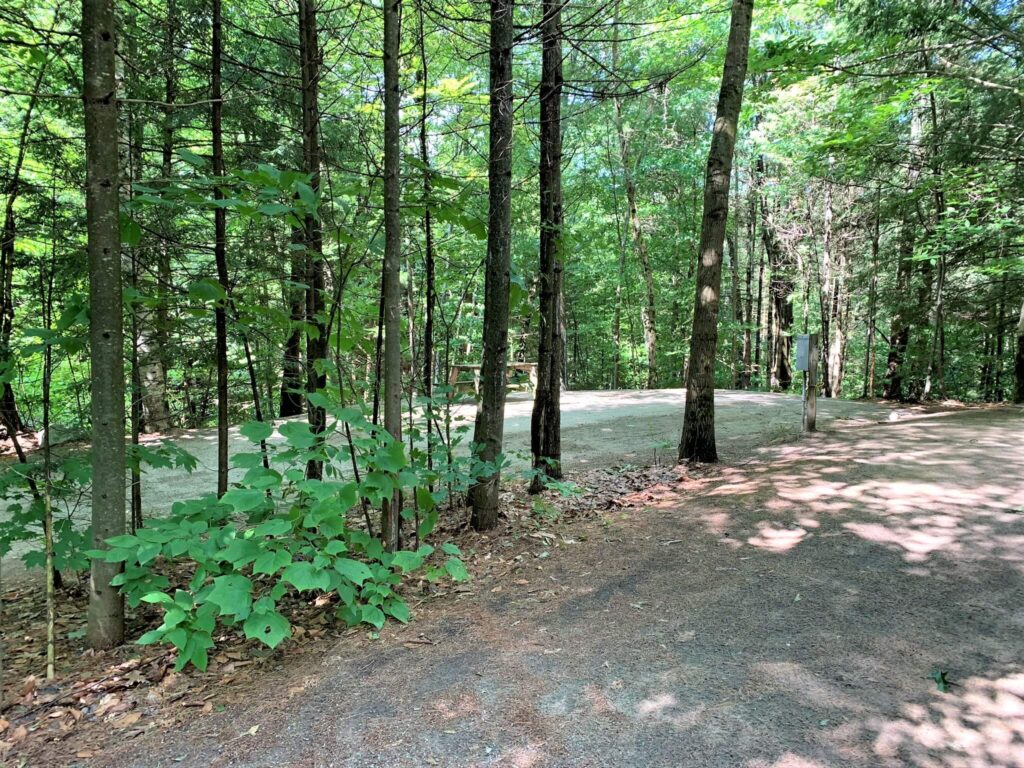 We found our site to be narrow and long.
We didn't have a lot of room to spread out because of a large drop off on the site.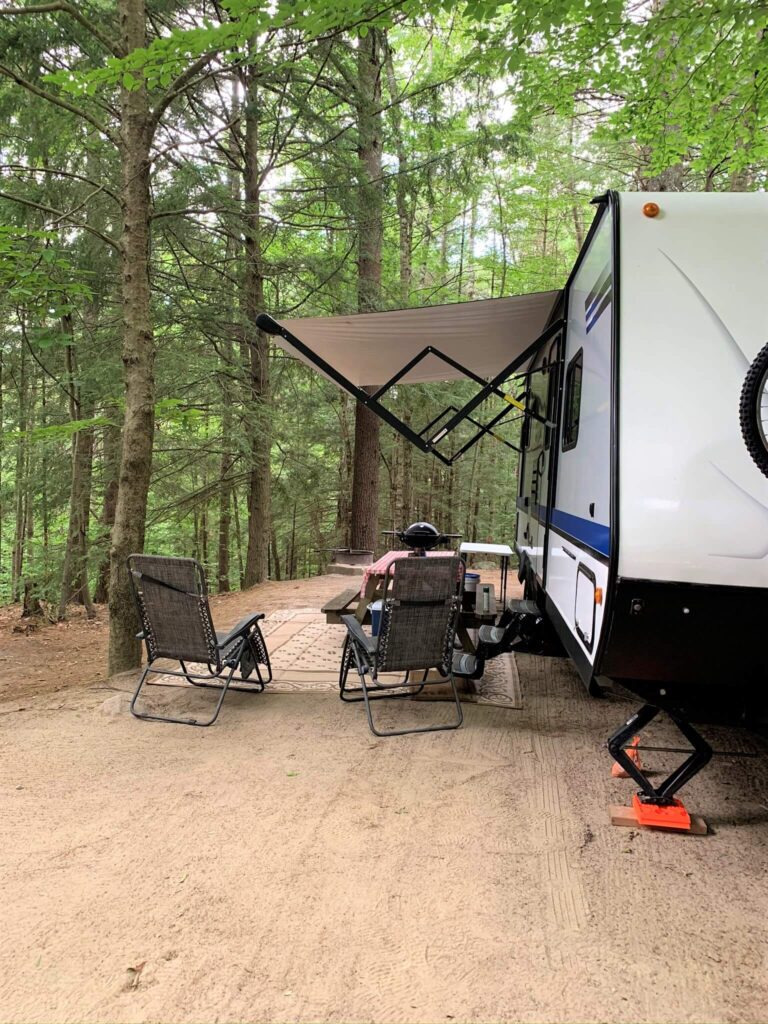 In order to have room on this side of the trailer, we backed the trailer as close as possible to the sewer connection.
We felt it was too close to our other neighbor but if we hadn't, we would have been walking down the steps to a drop off.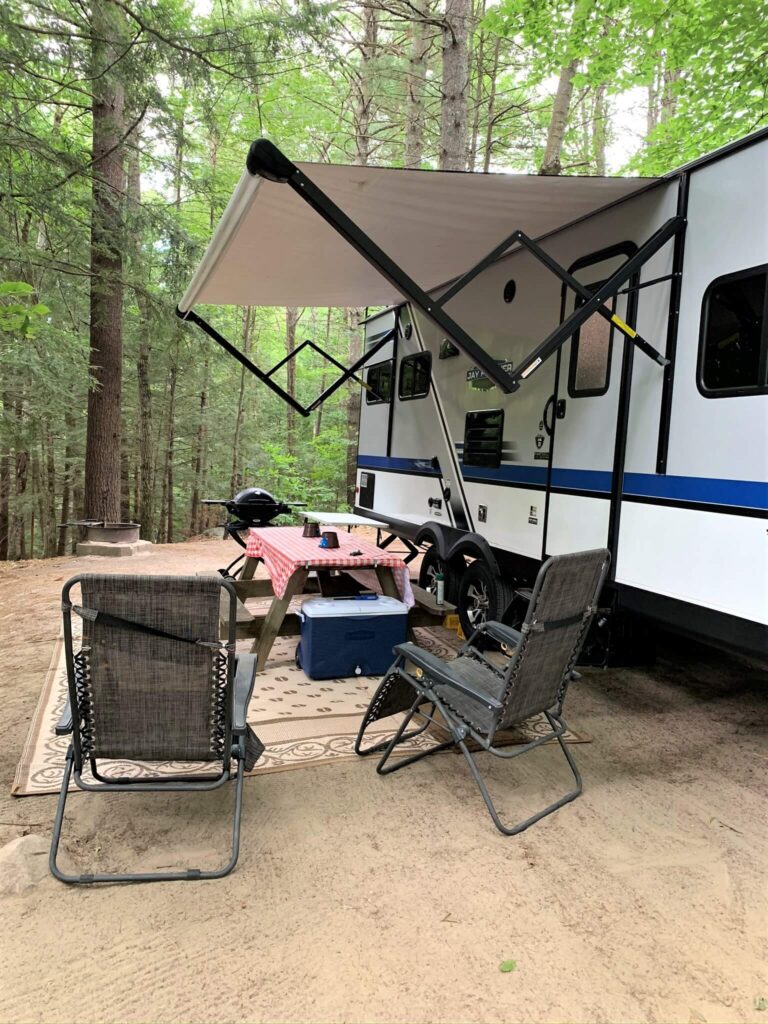 Another thing you should be aware of is that as you can see, our RV site was mostly sand.
We normally spread out our favorite camping chairs out on our site.
Because of the sand, I wanted to be as close to the RV mat as possible.
The sand didn't bother our camping experience but you should just be prepared for it.
We made sure to clean the inside of the trailer well before moving on to the next campground.
It took quite a bit longer than we expected.
RV Camping In Lake George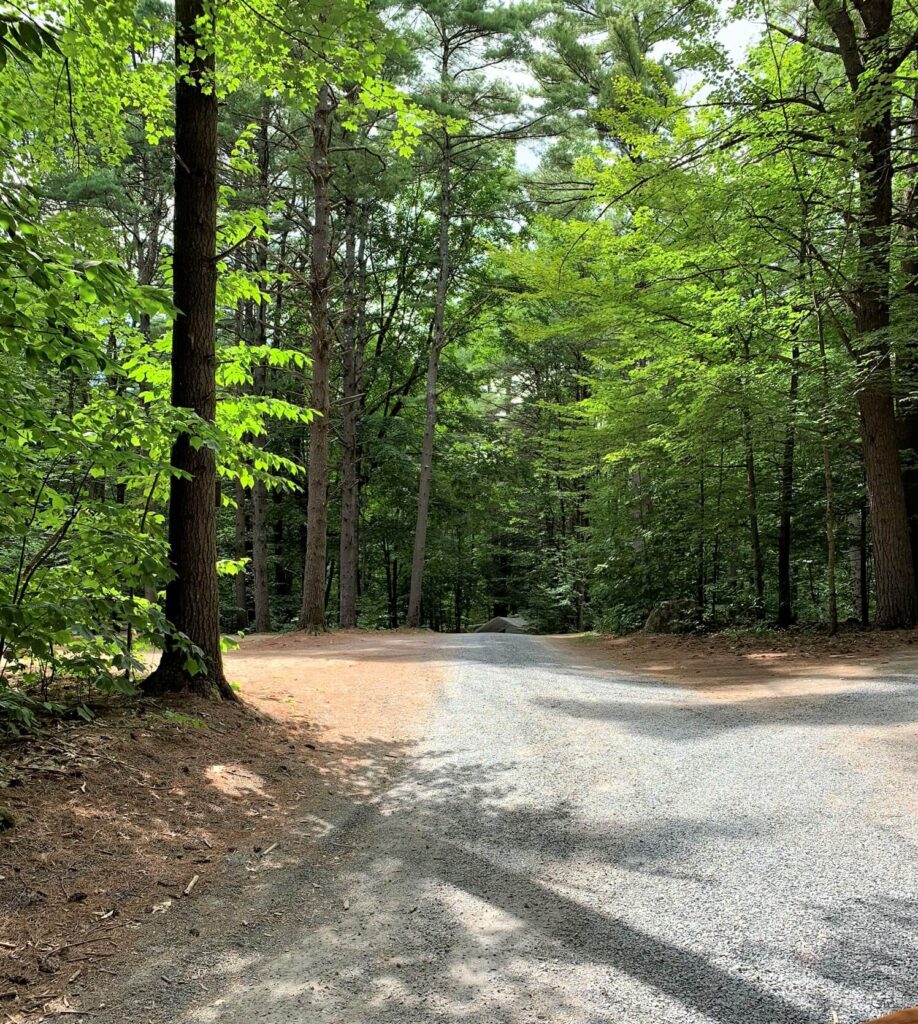 We enjoyed taking our Golden Retriever, on walks around the large campground, which was full on a mid-week in August.
Lake George is a very popular tourist destination during the summer so make your campground reservations early!
We made our reservation in February for our August stay – which was probably late for this popular campground!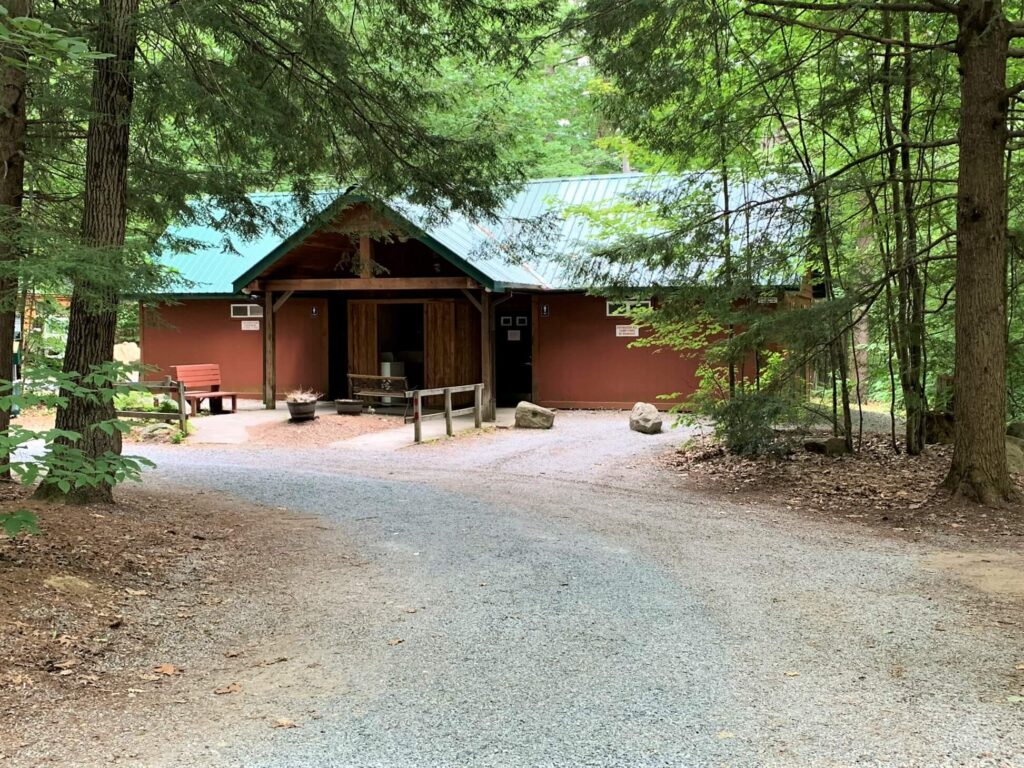 The bathhouses are set throughout the campground and built in the same rustic style of the camping cabins, pool house, and office.
Adirondack Camping Cabins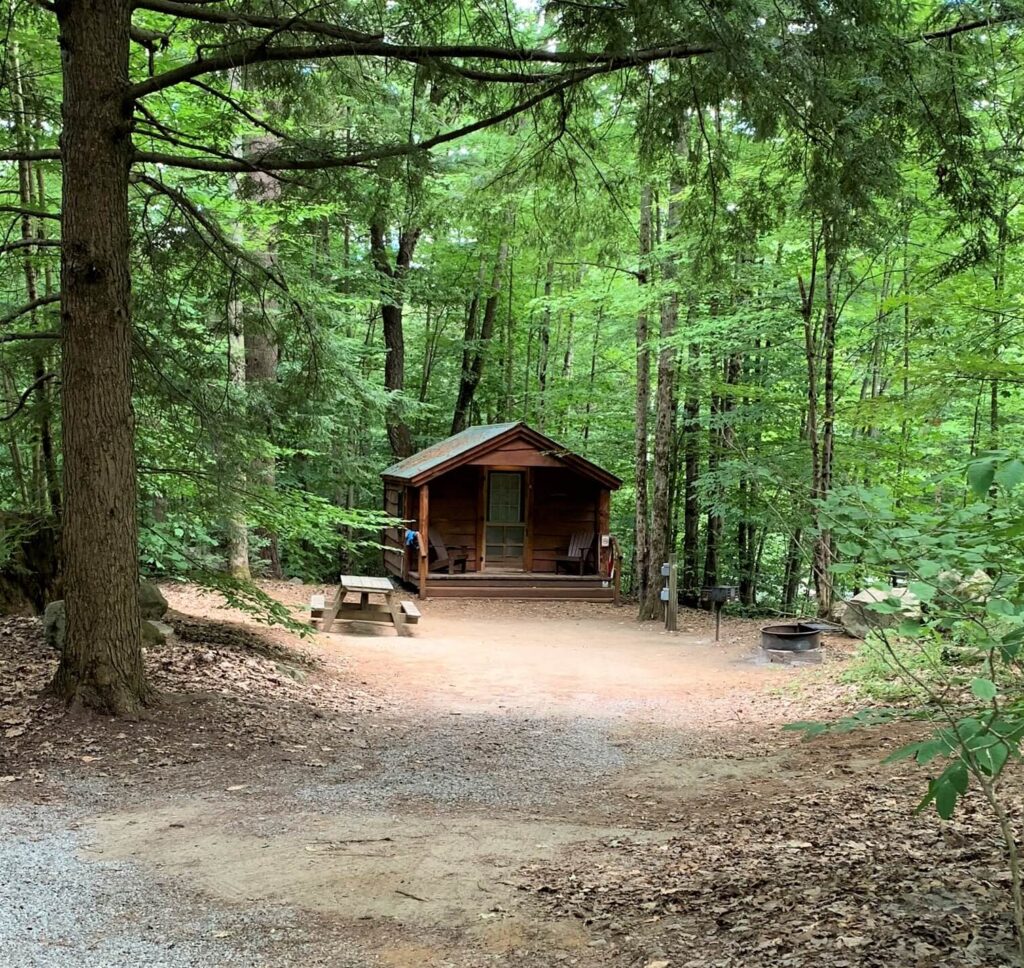 There are two (2) sizes of camping cabins at Adirondack Camping Village.
Large rustic cabins are for up to four (4) adults or a large family.
Small camping cabins are perfect for couples or small families (1-2 children)
You must bring your bedding (sheets, pillows, towels). There are no kitchens or bathrooms in the camping cabins.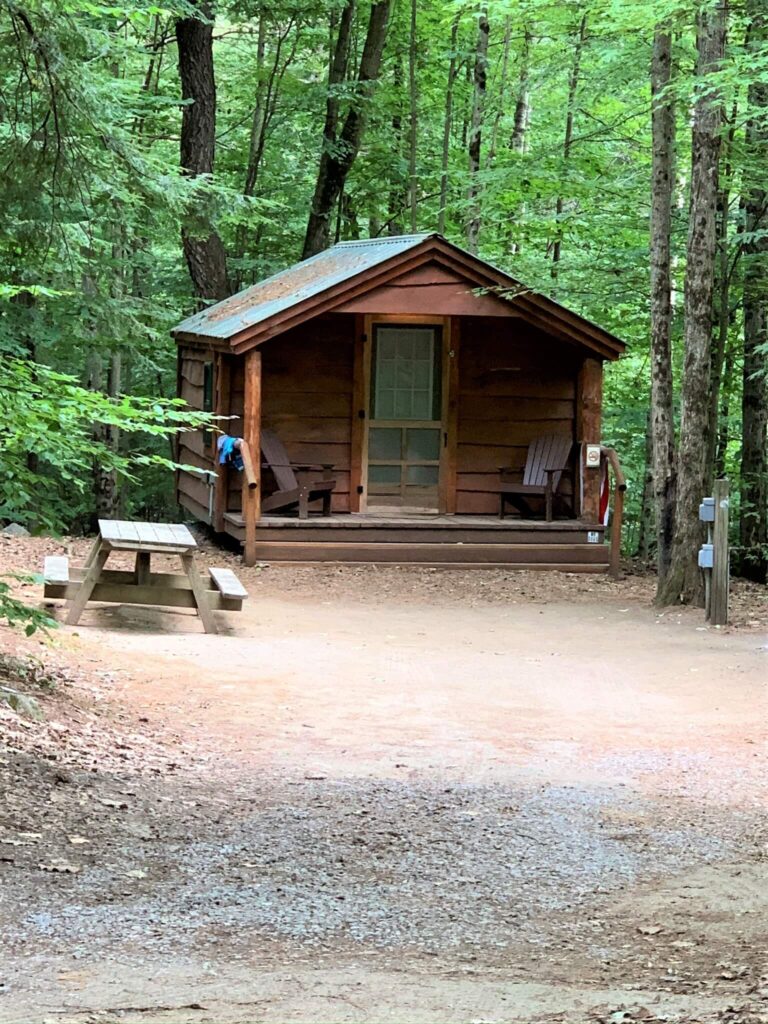 Adirondack Camping Village Cabins Include:
*One Full-size bed with mattress
*Two bunk beds
*AC/Heat
*Small refrigerator (no freezer)
*Electric
*Outside water spigot & electric outlets
*Picnic table
*Fire Ring
*Pedestal BBQ
The Large Cabins also include a futon sofa (queen bed) and a small dining table and chairs.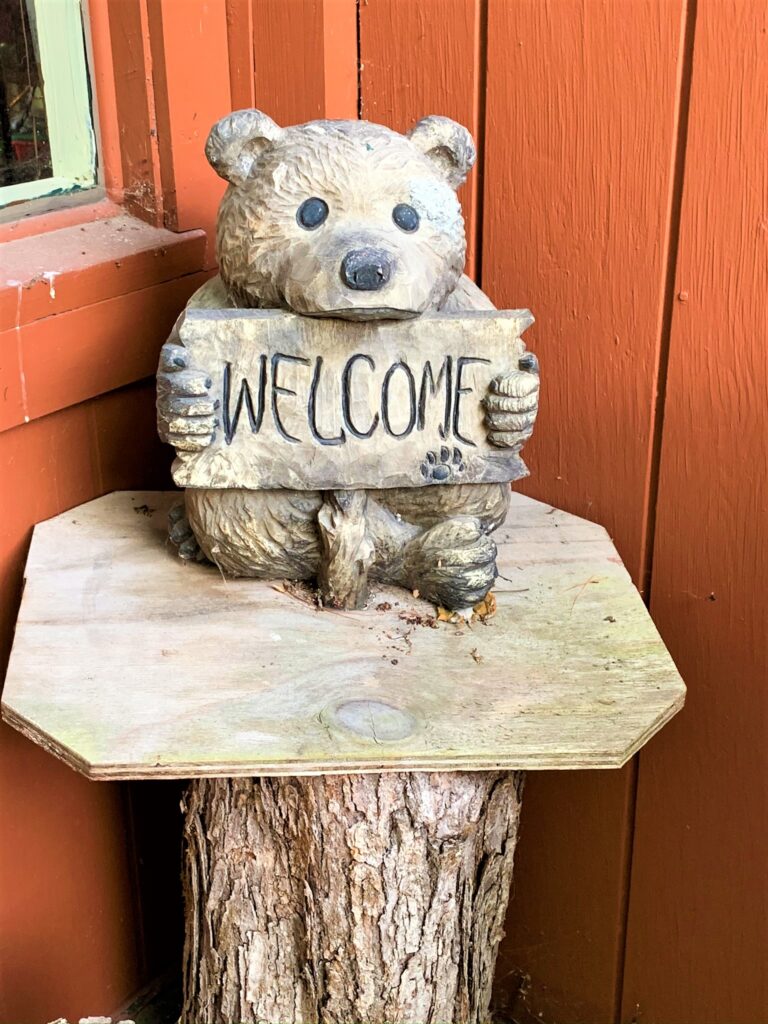 Lake George Nearby Attractions
Another reason we chose Adirondack Camping Village was it close proximity to many Lake George Attractions:
* Lake George Village
* Boat cruises on Lake George such as The Lake George Steam Boat Company where can take a lunch, dinner, or all-day sight-seeing cruise on beautiful Lake George!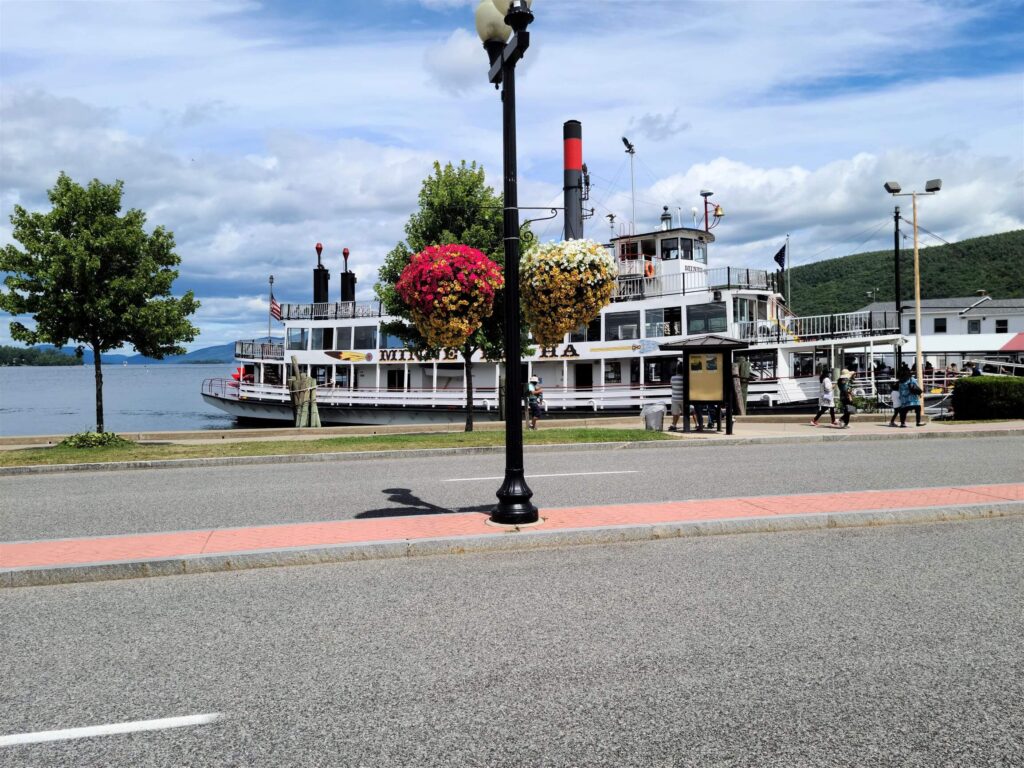 * Dog Beach – take your pup for a swim in Lake George at Dog Beach!
* Million Dollar Beach – The largest and most popular beach in Lake George featuring picnicking, swimming, and volleyball.
* Fort William Henry – Where you will experience what it was like to be at the outpost in the wilderness in 1757.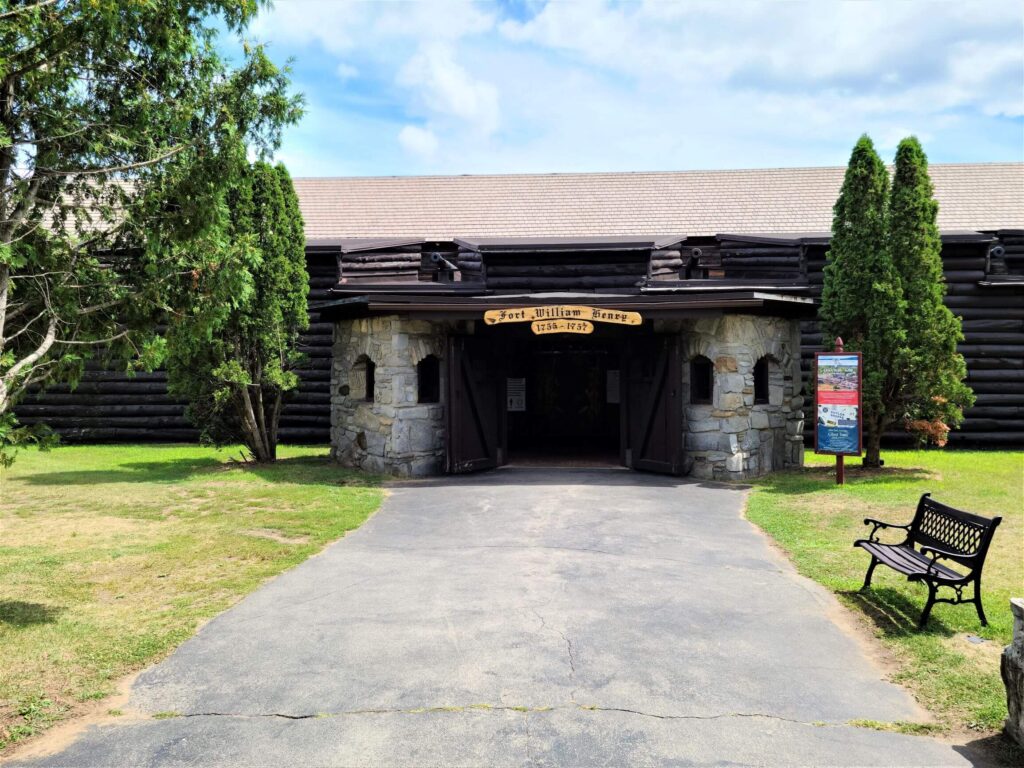 * Prospect Mountain – Take a 5.5-mile drive up Veterans Memorial Highway to the top of Prospect Mountains. See 360 degree, 100-mile views from the 2,030-foot summit!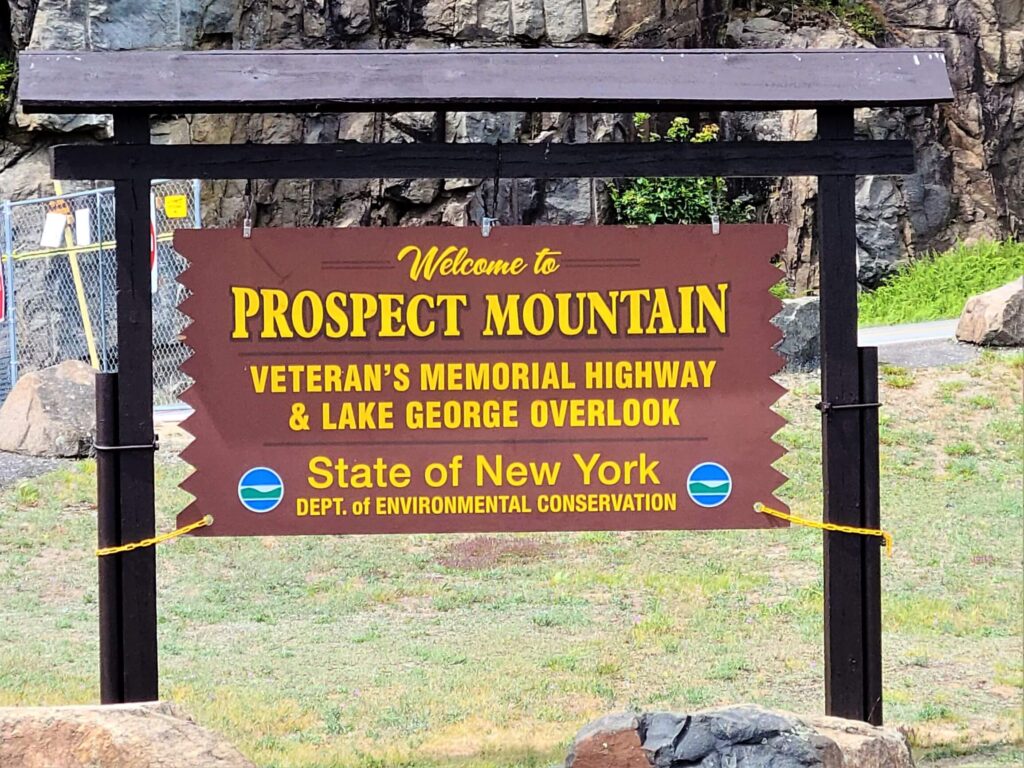 There are three viewing areas as you drive to the top where you can see beautiful views of Lake George.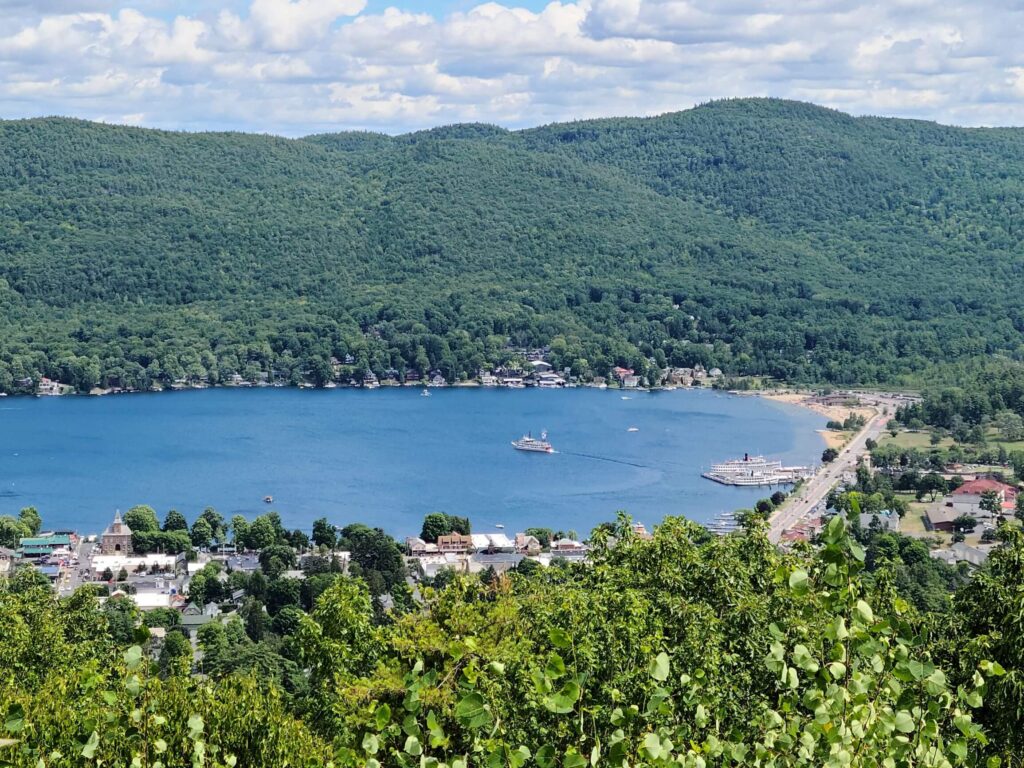 The entrance to Prospect Mountain is 1/2 mile south of Lake George Village on Route 9.
Kayaking, Rafting, Tubing & Paddleboarding in Lake George!
Natural Stone Bridge & Caves – Pottersville, NY. Just 20 minutes from Lake George you will find the Largest Cave Entrance in the Eastern U.S.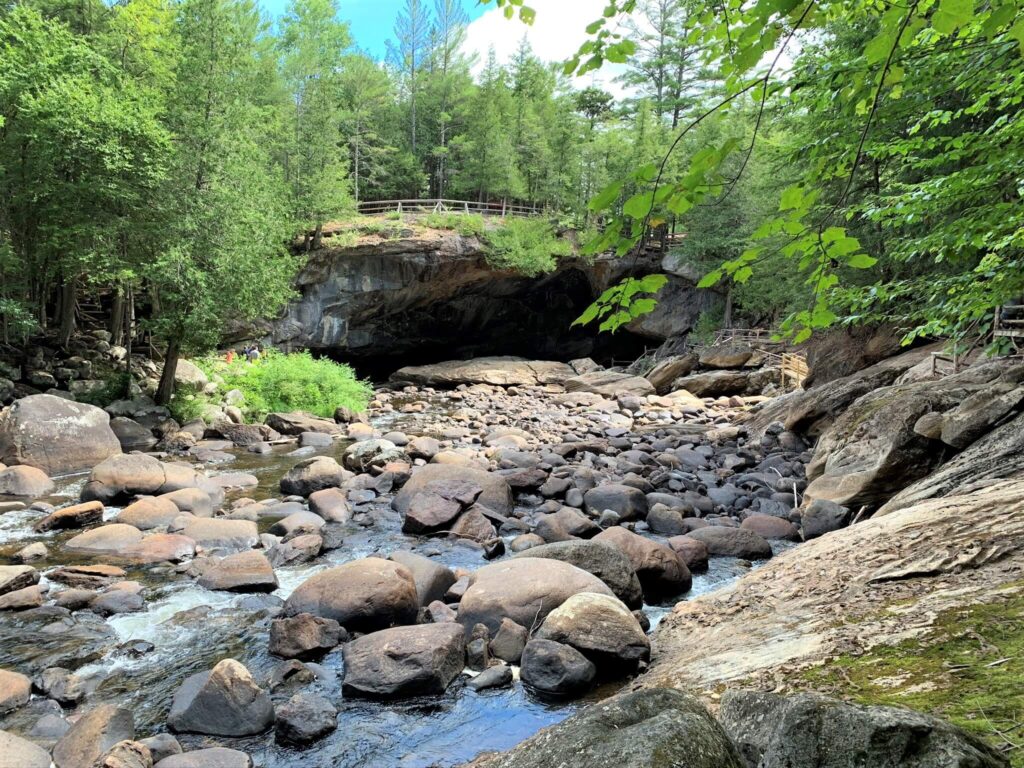 We love caves and this Adirondack Natural Wonder is a Must See in the Adirondacks!
You can read about our visit to Natural Stone Bridge and Caves here!
Camping in Lake George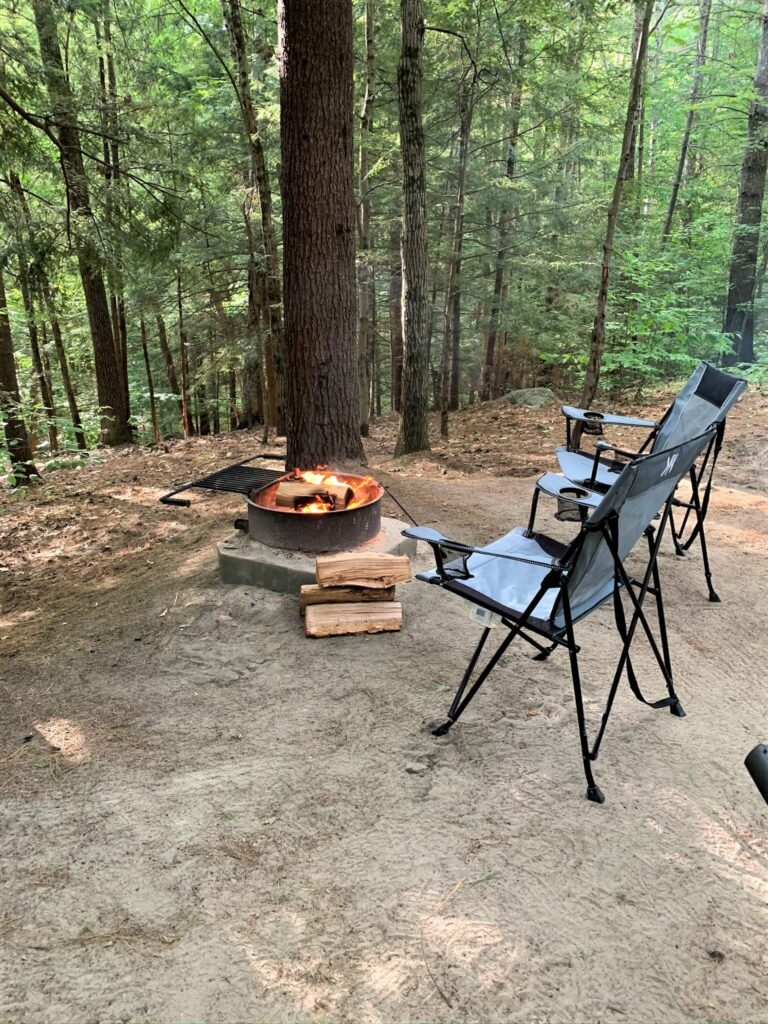 There are many campgrounds to choose from in the Lake George area.
We found Adirondack Camping Village to be a great choice for an RV campground.
We liked that the campground was only three miles from Lake George Village and near many activities in the area that we planned to do.
We liked the campground had full-hookup RV sites, with free Wifi and Cable.
While we may have wished the site had been wider and there was more gravel at the site, as campers – it didn't bother us.
Everyone at the office was friendly and made you feel welcomed.
The campground is well-maintained and has all the amenities families and RVers will enjoy!
We enjoyed our stay at Adirondack Camping Village and would recommend it to anyone who loves camping and wanting to vacation in Lake George, NY.
Adirondack Camping Village Resort
43 Finkle Farm Road, Lake George, NY 12845
Call to Reserve Your Site 518-668-5226 or you can make an online reservation.
Keep All Your Campground Reservations Organized!
Download your FREE Campground Reservation Log!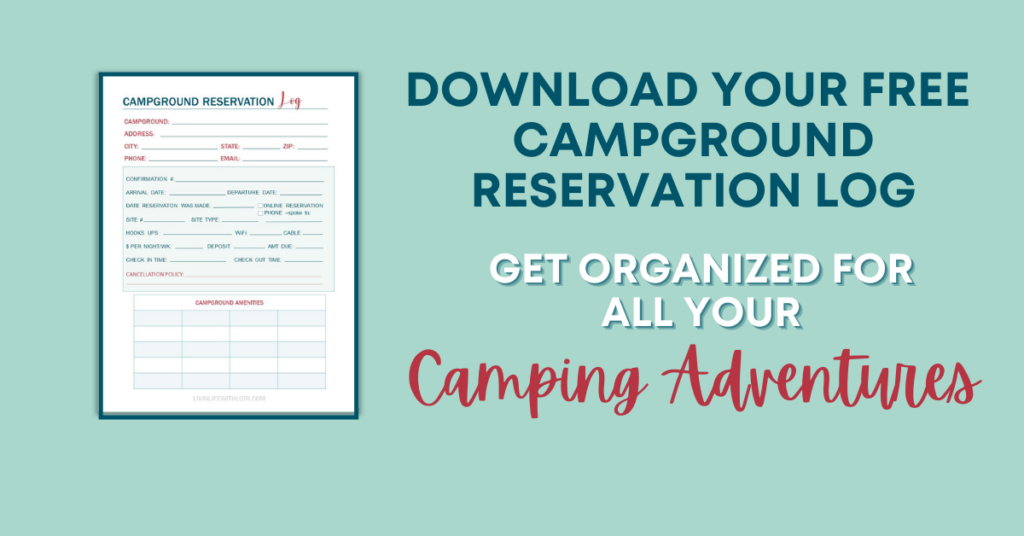 If you are planning a trip to the Adirondacks, you might enjoy these posts!
Natural Stone Bridge And Caves – Lake George, NY
Best Places To Visit The Adirondacks – a 4 Day Itinerary
Plan An Epic Adventure to Ausable Chasm
High Falls Gorge – A Must-See In The Adirondacks
How To See The Best Views Of The Adirondacks – A Drive-Up Whiteface Mountain