Last Updated on January 31, 2022 by Lori
Looking for something awesome to do while visiting the Adirondacks? Ausable Chasm often called The Grand Canyon of the Adirondacks, is a fun and epic adventure for all ages! Here's a list of tips for making your trip to Ausable Chasm New York a trip that you and your family will always remember!
History of Ausable Chasm – The Grand Canyon of the Adirondacks
Ausable Chasm (pronounced aw-sable kasm) was discovered around 1765 by William Gilliland.
Historic Bridges of Ausable Chasm and Keeseville Rainbow Falls at Ausable Chasm is the most visited and the most photographed waterfalls in the Adirondacks.
Each year, in all seasons, tourists and locals alike stop to admire the falls from the Route 9 bridge that is located just downstream.
One visit to the Ausable Chasm and you will be talking about it for years to come.
There are several ways to experience the chasm whether you just love walking the trails, tubing down the Ausable River, rafting down the Ausable rapids, or viewing the chasm from the cliffs!
You can choose from walking, rafting, and tubing tours; or, you can choose one of the more adventurous tours and view it from a cliff walk tour, a lantern tour, the Ausable Chasm rock climbing, or Ausable Chasm repelling tours!
Trust me when I say this is one stop on your vacation your kids will love!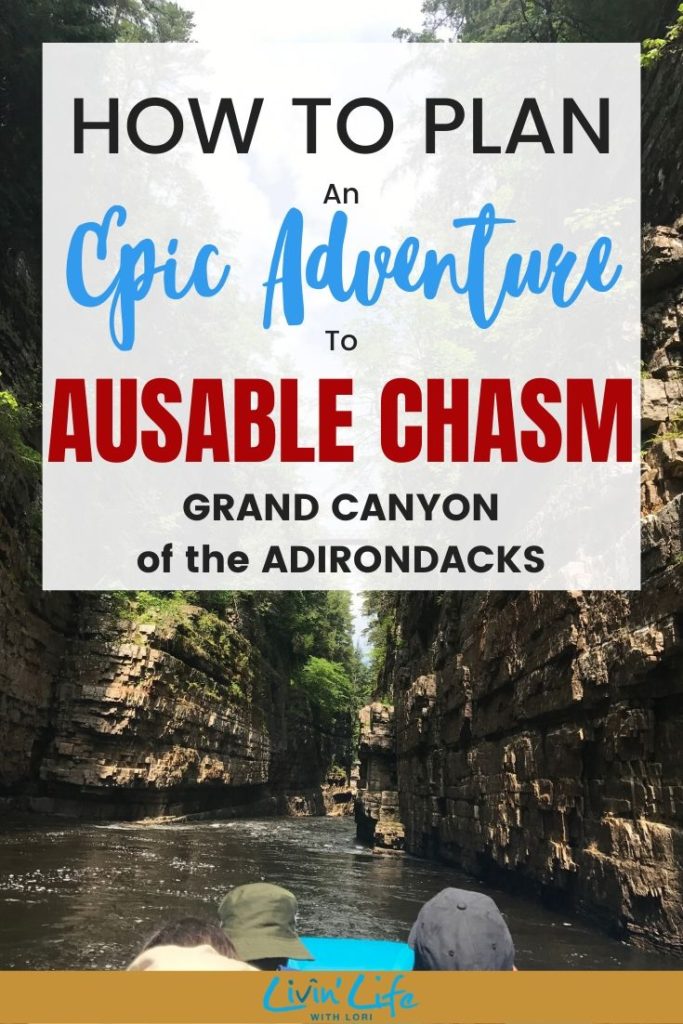 This post may contain affiliate links which means that if you click on a link and make a purchase, I will earn a commission at no additional cost to you. Please read our Disclosure Policy for more information.
What To Expect At Ausable Chasm
I have to admit – I didn't do my homework this time.
I mean, we knew we wanted to go to Ausable Chasm, but it is my job to research what there is to do, the best time to go, and to find out all the little tidbits like "things you should know" BEFORE going to the attraction.
Since it was a 35-minute drive from our campground, North Pole Resorts & Campground in Wilmington (you can read all about our stay at the campground here), we decided to head out early to Ausable Chasm – and it's a good thing we did!
When Should You Arrive To Ausable Chasm?
My Best Advice is to —-ARRIVE EARLY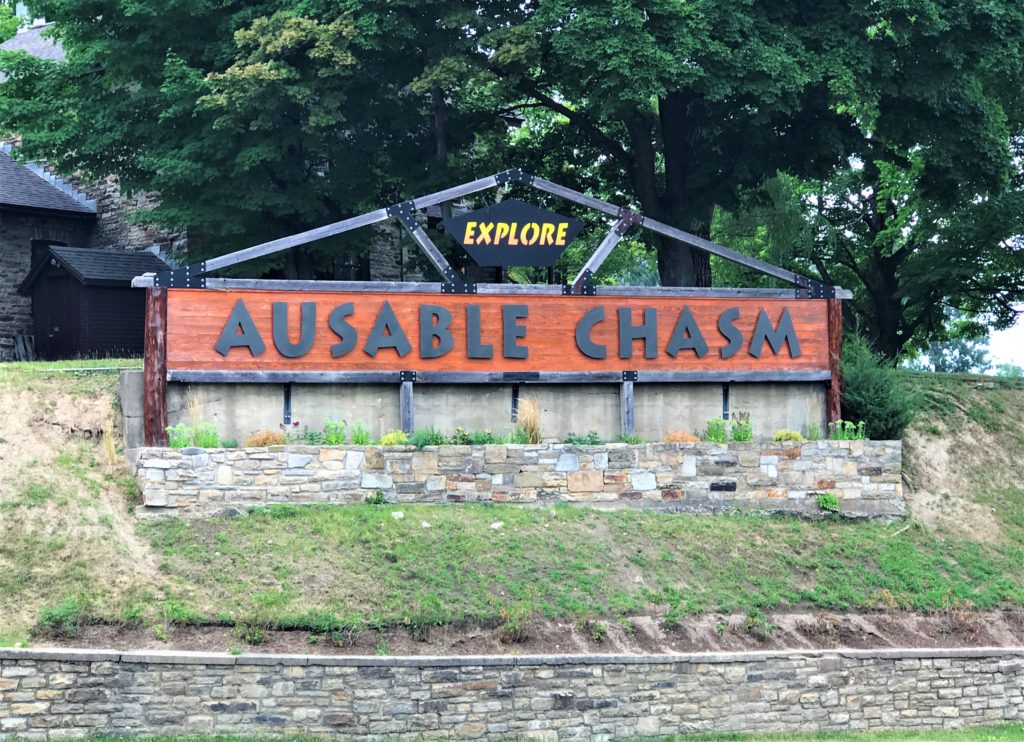 When we arrived, we saw people parking by the Gatehouse so we pulled in to park.
I debated about wearing my hiking boots but saw many people just in sneakers and flip flops so I opted out of wearing them and… It's a Good Thing I did!
More about that later…because, of course, I didn't read everything I was supposed to before we went!
If you park by the Gatehouse, you need to walk across the bridge to get your tickets at the Welcome Center.
This photo is of the bridge we crossed with a terrific view of the Ausable River.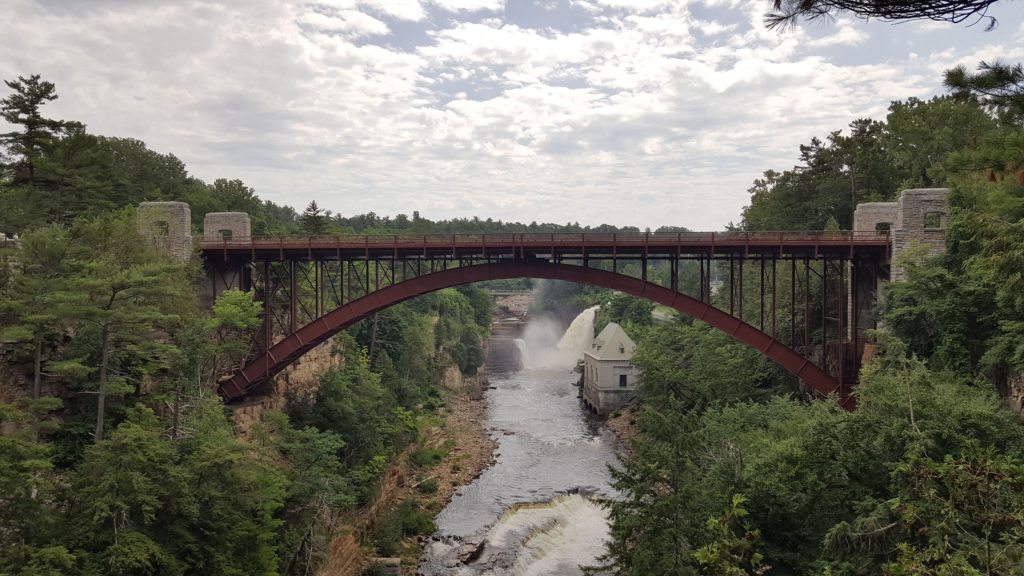 After walking across the Ausable Chasm Bridge you'll see the Welcome Building.
Does Ausable Chasm Allow Pets?
Ausable Chasm does not allow pets. We saw many unhappy pet owners trying to take their dogs into the Welcome Center only to be turned around.
Please do not bring your pet to Ausable Chasm or you will be disappointed and have to change your plans for that day!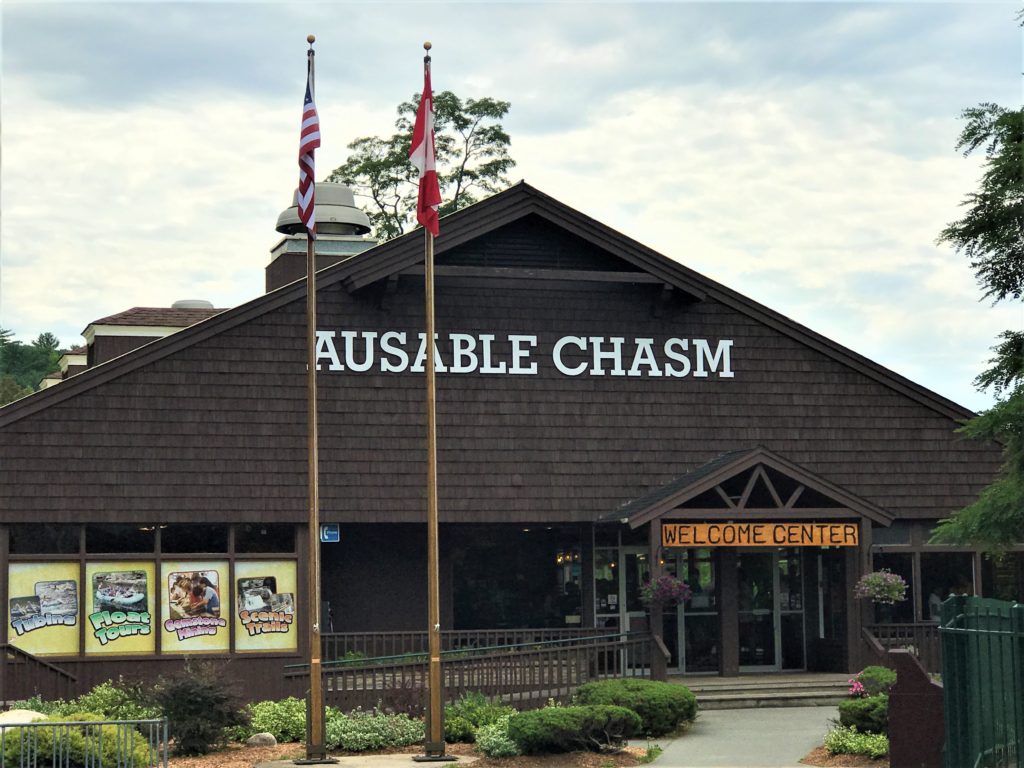 Things To Do At Ausable Chasm
Once inside The Welcome Center, you might be overwhelmed by all the choices of tours you have!
Again, I wasn't prepared and had no idea what each tour included. You can read all about the tours by picking up a brochure while you wait your turn to pay for your ticket.
The Classic Tour – Includes Walking Tour PLUS Rafting OR Tubing (WHAT??? Rafting or TUBING? What are they talking about??)
The Adventure Trail -Includes ferrata/cable course with cable bridges, cargo net climb and edge walks
Lantern Tours – A guided nighttime tour of the chasm
Rock Climbing – Scale the chasm walls
Rappelling Tour – Rappel a 30 ft, 80 ft and then a 200 ft traverse
Hmmm…Well, I know my husband doesn't like heights so the Adventure Trail, Rock Climbing, and Rappelling Tour were out – although my daughter would LOVE this tour!
And it's not nighttime so the Lantern Tour is out – but it did sound interesting!!
We opted for the Good 'ole fashioned – Classic Tour!
Once we told the young man we wanted the Classic Tour he asked WHICH trail did we want to take?
Yellow, Green, Red…
Hmmmm….There's more than one? Not sure…which is the most popular?
The full tour spans five (5) miles total.
Inner Sanctum Trail – 1 mile
Rim Walk Trail – 2 miles
Dry Chasm Trail 1.5 miles
Rainbow Falls/Elephant's Head Vista – 1/2 mile
Which is the most popular Trail at Ausable Chasm?
The young man told us the Inner Sanctum Trail was the most popular and it was only 1 mile so we decided to take that walk.
After all, the previous day I had just completed our One (1) Mile Intermediate Nature Trail at High Falls Gorge (an Adirondack mile that is…hmmm…) so what was one (1) mile?
Piece of cake!
You can read more about our adventures at High Falls Gorge HERE.
We purchased our tickets, got our "Yellow" wristbands for the Inner Sanctum Trail, and headed out.
The pathway takes you back across the bridge to the Gatehouse (where we parked) to enter the park. Once inside the park, we followed the signs pointing to the "yellow" trail.
We saw a sign directing us to the Elephant Head's Vista. It was a short walk so we decided to see what the Elephant Head was all about.
We were surprised that when we looked across the vista, you can really make out the Elephant's Head in the rock wall!
After viewing the Elephant Head, we walked back to the beginning of the Yellow Trail.
The paths were easy to walk on. In fact, my husband commented on how cushiony the path was.
The next stop led us overlooking the Ausable River. As we peered over – we spotted them. It was incredible!
There were people scaling the wall, walking over the rope bridge, and rock climbing!
Must be the people on the Adventure Trail!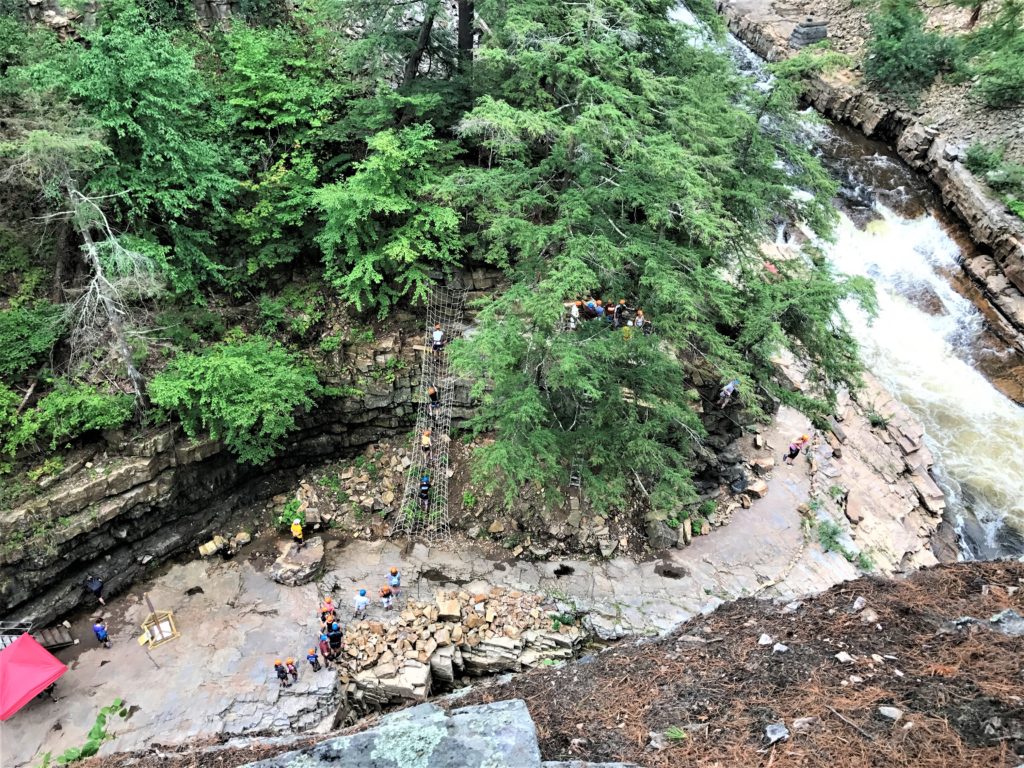 If you look closely you can see the person walking across the rope bridge. That was just an awesome sight to see.
I certainly couldn't do that!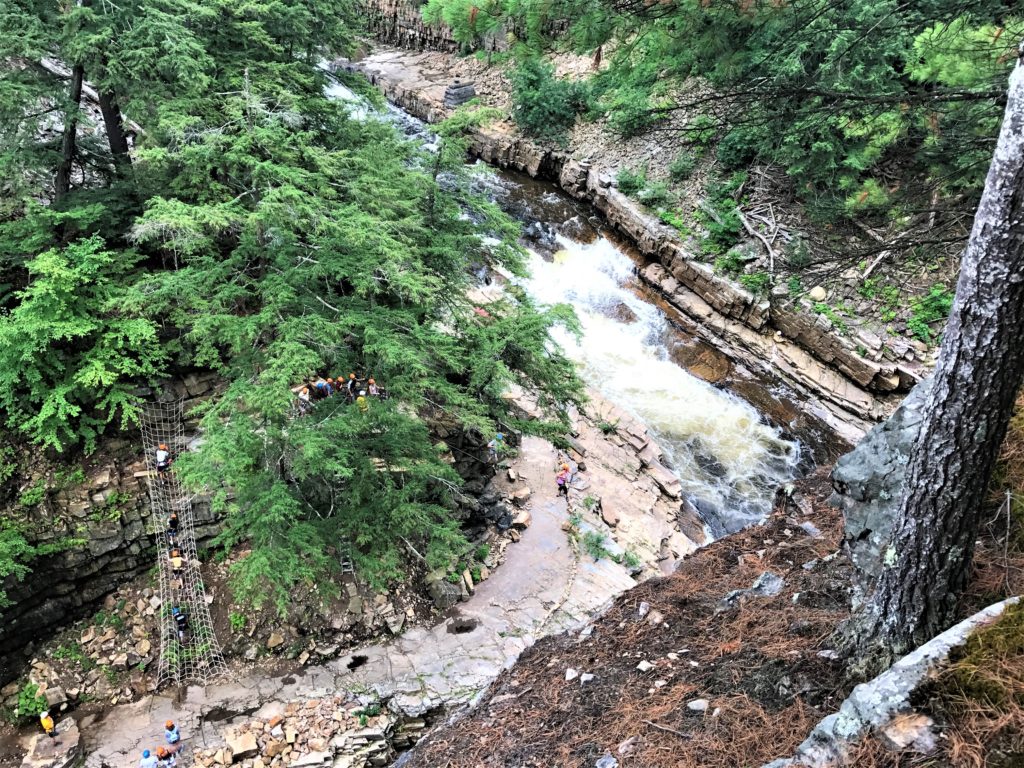 The pathway soon turned into stairs.
And…there were many.
It was a hot and humid day and I was happy I had my bottle of water.
Bring along a Snack & a Bottle of Water
There were several areas that provided seats and picnic tables where families were having a snack or sandwich.
It was nice to take a break to sit a minute because there are a lot of stairs that go up and down – but the views of the chasm make the stairs all worth it!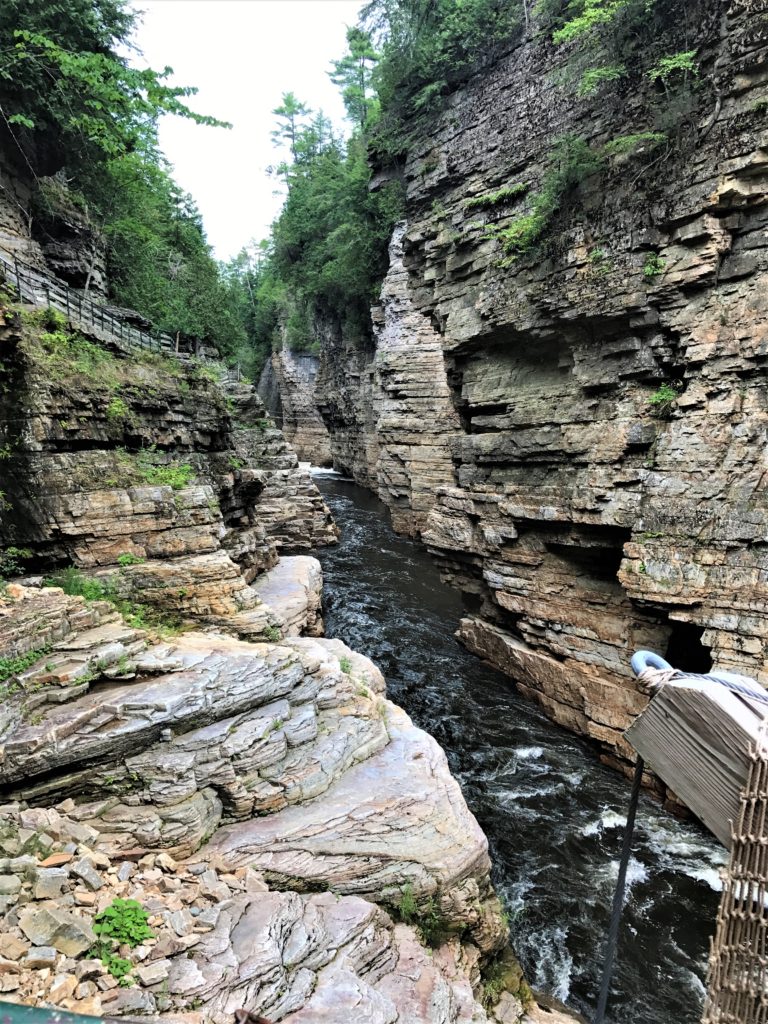 In the photo below, you can see the walkway which leads around the rim of the inner sanctum of the chasm.
As we were nearing the end of the one (1) mile hike on the "Yellow" trail (or Inner Sanctum Trail), we came around a bend and saw inner tubes and rafts being lowered down the chasm.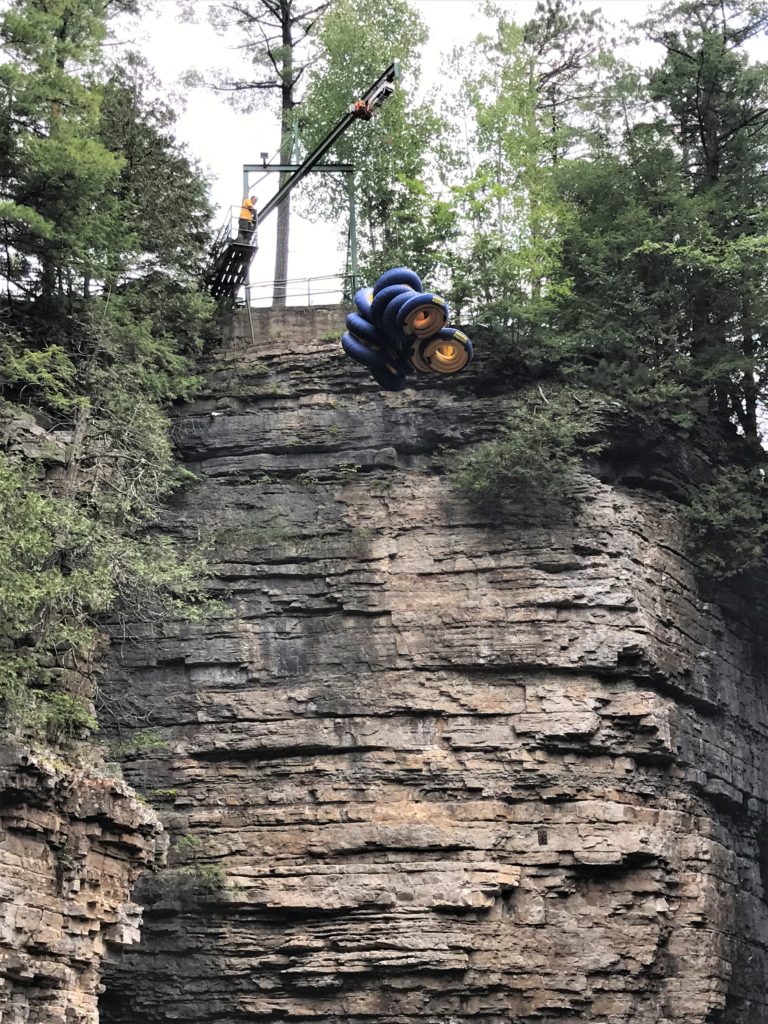 And, at the bottom, we saw rafts and tubes where people were either floating down the Ausable River or riding in a 10 person raft begin led by a guide.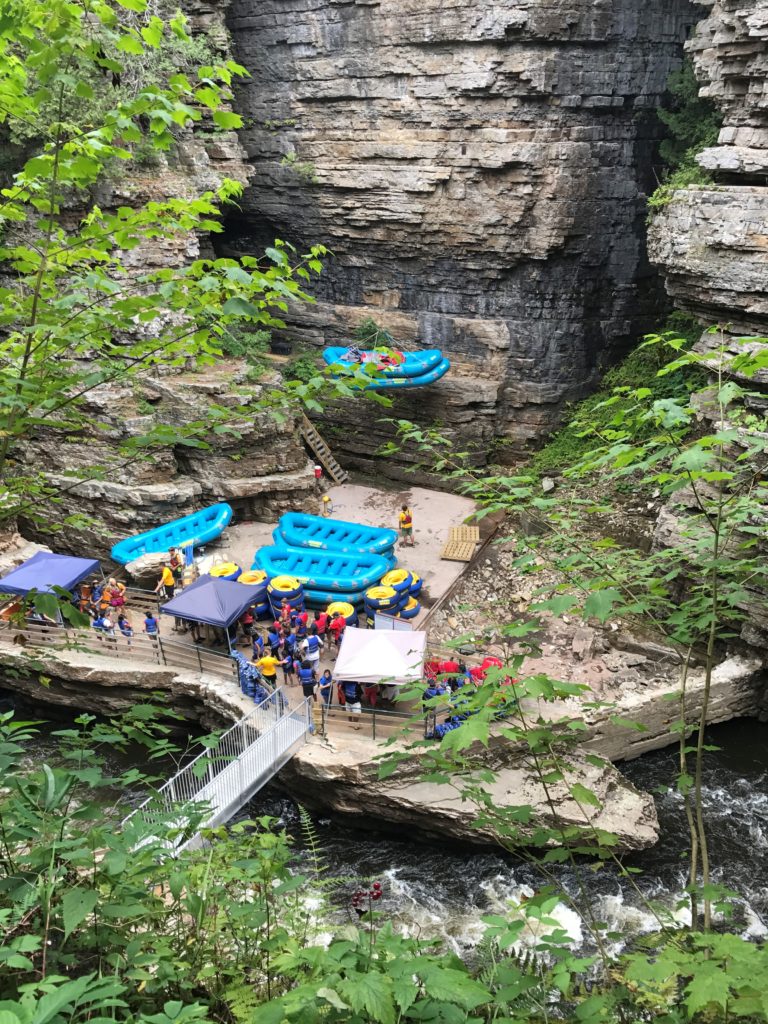 I said to my husband, "We're going in a raft??" He said, "Yes! How cool is that?"
This is where I failed.
I had no idea at the end of the trail you could choose to return via rafting or tubing down the Ausable River.
No wonder we saw young and old alike with bathing suits passing us along the path.
As we waited for our turn to be called, the woman in front of me began reaching into her backpack and changing her sneakers into sandals with a heel strap.
I thought to myself, "Why is she changing her shoes?"
But thought maybe she didn't want to get her nice sneakers wet. Little did I know…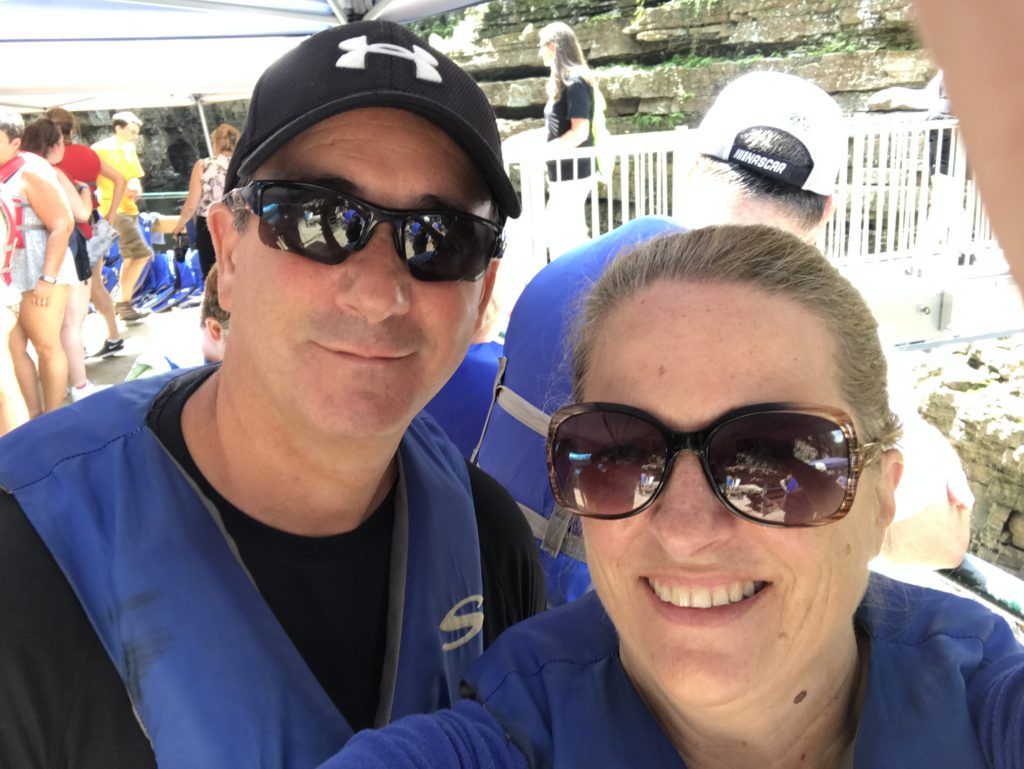 We got our life jackets on ready to raft down the Ausable rapids!
As we waited, we listened to detailed instructions about what we needed to do, what to expect, and dos and don'ts when riding in the raft.
We watched as the "tubers" went down the Ausable Chasm Lazy River!
Then it was our turn to get into the raft! My husband and I were the last to get into the raft so we sat at the back right before our guide.
Once I stepped into the raft – I knew WHY the woman in front of me was changing her shoes! Where you stepped into the raft was full of water!
And, one of the safety items was that you hook your feet under the seat in front of you…so your entire foot was underwater!
Thank goodness I didn't wear my hiking boots!
Wear shoes you don't mind getting wet!
Here's a photo of our guide. She was very knowledgeable about the chasm, its history, about the damage to the chasm from both Hurricane Irene and Hurricane Sandy, and…she was strong to be paddling a raft of 10 adults down the river!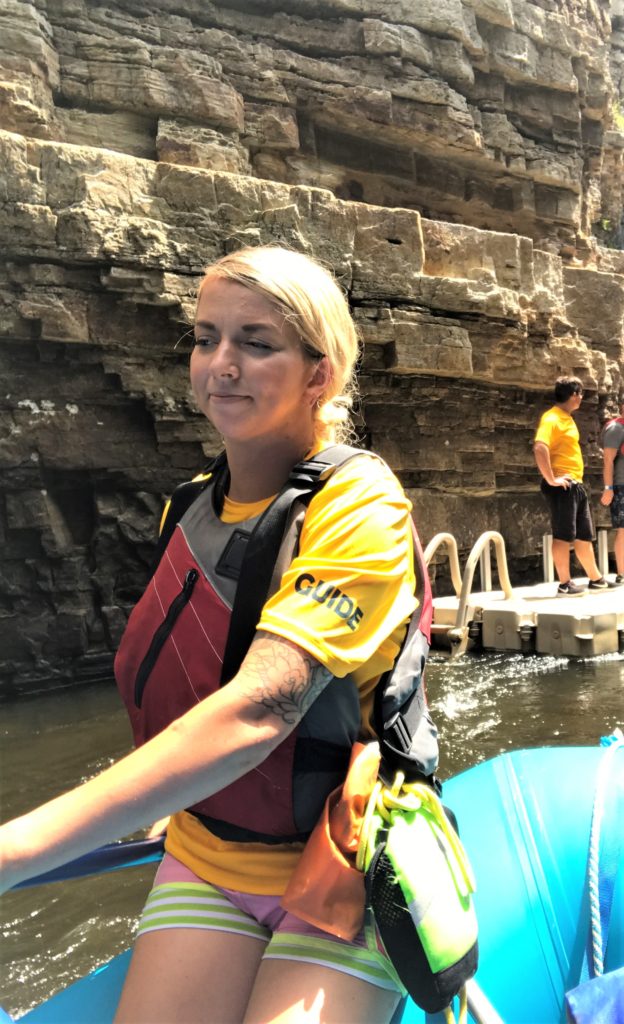 I asked her how many times she took a tour down the river and she said depending on the crowd that day, anywhere from 15-20 times!
The view of Ausable Chasm was incredible!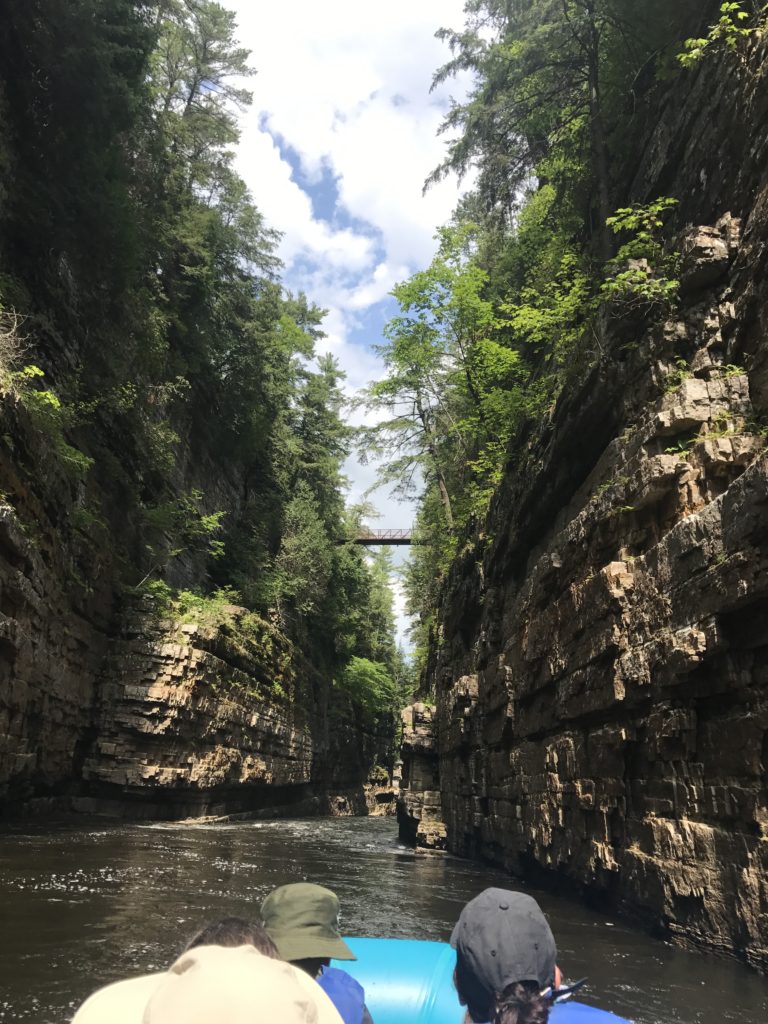 This is the narrow part of the chasm just before the rapids.
It was an awesome rafting trip – I would highly recommend it!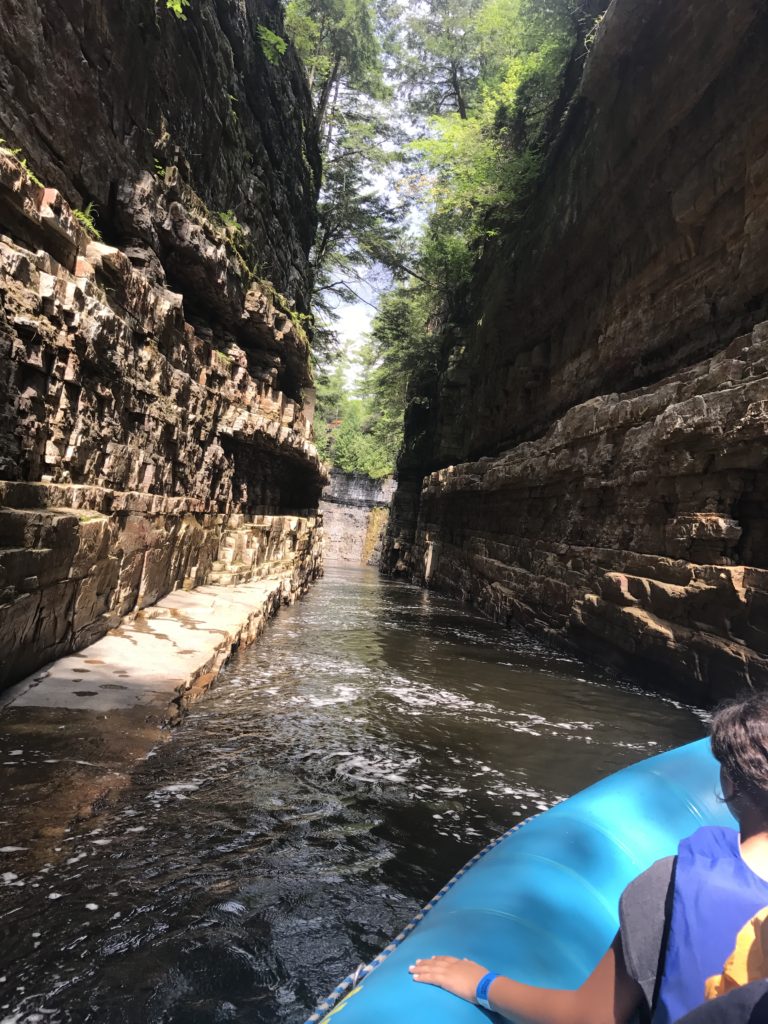 Here we are just about to go over the rapids!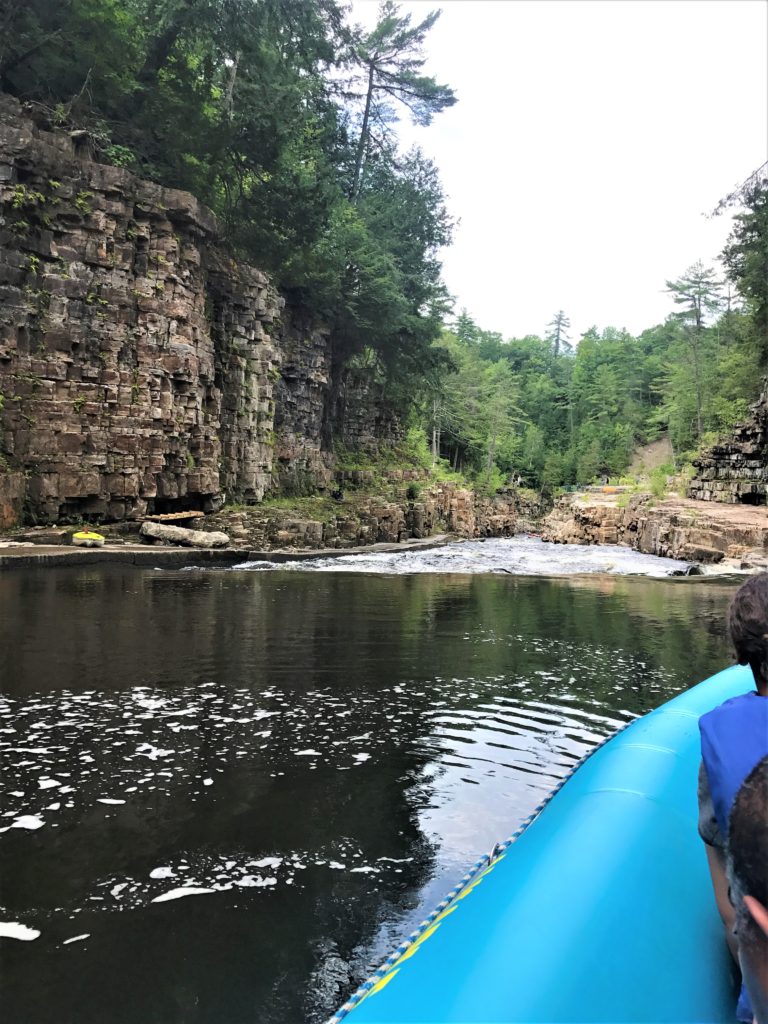 After the rapids, the raft will dock and you then have a choice:
Walk back on one of the trails to the Welcome Center (which many did!)
OR take the trolly back to the Welcome Center.
If you decide to walk back, you can take the Rim Trail (2 miles) or the Dry Chasm Trail (1.5 miles).
Guess What We Did????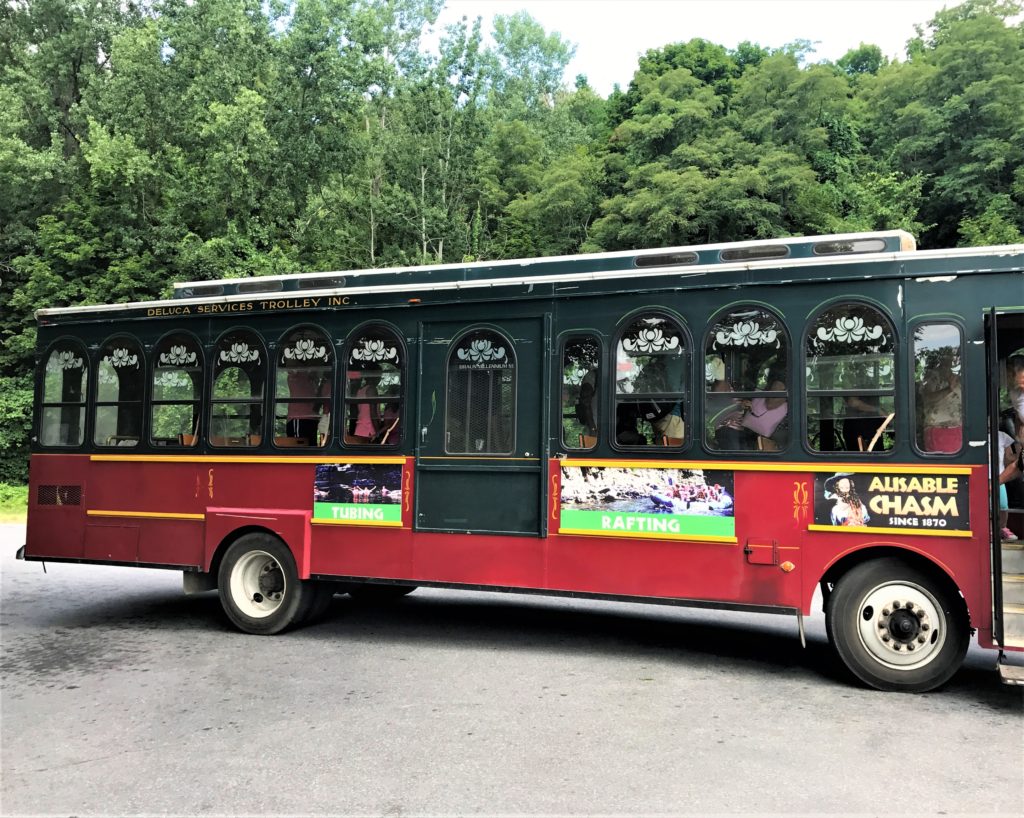 It was the best decision for us! I was exhausted!
Tip When Visiting Ausable Chasm – Take the Trolley!
Rafting down the Ausable River was an exciting way to end our visit!
I'm kind of glad I didn't know to expect a ride down the rapids!
It was so much fun!
I think when we go on our next trip – I won't plan every detail either.
Makes for an interesting ADVENTURE!
Here's are my BEST Tips For Planning An

Epic Adventure To Ausable Chasm
1. Go early in the morning. If you arrive between 12-2 you could wait up to 1 hour for the float/raft tour.
2. No pets are allowed at Ausable Chasm
3. Bring a snack & a bottle of water. There are quite a few stairs along the Classic Trail but there are tables and places you can sit and rest along the trail.
4. Wear shoes you don't mind getting wet for the rafting tour.
If you're taking the Ausable Chasm tubing tour, you may not wear flip-flops! You must wear water shoes, sandals with a heel strap, or sneakers you don't mind getting wet.
5. With your purchase of a regular admission ticket, for $5, you can go back and either tube or raft again.
Tours, Hours Of Operation, And Cost At Ausable Chasm
Ausable Chasm Address:
2144 U.S. 9, Ausable Chasm, NY 12911
To find current information about Tours, Dates of Operation, and Cost visit their website.
Have you been to Ausable Chasm in the Adirondacks?
I would love to hear whether you took the raft or the tube down the rapids!