Last Updated on June 9, 2020 by Lori
Have you ever been camping in Swanzey, NH? If you haven't, then you definitely need to plan a trip to Ashuelot River Campground! Because of our love of camping by the river, we found a gem of a campground situated in the heart of the Monadnock Region along the Ashuelot River in southwest New Hampshire.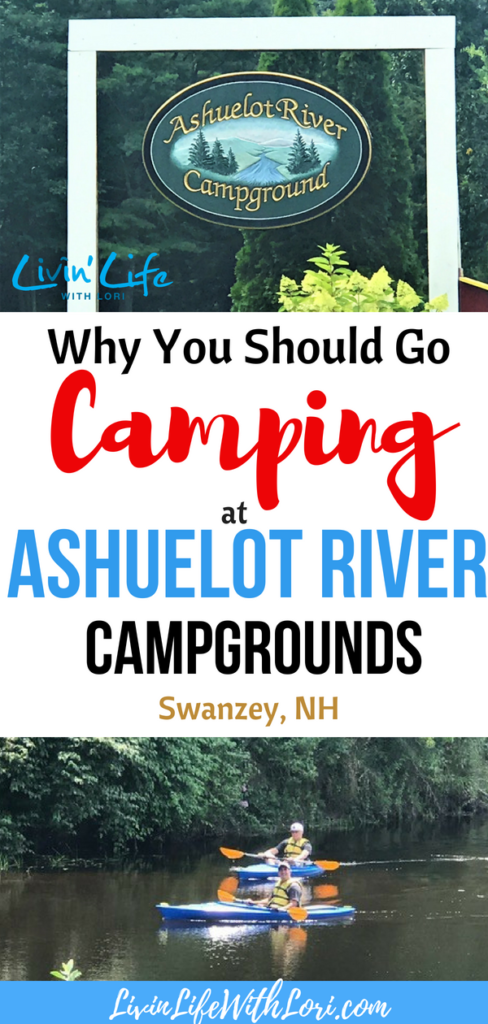 Ashuelot River Campground is a 22-acre campground with 3600 feet of riverfront. As we made our way from Long Island to New Hampshire we were looking forward to our four-day stay at the campground which had added new electric sites along the river and offered hiking, biking, river swimming, fishing, as well as birding in the Dickinson Memorial Forest.
The roadway leading to Ashuelot River Campground is not your typical entrance. We were surprised as we drove through a development of houses. "Are you sure this is the way?" my sixteen-year-old son said.
I looked again at the written directions and began doubting myself – but the directions explicitly said – do NOT follow your GPS because it will take you over a covered bridge which you won't clear with your travel trailer.
"Yes," I said, "this is the way." As we continued through the development, there, at the end was the entrance to the campground.
We arrived on a Monday afternoon so the weekenders had left for the week. In fact, there were just a few campers in the campground.
We had asked to be along the river and Chuck assigned us to a site at the end of one side of the campground with new electric hook-up. As we drove to our site, we noticed several trailers that were seasonal but we were the only ones in our area this week.
Talk about peaceful!!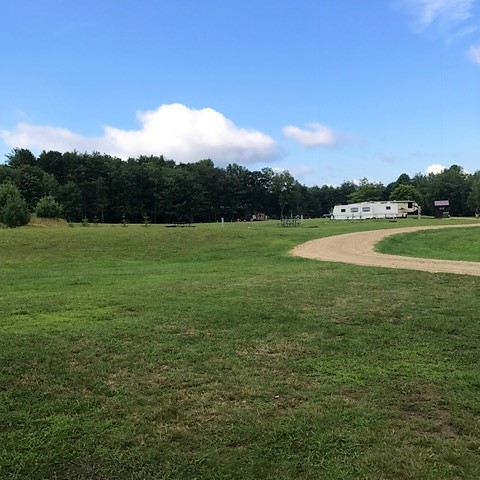 We got settled into our site by the rivers. These sites had new electric hook up for 2017!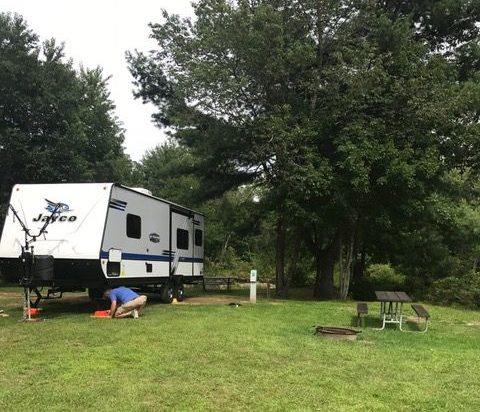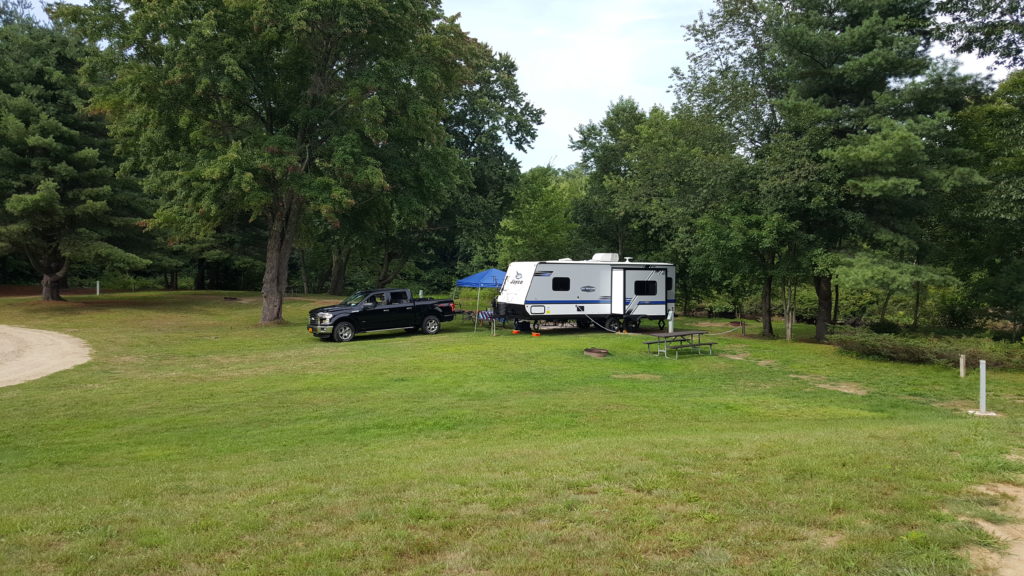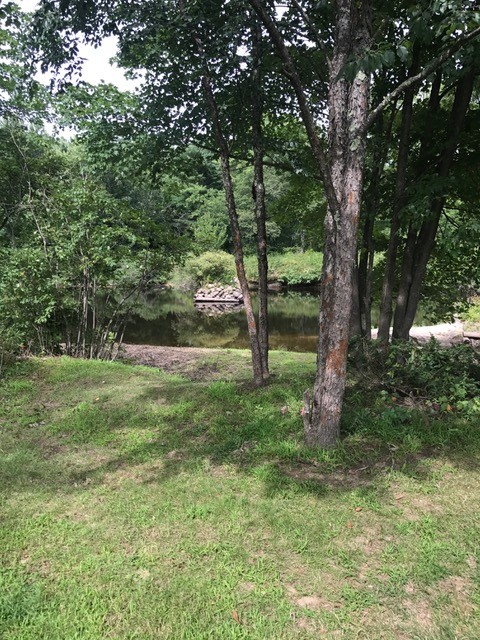 Soon were relaxing in our zero-gravity chairs (which I highly recommend!)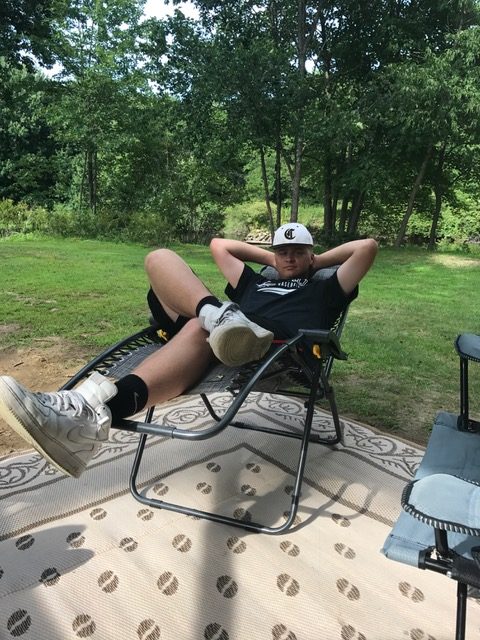 And then we were ready for the fire by the river.
The river was low due to the lack of rain this summer (August, 2017).
The Ashuelot (pronounced ash-WHEEL-ot) River flows 64 miles from its origin in Pillsbury State Park to the north and feeds the Connecticut River to the south in Hinsdale, New Hampshire. The campground offers canoe rentals or kayak rentals and will shuttle you and the boats (for a fee) to a drop off point to begin your trip.
The next day, my husband and son were excited to kayak down the river. After all, weren't they "experts" now that they had a lesson from Linda at Old Holbrook Campgrounds?
Chuck, the owner of the campground, loaded my husband and son into the car along with the kayaks and away they went. Buddy and I stayed back and took a walk through the large campground after which we were hot and tired when we returned to camp!
Soon, Buddy jumped up. He pulled me to the edge of the river where I saw nothing.
"What do you see Bud?" I asked. He kept looking impatiently whining looking at the river. Then I saw them. They were coming around the bend towards the campground.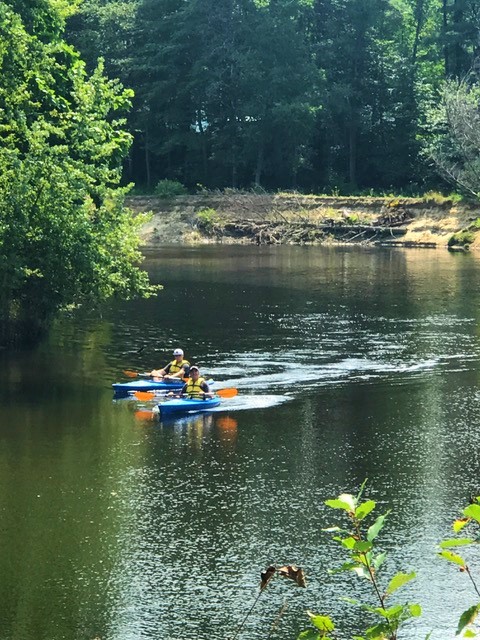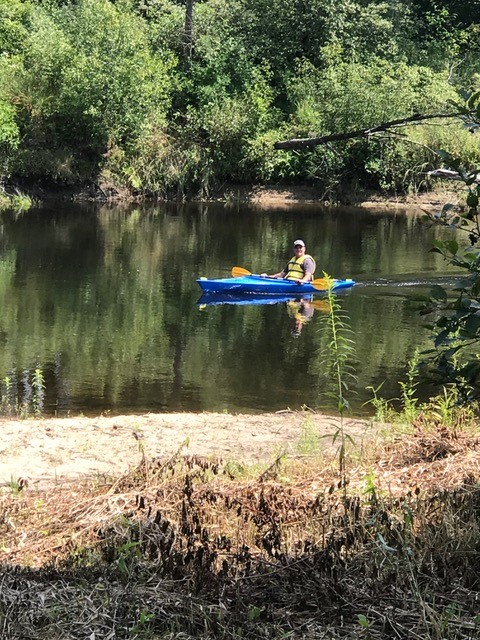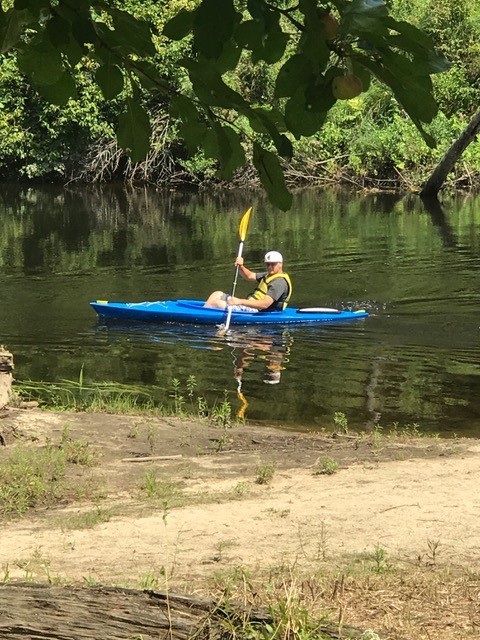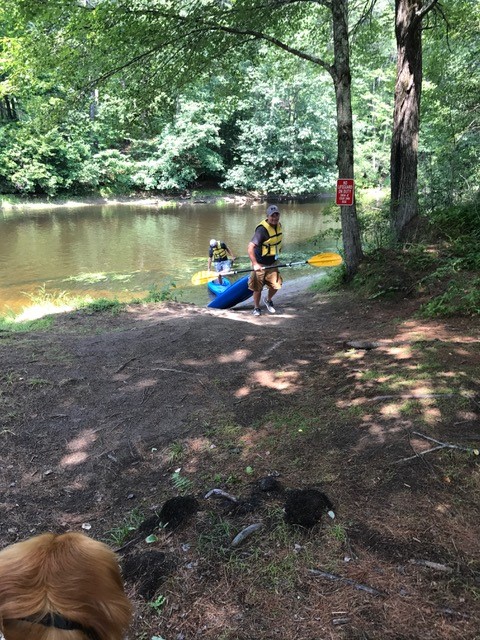 After kayaking all day, it was time for dinner! This trip I marinated flank steak all day long (while they were kayaking) and prepared veggies for a foil pack.
Soon the grill was nice and hot!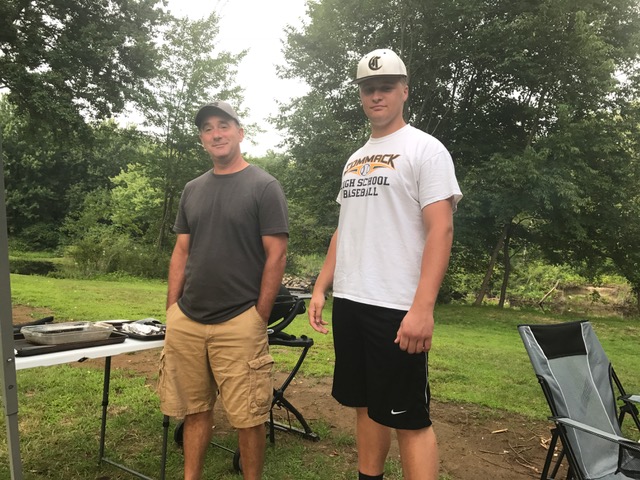 I made three (3) foil packets so that we could each have one.
Good thing I did…I finally got a photo of this delicious meal (but I think someone was eating my veggies!)
I took yellow squash, mushrooms, onions, zucchini and cut them into chunks. I added onion salt, garlic salt and drizzled olive oil overall.
Then used heavy-duty aluminum foil to create a foil packet. Grill approximately 10 minutes until vegetables are soft.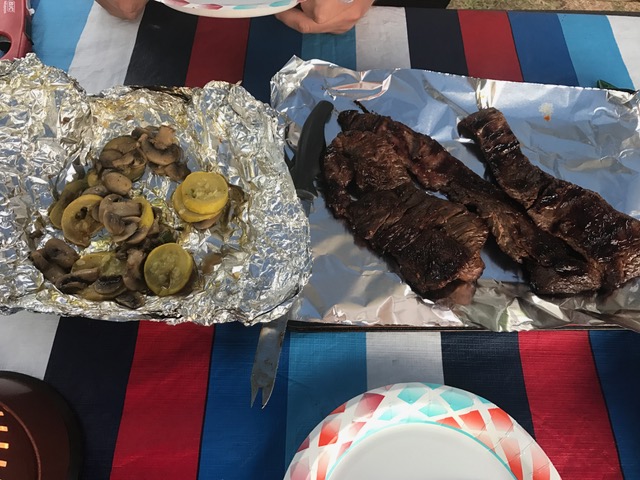 That evening while we were sitting around the fire, all of a sudden we heard a "SPLASH!".
"What was that?" we all sat very still. Was that a bear we wondered? That was a huge splash.
As we mentioned the large noise we heard the previous night to Chuck, he said, "That was an otter."
An otter? Beaver maybe, but no, we looked it up and sure enough, The North American river otter, also known as the northern river otter or the common otter, is a semiaquatic mammal endemic to the North American continent found in and along its waterways and coasts.
An adult river otter can weigh between 5.0 and 14 kg. The river otter is protected and insulated by a thick, water-repellent coat of fur.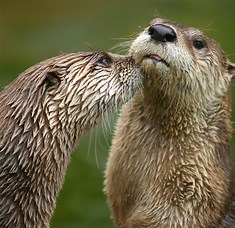 Those cute little guys can sure make a splash!
The campground has a game room for the kids with pool table, ping pong table, fuse ball and air hockey. There is plenty of room to throw a Frisbee in the large grassy area of the campground and there is a horseshoe area. There is even a playground for the kids.
We saw several kids at the playground and playing in the game room. There is a "library" in the office where if you really need WiFi to check your emails, you can find it there.
I also want to mention how nice the facilities were. The bathrooms were kept clean throughout the four days we were there which every camper appreciates.
We didn't utilize the shower facilities but I saw a few people using them. Also, there are two (2) dump stations so that two trailers/RVs can empty at the same time – which is a definite plus!
As we were leaving this peaceful campground, it was Thursday and an entire family of tenters were arriving for the weekend. They must have had 6 families who set up their tents along the river.
Chuck told us that they come every year. Then the trailers and RVs began arriving so we knew the campground was going to be full for the entire weekend. We were so happy we were able to enjoy the peacefulness of the river, woods and the river otters!
While we were in this part of southern New Hampshire, we also explored Cathedral of the Pines and took a ride to see three of the six Covered Bridges in the area. I will tell you all about them in my next couple of posts – so stay tuned!
For now, if you are in the Swanzey, NH area, don't miss the Ashuelot River Campground. Chuck & Laura are your hosts and have created a clean, peaceful, awesome place to stay with your family.