Last Updated on September 7, 2021 by Lori
This list of 20 RV Must-Haves for new RVers are camping items you need for your new RV or travel trailer. These RV and travel trailer necessities didn't come with your new RV, so before purchasing all the RV fun stuff, you need to purchase these must-have RV accessories too!
RV Must Haves For New RV Owners
Well, you did it!
You purchased that new RV or travel trailer you've always been dreaming about.
It's sitting in your driveway and you have your reservations made for your campground.
That's when you realize the walkthrough at the dealer was so fast you can't remember a thing they told you.
You remember you needed to get a few items that didn't come with your new trailer or RV…but what were they?
What if the campground doesn't have full hook-up?
How do you even hook into the full hook-up?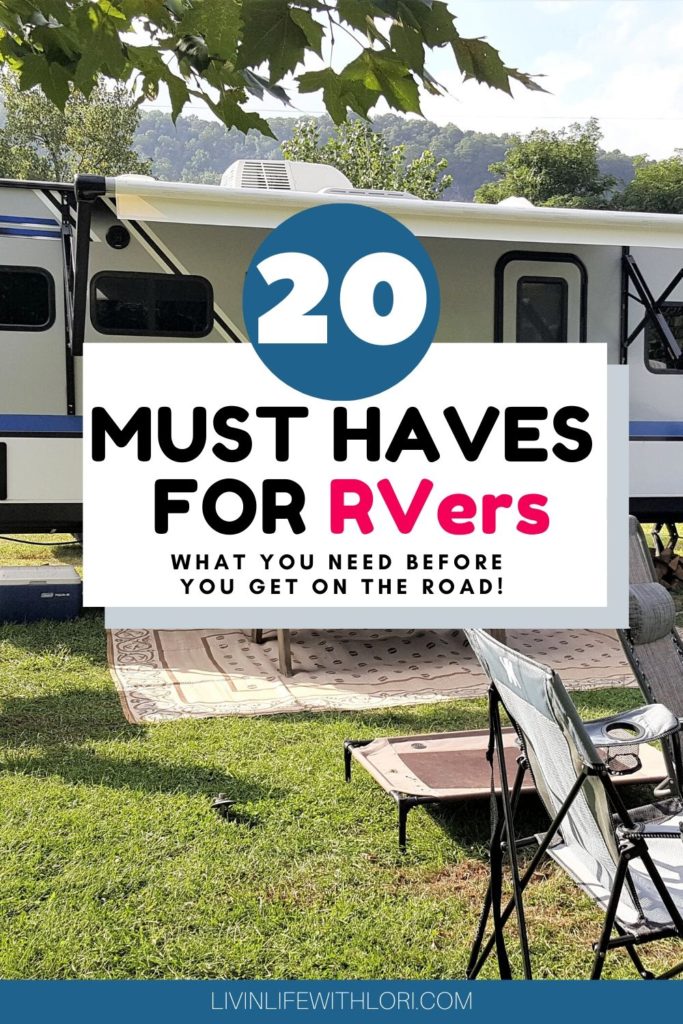 This post contains affiliate links for your convenience which means that if you click on a link and make a purchase, I will earn a commission at no additional cost to you! Please read my Disclosure Policy for more information.
Must Haves For RV Camping
We've all been there.
Your first camping trip is booked and you're stressing about all the things you need.
You begin to panic saying to yourself "how am I supposed to remember what the person at the trailer dealer told us?"
Relax…it's going to be ok.
It's just a fact that there are items that do NOT come with your new RV that are mandatory that you need to get.
So…you turn to the internet only to find that everyone has their own opinion about what you will need.
Relax…you're gonna get this.
Why do I keep telling you to relax?
Because we've been there.
When we first got our trailer my husband printed off list after list of what others said we would need for a great camping experience.
While it was a good starter list, we soon realized that we had our own list of items that we found were needed to have a "great camping experience."
We made our list, went to the store, ordered things online, went on our first camping trip…and guess what?
As we sat by the fire relaxing – thankful that we had found those lists of things we needed – there were even more things we decided we needed so we made a new list for our next trip!
Here's a snapshot of the list I made on my phone for "Must Haves" for our next trip: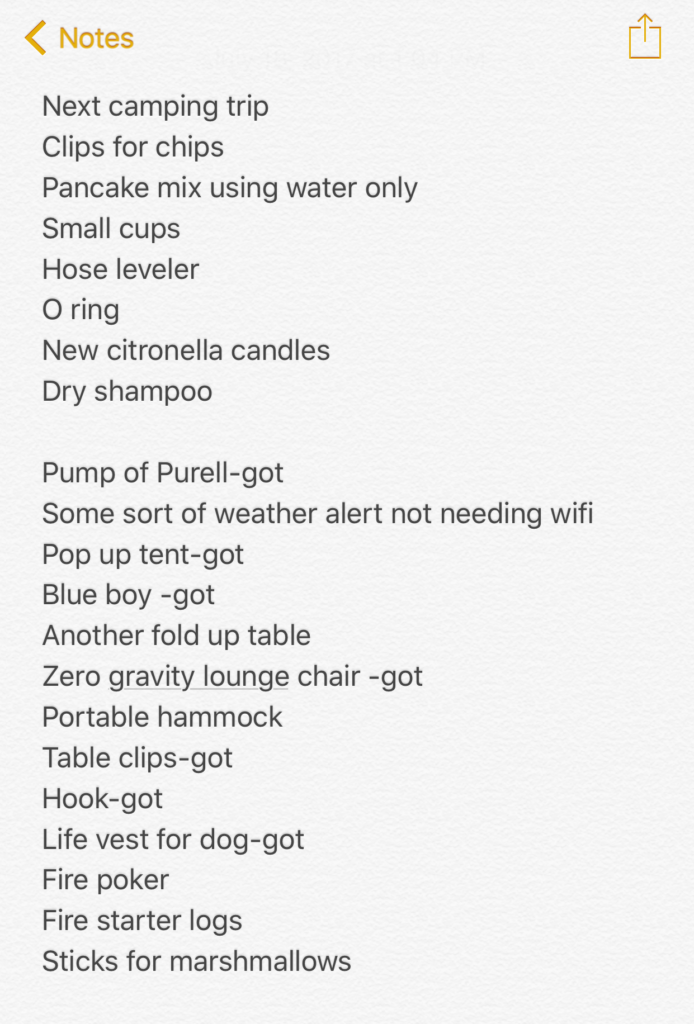 You can see after we got back home and went shopping, I marked "got" on the list. We made it through July and August and then guess what?
Yep. Here's another list of "Things We Need" for our September camping trip: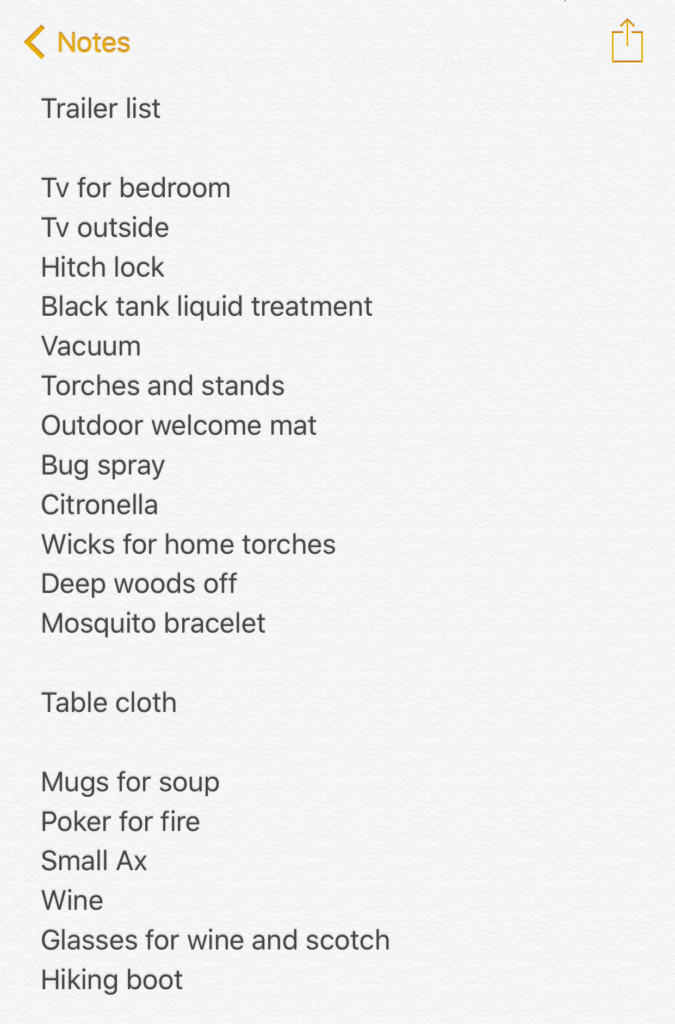 Well, I can tell you some of those items are STILL on a wish list (haha TV for the bedroom is one).
And I know we forgot to pick up a small ax because we had to improvise to cut kindling for the fire.
As you continue camping, you will begin to create your own list but to get you started, here is the main list of "must-haves" to get you started.
Best List of Must-Haves For New RVers
The photos and descriptions listed are suggestions of brands commonly used and that we currently use.
If you are interested in the item, all you have to do is click on the item or link and it will take you to the description and an area where you can purchase the product.
The #1 item to purchase is a sewer hose.
You can purchase the hose and fittings separately or as a set like this one.
The Camco Rhino Flex is a good hose and already comes with the fittings and a translucent elbow.
Sewer Hose with a secure connection
Camco RhinoFLEX 20ft RV Sewer Hose Kit, Includes Swivel Fitting and Translucent Elbow with 4-In-1 Dump Station Fitting, Storage Caps Included, Frustration-Free Packaging
2. Sewer Hose Support
Don't leave the "sewer aisle" without a sewer hose stand "support".
Just an FYI, in some states, it is a law that you lift your sewer hose off the ground!
The first time we camped with a "full hook up", we did not have these.
When we went to hook up, the hose was lower than the sewer pipe.
When we emptied the tank, my husband kept having to lift up the hose.
Believe me, it was our next purchase when we got home!
Camco 20ft Sidewinder RV Sewer Hose Support, Made From Sturdy Lightweight Plastic, Won't Creep Closed, Holds Hoses In Place – No Need For Straps
3. Dedicated Fresh Water Hose
Make sure you have a separate freshwater hose.
This hose will be used to fill your freshwater tank. You want to make sure the hose is safe to use for drinking water which means – no green garden hoses!
This one is an "anti-kink" hose which is great because we didn't have one of these and our hose kinked.
Also, your trailer or RV will come with a hose but it's a good idea to have an extra hose so you will be sure to reach the water pipe.
Most RV hoses are blue or white and have something printed on them stating they are safe for drinking water.
Camco 25ft Premium Drinking Water Hose – Lead Free, Anti-Kink Design, 20% Thicker Than Standard Hoses (5/8″Inside Diameter)
4. Water Hose Splitter
You'll want to pick up a water hose splitter too.
Ipow Solid Brass Body Backyard 2 Way Y Valve Garden Hose Connector Splitter Adapter + 7 Rubber Hose Washers with Comfort Grip
5. Water Hose Regulator
You want to make sure you have a water hose regulator.
You can get one with or without the gauge.
There are some campgrounds that require you to have a regulator to be sure to check your campground rules before you arrive!
Camco 40064 Brass Water Pressure Regulator with Gauge – Lead Free
6. Extra Hose Washers
This is one we added!
Twice we were on the road and our washers fell out and were missing.
Just pick up this 10 pack and you'll be all set!
Camco 20153 Garden Hose Washer – Pack of 10
7. Wheel Chocks
These wheel chocks do just fine.
They come in packs of 2 so make sure you order the correct amount for your trailer.
Camco Wheel Chock Without Rope, Helps Keep Your Trailer or RV In Place (Pack of 2)
8. Leveling Blocks
I can honestly say that we have only had to use these once or twice in our travels.
We were lucky that most of the sites we had were level.
One of the first times we needed them we backed into our site and saw there was a drop off below our back end.
Our extenders were fully extended and we quickly hunted in our storage area for our leveling blocks. This is the other time we had to use them.
The back of the trailer was lower than the front so we pulled out our levelers and we were set!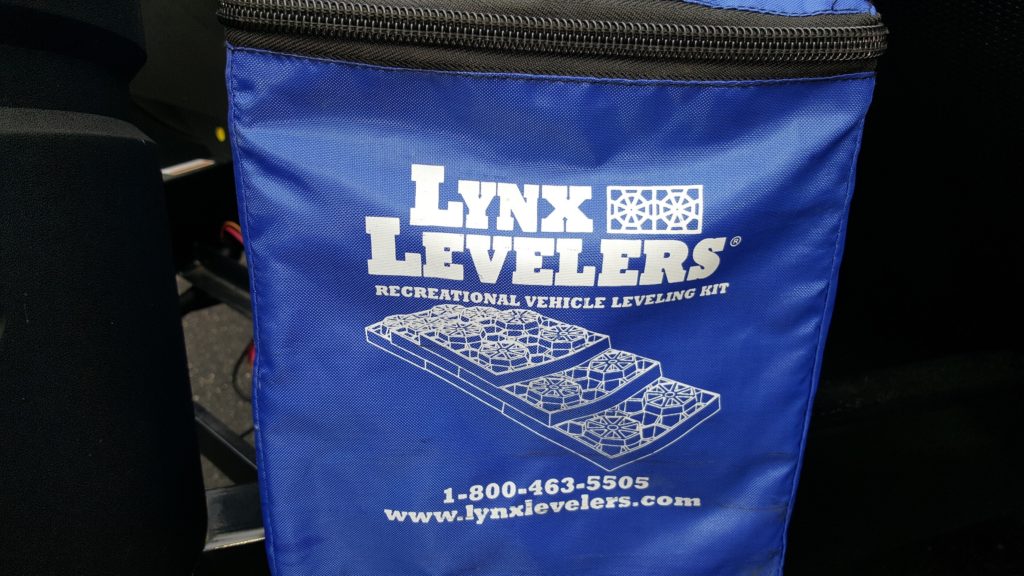 We were sure happy we picked them up when we were shopping.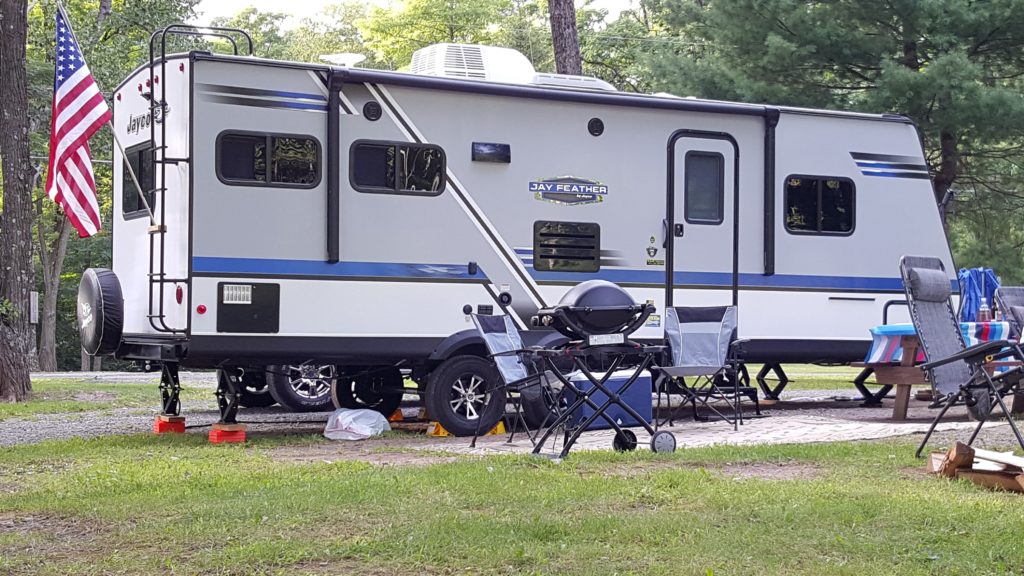 These are the ones we have and they work great!
Tri-Lynx 00015 Lynx Levelers – 10 Pack
Download my FREE RV Departure Checklist & Receive a
BONUS RV Trip Planner!

9. Smart Tote Portable Waste Holding Tank
This is another item that we added to OUR list. We were at our first campground which was not a full hookup.
We were there for four days and had five people with us (two adults/one teenager/two young adults) none of whom were used to camping.
As we watched several trucks pulling a "grey water tank" to the dump station, my husband and I looked at each other and said…we need to get one of those!
Just down the road happened to be a Camping World and they helped us choose the size of tank that was best suited for our trailer and needs.
This is the one we have.
Thetford 27 Gallon Waste Holding Tank.
You can also get a 35-gallon tank. You can get the tank in either a two-wheel or four-wheel.
One thing to consider when purchasing is whether you want the strap or not.
We wanted to have the strap so that we could hook it onto the hitch of the truck and then we just pull it to the dump station with the truck.
Thetford SmartTote2 Standard 2-Wheel Portable Waste Tank, 27 Gallon
10. Rubber Gloves
Well, you can guess why you'll need these…I've read some comments from the 'ole timers that they never use rubber gloves.
You can make your own decision but I strongly suggest you pick up a pack!
11. First Aid Kit
This one is highly rated.
12. Bug Spray
This is what we use and works well
13. Extended Mirrors.
We also added this to our list.
They work great and fit right on most truck mirrors. Our truck didn't come with the automatic extended mirrors for trailers like some do so these were a great add-on.
You have to order the mirror to fit your particular vehicle.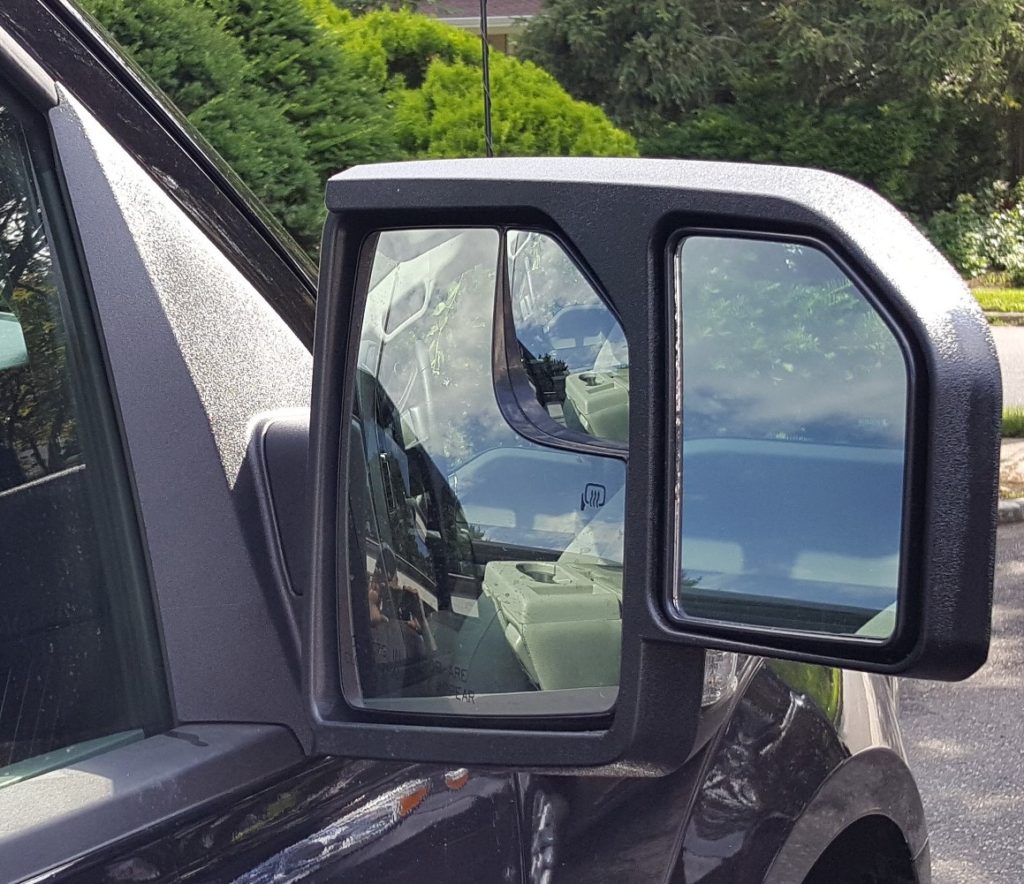 CIPA 11800 Ford F-150 Custom Towing Mirror – Pair
14. Weber Portable Grill
Yes…this is a Must-Have on our list! We use it all the time…and it works great!
The grill can sit on a table or on the portable legs.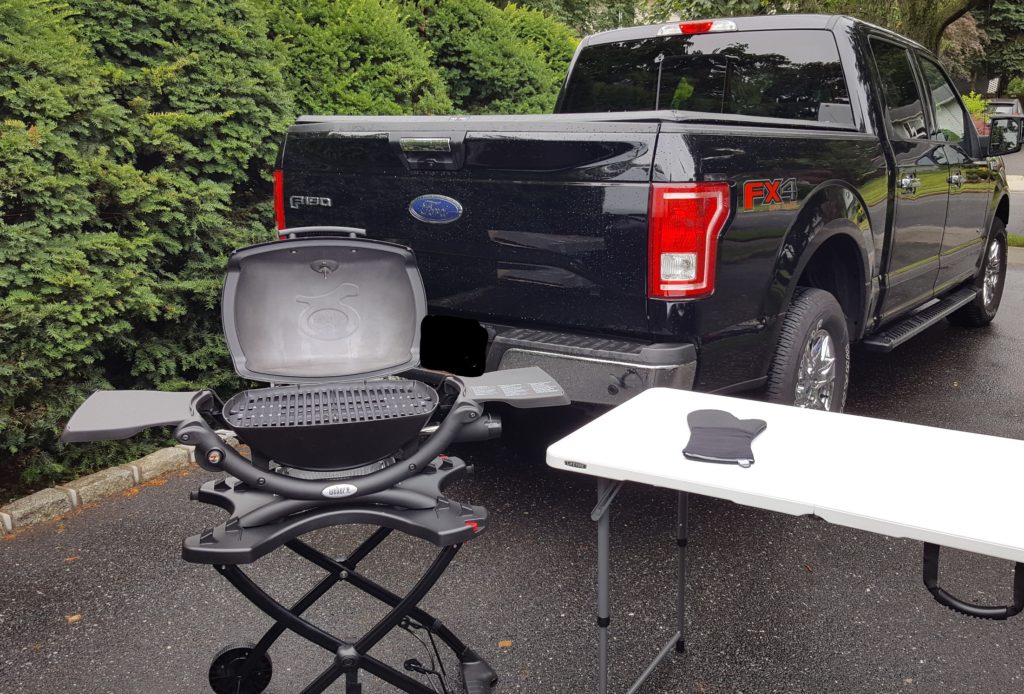 Weber 53060001 Q2000 Liquid Propane Grill
And you can purchase legs so that you can move the grill wherever you want on your site.
Weber 6557 Q Portable Cart for Grilling
And finally, my suggestion for one of the main items is an outdoor mat.
I can't tell you the number of times it rained and if we hadn't had the mat the area as you step down from the stairs was completely in mud.
It's nice to sit under your awning on something.
These mats can be swept off easily.
They also roll up easily and have a carrying strap They are perfect to have!
**Update 12/2020 – Our mat is now in its 2nd, third, fourth, FIFTH season and still looks great!
We wash it with mild soap when we get home and it is not frayed or worn at all!
Here is ours:
RV Camping Mats – Outdoor Patio Mat – Reversible RV Mat – Carrying Strap (9 x 18)
Here are a few other miscellaneous items that I suggest you pick up that we have found very useful when we travel.
16. Bungee Cords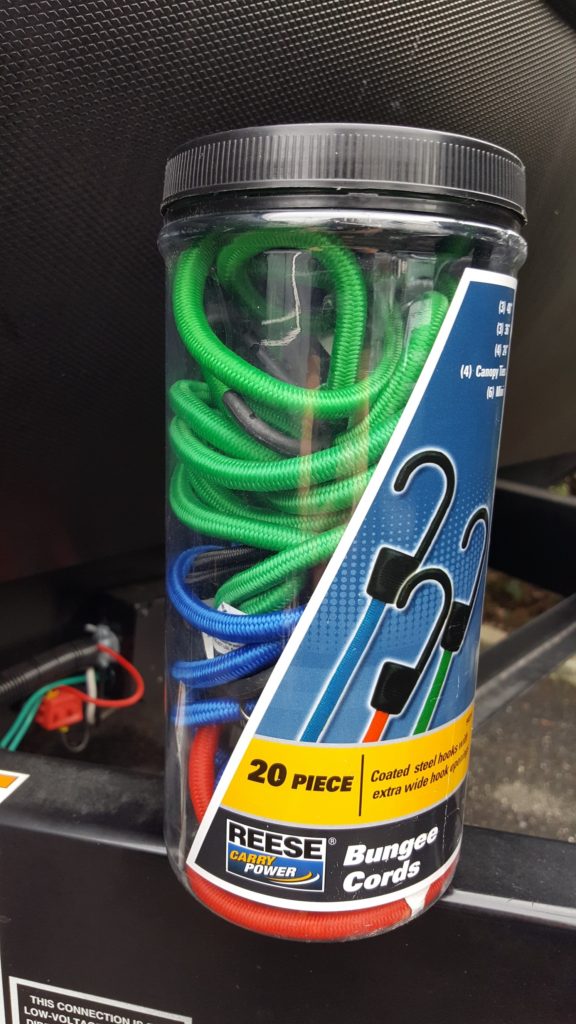 17. Toilet Treatments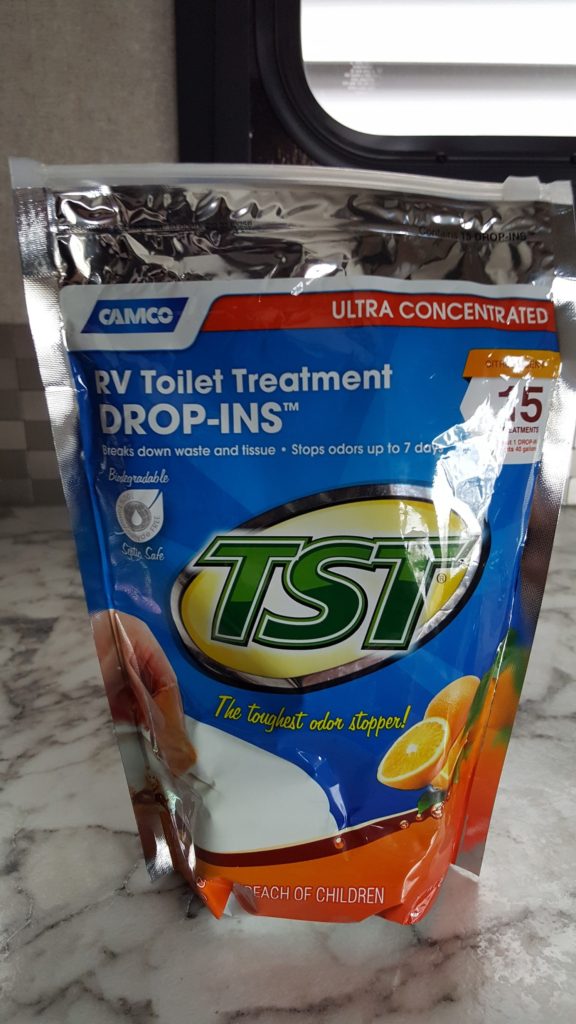 18. Storage Bins
These Storage Bins are invaluable!
They fit in the trailer storage area perfectly and hold all the little stuff!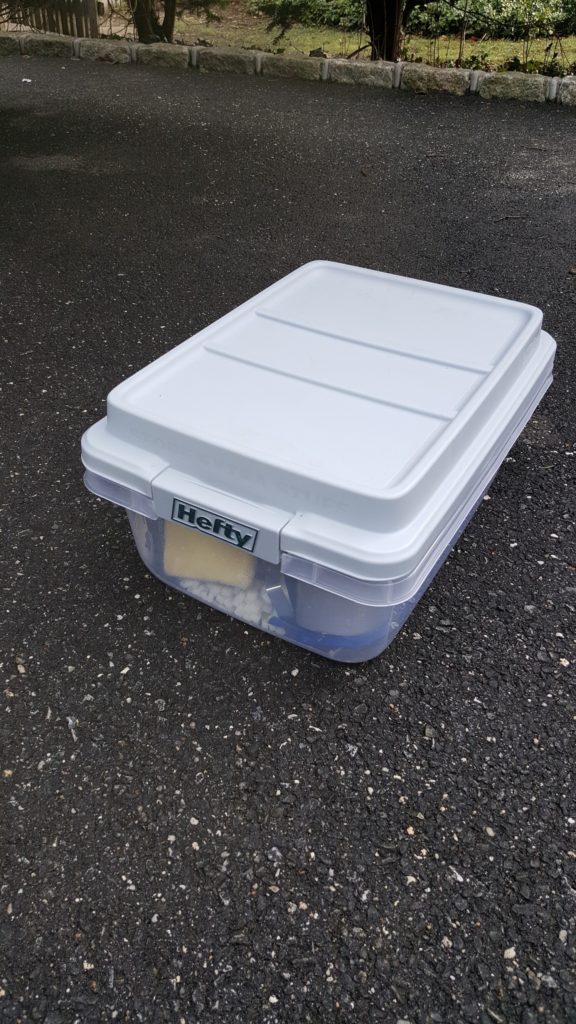 19. Broom
This broom is so handy to sweep off the mat and your trailer steps
20. Zip Ties
Plus – clips for table cloth, a corkscrew, cotter pins, lighter torches to light citronella candles and the fire!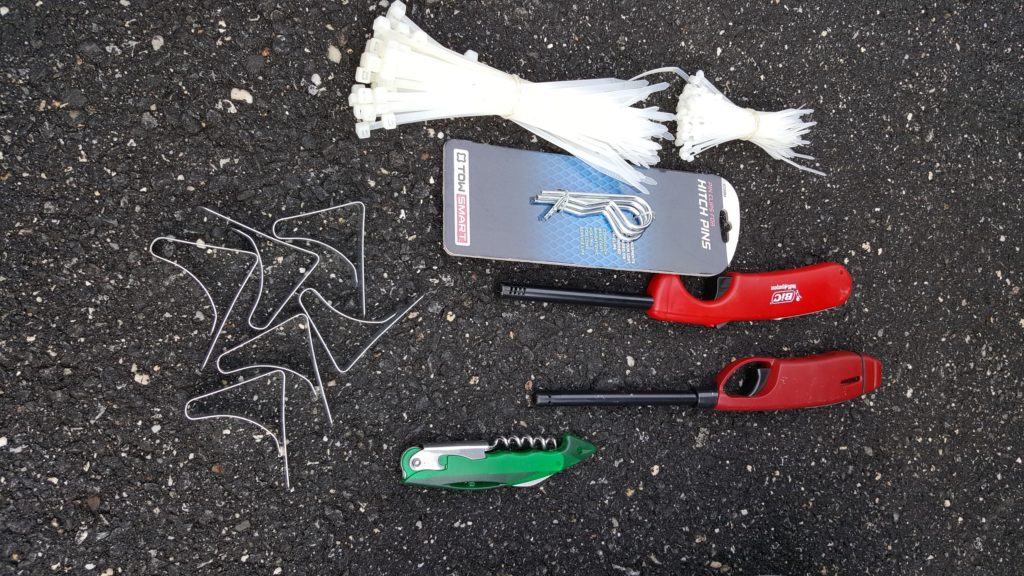 I know this may seem a lot of information but just make your list and as you pick up the item, cross it off.
You will always be adding to your list as you can see we did. We still need to pick up items we had on our very first list! (Gotta get that small ax!)
I'm sure as we continue our camping adventure, our list will change as will yours.
Enjoy your new RV or travel trailer!
You will be so glad you made the decision to go camping.
The people you meet are the best people around and if you did forget something, they will be right there to lend it to you!
What are some of your "Must Haves" for RV Camping?
Happy Camping!
Looking for more RV Tips & Must-Haves For RV Camping?
* Best Tools You Need In Your RV Toolkit
* 15 Tips and Must-Haves For New RVers
* 10 RV Essential Must-Haves New RVers Need
* The Best RV Kitchen & Pantry Must-Haves For Your RV
* 25 RV Kitchen Accessories & Gadgets
* 5 Things Every New RVer Will Need To Learn How To Do
Please Join My Email List!
Download Your FREE RV Campsite Set-Up Checklist BELOW