Last Updated on March 31, 2021 by Lori
Whether you are a full-time RVer or an RV enthusiast, there are a few basic tools that all RVers need in their RV Tool Bag!
Often, this list of essential tools will get you through fixing simple repairs when they happen on the road.
Here's a look at what tools you'll need in your RV Tool Kit along with a few tools you may want to consider purchasing.
Plus, download your FREE printable RV Tool Kit checklist!
This post contains affiliate links which means if you click on a link and make a purchase, I will earn a commission at no additional cost to you. Please see our Disclosure Policy for more information.
Why You Need An RV Tool Kit
So you might be saying to yourself, "Do I really need tools to take camping?"
"Am I ever going to use them?"
Let me just start by saying…
Even if you have NO idea about tools, never thought about needing RV Tools, and don't own a toolbox –
You need to carry a basic tool kit in your RV.
You may be thinking you're not handy. You've NEVER repaired anything in your life!
But then it happens.
The window starts leaking during a rainstorm.
A fuse blows.
Something breaks off or you need to tie something down before you can get back on the road.
Then you remember you had read that an RV Tool Kit was a Must-Have for new RVers.
You went out and bought one and threw it in the RV for "emergencies."
So, you reach into your handy RV Tool Kit that you thought you would never need, and fix the broken part in no time!
I can't tell you the number of times I've been thankful that we packed our basic home toolset before we headed off to the campground!
If you don't own any tools at all, you can start with just a simple tool kit found in hardware stores or even these larger stores carry them.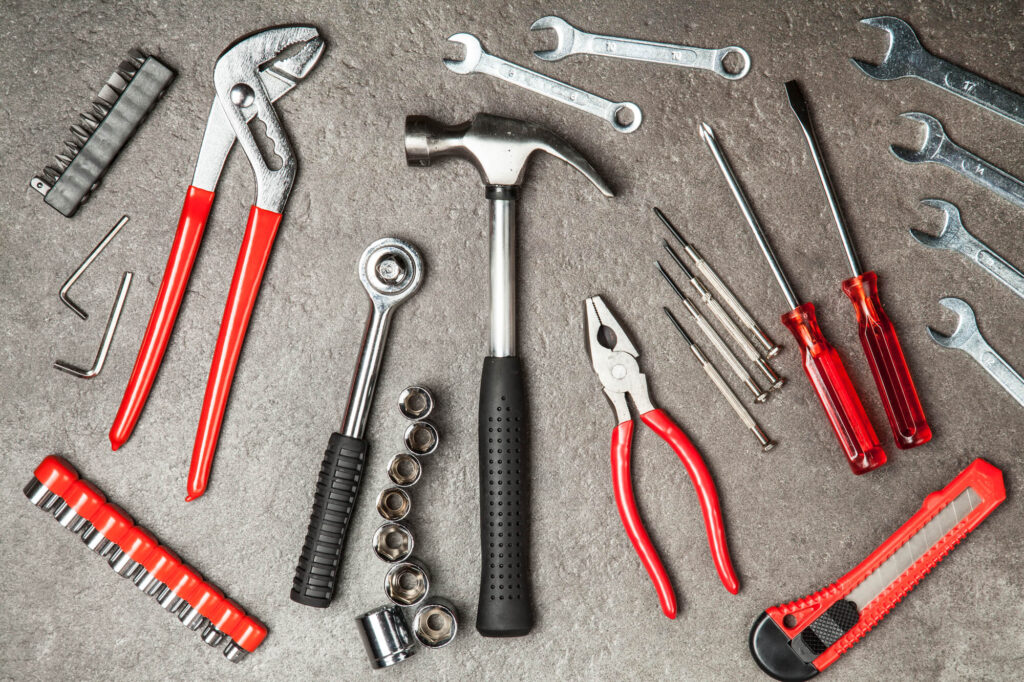 You may think you already carry every possible tool there is in your RV.
I know my husband thought so!
But then we saw the most awesome RV gadget and had to add it to our camping tools list!
One of our newest "finds" is called a "Hitch Grip."
As many of you know, we have a Jayco travel trailer.
When we hitch up, it's my husband who has to lift the hitch on and off the truck.
Recently, we were sitting by the fire at Mt. Greylock Campsite Park in Massachusetts when new campers started pulling in and setting up.
We watched as one camper reached into his toolbox and pulled out this "wrench-like" tool.
Just like that!
The hitch was out, and he put it under the trailer.
Not a struggle, not a grunt, just hooked it on, and that was that!
My husband said to me, "Why don't I have that tool?"
"Why have I been struggling all this time with the hitch?"
Oops.
Then, he clearly stated, "Get me that tool!"
So I did.
I have to say this is the handiest tool we've ever come across.
Here's an infographic of the steps to using the
best RV Tool we've added to our Tool Box
The Hitch Grip."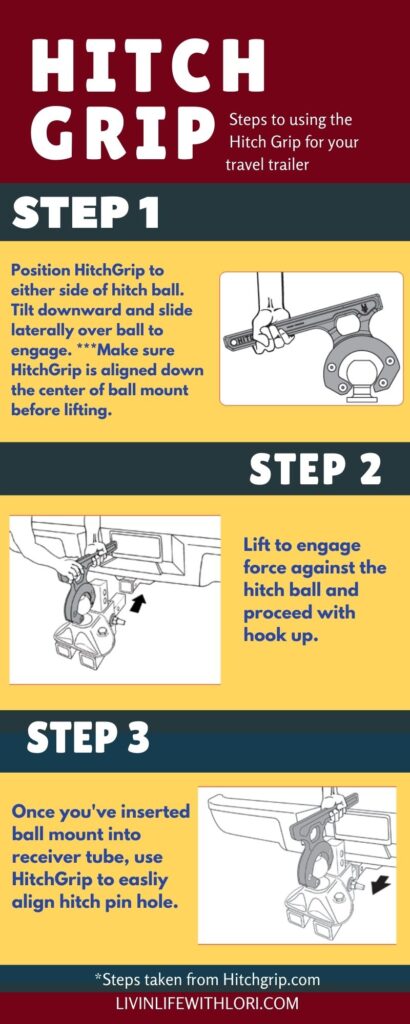 What Tools Do You Need For An RV Tool Kit
There are some tools that you SHOULD have in your RV, and then there are camper tools that are just nice to have on hand.
Let's break down what you need to put in an RV Tool Box into sections.
There are Basic RV tools for your tool kit and there are RV Tool Kit Recommendations.
Those tools that are recommended to have are ones that come in the category of what I like to call "handy" meaning having them certainly makes things easier to fix when something breaks!
But…they aren't necessary to carry.
Let's face it.
If you carry everything on this list, you'll be adding a lot of extra weight either in the truck or in the basement of your RV.
The best thing to do is to decide what you'll need and what you think is best to carry for an RV Tool Kit.
That's it!
Essential Tools For An RV Tool Kit
So, what are some of the BASIC RV Tools you'll need?
These are the Best RV Tool Kit Essentials that we recommend adding to your RV Tool Box:
Bic Lighters
Bungee Cords (assorted Sizes)
Duct Tape
Electrical Tape
Flashlight
Fuses (truck & camper)
Claw Hammer
Hatchet
Hitch Pins (extra pins to have when pulling a travel trailer)
Hose Washers
Level
Pliers: Linesman, Slip Joint, Groove Joint, Locking Pliers (vice grip) Long Nose
Pocket Knife
Scissors/Shears
Screw Drivers (assorted sizes)
Tape Measure
Tire Pressure Gauge
Utility Knife
WD 40
Wire Cutters
Wire Nuts (assorted sizes)
Work Gloves
Zip Ties
If you have these tools in your RV Tool Chest, you'll be able to fix many common problems while camping.
Download The RV Tool Kit Checklist pdf
Recommended RV Tool Box List
Here is the Handy Tools List I talked about above. These tools make life a little easier if something breaks!
12 Volt Air Compressor
Allen (Adjustable) Wrenches
Cordless screwdriver
Battery jumper
Spare Cable Connector
Extension Cord
Flex Tape
Gorilla Glue
Head Lamp
Hitch Grip (travel trailers)
Hose Clamps (assorted sizes)
Small Ladder
Pex Clamping Tool
Rubber Mallet
RV Tire Jack
Shovel
Silicone Lubricant
Silicone Caulk (Squeeze Tube)
Socket wrench set
Thread Sealant
Tie Downs (assorted sizes)
Tire Air Compressor
Torque Wrench
Velcro
The list may seem long, but most items can be found in a basic tool kit!
And you'll be thankful to have these basic tool kit items when you breakdown on the highway or at the campground!
Download the FREE RV Tool Kit Checklist!
Real-Life Examples Why Having Tools In Your RV Is Important
This past summer, we pulled into the campground, backed into our parallel site (which, at this campground can be very stressful depending if there are trailers already parked on both sides of your assigned site!), and then hit the button to put down the jack.
Our Jayco travel trailer has an electric jack and when we hit the switch…nothing.
Silence.
No light, no humming sound, absolutely nothing.
Until we could figure out what was wrong, we would have to manually crank down the jack.
But, as it so happened, we decided to bring along the bicycles this trip and our Jack-it Bike Rack is attached to where we access the manual crank.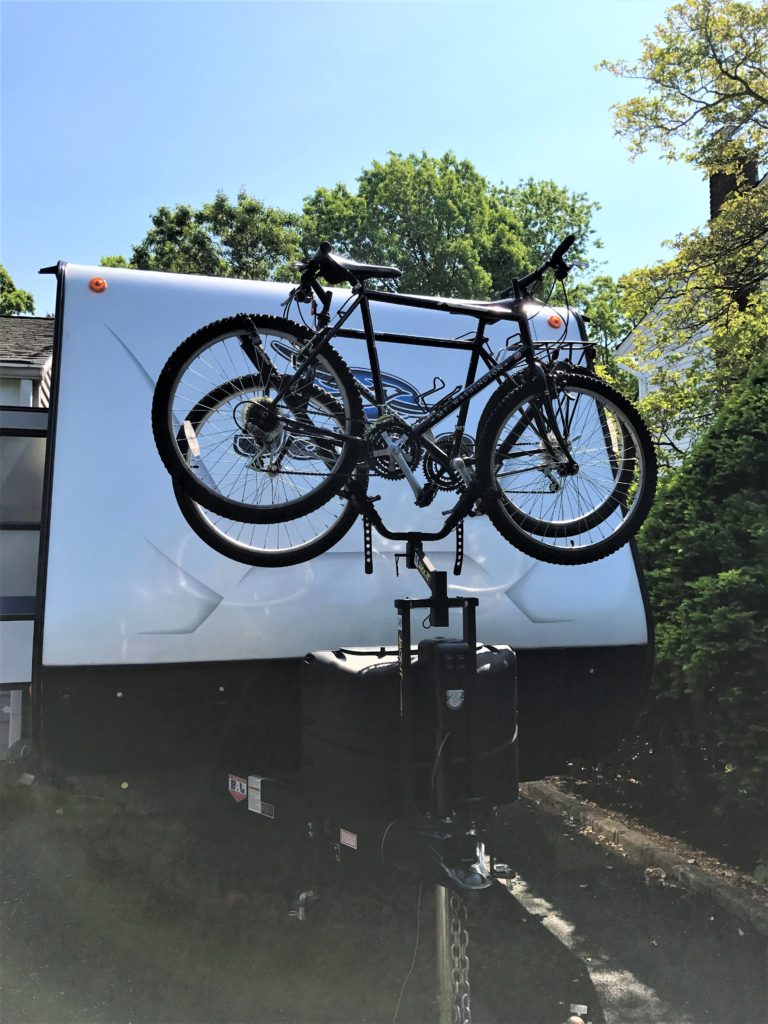 We had to take the bikes down to access the crank, and then crank down the jack.
Normally, we leave the bikes up on the rack until we're ready to take a ride.
It was a pain to say the least.
My husband got out his toolbox from the back of the truck and found a spare fuse connector that would replace the factory-installed holder that had deteriorated.
He then put everything back together with wire nuts and electrical tape.
Good thing we had our RV Tool Box!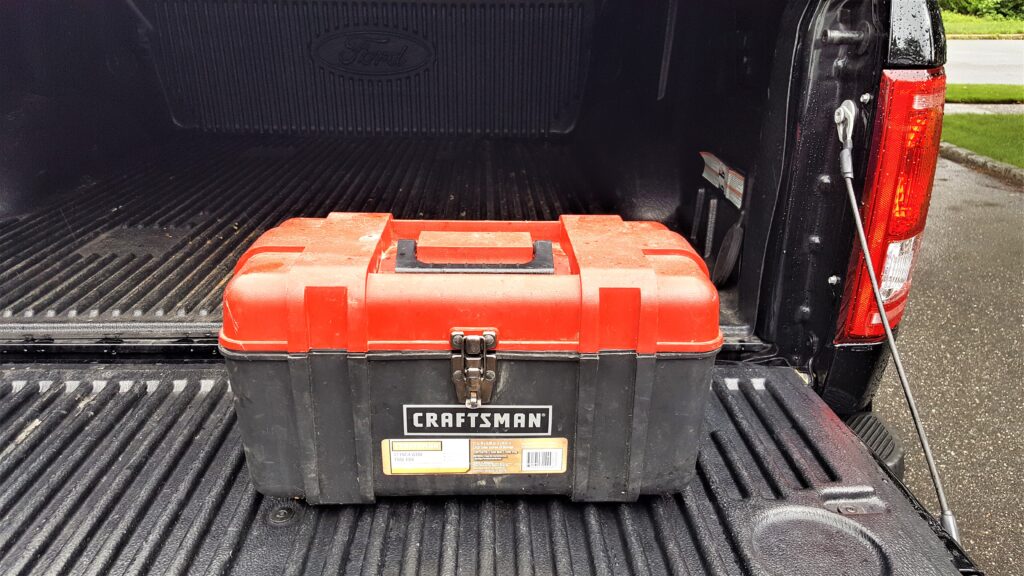 We've also had the trailer brakes go out.
We were on our way to a campground about seven hours away when the trailer brake sensor light kept telling us we had no trailer brakes.
We weren't sure if the sensor was just going off or if we really didn't have brakes!
Since we were close to the campground, we decided to get to the campground and then check it out.
After getting set up, my husband crawled under the trailer and began troubleshooting to try to find the loose connection.
It turned out to be a bad brake connector.
My husband cut the old connectors off and made new connections using the wire nuts in the tool box.
You just never know what you may need to repair out on the road!
Suggested Items To Have In Your RV
There are a few more items I want to mention that are nice to have as you get further along on your RV travels.
Tire Pressure Monitoring System – Have peace of mind while on the road that you have proper tire pressure on your motorhome or travel trailer at all times. The system sends visual and audio warning alarms immediately when tire pressure or temperature falls outside the preset safety parameters.
Garmin RV 785 Why worry about bridge height restrictions and ending up on the wrong highway? This Garmin GPS takes into account the size and weight of your RV then finds the best route for your RV.
Back Up Camera The Furrion Wireless Backup Camera System has wide viewing angles, night vision, and rear assist marker lines to help you see what's behind your RV.
The Best RV Tools You'll Need
In conclusion, you should have at least some basic tools in your RV so that you can fix common things that can happen on the road.
I hope you will use this RV Tool Kit Checklist to start collecting tools for your own tool chest!
You May Also Enjoy: