Last Updated on June 26, 2021 by Lori
How do you choose the Best Truck Bed Cover that works best when RVing? You want to make sure the truck bed cover will be easy to use for getting those RV camping items in and out of the truck!
We chose the Truxedo Truck Bed Cover which has been one of the best purchases since we started RVing. Here's my review of the TruXport truck bed cover and why we are happy with this purchase.
Buying The Best Truck Bed Cover
After purchasing our new JAYCO Travel Trailer, the next item of business was finding a durable and easy-to-use truck bed cover.
We pull our JAYCO 23 RL with a Ford F-150 super crew cab. Since we travel with our Golden Retriever Buddy, and from time to time the kids go camping with us, we need the second-row space for Buddy's crate and the kids.
This means our truck bed is shorter – an important thing to know when choosing your truck bed cover.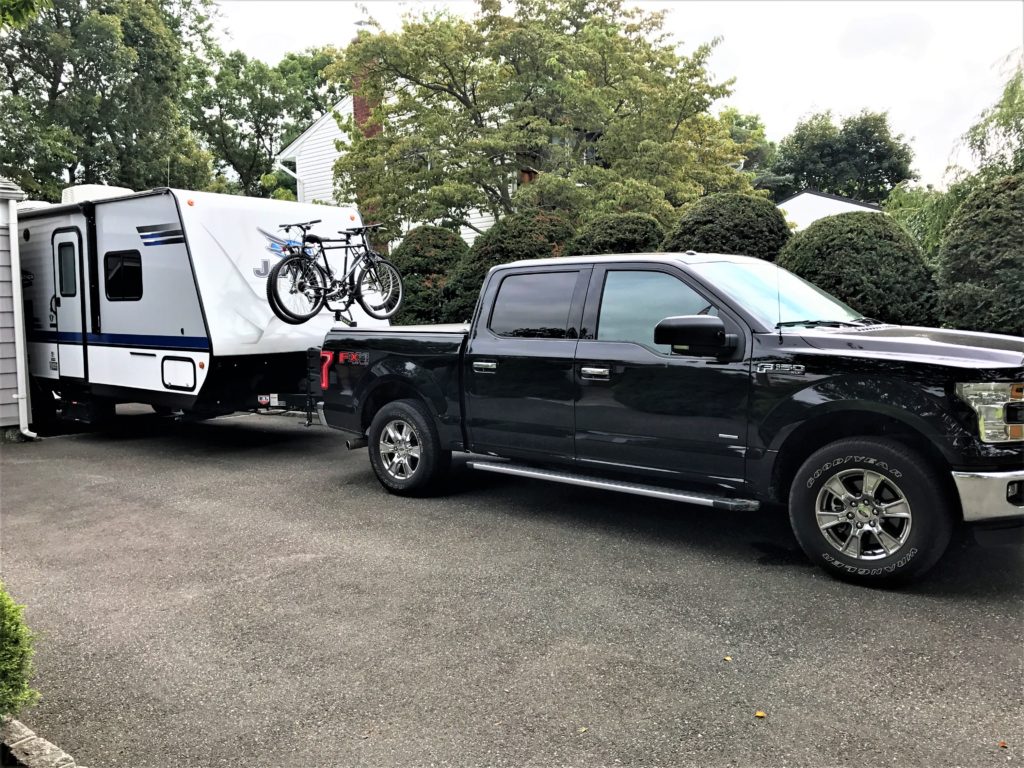 We weren't really sure which brand of truck cover was considered top-rated, was the most durable, or even how much truck bed covers cost.
We started looking at trucks as they passed by us to see which brands of truck covers we saw most often. SO… if you saw two people staring at your truck as you were driving down the highway– that was probably us!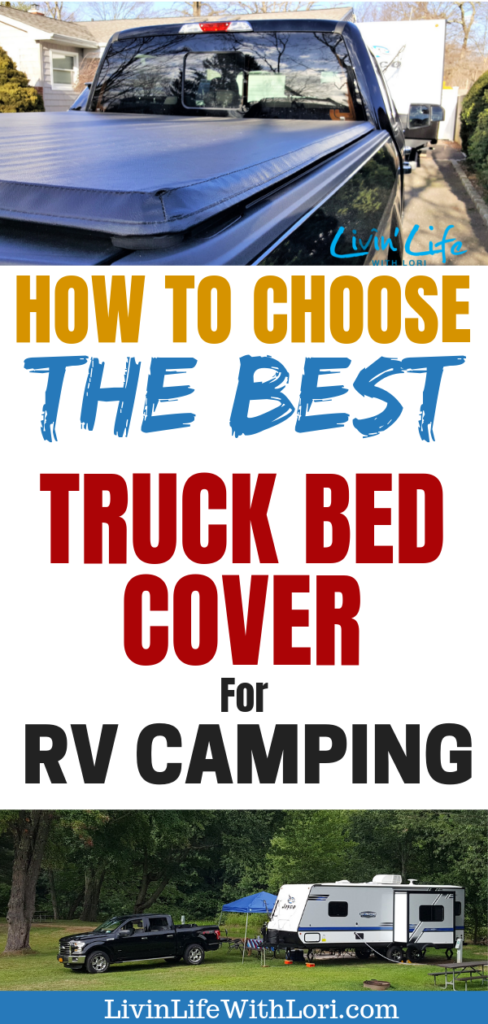 This article may contain affiliate links which means if you click on a link and make a purchase, I will earn a small commission at no additional cost to you. Please see our Disclosure Policy for more details.
Another thing we noticed is that some covers sat really high up on the rails, some were just slightly above the rails and others were tight against the rails of the truck.
In the meantime, we checked with my dad – and for those of you who regularly follow me, you know that my parents have been RVing for over 30 years.
He pulls a 5th wheeler with a Ford F250 and has the TruXedo Truck Bed Cover which is the brand we had been noticing on a lot of the trucks. He's had his cover for a few years and has been really happy with it.
You May Be Interested in reading The BEST RV Departure Checklist For New RVers
ALSO –
Download Your FREE RV Departure Checklist & Bonus RV Trip Planner!

Types of RV Truck Bed Covers
There are several different models of the TruXedo Truck Bed Cover to choose from:
Soft roll-up
Hard roll up
Lo profile
Inside mount
Top mount
We decided to get the soft roll-up because my husband uses the truck to carry plywood, sheetrock, and other materials and he wanted to be able to roll it out of the way.
We had to choose which mount we preferred…my dad's mounts on the inside of the truck bed and sits flush to the rails.
A Review Of The Truxedo TruXport Truck Bed Cover
We decided to get the TruXport which mounts on top of the truck bed rails.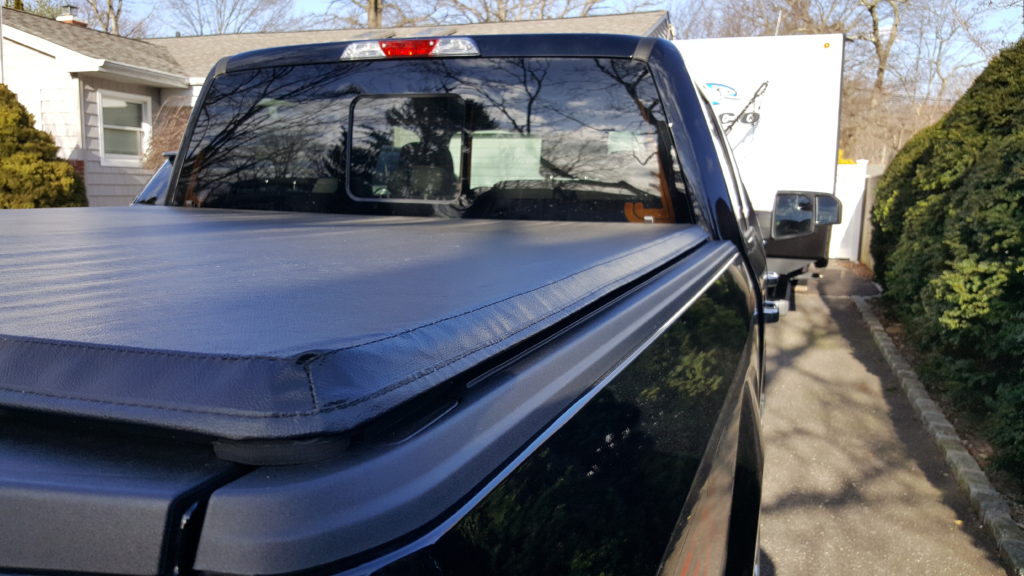 The instructions said it was "Easy To Install" – like 20-30 minutes. Well, after it arrived, I went inside the house a minute and came back out to see if my husband had gotten it out of the box yet and it was already on the truck!
Yep, it was that easy! OK, maybe it wasn't that quick but it was pretty simple!
Related Reading: You might be interested in learning the EXACT way we pack the back of the truck! Here's how to Easily Organize Your RV Camping Items in the Back Of The Truck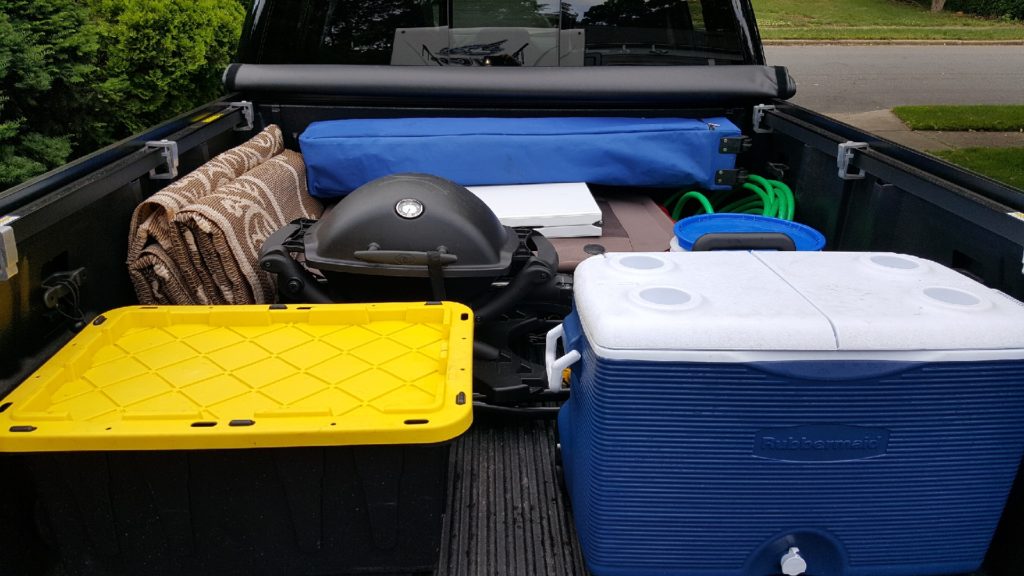 Pro TIP – Remember that the First Things Loaded will be the LAST things out of the truck! So you have to think about what to load first into the truck!
Here's how easy it is to open the Truxedo TruXportTruck Bed Cover
This style also has a dual-side latching system which means the latches are easy to access from both sides of the truck.
The cover cannot be opened, however, without opening the tailgate.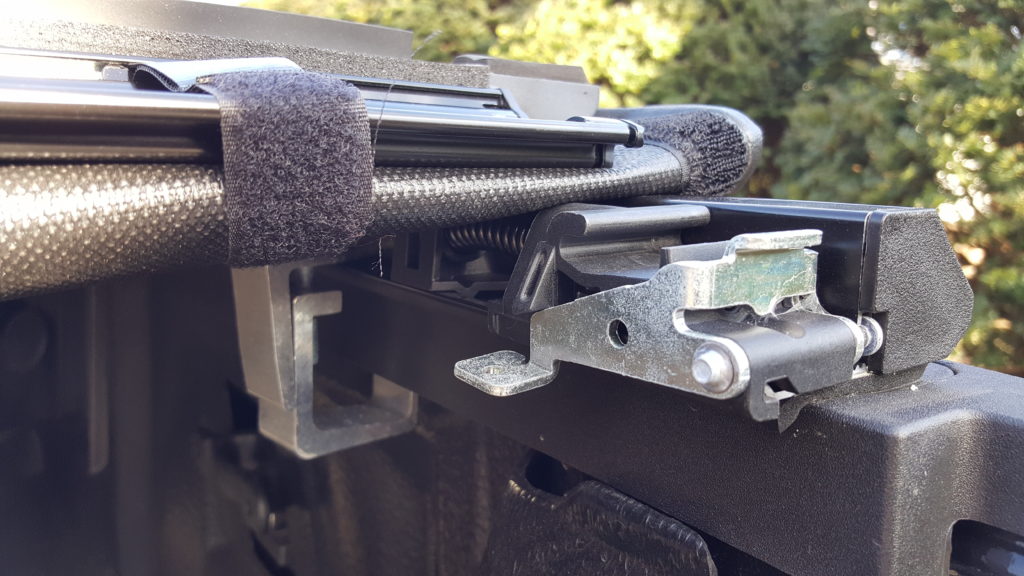 We've had the TruXport cover for over four years now and I can tell you the bed of the truck stays dry in all types of weather.
We live on Long Island, New York, and have had a very long winter this year. We've had heavy rain, sleet, snow…you name it and the truck bed stays dry.
When you're ready to close it up – it's also very easy to secure it.
If you're thinking about which truck bed cover to purchase, I recommend looking into the TruXedo brand of covers.
Just make sure you know the size of your truck bed to make sure you purchase the proper cover.
Let me know what truck bed cover you use and how you like it!
Related Reading: You might enjoy reading The BEST RV Kitchen and Pantry Must Haves for your RV!
I would LOVE for you to join my Email List!