Last Updated on September 21, 2021 by Lori
What are the best Must-Haves For Your RV Kitchen And Pantry? I don't know about you, but one of our favorite things to do when we go camping is EAT!
It's very important to not only carefully plan our meals for the number of days we will be away, but you want to pack the necessary RV pantry items so you can make your meals tasty too!
While everyone's "must-have" pantry items for their RV kitchen may be different (depending on your taste buds), remembering to pack them will make everyone in the family – Happy Campers!
Must-Haves For Your RV Kitchen and Pantry
One of the first things you may have noticed when you began looking at RVs is that most do not have a commercial-sized refrigerator!
I am surprised, however, just how much I can fit into my fridge with a little careful maneuvering!
One thing to remember is when you start your season:
All those condiments that could go in the cabinets on your way to the campground will have to fit into the refrigerator after you've opened and used them while camping!!
These might include your ketchup, mustard, BBQ sauce, salsa…etc. And, don't forget you have to get your leftovers in the fridge too!
That is unless you have a teenager like my 6'5 son who loves to eat!
Then I know there won't be any leftovers!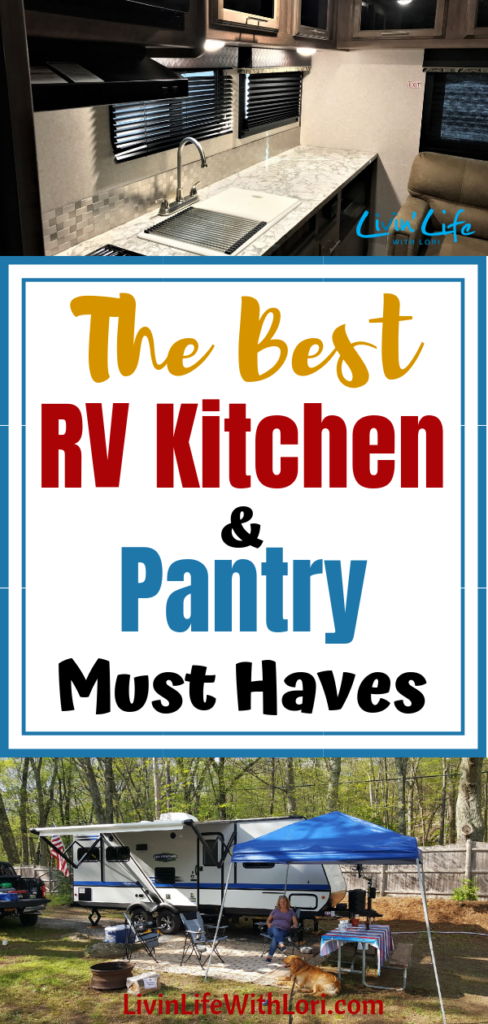 This post may contain affiliate links for your convenience which means if you click on a link, I will earn a small commission at no additional cost to you. Please read my Disclosure Policy for more information.
How To Organize Your RV Pantry Kitchen Items
After we had been camping a few times in our Jayco travel trailer, I realized I needed to be much more organized in the kitchen.
I do realize how lucky I am that I have a lot of storage for a 23 ft. travel trailer – and I absolutely LOVE all the counter space I have!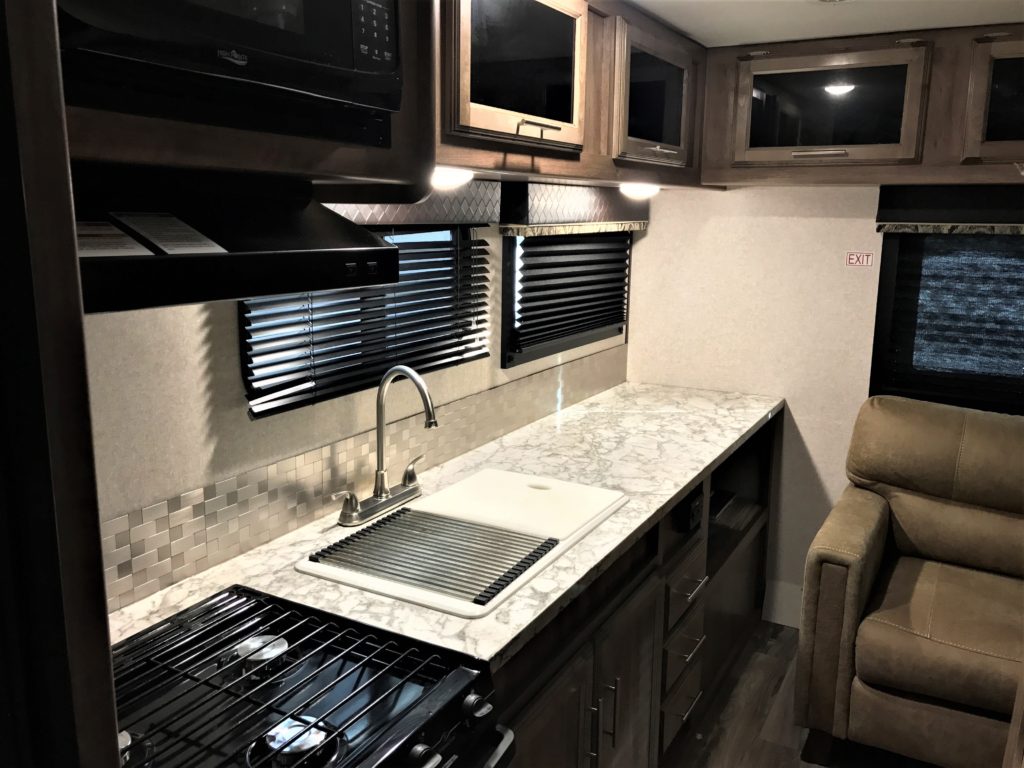 I found these nifty white dish tubs that are very handy to organize my canned goods, my spices, and my breakfast items.
I've used them for five seasons now and they work like a charm!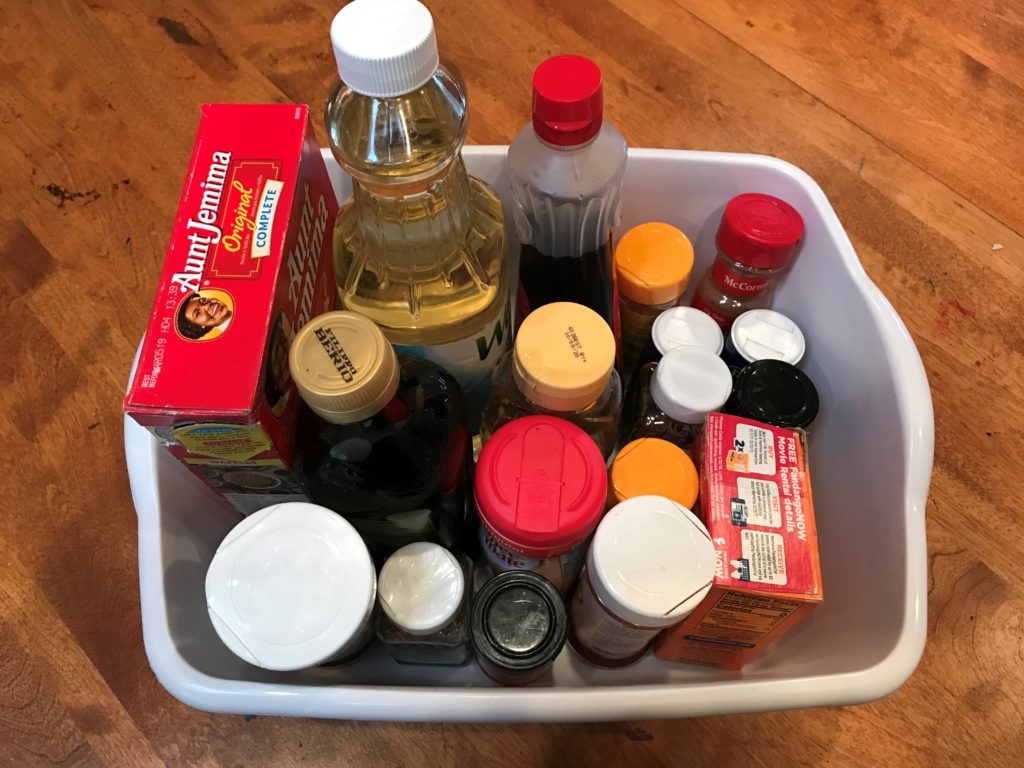 The bins fit right in the overhead cabinets so when we travel the tubs don't move around at all.
I also use one under the sink for my dish soap, sponges, Windex, and other cleaning supplies.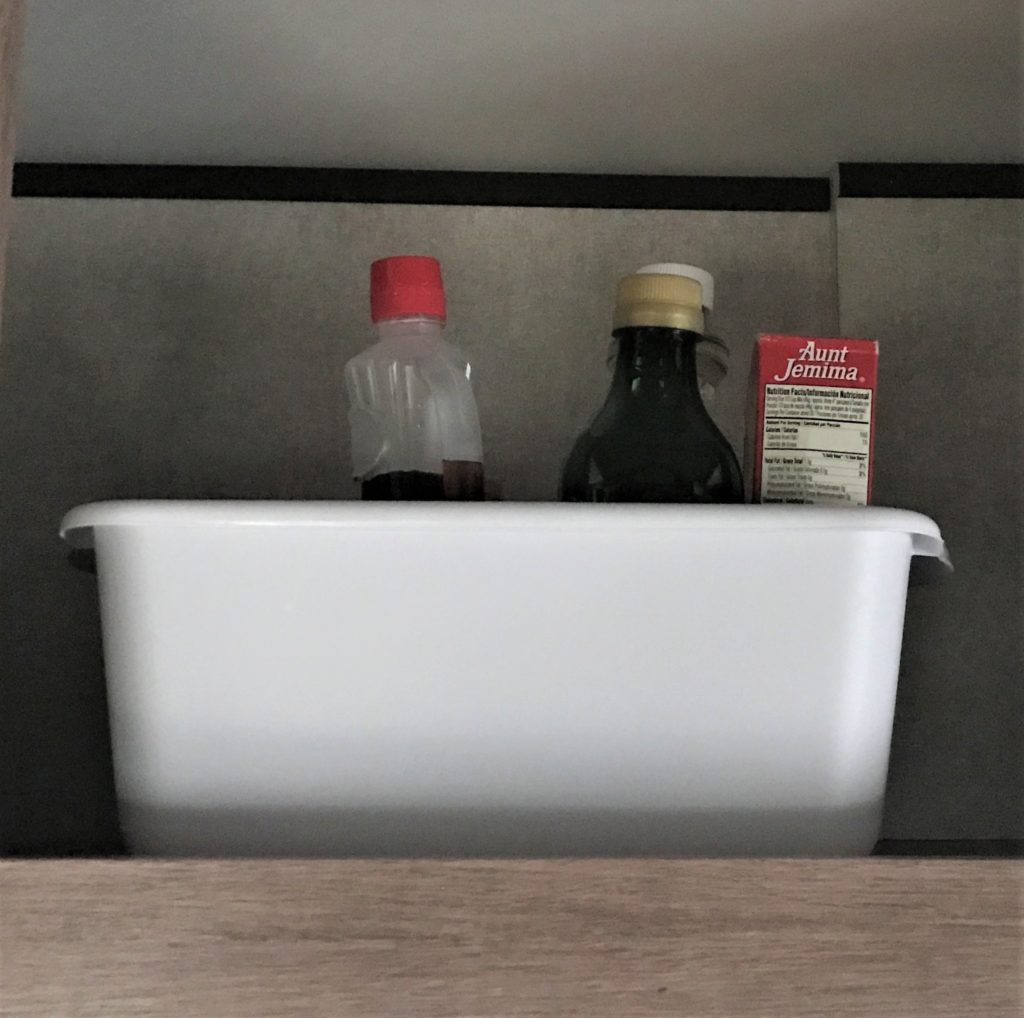 If you're RVing for an extended period of time, you don't want to have to pull out the tub every time to find what you need.
This type of spice rack which fits on your cabinet doors is perfect for your plastic jars of spices.
My mom uses these refrigerator bars in her 5th wheel trailer.
The bars help things from moving around in the refrigerator as you travel.
RV HACK – Clean out your peanut butter jars to put dry ingredients like sugar and flour in while camping. This will keep them closed tight from any little critters who may find their way in!
I found this plastic storage container to keep my silverware together in the large drawer under the refrigerator.
This drawer is also great for BBQ tongs, spatula, and large knives.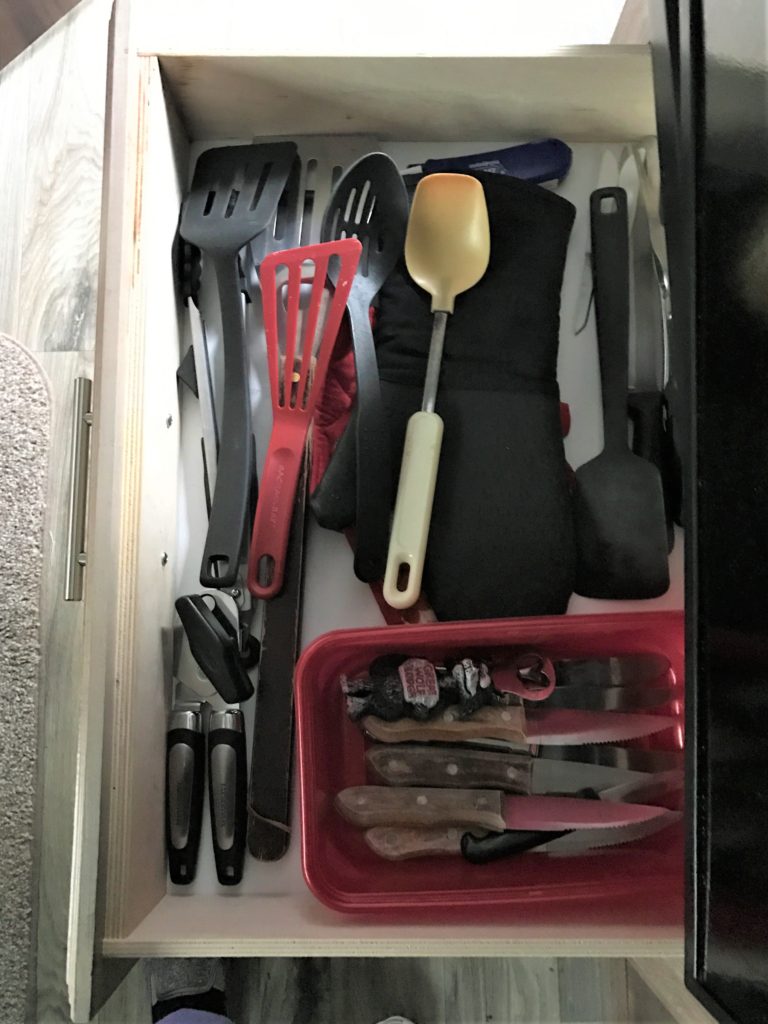 RV Kitchen and Pantry Must-Have List
Remember, my list of the Top Kitchen and Pantry items may be different than yours!
But – I have found that I always seem to bring the same items each trip so this is a good starter list for you to build from!
Spices
Salt

Pepper

Paprika

Montreal Steak

Mrs. Dash's Lemon Pepper

Italian Seasonings

Parsley Flakes

Garlic Salt

Onion Salt

Red Pepper Flakes
RV Kitchen Staples
Salt

Pepper

Flour

Sugar

Sweet N Low (or other sugar substitutes you might use)

CoffeeMate (powder) After living through 10+ days of no electricity from Hurricane Sandy – I never leave home without this!

Baking Soda (many uses other than cooking – such as bug bites, bee stings, upset stomach)

Peanut Butter/Jelly

Tea

Honey

Sandwich Bread

English Muffins

Hot Dog/Hamburger Buns

Canned Soup

Canned Tuna

Baked Beans

Canned Chicken

Pasta (if we have a big crowd coming)

White Rice (mostly in case the dog gets a tummy ache)

Pancake Mix (we use the mix that you only have to add water)

Pancake Syrup

Aluminum Foil

Ziplock Bags – Assorted Sizes

Cling-Free Plastic wrap

Zip Lock Storage containers – Assorted Sizes (for leftovers)
Cooking Oils
Olive Oil (plastic container)

Wesson/Crisco oil
Condiments
Butter/Margarine

Tomatoes

Onions

Pickles

Ketchup

Mustard

BBQ Sauce

Mayo
RV Kitchen Dishes/Silverware/glasses/mugs
Some RVers like to eat their meals on these-type of dishes.
The one thing I MUST have though is my stoneware Mug for coffee!
Glasses

Mugs

Wine glasses
Kitchen Cookware
I love my cast iron skillet. Although you can't wash it as you do other cookware, it is definitely worth cooking with it.I also use these cooking tins to use at the grill.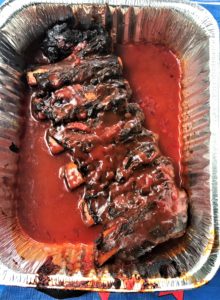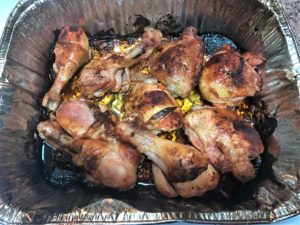 Related Reading: 6 Quick and Easy Meals To Make When You Are RV Camping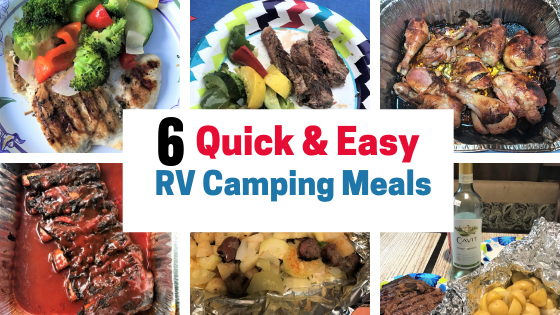 We don't cook very often in our RV Kitchen, but there are those times when we don't feel like cooking outside or when it's raining outside we find ourselves cooking indoors.
For indoor cooking, I use this cookware in our travel trailer.
The set I have comes with three (3) different-sized skillets which are perfect for my indoor gas stove. I also bring along one (1) larger pot to cook spaghetti.
If space is a real concern, you can consider these nesting pots made specifically with RVs in mind!
The Best RV Kitchen Accessories
Don't forget:
Baking Pan

Cookie Sheet

Colander

Toaster – Our toaster can toast bagels too!
Cooking Utensils:
BBQ Spatula/indoor spatulas

Tongs

Slotted Spoon

Stirring Spoon

Ladle

Wooden spoon

Whisk

Large cutting knife

Paring knife

Steak knives

Grater/peeler

Corkscrew

Can Opener

Measuring Cups

Measuring Spoons

Hot plates

Hot pads

Old Cookie Trays – To carry items from the trailer to the picnic table and BBQ Grill
Refrigerator Staples
Milk

OJ

Cranberry Juice (or your favorite!)

Yogurt

Fresh Fruit

Bacon

Hashbrowns – Freezer (I buy the frozen hash browns which works great on the Blackstone Griddle)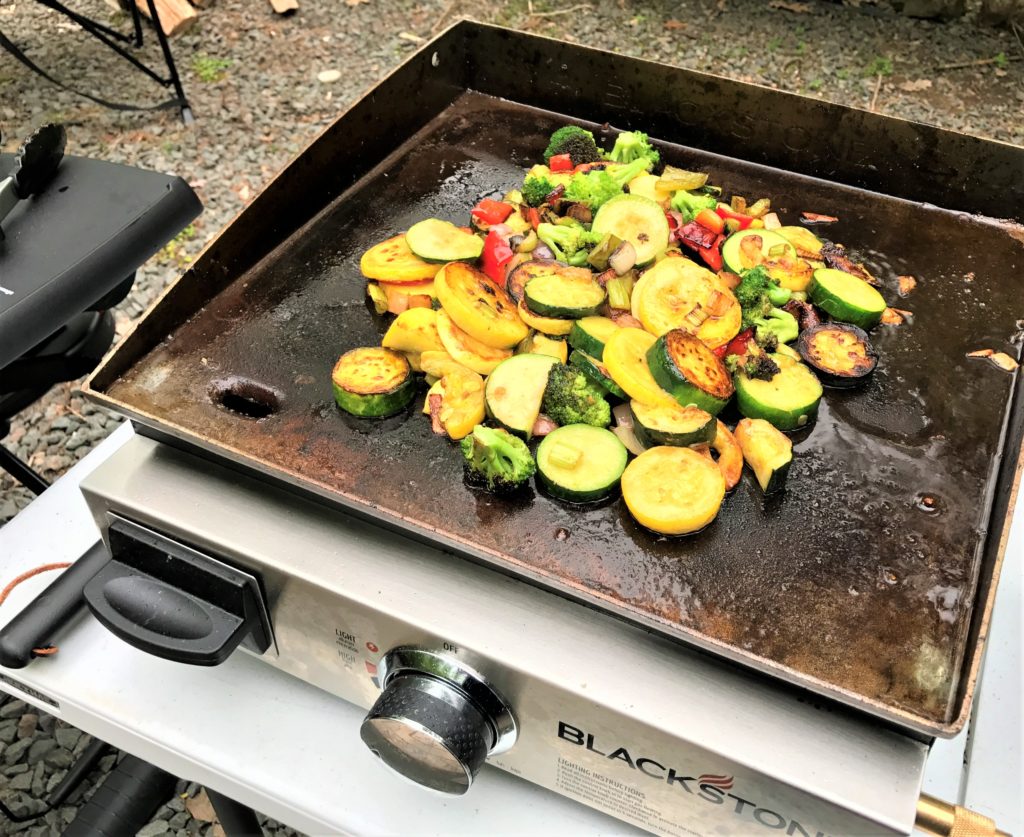 Related Reading: If you've been thinking about getting a new grill- Here's my review of the Blackstone Griddle
Vegetables (I buy the pre-sliced zucchini, yellow squash, and peppers)

Deli Meat (for sandwiches on the road or when we arrive at the campground)

Water & Other drinks
Must-Have Items For the Andrews Family
Chips

Salsa

Tomatoes

Onions

Corn on the Cob

Coffee/Filters – This is how I set up the "Coffee Bar" in the morning so that we don't have to keep going inside the trailer!
Looking for ideas on what to cook at the campground?
Get over 70+ camping meal ideas, weekly meal planning & daily prep planner, favorite camping meals, calendars & more!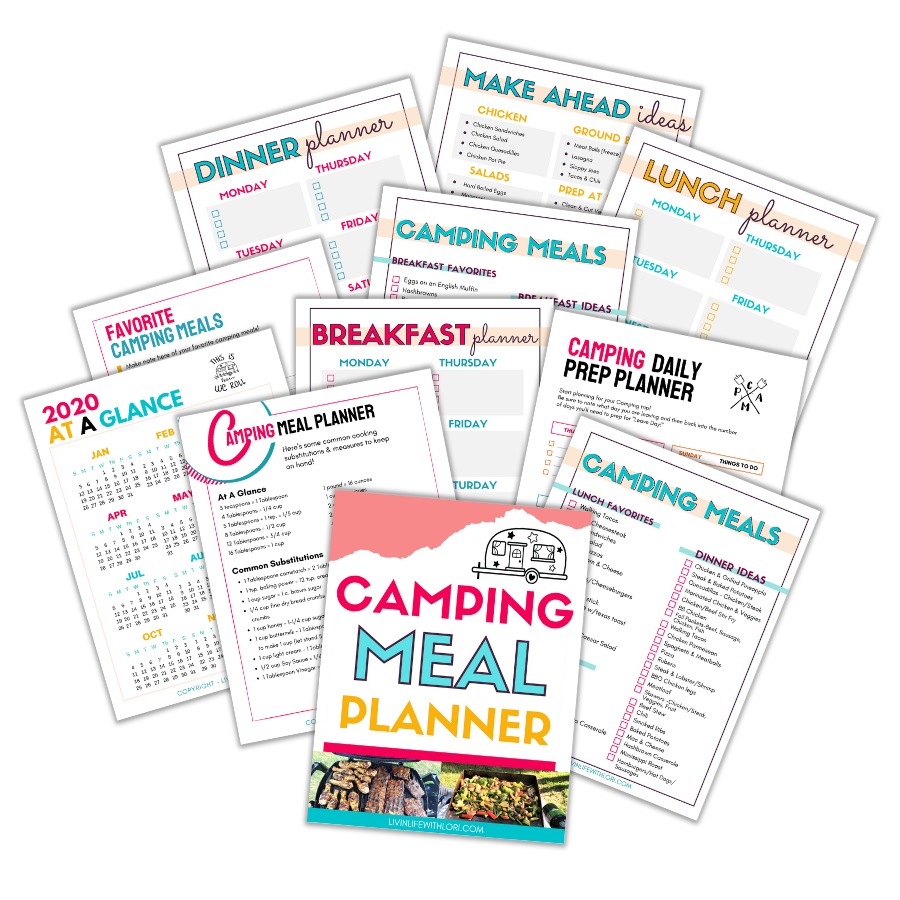 Learn More About The
I like this thermal coffee pot because I can just take the carafe outside and leave the coffee maker inside and the coffee stays nice and hot.
If we have a lot of family with us, I just brew another pot outside!
BTW – We take our coffee milk – no sugar so that's why you don't see any sugar on the table!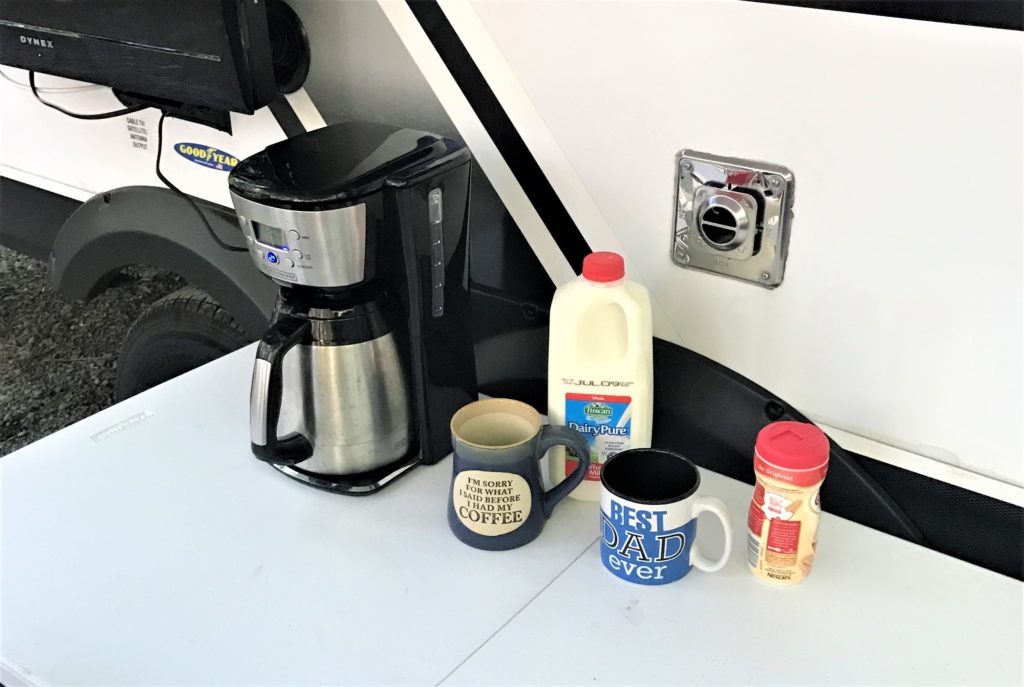 Cookies

Twizzlers (Road Trip Must-Have)

S'mores Fixings – Marshmallows, Graham Crackers, chocolate bars

Open Fire Popcorn Maker Kit – This is one of our favorite camping gifts we received from our daughter!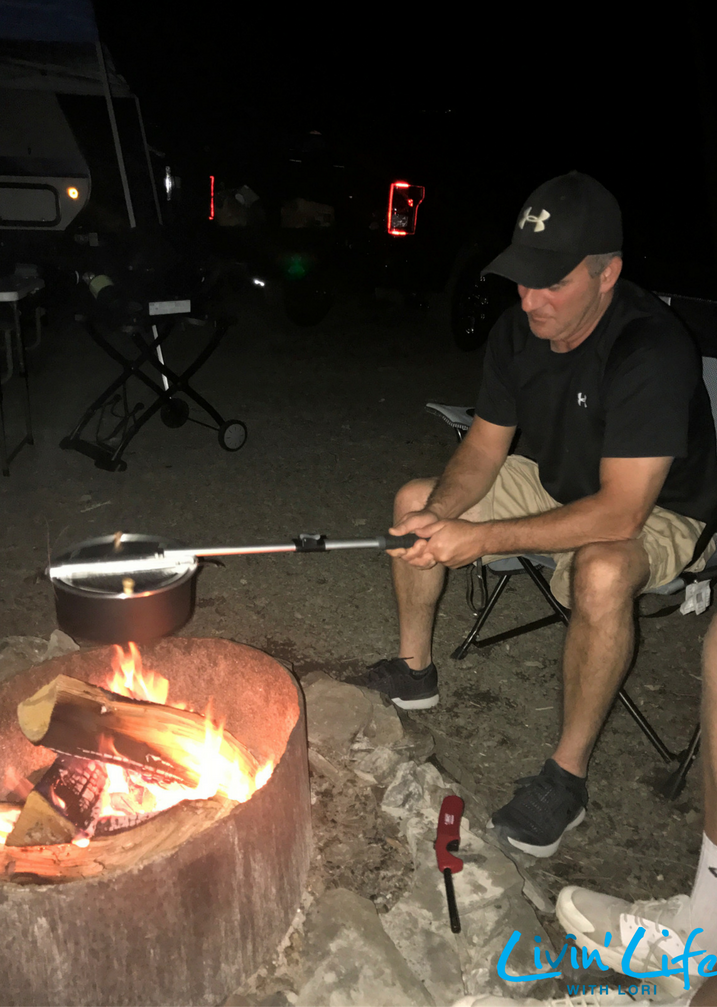 This kit comes with the popcorn maker, popcorn, popcorn holders and flavored salt!
You might like to read our 5 Favorite Must-Haves To Take RV Camping
RV Kitchen Must-Haves
Paper Goods
Paper Plates (if you use them)

Paper Bowls

Plastic Utensils (good to have on hand)

Coffee Travel Mugs w/ lids

Napkins

Paper towels

Trash Bags

Grocery Plastic Bags
RV Kitchen Miscellaneous Items
Dish Towels

Drying rack – My Jayco came with one!

Sponge

Dish Soap

Cleaning supplies
I hope this gives you a great "RV Kitchen & Pantry Starter" list for your first RV trip!
Let me know what are some of your RV Kitchen & Pantry Must-Haves that you can't go camping without!
More RV Camping Articles You Will Love
* The Best RV Departure Checklist For New RVers
* 5 Things Every New RVer Must Learn How To Do
* 10 RV Essentials New RVers Need Before Their First Camping Trip
* How To Easily Plan A Stress-Free RV Camping Trip
* 15 Tips And Must-Haves For New RV Owners
* 7 Items To Check Before Heading To Your RV Campground
* 5 Favorite Must-Haves To Take RV Camping
* 10 Ultimate RV Wish List Items For Your Favorite RVer
* RV Travel With Your Dog-What You Need To Know
I would love for you to join my email list!
Get Your RV Kitchen & Pantry Must-Have Checklist
PLUS
ALL Your RV Camping Checklists HERE!
Learn More About the BEST RV Camping Checklist Bundle!
Share This For Later!