Last Updated on March 18, 2022 by Lori
Do you love to play games? We especially love games to play while camping! But what are fun camping games that the whole family will love to play at the campground?
Here are the best top-rated outdoor lawn games that both kids and adults will love to play at the campground!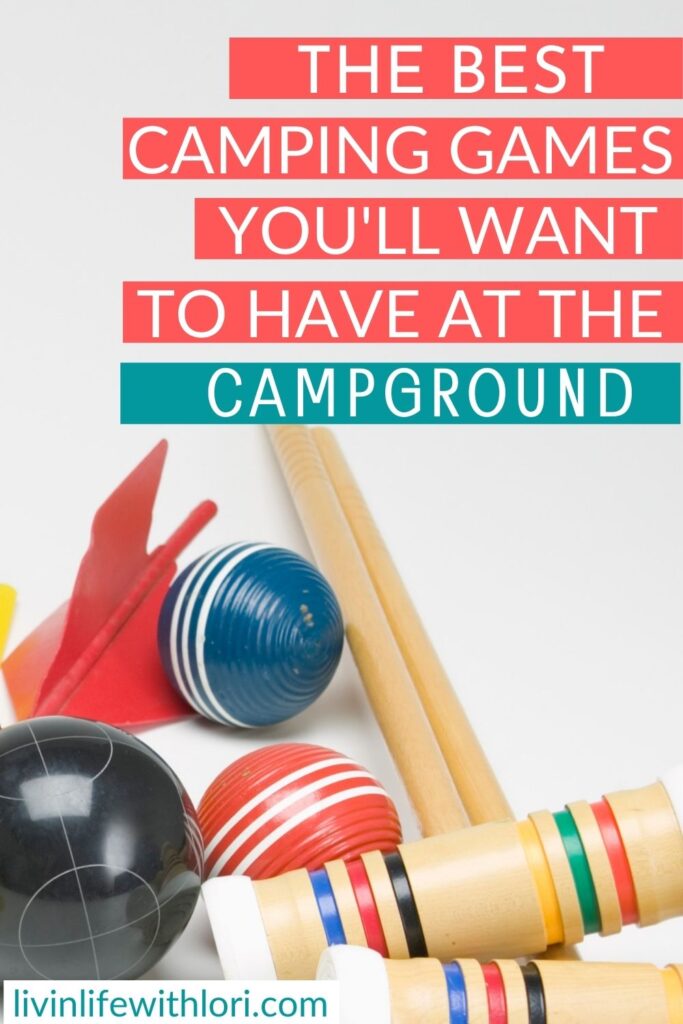 This post contains affiliate links which means if you click on a link and make a purchase, I will earn a commission at no additional cost to you. Please see our Disclosure Policy for more information.
FUN GAMES FOR CAMPING TRIPS
The last thing you want to hear is someone saying they're bored while camping.
Yes, there will be times when the kids become tired of the pool, they don't want to go for a walk or hike and they plop down in their camping chair and say, "I'm BORED!"
So, what are the best games to play while camping to keep this from happening?
These are the best camping games our family loves and that we have seen many times being played at the campground.
These games to play while camping are lightweight and many come with carrying cases for easy storage!
LADDER TOSS
We see this ladder toss game being played all the time at the campground! This set is lightweight, easy to put together and comes with a carrying case making it easier to carry to the campground!
KAN JAM
Kan Jam is one of my family's favorites! Great to play outdoors and especially at the campground!
Set includes two portable, weatherproof goals, an official Kan Jam disc (color may vary), and play instructions.
GIANT JENJA OUTDOOR GAME
The Giant Wooden Toppling Tower makes the perfect outdoor Giant Jenga game! The blocks stack to 5 ft. and comes with a premium carrying case.
GIANT DICE SET
Anyone for Outdoor Yahtzee or Farkle?
GIANT SIZE: Each die measures: 3. 5″ x 3. 5″ x 3. 5″
ROLLZEE AND FARKLE BOARD INCLUDED: Double Sided Dry-Erase Scoreboard with Pen for Endless Fun!
PREMIUM CONSTRUCTION: Includes 6 hand sanded wooden dice with canvas carrying case
USE WITH ANY DICE GAME: Giant size fun for countless dice games
INDOOR OR OUTDOOR USE: Numbers are burned into the wood so they will never rub off
DISC GOLF SET
This Disc Golf Set is super fun for the whole family! Perfect for camping, family picnics, and outdoor get togethers.
This entire set includes a Disc Golf Basket and three Golf Discs.
CORN HOLE GAME
Everyone LOVES a cornhole tournament – Especially at the campground!
This Cornhole Set includes 8 Bean Bags and a Travel Case. The boards are 3 feet by 2 feet foldable board making them perfect for travel!
CAMPING GIFT IDEAS
These make great RV Camping gift ideas too! If you know people who love to camp – love to play games while camping too!
BUCKET BALL
This Bucket Ball Beach Addition includes 12 Ultra-Durable Buckets (6 Blue & 6 Orange), 2 Hybrid Balls, Tote Bag & Instructions.
It's lightweight and convenient to pack away in the tote bag taking up less than 1 cubic feet of space.
Great for the beach, pool, yard, camping and tailgating!
JUMBO 4-to-SCORE GIANT GAME SET
Remember the classic 4-in-a-row game? This is the oversized version of this fun classic game families love!
Jumbo 4-to-Score Game Set is a great party game for kids, adults, and families attending birthday parties, BBQs, camping, lake or beach days!
SPIKEBALL GAME
Spikeball is a fun, active, and competitive (if you want it to be) 2 on 2 outdoor indoor sports games played on college campuses, tailgates, the lawn, yard, backyard, beach or gym with rules kind of like volleyball.
There you have it! The Top-Rated Outdoor Games that the entire family will love to play!
These outdoor games will definitely keep everyone from being bored while camping!
PLUS — These are Perfect gift ideas for families who love to camp!
More Camping Posts You Will Love