Last Updated on April 7, 2022 by Lori
Dutch oven recipes are some of the easiest and most flavorful recipes to cook! Who knew that cooking in a Dutch oven was such a simple process? Not only can you cook all types of food in your Dutch oven, but you can quickly cook them to perfection as well.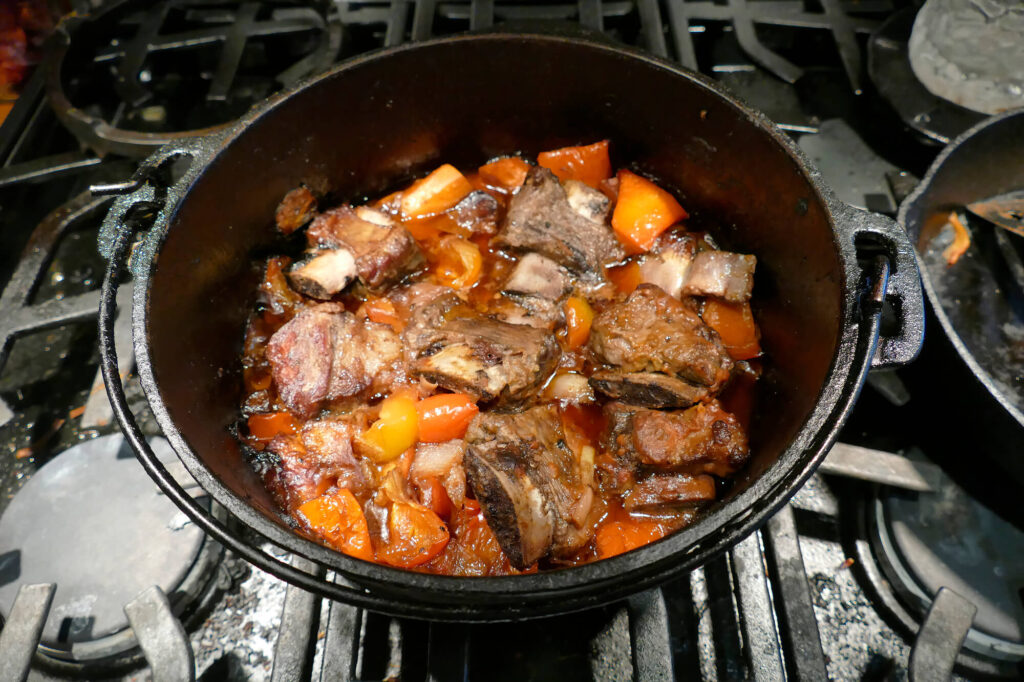 This post contains affiliate links which means if you click on a link and make a purchase, I will earn a commission at no additional cost to you. Please see our Disclosure Policy for more information.
Dutch oven cooking is great for cooking meals on the stove or over the campfire during a camping trip. The way that the Dutch oven is constructed is perfect for holding in the heat and creating an even flow to cook quickly.
If you're ready for some easy Dutch oven recipes, you will love this list of recipes for camping or easy weeknight dinner right at home.
What Should You Not Cook In A Dutch Oven?
While there are many things that you can cook in your Dutch oven, cooking citrus foods of any type is not recommended. Sticky foods are also a no-go, and delicate meats like fish are often not recommended.
What Are Dutch Ovens Best For?
There are a lot of delicious dinner recipes that you can make in your Dutch oven. Many people find that making meats and stews are the best foods to cook in your Dutch oven.
However, believe it or not, bread cooks pretty well, too! The more you cook with your Dutch oven, the more comfortable you will become using it.
Do I Need To Season My Enameled Dutch Oven?
You actually don't need to season your enameled Dutch oven! This is one reason why so many people love using it.
Can you use a Dutch oven as a slow cooker?
Yes. The Dutch oven and slow cooker are slower ways of cooking and can be used to make many recipes. Keep in mind, however, that you may need to adjust the cooking times.
Best Dutch Oven Recipes
Here are some tasty Dutch Oven Recipes you will love to make and your family will love to eat!
When it comes to hearty and delicious comfort food, you won't find anything more delicious than this Dutch oven meal of Beef Bolognese! The sauce will especially have you wanting more.
The combination of sweet potato and pumpkin creates the perfect creamy texture. One bowl just isn't going to be enough of this delicious Dutch oven soup.
Kids and adults at heart won't be able to stop eating this delicious loaded Dutch oven macaroni and cheese recipe. After tasting how delicious this macaroni and cheese is, you won't want to make it any other way!
Talk about the perfect Sunday dinner! This simple oven-braised beef recipe will taste like it was a lot harder to make than it really was.
Did you know that you can easily make some delicious blueberry bread in your Dutch oven? Save your bread maker for another recipe – you won't need it for this tasty Dutch oven bread recipe.
Guinness Beer Braised Short Ribs
Grab the beer and start to put together this crazy good short ribs recipe! This Dutch oven recipe is full of amazing flavor you will love.
Have you ever made your own venison stew? Cooking all the ingredients together in your Dutch oven will have you loving this easy stew recipe. Perfect for cold nights or just when you're looking for a bowl full of goodness.
One of our favorite camping recipes is chili! Using your Dutch oven to cook chili is might be one of the most popular ways to cook chili ever!
Do you want to cut down on some of the fat content in chili? Adding turkey meat instead of beef or pork is a super simple way to make that happen. Even the kids will love this simple chili recipe. And don't forget the toppings!
Minimal prep work is required to make this lovely and soft Dutch oven no-knead artisan bread recipe. You're going to love the outer crisp crust and the chewy middle. Pair with butter, jam, or nothing at all.
Talk about an amazing recipe to cook up in the Dutch oven! This Dutch oven recipe can be made as spicy as you want! If you want to add spicy sausage – do so!
Check out these delicious Camping Desserts!
Cooking chicken breast in the Dutch oven is a great way to meal prep for the week. Since chicken is used in so many different recipes, you can easily cook the chicken, and then store it in the fridge to use later. The options for cooked chicken are endless!
Pulled pork is always a great recipe to make! This recipe is a simple and fun way to prepare a great lunch or dinner. Just pair with a bun for a pulled port sandwich or add some sides like beans and coleslaw.
Check out how easy it is to cook up this chicken recipe! Once you make it, you will want to make it again and again!
Get the bowls ready and pour big servings! Everyone is a fan of goulash (or as we call it – beef stew), and this recipe will show you why!
Your mouth will love how juicy and tender this roast is! Cooking the beef in the Dutch oven is an awesome way to make every bite perfectly tender.
Don't order a pizza delivery – use your Dutch oven to make pizza at home or at the campground! The flavors are so strong and delicious and will have you LOVING every bite!
This recipe just might be one of the best ways to make gnocchi soup. Scoop some in your bowl and get ready for this tasty Dutch oven soup!
Are you looking for a unique and delicious recipe! Start here and have a blast making this delicious Dutch oven pasta dish!
You can never have enough bread recipes! This would be great to pair with a soup, a salad, or to enjoy on its own.
As you can see, cooking in your Dutch oven is a great way to make hearty meals. The more meal ideas that you have, the better!
More Travel & Camping Posts You Will Enjoy
26 Delicious Camping Desserts You'll Love
How To Get Started RVing – RVing For Beginners