Last Updated on April 4, 2022 by Lori
RV camping would not be the same without the delicious taste of meals cooked on an RV grill. Whether you love cooking on a charcoal grill or a portable gas grill, there's nothing like sitting by the fire with the awesome smell from the food cooking on your camping grill.
Here are the best RV grills that you can use to fire up breakfast, lunch, or dinner at the campground.
Best Portable Grills For RV Camping
Many RV manufacturers have started including grills with the purchase of a new RV. Often, the grills are mounted on your RV and will swing out when it's time to fire up the grill.
However, you might feel that the placement of the grill is too close to your RV; or, you just want more space when you're cooking.
So, you begin to shop for the best camper grill.
This post contains affiliate links which means if you click on a link and make a purchase, I will earn a commission at no additional cost to you. Please see our Disclosure Policy for more information.
What Makes A Good Portable Camper Grill?
There are a few things you will need to decide before purchasing a grill for RVing.
How often will you use the grill?
What type of grilling do you want to do? Are you looking to cook on a charcoal grill or portable gas grill?
How many people will you need to cook for when camping?
How much room do you have either in your RV basement or the back of your vehicle to transport the grill?
How much do you want to spend on a grill?
How Often Will You Use The RV Grill?
Most RVers cook on their portable grill almost every day. And, if you're like us, we cook on either our gas grill or flat top grill for every meal while camping.
If the camper grill will be taken in and out of the RV a lot, you'll want to be sure to spend the money on a good grill.
The old adage "You get what you pay for" definitely applies to choosing a grill!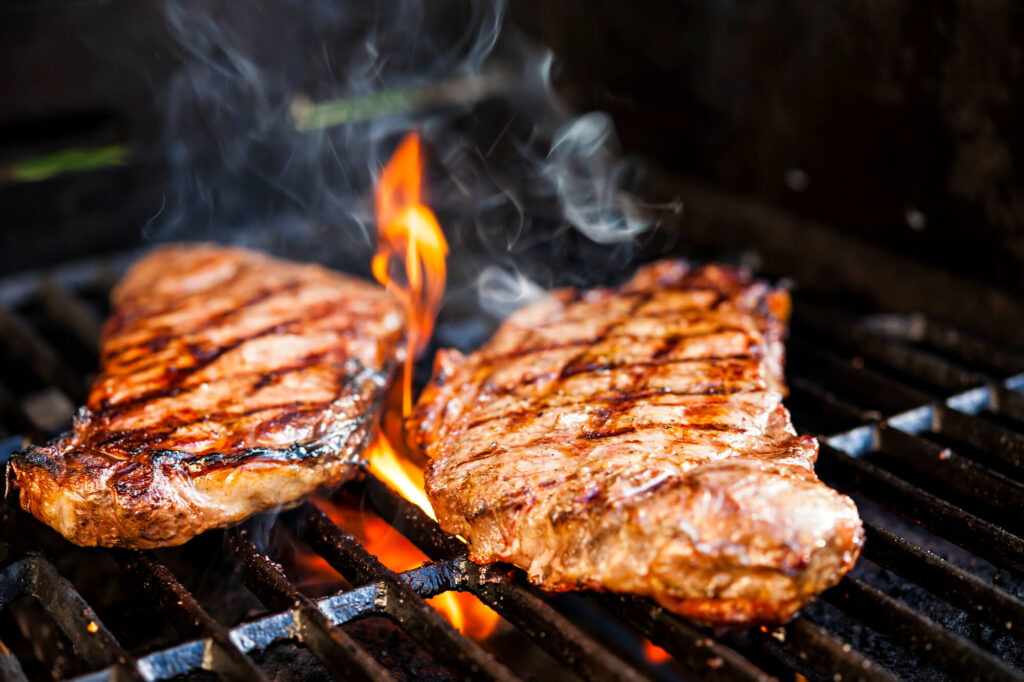 Are you looking to camp cook on a charcoal grill? Or a gas grill?
If you love the taste and smell of cooking on a charcoal grill, be sure to plan for how long it takes to get the coals "just right."
When you're out hiking or sightseeing for the day, sometimes it can be easier to come back to the campground, fire up the gas grill, throw a burger or hot dog on, and eat!
But, if you don't have anything planned for the day, the flavors from a charcoal grill can't be beaten!
How Many People Are you Cooking For?
Portable camping grills come with many different-sized surface areas. If on average, you need to cook for 4-6 people, you might want to consider a grill with a large surface area to grill.
If you're solo camping or there are just two of you, there are many small grills that are perfect to take camping.
How Much Room Do You Have For Storing Your Grill?
If you plan to store your RV grill in the basement of your RV, be sure that you have room along with everything else you're planning to take!
Same with storing it in the back of your vehicle.
Remember when packing your vehicle – First in, Last out.
You might like to read How to Organize Your RV Camping Items
How Much Do You Want To Spend On A Camping Grill?
RV grills for camping come in all shapes and sizes and can range in cost from $88 – $300+.
Use the questions above to get a feel for the type and size of RV grill you should look for to buy.
Best RV Gas Grills
One of the best propane grills that we purchased for RV camping (and we still use today) is our Weber Q Grill.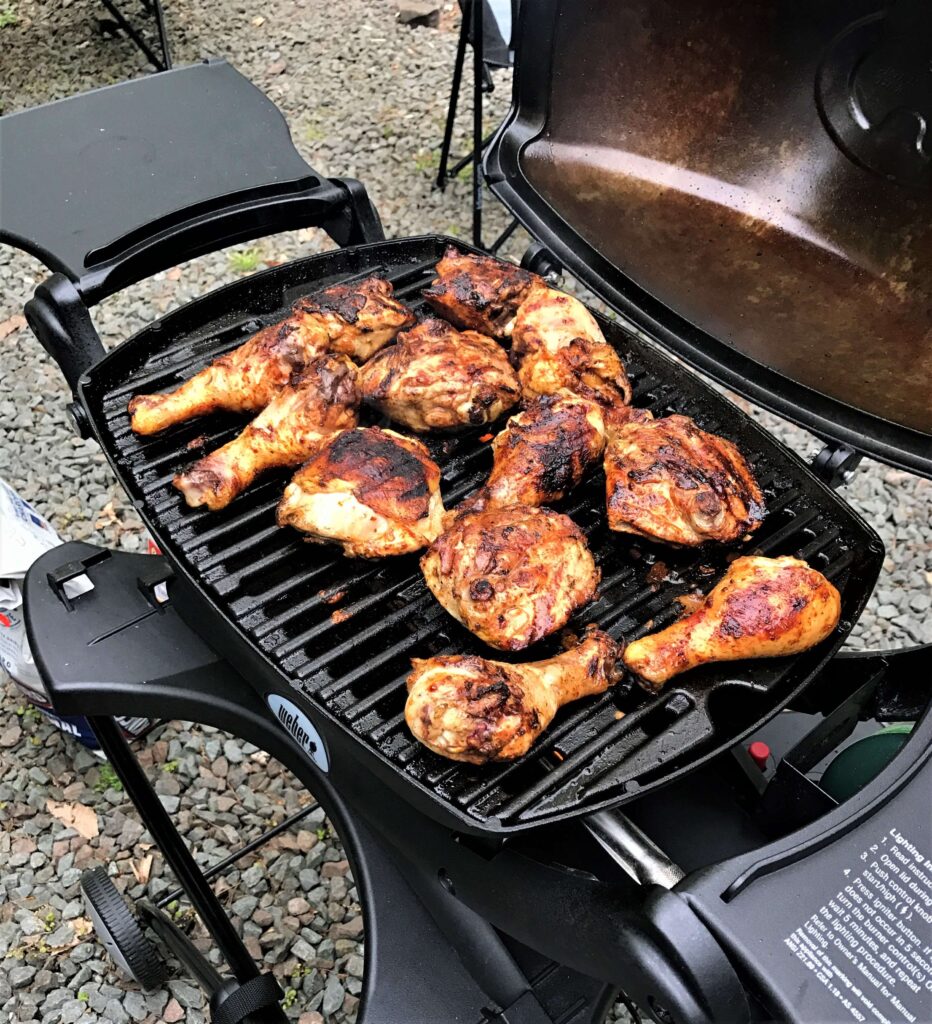 We cook almost everything on our Weber Q Grill! Steaks cook up delicious and it's great to cook camping foil packets too.
We purchased this stand so we could create a little cooking area at the campground.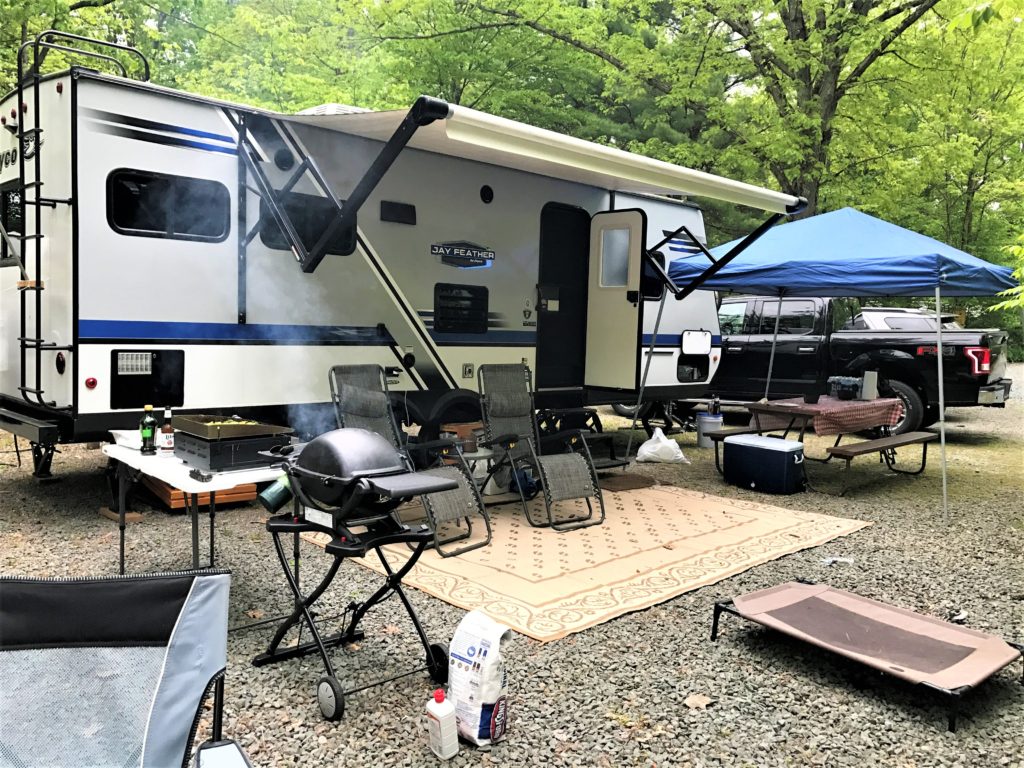 The Weber Q liquid propane grill is compact and easy to transport.
The grill has porcelain-enameled, cast-iron grates giving it an even heat distribution on the entire grilling surface.
The push-button ignition makes it easy to light the burner.
Folding side tables makes it easy to keep your tools and serving dishes nearby.
Clean-up is easy because it comes with a removable catch pan.
However, we could never really cook eggs just how we liked them on the Weber Q.
That's when we purchased the Blackstone Griddle.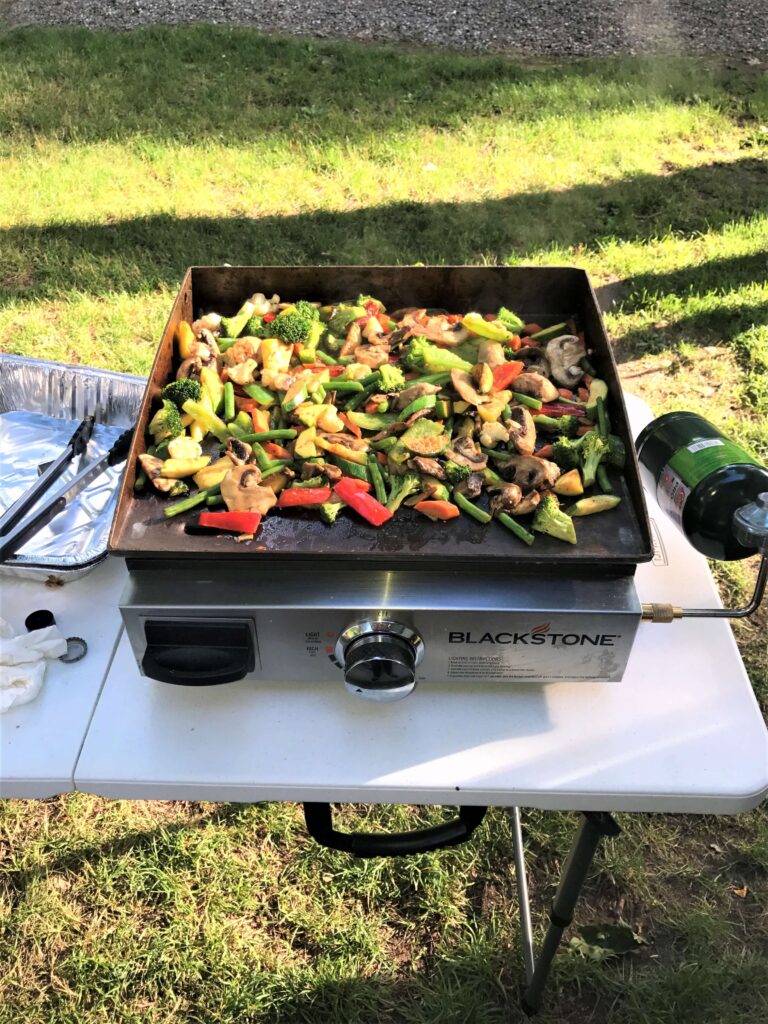 Best RV Grill Griddle
I think the Blackstone Griddle is one of the best RV flat-top grills on the market. We have been cooking on our Blackstone Grill for over five years now.
Here's our Review Of The Blackstone Griddle – Is It Really Worth The Money?
Want to cook the most delicious burgers, sausage, potatoes, eggs, or bacon at the campground?
The Blackstone Grill is perfect. Whether you only have room for the 17″ Blackstone, or the 22″ or 36″ grill, this flat top griddle is a great complement to the Weber Q.
280 sq. in cooking surface (fits 9 burgers, 4 steaks, 9 pancakes)
Solid steel griddle top
Built-in igniter for heat control
Rear grease tray for easy cleanup
As you can see in the photo above, we site the Blackstone Griddle on this adjustable camping table, so we have room for platters and grilling utensils.
Another great thing about this flat top grill is that it is easy to clean. Even if it starts to rust, just season it up and it's ready for grilling.
All you need to remember to do is to properly clean and season your Blackstone Griddle.
3. Coleman Road Trip 225 Portable Stand-up Propane Grill
We have seen many campers using this grill at the campground. In fact, we considered purchasing this liquid propane grill too when we started camping.
The Coleman Road Trip 225 Propane Grill features:
2 adjustable burners
Large grilling area (225 sq in.)
Quick-fold legs and wheels
Push-button ignition
Uses a liquid propane cylinder
4. Coleman Roadtrip 285 Portable Stand-up Propane Grill
This Coleman Roadtrip 285 comes with:
3 adjustable burners
285 sq. in. of grilling surface area.
This portable gas grill also comes with 2 sliding side tables
Best Portable Grills For RV Camping
5. Coleman Fold N Go Propane Grill
This little tabletop portable propane grill is perfect for two people and folds up smaller than a briefcase!
The Coleman Fold N Go Propane Grill has:
105 square inch cooking surface
Built-in handle for easy transport & storage
Instastart button
Dishwasher safe cooking surface & grease tray for easy cleaning
Adjustable burner for heat control
Uses a propane cylinder
6. Cuisinart CGG-180 – Petit Gourmet Portable RV Gas Grill
Don't let this compact portable grill fool you. It's big enough to cook for the entire family!
The compact size of the Cuisinart CGG-180 packs perfectly into small spaces, especially RVs and boats. perfect for the beach, hiking, fishing, tailgating, or camping.
145 square inch grilling area. Can cook 8 burgers, 8 steaks, 6-10 chicken breasts
Compact and weighs only 17 lbs.
Folding legs
Grill lid latch and carry handle
Here are 26 Awesome Camping Desserts You'll Love At The Campground!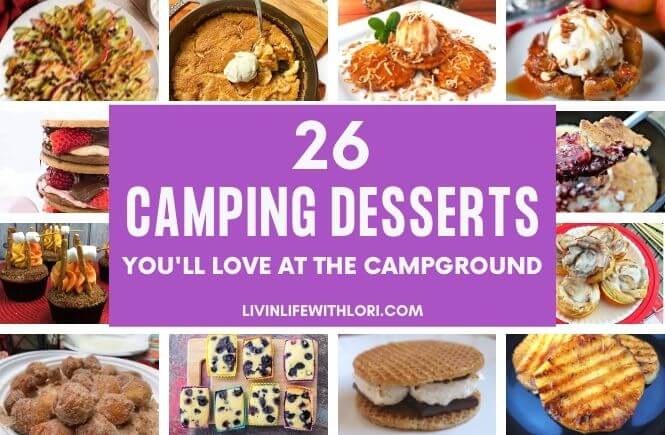 Best Large Gas Grill
7. Camp Chef Big Gas Grill
If you need to cook for a crowd, then the Camp Chef Big Gas Grill is for you!
This grill can be connected to your RV propane or another propane tank you bring to the campground with the included hose and regulator.
Has a large cooking surface with 608 sq. inches to cook on
3 powerful burners
Includes the Deluxe Grill Box for perfect grilling
Removable leveling legs & folding side shelf
Includes 3 ft. hose & regulator (tank not included)
The Deluxe Grill Box can be replaced with the Artisan Outdoor Pizza Oven or Griddle to make perfect pancakes at the campground!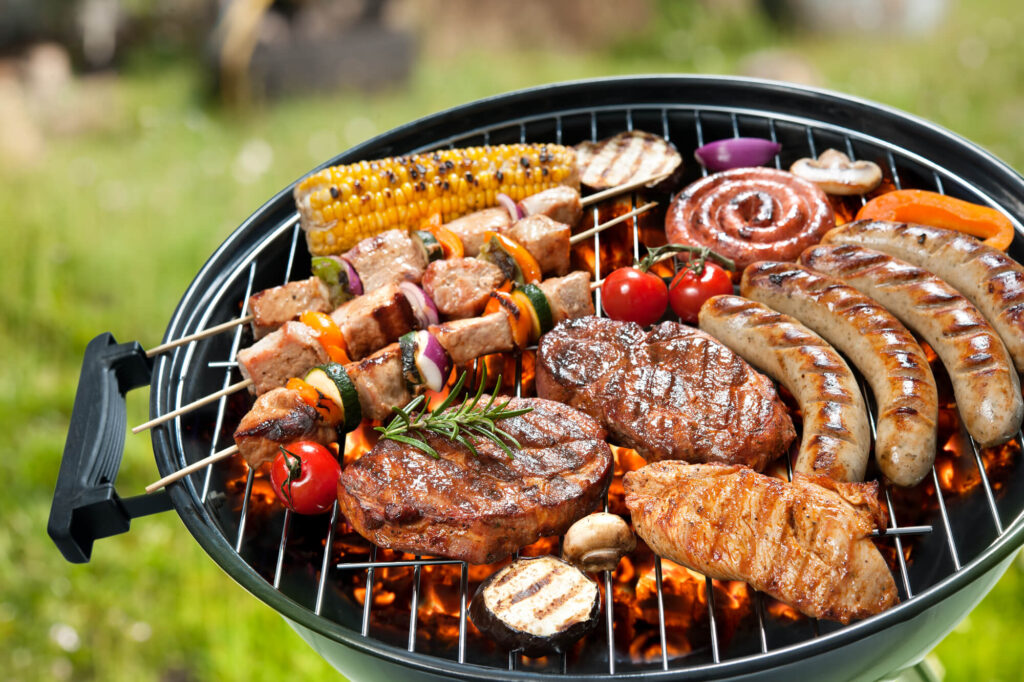 Best Charcoal Grills For RV Camping
If you're looking for the best charcoals grills for RV camping, take a look at the Weber Jumbo Joe Charcoal Grill.
8. Weber Jumbo Joe Charcoal Grill
The Weber Jumbo Joe Charcoal Grill is:
Easy to clean
Has a locking lid so you can carry the grill by the handle making it easier to carry.
Retains heat for consistent temperature and even cooking.
Control the temperature by adjusting the damper so there's no need to lift the lid to control the temperature of the grill.
Big enough to cook 9 burgers!
9. Weber Go-Anywhere Charcoal Grill
The Weber Go-Anywhere portable charcoal grill is compact to fit in your RV or back of the truck. It's perfect for grilling for 1-2 people.
Weber Go Anywhere Charcoal Grill:
Hold up to 6 burgers
Made of stainless steel construction
Dampers help control the temperature inside the grill.
Compact and lightweight
Lid locks for easy carrying
Cooking on an RV Grill is so much fun while camping! There's nothing like hearing that sizzle of burgers, steaks, chicken, or veggies and the awesome smell of food cooking at the campground.
I hope this guide will help you choose the right portable RV Grill for you and your family to enjoy at the campground.
Download your FREE Make-Ahead Camping Meal & Side Dish Ideas

More RV Camping Articles
5 Meal Planning Tips & Make Ahead Camping Meal Ideas
How To Make A Camping Light Bucket
How To Get Started RVing – Best Tips For New RV Owners