Last Updated on January 23, 2021 by Lori
You have probably seen the Blackstone Griddle all over social media. It is one of the Top Rated Outdoor Grills on the market. But, is the Blackstone Griddle worth the money?
You see photos of delicious meals that people have cooked and videos of them cooking on these flat-top outdoor grills but what is so special about cooking on a Blackstone Griddle? Here's our review of the Blackstone Griddle and what we found when we've used it for over four years of camping!
Blackstone Grill Reviews – Is It Really Worth The Money?
During our first season of RV Camping, I would look enviously at the other campers cooking their breakfast of bacon, eggs, sausage, hash browns, potatoes, and eggs – whatever that aroma was!!!– outside their RV.
They were laughing and having a good time while their breakfast was cooking on their Blackston Grill Top. Meanwhile, I was inside our 23 ft. travel trailer making my 6'5 son the same exact breakfast of bacon, eggs, hash browns, etc. using several skillets on the tiny burners of our gas stove.
Now, don't get me wrong…it worked just fine! I cooked in batches and my breakfast was just as delicious! BUT…I wanted more…I wanted to be outside cooking my breakfast too!
My parents had cooked for years on other camping grills – what makes the Blackstone Griddle so special?
Here's what we found out!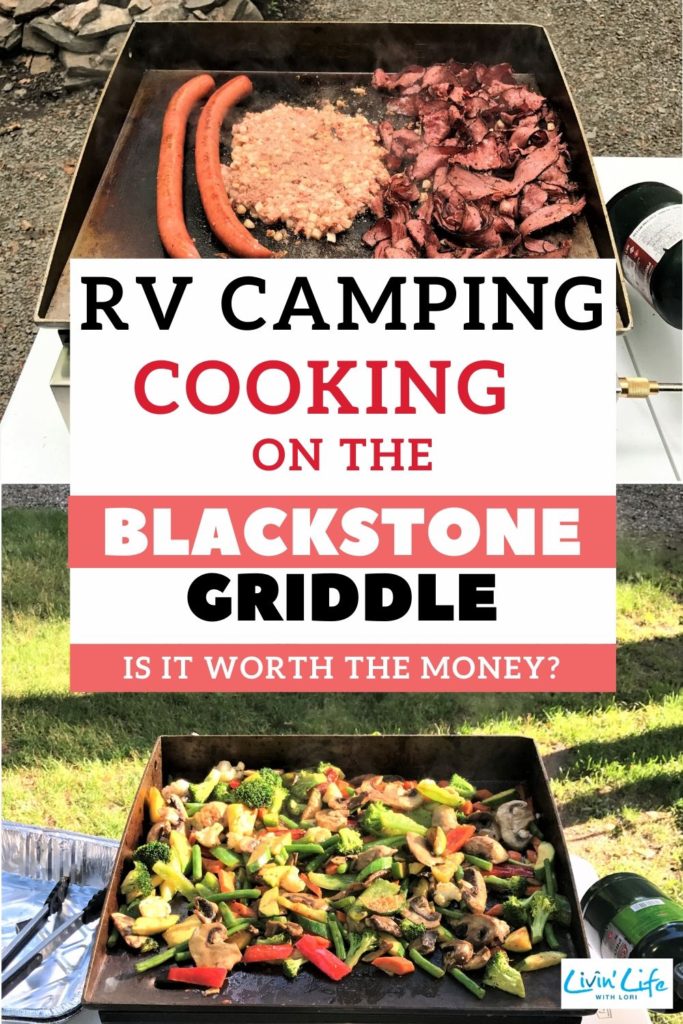 This post contains some affiliate links for your convenience (which means if you click a link and make a purchase I will make a small commission at no additional cost to you). Please see our Disclosure Policy for more information.
The Blackstone Griddle wasn't the first grill we purchased for camping. Our Jayco came with a grill that attached to the side of the trailer.
We didn't really want to use a grill so close to our trailer so we purchased a WeberQ.
Now, we love BBQing on our WeberQ. That thing is great!
We make filet mignon, ribs, burgers, chicken burgers, hot dogs, sausage and foil packets of veggies and corn on the cob! (Yes, we eat well when we go camping!)
After watching other camper cook breakfast on their flat-topped grill, we thought we could try to cook breakfast in our cast-iron skillet on our WeberQ.
But the WeberQ didn't close over the skillet and the eggs didn't cook.
In fact, they were terrible!
I knew I had to research to see what other campers were cooking on.
I looked online and kept seeing people talking about the Blackstone Griddle.
The griddle worked off a small propane tank and could cook anything you could cook with a normal BBQ grill and the clean-up was much easier.
I knew this was what I was looking for to cook my breakfast outside!
Sizes Of The Blackstone Griddle
The Blackstone Griddle comes in different sizes too!
The Blackstone 17″ Griddle, the Blackstone 22″ Tabletop Grill, and the Blackstone 36″ Griddle which would be perfect at home if you have a large family!
We decided that since it is just my husband and me most of the time camping, we would get the Blackstone 17″ Griddle.
I waited until I saw they were on sale and ordered one.
It arrived just in time for the first camping trip of our second season!
Let me tell you, this griddle did not disappoint!
It did everything that I was hoping for…but the best thing about it is the cleanup.
Here's our breakfast – No Comments Please on WHAT is cooking there!
Yes…You can see we have sausage, corned beef hash, AND pastrami!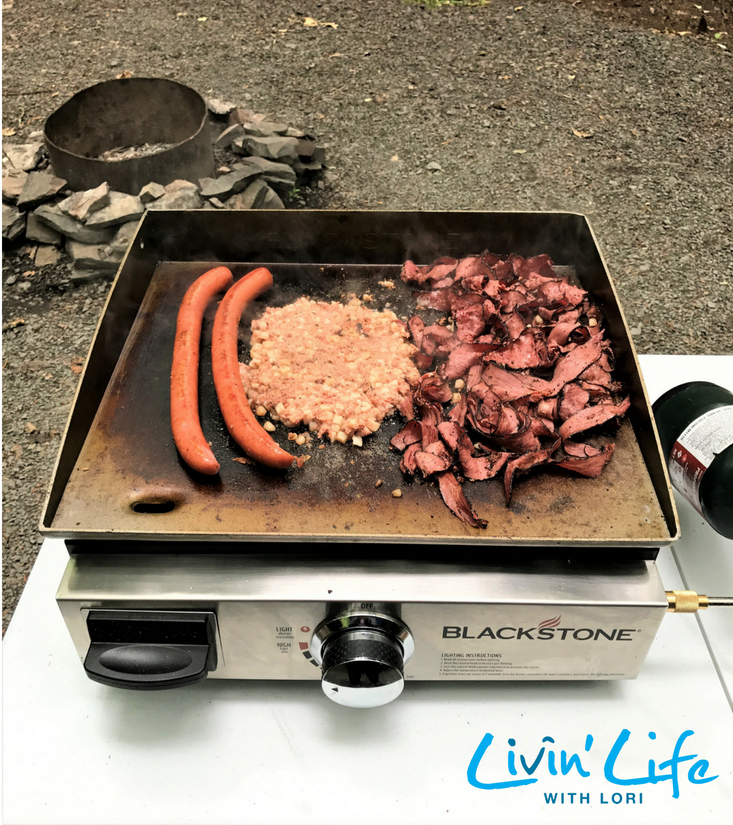 Here's another breakfast with our bacon cooking!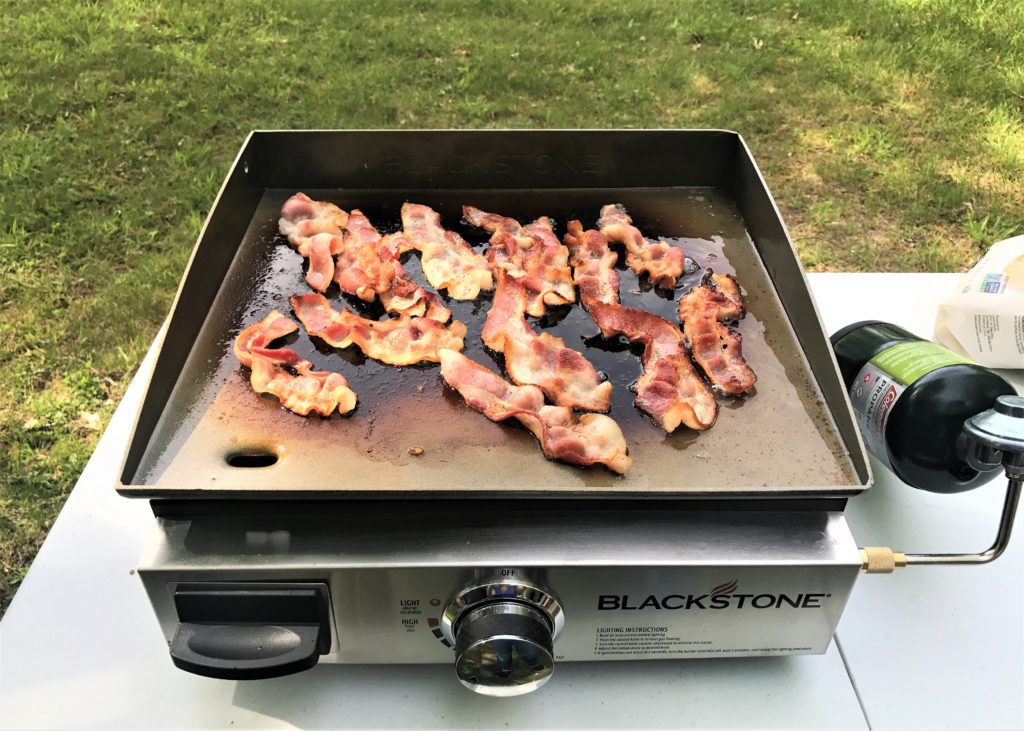 And… of course those hash browns!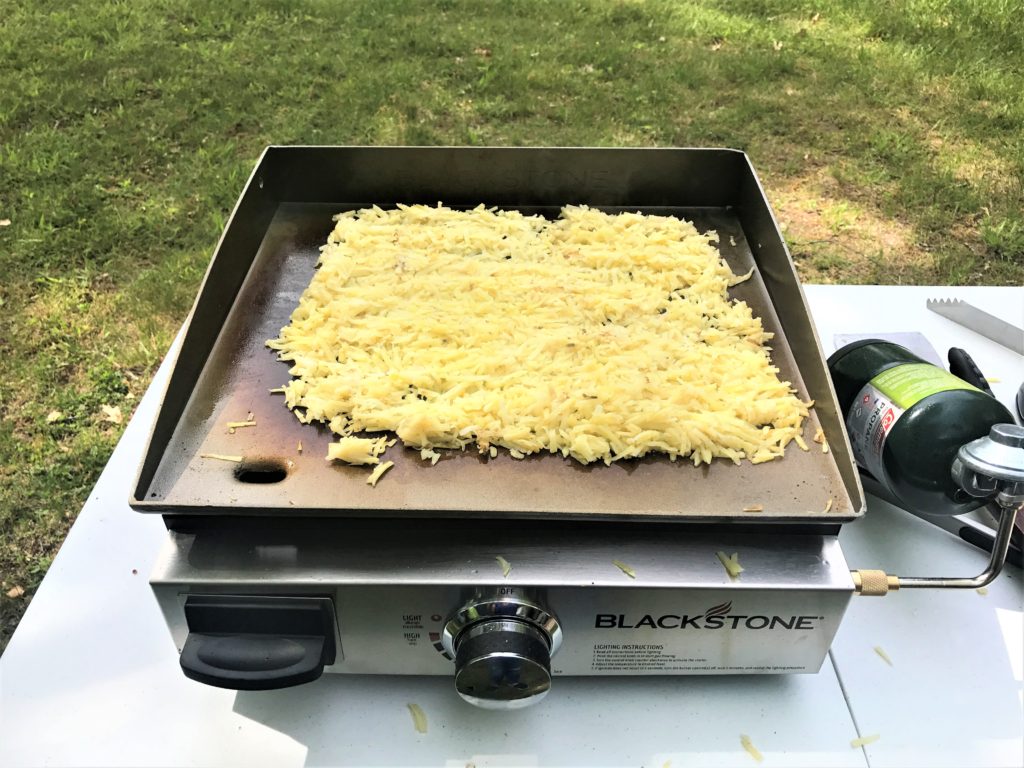 Best Features Of The Blackstone Griddle
The Ease of Clean Up!
Do you see the bacon grease on the photo above?
Well, the grease just slides down into the tray and is easily disposed of.
You can quickly clean it up to cook the next breakfast item!
Storage
The top of the griddle turns over for easy storage.
You can also purchase a carry bag & cover for the griddle too!
Food cooks evenly
We find that the entire surface area cooks evenly so you don't have to worry if one area is hotter than the other.
You can cook a LONG time on one of the little propane tanks.
I think we got 4-5 trips out of our tank (3-4 day stays) before we ran out of propane.
Blackstone Reviews – Things We Weren't Crazy About
Well, if I had to come up with something I wasn't crazy about the griddle, is that I prefer cooking hamburgers and hot dogs on our WeberQ.
Now…maybe that's because I like the lines that a BBQ grill makes on my hamburgers & hot dogs…or the visual of that…I'm not sure.
The TASTE is the same but I think it's that visual for me.
I wanted to test it, especially for the chicken burgers because chicken burgers sometimes fall apart on the BBQ grill.
So, I thought – let's try cooking them on the Blackstone griddle to see how they come out.
As you can see, the chicken burgers did crisp up and didn't fall apart.
We cooked a hamburger in the corner as well.
They tasted great – don't get me wrong – that's why, as I said, it may just be the lack of grill lines on my burgers!
But, for us, we will continue to cook our burgers on our WeberQ.
So, you can see our set up at our campsite in the photo below.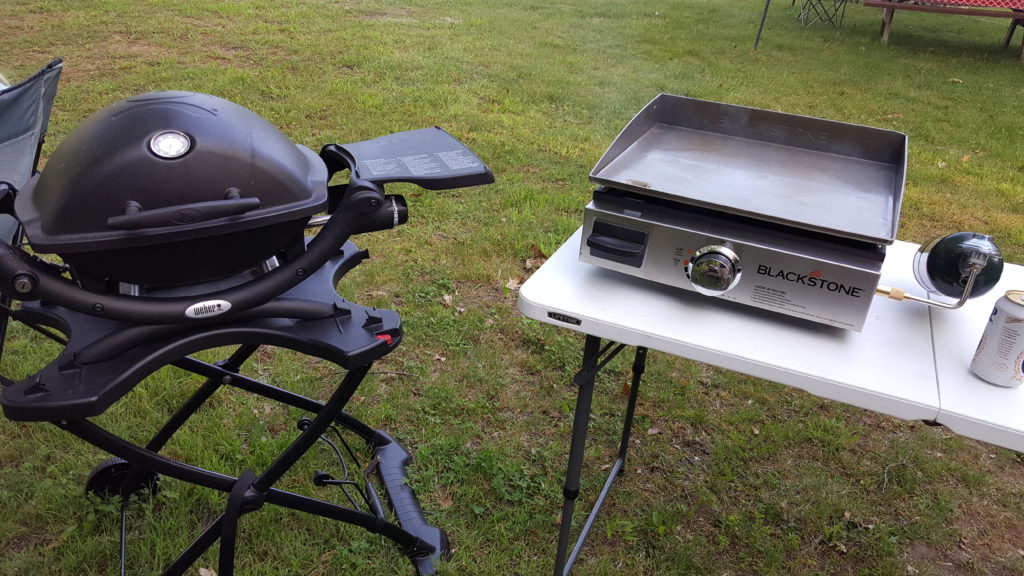 Here's our WeberQ with the portable cart– which is a quick and easy way to set up and break down!
Next to our WeberQ is our Blackstone Griddle which we sit on an adjustable table.
This table adjusts from 24″ children's height to 29″ table height to 36″ countertop height.
We use it later in the evening under our awning for a coffee table.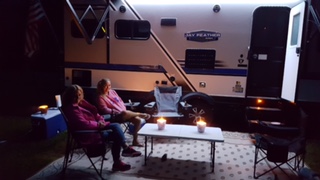 Blackstone Griddle Surface
Another thing to remember about the Blackstone is you MUST make sure you properly season the griddle after use.
It's like a cast-iron skillet that must be seasoned before putting it away.
Otherwise, the griddle will rust. We had this happen only one time when it was raining while we were breaking down the campsite and we quickly put the Blackstone away.
I am often asked why not just use a regular electric griddle. Well, for one, the grill is electric which means you have to cook close to a power source.
The other reason, for me, is that – well – we're camping.
What I was looking for was something that we could use to grill breakfast outdoors.
That's the main reason that I wanted the Blackstone and I can honestly say it has lived up to what I wanted it for.
So…I am going to say – YES! The Blackstone Griddle IS worth the money!
Want to know how to Clean A Blackstone Griddle?
Here are step-by-step instructions how to clean, season and remove rust from a Blackstone Grill!
Breakfast Everything is GREAT on a Blackstone Griddle!
Let me know what you decide!
Happy Camping & Safe Travels!!
I was not compensated for this review. The information I provided is based on my family's use of the Blackstone Griddle.
I would LOVE for you to join my Email List!