Last Updated on November 12, 2019 by Lori
Fransted Family Campground is a great family RV campground in the White Mountains of New Hampshire!
Situated on 45 acres of natural forestland, the RV campground has a beautiful mountain brook running through it and features a large recreation area so kids will have fun all day long tubing, swimming, playing basketball, volleyball or mini-golf!
Fransted Family Campground is just minutes away from many of the White Mountain attractions making it a perfect choice for us!
When we were looking at campgrounds for our trip to the White Mountain area of New Hampshire, the first thing we wanted to book was our campground.
While there were many choices of campgrounds to choose from, but Fransted Family Campground seemed to have everything we were looking for – and more!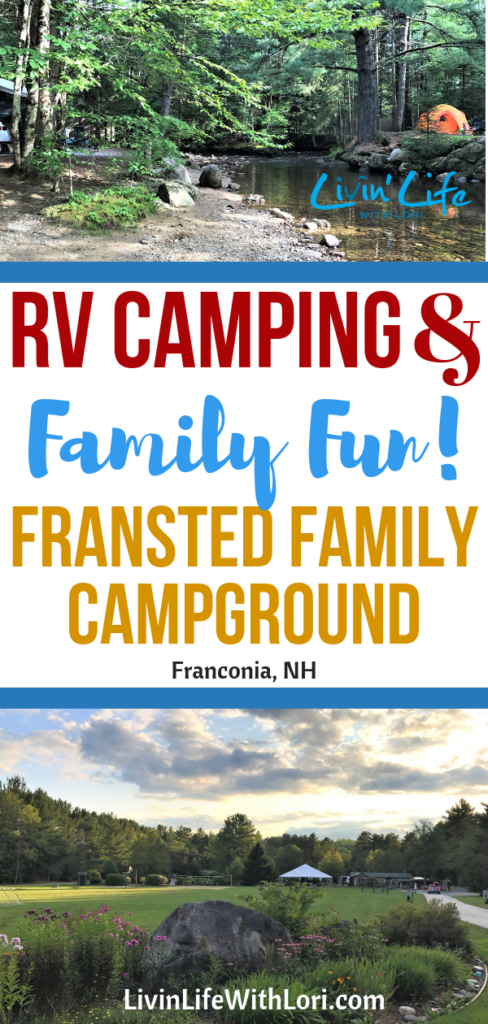 This post contains some affiliate links for your convenience (which means if you make a purchase after clicking a link I will earn a small commission which helps keep my blog up and running but it won't cost you a penny more)! Please read my Disclosure Policy for more information.
Fransted Family Campground
One Of The Best Family RV Campgrounds in New Hampshire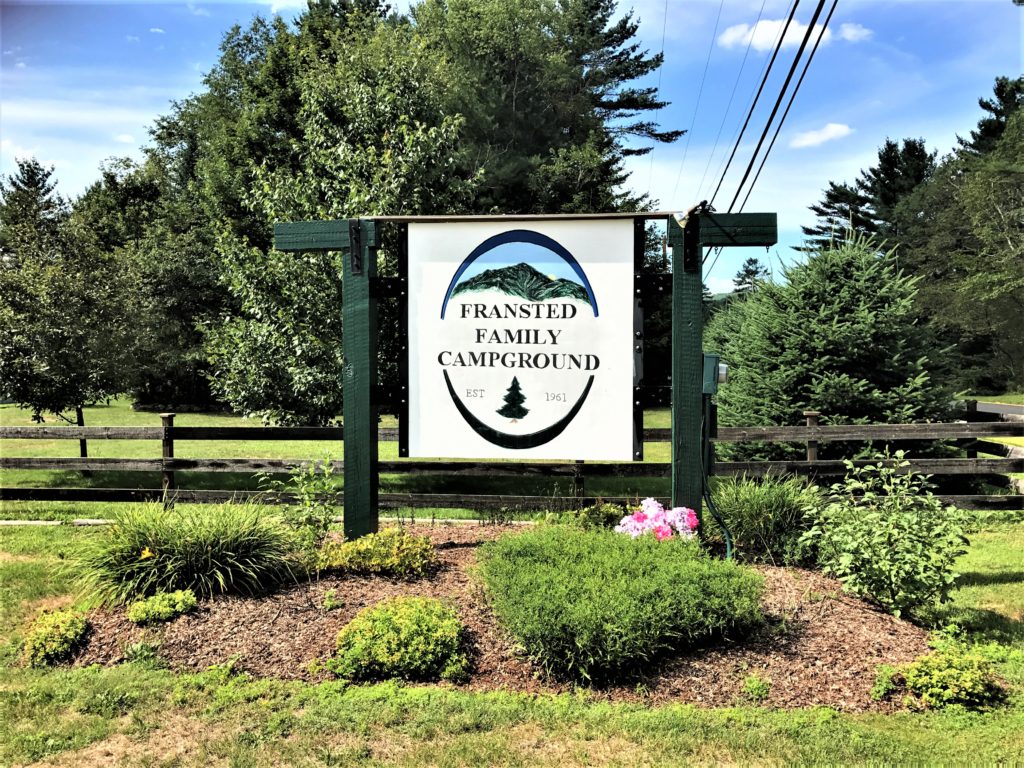 Turning into the campground, the first thing we noticed is how beautiful and immaculate the grounds are. It is apparent that the owners take pride in their campground and work hard to keep the campground clean and beautiful.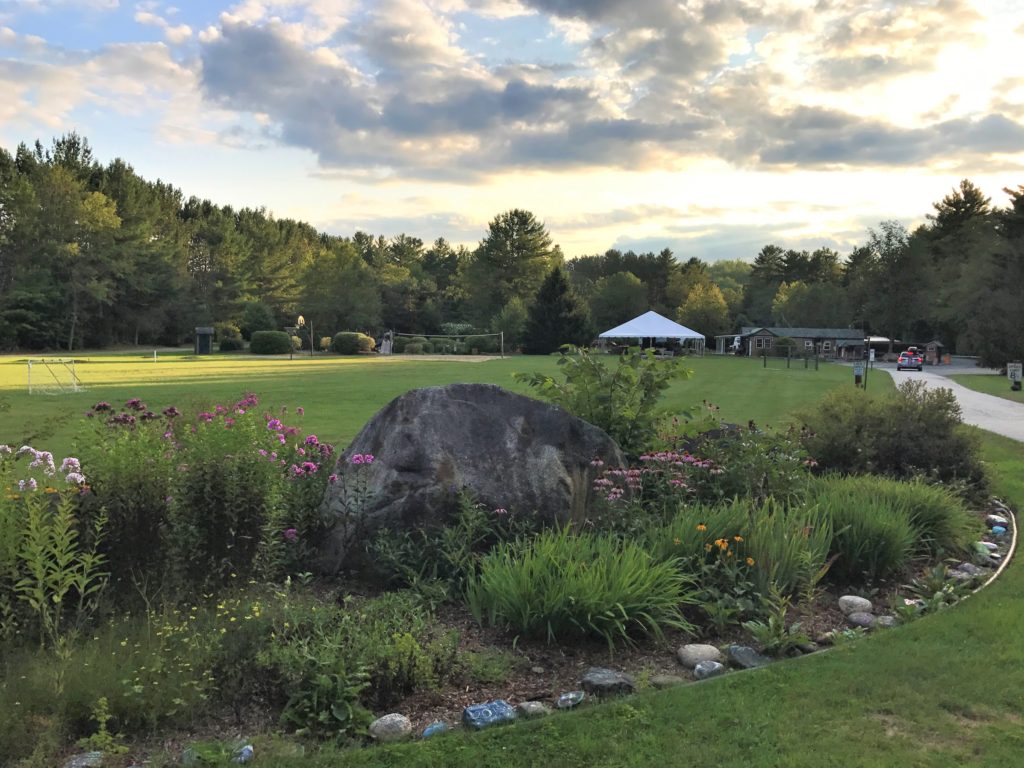 As we made our way to the office, we knew we were a bit early to check-in. We had pulled out of the driveway that morning around 5:30 a.m. to be sure to get off Long Island before rush hour traffic began.
So, when we went into the office to check-in, we really weren't surprised when they asked us to wait as they had had a full house over the weekend and hadn't finished cleaning up the campground sites.
There was plenty of room to park our trailer and it was only ten minutes before Greg, the owner, came out to say, "Come on in!"
As Greg was going over the campground rules, one of the most important things he stressed was – Do NOT leave your cooler outside. There are bears in the area and they have been known to come into the campground.
In fact, there are "bear locks" on the trash and recyclable dumpsters and Greg very carefully goes over how to open & close the dumpsters.
We had always left our cooler outside the trailer but after what we learned in NH, we now continue to leave the cooler locked in the back of the truck!
Greg had a young man take us to our site on his golf cart and guided us in. We really enjoyed our full hook-up site we had been assigned to as it had a private hedge along the road.
Of course, the hedge was meticulously cut. I'm not really sure what kind of hedge this is…so if anyone knows…please let me know!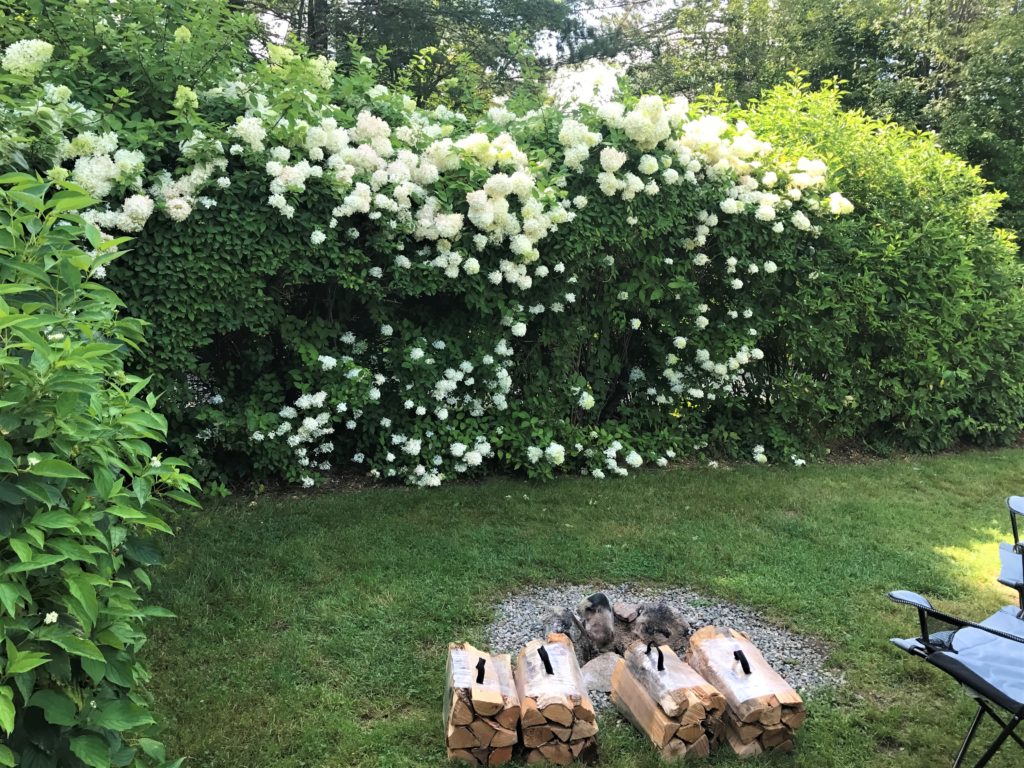 After we got settled, we took a walk to see the campground. It was indeed beautiful! We saw there were some trailer sites and tent sites that were right along the brook.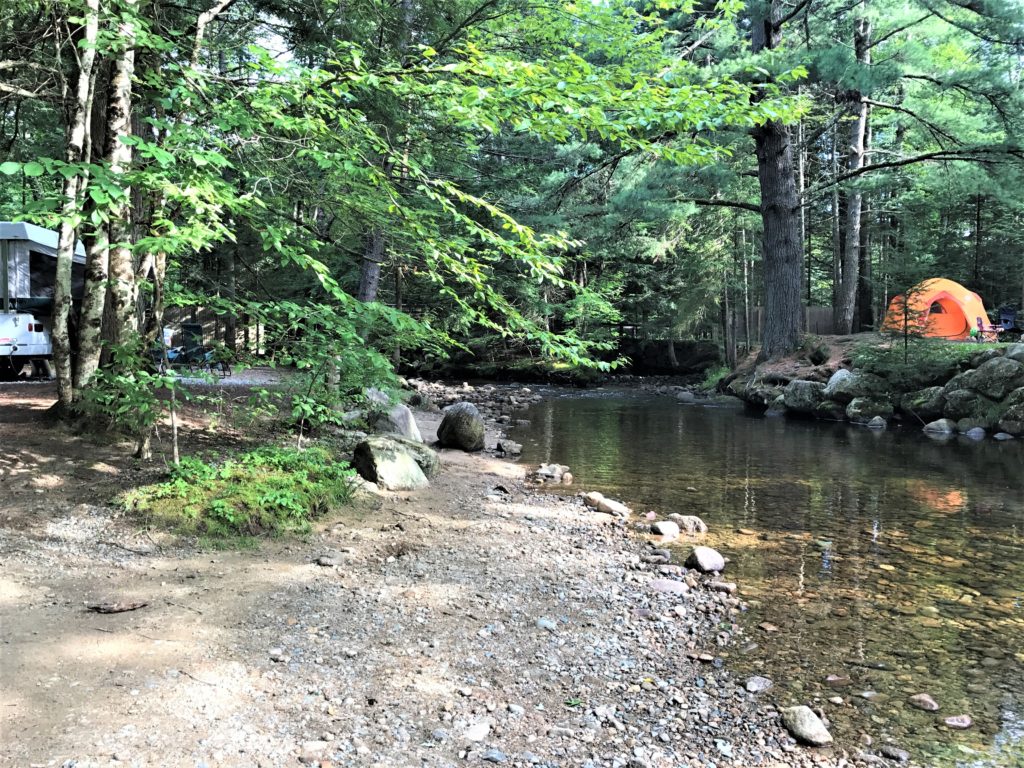 One of the activities that we saw many kids doing was tubing down the brook. It looked like so much fun!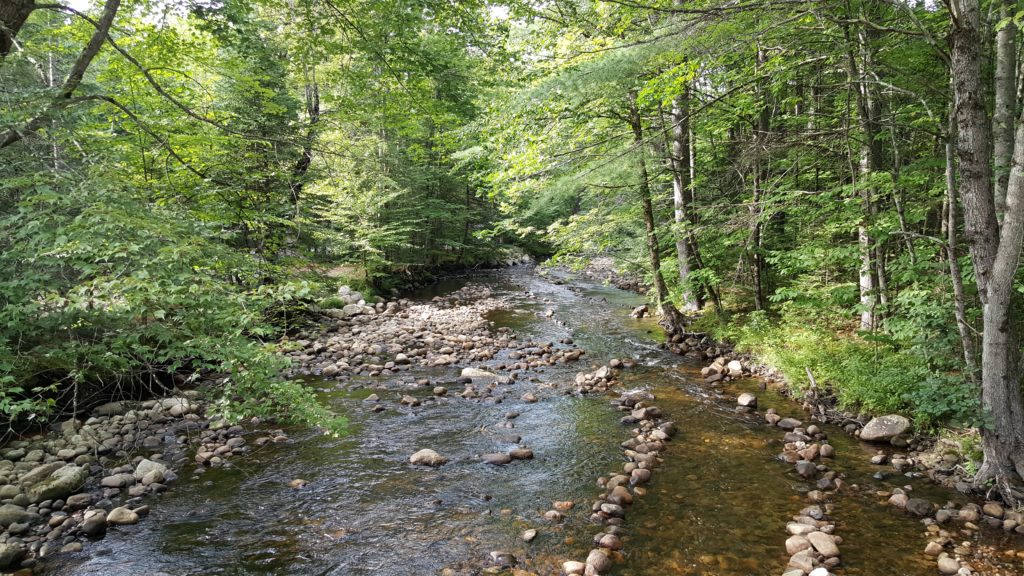 Here's a photo of the bridge built over the brook to access the other side of the campground.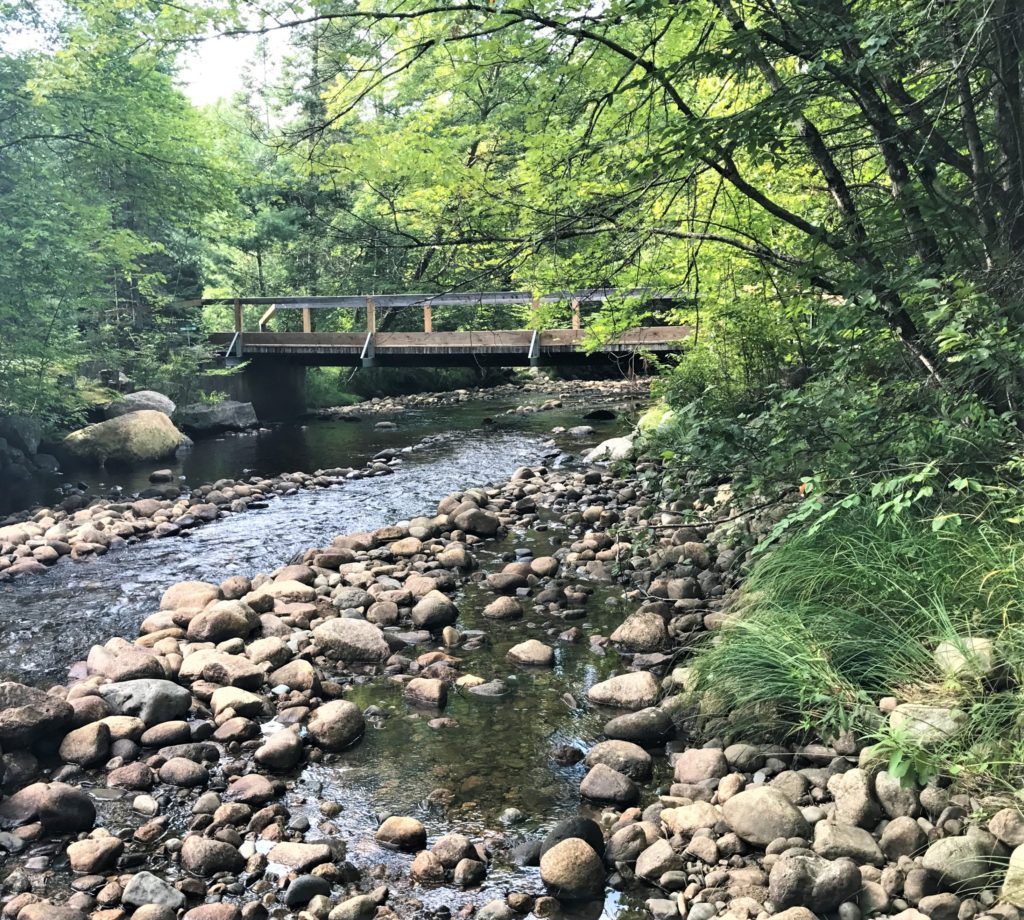 Further down the brook was access to the beach and swimming area. There were many tent areas on the other side of the brook as well as hiking trails.
Things To Do At Fransted Family Campground
The large white tent in the front of the campground is host to many activities during weekends. Some of the activities include an ice cream social, candy bar bingo, watermelon eating contest, and crafts.
This large play area is perfect for soccer, volleyball, and we saw an entire family in a game of kickball. There's a basketball court and there's even a mini-golf course! There's plenty of things for the kids to do at the campground!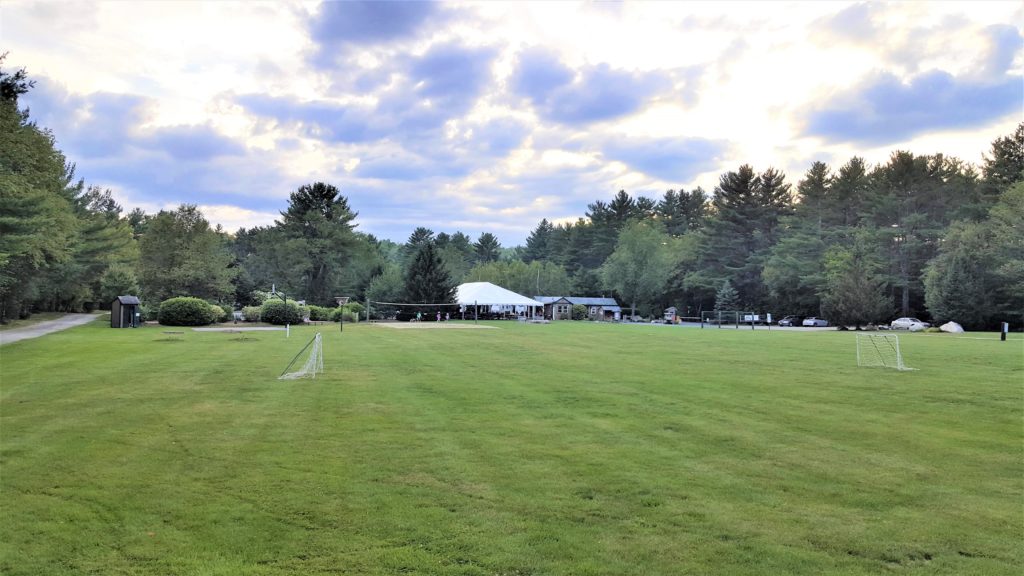 As you can see, we didn't put up our EZ-up tent. One of the rules at the campground was either the awning or the EZ-up.
Also, no rugs on the grass. All we had to do was to fold ours under the picnic table to keep it on the gravel. This, of course, is to maintain the grassy areas at the campsites.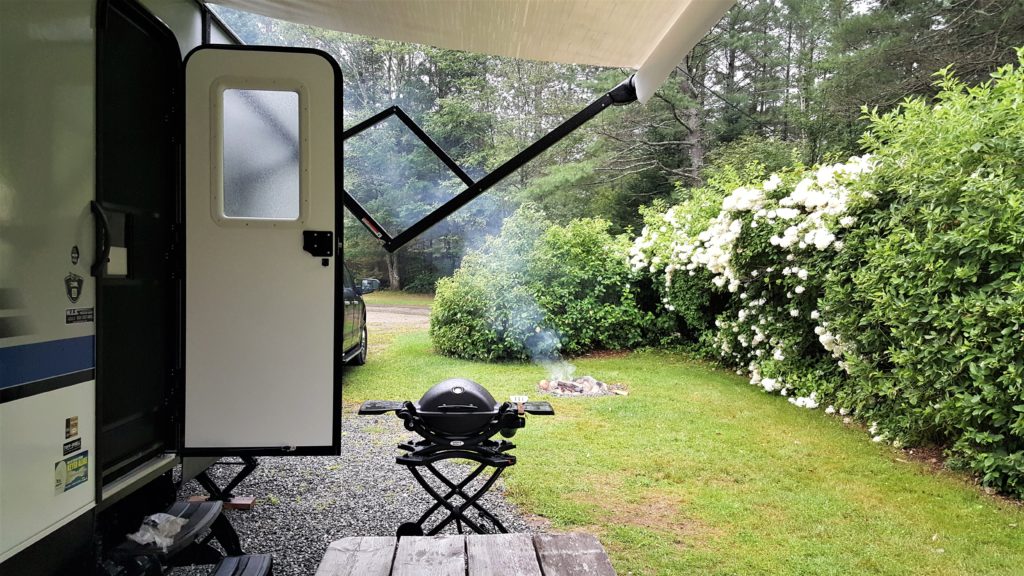 As we sat by the fire, we saw the most amazing clouds coming through!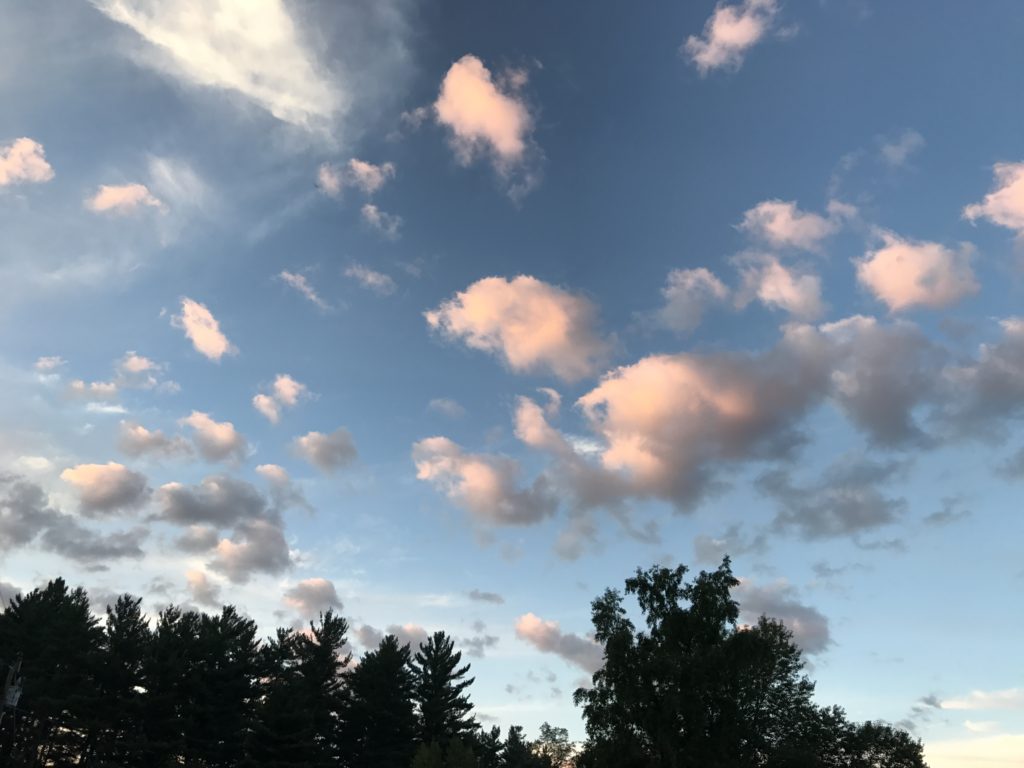 It was perfect as we sat in our private campsite with our fire!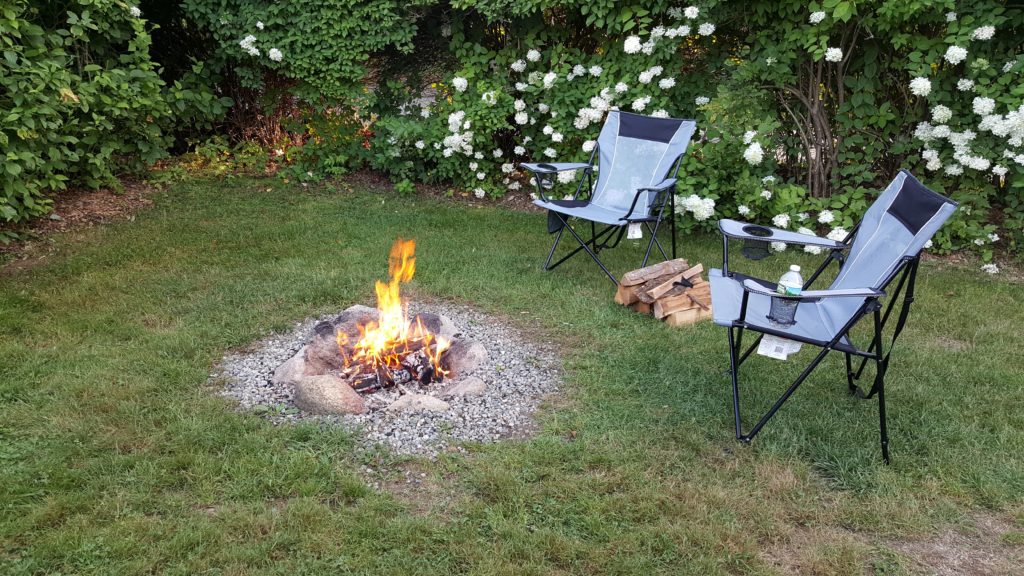 Fransted Family Campground Store
The campground store has just about everything you might need. And if they don't have it, just ask Greg or Karen. We forgot our Cable for the tv and asked if there was a hardware store in town.
They had one right there in their store. Which brings me to another reason to recommend this campground…
Fransted Family Campground Customer Service
Our original trip was planned for the early part of July. Unfortunately, due to the death of my husband's brother, we had to cancel our reservation.
When we called, we told Karen, one of the owners, that we hoped to still plan a trip to New Hampshire in August. She said she would keep our deposit on file for up to a year and she was very sorry for our loss.
We received our cancellation confirmation and noticed that Karen had added a personal note to the cancellation how sorry she was about the passing of my husband's brother.
When we decided to make the trip in August, we called the campground to make another reservation. Karen remembered us right away and told us she had a very nice private campsite for us – which turned out to be the perfect spot for us.
Great Campground Location in the White Mountains of New Hampshire
Fransted Family Campground was minutes away from Lost River Gorge & Boulder Caves (you can read more about our trip to Lost River Gorge on my blog post here), Flume Gorge, Cannon Mountain Tramway, Echo Lake, Clark's Trading Post, and the Kancamagus Highway.
It was approximately a 45-minute drive to the Mount Washington Cog Railway (you can read more about our trip on the Cog Railway on my blog post here).
We will definitely stay at Fransted Family Campground next time we travel to the Mount Washington area and we recommend you do too!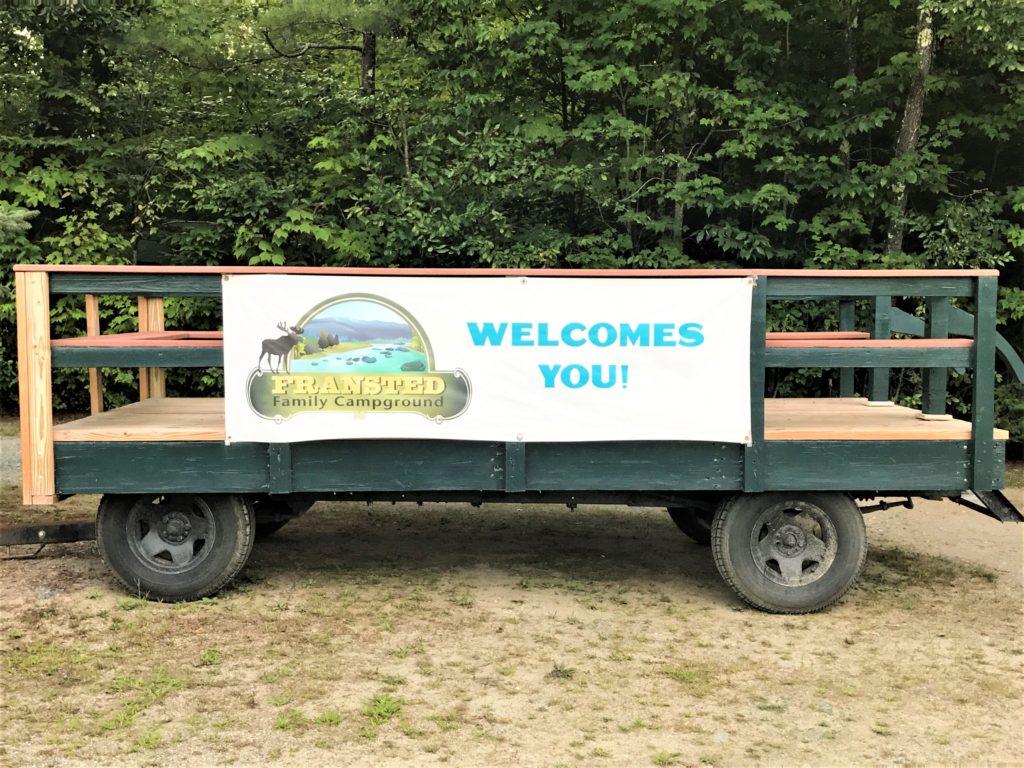 Fransted Family Campground, Franconia, New Hampshire
The campground is open May 15 – Columbus Day
Sites are 4-way hookups, pull thru's, riverfront, wooded private sites.

Free showers

Free WiFi

Cable, store, laundry, camping supplies, ice and firewood
Activities
Planned activities on weekends

ice cream social

Wagon rides

Candy Bar Bingo

Watermelon Eating Contest

Craft activities

Swimming/Tubing

Beach

Stream Fishing

Mini-Golf
Let me know some of your favorite campgrounds you have stayed in when traveling to the White Mountains in New Hampshire!
I would love for you to join my mailing list!