Last Updated on October 1, 2021 by Lori
The Harrisonburg/Shenandoah Valley KOA in Broadway, Virginia has all the amenities campers look for in a campground. The campground is Big Rig friendly and has tons of activities families love when camping!
Located just four (4) miles from I-81, The Harrisonburg/Shenandoah Valley KOA is close to Shenandoah National Park and Skyline Drive and makes a great stopover location for RV travelers.
Shenandoah Valley Campground Reservations
This post contains affiliate links which means if you click on a link and make a purchase, I will earn a commission at no additional cost to you. Please see our Disclosure Policy for more information.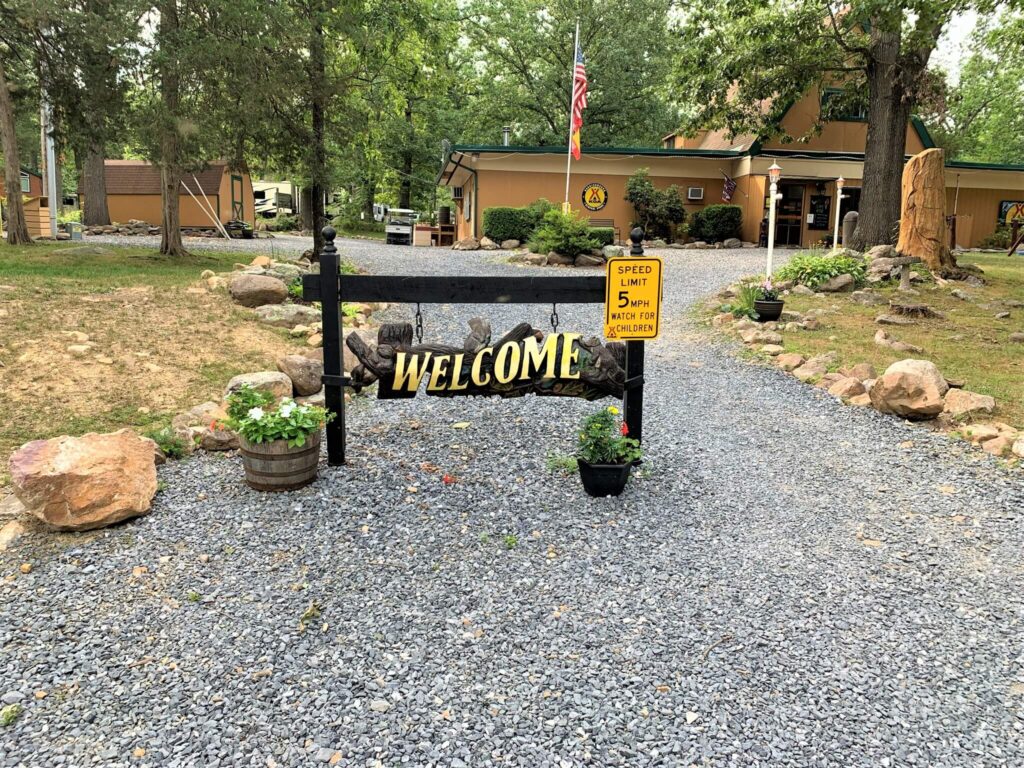 As we were planning our nine-day road trip to the Great Smoky Mountains, we had decided that we wanted to camp in different campgrounds along the way and not stay in the same campground on the way back home as we had stayed in on the way down.
The location that was best for a stopover would be about the same, so we started our research for another campground in the Shenandoah Valley.
We chose Outlanders River Camp in Luray, VA, for the way south (and absolutely loved it! See my review!)
KOA Harrisonburg, VA
After reading other reviews, we decided to try Harrisonburg/Shenandoah Valley KOA in Broadway, VA.
The campground is categorized as a Holiday KOA, so we knew it would be busy with lots of activities for kids, but had full-hook-up sites and was close to the highway.
We made an online reservation in January for a July stay and chose a full hookup back-in site.
Where Is The Campground Located?
The Harrisonburg/Shenandoah Valley KOA is conveniently located near the highway – but not as close as you might think!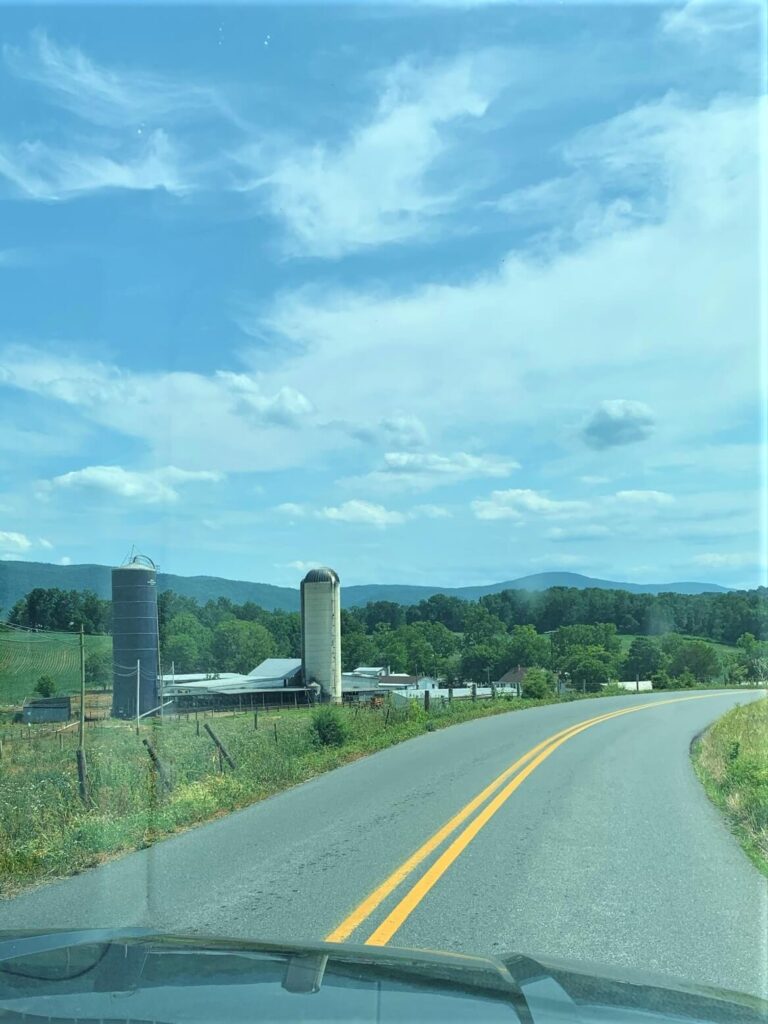 After exiting the highway, you may be surprised to be driving along a winding road, past farms and pastures, until you finally see the sign for the KOA.
In fact, if I hadn't seen a post on the campground's Facebook page, I would have been looking for the entrance right along the highway!
It was a pretty drive though as we headed to the entrance to the KOA.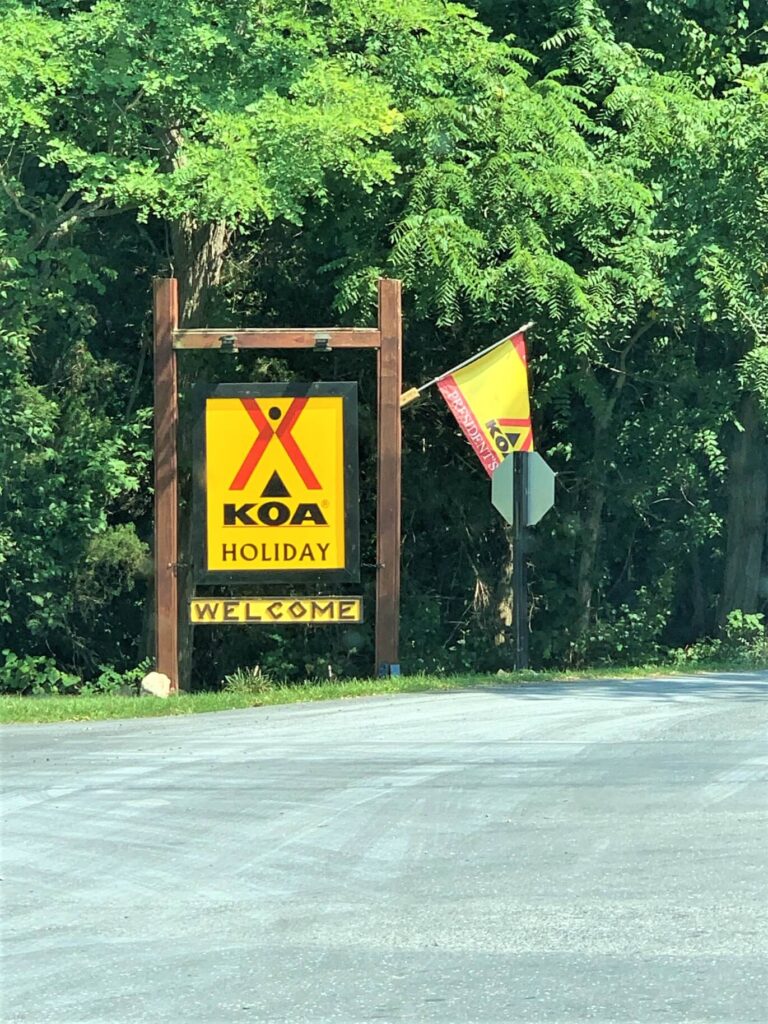 Check-in begins at 2:00 p.m., and there is plenty of space to park your RV while checking in.
The staff was friendly and helpful letting us know there was free coffee every morning, and you can order homemade pizza to be delivered right to your site! (and we saw many campers taking advantage of this service!)
Harrisonburg/Shenandoah Valley KOA Campground Map
We were assigned to site #31 – a full hookup site as requested.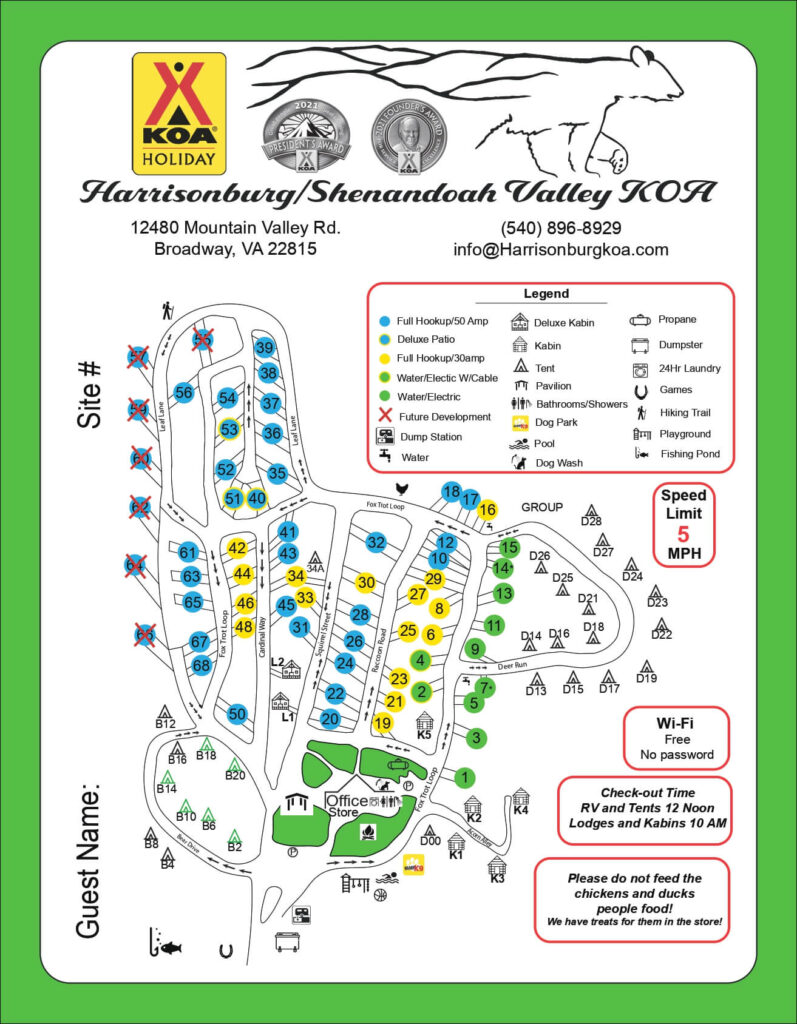 We followed these cute signs posted along the campground roadways to get to our site.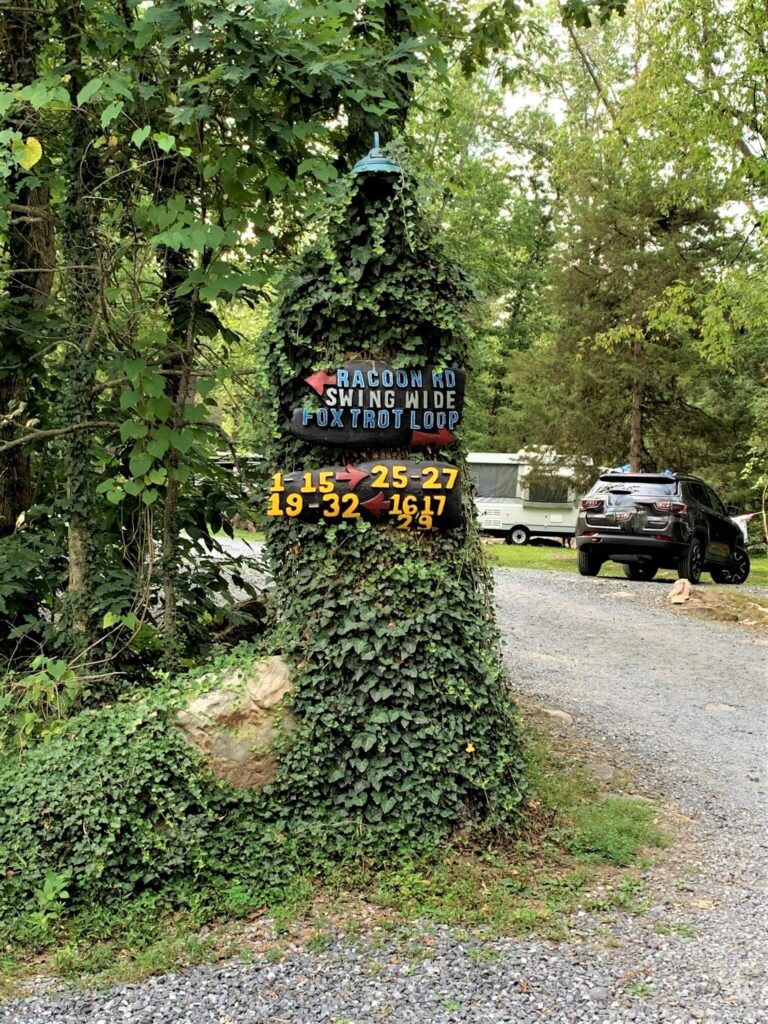 As we pulled up to site #31, we immediately saw that this was an enormously long site for our 23 ft Jayco travel trailer!
Definitely a Big Rig site!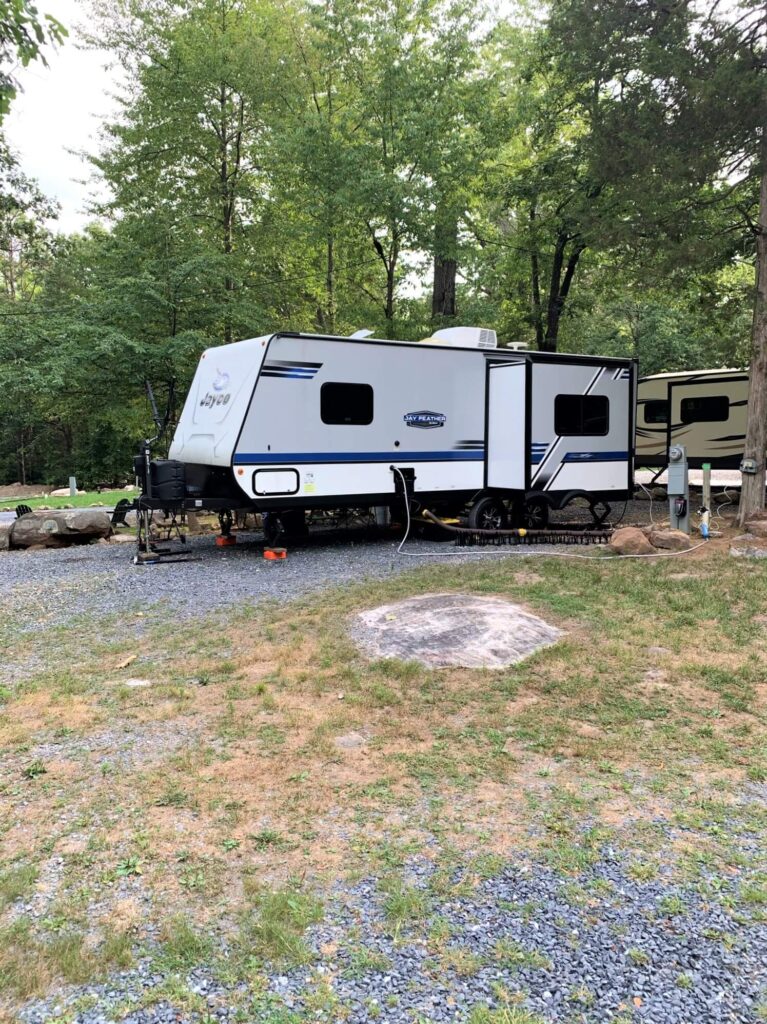 The site was long and narrow and since we had a smaller sized trailer, we needed to back to the end of the site because we were afraid that our sewer hose wouldn't reach – even with the extra hose!
While there was a lot of room at the front of the site where the picnic table and firepit were located, we prefer to sit under our awning, so we moved the picnic table closer to the stairs.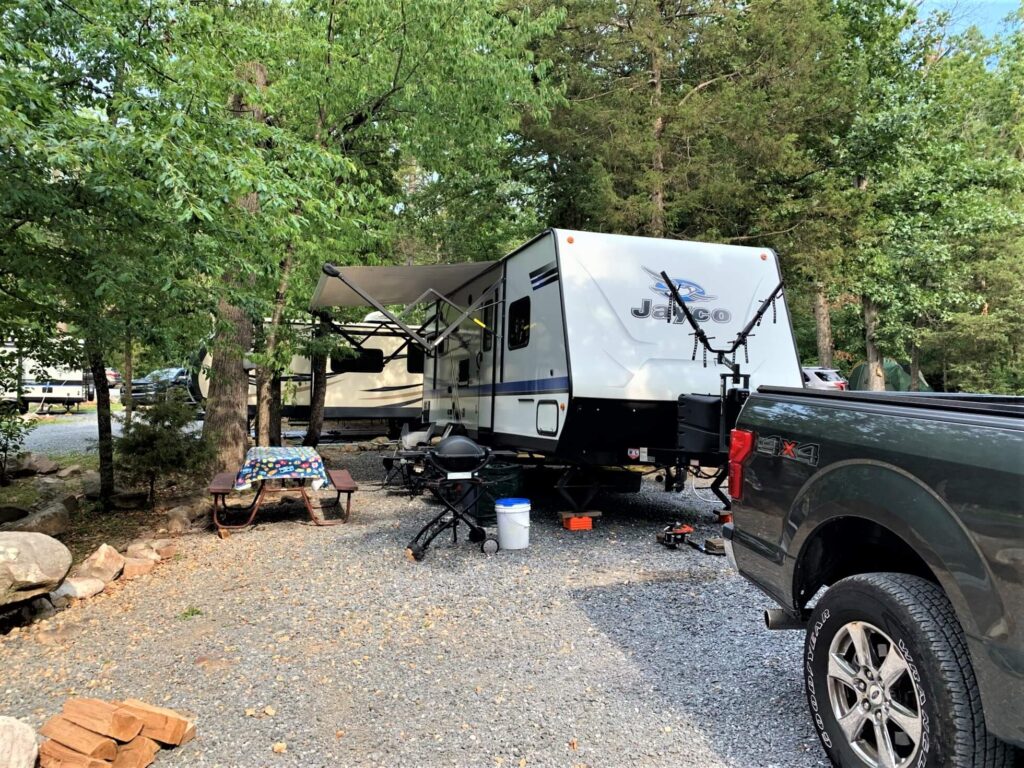 This didn't leave us much room to put our chairs – but we didn't mind.
If we had a larger trailer, the site layout would have been perfect!
Site #31 also overlooked one of the cabin patio areas. If the cabin campers had been trying to relax on the patio and were using the fire pit or grill, we would have been looking directly at them.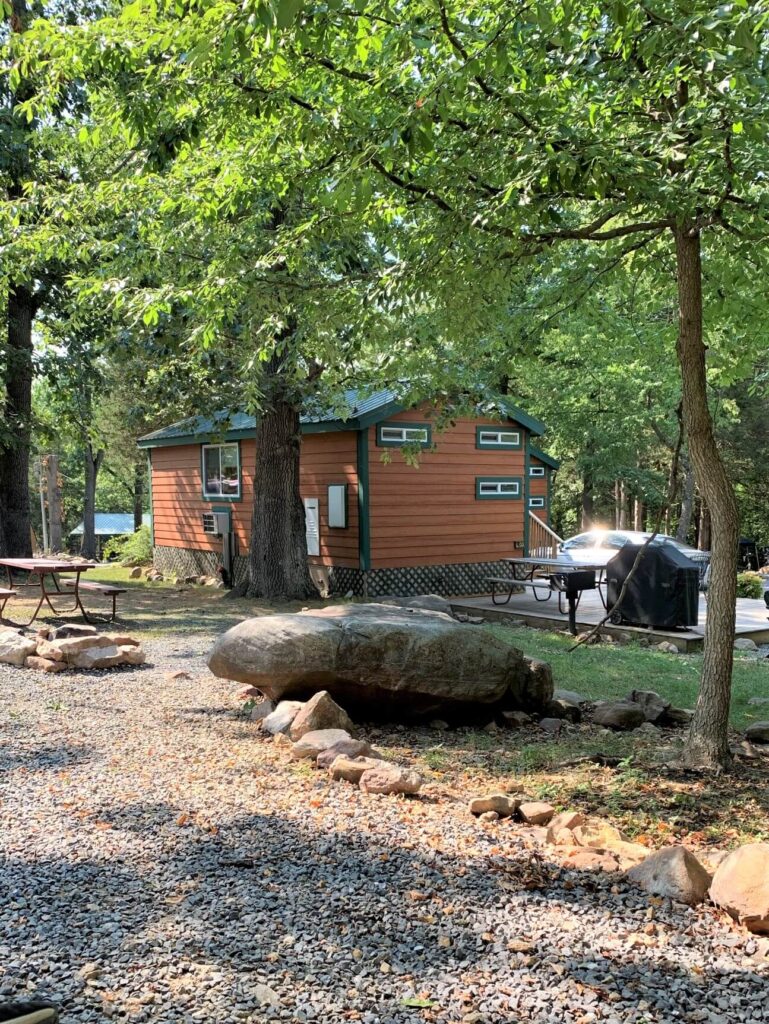 Lucky for us, the campers were part of a larger group of RVers and didn't use the patio area.
Is The Campground Pet Friendly?
Yes, dogs are allowed at the Harrisonburg/Shenandoah Valley KOA for an additional fee.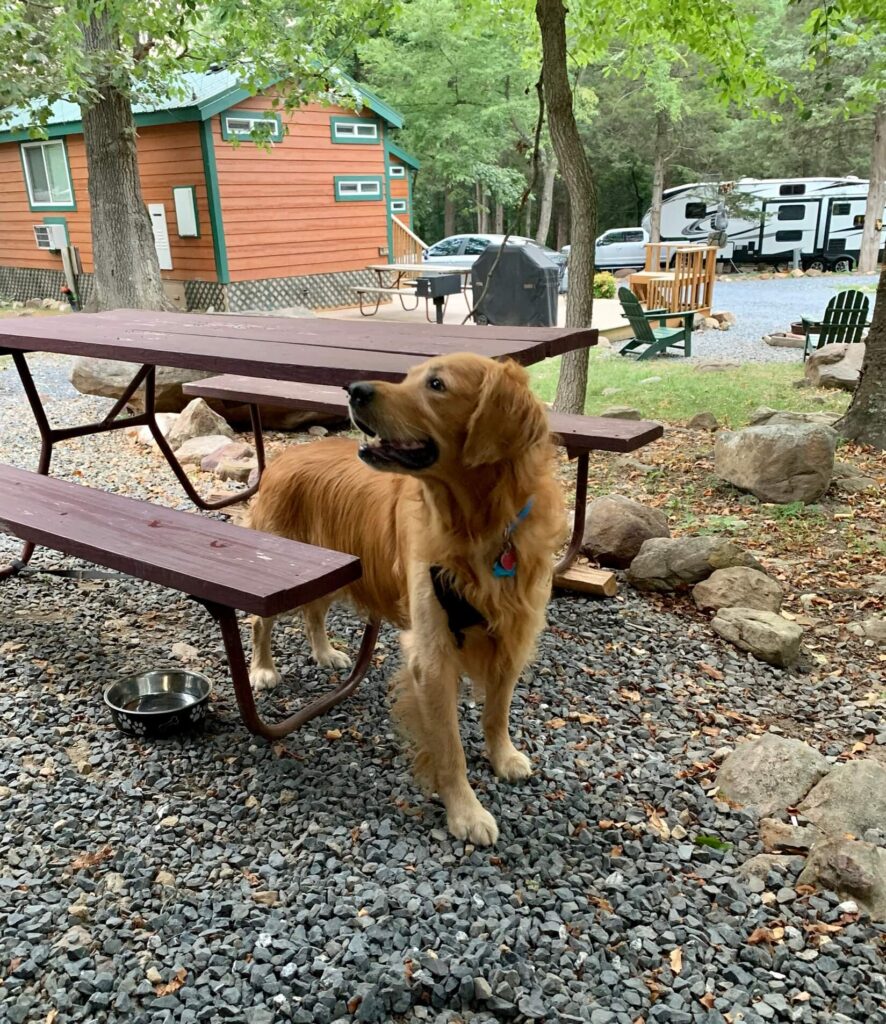 We enjoyed taking Buddy, our Golden Retriever, for walks around the campground, which also has a Dog Park and a Dog Wash Station (which I haven't seen at many campgrounds!).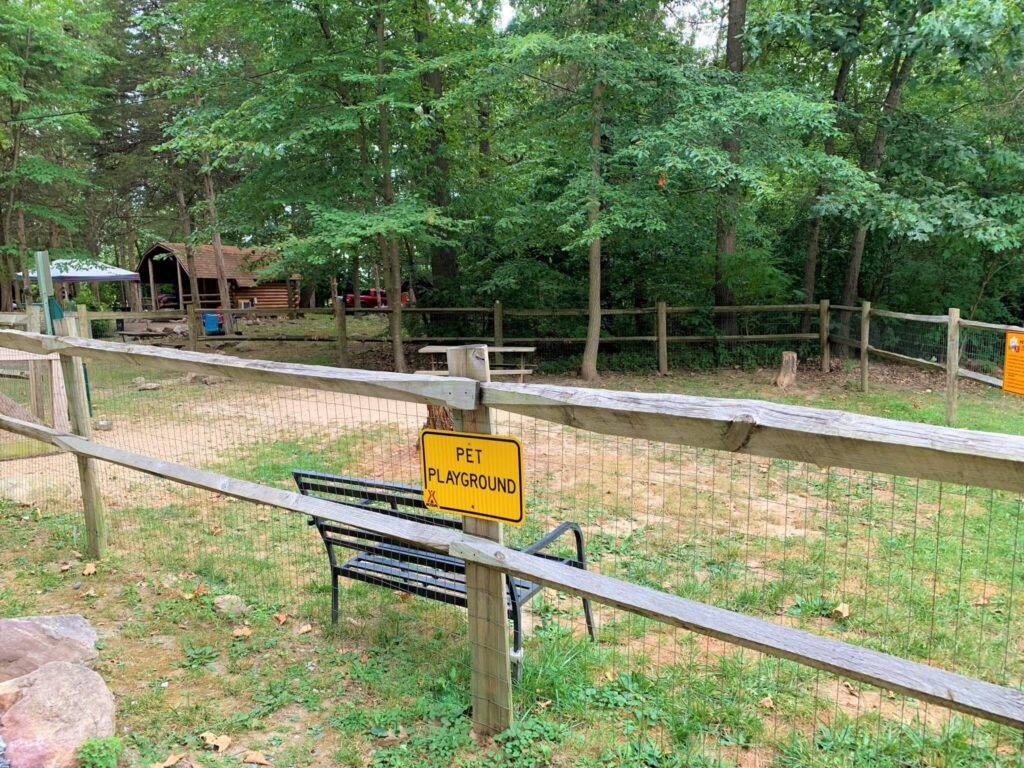 Campers were very friendly, and we met many who camp at Harrisonburg/Shenandoah Valley KOA every year on their way south and then stop again on their way north.
This made sense as we saw quite a few campers who did not even unhitch for the night and were gone early the next morning.
Shenandoah Valley Campground Cabins
If you're looking for cabin camping, the campground offers Deluxe cabins (full bath, tub & shower) or a camping cabin with no bathroom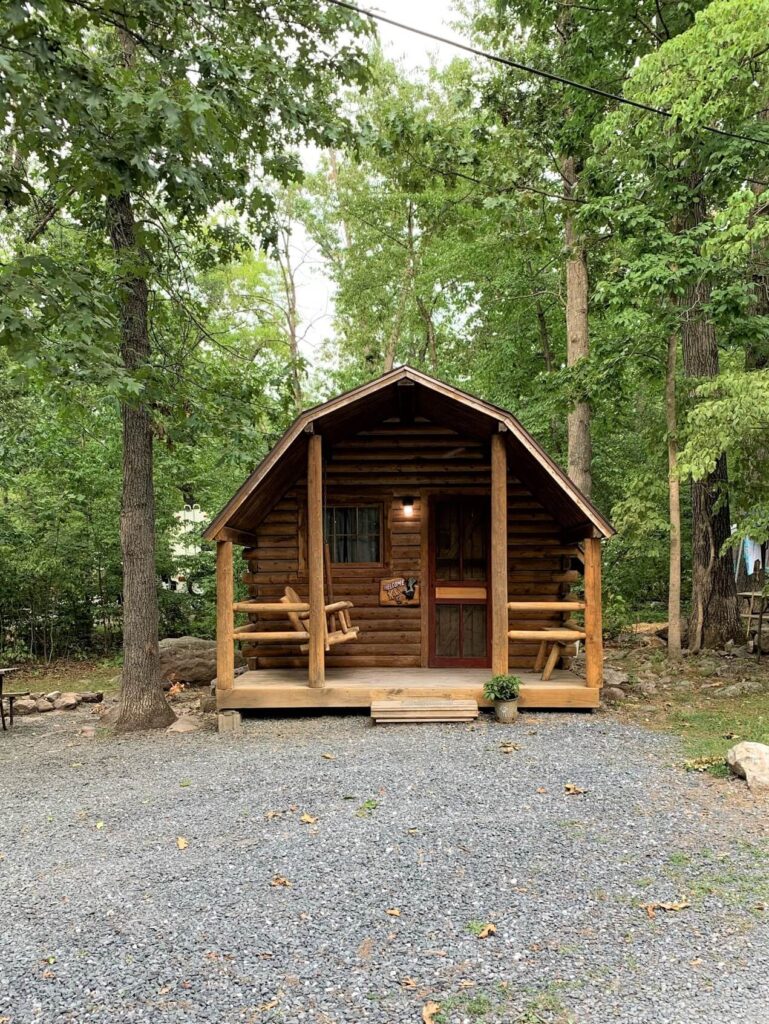 Deluxe Cabin (Full Bath With Tub & Shower), Patio
Sleeps 6
1 Bed – Bunk Bed Set
1 Bed – Full Futon/Sleeper Sofa
1 Bed-Queen Bed
Linens Provided
1 Bedroom
Cable – Over 20 Channels
Partial Kitchen
Full Bath with Tub & Shower
Pets Allowed (additional fee)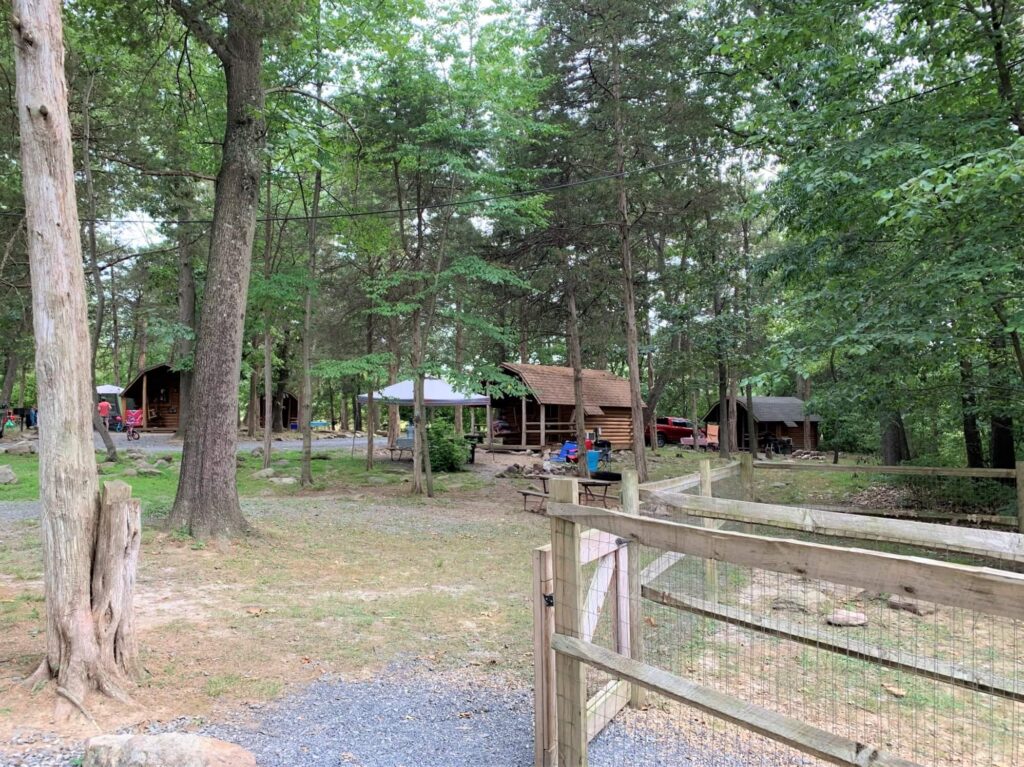 Camping Cabin (No Bathroom)
Sleeps up to 4 people
1 Bed-Bunk Bed Set
2 Bed-Full Futon/Sleeper Sofas
Bring your own linens
Cable-Over 20 Channels
Partial Kitchen
No Bathroom
Pets Allowed (additional fee)
Popular Attractions Near Harrisonburg/Shenandoah Valley KOA
VA Museum of the Civil War, 300-Acre New Market Battlefield & Jacob Bushong Farm
We were camping in the area for two days and had already been to the Shenandoah National Park and Skyline Drive on our way south, so we decided to take a drive to the VA Museum of the Civil War, The Jacob Bushong Farm, and the 300-acre Battlefield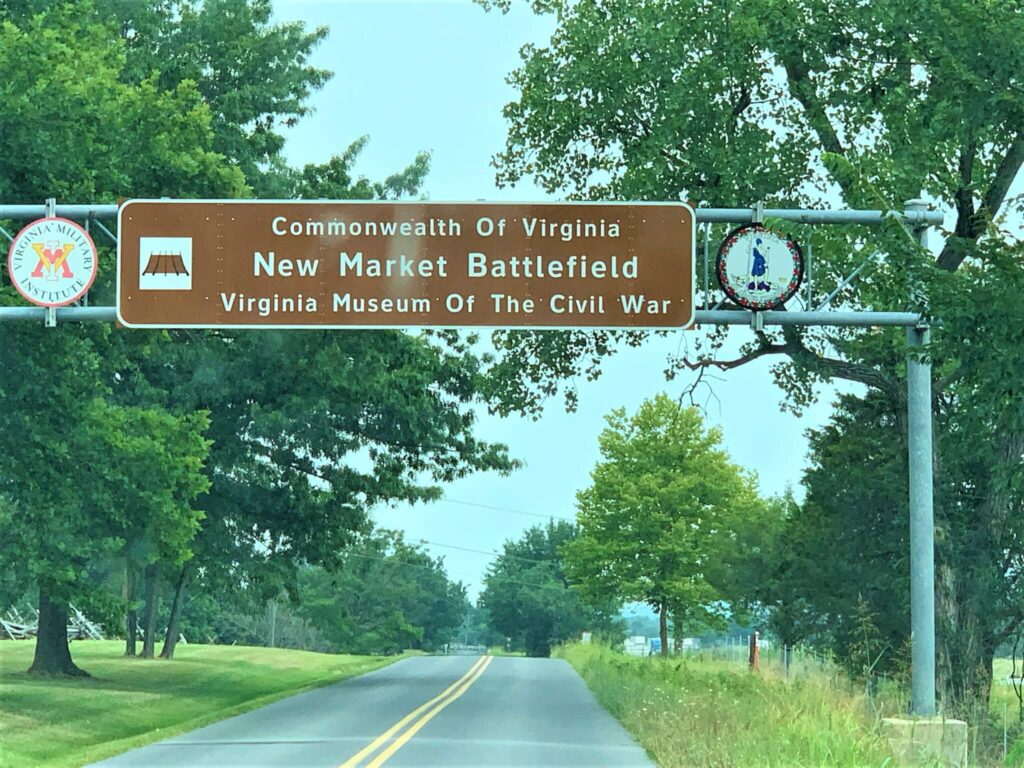 There is a self-guided tour of the 300-acre battlefield, farm, and walking trails; plus the outside area is dog-friendly and was great exercise for our golden retriever!
The cost for the self-guided tour is $7 for Adults & Seniors; $4 for Youths.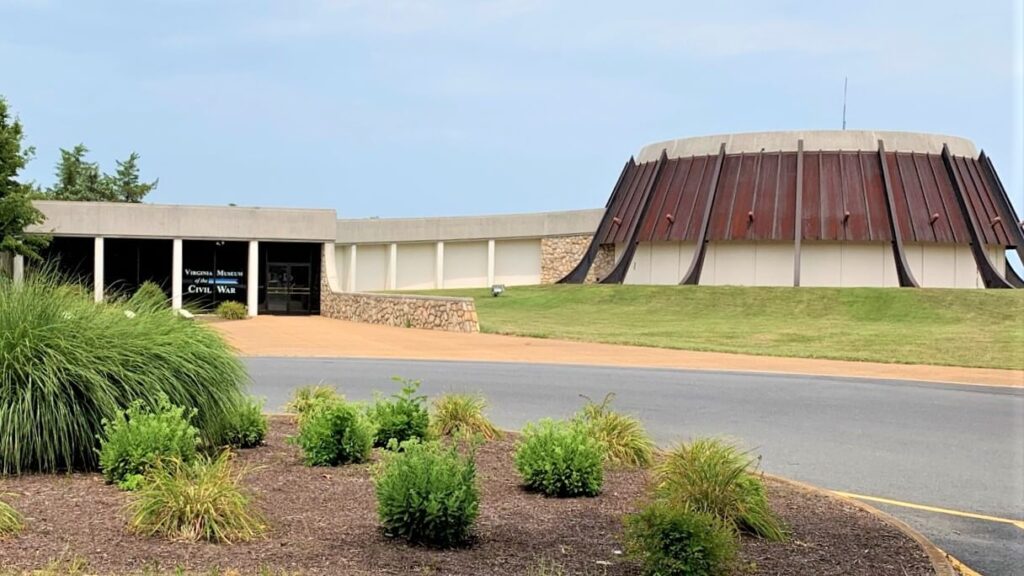 Things To Do Near Harrisonburg/Shenandoah Valley KOA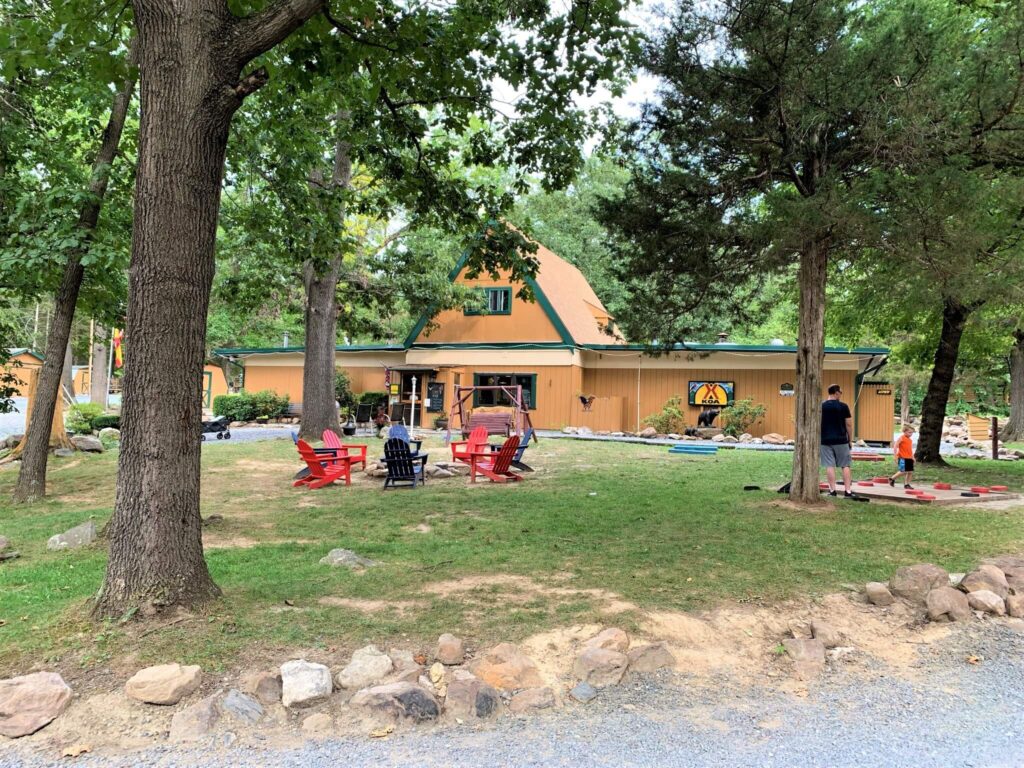 Harrisonburg/Shenandoah Valley KOA Important Information
12480 Mountain Valley Road
Broadway, VA 22815
800-562-5406
Website: Harrisonburg Shenandoah Valley KOA
Campground Amenities
RV camping (full hookup 50/30 amp & W/E only sites)
Camping Cabins
Ten camping
Check-in time: 12 noon for RV and Tents
10 a.m. for Lodges & Cabins
Dog Friendly
Dog Park & Dog Wash Station
Free WiFi
Trash pickup at the front of campsite
Swimming Pool
Playground
Community Pavilion & Fire Pit
Fishing Pond (catch and release)
24-hour laundry
Free Coffee every morning
Saturday Crafts For All Ages
Home Made Pizza delivered to site
Ice and Fire Wood delivered to site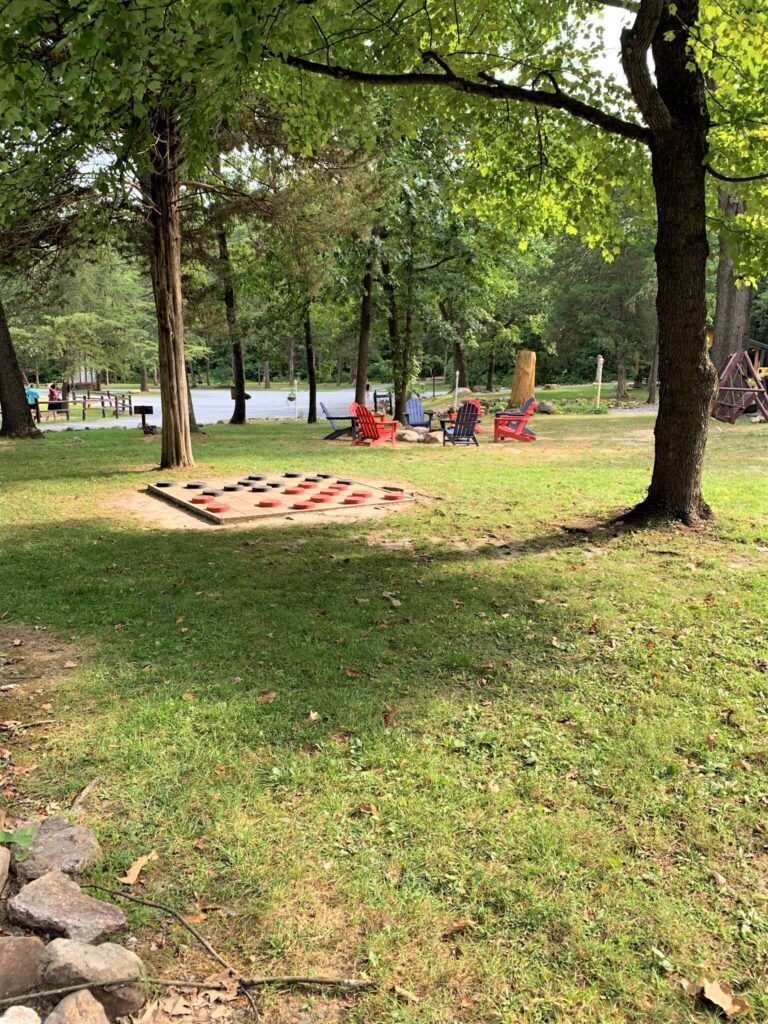 RV Camping At Harrisonburg/Shenandoah Valley KOA Holiday
The Harrisonburg/Shenandoah Valley KOA Holiday is a very popular and busy campground with tons of activities for the kids!
RV sites are large and fairly private, and we enjoyed the full hookup site.
You can see the staff working hard to take care of all the campers' needs.
The campground was clean, quiet, and well-maintained. We couldn't have asked for more in a campground.
More RV Travel Ideas For You
11 Best Things To Do In The Great Smoky Mountains
Jonesborough Cherokee NF KOA-A Peaceful Campground With Amazing Views
Outlanders River Camp Luray VA
Grandfather Mountain North Carolina-An Awesome Experience For All Ages
RV Meal Planning Tips-Make Ahead Camping Meals You Will Love