Last Updated on October 5, 2021 by Lori
Looking for a quiet and peaceful campground that has full hook-up and RV sites along a river? Jonesborough/Cherokee NF KOA in Tennessee has just what you are looking for!
The campground is perfect to come back to after exploring all the attractions that Tennessee and North Carolina have to offer!
This post contains affiliate links which means if you click on a link and make a purchase, I will earn a commission at no additional cost to you. Please see our Disclosure Policy for more information.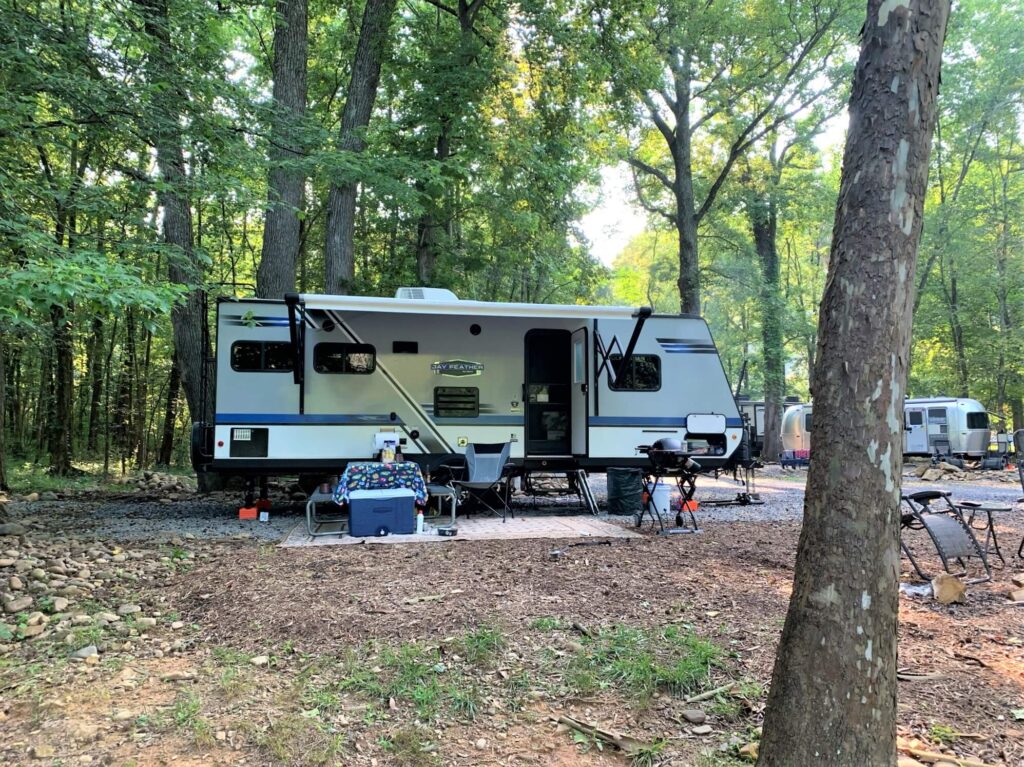 Why We Camped At Jonesborough/Cherokee NF KOA
One of the first things I did when planning our trip to the Great Smoky Mountains was to make a list of all the attractions we wanted to see.
The list was long! Plus I realized our top things to do were in both North Carolina AND Tennessee and they were hours apart from each other.
We had visited The Great Smoky Mountains a few years earlier and knew that one of the busiest (and most popular) places to camp is Gatlinburg, TN.
These campgrounds are great for families with kids and have tons of activities.
Another popular camping option is to camp inside the Great Smoky Mountain National Park itself.
Cades Cove is a well-known and popular campground in the park. But we felt that on this trip, we really wanted to have full hookup.
So we continued to search for camping options.
After studying the map and marking the areas where our "Top Things To Do" were located, it seemed that camping in Tennessee could act as a central location for us.
That's when we found Jonesborough/Cherokee NF KOA.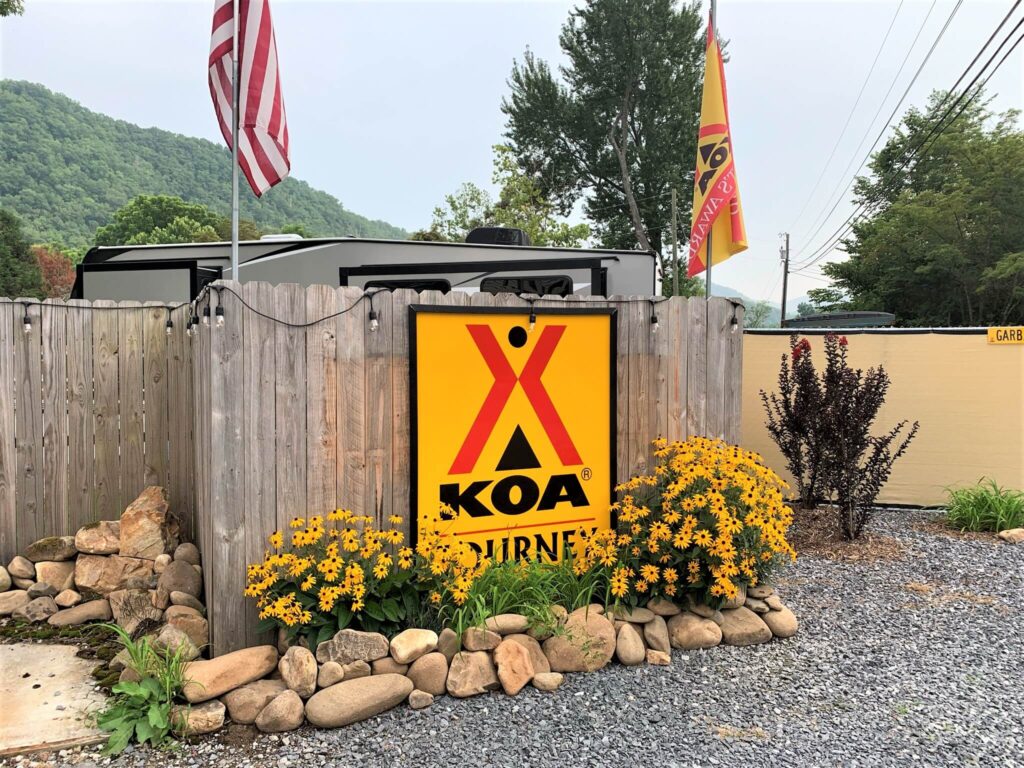 Jonesborough/Cherokee NF KOA Campground
The Jonesborough/Cherokee NF KOA is considered a Journey Campground
According to KOA, Journey campgrounds are conveniently located near highways, offer long pull-through sites, have well-lit after-hour check-in serve, and offer a robust line of RV supplies. "They are great places to unwind and relax before the next leg of your journey."
The perfect description of this campground – and just what we were looking for!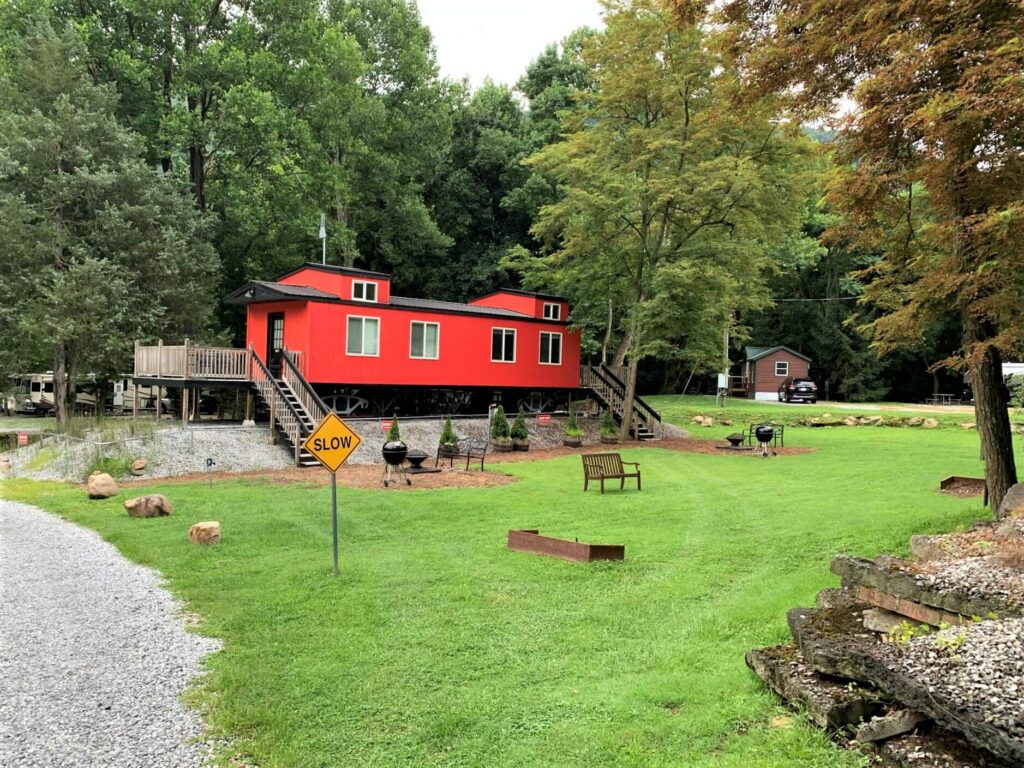 While the campground doesn't have the resort activities you will find in other KOA campgrounds, it is a clean, pretty, well-maintained campground that met all our expectations!
We camped here for four (4) nights while exploring North Carolina and Tennessee giving us ample opportunity to see all this campground had to offer.
Mike, the owner, told me they had only recently decided to become a KOA Campground (January 2021). But the family-owned campground received 4.5- 5 Stars even before it became a KOA Campground, so we added it to the top of the list and then made a reservation in early January for a July stay.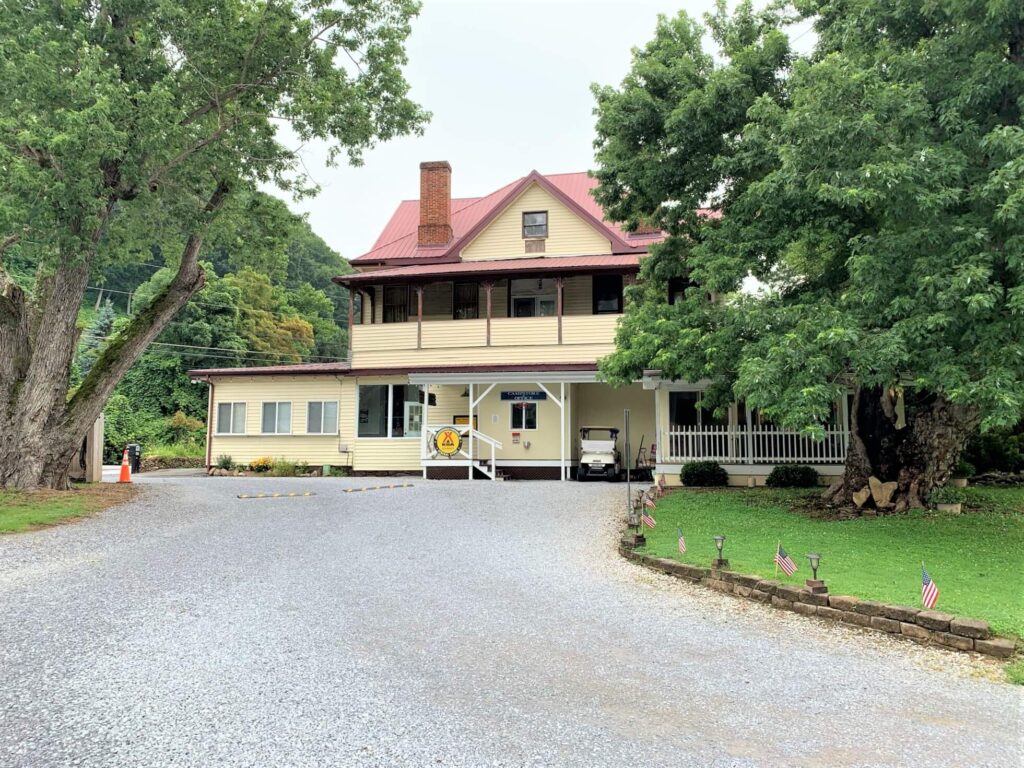 Contactless Campground Check-In At Jonesborough/Cherokee NF KOA
As we were leaving Outlanders River Camp in Luray, VA, and headed the five hours south to the Jonesborough/Cherokee NF KOA, I received an email from the campground asking if I would like to use Express Check-in so we wouldn't need to fill out any paperwork when we arrived.
If we wanted to keep the same credit card that we used to make the reservation, we would just sign for the balance due on an IPad they would bring out to our vehicle.
I confirmed our information and clicked "Yes!"
When we arrived at the campground, the staff met us at our truck. They had everything prepared and handed us our parking pass, campground map, and asked us to sign on the clean IPad.
I had read that wood and ice could be delivered to our campsite, so we ordered what we thought we would need for a couple of days.
The Camp Host then led us by golf cart to our site and asked if we needed help backing into the site, which we declined.
Soon, he was back with our wood and ice.
We couldn't believe our RV Site!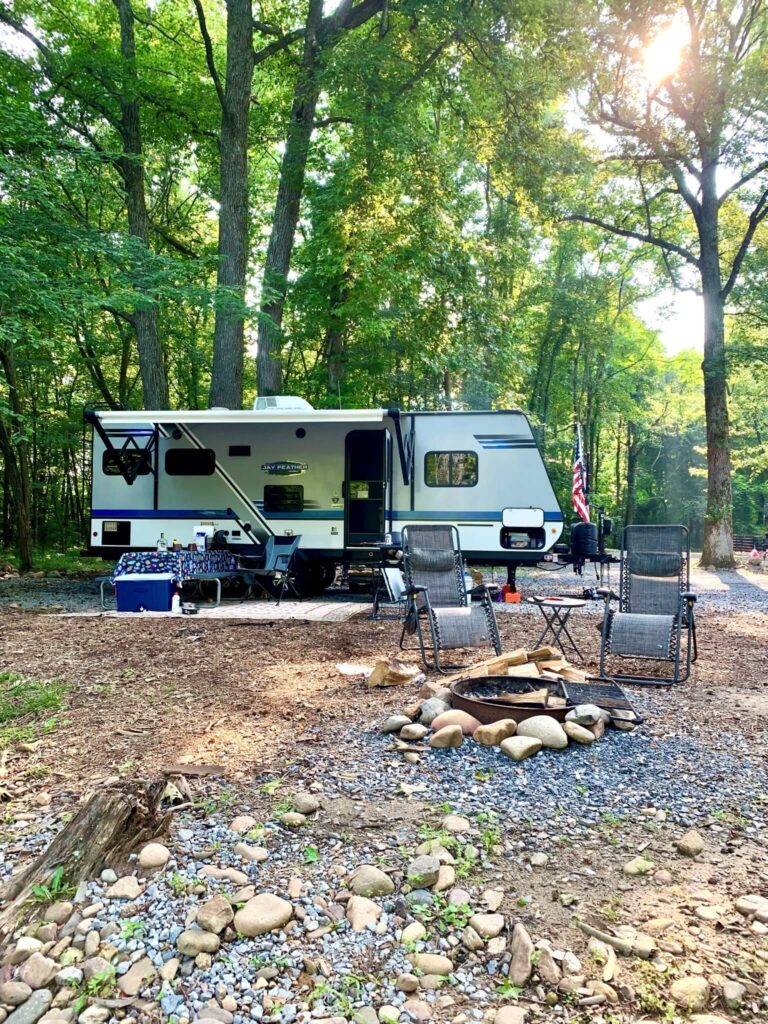 Site #34 is right along the Nolichucky River! It was beautiful.
The sound of the rushing water was what we were hoping for and the site was one of the prettiest sites in the campground!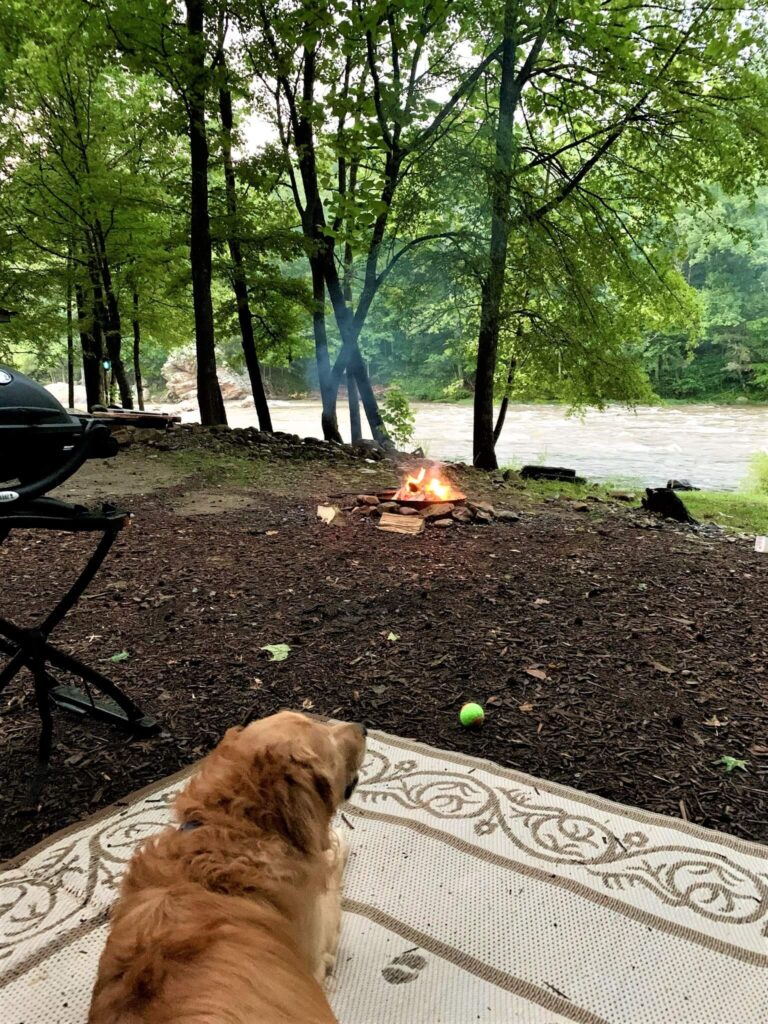 The site was gravel and the area around the site was a mixture of dirt and woodchips – no grass. The site was also level so we did not need additional levelers.
Before making our reservation way back in January, my husband studied the campground map and we paid extra to choose this particular site. Not all campgrounds do this, but at the time of this writing, Jonesborough/Cherokee NF KOA allowed you to do so.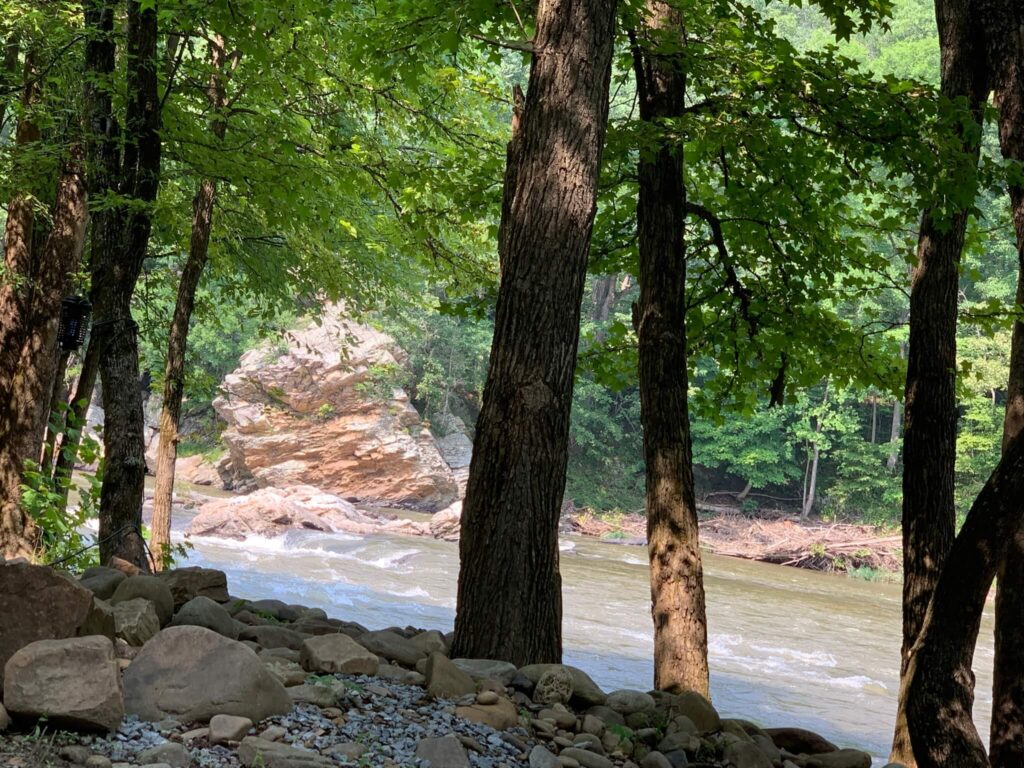 The Nolichucky River is a Class 2-4 rapids wild river. There is no lifeguard on duty. We did enjoy watching kayakers come through who seemed experienced dealing with the rapids.
The campground bathhouse is secure, and a code is given to registered campers to use them. We did not use them, so I can't comment on their condition.
The garbage is nicely placed behind a fence so that you don't see the dumpster.
The campground is well-kept and nicely manicured.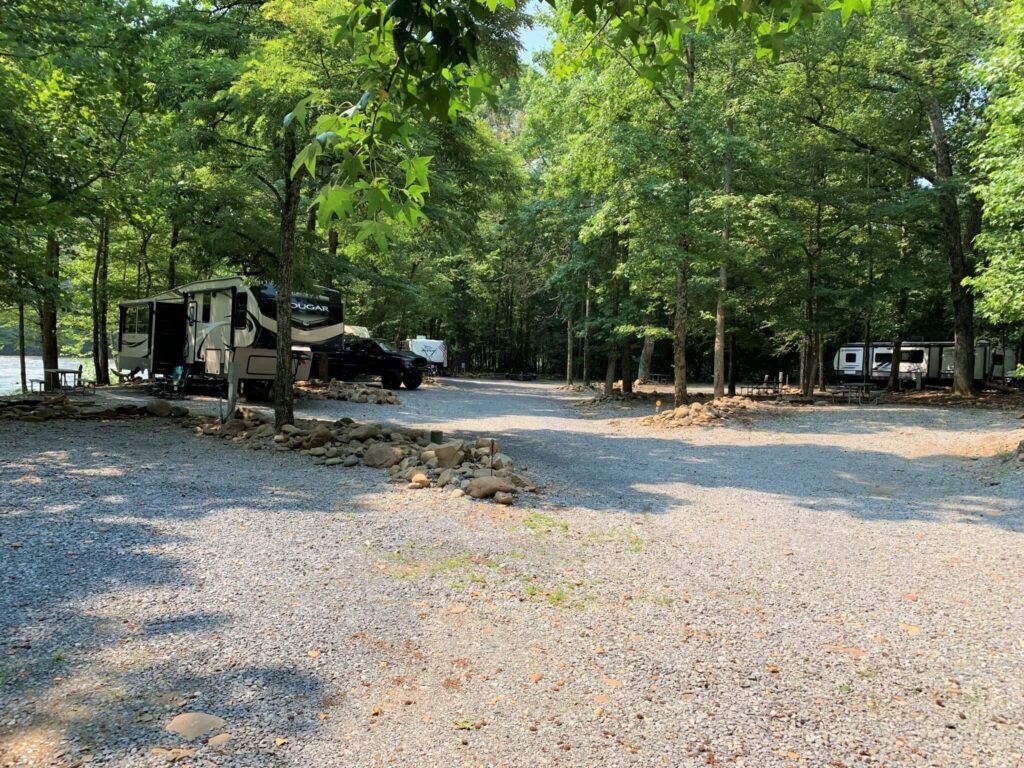 Things To Do Near Jonesborough, Tennessee
The campground is near several fast food places and a Walmart which is always convenient when camping for an extended period of time.
There is a major highway nearby, but where we wanted to visit (Grandfather Mountain, Linville, Falls, and areas near The Great Smoky Mountains National Park) that highway was not the "fastest route" and our GPS almost always took us in another direction!
But, as many of you know, we love to travel the backroads of the area we are visiting! and, what we saw were some of the most amazing views of the mountains and small rural towns that we would never have seen driving on an interstate.
Visit Historic Jonesborough, Tennessee
The town of Jonesborough is just ten miles from the campground and is the oldest town in Tennessee. It is also known as the Storytelling Capital Of The World hosting one of the largest storytelling events in the country.
It's worth the drive to the town of Jonesborough to see the historic buildings.
We also took a drive to Greenville, Tennessee where we visited President Andrew Johnson's home and National Monument.
Thoughts About Jonesborough/Cherokee NF KOA
The Jonesborough/Cherokee NF KOA is a beautiful campground offering large RV sites with full hookup, tent sites, and unique cabin camping.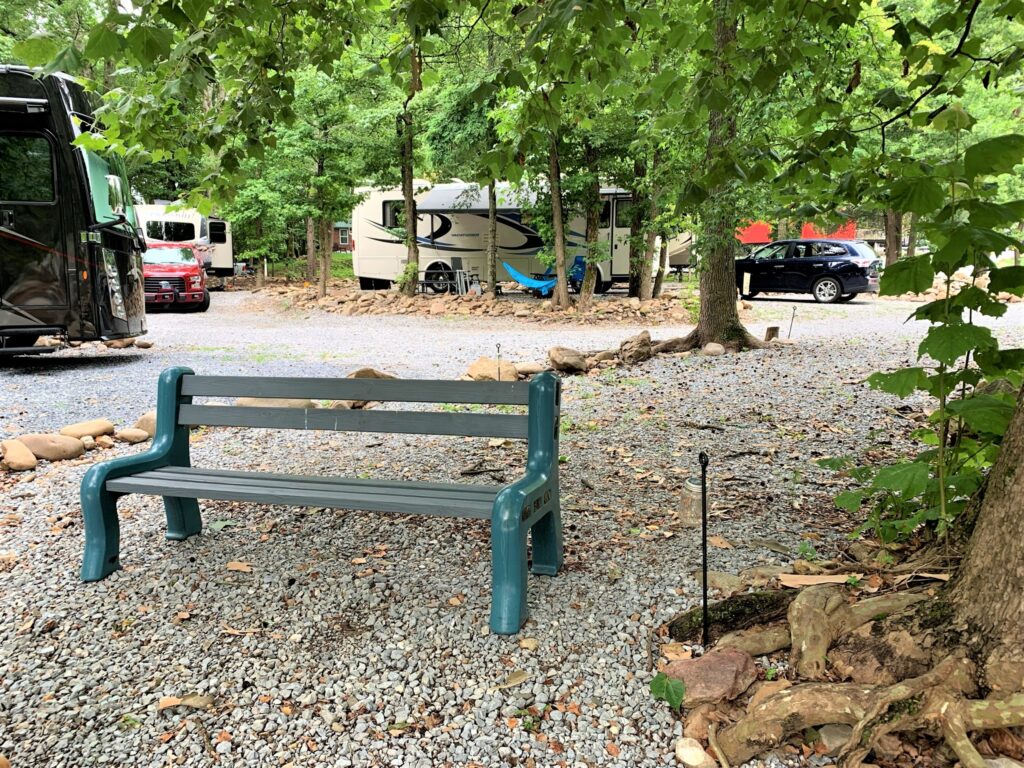 It was just the type of campground we love to return to after a long day of driving and seeing the sites!
If you are looking for a campground with a pool and lots of planned children's activities – this is not that type of campground.
However, there is plenty of room for kids to play with a stage, playgrounds, horseshoes plus great fishing and swimming in the Nolichucky River.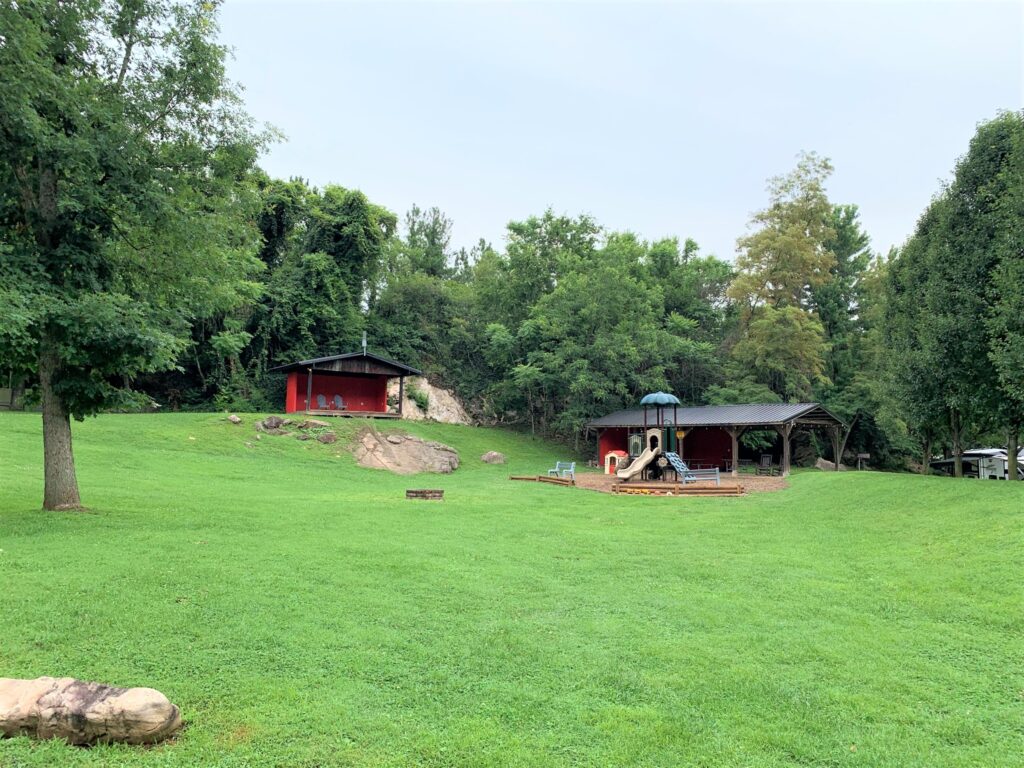 The friendly staff will go out of their way so you will have a great camping experience!
Jonesborough/Cherokee NF KOA Amenities
3937 Hwy 81 South, Jonesborough, TN 37659 / 423-753-5359 / [email protected]
RV Sites (50/30 amp)
Tent Sites
Camping Cabins
Express Check-in
Check-in at your RV or Vehicle
New KOA (January 2021)
Gravel sites/no grass
Pull thru/Back-in Sites
Smaller campground
Pet Friendly
Kamp K9-Dog Park
Fire Ring
New Picnic Tables
Wood & Ice delivered to site
Friendly Staff
Camp Store
Quiet Campground
Cons – We couldn't think of any!
More Articles About RV Travel You Will Love