Last Updated on March 31, 2021 by Lori
There is no denying that Washington, DC is full of exciting restaurants, amazing views, and incredible history.
But, if you travel about an hour west, away from DC, you will find some of the best hiking, wineries, breweries, and Hidden Gems in Northern Virginia that are simply a must-see!
This post contains affiliate links which means if you click on a link and make a purchase, I will earn a commission at no additional cost to you. Please see our Disclosure Policy for more information.
As you drive west along Route 7, the strip malls and traffic lights begin to fade away and the farms and mountains come into view.
You can almost feel yourself sigh as you leave the city behind and you begin to relax looking out the window at the beautiful views.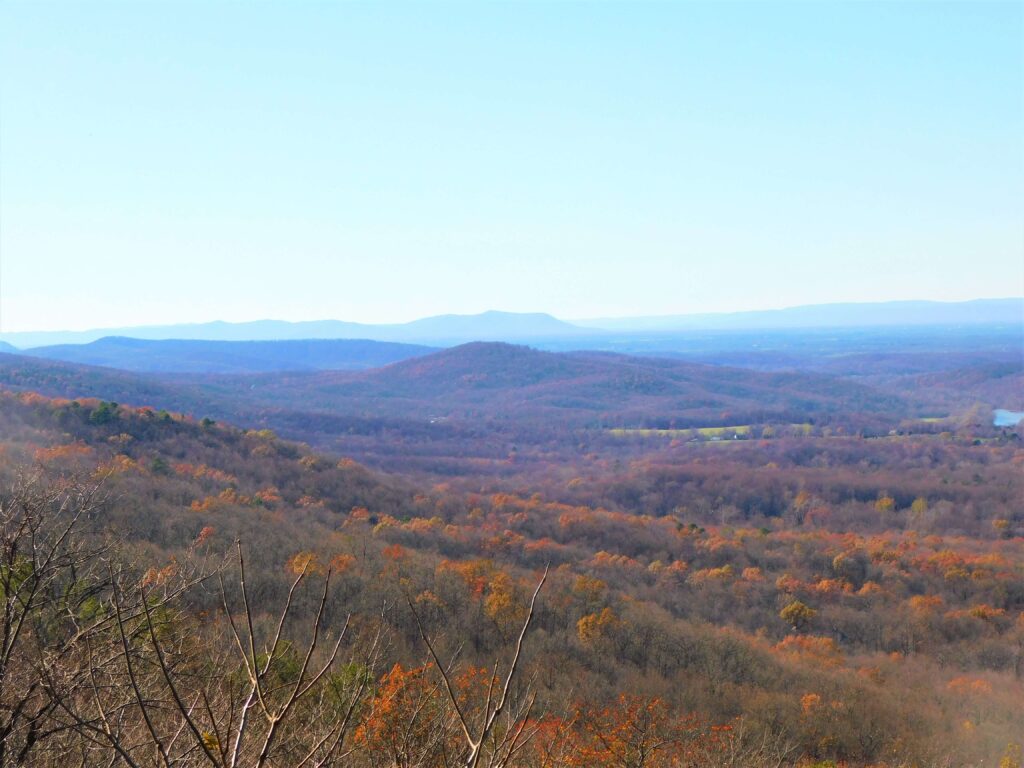 I didn't know what to expect when I visited the Northern Virginia area. But, after spending the day exploring the area, I found myself wanting to return the next day to make sure I hadn't missed anything!
Take a beautiful hike, visit an old-fashioned general store and a yummy bakery; then walk around amazing farms, wineries, breweries, and cideries – there so much to do in Northern Virginia!
Top Places To Visit In Northern Virginia
Here are just a few of the top attractions that make Northern Virginia a perfect day trip!
1. Hike To Amazing Views of The Shenandoah Valley and The Blue Ridge Mountains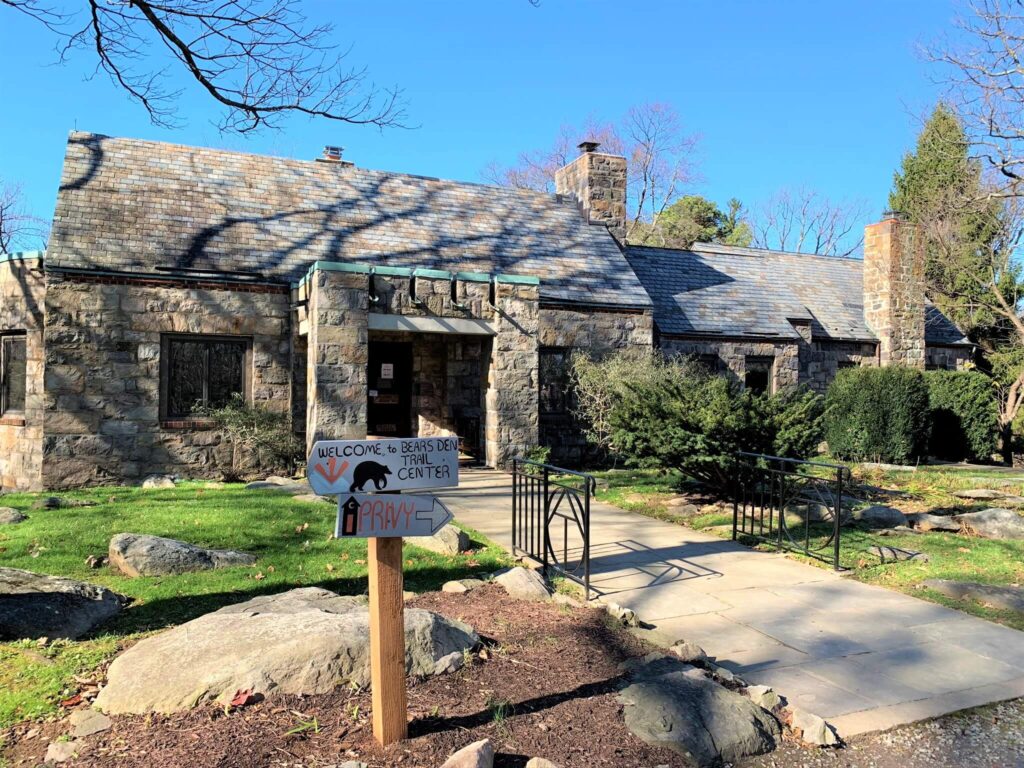 Bears Den Hike – Bluemont, VA
Bears Den was built in 1933 by local stonemasons as a summer home for Washington physician Dr. Huron Lawson and his wife, Francesca Kaspar an operatic soprano.
You can see the beautiful stonework on the home as well as the stone walls along the pathway.
Today Bears Den is a hiker hostel and a primitive campground. You can also rent the lodge or the rustic cottage.
Bear's Den is also part of the Appalachian Trail!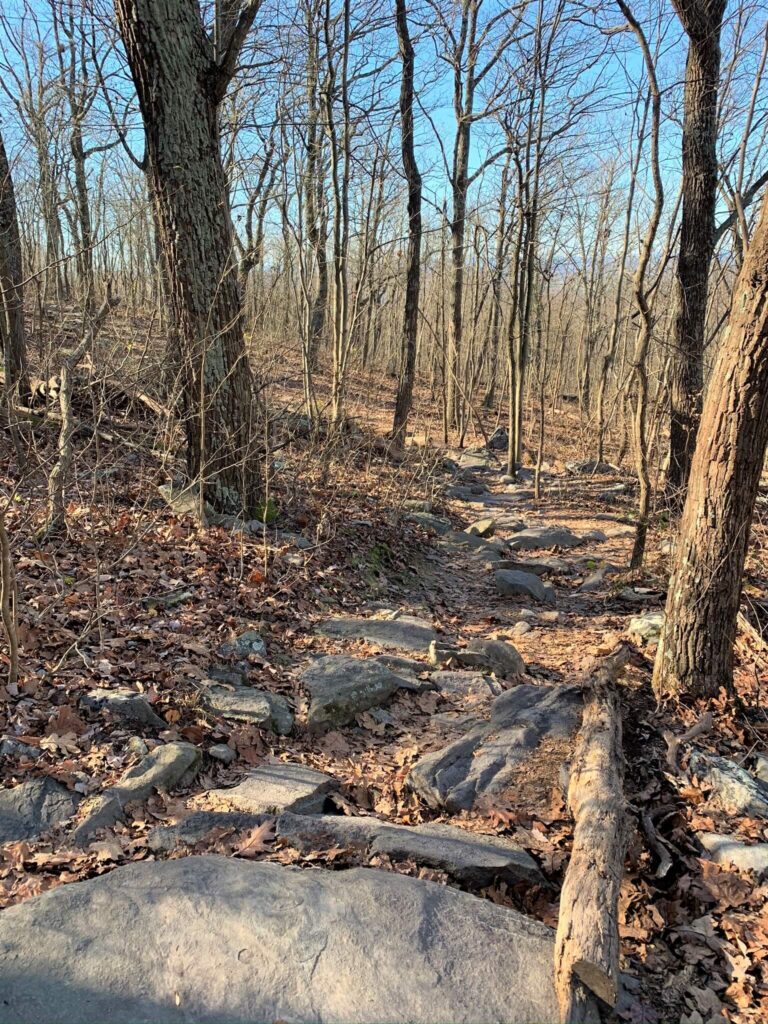 There are several trails to hike at Bears Den. You can choose to take the Nature Trail or the Blue Blaze Loop to Bears Den Rocks where the overlook provided amazing views!
We hiked the Blue Blaze Loop to the overlook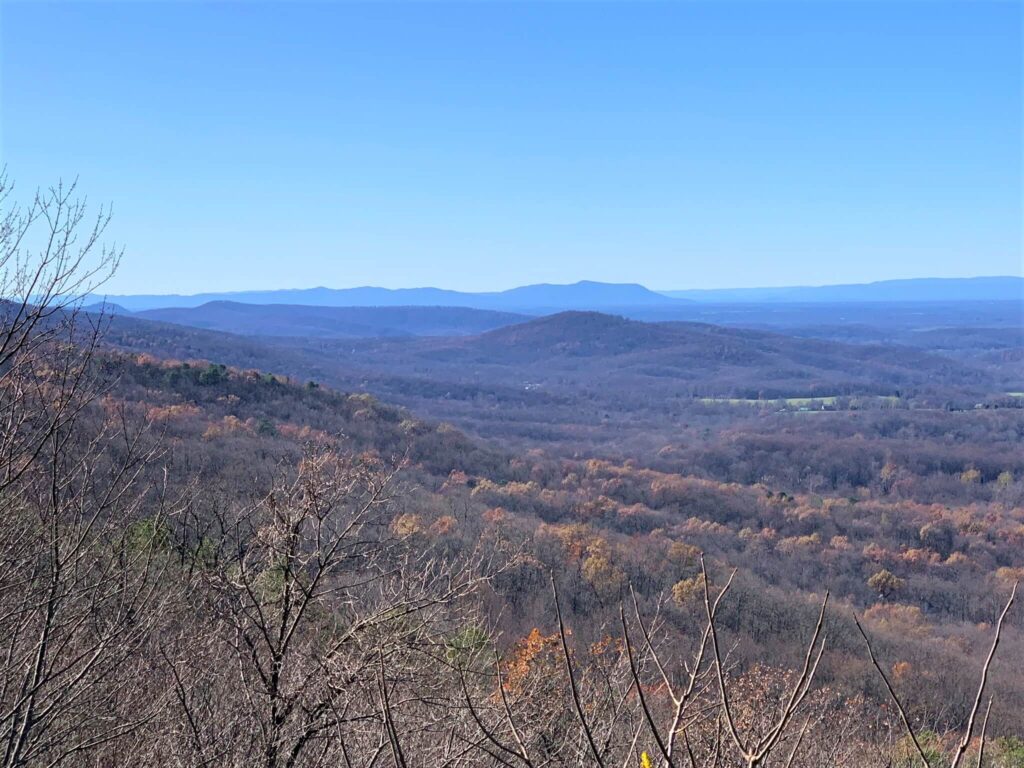 Where To Park At Bears Den
There are two places to park to hike to Bears Den Rocks:
Park in the parking lot on Rt 7 then hike ½ mile to the overlook.
Continue up Old Summit Road and park in the lower level parking area. Parking is $3 but you are just a short walk to Bears Den Lodge.
We chose to park in the parking area and walk up the short path to the Lodge.
Next to the trail information, you will find the envelopes to place your $3 parking fee. There is no one taking the fee in person so it is on the honor system!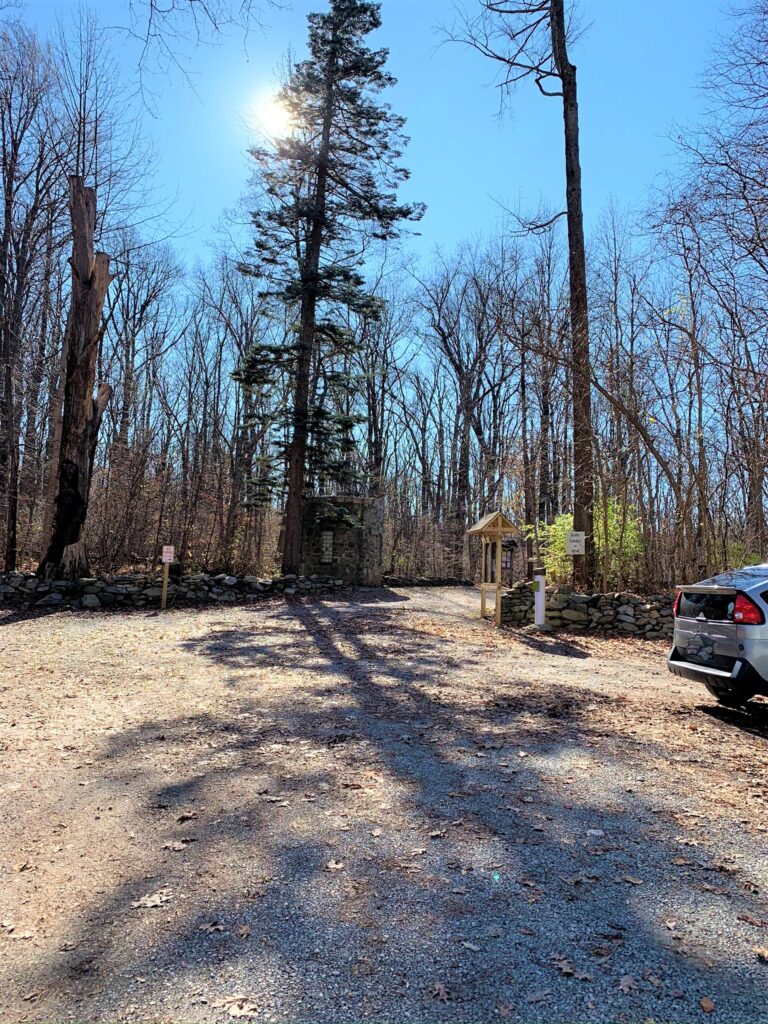 After picking up a trail map (see below) and enjoying the beauty of the Lodge, we started our hike on the Blue Blaze Trail to the Overlook.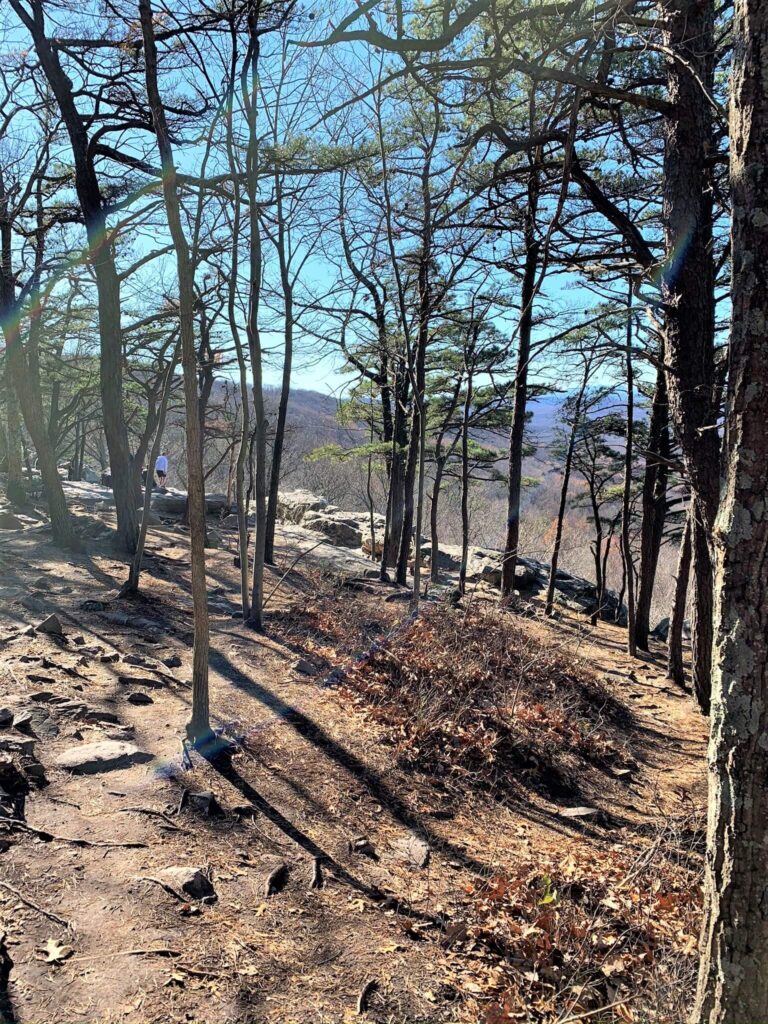 MAP OF BEARS DEN TRAILS
Be sure to stop at Bears Den Lodge to pick up a map of the trails!
We started on several gray lined trails and we were happy that we had our map in hand!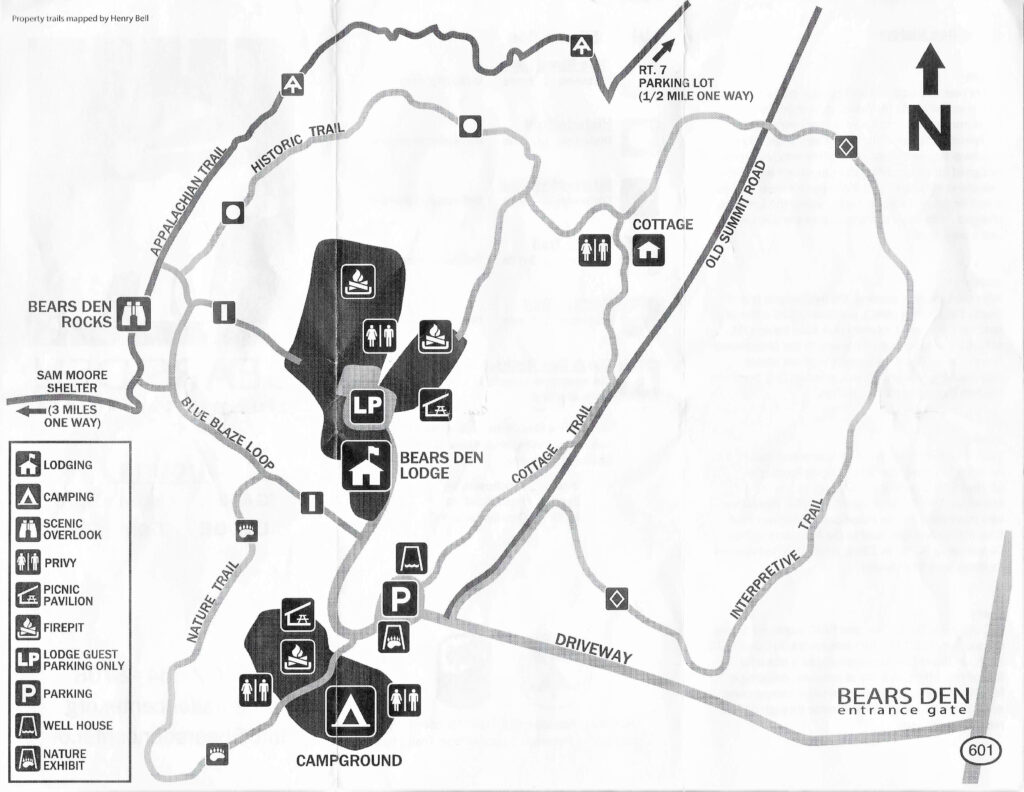 This is a view of the overlook during November – but Bears Den overlook is beautiful any time of year!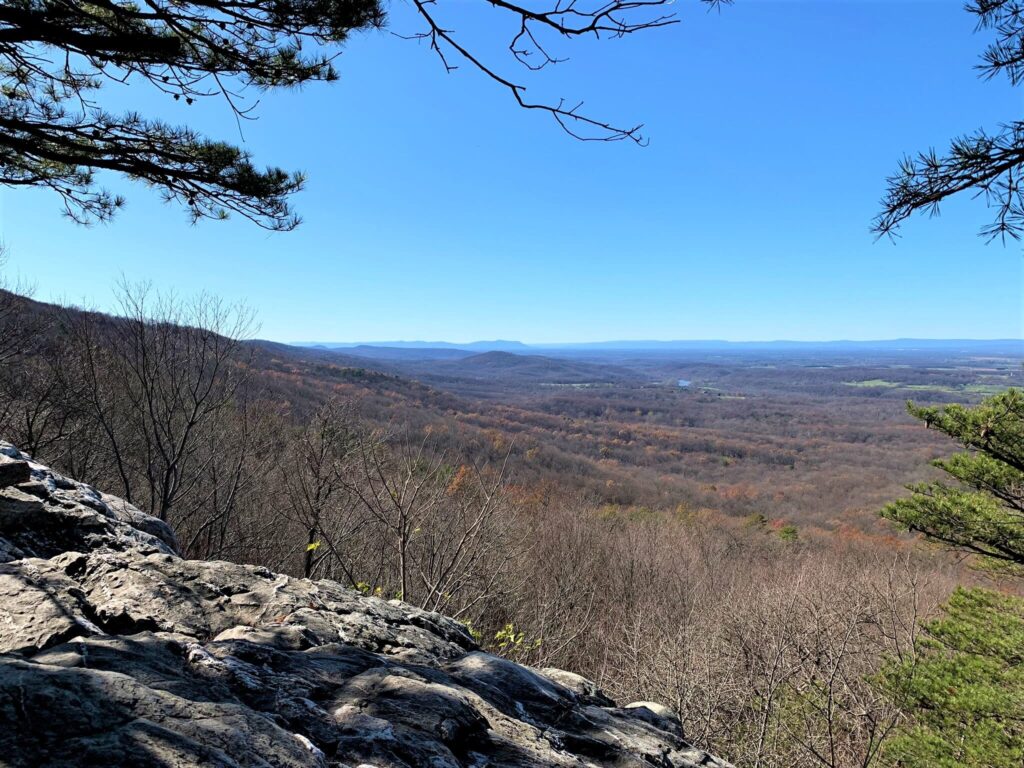 18393 Blueridge Mountain Rd.
Bluemont, VA 20135
2. Sit Back, Relax, Enjoy The Views…And Drink Some Craft Brew!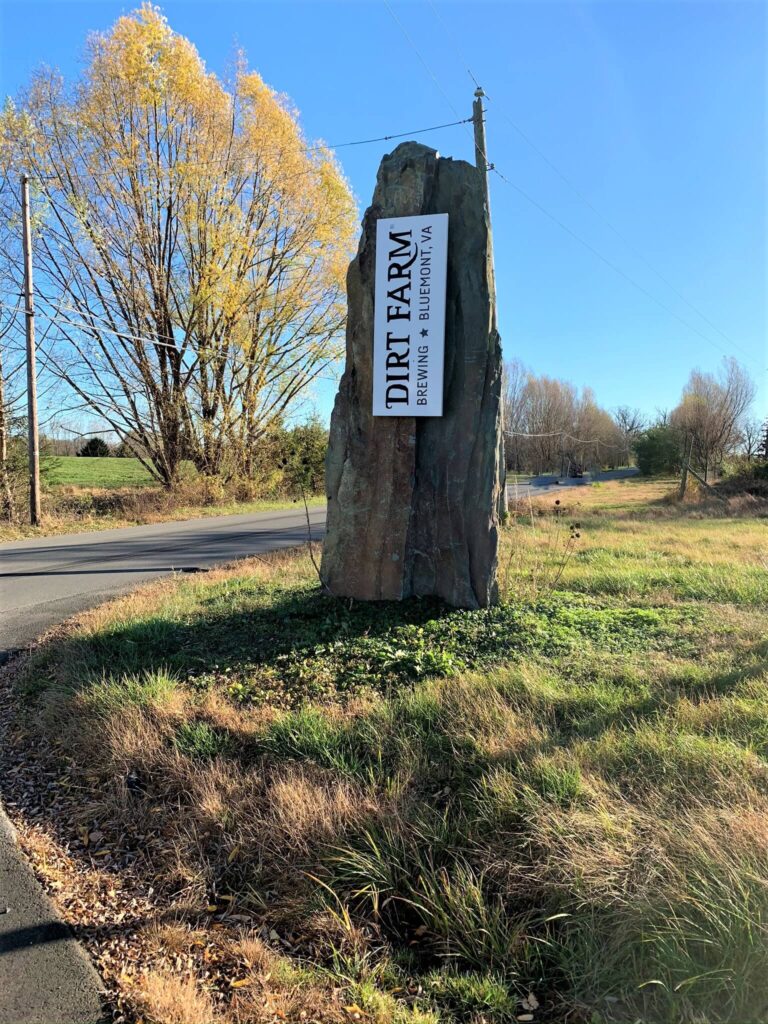 Did you know there are more than 30 Breweries in Loudoun County, Virginia?
That's where we found Dirt Farm Brewing and what a treat it was!
Dirt Farm Brewing – Bluemont, VA
Founded in 2012, Dirt Farm Brewing is one of those places where you just want to sit, relax and drink craft brew all day long!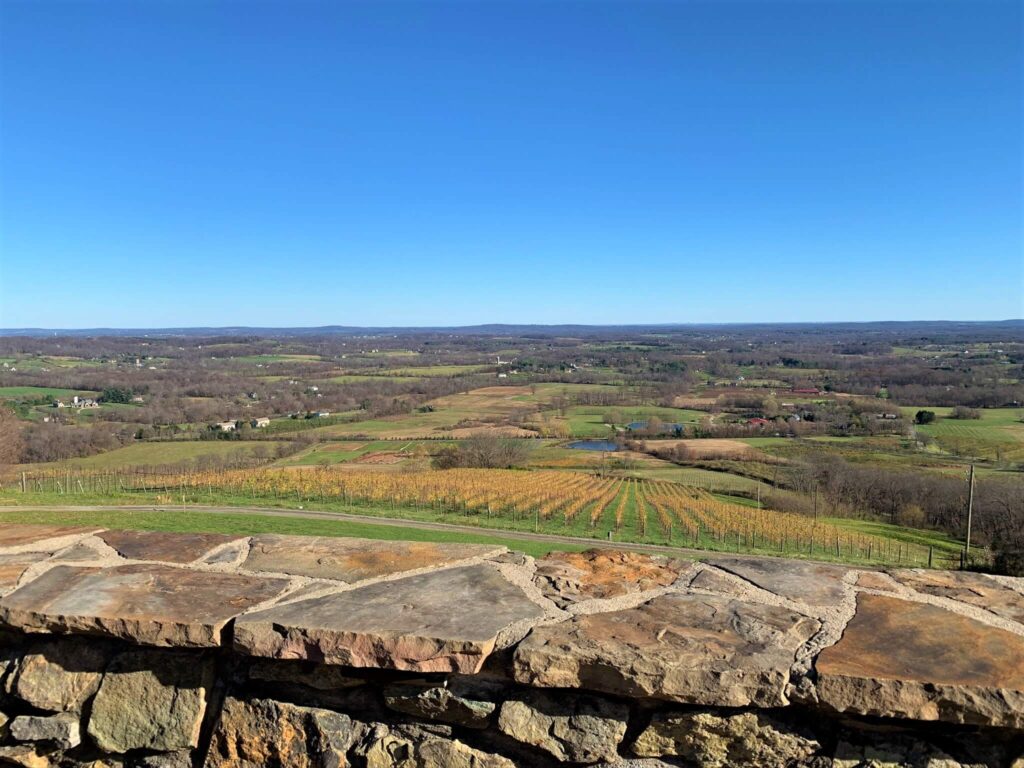 The farm combines their own grain, hops, farm product, and mountain water to create their beery.
We were excited to taste their craft brews, so we ordered a Beer Flight of four beers.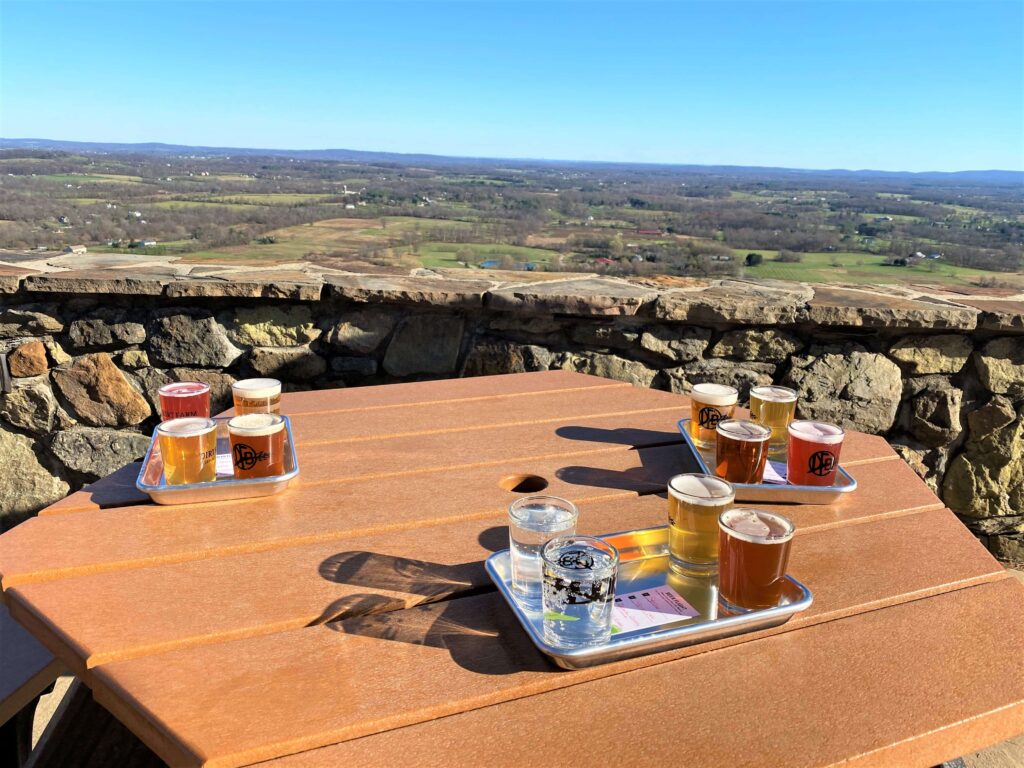 My favorite had to be Tart 31 made from the farm's own Montmorency cherries!
If you'd like some tasty food, be sure to order from The Kitchen which used local produce in their menu foods.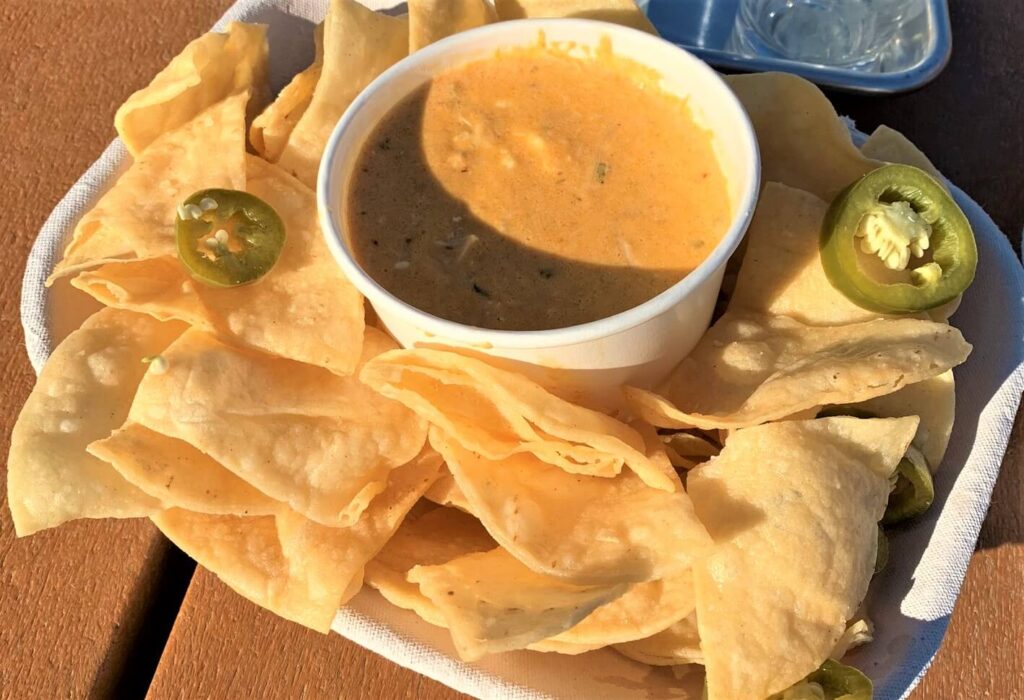 We were hungry after our hike and ordered: Chicken Jalepeno Nachos, Shrimp tacos, Meatballs w/garlic bread.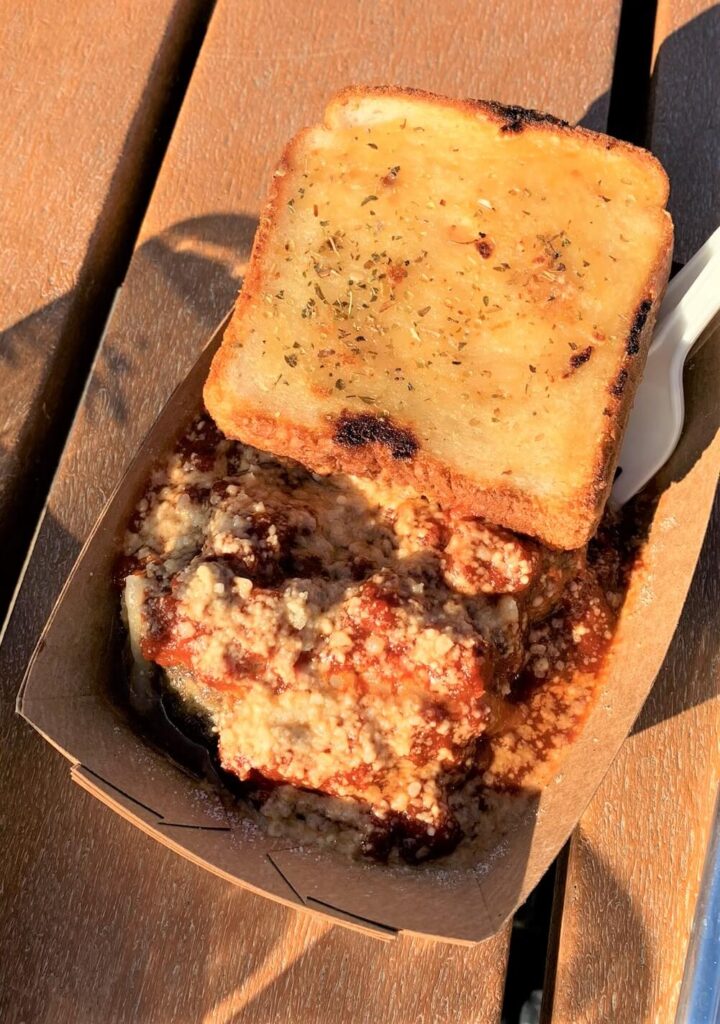 If you haven't tasted Shrimp Tacos before (like me) you will be in for a treat! These Shrimp Tacos are awesome!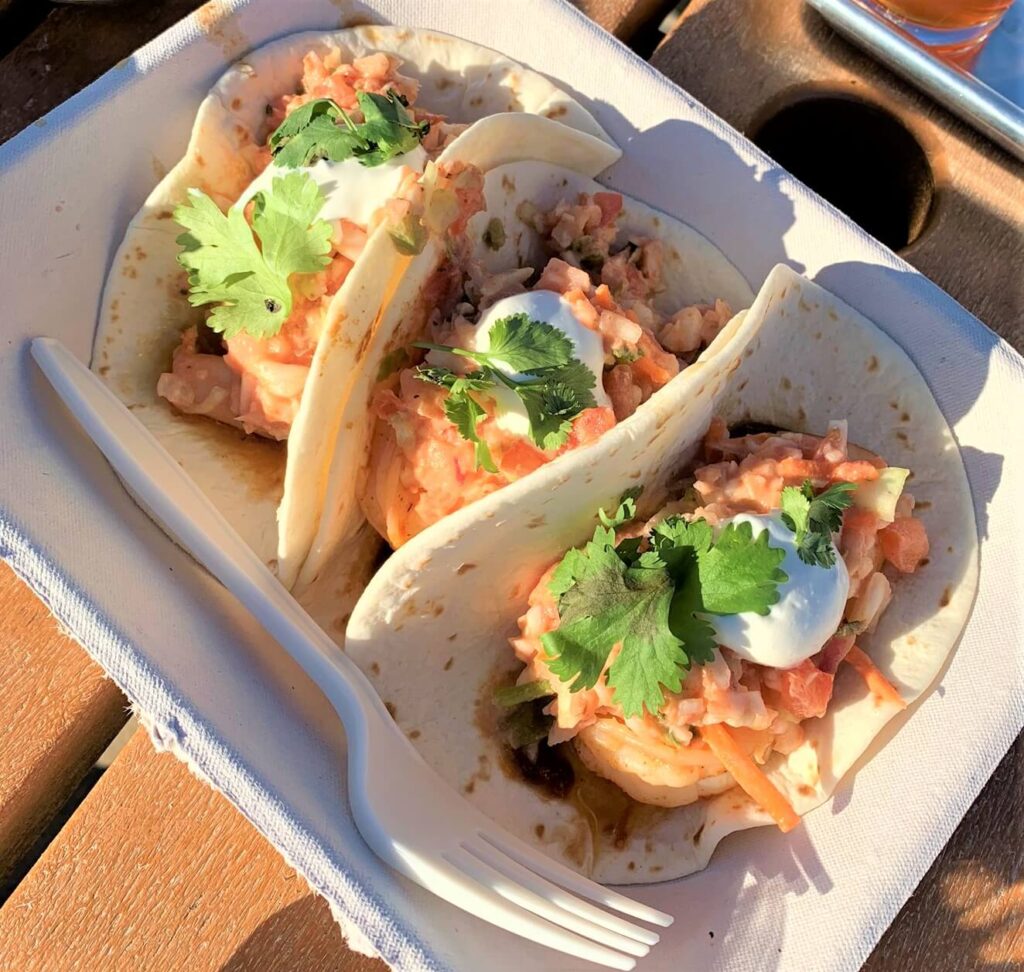 Everything was delicious!
There are many places to sit at the brewery.
You can choose to sit on their Adirondack chairs on the lawn looking out over the Loudon Valley…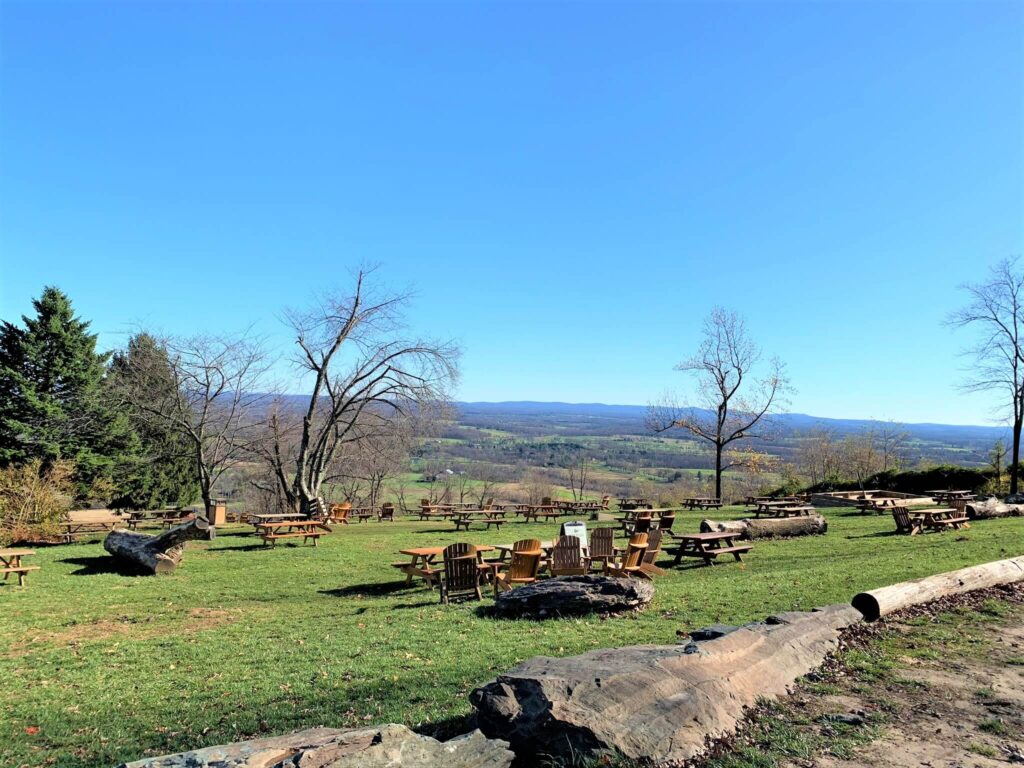 On their front patio by the stone fireplace, or even your own fire pit at your table…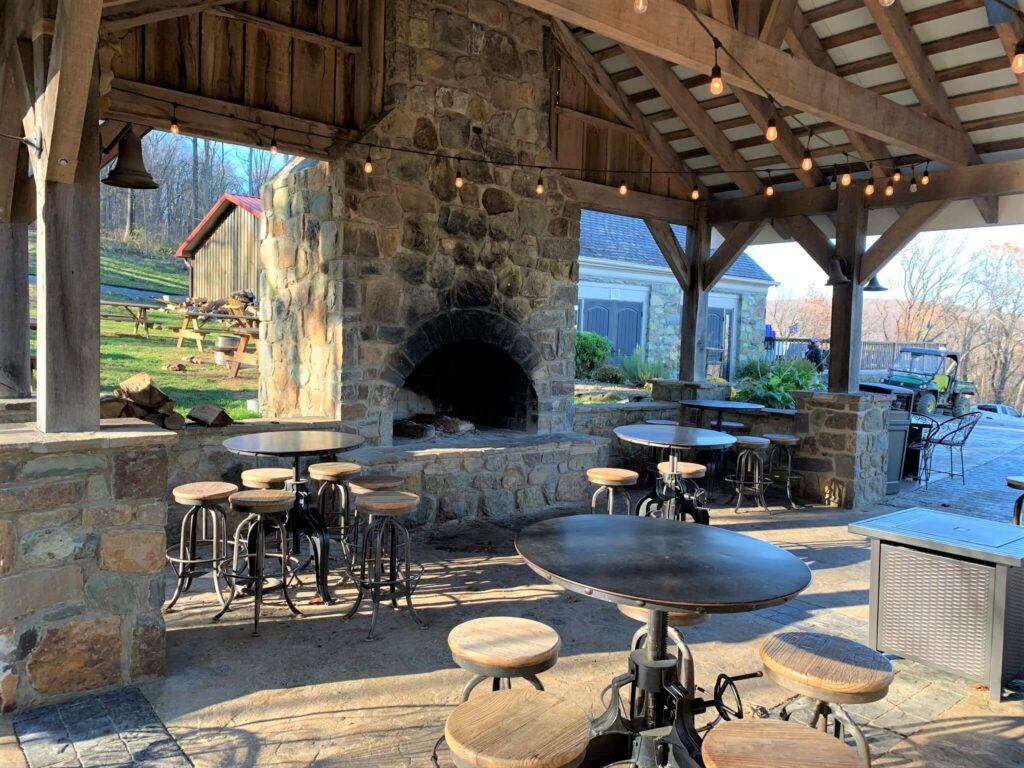 Or, as we did, sit on the back patio with awesome views of the Blue Ridge Mountains in the background.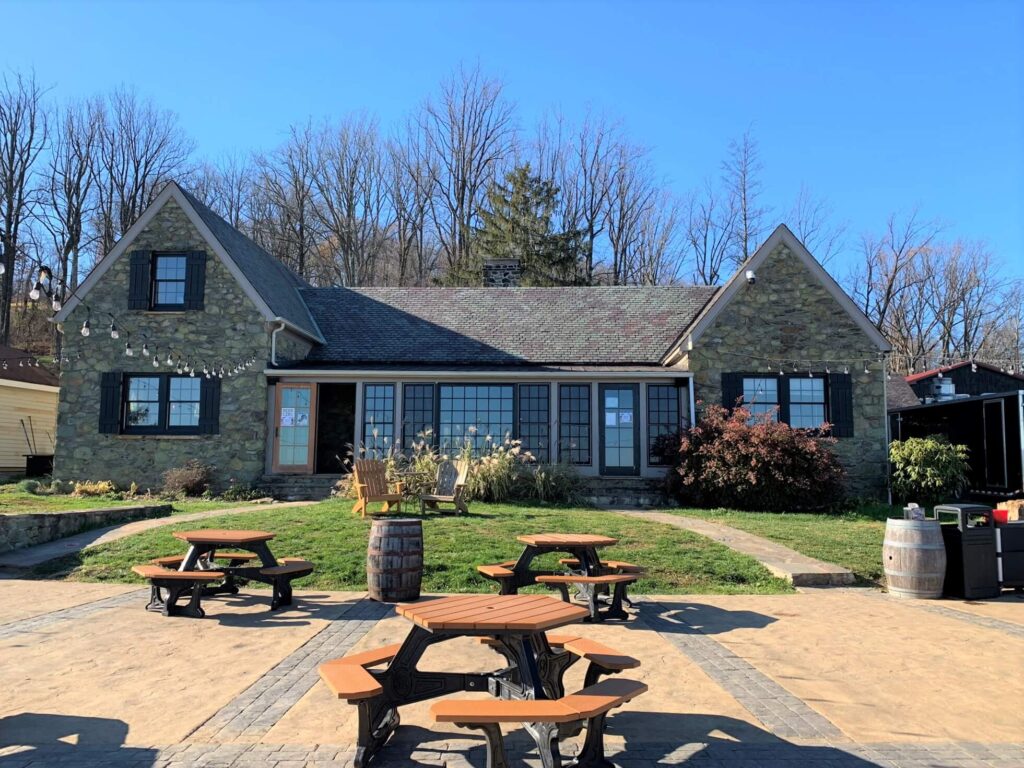 Dirt Farm Brewing is a Must-See in Loudon County, VA!
Dirt Farm Brewing – 18701 Foggy Bottom Road, Bluemont, VA 20135
3. Taste Wine from a Vineyard On Top Of A Mountain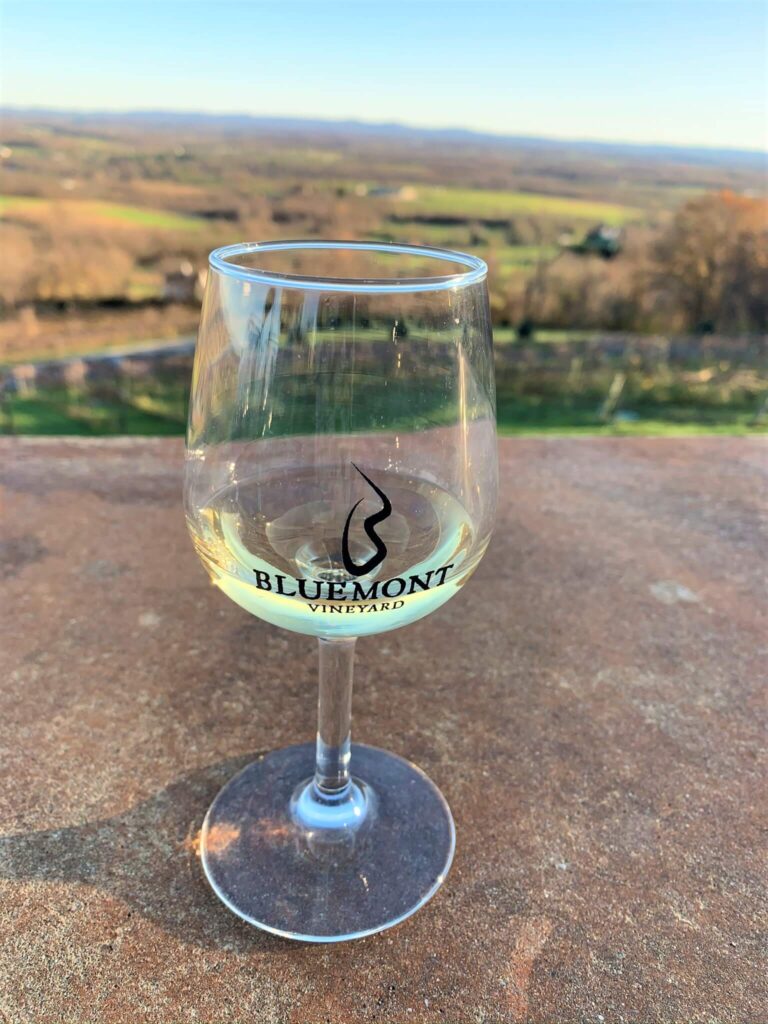 Bluemont Vineyard – Bluemont, VA
Just down the road from Dirt Farm Brewery, you'll find Bluemont Vineyard.
The Zurschmeide Family had always wanted to plant a vineyard on top of the mountain that faced their family farm – Great Country Farms.
One day, they had the opportunity to purchase 100 acres on the mountain and planted their grapes and orchards.
In 2007, Bluemont Vineyard was established when the first grapevines came into full production. The farm now grows over 45 acres of grapes on the mountain.
The tasting room sits 951 feet above sea level overlooking Loudon Valley and Great Country Farms.
As we drove up the mountain to the tasting room, we passed orchard trees, the stable where they have special events and weddings, grapevines, and finally reached the tasting room.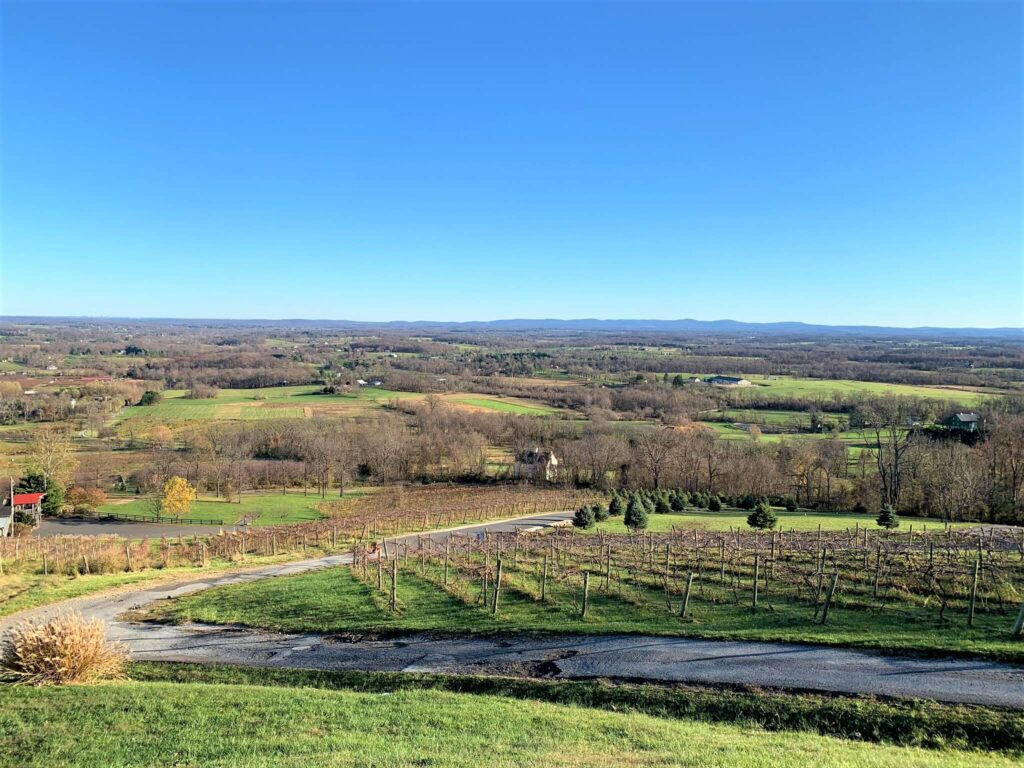 Parking was ample during our mid-week visit; however, the vineyard is prepared for large crowds so don't worry about where to park!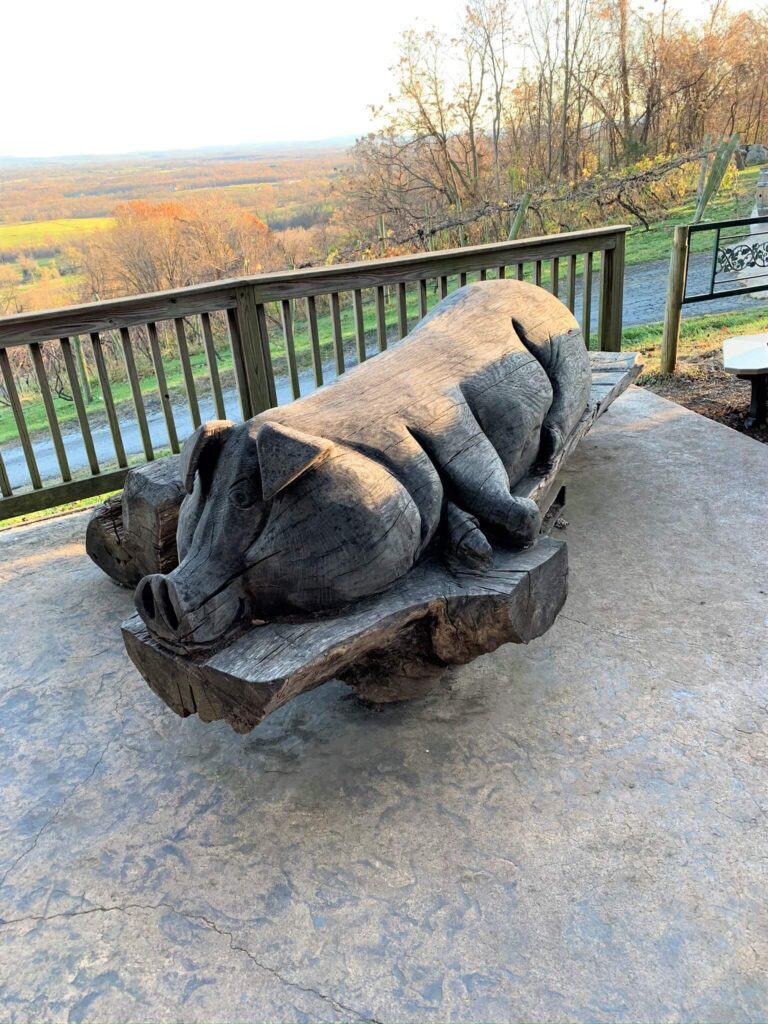 We chose to sit on the patio which also had incredible views of Loudon Valley which made the perfect backdrop to sit, relax, and taste their wines.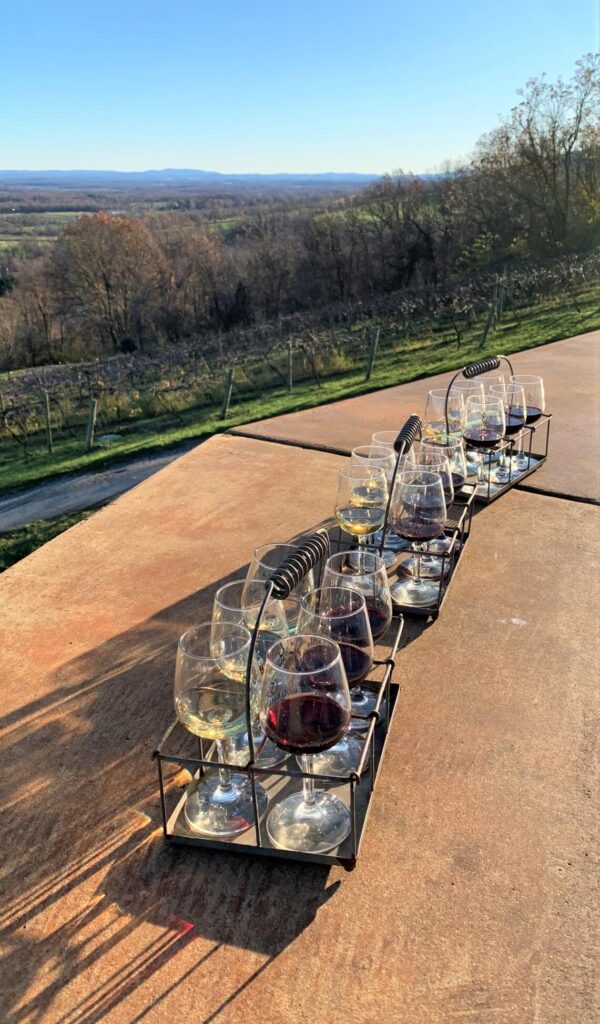 The Winter Farmhand Flight consisted of six wines – three white and three red: Farm table White, Autumn Apple Wine, Vidal Blanc "The Cow", Farm table Red, Merlot, Norton Port.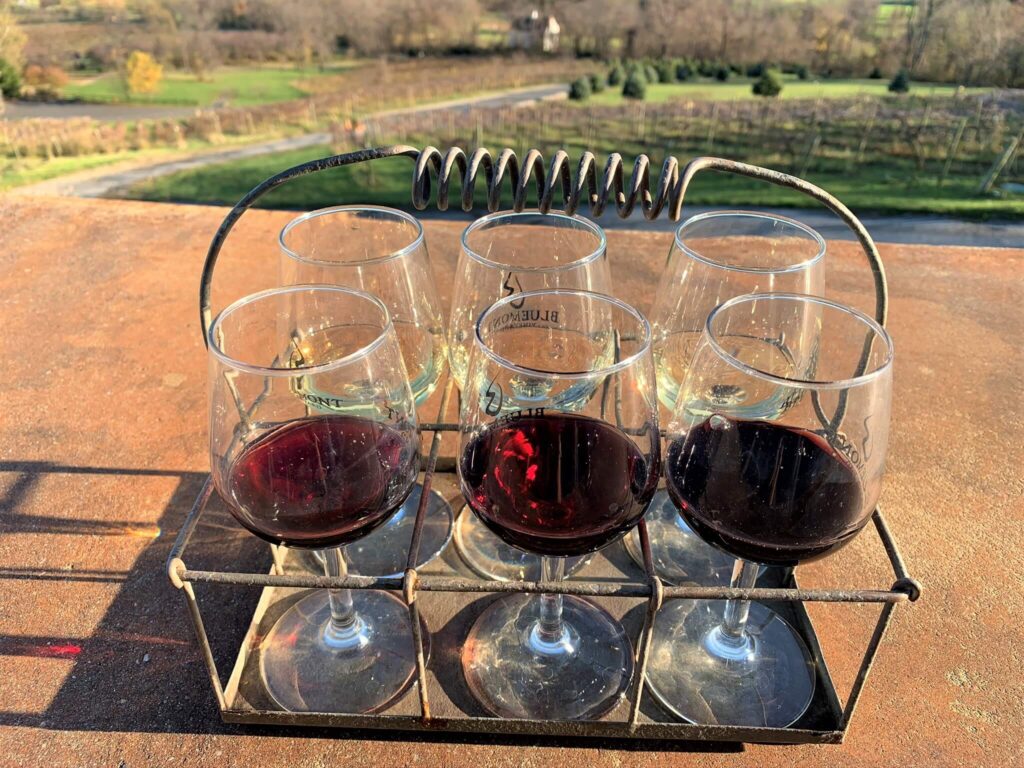 Our favorites were "The Cow" and the Merlot – but all were very good!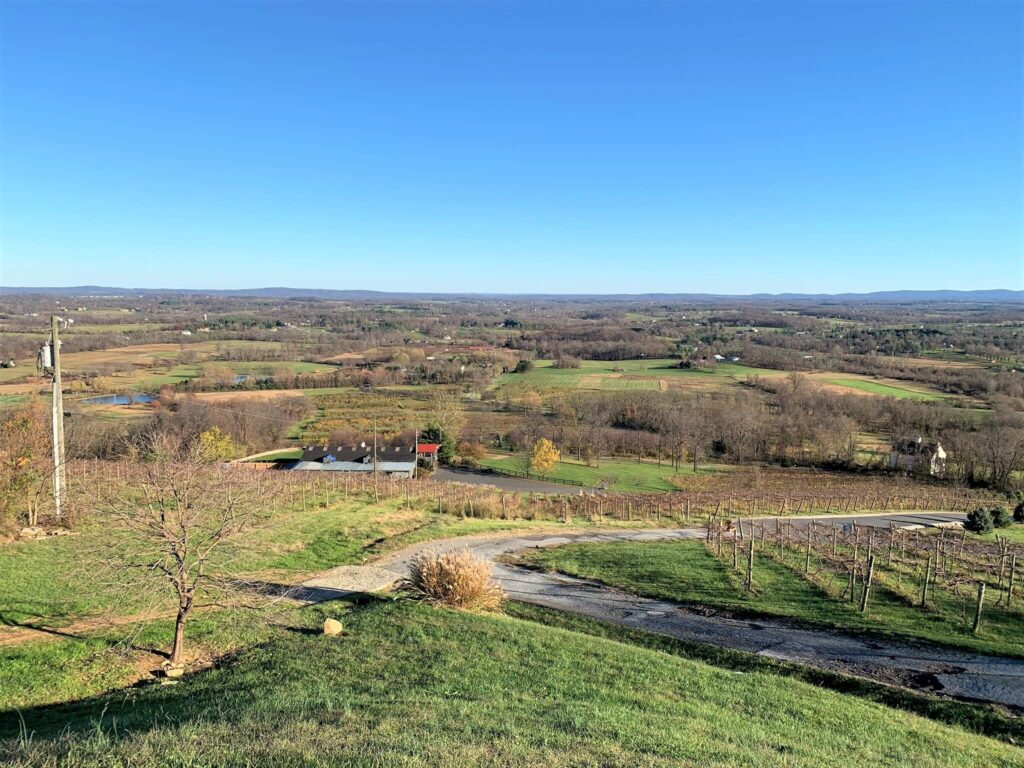 Bluemont Vineyard also has a select menu of small plates and shareable bites to have with your tasting.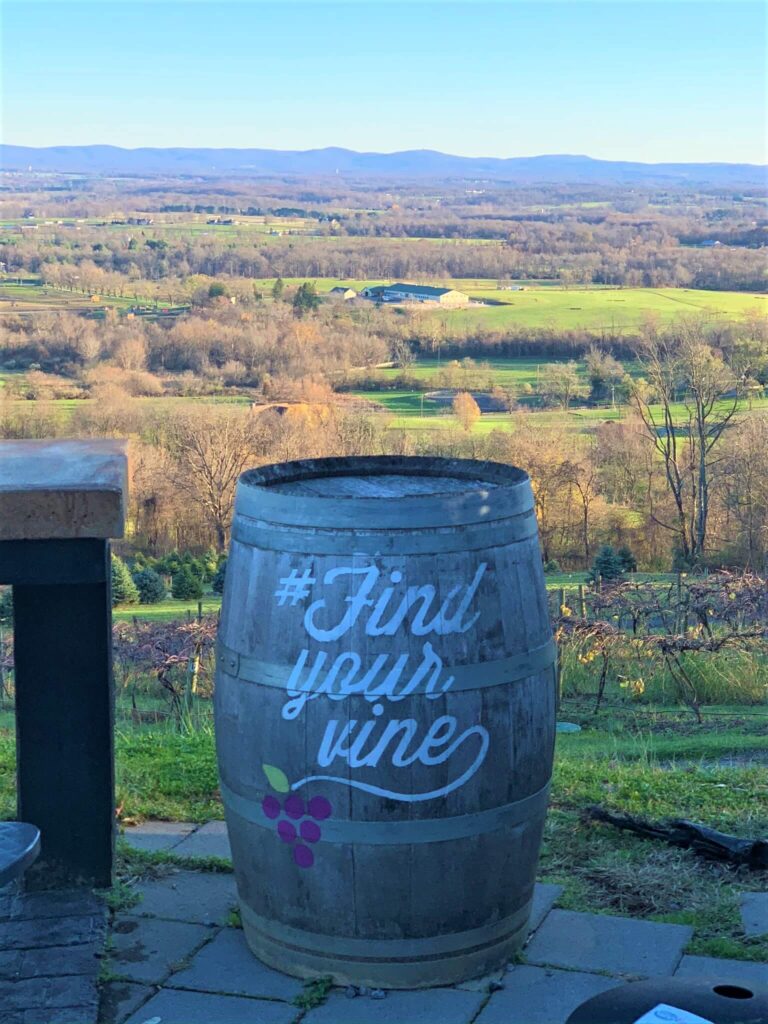 During the holidays, Bluemont Vineyard lights up their 10,000 vines with holiday lights!
If you're looking for accommodations in the area, Bluemont Vineyard has several cottages for rent throughout their 400-acre farm in Loudon County.
Visit Bluemont Vineyard for an afternoon of relaxation and great wine!
Bluemont Vineyards 18755 Foggy Bottom Road, Bluemont, VA 20135
4. Bring The Kids And Have A Blast At The Farm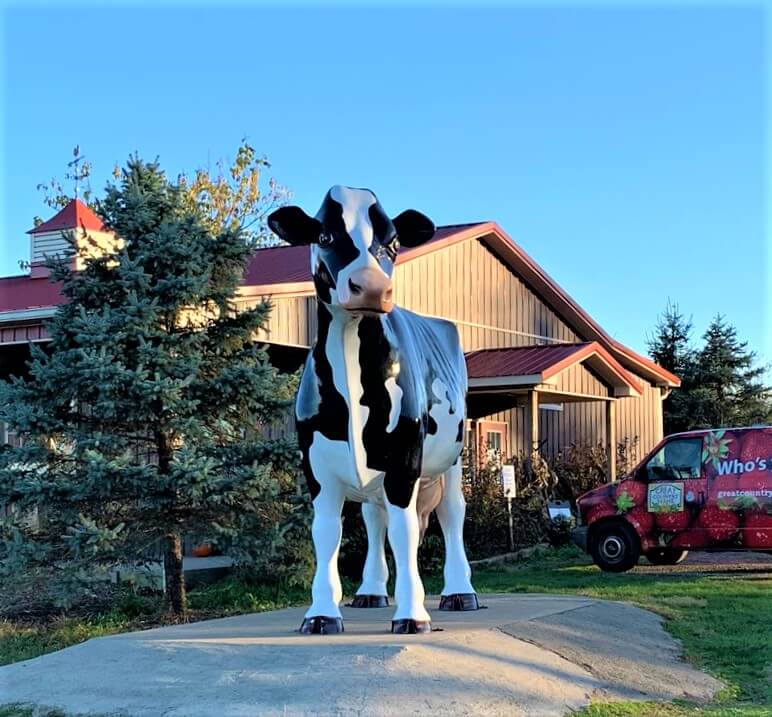 Great Country Farms – Bluemont, VA
The Zurschmeide Family came to Loudon County in the early 1970s and purchased a small farm in Lincoln, VA.
In 1993, they purchased a farm in Bluemont, VA, and today Great Country Farms is a 400-acre working farm offering produce as well as the farm experience to customers.
Best Things To Do With Kids In Northern Virginia
Experience Great Country Farms
Kids will have a blast at the farm with these activities that are included with your farm admission:
Pumpkin Jumping Pillow
Cow Pie Putt-Putt
Farm Play Area
Fishing Pond
Barnyard
Mazes
Farm Ninja Course
Wagon Rides (offered daily)
Attractions for Separate Fee
Farm Market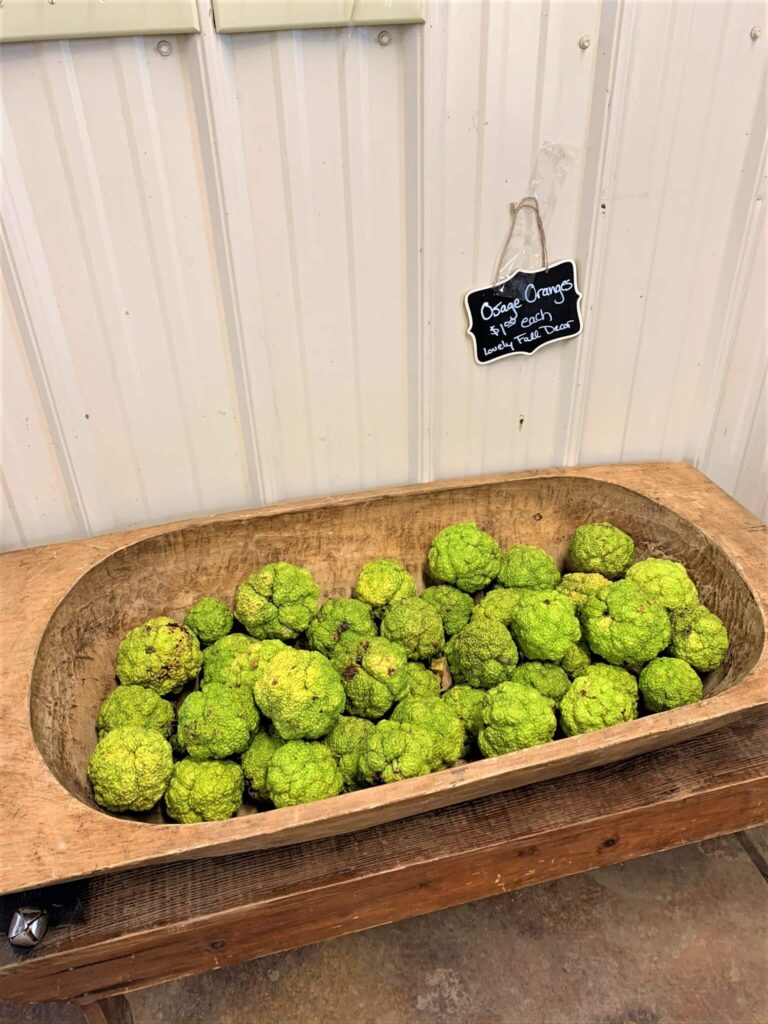 Inside the farm market are all the in-season produce fresh from the fields. There are also farm eggs, local honey, jams, freshly baked goods, and local meats.
Knead-It Bakery
We found the Knead-It Bakery located inside the Farm Market where we saw delicious pies and donuts.
Of course, we had to have some Cider Donuts and let me tell you those were the BEST Cider Donuts!
We also purchased a bag of Kettle Corn which is made right on the farm.
I love Kettle Corn and we all couldn't stop eating it when we got home!
Great Country Farms – 18780 Foggy Bottom Rd. Bluemont, VA
5. Drink Hard Cider By A Farm Pond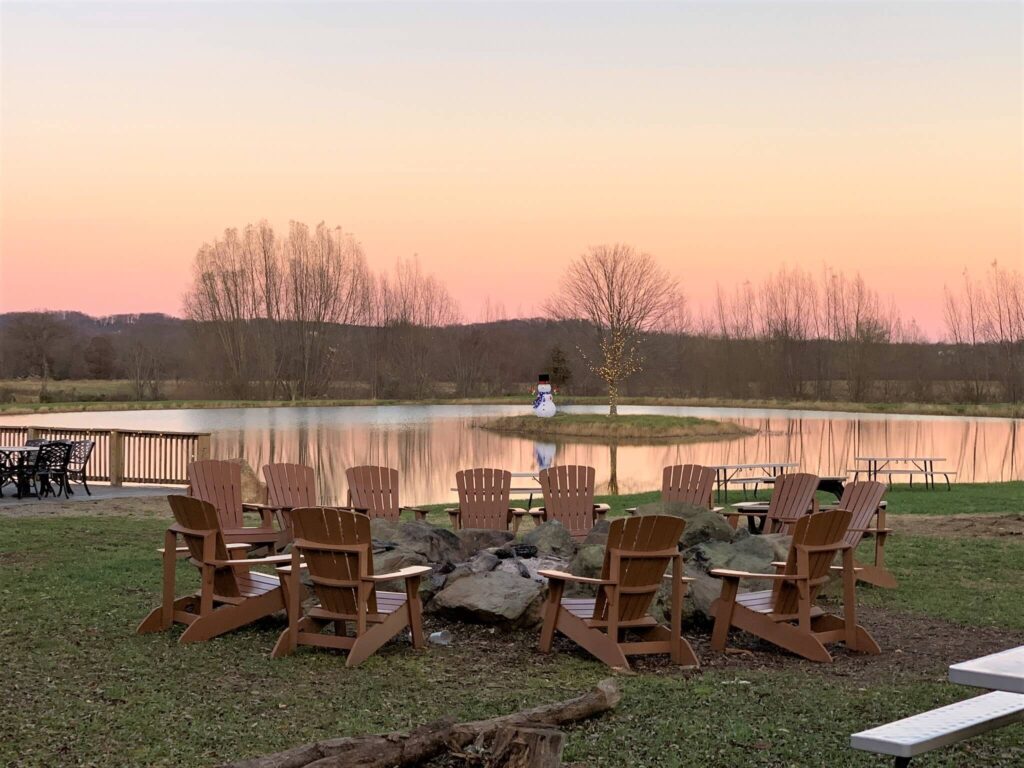 Visit Henway Hard Cider Company.
On the grounds of Great Country Farms is the family's Henway Hard Cider Company.
Henway produces hard ciders from Great Country Farms over 10,000 apple trees.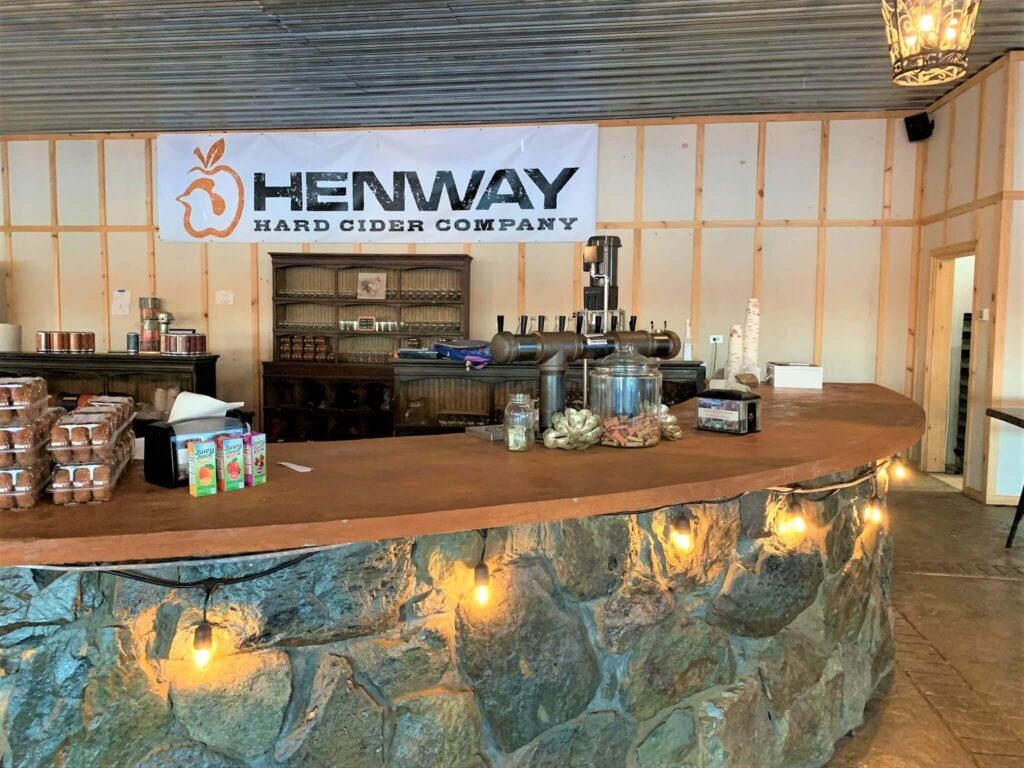 How Did Henway Hard Cider Company Get It's Name?
The name Henway comes from an old family favorite joke, "How much does a hen weigh?" passed down over five generations. Thus the name – Henway Hard Cider Company!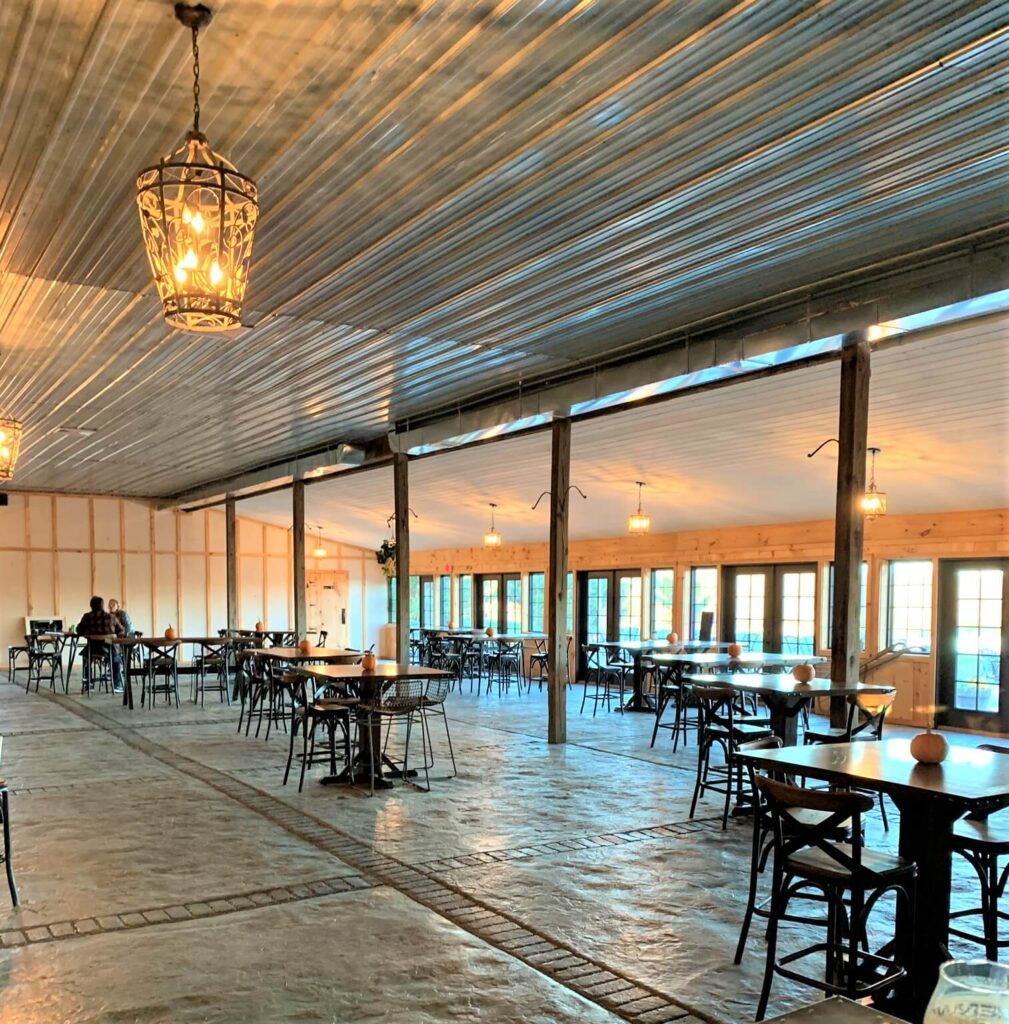 The Cider Flight:
This was my first time at a cidery. I didn't know what to expect – but I enjoyed tasting them all!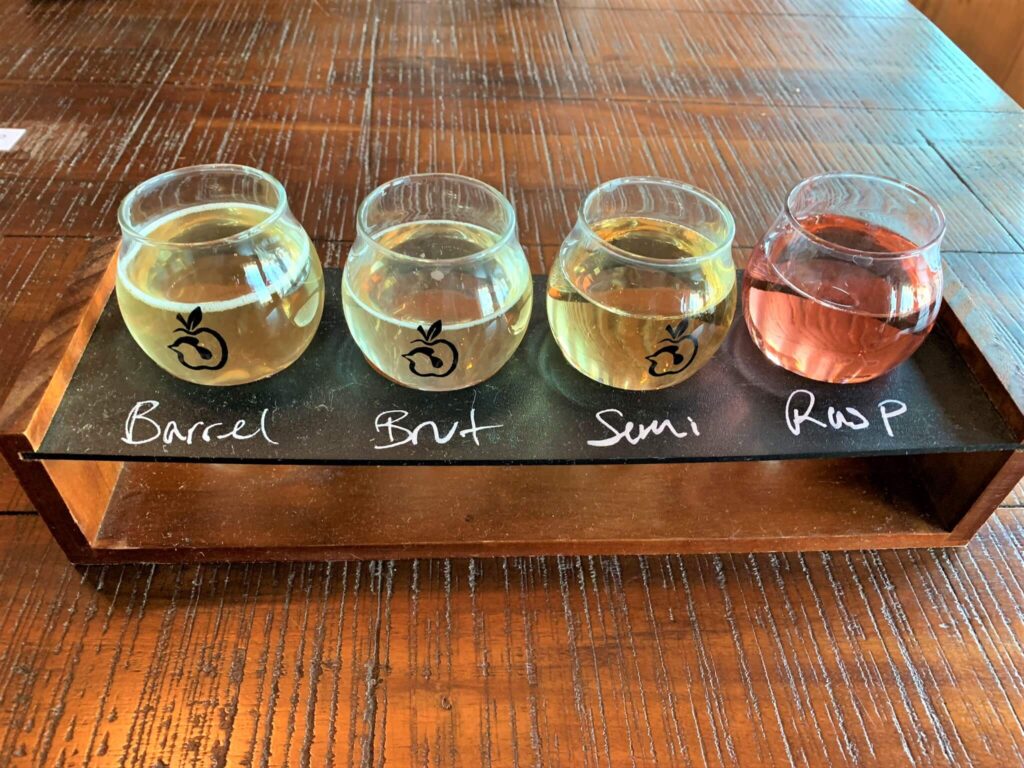 Brut – A blend of Arkansas Black and Pink Lady apple varieties. Champagne Style, Dry, Lite apple nose with tight bubbles and crisp acidity.
Semi-Sweet – A blend of six different apples, fermented dry then back sweetened with fresh-pressed apple juice. Medium body, refreshing.
Ginger Hop – Brut Ciden blended with hops and ginger
Peach – Brut cider blended with pressed peaches (from Great Country Farms), semi-sweet
Concord – Brut Cider blended with concord grape juice, semi-sweet
Barrel Aged – 100% Pink Lady apples aged in neutral white wine barrels for 20 months. Refreshingly dry and tart with hints of baked apple, graham cracker, and custard with a slightly oaked finish.
I'm not sure which of the ciders were my favorite!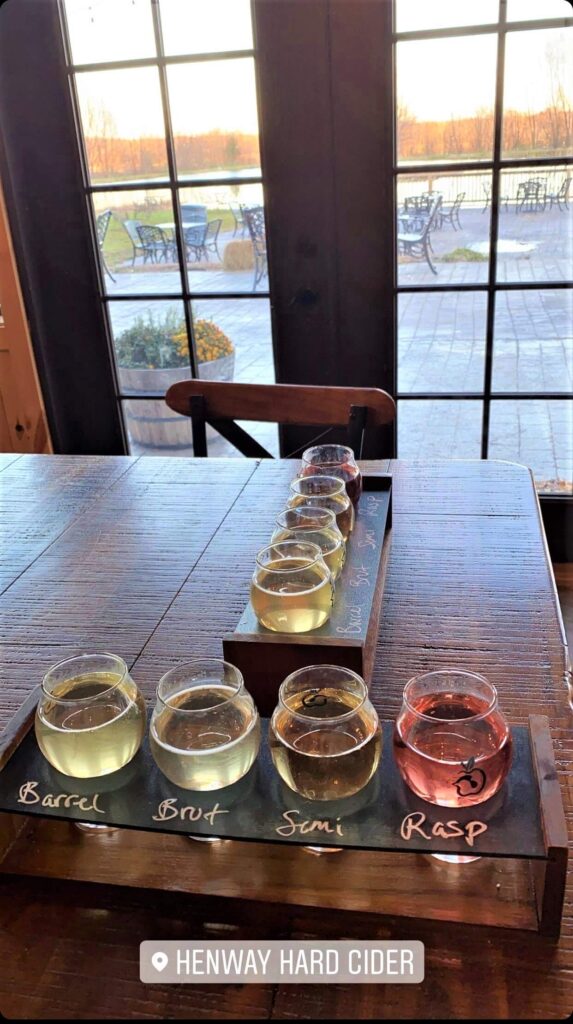 Henway Cider also has food available on their Bird Bites menu:
Bavarian Pretzel Sticks
Tomato Soup Bread Bowl
Potato Soup Bread Bowl
Baked Mac & Cheese
All American Grilled Cheese Panini
Chips & Salsa
Walk-ins are welcome – but reservations are encouraged.
Well-behaved dogs are welcome in the Tasting Room and surrounding areas on a leash.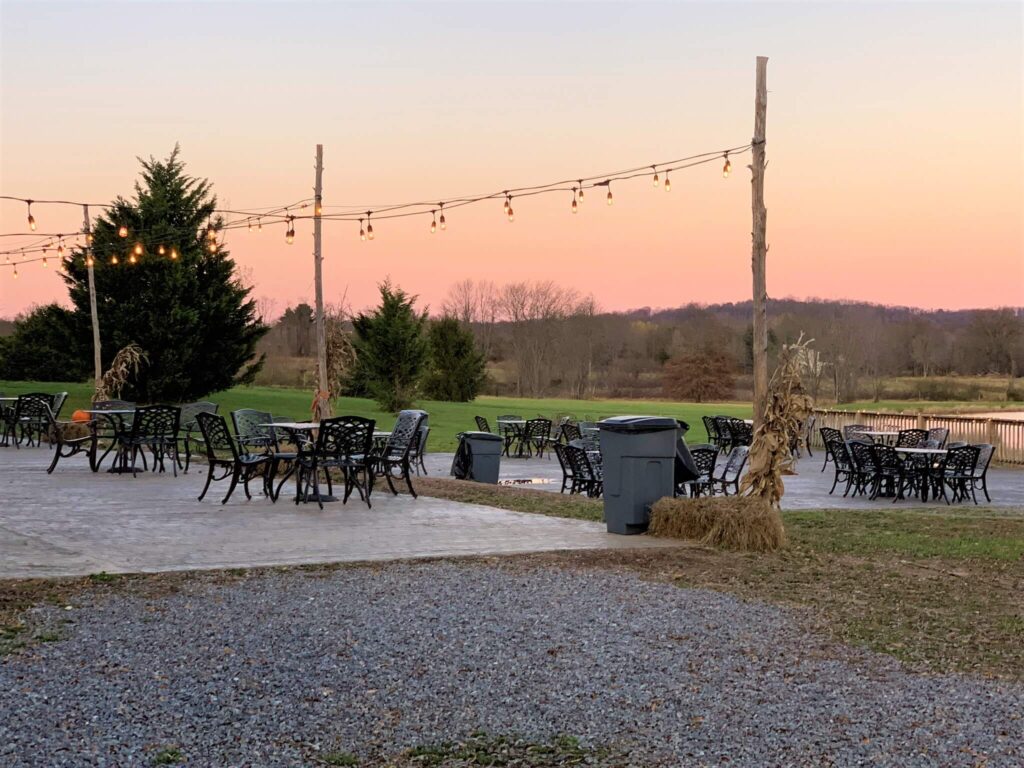 Henway Hard Cider 18780 Foggy Bottom Road
Bluemont, VA 20135
6. Visit An 'Ole Time General Store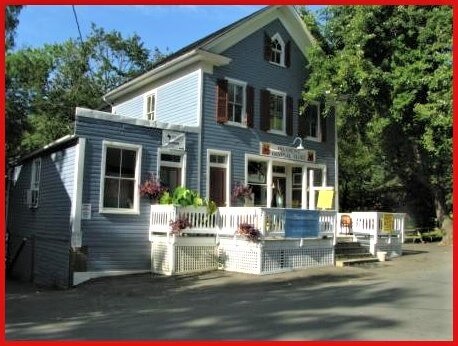 Bluemont General Store – Bluemont, VA
If you love the old-time general stores, you will love Bluemont General Store.
You can truly find almost anything you are looking for in this quaint general store.
From locally raised grass-fed Angus beef and free-roaming chickens, to items for house and farm is here at the general store.
Daily fresh coffee, sandwiches, hot soup, and ice cream. Their front porch is the perfect place to sit to read the paper or to catch up on the town's gossip.
We enjoyed browsing the store and checking out the chicken coop in the back!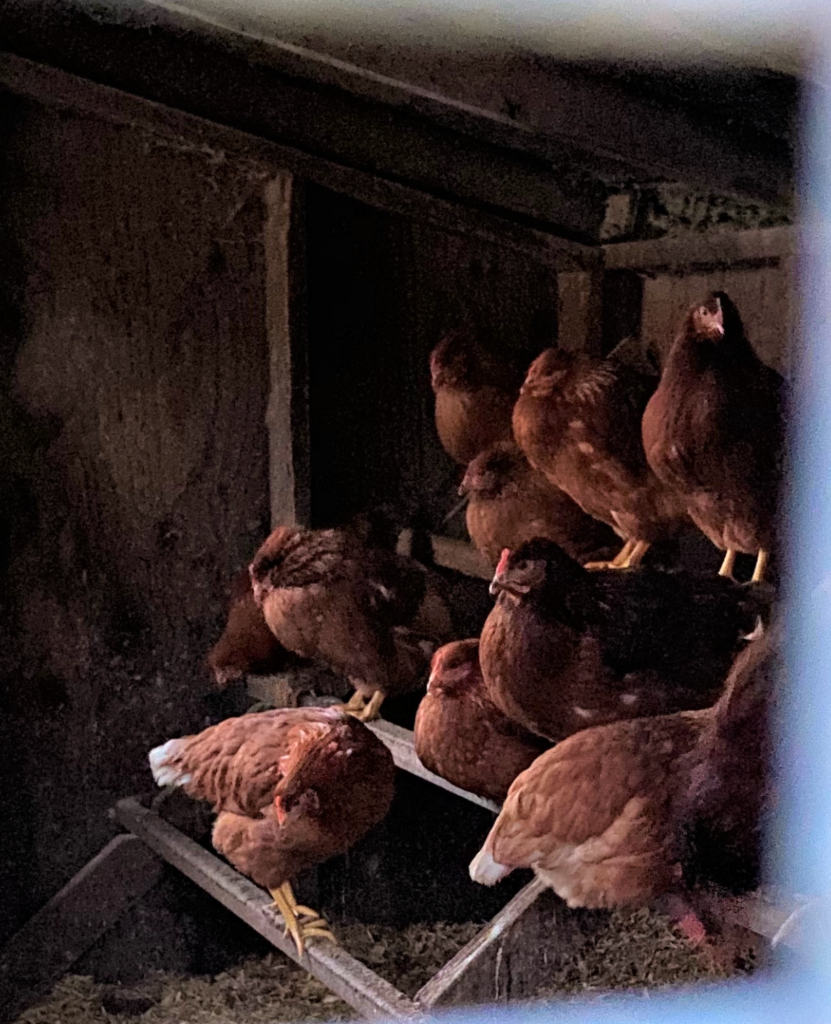 7. Visit A Pie Shop & Taste The Best Pies In All Of Virginia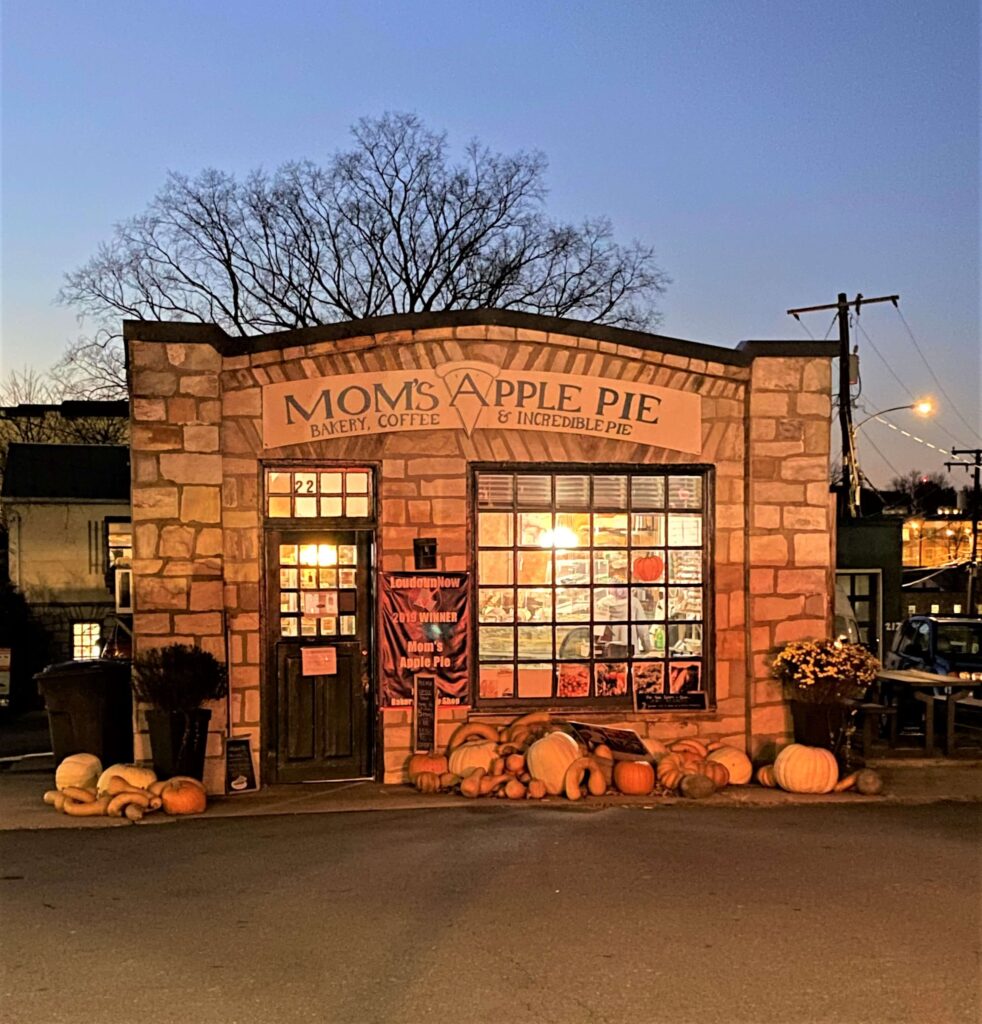 Mom's Apple Pie Bakery – Leesburg, VA
If you love bakeries, you will love Mom's Apple Pie Bakery in Leesburg, VA.
I have never had a Blueberry Crumb Blueberry Pie like the pie we got at Mom's Apple Pie!
YUM is all I can say.
We just stood there trying to decide which pie to get!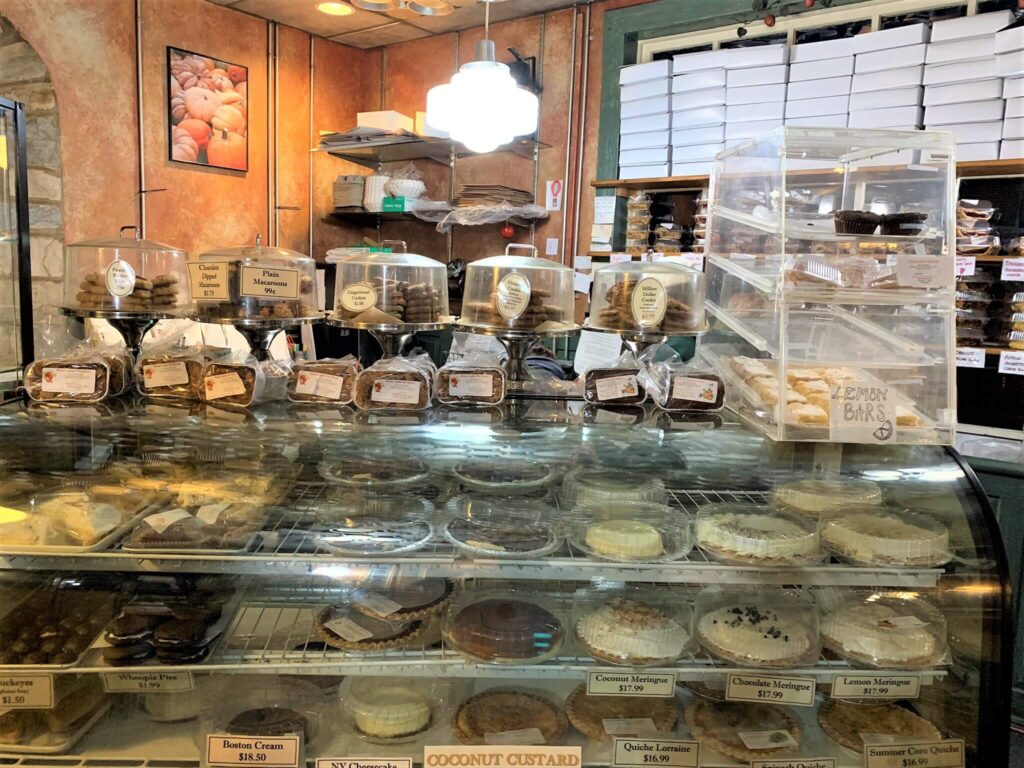 There are the traditional fruit pies:
Apple & Butter Pecan Apple Crumb
Blackberry & Blackberry Crumb
Blueberry & Blueberry Crumb
Sour Cherry & Cherry Crumb
Peach (In Season)
Raspberry & Raspberry Crumb
Rhubarb & Rhubarb Crumb
Strawberry Rhubarb & Strawberry Rhubarb Crumb
Nut, Chess, & Custard Pies
Pecan & Chocolate Pecan
Bourbon Walnut
Almond Amaretto Chess
Chocolate Coconut Chess
Lemon Chess
Coconut Custard
Cream Pies
Banana Cream
Chocolate Cream
Coconut Cream
Boston Creme
Plus…The Seasonal Favorites
Pumpkin & Sweet Potato (Oct – Jan)
Cran-Apple & Cran-Apple Crumb (Nov-Jan)
Open Faced Fresh Strawberry Pie (May – early June)
Open Face Fresh Blackberry Pie (June-early July)
There were so many pies to choose from along with muffins and other baked goods.
Each store bakes its own specialty items such as cookies, cakes, and quiches in addition to pies.
Mom's Apple Pie Bakery – Locations
220 Loudoun St SE, Leesburg, VA
Mom's Apple Pie at High Hill
35246 Harry Byrd Highway, Round Hill, VA
Mom's Apple Pie in Occoquan, VA
126A Commerce St, Occoquan, VA
8. Eat, Shop, And Stay In The Quaint Town Of Middleburg, VA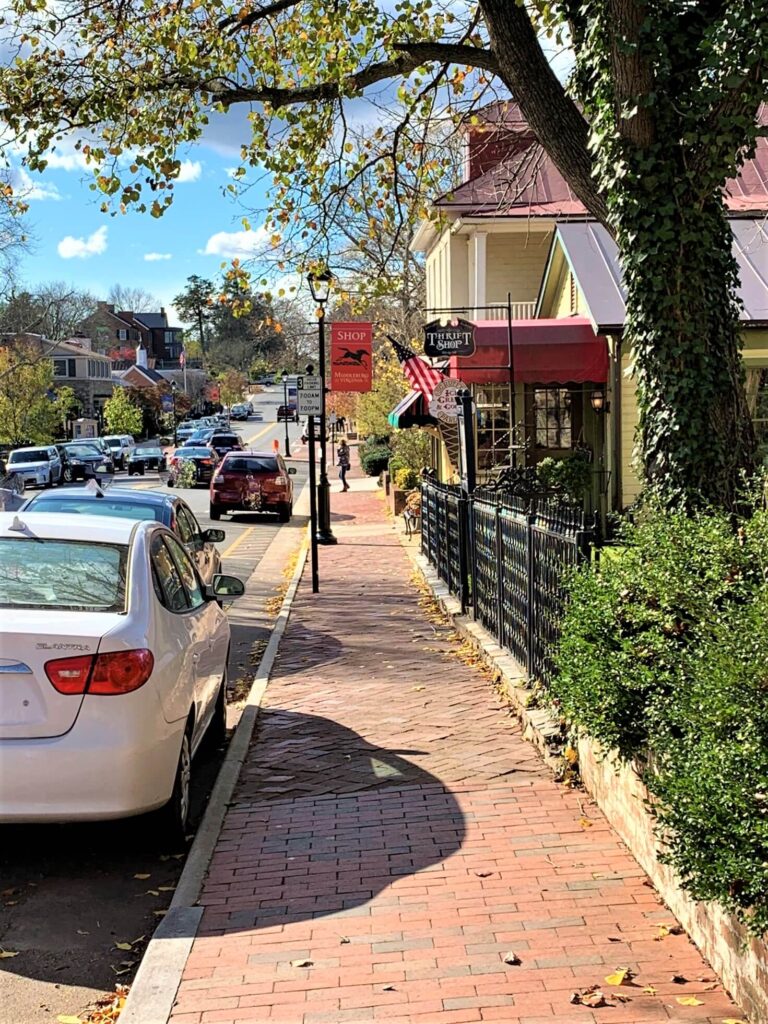 Our tour of Loudon Country continued to the quaint town of Middleburg, VA where we found fun and exquisite shops, restaurants plus a town full of rich history.
Located approximately 45 miles west of Washington, DC, Middleburg is known as the Nation's Horse and Hunt Capital.
What Middleburg Is Best Known For
The town became a popular destination for foxhunting and steeplechasing attracting well-known visitors from all over the country including President John F. Kennedy.
There are more than 160 buildings listed on the National Register of Historic Places plus more than 20 wineries within 30 minutes of the town.
After parking along the street, we began our walk down the half-mile downtown area.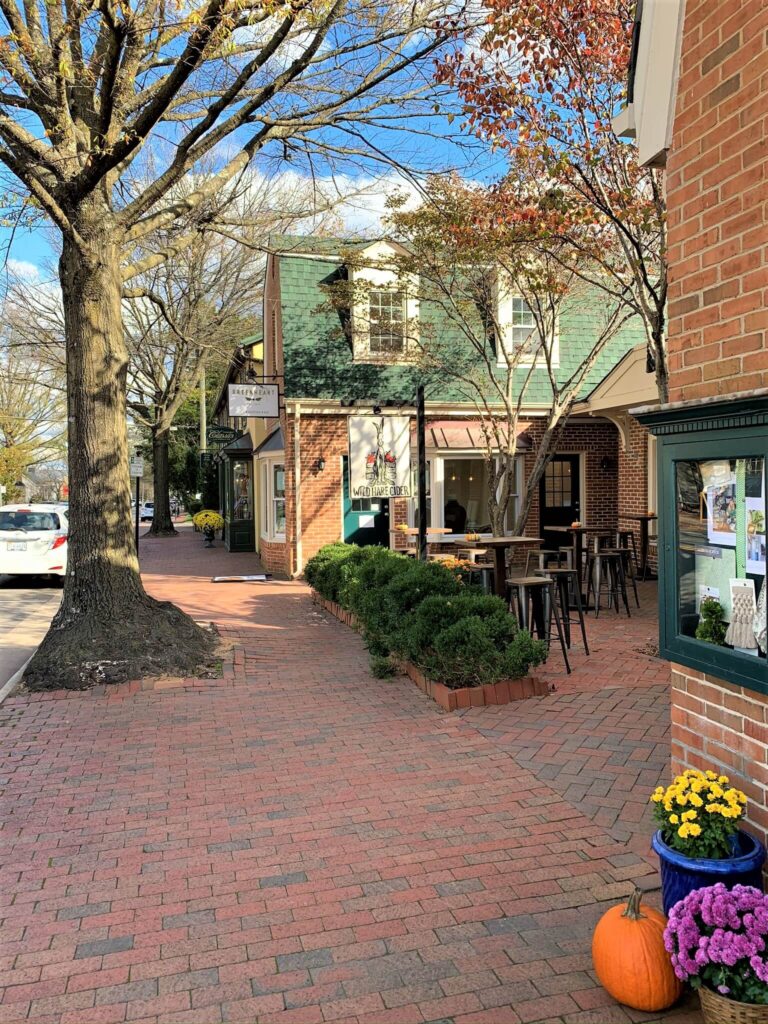 We loved spending time in the unique shops such as Creme de la Creme.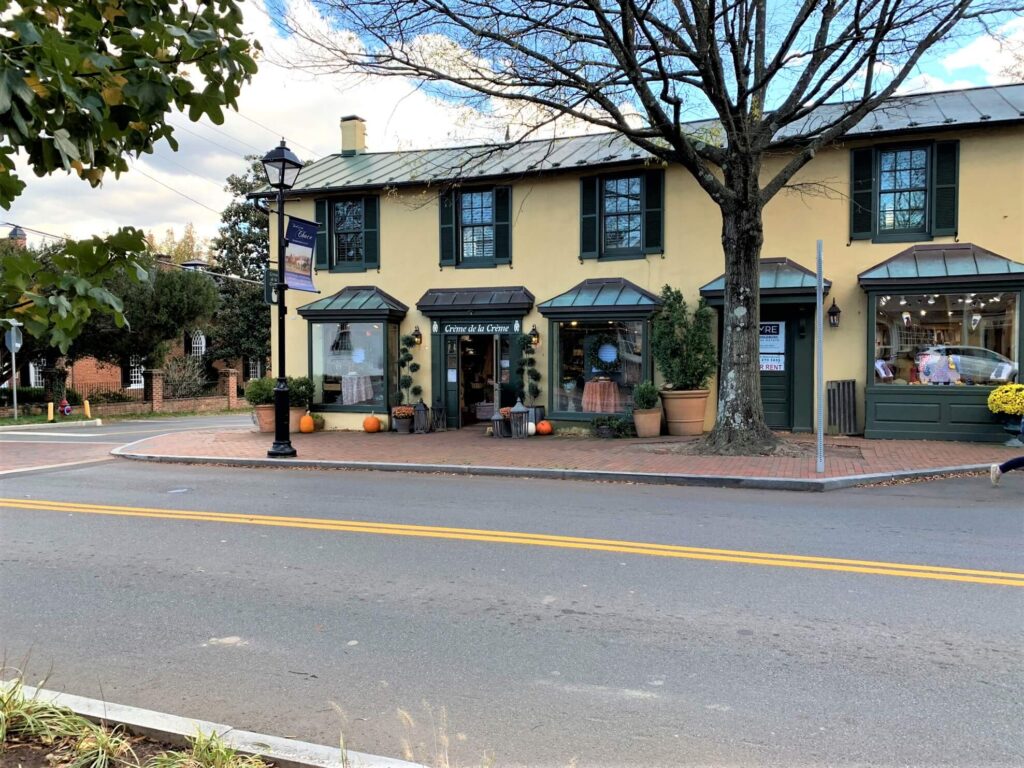 There are numerous restaurants to choose from such as King Street Oyster Bar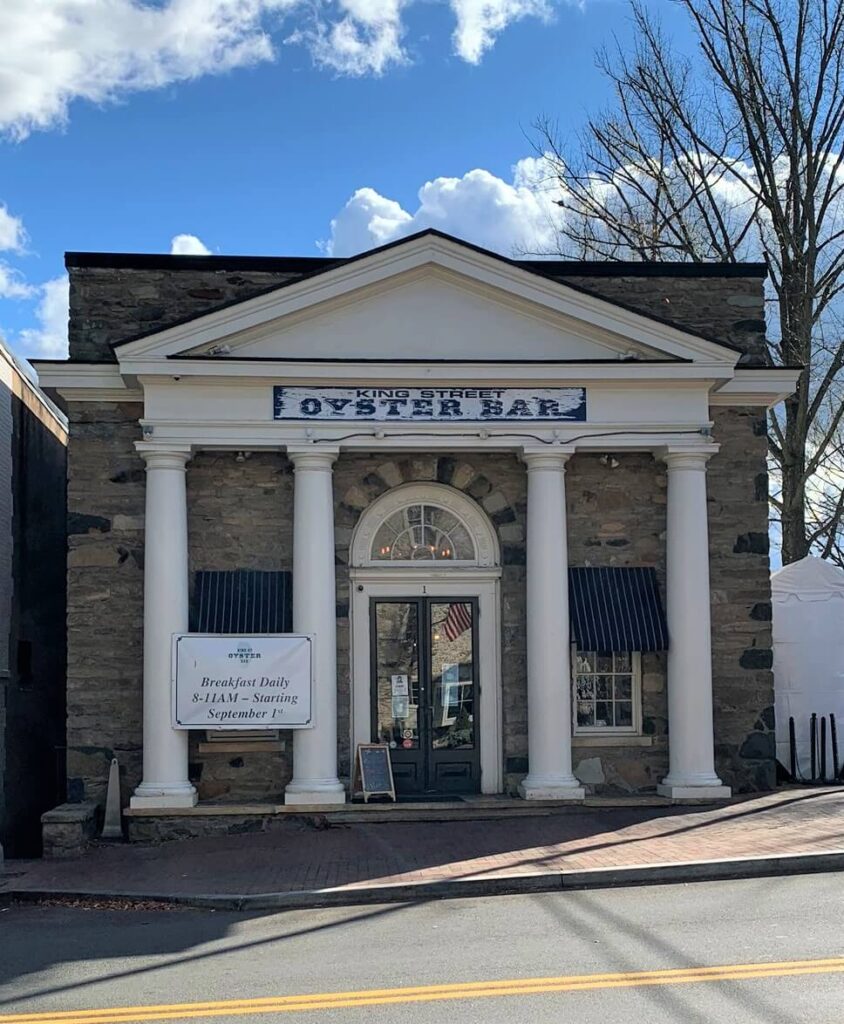 Eat and stay at the Red Fox Inn & Tavern which has been part of Middleburg history since 1728.
Through the years, many politicians, authors, musicians, athletes, and celebrities have come to the Inn, including President John F. Kennedy, who once held a press conference in the upper Tavern.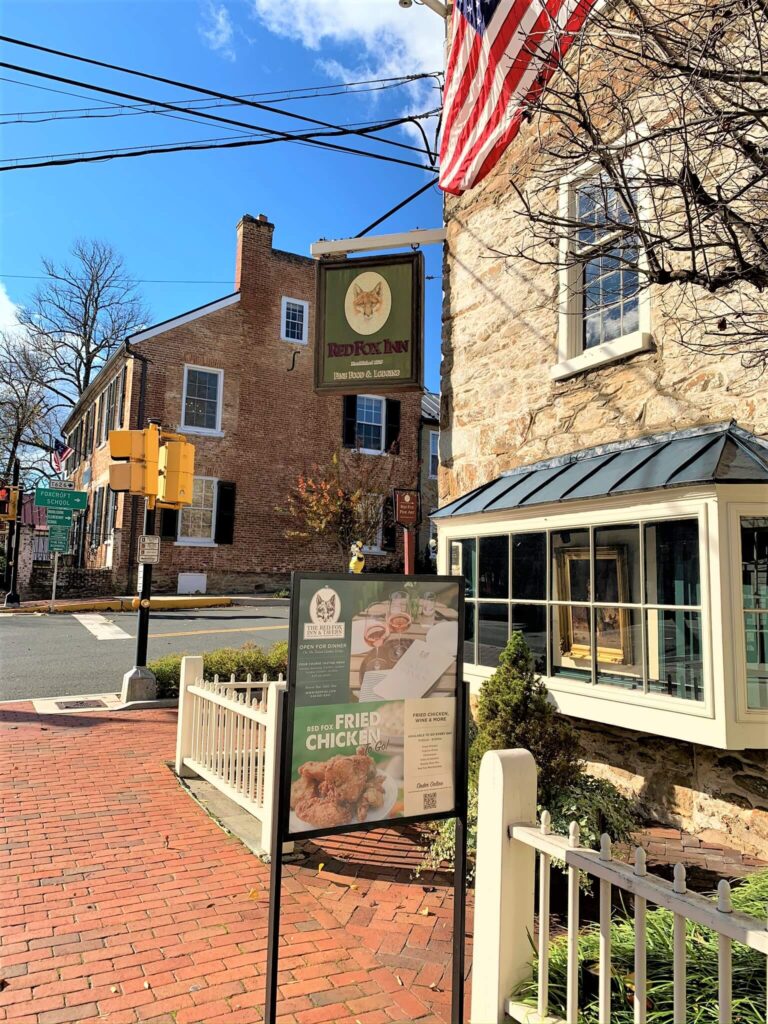 Craving a cup of coffee?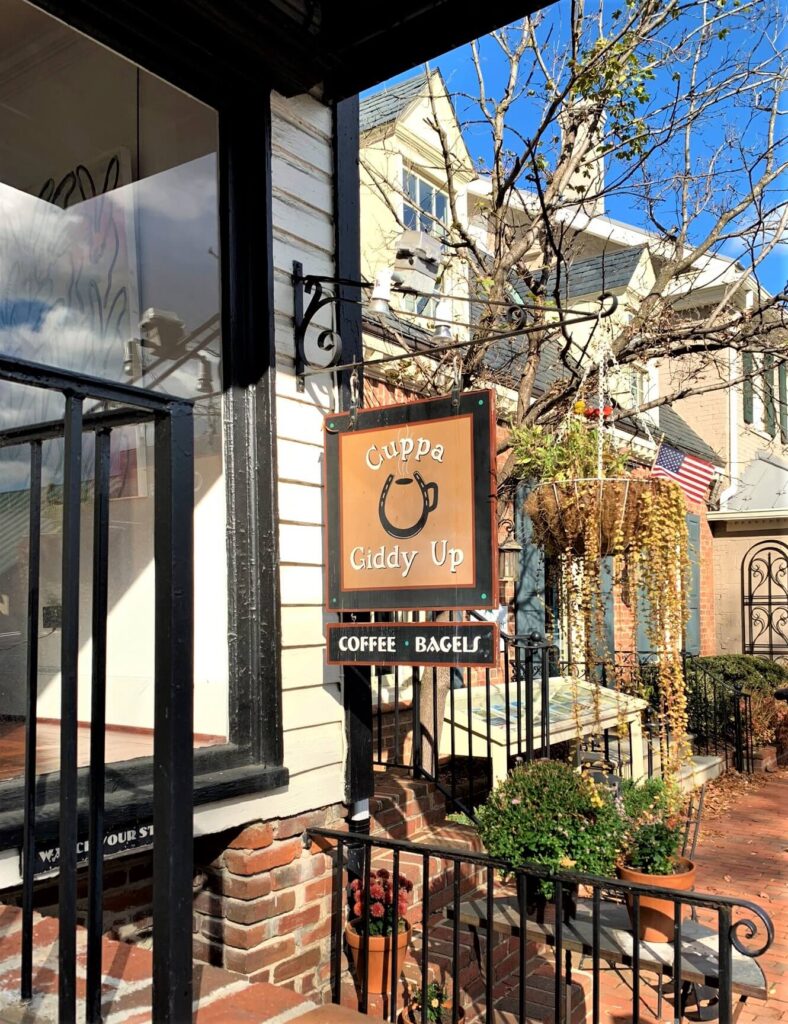 Stop by the Cuppa Giddy Up Coffee Shop for their Organic Gourmet Coffee!
9. Visit A One-Of-A-Kind Christmas Shop Where The Owner Dresses In Lederhosen!
The Christmas Sleigh – Middleburg, VA
The Christmas Sleigh is a beautiful shop of Fine European Wares.
Owner, Dieter Rausch was an architect who left Germany, immigrating to the United States to marry his childhood sweetheart.
After being disappointed in the quality of merchandise in many Christmas shops, he made the decision to open his own shop.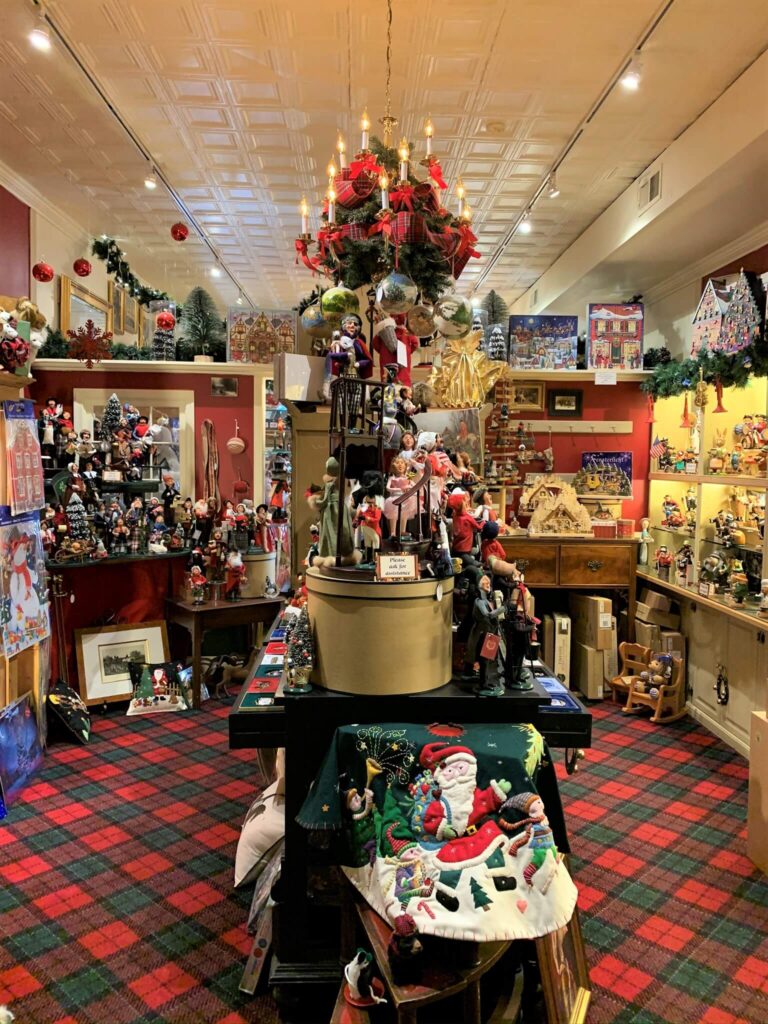 The Christmas Sleigh carries a wide variety of high quality and hand-made European items purchased from his frequent buying trips to Austria, Germany, and Italy during the year.
There were so many beautiful things to look at all laid out perfectly into sections.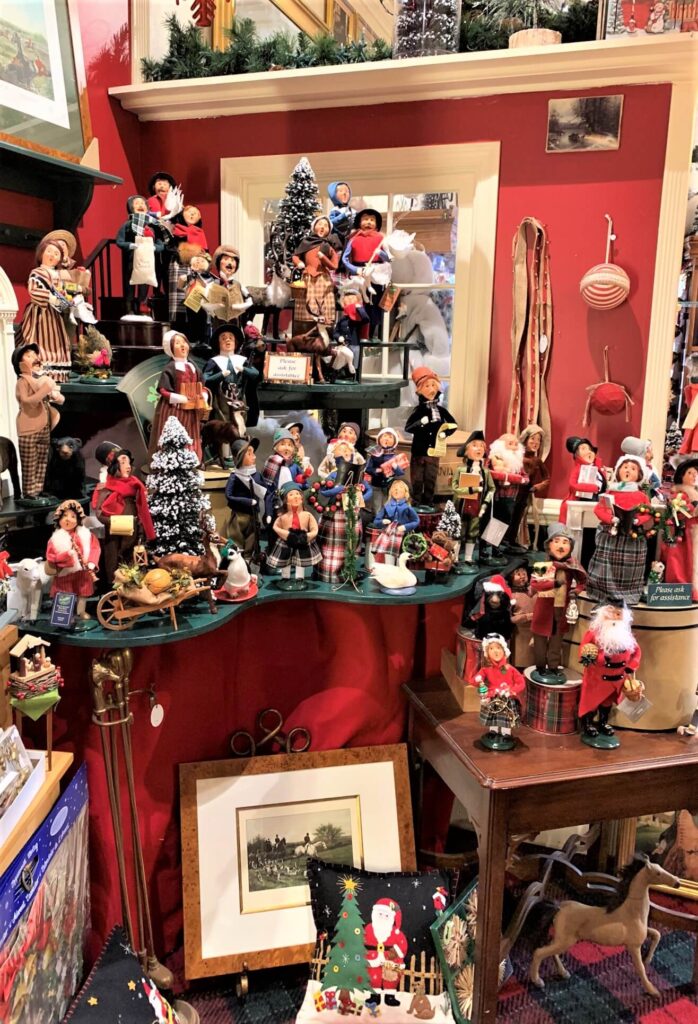 His one-of-a-kind pieces made by German families along with signed nutcrackers, German-made beer steins, and beautiful hand-made ornaments make his Christmas shop a must-see in Northern Virginia!
The Christmas Sleigh – 5A East Washington St, Middleburg, VA 20117
10. Relax and Dine At A Resort & Spa In Middleburg, VA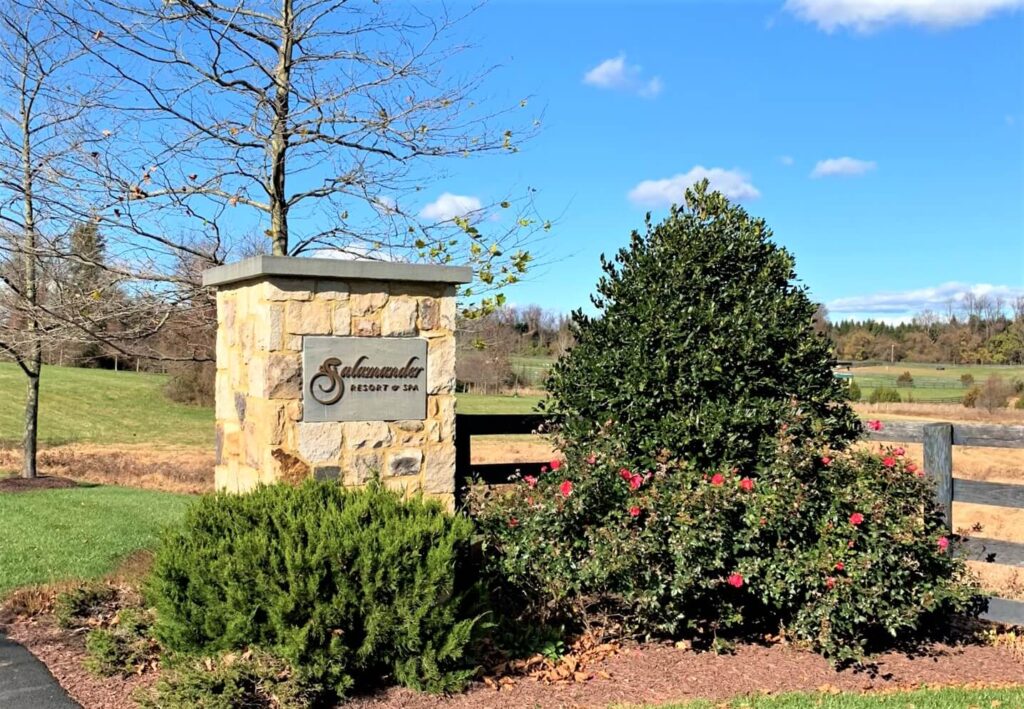 Salamander Resort & Spa
This Forbes Five-Star resort has 168 guestrooms and suites, a 23,000 sq. foot spa with 14 treatment rooms, and a private outdoor courtyard with a heated pool.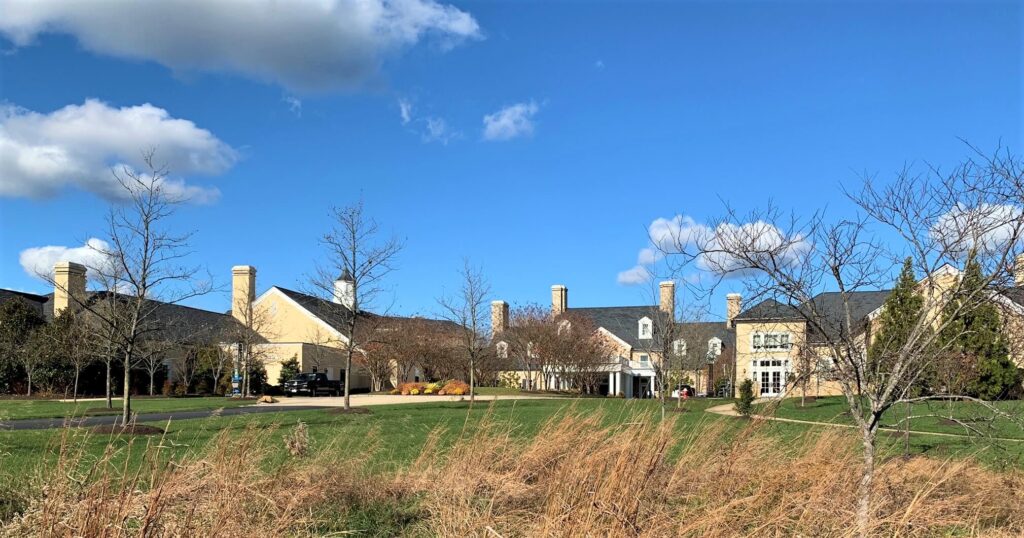 Enjoy their state-of-the-art equestrian facilities along with 25 acres dedicated to riding along with other outdoor adventures such as zip-lining, tennis, nature hikes, putting green, croquet, bocce ball, corn hole, and life-sized chess.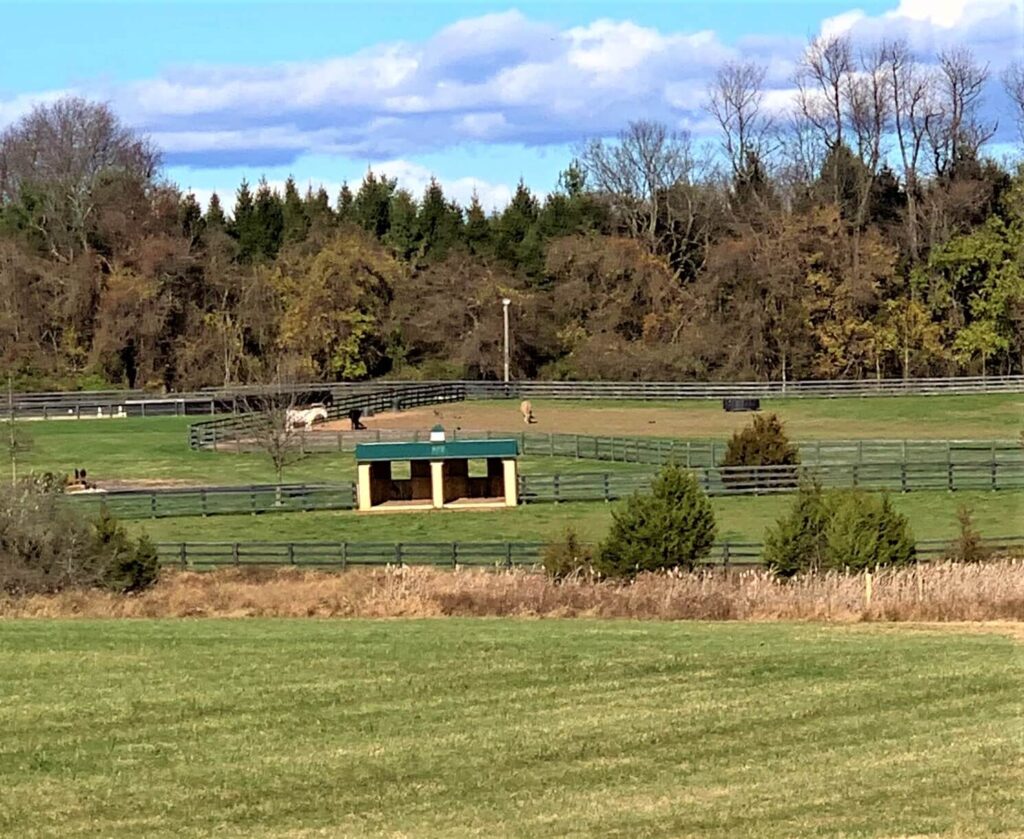 Salamander Resort & Spa's delicious restaurants, grill, and wine bar will not disappoint!
Salamander Resort & Spa – 500 North Pendleton St., Middleburg, VA
11. Have Your Photo Taken At The LOVE Sign In Old Town Manassas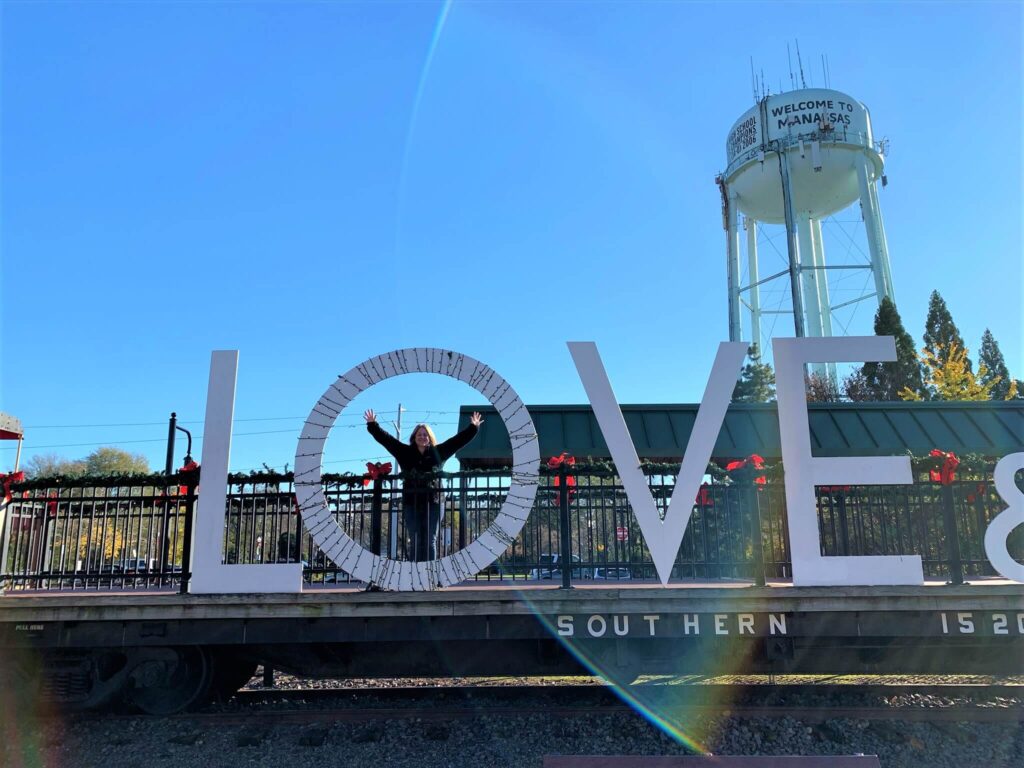 Old Town Manassas
Be sure to start at the Manassas Railroad Depot which is now the Visitor's Center where I found a lot of information about Virginia!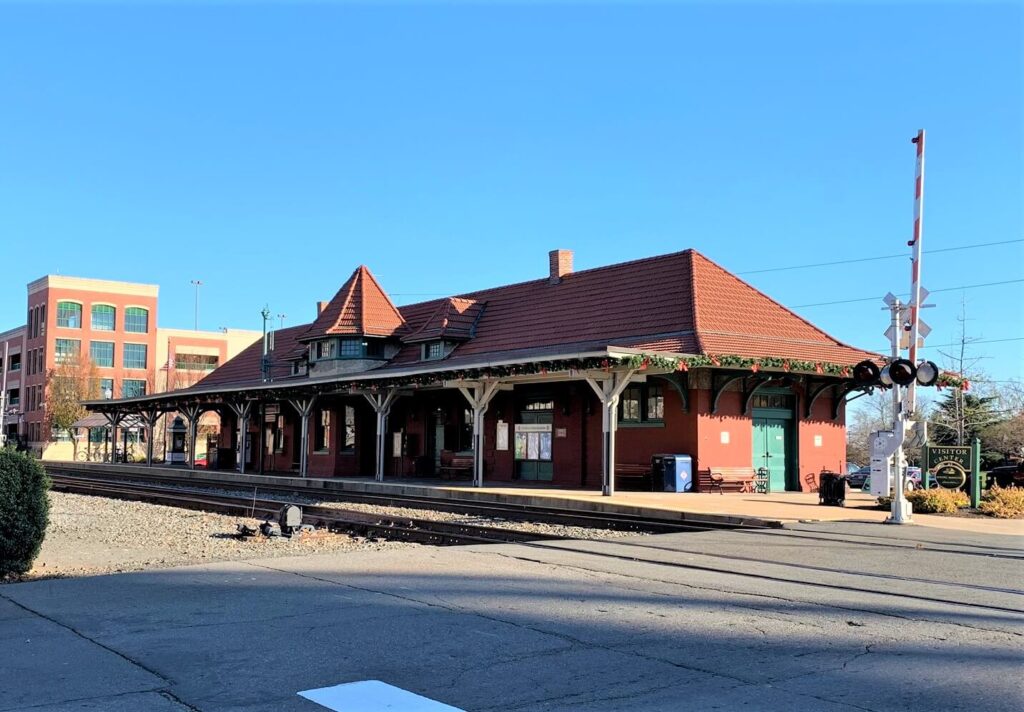 Then go to the LOVE sign to have your photo taken!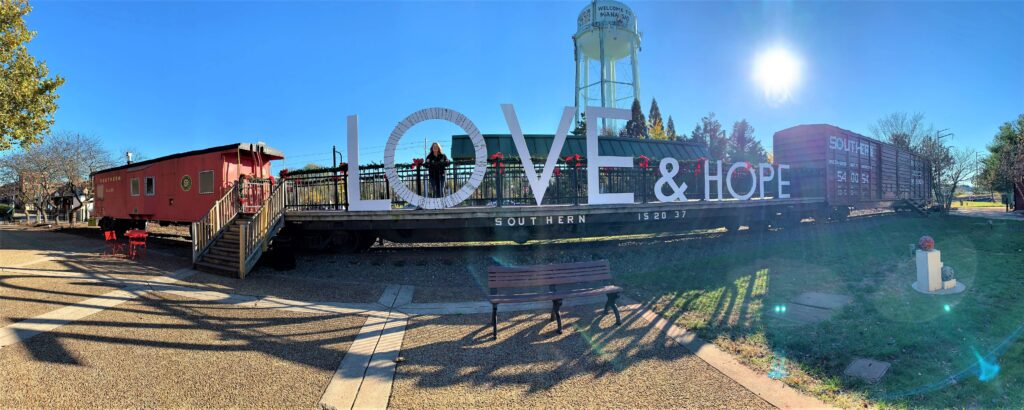 Best Things To Do In Old Manassas
Visit the Manassas Museum where the exhibit tells the tales of our Nation's past and the role Manassas played during the Civil War and World War II eras.
Old Town Manassas is the perfect place to have lunch or dinner in one of their many restaurants offering fine dining to local pub fare.
It is also home to a distillery, winery tasting room, several microbreweries and a brewpub!
Afterward, walk along the streets to shop boutique shops, antiques and collectibles, a toy shop, and artwork from local artisans.
Why You Should Visit Northern Virginia
Whether you're looking for couples activities or fun things to do with the kids, you will find it in Northern Virginia!
Download your FREE List of Top Things To Do In Northern Virginia!
Check out our other posts of places to visit in Virginia:
5 Best Reasons You'll Love Old Town Alexandria, Virginia
Where To See Amazing Views Of The Cherry Blossoms In Washington DC