Last Updated on January 31, 2022 by Lori
There are a few basic rules of camping that new RVers and campers need to know before heading to the campground.
You can find most campground rules and regulations listed on websites, but there are a few unwritten rules of camping that new campers should be made aware of before their first camping trip!
This post contains affiliate links which means if you click on a link and make a purchase, I will earn a commission at no additional cost to you. Please see our Disclosure Policy for more information.
Campground Rules You Need To Know
Camping has become one of the most popular past times in the last few years, with first-time campers representing a younger demographic than ever before.
According to Kampgrounds Of America North American 2020 Camping Report, 2.7 million households went camping in 2019, with 1.9 million households camping for the very first time.
First-time campers were in search of a new and unique outdoor experience, and I'm sure they were not disappointed!
With all the new campers heading to the campground, there are a few campground rules that campers need to be aware of and may not know.
The Best 13 Rules Of Camping For New Campers.
1. Arrive and Depart the Campground On Time
Every campground has a specific arrival and departure time.
Campers need to take note on their reservation confirmation of what time they should arrive for check-in.
Some campgrounds allow early check-in or late departure for a small fee.
Why do campgrounds have set check-in times?
Campgrounds want to make sure the site is clean, raked, and ready for the next camper!
We once arrived a half-hour early at one campground and had to wait until check-in time.
If you've ever driven seven (7) hours to get to your campground, you know that you can't wait to get to your campsite and sit by the fire!
From doing my research prior to our trip, I knew that the campground was a stickler for check-in.
We took that time to get a drink from our cooler and take the dog for a walk. Sure enough, at the exact time of check-in, they called us to the office!
On the other hand, we have arrived two (2) hours early and there was no problem checking in and driving to our campsite!
Make sure you know each campground's rules for arrival before you get there!
Campground Checkout
Each campground has different checkout times.
Unless you have made prior arrangements with the campground office, you need to depart on time.
You may need to put things away the previous night to ease the stress of departing the campsite on time.
We often pack camping chairs we are not using, our camping table, pack away the grill, and sweep off and pack the RV rug the night before we leave.
This helps immensely with the stress of having to pack absolutely everything away in the morning.
2. Obey the Campground Speed Limit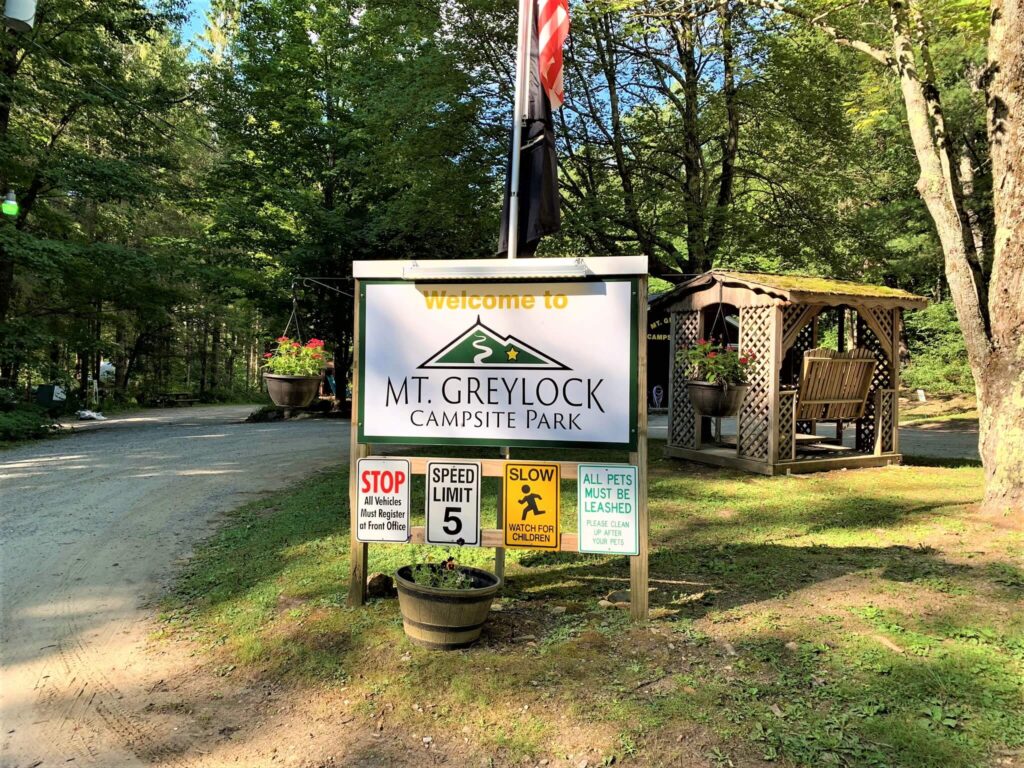 It may not seem like you are driving too fast through the campground, but, believe me – five (5) miles per hour can creep up on you quickly!
We have even seen speed limit postings for three (3) mph!
People are walking around the campground, children are playing and riding bicycles and it is just common courtesy that you drive slowly through the campground.
3. Check the campground rules for the number of cars allowed at each site.
Sometimes there just isn't enough room to have two cars at each site. You may have to park in the overflow lot.
Don't try to squeeze a second car into the site if the rules state one (1) vehicle per campsite.
4. Camping With Dogs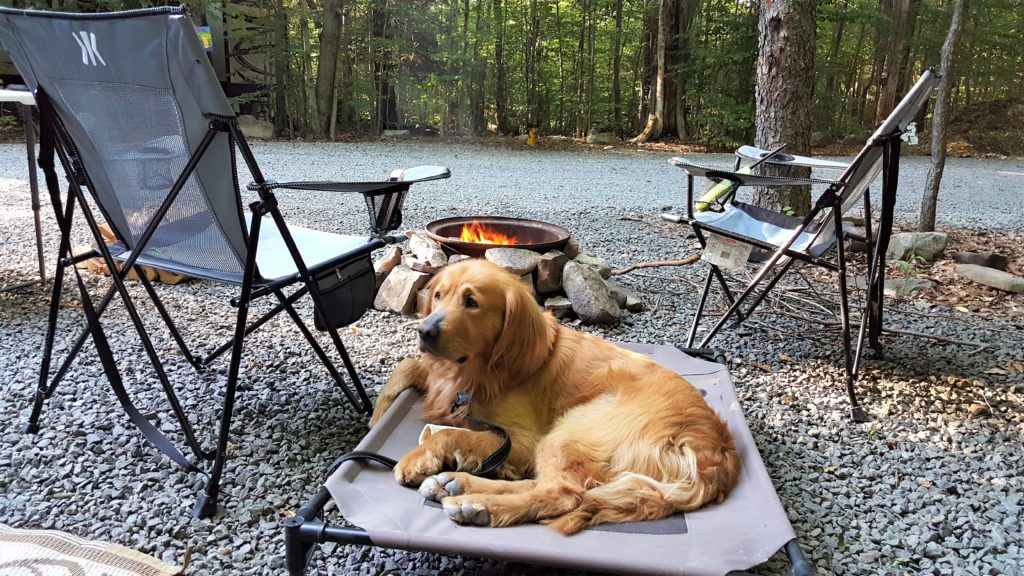 We love to travel with our Golden Retriever, Buddy.
Be aware that each campground has its own rules about pets and dogs.
Some campgrounds do not even allow dogs or they may have restrictions on certain dog breeds they accept.
Check out my post – RV Travel With Your Dog-What You Need To Know
Dog's Health Records
All campgrounds require you to have or even show the Rabies Vaccination certificate.
We've even had a campground ask for a full list of our dog's shots! (Good thing I read the campground rules!)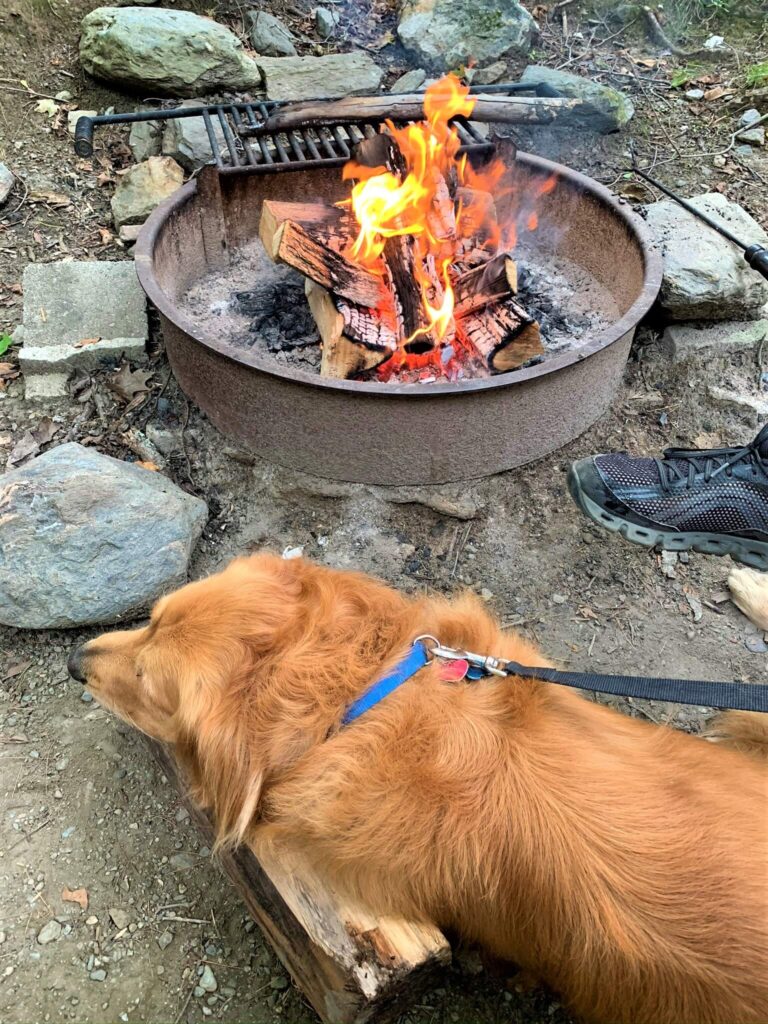 Pick Up After Your Dog
Always Pick Up After Your Dog. If dogs are allowed at the campground, most of the time there are bag dispensers found throughout.
It happens, you take a doggie bag with you – but your dog decides to go a second time!
That's what the dispensers are there for – use them! But then, remember to dispose of the bag properly!
Also, please keep your dog on a leash! Although you say your dog is the "friendliest dog and wouldn't hurt anyone," other campers might be afraid of dogs or even allergic to them.
They do not appreciate your dog jumping on them or sniffing them, or even worse jump up on their children.
Helpful Items For Dogs At The Campground
We love this dog cot that helps when the sites are gravel or worse – dirt.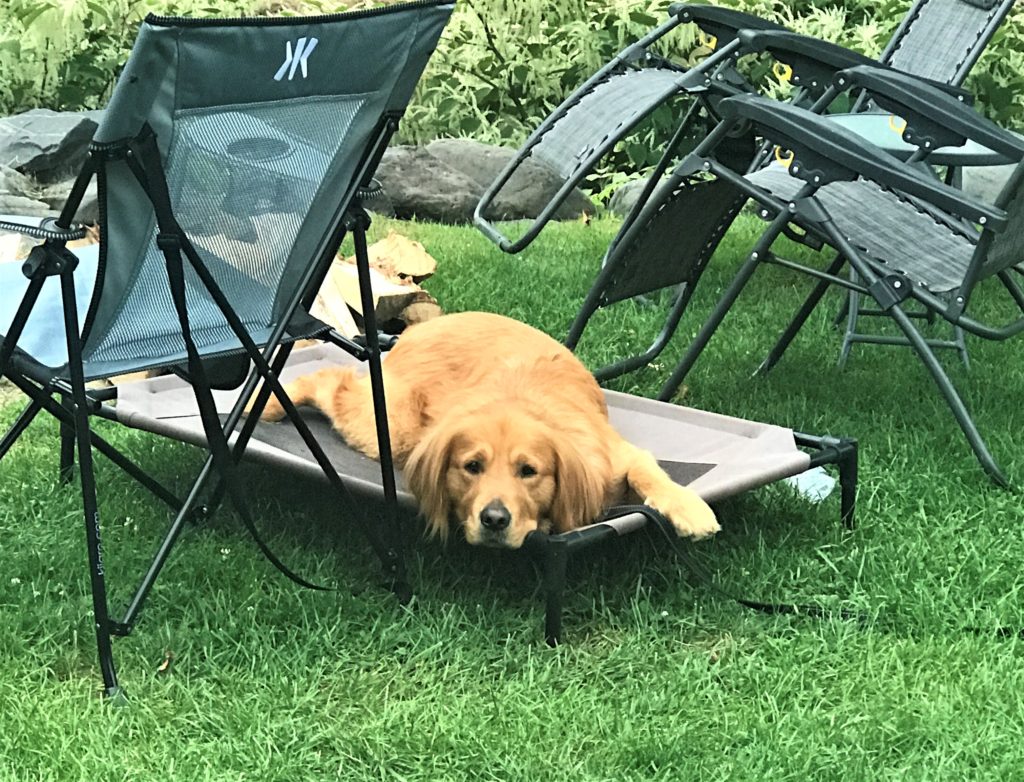 When Buddy was younger, we found this soft crate worked perfectly in our travel trailer!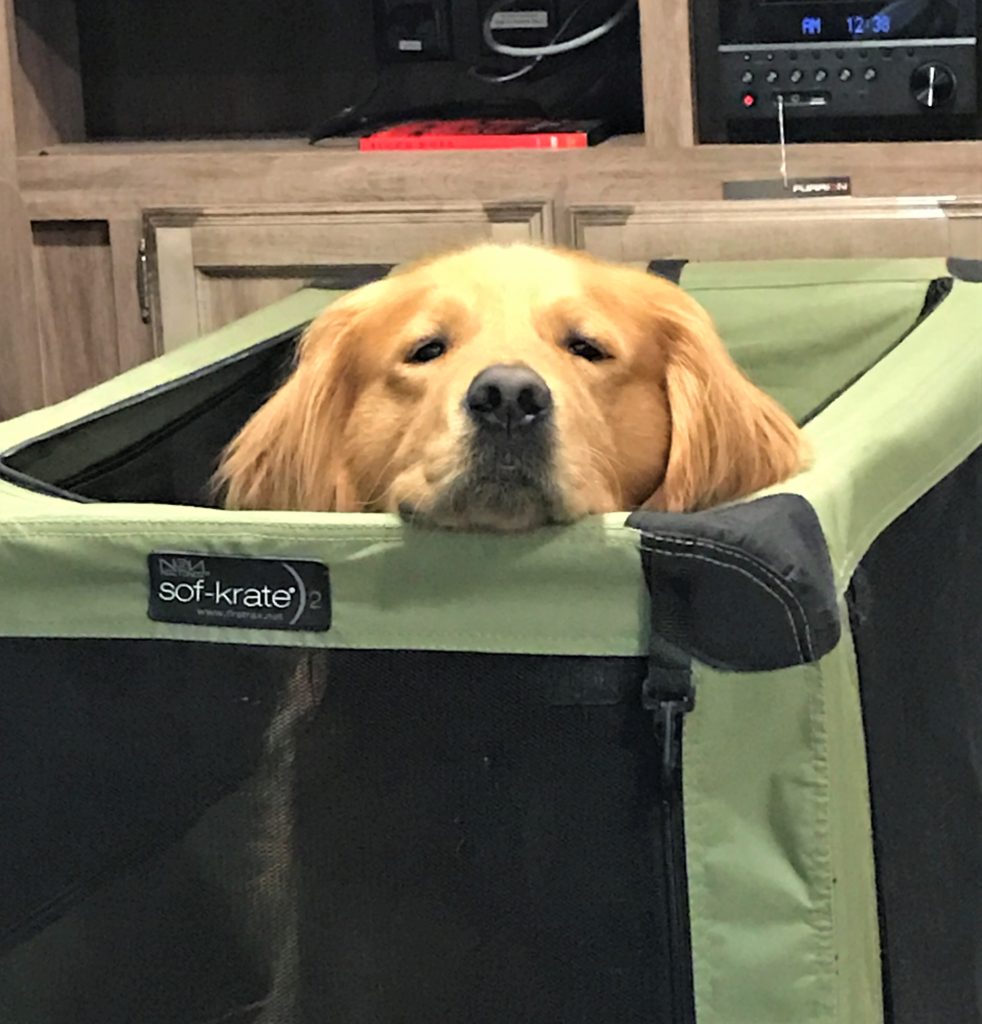 5. Set Up Your Campsite In Designated Areas
Once you arrive at your campsite, please set up in your designated site.
Don't set up close to or encroach on the empty next to you.
Campers may be arriving late, and the last thing they want is to have to deal with another camper's items on their site or trying to set up around bicycles and toys left on their site or leaning on their picnic table.
Pro Tip – Use This helpful RV Set Up Checklist!
6. Walking-through other campsites
This, I think, is one of the biggest Unwritten Rules of Camping.
Walking through another camper's campsite is a big no-no.
You may not even realize you are cutting through another campsite on your way to the river or lake and think nothing of it.
Take a look around for signs that show where to access the river or lake and use that access – not the access right through another campsite.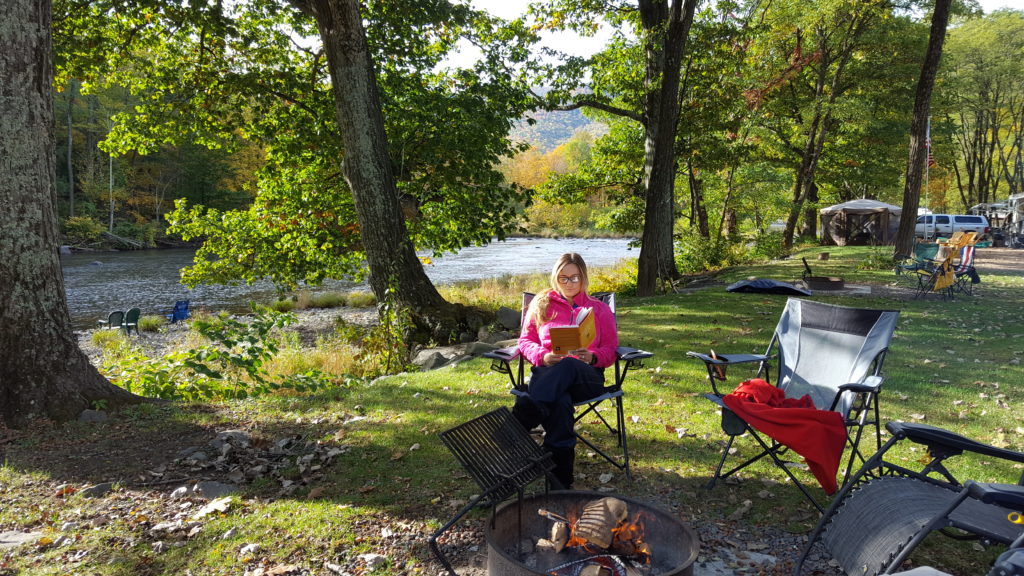 Children should be taught that it is NOT ok to cut across another campsite to run to the playground or swimming pool.
Kids need to learn the basic of camping etiquette too!
7. Quiet Hours
Take note of quiet hours at the campground. Each campground will have its hours posted at check-in, or you can find them on the campground website.
People go camping to relax, sit by the fire and enjoy nature – which usually means they are looking for peace and quiet.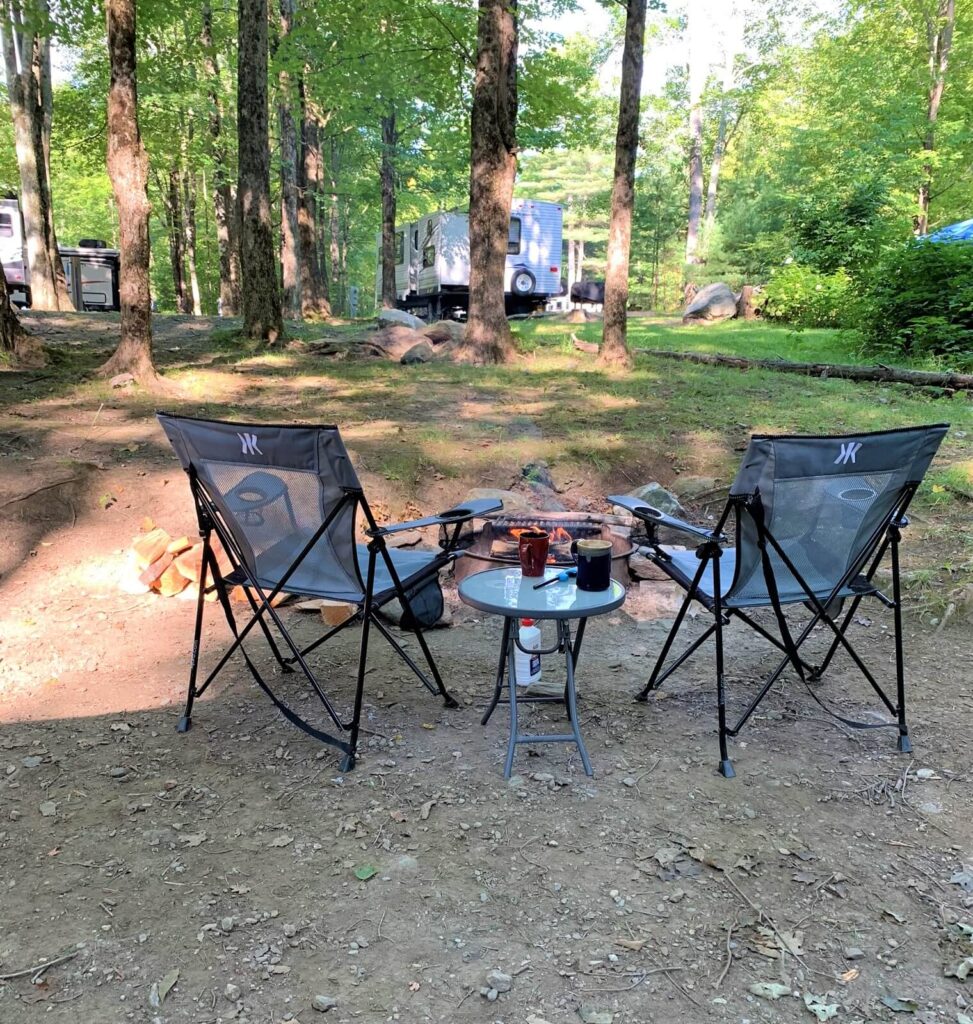 There is nothing worse than a party going on until 3 am at the next campsite! Also, be aware that your music or even your voice might be carrying all across the campground.
Be a good Camper and Respect The Campground's Quiet Hours.
8. Bringing Wood From Home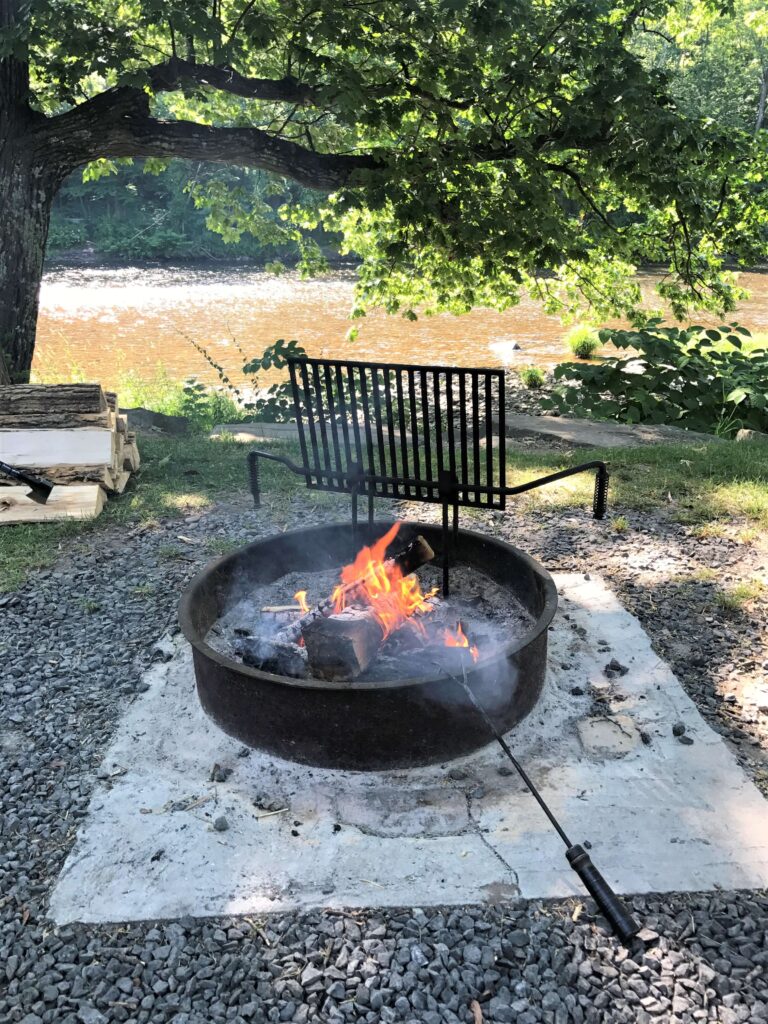 Most states have strict rules when it comes to firewood. One of the biggest restrictions is to not bring wood from home to the campground.
Also, be aware of any fire restrictions in the area you are camping. You should only build a fire in the ring or firepit at the campsite.
9. Dumping Grey Water On The Ground
If your grey water tank is full, and you don't have full hookup, do not dump your grey water on the ground.
Get yourself a portable waste tank (often referred to as a blue boy) and take it to the dump station.
10. Washing Dishes In The Bathroom
Campground bathrooms are not the place to wash your dishes. It is not sanitary for those who are using it to brush their teeth and wash their face!
There are designated places around the campground where you can wash dishes.
11. Leaving food out at night or when you leave for the day.
You never know what could be walking through your campground!
We had just pulled into our site, in the middle of the afternoon, when we heard a fisherman call out "Bear!"
Yes, there he was…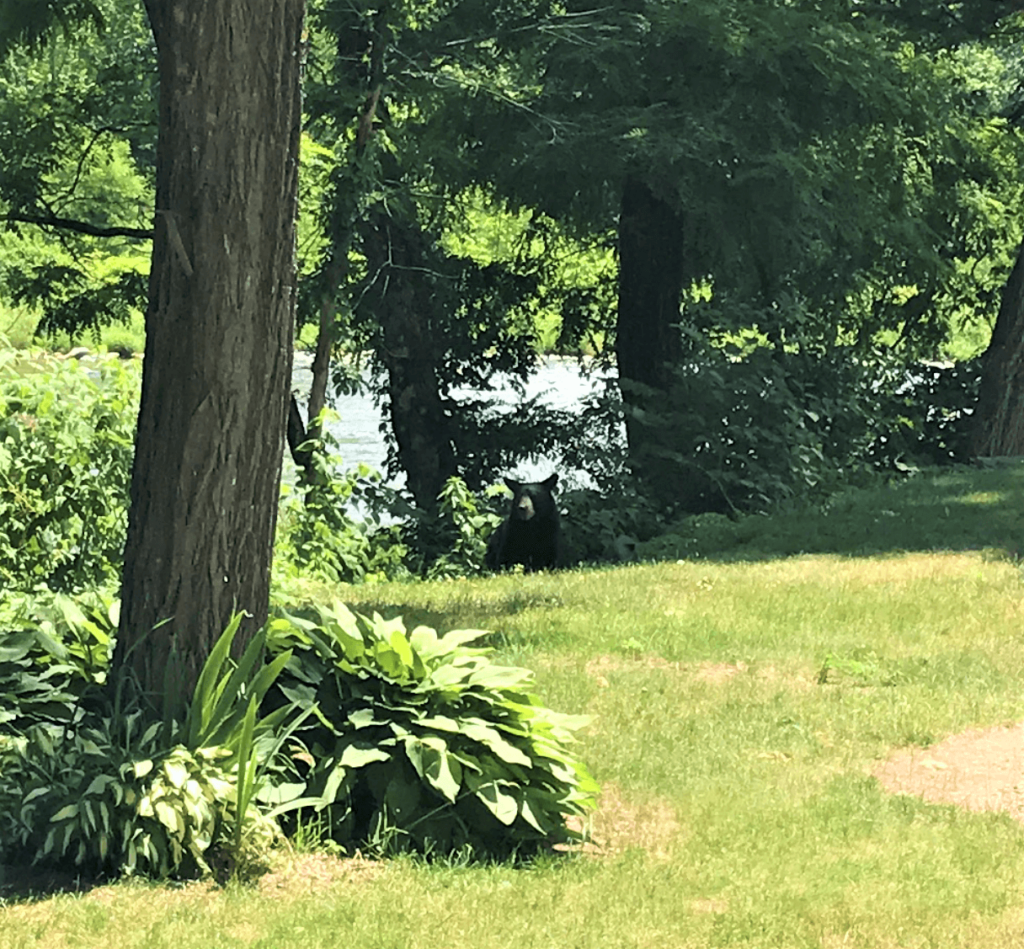 So, be safe and pack up all food for the night and when you leave for the day.
It's a good idea to secure your gear too when you leave for the day. Pull in your awning, secure your outdoor gear, chairs, etc. when leaving the campground.
You never know when a storm can pop up, which can cause damage to your awning and your chairs in the neighboring campsite!
12. Leave No Trace
Dispose of your trash and recycle. Take an evening walk around the campground and head towards the dumpsters to dispose of your trash and recyclables.
We use this collapsible pop-up trash can, which holds two bags inside.
It works perfectly! We put two bags inside – one for trash and the other for our recyclables.
Some campgrounds even have trash pick up at your campsite. But don't be that camper that leaves their trash at the roadway ALL DAY LONG!
13. Be respectful of campers when they are setting up or breaking down their campsite.
Campers are some of the friendliest people you will ever meet!
It's not uncommon to have someone stop by for a chat while walking their dog or a camping neighbor to come and sit by the fire.
But please be respectful when an RV or travel trailer has just arrived, and they are trying to back into or parallel park in their site.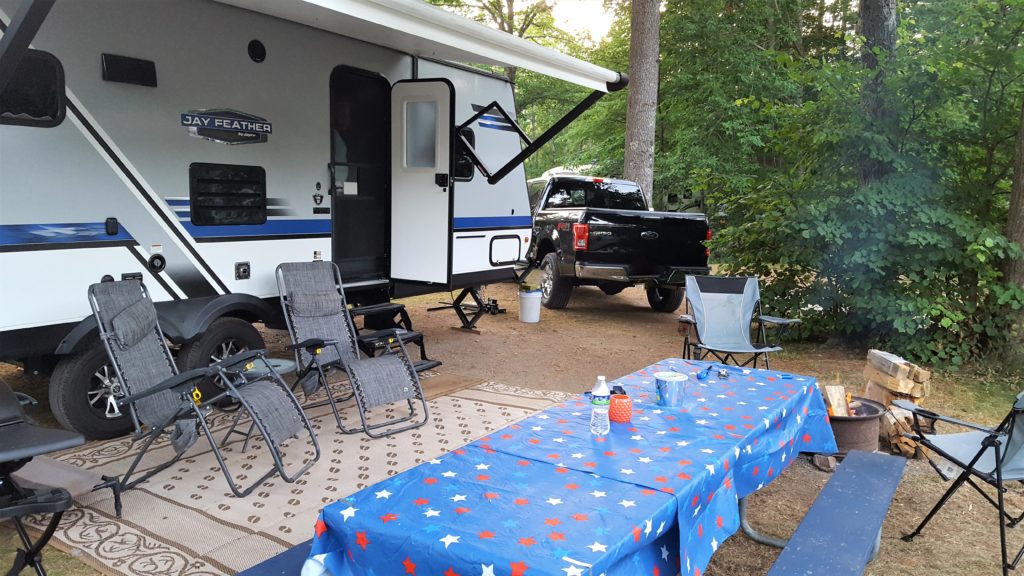 It can be very stressful when a camper is thinking about setting up their RV making sure the RV is level, chocked, unhitched, and hooking up their hoses.
Pro Tip: We found this RV tool makes it easy to lift out the hitch!
Of course, you can wave and say "Hello!" but maybe wait until they have a drink in their hand and are sitting for a while before you approach them to start a conversation!
When campers are preparing to leave is another stressful time.
It's better to say, "goodbye" the evening before rather than getting into a conversation when the RVer is trying to leave.
This causes the RVer to get distracted when packing up hoses and tools at the site.
So you won't forget to complete necessary tasks at the campground, here is a great RV Checklist Bundle.
Fun Camping Rules To Follow At The Campground
Sit By The Campfire
Explore
Relax
Watch Lots of Sunsets
Go Hiking & Fishing
Gaze At The Stars
Unplug
Read
Take Lots Of Naps
Wake Up Smiling
I bought this cute Fun Camping Rules sign for our camper!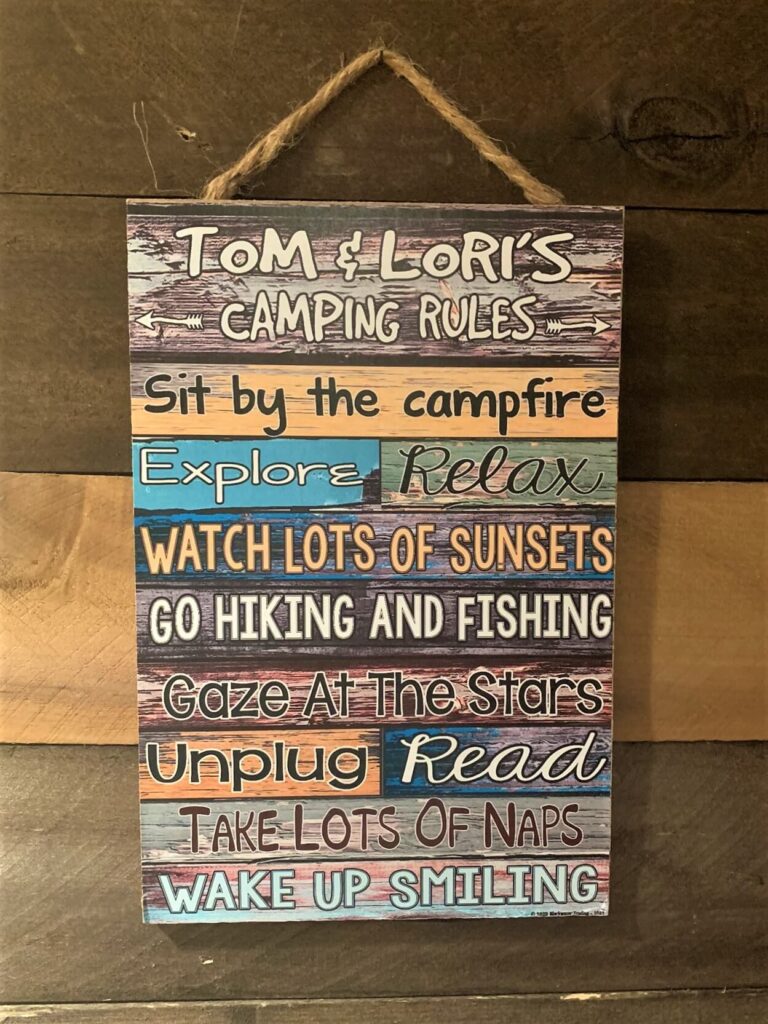 Camping Etiquette 101
Now that you know some basic camping rules, it's time to head to the campground for some fun outdoor adventures!
If you keep these 13 Golden Rules Of Camping in Mind while you're at the campground, you will be sure to have a great time!
But, more importantly when you're at the campground…
Remember To Do The Fun Camping Rules Every Day!
Fun Places To Travel To In Your RV
* The Best Things To Do In Letchworth State Park, NY
* How To Plan A One Day Trip To Niagara Falls, New York
* 9 Amazing Things To Do In Acadia National Park
* Loess Bluffs National Wildlife Refuge
* 18+ Amazing Things To See In The White Mountains
* Best Places To Visit In The Adirondacks-4 Day Itinerary
* Amazing Family Adventures at Lost River Gorge
Want To Keep All Your Campground Reservations Organized?
Download your FREE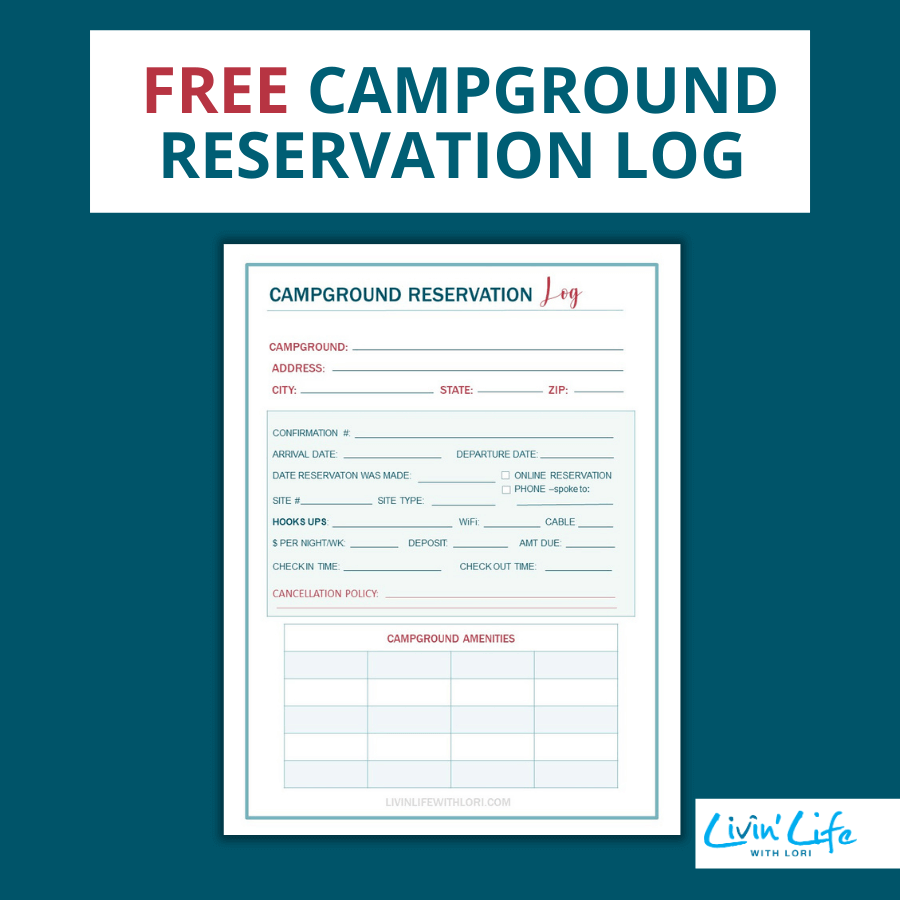 Get Your FREE Campground Reservation Log Below!