Last Updated on March 18, 2021 by Lori
Have you been to the top of Mount Washington in New Hampshire? How about Franconia Notch State Park or Flume Gorge? If visiting The White Mountains has been on your "Bucket List of Places to Visit," here's a 4-Day Itinerary that you can customize into a 3, 4, or even a 5-Day trip to visit not only Mount Washington but all the White Mountain attractions!
There are so many beautiful places to see and things to do in New Hampshire that your vacation to the White Mountains is sure to be amazing!
White Mountains Region of New Hampshire
You might be wondering, "Where exactly ARE the White Mountains?"
You've heard of them, but don't know exactly which state they're even in!
The White Mountains are located in the north-central region of New Hampshire and contain the tallest elevations in the northeast.
Some of the highest elevations (4,000 ft.) are named after U.S. Presidents and make up The Presidential Range with the highest peak being Mount Washington (elevation 6,288 ft)!
Map Of The White Mountains of New Hampshire
In the heart of the White Mountains is the 800,000 acre White Mountain National Forest which offers some of the best hiking and outdoor recreational activities and scenic drives you can experience to explore this beautiful region.
We were so excited about our trip to Mount Washington! We had been to the White Mountains many times when the kids were small – in fact, one year we visited the area in three different seasons!
Then, travel softball, travel baseball, travel soccer…well, I'm sure can relate!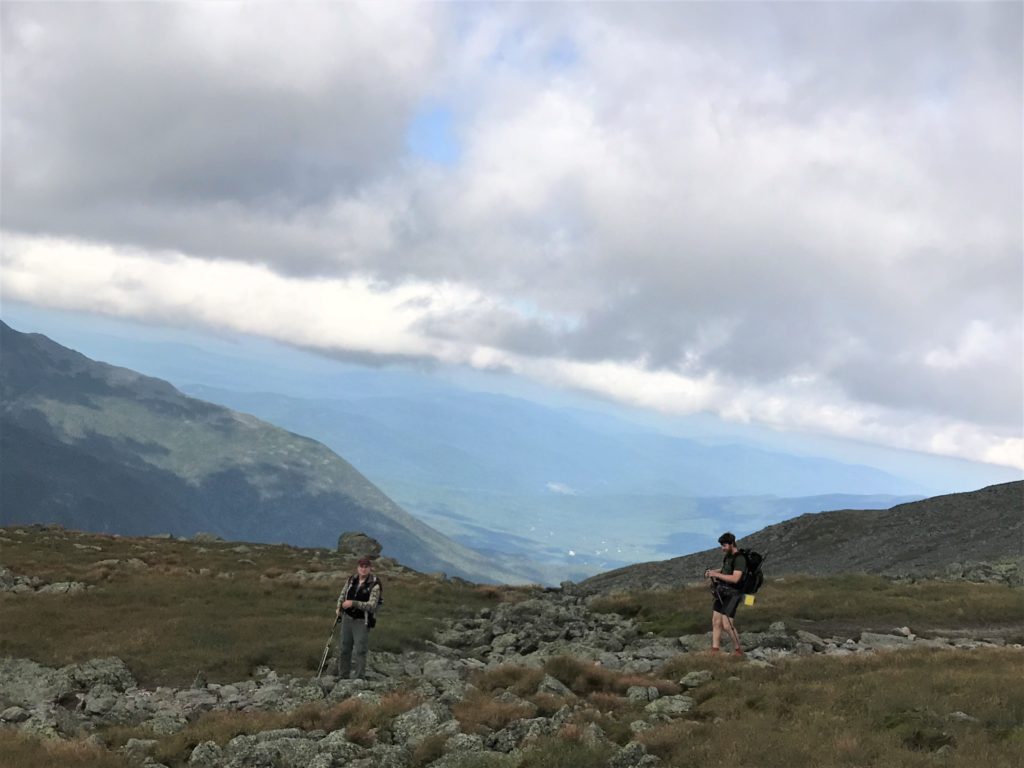 On our previous trips to New Hampshire, we stayed near the North Conway area in a Bed & Breakfast, a lodge, and a motel.
Now that we have our travel trailer, we were excited to see what camping in the White Mountains would be like!
As the "planner" I had my list of "Things To See" ready.
There were approximately 15 attractions on my list, but I knew I had to be flexible because the forecast called for heavy rain on the last day of our trip.
Here's our 4-Day Itinerary that you can use as a guide in planning your own vacation to New Hampshire!
There is so much to do & see in the White Mountain area that I'm sure you and your family will be talking about your trip for years to come!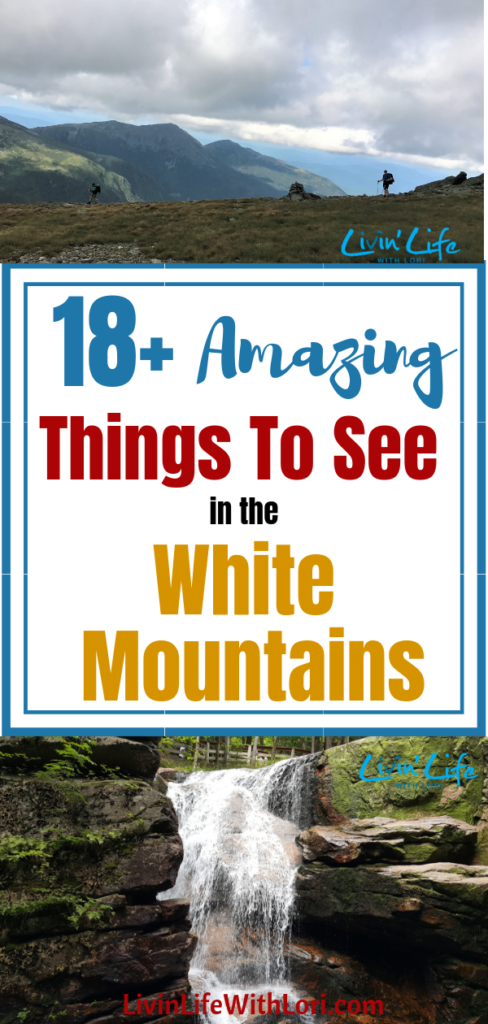 This post contains some affiliate links for your convenience which means that when you click on a link and make a purchase, I will receive a small compensation at no additional cost to you. Please read my Disclosure Policy for more information.
3, 4 or 5-Day Itinerary to Mount Washington &
The White Mountains of New Hampshire
Our 4-Day Itinerary Of The White Mountain Area Includes:
Franconia State Park
Mount Washington
The Cog Railway
Flume Gorge
Lost River Gorge
The Kancamagus Highway
For your convenience, at the bottom of this article, you can download a list of 18+ popular White Mountain attractions FREE!
Day One – Arrival, Franconia, NH
Our road trip to Franconia took us six hours pulling our travel trailer.
We left early in the morning and arrived around noon which allowed us time to set up the campground, have lunch, relax and take a drive around the area.
When we were looking for an RV Campground, we found that there were quite a few campgrounds to choose from and all of them have great reviews.
We decided to stay at Fransted Family Campground because of its close proximity to many of the attractions we planned to visit.
If you're looking to camp near Franconia Notch, I highly recommend Fransted Family Campground!
We had a great time and it had lots of activities for kids – including a ball field, basketball courts, mini-golf, crafts, and a beautiful creek to go tubing!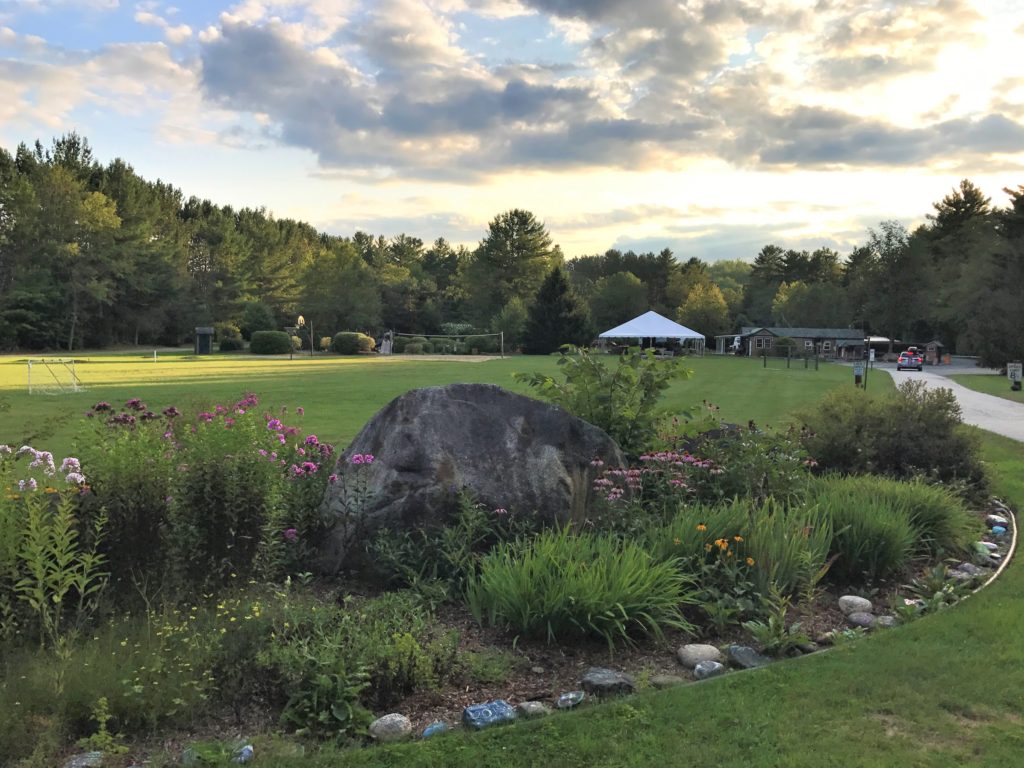 Related Reading: You can read all about our stay at
Fransted Family Campground HERE
After we set up our campsite, we took a drive to see the area. As I mentioned, one of the reasons we liked this particular area was its location.
Right down the road from the campground is the entrance to Franconia Notch State Park.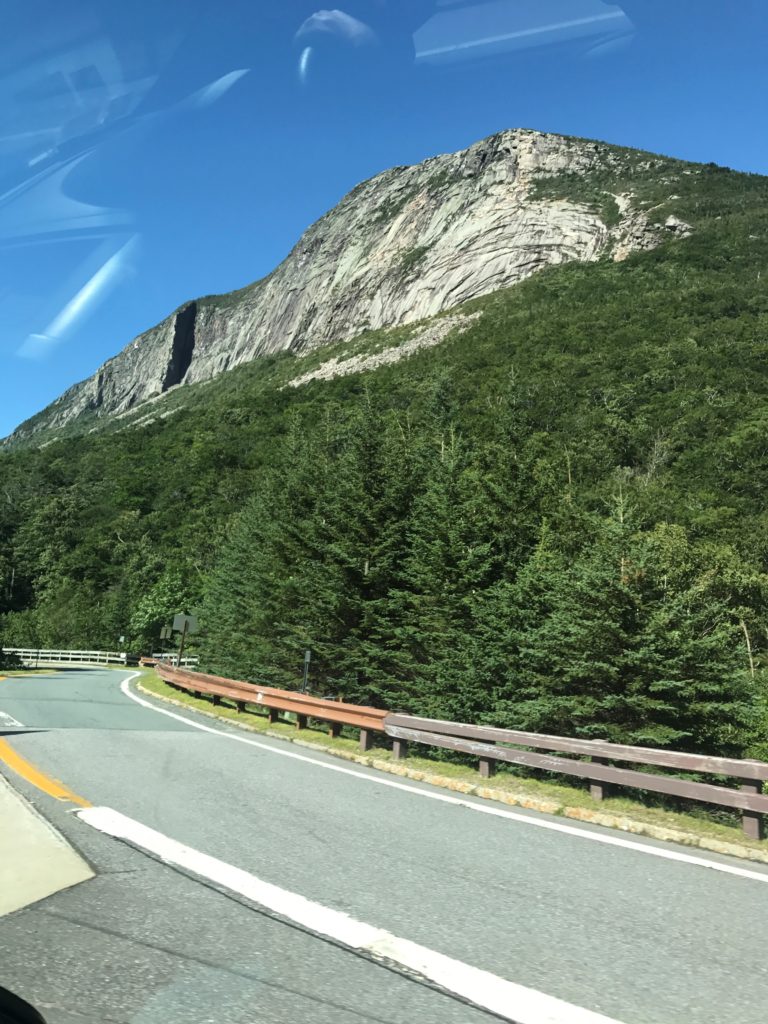 Things To See Near Franconia Notch State Park
A little further down Highway 93 are quite a few attractions that are definitely on a Must-See List!
Franconia Notch State Park
Old Man of the Mountain Historic Site
And the entrance to the Kancamagus Highway.
It was the perfect location for us!
Day 2 – Kancamagus Highway/Mount Washington Cog Railway
We wanted to get an early start because today was going to be jammed packed with things to see!
We packed both an "on the road" type breakfast and sandwiches for lunch because we really weren't sure where we would be or what might be around for places to eat!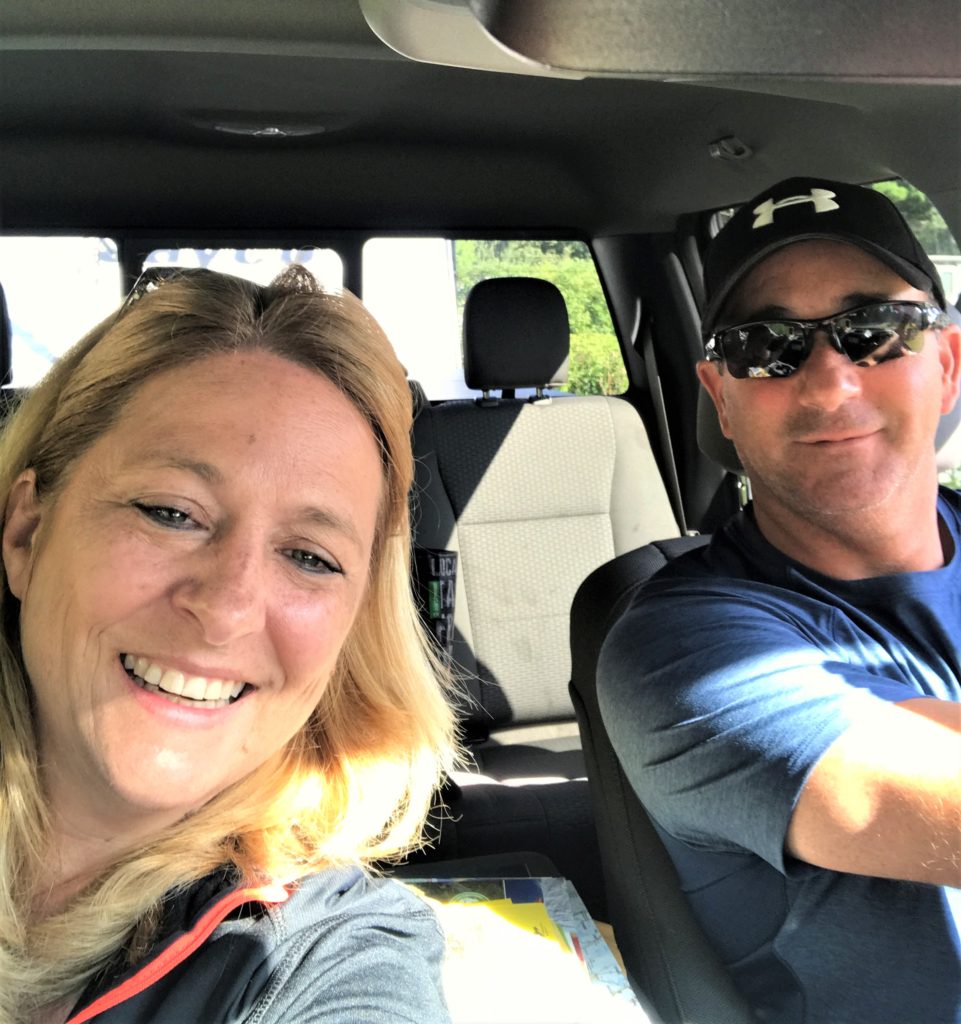 Previously, we had taken the vans to the top of Mt. Washington via the Mt. Washington Auto Road so this trip we decided to take the Mount Washington Cog Railway to the summit of Mount Washington Observatory.
TIP – The Cog Railway is on the OPPOSITE side of the mountain from the Mount Washington Auto Road!!! BE SURE to take the correct route!!
We checked the schedule for the Cog Railway to see when the last train was scheduled.
Round-trip takes three (3) hours and we wanted to be sure to have plenty of time at the summit of Mount Washington.
We planned to take the 1:30 train which meant we needed to get our tickets by 12:45 (45 minutes prior suggested time).
Since it was mid-week, we were hoping the crowd would be light that day. You can purchase advanced tickets too – which is highly recommended!
With this plan…we still had plenty of time to enjoy the Kancamagus Highway!
Driving The Kancamagus Highway
The Kancamagus Highway (also known as the Kanc) is a 34-mile Scenic Byway through the White Mountain National Forest.
On busy summer days, expect heavy traffic along this twisting and turning highway that climbs to nearly 3,000 feet at the peak of Mount Kancamagus!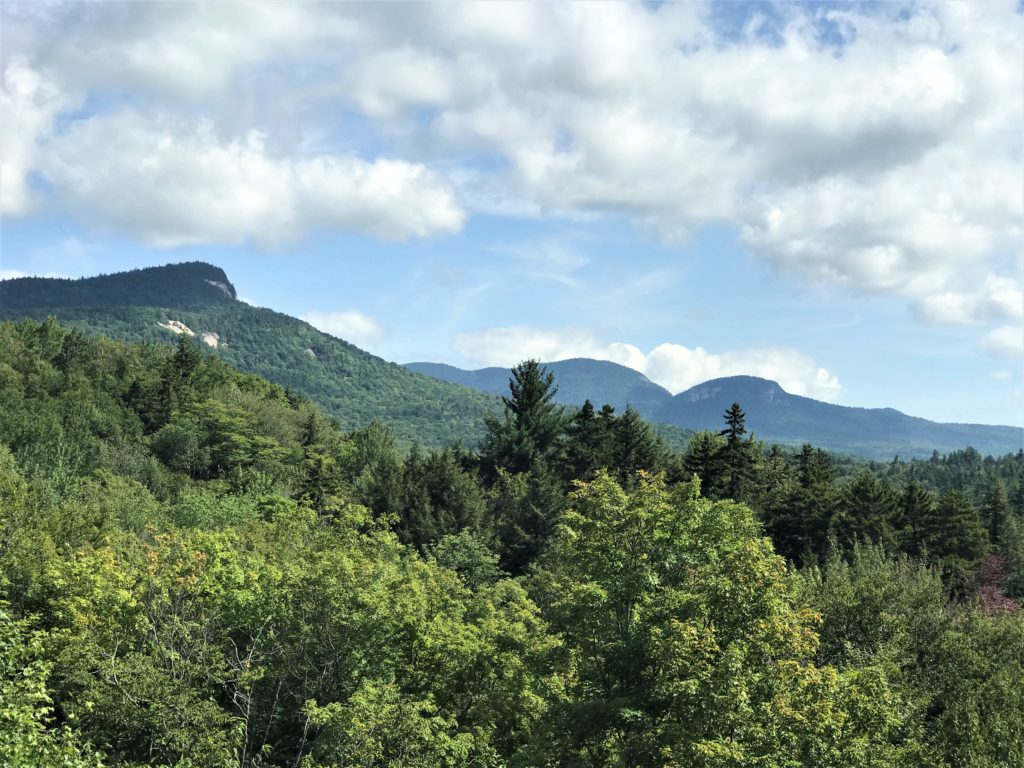 TIP – Gas up your vehicle BEFORE entering the Kancamagus Highway!
There are NO Gas stations once you enter this 34.5-mile Scenic Byway through the White Mountain National Forest!
On the map below I've marked the route we planned for the day.
Map of the White Mountain Area
We left the campground and hopped onto Rt. 93. We turned onto Rt. 112 Kancamagus Highway then turned onto the 302 through Conway and then North Conway and continued on the 302 to the Mount Washington Cog Railway.
After our trip up Mt. Washington, we got back onto Rt. 302 to Rt 3 to the campground in Franconia – making a complete circle.
The route worked out great for our Day Trip!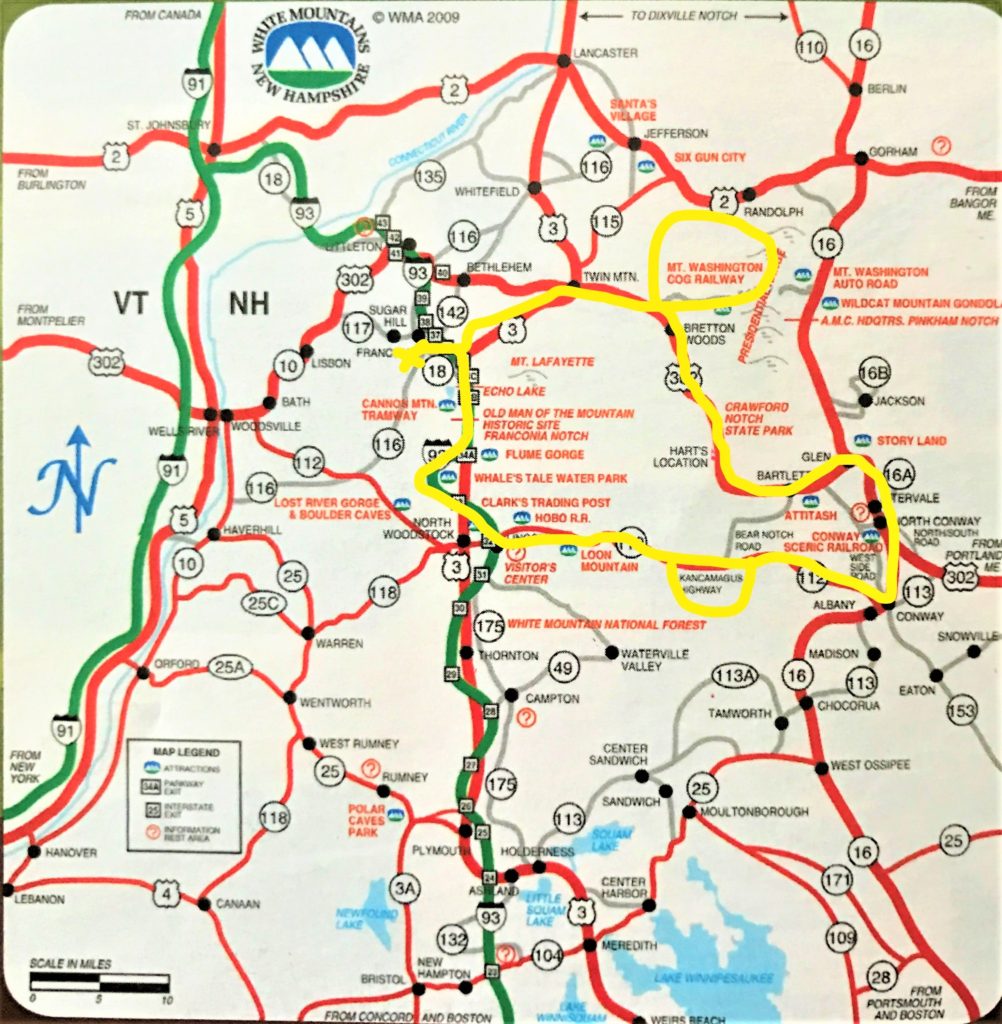 If you've read my other articles about the places we've been, you know that we LOVE to pull over at almost every "pull off" along scenic byways to take photos.
When we get home, many of them look exactly the same – photos just don't do justice to the beautiful views you can see in person!
It wasn't too long before we found a beautiful view and decided to pull over, sit on the rocks and eat our breakfast (yogurt, fresh fruit and granola).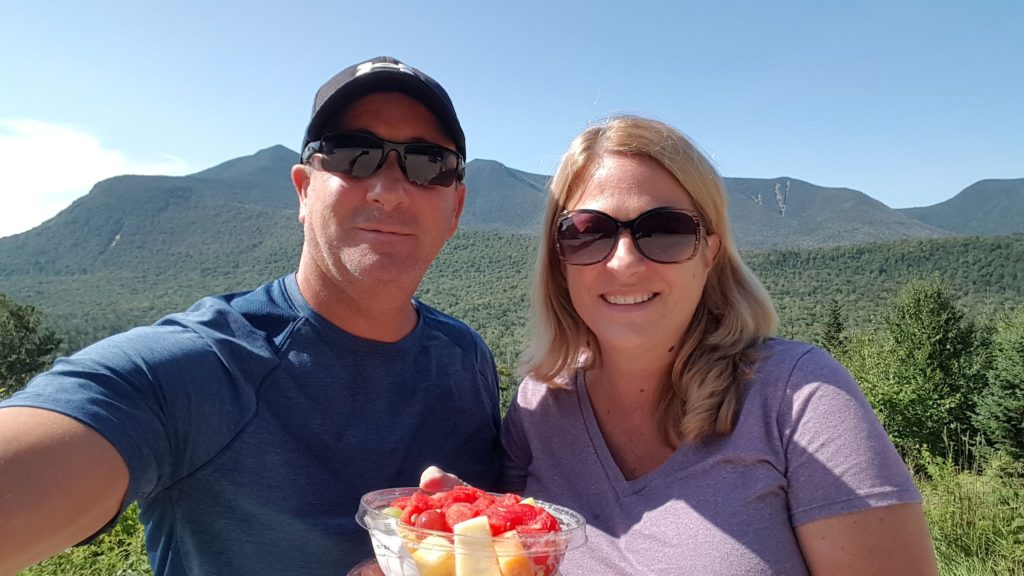 One of the things on my To-Do list was to see ALL the Covered Bridges in the area.
There are a few located along the Kancamagus Highway, but I decided that we would have to stick to our schedule that day if we wanted to take the Cog Railway to the top of Mount Washington.
I even picked up one of the brochures at the campground which lists ALL the Covered Bridges and Waterfalls in the area!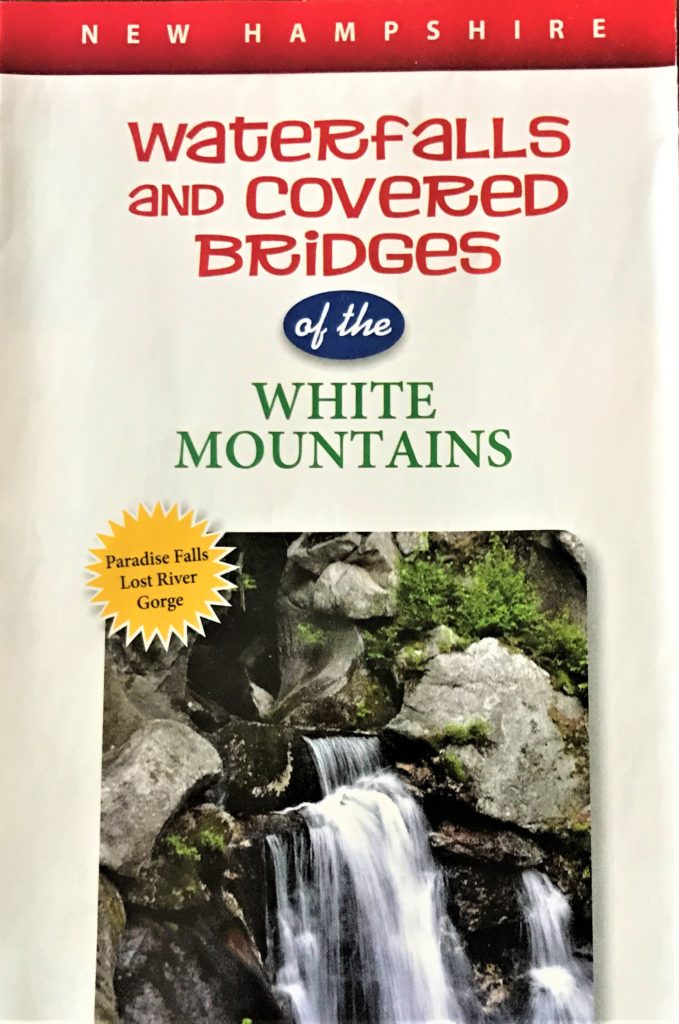 The views along the Kancamagus Highway were beautiful.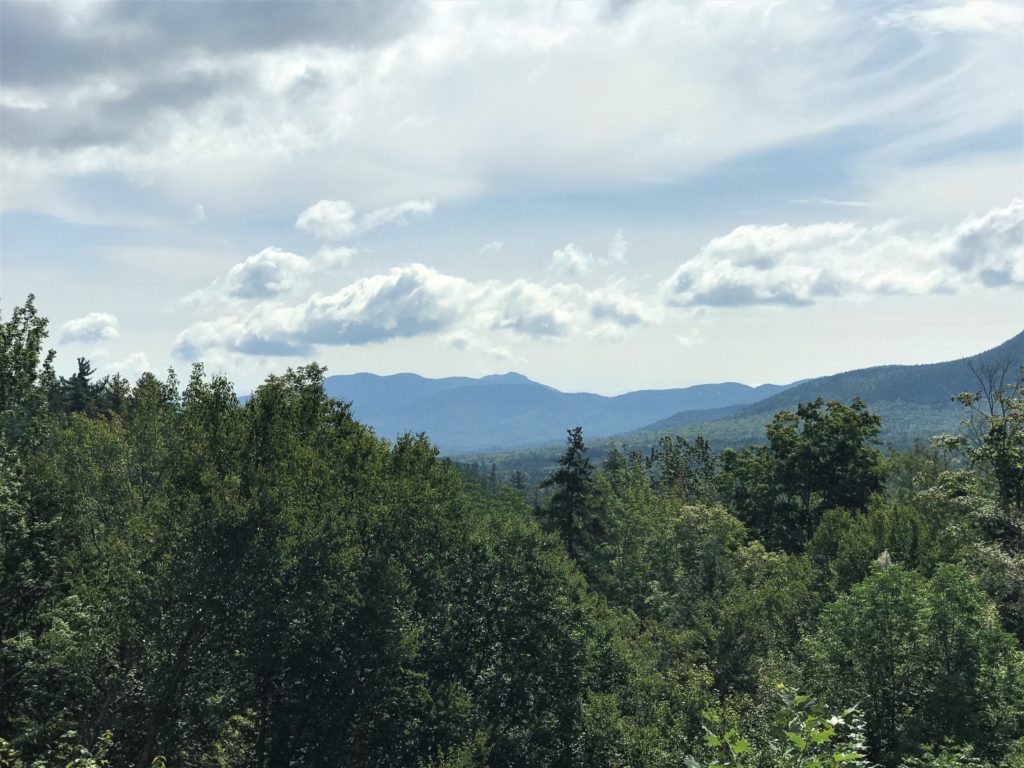 Soon, we made our way into the town of North Conway.
We had visited and stayed in North Conway many times, but never remembered the crowds that we saw this trip!
It's a good thing I packed our lunch because trying to get parked, then seated at any of the restaurants would have taken us several hours!
We never would have made it to the Cog Railway! Finally, we saw the turnoff for the Cog Railway.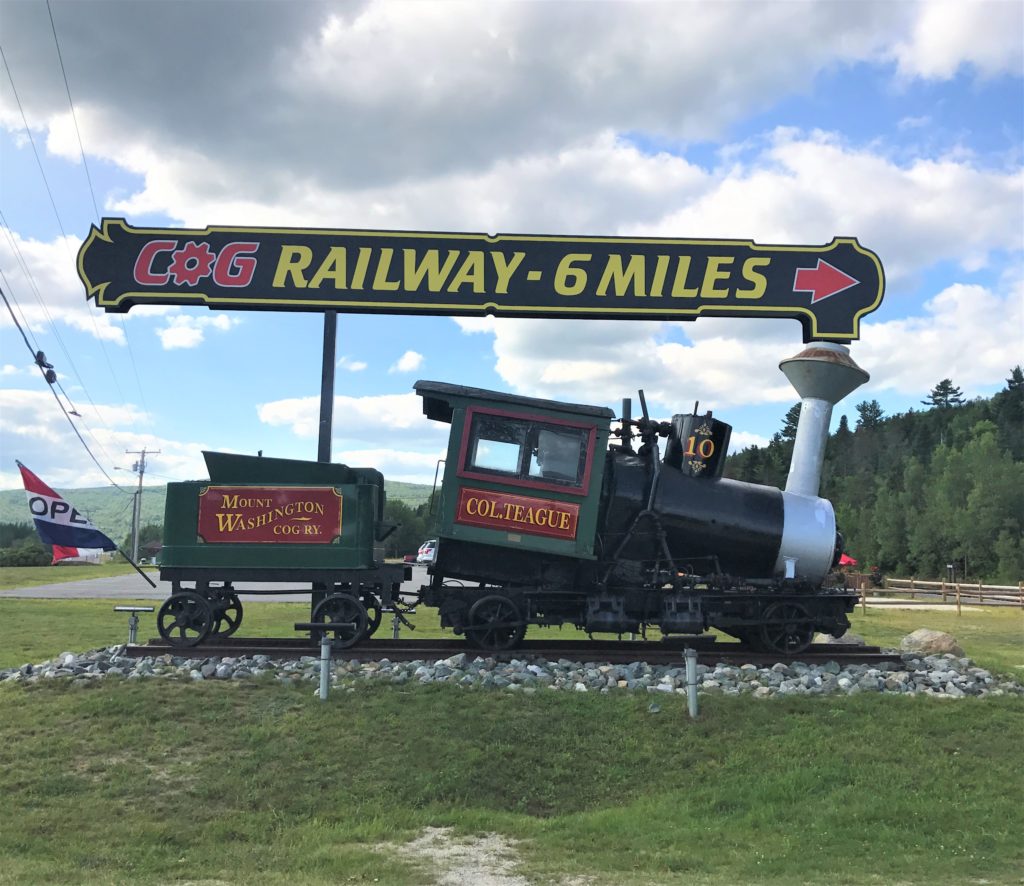 We purchased our tickets (Don't forget to ask for a AAA discount if you're a member!) and went back to the truck to eat our picnic lunch.
TIP – There are picnic tables that you can sit to eat and watch the trains come and go. We, of course, weren't aware of them at the time!
Soon, our Cog Railway train arrived!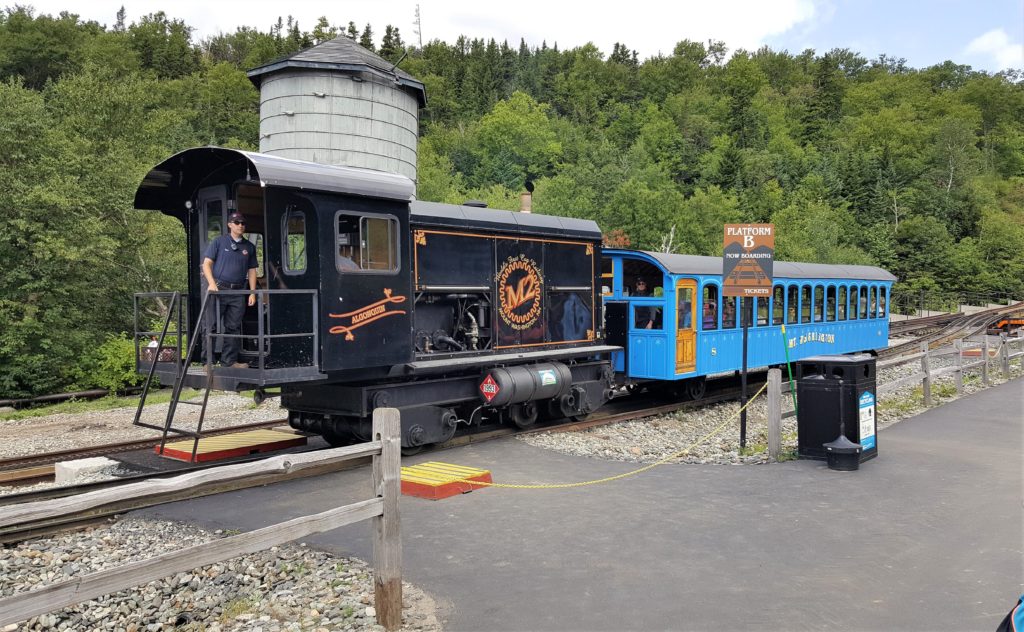 We made it to the Top of Mt. Washington!
TIP: You will most likely have to stand in line to get your photo taken! The line was long when we visited in August, but everyone is friendly and just asked the person behind them in line to take their photo so it worked out well.
Related Reading: You can read all about our trip on the Mount Washington Cog Railway HERE
That evening, we went back to the campground to enjoy a BBQ and to sit by the fire.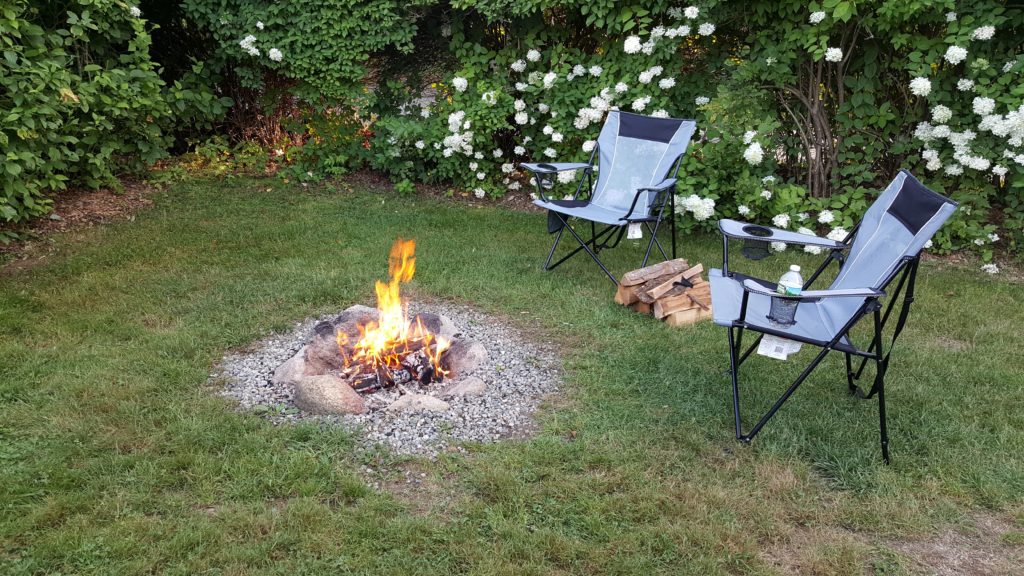 DAY 3 – Lost River Gorge/Flume Gorge
The weather called for heavy rain for the next day, so we decided to change our plans and take in BOTH Lost River Gorge & Flume Gorge in one day.
Not that I would recommend that to anyone, but I was happy to be enjoying the beautiful boardwalks and waterfalls on a sunny day rather than in pouring rain.
Because both Lost River Gorge and Flume Gorge were not too far away from each other, we packed a picnic lunch so that we didn't have to drive back to the campground to eat lunch.
This was a great plan – plus we were able to rest in between!
Yes, we realized that we were not as young as we were the last time we visited the Franconia Notch area!
Lost River Gorge & Boulder Caves – North Woodstock, NH
Located in Kinsman Notch in the White Mountains and is open Daily, May – October, 9:00 a.m. – 5:00 p.m.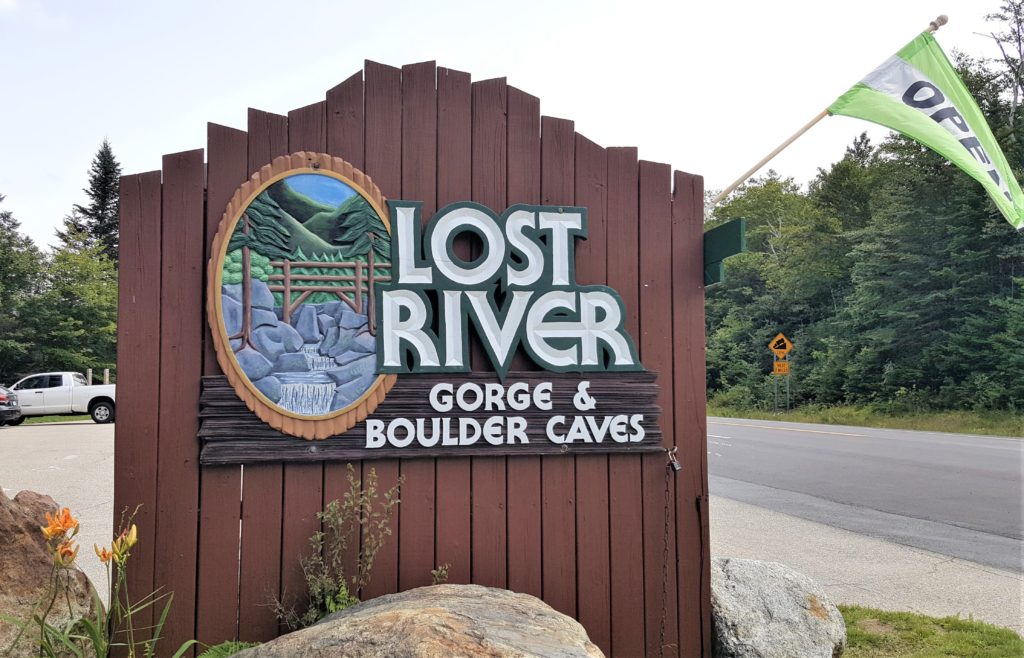 You will experience this beautiful area by walking along a one (1) mile boardwalk trail through the gorge as it winds its way along the Lost River.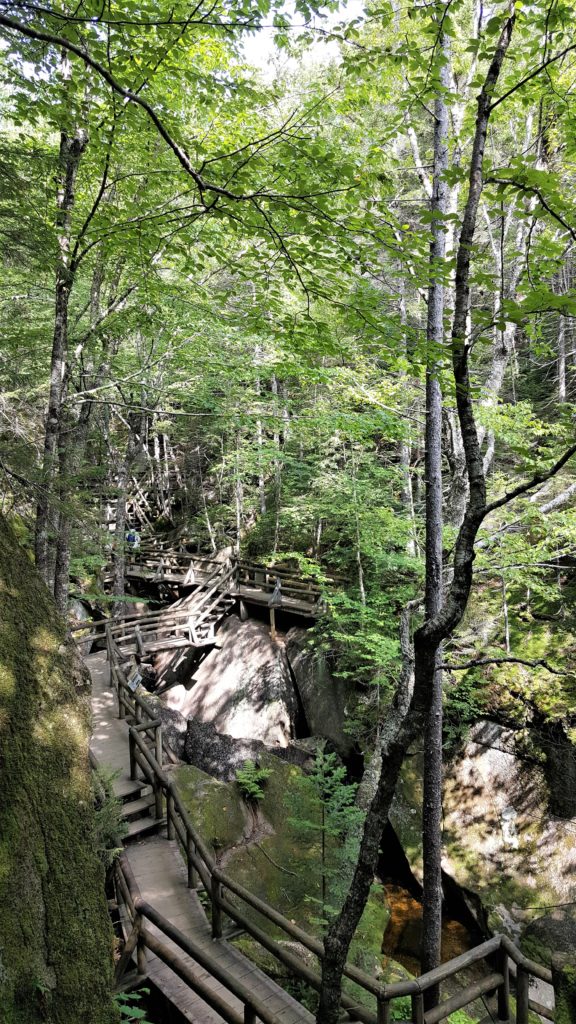 You can either stay on the boardwalk the entire time or as you can see in the photo of my husband below… EXPLORE THE CAVES!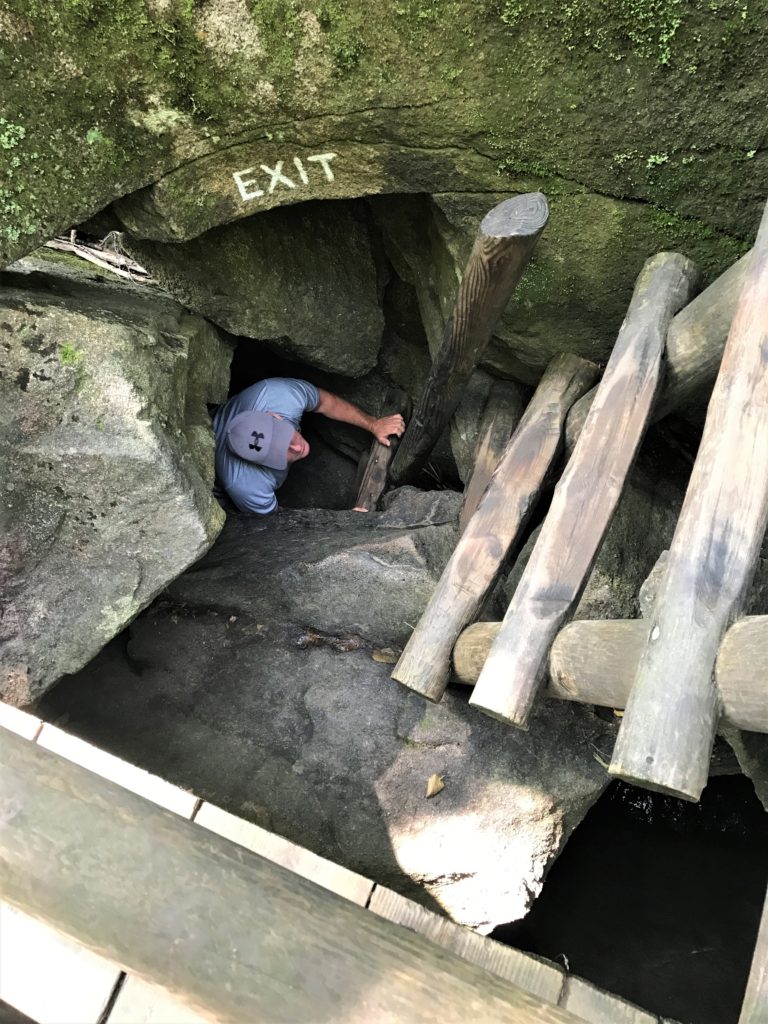 We loved our trip to Lost River Gorge!
I will tell you that everyone – kids AND adults had a great time crawling through the caves on your stomach or hands and knees to see the secret caverns!
We did not, however, attempt the infamous Lemon Squeeze!!! This was a little disappointing to us because both Tom & I and the kids made it through the last time we had visited – but my daughter recently reminded me that her head almost got stuck!
They have a "trial squeeze" that you can try before entering.
My husband tried – but felt claustrophobic so he didn't want to attempt to go through this time. BUT – there were MANY OTHER crevices and caves that we did crawl on our hands & knees to get through!
TIP – Wear leggings or lightweight pants if you plan to go through the caves. I wore shorts and it was tough on my knees!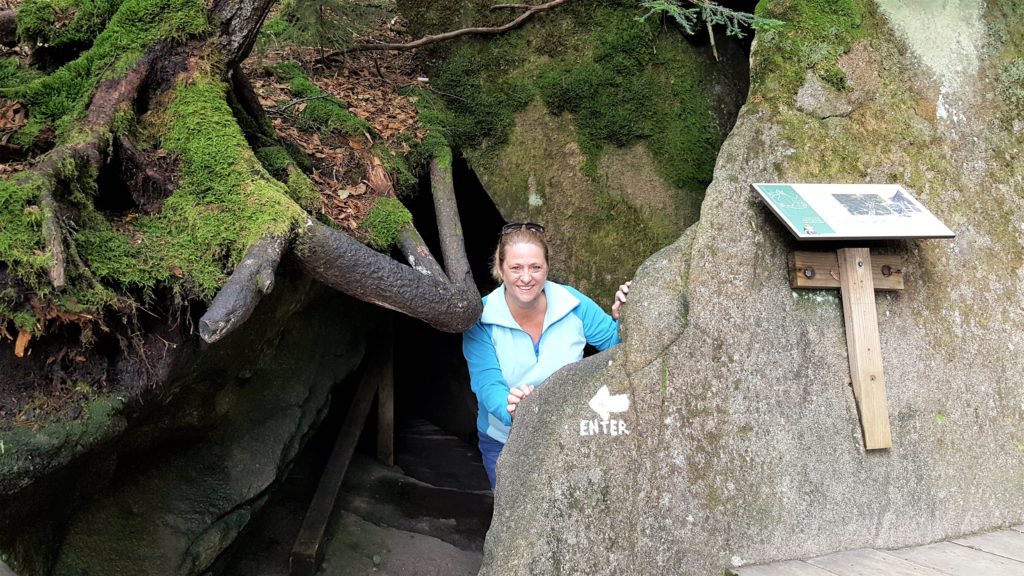 Related Reading: You can read more about our fun trip to Lost River Gorge & Boulder Caves HERE
Flume Gorge – Franconia Notch State Park
After tackling Lost River Gorge, we drove the few miles down the road to The Flume Gorge.
If the weather forecast wasn't calling for 100% chance of rain the next day, I would have saved Flume Gorge for the next day! (Hint: Both attractions are A LOT of walking!)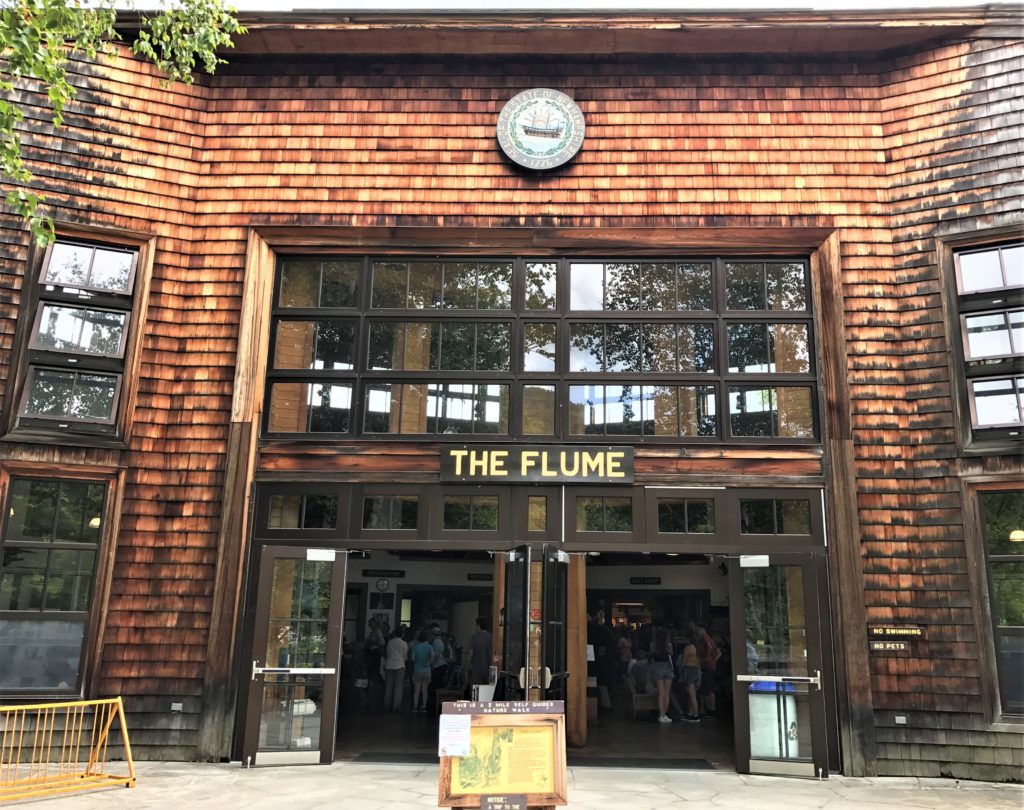 TIP: When you enter the Visitor's Building (which is the entrance to the park) Use the Rest Rooms BEFORE purchasing your ticket.
There are signs everywhere…but I missed them of course. The woman at the ticket counter sternly told me I was supposed to use the restroom before purchasing my ticket as the sign says…Just passin' that along…
Related Reading: Have you been to Acadia National Park?
Here are 9 Amazing Things You Won't Want To Miss on your trip to Acadia!
The Flume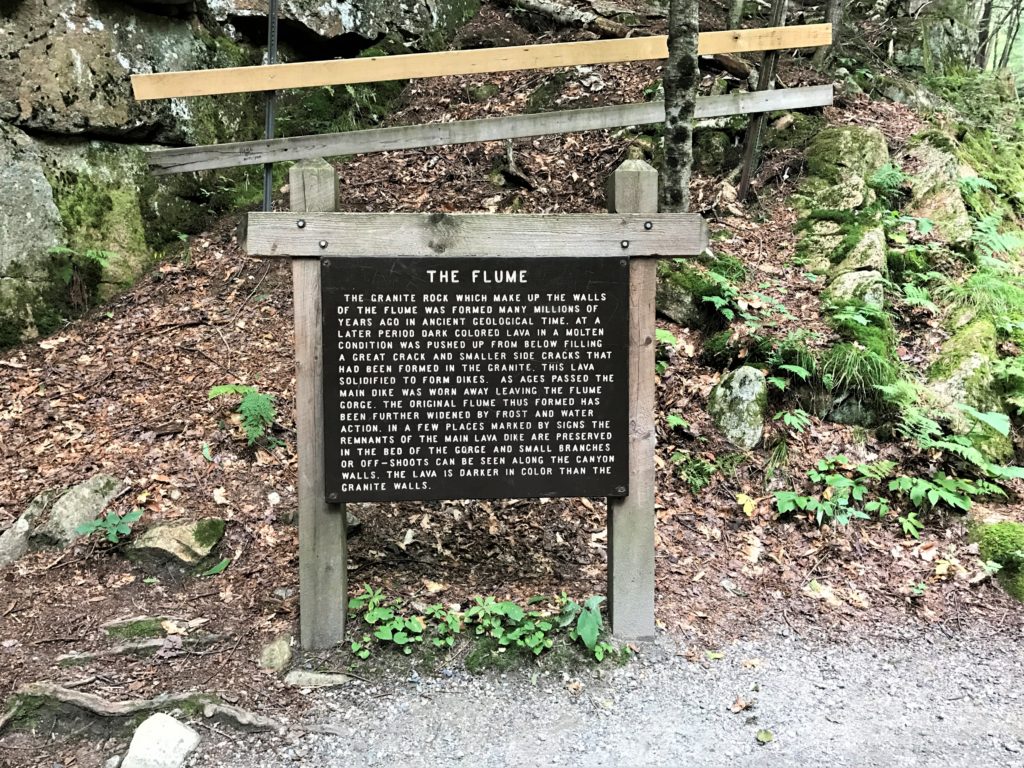 The Flume is a natural gorge extending 800 feet at the base of Mt. Liberty.
It was accidentally discovered in 1808 by 90-year-old "Aunt" Jess Guernsey while she was fishing.
After purchasing your entrance ticket at the Visitor's Center, you can choose to walk just to the Gorge or do a two-mile loop.
I will warn you though – there is A LOT of uphill walking and lots of stairs.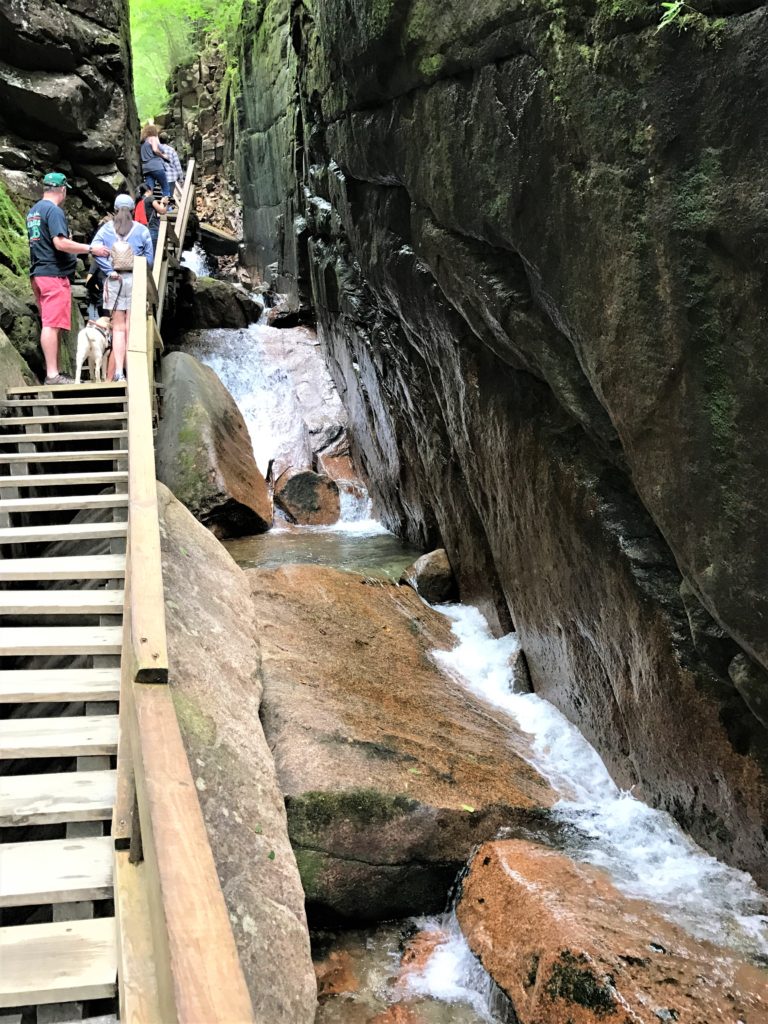 Tip: If you just want to visit the Flume, you can ride the bus part way and then walk to the Flume.
We walked the entire loop which took us over an hour.
I think that after our adventure at Lost River Gorge, we were a little tired so we were walking slowly and taking our time.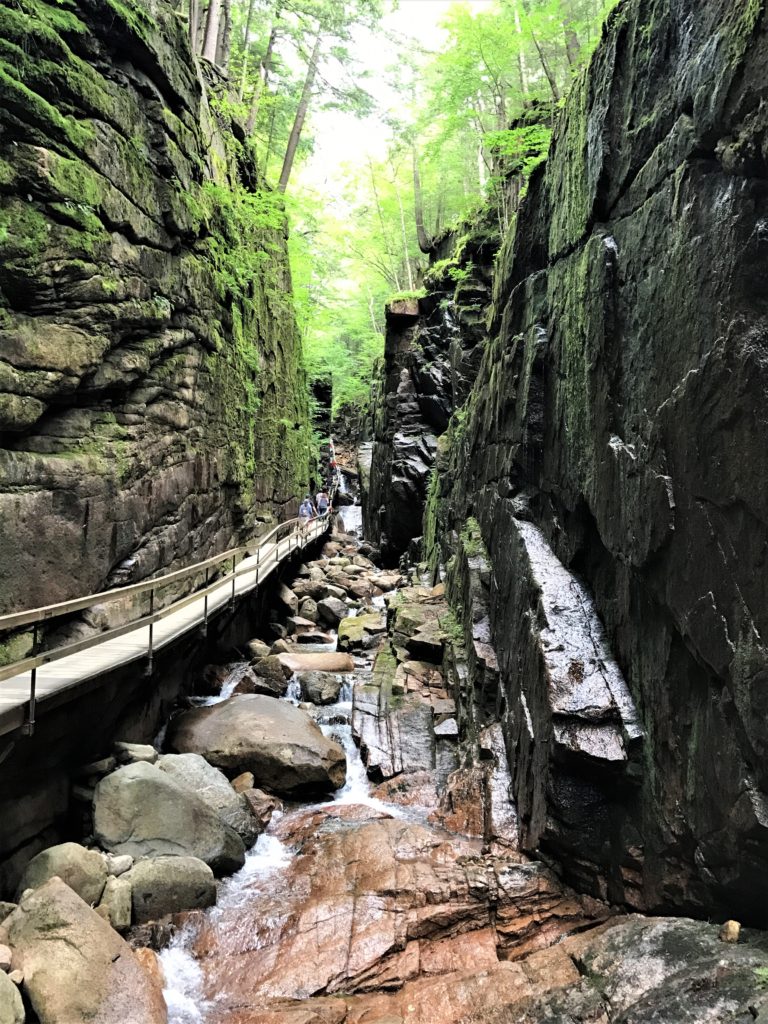 The entire walk along the pathway was beautiful and I loved seeing the Covered Bridge along the way!
The Flume Covered Bridge is one of the oldest in the state.
It was built in 1886 and has been restored several times. The bridge was built across the Pemigewassert River.
On our way back to the campground, we stopped in the town of Franconia Notch to the Grocery Store to pick up a few things then headed to make a BBQ and sit by the fire.
Day 4 – RAIN DAY
Unfortunately, Day 4 was spent in the trailer watching movies and playing games. The rain subsided by late afternoon but it was too late to visit any of the attractions.
Since we had visited many of the attractions previously with the kids – Polar Caves, Clark's Trading Post, Story Land, Santa's Village, and the Conway Scenic Railroad, we didn't have these on our itinerary… HOWEVER…
These are fantastic Must See Places and I highly suggest you add them to your own Itinerary!
There is Something For Everyone in the White Mountains of New Hampshire!
I've put a list together of the Top 18 Amazing Things You should see when you visit The White Mountains.
You can Download the ENTIRE LIST BELOW.

I hope this list will help you plan an AMAZING trip to The White Mountains of New Hampshire!
What were YOUR favorite things to see in New Hampshire? I would love to hear about your experiences! Let me know!
I would LOVE for you to join my email list!
More Freebies!

Here Are More Travel Stories You May Enjoy:
* 9 Amazing Things To See In Acadia National Park
* How To Plan A One Day Trip To Niagara Falls New York
* Best Things To See In Letchworth State Park New York
* Top Fun Things To Do In Northern Virginia
* Why You Will Love Old Town Alexandria Virginia
* 13 Fun Things To Do On A Weekend Getaway To The Catskills
* How To Plan An Awesome Trip To Howe Caverns