Last Updated on June 26, 2021 by Lori
Mt. Greylock Campsite Park is located at the base of Mount Greylock and is perfect for camping in the Berkshire Mountains!
Voted as Best Campground in the Berkshires by campers, Mt. Greylock's 40- acre campground can accommodate tents, pop-ups, trailers, motorhomes, and RVs up to 45 feet.
We couldn't wait to head out with our 23 ft. Jayco travel trailer to go camping in Massachusetts!
This post contains affiliate links which means if you click on a link and make a purchase, I will earn a commission at no additional cost to you. Please see our Disclosure Policy for more information.
Campgrounds In Western Massachusetts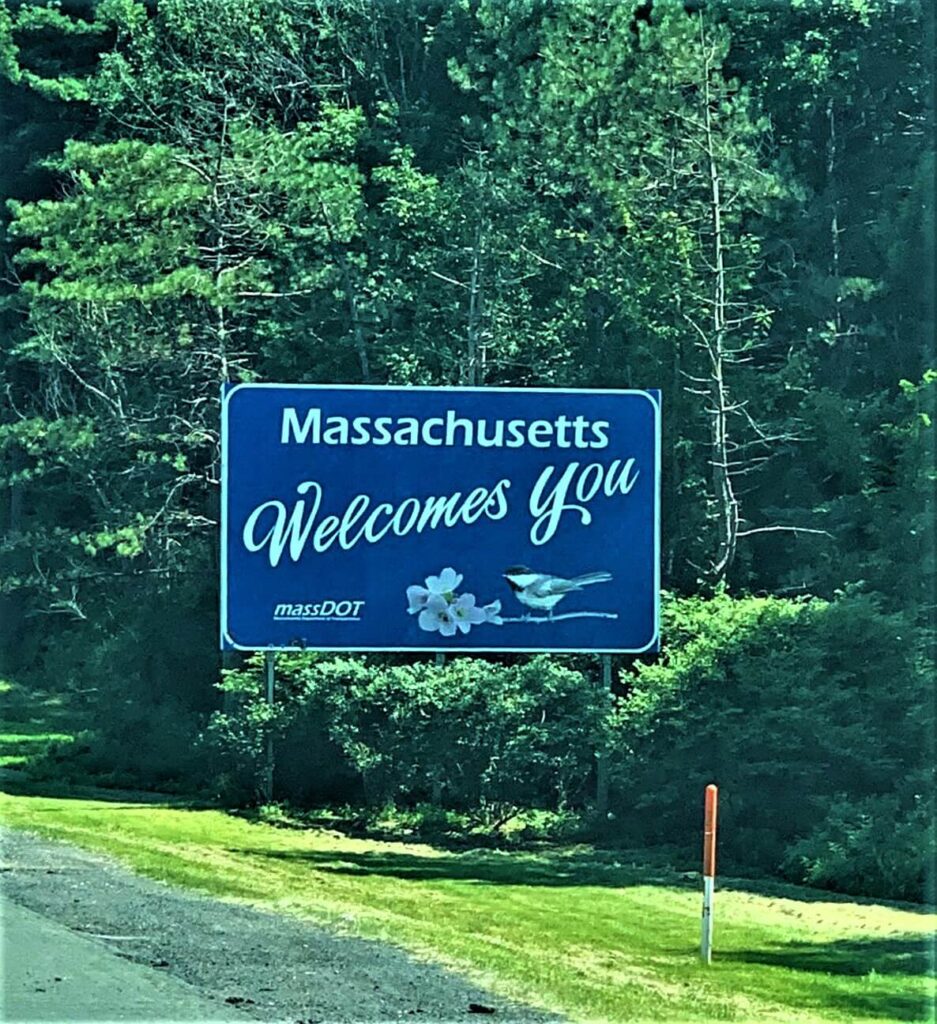 On our list of "Must Sees" in Massachusetts was to drive to the top of Mout Greylock – the highest point in Massachusetts!
After searching for campgrounds in the Berkshire Mountains, we found Mt. Greylock Campsite Park. The campground is pet-friendly which made it perfect so we could take our Golden Retriever, Buddy.
Where Is Mt Greylock Campsite Park?
The campground is located at 15 Scott Rd, Lanesborough, MA.
Be sure to check the campground's website for directions. Depending on where you're traveling from, your GPS may lead you to a small bridge.
In fact, I called the campground after getting off the interstate to be sure we were on the correct road.
After pulling the travel trailer for almost five hours, I did not want to end up on a small bridge! (I know…it was overkill on my part – but at least I felt better!)
We were somewhat familiar with this area of western Massachusetts because of the famous Tanglewood Music Center.
During the summertime, Tanglewood is home to the Boston Symphony Orchestra and we had once traveled here to see a concert.
However, that had been many years ago and we were so excited to re-visit the area!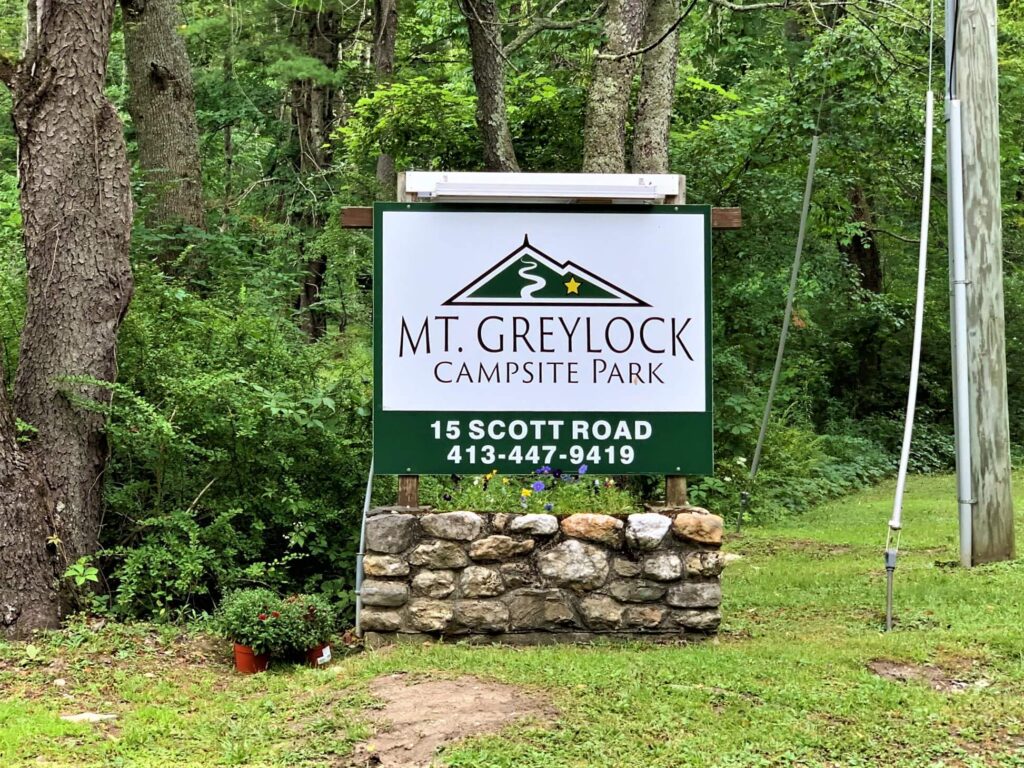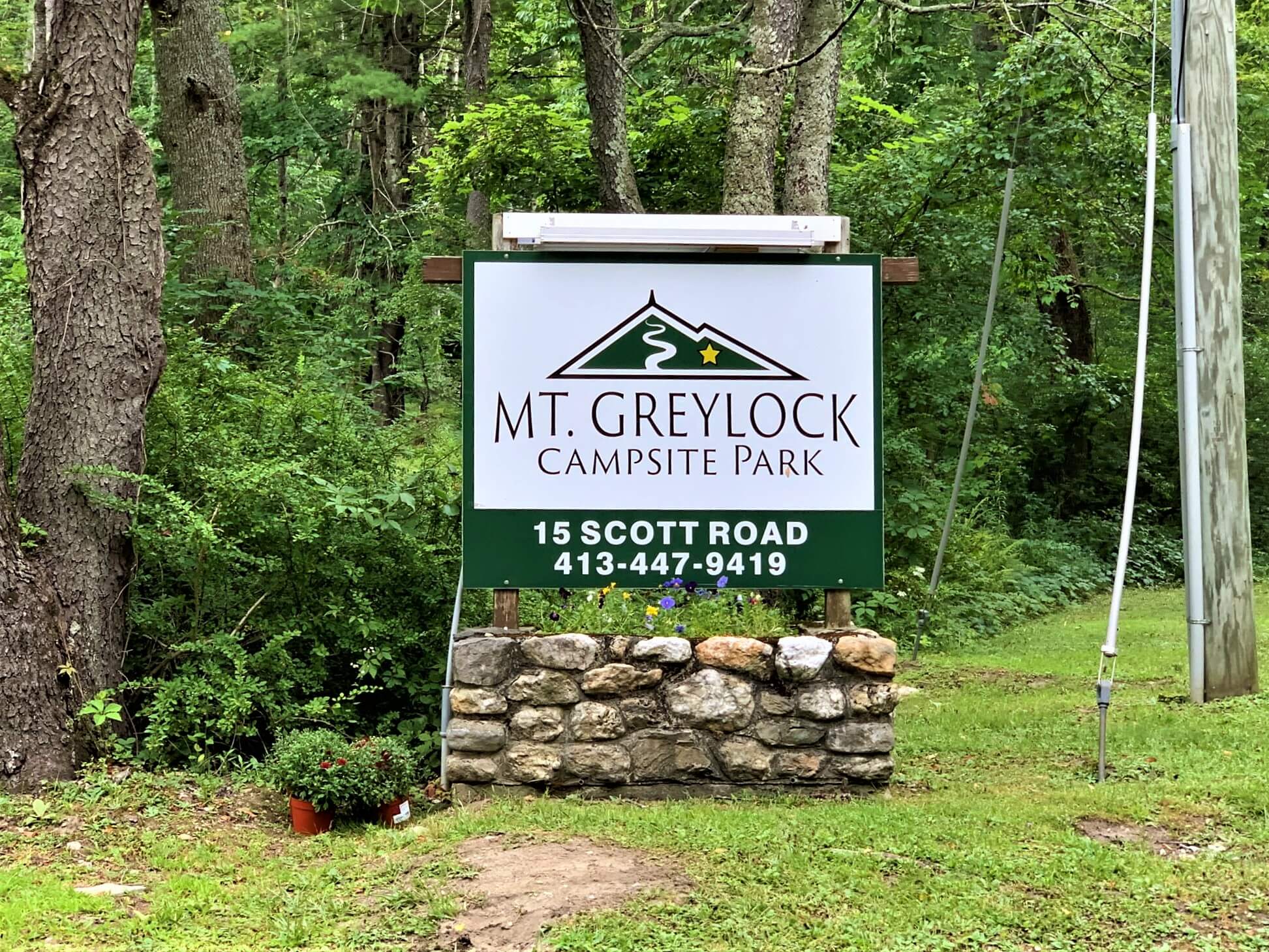 Soon, we saw the sign for the entrance to the campground.
After entering Mt. Greylock Campsite Park, you will see the cute Camp Office.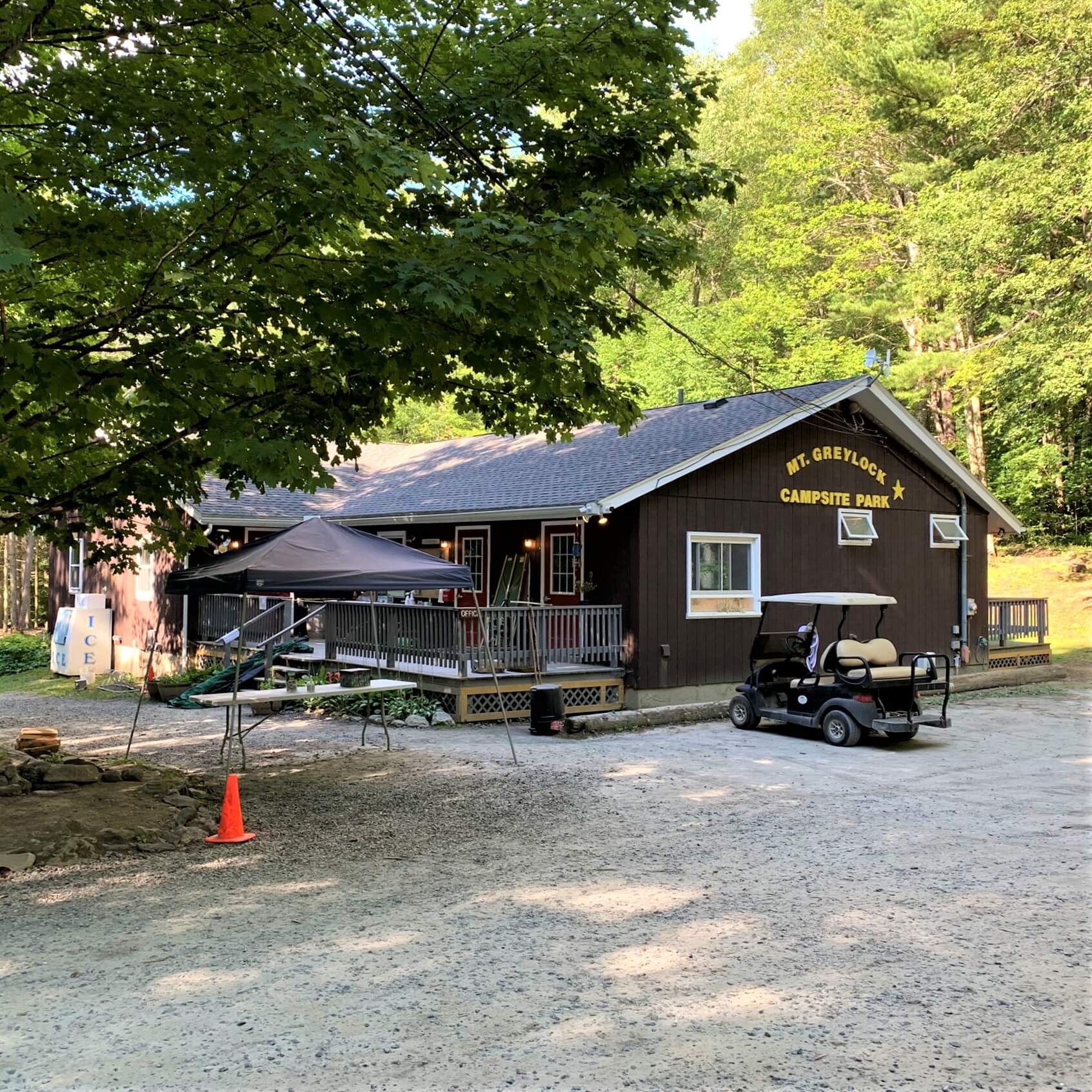 Gordon and Pat met us outside the office to check-in (due to social distancing requirements).
Once Gordon had reviewed the campground rules with us he gave us our campground map and told us our site was # 39 up the hill on the right.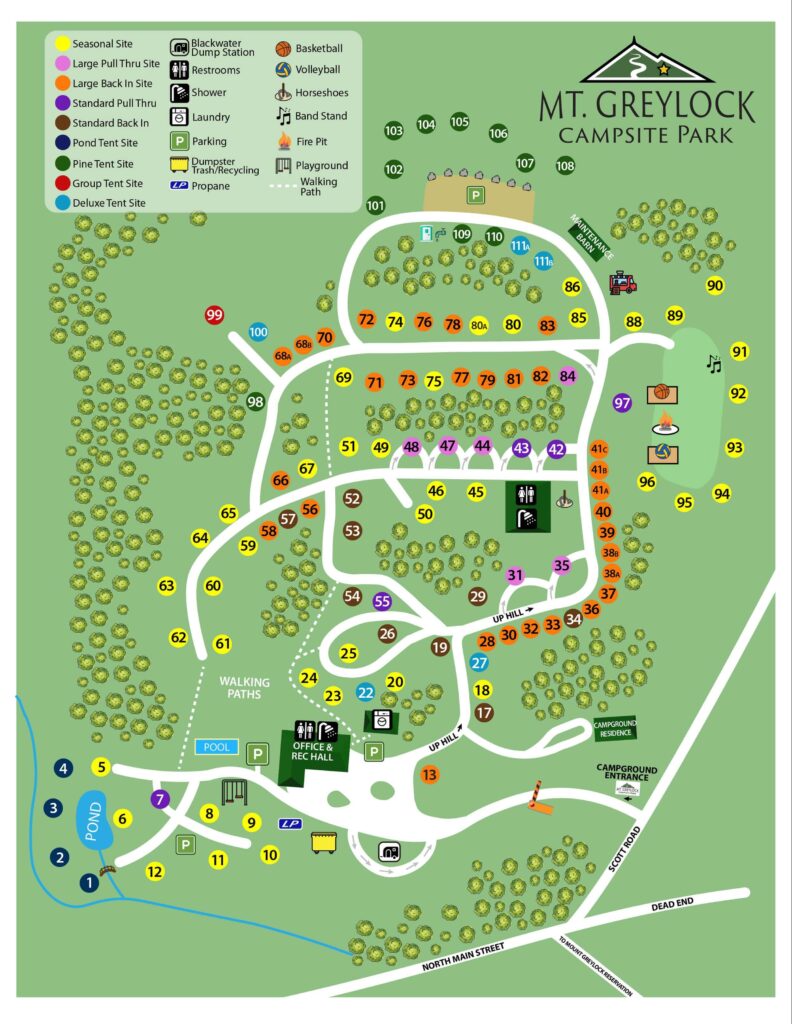 And they weren't kidding! You can see the words "Up-Hill" two times on the map!
Here's a photo of the hill looking downward!
I made a mental note to tell my husband to stay to the left when we left the campground.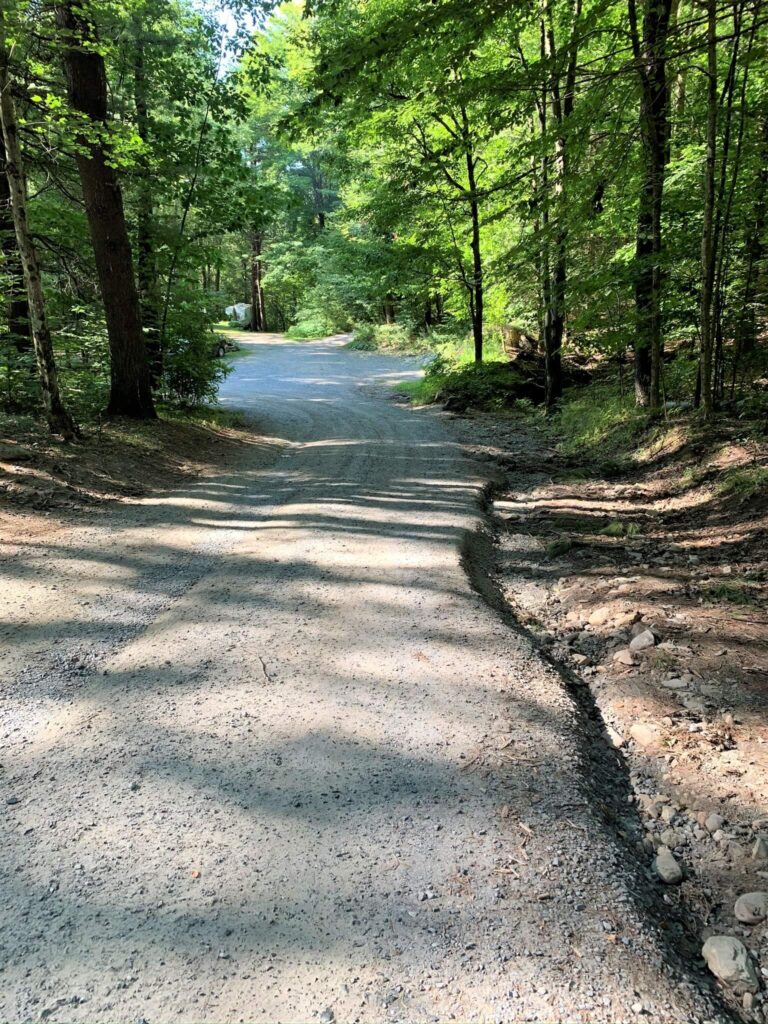 As we made our way up the hill, we saw that the RV and tent sites were nicely spaced.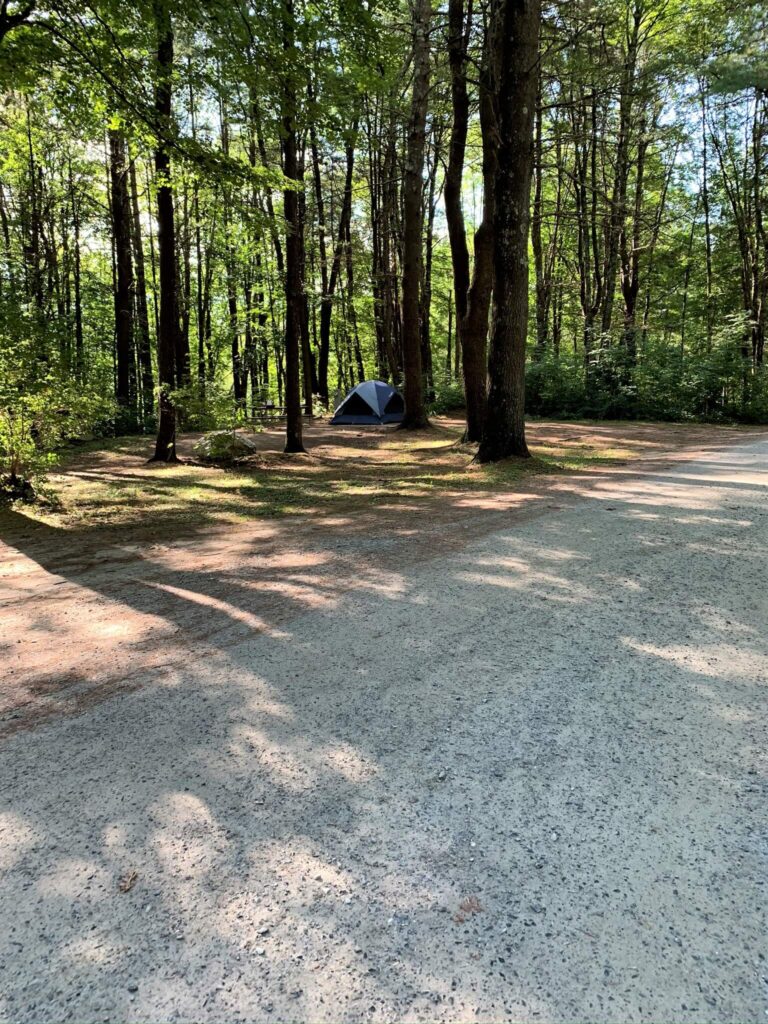 As we neared the top of the next hill we spotted our RV site #39.
Backing the trailer into the site while stopped on a hill was a little tricky – but thankfully, my husband had no trouble and backed the travel trailer right in.
RV Sites At Mt. Greylock Campsite Park
Once situated, we loved our site.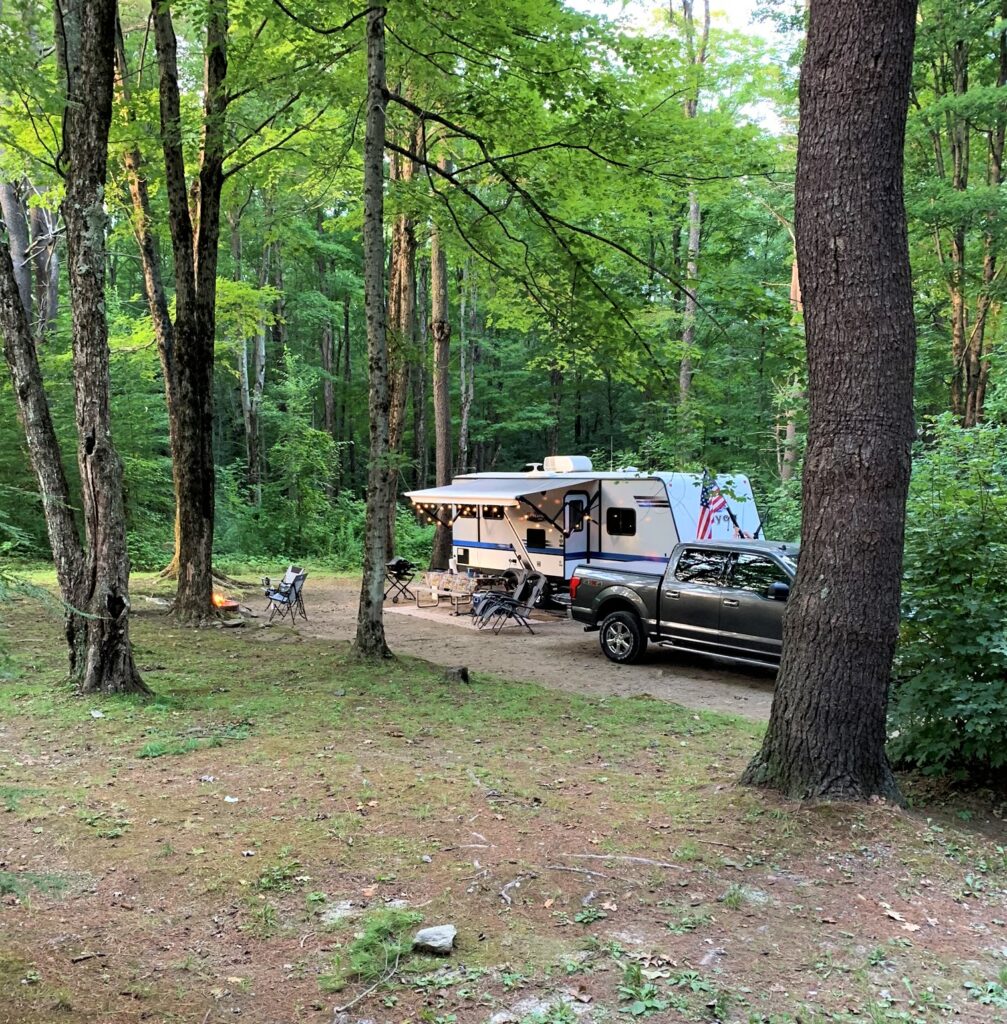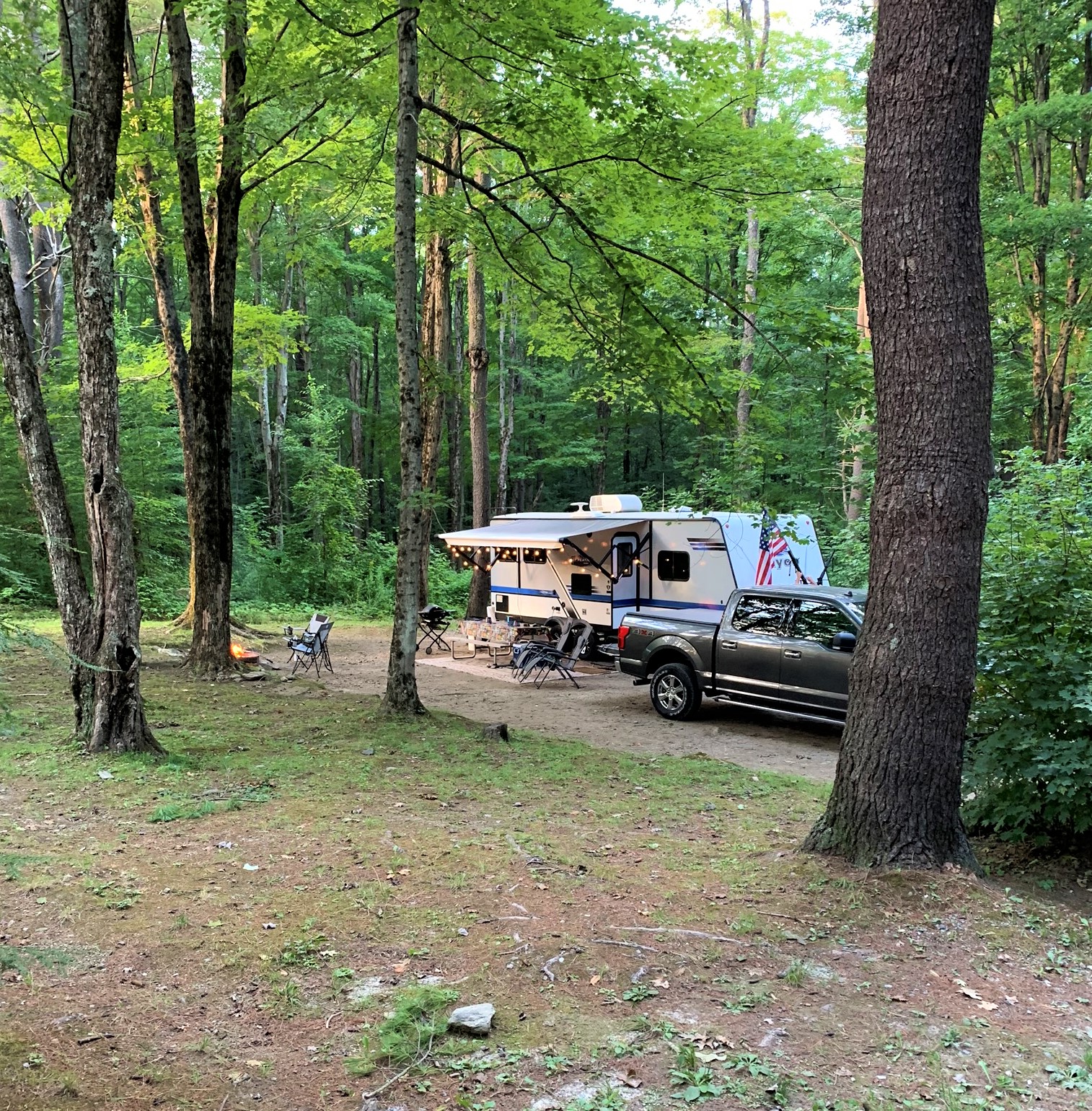 The site was not only wide but long and nestled into the woods.
Another thing we liked about our campsite is the separation between sites.
As you can see, there are woods that separate each campsite making sites even more private.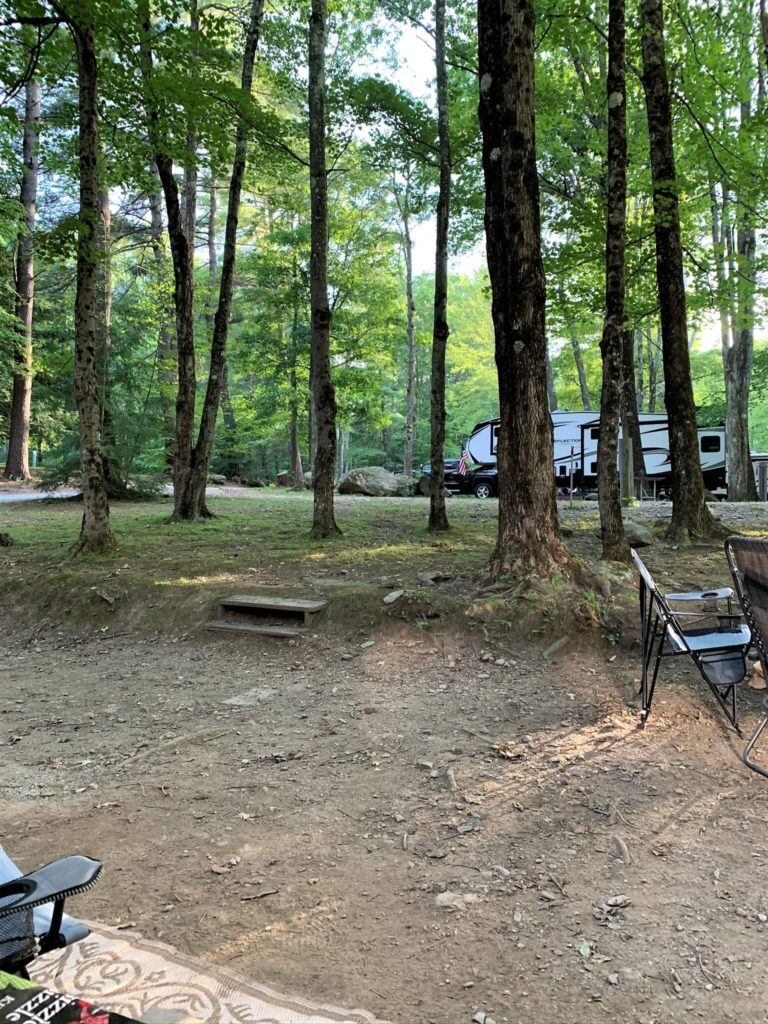 If you're traveling with friends, you can request to reserve consecutive sites for RVers and a tent group site, which can accommodate up to 26 people.
Each campsite has:
* Water
* Electric
* Grey Water
* Fire Pit
* Picnic Table
The campground has an RV dump station and if you are staying longer than a week, there is a honey wagon service.
The campground has two bathhouses with a free hot shower.
Activities at the Campground
Early one morning, I decided to take a walk around the campground to see what there was for campers.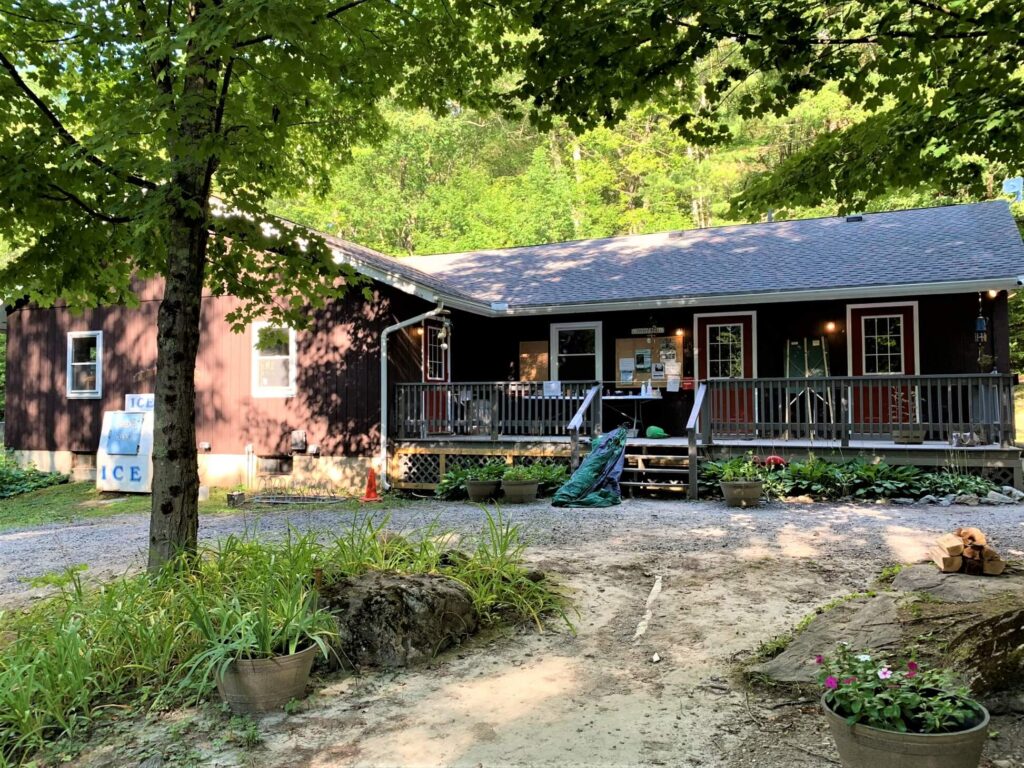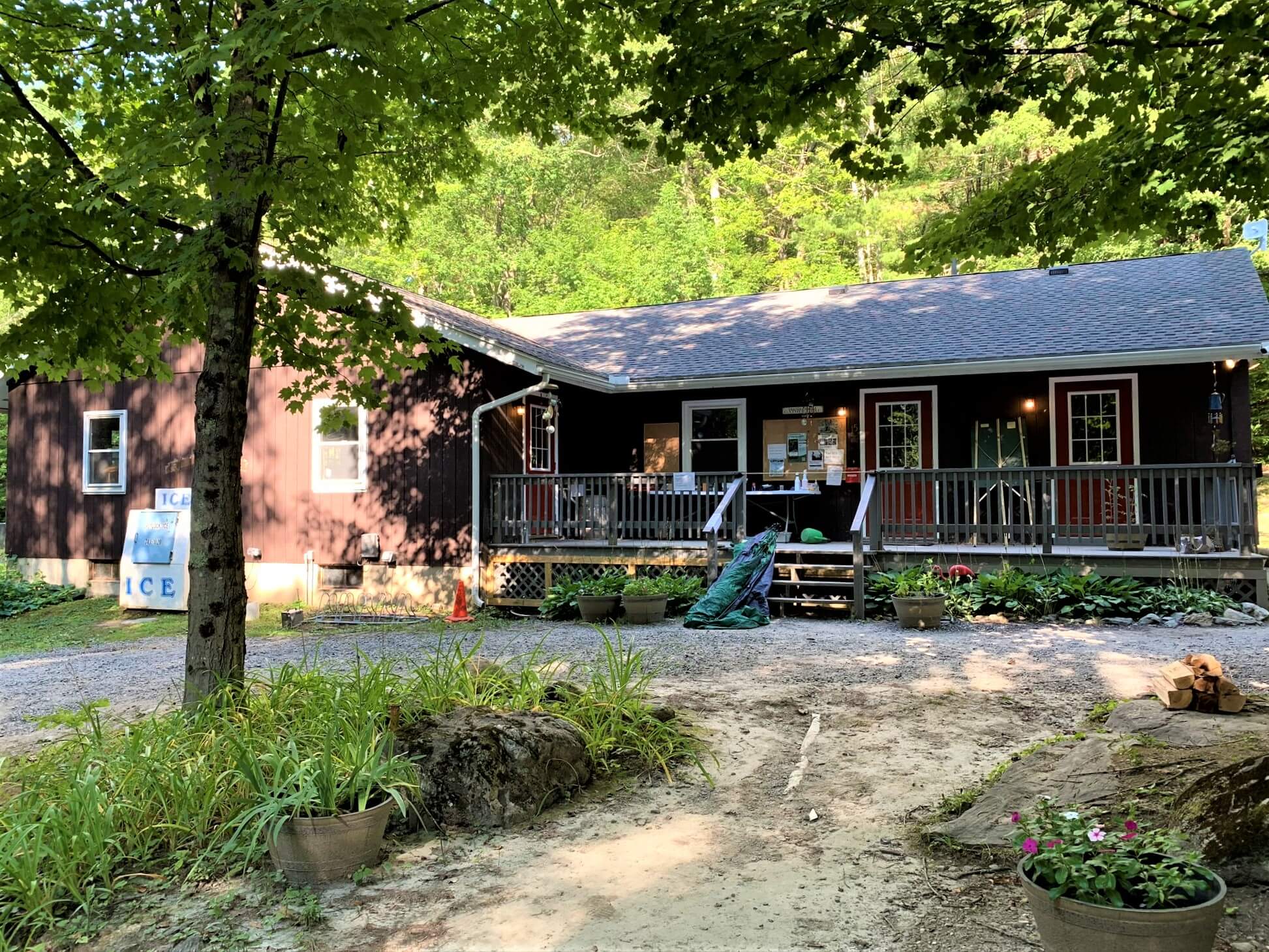 I was so early, the camp office hadn't even opened yet!
I wandered behind the camp office and found a very clean, heated swimming pool.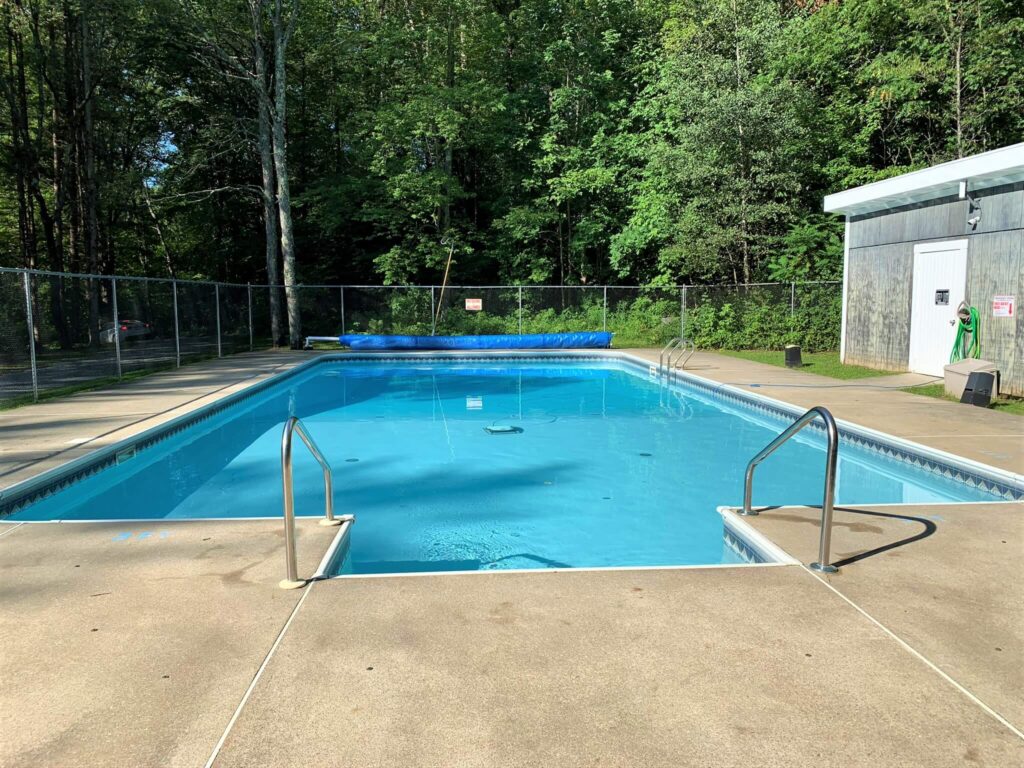 I know this is used a lot because we saw many kids riding their bikes around the campground with swimming suits on!
Across from the swimming pool was an awesome playground that is heavily used during the day.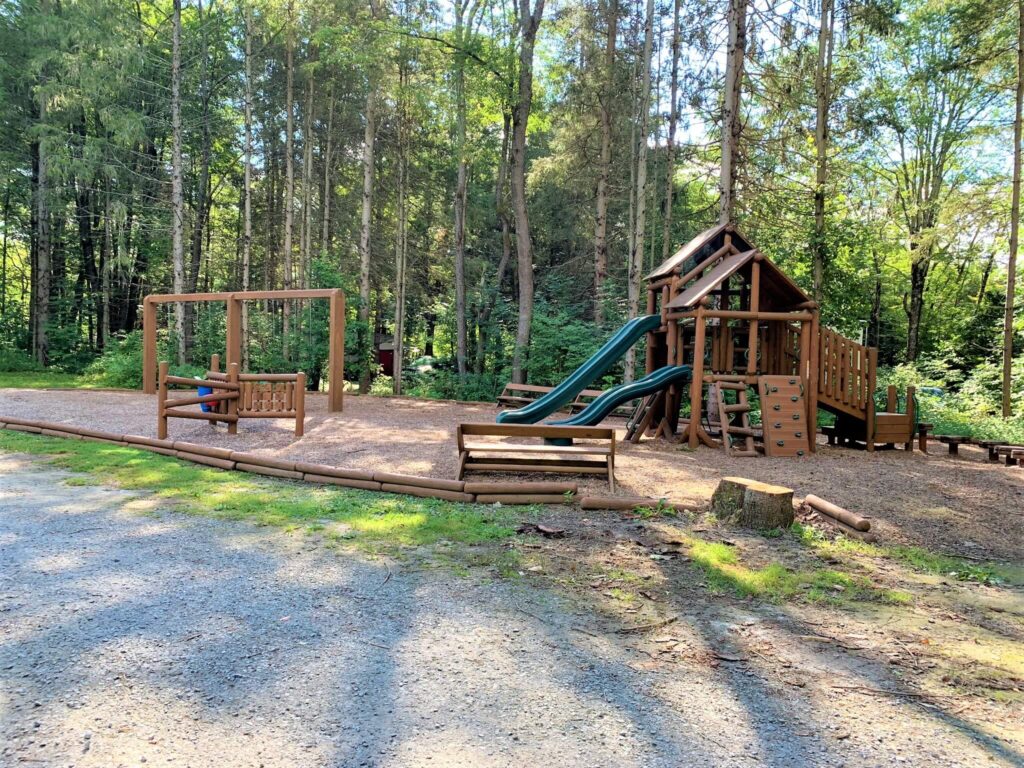 I continued walking down the path and finally found the pond I had read about!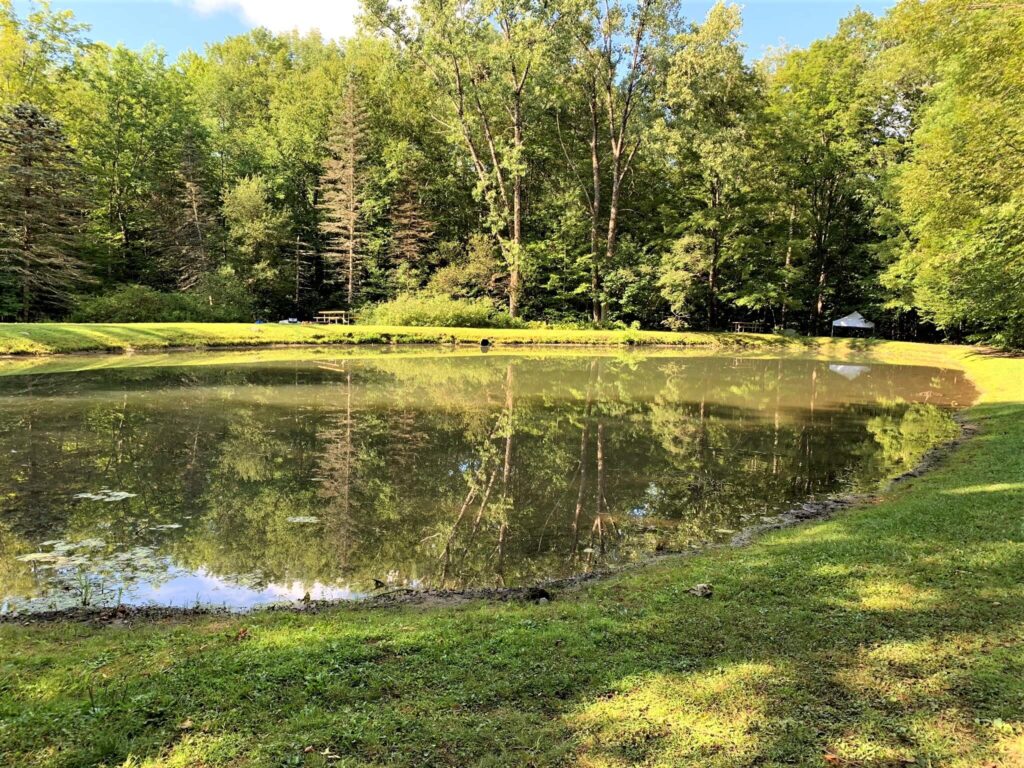 This is a Catch and Release pond with tent sites available around the pond.
It was a pretty view on this summer morning.
Once back at the campsite, we packed up Buddy, our Golden Retriever to drive to the top of Mount Greylock.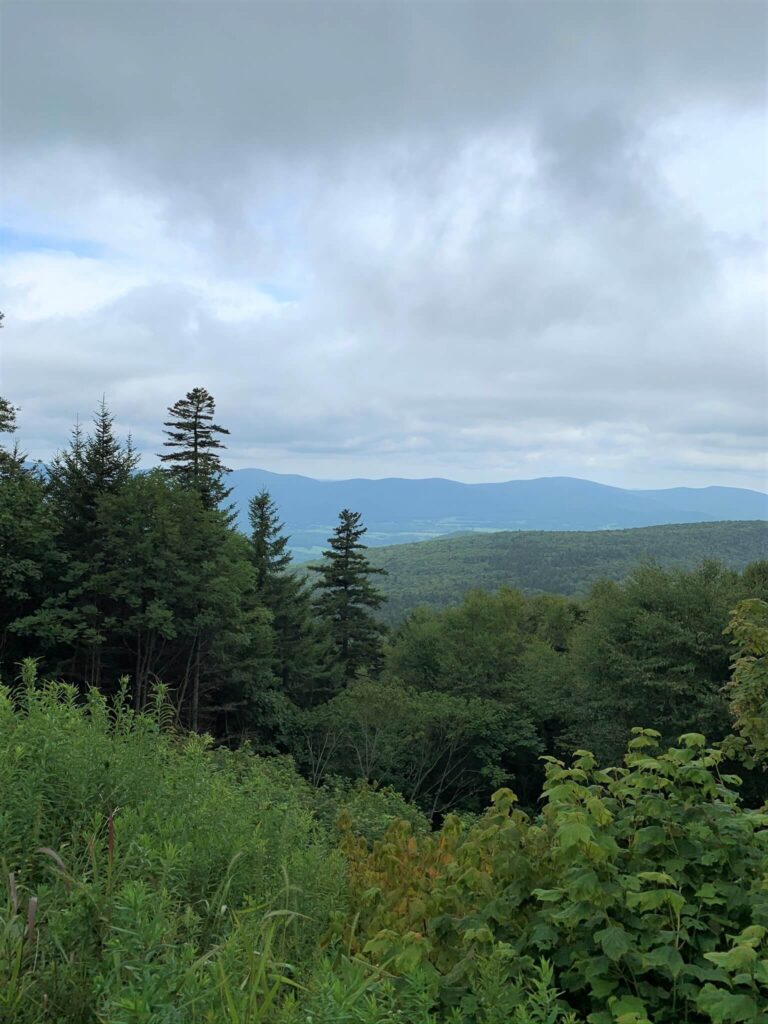 After a day of exploring the area, we returned to the campground to grill dinner and hear the Summer Concert!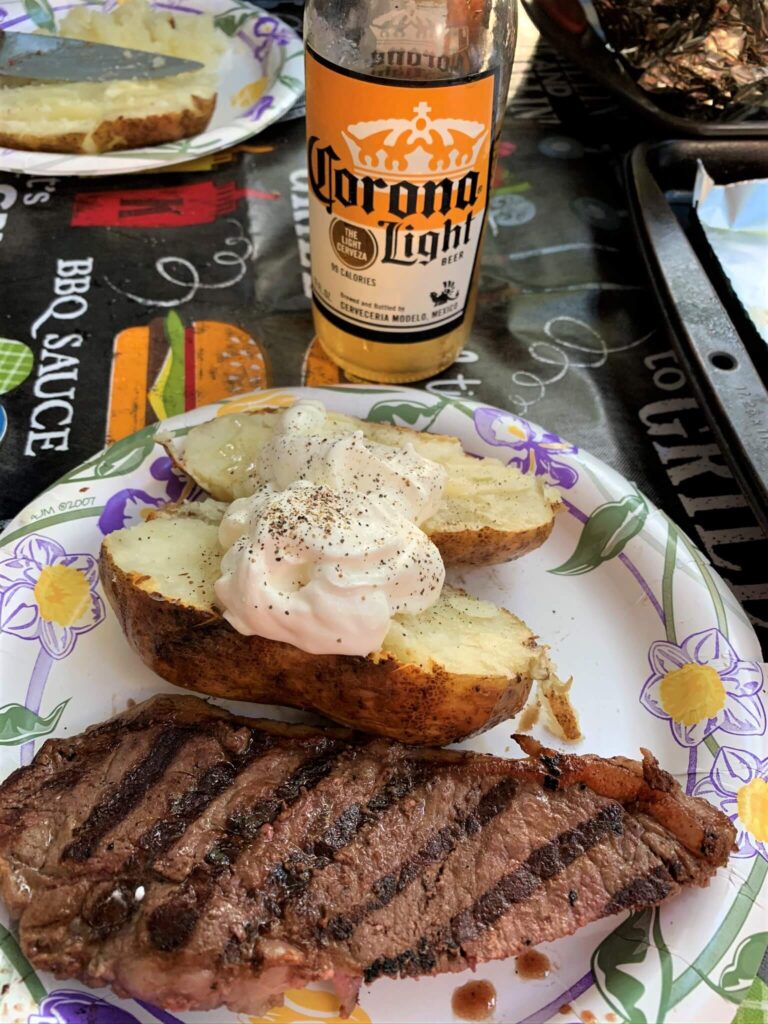 We were lucky that our RV site was near the concert area and we were able to sit at our campsite by the fire and listen to the band.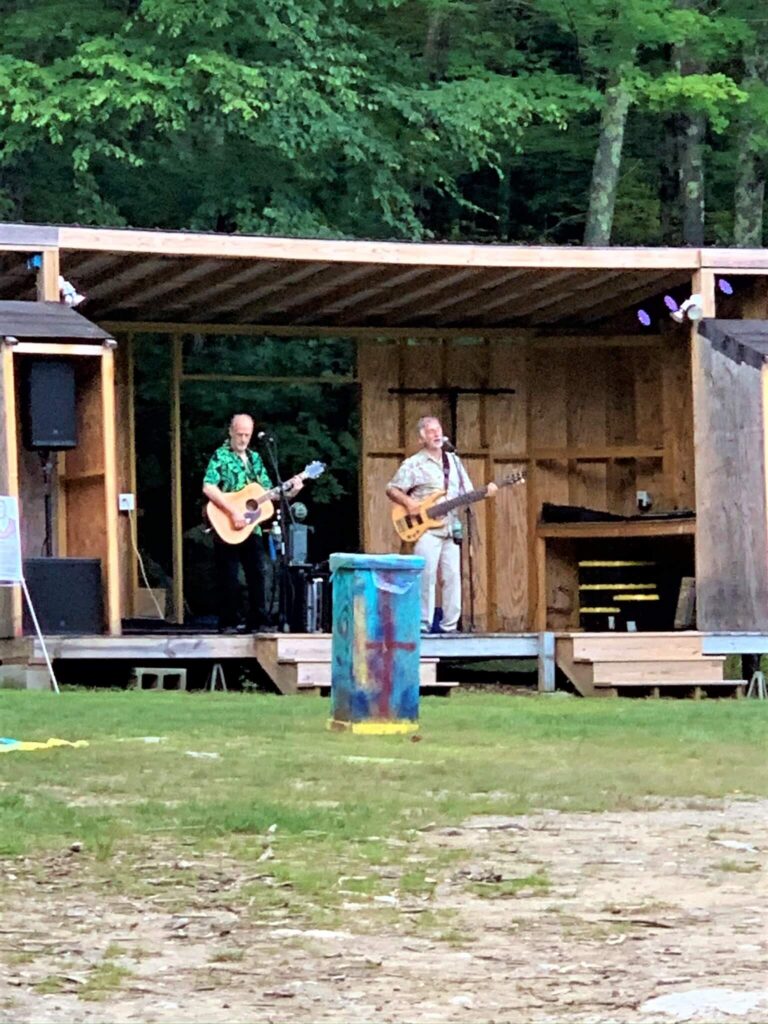 Of course, I had to walk around during the concert so I could get a better picture of the band and on my way to the field, I saw the Fellowship Café.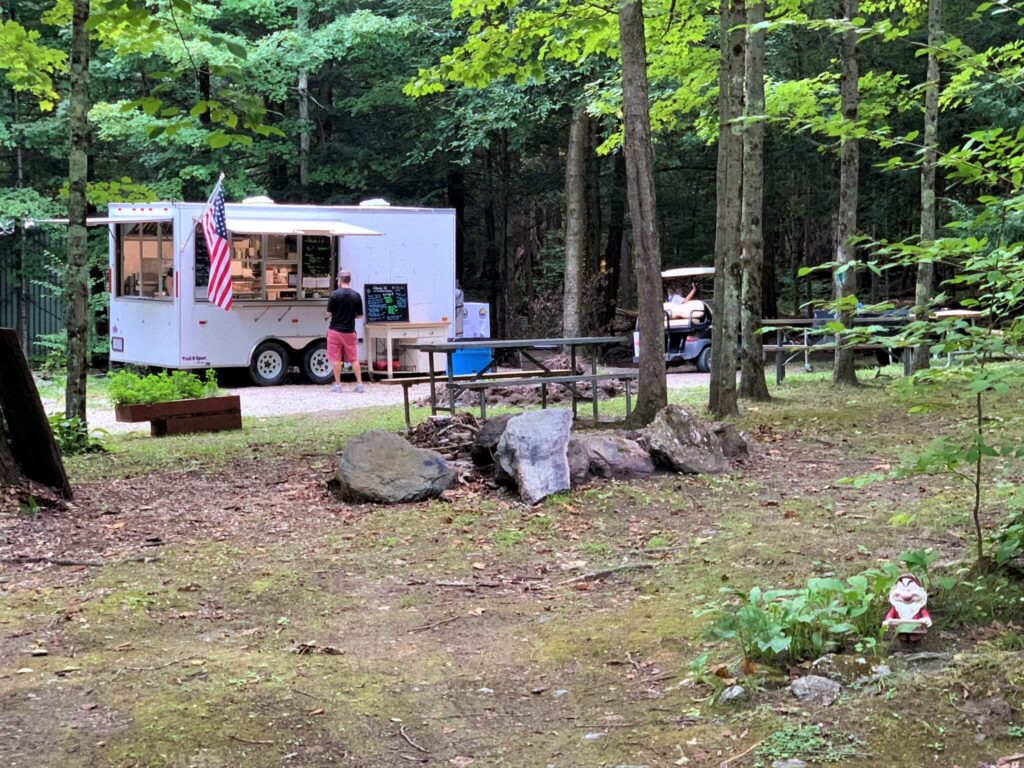 The "café" is a food truck on-site #88 and is open Saturdays for Breakfast, Lunch, and Dinner (and during the concert for munchies) and Sundays for breakfast!
We enjoyed walking our golden retriever around the campground which, walking all the loops, can be far!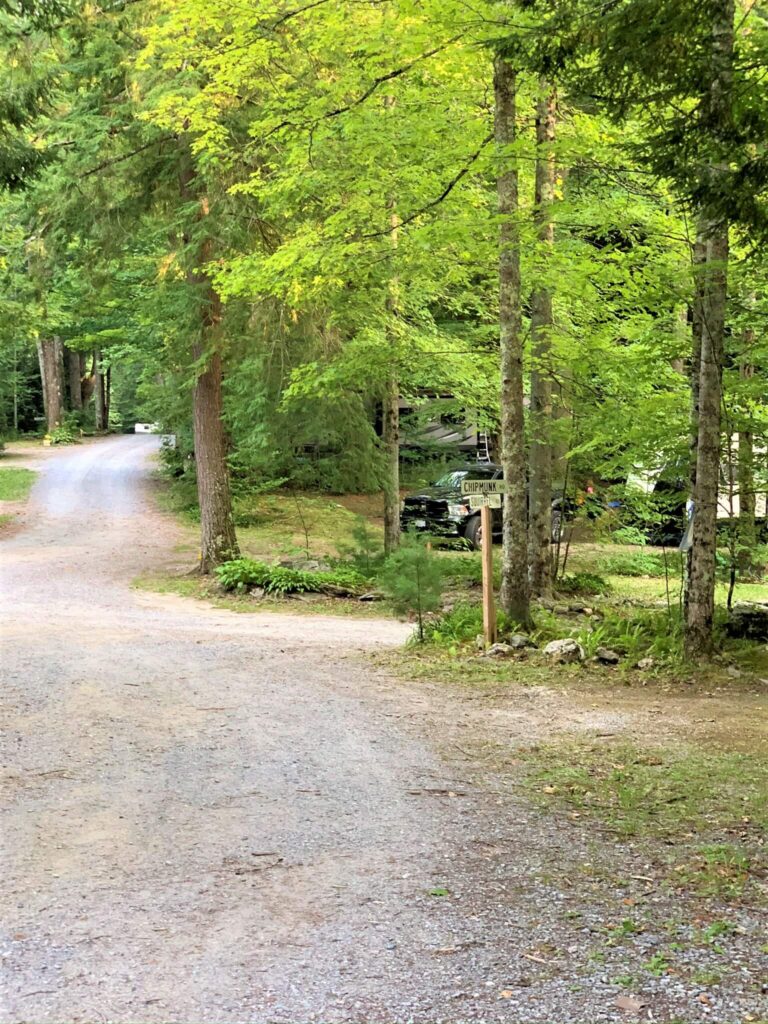 After our walk, Buddy loves to sit and relax by the fire.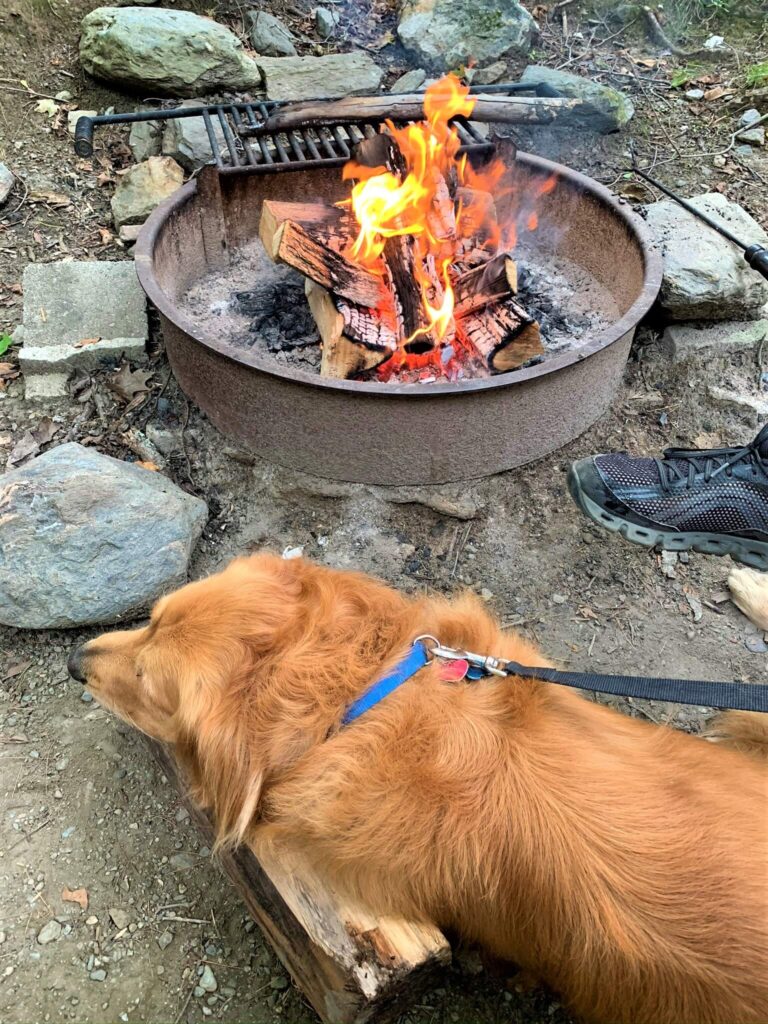 The campground also uses campersAPP you can download to your smartphone to receive notifications from the campground.
Once you download the app, you search for the participating campground.
Here' an example of a notification on my iPhone about "Activities" for our stay.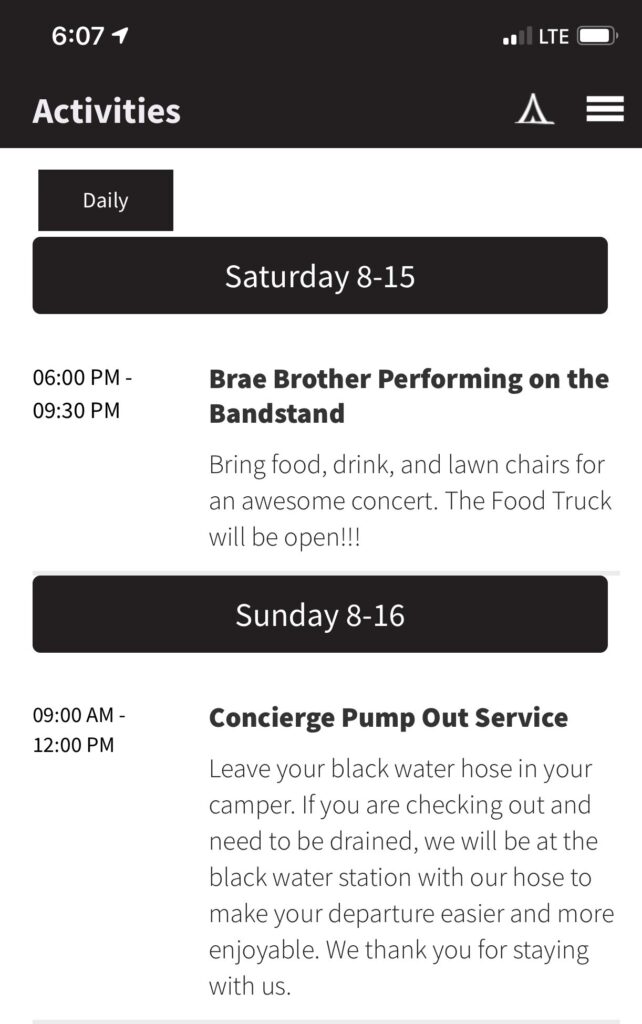 They also send reminder notifications such as "Order Your Wood" by a certain time; and, we saw a notification about a "Found Phone".
I think it's a great idea for the campground to use this type of notification and I always sign on to see if the campground participates!
Things To Know About Mt. Greylock Campsite Park
Address: 15 Scott Lane, Lanesboro, MA 01237
Phone #: 413-447-9419
email: [email protected]
To Reserve Your Campsite: You can check availability and reserve online.
About Our Stay At Mt. Greylock Campsite Park
* We enjoyed the large private wooded campsites.
* We liked having Grey Water
* We liked having the wood delivered to the site
* We enjoyed the Summer Concert
A Few Other Thoughts About Mt. Greylock Campsite Park
The only thing that most other campgrounds offer campers is Free Wifi at the campsites.
The campground is equipped with WiFi but you must pay a fee. So if you want to work remotely or stream videos for the kids, just know that there is a fee to use the campground's WiFi.
However, if you just want to do a quick check of your emails or messages, there is free WiFi near the camp office.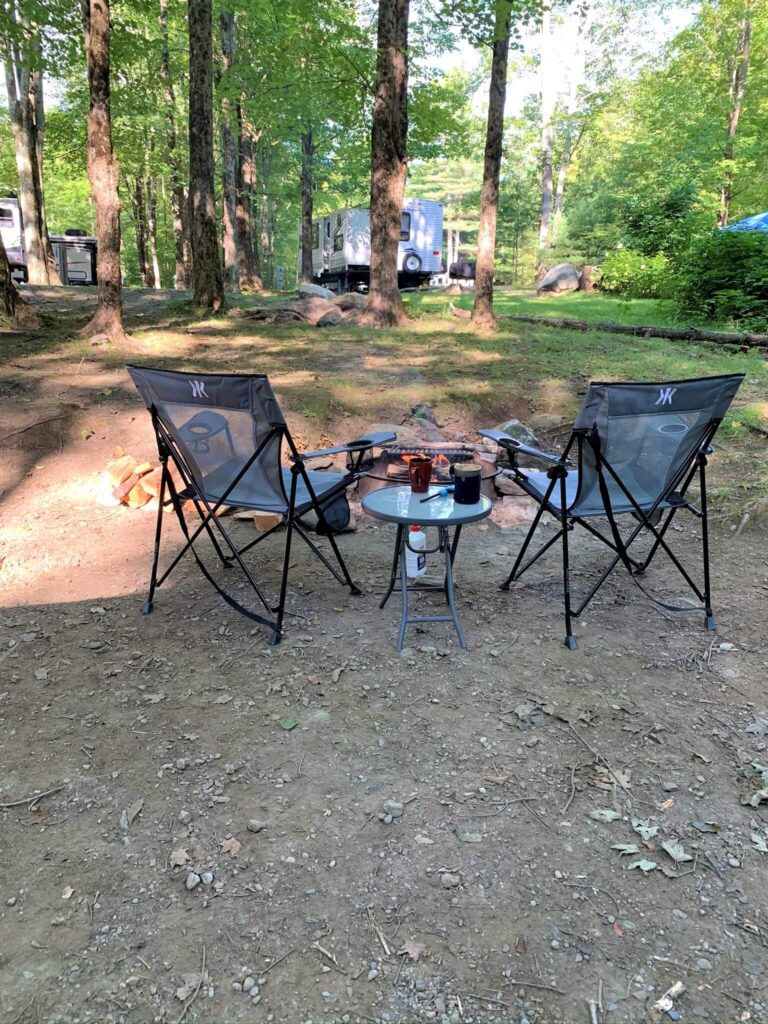 If you love large wooded sites and are looking for a campground in the Berkshire Mountains, I know you won't be disappointed in the RV sites at Mt. Greylock Campsite Park!
Other posts you may enjoy
Driving The Scenic Byway To The Top Of Mount Greylock
RV Camping At Adirondack Camping Village – Lake George, NY
How To Plan A One Day Trip To Niagara Falls, NY
Letchworth State Park – Best Things To Know When You Visit