Last Updated on October 28, 2021 by Lori
Natural Stone Bridge and Caves is the only cave attraction in the Adirondacks of New York.
Family-owned for over 200 years, the massive stone bridge arch is the Largest Marble Cave Entrance in the East and is just 25 minutes from Lake George making it a fun day-trip destination.

What makes Natural Stone Bridge so special? Well, it's part of the Adirondack Natural Wonders – It's a Cave, A Gorge, and A Chasm! In other words…it's awesome!
This post contains affiliate links which means if you click on a link and make a purchase, I will earn a commission at no additional cost to you. Please see our Disclosure Policy for more information.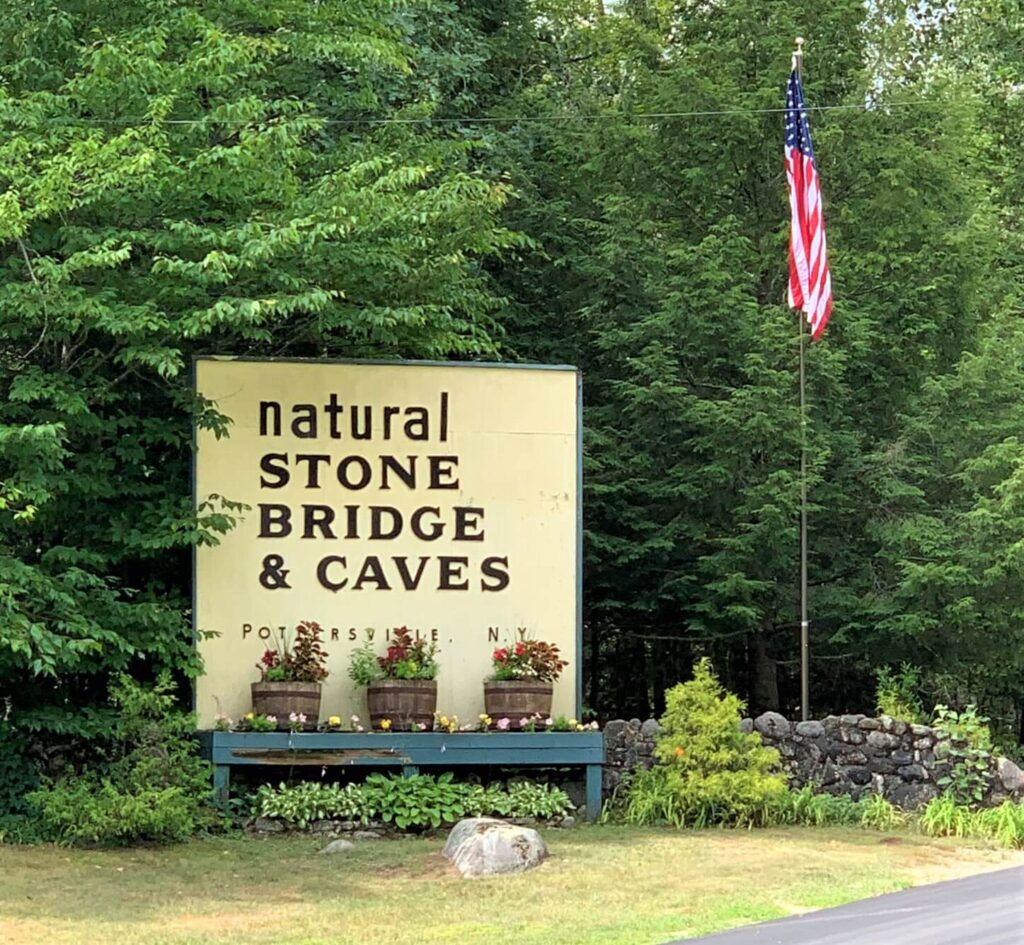 Where is Natural Stone Bridge and Caves Park?

Natural Stone Bridge & Caves is located in Pottersville NY, in the Adirondack Region of New York.
It's a perfect day trip if you're visiting the Lake George area, and it's only 70 minutes away from Lake Placid.
As we planned our camping trip to Lake George my husband said to me, "would you like to visit another cave?"
Well, you know me and caves! Of course, I said, "Yes"!
We decided to camp at Adirondack Camping Village, which was just a few minutes north of Lake George, and an easy drive along Rt 9 to Natural Stone Bridge and Caves.
Natural Stone Bridge and Caves Address:
535 Stone Bridge Road, Pottersville, NY 12860
How the Natural Stone Bridge and Caves Was Formed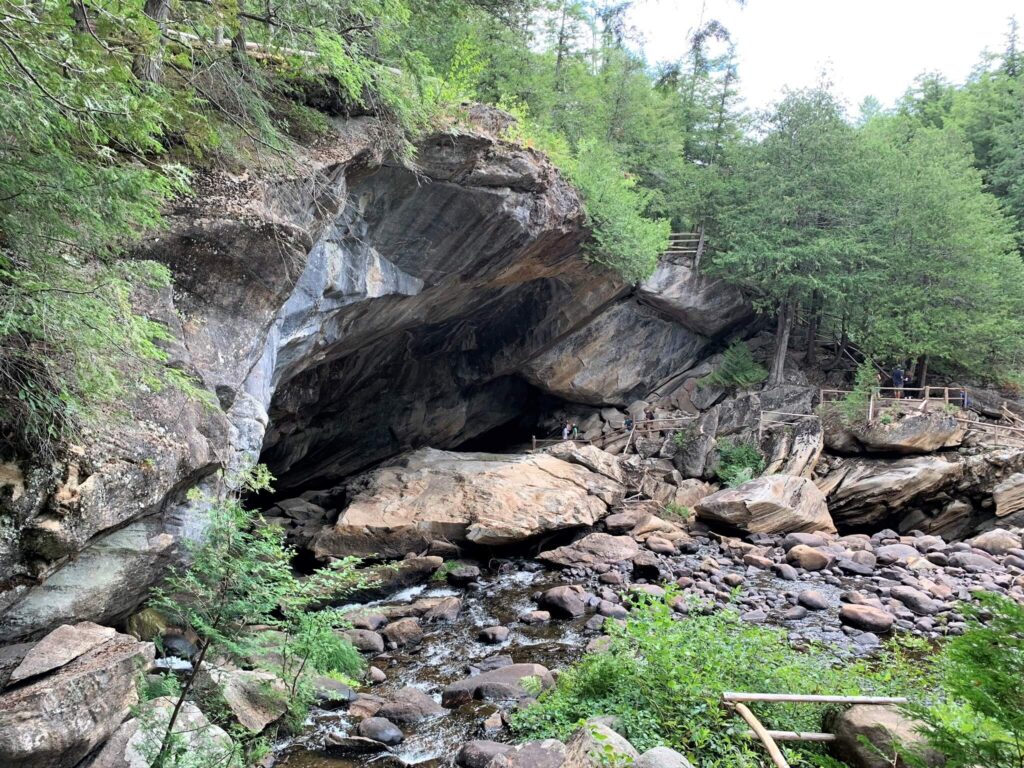 At the end of the last ice age, The Wisconsin Glacier melted into a roaring river that formed the Natural Stone Bridge and Caves.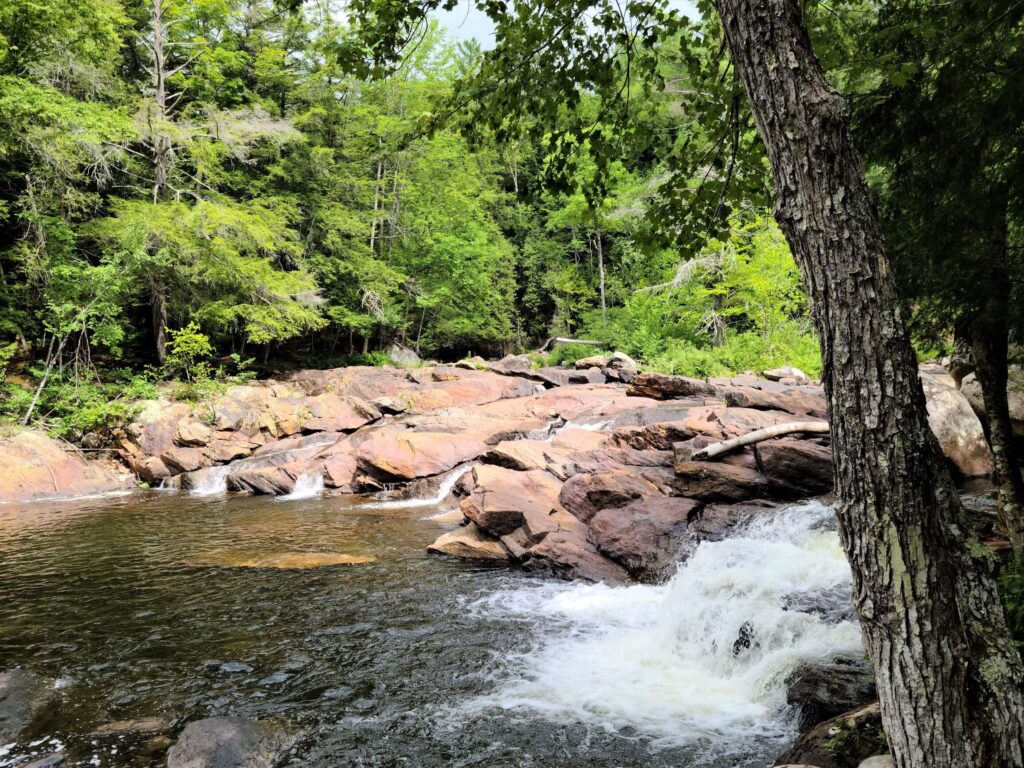 Today, Trout Brook is a tranquil waterway filled with many rainbow trout, snapping turtles, and the occasional beavers.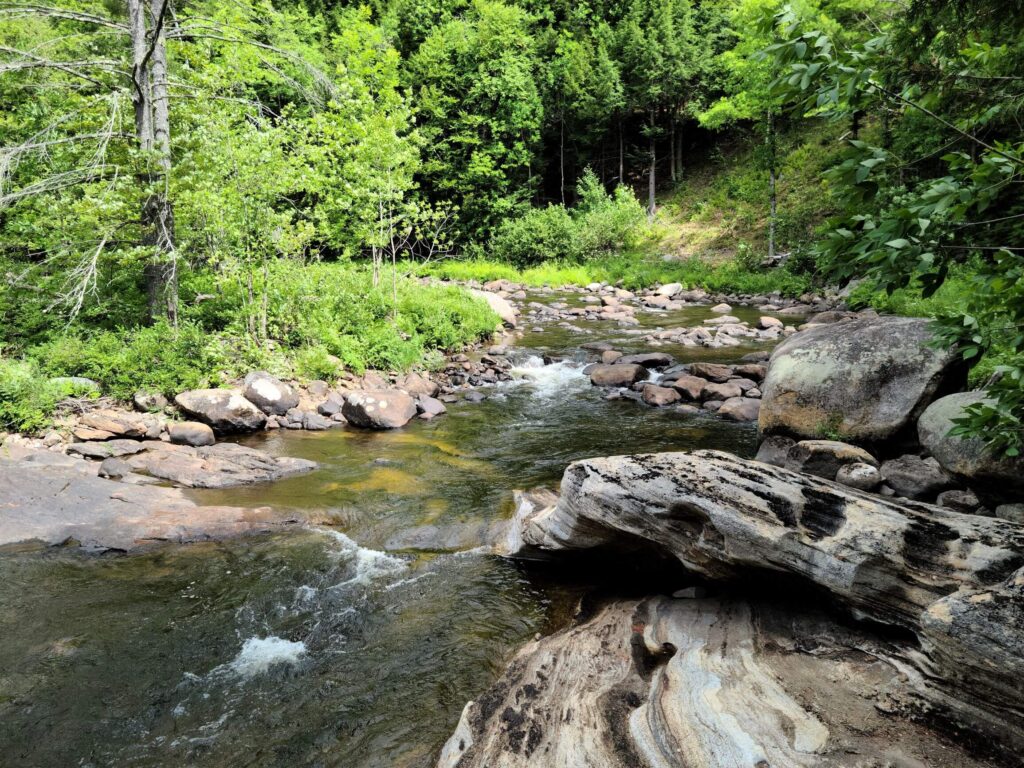 Things To See At Natural Stone Bridge and Caves
After checking in the Gift Shop, we picked up the map of the park and headed out to see this Adirondack Natural Wonder!
Natural Stone Bridge & Caves Park Map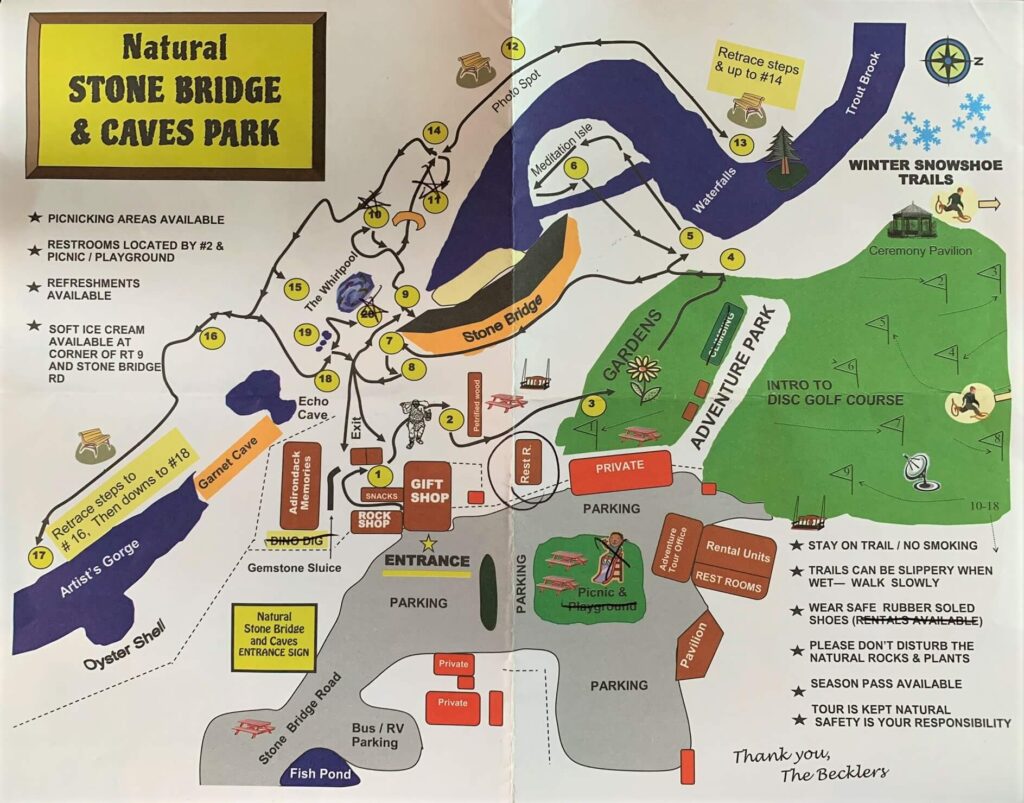 Visit The Rock Shop
Our first stop was at the Rock Shop where we admired the beautiful gemstones the owners have been collecting for over 40 years.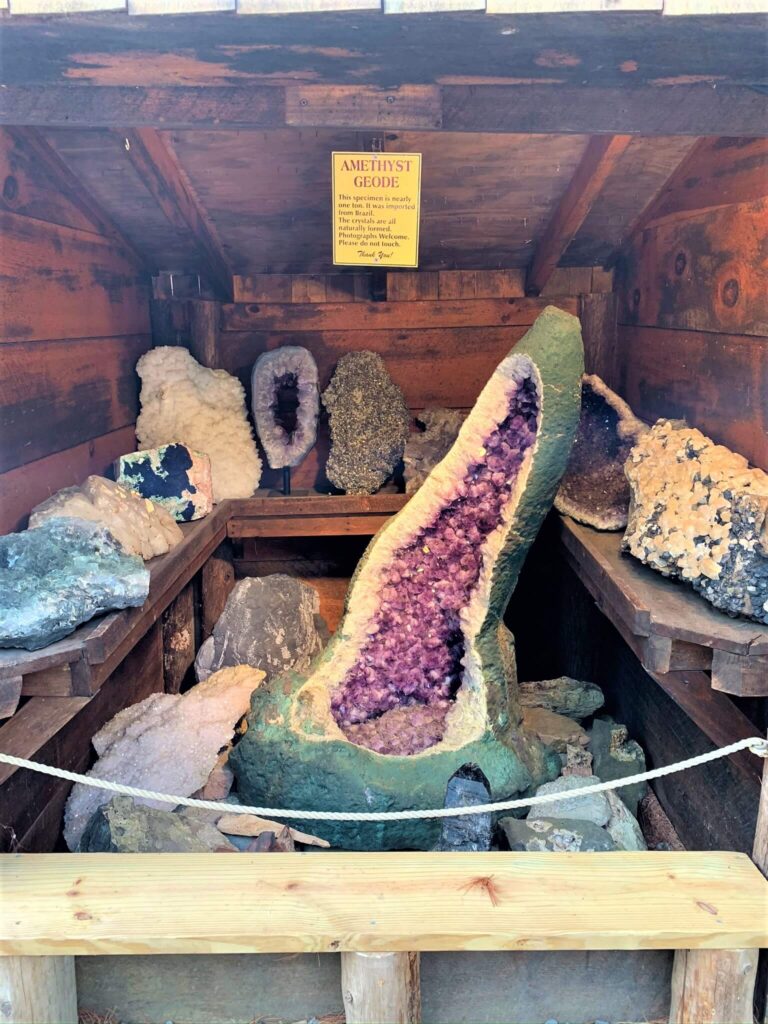 The park has the largest collection of Amethyst cathedrals, Mexican Geodes, Large Quartz Crystals, and hundreds of other rock and mineral specimens are available to view or to purchase.
From there we walked to the petrified Wood Display. Of course, along the way, we found this statue which was a great place for a photo op!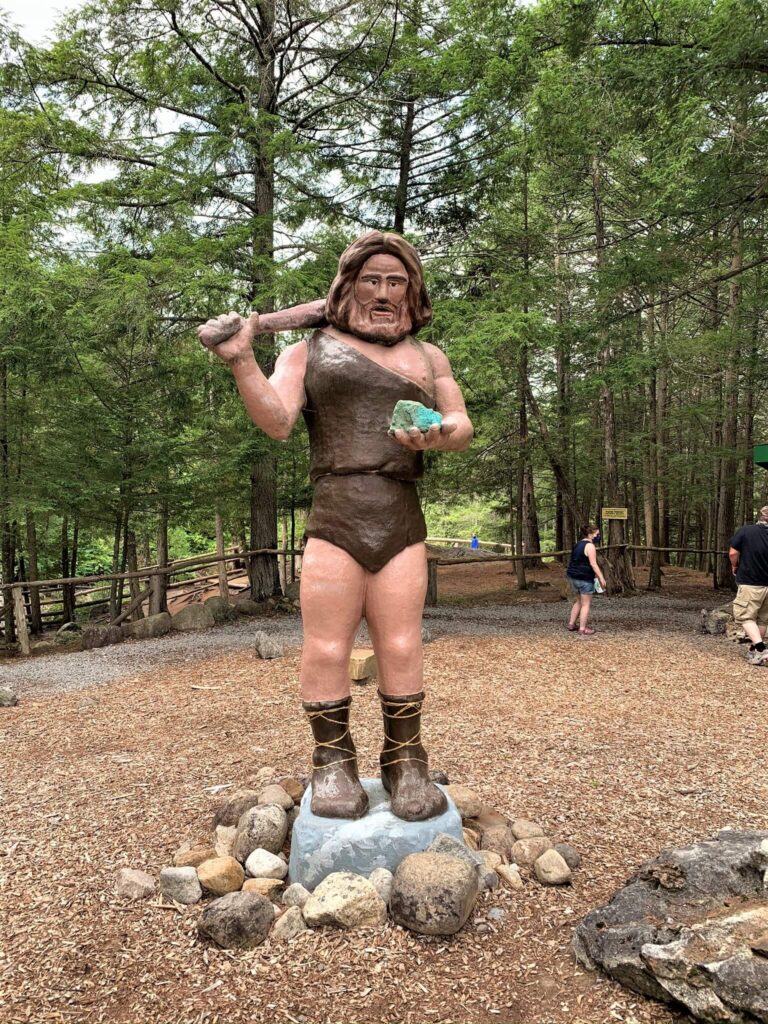 We wound our way to Trout Brook and down the walkway to the Sawmill Waterfall Site.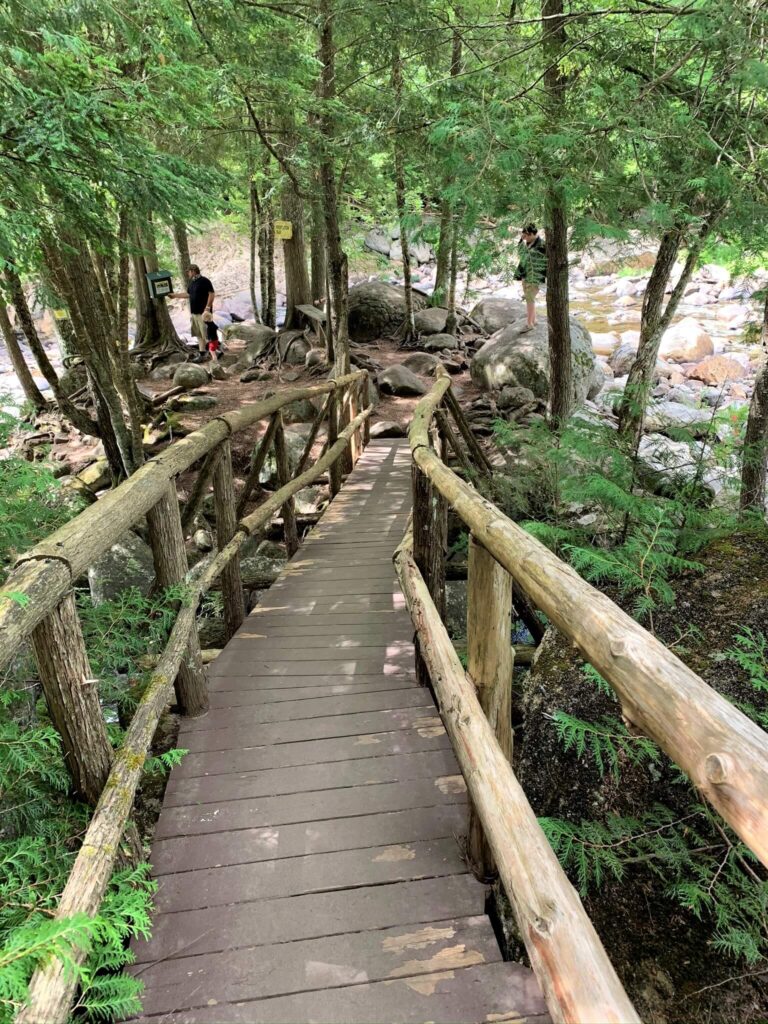 Early Dutch pioneers used the waterfalls of Trout Brook for water wheel power to cut lumber and grind grain. (1750-1910)
Going over the bridge to Meditation Isle provides a spectacular view of the Natural Stone Bridge.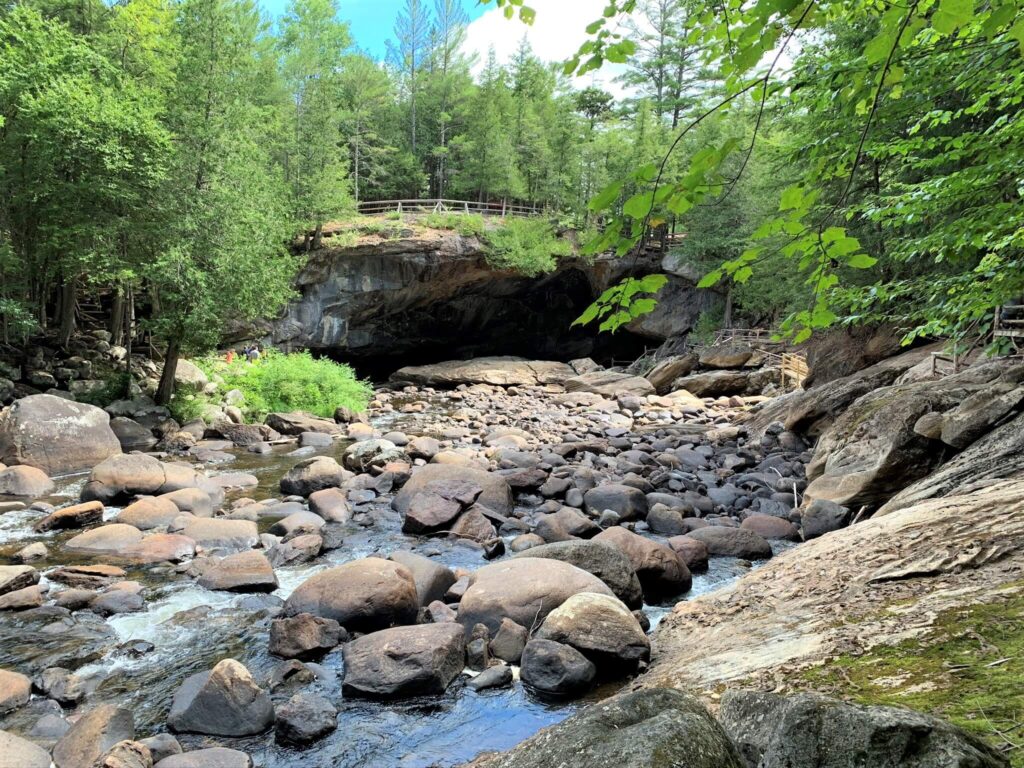 The paths are clearly marked – but you will have to climb some steep stairs along the way. Kids loved it!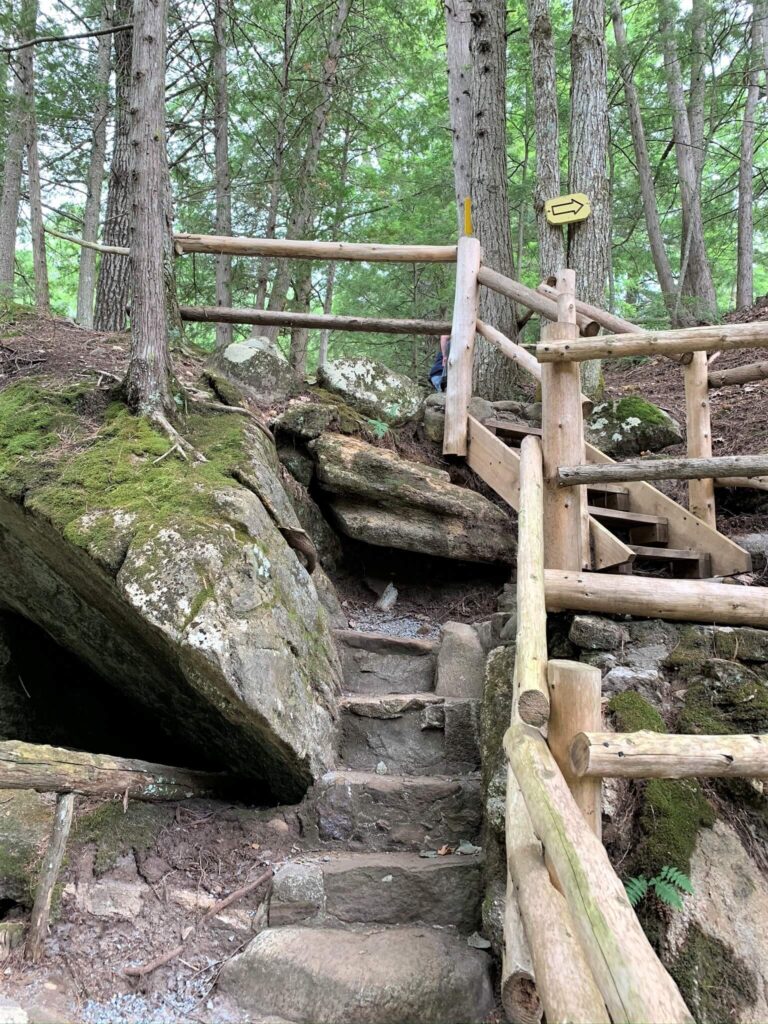 From above you can see the giant glacial potholes that have formed over the years.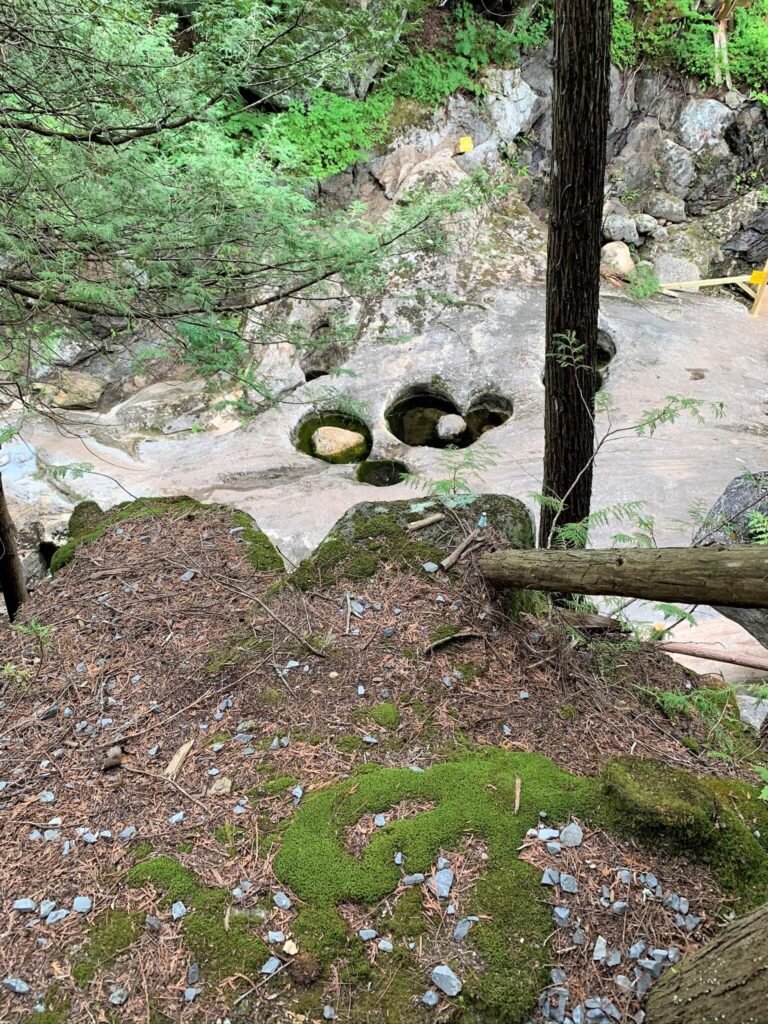 The Natural Stone Bridge is 62″ high and 180′ Wide.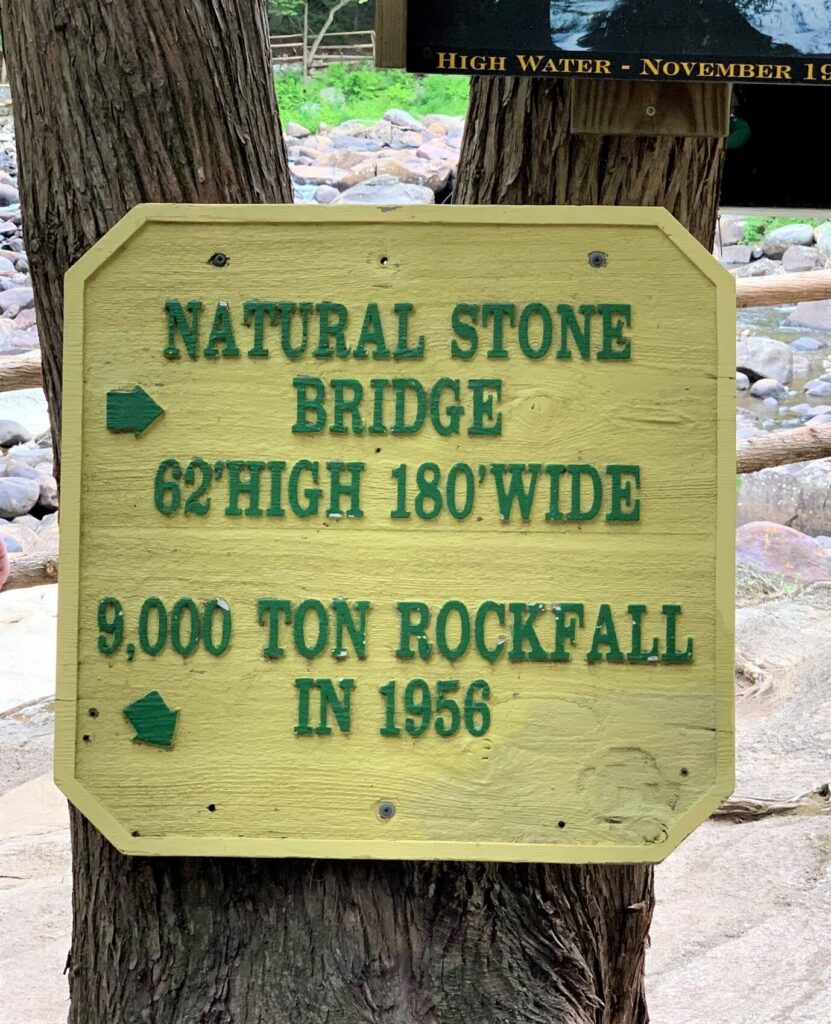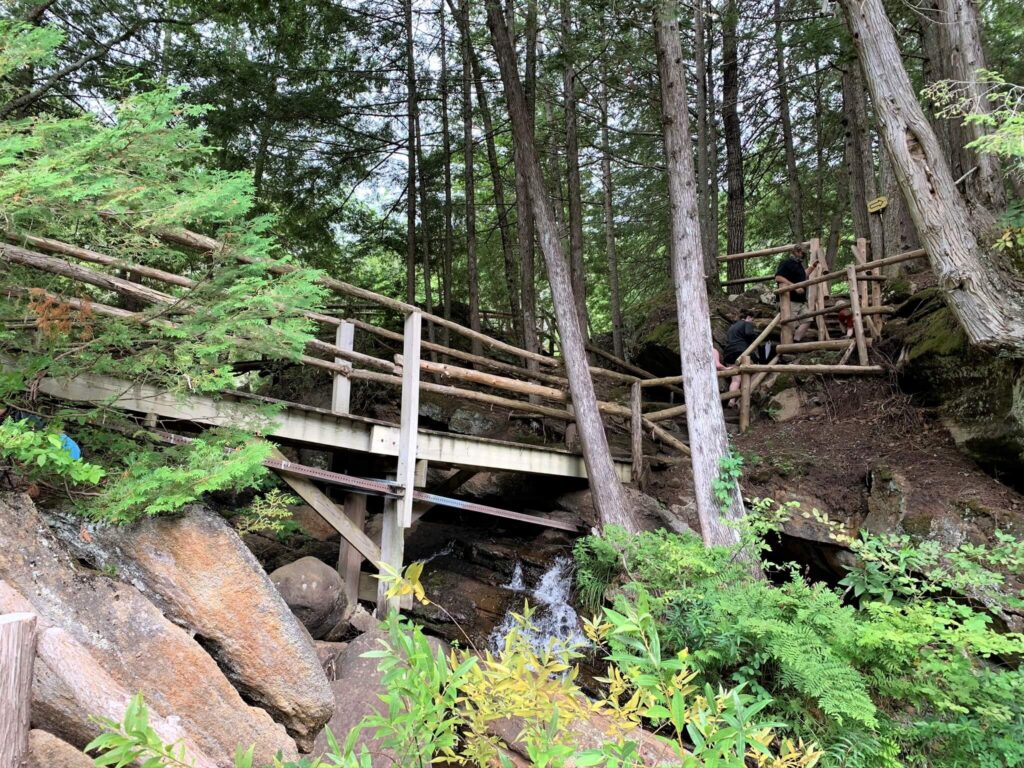 Noisy Cave Falls
As you enter the cave, the park has added lights and positioned them so you can see the pretty rock formations.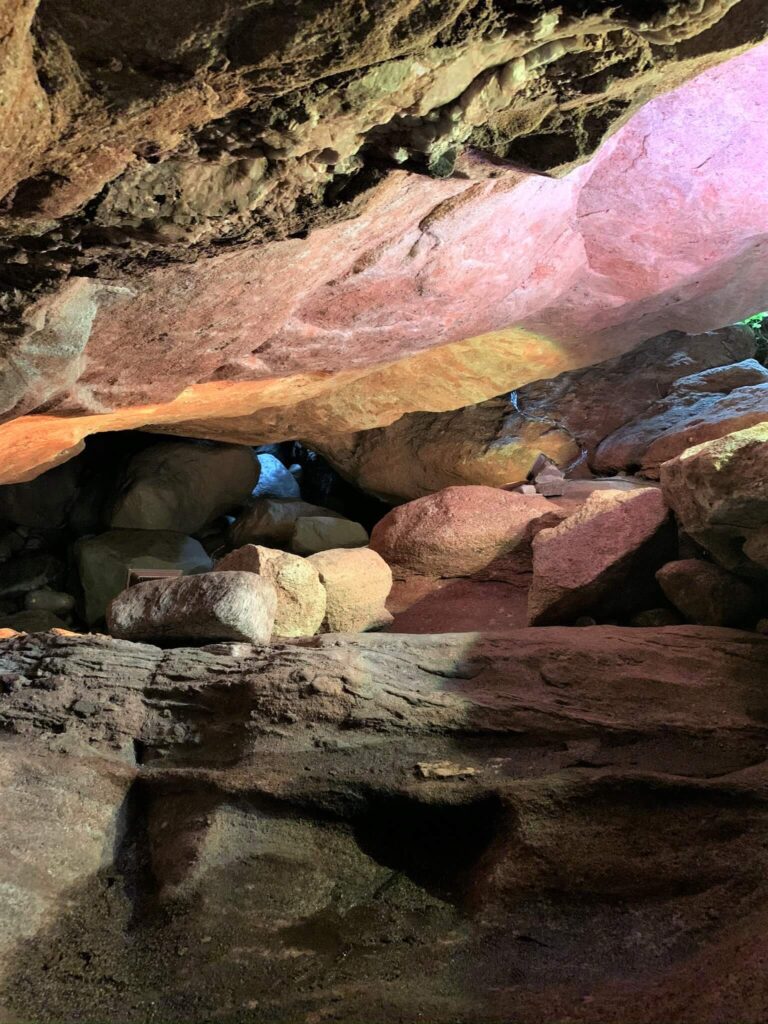 Water from Trout Brook creates this waterfall inside the cave. It then flows out underground and rejoins Trout Brook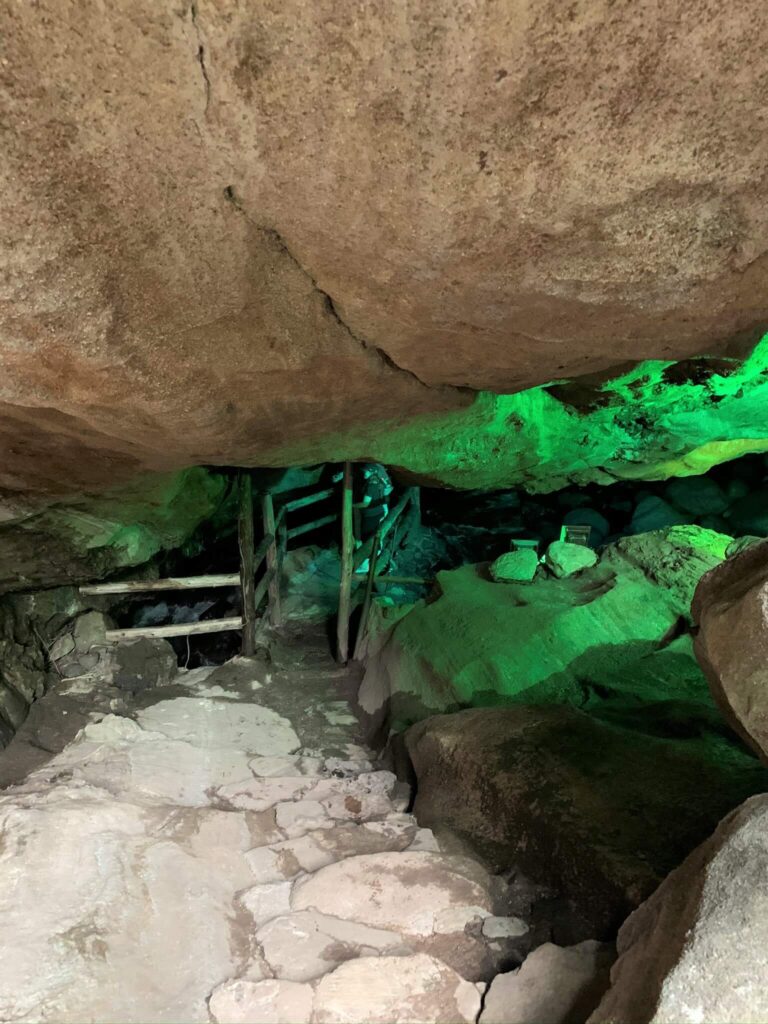 While there is a lot of walking and climbing stairs, just take your time throughout the park so that you don't miss anything!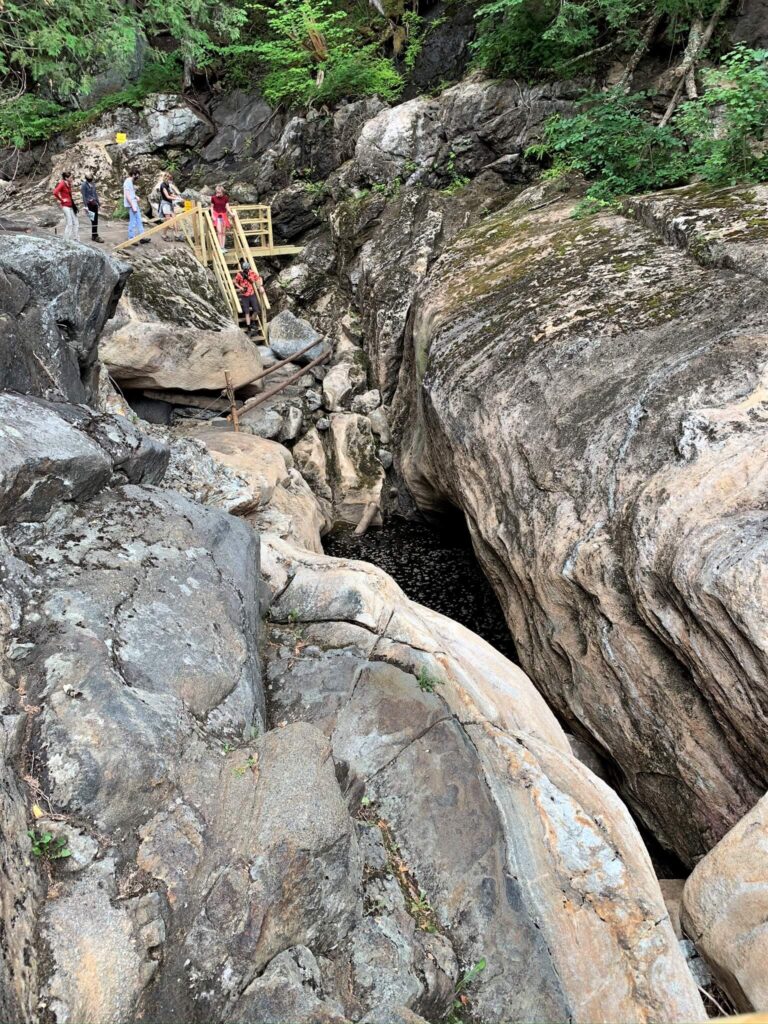 You will be required to not only climb stairs but also be able to duck your head to walk through some of the natural stone which is why the park requires you to wear safe rubber-soled shoes.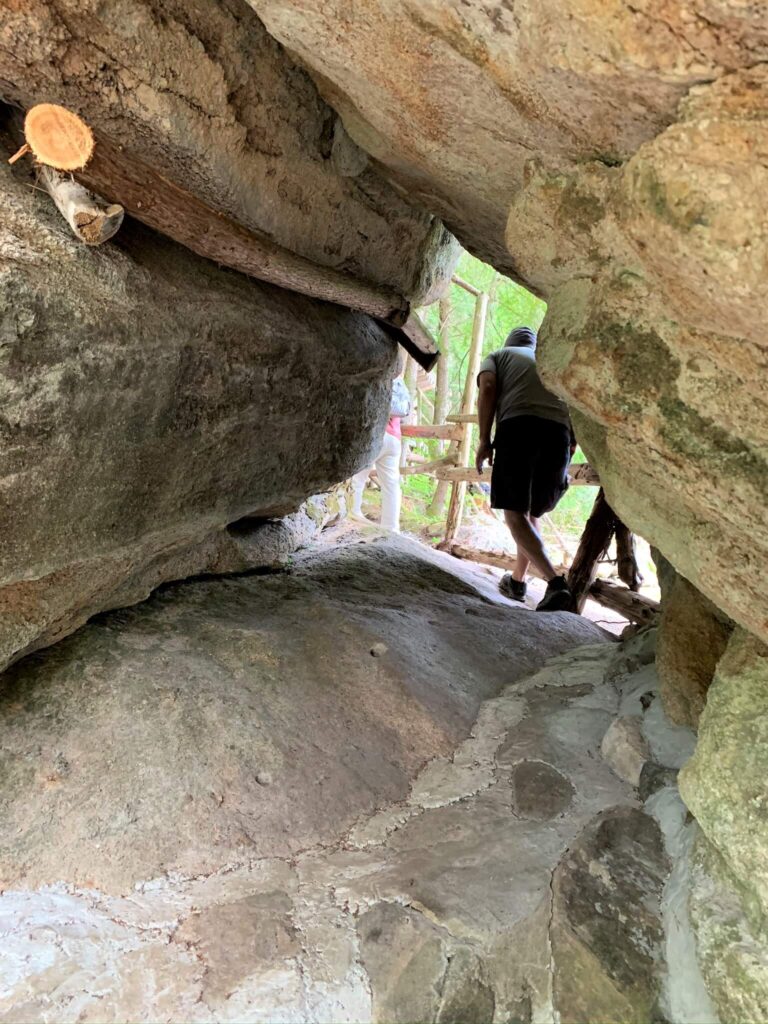 Peter Pan's Peephole
How Long Does It Take To Walk Through Natural Stone Bridge?
When planning your trip, the self-guided tour through Natural Stone Bridge and Caves may take you an hour (or less).
We spent approximately 45 minutes on the tour.
We visited the park during the summer and purchased our tickets for the morning.
There was plenty of parking available at that time.
Natural Stone Bridge and Caves Hours:
Peak Season:
May 23 – Sep 7
The cave park is open daily from 9 am – 6 pm (last tour tickets 4:30 pm)
Gift/Rock Shop 9-6
Off-Peak Season:
Sep 8 – Oct 18
10am-5pm (last tour tickets 3:30pm)
Gift/Rock Shop 10-5
The park is also Mid-December – March (Snowshoeing tours only) During the Winter, there are over 14 miles of well-marked snowshoe trails.
Closed April – Late May and mid-October– Mid December
Stone Bridge And Caves Ice Cream Stand

Located 2.5 miles from the caves, park at the corner of 8061 St Rt 9 and Stone Bridge Rd.
OPEN DAILY 12-8 pm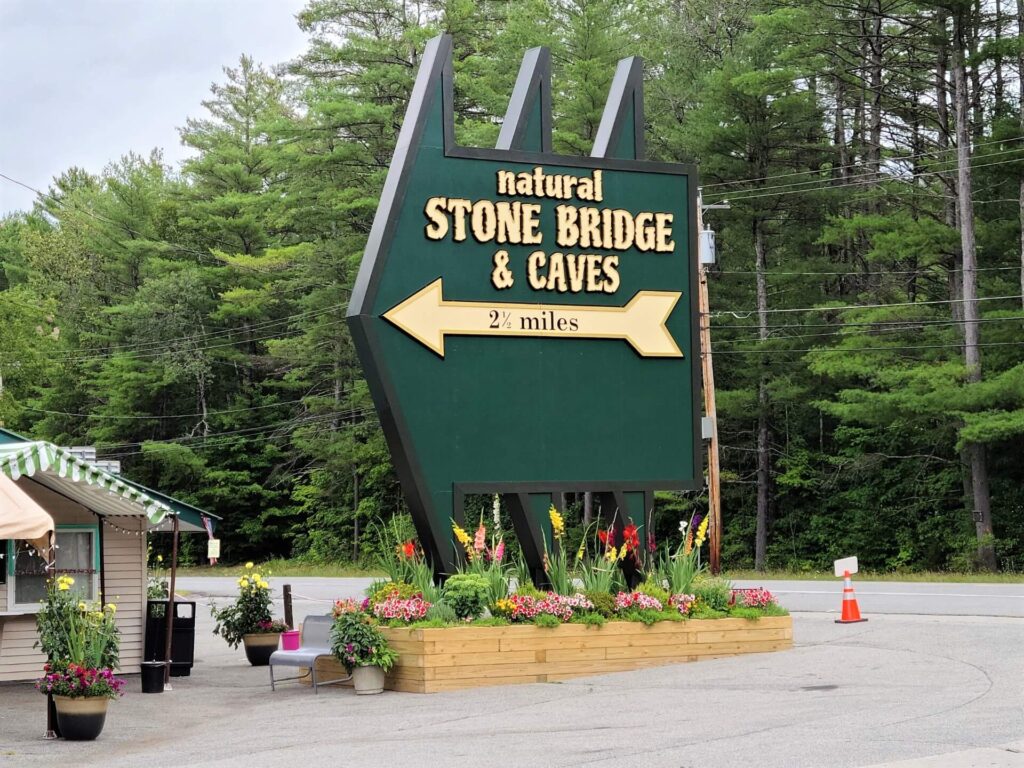 Natural Stone Bridge And Caves Admission
Self-Guided Tours

The trail is ¾ mile and has over 500 stairs of irregular rock, root, and timber.
Visitors are requested to wear sturdy walking or hiking shoes to help secure their footing.

Once you enter this beautiful natural wonder, you will see why!
Stone Bridge and Caves Adventure Tours
(Not available for the Summer of 2020)
July & Aug Only (W, F, S, Su)
On this guided tour, experience a 3-4 hour-long cave crawl through rock, sand, mud, and water.

Explore four different caves, each with a different environment and caving technique. Army crawl through sandy passageways and climb up, over, and through an underground waterfall!
The grand finale is floating through Garnet Cave, where local "mermaids" used to swim and give talks to tourists.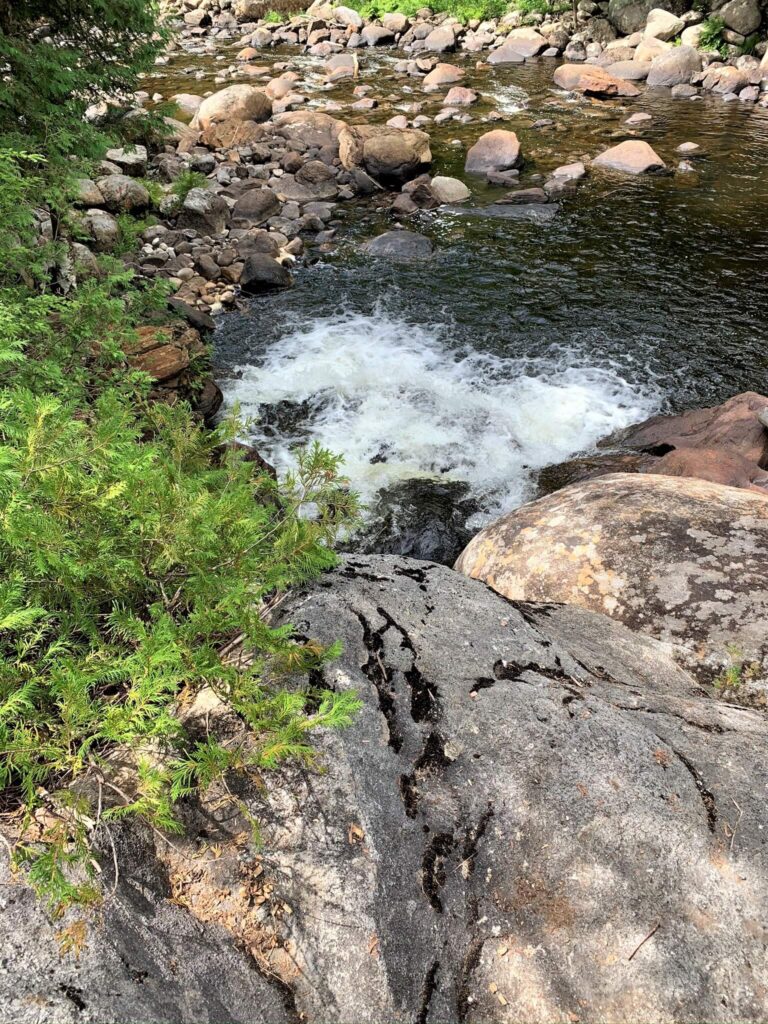 Chester Challenge Hikes

Natural Stone Bridge & Caves has two trails that qualify as Chester Challenge Hikes.
Catamount Trail is a 1.8-mile hike with a 678-foot ascent and was one of 5 shooting locations on our property for Ben Stiller's Showtime miniseries "Escape at Dannemora".
Green Mountain Trail is a 4.6-mile trek with a 1263′ ascent. Offering excellent views of the High Peaks!
Learn more about the Chester Challenge Hikes.
Kids & Family Fun At Natural Stone Bridge & Caves
Kids will love the Caveman Adventure Park, which includes an 18 hole "Intro To Disc Golf Challenge", and Climbing Bouldering Walls.
* Dino Dig
* Climbing Walls
* Gemstone Mining (additional fee)
* Geode Popping (additional fee)
* Jewelry Making (additional fee)
* Disc Golf (fee to rent the discs)
(Be sure to check to see if this area is open before planning your trip!)
Plan to bring a picnic to the park! There are many picnic tables throughout the park to sit back, relax while the kids have fun!
The park also has lunch food for purchase such as sandwiches, hot dogs, hamburgers, nachos, and other snack-type food.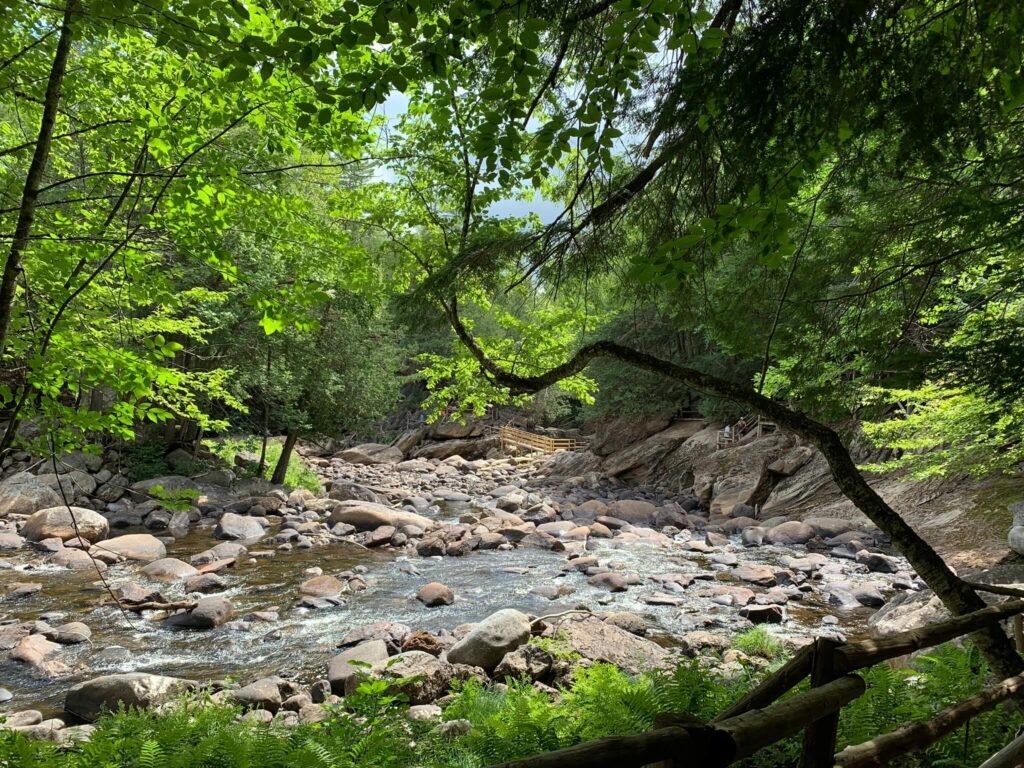 Thoughts On Natural Stone Bridge and Caves
The park does not allow dogs in the park so be sure to make plans ahead of time if you travel with your pet as we do.
We have been to many caves throughout the country but each is special and unique and we always take the time to explore them if they are near where we are camping!
If you love NY caves and chasms then you should definitely add Natural Stone Bridge and Caves to your Lake George itinerary!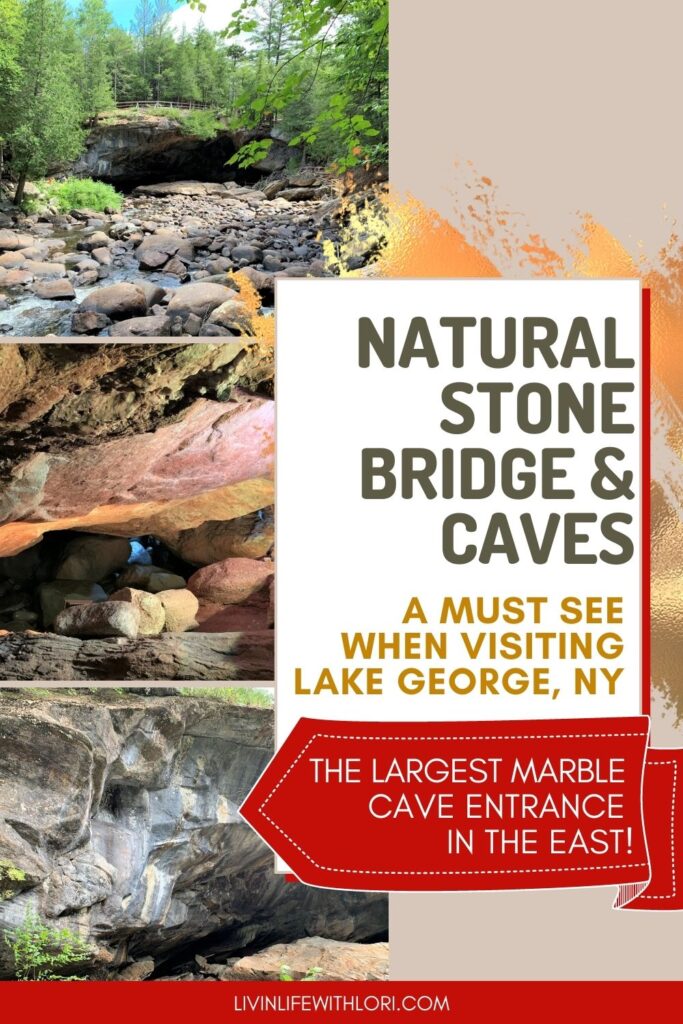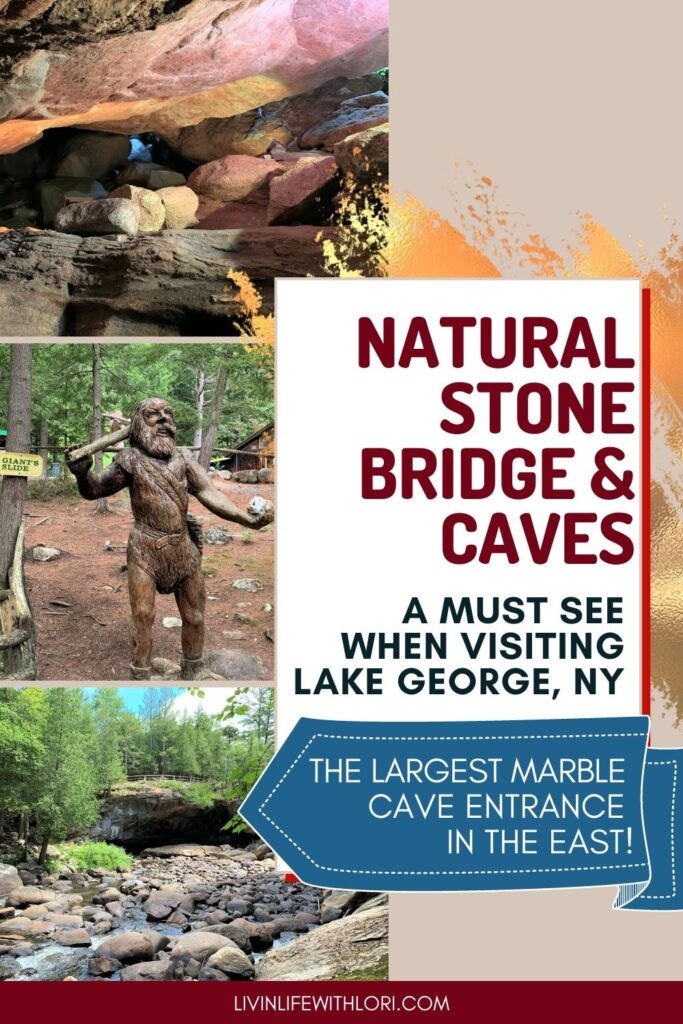 You may enjoy more of my posts of places to visit in the Adirondacks!
* How To Plan An Epic Adventure To Ausable Chasm
* High Falls George – A Must See In The Adirondacks
* How To See The Best Views Of The Adirondacks – Whiteface Mountain
Let me know some of your favorite things to see in the Adirondacks!