Last Updated on February 5, 2021 by Lori
Situated on 100 acres in the Catskill Mountains of New York, Nickerson Park Campground has 370 spacious sites nicely placed throughout the campground on large grassy areas, secluded wooded sites, and sites along the Schoharie Creek.
If you're traveling through this area of the Catskills, Nickerson Park Campground has everything you're looking for in a campground so you can sit back, relax, and enjoy your campfire!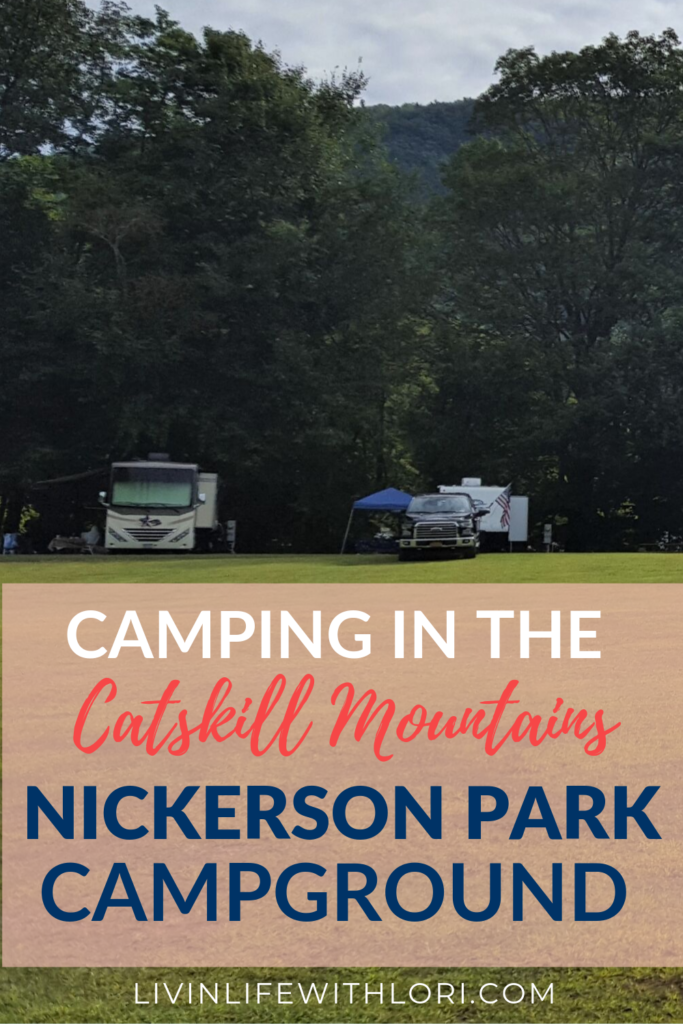 This post contains affiliate links which means if you click on a link and make a purchase, I will earn a commission at no additional cost to you. Please see our Disclosure Policy for more information.
RV Camping In The Catskill Mountains of New York
We were excited to go camping at Nickerson Park Campground in a different area of the Catskill Mountains in New York!
Normally when we go camping, we try to leave Long Island in the morning to miss the never-ending New York traffic.
On this trip, however, we had to leave in the early afternoon. Unfortunately, this meant we would most likely be stuck in traffic on the Long Island Expressway as we made our way to the bridge.
Not to mention, it was the end of summer and the sun was beginning to set earlier and earlier. We worried that we would be setting up our campsite in the dark and as many of you know, there's nothing worse than setting up your RV in the dark!
When we breezed over the Throgs Neck Bridge we said to ourselves, "Whew! We just might make it before it gets too late!"
Soon, we could see the Catskill Mountains in the distance!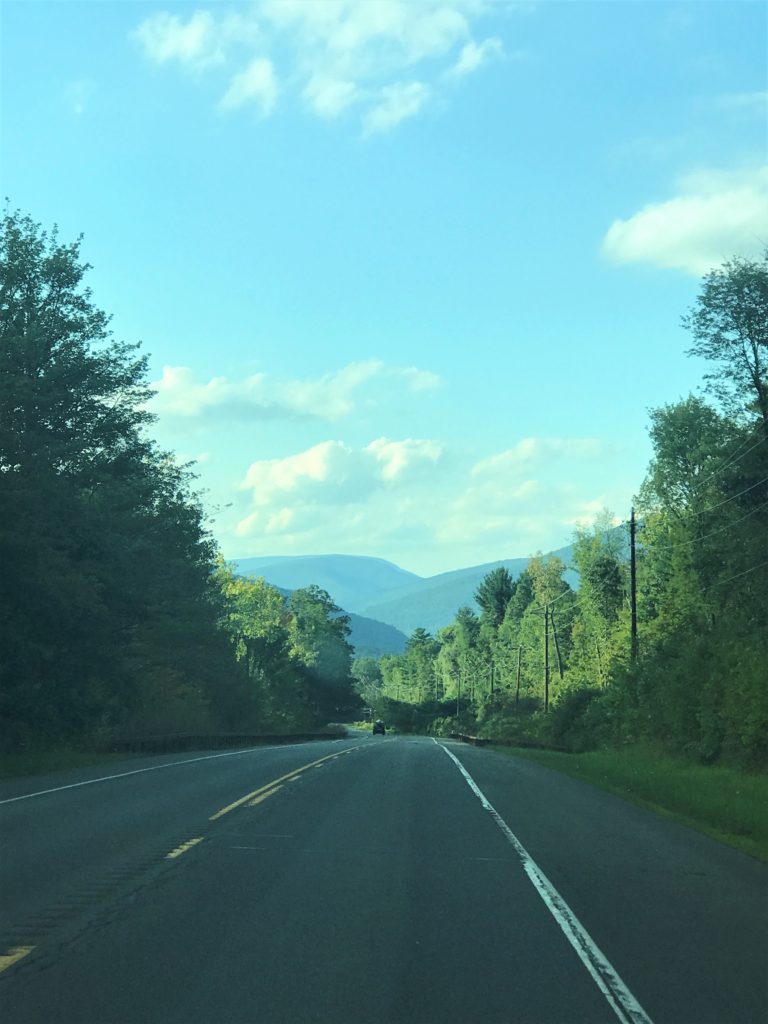 Where is Nickerson Park Campgrounds located?
Nickerson Park Campground is located in Gilboa, New York. The most direct route from New York City is to take I-87 to US 23 to US 30.
Of course, we didn't take that route.
Nope. We chose to travel past one of our favorite campgrounds in Phoenicia, Sleepy Hollow Campgrounds, then take US 30 up to Gilboa.
This was one of the prettiest drives we've ever been on in New York!
But, because of the hills and turns we encountered, we didn't take this route home. Our 23 ft. Jayco did just fine pulling behind us; however, in MY Opinion, if you were pulling a larger travel trailer, I wouldn't recommend this route.
As we continued to the campground, we were closely looking at the road atlas we carry. We always carry a map – especially when we camp in the mountains and cell service is spotty!
We could see that the roads leading to the campground were the red, two-lane type of roads – not an interstate.
This meant that we would be pulling the travel trailer on unfamiliar roads – in the dark.
As we made our way down the road towards the campground, we really didn't know what to expect. The campground allows arrivals until 9:00 pm and we were hoping to be there way before then.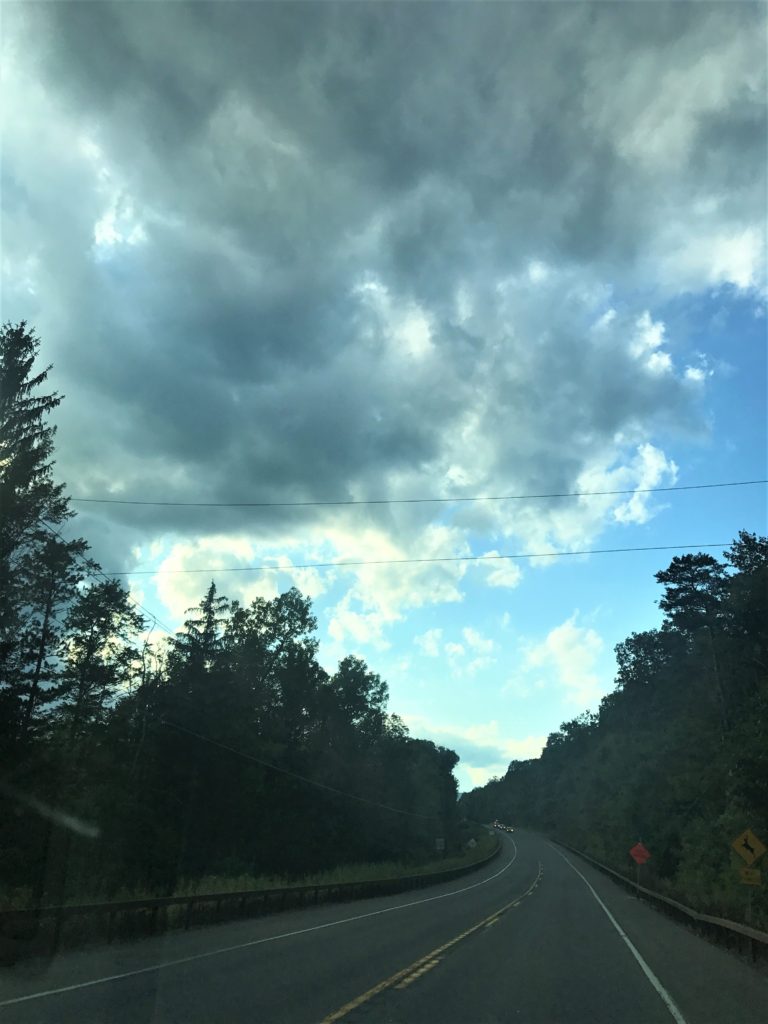 We arrived around 7 p.m. and it was still light out – which we were forever thankful for!
The road leading to the campground entrance is surprisingly long – and as we would find out later – very dark.
Soon we saw the sign to turn into the campground.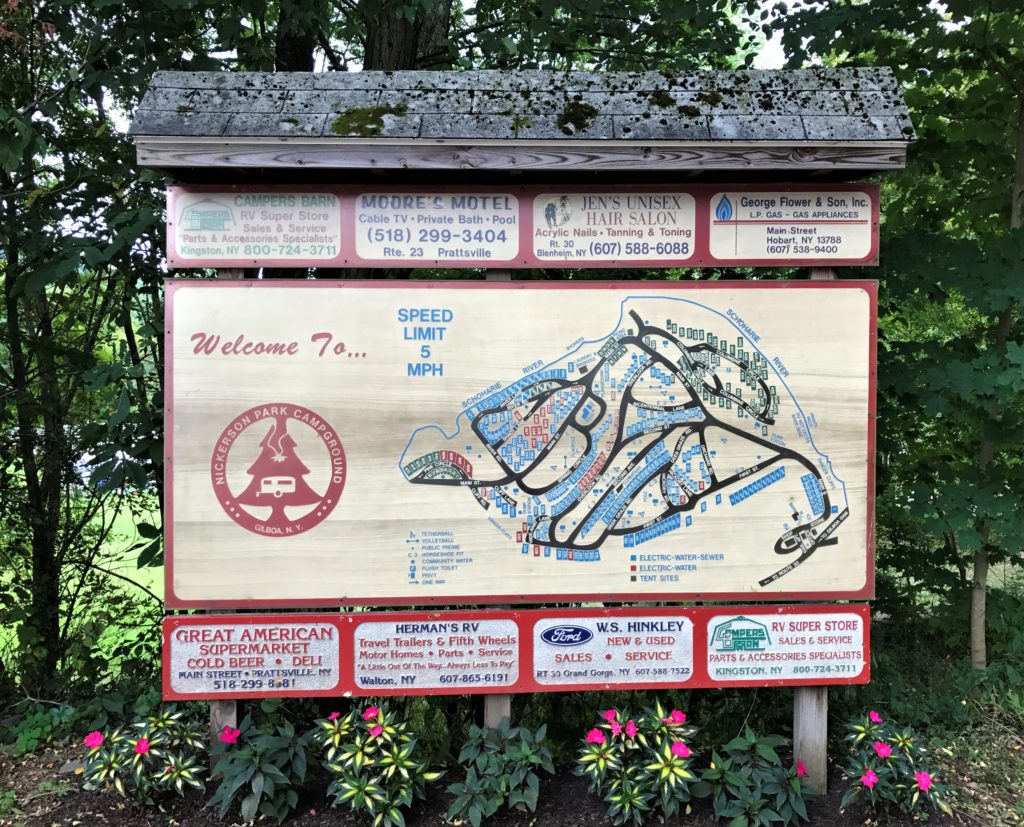 The campground was almost full on this holiday weekend. We were given directions to our site and headed down the hill with our travel trailer.
Wow. This campground was huge!
At the time, we didn't realize it covered 100 acres, and only later did we explore all the different sections of the campground.
We found our site, backed in, and enjoyed the view of the wide-open sky.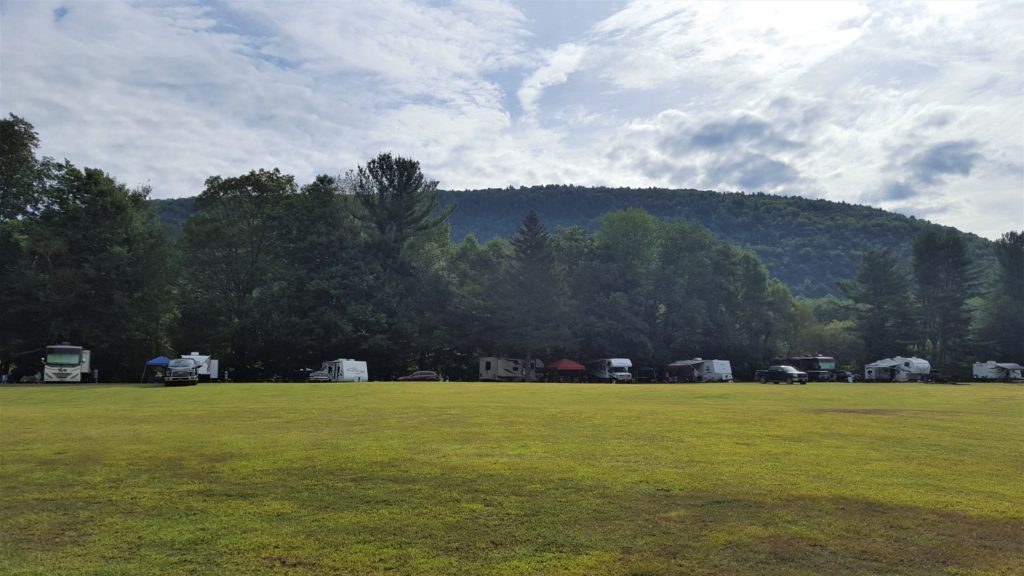 Nickerson Park Campground Activities and Amenities
The next morning, we got up early to explore the campground. The campground has lots of activities and a very nice playground for kids!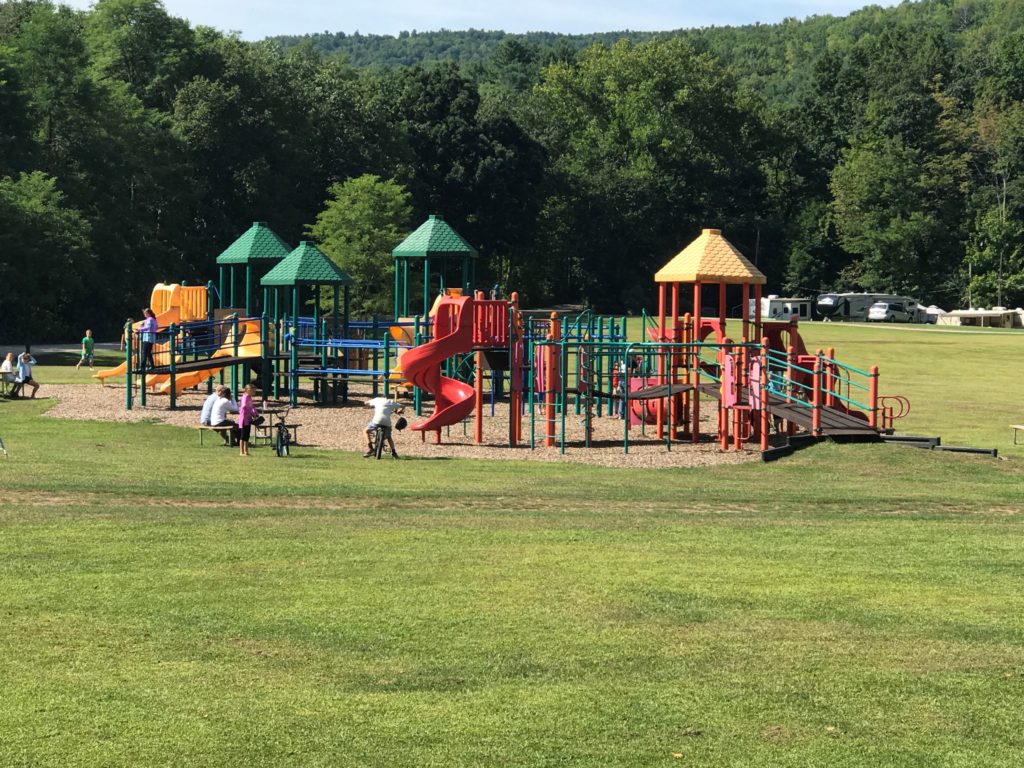 Some of the activities include a glow stick wagon ride, corn hole tournament, kids activities at the Pavilion, field day weekend, Hawaiian Luau weekend, treasure hung weekend and I could go on and on.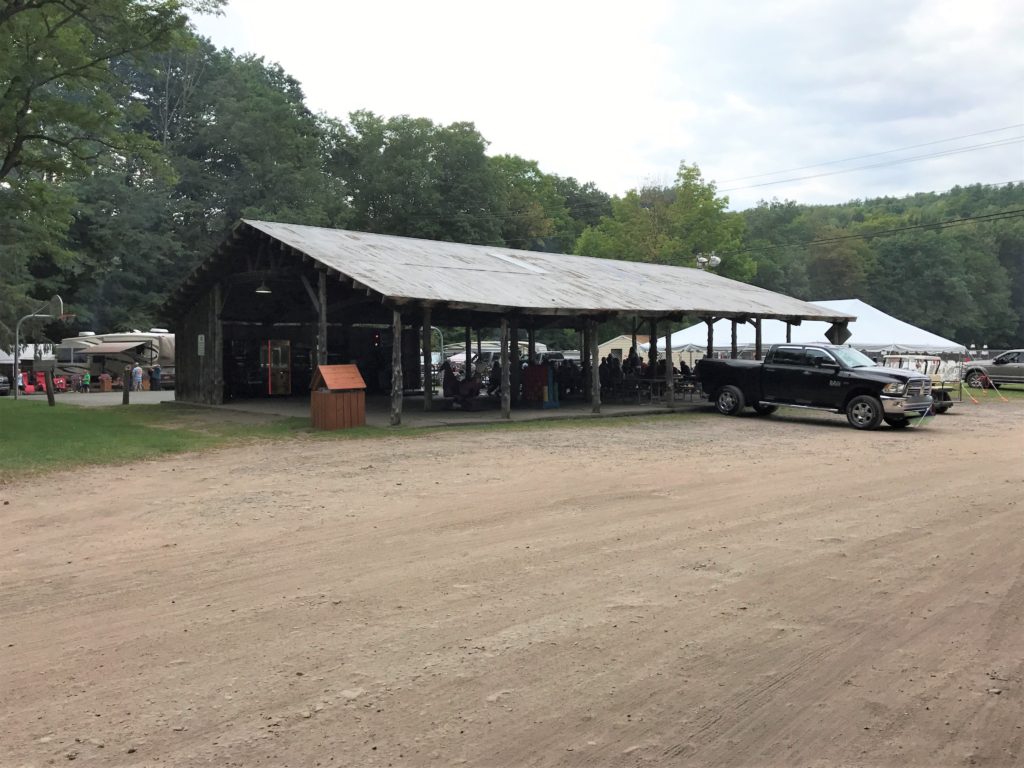 The weekend we were at the campground there was a live band playing in the Pavilion. We saw lots of campers making their way down to the Pavilion to listen to the band, but we decided to stay at our campsite and – sure thing – we heard the band just fine! Loved the music they played too!
Related Reading: If you love camping in the Catskill Mountains, see my blog post about camping at Rip Van Winkle Campground!
Nickerson Park Campground offers full hookup (water, electric and sewer) 30/50 amp, water & electric, or basic tent sites.
Some sites are on the grassy field (where our site was located) with lots of room for kids to ride their bicycles, fly kites and play frisbee!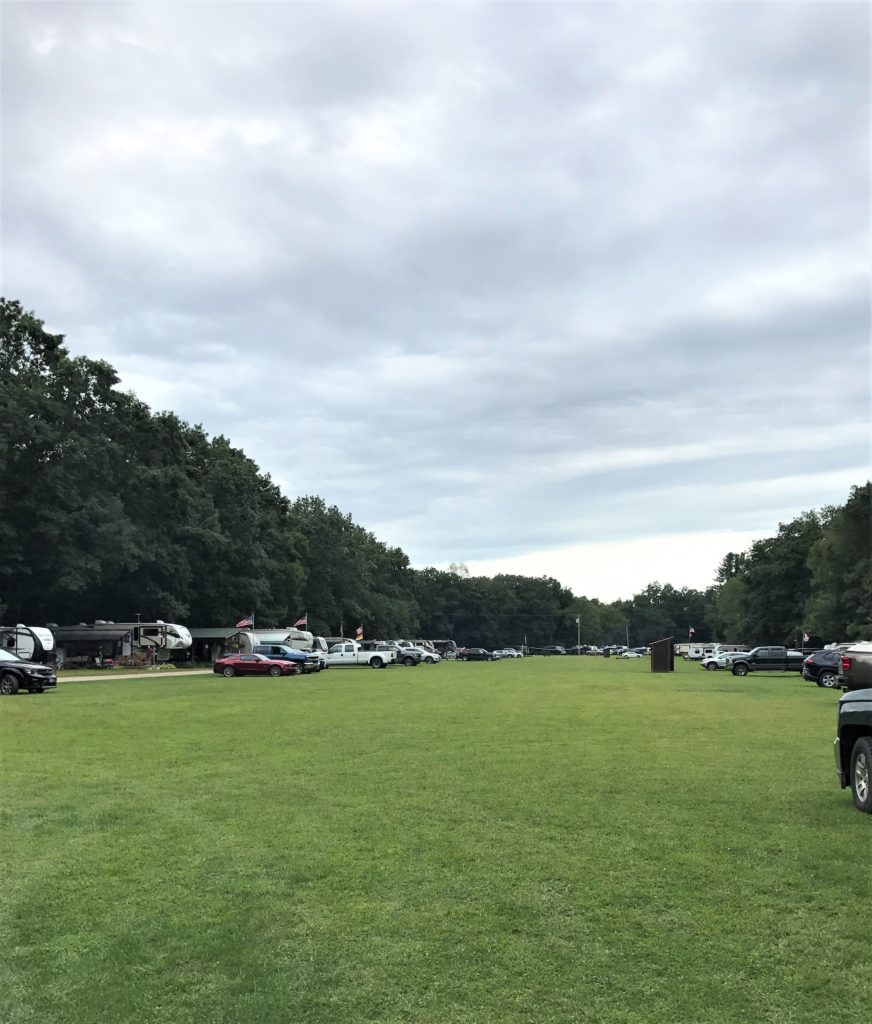 Other sites are more secluded wooded sites.
Have you been to Howe Caverns?
Check out my post about this fun and family-friendly attraction near Nickerson Park Campground!
Other sites backed the Schoharie Creek and Reservoir and made a great place for fishing, kayaking, and swimming. We saw kids swimming in both the inground pool and in the creek.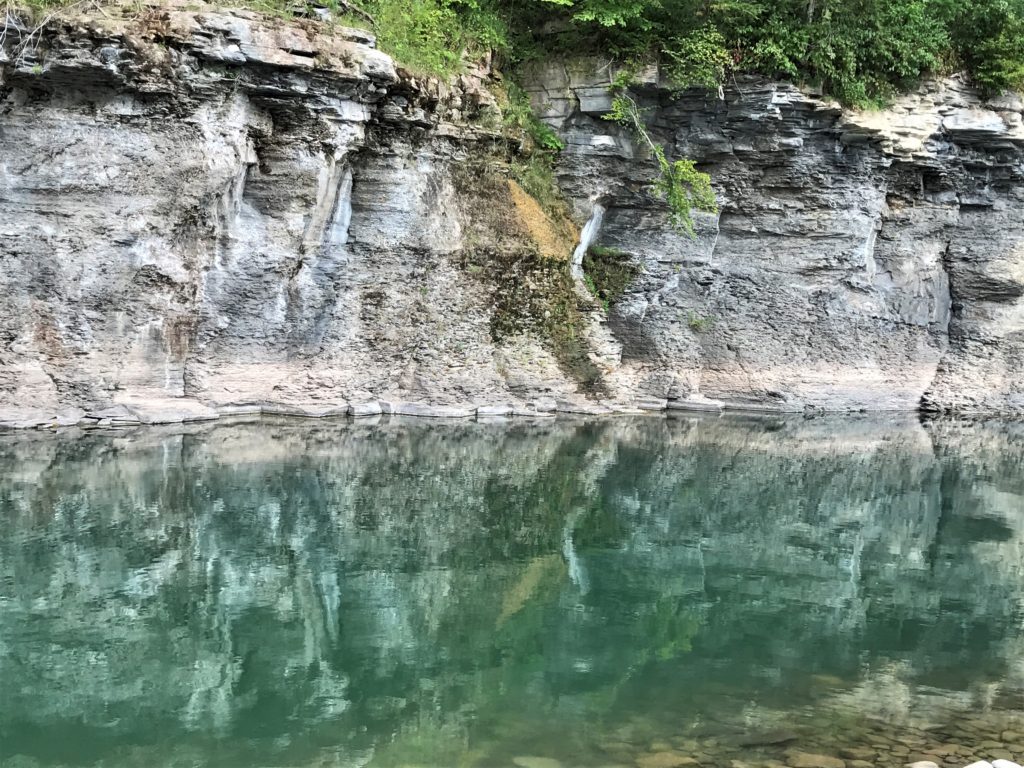 Kids also enjoyed the huge waterslide at the park!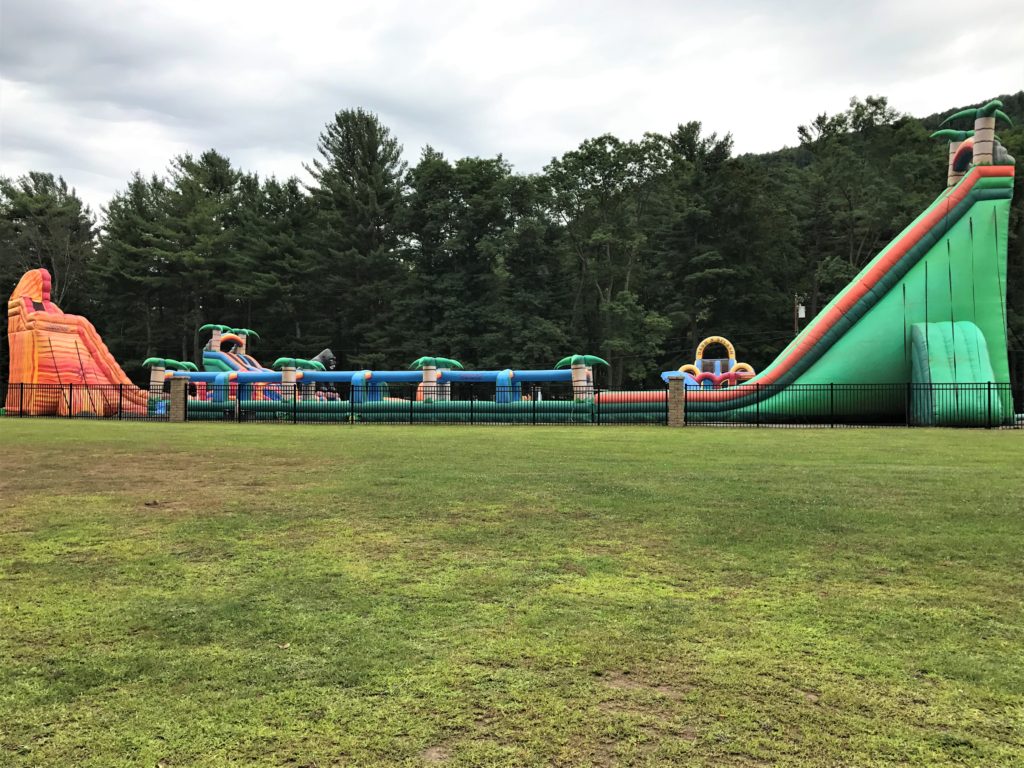 We spoke to many seasonals who have been coming to Nickerson Park Campground for years.
There is a waiting list for seasonal spots, so if you are interested – get your name in early!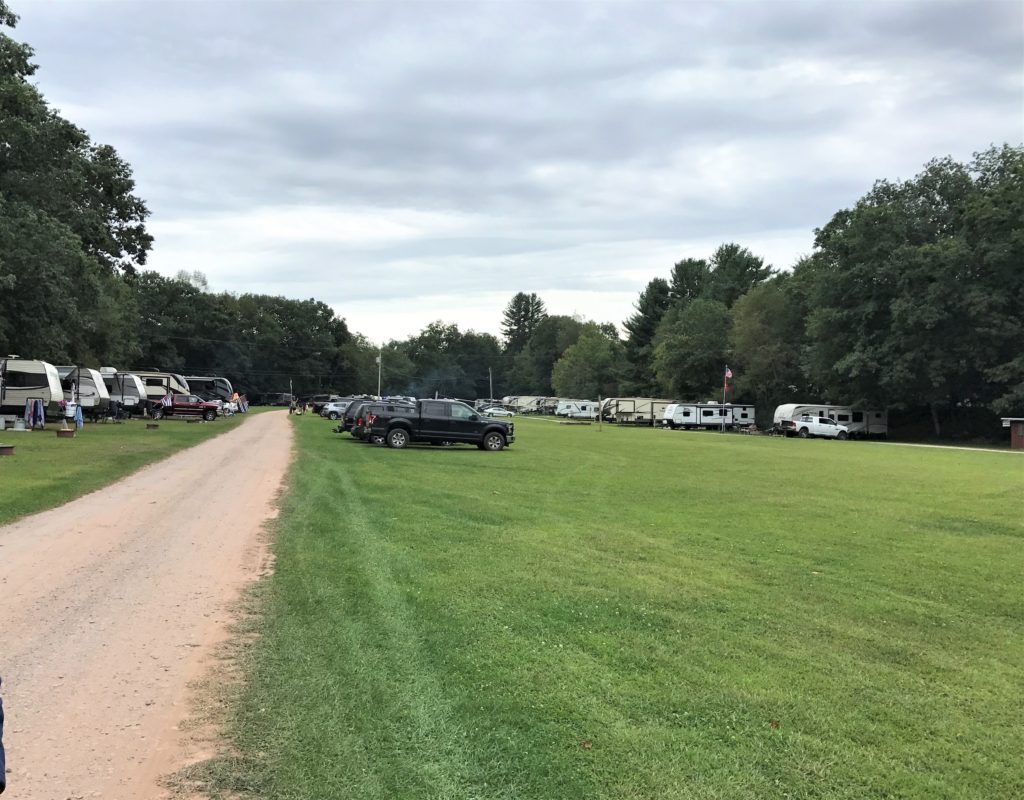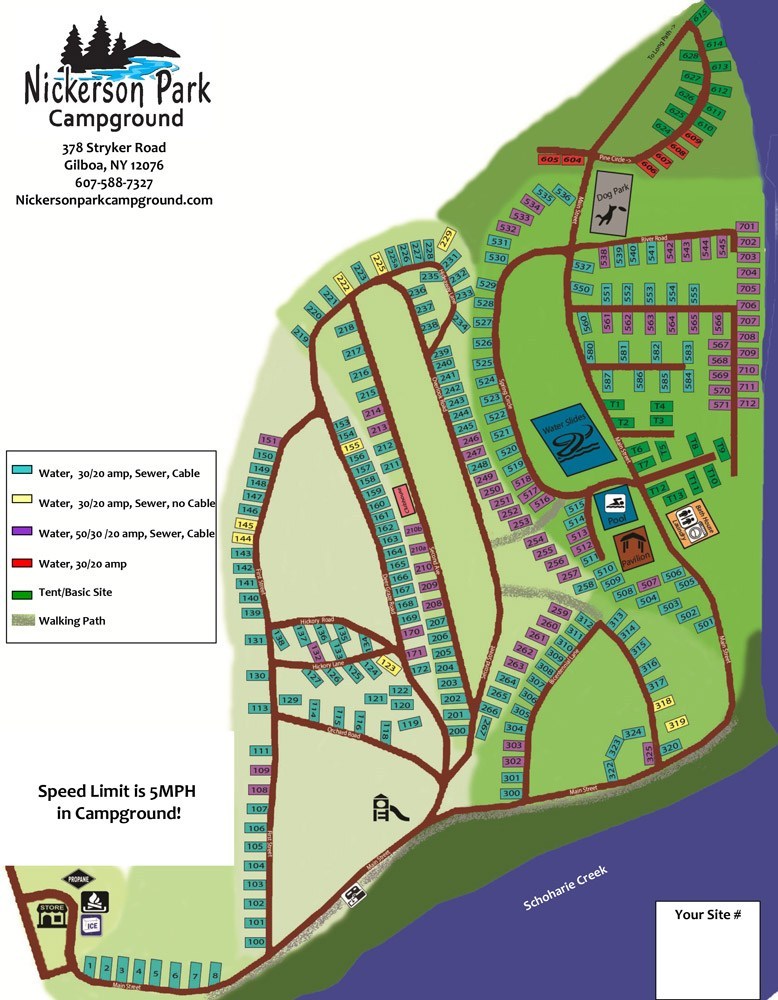 We loved the huge sites. Our site was #159 and was a full hook-up site (water, electric & sewer). We also had cable tv. We enjoy getting the news when we go to bed and first thing in the morning.
Trash is collected between 9:00 a.m. and 7:30 p.m. The camp staff comes by in a golf cart to collect your trash. This was our first experience with this…and we kinda liked it!
Pets are welcome! There is a new dog park at the campground.
Quiet Hours are between 11 p.m. – 8 a.m. This is pretty standard at most campgrounds.
There is a 2-mile hiking trail leading from the campground to Minekill State Park (which is 1/2 mile from the campground). We spent one-day hiking in the park which I will write about soon!
During our hike to the waterfall, we came upon this sign that said – Nickerson Park C.G. Dist: 2 mi!
When we got back to the campground, we looked for and found the trail leading to the waterfall. If we had known, we would have hiked to the waterfall instead of driving the 1/2 mile!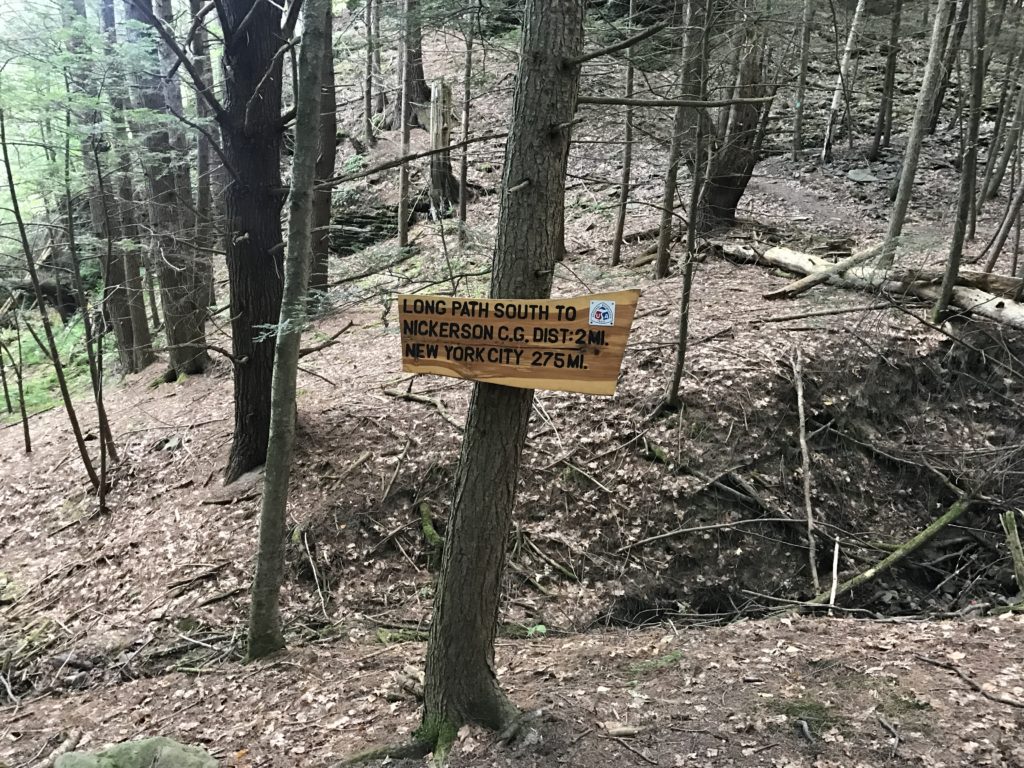 Things we didn't care for at Nickerson Park Campground
Nothing!
We will be putting this campground on the list of "We will return"!
Be sure to check it out Nickerson Park Campground if you're traveling through the Gilboa, New York area!
Nickerson Park Campground Information
378 Stryker Road
Gilboa, NY 12076
Check-In Time: 2-9 p.m. Check-out Time: 1 p.m.
Pets Are Welcome!
Rustic Sites/Water & Electric Sites/Full Hook-Up Sites
Other Amenities Include:
Free Cable

Kayak Rentals

Fishing

Waterfront Fun

In-ground Swimming Pool

Natural Wildlife

Peaceful Surroundings

Horseshoes

Adult & Children Activities

Waterslides

on-site hiking and Nature Trails

Huge Playgrounds

Wagon Rides

Arcade

GaGa Ball

Volley Ball

Pet-Friendly Dog Park

Camping Store

Firewood & Propane

Laundry

Pavillion

Security Patrol

Tether Ball

Basketball
If You Are Looking For Help Planning and Organizing Your RV Trips…
Learn More About The
RV Camping Checklists Bundle


The Best RVCamping Checklist Bundle
Join My Email List!
Are You Forever Making Lists Like I Do?
Make all your Camping Lists on my Camping Notes!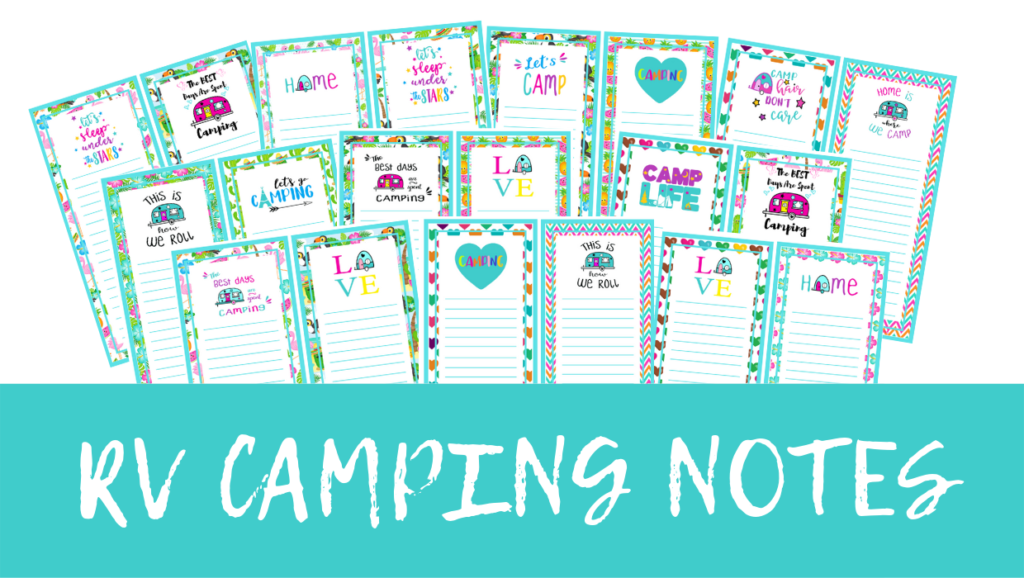 Learn More About the RV Camping Note Printables HERE