Last Updated on January 13, 2022 by Lori
Does your dog destroy every toy and chew you've purchased? Do your friends and family make suggestions for chews and toys that worked for their dog – but after purchasing them for your furbaby…it was gone…within minutes!
We've been there. Our Golden Retriever, Buddy was destroying almost every chew and toy we bought him! We had to find the best dog chew to keep him occupied especially when we go camping.
Finally, we found which dog toys and chews worked for our heavy chewer! While these chews and toys may not work for your dog, here's what we found to keep our dog occupied, entertained and most of all — happy!
Best Dog Chews To Keep Your Dog Happy
Keeping your dog happy is just one thing dog owners love to do! One way to keep them happy is to keep them busy too.
We have had more dog toys and dog chews than I could list!
A good Dog Chew will keep our Golden Retriever busy during rides to the campground so that by the time we arrive, he's tuckered out and ready for his dog cot!
Here are some of the Best Dog Toys And Chews we have found that works for our Golden Retriever and I hope they will work for you too!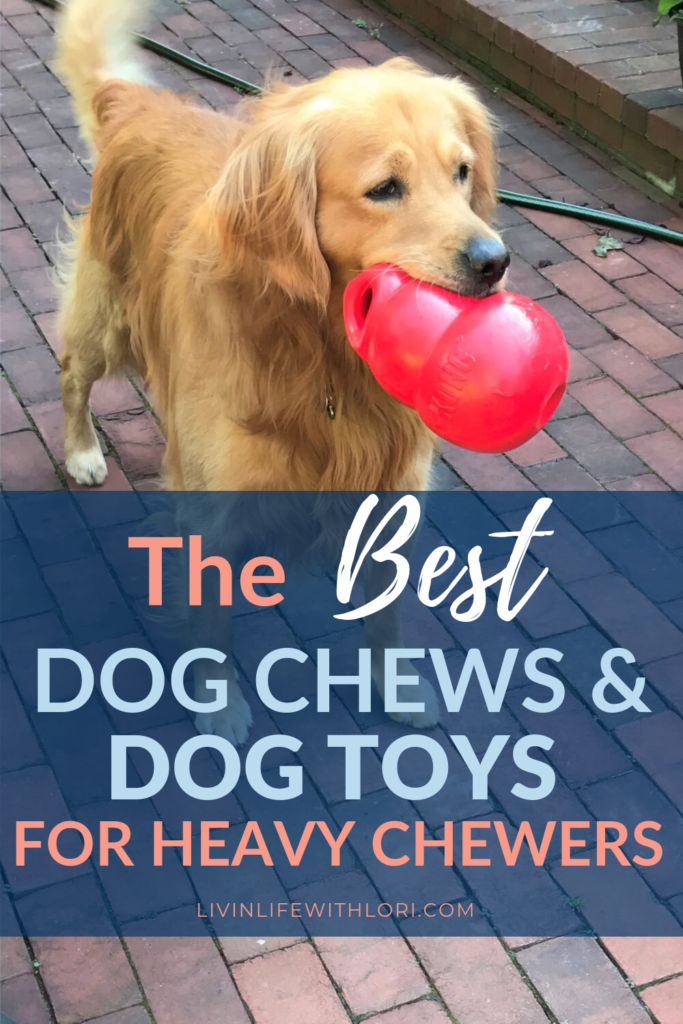 This post contains affiliate links which means that if you click a link and make a purchase, I will earn a small commission at no additional cost to you. Please read my Disclosure Policy for more information.
Isn't having a dog just one of the most rewarding things in life?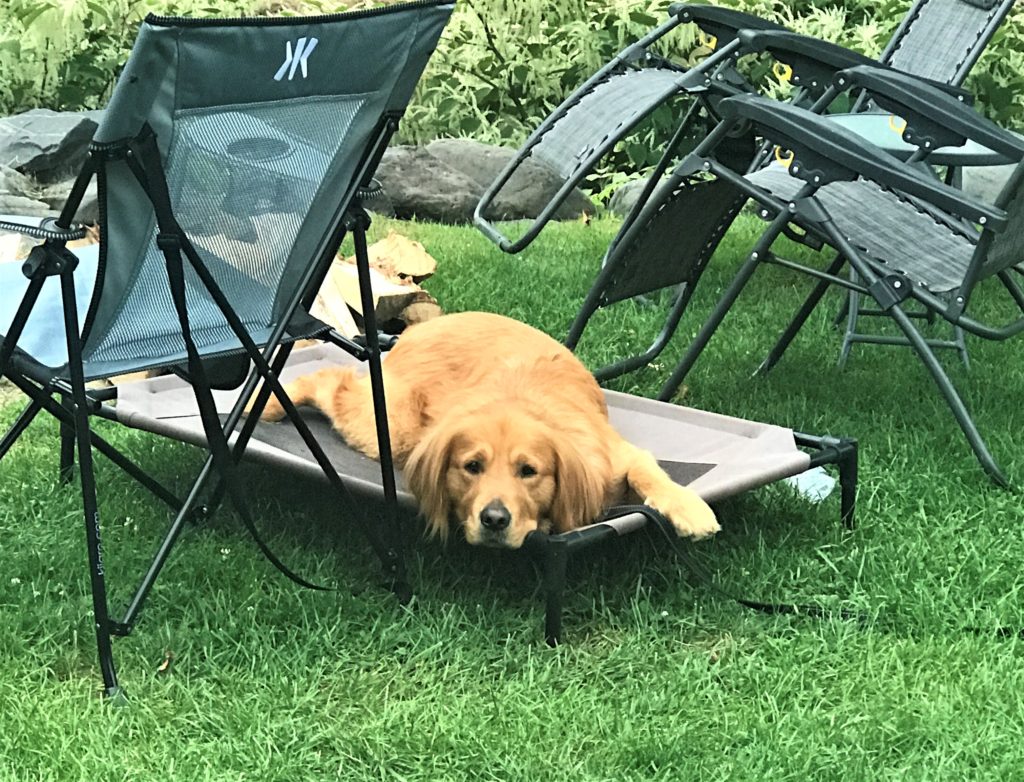 I know, at times it may seem like dogs are a lot of work – like when you have to get up in the middle of the night to take your puppy outside, or when they won't listen to you to "drop that!"
Plus, it can especially be trying when they tear up your entire couch (yes, Buddy destroyed both couch and love seat)!
And…many dog beds!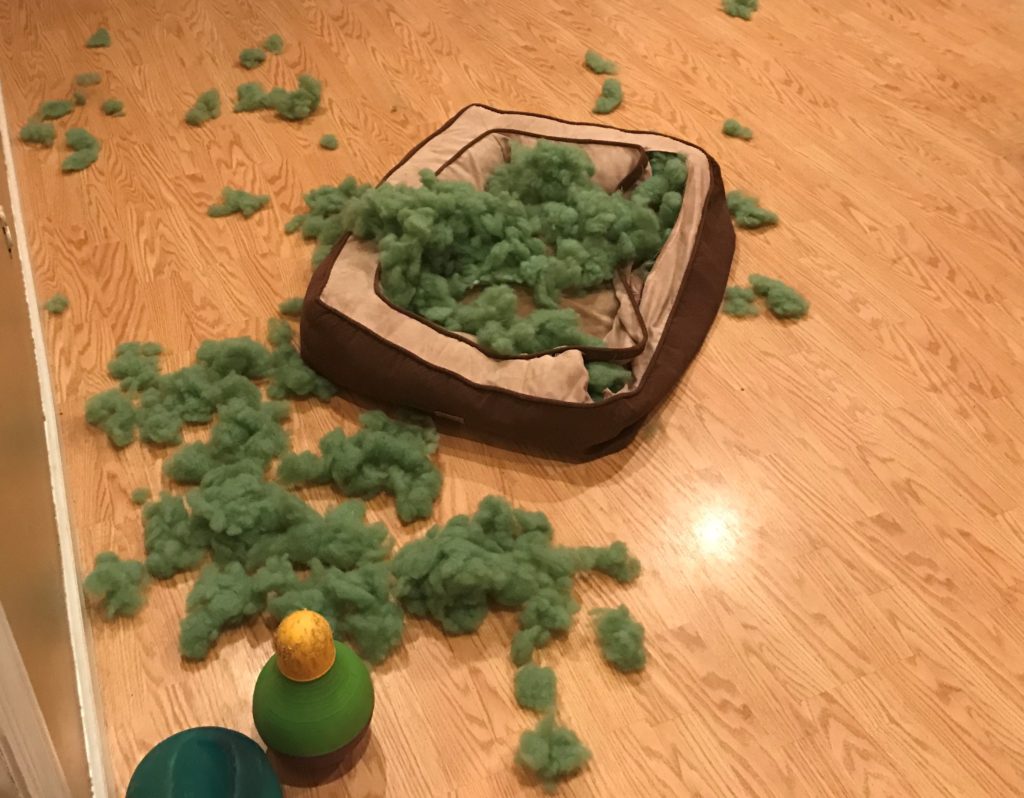 But, you simply can't deny the BEST feeling you get when they snuggle up to you, give you kisses and let you hug them (even though they may hate it!)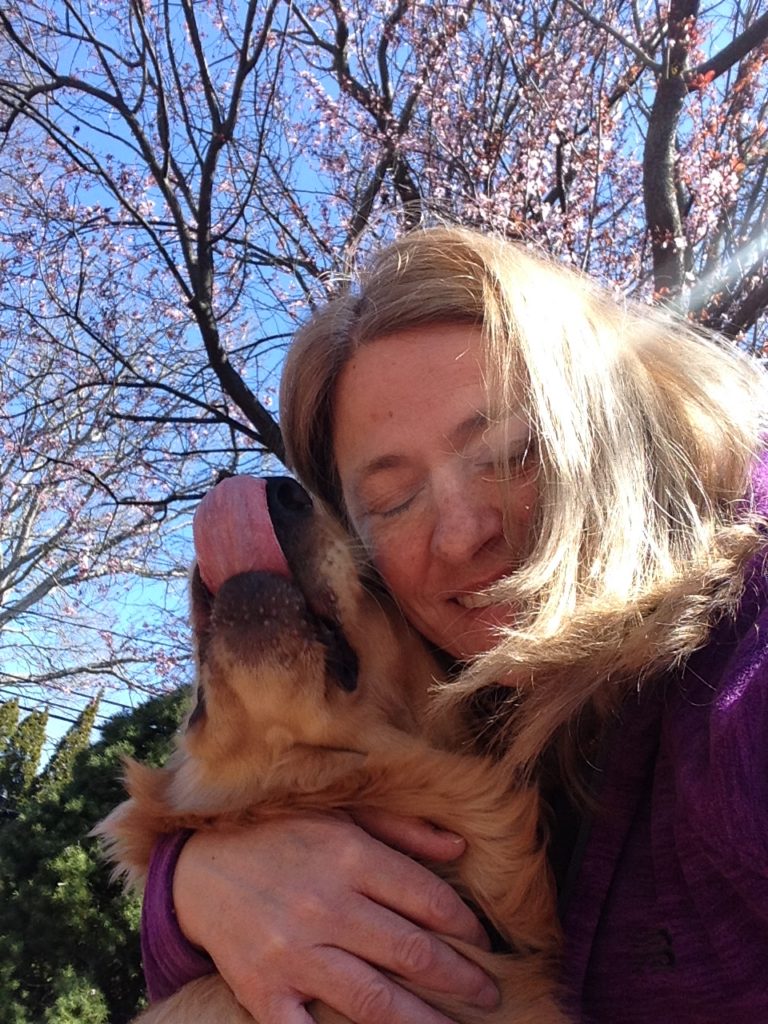 If your dog is anything like mine, there are times when my Buddy can be stubborn and even downright obstinate! (but aren't they still the cutest thing when they do that?)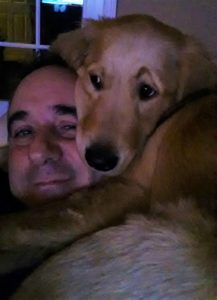 When Buddy takes something that he KNOWS he shouldn't have taken – but takes it anyway, my voice becomes deeper…my words become louder (like they can't already hear me, right?) and he looks at me with that look – What? Me?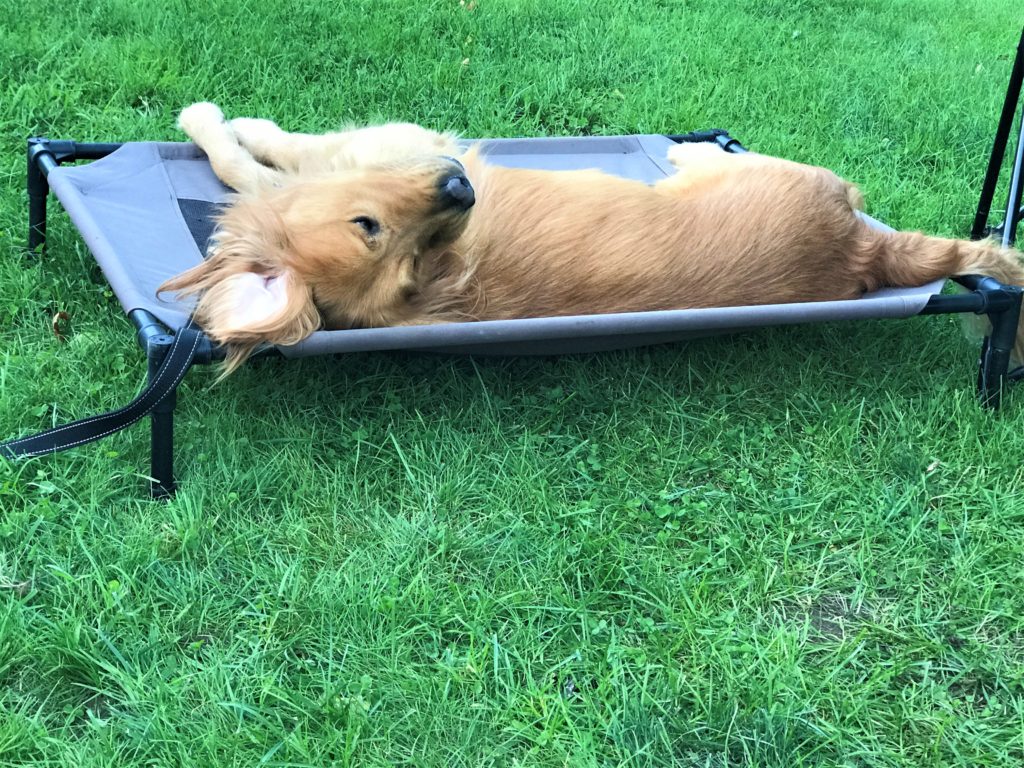 And we love him even more!
I've learned that the best thing I can do, especially when we go camping, is to keep him occupied.
That's why I set out to find some of the best chew toys and bones that will keep Buddy busy and entertained and that make him happy!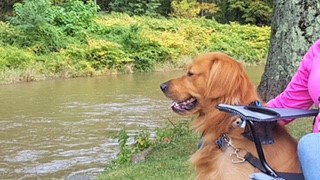 It's funny how certain toys Buddy will absolutely destroy!
When other toys that you think they won't have ANY interest in, he carries around everywhere. It's just the cutest thing!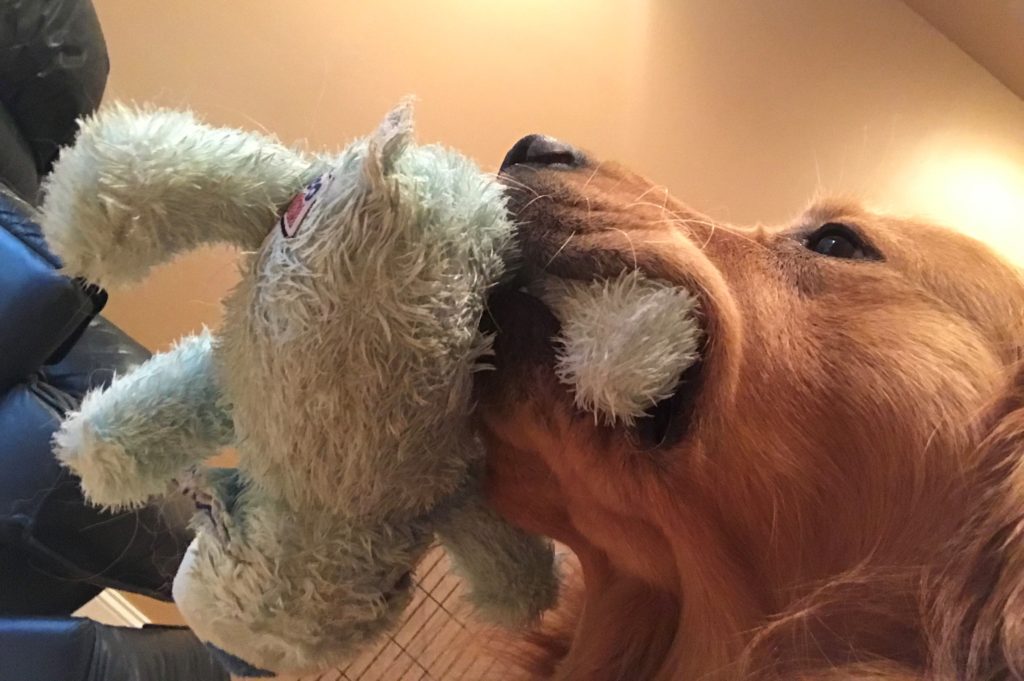 Here Are My Picks for The Best Dog Chews and Toys for Heavy Chewers!
Kong Dog Toys
We have had a lot of Kong Dog Toys! These toys are really some of the best toys for heavy chewers!
One of the first Kong toys is this Kong Goodie Dog Bone with treat holes on either side. The bone comes in three sizes – Small, Medium and Large.
You can read more about the Kong Goodie Dog Bone Here.
Here's a picture of Buddy chewing away on this bone. We fill the bone with treats and he works and works to get the treats out – keeping him occupied while we watch tv!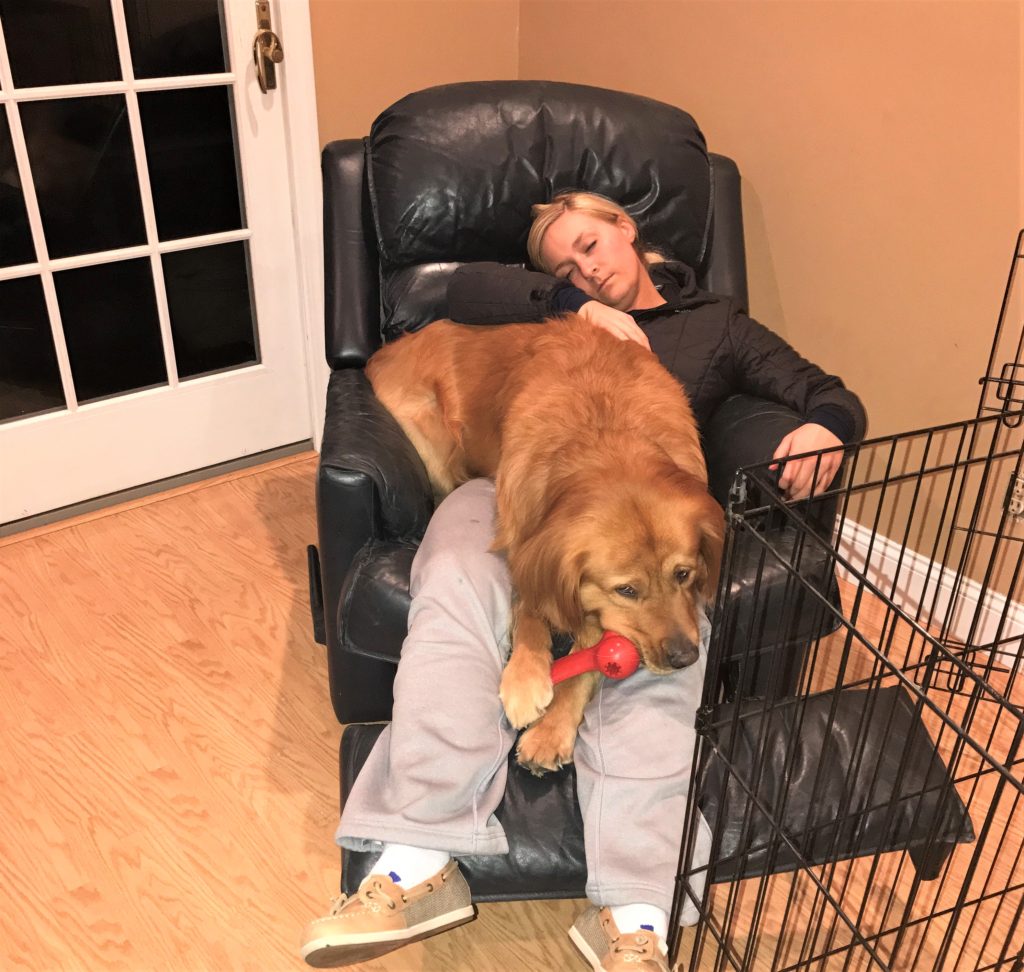 Buddy also has this Kong Stuff-a-Ball Dog Toy.
You can stuff both the Goodie Dog Bone and the Stuff a Ball Dog Toy with treats and they have to work and work to get them out keeping them occupied for a long time.
This Kong Toy is fun and bounces all around the yard.
Buddy loves to play Keep Away with it!
The Kong Bounzer is great to throw around the backyard.
Buddy chases it all over as it bounces one way then the other way. He can carry it easily in his mouth!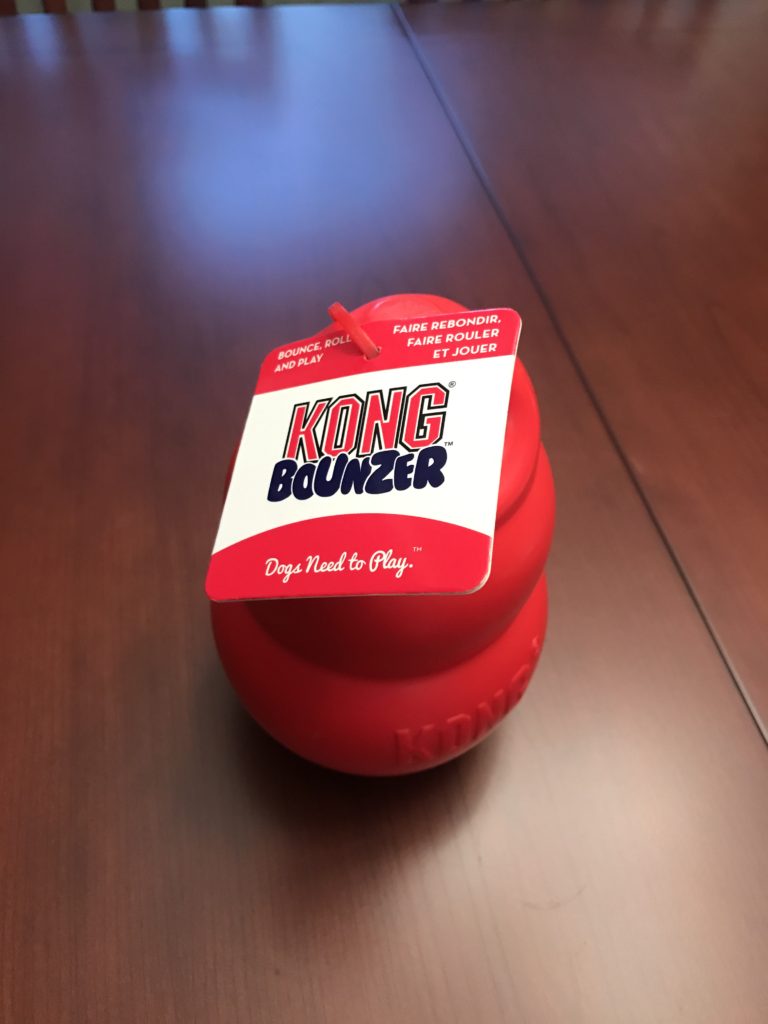 Buddy loves peanut butter, so I tried this Nylabone Dog Chew.
When it arrived, I waited to give it to Buddy until we were traveling on a camping trip.
I got the bone for 50 lbs and up so that it was big enough for him.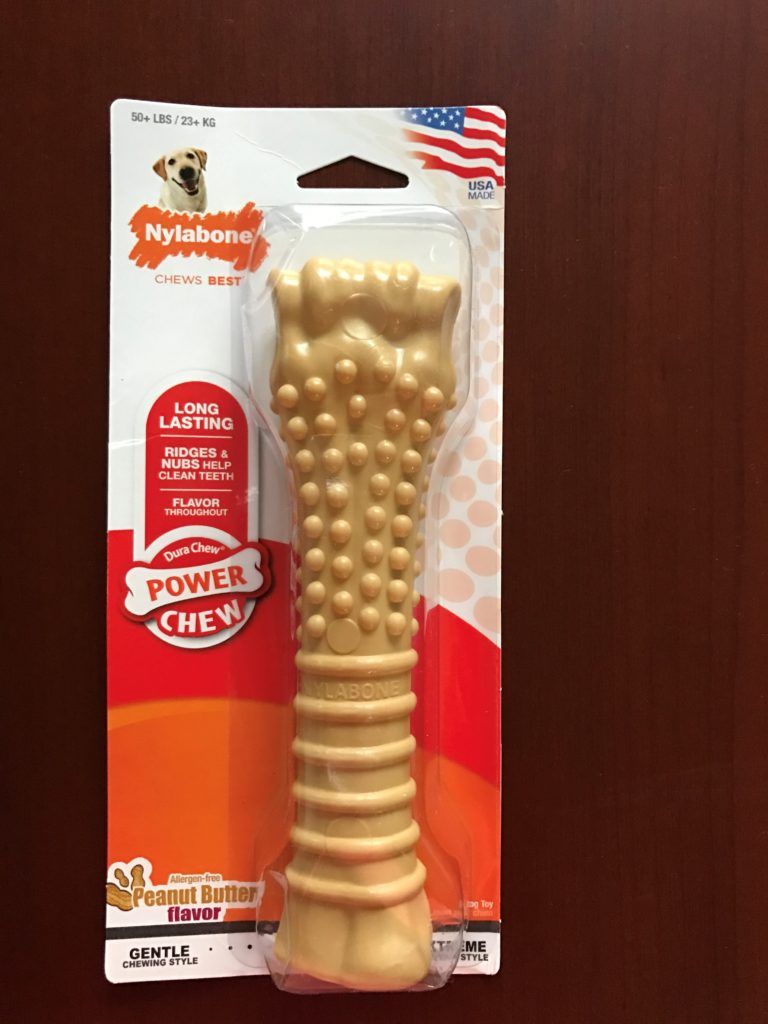 This Nylabone lasted a long time! It was one of the best chew toys we found for heavy chewers.
I found that one thing Buddy really needed was to hold something soft in his mouth. That's when I found Marvin the Moose!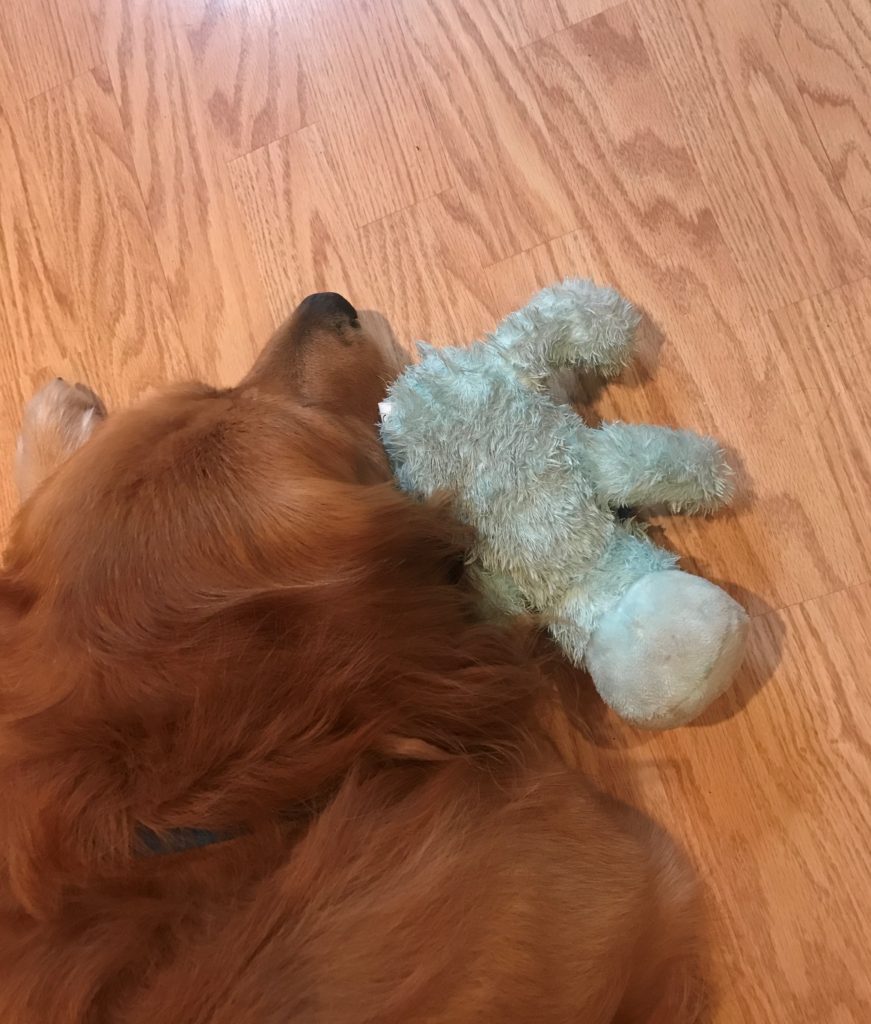 Then I found Bailey The Blue Dog
Buddy has not chewed these two toys at all! He loves to hold them softly in his mouth and we always travel with them!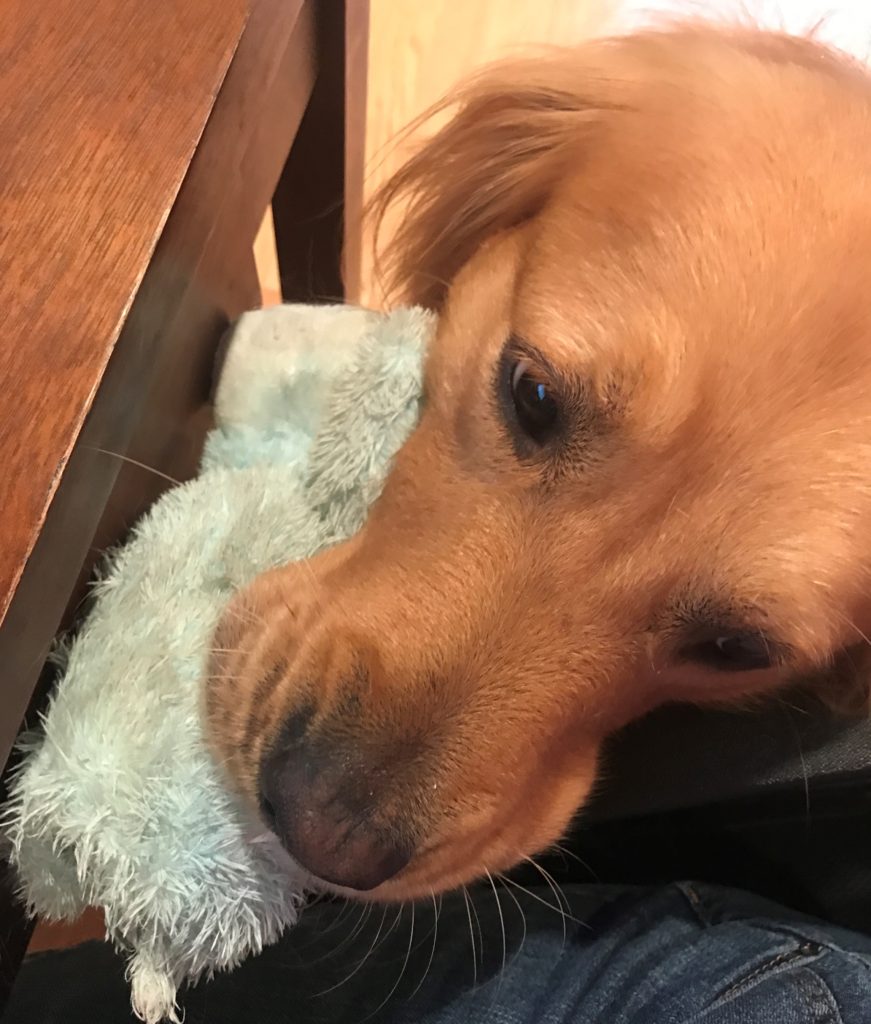 This Blue Loofa Dog is one toy he never chewed. We've had that toy for over a year now. I'm not sure why he never chewed it – but he LOVES to play keep-away with me every morning with this toy!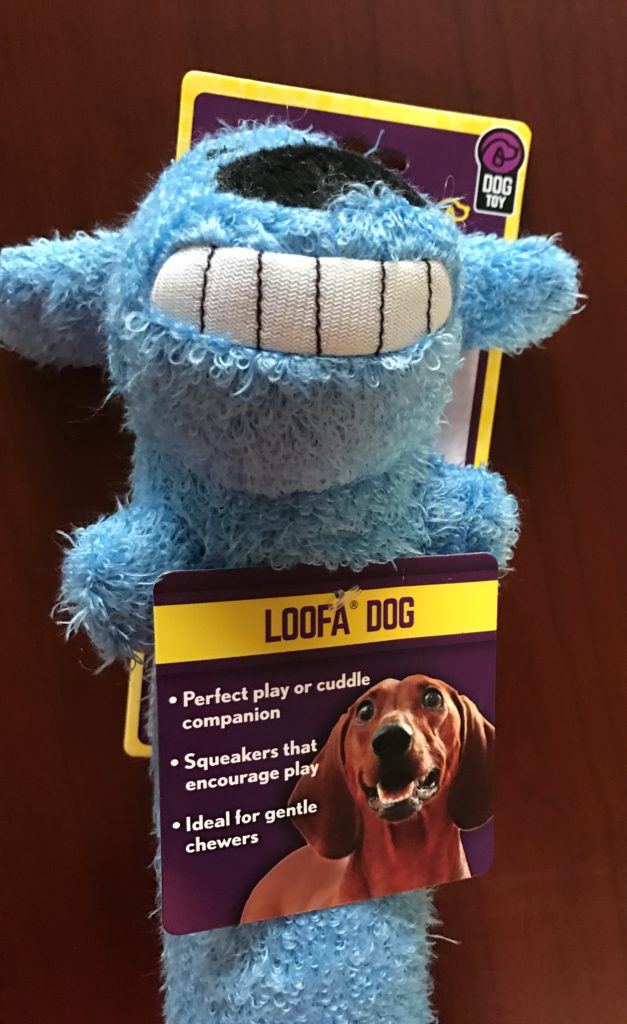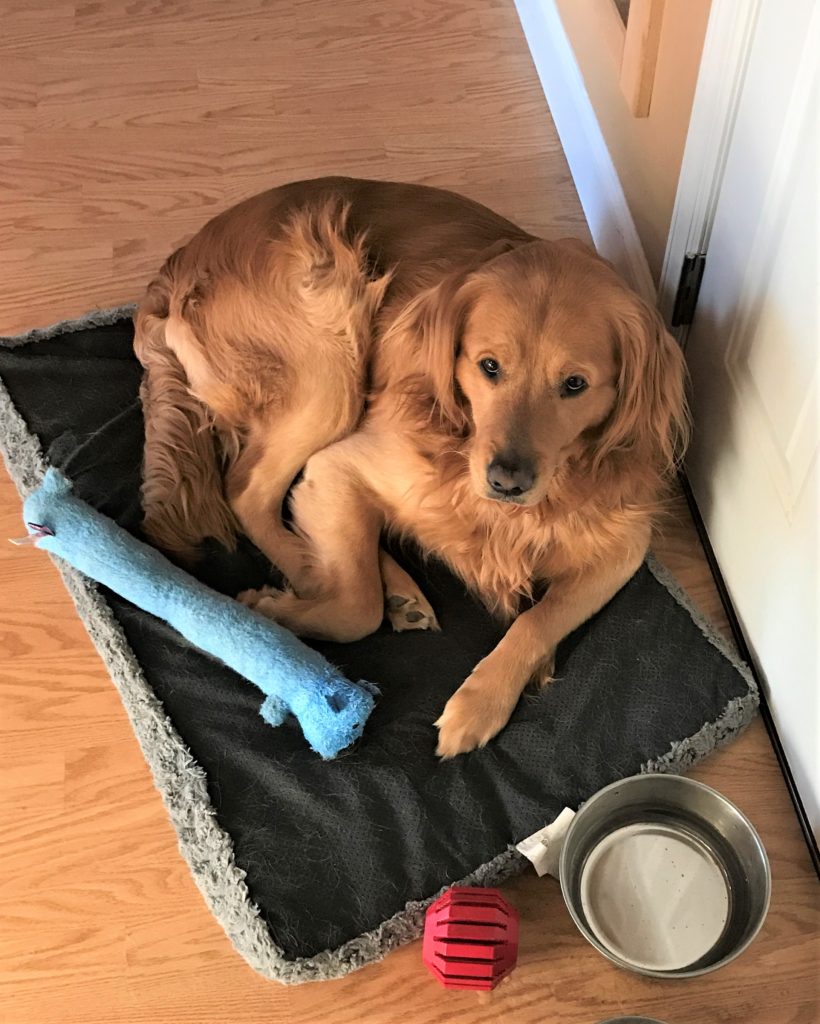 You'll notice the gray bed Buddy sleeps on. He drags that thing all over the den placing it where he wants to sleep. (see…it's upside down – but he doesn't care!)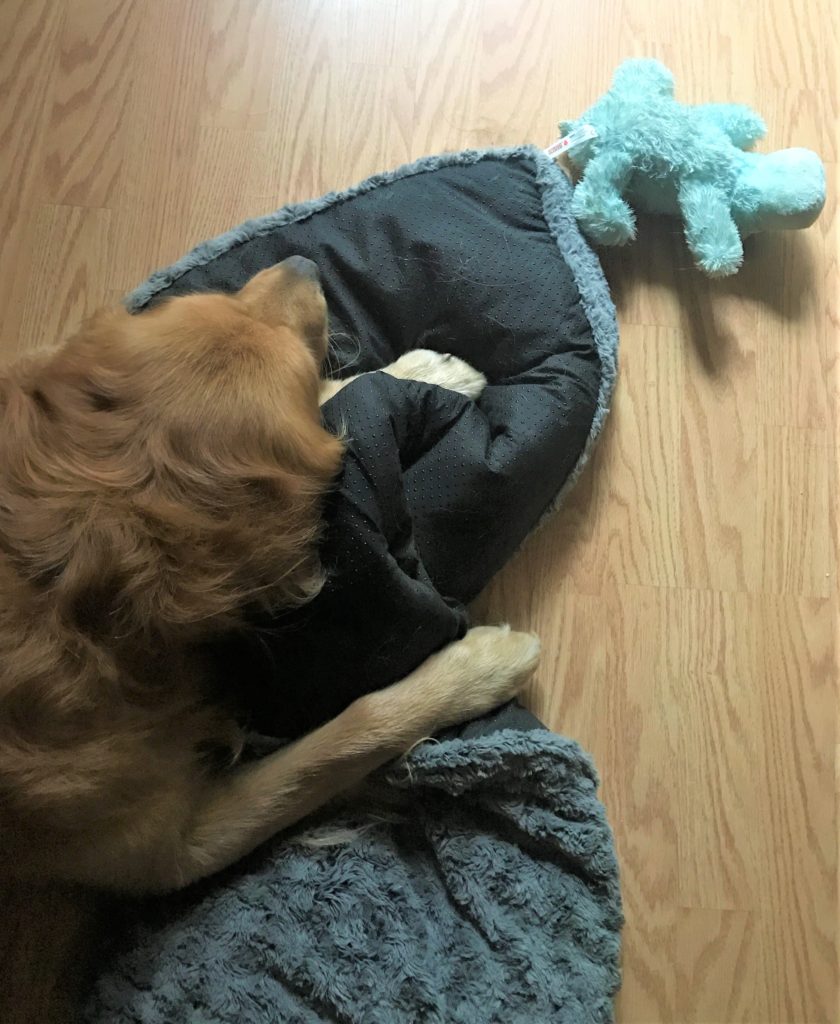 The size we purchased fits nicely into his crate too! We have two of them for when we travel. One for the crate in the travel trailer and one for the crate in the truck.
We also have this elevated dog cot that is perfect to take camping!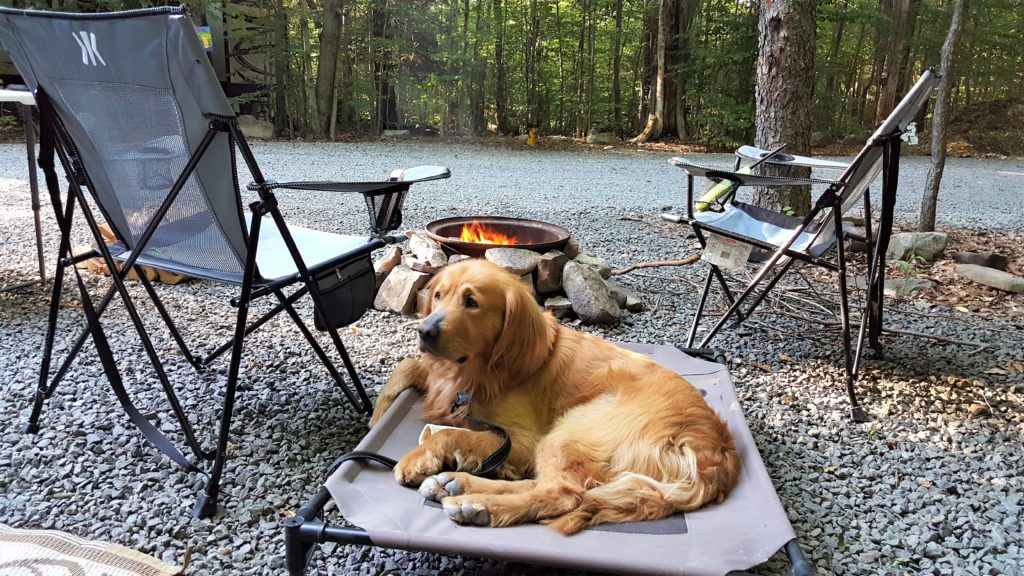 This is Buddy's soft-krate that is perfect for the travel trailer! We have a second crate for the truck.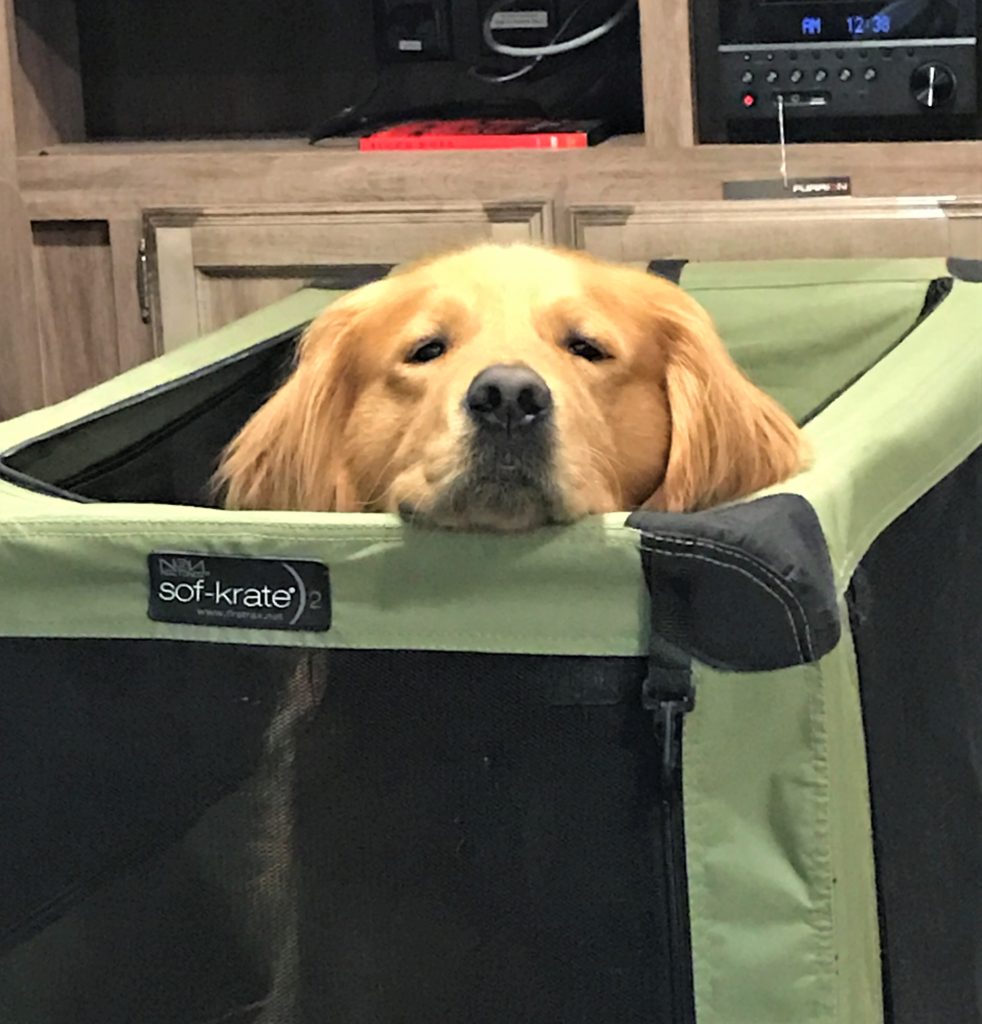 Best Dog Bones For Aggressive Chewers
I think his very favorite chew toy is his peanut butter bone. This chew bone comes in all sorts of flavors!
Buddy also loves the cheese and bacon flavor too!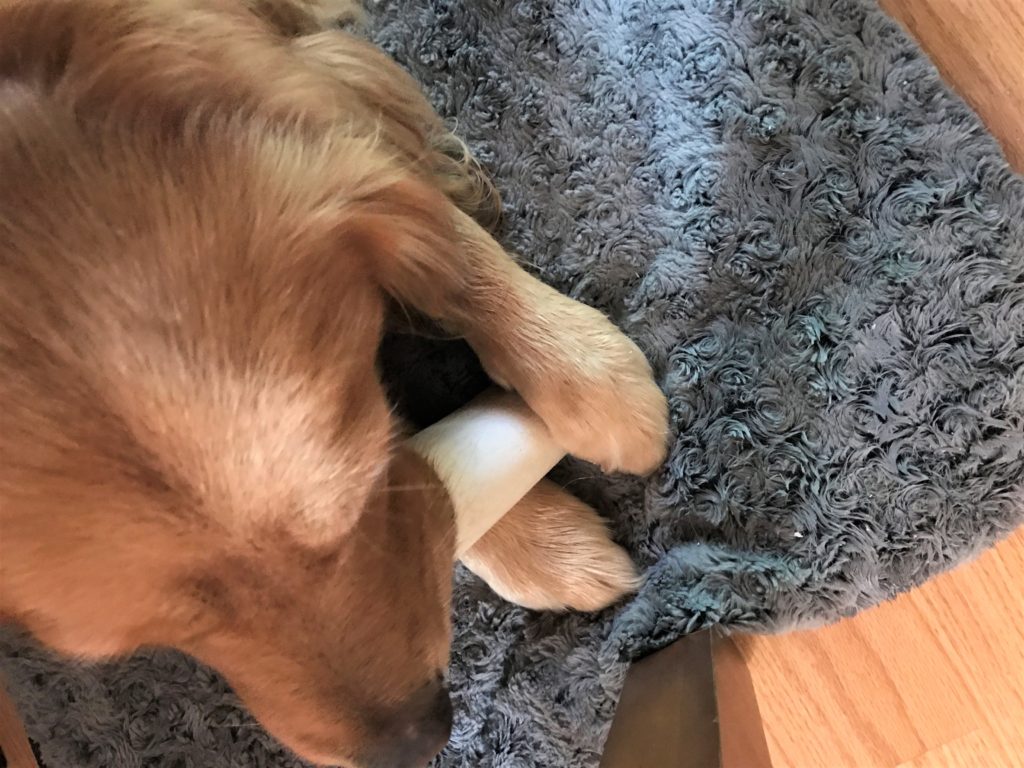 These bones are especially helpful in keeping Buddy busy when we travel. And…it makes him tired!
Tip: These chew bones come in various sizes. Be sure to get the appropriate size for your dog and ALWAYS keep watch on your dog when they chew ANY bones! Bones can splinter. Immediately take away from your dog if they splinter or crack.
Related Reading: Do you camp with your dog? You might like to read my post – RV Travel With Your Dog – What You Need To Know
Interactive Dog Toys
Interactive dog toys can be a great way to keep your dog from getting bored. We've had several toys that were great in keeping Buddy active and alert – and some that were just ok.
Here are a few we've tried.
The Outward Hound Interactive Puzzle Toy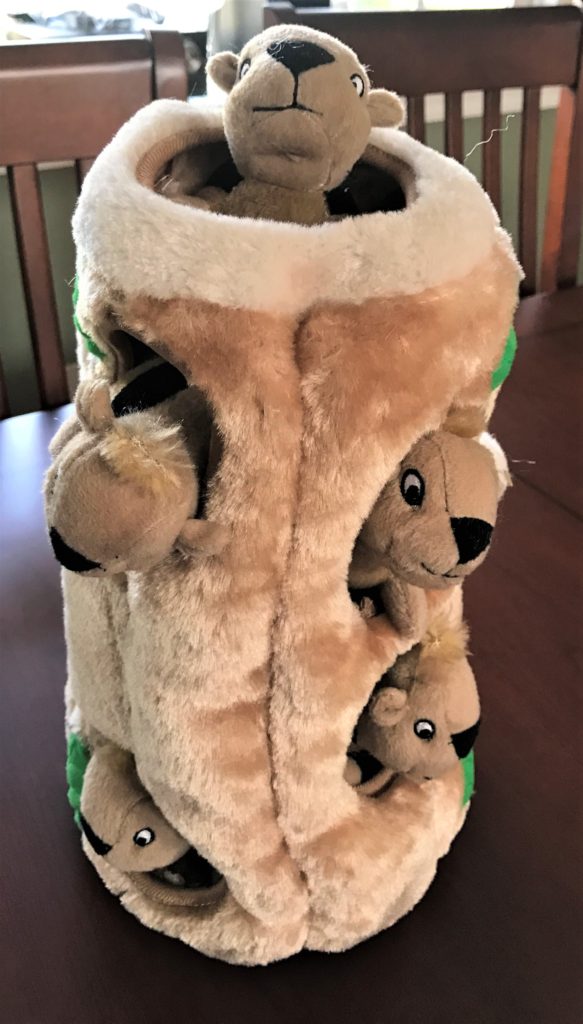 This plush "hide and seek" activity for dogs is highly rated. Again, there are several sizes to choose from to be sure to order the size that is right for your dog.
It didn't take long for Buddy to figure out how to get the squirrels out of the tree trunk. After a few days, I started hiding the squirrels around the room for him to find.
THAT was a great and fun game! After he found one, he would return it to his dog bed. After he returned all 6 squirrels, he got a treat!
I now only bring the squirrels out once in a while and he loves it.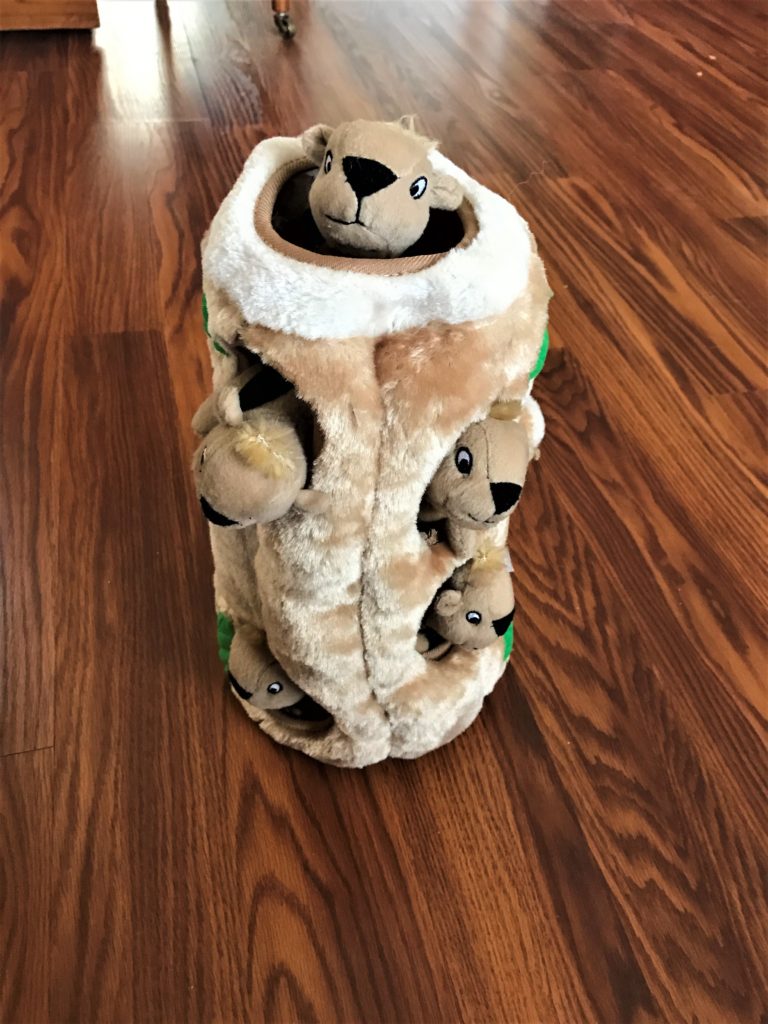 We also had this treat dispensing interactive toy.
And we had THIS treat-dispensing toy which Buddy really liked!
Have you seen THIS Treat Tossing WiFi Pet Camera which goes directly to your SmartPhone? (As seen on Ellen)
If your dog barks, it sends a push notification to your Smart Phone and you can send your dog a treat!
As a dog owner and lover, you know that each dog is different. Your dog may LOVE one toy, and my dog isn't interested in the least – and vice-versa.
The Best Dog Toys and Chews for Heavy Chewer
I hope this gives you some ideas for items you can try for your heavy chewer! There's nothing better than having your dog happy and content!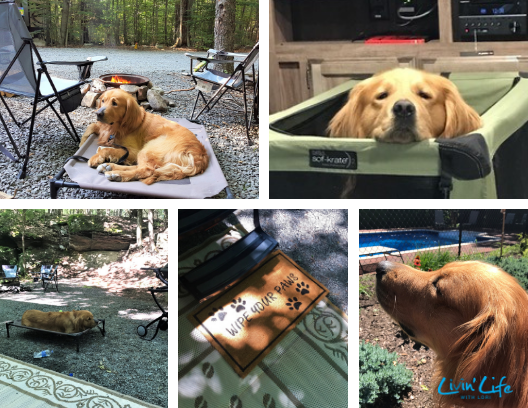 Check out this subscription box for dogs!
Your dog will LOVE getting his own box delivered monthly!
A totally customized box of themed toys and treats!
Related Reading: Looking for Perfect Gift Ideas For Dog Lovers? Here are my BEST Gift Ideas for Dog Lovers!