Last Updated on April 28, 2023 by Lori
Are you planning a bridal shower and not sure where to begin? Here are a few cute and easy bridal shower decorating ideas that you can use to make your planning a little easier!
My daughter recently got married. It was a whirlwind of activity this past year with the engagement dinner, wedding details and planning a bridal shower!
I won't say it hasn't been stressful, but in the end, I think we pulled it off!
I love planning a party. However, when my daughter announced she was engaged, it seemed that all my experience in planning parties meant nothing compared to the infinite details needed to plan a wedding!
I was stressed. This time, I wasn't just planning a party for me, I was planning a party for my daughter and her future family as well. It had to be perfect!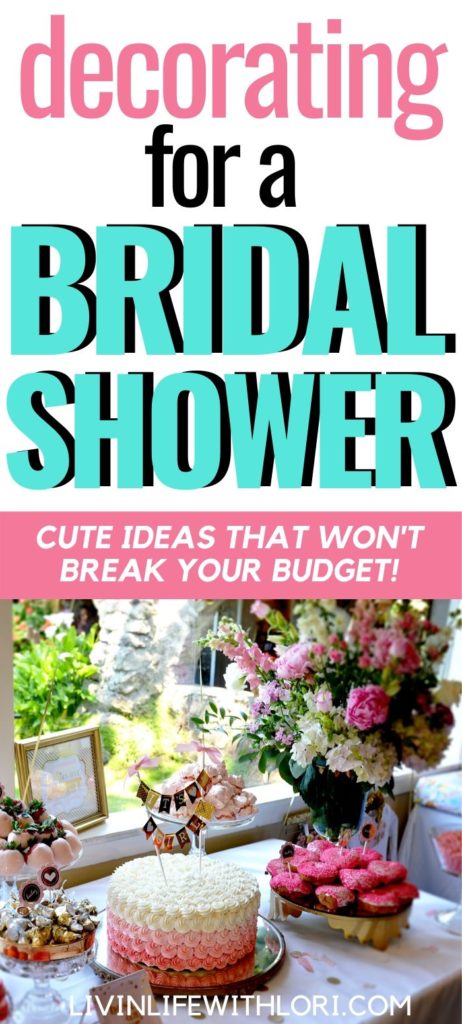 Cute Bridal Shower Decorating Ideas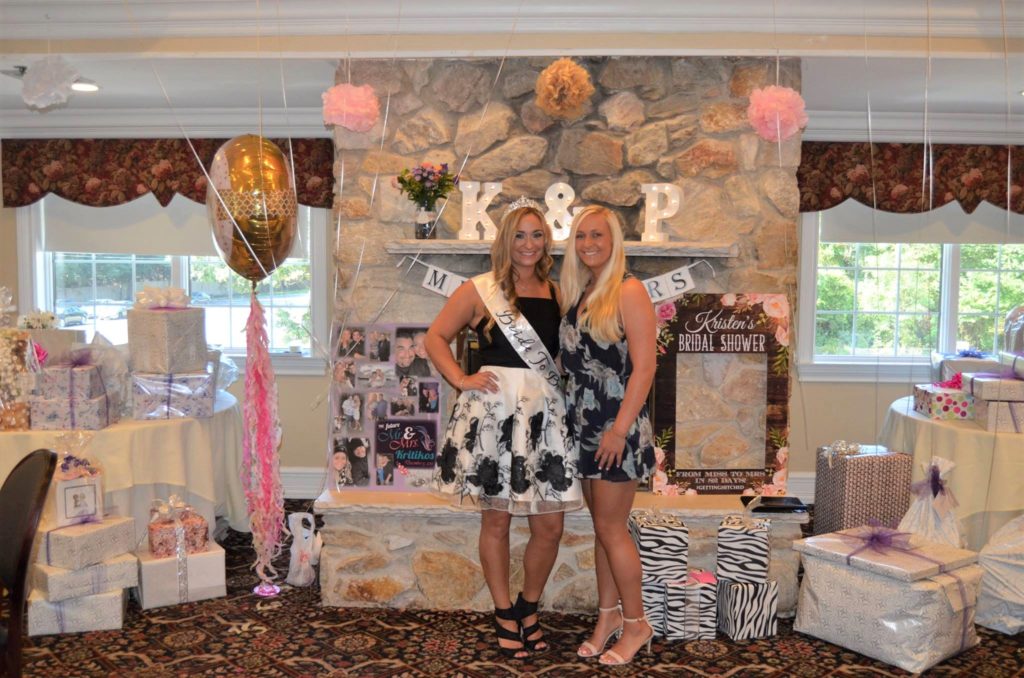 This post contains some affiliate links for your convenience which means if you click a link and make a purchase, I will earn a commission at no additional cost to you. Please read our Disclosure Policy for more information.
How To Plan A Bridal Shower
Choosing the Location
Bridal showers can be held at home, a restaurant, or a catering hall. For us, it made more sense to have the shower at a restaurant.
When we priced out various options to have the food catered, purchase and make the food ourselves, or have the shower at a restaurant, the cost to have the restaurant prepare, serve and clean up was the same!
Not to mention, I would be able to enjoy spending time with my relatives and guests.
Choosing the invitation
I found a very nice custom invitation online which fit our color theme perfectly!
The invitation takes a week to print and then shipped so I suggest beginning to look for an invitation two months prior to the shower.
The invitation should be mailed approximately 4-6 weeks before the shower.
If you have a lot of out-of-town guests, they should be mailed six weeks before the shower to allow guests to make travel arrangements.
Bridal Shower Gift Registry
Gift Registry –
Having a gift registry is very helpful to guests attending. I think my daughter got almost everything she registered for!
One of the first gift registries she signed up for was the Amazon Wedding Registry. Many people shop at Amazon and registering with their wedding registry made it easy for out of town guests to send a gift!
We also made sure to register at Target and Macy's to make it easier for those who didn't want to make a purchase online (like my mom who never puts her credit card online). Guests can go directly to the store and have an updated gift registry printed right at the store.
If you haven't registered at Target yet, you can do so here!
If you haven't registered at Macy's yet, you can do so here!
Cute Bridal Shower Decorations
I had no idea what to use for decorations. I scanned the internet for photos of "bridal shower decorations". I also looked at Pinterest, Etsy, Amazon, etc. Slowly, I began to put ideas together.
Related Reading: If you're looking for Cute Bridesmaid Gift Ideas, you might like reading my blog post Cute Bridesmaid Gift Ideas They Will Love
Bridal Shower Welcome Board
I love how Kristen's "Welcome Board" and "Photo Board" came out!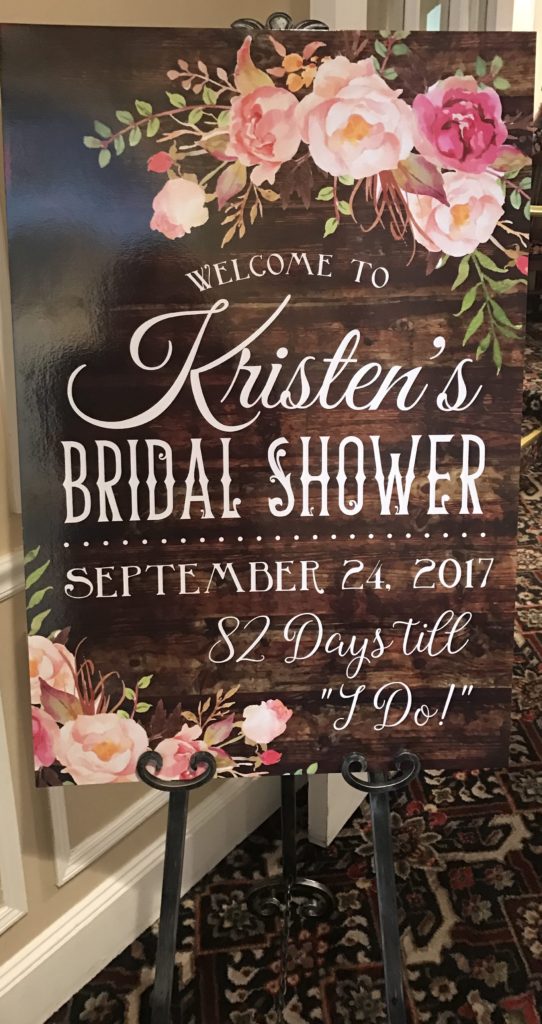 I also found a cute "Miss to Mrs." Banner to hang from the fireplace and Tissue Paper Fluffy Pom Poms to hang.
The lighted metal "K & P" also looked great on the mantel. I used these letters at both the Engagement Party, Bridal Shower & Wedding!
The lighted K & P looks fantastic on the Sweetheart table at the Wedding! Also, note…I created the DIY heart on the table too! Easy Peasy!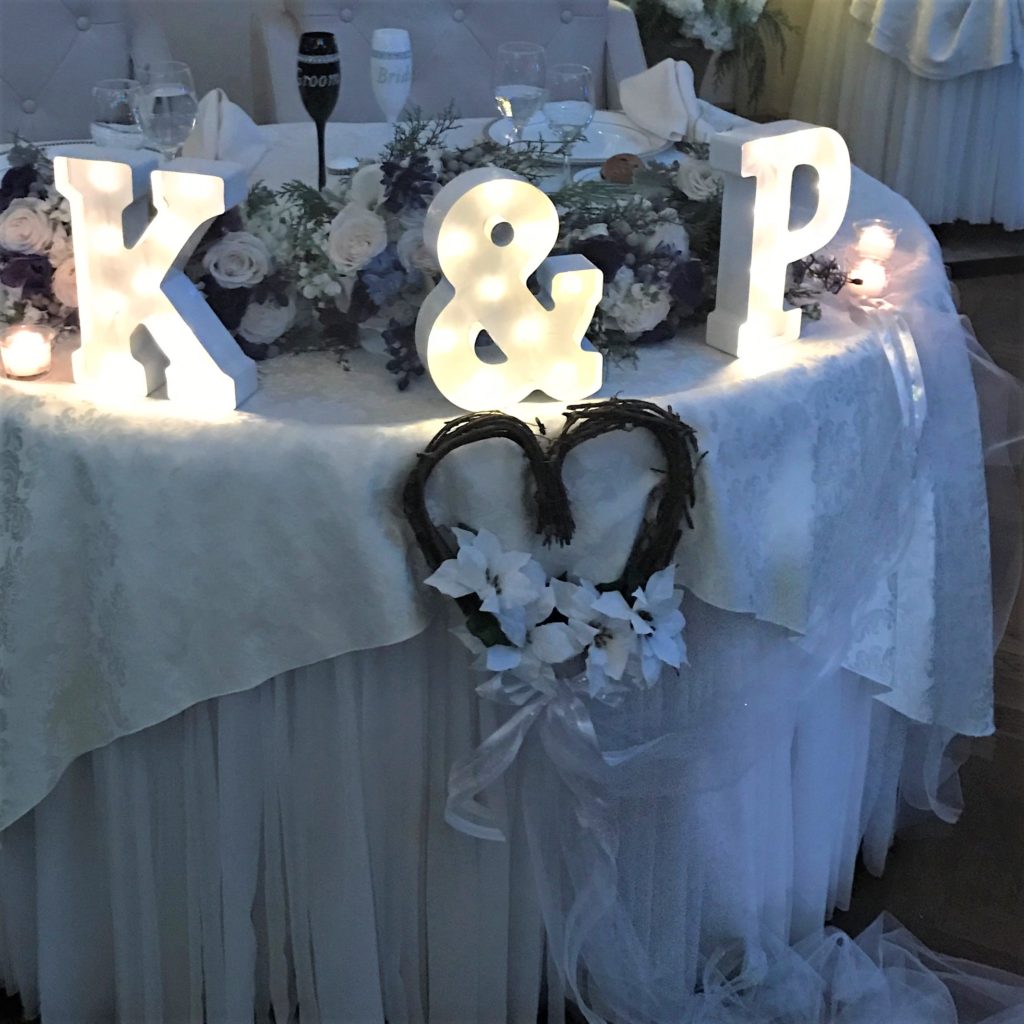 Related Reading: You might enjoy my post on 10 Things To Know Before Meeting With Your Wedding Florist!
When Kristen arrived, the Maid of Honor helped her put on her "Bride to Be White Satin Sash & Rhinestone Tiara". The set also includes a "Bride to Be" banner.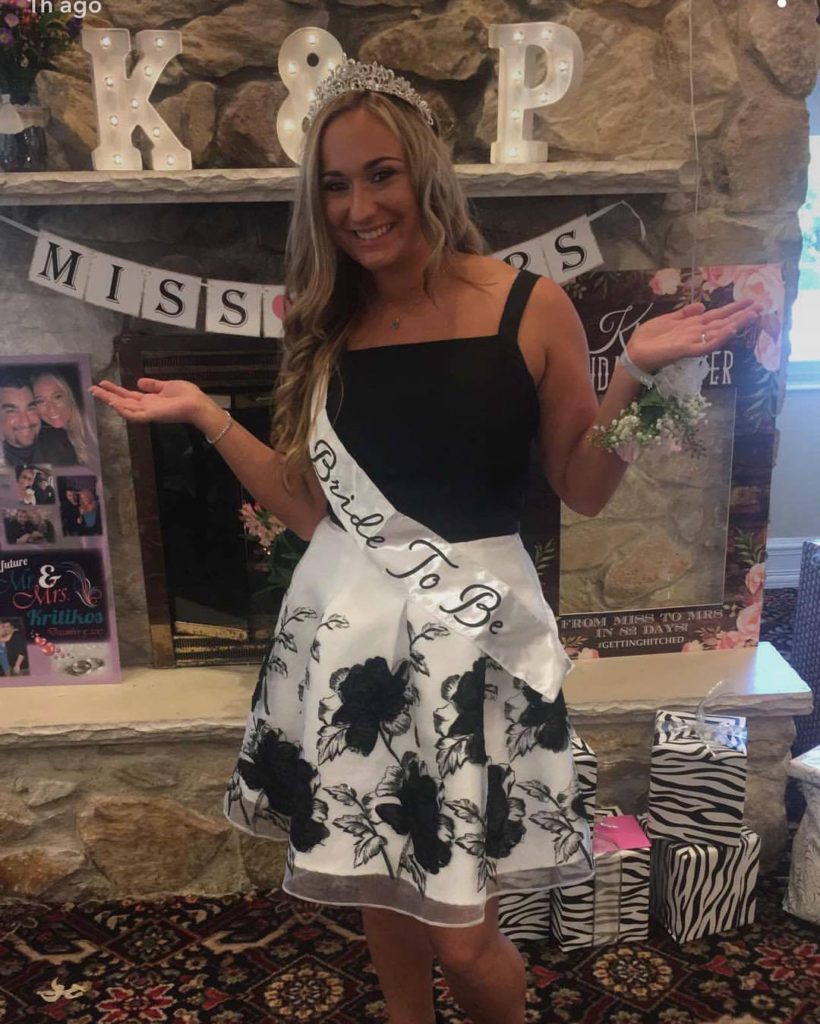 For flowers, I chose to use colored mason jars decorated with burlap and "Bride" stickers.
I then went to the grocery store and purchased mini-mixed bouquets the day before the shower.
These flowers were already cut for a short vase and already had the water bag attached so they kept until the next day.
Also, I didn't have to worry about filling the mason jars when I arrived, I just took off the rubber band holding the water bag and emptied it out into the mason jar.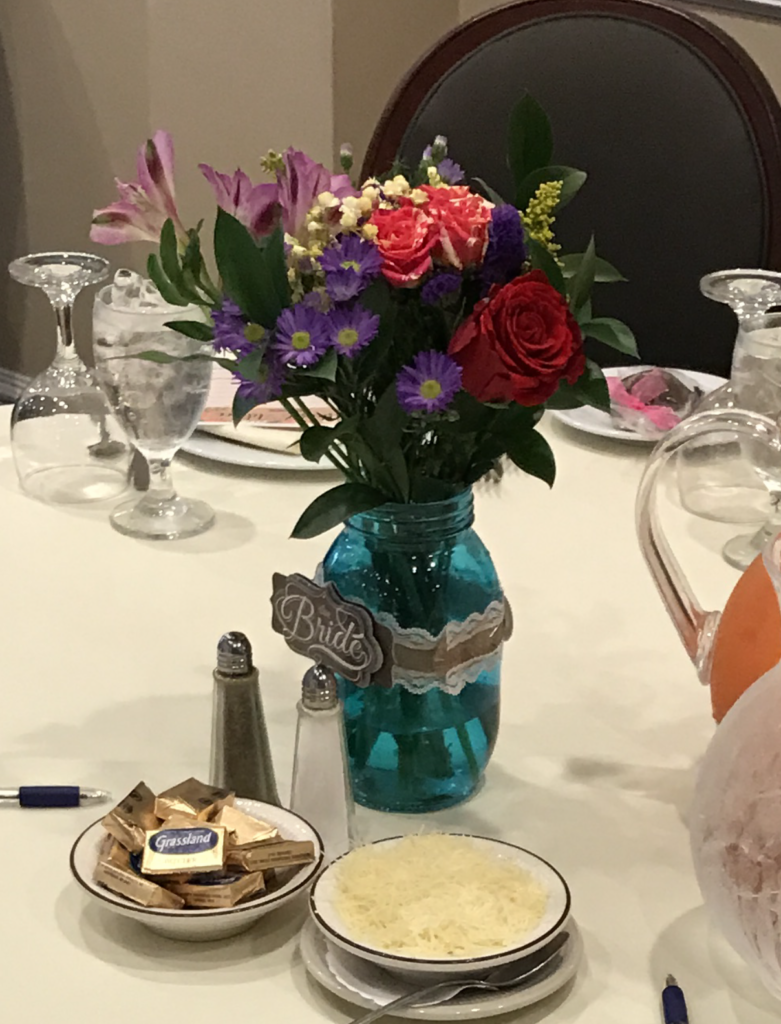 And, I added flowers (again from the grocery store) in a vase in front of the fireplace.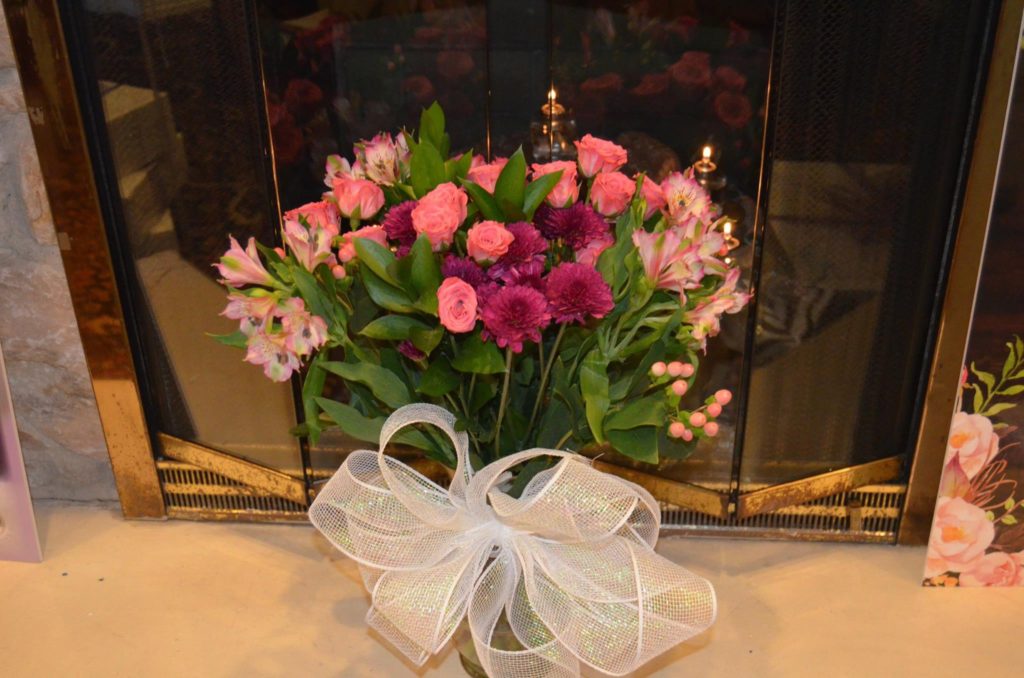 For favors, we chose the pareils and added a sticker to each package – "Kristen & Peter, December 15, 2017" along with a pretty pink ribbon (again in keeping with our color theme).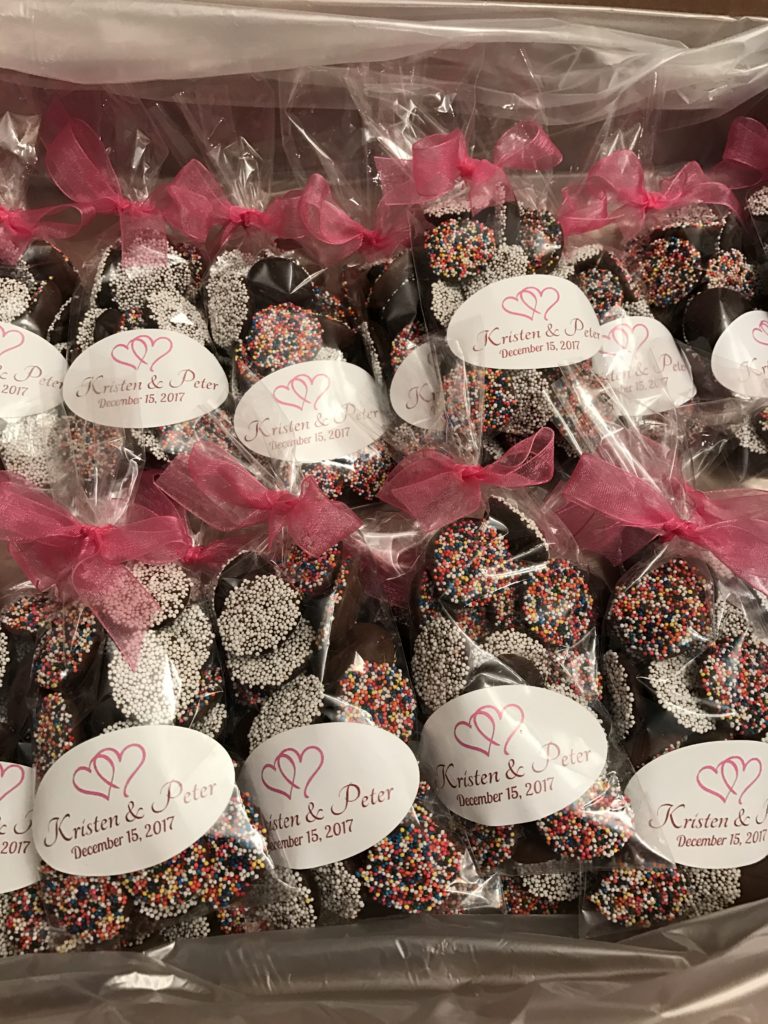 Thinking back, one of the most treasured keepsakes we came away with was the "Wishes & Advice" card placed at each place setting.
Not only did everyone have a great time filling them out…but Kristen and our entire family loved reading all the cards after the shower.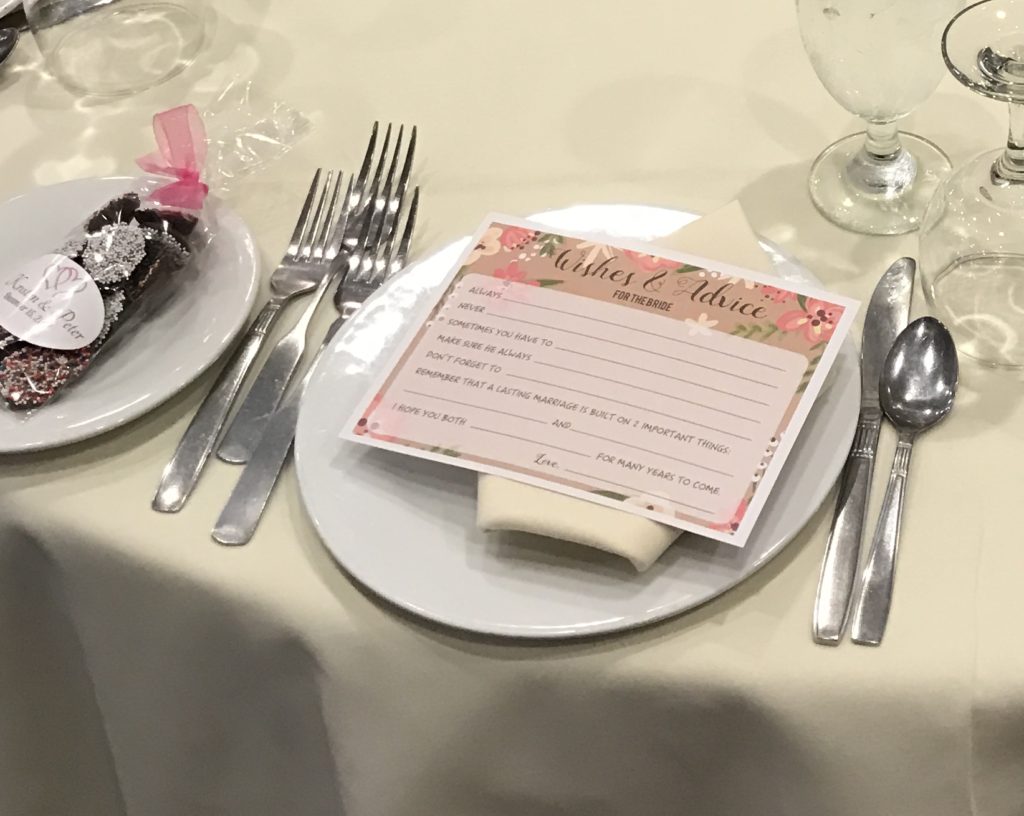 DIY Bridal Shower Printables
Here are some fun Bridal Shower Games you can print out on your home computer. Choose from more elegant-style printable games or the popular Eucalyptus-themed shower games. Five (5) Bridal Shower Games are included in the bundle!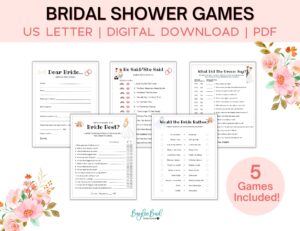 Check Out These Pretty Bridal Shower Games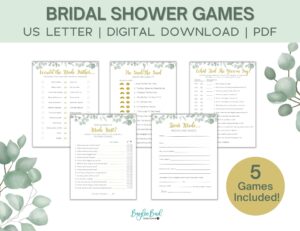 Eucalyptus-Themed Bridal Shower Games
And don't forget the traditional "Ribbon Hat"! Nowadays, brides have the Ribbon Bouquet made at the shower that they use at the wedding rehearsal.
Since Kristen wasn't having a rehearsal the night before the wedding, we opted for the old-fashioned Ribbon Hat. It was so much fun and Kristen was a trooper!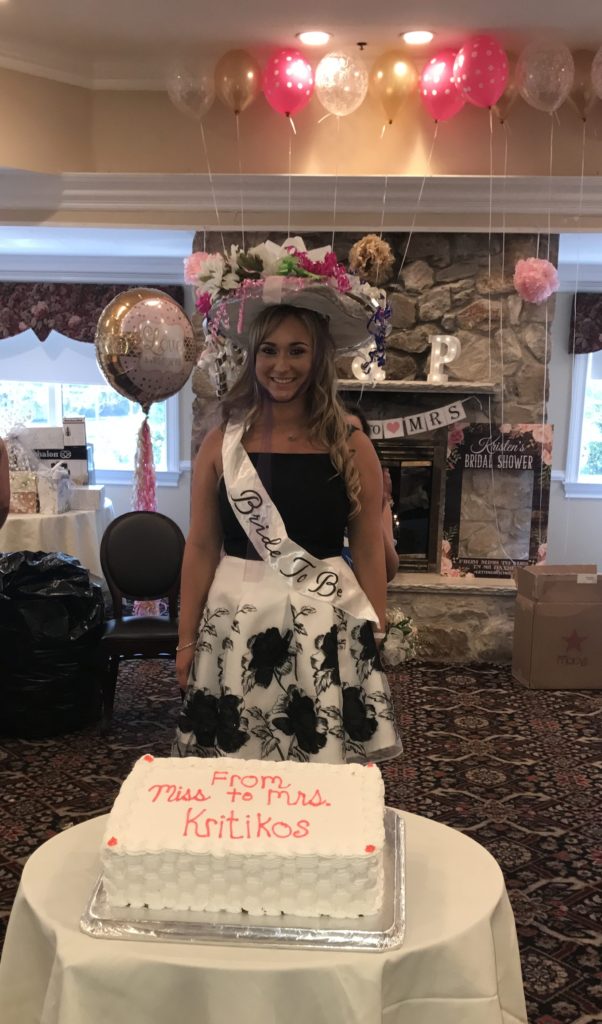 The photo board was also a lot of fun! I had the graphic designer send it to me via email.
I then emailed it to Staples to have printed and laminated. My husband had to cut out the middle though so be prepared to have someone do that!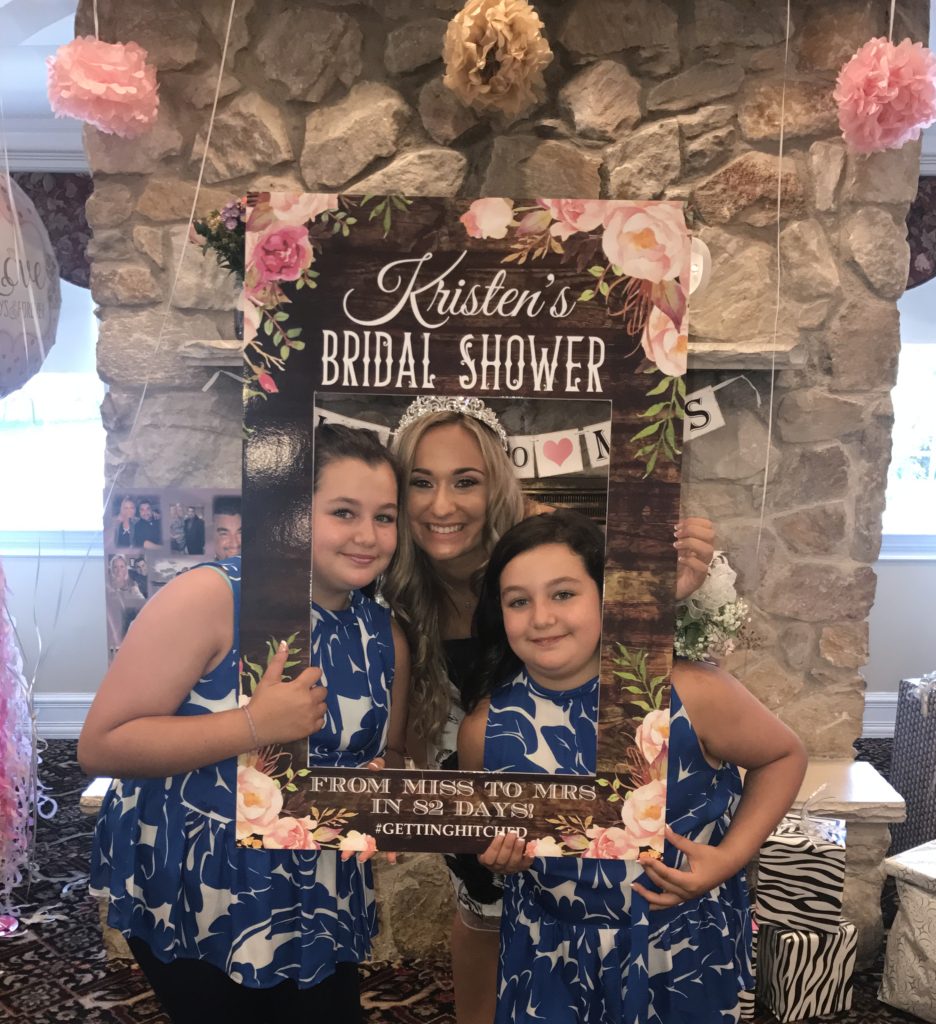 I hope you have as much fun as I did planning my daughter's shower!
Just remember – Don't Be Stressed and…Enjoy Your Day!