Last Updated on April 19, 2023 by Lori
My daughter's wedding was truly amazing. It was amazing not only because we planned it while she was attending college full-time, but on the day of the wedding, everyone was in the right place at the right time! Whew!.
Well…except that unexpected snowstorm which brought six inches of snow just as we were getting into the limo…and the roads were so bad that some of our friends and family missed the ceremony because they were stuck on the expressway for over two hours…but they made it to the reception so all was good!
What You Should Know Before Meeting Your Wedding Florist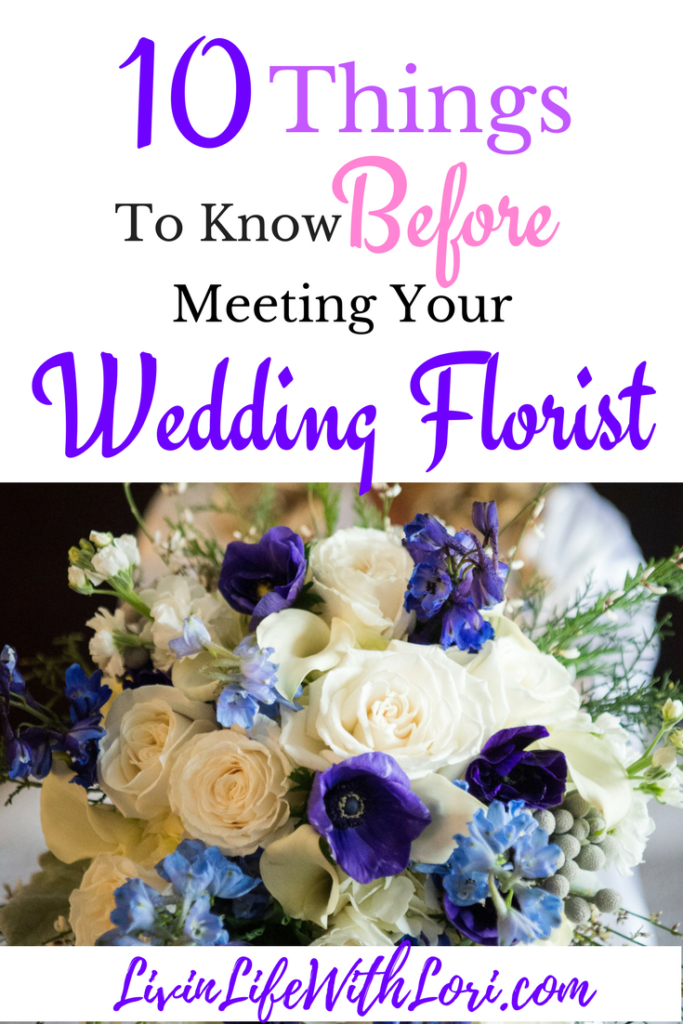 This article may contain affiliate links. Please see our Disclosure Policy for more information.
Aside from the freak snowstorm, people told us that it was the Best Wedding they had ever been to! (Doesn't everyone say that?)
Looking back, the hardest thing for me was setting a realistic budget. Early on, we sat down to carefully plan a budget-cutting out many "extras" that "everyone was doing" but we thought were unnecessary.
However, after all was said and done, I was still shaking my head at all the basic things that were necessary for the wedding!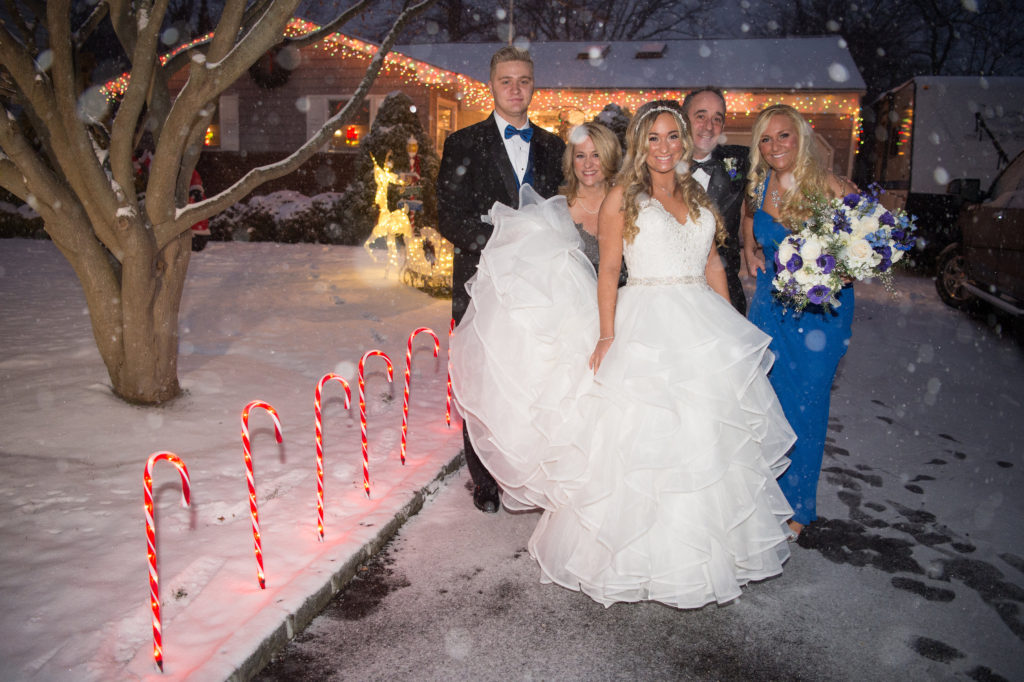 I think the biggest sticker shock came when we went to the flower shop. I did my research, looked at the suggested vendors' websites, and began looking at online reviews before we even made any appointments. After all my research, only one flower shop stood out to me from all the others – The Flower Petaler in Huntington, New York.
My family knows that when I say I "have that feeling" about something or someone – I am usually right. I've learned to trust that feeling over the years and it has never steered me wrong. When I read several online reviews about Meredith, owner of The Flower Petaler, I got that feeling that this was the person we needed to see.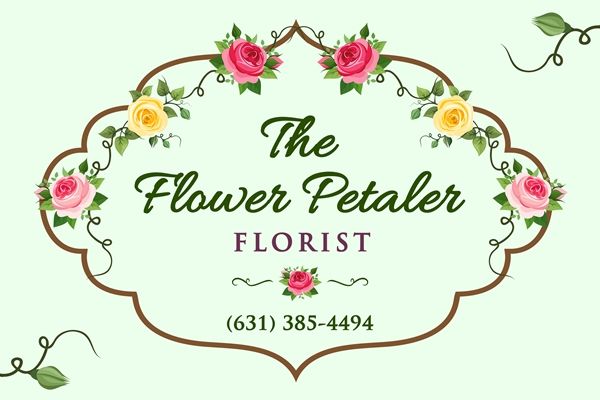 Mind you, I had looked at over 10 flower shop websites, looked at their photos, read their reviews…but this one stood out to me for some reason. I told my daughter we needed to make an appointment with Meredith and then put it on the back burner.
To keep us on a timeline, I purchased this awesome Wedding Planner. This planner is not only beautiful but kept us organized as well. It includes pockets, tabbed sections for timelines, budget worksheets, vendor contact information and checklists for the Wedding Day! And believe me, you check and double check that list because you're so afraid you're going to forget something.
Finally, August came around and we still hadn't made any appointments with flower shops. The wedding was only four months away. I said to my daughter, "Call this flower shop right now – today!" When Meredith answered the phone, she had to ask for the date a second time – "You mean THIS December? 2017?" "Yes," replied my daughter. "Do you have that date open?" she asked. Meredith did, in fact, have that Friday night free. We made an appointment.
By this time, we had our wedding Cake Toppers. As you can see, we added a touch of "Baseball" to the wedding.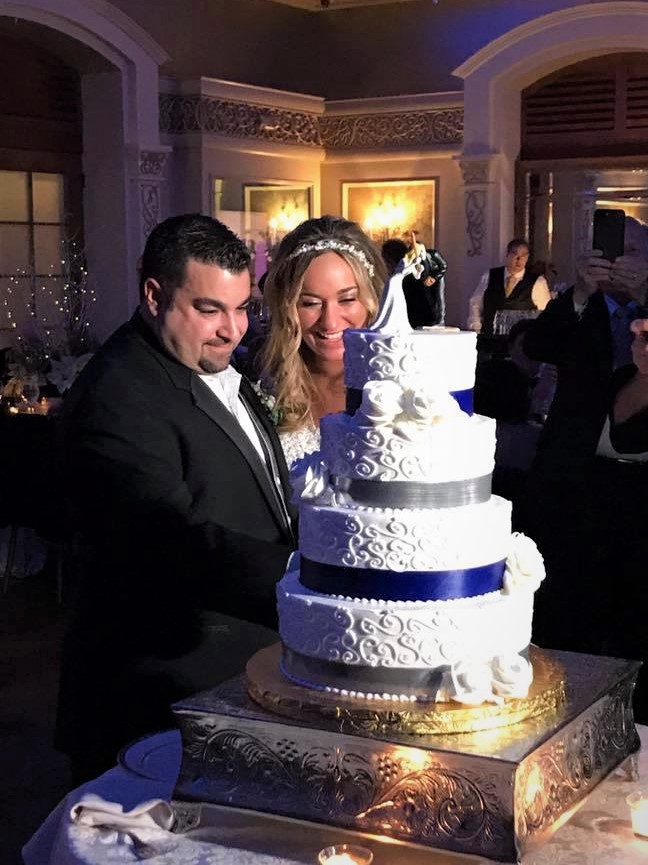 We also had planned our Guest Book and table for the lobby. Using this "home plate" we turned it into a fabulous guest book!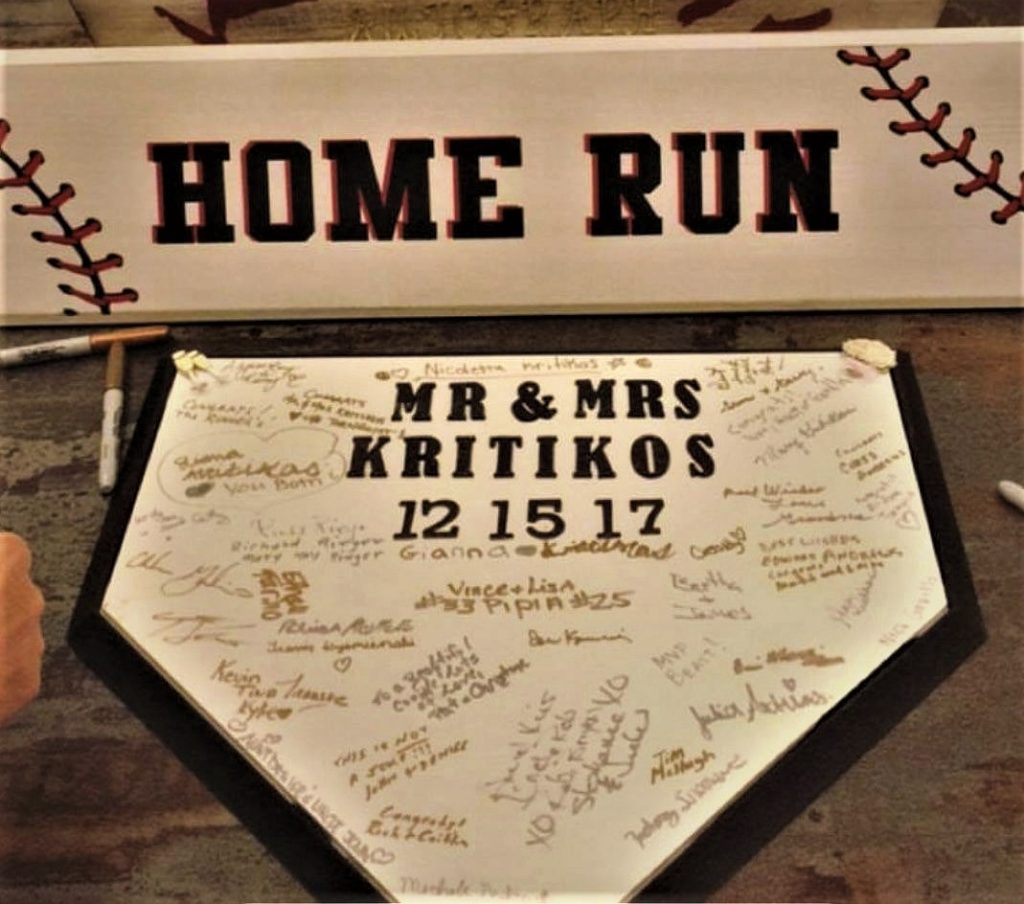 We had the bridal gown, bridesmaids dresses, and tuxes for the groom and groomsmen. Now, all we needed were the flowers!
All along my daughter had been saving photos of flower arrangements. She really wanted the theme to be a "Winter Wonderland" and had photos of these grandiose table arrangements.
Because it was close to Christmas, I saved photos of red flower table arrangements, holiday themes, and red poinsettias. We were on opposite sides of what we wanted but since it was her wedding I gave up my Christmas theme. I really did like the Winter Wonderland theme and was anxious to see Meredith's ideas as well.
Related Reading: Looking for Cute Bridesmaid Gift Ideas? Here are some Cute Bridesmaid Gifts we found that they will LOVE!
The day came and we drove to The Flower Petaler. My daughter showed her all the photos of bridal bouquets and table arrangements she had been saving. We discussed the number of people we expected, whether we wanted tall or short table arrangements, where the ceremony would take place and what kind of flowers were we thinking about for the ceremony.
Meredith also needed to know the number of groomsmen, bridesmaids, mother of the bride, mother of the groom, grandparents, etc. that would be attending. As we continued talking, we began to realize how unprepared we were for our appointment.
Meredith was surprised we didn't have a "vision board" or a "book of flowers" to show her. We didn't have any "favorite" flowers or know exactly what kind of flowers we wanted to use.
My daughter did have some ideas about colors of flowers, but didn't know the names of the flowers and believe it or not the photo of the flowers she showed Meredith she liked for her own bridal bouquet were silk flowers. When we made a joke about how unprepared we were she chuckled and told us that brides book florists a year or more in advance! We felt very lucky she was available.
In the meantime, we had my daughter's bridal shower! If you haven't read my article Cute Decorating Ideas For Your Bridal Shower, please check it out!
I have some DIY ideas as well as cost-effective ideas you can use to decorate not only a restaurant or catering hall but also any backyard or home!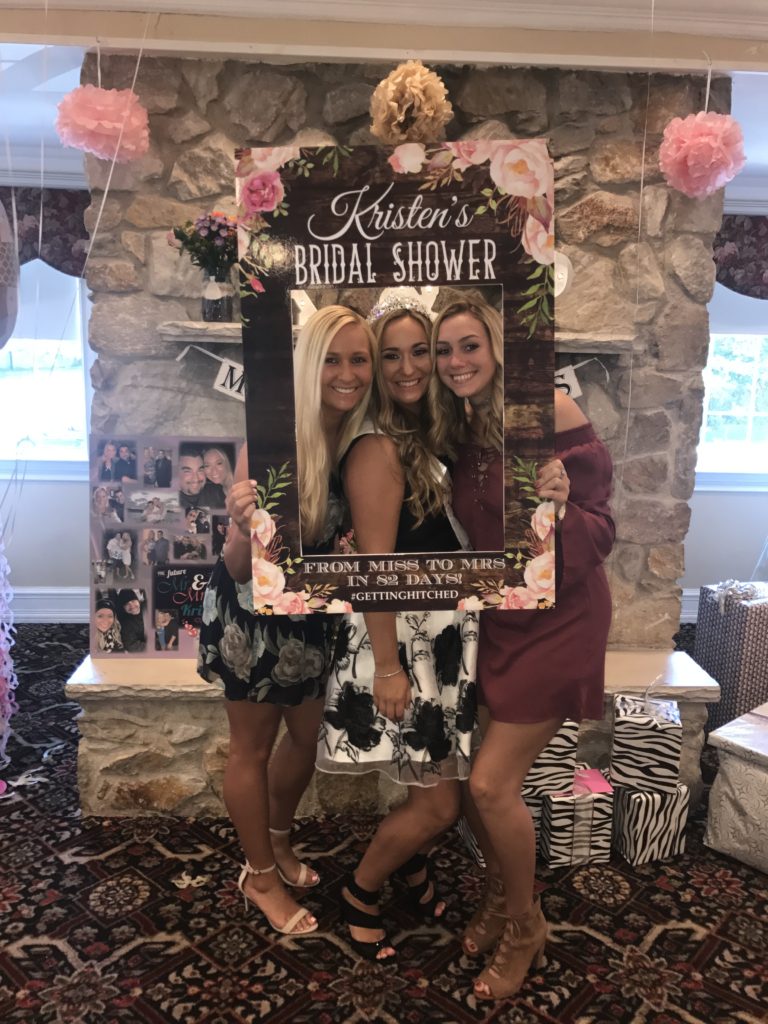 A month later we contacted Meredith again. I told her we hadn't gone to anyone else, that I knew she was the one to create our flowers for the wedding. I also asked her if she had done anything with white poinsettias. I kept having this vision of white poinsettias that guests could take home.
She said she hadn't done anything like that but she would research possibilities. We met again in October. I still had full faith in Meredith because, you know, I had this "feeling…"
It was time for our next appointment. We walked in a little nervous because, after all, it was now October and we were still just going on my "feeling" I had that Meredith was the right person. I have to say…we were not disappointed. It was perfect. It was magical. But most importantly, it was within the budget!
She had incorporated the idea for White Poinsettias perfectly!
Meredith used my idea of White Poinsettias along with lighted white birch branches to create the "Winter Wonderland". The arrangement was made with five white poinsettias which were handed out to the guests to take home. Some guests took the entire arrangement home!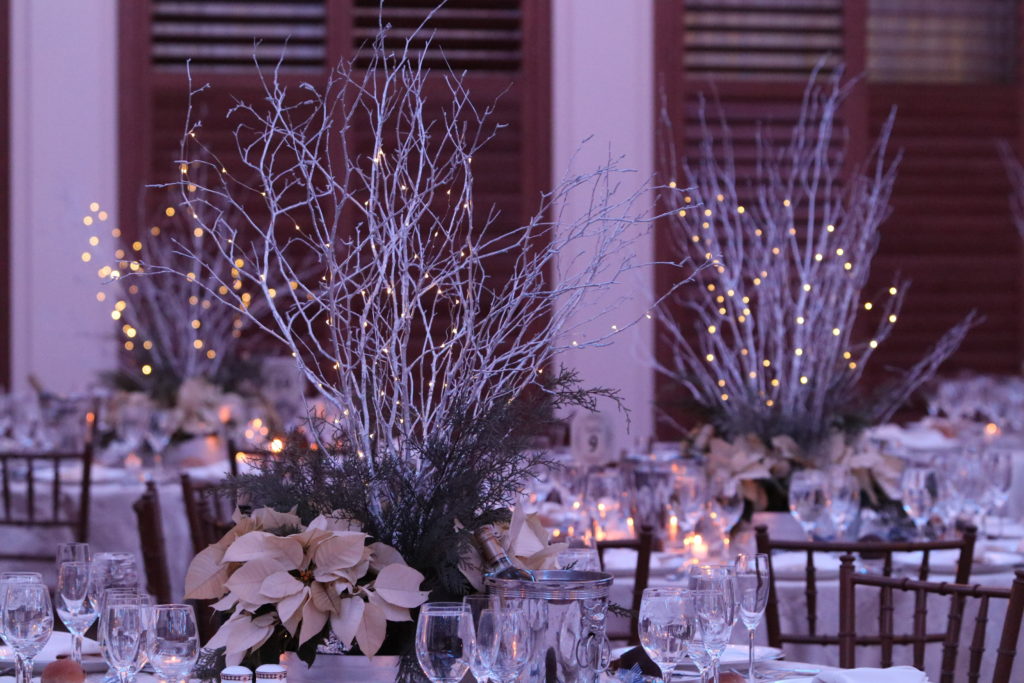 The reception room looked beautiful lit up with the Lighted Birch Branches.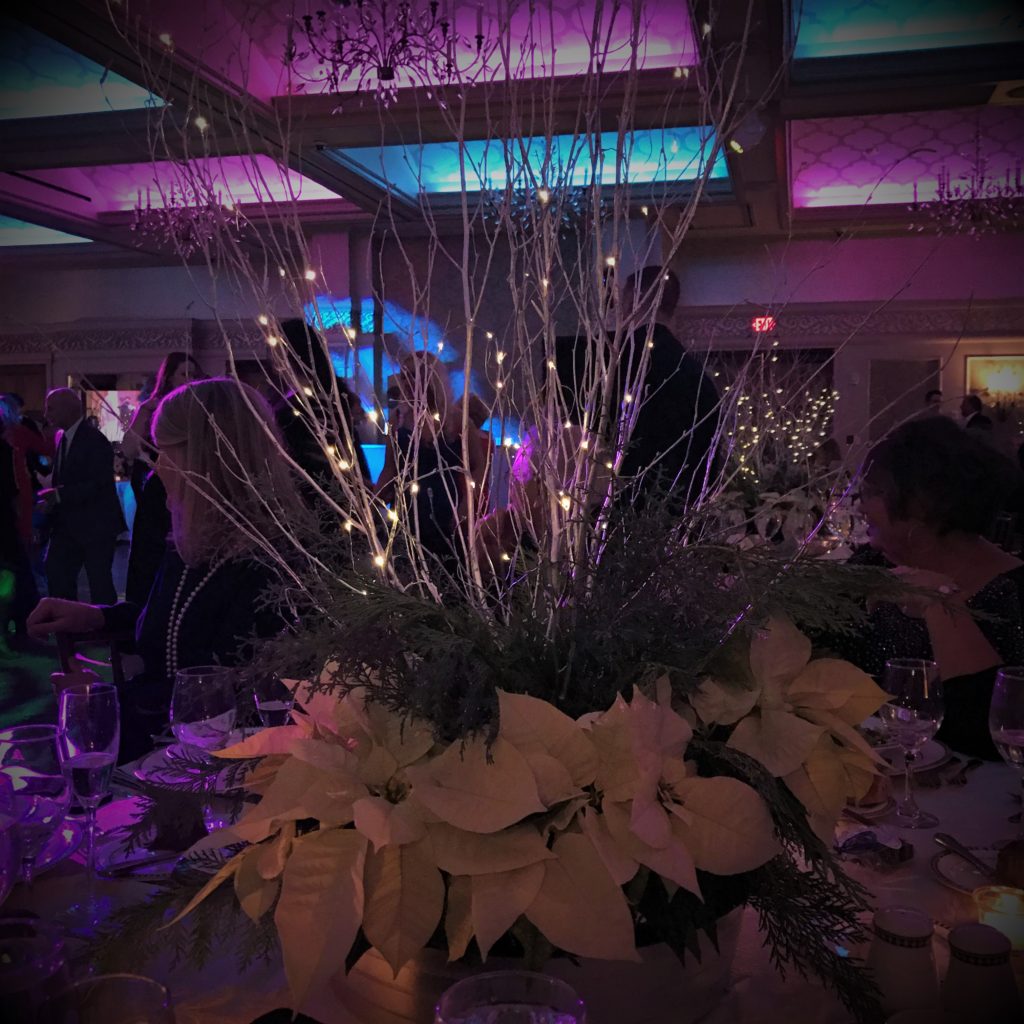 The Bridal Bouquet and Bridesmaids' bouquets were made with calla lilies, white roses, dusty miller, greenery, blue anemone and blue delphiniums.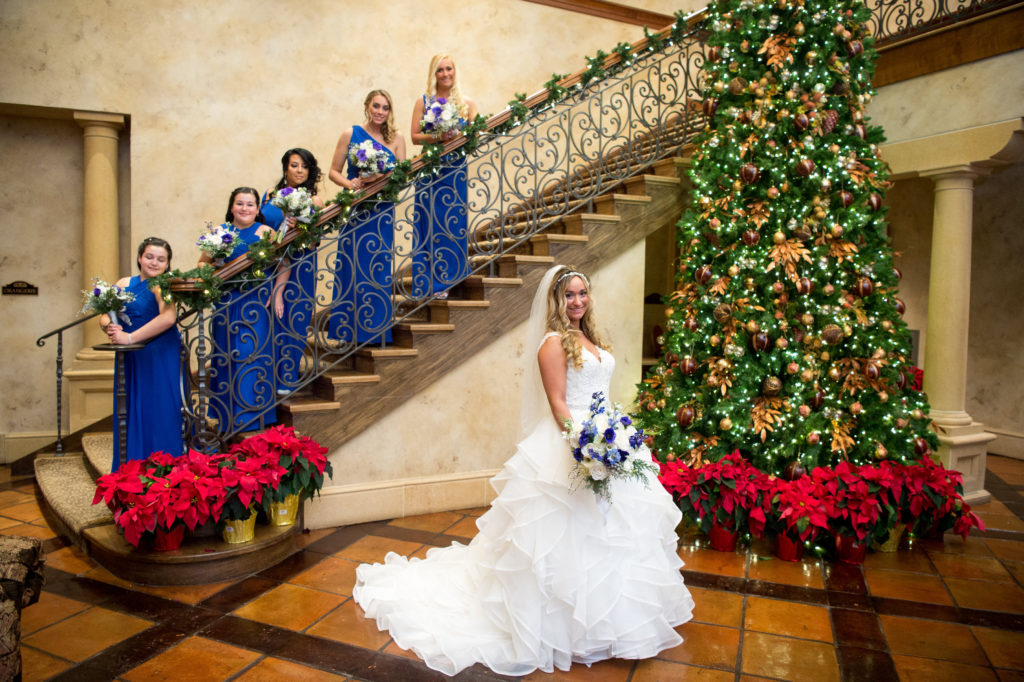 The flowers for the bridesmaids went perfectly with the color of their dresses.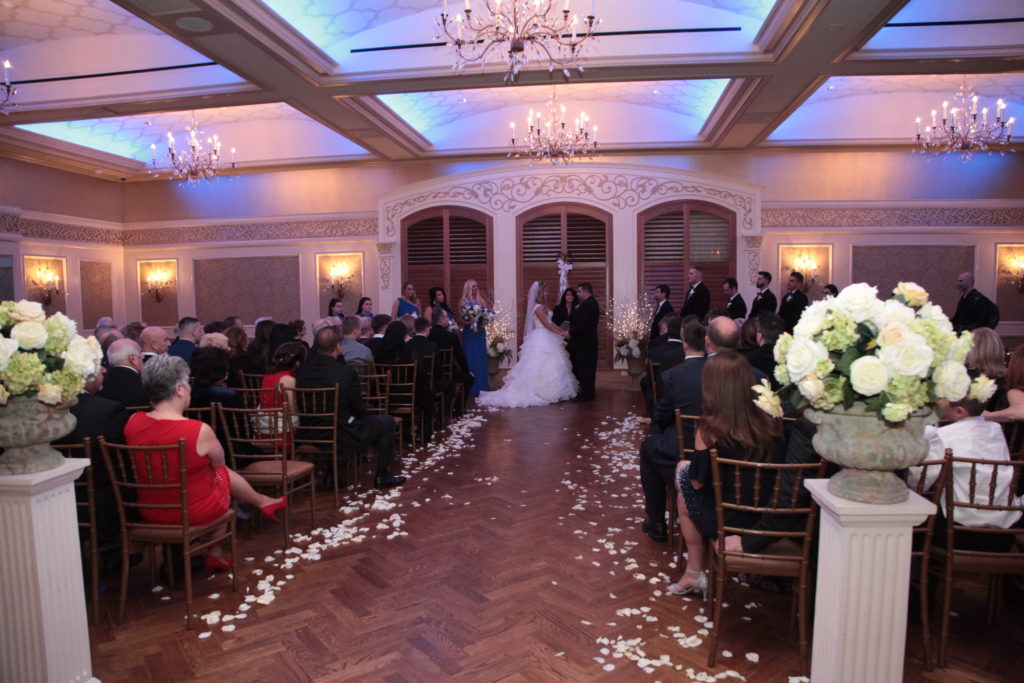 The arrangements in the front were then moved to behind the sweetheart table at the reception.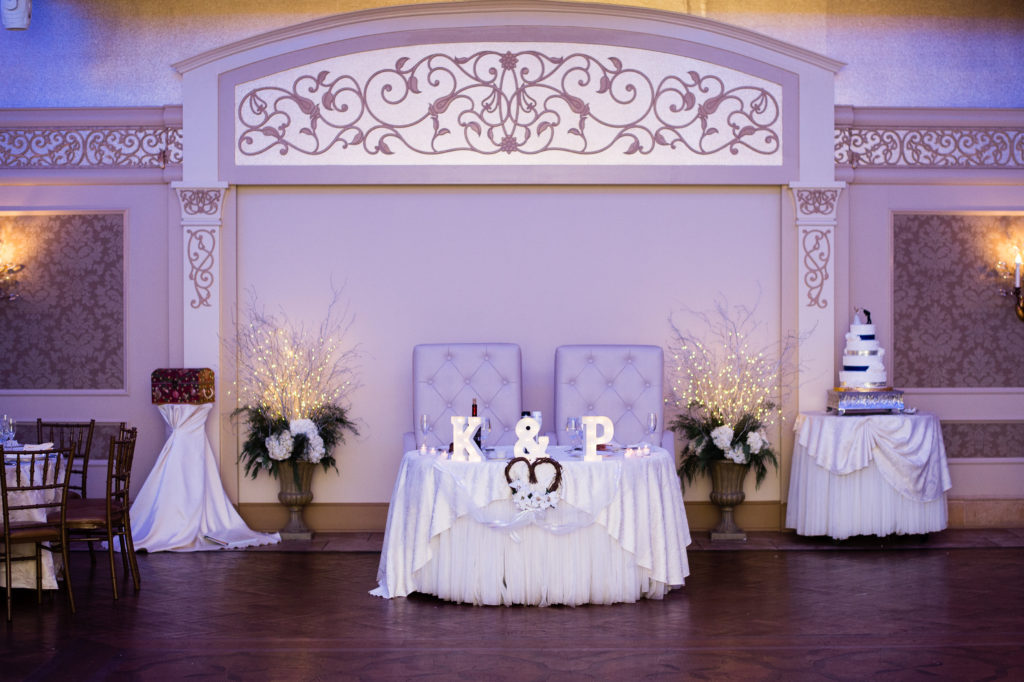 Thank goodness we found the RIGHT florist who was able to take our vague vision and turned it into a beautiful wedding.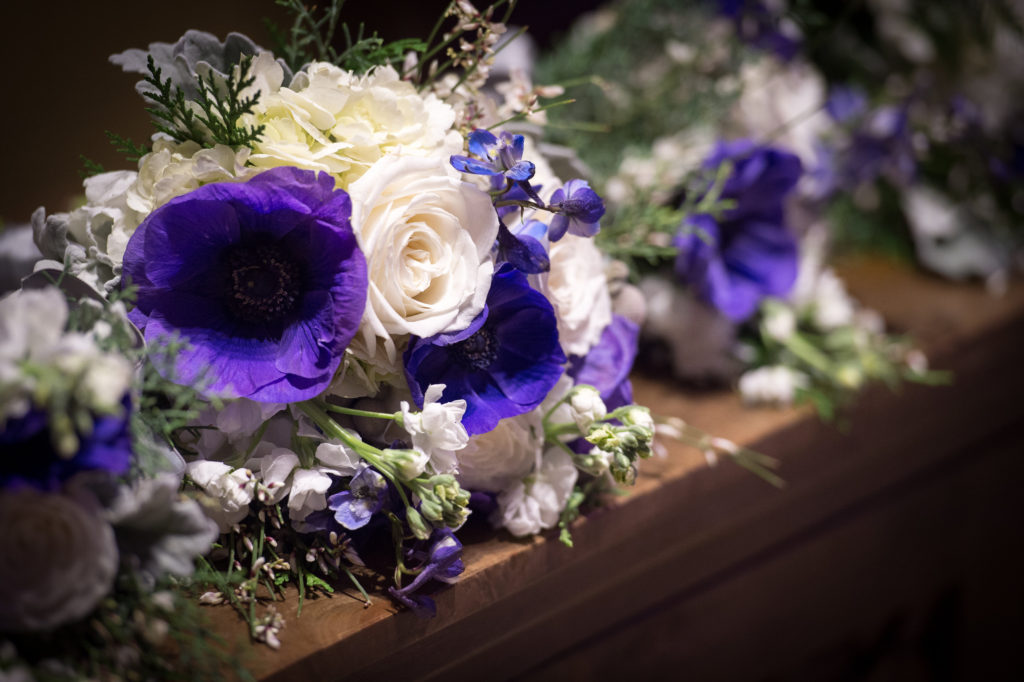 I don't want you to be unprepared like we were when you meet potential wedding florists, so I've put together the following list of tips to help you before your meeting.
If you know the answers to these things before your meeting, you will be able to express your vision to the florist and you too can have the Wedding Flowers you've always dreamed of!
10 Tips To Help You Be Prepared For Your Meeting With the Wedding Florist
1. Have an idea of your Budget. The Rule of Thumb is 8-10% of your entire wedding budget is spent on your wedding flowers. While this is just an overall idea of a budget, you can make the budget either higher or lower depending on your vision for your wedding.
2. Make a List of the People in Your Wedding Party and others who will be getting a corsage/boutonniere. The list should include your Maid of Honor, Bridesmaids, Junior Bridesmaids, Flower Girl, Groom, Groomsmen, Ring Bearer, Ushers, etc. plus Mothers, Grandmothers, Great-Grandmothers, Aunts, Favorite Aunts, Fathers, Grandfathers, Uncles, Great Uncles, etc.
3. Choose the Colors of your wedding. It's best to have chosen your bridesmaid's gowns or at least know the color of the gowns and know what color the groom and groomsmen will be wearing. Bring photos of each. Also, bring a photo of your bridal gown. This gives the florist an idea of your taste and style (i.e. is your gown formal? informal? have a lot of lace? strapless? mermaid? ball gown?)
4. Bring Photos of your Favorite Flowers that you have cut out of magazines or from Pinterest. This includes bridal bouquets, ceremony flowers, reception flowers, and centerpieces to give the florist an idea of your vision.
5. Have a List of Flowers that you Love and/or Don't Really Care For. If you LOVE tulips but your wedding is in December, be prepared for the florist to tell you he/she might not be able to get them for your wedding or that tulips will be very expensive that time of year. On the other hand, if you do not want Hydrangeas in your centerpieces or at the ceremony, let your florist know that as well. If your favorite flower is not in season or will be costly to have at the wedding, discuss alternatives that can be used in the same color. Many flowers can be substituted for your favorite that will be just beautiful.
6. Have a ballpark idea of the Number of People that will be attending. This will give the florist an idea of the number of table arrangements you will need. Also, if you have a floor plan from the catering facility, bring that with you. If the florist is unfamiliar with your location, he/she can get a feel for how the room looks and where flowers can be used from the ceremony (if you wish).
If having all tall centerpieces is not in your budget, ask if you can split the arrangements into having some tall arrangements and some shorter arrangements; or, perhaps some short arrangements and some with candles. The possibilities are endless!
7. In addition to the reception flowers, do you have ideas about the types of flower arrangements for the Ceremony? Do you want flowers on the pews or chairs leading down the aisle? At the altar or in front of the room? Are you thinking about hurricane lamps down the aisle? What about flower petals down the aisle if you don't have a Flower Girl? Sometimes the flowers from the ceremony can be re-purposed for the reception too! They can be placed behind the sweetheart table or around the room.
8. Will the Guests Want to take Home the Centerpiece? If you are using the tall centerpiece arrangements, most likely your florist will be there at the end of the evening to retrieve the tall vases. If the vases are taken by the guests, there will be a charge to you from the florist. Most of the time, the florist will make the arrangement so that the flowers themselves can be taken home – just not the tall vase.
For our arrangements, our florist made it a "pull-apart" so that guests could take one of the five poinsettias home. Some even took the entire arrangements including the lighted branches – which was fine!
9. Your florist will provide a Written Estimate for the flowers you discuss. Take a look at everything he/she will be providing. Make sure the description includes which flowers will be provided in the bouquets, ceremony, and reception and that the estimate does not just say "reception flowers." If the estimate is not within your budget, discuss some alternative flowers that can be used.
10. Bridal Bouquet. The most photographed flower will be your wedding bouquet. The one flower arrangement that you do not want to skimp on is your bouquet!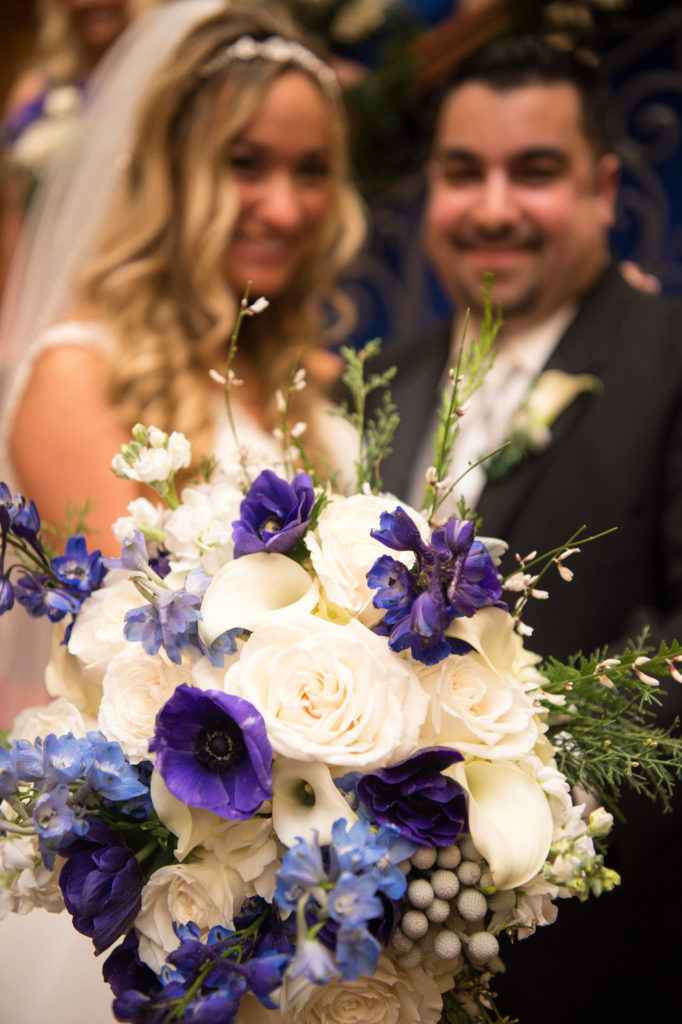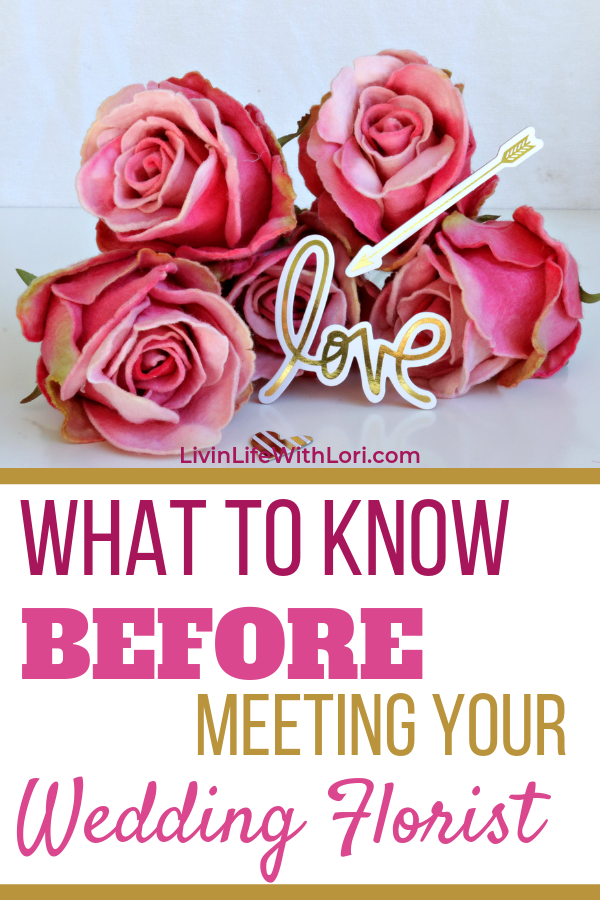 This review is based on my family's experiences. We did not receive any compensation for this review.
Knowing These 10 Things Before Meeting Your Wedding Florist will help make your wedding planning easier and you'll be on your way to the Perfect Wedding!