Last Updated on October 28, 2021 by Lori
Are you looking for a gift for a dog lover? Here are 25 Perfect Gift Ideas for Dog Lovers in your life! These gift ideas make the perfect gift for your favorite dog or dog lover any time of year!
This post contains some affiliate links for your convenience (which means if you make a purchase after clicking a link I will earn a small commission but it won't cost you a penny more)! Please read our Disclosure Policy for more information.
Gifts for Dog Lovers
We love our Golden Retriever, Buddy. If you regularly follow me, you know that we travel with Buddy in our travel trailer whenever we go camping.
I decided to put together a Gift Guide for Dog Owners with some of the items that Buddy loves or that my mom's dog (also named Buddy – can you believe it?) loves!
In fact, you see our Golden Retriever, Buddy using some of the products in this list in the feature photo and in a photo later on the page.
So now…
Here are my Top Picks of 25 Perfect Gifts that ANY Dog Lover wants
This is the Christmas sweater my mom's dog has. He is a Yorkie/Chihuahua mix. He looks adorable in his Christmas sweater!
This Kong Wobbler is one of my Golden Retriever's favorite toys and keeps him busy for quite a long time! He figured out pretty quickly how to get the treats out but that doesn't stop him from getting excited every time he sees it being filled!
Our Golden also loves his Wubba! He will toss and play tug with it forever!
Looking for a holiday sweater for your furbaby? This one is so cute!
iFetch Too! Interactive Ball Launcher For Dogs!
Interactive, automatic tennis ball launcher lets big dogs play fetch to their hearts' content. Also comes in "small dog" version!
Best Dog Dad & Best Dog Mom Mugs (set)
All You Need Is Love and a Dog Pillow
We love this outdoor Pet Cot. We take it camping and Buddy loves to lay on it by the fire!
We have two of these travel crates that we take camping with us! One for the truck and one for the camper. They are so easy to fold up and are very lightweight!
Indoor Outdoor Soft Travel Crate
We love this Door Mat Too! We have it at the entrance to our travel trailer!
Here's a photo of our Golden Retriever Buddy on his pet cot, in his travel crate & our Welcome Mat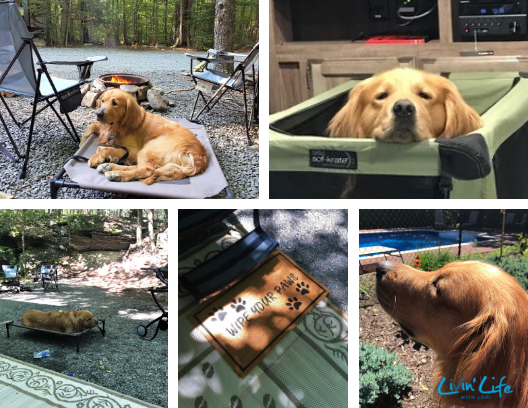 This is one of Buddy's favorite squeaky toy. We call him Moose! All we have to say is, "Go get Moose!" and Buddy runs to get it. It's also one of the toys that Buddy has never torn up!
This travel water bottle fits into the car/truck cup holder!
Easily Carries Pet Toys, Kibble, Treats – Built-in Poop Bag Dispenser – 3 Ways to Wear
This is a fun toy! Buddy loves to try to figure out how to get the squirrels out.
ZippyPaws Woodland Friends Burrow, Interactive Squeaky Hide and Seek Plush Dog Toy
Dog Camera: Treat Tossing, Full HD Wifi Pet Camera and 2-Way Audio, Designed for Dogs, Compatible with Alexa
Interactive Dog Toy – Keep them Busy For Hours!
Interactive toys are great to keep dogs occupied. We have this toy too!
I hope these cute ideas are what you are looking for! Buddy loves them and I know your furbaby will too!