Last Updated on June 9, 2020 by Lori
One of my family's favorite RV campgrounds is Sleepy Hollow Campgrounds located in Phonecia, NY. The campground is situated alongside the Esopus Creek and has a beautiful 360-degree view of the Catskill Mountains.
This beautiful family-owned campground is only 3.5 hours away from New York City and is an easy drive pulling our travel trailer. Trust me…you too will want to return to Sleepy Hollow Campgrounds year after year to relax, sit by the campfire and listen to the sounds of the creek rushing by!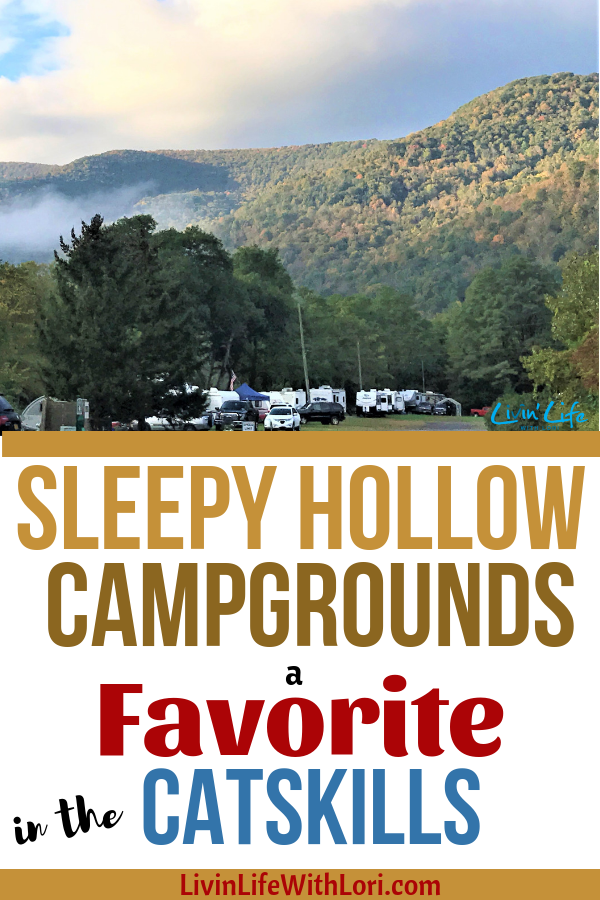 This post contains some affiliate links for your convenience (which means if you make a purchase after clicking a link I will earn a small commission at no additional cost to you). Please read my Disclosure Policy for more information.
Camping in the Catskills – Sleepy Hollow Campgrounds
As you sit by the campfire at Sleepy Hollow Campgrounds, you can hear the rushing sounds of the Esopus Creek while being surrounded by the beauty of the Catskill Mountains.
There's just something about camping that is so relaxing…staring into the fire…watching the hawk dive down to get a fish…watching the bats come out at night…Ahhhhh…it is truly peaceful.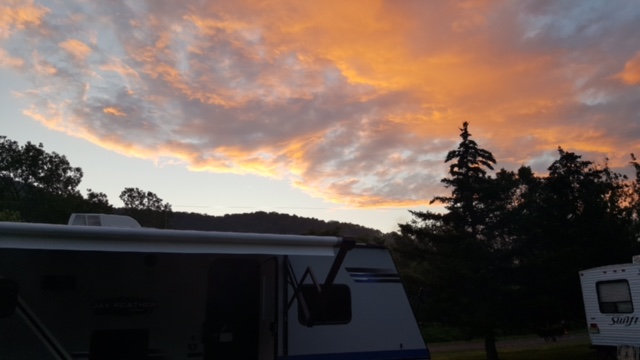 We visited Sleepy Hollow Campgrounds three times during the first summer we had our travel trailer. Each time, we camped in a different area of the campground, but all were amazing sites along the Esopus Creek.
The campground is family owned and Wyatt came to our campsite to help direct us into our parallel site along the creek. The site was perfect!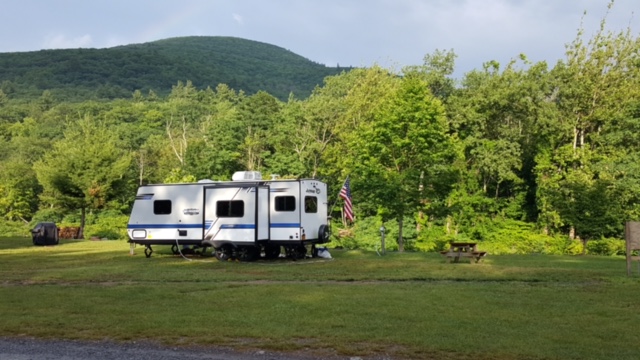 My husband was in heaven. He sat his chair facing the creek the entire day! Wyatt delivered our firewood to the site and we were set for the night! Buddy was by my husband's side (of course).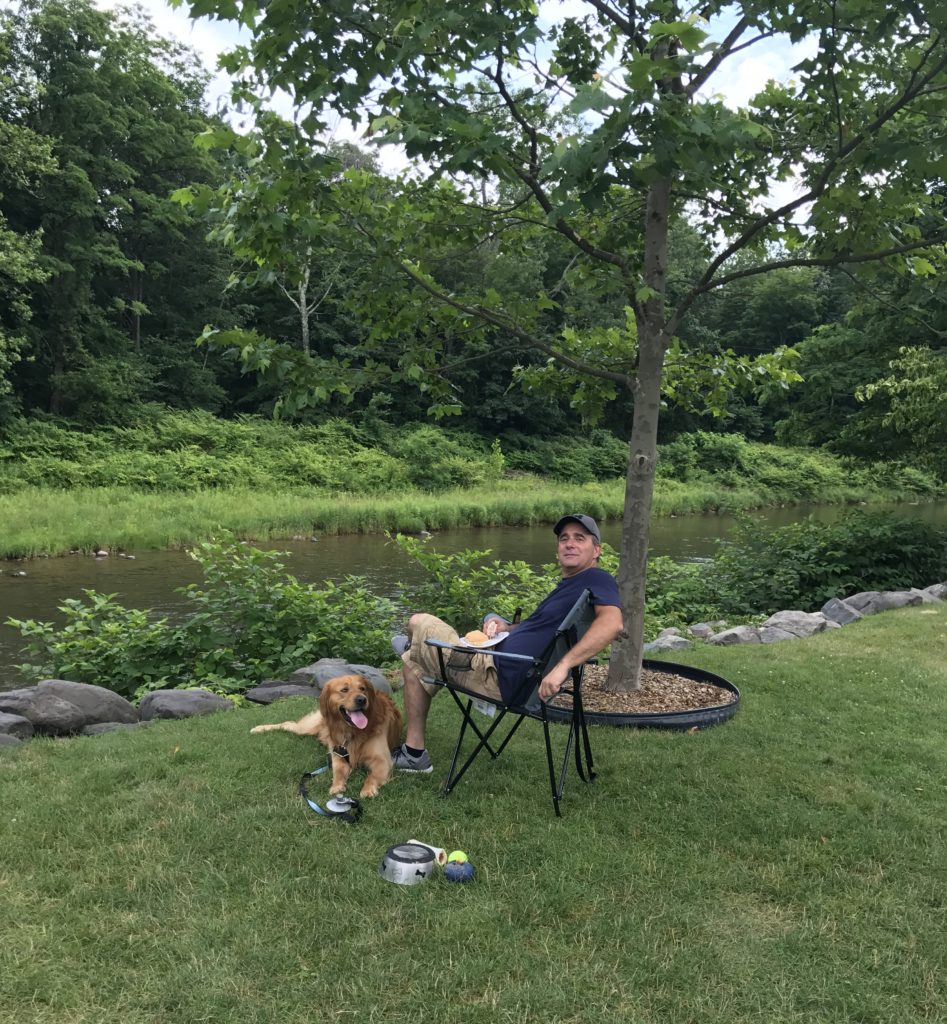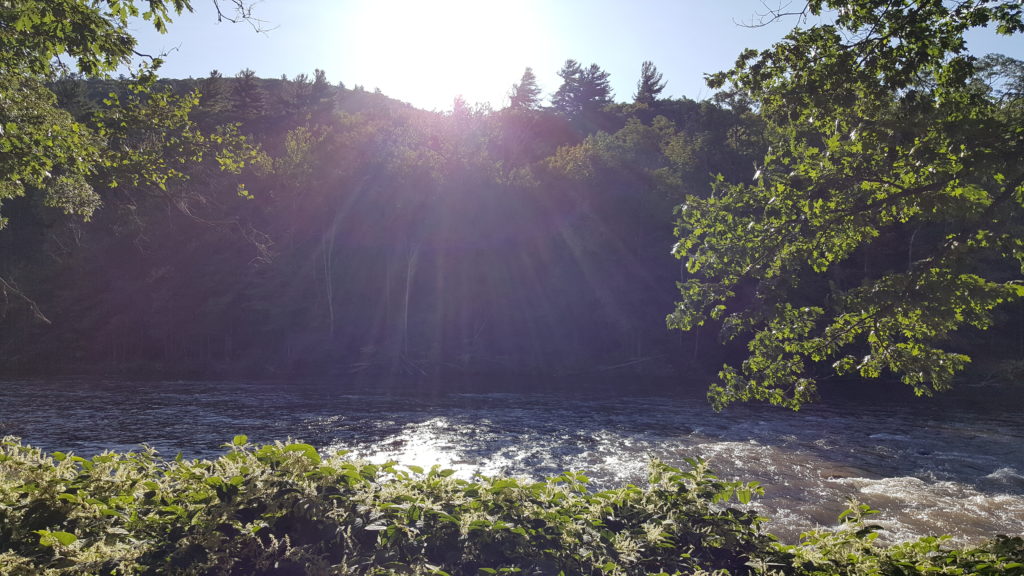 Esopus Creek is known in New York State for its kayaking and tubing. It's considered a Class II whitewater which means 1-3 ft waves and rapids.
It is definitely not a "lazy river" to tube down. The creek is part of the New York City watershed and is used to transfer water from the Schoharie Reservoir to the Ashokan Reservoir by way of the Shandaken Tunnel and Allaben Portal.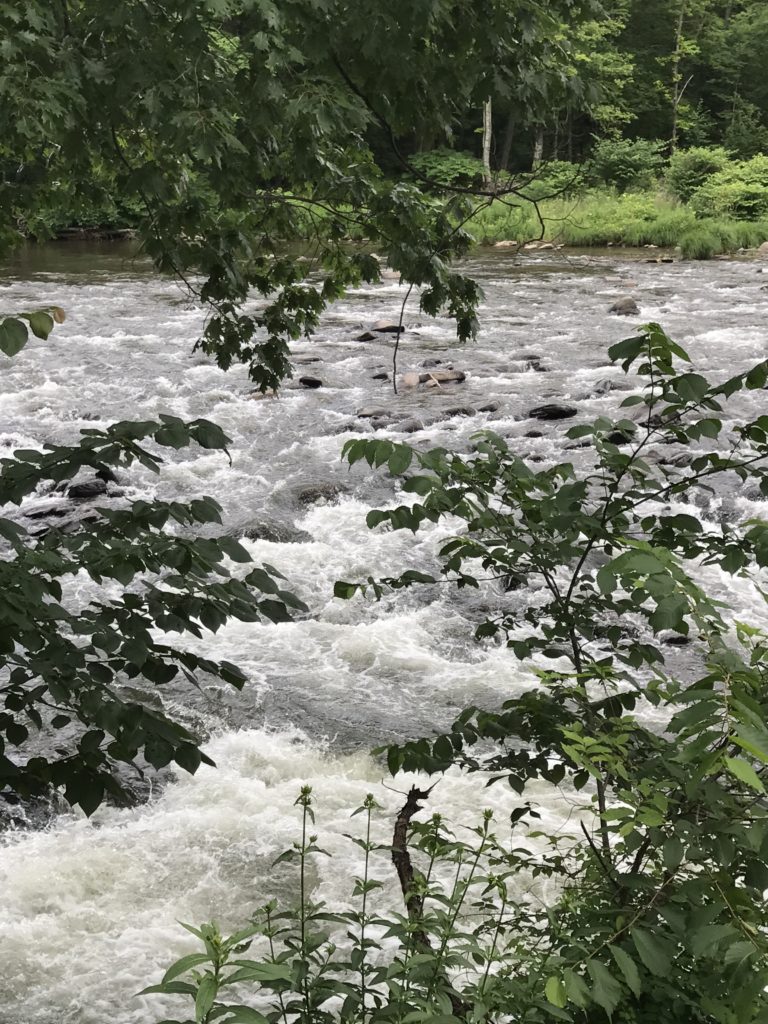 Twice when we were there, we experienced what they call "White Water Release Dates" when the reservoir is opened which makes the creek even higher and faster for tubers and kayakers!
We woke up one morning saying to ourselves "What's that noise?" It was the rushing of the creek which had risen several feet overnight!
The release dates are made public and that day we enjoyed watching guided tours of kayakers going by on the creek! It was so exciting!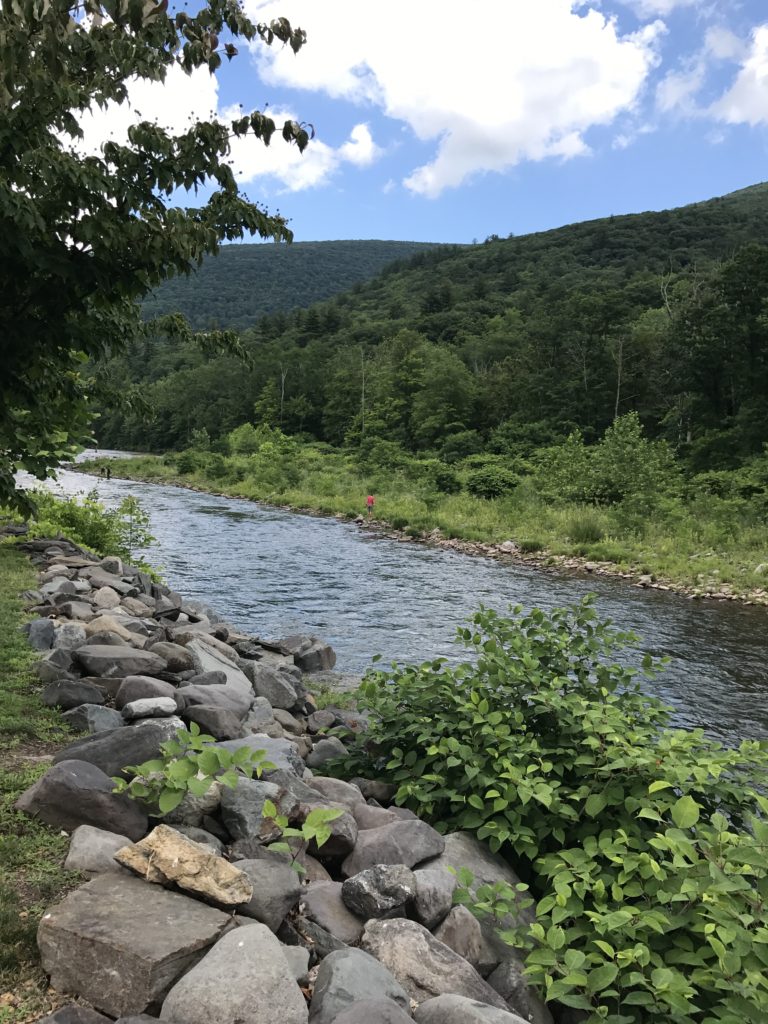 Best Things To Do At Sleepy Hollow Campgrounds
Sleepy Hollow Campgrounds may not be a good fit for every family. There isn't a children's coordinator or even planned activities for children; however, there is tetherball (yes I had to teach my kids how to play – but they LOVED it!), a horseshoe pit, a large area for kids to play ball and run around, a place to ride their bicycles (they must wear a helmet) and plenty of fishing!
The Good Humor Truck even drives through the campground and let me tell you…there weren't just little kids running for the truck…Everyone Loves the Good Humor Man!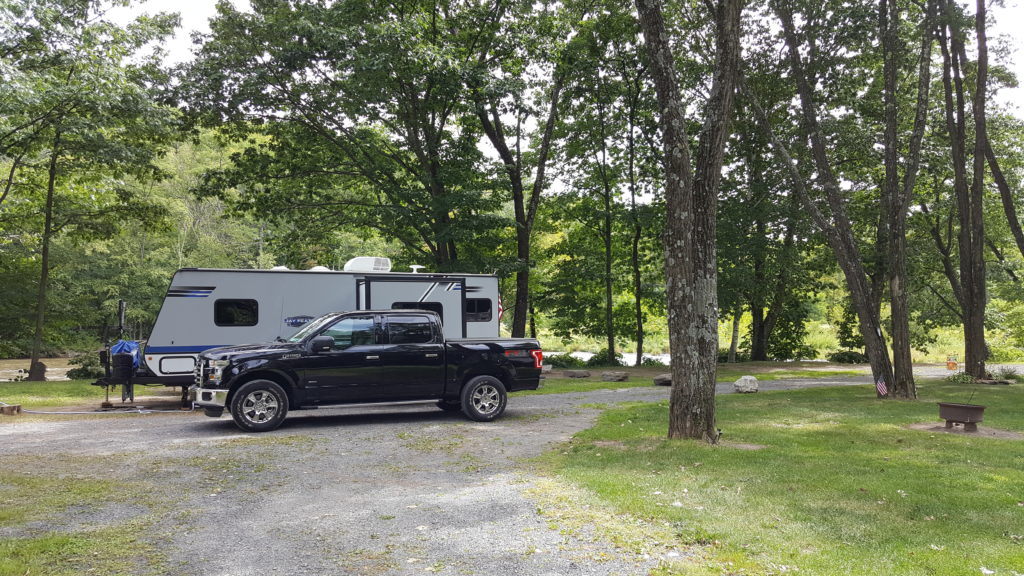 This is the second site we stayed at Sleepy Hollow – #26. This was a little closer to the office area and horseshoe area or "meadow area".
You could really hear the rush of the creek in this area when the reservoir had one of its release dates! Many of the sites are seasonal campers.
It was really sad to be camping on the final day of the year…the seasonals had pulled out and the campground was almost empty as the season came to a close.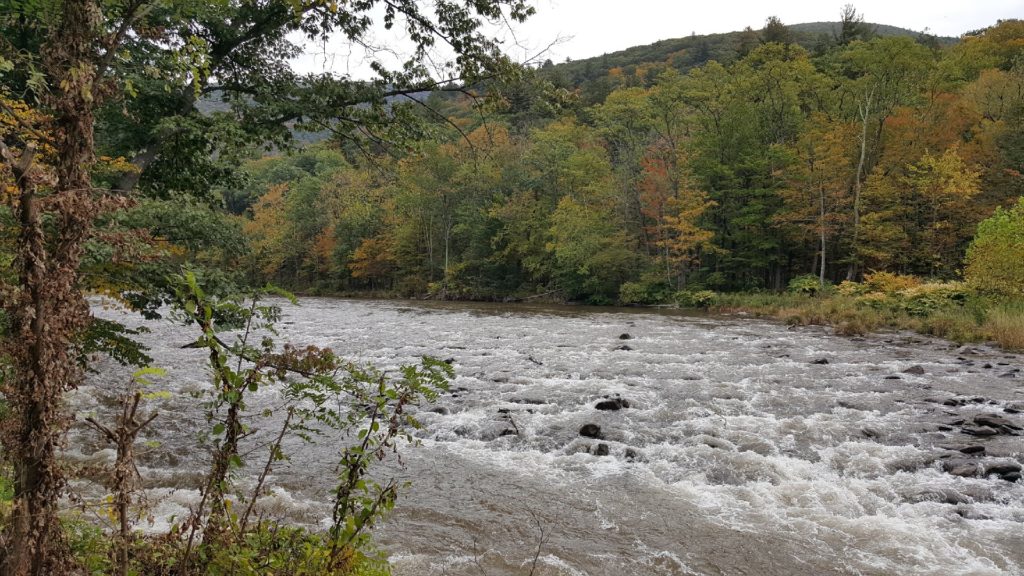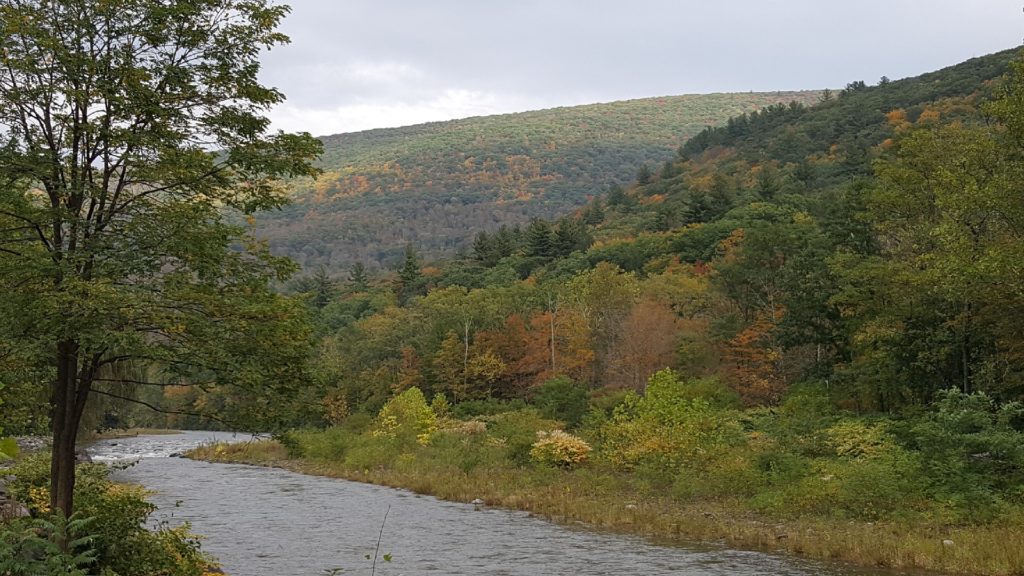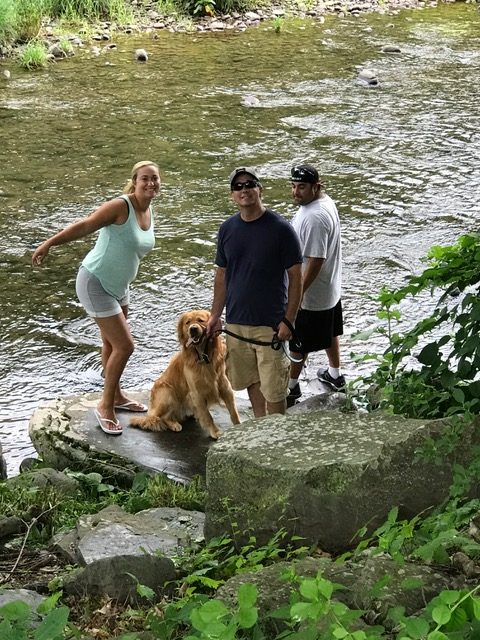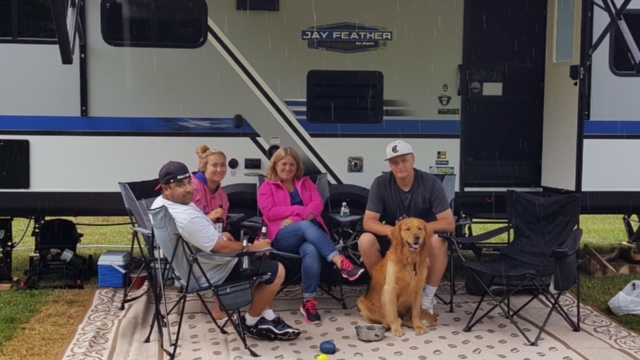 As one of the first places we ever took our travel trailer, Sleepy Hollow Campgrounds will always be a special place to us. We are already looking forward to returning next year!
Updated Review of Sleepy Hollow Campgrounds
Sleepy Hollow Campgrounds was, of course, our first campground to start our 2018 camping season! We stayed at Sleepy Hollow three times this year too!
This is a different site at the campground – #68.
This particular site has grey water which was an added bonus! Wifi is also strong in this location – but it wasn't near the Esopus Creek so you couldn't hear the sounds of the creek at night like we love to hear.
This site is also very shady which is nice AND it has lots of room in the front of the site which is good for games. However, we missed seeing the mountains!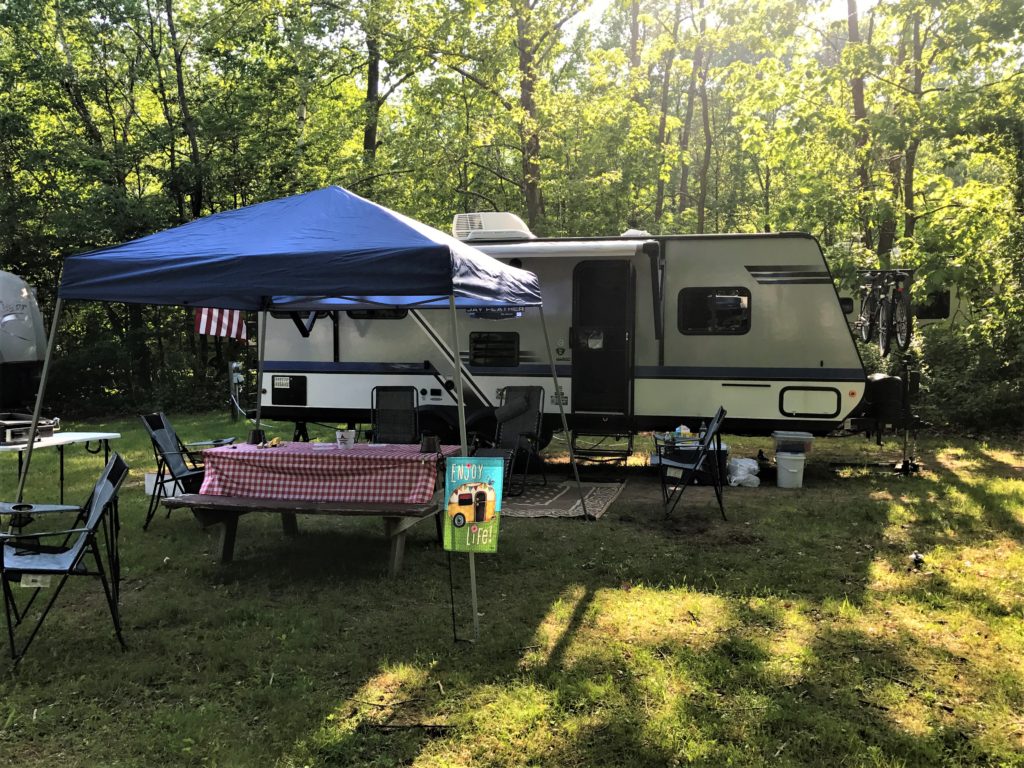 We returned on Labor Day – back to our very first campsite #13 which is back beside the Esopus Creek and the view of the mountains.
Our daughter and friend joined us this weekend so we pitched a tent on the site. There was plenty of room and they LOVED sleeping in the tent hearing the creek all night long.
As we had done the previous year, we closed out our 2018 camping season at Sleepy Hollow Campgrounds. Columbus Day weekend is the final day the campground is open and it's always sad watching all the seasonals pack up and leave.
Although we are not seasonals (there is a LONG waiting list to be a seasonal at this campground!), we definitely made a lot of friends camping here so many times during the season!
If you are planning a trip through the Catskill Mountains of New York, you should definitely see if Sleepy Hollow Campgrounds has a site available!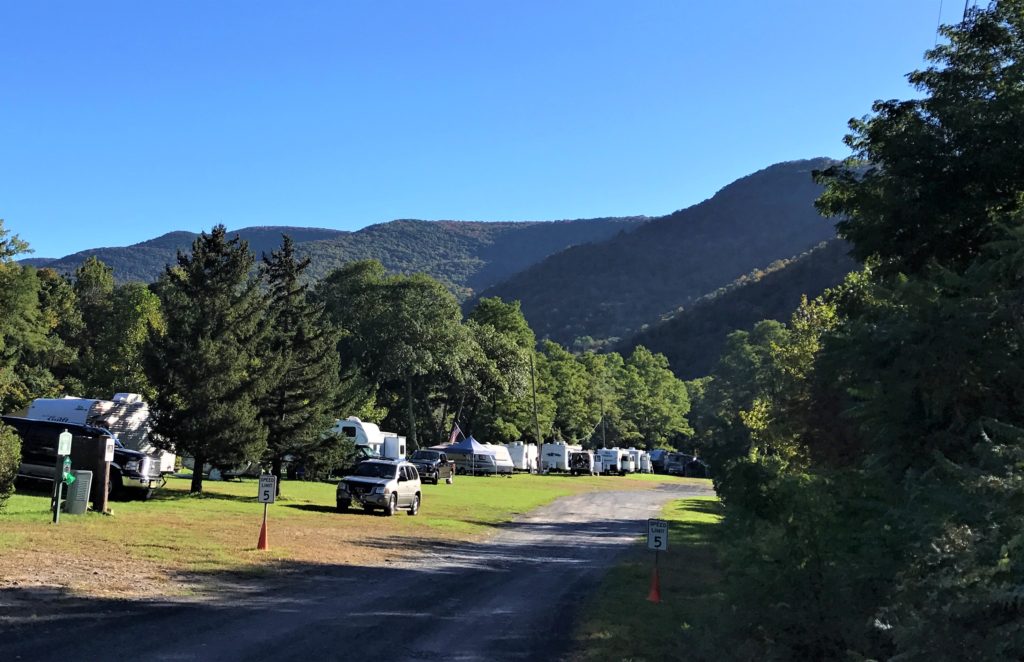 Why You Should Camp At Sleepy Hollow Campgrounds
Sleepy Hollow Campground Review 2019
Here is our third-year review of Sleepy Hollow Campground!
We returned two times in 2019 and, of course, the camping experience did not disappoint! We brought along some extended family to see what their opinion was in case we were missing something at this beautiful campground!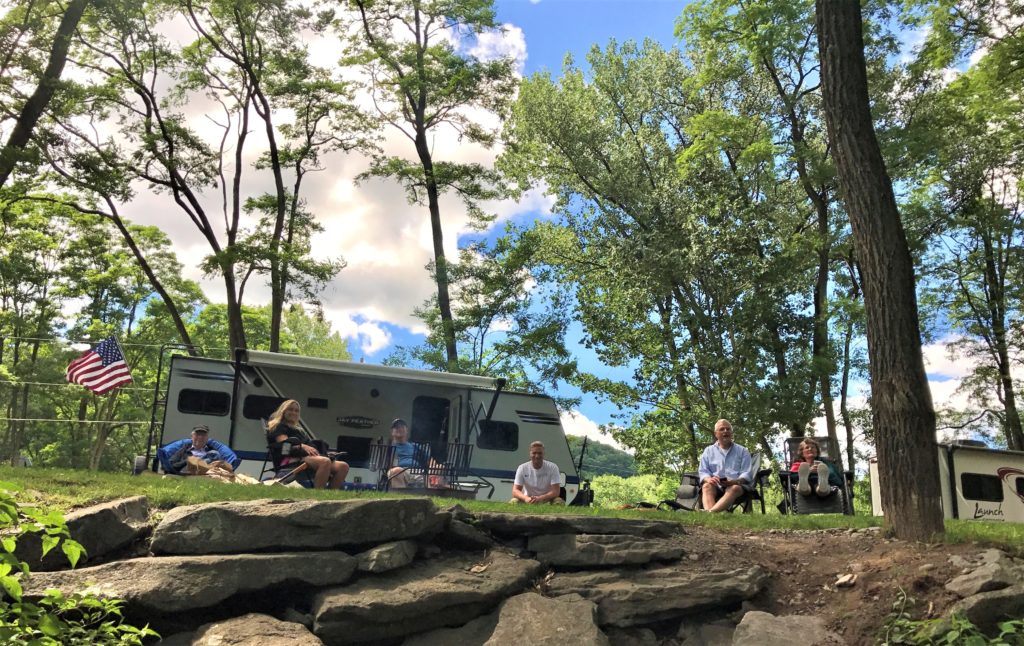 This is site #30. It's considered a premium site with a cement pad and is closer to the main office of the campground. This site also has access to the creek where you can wade in the river, sit along the banks or watch kayaks and tubers go by.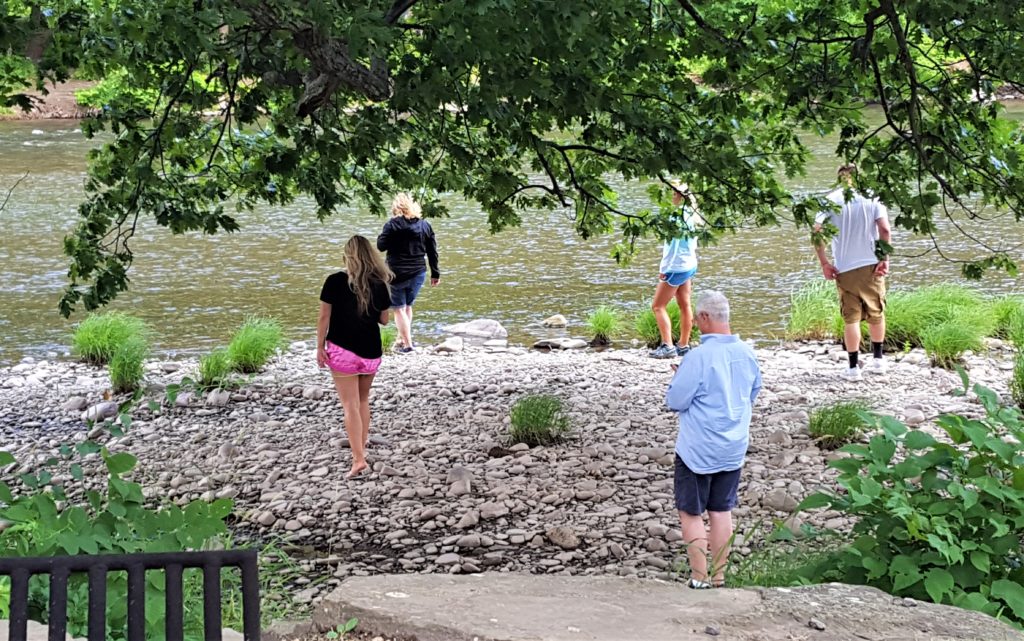 My parents, who have been RVers for over 30 years, loved the campground. They enjoyed sitting by the creek and relaxing with family.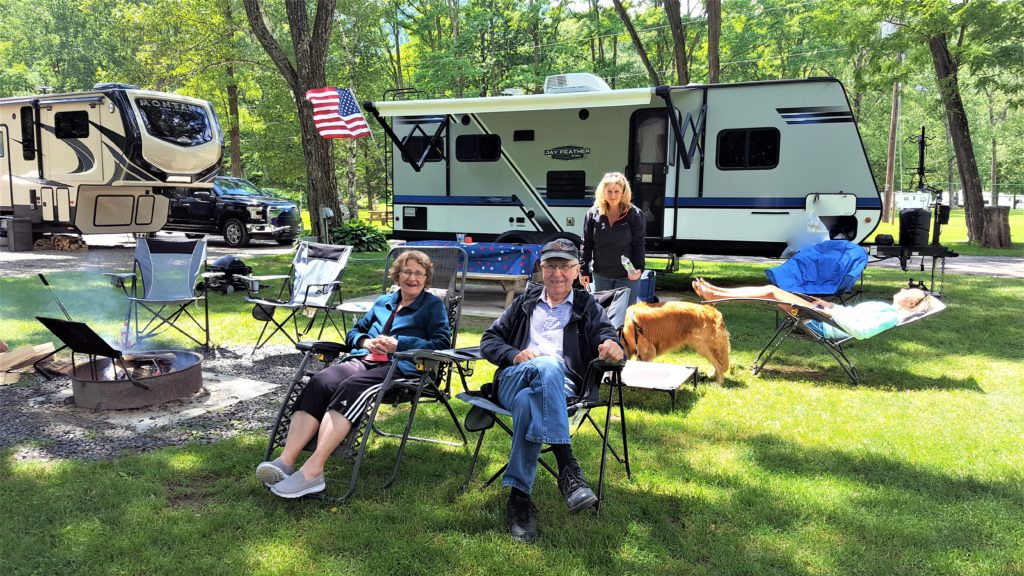 Fall Camping at Sleepy Hollow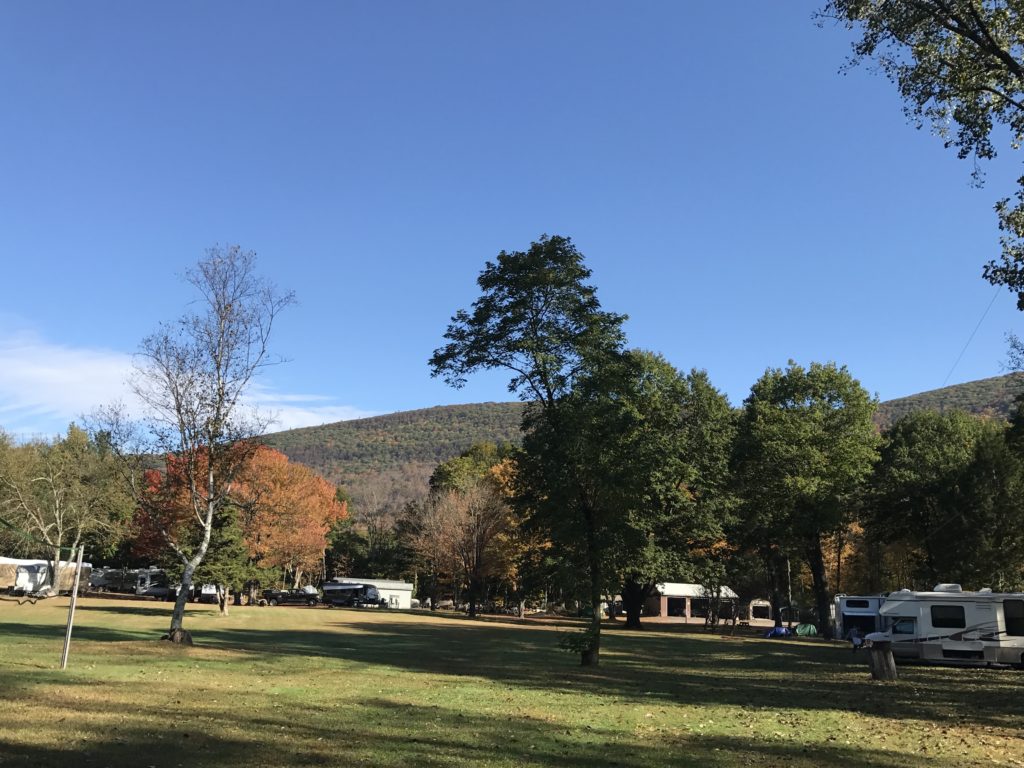 The views in the fall at the campground are just beautiful. We stayed at site #31 on the last day of the camping season. Usually, most campers have packed up their RVs and have headed home, but this year the campground was packed.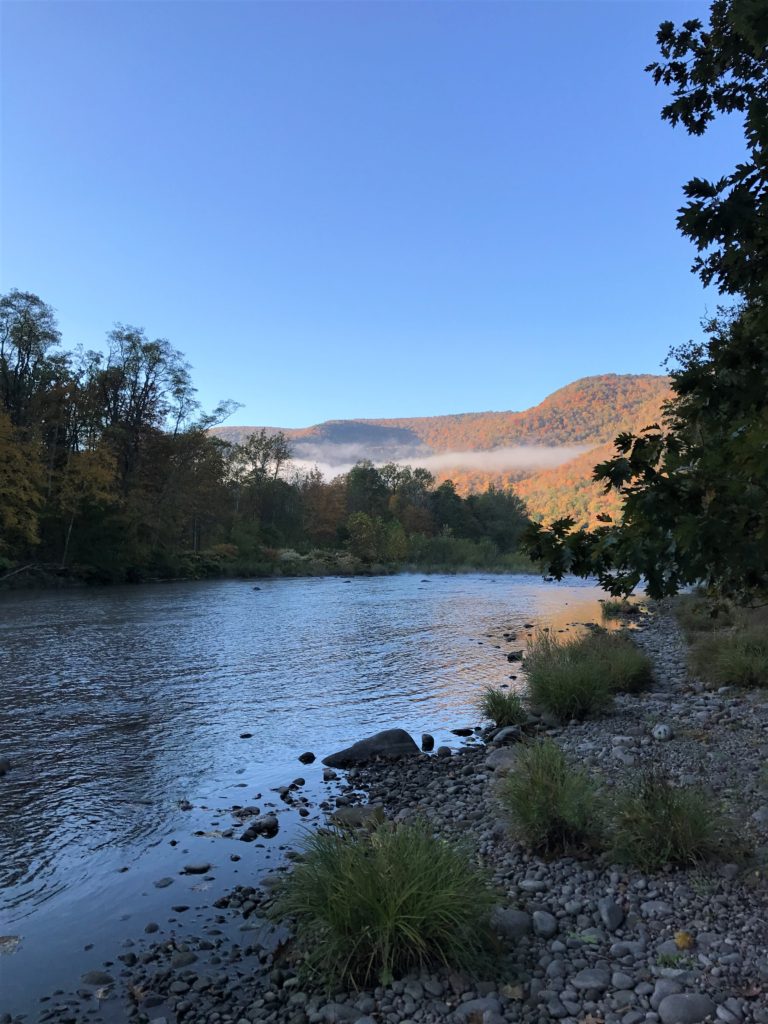 Our site was once again by the creek making a beautiful background for photos.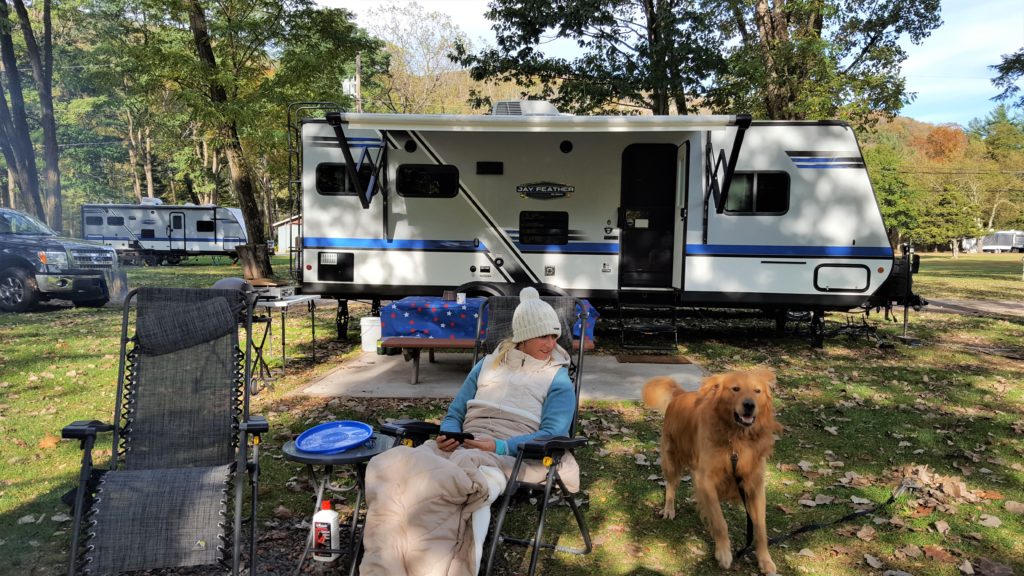 While it was chilly this October weekend, we still had a great time – Buddy too!
Stay Tuned For our 2020 Review of Sleepy Hollow Campgrounds!
Where is Sleepy Hollow Campgrounds Located?
The campground is located in the heart of the Catskills, right on the banks of the Esopus Creek, just 20 minutes off the NYS Thruway in Phoenicia, NY. There are over 100 sites spread out over several acres that offer 20amp, 30amp or 50amp electrical service, water, grey water hookups; and, some tent-only sites that have no hookups.
Please sign up for my newsletter!