Last Updated on October 10, 2022 by Lori
What camping outfits should you take camping in the fall? If you haven't been camping in the fall, then you're missing out on one of the best camping seasons of the year! Yes, the weather can be unpredictable, but with the proper clothing and gear, you will be camping in the fall for years to come!
Here are some ideas for clothes to wear camping in the fall that will keep you warm, dry, and comfy for all weather!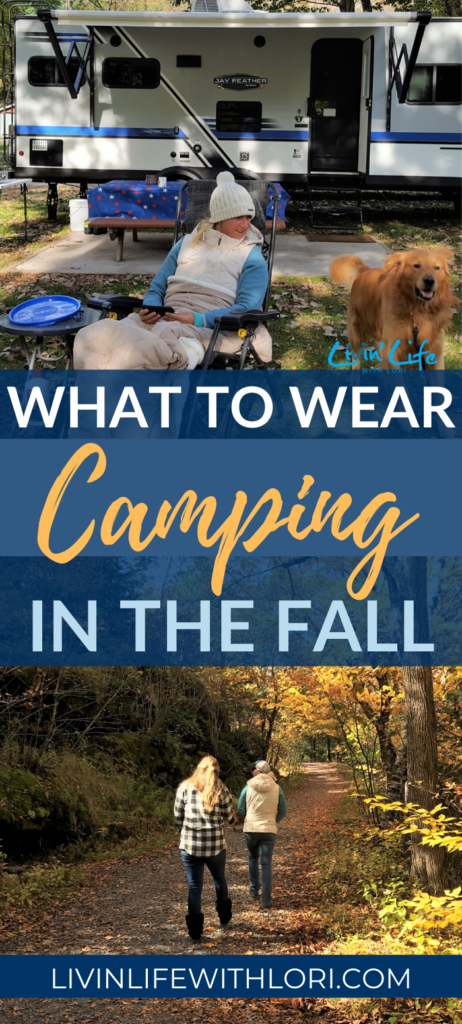 This post contains affiliate links. That means that if you click on my link and buy something, I will earn a small commission from the advertiser at no additional cost to you. Please see our Disclosure Policy for more information.
What Makes Camping in the Fall So Special?
We love to camp during the fall season. There's nothing like starting the campfire in the early morning when it's so cold out that you can see your breath!
Then you wrap up in your blanket while having coffee by the fire and discuss what you plan to do that day!
Our day usually begins by taking a drive to see the leaves and then we try to find an easy hike which usually leads to a waterfall or a beautiful view of the area.
Then it's back to the campground for more fun and stories while sitting by the campfire!
RV Camping In The Fall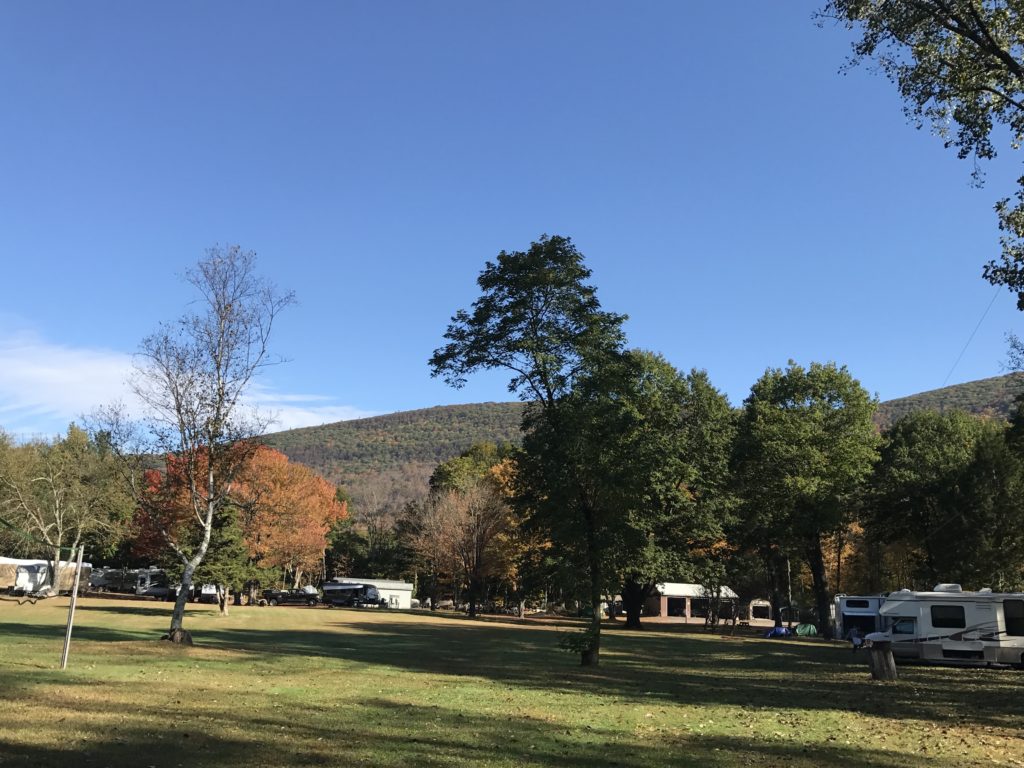 This is one of our favorite places to camp – Sleepy Hollow Campgrounds located in the Catskill Mountains of New York.
The campground is situated along the Esopus Creek which is one of the best places to fish in New York.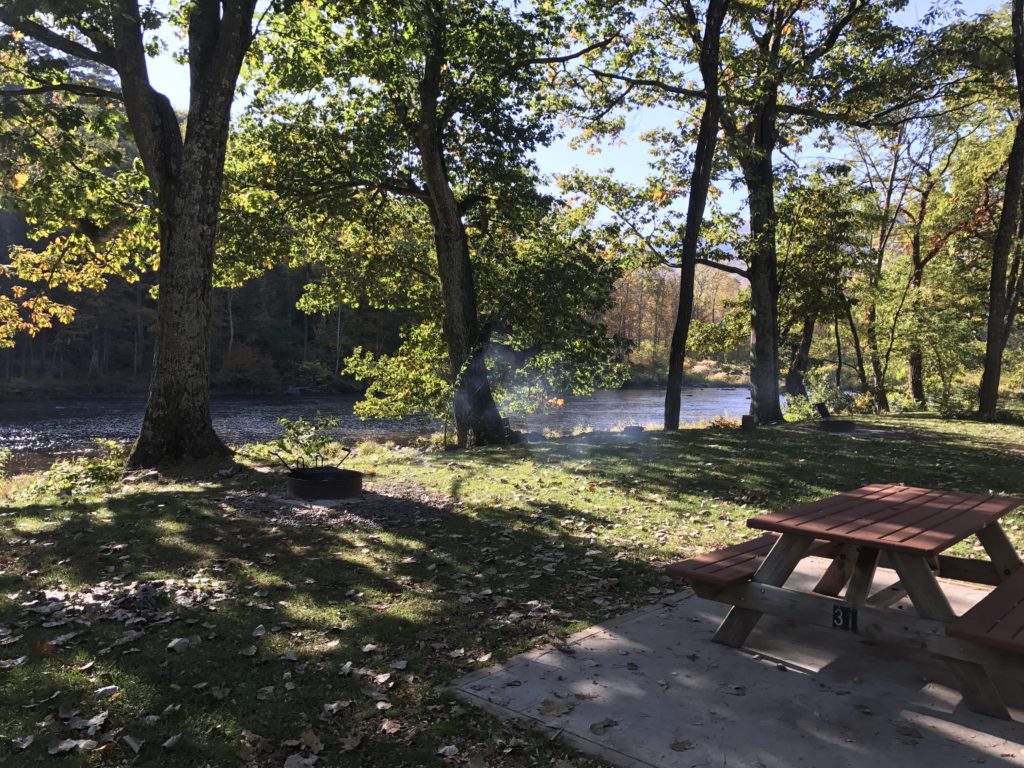 We have camped here eight (8) times in three years! (Can you tell how much we love it here?)
We love to hear water rushing along the creek all day long and during the summer, it is fun to watch people kayaking downriver, kids swimming and fishing and even see the Bald Eagle flying overhead looking for its next meal!
Views at this campground are spectacular!
Our final camping trip each year is to Sleepy Hollow Campgrounds. It is the campground's very last day of their season – Columbus Day Weekend.
Sometimes the weather is sunny and warm and you only need to wear a light jacket.
Other times it can be COLD!! Which is exactly what the weather was like this year.
But… weather never stops campers – Right?
Especially if it's the LAST trip of the season!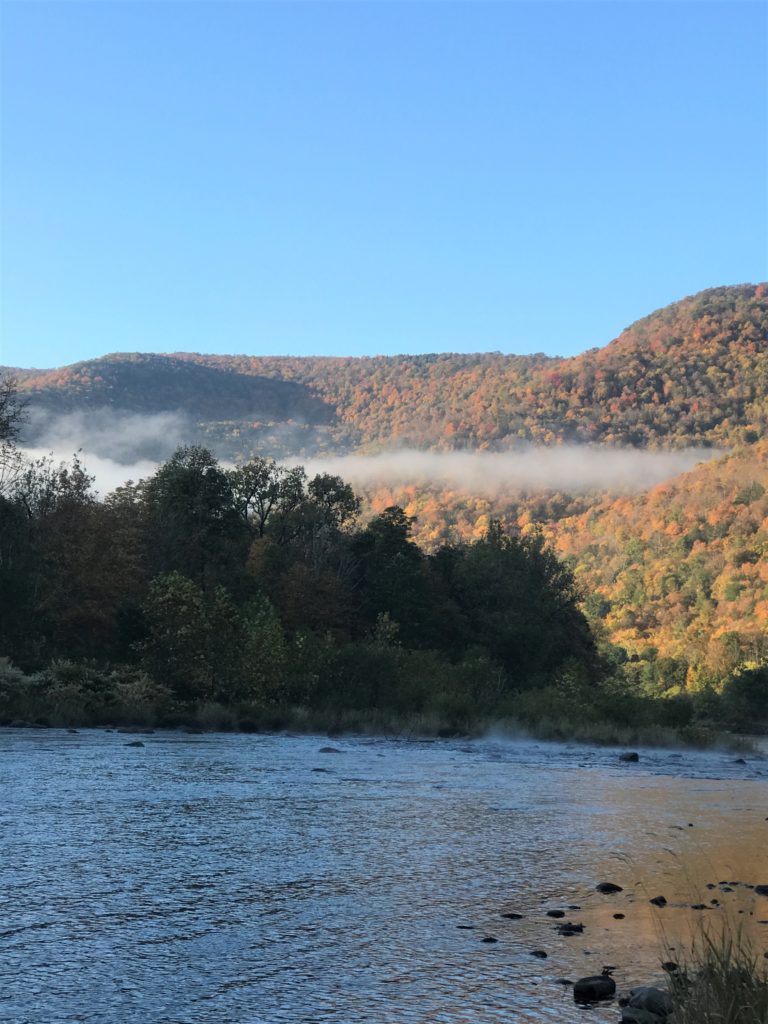 Related Reading: Read more about camping at Sleepy Hollow Campgrounds
What To Take Camping When It's Cold Outside
That's me…wrapped up in my blanket, hat, and scarf sitting by the fire!
I always keep my heavy coat, snow boots, and gloves in the trailer – even during the summer because, well, you just never know what the weather will be like when you're camping!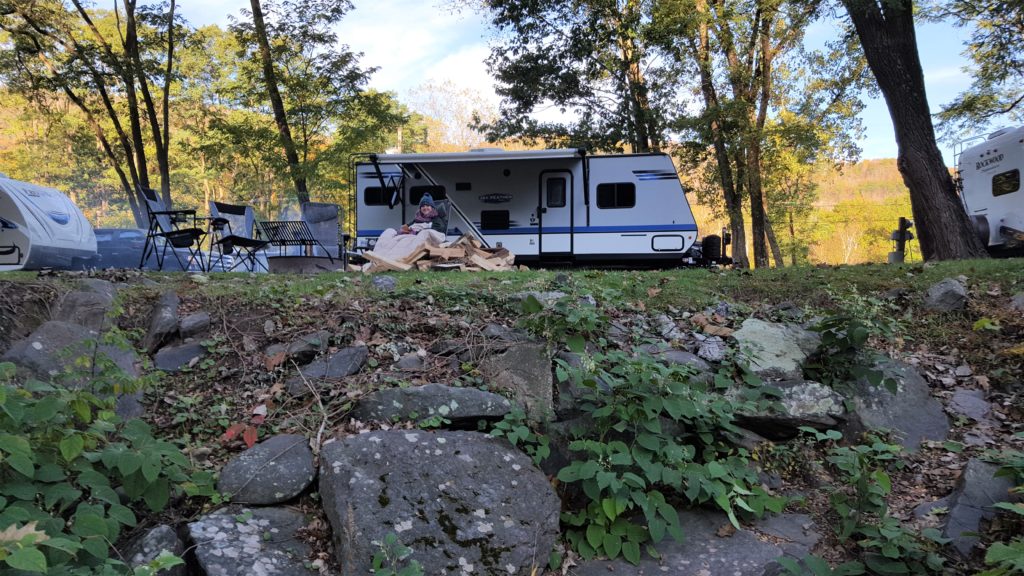 To help you prepare for camping in the fall, I've put together this list of Clothes To Wear Camping in the Fall so you'll be ready for ALL kinds of weather!
Best Clothes To Wear Camping
1. Fall Camping Must-Haves – A Hat
Our daughters came with us on this trip and thankfully they were both prepared for the weather!
As you can see, my daughter was wearing this great hat which was perfect for the cold temperatures! (That's Buddy, our Golden Retriever who goes camping with us too!)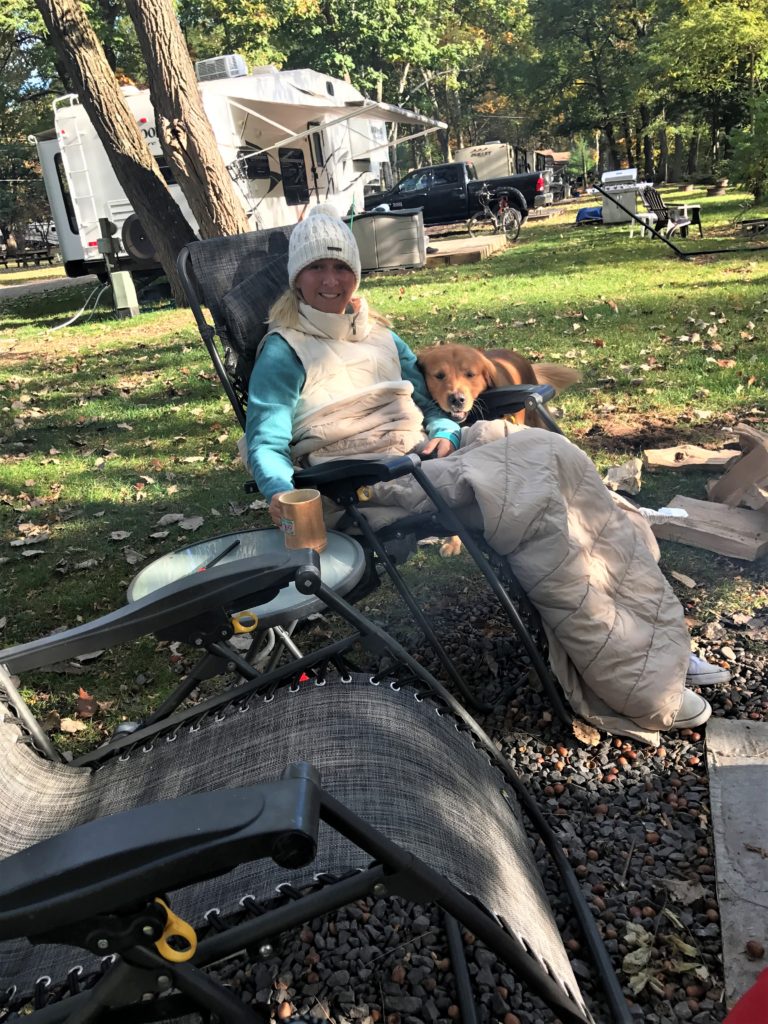 Here are several styles of hats you can choose from that will keep you warm while camping in the fall!
If it's not too cold, you can wear one of these fun camping hats!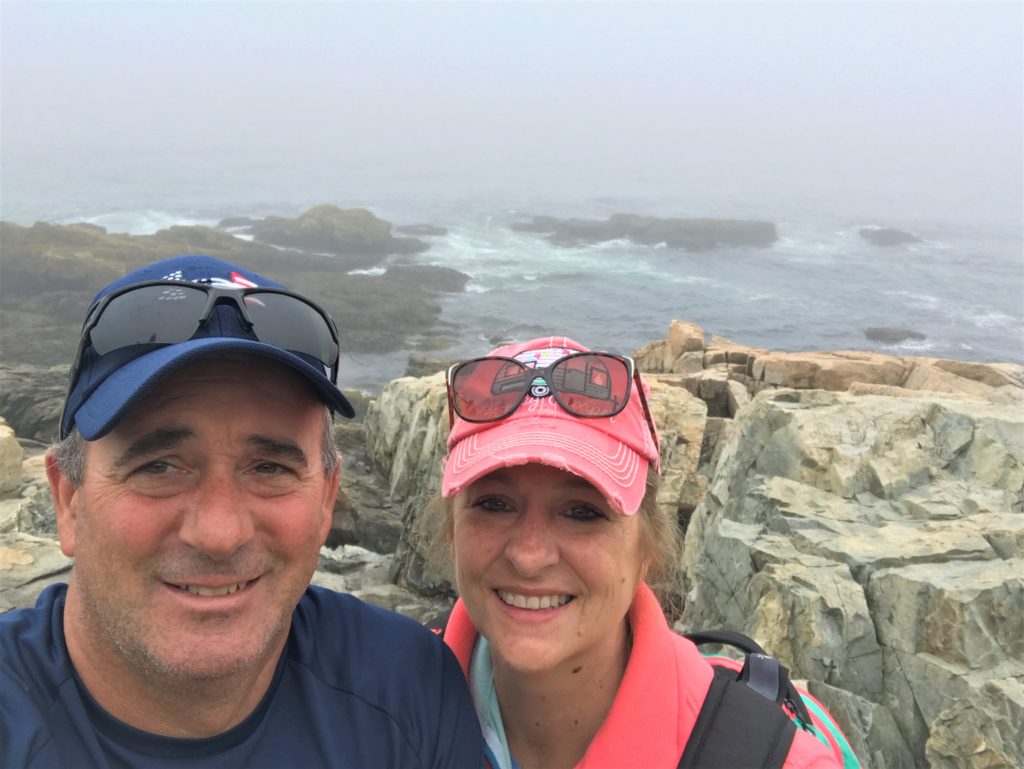 I have two of these Happy Camper hats which come in various colors! I get so many comments on them when I go camping too!
This photo was taken on top of Cadillac Mountain in Acadia National Park.
2. Wear a Warm Vest While Camping In Cold Weather
The vest my daughter is wearing should be a basic piece in your fall camping wardrobe.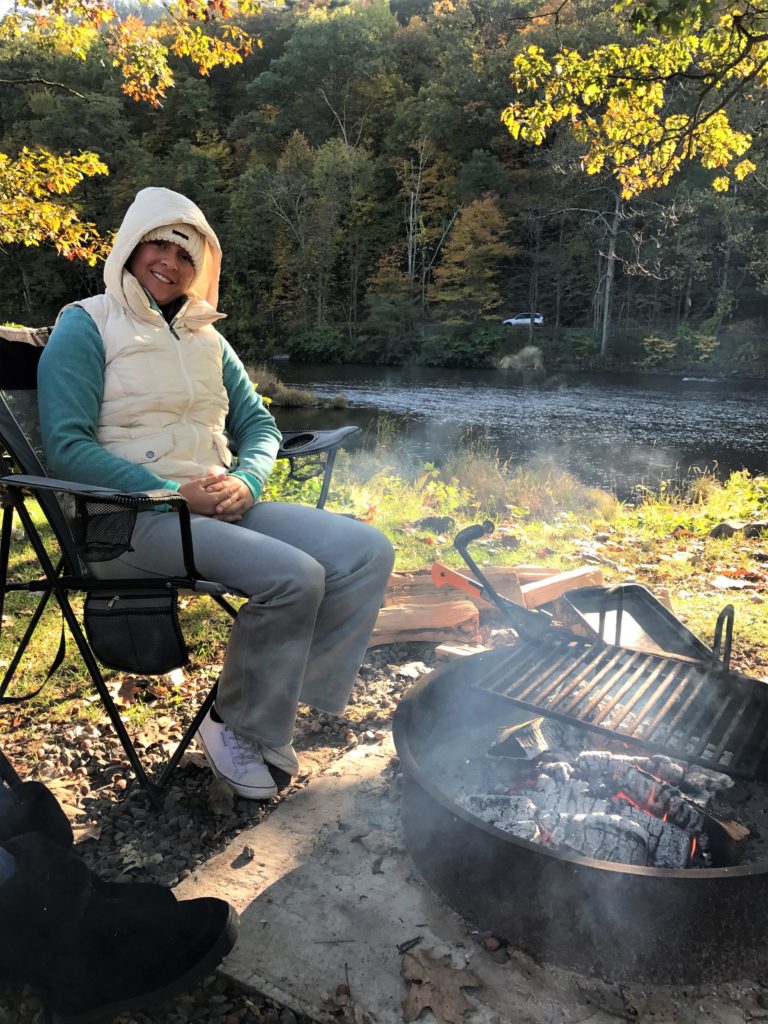 Vests are perfect for the fall because they come in so many different colors and look great with everything!
Plus – a vest can easily be worn over another fleece or shirt.
Here are some great looking puffer vests that you can choose from!
For lightweight shirts, these soft long sleeve tees will go great under any fleece or vest!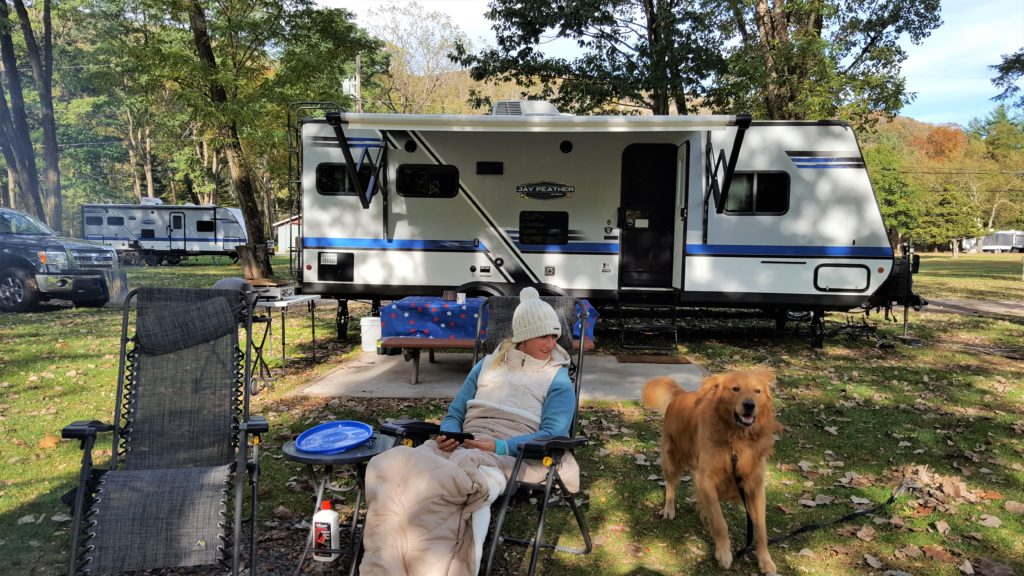 3. Bring a Warm Camping Blanket
As you can see, she is wrapped is this nice camping blanket. We were wrapped in that blanket all weekend!
The blanket also comes with a zippered pocket – perfect for your keys, phone, and wallet.
You can learn more about this awesome blanket HERE.
4. Wear Layers With A Fleece Jacket
In fact, this is one of my very favorite fleece to wear! It is so versatile and easy to throw on especially if you're unsure of the weather.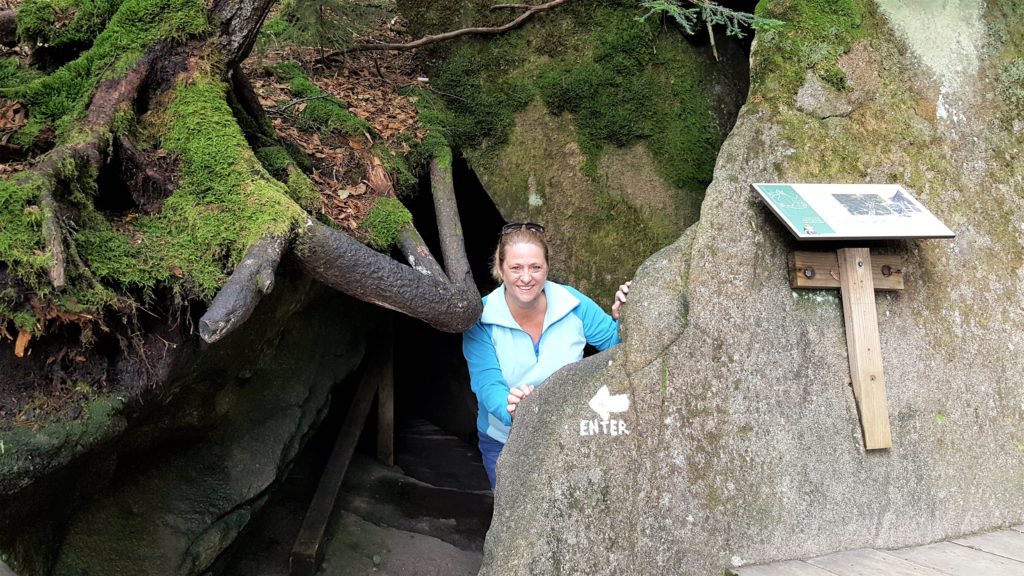 This is another one of my favorite Fleece Jackets I like to wear.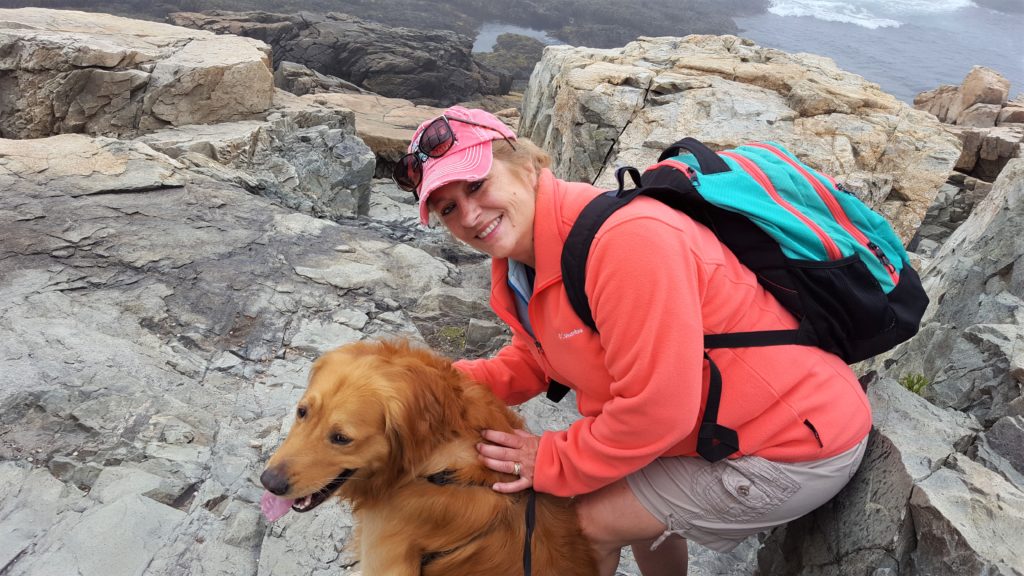 I love this fleece jacket because it is a full zip so it can easily be taken off.
Here's my other daughter reading a book and relaxing at the campsite. She is nice and warm by the campfire wearing a warm fleece jacket.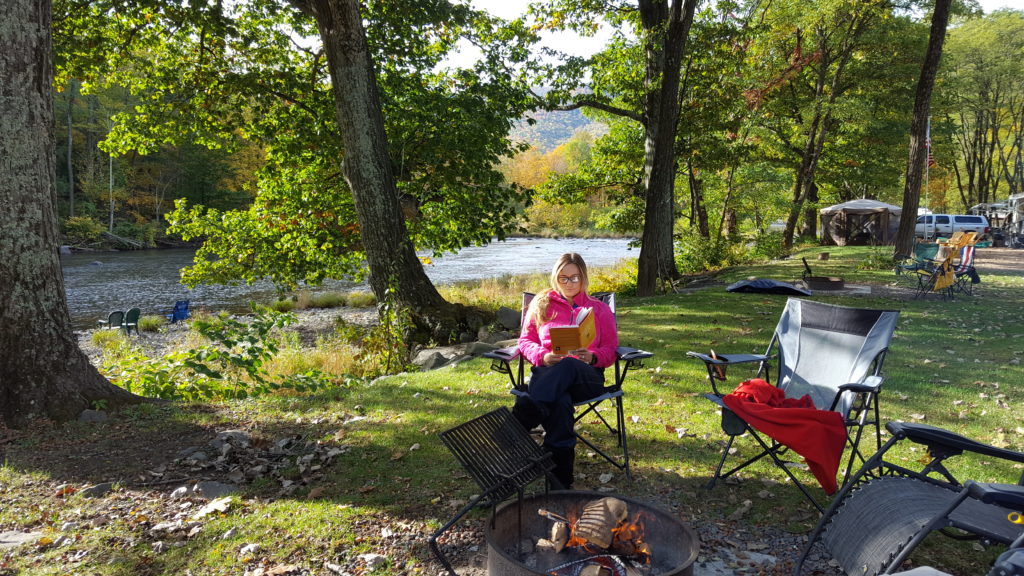 Here are some great styles of fleece you can choose from!
Best Clothes To Wear Hiking in the Fall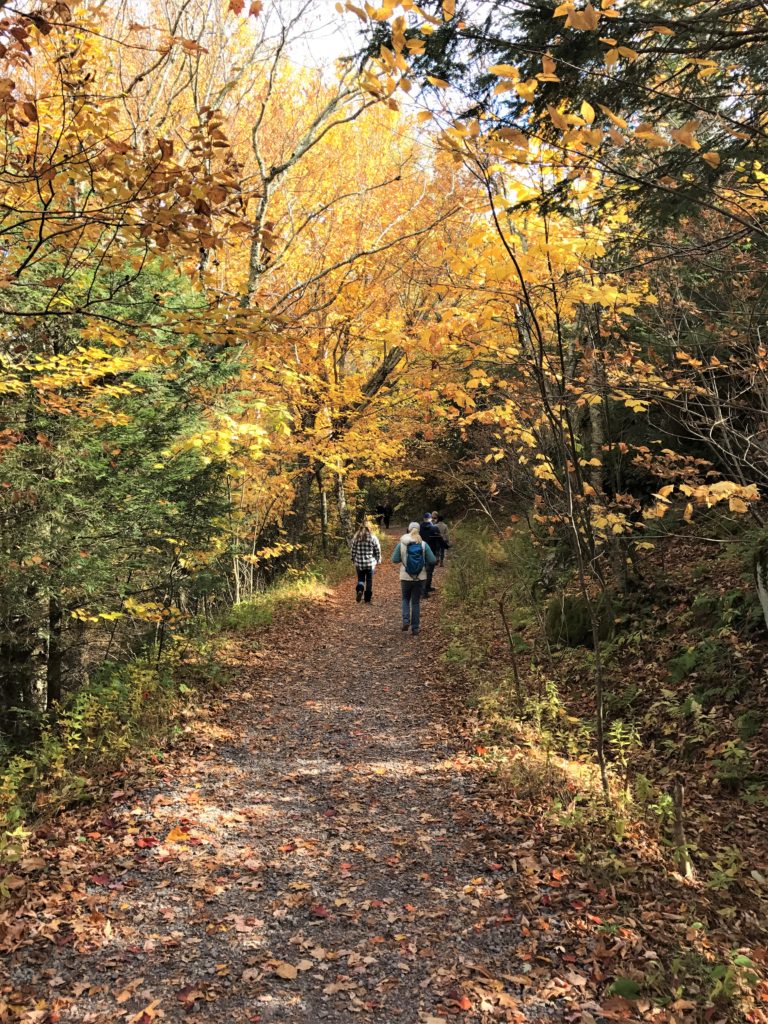 One of our favorite things to do when we camp is to go hiking. It was a short distance from the campground to North-South Lake where we hiked to Catskill Mountain House.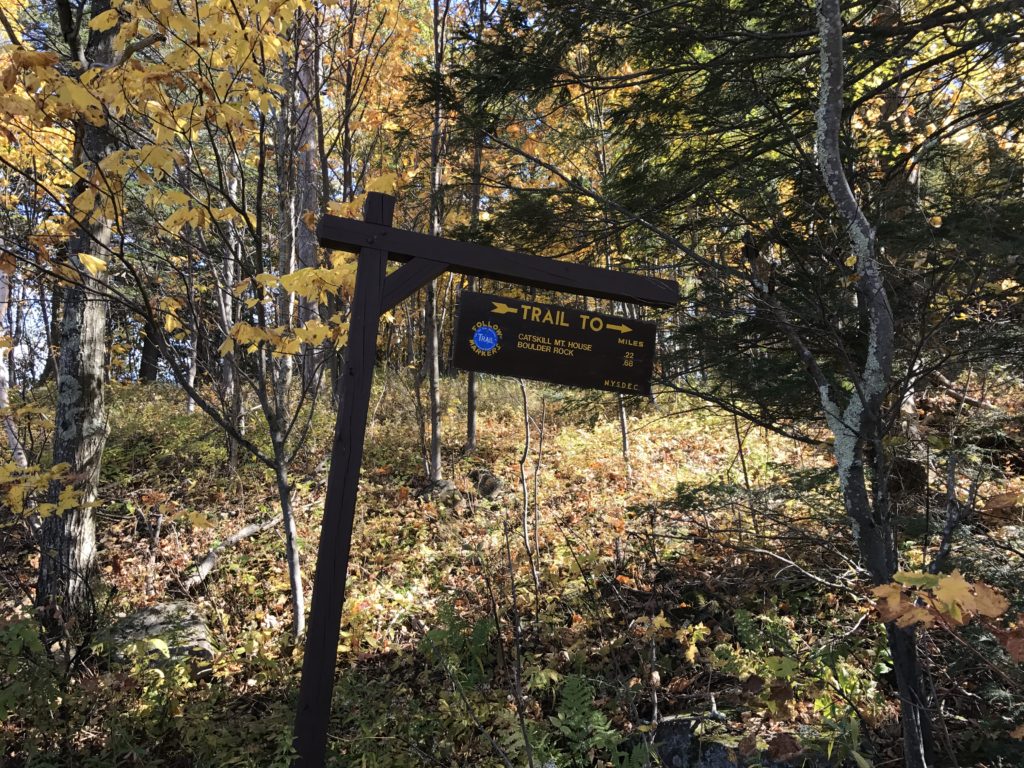 The views from the top were amazing!
We've been to the Catskill Mountain House and nearby Kaaterskill Falls many times – both are short easy hikes! You might like to read my post below!
Related Reading: Read more about Easy Hiking Trails in the Catskill Mountains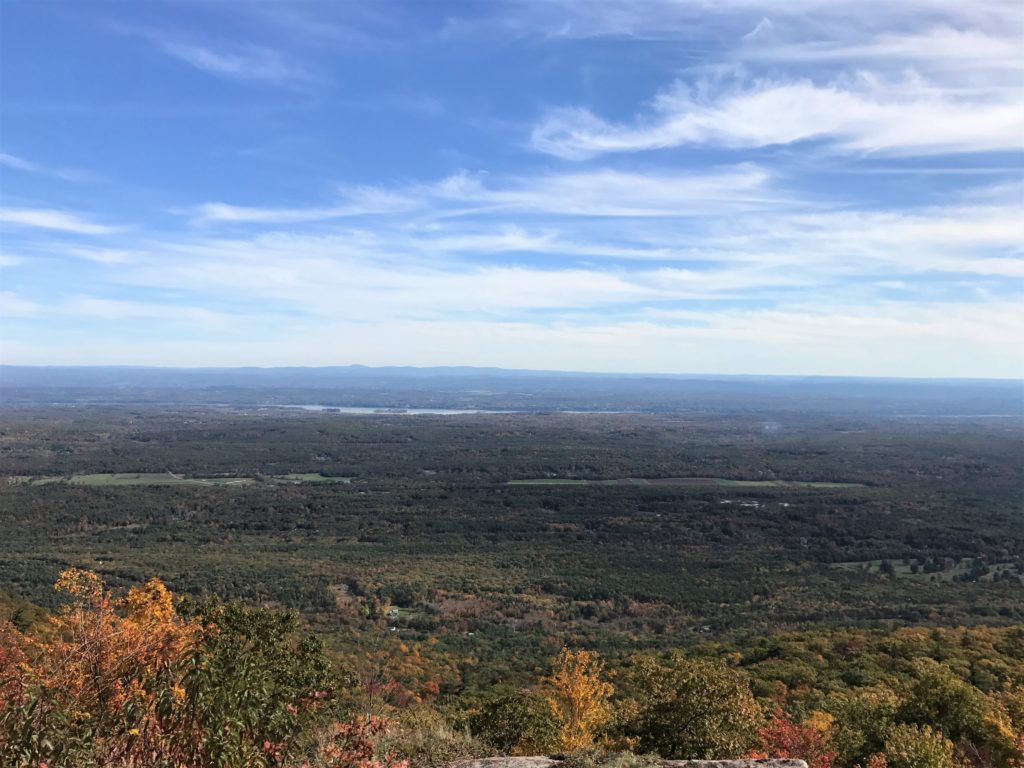 When camping or hiking in the fall, you never quite know how to dress. One minute you've got every piece of clothing imaginable layered on and the next minute the sun is shining and you just need a light jacket.
5. Wear A Flannel Shirt Camping
This flannel shirt is perfect for the fall. It's comfy and you can wear it alone, or over other shirts.
I found this shirt/jacket which is nice because it's both a flannel AND a Hoodie!
6. The Best Hiking Shoes/Boots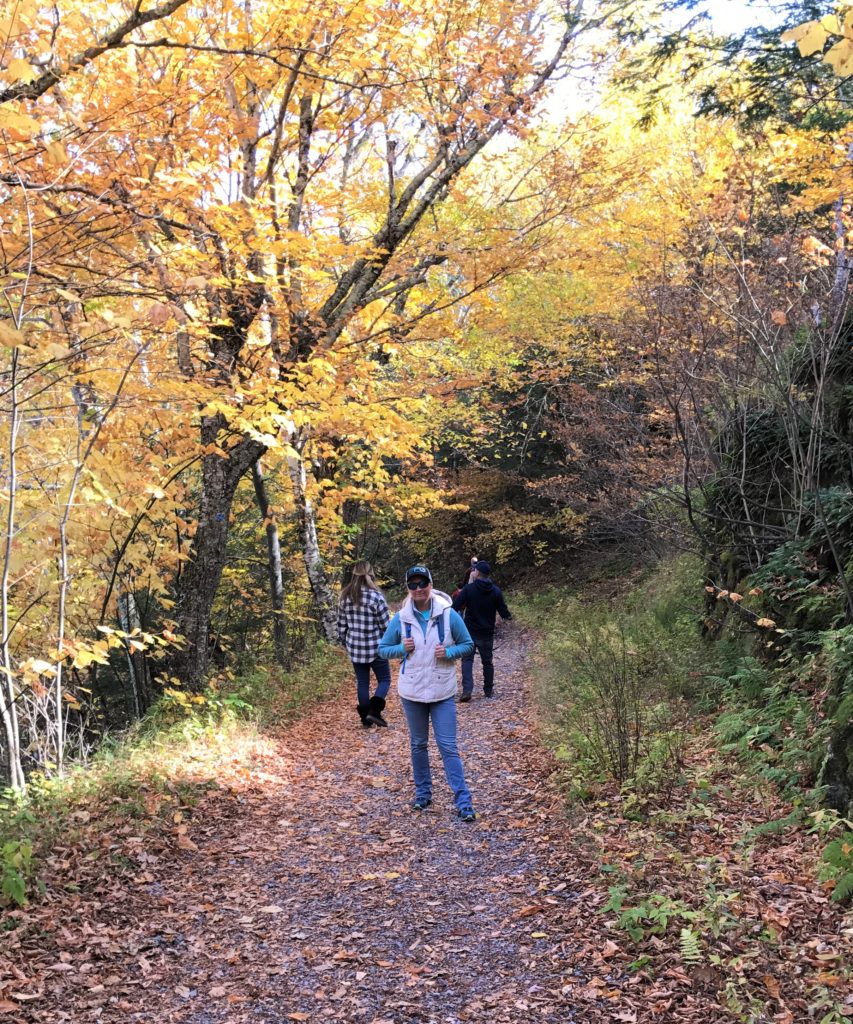 When we go hiking, my husband and I both wear our favorite hiking boots. These hiking boots are both lightweight and waterproof.
My daughter wore her trail shoes. She has climbed a Colorado 14er with her trail shoes and is very comfortable in them.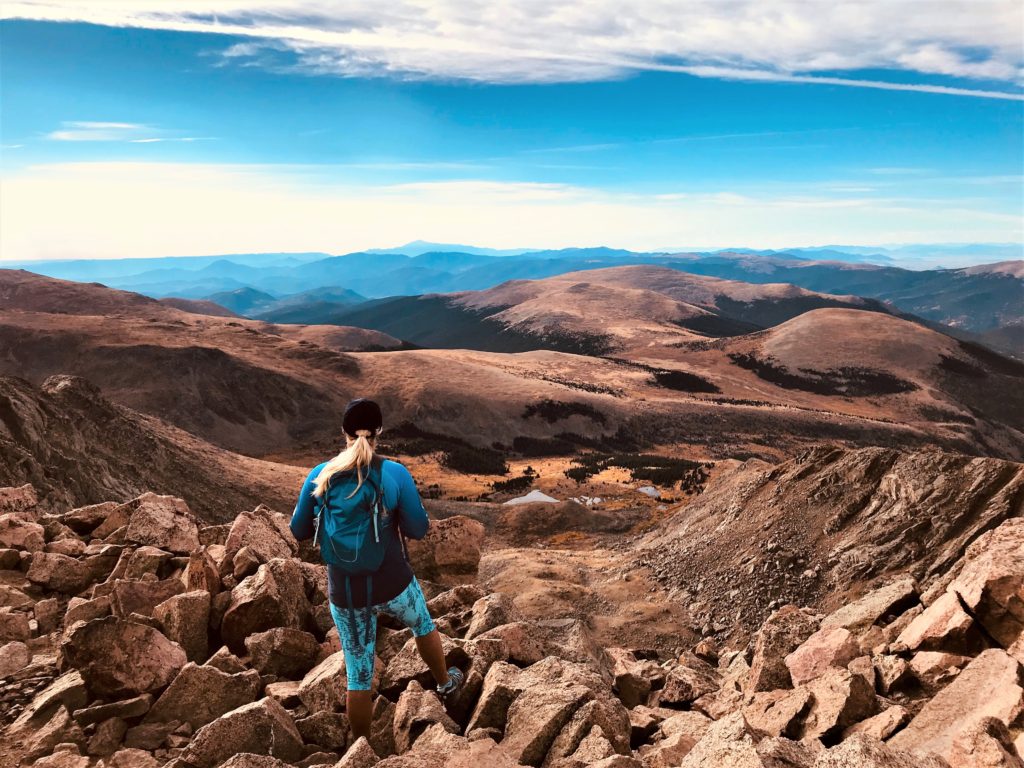 One thing she really likes about her trail shoes it that they can be worn both on the trail and off.
She doesn't have to stop to change from her hiking boots into her regular shoes. They are also lightweight and comfy.
Of course, if it's really cold, you want a pair of Winter Boots!
These are the boots I wear when we go camping. I have them in both black and tan. My daughter wore my black winter boots even when hiking because they are so comfortable.
I even got my mom a pair and she loves them!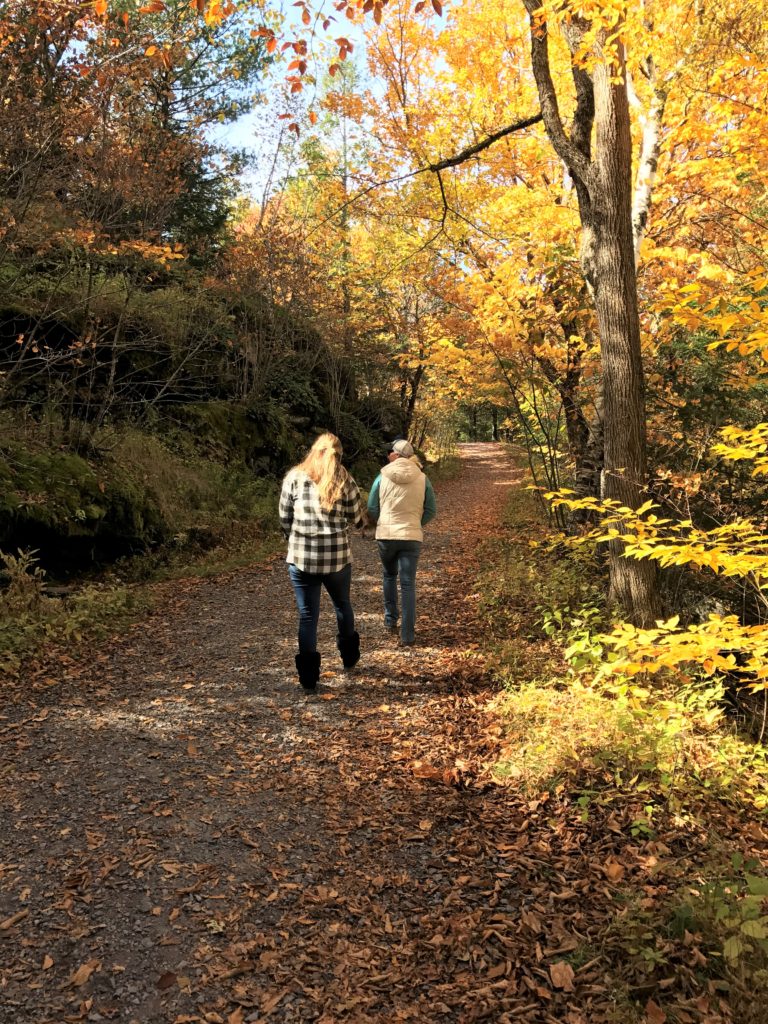 7. Bring A Warm Scarf Camping In The Fall
You can't go wrong with a stylish scarf! They not only will keep you warm, but you can be stylish while camping too!
8. A Pair of Warm Socks For Camping In Cold Weather
You definitely want to keep your feet warm while you camp! Here are some ideas for warm socks to keep your feet dry and warm!
9. A Rain Jacket Is Perfect For Summer or Fall Camping
One of the Best Things We Purchased For Camping Was a Rain Jacket!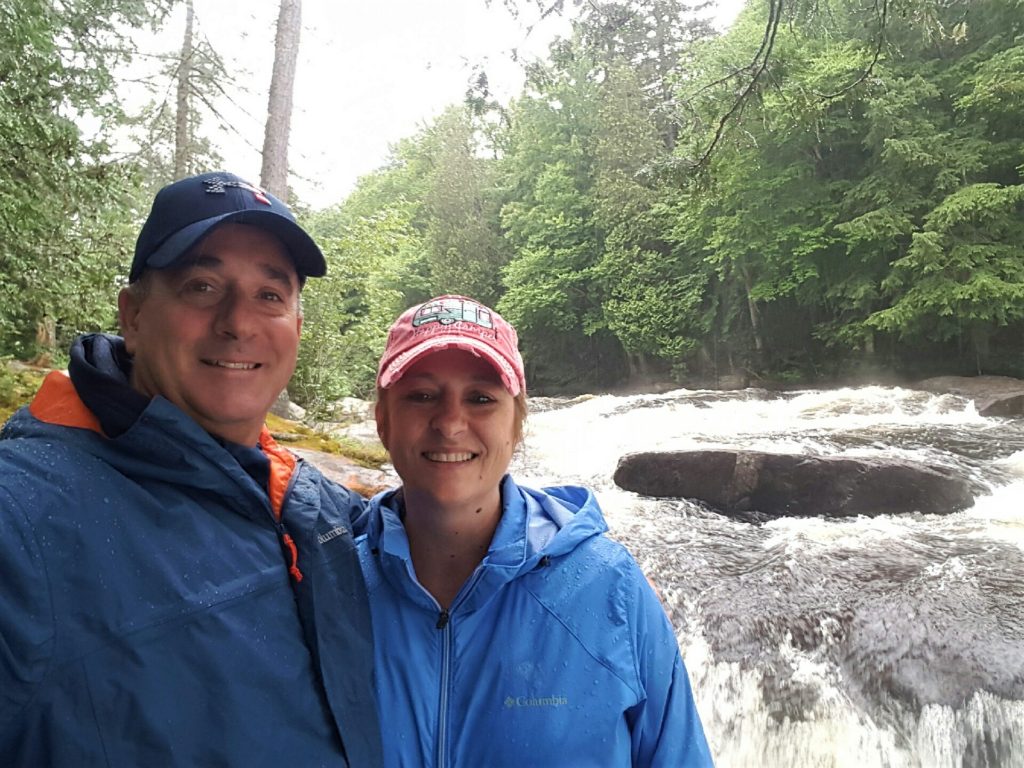 It can begin raining at any time while you're away! But – it has never stopped us from having fun (and even hiking to waterfalls as you can see above)!
We love these rain jackets because they are lightweight and dry very easily!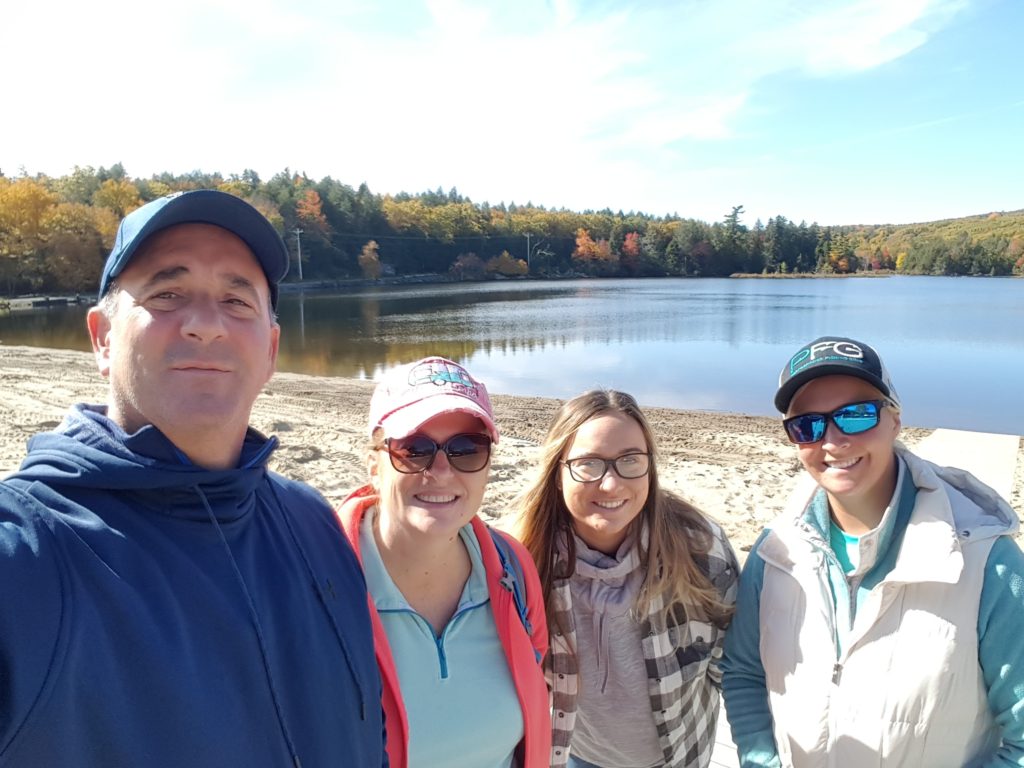 If you're shying away from camping in the fall – try it! With the right clothing and gear, you will be prepared for any type of weather!
I hope you found these ideas helpful for What To Wear Camping in the Fall!
I would love for you to join my Email List!