Last Updated on October 14, 2022 by Lori
Can you make a great-tasting coffee even while camping? If you think there is only one way of making camping coffee, you're in for a surprise. Depending on how you like your coffee, there are more ways than one how you can make the best camping coffee at the campground!
This post contains affiliate links which means if you click on a link and make a purchase, I will earn a commission at no additional cost to you. Please see our Disclosure Policy for more information.
How To Make The Best Camping Coffee
I'll admit it. When we are sitting at the campground, I must have my coffee.
Whether it's gold 'ole regular coffee, a cappuccino, or a stronger espresso, I like to have coffee when we're camping.
Here's what we have found to be the best coffee makers for camping that will definitely make a good cup of coffee!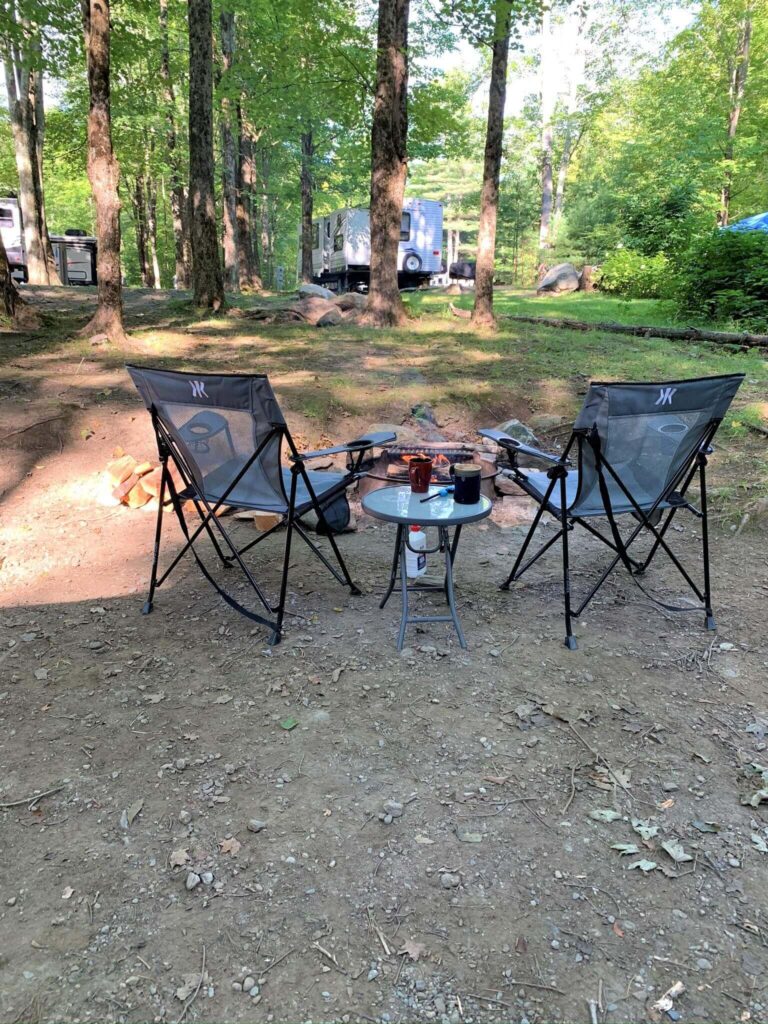 Best Camping Coffee Makers
To determine which camping coffee machine might be best for you, first think about how you will be camping.
Will you be camping in an RV or travel trailer? Or are you tenters? Maybe you'll be car camping. Whichever way you love to camp will determine how much space you have to pack a coffee maker.
Next, think about how you like your coffee. Do you like coffee made in a percolator? Maybe you prefer to drink drip coffee or you love to use a french press.
However you love your coffee, there's a coffee maker for camping.
Next, you need to consider:
Number of campers
How many people will be drinking coffee? If you've got a crew camping with you, the single-serve coffee makers probably are not the best way to make a morning cup of coffee!
Size of coffee pots
How big is the camping coffee pot and how much room do you have to carry it? If you don't have a lot of room, maybe use a coffee press or make pour-over coffee.
How Fast Does The Coffee Brew?
There's nothing like waking up and having to wait for the coffee to brew!
Is The Coffee Maker Easy To Clean?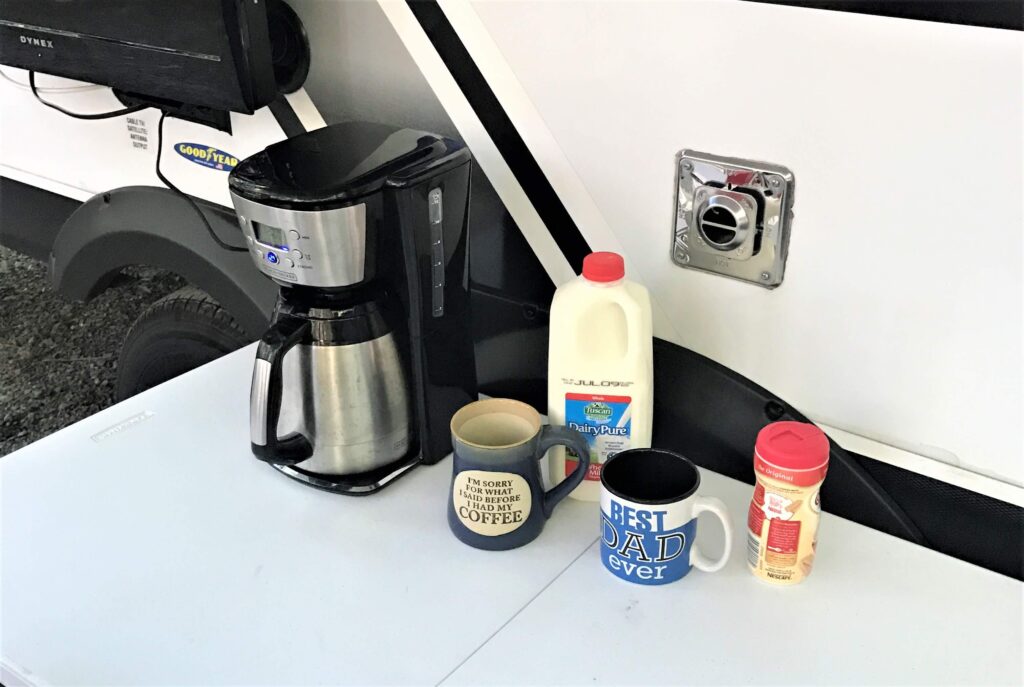 Best Coffee Maker For RV Campers
If you're camping in an RV or travel trailer as we do, you might have a little more space to pack your favorite coffee maker (or two).
Ok, maybe that's just what we do. We pack two different coffee makers in our travel trailer.
Why do we camp with two coffee makers?
If you are particular about your coffee like we are, you probably like your coffee made a certain way.
We brew coffee into a thermal pot in the morning which we put on a small table by the campfire. This way, we can refill or warm up our coffee without going in and out of the trailer.
In the evenings, we may just want a cappuccino or hot chocolate as we sit by the fire. Our single-serve camping Keurig works perfectly for this!
Let's look at some of the other options for you to make great-tasting coffee at the campground.
Best Camping Coffee Percolator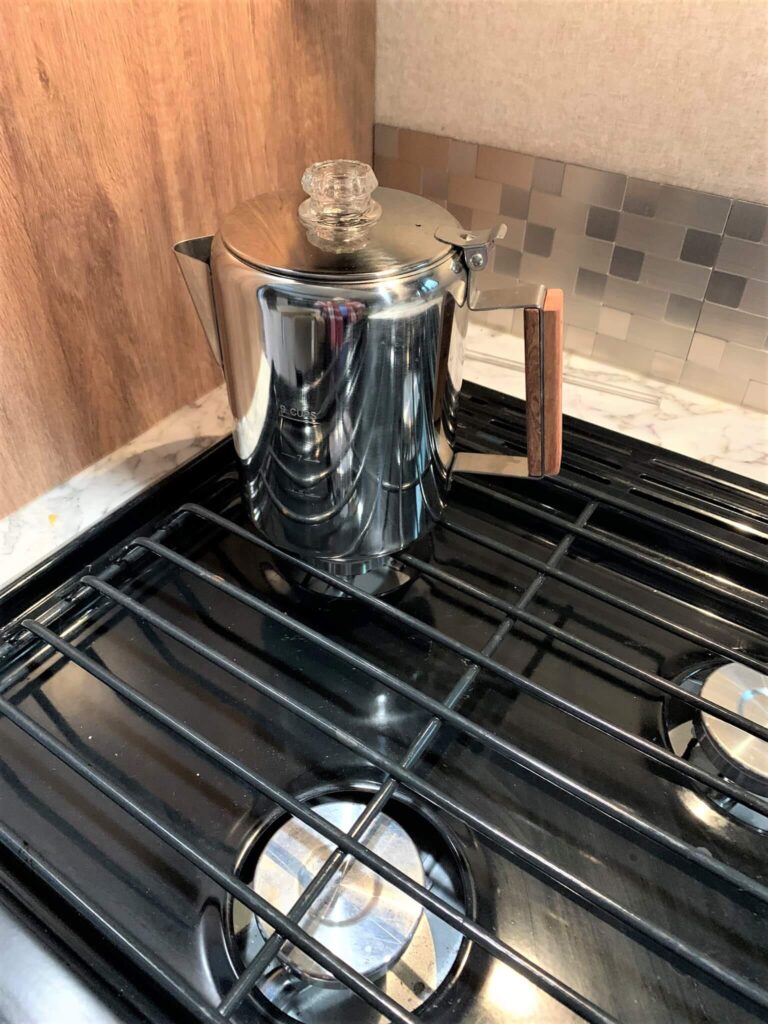 One of the most popular camp coffee makers is a coffee percolator. Camping with a coffee percolator has been around for years and is made for the outdoors.
You can sit a percolator on a grate over the coals of a campfire, make it on a gas grill, or inside your RV on the gas stove.
To make your camping coffee using a Percolator all you need is:
Then Add water to the pot
Add filter & coffee
Let the pot sit on the grate over the coals until it percolates, or just use a camping stove to heat the water.
Pros of using a Percolator When Camping:
Easy to make the coffee
You can use the percolator to boil water for instant coffee, tea, or hot chocolate!
Cons of using a Percolator When Camping:
One thing you need to be careful of – when pouring the coffee, pour slowly and watch for coffee grinds.
Another thing I like about having a percolator is that when we had a storm at home and lost power, all I had to do was go to the camper, grab the percolator, and make our morning coffee on the gas stove!
Using Instant Coffee When Camping
I've learned to always have instant coffee on hand, both at the house and while camping. (Thanks to living through hurricanes on the East Coast!)
If you have no electricity but have a way to boil water, you can make pour-over coffee using instant coffee.
One advantage to having a percolator is that you can take the filter out of the percolator to boil the water. Then add instant coffee to a cup and pour the boiling water over the coffee.
You can even use the percolator to boil water for a cup of tea!
Primula Coffee Espresso Maker
If you love rich, bold coffee, the best camping Espresso Maker is the Primula Coffee Espresso Maker.
And it's so easy to use!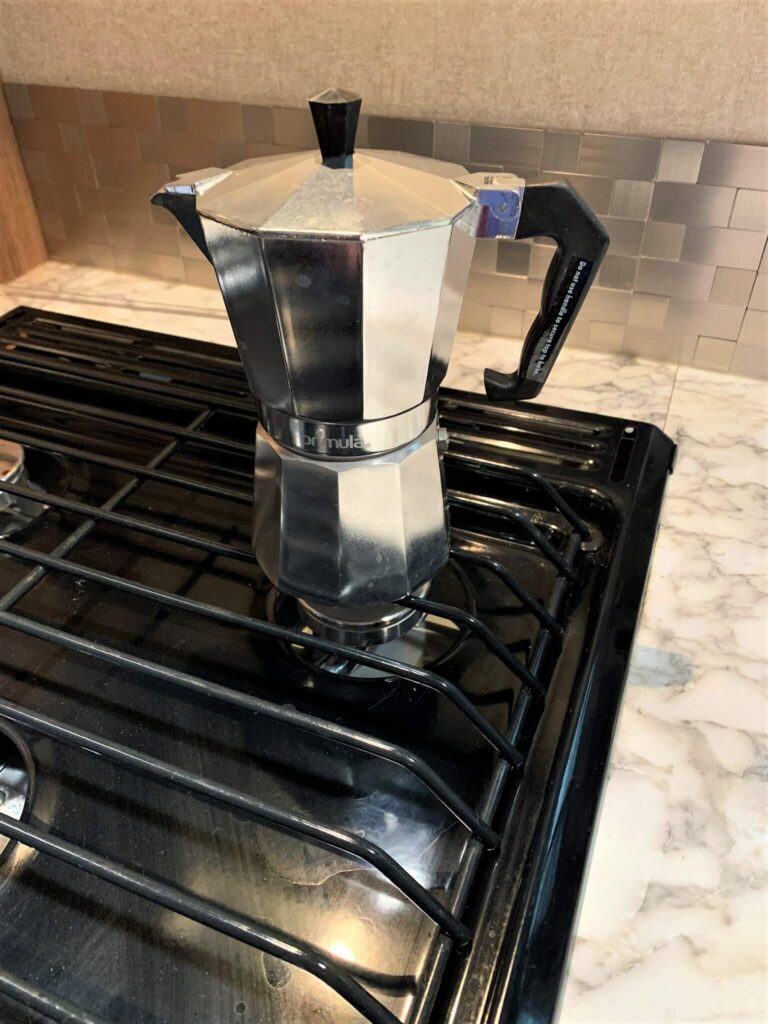 This small stainless-steel percolator makes just one cup at a time, but the rich flavor is worth the wait!
To use the Primula Coffee Espresso Maker when camping all you need to do is:
Pour water into the bottom of the pot
Add coffee grounds (we use this finely ground coffee which tastes great!)
Place coffee pot over the heat (this can be on a stove or a grate over coals)
Heat until coffee percolates.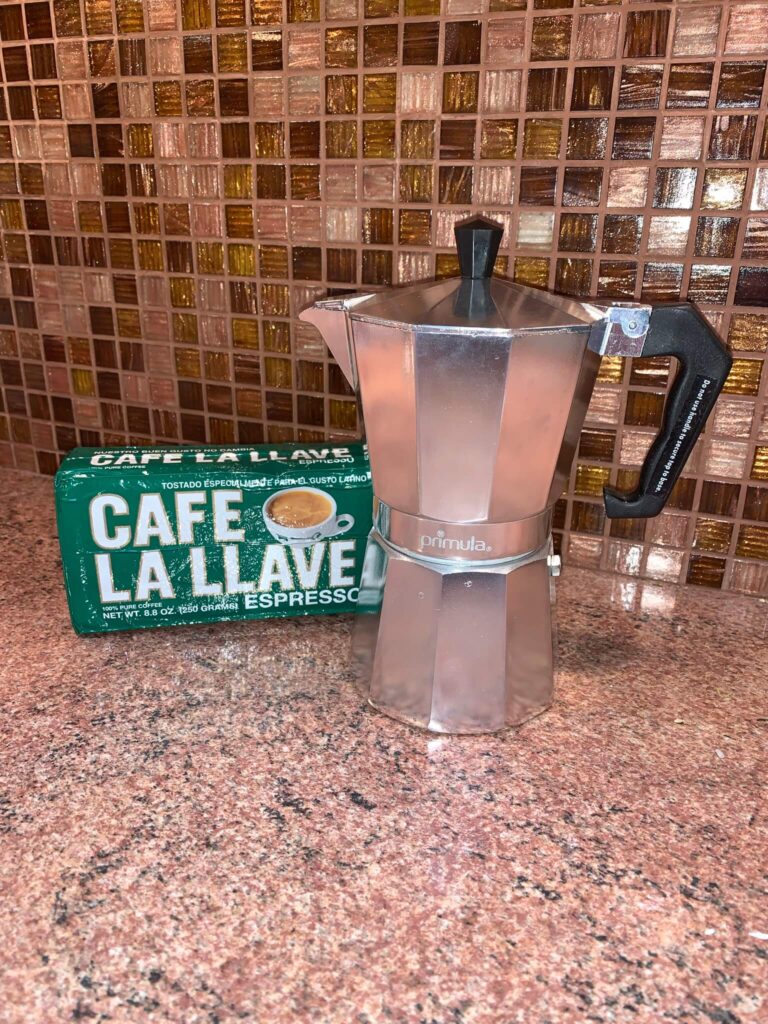 Pros of using the Primula Espresso Coffee Maker When Camping
It makes a nice bold cup of coffee
Makes a cup of coffee quickly
The coffee maker is small and doesn't take up much space
Cons of using the Primula when camping
It only makes one small cup at a time.
Best Camping Drip Coffee Maker
Over the years, we have gone through many drip coffee makers.
The best camping electric coffee maker that we love is the 12-Cup Thermos coffee maker.
This first coffee maker lasted our first five years of camping. We were out on a 12-day camping trip when the coffee pot died. We replaced it with an updated version of the same coffee pot, and it is still going strong.
And, makes the best coffee!
I already mentioned how we like the thermos pot so we can sit by the campfire and the coffee will stay hot ALL day long.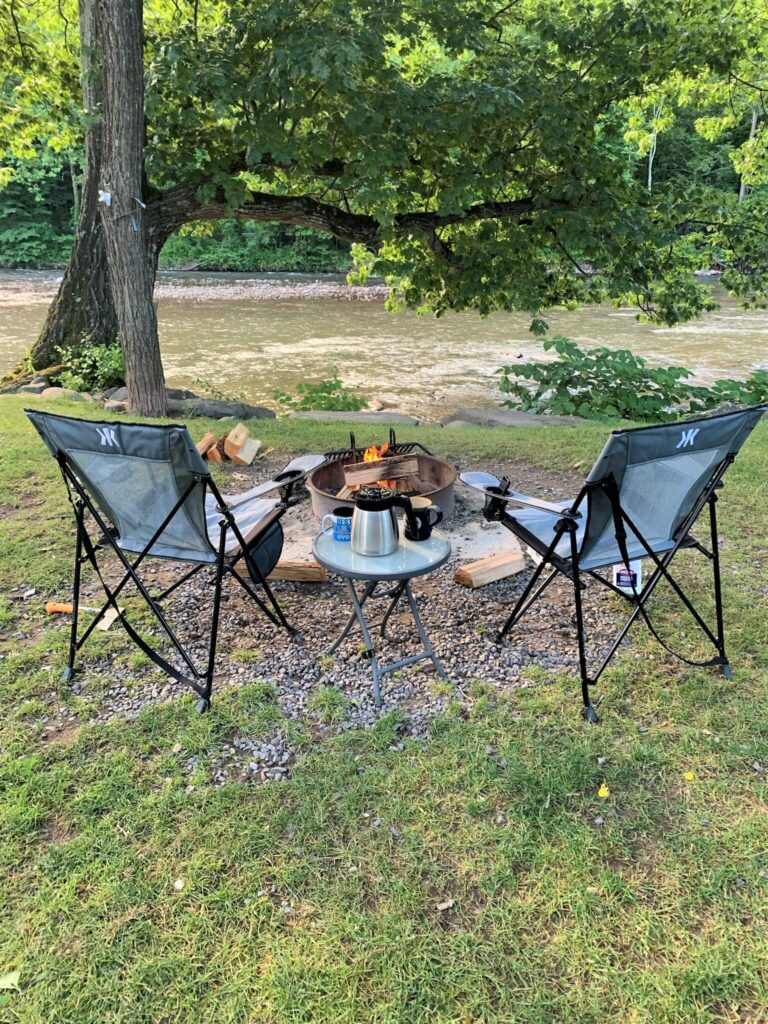 We like this ground coffee to use in our campsite coffee maker.
Pros Of Using A Camping Drip Coffee Maker With Thermos Pot:
Thermos coffee pot keeps the coffee hot all-day
Easy to use
Easy to clean
Cons Of Using A Drip Coffee Maker When Camping:
It takes some time to brew a full pot
Best Camping Keurig
This is the single-serve Keurig coffee maker that we have and love. We not only use it to make coffee at the campground but also hot chocolate and cappuccino when sitting by the campfire!
We chose this Keurig because it is slim and doesn't take up much room in the travel trailer. Plus it has a storage area to hold the 9 k-cup pods and a removable water tank for cleaning.
Pros of using a Single Serve Keurig at the campground:
Makes a quick cup of coffee
Slim style so it stores easily
Can make other hot drinks besides coffee
Easy to clean
Cons of using a Single Serve Keurig:
It only makes one cup of coffee at a time
Campers also love the Aeropress Coffee Maker, which has become even more popular than the French press coffee maker.
It's lightweight and easy to carry, especially when backpacking! Plus it can make 1-3 cups of coffee.
No matter how you like to camp, or whether you want to make one cup of coffee or 12 cups of coffee, there's a coffee maker that's perfect for your camping style.
It's all about your preferred method of coffee making that will get you that delicious hot cup of camping coffee you love!
More Camping Posts You Will Enjoy
How To Choose The Best Camping Chairs
25 RV Kitchen Gadget And Accessories You Need For Camping
Guide To The Best RV Mattress And Mattress Toppers
Top 13 Rules Of Camping Etiquette You Need To Know