Last Updated on March 18, 2022 by Lori
If you are new to RVing, you'll soon realize that the kitchen in your new RV or camper trailer is probably not as large as you'd hoped it would be!
But with careful planning, you can take along all the kitchen accessories and gadgets that you will ever need for your camping trip. Here are 25 of the best RV Kitchen Accessories and Gadgets you'll need for RV Living.
Must-Have RV Kitchen Gadgets and Accessories For Camping
When you first started to look for an RV, did you know exactly what you wanted in your new RV kitchen?
If you've never been camping in an RV, how would you even know which design will work best for your family?
That's why the manufacturers have created so many different RV floor plans to choose from!
People like different things.
This post contains affiliate links for your convenience which means that if you click on a link and make a purchase, I will earn a commission at no additional cost to you. Please read our Disclosure Policy for more information.
Some RVers want all the luxuries from home when they travel. You may love an island in your RV kitchen along with a dishwasher, pantry, full-sized refrigerator, and table with chairs.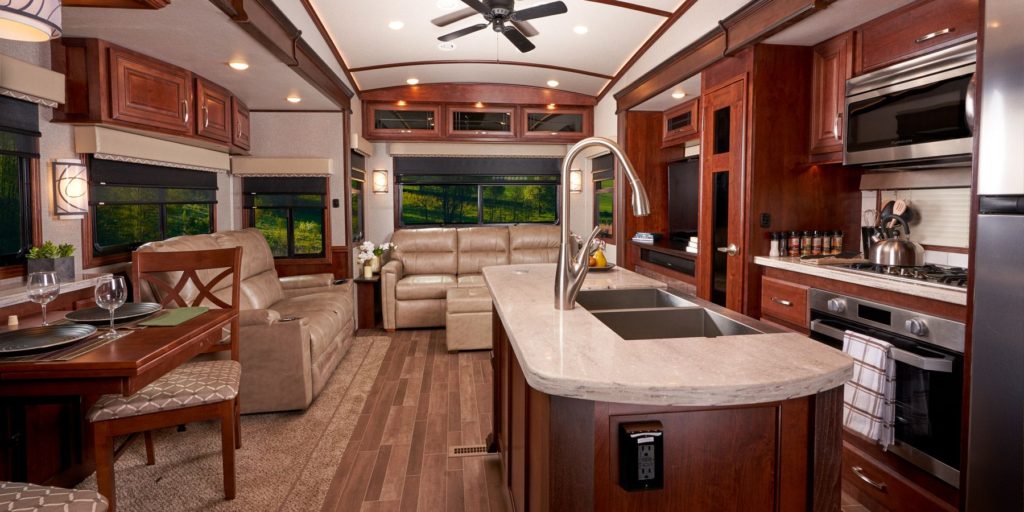 I might dream about having an RV Kitchen with a separate pantry area; but, I am thankful that my 23 ft. travel trailer comes with a large countertop area that other RVs do not have.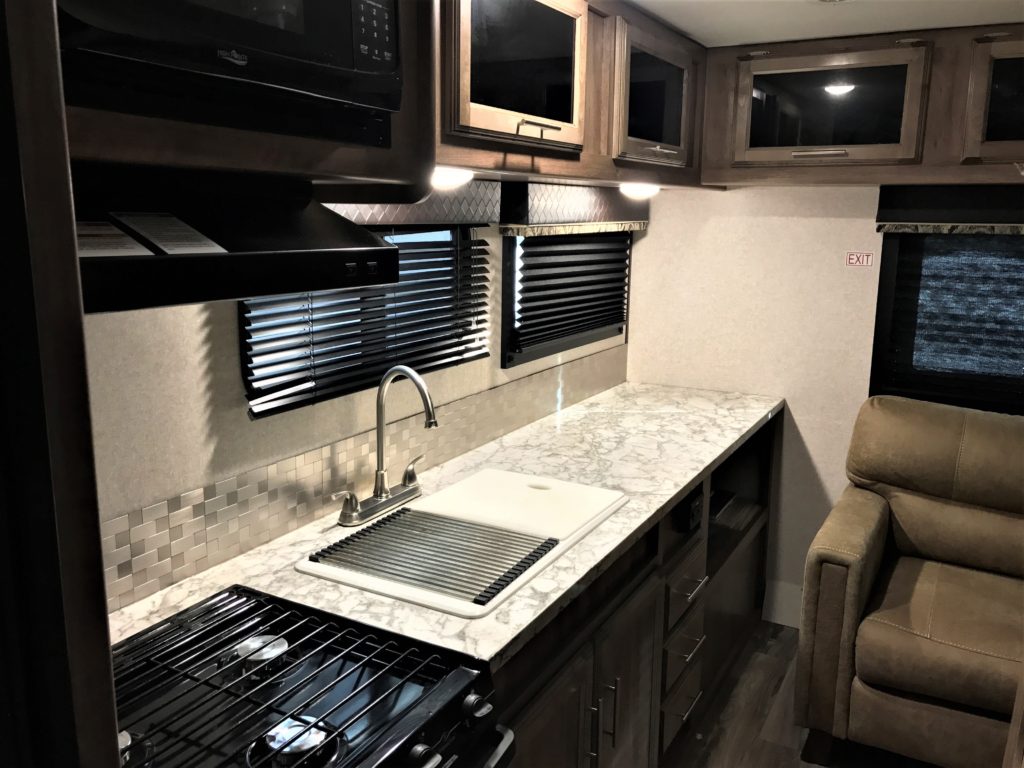 However, I still struggle with the space needed for my pots, pans, trays and everything else I jam under my sink!
HOW CAN BEGINNING RVers MAKE THE BEST USE OF THEIR RV KITCHEN?
Yes…You Really CAN Do It!
Here's an article I put together of the Best RV Kitchen and Pantry Must-Haves. This article lists all the pantry items you may not think of bringing along in your camper kitchen when starting out RVing.
So, now that you have a good handle on all the RV pantry items you will need…
What RV Accessories Do You Actually Need In Your Camper Kitchen?
Best Pots And Pans For Your RV
Get a good cast iron skillet.
This can be used for cooking indoors or outdoors. This is the skillet I have and use mostly when we cook outdoors.
I also bring along a small and medium-sized skillet if I need to cook something inside (rainy day, not feeling well and decide not to cook outside).
These are the skillets I use in my RV and work well. They were ones I had at home but loved them so much, I took them camping with us and are now in our RV.
Pots & Pans
This is a personal preference. If you are a full-time RVer, you will probably bring more pots than you would if you are just taking a week-long trip.
For me, all I need for our 1 – 2-week trips are:
Large Pot – for spaghetti
Medium Pot – for heating up soups
Some RVs come with an induction cooktop. This is something to think about when purchasing your RV.
If you've never cooked on one, you need to know that you can't use regular pots and pans.
These nesting pots are made especially for RVs that have induction cooktops. They are space savers too in that the handles can be removed for storage!
Cookie Sheets – I use mine for multiple purposes. I have one that I use when baking cookies in my RV oven.
Oh! And be sure to use a
baking stone so that you don't burn your cookies! (This is the trick to not burn them!)
I also bring 2 more cookie sheets of different sizes which make great carrying trays, or I line them with aluminum foil and put the food from the grill on them and set them on the picnic table!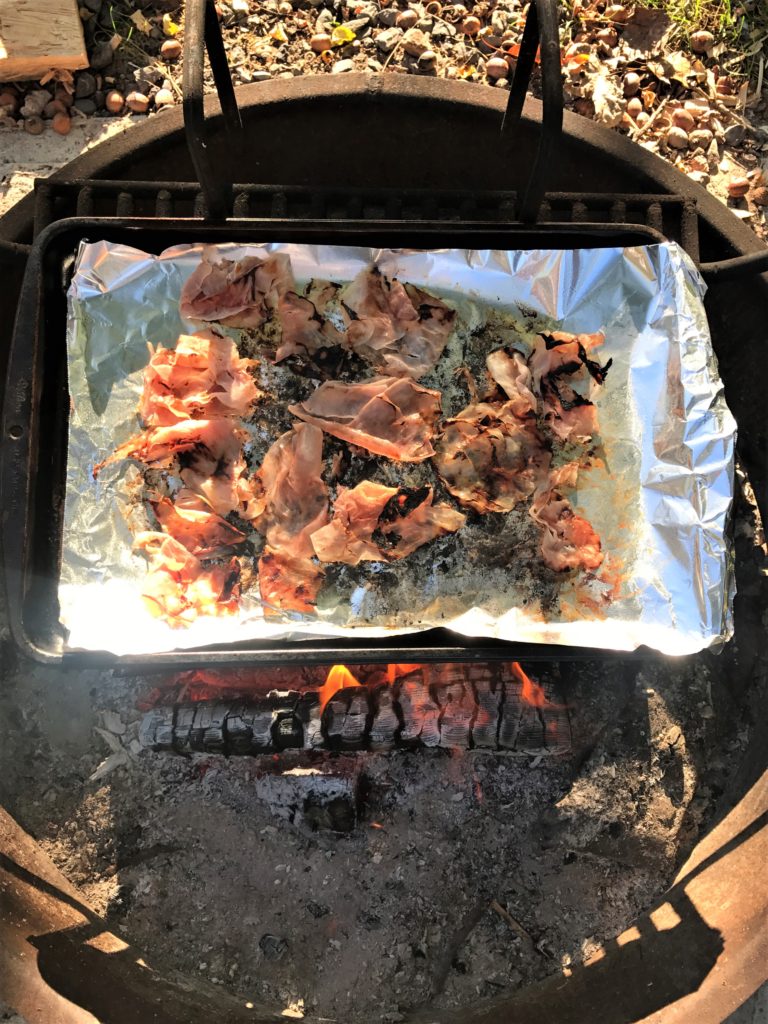 Here's a photo of us one morning we were packing up the campsite. We wanted to use up the deli ham but had already put the grills away.
It was delicious!
RV Dishes
My parents (who have been RVing for over 30 years), as well as many other RVers, prefer using plates for their meals rather than paper plates.
Many RVers I know use these types of dishes in their RV. My mom and dad have used their Corelle dishes in her RV kitchen for years.
Here's a photo of us camping in Missouri with my parents and brother in my parent's 5th Wheel Trailer. (My husband took the photo!)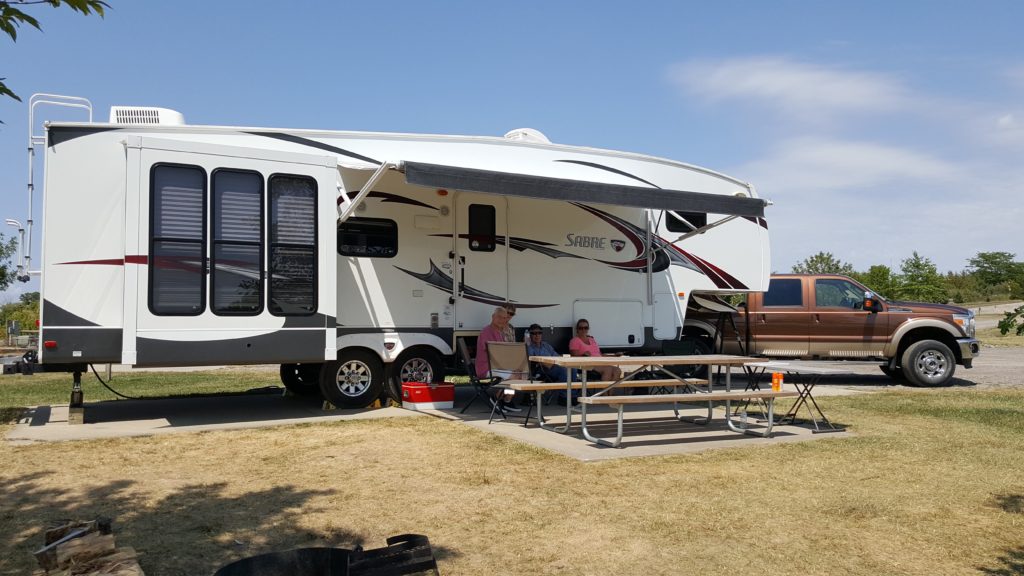 RV Kitchen Storage Accessories
So how do you travel with dishes in your RV?
These stackable plate holders fit Corelle Dishes perfectly!
You can see in the photo of my Jayco RV Kitchen that I have a dish drying mat. I used that thing ALL The TIME!
It came with my camper trailer but this dish drying mat is similar.
NOTE: Be sure to check the size of your sink before you purchase one!
Rubber Shelf Liner
One of the first things my mom told me to get was Rubber Shelf Liners.
Put the shelf liner in all your cabinets to help keep things from moving around.
My mom also uses these metal bars in her cabinets and refrigerator.
These also help keep things in place when your traveling.
For me, I keep all my spices (and other items) in a white Sterilite dish pan to travel.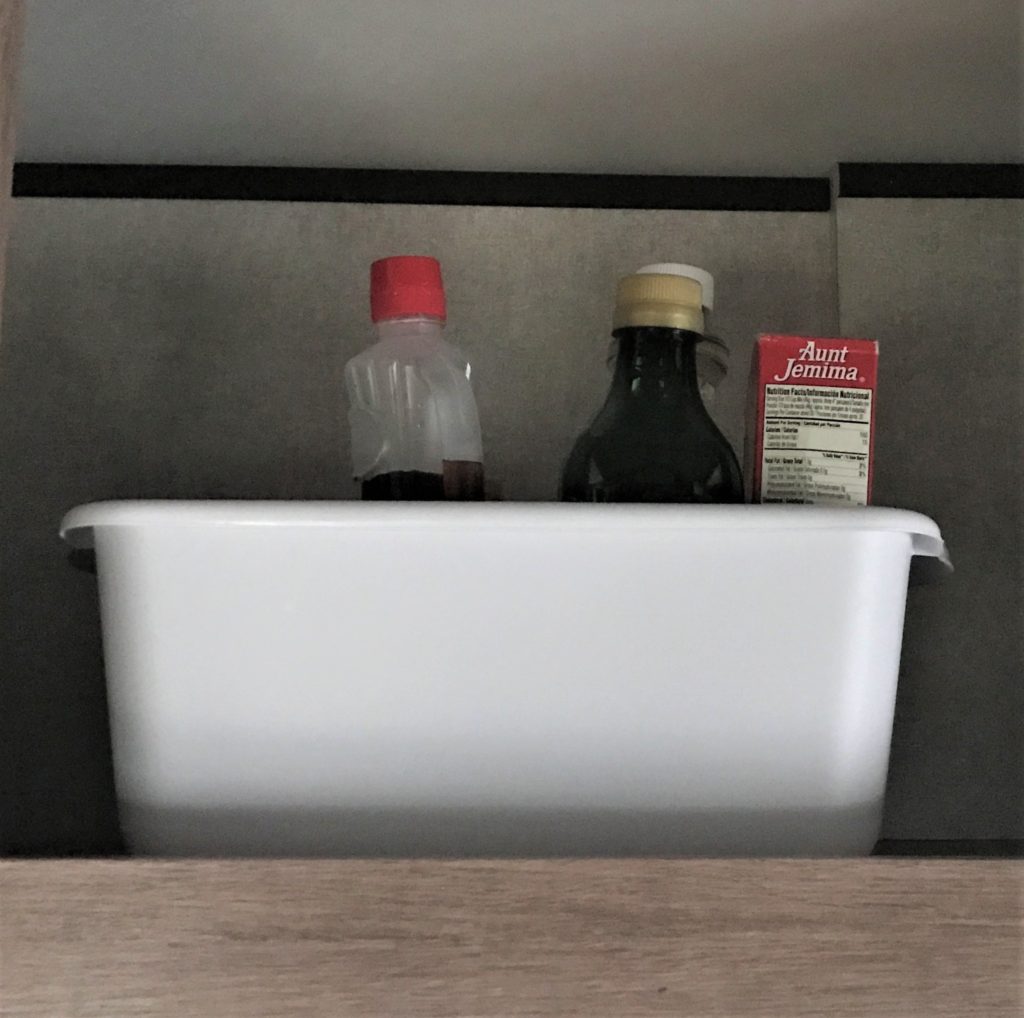 This keeps all my spices together and all I have to do is pull it out to cook!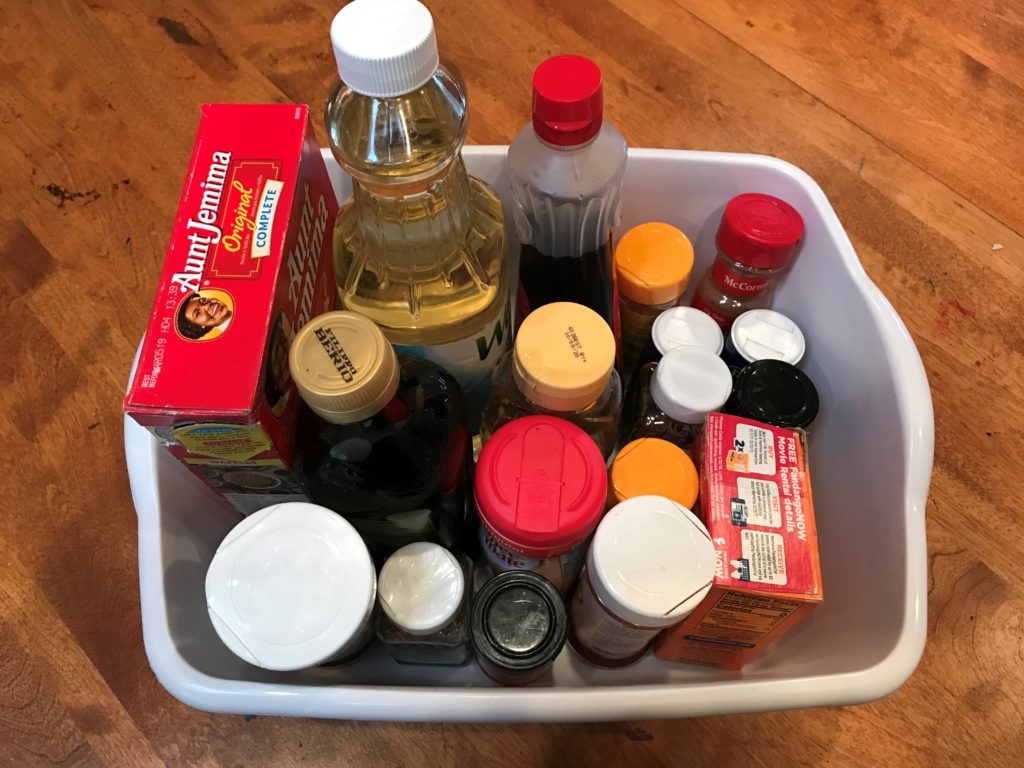 RV Drawer Organizer
I could do a little better with this drawer – for sure!
I think I need to get this adjustable cutlery tray made especially for RV drawers!
Here is where I store our silverware, cooking utensils, can opener, etc.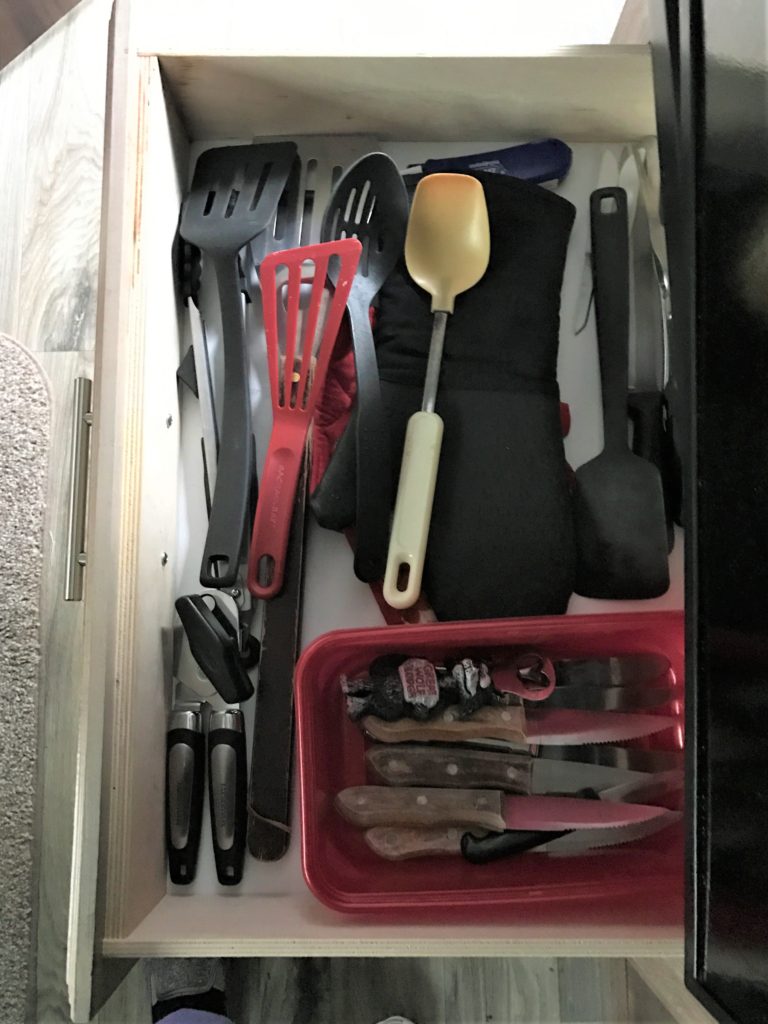 Top RV Kitchen Essentials – To Make Your Life Easier!
It makes 26 lbs of ice in 24 hours. We used it for New Year's Eve and it worked perfectly. We can't wait to use it this camping season!
I love this tea kettle because it has a loud whistle! I've had this kettle forever it seems and it is still making a great cup of tea!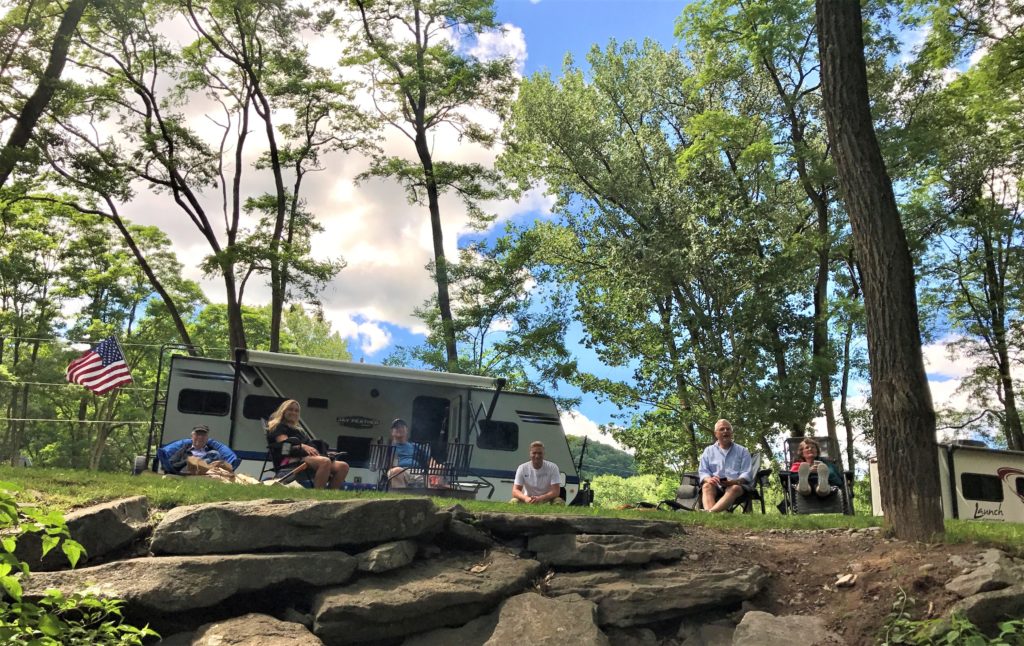 I hope this post helps you with what you will need in your RV Kitchen PLUS Storage ideas you can use to keep RV Kitchen organized!
Happy Camping & Safe Travels!
Need A Step-by-Step Guide For Setting Up Your RV Campsite?
Here's How To Easily Set up Your RV Campsite and
Download your FREE Set-Up Checklist!