There it is! You made it home with your brand new (or new to you) RV or travel trailer and it's sitting in your driveway.
As you begin dreaming about heading to the campground on your very first RV camping trip, you remember the salesperson rattling off quite a few things you needed for your RV.
What were those must-have items you had to get right away? We've all been there. But, the thing is...one list just isn't going to do it!
You'll be making list after list of the "RV Essentials" and "must have" items you not only need - but want to have!
It's fun to make your very own Wish List especially after seeing some of the RV gadgets and gizmos other campers have - and let me tell you - some of them are pretty cool!
To get you started, I've put together a list of 10 RV Essential Must Haves New RVers Will Need Before Their First Trip - just for you!
These must-have items are things that do not come with your new RV - but you will definitely need before heading out on your first RV camping trip.
But don't worry! Soon you will be enjoying the beautiful scenery, sitting by the campfire, or relaxing in your RV having the time of your life!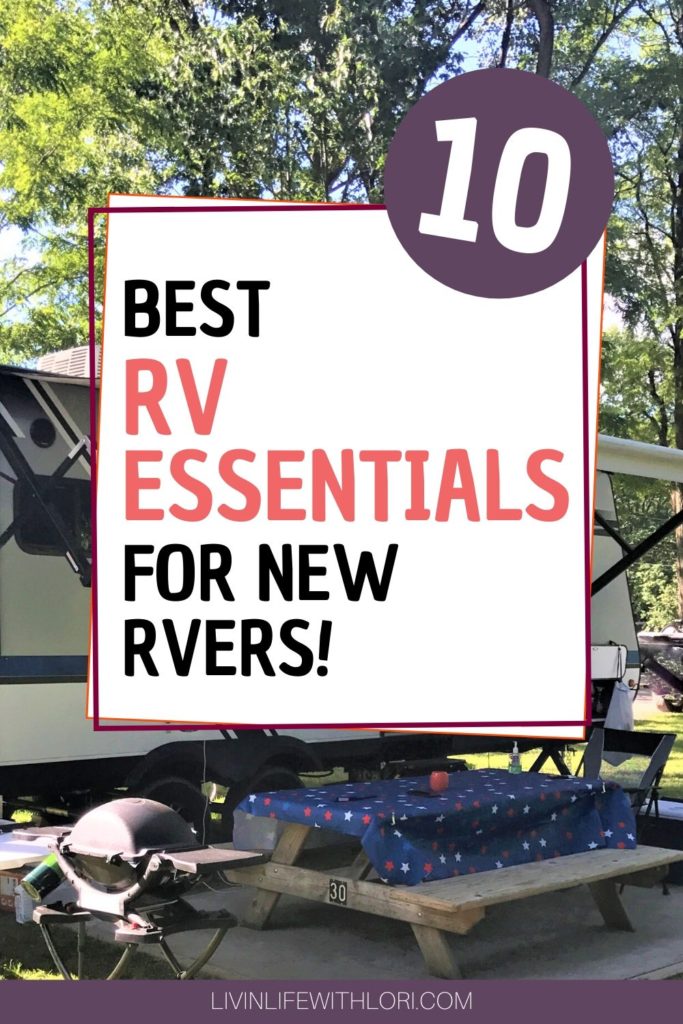 If this is the first time on the blog you may not know much about me. My husband Tom and I started RVing when Tom turned 50 and said, "Let's buy an RV!"
When my husband first mentioned getting an RV, I just kinda chuckled at him.
We actually didn't purchase our trailer until two years after he mentioned it! We were busy traveling with our kids on travel sports teams at the time so we really took our time to decide what type of trailer was right for us.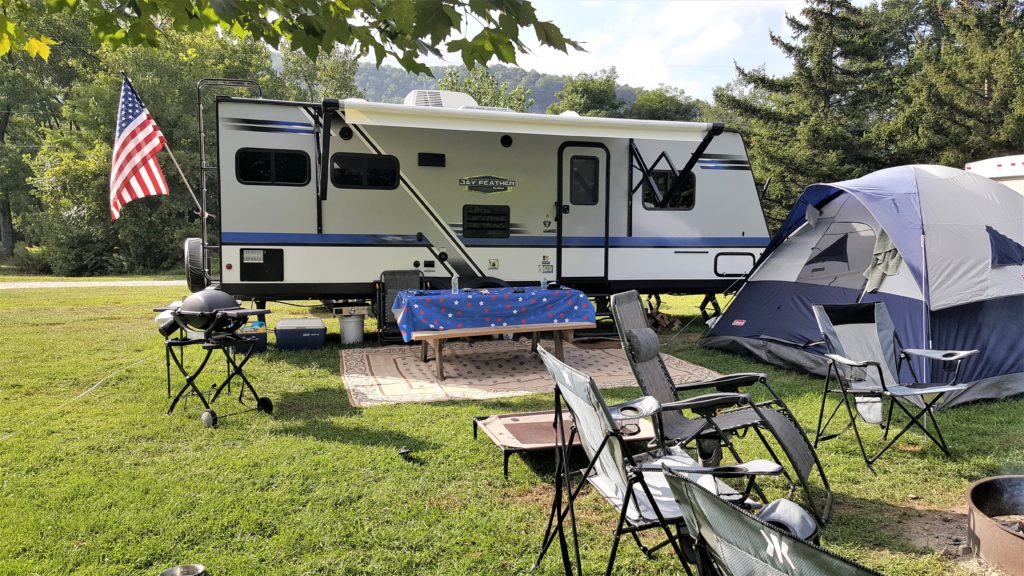 Here's a picture of our 23 ft. Jayco camper trailer - that we LOVE! Our trailer sleeps 6 (which we also love) but if we need a little more room when our extended family comes camping with us, we just add a tent to our site.
Here we are - Four years later - traveling the country pulling our travel trailer along with our Golden Retriever, Buddy.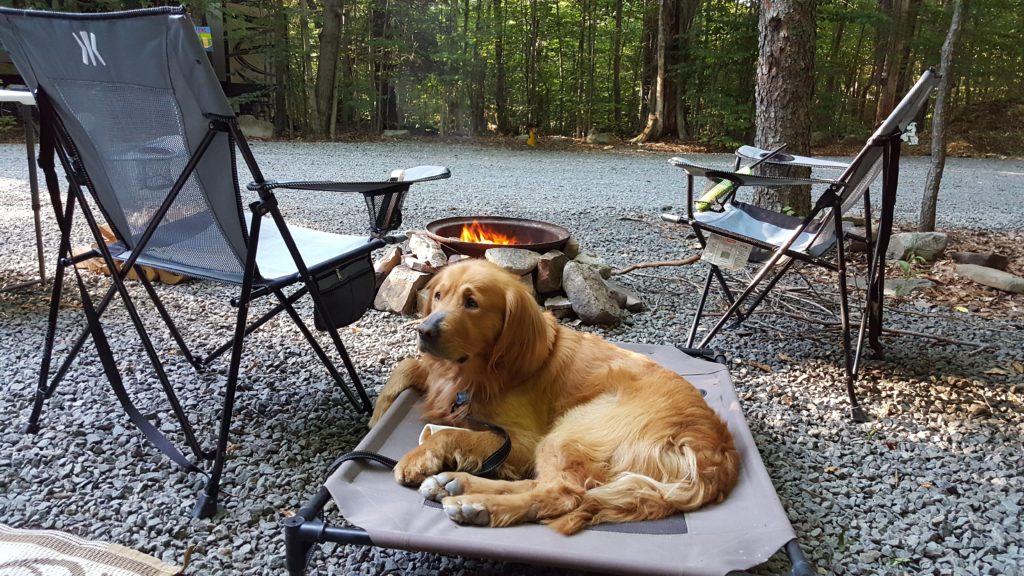 We are not full-time RVers...yet, but enjoy long weekends and four to five-day trips during the summer.
I try to let my readers know about tips we've learned, the best travel destinations, the best RV campgrounds, and recipes to try at home or at the campground!
My parents have been RVers for over 35 years. Throughout the blog, you'll see pictures of us camping with them in their 5th wheel. I've learned a lot from their RVing experience and pass along many the tips I've learned from them on to you.
Here's a photo of my parents, brother, Tom and me camping at Mozingo Lake in Northwest Missouri. You can read my campground review of Mozingo Lake HERE.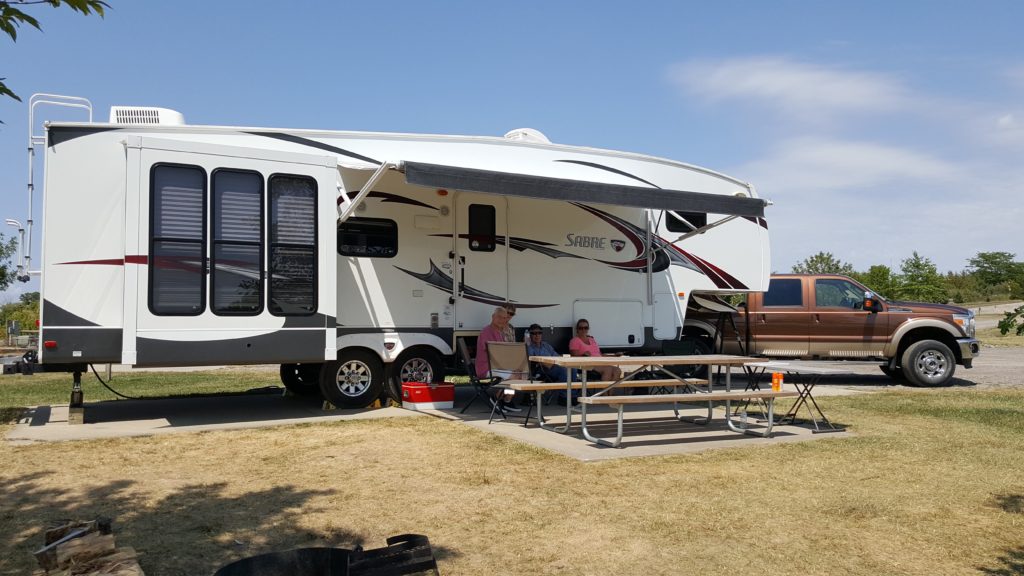 After we had been RVing for a full year, I wrote an article on 20 Must Haves For New RVers. It was a compilation of must-have items as well as other items we found helpful while camping that first season.
You'll also find an article - 5 New Favorite Must Haves To Take RV Camping that I wrote when we found a few fun items my daughter brought along on a camping trip and we knew our readers would also enjoy having them at their campground.
Then, I added my 10 Ultimate Wish List Items For Your Favorite RVer that included many WISHED-For items I personally wanted when I went camping! Some I did purchase for our camping trips, and others I'm still WISHING FOR! (hint hint!)
I see it over and over again...on Facebook, Instagram, Twitter..."Hi! We just picked up our brand NEW RV! Tell us everything we need!"
I realized that it would be hard for a new RVer to understand what the "First 10 items you MUST purchase" might be, so I'm breaking it down for you.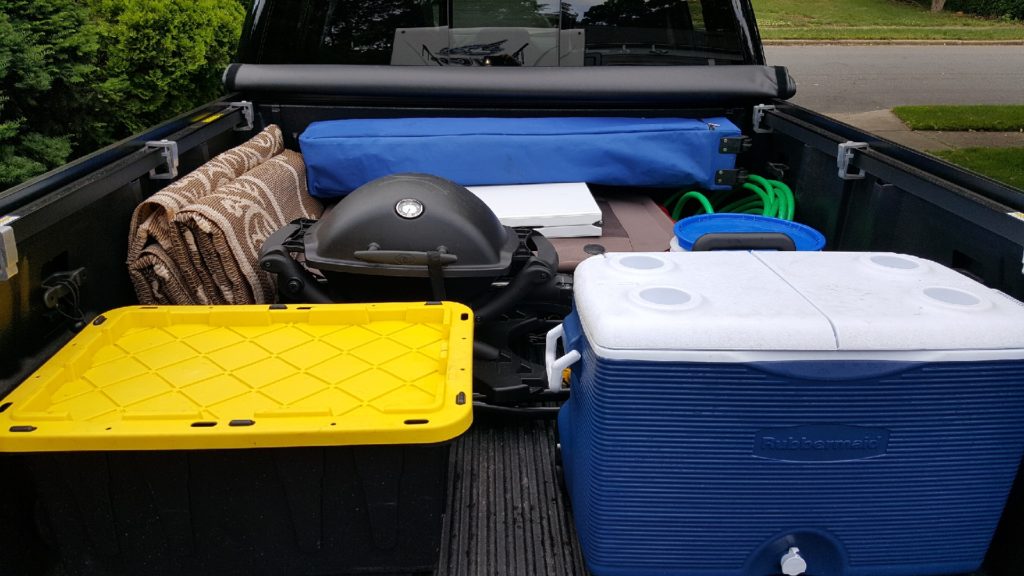 Instead of writing about ALL the RV must-have items in the same article, I plan to offer a series of articles discussing not only the RV essentials but also items we haven't used at all!
Below you will see I've added a photo of the item, description and a button that says "View Details" to make it easier for you to learn more about the product and to shop for the item if you choose.
So...remember the person at the RV dealer saying something about a sewer hose connection, leveling blocks, wheel chocks, portable waste tank...
YEP. You're gonna need those!
Here are 10 RV Essential Must Haves New RVers Will Need To Start
This post contains some affiliate links for your convenience which means if you click on a link and make a purchase, I will earn a commission at no additional cost to you. Read my Disclosure Policy for more information.

Sewer Hose With a Secure Connection
The #1 item to purchase is a sewer hose. You can purchase the hose and fittings separately or as a set like this one. The Camco Rhino Flex is a good hose and already comes with the fittings and a translucent elbow.
This is the sewer hose that we use and works just fine. The only thing to keep in mind is that when you're pulling (or backing) into the site, the hose is only 20ft. We have had to re-position the trailer a few times to make sure the sewer hose reached the connection.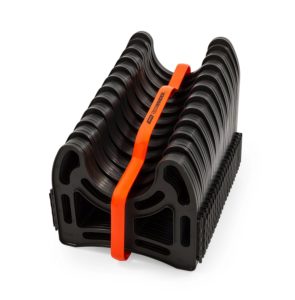 Sewer Hose Support
Don't leave the "sewer aisle" without a sewer hose stand "support". Just an FYI, in some states, it is a law that you lift your sewer hose off the ground.
The first time we camped with a "full hook up", we did not have a sewer hose support. When we went to hook up, the hose was lower than the sewer pipe so when we emptied the tank, my husband kept having to lift up the hose for it to drain. Believe me...it was our next purchase when we got home!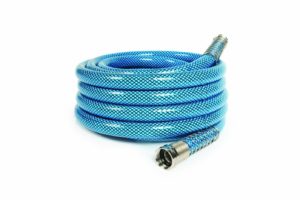 Dedicated Fresh Water Hose
Make sure you have a separate fresh water hose. This hose will be used to fill your fresh water tank. You want to make sure the hose is safe to use for drinking water which means - no green garden hoses!
This one is an "anti-kink" hose which you want to look for because we learned the hard way when our first water hose kinked! Also, your trailer or RV will come with a hose but it's a good idea to have an extra hose so you will be sure to reach the water pipe. At times, we've stretched ours to the max to reach the water at the campsite! Most RV hoses are blue or white and have something printed on them stating they are safe for drinking water.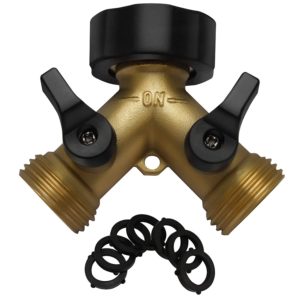 Water Hose Splitter
You'll need a water hose splitter too. We recommend having a hose splitter so you have access to water while your fresh water hose is connected to the spigot.
Water Hose Regulator
You want to make sure you have a water hose regulator. You can get one with or without the gauge. There are some campgrounds we have been to that have signs - "Water Hose Regulator Recommended" so be sure to have one when you head out to the campground.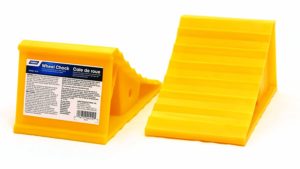 Wheel Chocks
These are the wheel chocks we use. They come in packs of 2 so make sure you order the correct amount for your trailer.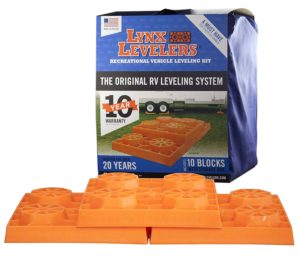 Leveling Blocks
I can honestly say that we have only had to use these a few times in our travels. Luckily, most of the sites we have used have been level. One of the first times we needed them, we backed into our site and saw there was a drop off below our back end. Our extenders were fully extended and we quickly hunted in our storage area for our leveling blocks!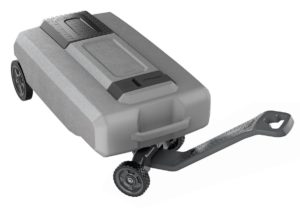 SmartTote2 Portable Waste Holding Tank
Some RVers will question whether or not this is a Top 10 Must-Have item - but for us...it is. If the campground(s) you will be camping at aren't full hook up - then you will want to have this for sure! Our first time camping with our brand new travel trailer was to a Water/Electric hook up only.
Then, three of our kids decided to join us for the four-day trip so that made five people (two adults/one teenage/two young adults) none of whom were used to camping. As we watched several trucks pulling a "grey water tank" to the dump station, my husband and I looked at each other and said...we need to get one of those! Just down the road happened to be a Camping World and they helped us choose the size of tank that was best suited for our trailer.
You can get the tank in either a two-wheel or four-wheel. One thing to consider when purchasing is whether you want the strap or not. We wanted to have the strap so that we could hook it onto the hitch of the truck and then we just pull it to the dump station with the truck.
We purchased the 2 Wheel tote but after using it for a while now, we would highly recommend buying the 4-wheel tote. Why? Because when my son doesn't come camping with us, my husband has to lift the handle onto the hitch of the truck himself and it is sometimes heavy to lift!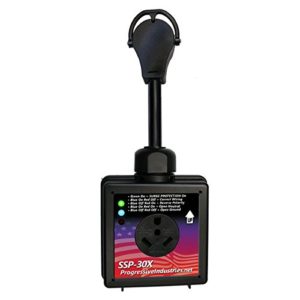 RV Surge Protector
One of the most important things is to protect your RV from power surges. I've heard over and over how a power surge at a campground caused permanent damage or burned out all the appliances in the RV. When you purchase a surge protector, be sure to order the correct one for your RV - either a 50 amp or a 30 amp.
And...Finally - The Bathroom! I've put these two items in one line so technically, yes, there are 11 Must-Have items!
Toilet Treatment Dropins
These are easy to use to help eliminate odors in the RV holding tank. You just drop them in!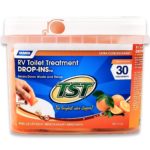 RV Toilet Paper
Yes! There IS such a thing and I highly suggest you use it! This is specially designed for RVs to dissolve quickly and helps to prevent clogs in your holding tank.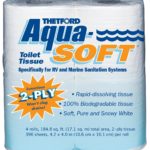 And, there you have it!
These are The 10 BEST RV Essentials New RVers Must Have before heading out!
I hope this list helped you so you can get on your way quickly and safely to your campground.
I can't wait to hear about all the places you go! Let me know!
Be sure to sign up for my newsletter!