Last Updated on July 24, 2020 by Lori
Looking for campgrounds near Lake Placid, New York? You'll want to be sure to check out North Pole Resorts and Campground in Wilmington, New York!
Don't let the "Resorts" in its name scare you. We loved everything there was about this campground in the Adirondack Mountains from its large wooded sites, full hook up, immaculate grounds. Plus, if you have a Big Rig, North Pole Resorts and Campground is definitely the place for you!
Camping In The Adirondack Mountains
I think one of the reasons we loved our camping trip to the Adirondacks was due to our decision to stay at North Pole Resorts & Campground.
North Pole Resorts not only had everything we look for in a campground but the campground was near Lake Placid, NY, and an easy drive to all the places in the Adirondack Mountains that we wanted to see!
This post may contain affiliate links which means if you click on a link and make a purchase, I will make a small commission at no additional cost to you. Please see our Disclosure Policy for more information.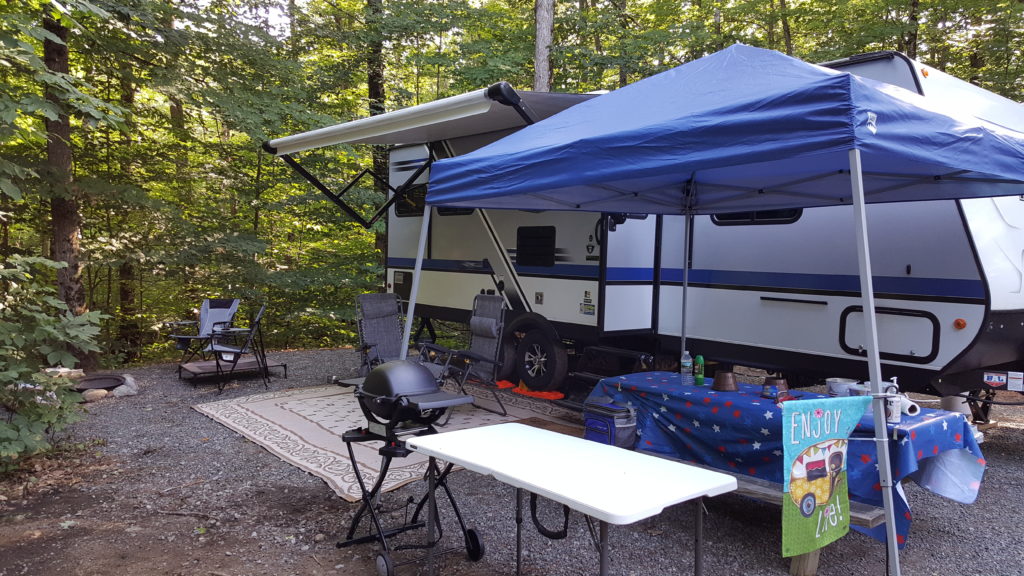 When we began planning our camping trip to the Adirondacks there were several very nice campgrounds to consider.
But my husband always studies each campground's map, takes a look at the views from the campground, considers the sites (back-in, gravel, cement, etc.) and whether or not the campground is full-hookup.
This is a factor for us when we are staying for longer than two days at a campground.
We decided that the large wooded sites in the 100 Acre Campground side of North Pole Resort were what we were looking for.
Plus, the campground is located in the cute town of Wilmington, NY, and literally down the road from the entrance to Whiteface Mountain, the North Pole amusement park, High Falls Gorge, 10 miles from Lake Placid and a 35-minute drive to Ausable Chasm!
Planning A Trip To The Adirondack Mountains?
Here's our 4-Day Itinerary to Best Places To Visit In The Adirondacks!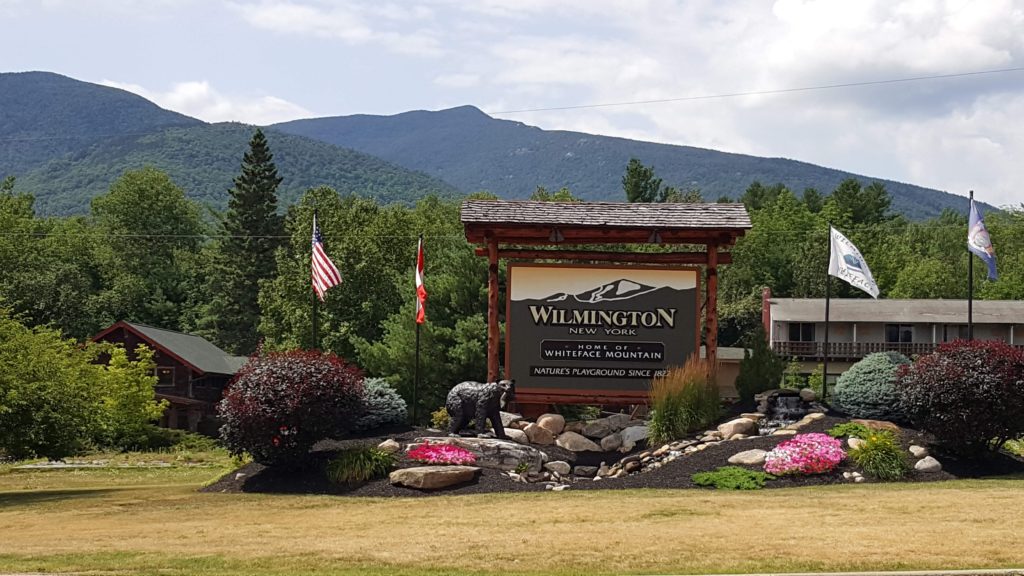 North Pole Resorts & Campground Amenities
North Pole Resorts is not only a campground for tents and RVs, but the resort has an inn, camping cabins, cute cottages for lodging as well.
Kids will have plenty to do with two swimming pools, two playgrounds, a game room, miniature golf, kayak and canoe rentals, and a general store with everything you might need!
The main campground is located on Ausable River with an amazing view!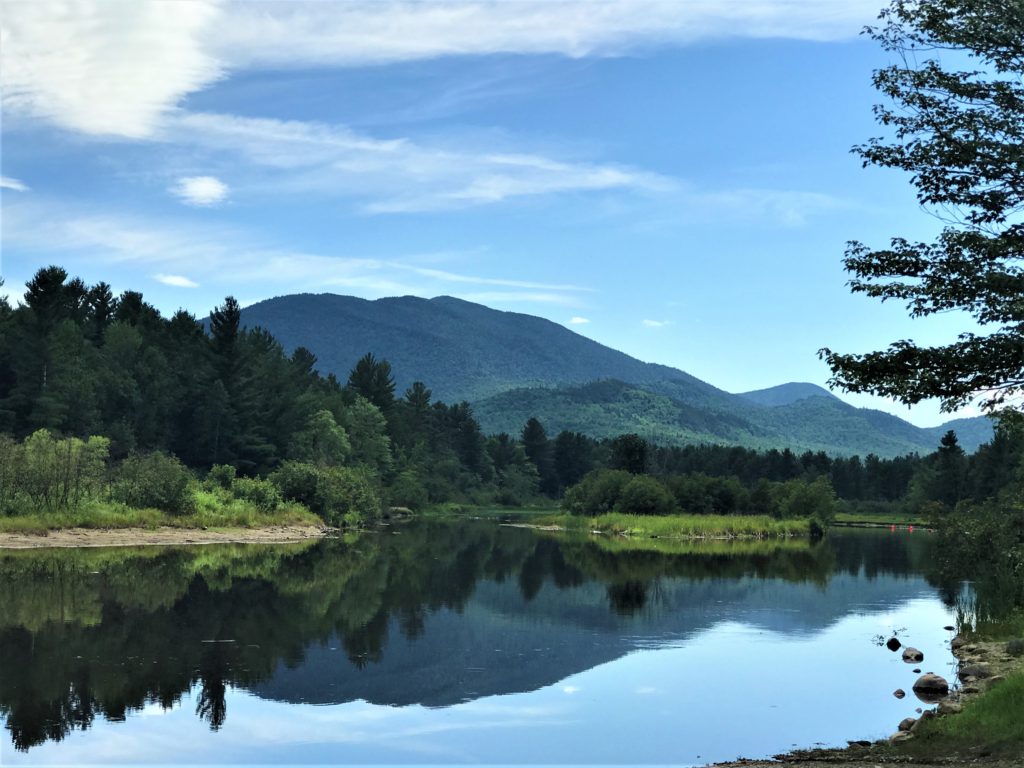 But – what we were most excited about was the 100 Acre Woods section of their campground across the street where we stayed for four nights!
These are large wooded sites with full hook up, and hiking trails connecting to the Whiteface Trail.
Just walking our dog around the campground seemed like a hike!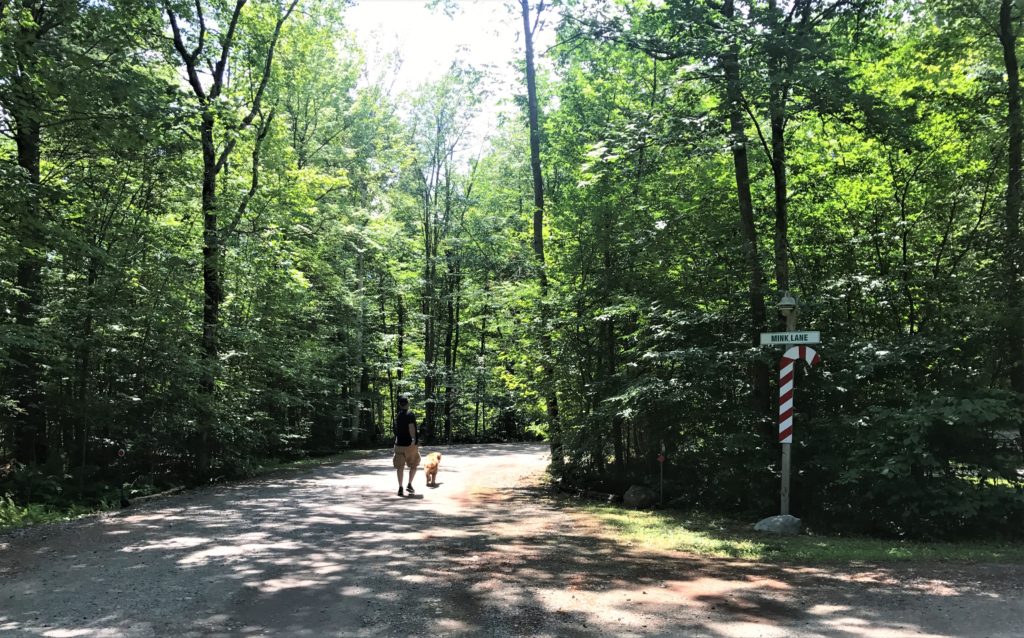 We were happy that we could bring our Golden Retriever, Buddy along.
The campground allows 2 dogs per campsite and charges a fee of $2 per dog – not per night – just per dog for the length of your stay.
There is a restriction on certain dog breeds, as well as other restrictions and fees for the inn, cottages, and cabins. (Please see their website for more details.)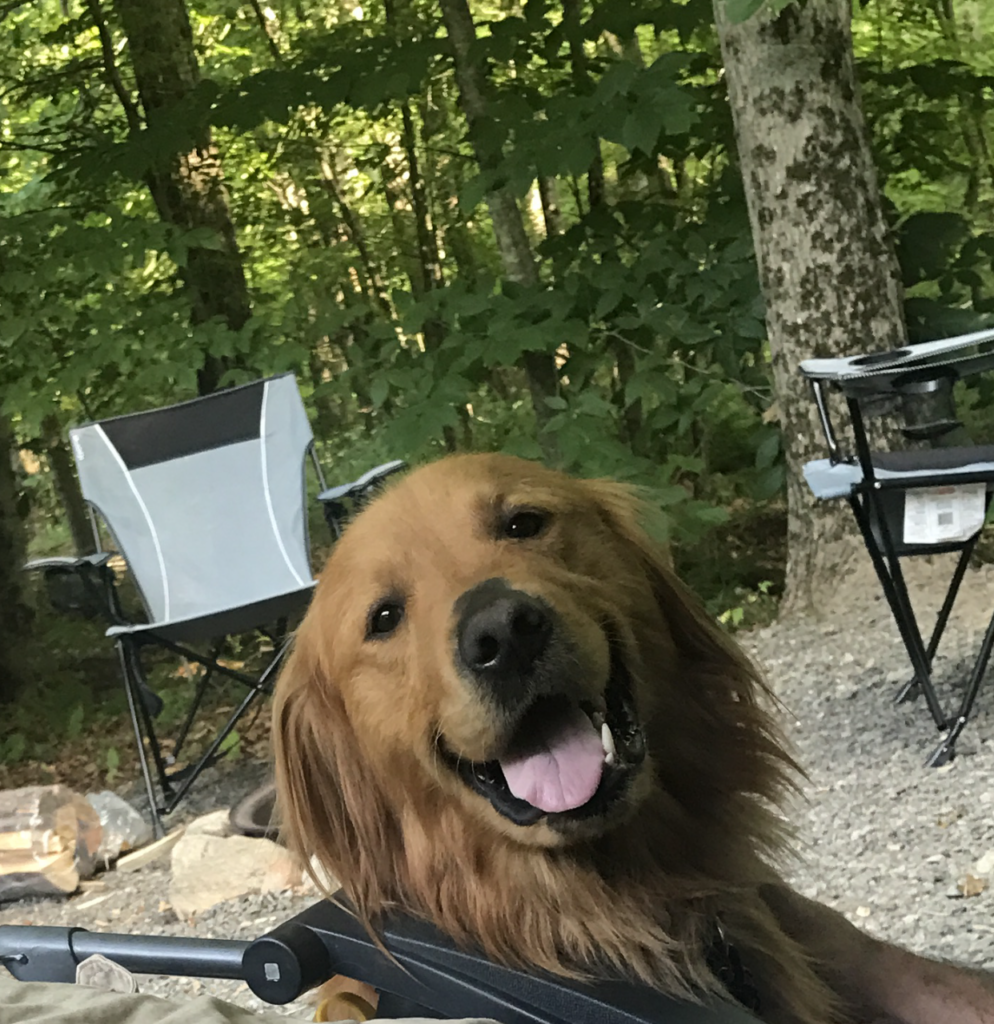 Check-in at North Pole Resorts and Campground
Pulling our travel trailer into the main campground for check-in (which is at the General Store) can be a little tricky – but if you follow the signs, you will see the pull-in area for your RV.
If you requested a Good Sam Discount
, make sure you bring your valid Good Sam card with you to check-in.
There's even a sign as you pull in reminding you to show your Good Sam Card!
If you're not a member of Good Sam, you can Save 10% on campground fees when you become a Good Sam member Today!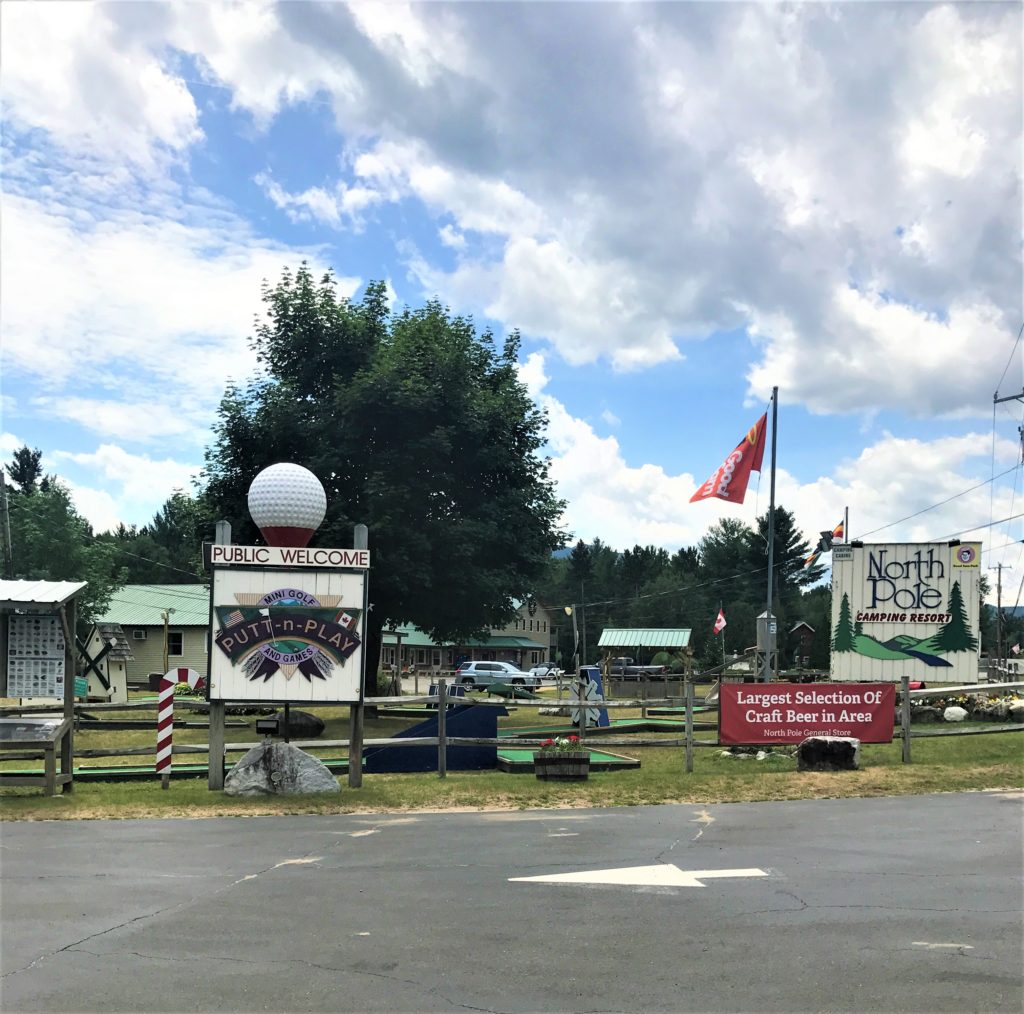 The campground received a Good Sam Rating of 10 on Restrooms & Appeal and a 9 on the Facility.
We can tell you the campground was immaculate and they deserve the 10 Rating!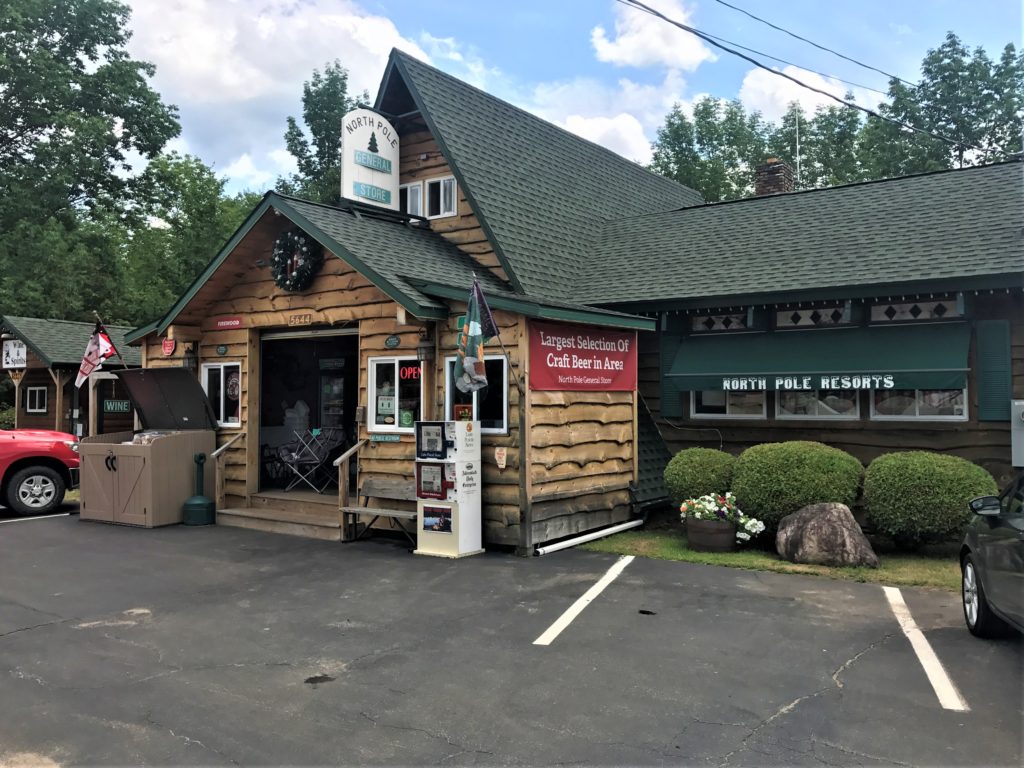 100 Acre Woods Section At North Pole Resorts And Campground
After checking in, a campground employee arrived in a golf cart to help us navigate across the street to the 100 Acres Woods section.
Once we crossed the street, another gentleman in a golf cart showed us where our site was and helped us get backed into our site.
Many of the big rig sites are pull-through and depending on which site you are assigned determined which route you took through the campground – so having the person escort you is a tremendous help!
The facilities person even brought the wood to our site so we didn't have to go across the street to the general store.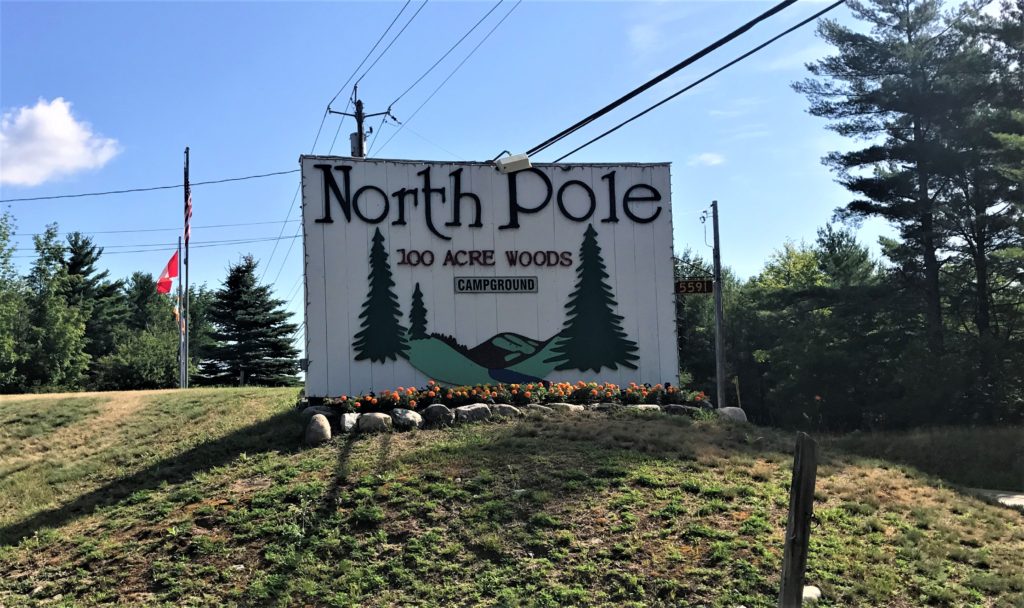 We arrived on a Thursday so the campground was fairly quiet.
By Saturday, the campground at 100 Acre Woods was almost full – and our 23 ft. Jayco was tucked in our wooded site along with some of the biggest RV's I've seen in one location!
The campground is well equipped for Big Rigs and even has a sign along the highway "Big Rigs Welcome!"
Our site was 98B – a back-in site along the woods.
I have to let you know that yes…we did hear coyotes one night!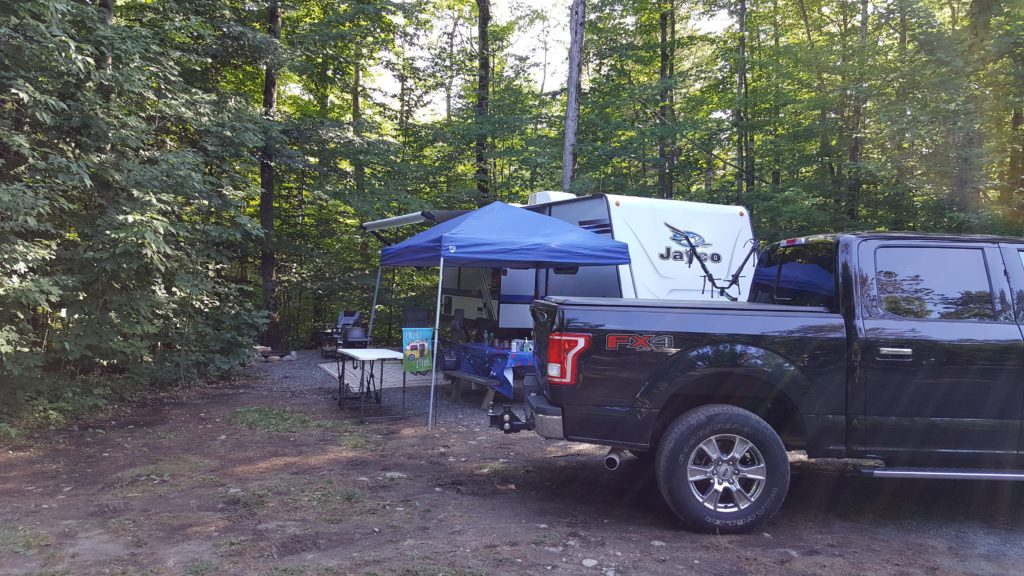 As we sat around our fire pit, we heard howling – just like you hear in an old western movie. My husband said, "What's that?"
Growing up on a farm in Kansas I knew immediately what it was! I said, "I think those are coyotes!"
He had never heard coyotes before and boy you should have seen the expression on his face!
I said, "Don't worry…they don't come near the fire!"…hoping that was true!!
Another thing we liked about this campground was the lights along the road throughout the campground and light on the pole at each site.
I know some of you may prefer the natural darkness of a campground, but I prefer to have a little light – especially if the campground is full of trees and no moonlight shines through.
One time we were at a full hook up campground with cable (gotta watch the Yankees!) and since the Yankees were playing in California, it was a late game.
When game time came, my husband said – "Oh, I forgot to hook up the cable!"
He was at the pole, in the dark, hooking up the cable!
So, we appreciated the light on the pole at the site – which I might add you could turn off if you wanted.
All in all – We loved our site!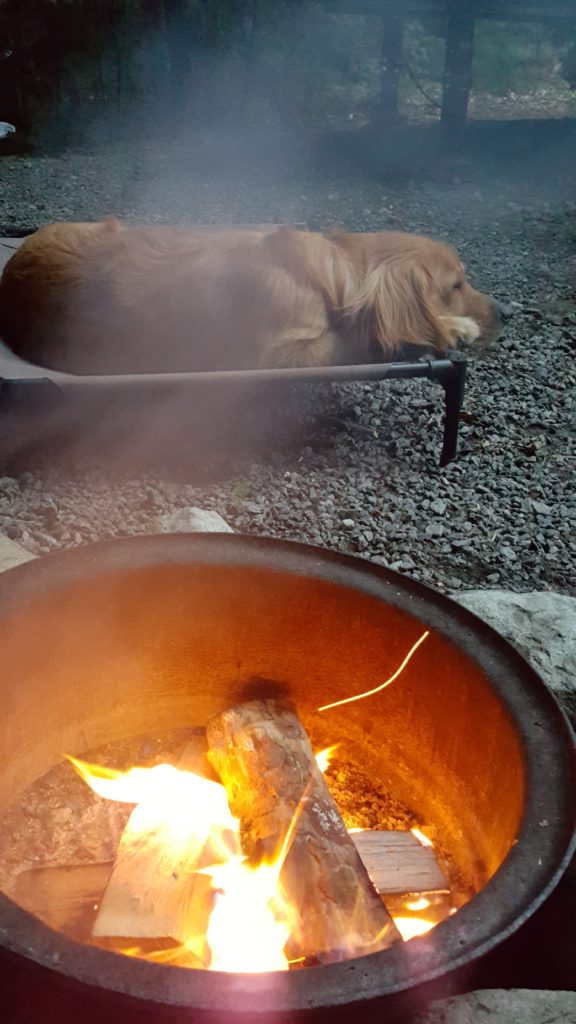 Why We Loved Camping At North Pole Resorts and Campgrounds
The resort section of North Pole Resorts sits on 15 acres along the Ausable River with some waterside sites and some water view sites.
All sites in this section are back-in sites on gravel with a fire pit ring and picnic table.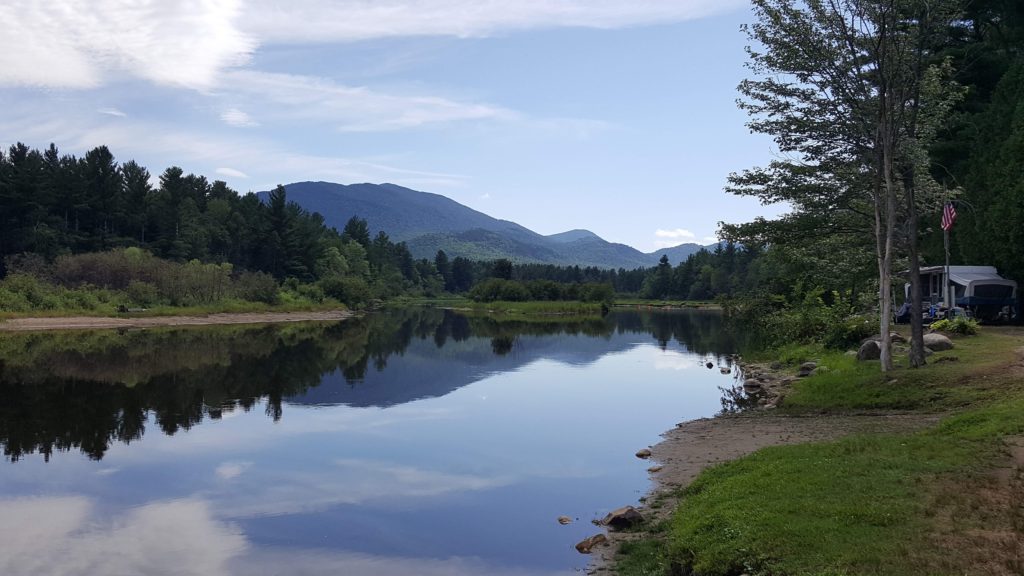 As we took Buddy for a walk through the main campground down to the river we saw RVs, tent sites, cottages and their log cabin which has a nice view of the river.
There is also kayak and canoe rental on this side of the resort.
We enjoyed taking Buddy on the dog path through the woods on our way back to the General Store.
We also saw a few "premium" sites that were very large and had a covered dining area and there were group tent sites.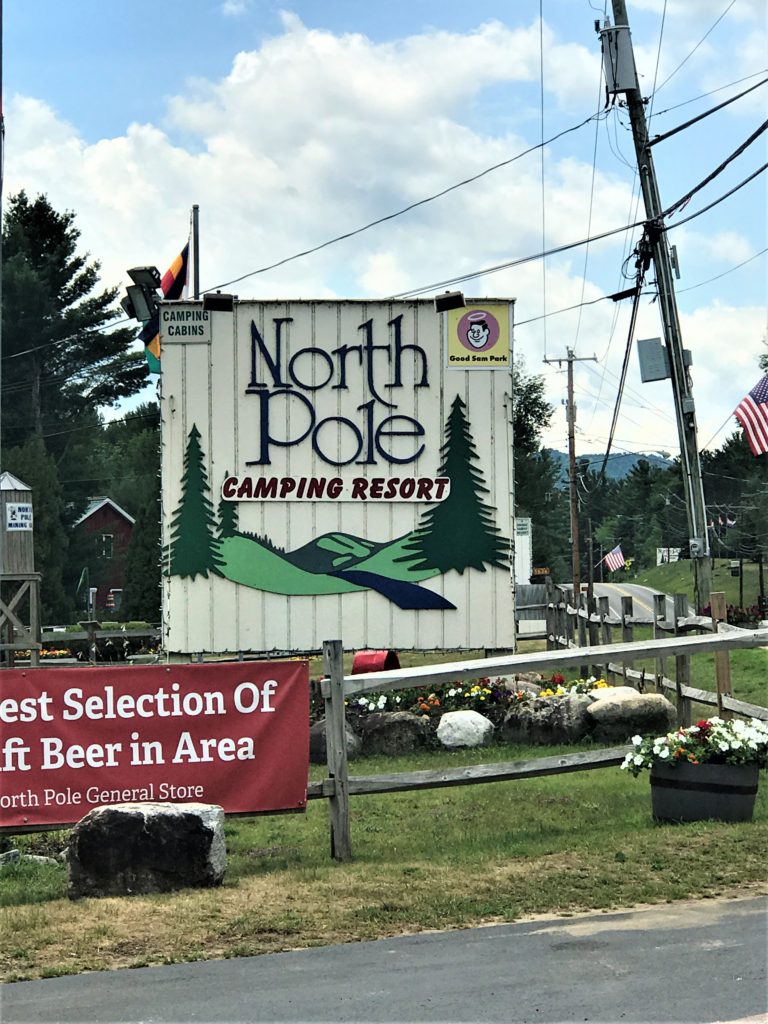 North Pole Resorts Campground Information
Rates are based on 2 adults and up to 2 children (ages 15 and younger). 3rd adult/teen (age 16 and older) at a site or in cottage/room charged an additional fee.
3rd child charged an additional fee.
One vehicle per site/room allowed.
Campsites – check-in is 12:00 – 9:00 p.m. Checkout is 11:30 a.m.
We arrived a little after 12:00 and felt like we had an entire extra day!
In fact, after setting up our campsite, we drove up Whiteface Mountain where the entrance was only a few miles away!
Related Reading: Learn more about our drive-up Veterans Memorial Highway and
How To See The Best Views From The Top Of Whiteface Mountain
If you have a Big Rig – no worries! The 100 Acres Woods section has plenty of space for you.
The general store even offers a variety of craft beers and wine which was a unique find.
Next door to the campground is a delicious ice cream shop that we did visit two nights! The first night I ordered "a cup of chocolate/vanilla twist with rainbow sprinkles." The young lady said, "a cone or a dish?" I replied, "a what? I'd like a cup!" She replied, "a dish?"
I laughed and said, "I guess I want a dish!"
The next night – not thinking of course – I ordered the exact same thing to the same young lady. She didn't bat an eye repeating my order with…" a dish of chocolate/vanilla twist with rainbow sprinkles!"
Being from the same state, you would think we would use the same terminology!
We were very happy with our choice of North Pole Resorts and I know you will be too!
Where are some of your favorite campgrounds near Lake Placid?
Let me know…I'd like to hear from you!
We did not receive compensation for our stay at North Pole Resorts. The opinions in this blog post are my own and are based on my family's experience.