Last Updated on October 25, 2022 by Lori
New York's Finger Lakes is home to over 100 wineries, breweries, and distilleries centered around Keuka, Seneca, and Cayuga Lakes. If your time is limited, deciding which vineyard to visit can be challenging! Here are three fun Finger Lakes wineries that we visited to help you get started – and they're dog friendly too!
This post contains affiliate links which means if you click on a link and make a purchase, I will earn a commission at no additional cost to you. Please see our Disclosure Policy for more information.
Best Wineries In The Finger Lakes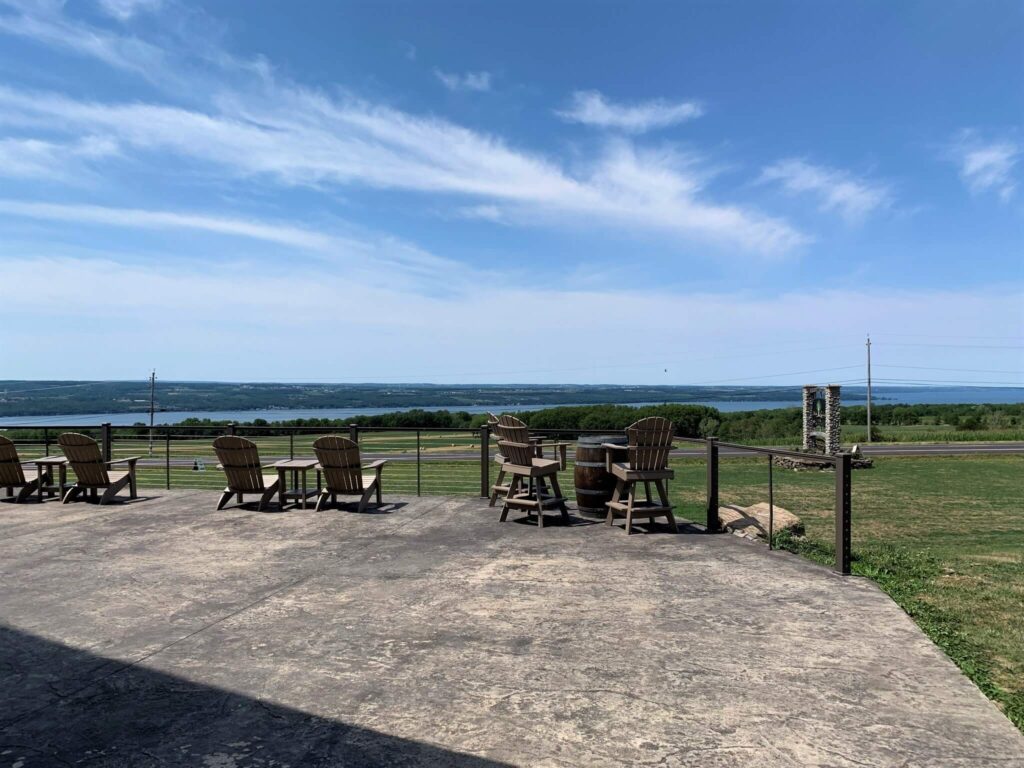 You can't visit the Finger Lakes region of New York state without stopping to check out at least one of the many wineries, breweries, or distilleries! Even if you're not a wine connoisseur, the beautiful views of the Finger Lakes alone will have you taking a seat, relaxing, and enjoying the day.
Being from Long Island where there are so many award-winning wineries to choose from, we wanted to try some wines from the Finger lakes vineyards on our trip to upstate New York.
When I started researching Finger Lakes winery tours, I have to say, I was a little bit overwhelmed by all there was to choose from!
I am happy to say that the NY Finger Lakes wineries did not disappoint!
Best Wineries In The Finger Lakes
Our 4-day Finger Lakes itinerary included hiking Watkins Glen, hiking to Tauggannock Falls, and hiking to see beautiful Lucifer Falls in Robert H. Treman State Park.
That put us right in the heart of the Finger lakes Wine Trails, so we set aside time each day to visit a winery.
There was just one important thing we had to find out…
Are Finger Lakes Wineries Dog Friendly?
The Finger Lake wineries are some of the most dog-friendly wineries in New York! We travel with our Golden Retriever, Buddy, and wanted to find not only wineries that allow dogs, but hopefully, there were Finger Lakes wineries with restaurants that also allow dogs.
Well, we were in luck! Every winery that we visited welcomed dogs. And I don't just mean in the outside areas. The wineries that we visited allowed them inside the tasting room too.
Everyone that we met at the winery was a dog lover. They brought out a bowl of water for Buddy everywhere we went!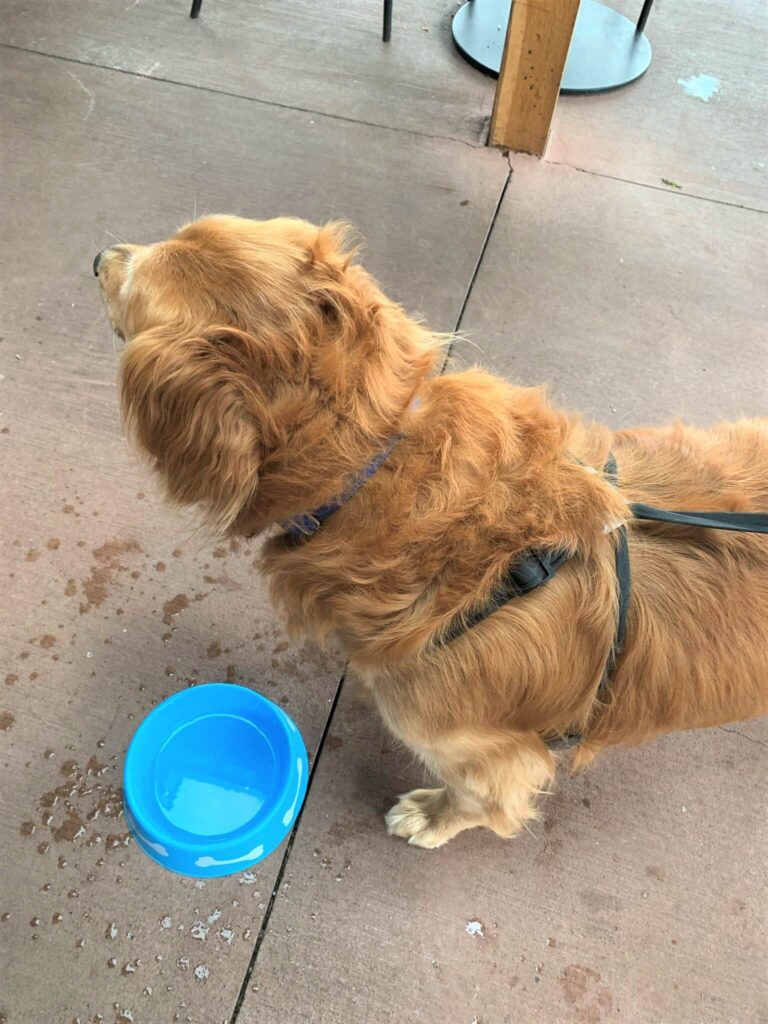 Best New York Wineries In The Finger Lakes
Now that we knew the wineries welcomed dogs, we decided to try one winery on each of the three lakes in the area we were visiting so we could try Seneca Lake wine, Kauka Lake wine, and Cayuga Lake wine. It would be fun to see which lake had the best wine!
We had one day free, so we decided to drive to the furthest lake from where we were camping – Keuka Lake. We had read that the town of Hammondsport was a cute town to visit so we looked for wineries near there.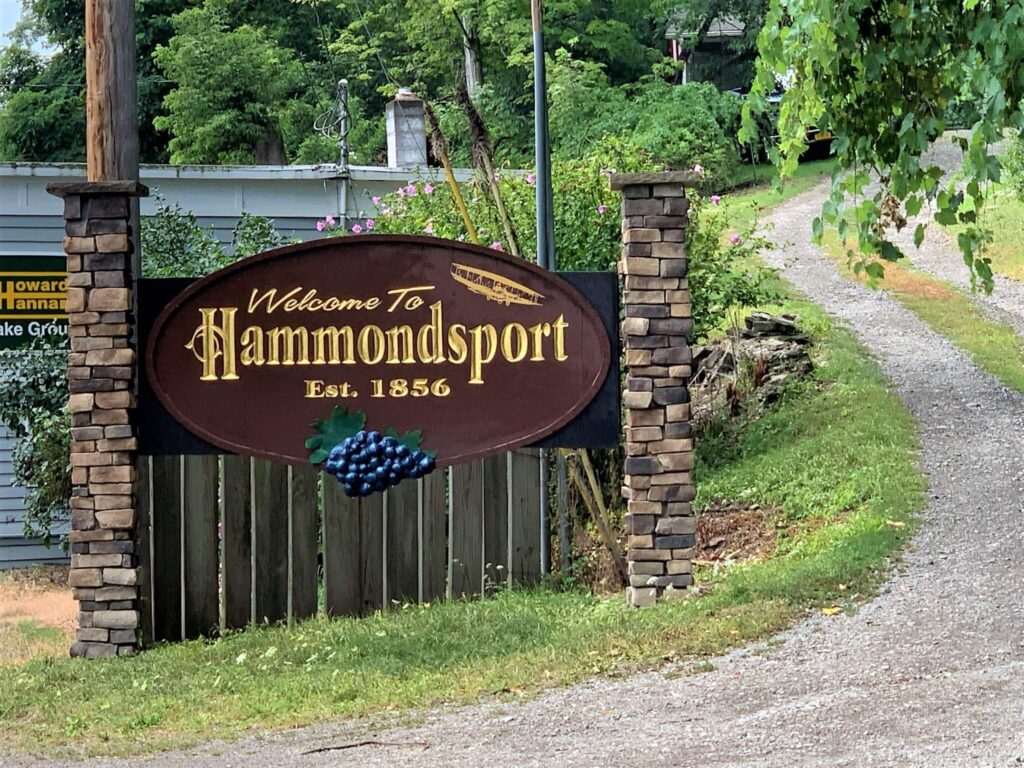 That's how we found Bully Hill Winery. From its website, we saw that Bully Hill also had a restaurant and that dogs were allowed on the patio area for dining. It would fit perfectly into our plans for the day!
Keuka Lake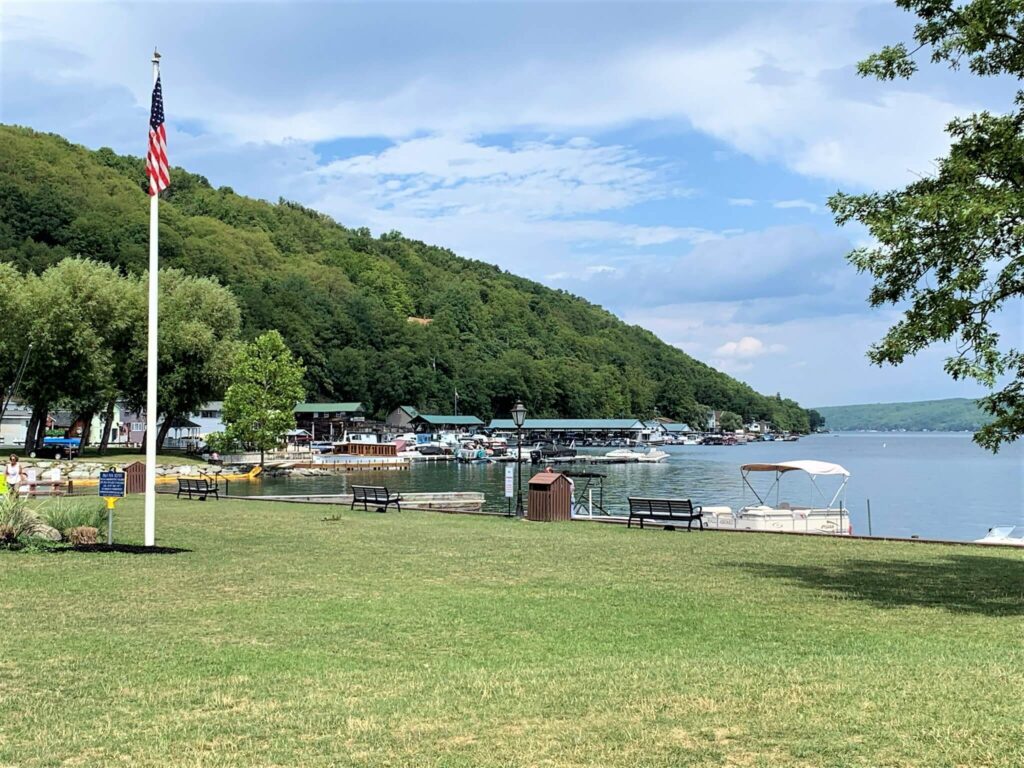 Bully Hill Vineyard is located on Keuka Lake. Keuka is pronounced "Koo-Kuh", or as the girl in the tasting room told us, "Just think cucumber!"
The name comes from the Iroquois word that means"canoe landing". It is nicknamed Crooked Lake because of its unusual Y-shape.
Keuka Lake is smaller than nearby Seneca Lake and Cayuga Lake, and its shallow waters make it perfect for swimming and boating all summer long. Plus, there are over 20 wineries on Keuka Lake!
As we drove along Keuka Lake towards the town of Hammondsport, we saw many wineries we could have just as easily pulled into with views of the lake.
But, on the other side of the lake, way up on top of a hill, we could see Bully Hill Vineyards.
To get to the vineyard, you have to drive through the town of Hammondsport where there are cute restaurants and shops.
As we made our way up the hill to Bully Hill Winery and parked, we took a moment to take in the view of Keuka Lake.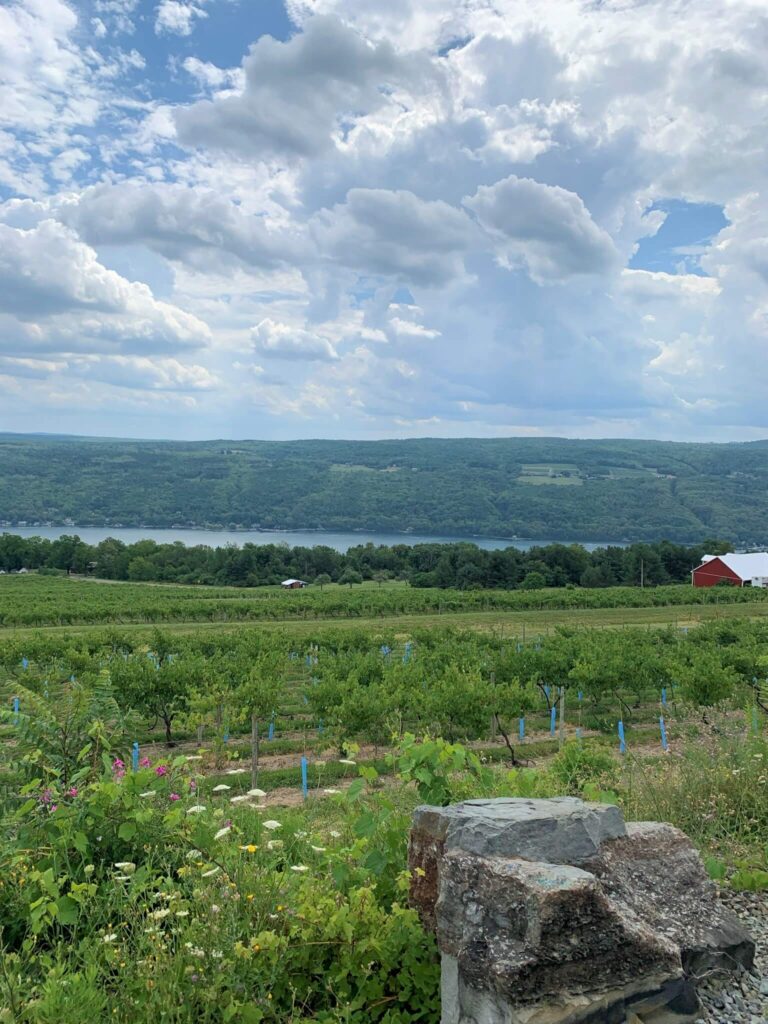 Bully Hill Vineyards
The entrance to Bully Hill Winery offered just a glimpse of one of the prettiest wineries we have experienced.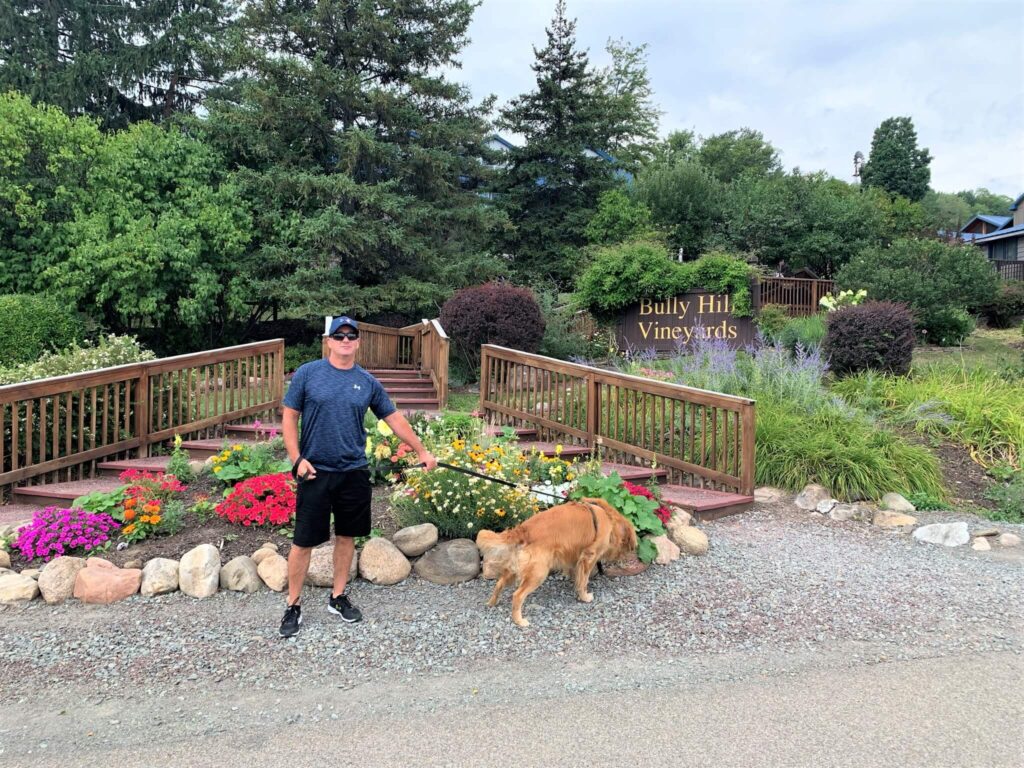 Bully Hill Winery
8843 Greyton H. Taylor Memorial Drive
Hammondsport, NY 14840
607-868-3610
bullyhillvineyards.com
Bully Hill Restaurant
Serving Lunch: Tu-Th 11-3, Fri & Sat 11-4, Sun 11-3. Closed Mondays
Bully Hill Winery Tours
There are FREE winery tours offered Daily (weather permitting). Tours depart at the top of every hour from 11-4.
Bully Hill Tasting Room
Open daily 10-5
Tastings are $8 per person and include Five (5) pre-selected wines and a free souvenir glass.
Bully Hill Winery Restaurant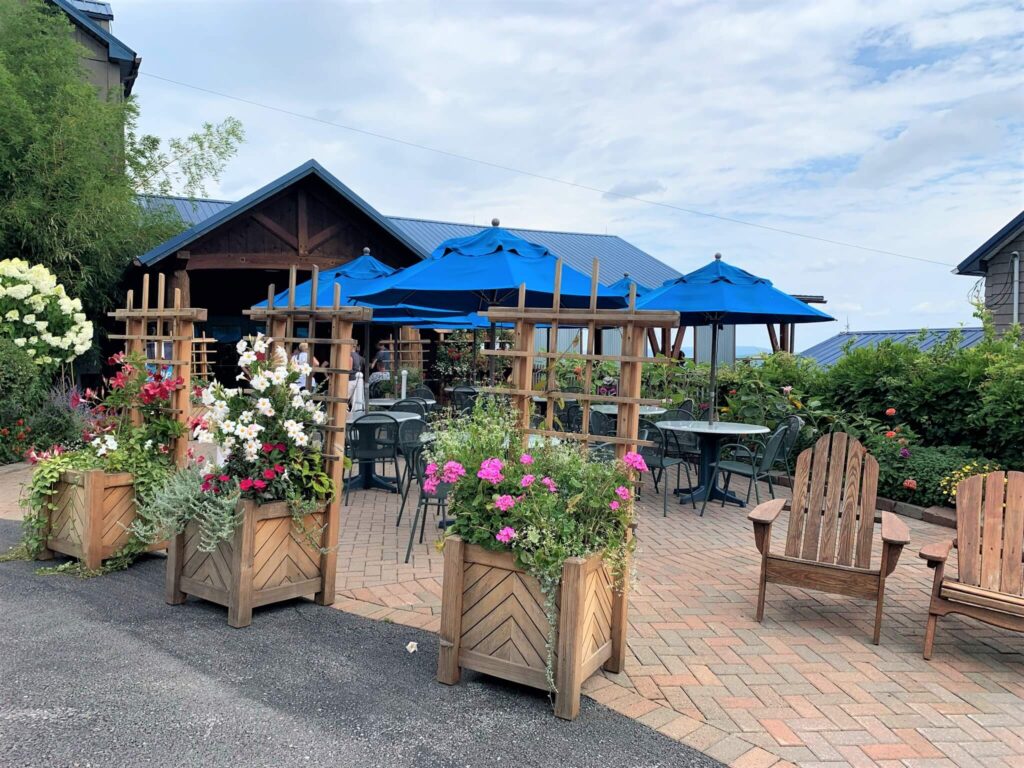 The first thing on our agenda was to find the Bully Hill Restaurant. We arrived just as the restaurant was opening and there was already a line at the door!
My husband sat down at the tables in the patio area with Buddy, where we knew from their website they allowed dogs, and I stood in line to give our name.
Guests remained outside until their name was called for dining inside the restaurant or on the deck. Since we were eating on the patio, she told us to take a seat anywhere on the patio, and they would come to take our order.
Without asking, the staff immediately brought our Golden a bowl of water! it was a welcome surprise. When staff dropped off the silverware and menu, they informed us when we were ready to order to come inside to the Order Counter.
Bully Hill Restaurant Menu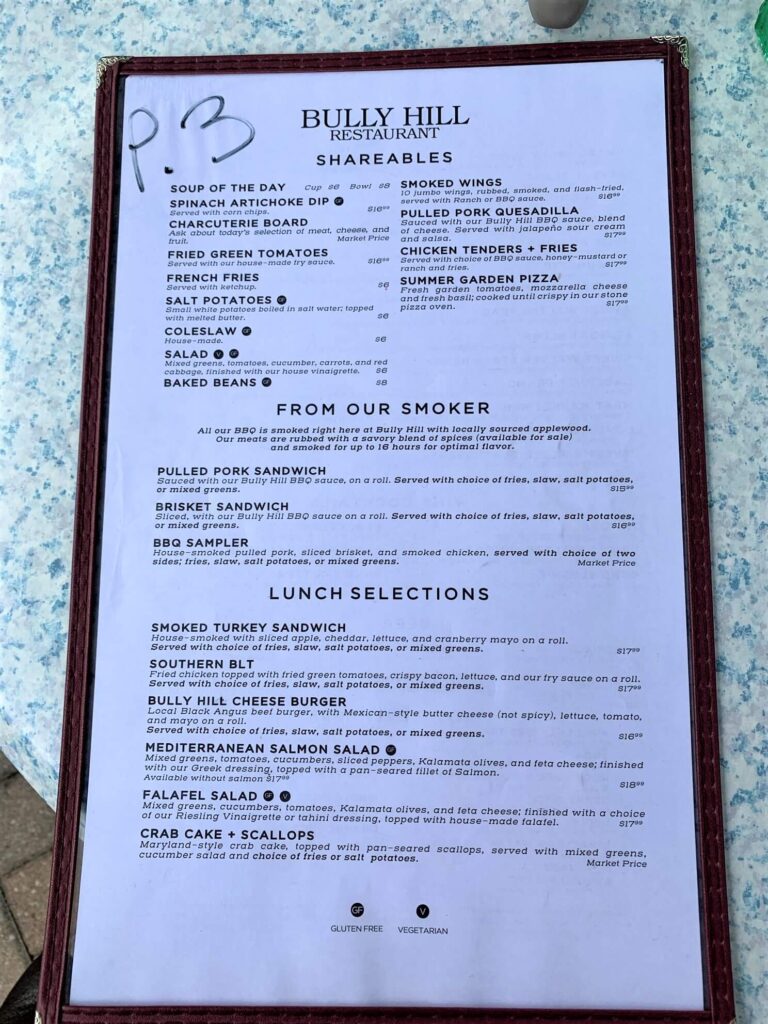 Many menu items sounded absolutely delicious! After finally deciding what to order, I went inside to give our order and pay. Our drinks were delivered shortly after I returned to the table.
Lunch was spectacular!
My husband had the crab cake with scallops. Many guests commented on their way out of the restaurant how delicious his lunch looked, and how they should have ordered the crab cake!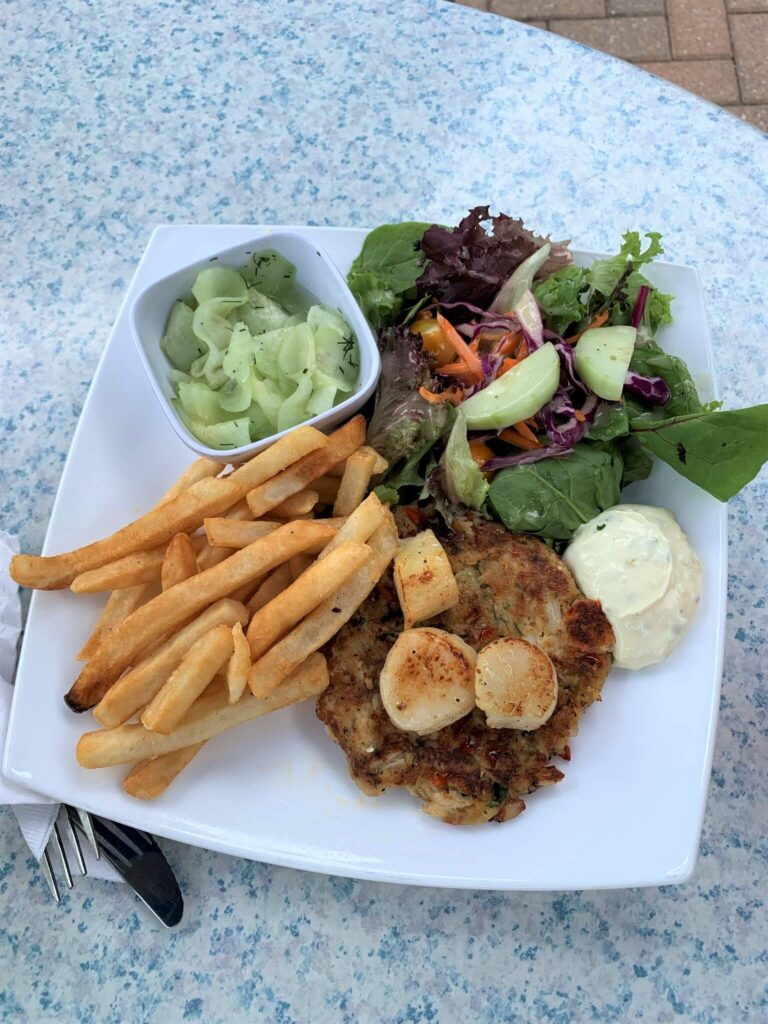 My Mediterranean Salmon Salad was so delicious that I couldn't stop eating it!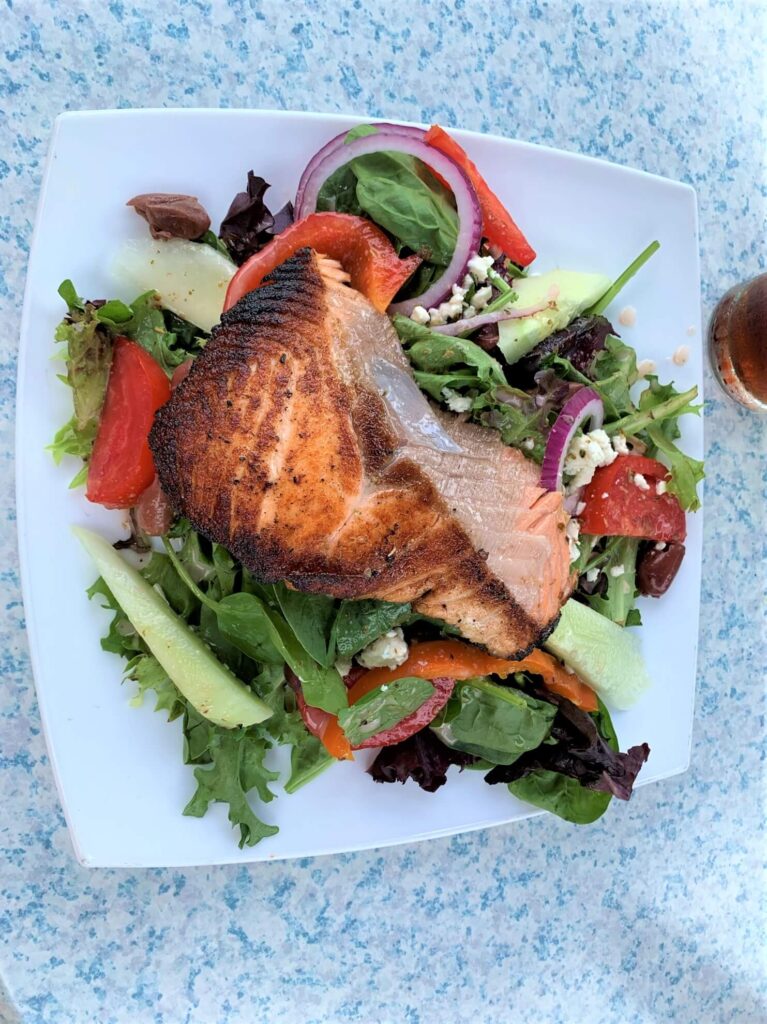 We were so happy that Bully Hill accommodated dogs on their patio and provided such an awesome lunch too!
After lunch, we made our way up the hill to the tasting room. Along the way, we saw the Gift Shop with very cute things!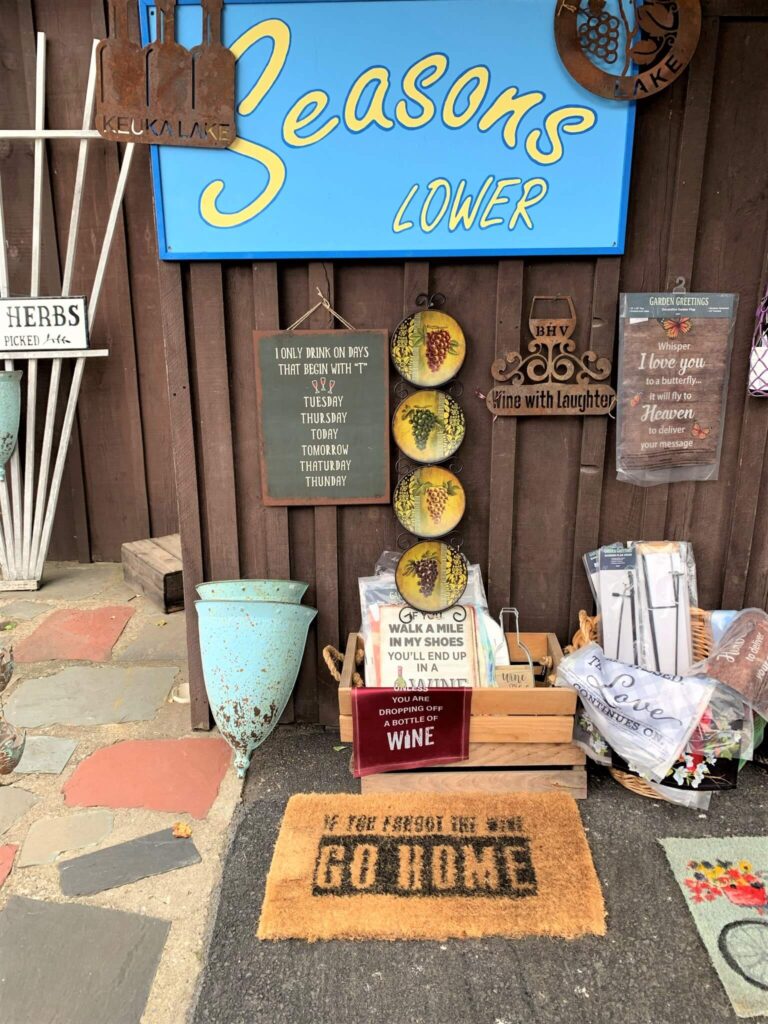 The tasting room and wine store are in a large building on top of the hill. The day we visited, they were having tastings in the wine shop.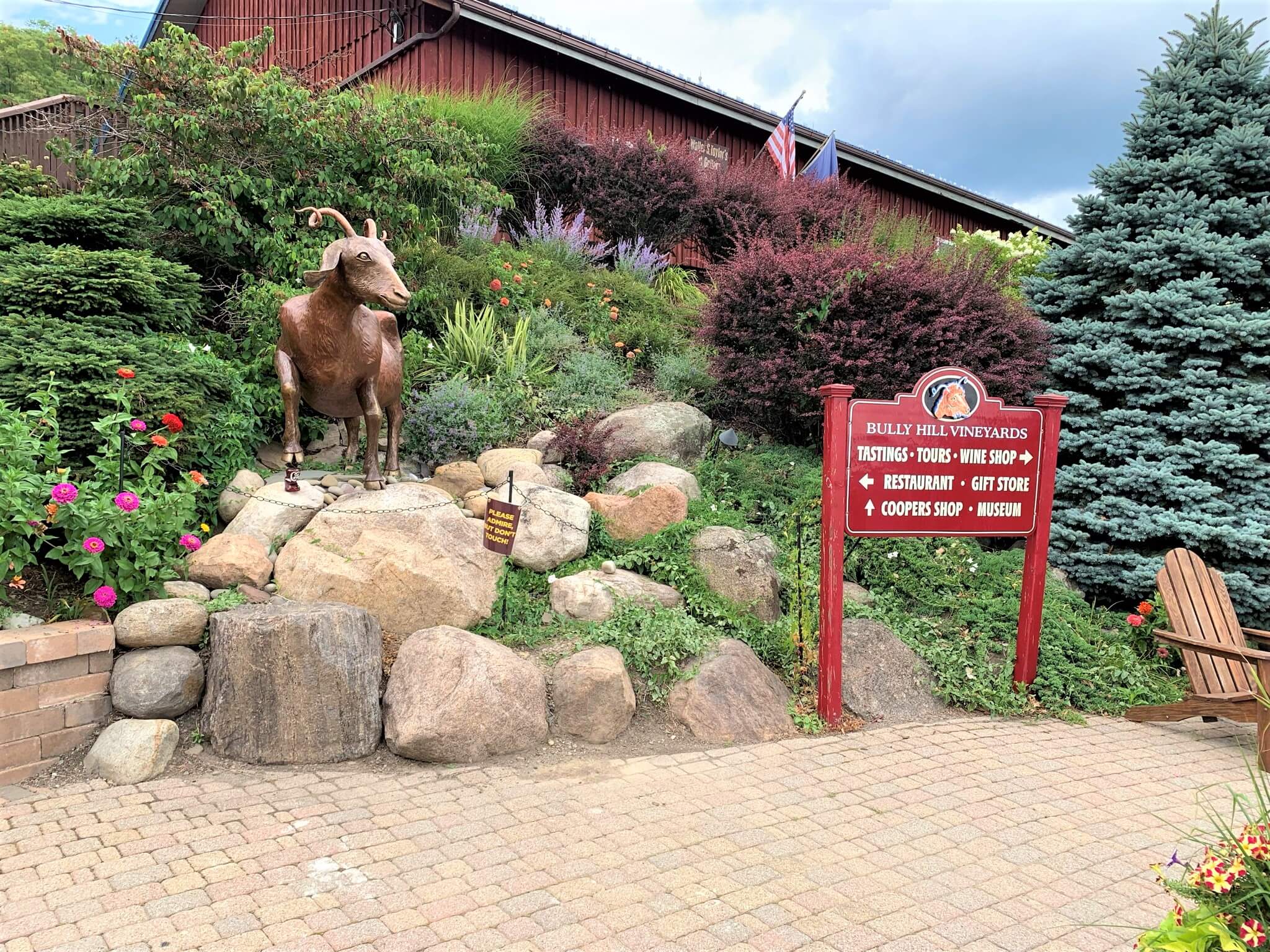 Pro Tip – There are restrooms inside the tasting room building.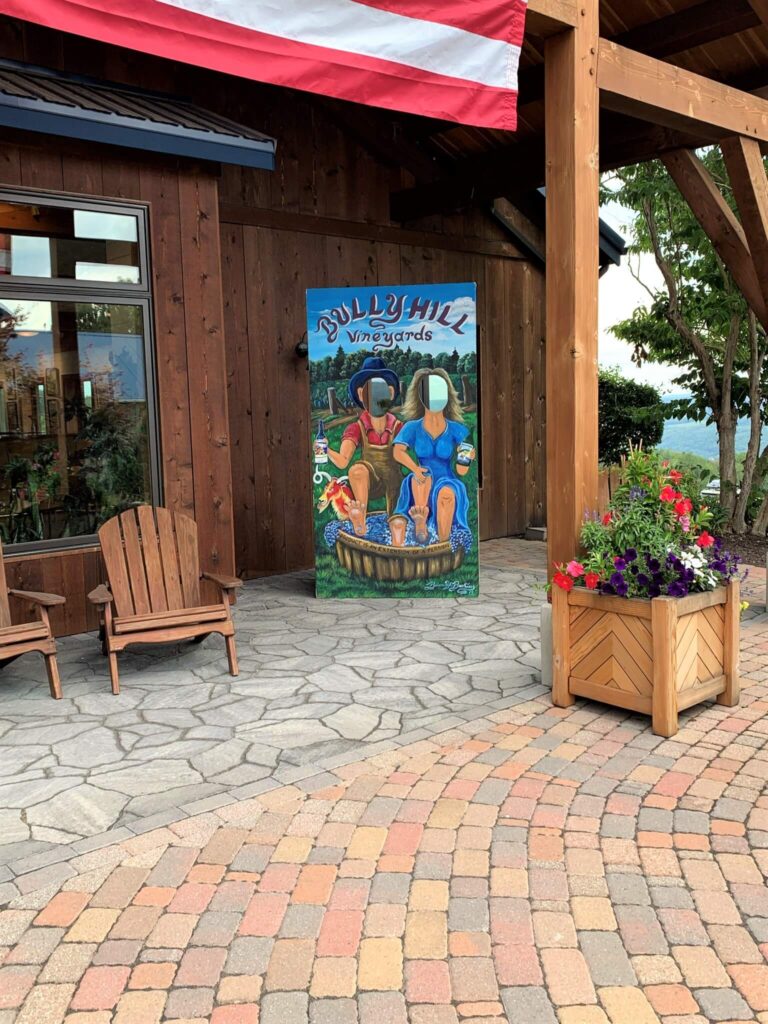 I went inside the wine shop to see if dogs were allowed inside since the tasting room wasn't open.
"Of course! We LOVE dogs!" they said.
Buddy was on his best behavior and enjoyed everyone coming up to pet him.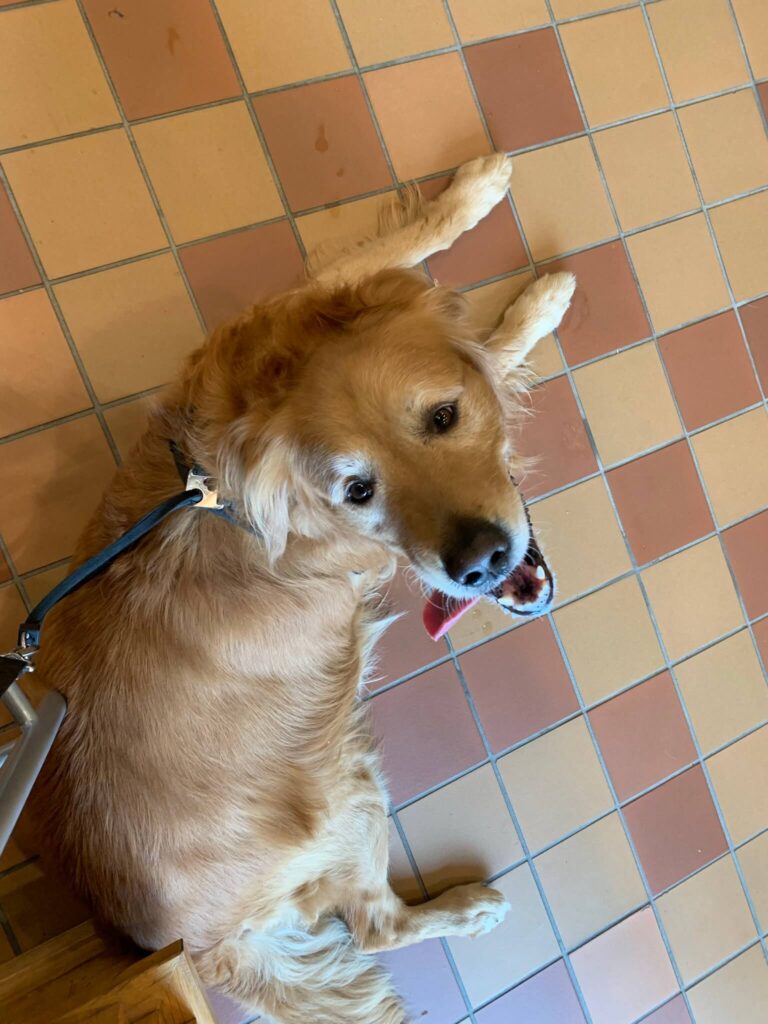 After choosing our wines for tasting, we looked around the wine shop. Everywhere we looked, we saw goats. There was a statue of a goat outside the tasting room, on wine bottle labels, and on posters in the wine shop.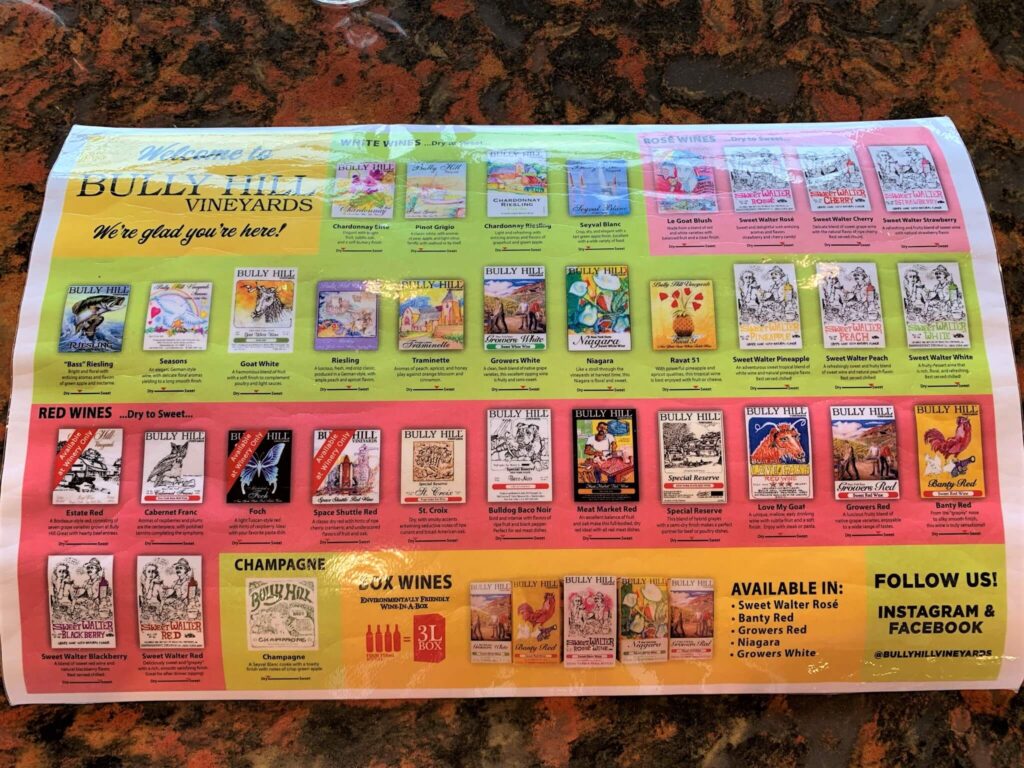 Here's how the goat became part of Bully Hill Vineyard's identity.
History Of Bully Hill Winery
The founder of Bully Hill Vineyards was Walter S. Taylor. His grandfather started Taylor Wine Company on the very same plot of land that Bully Hill stands on today.
When Coca-Cola acquired Taylor Wines, they filed an injunction against Walter and Bully Hill Winery. He had to turn over all his labels and promotional materials as well. Many thought the winery was doomed, but one day the employees found Walter in the white barn dancing around saying, "Thit's it! They didn't get our goat! They got our heritage, but they didn't get our goat."
Soon he emerged with a new label Goat White Wine (See photo below).
We enjoyed the Bully Hill wines, and my husband bought two vintage posters to hang by our bar at home along with two bottles of wine!
Since being home, we were happy to find Bully Hill wines in our local Long Island Wine stores.
We highly recommend visiting Bully Hill Vineyards on your trip to the Finger Lakes!
Idol Ridge Winery & Alder Creek Distillery – Seneca Lake, NY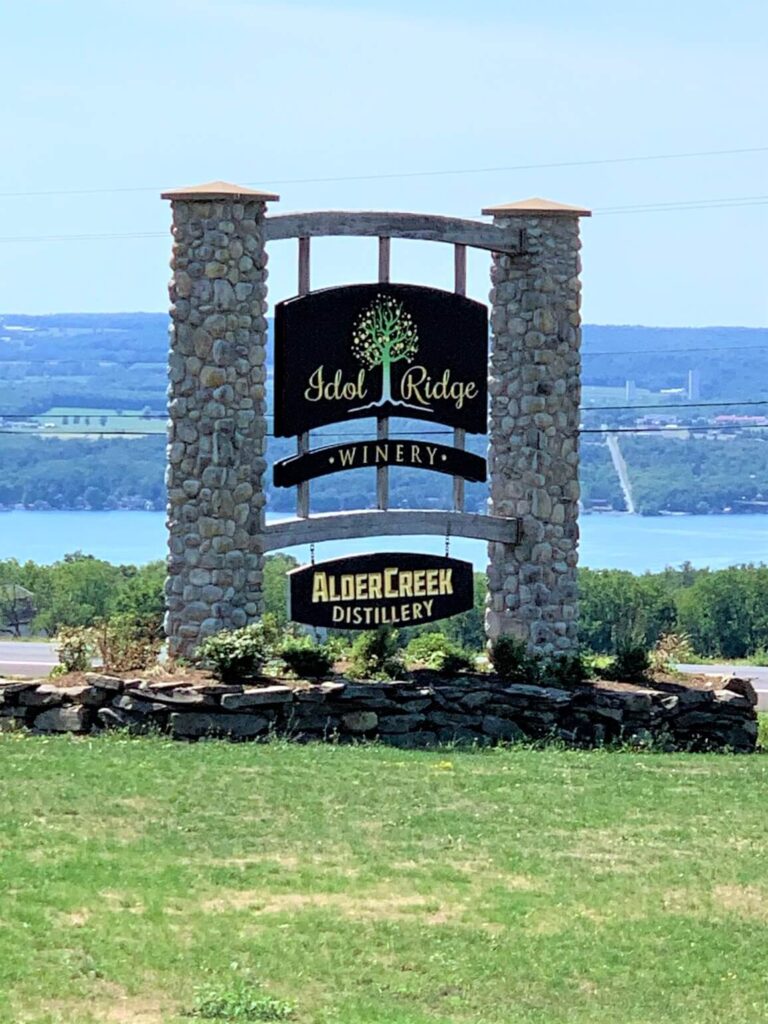 High on top of a ridge with a panoramic view of Seneca Lake sits Idol Ridge Winery.
The Martin family, who also owns Montezuma Winery and Hidden Marsh Distillery in Seneca, NY, opened Idol Ridge Winery and Alder Creek Distillery in 2013 as one of the newest wineries on the east side of Seneca Lake.
Located just 20 minutes from Watkins Glen State Park, it was the perfect stop for us on our way back to the campground.
Before we left Watkins Glen, I called the winery just to make sure dogs were welcome at the vineyard. I didn't want to take a chance that the information was outdated on their website.
"Yes, of course!" they answered, "We LOVE Dogs!"
That's all I needed to hear! And we were off to explore Idol Ridge Winery.
Driving along Route 414, you can't miss the huge lodge-style tasting room. It's inviting even from the road!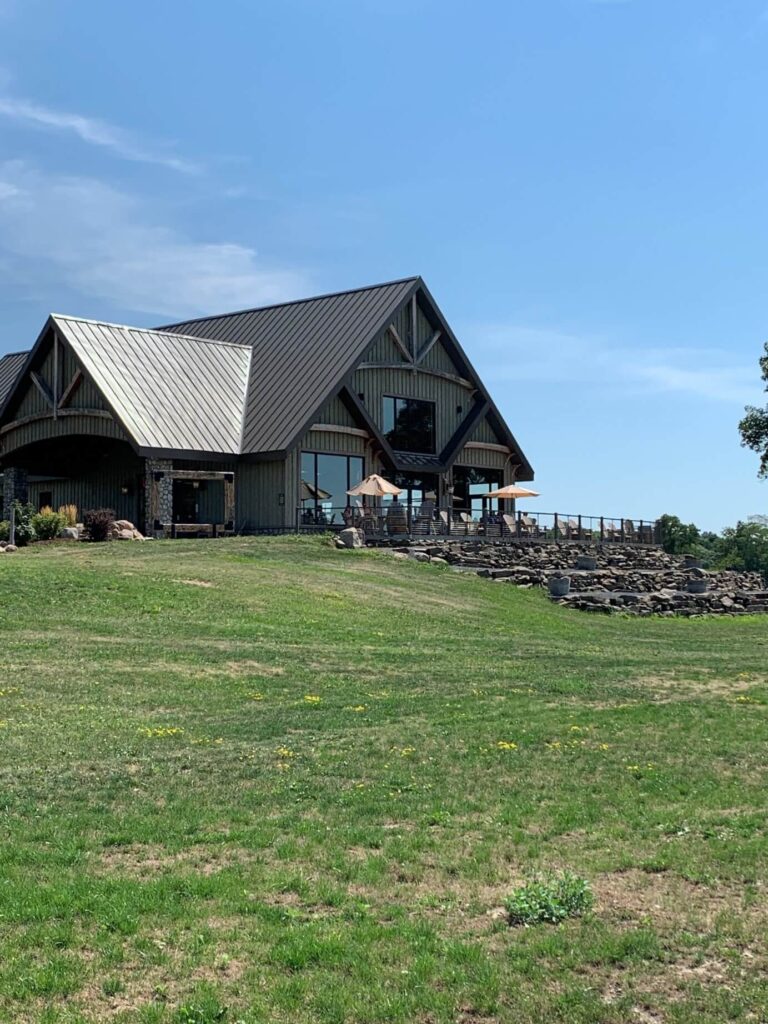 As we walked into the tasting room, we found it welcoming and fun. It was a little busy for Buddy, so my husband took him outside to find seating. We found the perfect spot around the corner on some very comfy chairs!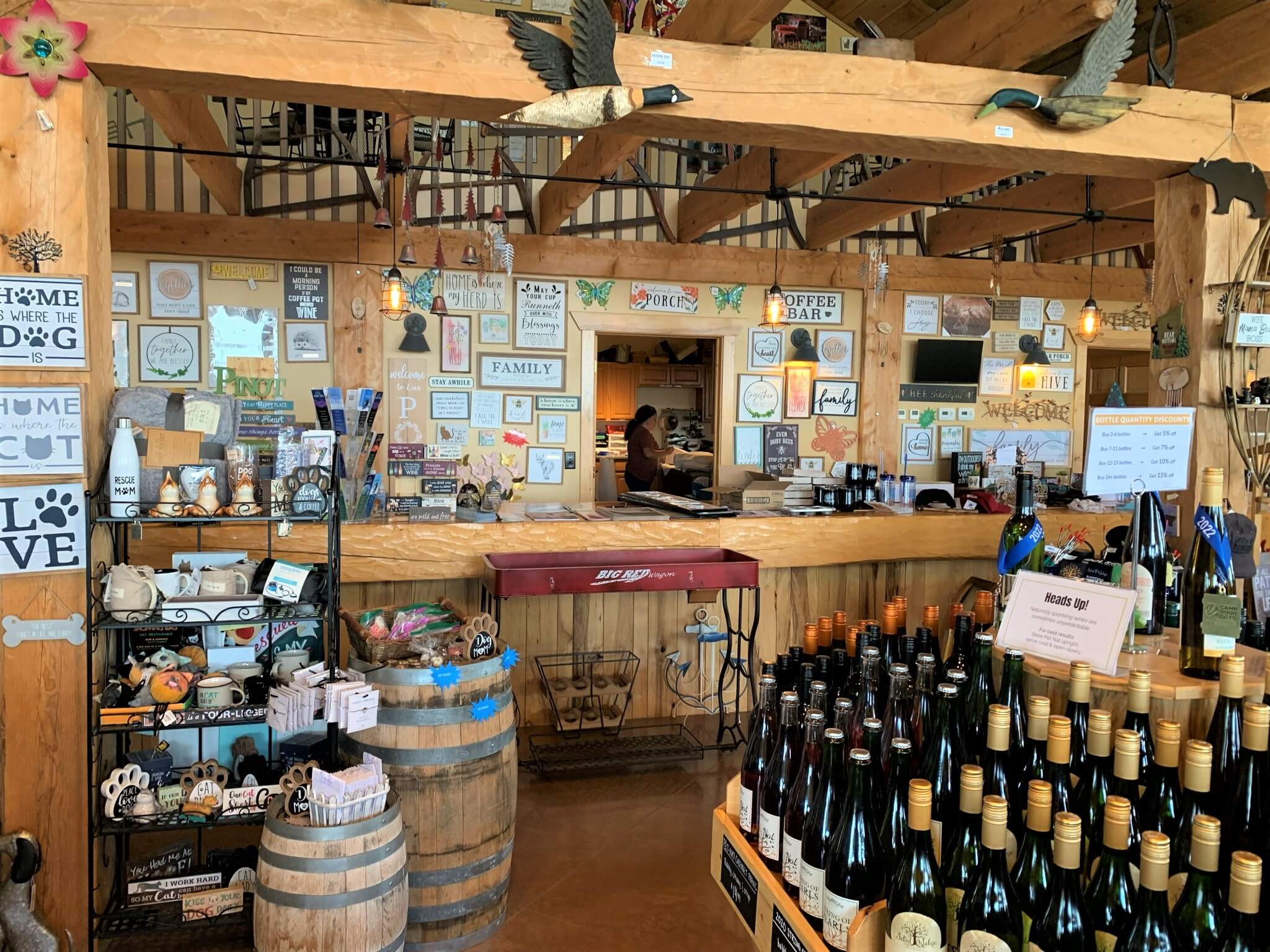 I went back inside to order our tasting. I decided to try the Tasting flight, which came with a sample of fudge, dipping oil, and chips.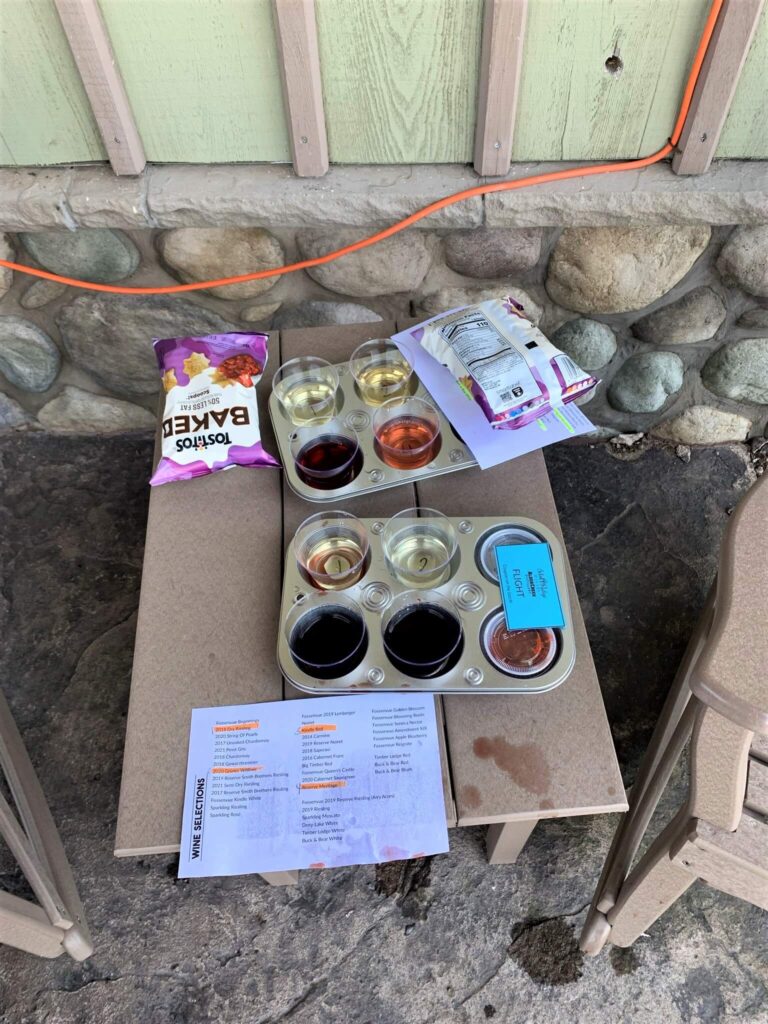 They bring the tasting to your seats, so while we waited, we enjoyed the views of the lake. They also brought out a nice big bowl of water for Buddy.
Idol Ridge wines were delicious too! We used the coupon to purchase wine and fudge to take home.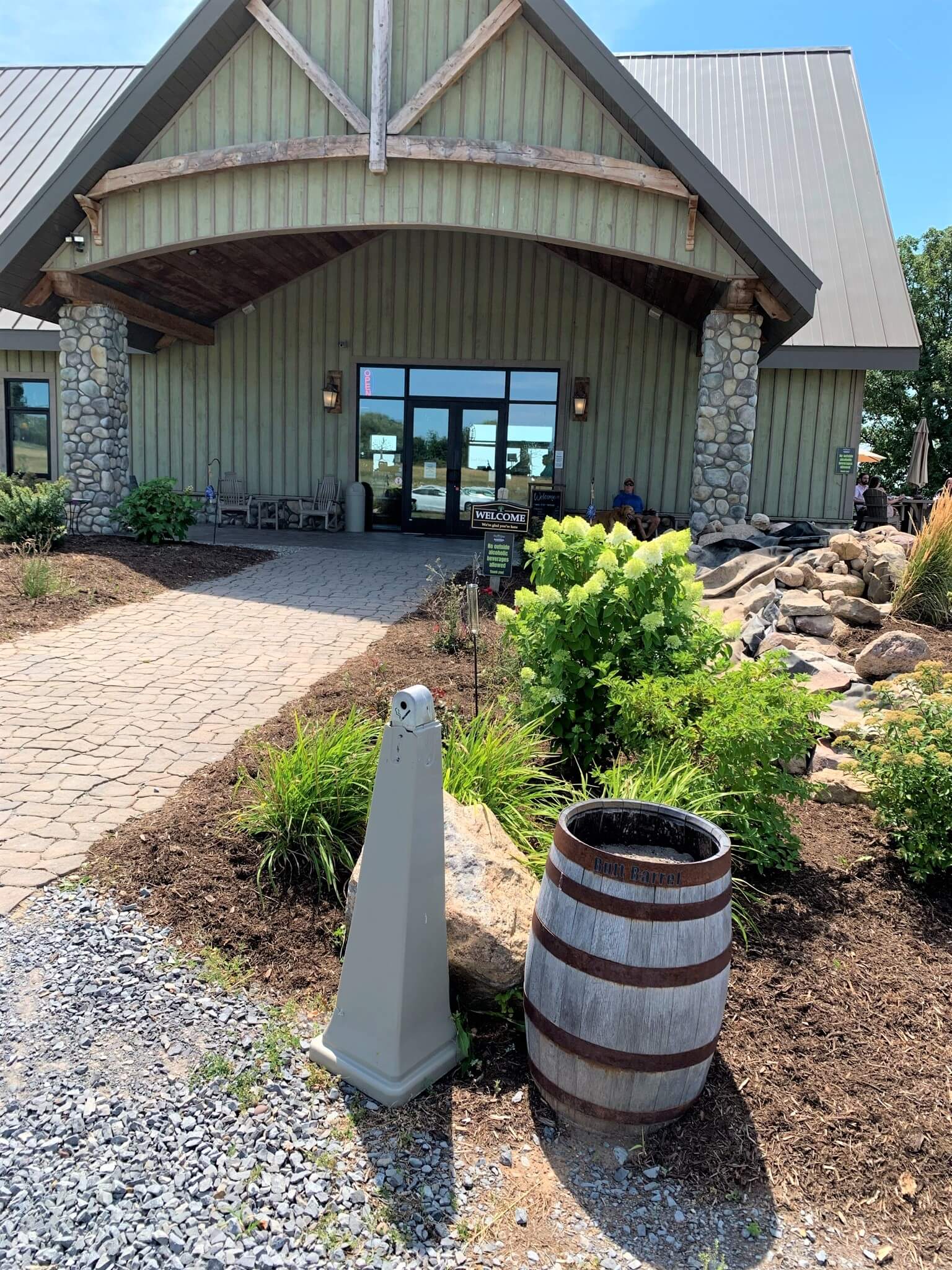 Idol Ridge Winery & Alder Creek Distillery
9059 State Route 414
Lodi, NY 14860
607-582-7773
idolridge.com
Tasting Room – Open Daily 10-5
Standard Wine Tasting: $10 includes six (6) wine samples and a $2 coupon; or $12 includes six (6) wine samples, a souvenir wine glass, and a $2 coupon.
Tasting Flights: $15 includes four (4) wine samples, a sample of homemade fudge, Cheeky Monkey dipping oil and chips, and a $2 coupon. Tasting fights are in the indoor or outdoor seating areas.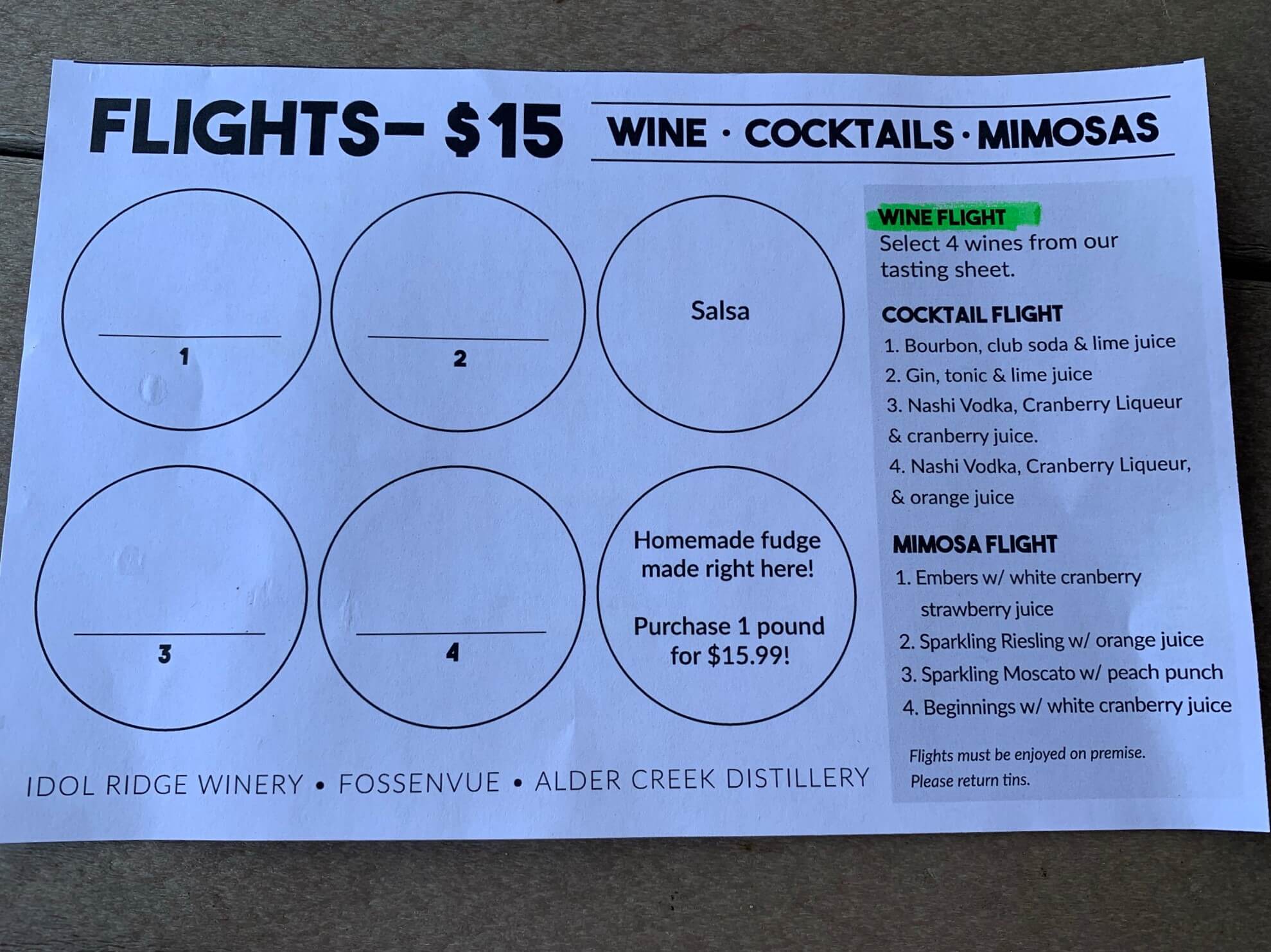 Spirit Tasting: Includes three (3) samples; or $10 includes three (3) samples, a souvenir brandy snifter, and a $2 coupon.
Cayuga Lake Wineries
On our final day in the Finger Lakes, we decided to try a winery close to the campground where we were camping. Just down the road from the campground were several wineries to choose from.
In fact, there are 16 wineries on Cayuga Lake.
We decided to stop at Thirsty Owl Winery. As with all the wineries we visited in upstate New York, they allowed dogs in their Tasting Room (on a leash of course!)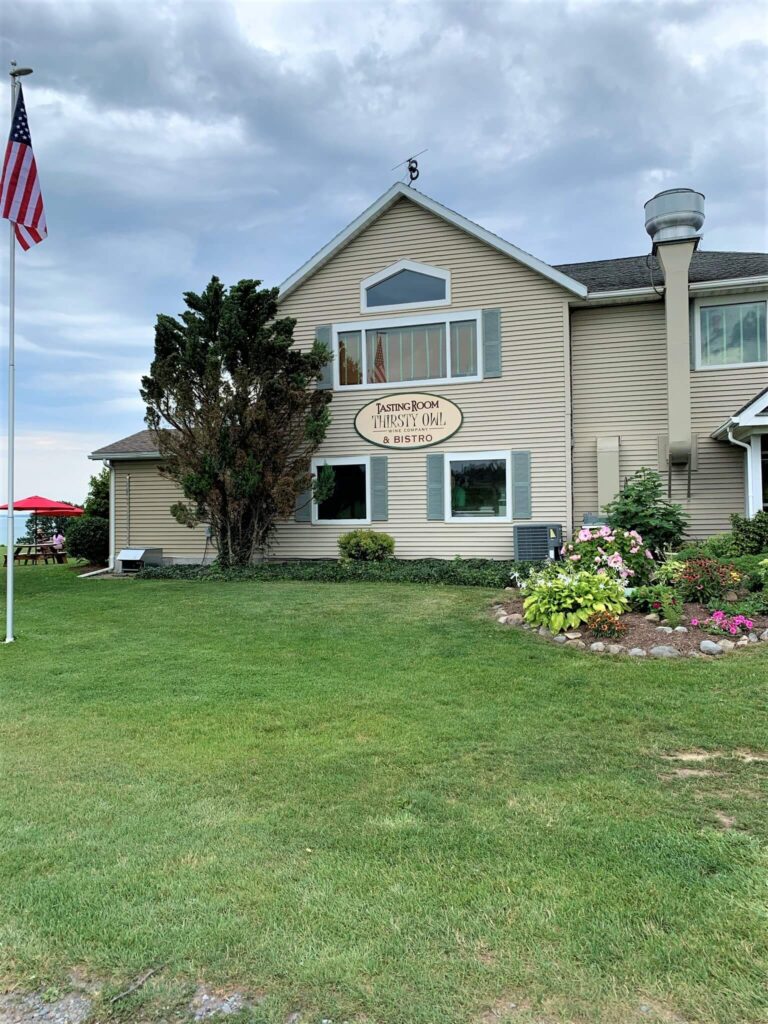 Thirsty Owl Winery
6861 Route 89
Ovid, NY 14521
607-869-5805
ThirstyOwl.com
Thirsty Owl Winery is unique because they were one of only a few wineries on Cayuga Lake that offered dock parking!
The vineyard is made up of 40 acres of estate-grown vines and is owned by the Cupp family.
Ted Cupp purchased 150 acres in 2001 from Robert & Mary Plane, who helped implement the Cayuga Wine Trail. Construction of the tasting room and wine-making facility began that fall. In 2002, Ted's son, Jon, joined the business to serve as President and oversee the growth of the vineyard.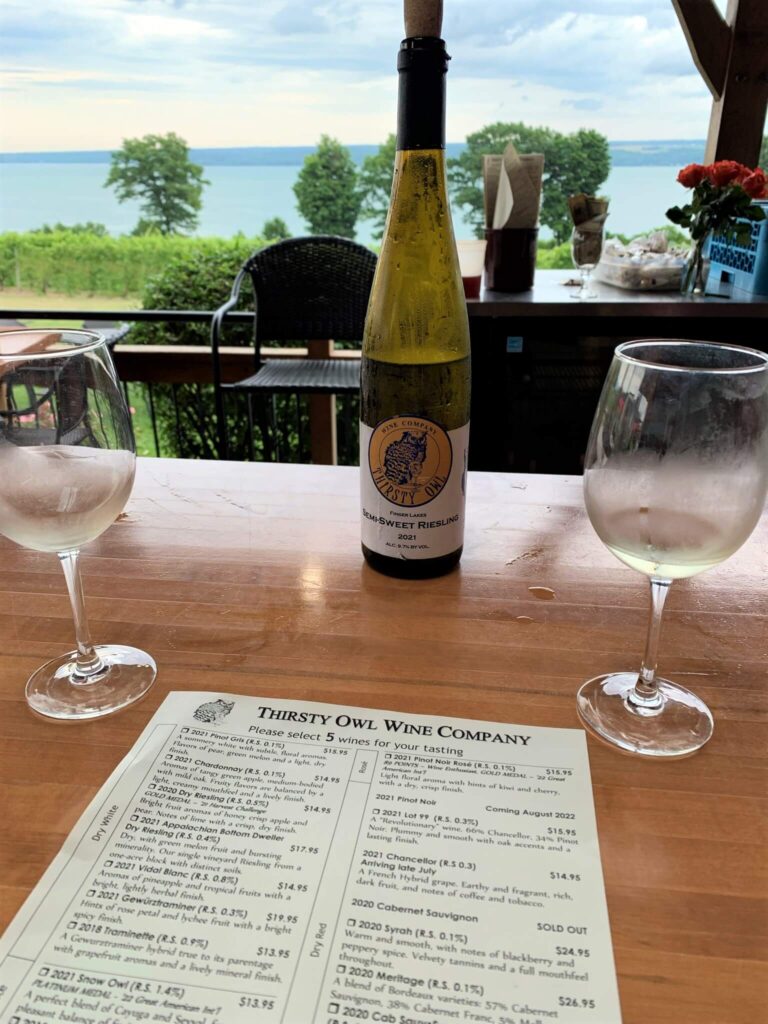 Thirsty Owl Tasting Room & Bistro
Thirsty Owl Winery not only has a Tasting Room but a Bistro as well. The winery was busy as we pulled into the lot.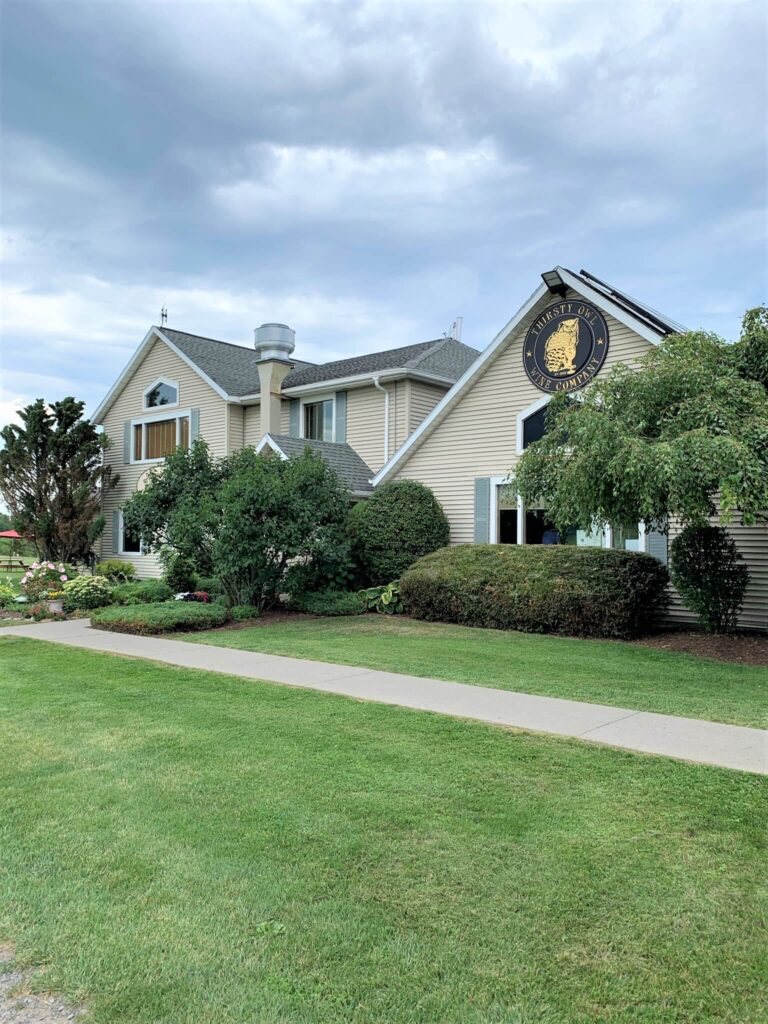 As I went into the tasting room, I was met by a very pleasant man, whom I later found out was Jon, one of the owners.
I double-checked with Jon to make sure dogs were allowed. He said, "Of course! Come on in!"
We could choose to do a tasting either inside or outside. We chose to take Buddy outside as we thought he would be more comfortable.
The patio area was set up with wine barrels for tastings. It made a very pretty setting overlooking Cayuga lake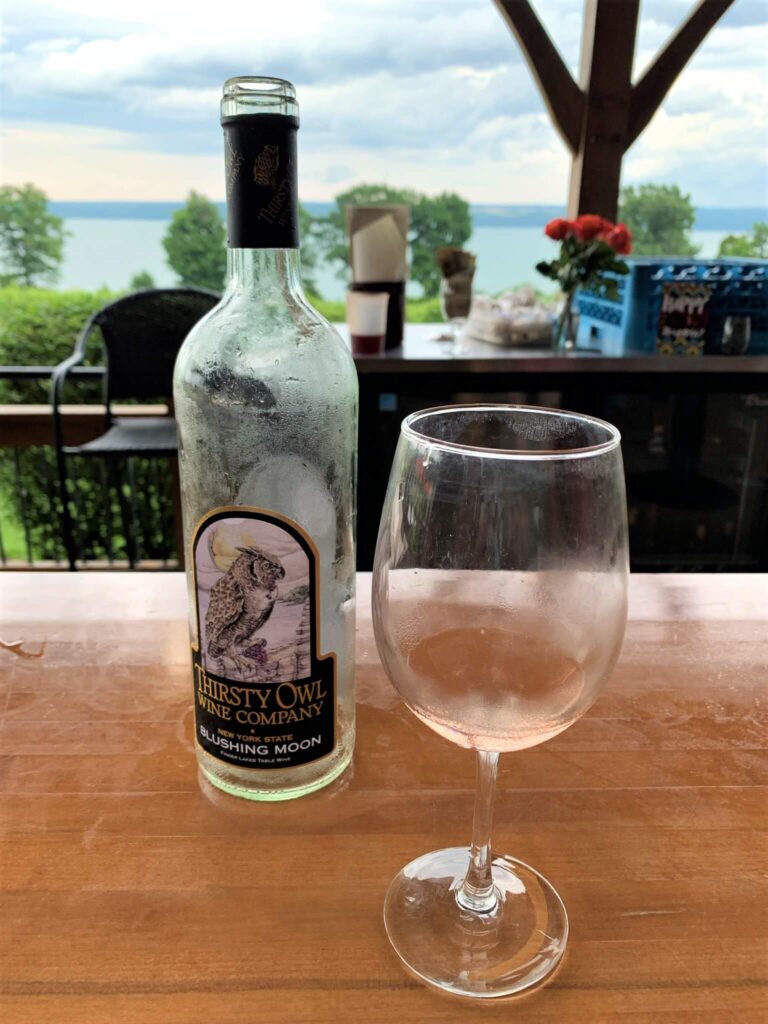 Thirsty Owl provides a personal wine expert who talks about each wine you choose and a little bit of the history of the vineyard.
Once again, we were thankful that the staff brought Buddy out a bowl of water without us even having to ask!
Wine Tasting Menu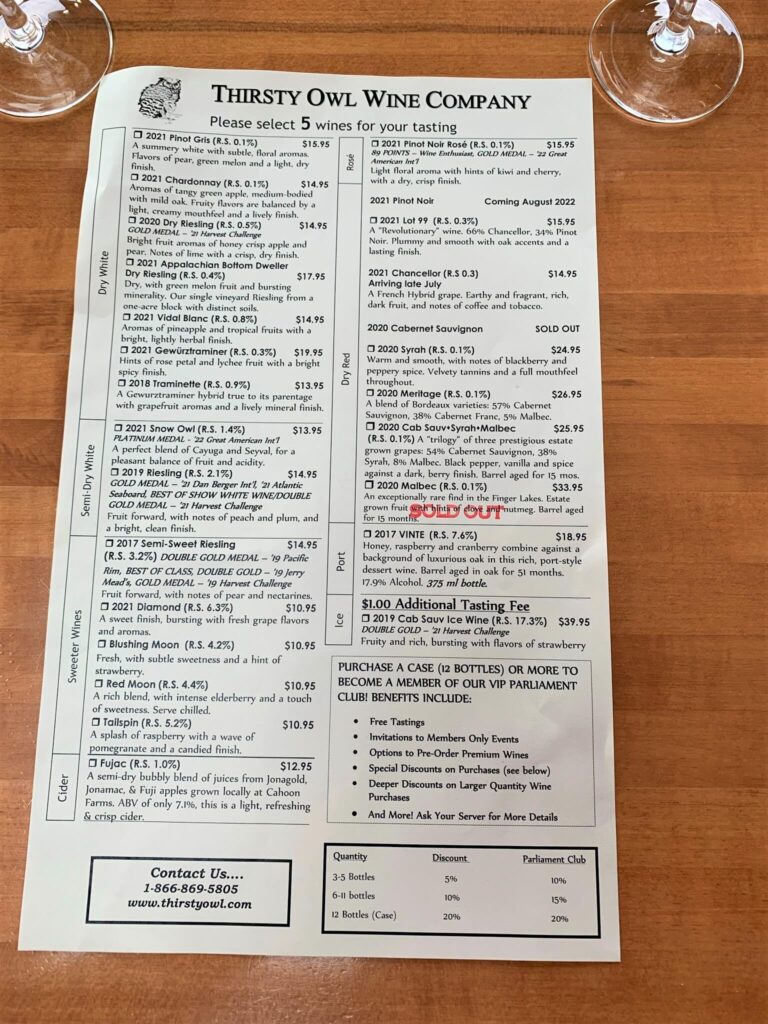 Thirsty Owl Tasting Room
Open Daily: Monday – Saturday, 10-5:30; Sunday 10:30 – 5:30.
Tastings are $5 per person for five (5) wines plus a $2 coupon for wine purchases
Thirsty Owl Bistro
Open five (5) days a week: Friday – Tuesday 11:30 – 5. Closed Wednesday & Thursday.
The Bistro specializes in fresh local ingredients and serves appetizers, soups, salads, sandwiches, and hot entrees. There are picnic tables overlooking Cayuga lake if you prefer to dine outdoors.
There are no reservations needed for tastings or the Bistro. Walk-ins are on a first-come-first-served basis.
We enjoyed the Thirsty Owl and its setting overlooking Cayuga Lake and highly recommend them on your visit to the Finger Lakes!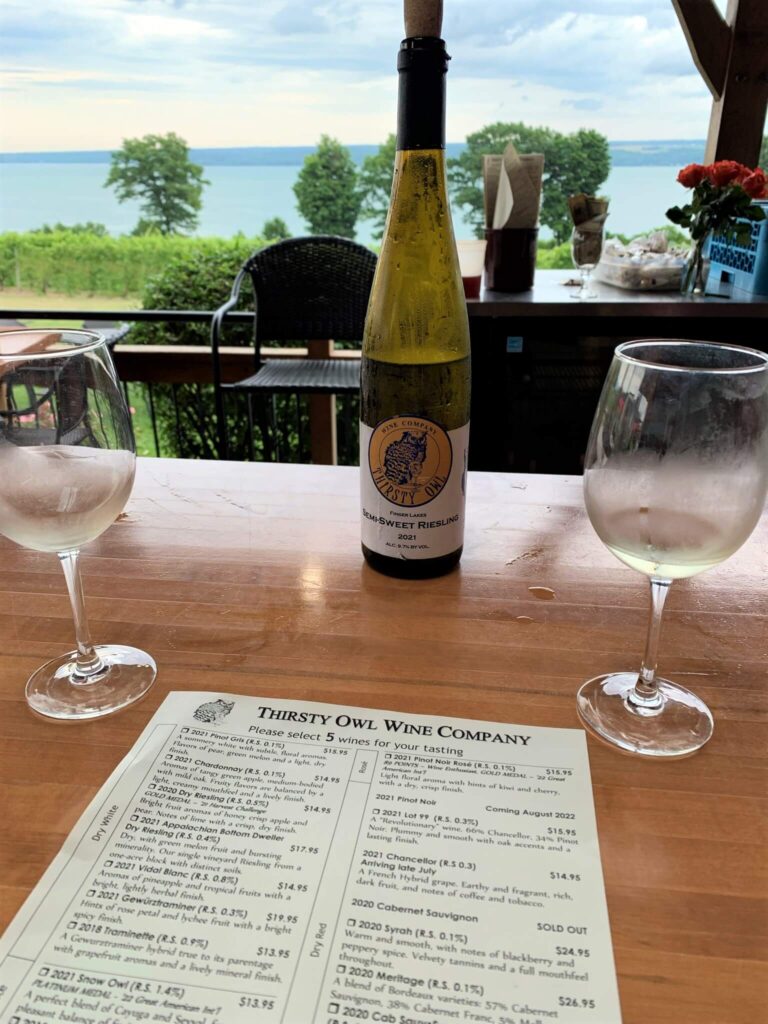 When looking for the best Finger Lakes wines, I don't think you will be disappointed in any of the Finger lakes NY wineries. Our plan to taste wines from different Finger Lakes vineyards was a great way to visit some of the best wineries in the Finger Lakes!
We are looking forward to planning a trip back to upstate New York to the Finger Lakes region to try even more wineries very soon. I hope you will get a chance to visit and experience one of the Finger Lake wine trails in your travels!
Best Places To Visit In New York State
Top Things To See In Letchworth State Park
How To Plan A One Day Trip To Niagara Falls NY
Best Places For Hiking In Minnewaska State Park
Where To See The Best Views Of The Adirondacks – Whiteface Mountain
4-Day Itinerary Best Things To Do In The Adirondacks
How To Plan An Epic Adventure To Ausable Chasm
High Falls Gorge A Must See In The Adirondacks