Last Updated on September 21, 2022 by Lori
Taughannock Falls is the highest single-drop waterfall in the Northeastern United States. At 215 feet, this impressive waterfall has gorge walls of more than 400 feet on both sides of the falls and is 33 feet higher than Niagara Falls! Hiking to the falls makes the perfect day hike when visiting the Finger Lakes Region of New York!
This post contains affiliate links which means if you click on a link and make a purchase, I will earn a commission at no additional cost to you. Please see our Disclosure Policy for more information.
Taughannock Falls State Park NY
Taughannock Falls State Park is in Tompkins County near Trumansburg, New York, and is just a few miles northwest of Ithaca. The 750-acre state park has camping, beach swimming, boat launches, and hiking trails to explore! Campsites and cabins overlook Cayuga lake – the largest of the 11 Finger Lakes.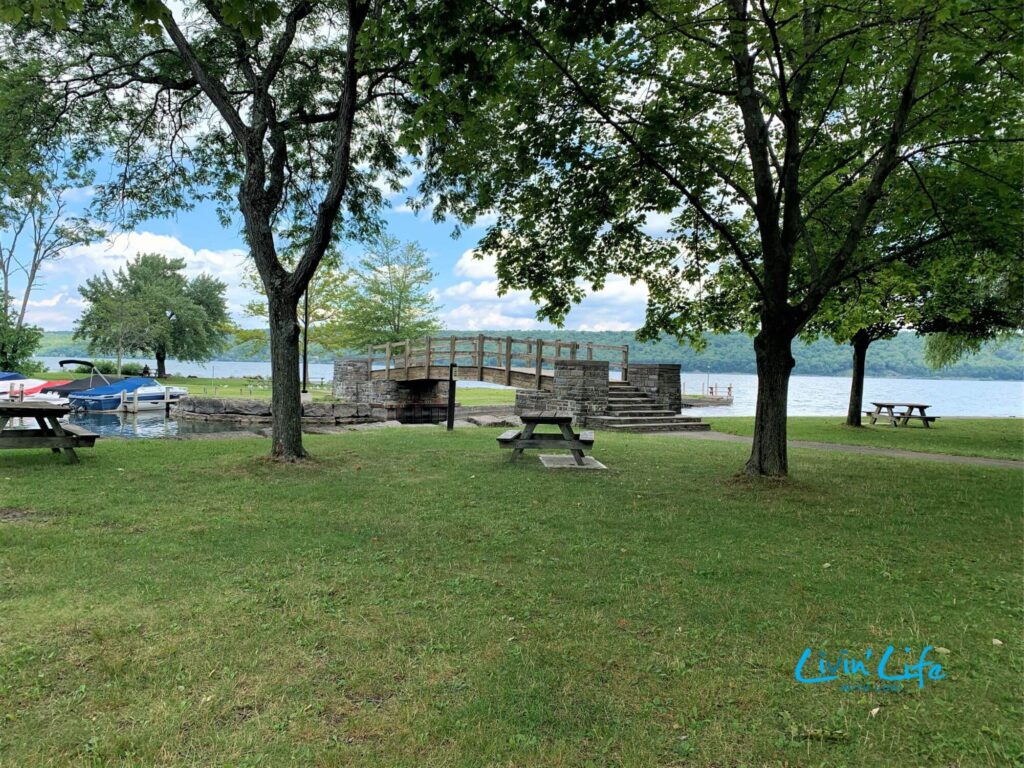 Taughannock Falls
Our first destination on our visit to the Finger lakes was to hike to Taughannock Falls. We didn't know at the time that there are two ways to see the falls, and one doesn't require any hiking!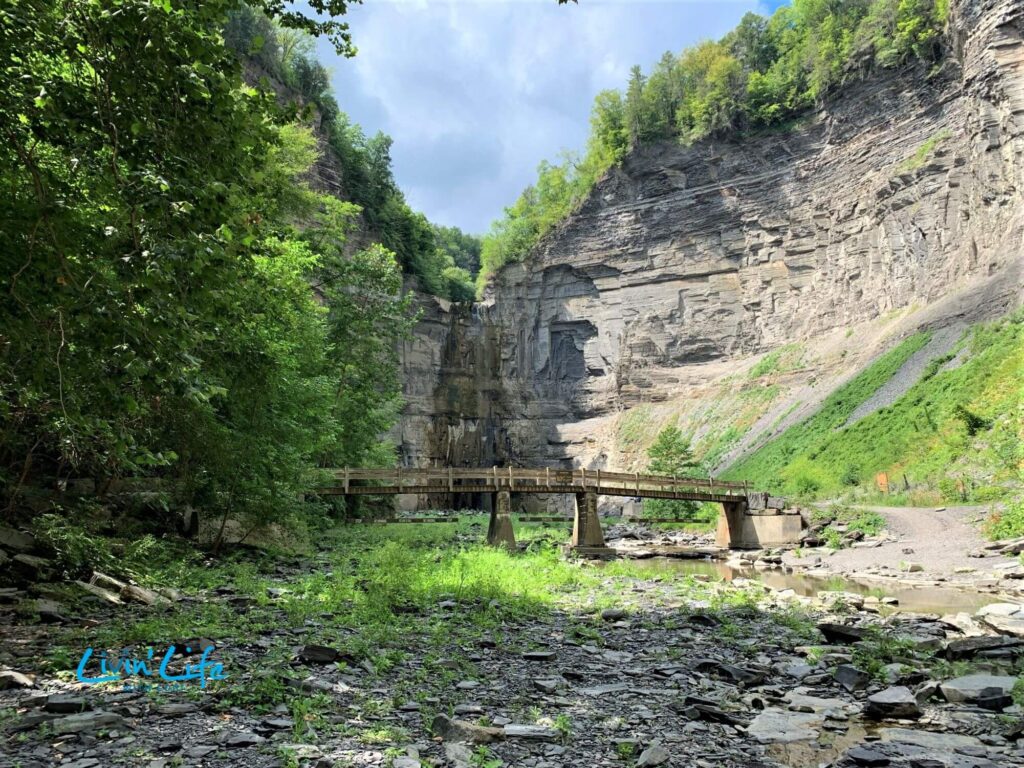 As we were driving to the park, we saw a sign for "Falls Overlook". We looked at each other and said, "Let's Go!" We made the turnoff just in time! Little did we know the magnificent views we were about to see!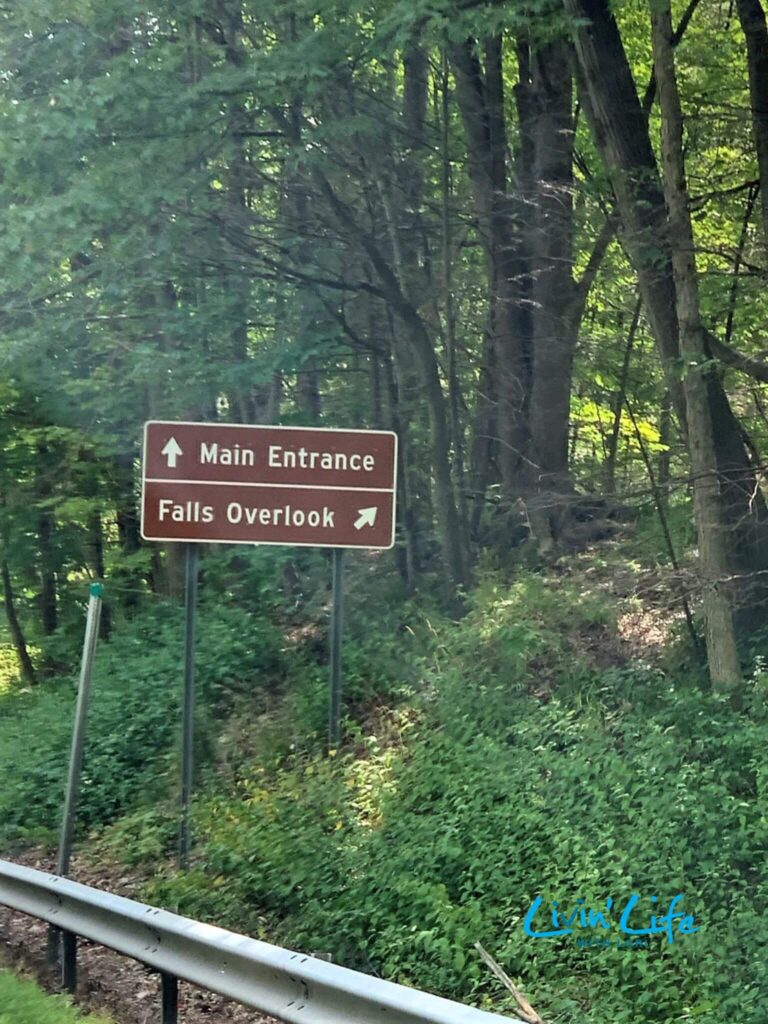 Taughannock Falls Overlook
The Taughannock Falls Overlook address is: 2381 Taughannock Park Rd., Trumansburg, NY 14886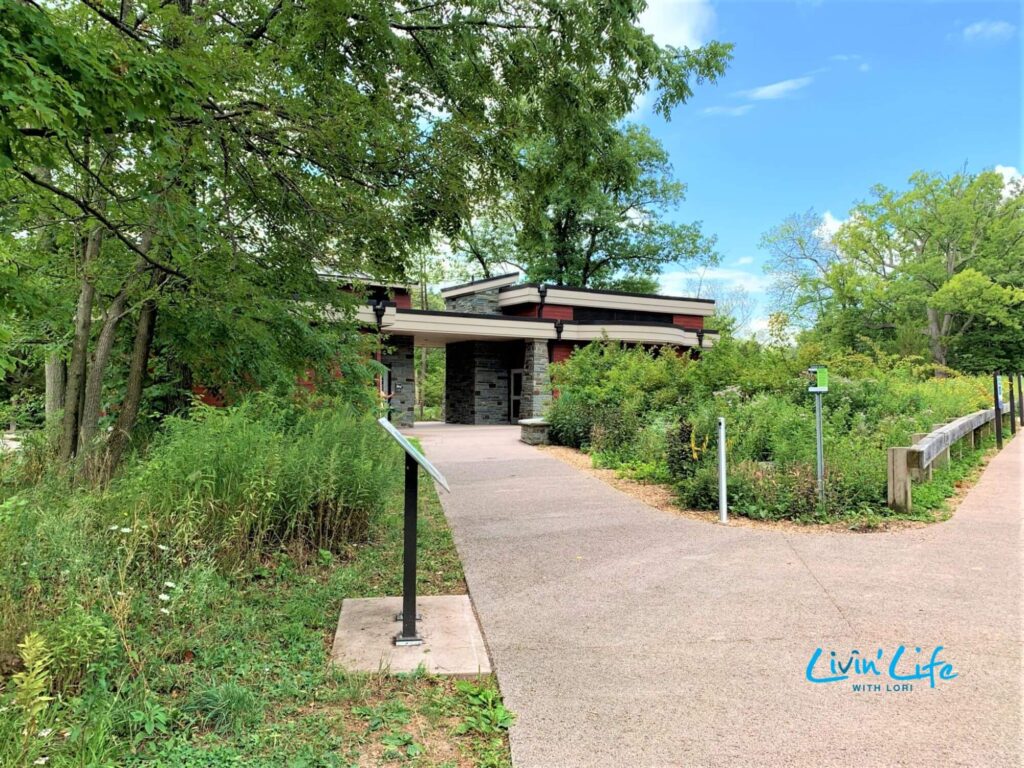 Here you can find the Taughannock Falls Visitor's Center, restrooms, bike racks, maps, and a souvenir shop!
This is also a great place to learn how Taughannock Gorge was created and see a Taughannock Falls State Park Map.
Pro Tip: These informational signs are not by the entrance to the Gorge Trail. We found the signs very informative to learn just how Taughannock Falls and Gorge were formed.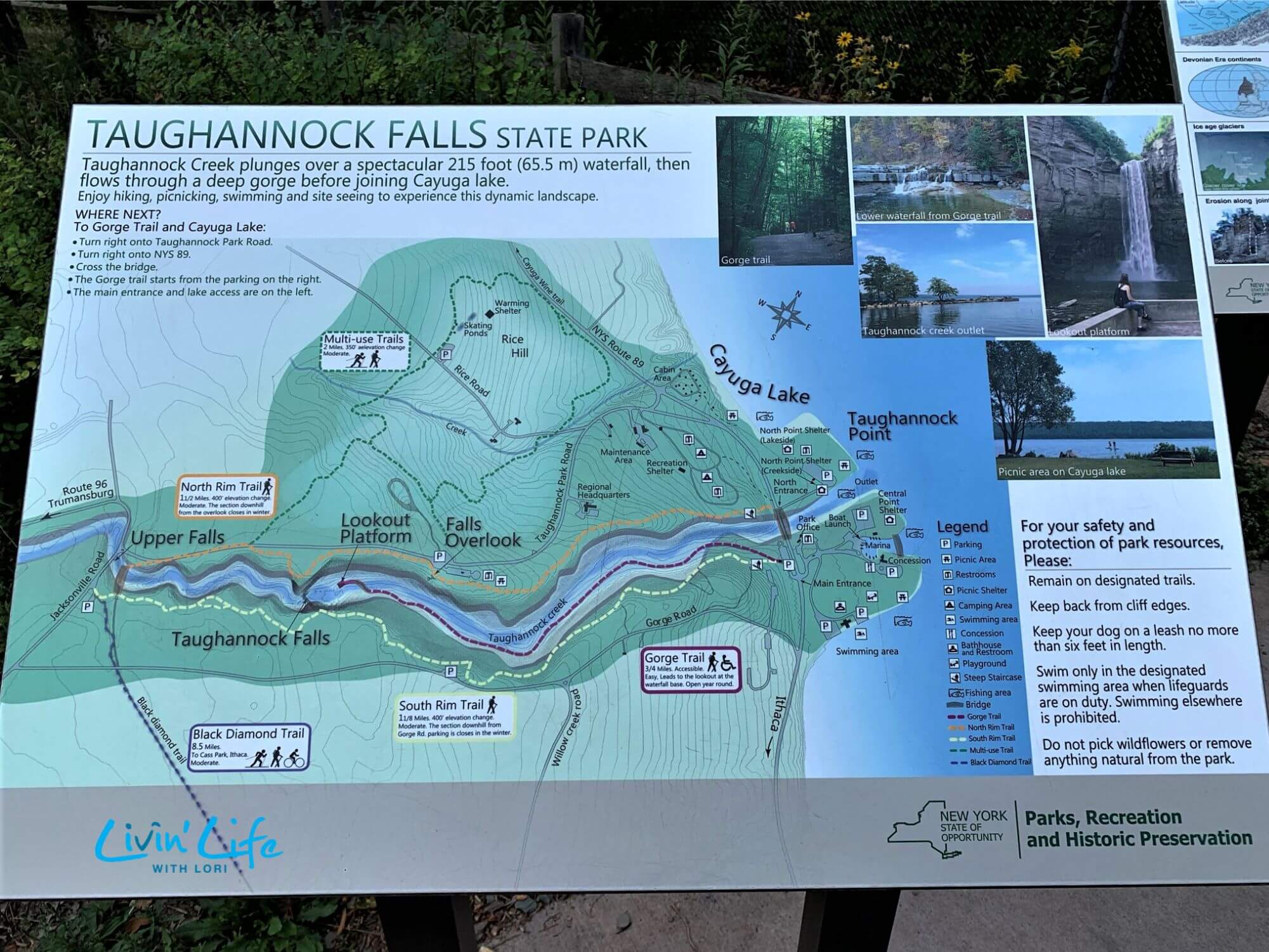 The path from the Visitor's Center leads you down stone steps to view this amazing waterfall that has carved a 400-foot gorge through layers of sandstone, shale, and limestone.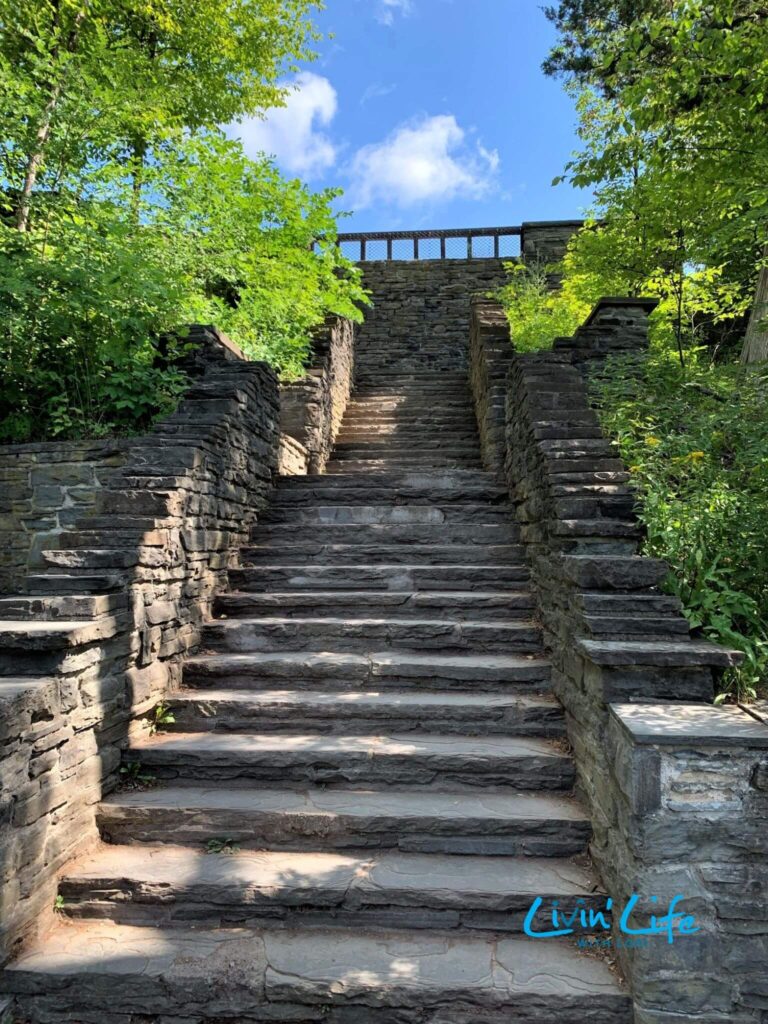 Here's a view of the stone staircase leading from the Visitor's Center down to the viewing platform.
Dogs are welcome on the path at the overlook as long as they are on a leash of not more than 6 feet.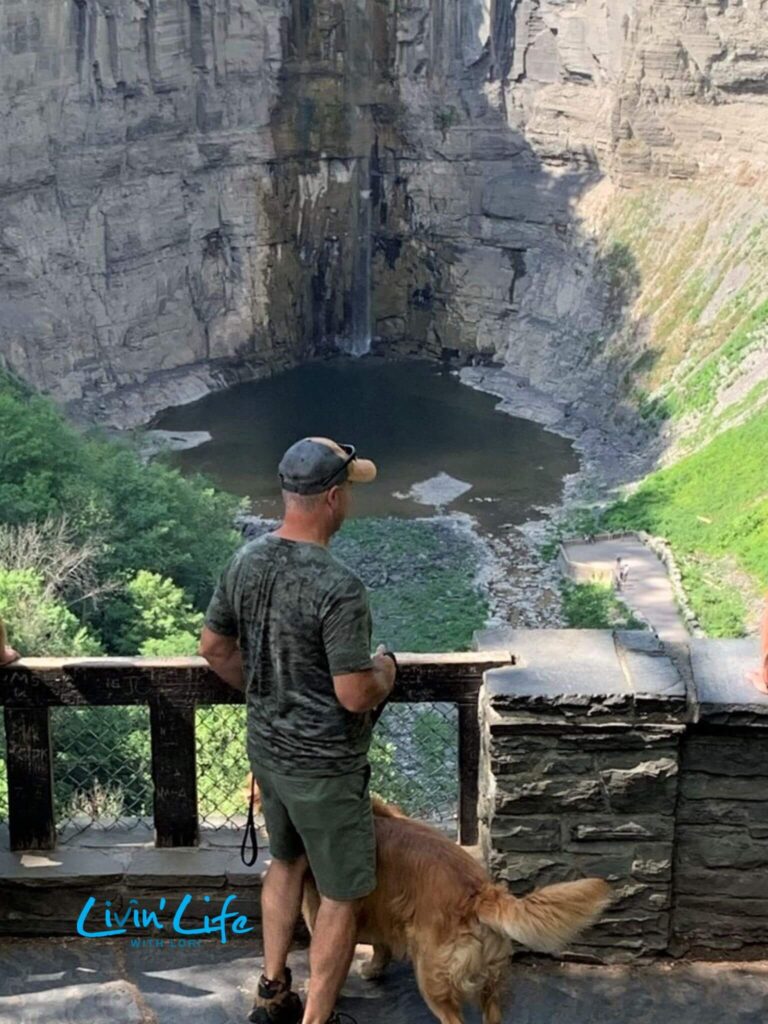 While the falls were not flowing this year as we had seen in other photos, we stood there in awe at this natural beauty.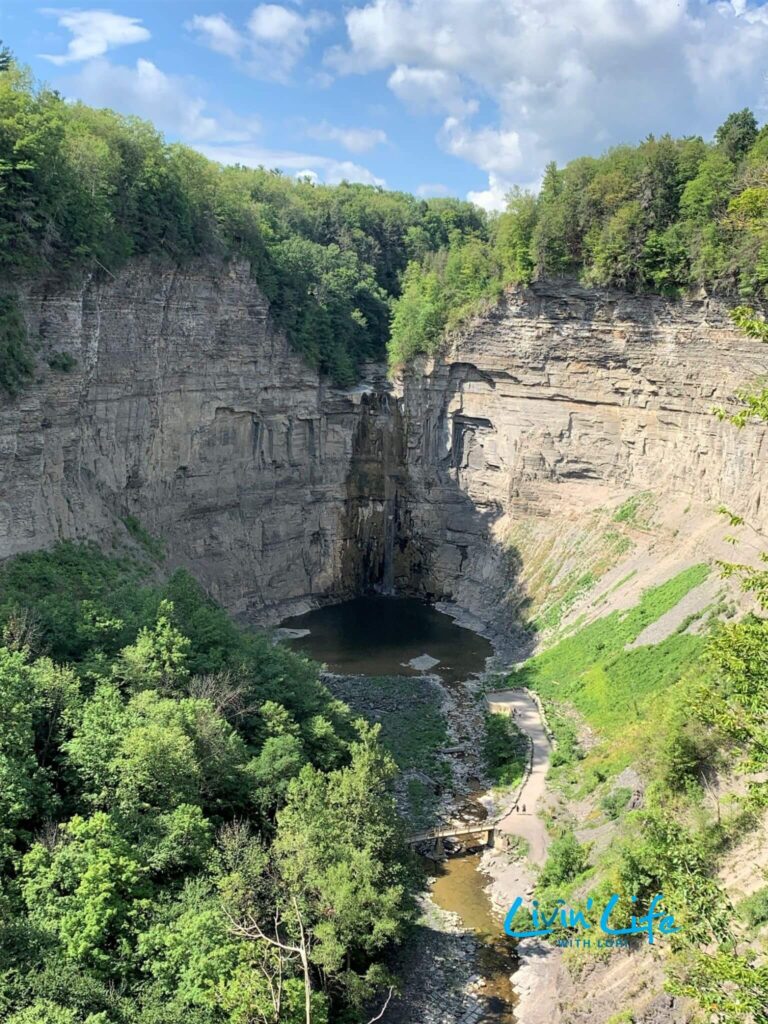 After viewing Taughannock Falls from the overlook, we continued further on Rt. 89 to the entrance to Taughannock Falls State Park.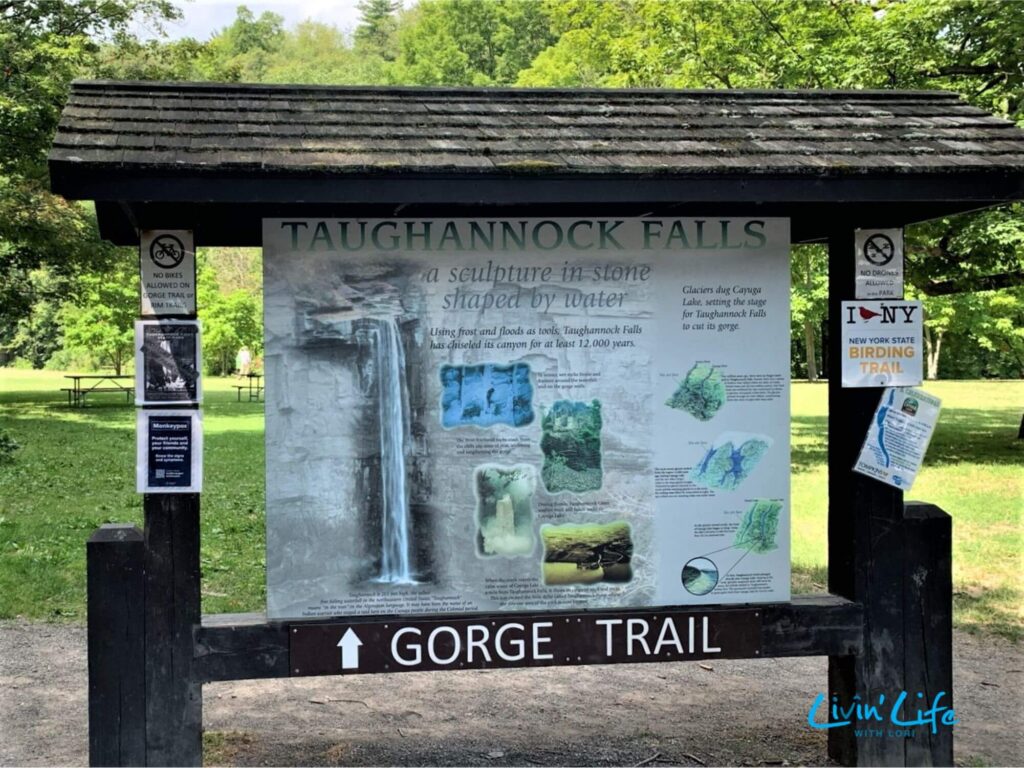 It is just a short distance to drive from Taughannock Falls Overlook to where the Gorge Trail begins.
Taughannock Falls Address
1740 Taughannock Blvd.
Trumansburg, NY 14886
Taughannock Falls Parking And Fees
There are two parking areas where you can park to see the falls:
There is a small parking lot where the Taughannock Falls Gorge Trail begins. If you arrive early you will most likely find a parking spot. This is where we parked.
You can also park across the street by Cayuga Lake. This is a large lot with ample parking and a crosswalk to get to the trail entrance.
Both lots collect a parking fee of $9 to park.
Fees are collected:
Weekends & holidays from 5/15 – 5/29 from 6 AM – 6 PM
Daily from 5/10 – 9/5 from 6 AM – 6 PM
Weekends & holidays from 9/10 – 10/10
The park is open year-round from dawn to dusk.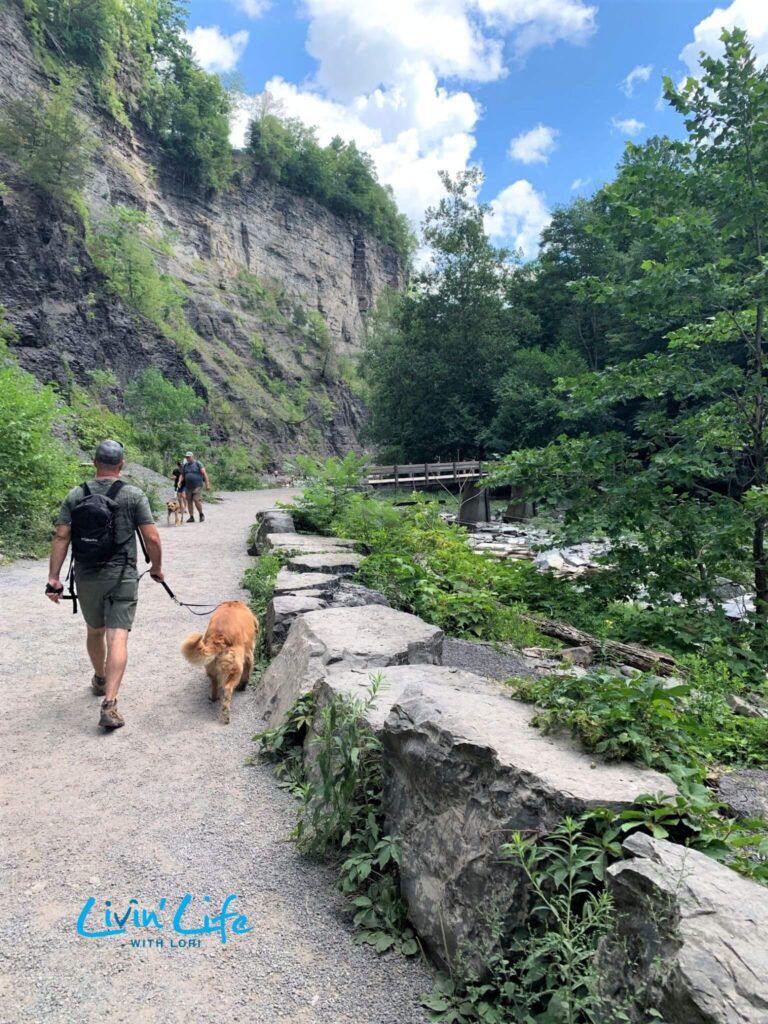 Are Dogs Allowed in Taughannock Falls State Park?
Yes! Dogs are allowed on the Gorge Trail, North Rim Trail, South Rim Trail, and at the Taughannock Falls Overlook and must be on a leash no longer than 6 feet.
Taughannock Falls Gorge Trail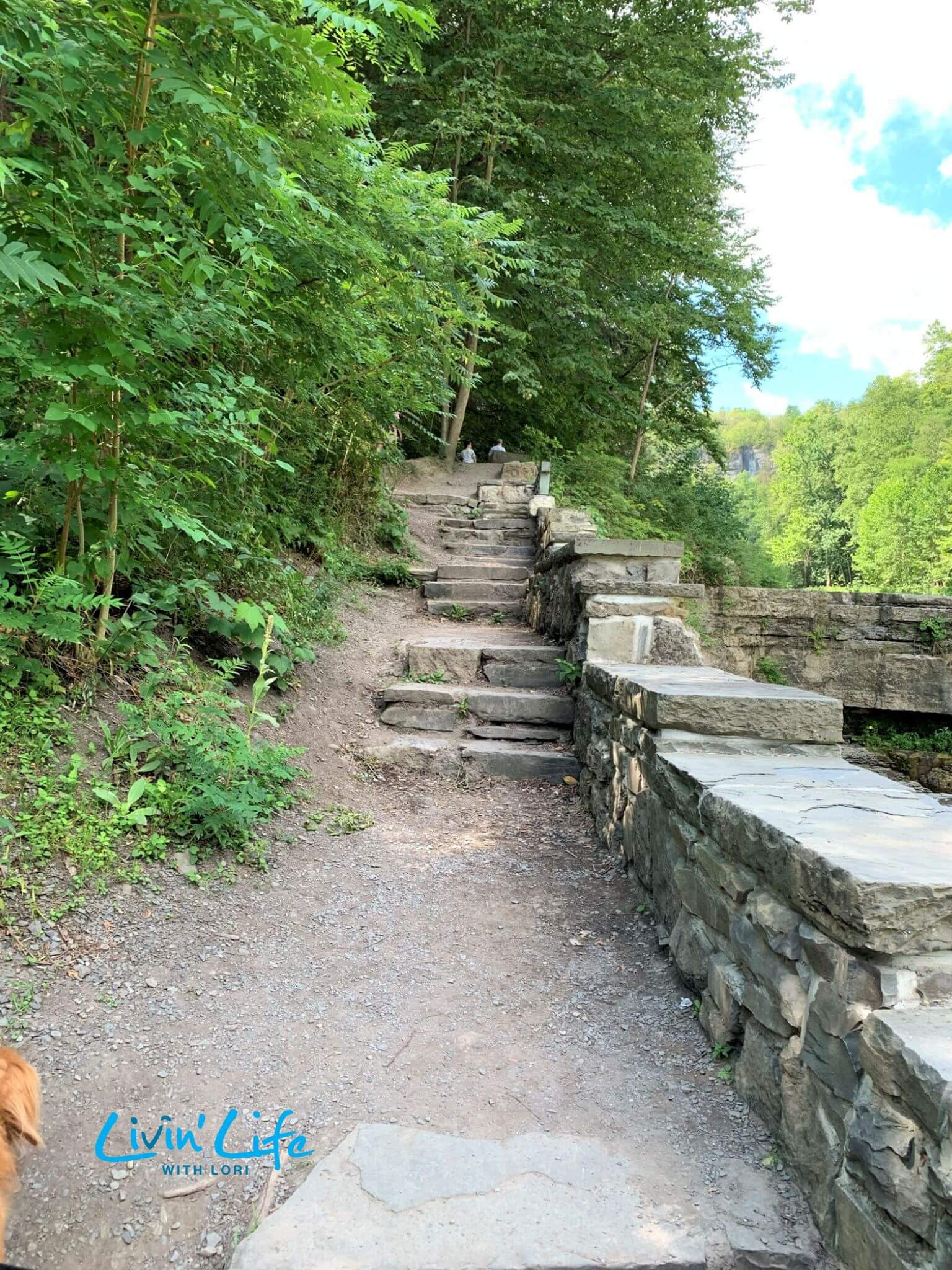 The Gorge Trail is a 3/4 mile long trail that leads to the base of the falls. The trail follows Taughannock Creek on a gravel trail that's mostly flat and shady.
It took us about 1 hour round trip to hike The Gorge Trail. It was very hot the day we hiked so we took our time and stopped to take a lot of photos!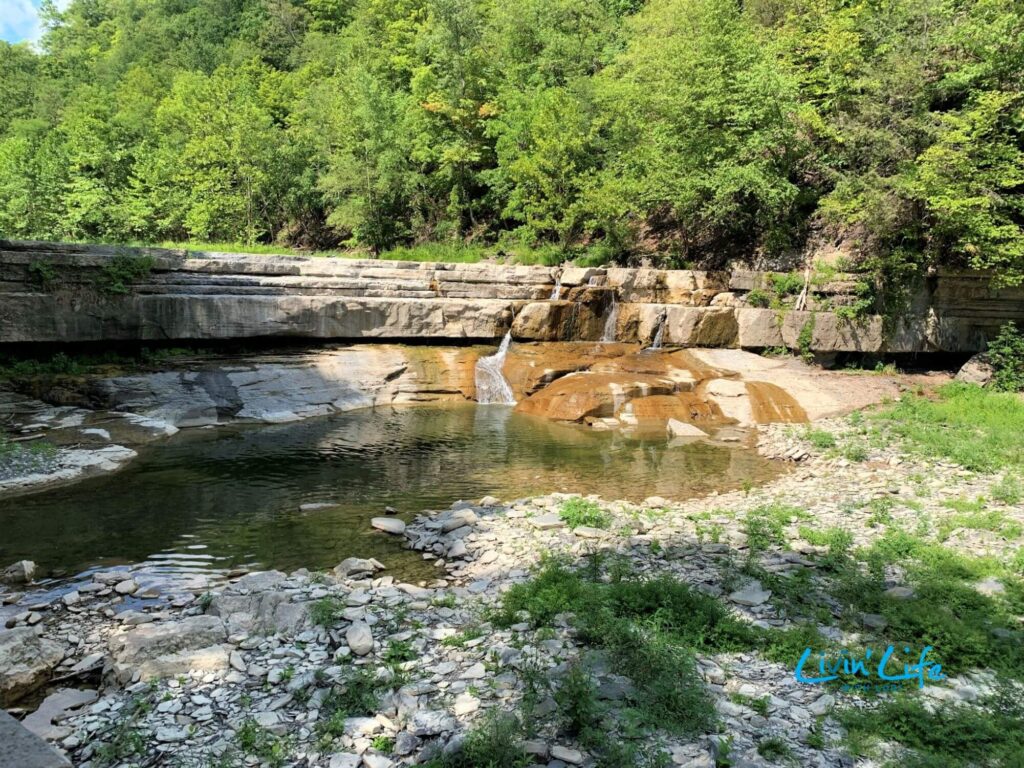 At the entrance of Taughannock Creek, you'll see Little or Lower Falls. While this 20-foot cascade is usually gushing with water, as you can see at the time of our visit, there was little flow. For most of the trail, people were walking along a dry creek that is usually flowing with water.
At The Base of Taughannock Falls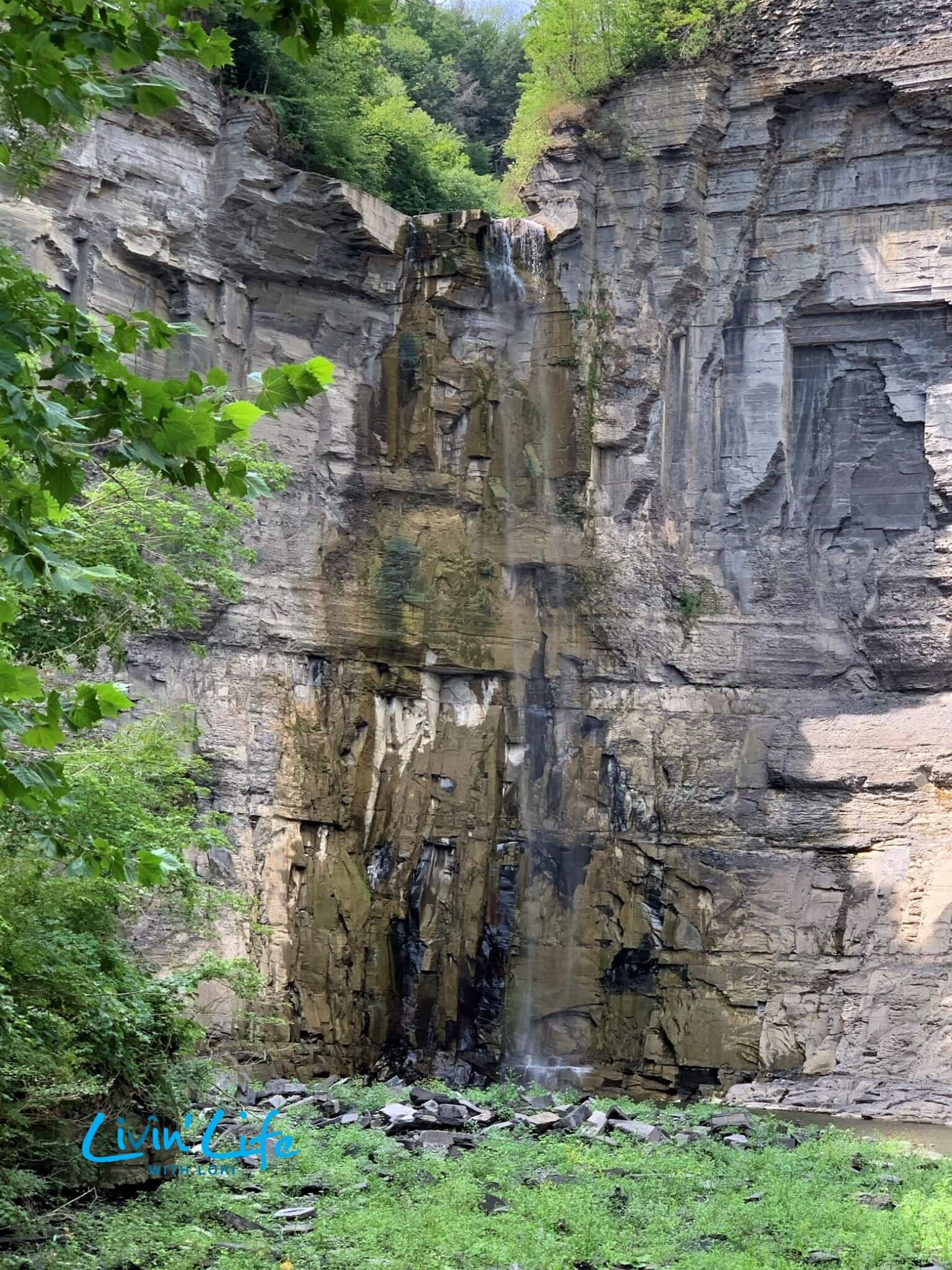 The Gorge Trail leads you to the base of Taughannock Falls. Once you reach the base, if you look up, you can see the Falls Overlook above.
Don't forget to bring your binoculars. We enjoyed watching the hawks at the top of the falls.
Hiking The North Rim and South Rim Trail
There is an Upper Falls at Taughannock Falls State Park too. To see the Upper Falls, you can hike the North Rim Trail and South Rim Trail to form a loop hike. You can find the entrance to the South Rim Trail off the Gorge Trail. These trails are closed in the winter.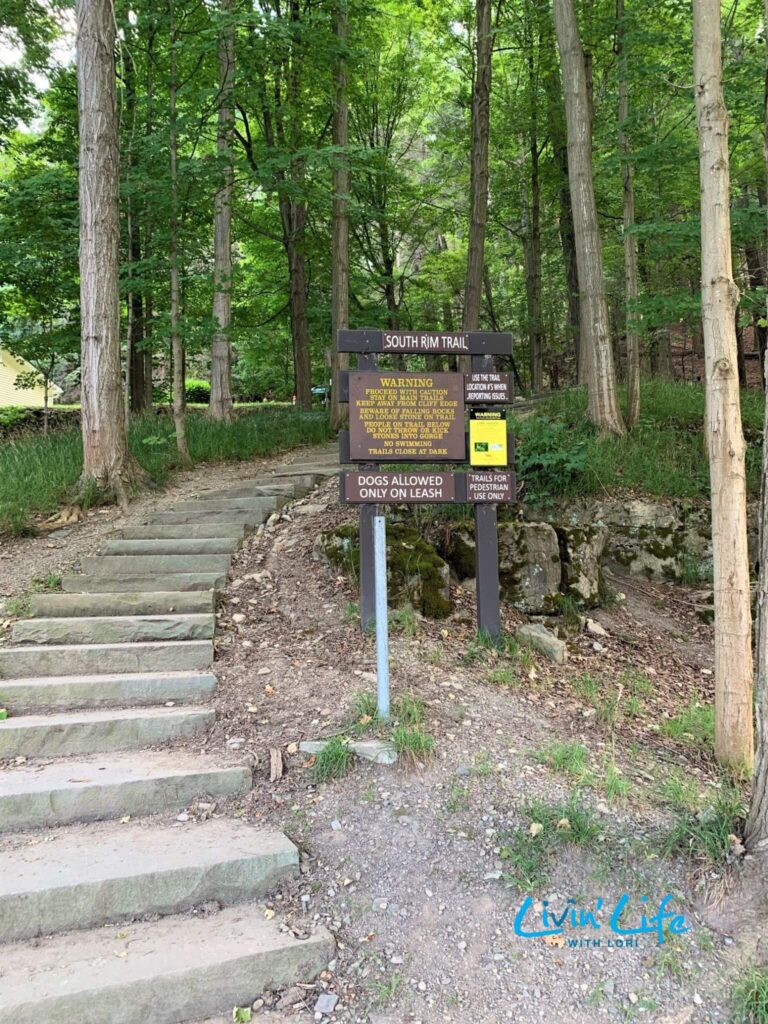 After hiking back to the parking lot, we went across the street to have a picnic lunch by Cayuga Lake. There are picnic tables, benches, and restrooms available in the park. It was a nice way to relax after our hike to get ready for more hiking in the afternoon at Robert H. Treman State Park!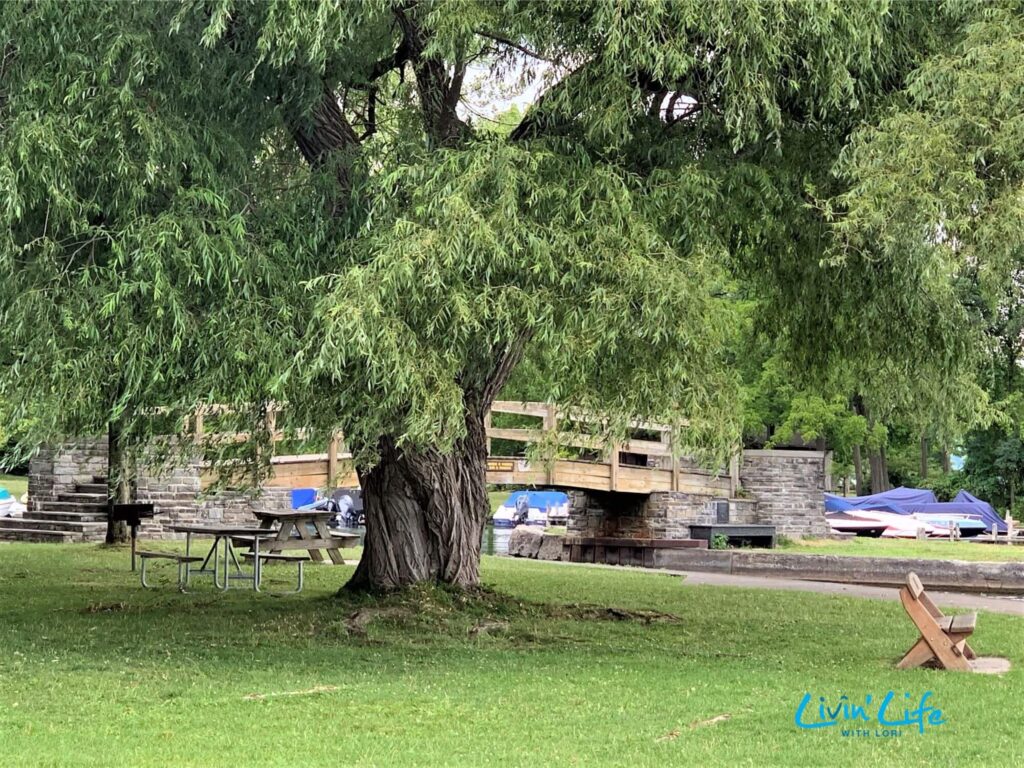 Taughannock Falls State Park Camping
There are RV sites, tent sites, and camping cabins available at Taughannock Falls State Park. Campsites overlook Cayuga Lake. The campground is located on Route 89, 8 miles north of Ithaca, NY. Camping season is from mid-May to the second week of October.
Other Tips About Taughannock Falls State Park
Get to the parking lot early – especially during the summer months
Be sure to wear sturdy shoes to hike to the falls. We generally wear our hiking boots every time we hike.
There are no restrooms along the trail; however, restrooms are available at Taughannock Falls Overlook, and at Taughannock State Park (lakeside).
If you plan to visit several New York State Parks, consider purchasing the Empire Pass.
This region of the Finger Lakes has many hiking trails and beautiful state parks such as Watkins Glen State Park, Robert H. Treman State Park and just an hour away is Letchworth State Park – the Grand Canyon of the East!
While Taughannock Falls is the tallest single-drop waterfall in New York, Kaaterskill Falls, located in the Catskills is the tallest two-tiered waterfall in New York state. Another beautiful New York waterfall to add to your list!
We definitely recommend visiting Taughannock Falls State Park! Plan to spend the morning hiking to the falls and have a picnic lunch by the lake. Then either spend the day at one of the many Finger Lakes wineries or explore more hiking trails!
More Travel Destinations You Will Love
How To See Breathtaking Views At Watkins Glen State Park
Take An Epic Train Adventure On The White Pass Scenic Railway – Skagway Alaska
19+ Things To Do In Branson Missouri For All Ages